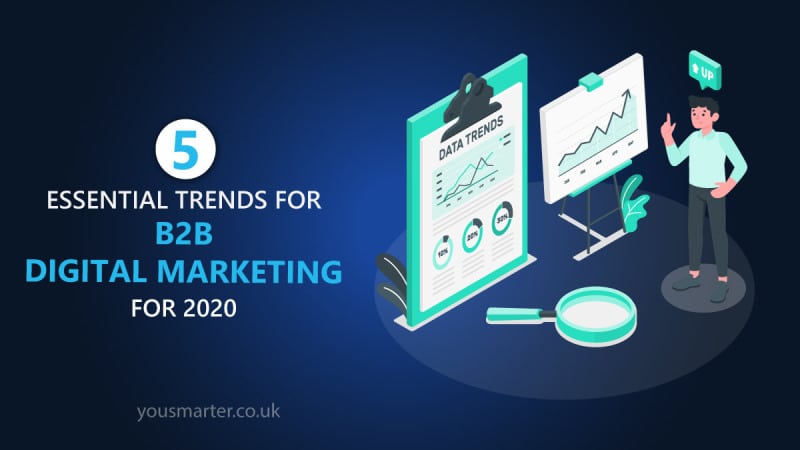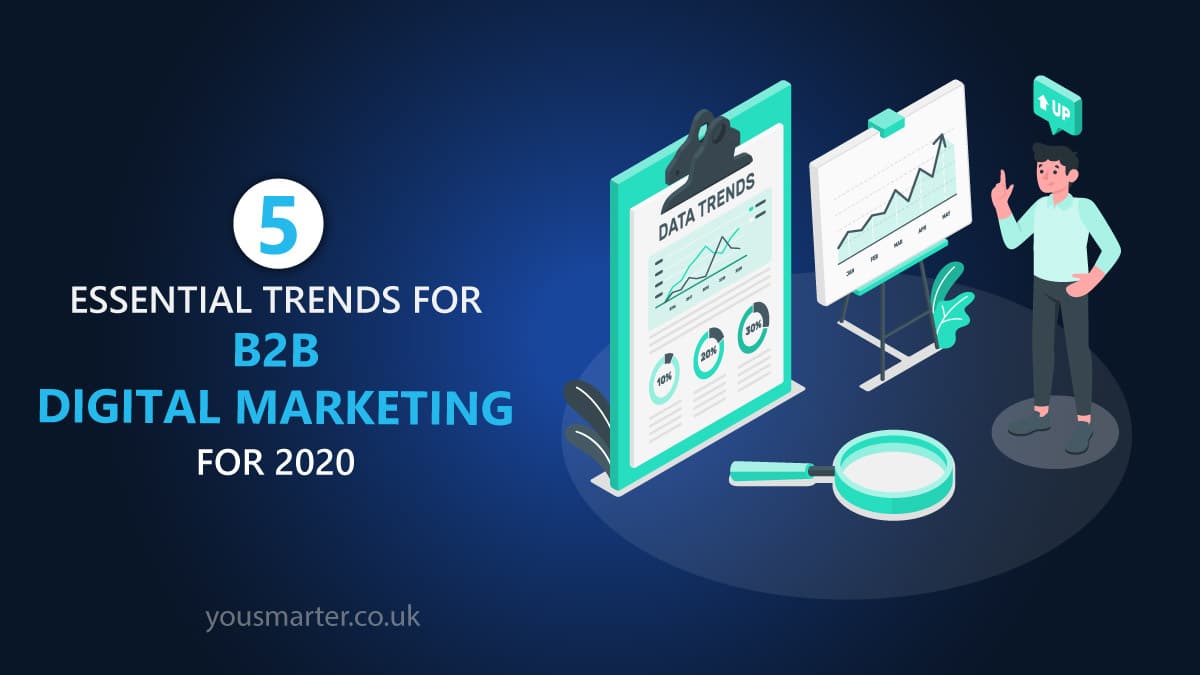 B2B Digital marketing trends for 2020 come and go as new technologies are discoveries are made. Therefore, pick a current trend could be risky for your b2b marketing department as investing in a trend that has an unclear future could potentially lead to wasting your marketing budget.
There are many cases when promising new trends coming up on the market and after year nobody knows about it anymore.
So, it can be quite challenging to decide as trends do not have much data and mostly predictions how it could be in the near future.
That's why the best b2b marketers sometimes say to just follow the gut feeling, but that comes with years of experiences, trials, and errors.
But let's look at these b2b digital marketing trends with data that already exist and also with current marketing predictions what others are saying about them.
Of course, nothing is promised as we do not know what can happen. Therefore, the final call will be always on you to decide whether you want to invest in these trends or not.
Think of from the perspective of your b2b buyers and whether it would make you happy or not if you would be in their shoes.
What Are B2B Digital Marketing Trends?
B2B digital marketing trends are a general direction of the b2b digital marketing category in which is evolving or changing whether in the way that people are behaving or technology.
These trends are analyzed based on multiple sources of data and later on decided whether they are worth to try or not.
There are different types of trends which you should be aware of as some trends can influence your marketing and business and some not.
So, there are the common types of trends separated by:
Industry
Location
Demographics
Technology
And many more, my point here is to give you a general idea of different trends in b2b digital marketing and why could influence you and some not.
For example, if your industry is in healthcare, then it is good to follow current trends for the healthcare industry as it may impact even your digital marketing.
Therefore, be open-minded with trends, as I am not trying to scare you from trying new b2b digital marketing trends as it has great potential for you to get ahead of your competitors.
But as I said, it involves risk as well.
Why do You Need Follow B2B Digital Marketing Trends?
Following new B2B digital marketing trends gives you a quick heads-up before changes occur which could potentially impact your business in a bad or good way.
If you follow the trends you could analyze the situation and better predict whether it will influence your business or not. Therefore, it is extremely important to always know what's happening around you.
Because you do not want to end like Ghostbusters, but you want to be the new Netflix, right?
That's why you should always follow current trends and not just yours as some of the trends in different industries can be transferred to your industry and you could be the first one within your industry.
So, let's look at the 3 most important benefits of following new b2b digital marketing trends.
3 Benefits of Trying New B2B Digital Marketing Trends
1. Blue Ocean Strategy – No Competition
Blue Ocean Strategy means that you have no or little competition. If you ever read the book Blue Ocean you understand the concept. For those who did not read it, let me a bit explain what it means. Note: Rather read the book than my description.
Blue ocean strategy is a marketing theory where you open up a new market space and create new demand for your product and services. This can happen with following the trends as new trends coming with new opportunities.
Of course, you need to be careful as there is a possibility you create new demand and within a year it is gone. Something like the Spinners.
Remember?
2. Become well-known thanks to that
Another great benefit of trying a new trend is to actually be the icon for that as you might be the first one who came up with that.
To give you a better picture; in the year 2004, Founder of HubSpot Brian Halligan noticed a new trend within the marketing and what could be a new way how to do marketing.
Of course, I am talking about Inbound Marketing and he saw the way how it could work before anybody really acknowledge this method.
Was he the one who created Inbound Marketing? No, but he saw the potential and developed it.
And today HubSpot is well known for the Inbound Marketing technique and many marketers associate HubSpot and Inbound Marketing together.
That's why trying a new trend can be beneficial for you too. If you discover any new b2b digital marketing trends and you have good reasons why it should work, then you should pursue it!
Because Visionaire is the one who is changing the world and push civilization forward.
3. Get ahead of your competitors
And the last benefit is you will get ahead of your competitors if you start a new trend. Because there are not competitors for you. It is like what I've said earlier about Blue Ocean Strategy.
You must remember that most of the good ponds are already full of fishes, but that doesn't mean that all good ponds are taken.
There are plenty of good market places for you to become successful and make a breakthrough. Even just b2b digital marketing trends have plenty of new opportunities every single year.
New technology has been discovered and you can be the one who starts pioneering with that. There are literally thousands of new discoveries just within the b2b digital marketing every single year.
Therefore, there is a possibility to find the one you would like and create a breakthrough.
5 Digital Marketing Trends
So, let's start talking about the 5 digital marketing trends which I believe will make a big difference in marketing.
Every trend I will give data currently exists about these trends so you can have a better picture of where it could go.
Please remember, that these trends are just suggestions for you to look into to enhance your marketing, but nothing is guaranteed that these trends will exist even the next year.
But as I said, will give you data which currently exists about these b2b digital marketing trends and it is totally up to you to make the call, whether you want to invest in the trend or not.
1. Automate your B2B Digital Marketing
One of the most important trends within b2b digital marketing is an automation trend. This trend has been here already for a few years, but everything says that marketing automation will grow even more.
In b2b digital marketing, there are many tasks that are repetitive and take a lot of time. Therefore, automation is a great tool for marketers to free up their time.
According to Invespcro, 74% of marketers said the automation technology's ability to save them time was its greatest benefit. Because as I said, in b2b digital marketing are many repetitive tasks which sometimes do not have any proper value but still needs to be done like for example:
Leads flow and insertion into a CRM.
Prepare reports every week.
Analyze your social media reach.
Yes, being a digital marketer is a great job as it gives you the flexibility to work from anywhere and being on social media without your boss being mad at you.
Marketing automation trend for b2b digital marketing not just saves time but increases sales productivity by 14.5% and reduce marketing overhead by 12.2%.
Therefore 91% of b2b marketers agree that b2b marketing automation is very important or essential to the overall success of their online marketing activities.
Also, 80% of marketers have seen increases in their leads by using marketing automation and 77% of marketers saw an increase in conversions. This means you not just get more leads, but these leads are stronger and easier to convert.
That's why 63% of marketers are going to increase their marketing automation budget this year or next year.
3 Basic Digital Marketing Strategies to Automate
So, before we jump into the next trend, let's discuss the 3 most common b2b digital marketing automation strategies to get better results.
Of course, do not expect miracles as these are common practices and many prospects already know about them, so they are not that effective as used to be.
But they are still effective and important, and it is better to have them, and these 3 strategies are not hard to make. So, make sure you
have them.
1. Automate your B2B Email Marketing Strategy
Before we start talking about automating your b2b email marketing strategy, first I want you to keep in mind that whenever you do anything to generate leads, you should think from the perspective of your user to create a better user experience.
Therefore, do not create spammy and sleazy salesy automation emails which will just push the prospects away.
Remember, it is about user experience and creates a natural conversational sequence within your email marketing.
But let's look at the 3 common b2b email marketing automation settings.
A welcome email is very important, but unfortunately, 66% of SMBs do not have any it even thou it has a great potential for you. The average open rate for welcome email is 50% which is 86% more effective than the normal newsletter. Also, 76% of people expect you to send a welcome email immediately.
Drip emails are a great way to save time and generate more leads. Just their open rates are about 80% higher than single send emails and average CTR is 3x higher. Also, it generates 50% more sales-ready leads via steady communication.
Initial Contact this is especially important for b2b digital marketers if you receive a lot of leads every day. It is hard to keep communication with them and if you analyze the patterns you will find that most of the conversations are nearly the same. Therefore, before the leads connect with me, I put them into my Initial contact automation where I am waiting until leads contact me personally. Like this I know I have only very serious leads.
2. Automate Your Lead Flow
Generating leads is fun for me and I always get excited about new ways how to keep growing. But putting them into the CRM is the less fun, especially when you need to do that 20-30x time a day.
Don't take me wrong as having leads in CRM is a big part of success, but the time you spend on this is mostly wasteful as it doesn't give much value to your business.
That's why I love to automate this task.
Look, if you ever generated 20-30 leads a day and each lead takes 5-10 minutes to put in CRM that takes a lot of time.
But Lead-flow is more than just putting them into CRM as follow-ups, handling and qualifying leads is lead-flow too.
These tasks take a lot of your and salesperson time.
So, do you have a lead-flow system?
Ask yourself these 4 Important questions for Lead flow to better understand.
What leads are qualified to be inserted inside the CRM?
How will you handle leads after they are in your CRM?
Who will handle and qualify the leads in CRM?
How are Marketing getting feedback from Sales?
Once you have the system for your lead-flow, then you can automate your lead-flow to free-up your time and salesperson time.
3. Automate Your Content Promotion
Creating content takes a lot of time and effort to create a really good one, which will rank and generate leads for your business.
"It's not the best content that wins. It's the best-promoted content that wins."

– ANDY CRESTODINA
But just creating content is not enough, you need to also promote it. Marketers like Neil Patel saying that you should spend approximately the same amount of time promoting your content like you have been creating it.
So, not just spending a lot of time creating the content, also you should invest the same amount of time to promote your content.
Therefore, automation tools for promoting your content is a great way how to do that without spending too much time on that.
2. Personalize Your B2B Marketing and not Just B2B Email Marketing
According to 47% of marketers, personalization is the most important strategy for 2020 worth of exploring.
With the right personalization, you can drive better customer engagements as you will deliver more relevant content to your target audience. Therefore, blasting just emails will make more people upset than happy.
Relevant Article: B2B Target Audience Everything You Need to Know [Ultimate Guide]
According to Instapage, 74% of customers feel frustrated if the content is not personalized.
Just look at the most visited websites or apps in the world
Google
YouTube
Instagram
Facebook
Netflix
All these spend a tremendous amount of money on AI to create more personalized content based on their customer's behavior. That's how they drive traffic and success for their companies.
Therefore, the marketing personalization strategy proves to be very effective as it delivers 6x times higher conversion rates according to Instapage.
And top of that with personalized emails you can drive six times higher transaction rate as well.
Unfortunately, 70% of brands fail to use personalized marketing within their email marketing, and as it takes some upfront investment to set it up and create segmentation for your b2b target audience.
That's why these b2b digital marketing trends for 2020 are automation and personalization as it already showing some pretty good results for other marketers.
3 B2B Digital Marketing Strategies to Personalize your Marketing
These 3 b2b digital marketing strategies to personalize your marketing will help you to get a better conversion rate and generate better leads.
Also, I have generated more leads, but the main point is to generate stronger quality b2b leads to close them faster with lower acquisition
cost.
So, let's dive in and explain these 3 strategies a bit more.
1. Advertising
Let's first start with your online advertising or SEM (search engine marketing) personalization strategy.
According to Instapage, by 2020 51% b2b buyers are expecting that we will anticipate their needs and
make relevant suggestions before they make contact you.
This is extremely true as we suppose to be ahead of them. Listen you are an expert and you should already know how it goes. B2b Buyer has similar patterns and if you analyze them and collect data, you will be able to anticipate their needs and make relevant suggestions.
Therefore, create relevantly and personalize advertising for your b2b organization is becoming essential and trends like this will become important b2b digital marketing strategy in the next few years.
2. Landing Page
The worst thing I have seen when b2b marketers take their time and analyze data to create personalized advertising but then they forget the Landing page personalization strategy.
I mean imagine, you see this super relevant ad for you and
then you come in and see the generic landing page, wouldn't you be upset?
One of the reasons why creating personalized landing pages is that it has better conversion rates. Unfortunately, 44% of clicks generated by B2B companies' direct users to the homepage rather than landing pages according to MECLABS.
Or if b2b companies already have landing pages, 20% of them do not have testing in place.
So, do not just create landing pages but test and personalize them to get better conversion rates and results from your marketing.
B2B digital marketing trends for 2020 like this will improve your overall results and pay off well more than just generic non-personalized landing pages.
3. B2B Emails
Personalized emails are used by organizations to deliver relevant content based subscribers collected data and then segmented into groups to offer more relevant and personalized offers and content.
Benefits of using personalization for b2b email marketing are:
Boost your ROI and increase revenue by 5-15%.
Improve your engagements as 91% of people are more likely to buy from organizations that send personalized emails by Accenture.
Collect better personal data. According to Accenture people are more willing to share their information with organizations if they receive personalized data.
And there are many more benefits as I recommend to you read up more about email personalization for your b2b organizations.
3. Data-Driven Marketing Decisions with Impactful Insights
Data are giving us a better understanding of our customers and prospects to provide more relevant offers and content.
Luckily, in the new Digital Age, there is almost unlimited data as everyday companies generate more and more data.
Today's problem is not enough information, but too much information that it is hard to analyze it.
Therefore, the next important b2b digital marketing trend for 2020 is data analyzation, as many organizations having problem to collect and analyze data.
According to Invespcro, Marketers who are using data drive marketing are exceeding their goals 83% of the time.
These marketers use to improve their strategies. Therefore, their conversion rates went up.
These data drive marketing strategies are a great example of how to improve your conversion rates.
63% of companies used Customer Journey analysis to better understand how their prospects move to make the purchasing decisions.
60% of companies used A/B testing to determine what works better and serve it to their customers and prospects.
46% of companies used website personalization to be more relevant to their b2b target audience.
55% of companies used segmentation to create more relevant offers.
All these strategies have improved b2b organizations' conversion rates and delivered better results.
Heck, just think about it, if you already invest your time to create b2b email marketing strategies or any other b2b digital marketing strategy, try to maximize the results by analyzing the data and personalize the content accordingly.
All these data are hiding impactful insights that can improve instantly your b2b digital marketing.
4. Predict your Customers or Prospects Next Move
I did mention a bit about predicting the next move of your customers and prospects, but let's describe it on a deeper level.
Nowadays, you have enough data to analyze it and then create more personalized content based on your customer segmentation.
So, the next move you should do is anticipate your customers and prospects' next move. Remember, you are the expert and you should know what's best for your prospects.
The same as doctors, they should know what to do and anticipate what will happen next. They collect patient's data and analyzed for centuries, so why not marketing?
According to Instapage, by 2020 51% b2b buyers are expecting that we as marketers will anticipate their needs and make relevant suggestions before they contact you.
As I already said, you are the experts and most prospects and customers have similar patterns so if you will collect data and analyze your buyer journey will better understand how your b2b buyers are moving and make better and more relevant suggestions.
Therefore, B2B Digital Marketing trends for 2020 are also impacted by data generated every day.
As all the data created today can get you closer to your prospects and help with their research. If they already visited your website, it means something. That's why you should do your best that they get the maximum out of your website visitors.
The more you give the better, but do not forget to use other b2b digital marketing trends for 2020 to even create a bigger impact on your company lead generation.
Create our Own Digital B2B Buyer Journey
To be able to predict your customer's and prospects' next move, you need to have your own personalized digital B2B buyer journey.
As I have already mentioned to you, first you need to analyze where your prospects spend most of their time, how they interact with your
brand.
Analyze your prospects touchpoints like:
Why they are searching for your product and services?
How did they find you?
Did they return?
Did they download one of your resources, if so, how did they react after?
What made them contact you?
How many pieces of information did they consume before?
The more b2b buyers' touchpoints you can put together the better you will understand them.
As it will give you a clearer picture of your b2b prospects and how they interact with your brand and your content.
5. No Silos for Sales, Marketing and Customer Service Data
The last from B2B Digital Marketing Trends for 2020 is No Silos within your company. Yes, I have said just no silos for marketing, sales, and customer service but this should be for the whole company.
But to simplify the article I will only talk about Silos between Sales, Marketing, and Customer Service.
The current situation is that customers and prospects demand the best user experience possible. The better service they get the higher their new norm of customer service is.
That's why your prospects should not feel any transition between marketing, sales, and customer service.
Yes, I have talked about the lead-flow, but that's where most of the organizations don't get it. As your prospect and customer should feel as less as possible the lead-flow process.
That's why is so important no silos between sales, marketing, and customer service as these departments should appear to them as it is one department handling all of these.
Therefore, current marketing should focus on leads and customers, the same sales, and customer service.
Currently, this trend will influence a lot about how prospects will make purchasing decisions as according to PwC, 73% of buyers say good customer experience is key influencing their purchasing decision.
Therefore Sales, Marketing, and Customer Service are like one department.
Sales, Marketing and Customer Service is One Department
Why I am saying Sales, Marketing, and Customer Service is one department is because of the important customer experience.
Your prospects should feel special the same way as your best customers as current statistics prove that customer service is very important.
According to Microsoft, 96% of customers are deciding their loyalty based on customer experience as the same applies to their choice of purchasing from.
Also, 83% of companies believe making customers happy growing their revenue (HubSpot) and 81% of companies view customer experience as a competitive differentiator. (PRNewswire)
According to SuperOffice, customer-centric companies are 60% more profitable than companies that don't focus on customers.
Conclusion
B2B Digital Marketing trends for 2020 are all about your prospect's experience when they interacting with you anyway.
Remember, prospects and customers are more demanding and all these b2b digital marketing trends will help you to your game and make them more satisfying.
As I strongly believe if you will have always think from the perspective of your prospects and customers you can't go wrong.
Apart from if you do not know properly your customers, then again, these trends will help you to get to know better your marketing, leads, and overall business.
So let me know what b2b digital marketing trends you will or you have tried already in 2020.
Related Articles:
Resources: