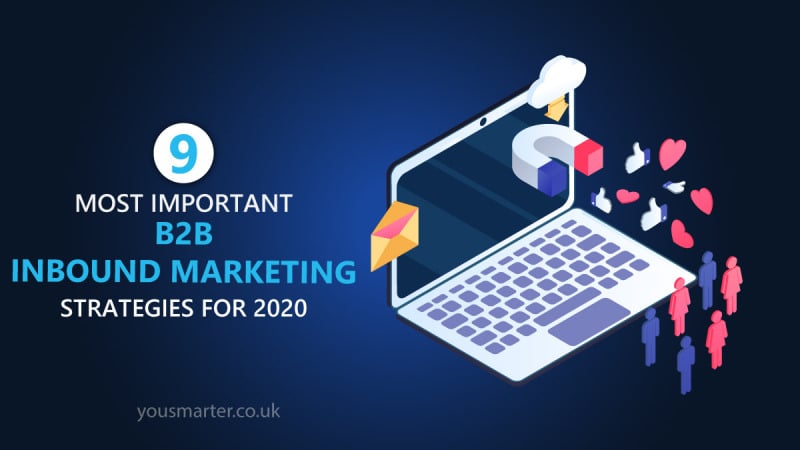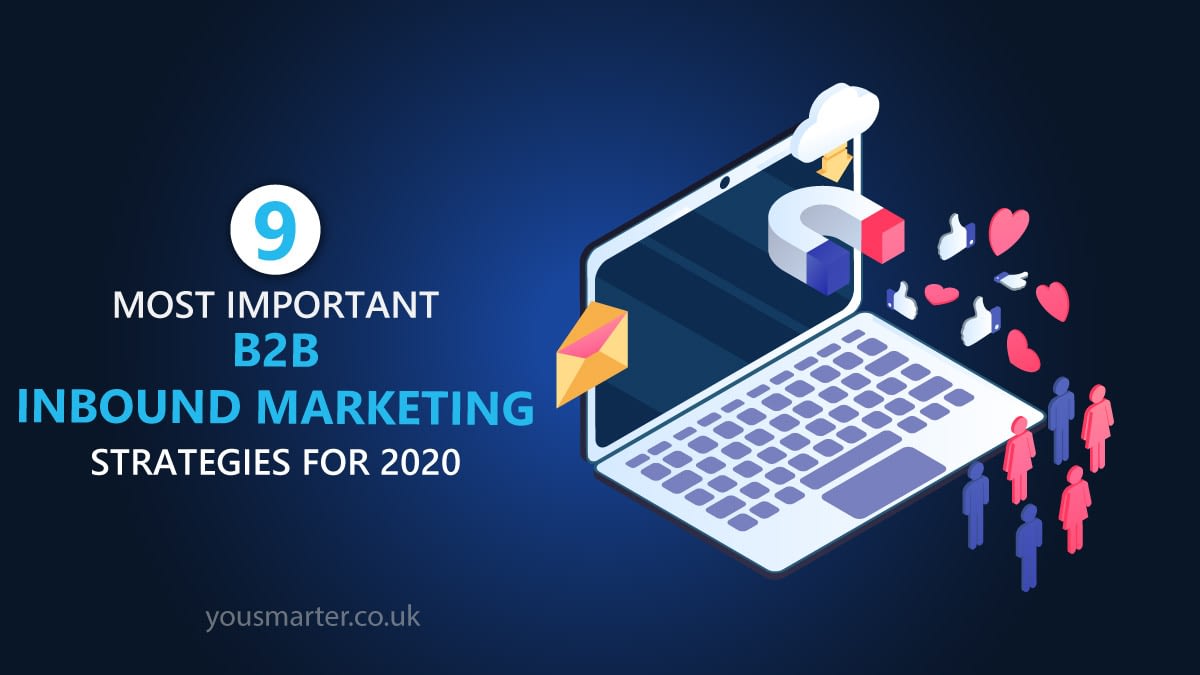 These important B2B Inbound marketing strategies for 2020 are already tested in many different types of industries and niches and have been proven to work again and again.
Also as you will read, all these B2B inbound marketing strategies are backed up with studies and data to be proven to work even beyond 2020.
As I don't want you to start any strategy and next year just drop it as it is no more effective. Therefore, all B2B inbound marketing strategies for 2020 included in this article are proven by statistics that they will work in the next few years.
So, let's jump in and talk about what inbound marketing has to offer for you.
Also, read this article: The Complete Guide to B2B Inbound Marketing it will give you an in-depth look into B2B Inbound Marketing.
1. B2B Blogging
Blogging for b2b businesses is very popular due to its big readership, as 77% of people online read blogs. Therefore, companies that are blogging have 55% more visitors to their website and it can increase your traffic up to 6x times.
Of course, there is some speculation about b2b blogging and whether it is still effective or will it be in the near future.
Because this is important to decide if you want to start a b2b blog for your organization as it can take over a year to see some results.
But marketing predictions for b2b organizations seem bright for blogging and it will stay being effective even in the near future.
So why should you care about blogging for your b2b organization?
Strategies like blogging already become one of the basic b2b inbound marketing strategies in 2020 and in the past years as 80% of b2b marketers are using a blog to generate leads.
And 66% of these b2b marketers generate more leads than those who don't.
Also according to b2b marketers who use blogs generate approximately 67% more leads than those b2b marketers who don't have a blog.
These results are even more significant for small businesses that use the blog as a part of b2b inbound marketing. These small businesses see 126% more lead growth rather than the business that doesn't see blogging.
Also, SEO leads are having a 14.6% close rate, while outbound leads only to see a 1.7% close rate.
So, it is no wonder that 52% of b2b marketers consider the b2b blog as one of the crucial b2b inbound marketing strategies even in 2020.
2. Podcast for B2B Organizations
Coming up with new b2b inbound marketing strategies in 2020 can be quite challenging as most of the b2b inbound marketing strategies in 2020 already have high competition.
Luckily, a podcast is still not used by many marketers and the channel is growing year by year. I have included this strategy as a basic in b2b inbound marketing strategies for 2020 as its requirements are quite low to start a podcast and it is easy to do.
Let's talk about it more.
The podcast is growing on popularity as it is a great channel to learn something new while you are cleaning, or you are busy with something else. Just get headphones and you are good to go.
74% of podcast listeners say they listen to learn new things.
But that doesn't mean people don't take serious podcast as most of them actually know that podcast has valuable information for them.
That's why 70% of podcast listeners are listening to podcasts while doing nothing. I mean I am not surprised as I do the same.
It is a great way to learn something new while you are relaxing.
Therefore, podcast listeners are listening to more podcasts now than they did a year ago according to 62.6% of respondents.
And globally, 36% of the sampled population has listened to a podcast in the last month. That means that podcast is really growing popularity.
So, what does it have to do with b2b organizations?
During the research about the popularity of podcasts, it has been found out that 41% of podcast listeners make $75K a year or more, compared to 29% of the general population.
That means podcast listeners are decision-makers or senior level management, which for most b2b organizations is their target audience.
And the key to every marketing strategy is fish where fishes are.
3. Search Voice Optimization for B2B Website
Year by year search voice optimization is getting more important as more people started using it more year by year. Therefore, Google already starts including an algorithm within its ranking system for a search voice to optimize the website.
So, it won't take long, and search voice optimization for the b2b website will be important to rank well and bring more leads to your organization the same way as the mobile-friendly website is now.
Just 60% of smartphone users have tried voice search at least once in the past 12 months and with improving technologies, it is just going to be bigger the number.
Already now, 55% of teenagers are using voice searches on a daily basis and it will take not long to come even to elder people.
If you disagree with me, look at social media, Facebook and Instagram used to be only for teenagers and look at now.
Like I mentioned, as the accuracy will improve more people will be using it. So far Google Home is the winner so far by answering 81% of the queries correctly on average.
And, the global market for voice search devices grew 187% in the Q2 of 2018.
Of course, at the moment there is no proper way how to rank for voice search but according to the best marketers the most important components to rank for voice search are:
If your page already ranking in the top 3 results for a query for regular search, there is a 75% chance it can also rank for the voice search.
Your text is written with shorter sentences with a natural, conversational tone.
The content is longer with 2,300 words or longer.
Being concise with an answer as 29 words or less per answer.
So, these are the best tips on how to optimize for voice search, but as Google and other search engines will upgrade their algorithms, we can expect changes within the optimization. Therefore, keep reading my blog as voice search optimization is coming up.
Because search voice is already part of the important b2b inbound marketing strategies in 2020 due to its growing popularity.
4. Personalization
I have already mentioned personalization within my other articles for personalization and how important it is to create personalization within your b2b inbound marketing strategies in 2020 to drive better and more leads.
People are getting used to personalized content based on their needs and interest, and they do not want to get any irrelevant content as it could make them upset.
74% of customers feel frustrated when website content is not personalized. Therefore, websites like:
YouTube
Instagram
Facebook
Netflix
Spend so much money on artificial intelligence to deliver always better content for their customers specifically tailored to their interests and needs.
But that is not just me as according to statistics, 65% of email marketers say dynamics content is their most effective personalization tactic.
And more statistics prove the effectiveness of marketing personalization for b2b digital marketing is becoming essential for marketing:
75% of marketers believe personalization yields higher click-through rates.
88% of U.S. marketers reported seeing measurable improvements due to personalization, with more than half reporting a lift greater than 10%.
Brands that personalize promotional marketing emails experience 27% higher unique click-through rates.
When the only subject line is personalized, emails have an average open rate of 7.4% and a click rate of .4%.
Personalized emails deliver six times higher transaction rates.
So, are you going to include personalization even within your marketing? As strategies like inbound marketing for b2b organization is not just basic but essential in 2020.
5. SEO
Being on the top of Google's first page is still very important and for many a top priority. Most B2B organizations still trying on the first page of google as it is still well worth the effort.
Therefore, according to foundationinc.co 86% of B2B organizations maintain and developing a blog with new strategies and content. Also, on average 6 social media are run by b2b companies to get following and distribute the content.
Because researchers and b2b buyers are doing research online before they contact a salesperson, 61% of marketers say improving SEO and growing their organic traffic is their top inbound marketing priority according to HubSpot.
And it is no wonder that marketers still prioritize SEO as one of the most important b2b Inbound marketing strategies even in 2020, as b2b buyers and researchers are moving even further in the buyer journey without contacting a salesperson.
In 2017, B2B buyers completed 57% of the buyer journey on average, today in 2020 it has been predicted that b2b buyers complete between 61%-70% without even talking to any salesperson.
Therefore, SEO is very important and that's why included within b2b inbound marketing strategies in 2020.
Also, what's interesting is that 91% of all pages never get any organic traffic from Google, mostly due to the fact they don't have a single backlink.
Or they do not have good quality content, or they are too slow. As it shows that the most important SEO algorithms to rank well are:
Good quality content
Quality backlinks to your site
Responsive website
SSL – protection for your site
I have mentioned these because we can see conversion rates fall by 12% for every extra second that it takes your website to load according to Compass.
It is highly due to that mobile devices now driver over 55% of web traffic and account for nearly two out of every three minutes online.
Related Articles:
6. Video Marketing for B2B Organizations
Research is done by Smart insights which showing a rising trend in video marketing and how video marketing is becoming one of the most important b2b inbound marketing strategies in 2020.
From the graph above, you can see that 92% of marketers say it's an important part of their marketing strategy.
And it is no wonder it's like that as the popularity on video watching is growing day by day and YouTube is the second largest social media and also the second largest search engine in the world.
Only first is Facebook from social media and Google is the first search engine obviously.
It is estimated that on average, a person will spend 100 minutes every day watching online videos in 2021, which is a 19% increase compared to daily viewing minutes in 2019, which was 84 minutes according to MarketingCharts.
99% of B2B organizations that already use video marketing will continue to using video and 95% of b2b businesses plan to increase or maintain their spending from previous years.
B2B video marketing shows great potential to grow organic traffic, bring leads, increase sales, and help customer service. Therefore, video types like:
How-to
Live-streaming
Whiteboard
Infographics
Event videos
Customer Success Stories
Product showcase
Are very popular between b2b video marketers and their b2b target audience. And the list could go even longer. Video Marketing is a great way to let your imagination go wild. As long as it catchy and not controversial, people will like it.
92% of marketers say a video is an important part of their marketing strategy, with 88% finding that video gives them a positive ROI (Contrast those figures with the 33% who found a positive ROI in 2015)
More Statistics for B2B Video Marketing
41% say video helped them reduce support queries
95% of video marketers say video has helped increase user understanding of their product or service.
83% of video marketers say video helped them generate leads (Wyzowl)
80% of video marketers say video directly helped increase sales (Wyzowl)
89% of video marketers say, in general, that video gives them a good return on their investment (Wyzowl)
7. Email Marketing for B2B buyers?
Email marketing for b2b organizations is for some of the b2b marketers a waste of time, for some b2b marketers it is an essential b2b digital marketing strategy and the rest of them just don't care or didn't make up their minds.
So, let me tell you a few b2b email marketing statistics for you to see the value which email marketing still can give you even in 2020.
The first why some of the b2b marketers never see the value within the b2b email marketing is because it is not properly used. According to Oberlo, 66% of small and medium-sized US business websites don't have a form-fill option on their website allowing consumers to request information.
But if you properly set up your forms and give people a chance to request information like ebooks, whitepapers, etc. you can start monetizing these leads as well, as they might be not ready to buy now, but with a proper lead nurturing campaign they'll get there.
These statistics show the popularity of using emails:
In 2019 alone, 293.6 Billion emails were sent and received each day (Statista 2020), that's 39 emails sent per person.
Not just that, but this figure is expected to increase to over 347.3 billion daily emails in 2022 (Statista, 2020)
So you can see, that emails are highly used and especially millennials are keen to use it, as 66% of them aim for clear inbox and 95% of millennials prefer communication with companies via emails.
Therefore, email marketing brings on average $39 – $42 for every spend 1 dollar and according to the data, 81% of SMBs still rely on email as their primary customer acquisition channel and 80% for retention. (Emarsys).
8. Social Media Marketing
Social media are a popular choice for both sides. for b2b buyers who like to spend their time learning, get new ideas, and do research. On the other side, it is also a popular choice for b2b marketers for lead generation and distributing content.
According to IDG, 84% of C-level and VP-level buyers are influenced by social media when purchasing and 55% of B2B buyers admitted that they love to do online research before they buy, and one of the sources of information is social media.
So, it is no wonder that social media are the most popular strategy as 83% of marketers using it. Therefore, social media for b2b organizations is part of important b2b inbound marketing strategies for 2020.
Especially for tech companies as 76% of them are using social media to drive results according to MarketingProfs.
So, let's mentioned the 3 most important b2b social media for 2020:
LinkedIn is the most common and used by b2b marketers to distribute content and bring leads to the company (Neil Patel). As LinkedIn is for professionals, people tend to keep updated their profile with recent experiences. Therefore, nine out of ten B2B companies are using it. More than half of B2B buyers have used LinkedIn to make a purchasing decision over the past year. (Business LinkedIn)
YouTube is the second largest social media in the world and also the second largest search engine, as I have already mentioned in the section Video Marketing for B2B Marketers. Therefore, no need to explain again how YouTube is Important.
Twitter is the third most popular social media for b2b marketers. Twitter is a trusted social media platform by their consumers and 40% of them reported purchasing something after seeing it on Twitter. But of course, there are many more benefits of using Twitter for B2B organizations.
9. Influencer Marketing
Influencer marketing has become popular in B2C marketing as it has great potential to bring new customers at a relatively small cost.
Influencer marketing has become popular with Gen Z as they grew up on social media channels and therefore having a great sense of how to use it for business. So there is no wonder that many teens actually became very rich just by using social media.
As per popularity, Instagram ranks #1 for the most important and impactful channel and also the most-used channel for influencer marketing.
Also, 89% of marketers have seen comparable to or better than other results than other marketing channels last year. Therefore, they are willing to explore more possibilities with Influencer marketing.
As currently, b2b marketers are using influencer marketing for:
Increase brand awareness
Generate Sales
Improve Advocacy
Lead Generation
And with growing popularity on social media and influencers' impact on their following, it is another strategy and therefore belongs between the most important b2b inbound marketing strategies in 2020.
Conclusion
I have written this article for you to pick and choose from. These 9 most important b2b inbound marketing strategies for 2020 are here for you to choose to expand your marketing horizon and create more ways to generate good quality leads.
Luckily, all these b2b inbound marketing strategies are not difficult to use and it can be outsourced or automated, at least the part of the work. Therefore a great way to drive results for your business.
So, do not think you have to use all the strategies. As I said, you can pick and choose which suit your business the most. Because all of them have different requirements for skill sets, money, and other marketing resources.
Do not forget to hit me up on LinkedIn to share your experience with these b2b Inbound marketing strategies and share your input.
Related Articles:
Resources: