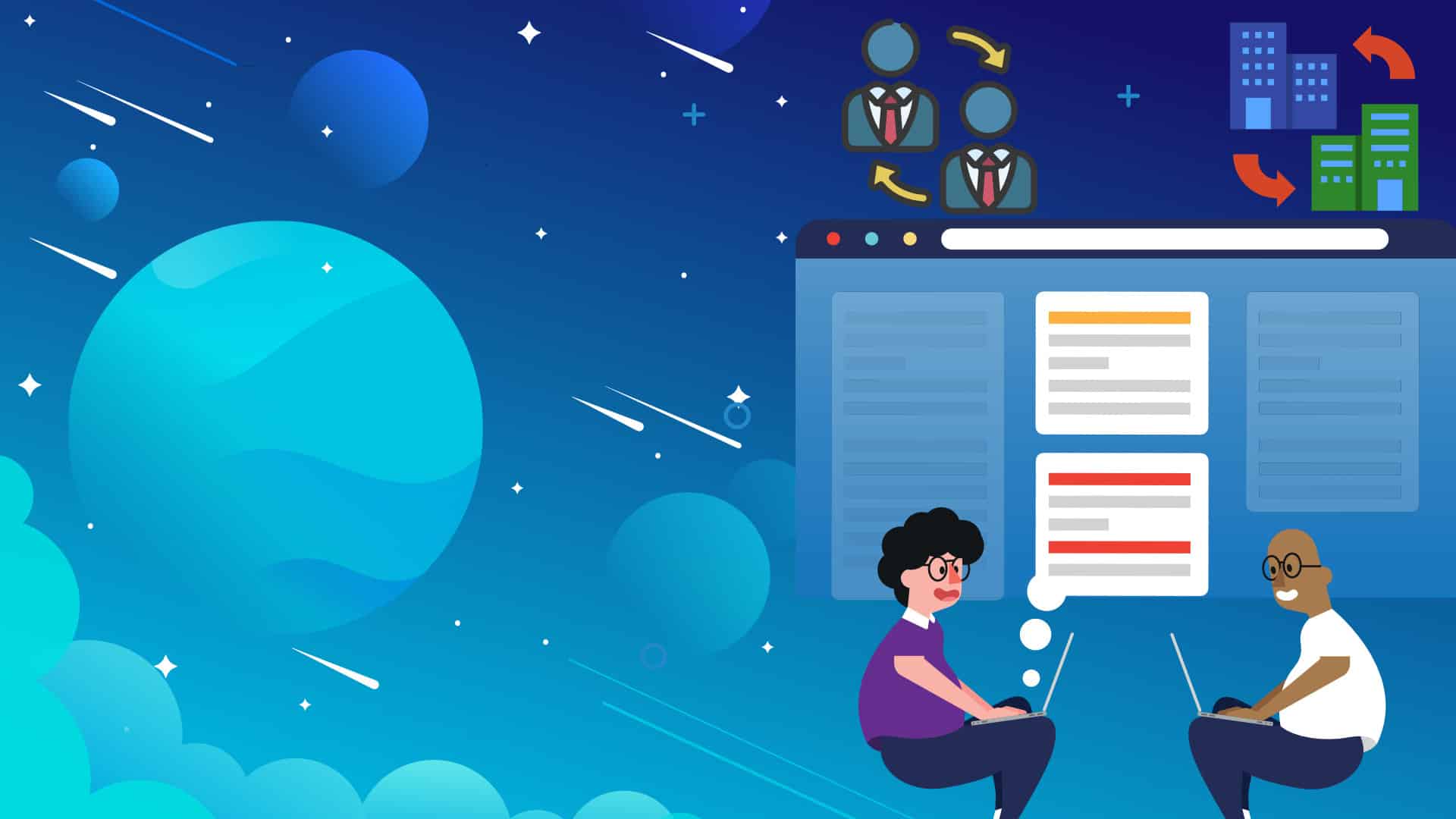 Are you wondering how businesses like HubSpot, Neil Patel, Drift, and others are using the B2B blog to generate massive brand awareness, millions in organic traffic, thousands of leads, and growing their business?
The key to their success is properly planned and executed B2B Blog Strategy and in this article, I am going to share with you 9 step process on how you can do that too!
What is B2B Blog Strategy?
B2B blog strategy is a process of analyzing your market and creating blog posts to bring your B2B target audience to your website in order to meet your business objectives and KPIs. It includes steps like defining your B2B audience, creating content, promoting your blog content all the way to measuring the success of your B2B blog strategy.
Why Do You Need B2B Blog Strategy?
B2B blog strategy helps you to prepare a plan for your B2B blogging to ensure you meet your business objective and KPIs.
With a written B2B blog strategy you double your chance of success with your B2B blogging. According to Content Marketing Institute, 60% of organizations with a written content strategy are effective, compared to only 32% of those with a purely verbal content strategy is effective.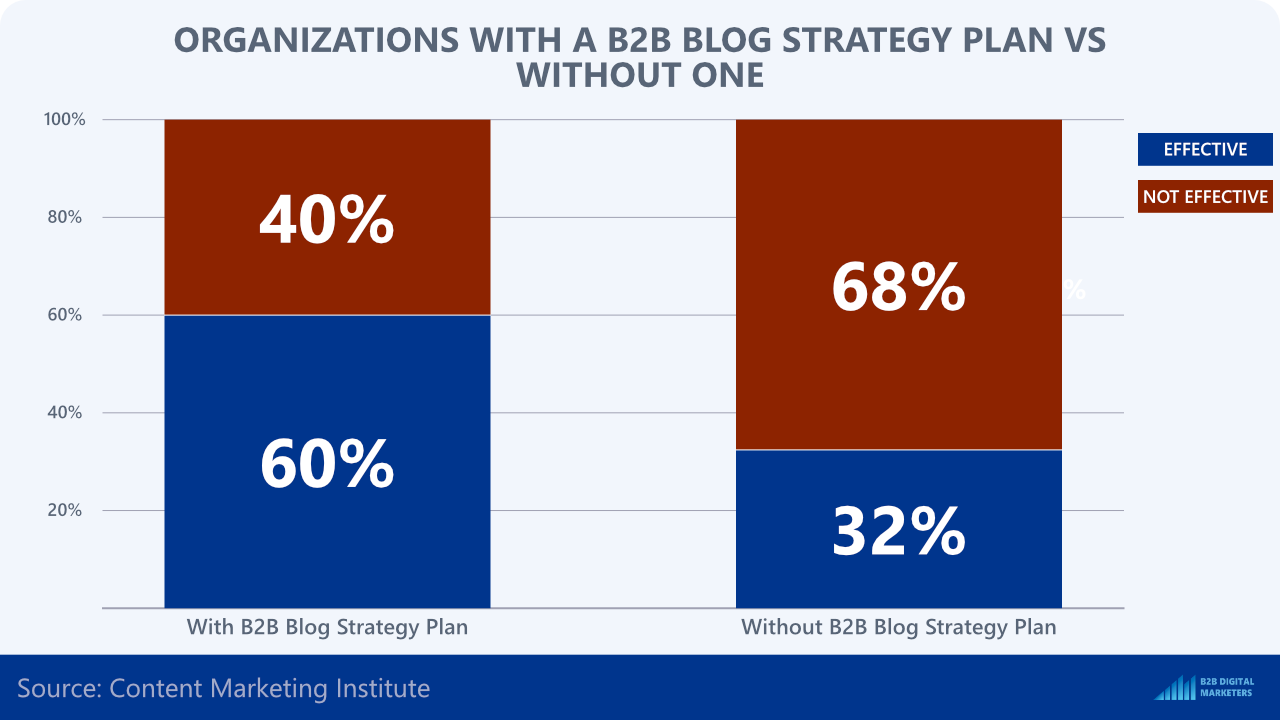 Not only that but with a proper plan, you will save tons of time, resources, and money by avoiding mistakes like targeting wrong keywords, not growing your ranking, or not generating leads for your business.
And there are more reasons why you need a B2B blog strategy, so let me share with you the 3 main reasons why I think you should start with one:
Reason #1: Overwhelming Brand Awareness
The first reason why you should implement B2B Blog Strategy is that you will generate massive brand awareness across your B2B target audience.
Each and every day, your B2B audience is searching for answers related to your product or services. This could be because they are trying to solve their problems, find the right solution for their needs, or want to get the benefits it comes with your solution.
And by addressing those topics, problems, needs, questions, and benefits with your blog posts, you can rank for them and drive those that are searching for it, which means people that are in the market for your solution.
Therefore, you will increase your organic traffic. As more than 52% of the B2B business marketers agree with the fact that blogging is the only content marketing strategy that gets most of the web traffic, engagements and generates high-quality SEO leads.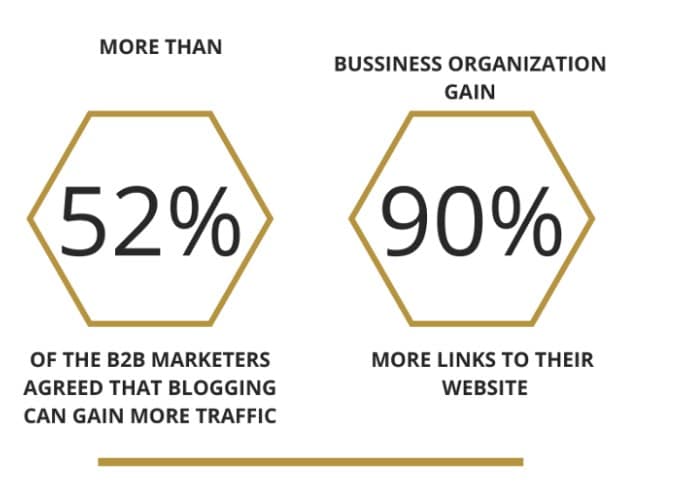 On top of that blog generates more backlinks for your website, which means higher authority and more website traffic for your blog posts, product pages, and the rest of your website.
Reason #2: Perfect for On-Boarding/Pre-Boarding
Another super important reason why you should start with the B2B blog strategy is that it is a great strategy for on-boarding or as Tim Soulo said in his video, they use blogging as pre-boarding.
Basically, as Tim explained, they are using blogging to educate their audience on different SEO tasks using Ahrefs to give them the "Aha" moment before they actually sign up for their software.
So, once they actually sign up to Ahrefs, they already figure out what and why they actually want to use the tool. Therefore, have a much bigger motivation to stick around for a longer period of time to learn using the tool.
Plus, they already have a certain knowledge of using the tool which means the user adoption becomes much easier.
Blogging is a great strategy to educate your B2B audience on how to solve their common problems using your product or services and how they can benefit from using it, regardless of the nature of the business.
Shifting your marketing and selling towards educating your B2B buyer personas on problems and needs your solution is solving before any selling and marketing are done is a great way to increase your trust with users and increase onboarding success.
Reason #3: Cheapest Lead Generation in the Long Run
And the last reason why you should implement a B2B blog strategy is that it is the cheapest way to drive high-quality seo leads.
Many statistics have proven that inbound marketing is cheaper and more effective such as:
And your blog is part of a content and inbound marketing effort.
81% of businesses report that their blog is important or critical in generating leads and B2B companies that use B2B blog strategy generate 67% more leads than companies that don't.
And the reason behind all these numbers?
This is because the buyer journey shifted to digital and B2B buyers are using search, social media, and other online platforms to proceed in B2B buying jobs.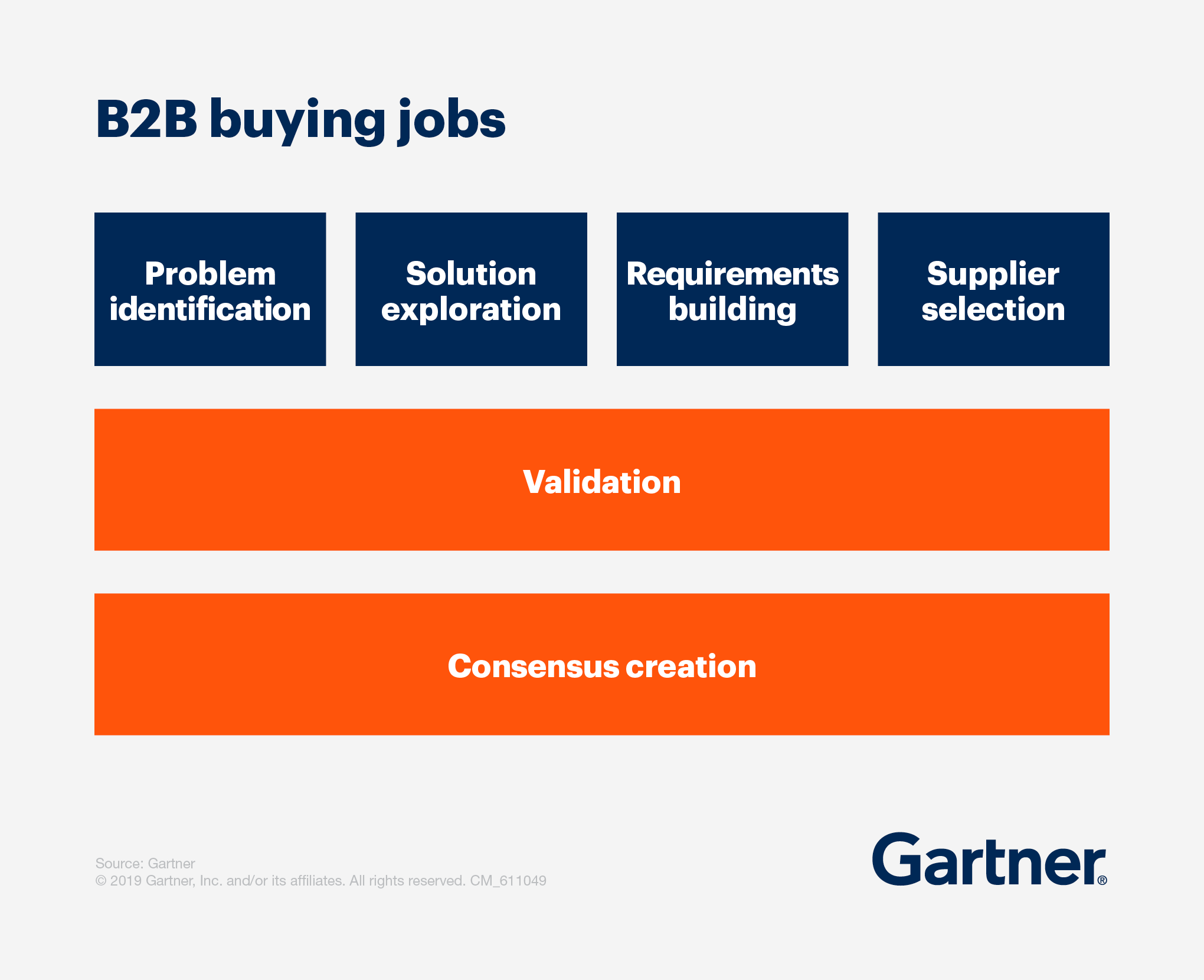 Therefore, fish where the fish are!
How Do You Plan B2B Blog Strategy?
So, let's have a look at how you can plan a B2B blog strategy with my 9 step process.
Here you will learn how you can plan your B2B blog strategy plan from start to finish as well as important practices for every step that you should keep in mind.
So, let's get started with planning your B2B blog strategy:
Step #1: Target Your B2B Audience
The first step of starting with the B2B Blog strategy is to clearly define your B2B target audience.
Your B2B blog is as effective as your targetin