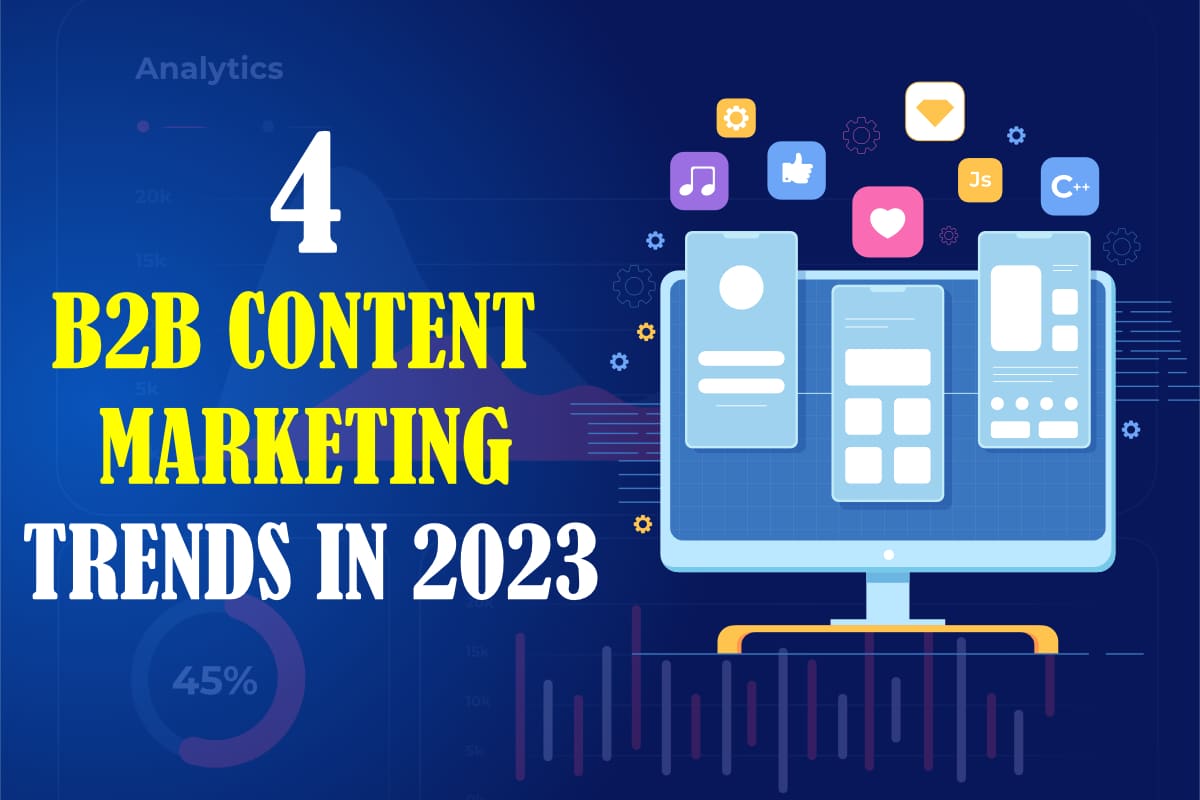 In this article, we will look at what B2B Content Marketing Trends B2B marketers should watch out for in 2023 to stay competitive, improve customer and user experience, and improve their marketing results.
Like every year even this year brought some interesting new technologies and trends that I would like to discuss and look closer to see how they fit into b2b content marketing.
This year was especially special as everybody knows because of the COVID-19 pandemic, but it did not stop engineers & innovators from innovating and bringing new things to the marketplace.
So, in this article, I am going to look at some of the b2b content marketing trends I have found very interesting and I will be focusing on them within my marketing plan for 2023.
B2B Content Marketing Boosted by the Internet of Behaviors (IoB)
Mining customer data is nothing new as the Internet of Things has taken the place of how technology is evolving and how marketers are using data to drive business growth, but data can't tell us everything.
While Psychology Professor Göte Nyman has brought up the term Internet of Behaviors in 2012 the meaning is a bit different as described by her; The human IoB is aimed at protecting our identities by separating behavior and identity data, whereas the technology orientated IoB described by Gartner, is meant to link a person digitally to their actions.
So that means keep the person and his behavior to further enhance customer data and in marketing case:
improve customer and user experience
improve personalization for that person
Optimize Marketing Asset
Drive more qualified leads
Get a deep understanding of how customers react to marketing asset
And while b2b marketers are already using some of the IoB technologies to understand customer behavior like heatmaps but this is mainly focused on understanding the general behavior of your customers there are more personal approaches.
With technology like session recordings B2B marketers can easily identify individual lead and reply to the recordings and see:
What the individual lead is searching for
When was the first interaction?
How Many Visits the Lead had
Understand Bad or Good Customer Experience
How many interactions the lead did before filling up the form
What Pages have Seen and for How Long
What caught his attention
Internet of Behavior has a great potential for B2B marketing leaders to get an even deeper understanding of their customers but B2B marketers must be careful and balance between an understanding of human psychology and keep the privacy of their customers. Learn more about B2B content marketing tips.
What is the Internet of Behaviors in Marketing?
Internet of Behaviors is to find and share accurate and timely knowledge of ongoing customer behaviors based on interaction with marketing assets and the actions that can be linked to an individual person, and to serve the behaving people (or organizations) to improve personalization, customer and user experience and increase marketing effectiveness.
IoB extends from the Internet of Things to further enhance customer understanding and get new behavior insights that help marketers to make better-informed decisions and redefine their marketing effort, and to get an advantage over their competitors.
How the Internet of Behaviors Improve B2B Content Marketing?
To win in B2B business, marketing and sales must work together, winning deals is about building trust with the audience and sales is not about selling but educating. These trends are already known to improve content marketing, but how IoB influence B2B Content Marketing?
Observing your prospects and customers will give you deep insights into your customers and prospects and how they interact with your B2B Content Marketing.
While on large scale it is hard to implement IoB to get insights on your customers' behavior as there are not many solutions for that. Still, there are a few things marketing leaders can do to improve B2B Content Marketing with IoB.
The best tool to understand the behavior of your customers is using recording sessions on your website to see how your users are moving around your website. But as I said, on large scale it can be difficult to implement it.
Why Should B2B Marketing Leaders Care?
IoB provides even deeper insights about your customers enabling you to provide next-level marketing personalization and push customer experience event further.
As from observing and understanding human psychology, we are able to discover patterns that make our customers to:
Fill up the form
Why they are leaving this particular web page
What intrigue them to go to the next page
Why they downloaded the ebook
What does work on your website
What is not clear for them on your website
And much more. This helps us to optimize your b2b marketing effort, reduce customer frustration when searching for information, and provide a seamless customer experience.
So with information, you can improve your b2b content marketing to make it easier for your prospects to find information, read it, and get what they need faster resulting in shortening customer journey.
IoB enables marketing leads to think ahead of their customers to provide information before they even thought about it. But IoB is in the early stage and we will see what else is possible with IoB.
B2B Content Marketing to Deliver Total Experience
The next on our list of B2B Content Marketing Trends in 2023 that are emerging are using B2B Content Marketing to Deliver Total Experience.
While it used to be that marketing was only responsible for attracting new leads to drive business growth, today's B2B marketing department is getting involved in every stage of the b2b customer journey to drive business growth.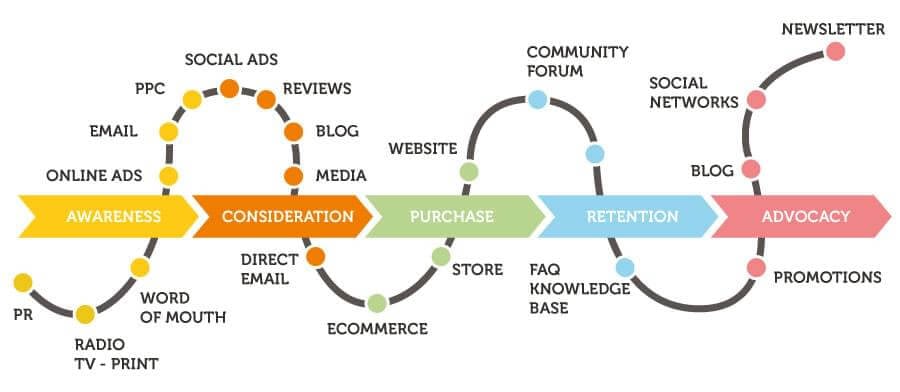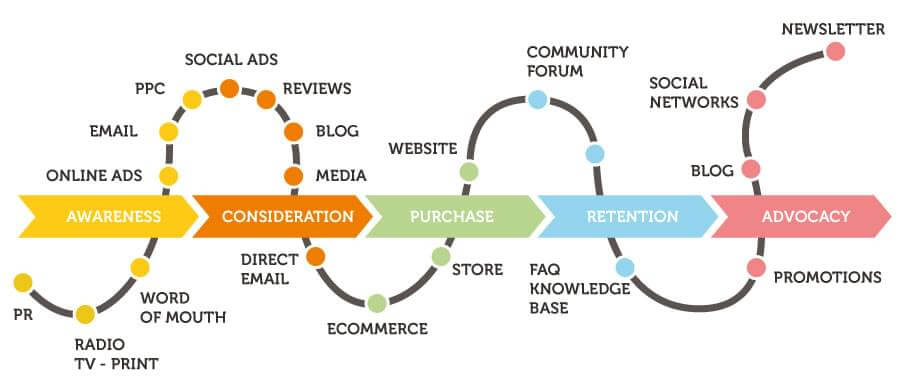 (Source)
From the early stage of building awareness to advocacy marketing departments are responsible to provide marketing materials to maximize opportunities and increase business growth.
And as customers demand more and better customer experience (CX) and user experience (UX) b2b content marketing will be used to support the total experience of your customers, employees, and your users to increase the overall experience.
As while we have been only talking about removing data silos to enhance our decision-making ability, customer experience has been rated as the top priority for businesses in 2023 for business growth.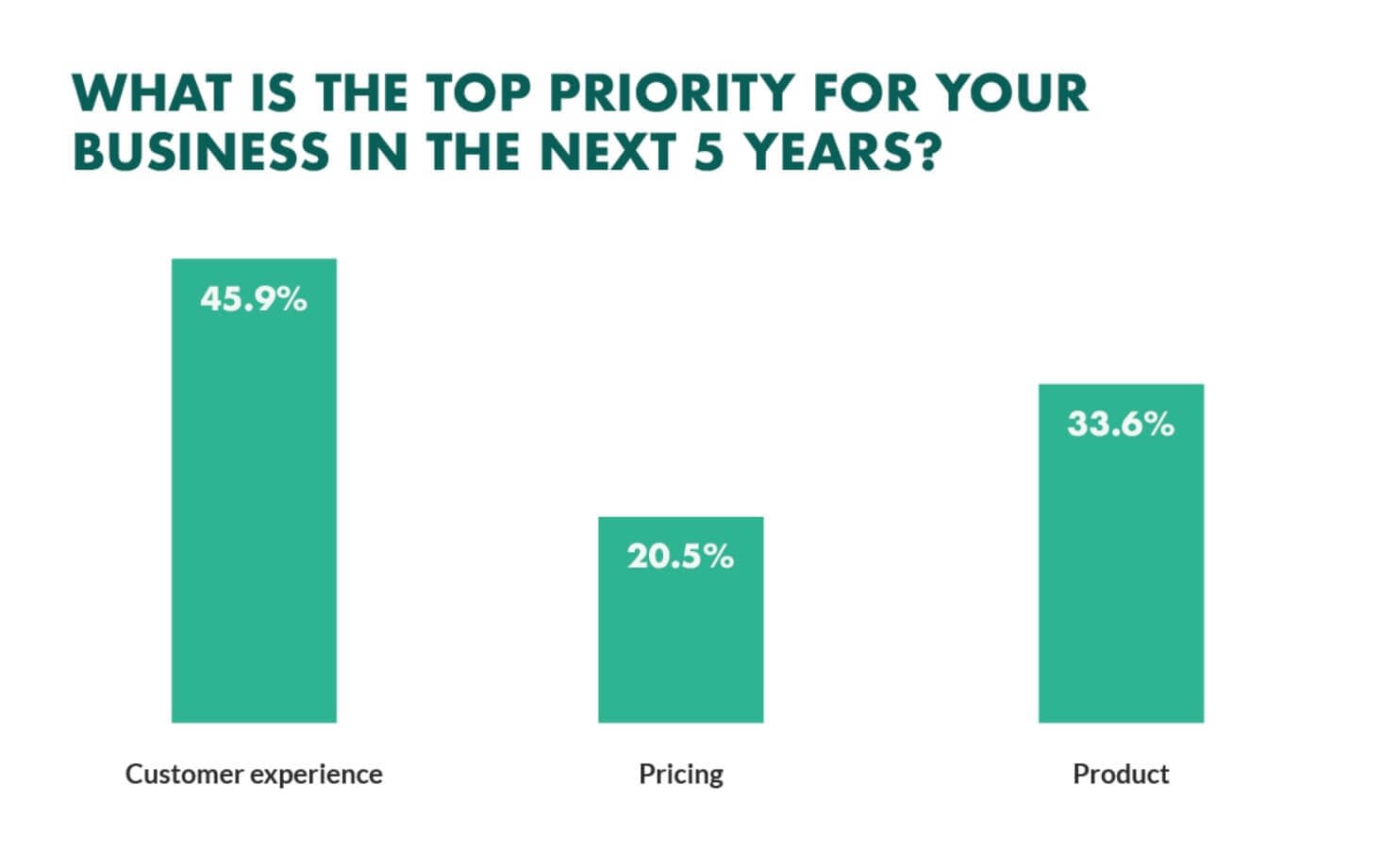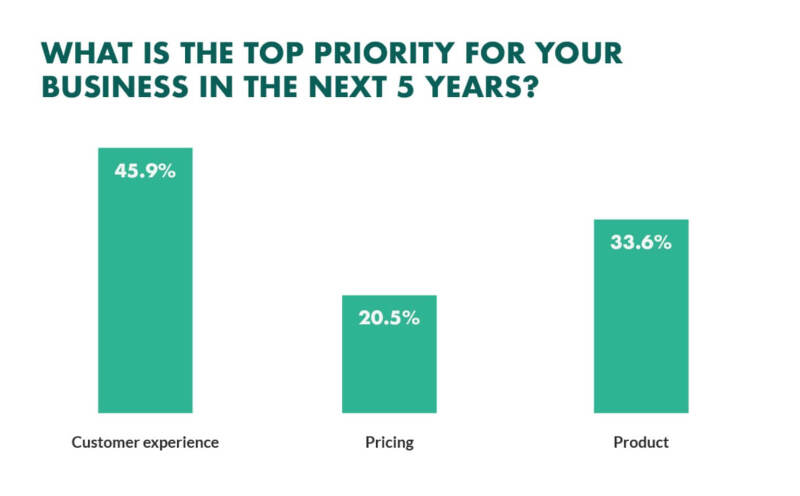 Therefore, we must remove silos within our customer experience as well and provide seamless, multi-channel customer experience without silos including your employees, users, and customers.
What is Total Experience in Marketing?
Total Experience in Marketing is using marketing assets to improve the experience of customers, employees, and users' experience to drive better overall company results. The objective is to improve the overall experience where all experiences from technology, employees to customers, and users get improved and removing experience silos.
Why Total Experience is Important?
Focusing on customer experience is only one part of the responsibility businesses have as employee experience matters as well to improve employees' efficiency productivity, happiness, retention of employees, increase profit, and reduce costs.
According to recent studies:
Companies with engaged employees pull in 5x more revenues compared to competitors with low engagement levels.
Highly engaged teams show a 21% greater profitability. (Source)
$11B is lost annually due to employee turnover.
If you want to build a customer-first strategy, building high employee morale is a necessary (though not sufficient) precondition. (Source)
Without prolonging this, your total experience is important because your happy employees are more effective and bringing better results and also provide better customer experience which is especially important for businesses where a high number of employees interact with customers.
And of course, your customer experience is important too as if there are no happy customers, there are not Dengi (Money).
How B2B Content Marketing Influence Total Experience?
Marketers and HR are having more in common than we actually think and there are some common things we can learn from each other to improve the total experience of the company and deliver better business growth.
Marketers already know that content marketing that is consistent, authentic, personalized, and valuable improves customer experience as it helps with their research, adapt to using new solutions, help them achieve more, etc.
The key is proactive communication with b2b buyers and delivers valuable insights to help them with content marketing.
And the same can applies to your employees. Often employees can be frustrated with using new technologies, not having enough information about employee benefits, promotions, compensation, etc.
For example, You can be sending weekly helpful tips and tricks from more experienced colleagues to increase productivity with tools or working from home. Creating employee podcasts to share stories, experiences, and more.
So, taking some of the best content marketing practices and apply them to the company to boost:
Transparency within the company
Employee benefit programs
Adoption of new technologies
Employees to feel more engaged
Help Employees to be more productive
Producing content has been proven to enhance customer experience