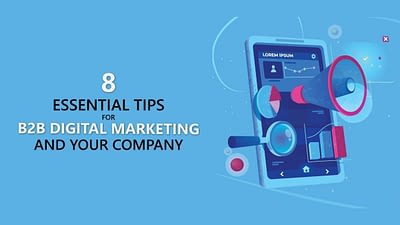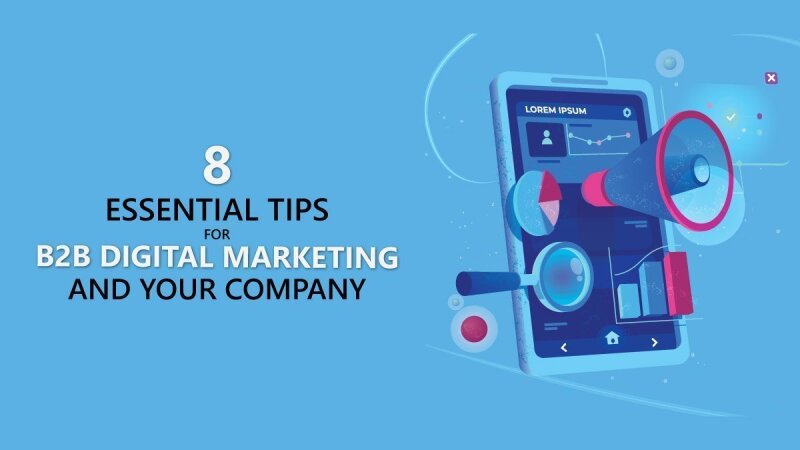 Technology is evolving faster than ever, digital marketing is becoming ever more important and I would like to bring you my top B2B digital marketing tips how you can leverage the technology in your b2b digital marketing to bring success to your marketing department and of course yourself.
Technologies like Machine Learning and Artificial Intelligence is going to play a big role in marketing in the next few years and it's up to us how we adopt this new technology to become more efficient, smarter and reduce potential risk when creating b2b marketing campaigns.
Definitely, this year is going to be excited despite that the international economy is not doing its best, but I still see, that if you will use modern technologies you can bring great results for yourself and your company.
So, let's discuss the 8 b2b digital marketing tips that I would like to share with you so you can succeed in 2021 and further because these tips will not go away anytime soon.
Before we start let's look at the key statistics for digital marketing.
[Source: hostingtribunal.com/ ]
1. Create a Digital Home [Website]
Having a website has become a basic marketing tool for any type of company and only very rare cases have not created their digital home and sometimes they substitute with Facebook or Instagram Page.
The website is usually the first interaction between you and your prospect when they are researching your product and services.
Offering your prospects, a place where they can learn more about you, your product and services is a great way to bring more customers to your business.
Because think of it this way, most of the people doing research online, there are no yellow pages anymore and searching for listing. 81% of customers search online before they make a purchase.
Nowadays, people want to find their information from their office or home, nobody wants to travel to just ask a few questions about the product and services.
And that's why you should have a website.
And there are many more reasons why you should create your website now, but I would like to talk about 2 trends in b2b websites.
Design
Design is an essential part of every successful website whether it is b2b or b2c. People are looking more on website design than ever.
It can influence prospects and customers how they feel about you and how much they can trust you.
That's why my b2b digital marketing tips include the design of your website and the UI.
Just imagine, you as a CEO have come to the meeting, claiming that you have the best business and solution for them, but you have arrived in an old, ugly looking car.
What do you think will be the prospect's first impression?
Your website is the same because most of the time your website is the first interaction with your company for your prospects.
So, do you want to show up with an old ugly car or with the brand new supercar?
Remember: First impressions are lasting impressions
But let me back up my statements with recent statistics about how website design is so important for your business and your prospects too!
48% of people cited a website's design as the number one factor in deciding the credibility of a business. Remember my example? Prospects in the b2b industry need to have trust and tramp looking website just doesn't build that! [Source: BlueCorona]
94% of people say bad design is the main reason they don't trust certain websites. [Source: Social Media Today] Because impressions still matter, and people do not spend long to formulate an opinion about your website. Some brain research has said that within 0.05s you already have formed a final opinion.
94% of people judge websites on responsive design. The reason is that 54% of web searches on google have been done by mobile phone, the rest is left to computers and tablets. [Source: Infront Webworks]
75% of people form their opinion of a website based on its aesthetics. (Source: Digital Apeel)
As you can see, the beautiful looking website is not a luxury for b2b businesses but a must.
And you need to have a professional website if you want to stay competitive and bring more customers through digital marketing.
Remember, your website is the first interaction with you and your prospects.
Customer Experience
Your digital home should also consider how you will be taking care of your customers and prospects.
Almost every b2b digital marketing tips include how to improve your customer experience.
Because most of the time they will turn to your website when they having some problems and questions.
You know, I don't call the website a digital home for businesses for no reason, but I mean it literally.
Therefore, you should think about your customer experience as when they have arrived at your home. You do not want to scare them with half falling apart home and bad customer experience.
The customer experience at your website must be great for your prospects and customers as it is one of the most important requirements for them.
That includes many factors like how easy it is to find information on your website, the responsive design whether they can load it on the phone, tablet, and computer, and also how they connect with you.
Customers do not give many chances, so we cannot leave anything up to chance.
Creating a positive digital experience is very important for your website and how customers see you.
Create differentiation from your competitors is the first rule of marketing but only a few marketers realize that sometimes you can find the simplest point of differentiator within you.
The first thing marketers think of is their branding like colors, also about their products and services what make them unique and attractive, but they forget about the simplest thing, you.
If you can find anything that makes you unique, then you should always include it within your marketing and let other people decide whether it is relevant to them or not.
Do not try to think for them and let them decide what they like.
So, my b2b digital marketing tips for your story includes two parts.
Case Study
Case studies are great ways how to create a social proof of your product and service but only a few of them are actually using it.
The power of success stories has been proven so many times, but why only a few marketers take time to actually create it?
There have been done countless studies about social proof and how a case study works great for companies.
82% of customers trust a company after reading custom content. [Source: SAG ipl]
70% of people will trust a recommendation from someone they don't even know. [Source: OptinMonster]
Testimonials can increase conversions on sales pages by 34%. [Source: OptinMonster]
So, if you have a happy customer do not be afraid to ask them for recommendations and some nice words to share about you.
It doesn't hurt them, and it hugely helps you!
About Page
About page is a way where you can talk about yourself and your business and it is another essential part of every successful b2b website.
Creating about page works as an introduction for your prospects to learn more about your business and you too and why your business exists.
Maybe you think that nobody cares about you and your purpose, but the very serious prospects will spend some time on your about page.
And sharing your story connects with your audience and makes you more trustworthy that you are a real business.
Also, SEO loves it too!
So, including videos of you talking about your business and achievements helps people to connect with you more on a personal level and to
build relationships.
Also, the about page is usually the last piece of information your prospects need to take the action and connect with you because they gain the trust with you thanks to the right information on your about page. So, what should be included on your about page?
Things like:
Your story
Purpose of your company
Testimonials
History
Call to Actions
But try to be unique and think about what you would like to share with your audience.
3. Be More Video Productive
Video marketing is going to be big in 2021 thanks to improving internet speed technologies on mobile phones and browsers and the quality itself.
Therefore, marketers are predicting that videos are going to be the number one most effective content to distribute in the next few years.
Already now the engagements with videos are much higher than just with published content and people rather watch the video than read a blog article.
Because it is easier to absorb information from videos and people more remember from visuals marketing materials rather than just from written marketing materials.