In this article, I am going to share 5 B2B Digital Marketing Trends in 2023 that are not the usual marketing trends you will read in every single article, but something new, yet very important that will influence how marketing is and will be done in the next 5 years.
Since AI boom digital marketing strategies have been rapidly adopted by B2B organizations even by the most skeptical of digital marketing now understand that digital marketing is important for business.
This sudden and almost immediate shift brought a lot of changes where B2B buyers and B2B sellers had to develop a new set of tactics to successfully finalize a purchase.
Therefore, new B2B digital marketing trends are emerging so B2B marketers can drive leads and revenue for their business. I believe these trends will influence how B2B buyers are making purchasing decisions and how B2B organizations should go about their marketing to drive sales leads for their business.
So here is my list of top five B2B digital marketing trends:
Trend #1 B2B Decision Makers Prefer Digital Self-Service
The first trend which will shift how marketers will generate B2B sales leads for their organizations is how B2B decision-makers prefer to communicate with the brand, get information and inquire about products and services.
The COVID-19 pandemic changed fundamentally how B2B organizations were doing btypeusiness and both B2B sellers and buyers were forced to go digital in a massive way. Even the most skeptical of digital channels did not have a choice.
And while this change was difficult for many sellers and buyers, the new study from McKinsey, on decision makers' behavior globally across industries since the crisis began reveals that the big digital shift is here to stay.
Most B2B seller interactions have moved to a remote or digital way of doing business, thus, marketers must shift their marketing activities into the digital space as well.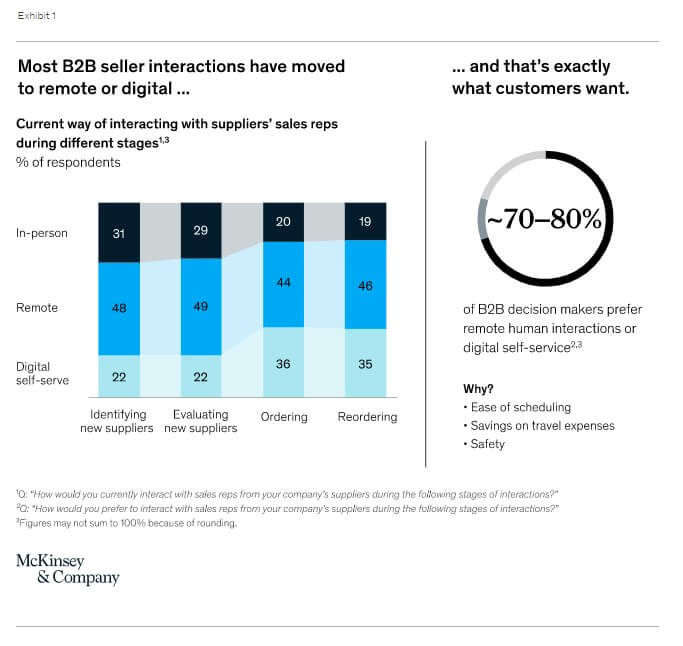 And that's exactly what customers want. 70-80% of B2B decision-makers prefer remote human interactions or digital self-service as it's easy to schedule meetings, cost-effective, and safer.
We can also see, that B2B buyers are no longer afraid of making big purchases online. Buyers are willing to spend big using remote or self-service.
This is definitely one of the most impacting results of digital marketing adoption, as previously selling online was only for e-commerce and smaller-ticket items. However, this could soon very change and high-ticket e-commerce shops for B2B could be the next big thing.
Research shows, 70 percent of B2B decision-makers say they are open to making new, fully self-serve, or remote purchases in excess of $50,000, and 27 percent would spend more than $500,000.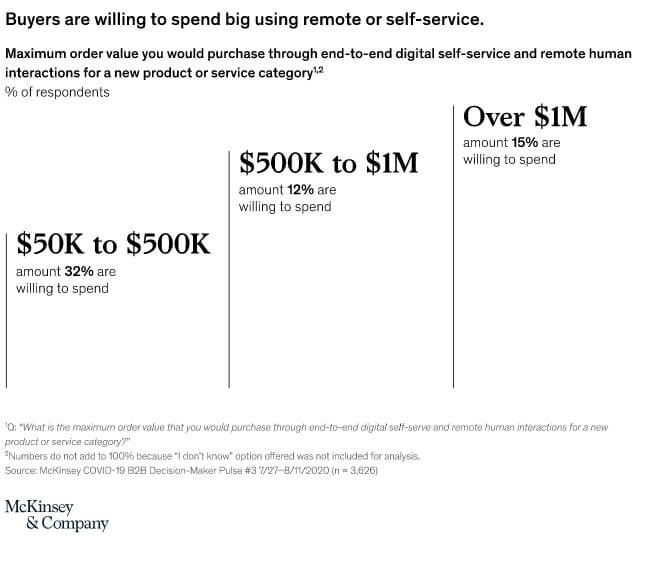 And more changes we can see how B2B buyers are preferring to get in touch with brands. The omnichannel experience thus becoming even more important than ever as buyers prefer to connect with brands via online channels rather than in person.
Digital interaction with sales reps such as videoconferences and online chat has become vital to do business in 2023 and traditional in-person meetings are being avoided for the reasons mentioned above.
So how your company will adapt to this B2B digital marketing trend in 2023 and what will you do to enable your B2B buyers to buy from you digitally or even using digital self-service?
I believe an industry like manufacturing is looking for a new e-commerce type of business where prospects can shop, customize and update based on needs using technologies like augmented and virtual reality.
Trend #2: Creating Content to Enable Buyers to Complete Buying Jobs
The second B2B digital marketing trend I believe is super important for your content marketing plan and how you should fundamentally think about creating content for your organization and your buyers because only traffic doesn't pay the bill.
And as content marketing definition by Content Marketing Institute says:
"Content marketing is a strategic marketing approach focused on creating and distributing valuable, relevant, and consistent content to attract and retain a clearly-defined audience — and, ultimately, to drive profitable customer action."
Now I want you to pay close attention to Valuable, Relevant, and Consistent Content, a clearly defined audience, and profitable customer action.
This means that your content marketing plan must be targeted mainly to your B2B target audience that buys from you and you should ultimately focus on this type of content.
But how can you create content like this?
Well, and that is why I want to talk about the second B2B digital marketing trend that will change the way how B2B content marketers will create and distribute their company content.
A new insight from Gartner shows that the B2B buying journey has changed and your digital and sales strategy must too.
We must rethink our old B2B buying process and how customers perceive value and especially how they search for important information to complete purchasing process to their satisfaction.
With an unlimited amount of information on the internet, sellers have little opportunity to influence customer decisions.
According to Gartner, when B2B buyers are considering a purchase' they spend only 17% of that time meeting with potential suppliers. When buyers are comparing multiple suppliers' the amount of time spent with anyone's sales rep maybe only be 5% or 6%.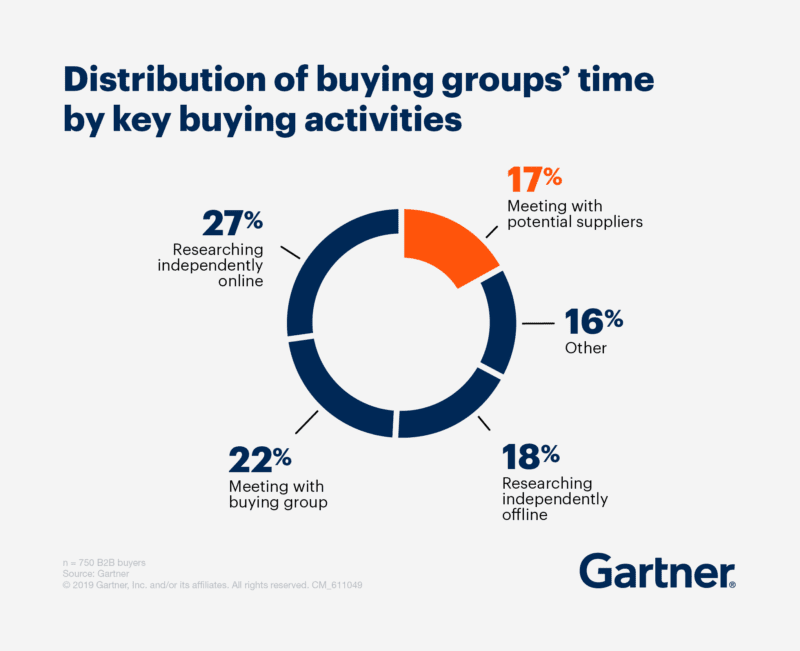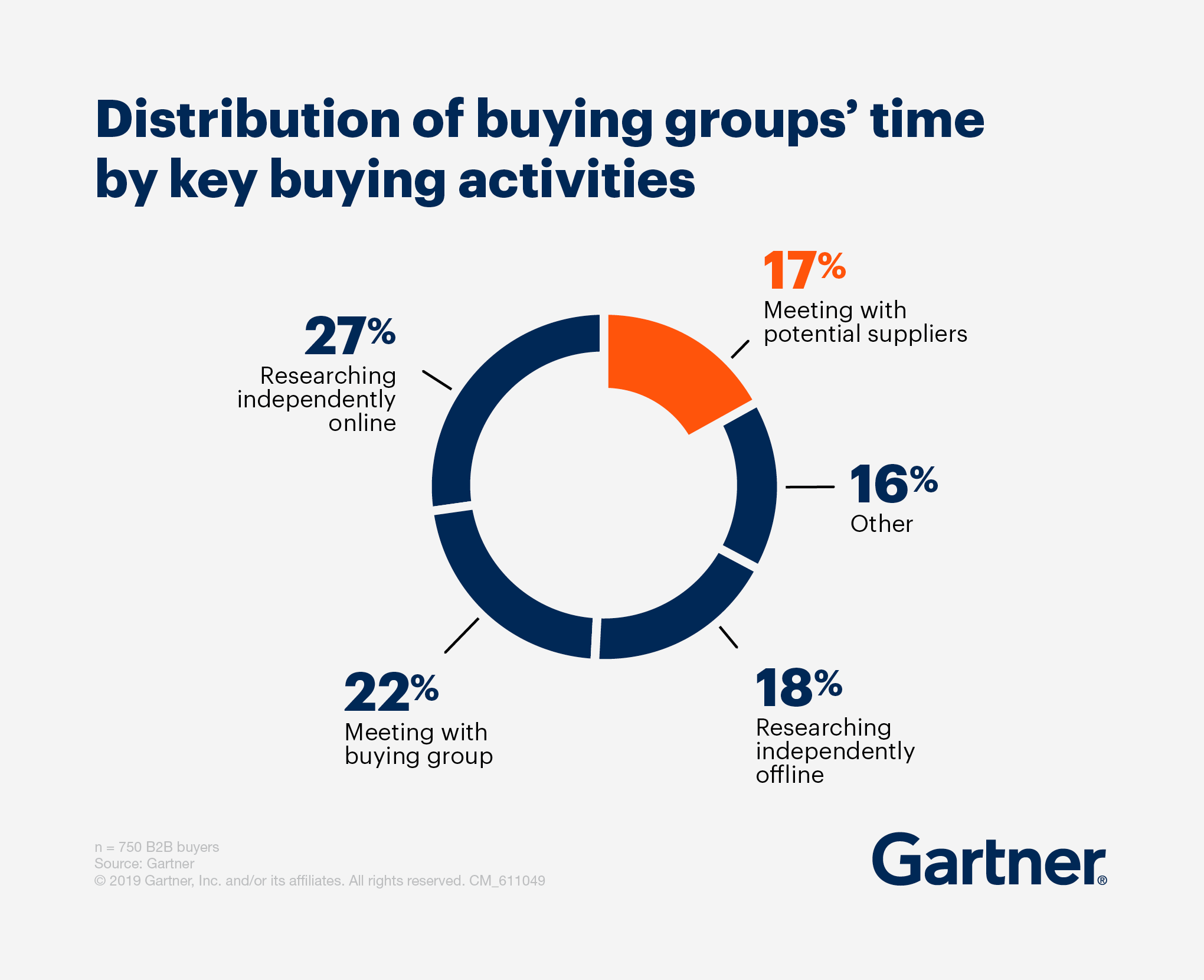 And the reason is that B2B buyers do not need to rely on getting information from suppliers anymore. Now, they prefer to do their own research independently. On average, B2B researchers do 12 searches prior to engaging on a specific brand's site.
However, the internet the source of unlimited information made the B2B buying journey very hard and 77% of B2B buyers stated that their latest purchase was very complex or difficult.
This brought a great opportunity to B2B organizations, as one of the biggest challenges B2B buyers are facing now is finding the right information they need to move further in the buying journey.
And to understand how to best help your customers and ease their complex purchases, Gartner has identified six B2B buying "jobs" that customers must complete to their satisfaction in order to successfully finalize a purchase:
Problem identification. "We need to do something."
Solution exploration."What's out there to solve our problem?"
Requirements building. "What exactly do we need the purchase to do?"
Supplier selection."Does this do what we want it to do?"
Validation."We think we know the right answer, but we need to be sure."
Consensus creation."We need to get everyone on board."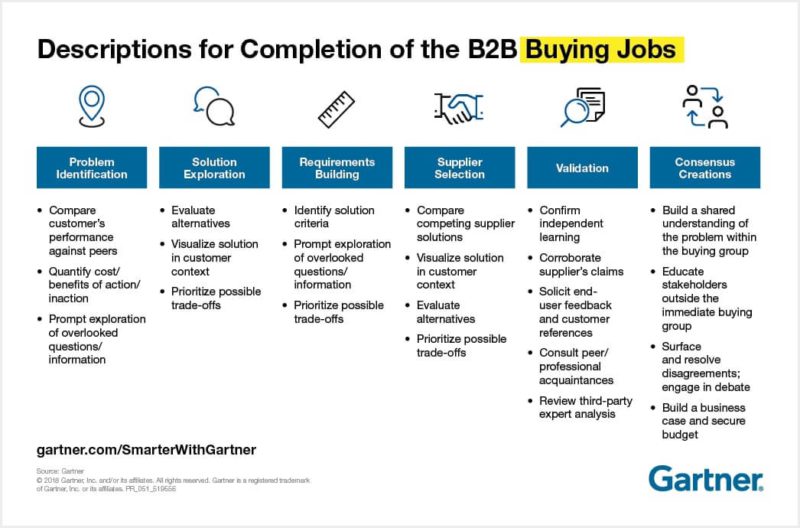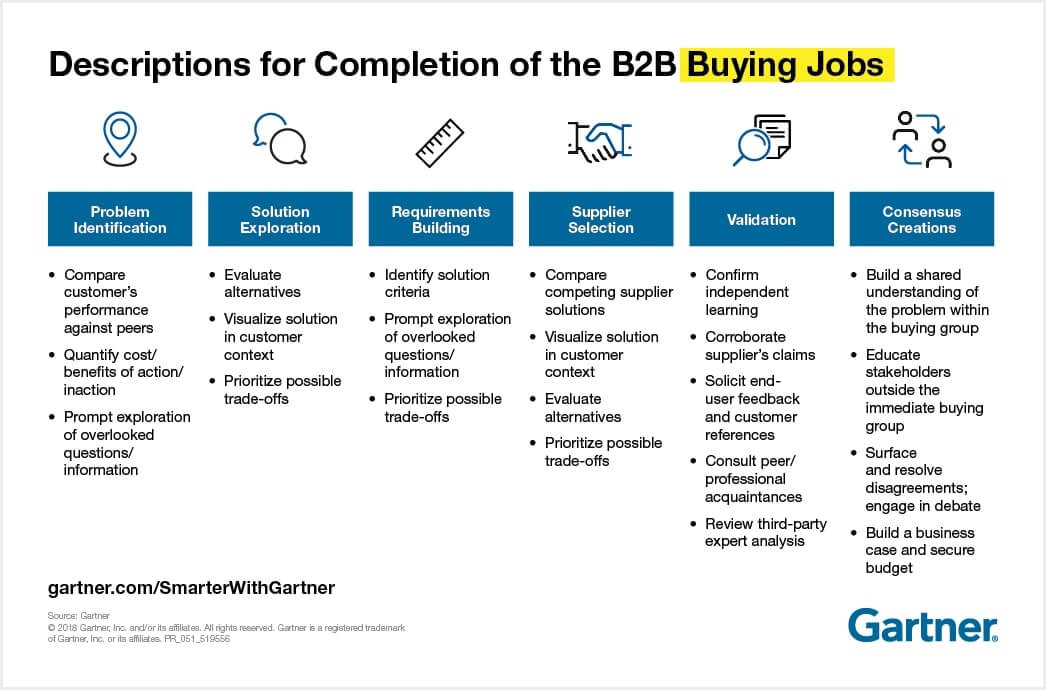 So, to successfully implement content marketing and drive profitable actions as stated by Content Marketing Institute, you must focus on providing customers with information that is specifically designed to help them complete their buying jobs.
Gartner calls this "buyer enablement" — the provisioning of information to customers in a way that enables them to complete critical buying jobs.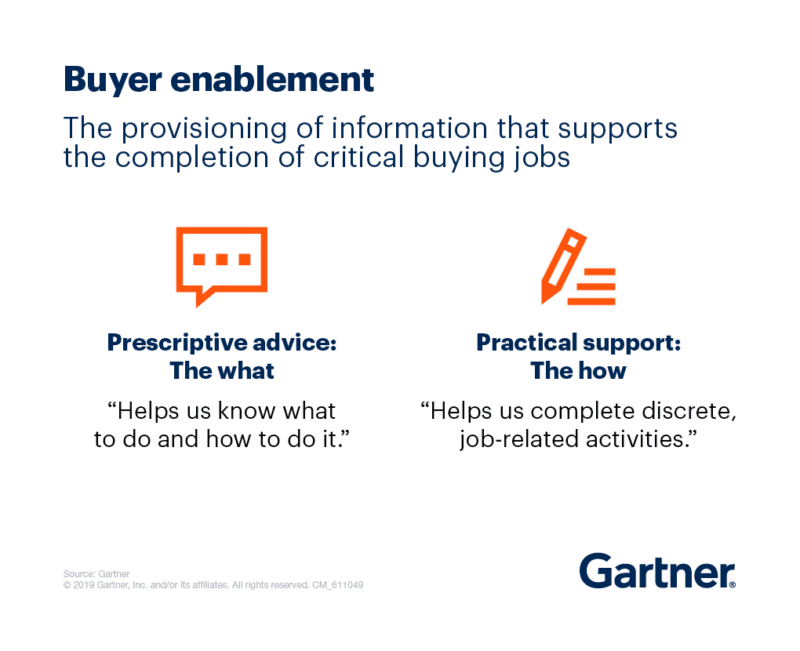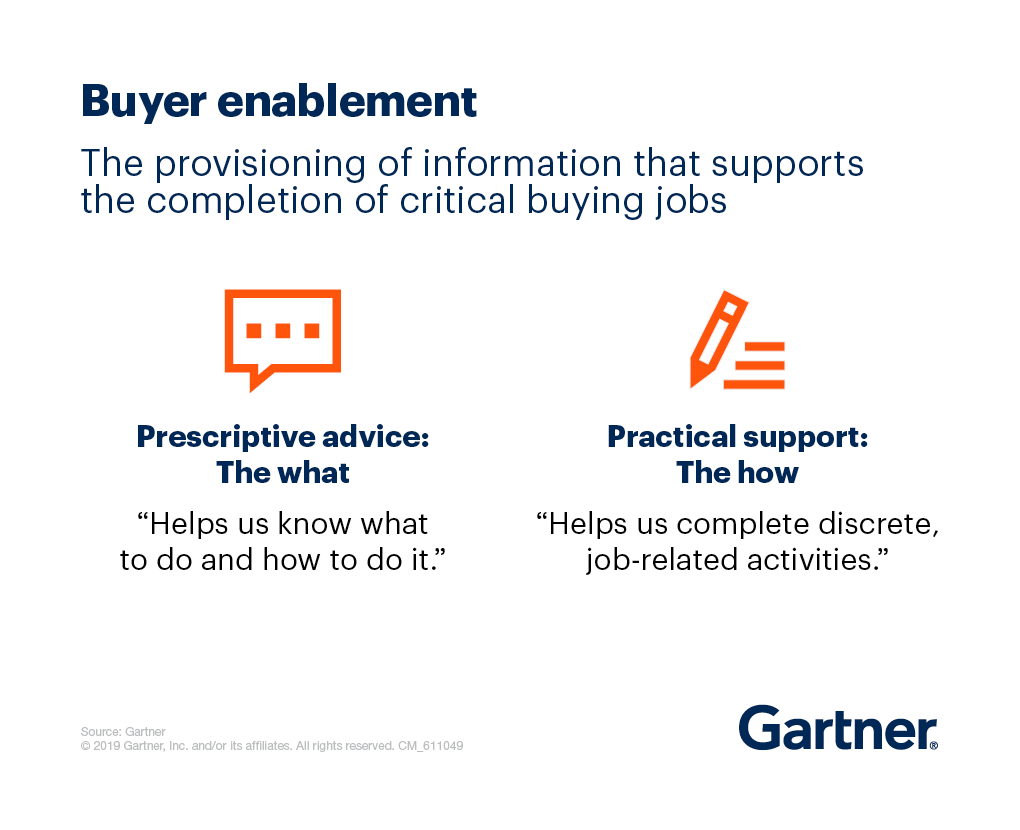 Trend #3: Create Personalize B2B Buyer Experience with AI
The next trend in B2B digital marketing is how AI technology is enabling us to create even more personalized customer and B2B Buyer experiences to orchestrate the customer journey across multiple channels.
Using AI is nothing new and artificial intelligence has been here for already some time. However, as technology progress, marketers are having new options to use this to improve their marketing results and save time.
From the simpler use of technology like when AI helps make decisions through the automated scheduler, spam score, and automatic winner selection of A/B email tests to use fully rendered dynamic content.
Using artificial intelligence for your marketing brings many benefits for your company like minimizing errors, saving costs, and increase ROI.
However, one of the most important benefits of using AI for your marketing is it helps you to connect your data and analyze it to create customer insights, which helps your marketing, sales, and customer service to finally be aligned.
21% of sales leaders rely on AI-based applications today, with the majority collaborating with marketing teams sharing these applications.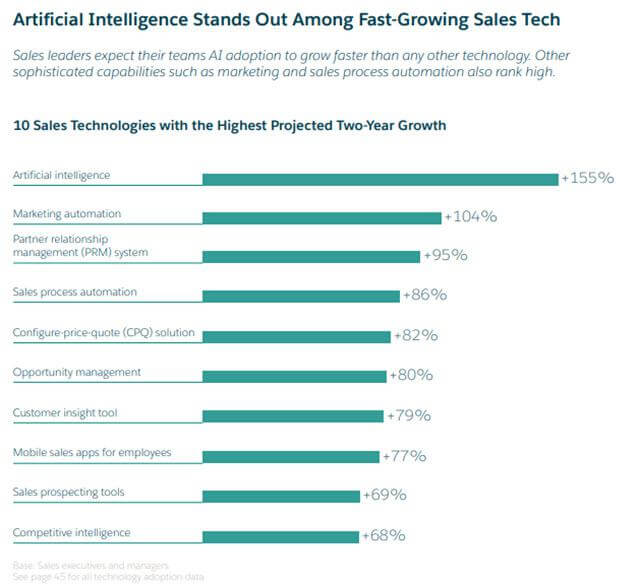 And there are many other ways how you can use the help of Artificial Intelligence for your organizations and 61% of marketers say artificial intelligence is the most important aspect of their data strategy and it can boost your productivity by up to 40%.
There are many examples of using AI to improve copywriting, outsource social interactions, use predictive analytics to drive personalization, and more. AI brings marketers the opportunity to do more with less and finally create personalize marketing at a scale.
There is no shortage of ideas of how AI can boost your marketing results and as technology advances, marketers have unprecedented ability to scale and personalize their programs through AI.
Marketers report that personalization improves lead generation, customer acquisition, and upselling — and they're also seeing improvements across the rest of the customer journey. For instance, 82% of marketing leaders credit personalization with a major or moderate boost in customer advocacy, and 92% say the same for its impact on brand building.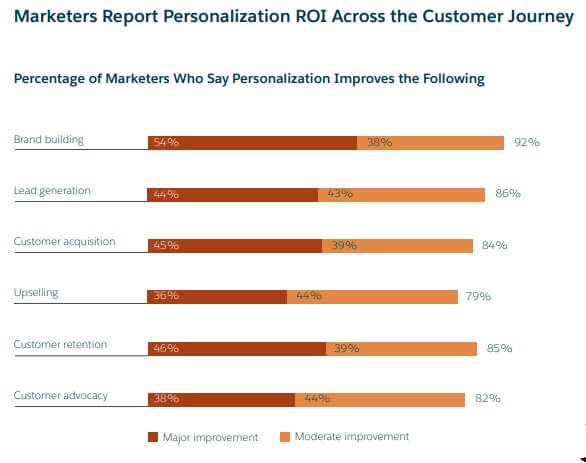 And every year we can see new applications and features that use AI to improve marketing results and Salesforce projected AI growths in the next few years and marketers are already planning to use more AI-based applications.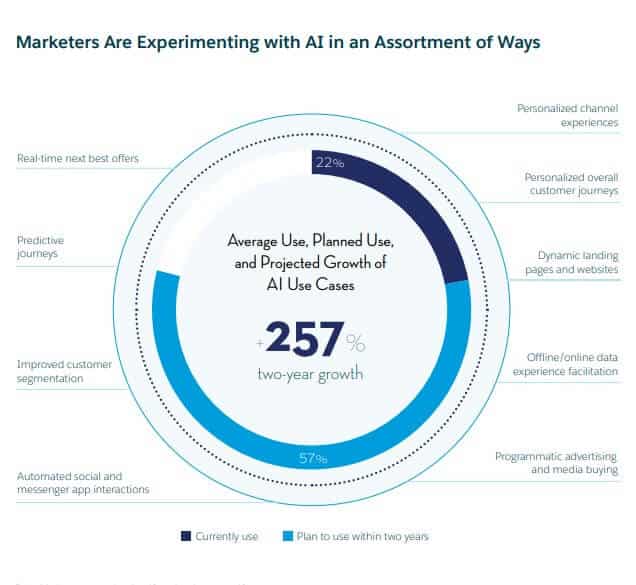 As marketers strive for real-time and personalize engagement with their customers and prospects, the use of this technology is necessary to achieve this goal and to provide a seamless customer journey, marketers will need the help of AI.
Thus, marketers across industries in B2B and B2C will need to use AI as connected customer experiences become standard in customers' minds.
Trend #4: Founders Position Themselves as Relevant Thought Leaders
The next on our list of B2B digital marketing trends for 2023 is founders will start positioning themselves as the thought leaders to drive more revenue for their business.
Business owners, founders, and entrepreneurs are realizing the having just a fancy logo, long years of experience and many customers is not enough anymore to win business.
To win trust from modern B2B buyers is much more complicated than it used to be and showing a long list of customers is not enough to win the trust, because buyers are searching for helpful information and thought leadership to make informed decisions.
B2B buyers want to do business with somebody that they trust and to build trust you must show expertise, experience, and knowledge. Google call this E-A-T, Expertise, Authoritativeness, and Trustworthiness.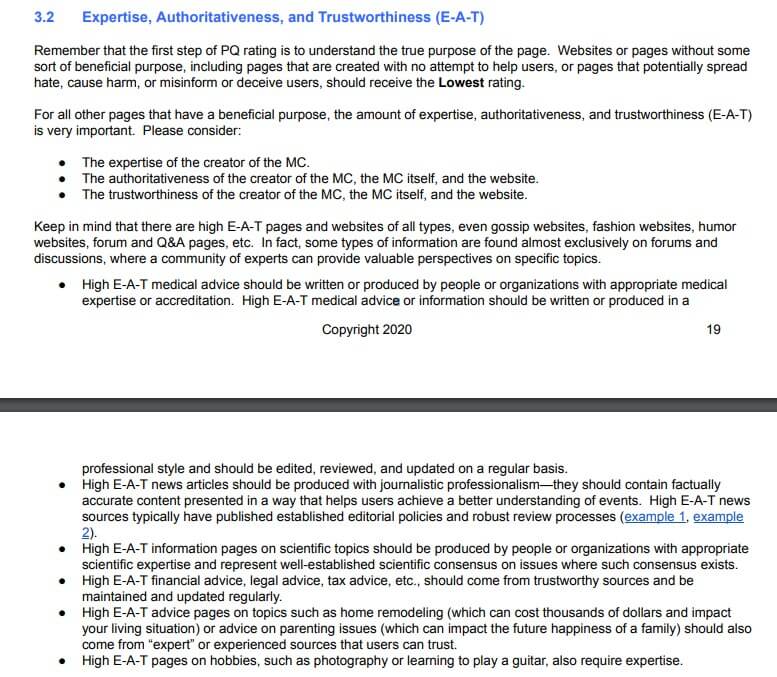 And according to Gartner, there are five success factors of thought leadership marketing:
Customer-Centric Mission: The program must be built on a customer-centric mission and be connected to your offering in the market.
Cross-Functional Strategy: TLM is a cross-functional strategy. It must be incorporated into your wider go-to-market strategy and be amplified in your product design and management, marketing and sales interactions, and eventually, your services and alliances.
Long-Term Play: TLM is a long-term, ongoing program that you should regularly evaluate for relevance and refresh as appropriate. A differentiated thought leadership position can become superseded or undifferentiated and lose value over time if not refreshed.
More Than Content: TLM is more than content. Authentic thought leadership needs to come from competency and an expert knowledge base that your organization has built over time.
Own Intellectual Property: The program cannot be outsourced. It must be directly related to your core IP and the value you deliver to your customers.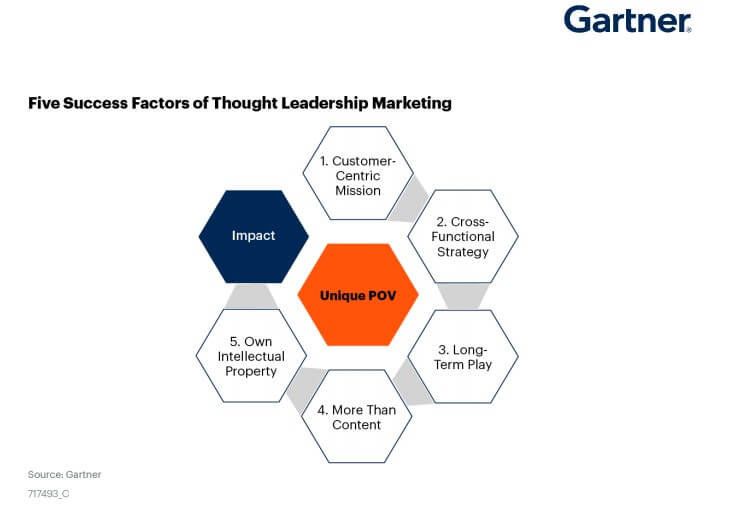 All these aspects are very important for businesses to drive more revenue and be even more successful. So, for founders to tackle this challenge, they have to turn themselves into thought leaders in their industry.
Remember, though leadership marketing is not an overnight success and it takes time to build trust and credibility with your content. A great example is Ahrefs with their YouTube, Blog, and researches. They have been able to build a strong leadership that many marketers visit to learn new tricks.
Thought leadership marketing can differentiate and establish credibility in competitive markets and more buyers place importance on the trustworthiness of the organization during the buying cycle than any other consideration factors.
Therefore, your TLM program first needs to be directly relevant to your target audience and, ultimately, either offer them advice that they can (or must) act on or change their views — even if in the longer term.
Second, your TLM must be directly relevant to what you do in the market and present a focused, unique POV that aligns back to your buyers. While TLM should not include product content, it should provide guidance that buyers will find valuable and should take whether or not they buy from you.
But, if done well, the position should lead to your offering. Your thought leadership must be applied and emerge from the work you do to help your B2B buyers complete their buying jobs.
Trend #5: Privacy First Marketing to Users and New Targeting
The last on our list of B2B digital marketing trends is privacy first marketing to your users and new ways how to do targeting and remarketing.
A big shock for advertisers and the advertising industry comes with the privacy-first approach from Google, Safari, and Firefox where these browsers are blocking third-party cookies.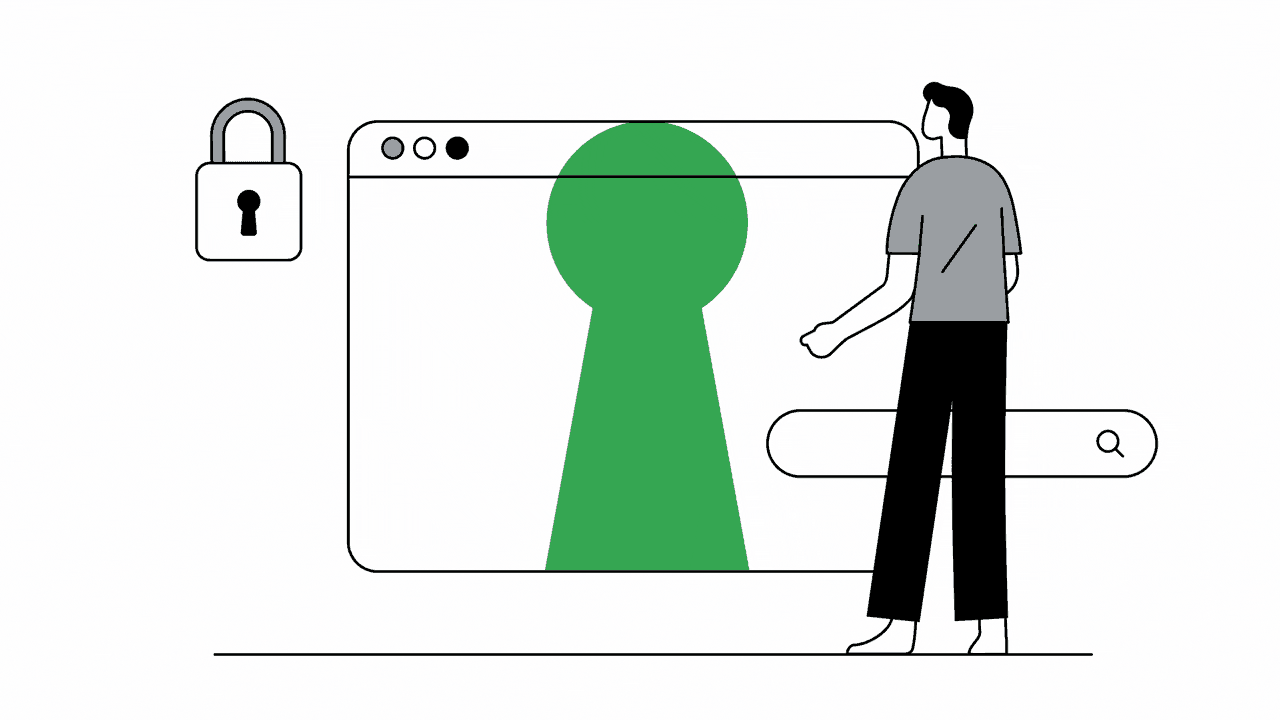 (Source)
And according to Google, marketers shouldn't depend on an external company and third-party cookies to build a relationship with your users and rather focus on building a direct relationship with them by letting them voluntarily share their information with you, when they download your ebook, fill up a form or share with you their contact information in any other way.
So, however, Google does still promise to deliver your ads to relevant people with similar interests it seems that your audiences and remarketing might not be the same as they used to be and whether you like it or no, you have to adapt your b2b digital marketing strategies for it.
Users want privacy and to deliver it you must implement privacy-first growth marketing to keep your business growing and earn trust with your prospects.
Connecting all your first-party data sources is essential to follow a data-privacy approach where your customers have control over what information they want to receive from your business and most importantly to give control of their own data.
And as the regulations are becoming stricter, marketers must develop a new set of tactics where both parties like customers so the company can achieve their goals.
And because both parties want more personalized ads, Google has started testing Federated Learning of Cohorts — or FLoC — which groups together users with similar browsing behaviors, as opposed to identifying people individually. This is one of the innovative types of digital marketing that Google is leveraging.
And according to Google, FLoC can provide an effective replacement signal for third-party cookies with at least 95% of the conversions per dollar spent when compared to cookie-based advertising.
However, we will see how things will change, as I am sure, there will be more measures taken by governments to ensure the privacy of their people is protected. Therefore, Privacy First Marketing and gaining data directly from your prospects will become more important than ever to drive leads for your business.
Conclusion
The future is digital – and optimistic as said by Mckinsey, however, our approach should be customer-centric as our customers and users are the most important, and anything we do, we should ask ourselves whether we do it predominantly for them or us.
I strongly believe in this approach as trying to provide as much value as you can to your users and customers will fundamentally help you build the so needed trust.
Creating thought leadership based on your customers' and prospects' informational needs is what will drive your marketing results and ethically doing it all by enabling the privacy-first approach will show that you care about the user's privacy.
Marketers have the responsibility to drive new leads for the business consistently and to do that we cannot keep trying the same old tricks, but to adapt to our customers' and users' needs which clearly shows that they want to be in the center of our marketing effort.
So, I hope these trends will help you to market better and drive even more results, as I am very confident that all these B2B digital marketing trends will influence the way how marketers generating leads for their businesses. Do you want to learn more about B2B marketing? Check out my recommendation for best B2B marketing blogs.
Related Articles
Also, check out our Digital Marketing hub page to learn more.
Disclaimer
This article was created by Eduard Dziak and may contain affiliate links. The following were used to optimize the article for the best user and search engine experience include:
SE Ranking for keyword research and on-page SEO optimization
Surfer SEO for SEO-friendly content creation for users and search engines.
Jasper AI for grammar correction and information enhancement.
The article is based on the author's own experience and knowledge, drawn from both their own work and that of their clients, to provide the latest, proven methods.