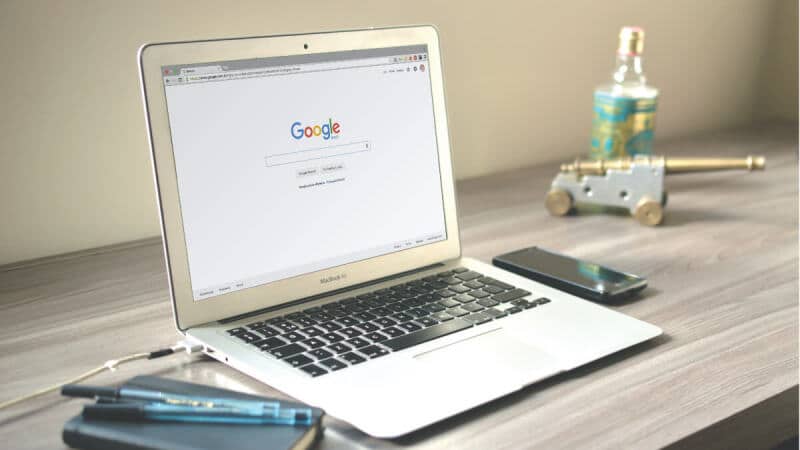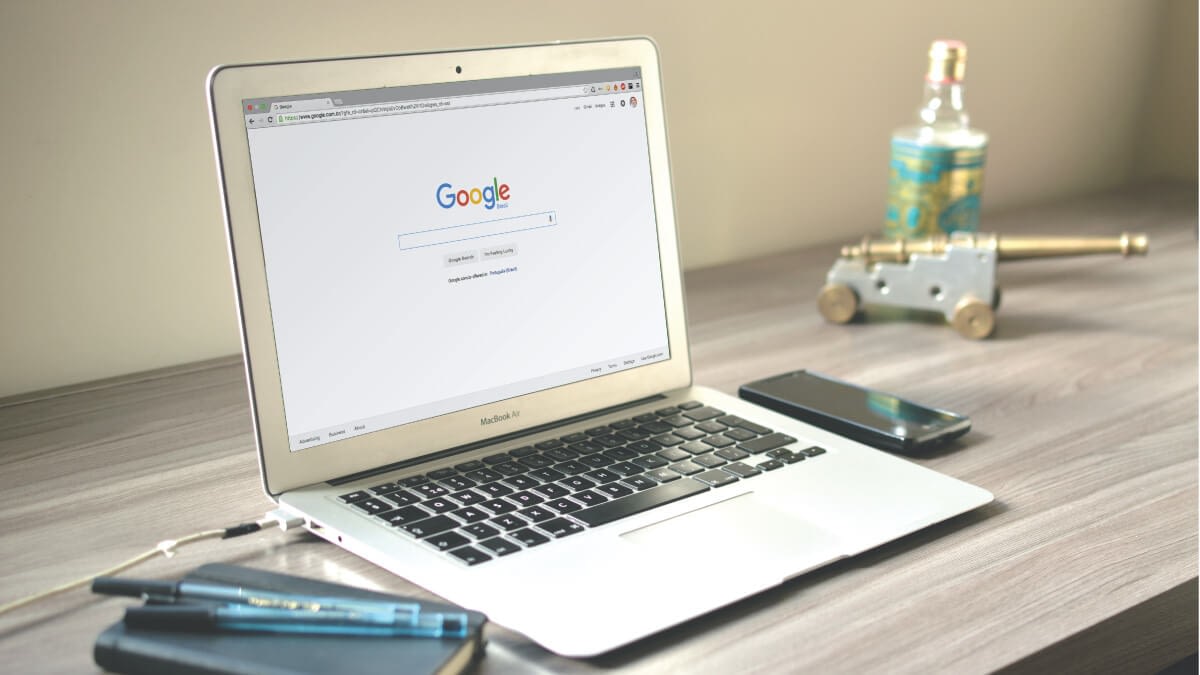 B2B Inbound marketing gives you a chance to drive highly targeted and strong leads to your business by sharing your expertise and knowledge on online platforms to gain credibility and trust of your target audience.
If it is done properly, B2B inbound marketing is a great way to rapidly boost your lead generation and drive high volume traffic to your website day and night.
However, to achieve it, you need to set your inbound marketing properly to make it effective.
Therefore I have written this comprehensive guide for you to maximize your effort and profit from B2B marketing. So you would avoid errors I have made when I was starting with Inbound marketing.
So, I hope you will enjoy this guide and find it helpful for your business.
Are you new to B2B Marketing? Start with my guide: The Complete Guide to B2B Digital Marketing in 2020
What is B2B Inbound Marketing?
B2B Inbound marketing is a relatively new way of business marketing to increase brand awareness and drive more demand for your products and services via digital marketing strategies, for example, content marketing, social media marketing, SEO, and branding. It is a way to promote business, increase profit, and achieve business objectives.
So, once you understand the term B2B Inbound marketing we can move furthermore and discuss what could it means for your business.
As Digital marketing is evolving you must evolve as well as your prospects are changing with it and these changes can leave your business behind.
Therefore, B2B inbound marketing has become essential for marketers to drive more and better leads to lower costs.
Why?
Well nowadays, inbound marketing is the main driver for businesses to bring more leads, convert them into customers, and improve customer retention nowadays. Basically, the whole cycle selling cycle is influenced by it.
That means inbound marketing influence the way how customers researching your solutions as well as the way how you can keep your customers.
From recent statistics, you can see that 68% of B2B customers prefer to research independently online and only 29% of people want to talk to a salesperson to learn more about a product. While 62% will consult a search engine.
Therefore, inbound marketing gives you a great way to drive your b2b buyers to your business with targeted content which gives them the solution.
Learn more about Content Marketing here: Easy to Learn B2B Content Marketing Guide
Brief Inbound Marketing History
Before we start to talk more about inbound marketing, let's briefly discover the inbound marketing history and how it got here.
The idea of inbound marketing has appeared early in 2005 when HubSpot's Co-founder and CEO, Brian Halligan has started bringing the phrase up.
He thought that traditional marketing and the way how marketers are chasing for prospects is broken and a new approach should be created.
Mr. Halligan believed in a more friendly and helpful way how to get prospects and instead of chasing them, we should attract prospects.
Therefore as time goes on, and search engines are improving, inbound marketing has started to become a thing in the world.
Especially with radically changes in the way how people are shopping and react to traditional marketing.
Therefore in 2012 inbound marketing really started to grow as marketers are realizing that the old way marketing – outbound marketing is broken and new marketing is required.
Also, with buyers growing interested in online platforms such as Social media (LinkedIn, Twitter, Facebook) and Company, the marketers started seeing an opportunity within inbound marketing.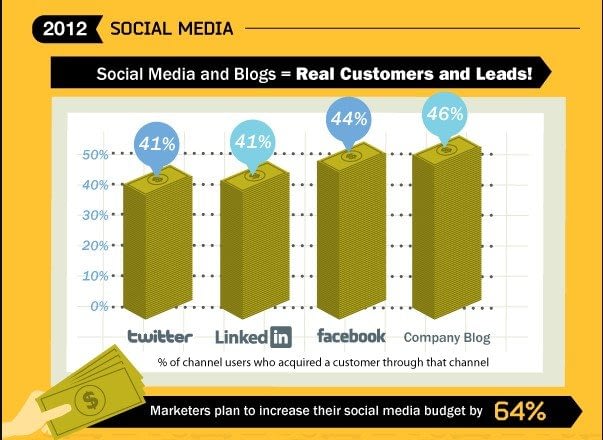 And as time goes by and online technologies are improving marketers are pushed to switch from traditional marketing strategies such as telemarketing and blasting emails to inbound marketing strategies such as content marketing and social media marketing.
And today's marketing is highly dependable on inbound marketing and whether you are Start-up or well establish an organization.
Why do You Need B2B Inbound Marketing?
You need B2B inbound marketing because it is an essential marketing technique to drive targeted traffic to your business. With strategies like content marketing and social media, you drive highly targeted traffic to your website which improves conversions and maximizes your profit.
Also, the next reason why you need B2B inbound marketing is because of the buyer's new approach to how they are making purchasing decisions.
And as a result of that, inbound marketing has become more important than ever before.
Just let's look at the recent statistics about inbound marketing and how b2b buyer's behavior is changing in terms of doing research and making decisions.
68% of B2B customers prefer to research independently online — meaning the battleground for reaching B2B clients is clearly online.
90% of searchers haven't made their minds up about a brand before starting their search.
Inbound marketing generates three times more leads per dollar than traditional methods.
Most B2B buyers are already 57% through the buying process before the first meeting with a representative. (Accenture)
67% of purchases are influenced by digital content. (Google, 2019)
50% of B2B search queries today are made on smartphones, and this percentage will grow to 70% by 2020.
As you can see, these statistics show that inbound marketing is inevitable for today's marketing.
And, therefore, to survive and succeed in today's business world, inbound marketing should be an essential part of your business.

Learn more about Content Marketing here: Easy to Learn B2B Content Marketing Guide
5 Benefits of Inbound Marketing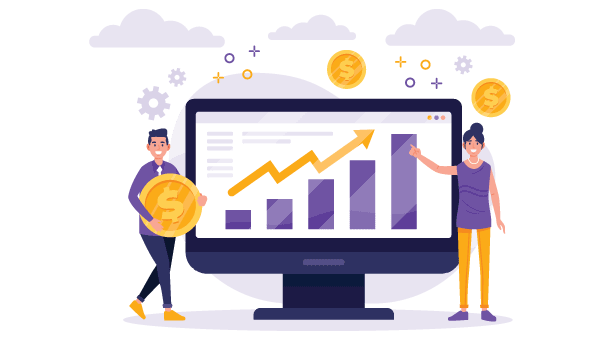 Without a doubt, b2b inbound marketing is an essential part for your business to succeed, but what actual benefits it brings?
Whenever you are preparing a B2B marketing plan you should know what are the risks and benefits of strategies that you want to use.
Whether it is digital, traditional, or a mix of both marketing, it is important to know the benefits and risks of marketing strategies.
Therefore, let's first discuss the benefits of B2B inbound marketing for your business to furthermore know why you should actually use this technique.
As marketing can be sometimes confusing with all the rules, strategies, hacks, and so on to make a proper inform decision.
That's why I give you the benefits of B2B marketing at a glance for you to get only the important benefits of B2B Inbound marketing.
But before we jump into the benefits I want you to remember:
You should always do more intense research about inbound marketing and properly find out if it fits in your B2B digital marketing.
So without further due, let's jump into the 5 top benefits of B2B inbound marketing.
1.       Improve brand trust and credibility
Improve brand trust and credibility is important for b2b companies because b2b buyers are searching for a trusted advisor and qualify companies which can solve their problems. Therefore using inbound marketing for b2b companies is extremely helpful as you are proving to them, that you are the type of guy they are looking for.
2.       Reduce Cost per Lead by 50% and more.
Did you know that inbound leads on average cost 61% less as compared to outbound leads? Also, 3 out of 4 inbound marketing channels cost less than any outbound channel and in addition to that, businesses that mainly rely on Inbound Marketing save more than $14 for every newly acquired customer. Inbound marketing for b2b organizations is a great strategy to reduce costs and improve profitability.
3.       Improve Lead Quality
With recent statistics, buyers are in more control in what content they want to consume than ever. 62% of buyers prefer to do research online before they contact a salesperson. It has been noted that 57-70% of the buyer journey has been completed by b2b buyers before they contact a salesperson. Which means b2b buyers are educating themselves quite a bit. Unfortunately, 82% of buyers think, that salesperson is unprepared.
4.       Improve Lead Conversion
Inbound marketers double the average site conversion rate, from 6% to 12% total with better targeting options which Inbound marketing gives within Digital marketing. With proper Inbound marketing, you can drive leads day and night leads without you actually do any work. Once you set it up, it runs itself.
5.       Increase Customer Retention and Lifetime Value
Inbound marketing is not just focusing on acquiring new customers. But also to keep your customers be your customers which is call retention. Modern b2b digital marketing helps sales and customer service to improve business profits and objectives. Aligning content with a prospect's stage in the buyer's journey can boost conversion rates by 72%. That applies to your customers as well. (Business2community) Read more on the retention of your customers.
Learn more about B2B Digital Marketing here: B2B Digital Marketing Guide for Beginners in 2020
Disadvantages of Inbound Marketing [5 Risks]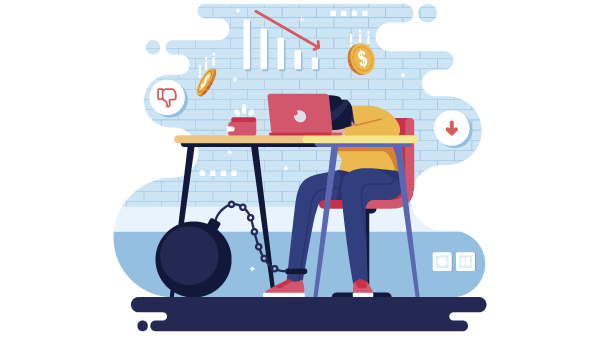 Inbound marketing brings many benefits to b2b organizations and I have mentioned just a few of them, but what about risks?
If you are considering having an inbound marketing strategy for your b2b company you should also know what are the risks and challenges of it.
Like everything has its pros and cons, but you need to consider both sides and evaluate whether the benefits overtake the risks.
Of course, it is based on company to company and I cannot make a decision about whether inbound marketing is something for you.
Therefore I gave you the common benefits of b2b inbound marketing and I give you the 5 common disadvantages so you can later decide.
But make sure, you are doing proper research as this guide is to help you understand B2B inbound marketing, but there is much more to learn.
1.       Need to stay consistent.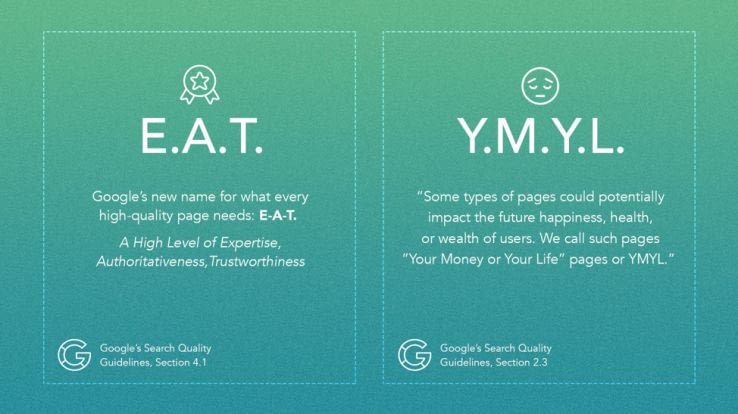 The thing is about inbound marketing you need to stay consistent whether you are in B2B or B2C industry.
Bringing new leads with content requires time and dedication due to today's ranking factors.
To be rank you need to deserve your it, whether it is on search engines or social media.
Google has talked about how they asset website and recognize whether websites are qualified to rank on the first page.
So, Google has created something called E-A-T (Expertise, Authoritativeness, Trustworthiness) to distinguished experts from wannabes.
But to earn this trust, it takes time and dedication. You need to keep creating valuable content week after week and share it with your audience.
2.       Inbound marketing takes longer to start working.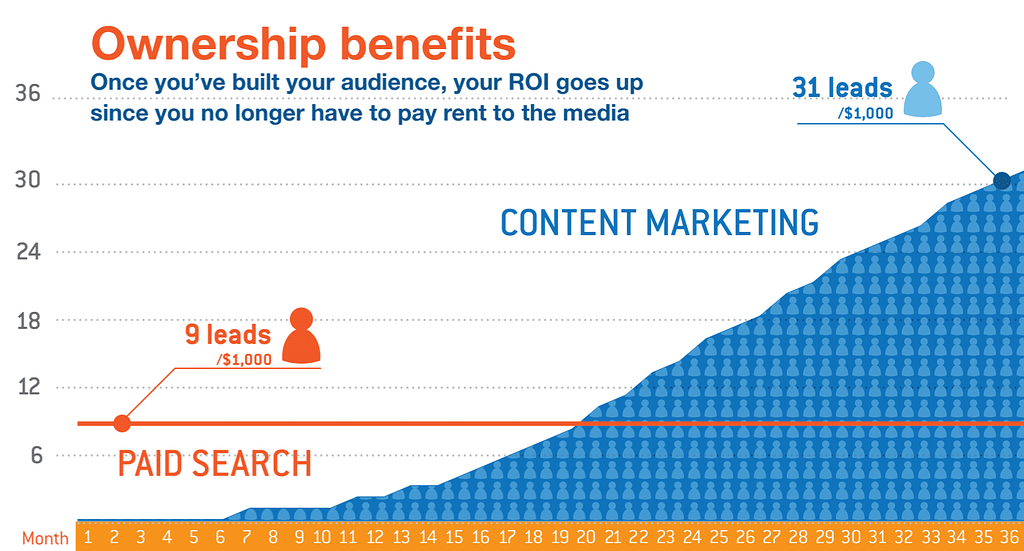 Developing an inbound marketing strategy for your b2b organization can be tricky if you do not have a plan longer than a year.
Because being consistent is not just enough if your consistency keeps just for a few months.
As inbound marketing takes longer to actually start working. Some b2b marketers have reported that they started seeing strong ROI after 3 years of dedicated inbound marketing strategy.
So, you should ask yourself a question, can I afford to dedicated enough resources to develop the inbound marketing strategy consistently for a long period of time?
But you should also ask yourself, am I still be doing business in 3 years' time? if yes, can I afford not to take such an opportunity?
So, make sure that you give it thought before you decide whether you want to have or not have an inbound marketing strategy for your b2b business.
3.       It is no longer about you, but your customers
The next disadvantage of b2b inbound marketing is that you cannot focus on yourself anymore as it used to in traditional marketing.
As long as you were saying you are the best, business went fine, but today's buyers no longer care about that.
Honestly, b2b buyers:
They don't know you
Don't trust you
Don't care about you
and not interested to talk to you
harsh isn't?
Therefore you need to earn prospects trust.
That's why creating an inbound marketing strategy for your b2b organization should be only based on what your prospects what and not you!
So, you are developing b2b inbound marketing strategy you need to put yourself in your prospects shoes and ask yourself questions like:
How can I address the needs of my prospects?
What are the typical problems of my prospects and how can I help them to solve it?
Asking yourself questions from the perspective of your prospects will help you to create relevant content for them and not for you.
4.       A completely different set of skills is required
As I already mentioned to you, inbound marketing is a relatively new approach to marketing. And that's why different skills are required from marketers.
Therefore it can bring a lot of troubles to b2b organizations to create an inbound marketing strategy as they might not have the knowledge.
Be able to effectively apply the strategy, you need to have experts within your team to help you with it.
Luckily nowadays you can go and hire agency or freelancers which can help with inbound marketing strategy.
Websites like:
are especially great when you are starting with inbound marketing and having a low budget.
5.       You can't just buy success
I guess I totally messed up everything, just a second ago I talk about buying and hiring freelancers and agencies to buy the success, but now I say you can't buy success?
So what is it? Make up your mind!
Give me a second to describe what I mean you can't buy success.
As I already mentioned to you, inbound marketing is about creating helpful and valuable content for your target audience.
Therefore just hiring SEO experts and content marketing experts to do your content is not just enough.
Why?
Because nobody knows your business, prospects, and customer better than you! Therefore if you are creating inbound marketing, you need to grind as well.
Yes, you can hire a blogger to help you write an optimized SEO article but essentially you need to lead the blogger. You need to tell him what to write about, what pains and needs to address.
So, you can buy help from freelancers and agencies, but the success is depending on you.
how well you know your industry, your prospects, and customers determine the success of your content marketing strategy.
Don't confuse it, please.
Inbound VS Outbound Marketing
Inbound and Outbound marketing strategies has its pros and cons and B2B (business to business) marketers need to consider both sides. Depending on marketers objectives they'll need to select the beneficial b2b marketing strategy to their business.
Therefore, you should know the differences between inbound and outbound marketing. So you can decide which one of those fit you more to achieve business objectives.
Accordingly, your business objectives should form your marketing plan to make sure, you stay laser-focused.
But you need to keep your B2B marketing plan enough "fluid" to make sure, you can always be flexible. Because, if some changes coming to market places such as new trends, lowering budget, or a new threat you need to quickly react.
With that being said, let's discuss the two marketing strategies inbound and outbound to better understand the principles each of the marketing strategy.
So, this is the main differences between B2B Inbound and Outbound Marketing
| INBOUND MARKETING | OUTBOUND MARKETING |
| --- | --- |
| Focus on earning attention from the target audience and customers with helpful content. Usually easy to find through unique and helpful content shared across multiple digital channels to find people who would benefit from the content. | Demand attention from people to present products and services using an approach called "shotgun" – show ads (easily overlooked) as many people possible and hope some will get interested in. |
| Communication is interactive and is a two-way conversation | Communication is passive and often missed by the consumer. |
| Prospects will come to you via helpful content for them shared across channels such as Social Media, Search Engines, and Referrals. | Prospects will come to you via advertisement from TV, Billboards, Radios, Direct mails, Commercials, and Cold Calling. |
| Inbound Marketing helps produce qualified leads because buyers are searching for your products or services when they encounter problems. | Leads and impacts are virtually unmeasurable due to the passive nature of Outbound marketing. |
| Having a blog will get you 55% more traffic. | 86% of people skip TV commercials. |
| The average cost per lead is $143. | The average cost per lead is $373. |
| Inbound marketing gives control to buyers which information wants to receive. | Outbound marketing gives control to companies what the people see. |
| 2/3 U.S internet users regularly use a social media | 87% of people watch tv and simultaneously are on the internet. |
Those are the common difference between inbound and outbound marketing. Of course, there are more differentiate points between these two marketing strategies.
Therefore, once you learn more about both techniques, you can decide how to use inbound and outbound marketing within your B2B Marketing.
B2B Inbound Marketing Funnel & Customer Journey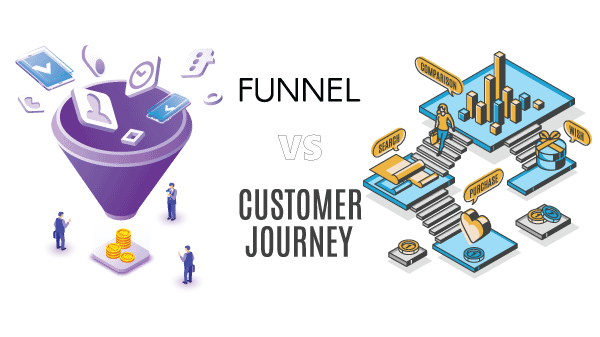 B2B Inbound marketing funnel & customer journey are essential tools for your marketing to understand your prospects and customers and to better plan your marketing effort and resources.
It also helps you understand your business nature.
Understanding your business nature is an essential part of your marketing to deliver good results.
And therefore, inbound marketing for b2b business is based on synchronizing your marketing effort and prospects' needs via valuable content to create effective modern marketing.
Especially that is important in modern marketing when by 2020, 51% of consumers expect that companies will anticipate their needs and make relevant suggestions before they make contact. (Instapage)
Not mentioned that 63% of respondents are highly annoyed by the way brands continue to rely on the old-fashioned strategy of blasting generic ad messages repeatedly. (Instapage)
That's why tools like marketing funnel & customer journey help you to create unify marketing which delivers value to your prospects and profit to your business and not annoy them.
Marketing Funnel
The Marketing Funnel is a simplified model of the marketing process to attract, educate, and convert leads into customers by offering valuable content for them. It provides help to marketers to create a full marketing cycle to nurture lead on every step of their customer journey and to maximize profit.