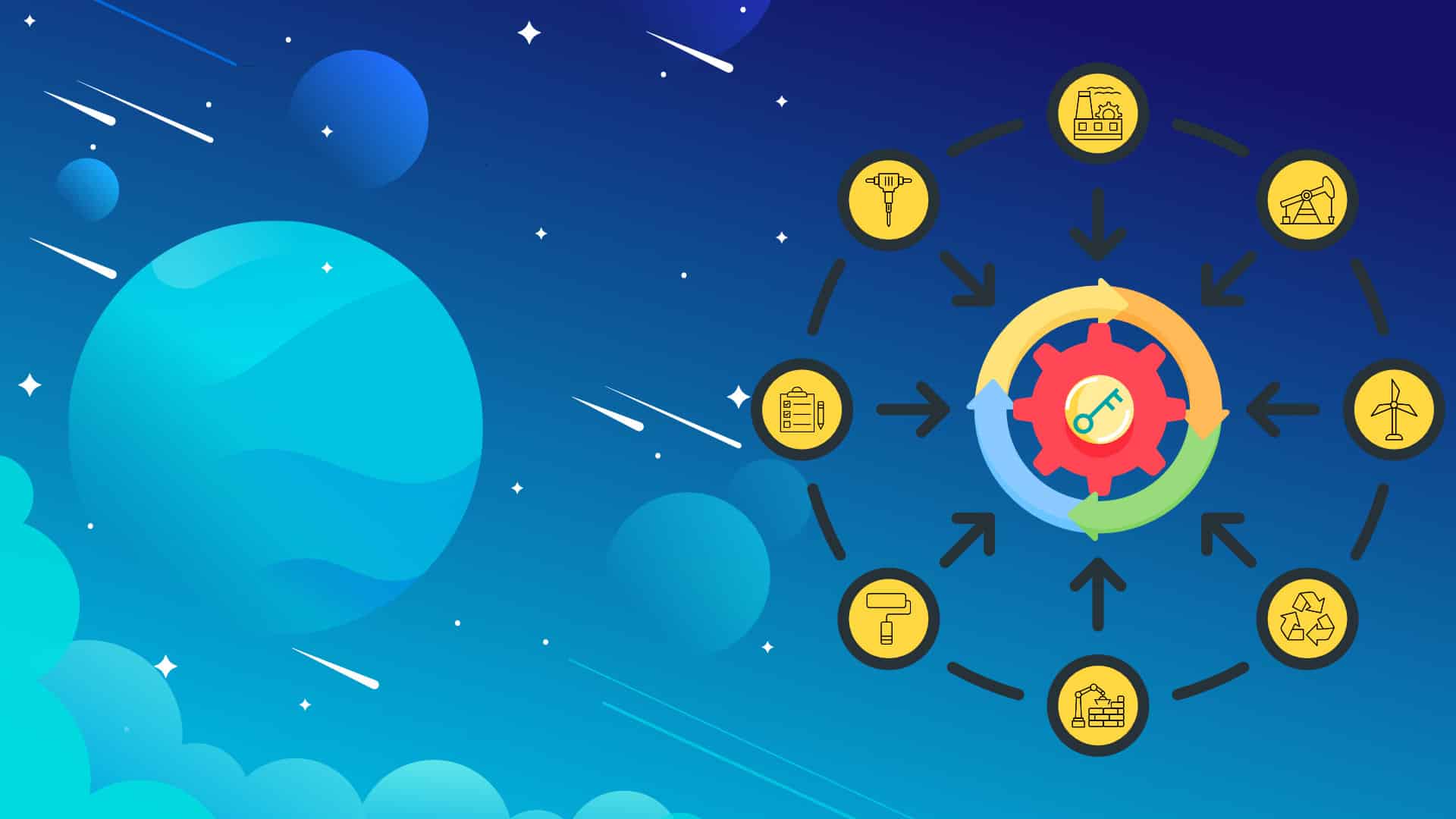 In this article, you will learn exactly how to do B2B keyword research to find the most relevant and profitable keywords for your products or services and industry in order to bring massive organic traffic that converts into high-quality MQLs and generates millions in sales opportunities.
You will learn how to build strong topical authority and relevancy for your website so you can rank in the top positions for your most important keywords and dominate in the search results in your industry to achieve great B2B SEO results.
But before we get started, if you learn anything new from this video, please like this video and write a nice comment below, it helps a lot! Also, subscribe for more B2B SEO actionable insights.
What is B2B Keyword Research?
B2B Keyword Research is a process of finding the best keywords for your business in order to attract your B2B target audience to your website, generate marketing qualified leads (MQLs) and revenue from your SEO and content strategy, and be able to grow long-term and remain competitive.
Modern keyword research is about understanding your industry and creating semantically related content that targets all the terms, facts, and entities within your industry on your website in order for Google to recognize you as an expert source for your industry.
This means your B2B keyword research will be heavily influenced by Semantic SEO in order to create topic relevancy on your website and let Google recognize you as an industry expert and source of information for your industry.
Why Do You Need B2B Keyword Research?
If you are planning to successfully implement a B2B SEO strategy for your website, then you need to know which keywords you need to target to effectively bring relevant organic traffic that could be interested in your products or services now or later.
This means you need to understand:
What keywords your B2B target audience is searching for.
What keywords will bring the highest ROI.
What keywords will help you to increase the topic authority.
What keywords you can rank for ASAP.
And B2B keyword research will help you with that so you implement the right B2B keywords for your website so you can benefit from these three following benefits:
Generate Leads & Revenue
The first reason why you need B2B keyword research and definitely this is being one of the main benefits is it helps you to generate leads and revenue from your B2B SEO strategy for your business.
It's important to know that 96% of B2B buyers look for content backed by thought leaders, reflecting the importance of research and authority in converting leads.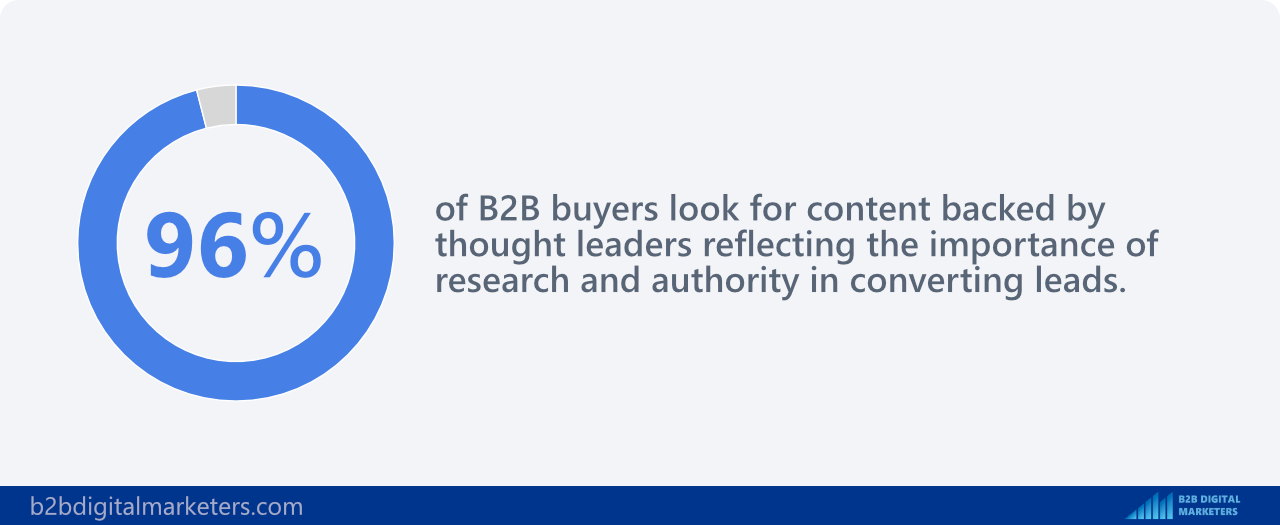 SEO is ultimately about targeting the right keywords that your audience is searching for and B2B keyword research is exactly the process you need to find the right B2B SEO keywords that will be generating high-quality marketing qualified leads that ultimately convert as customers and brings revenue for your business.
In fact, 57% of B2B marketers say that SEO generates more leads than any of their other marketing initiatives and this is because 90% of B2B researchers who are online use search specifically to research business purchases.
Increase Brand Awareness
B2B Keyword research will also help you to drive massive brand awareness among your B2B target audience and ultimately it will increase trust in your brand.
Building trust with future potential leads is one of the best ways to increase your conversion rate, smooth and speed up the sales process, and drive better quality leads for your business.
And once the time comes and they will be searching for products or services you are offering, you might be on top of their list, just because you have been building trust with them long before by targeting the right B2B keywords.
And with this B2B keyword research process you will know exactly how to build trust with your B2B target audience long before they actually need you, just like HubSpot did and because of that they're generating 10,000s leads every single month.
Get the Highest ROI from Your B2B SEO Strategy
And lastly, B2B keyword research helps you to get the highest ROI from your B2B SEO strategy.
If you want to generate the right leads and ultimately the highest quality B2B sales leads for your company, you need to know how your audience is searching for your products or service and what steps in the buyer journey they take.
According to Gartner, your sales reps have roughly 5% of a customer's time during their B2B buying journey and sellers have little opportunity to influence customer decisions.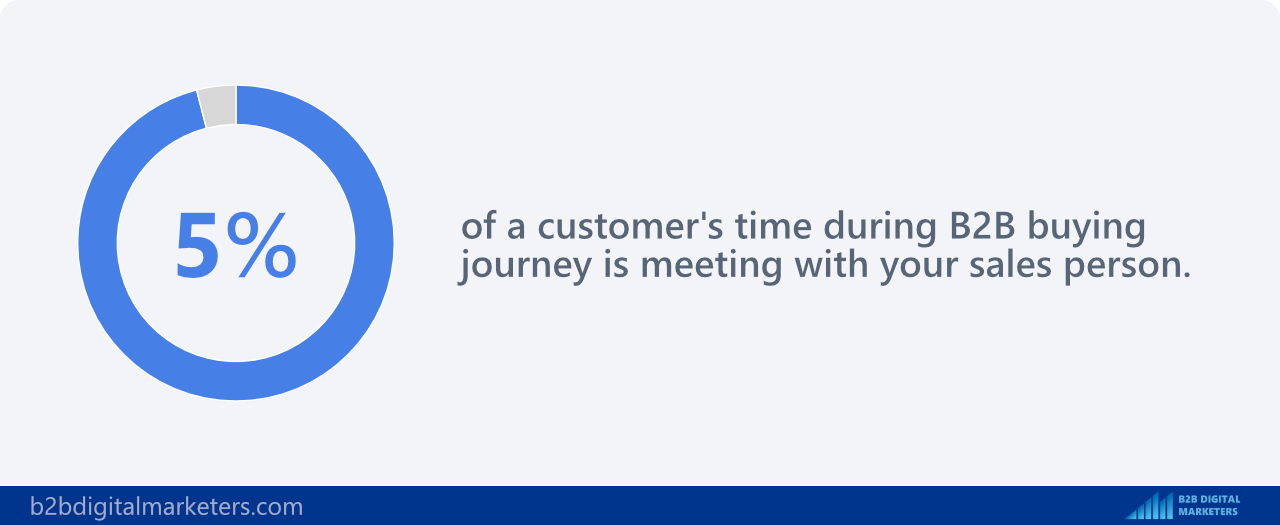 And the best way to have a certain influence on your customer decision is via informative content that helps buyers to move in the buyer journey and ease the process.
Gartner research found that customers who perceived the information they received from suppliers to be helpful in advancing across their buying jobs were 2.8 times more likely to experience a high degree of purchase ease, and three times more likely to buy a bigger deal with less regret.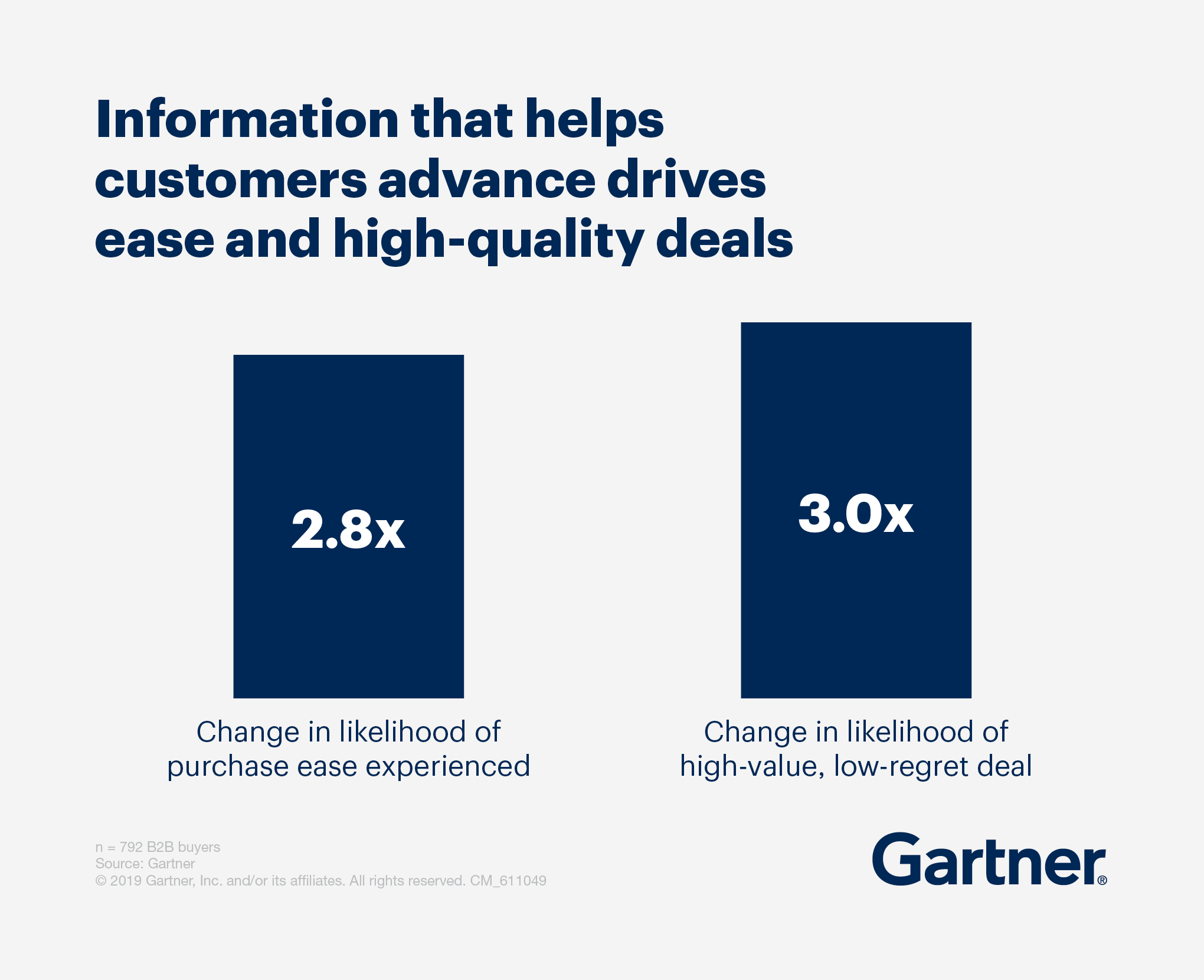 And by targeting the right B2B keywords you will be able to provide the content your B2B buyers are looking for, so you can provide the information they are looking for and steer them in your way.
Again, this helps with brand awareness, building trust, and ultimately converting them to MQLs and SQLs for your business.
B2B keyword research is an essential step to effectively implement your B2B blog strategy as well as drive the best results from your website and B2B blogging.
9 Step B2B keyword Research Process
With that, here you can see my proven eight-step B2B keyword research process to help you maximize your results from your B2B SEO in order to drive profitable organic traffic and leads and bring the highest ROI for your business.
It also helps you with your blogging for business as a large part of keywords will be targeted by your blog posts which will drive most of the organic traffic.
And before we get started, make sure you create your own keyword spreadsheet to track all your keywords along with additional information such as search volume, keyword difficulty, CPC, business relevance, and others.
Feel free to copy my B2B keyword research template. Later on, I'll explain more about how I use some of these columns.

Step #1: Find Your Primary B2B Category Keyword
The first step is to find your primary B2B category keyword that generally and best describes your product or service.
The primary B2B category keyword is the main generic, short-tail keyword related to any product or service in the category and your target audience is using it to find products or services that you or your competitors are offering. It is also the main category under which your product or service is categorized.
Just like when you are shopping online you can see eCommerce stores are having every product under product categories such as running shoes, mobile phones, washing machines, fridges, suits, et cetera. Your product also has a specific category under its life.
For example, for QuickBooks, it is accounting software.
For HubSpot, the main product category keyword would be CRM Software,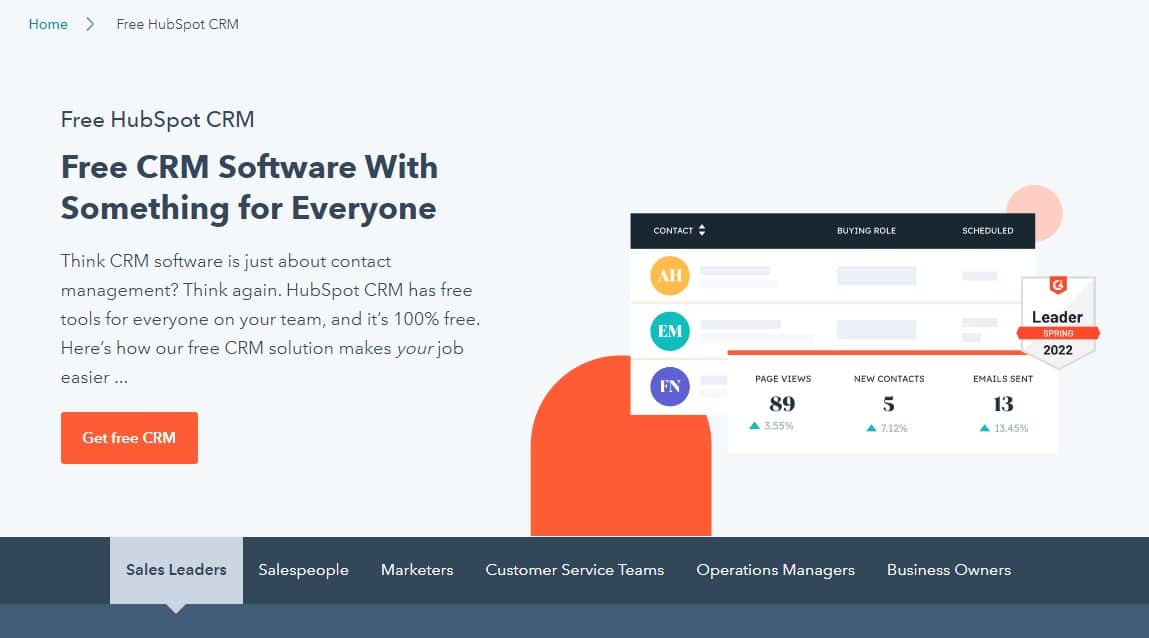 Or for Native Environmental this is industrial cleaning services.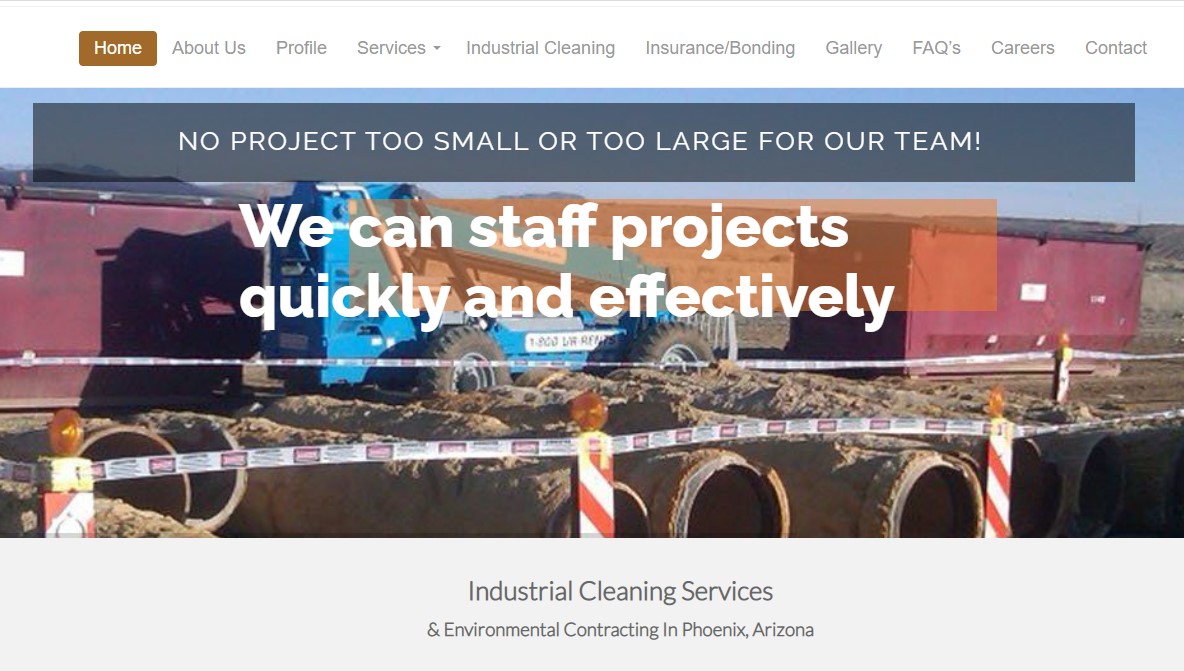 With that, finding your main category keyword will give you a solid start with your B2B keyword research.
Also, you want to be recognized as the subject matter expert by Google and your B2B audience for topics that are closely related to your products or services to rank in top positions.
Because 71% of B2B researchers begin their research with generic Google searches and as they learn more, then they narrow down search intent.
So, if you are providing different products or services you want to do this for all your products or services. Also, if your product has any other related categories or subcategories, write them down in the next step you will need that too.
For example, inventory management software could be also under order management software, product management software, or order fulfillment software.
Step #2: Create Topic Clusters
Once you know what your product or service category keyword is, the next step is to create your topic clusters.
Topic clusters mean clustering your keywords based on one main topic and then connecting them with internal links and in this case, the pillar content will be related to your product or service as your product or service will be one of the cluster contents.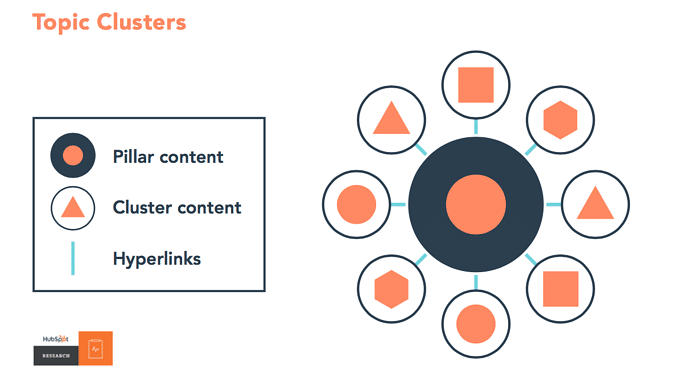 (Source)
This will help you to start creating a super relevant and important B2B keyword list in order to start building topical relevancy and authority within your industry for your website.
So, to start creating topic clusters, first, you need to get the seed keyword from your product category keyword which is super easy.
For example, if you are selling project management software then the seed keyword is project management, for inventory management software it is inventory management, for industrial cleaning services is industrial cleaning, for platting services it is platting, et cetera.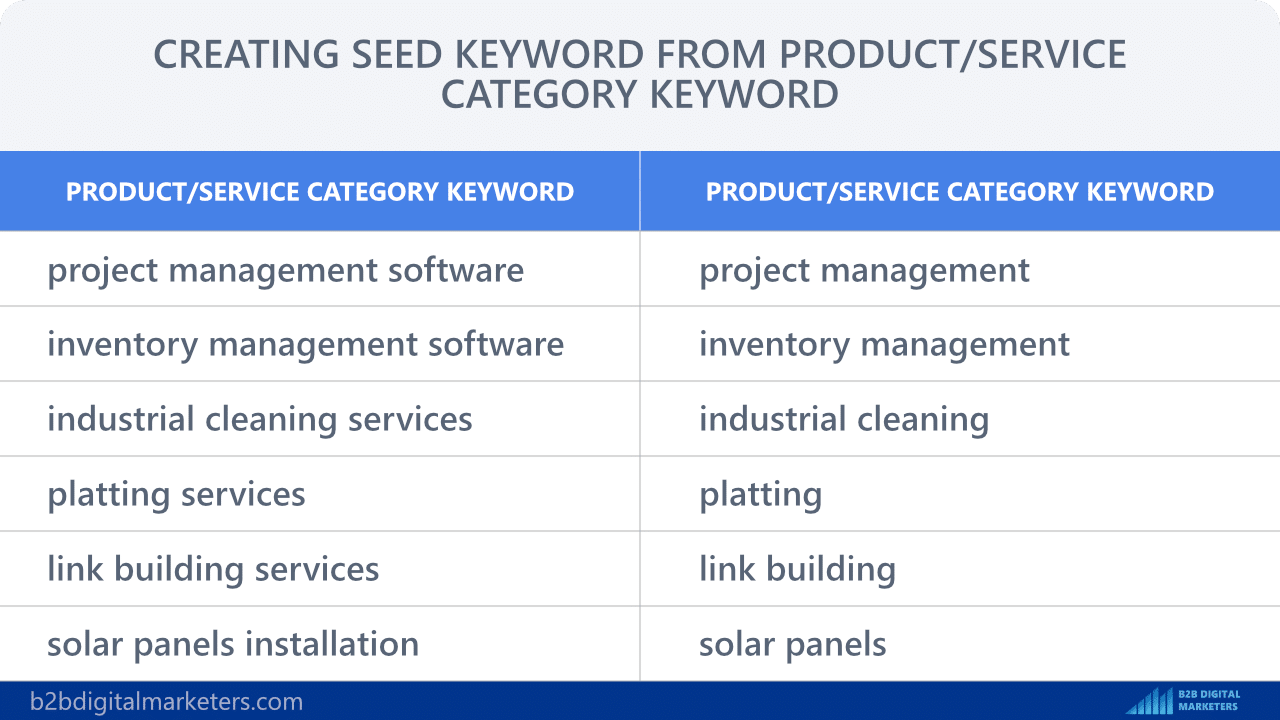 Once you know your seed keyword, then you can start creating your topic cluster by finding as many long-tail keyword variants for your seed keyword.
To do that, you can start with a keyword research tool like SE Ranking. Just pop in your seed keyword, select the target location, and click on "Analyze". In this case, I'll use "irish whiskey" as a seed keyword.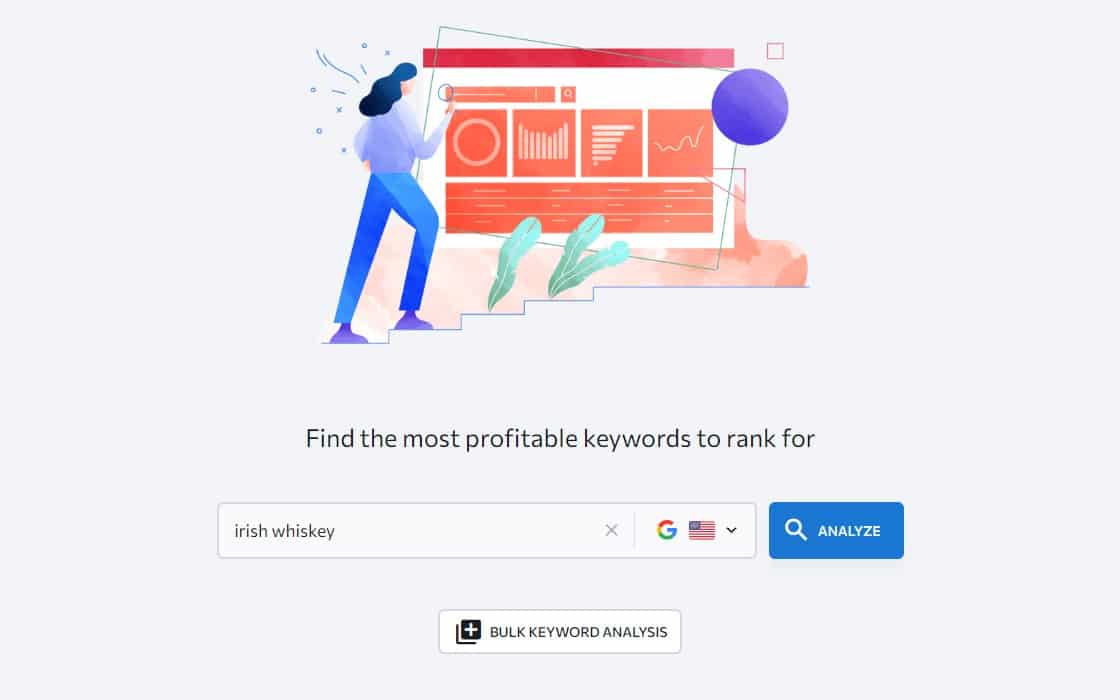 Here you will get a high-level overview of the analyzed keyword such as the keyword difficulty, search volume, CPC, and the keyword ideas. Here you will want to go to the "similar keywords" and "related keywords" reports.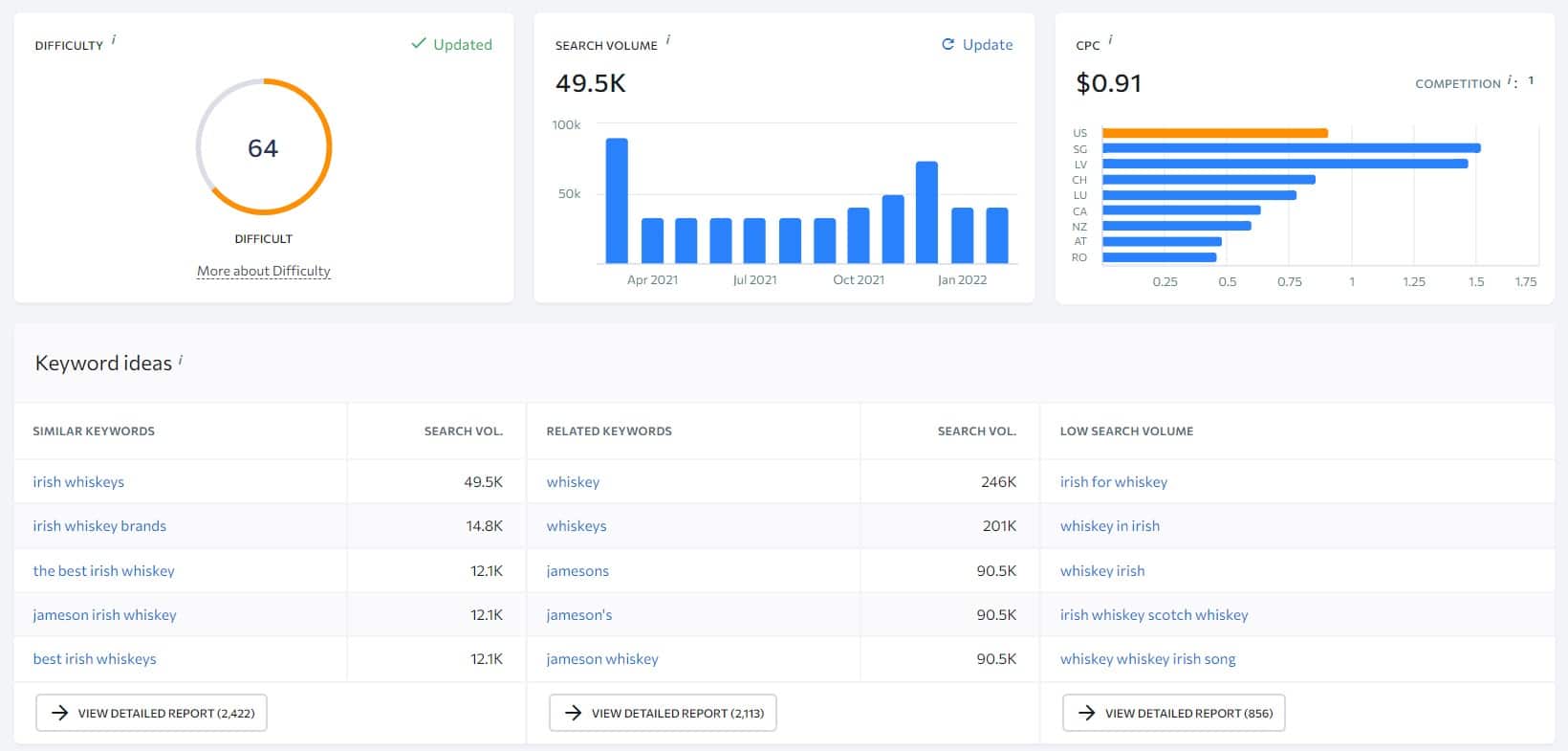 And here you will want to find as many related long-tail keyword variants as possible such as "irish whiskey cocktails", "irish whiskey brands", "irish vs scotch whiskey", "irish whiskey or whisky", et cetera.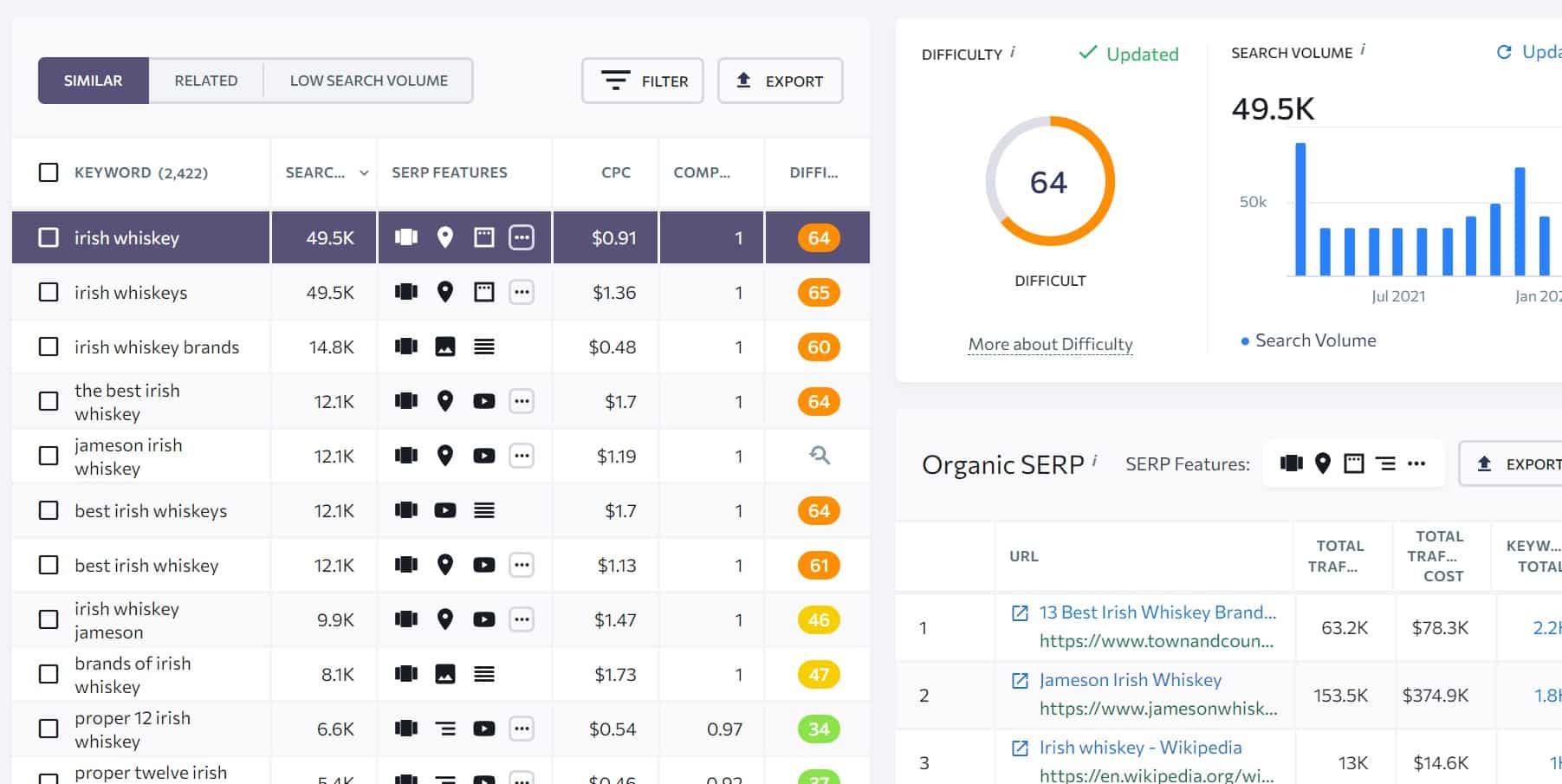 So, you can create a super relevant topic cluster.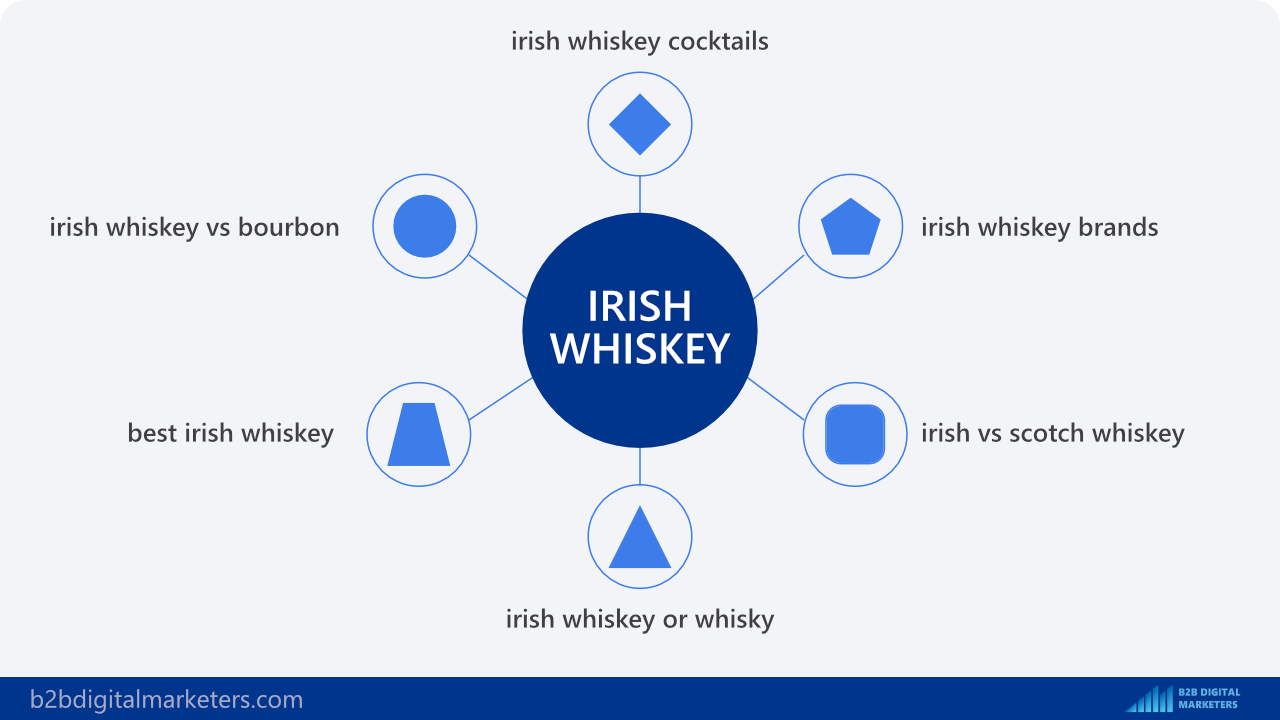 And of course, later on, once you are creating content to target the keywords from your topic clusters, you will want to create semantically related internal links from all these articles to your money page/s and of course between each other.