In this article, I am going to compare probably the most known and effective lead generation online marketing strategies out there.
B2B SEO vs B2B SEM, which one to choose if you starting with online marketing and want to generate leads? Which strategy will make your company the most money?
Let's have a closer look at these two digital marketing strategies and compare them, so you know which strategy is the most effective for your organization.
What Is B2B SEO?
Business-to-business search engine optimization (B2B SEO) refers to a type of digital marketing strategy used in order to help website pages increase ranking and drive targeted organic traffic from search engines like Google or Bing. B2B SEO marketers are mainly focusing on driving more leads for a business rather than driving organic traffic unlike in B2C SEO.
This means that in B2B SEO you will not be mainly focusing on keywords that drive the most amount of traffic but rather the most amount of leads.
Therefore, B2B keyword research is extremely important in B2B SEO as you need to find the right keywords decision-makers, influencers and researchers are using to find your solutions.
And this will lead your entire B2B SEO strategy as you need to put yourself in the shoes of your B2B target audience. That is why it is also very important to understand your target audience, you must understand their challenges, pain points, and problems they are facing.
Thus, B2B SEO is not only about understanding search engines and how their algorithms work but also understand your B2B target audience and how they search for your solutions.
And this is what it means B2B SEO, both users and search engines influence your ranking that is why you must understand both search engines and target audience to successfully use B2B SEO for your organization.
If you are new to B2B SEO, then read our article about What is B2B SEO and Why B2b Organizations Need SEO.
What is B2B SEM?
Business-to-business search engine marketing (B2B SEM) refers to a type of digital marketing strategy that involves the promotion of websites mainly on search engines in order to drive targeted traffic with the intention to buy your products or services. B2B SEM is one of the most used B2B digital marketing strategies due to it is easy to start generating leads within a short period of time.
This online strategy provides a reliable and steady source of incoming leads for B2B businesses. Therefore, many organizations are heavily investing in search engine marketing.
According to Kafka & Molla 2017 research, Digital ad spending passed TV for the first time in 2017.
As brands can simply pay search engines to appear in the search results for are certain keywords or closely related to that. And because platforms like Google AdWords provide great targeting options marketers can target only those who are most likely to buy.
Often if you decide to use SEM on Google AdWords for example, you will only pay whenever somebody clicks on your ad. This is call cost-per-click (CPC) but there are also different pricing models depending on your needs like CPM (cost per mille or also know as cost per impressions) or CPA (cost per acquisition)
So know when you understand what is B2B SEO and B2B SEM lets look at the main differences:
B2B SEO vs B2B SEM
I have mentioned the main goal of B2B SEO is to drive lead generation for business, but this is also the main goal for B2B SEM.
Also, with both online marketing strategies, your website will appear in the search results for the targeted keyword whether you use search engine optimization strategy or search engine marketing strategy.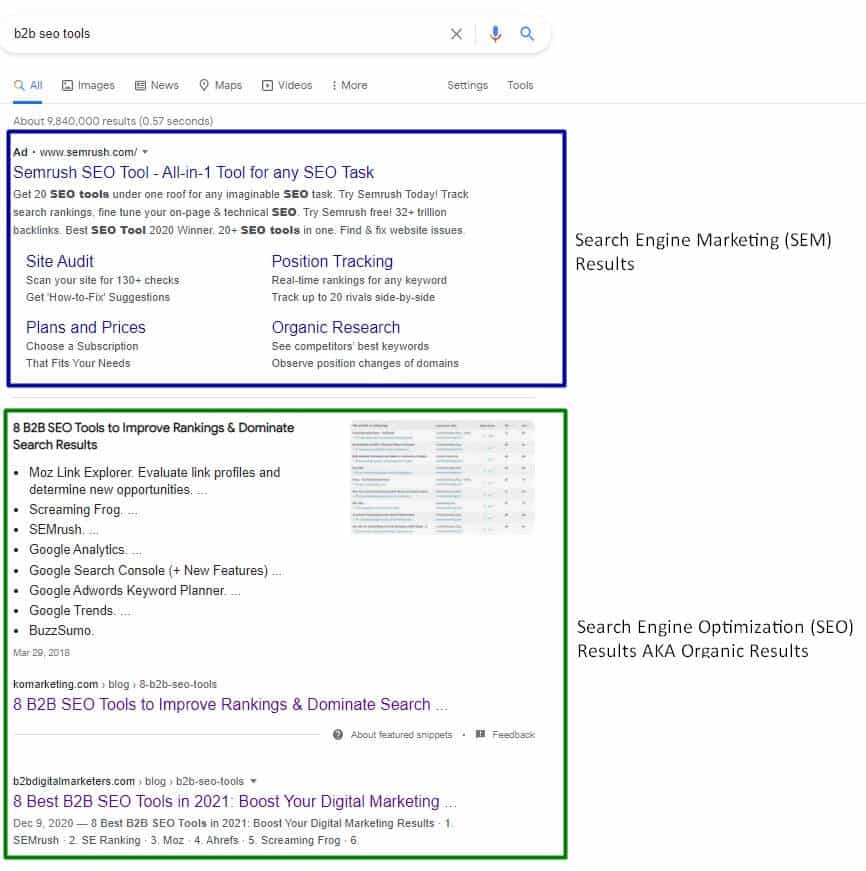 So how is B2B SEO different from B2B SEM?
Like I said, for both strategies, the main goal is to acquire leads for business and both strategies appear in the search results for the targeted keyword.
But there are key differences between B2B SEO and B2B SEM and how to use these digital marketing strategies to appear in the search result. And not only appear in the search results but to appear in the top results of the first page.
So, while these two strategies might seem very similar, in practice B2B SEO is actually very different from B2B SEM.
Therefore, these are the 8 top differences between B2B SEO and B2B SEM:
1. The difficulty
The first and probably the most important factor for B2B marketers is how difficult is to use the strategy to generate leads for their business.
Using B2B SEM to generate leads for a business is relatively simple and almost instant as you only need to set up an advertisement on a platform like Google and start driving the paid traffic to your website.
Of course, there are some important B2B SEM strategies you need to know to effectively drive leads from search engine marketing, but in its basic, as long as your ads result will appear in the search result you can drive leads for your business or you can sell leads.
On the other hand, using B2B SEO to generate leads is much more difficult for marketers to use as you must have a great knowledge of search engines, your target audience, and your product too to effectively drive leads by SEO.
Therefore, if you decide to use B2B SEO to generate leads for your business, prepare yourself for hard work in the next year or two.
2. Appear in the Search Result
The second difference between B2B SEO and B2B SEM is the way how they appear in the search engine and drive traffic to your website.
Search engine like Google has two sections, the first is the advertising section which is usually on top, the first four positions or depending on the demand for the keyword.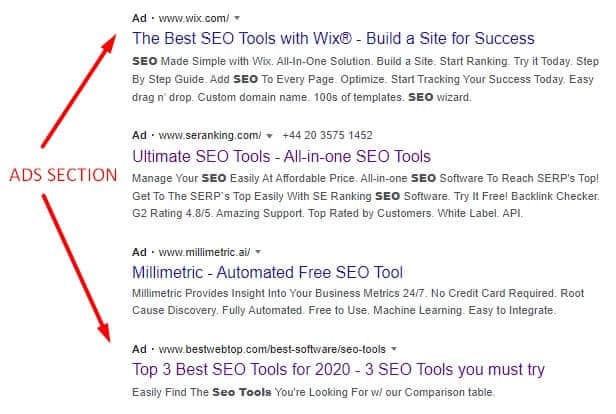 To appear in this section, marketers must "rent" this position from Google in order to appear there and the position of your advertisement is depending on numerous things like bidding and the quality of ads and landing pages.
This means almost anybody who has the budget can appear on the first four positions that are designed for advertisers.
The second section of the search results is the organic section and to appear there is not that difficult if you do not mind it will not be the first page of Google.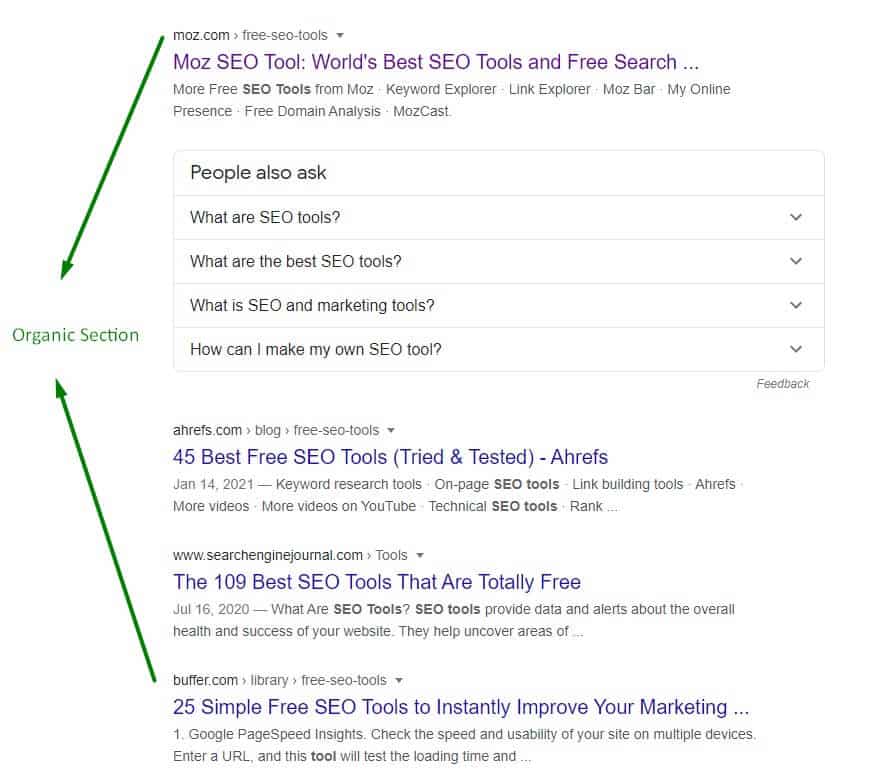 Unfortunately, almost nobody goes to the second page or even further. According to WebFX, only 25% of users go to the second page of search results. Of course, this number is getting lower by every page.

Therefore, I will be only talking about appearing on the first page of search results as that is the only place that's important in the search to get some meaningful results.
So, on the other hand, to appear on the first page of Google is much harder to achieve and usually, it takes years for websites to compete for profitable keywords.
Of course, you can and should start with low competitive keywords so you can start ranking earlier.
But because there is so much competition out there, especially for the money keywords that drive leads, B2B SEO is getting harder in terms of appearing on the first page of search results for targeted keywords.
But ranking at the top of organic search results is crucial because between 70% and 80% of users completely ignore paid advertisements and go straight to the organic section. And not only that but the first five organic listings get almost 70% of all clicks.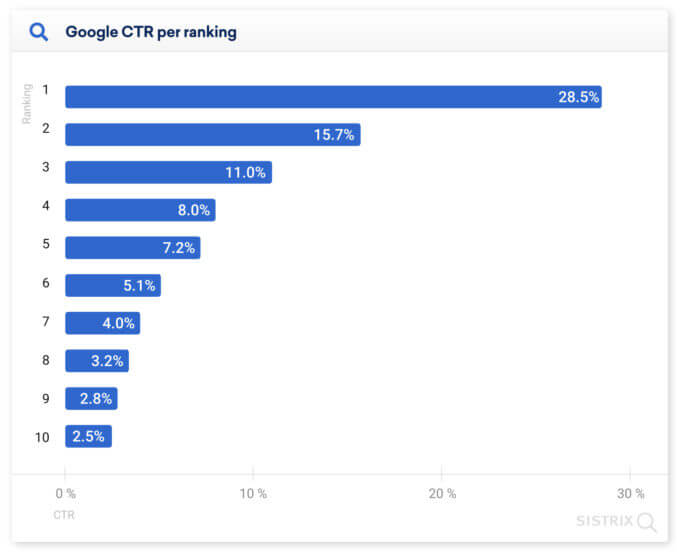 (Source)
In conclusion, to appear in the search results by using B2B SEM is easy as long as you pay and by using B2B SEO is extremely hard.
3. Website Traffic
Both digital marketing strategies B2B SEO and B2B SEM are used to drive targeted website traffic that later can convert as leads for a business.
But the way how you should be driving website traffic to your website is different from the strategy you use.
Driving website traffic by using B2B SEO usually comes through content creation like blog posts, and product pages. However, the most amount of website traffic is usually coming via blog posts.
This means that you have a lot of options to drive high-quality website traffic by focusing on every stage of the marketing SEO funnel to drive potential prospects on every stage of the b2b buyer journey.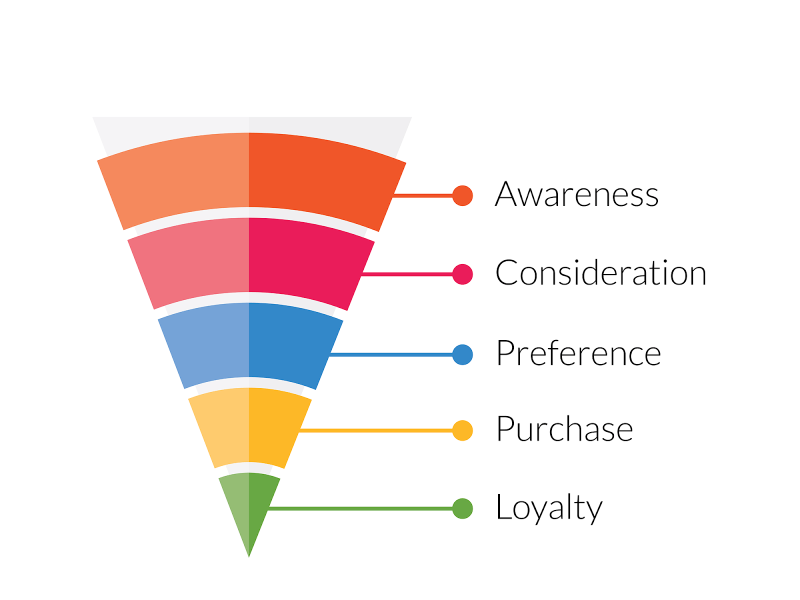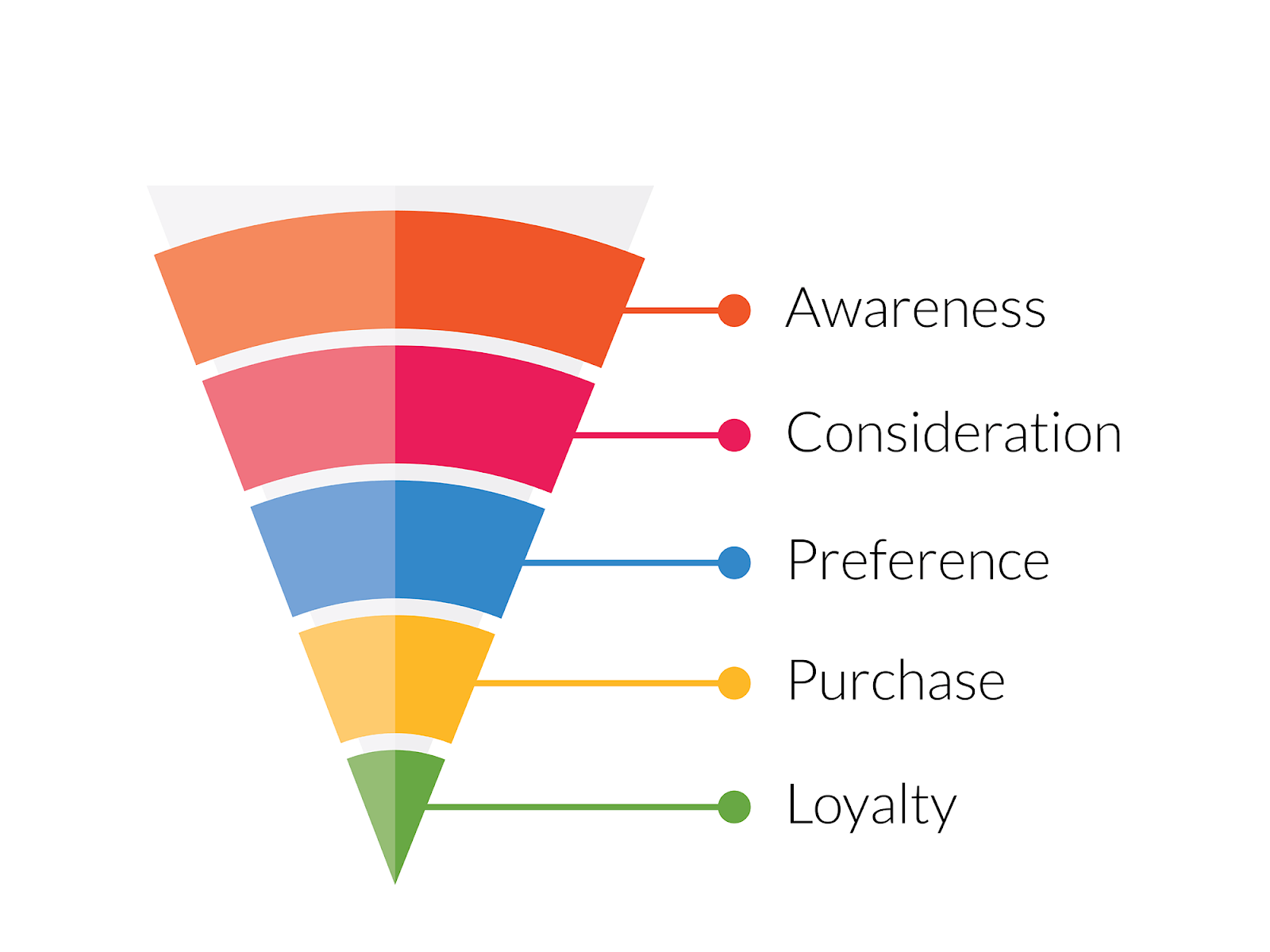 So, while I mentioned that it is very hard to appear among the top search results but because thanks to SEO you can drive thousands or even millions of users to your website as SEO is the most effective strategy to drive website traffic by far!
On the other hand, using B2B SEM to drive website traffic is dependent on the budget you can invest. That is why the options are limited as each click cost you money and of course, you need to get your ROI.
Therefore, driving website traffic by search engine marketing is usually focus only on the middle or bottom of the funnel and only on the most profitable keywords.
So, while you can potentially drive big website traffic, in reality, it is usually a much smaller percentage of website traffic.
4. Cost
The next big factor of every marketing strategy is the cost.
Both strategies B2B SEO and B2B SEM will cost you money if you want to do it properly and I am not talking about hiring staff, but the actual cost of running SEO and SEM campaigns that drive results.
Let's first start with B2B SEM, the first and most significant cost of running search engine marketing is the actual buying or renting the ad space on a platform like Google. This will be your highest expense in running a B2B SEM campaign.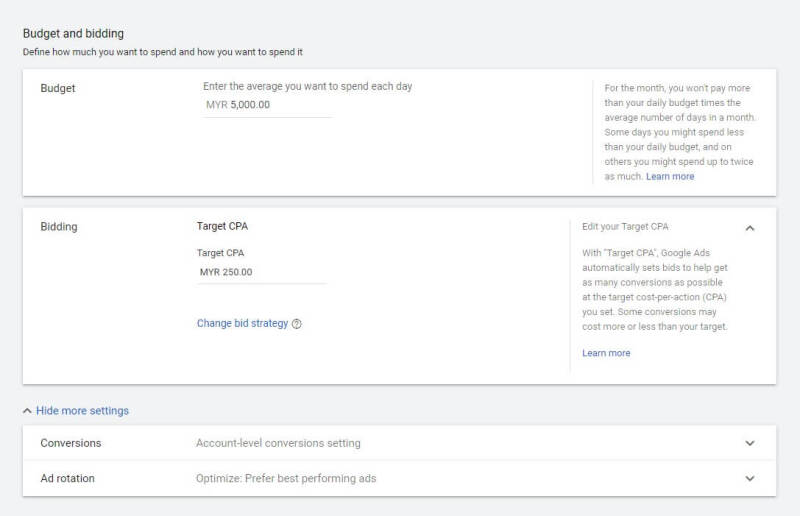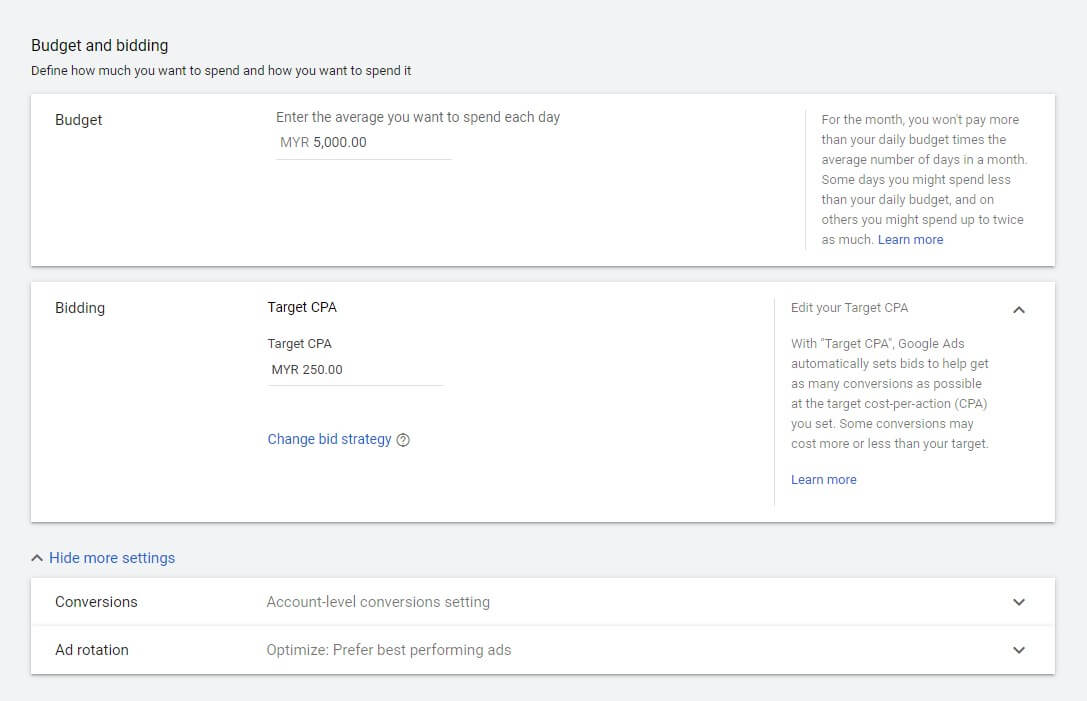 And while there is no minimum budget for running AdWords but because it is hard to see any positive results if you put a daily budget like $5 or $10, it is recommended to start with budgets ranging from $1,000-$10,000 per month. (White Shark Media)
The other expenses of running a search engine marketing campaign can be the tools like landing page builder, PPC management software or PPC reporting tools to ensure that your budget is not wasted.
And while these tools are not mandatory, it is recommended to have at least one tool for building high-quality landing pages to achieve a higher conversion rate.
So now let's look at the cost of running a B2B SEO campaign.
For sure you have heard that doing SEO can be done for free and while this might be true, it is quite difficult. Therefore, if you are serious about SEO and you want to see the results as soon as possible you better invest in it.
The biggest cost of running a B2B SEO campaign comes from hiring agencies to help you see some positive results. The average affordable price for SEO services where you can see real results is in the range between $2,000-$6,000 per month.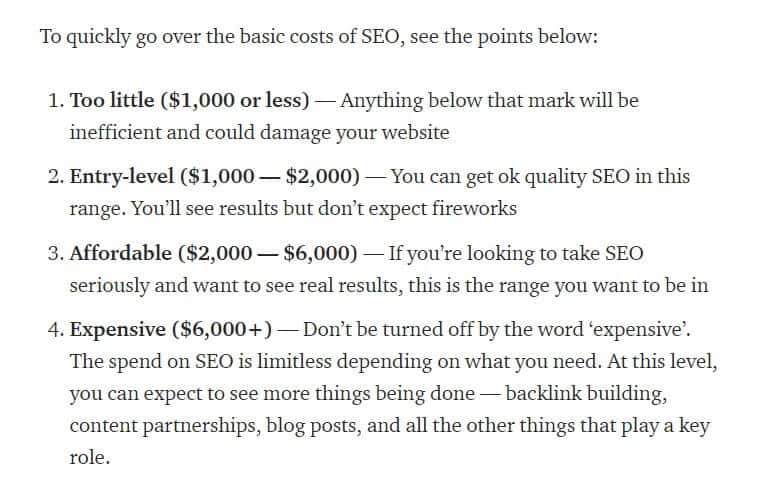 And while this cost can be limited, by hiring an SEO professional, the problem is to find the actual person who has knowledge and expertise in B2B SEO. That is why many organizations are hiring SEO agencies.
Also, the next cost which you need to also include is to subscribe to some B2B SEO tools that help you to optimize your website.
The thing is that a broken website isn't always that obvious and you can have errors that are hard to detect by yourself like broken links, redirected images, or slow pages.
That is why using SEO tools is very important that to ensure your website is SEO friendly and doesn't have some serious problems.
So, this is the typical cost of running B2B SEO and B2B SEM campaigns, and of course, there can be even more depending on the size of your organization, but if you are starting with these then this is the cost you should know.
5. Targeting
The fifth difference between B2B SEO and B2B SEM is the targeting to attract the right target audience to your website that later can convert as leads.
Right targeting is one of the most important strategies you must implement to successfully execute any marketing strategy, you must know for who you are creating the campaign.
And while both digital marketing strategies have targeting options the targeting for B2B SEO is not as strong as for B2B SEM.
Like I said, driving traffic to your website with a search engine optimization strategy is done by content creation and then optimizing it with SEO tactics.
Let's say that you have created a piece of content that ranks in the top 20 organic listings for your targeted keyword. According to Ahrefs research, your content will also rank for thousands of other keywords depending on where you exactly rank.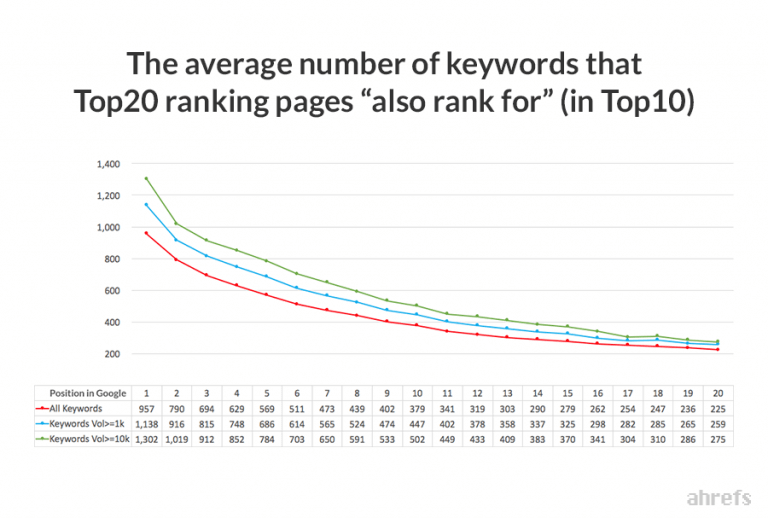 So, while you create your content around one or a few keywords, that piece of content can rank for thousands of other keywords. This means that you can drive a lot of organic website traffic, but the targeting will not be as effective, and probably not all the keywords will drive potential customers.
On the other side, using B2B SEM you have much bigger options to target the right keyword and audience you want to attract.
You not only can target the keywords, but you can target by demographics, age, gender, interest, and more.
This will help you that your marketing budget will not go to waste and drive only the website traffic that is the most likely to convert.
Also, marketing platforms like Google AdWords are using AI technology that constantly analyzes your data and provides actionable insights and recommendations to help you to get the most out of your advertising budget.
That is why the targeting options in search engine marketing strategy are far greater than with search engine optimization strategy and you can drive the higher value of website traffic.
6. Effectiveness
The next thing is the effectiveness of both digital marketing strategies. B2B SEO and B2B SEM are effective marketing strategies, but also both have a different set of metrics and goals you should measure.
Like I mentioned each strategy is used for a different part of the marketing funnel. With B2B search engine optimization you can drive target prospects in every stage while with B2B search engine marketing it is recommended to only target prospects in the middle and bottom of the funnel.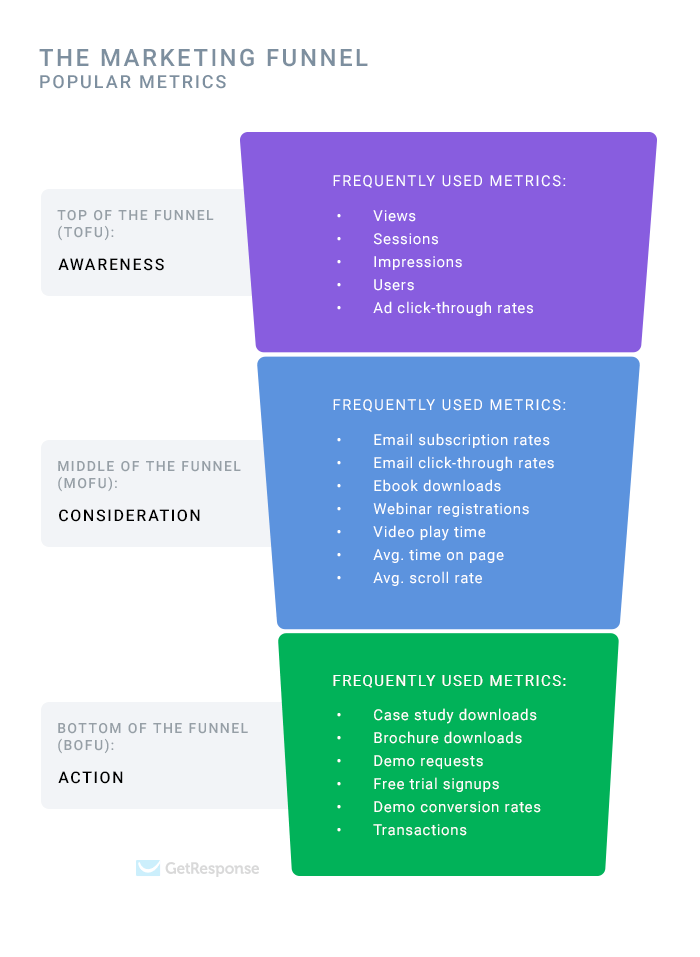 (source)
Therefore, the effectiveness metrics can differ, but let's look at the most important metric which is generating sales for a business so we can realistically compare these strategies.
And I have found a very interesting study on the effectiveness of digital marketing strategies from Assistant Professor Reena Malik. Dr. Malik correlated seven digital advertising channels (SEO, PPC, e-mail, mobile, pop-ups, social media, and affiliate marketing) with sales.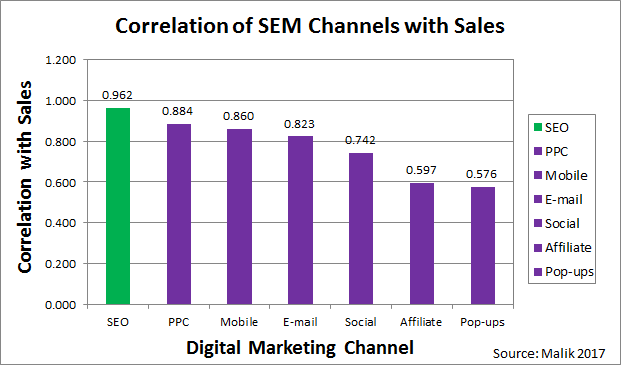 This study found that natural SEO is the most effective way to increase sales online. PPC, mobile, e-mail, and social media advertising followed in increasing sales effectiveness. While still correlating with increasing sales, affiliate marketing, and pop-up advertising were the least effective online marketing channels in increasing sales.
I recommend to everyone read this study as you can also find many interesting materials on this subject.
But the conclusion is that SEO is the most effective strategy to drive online sales.
7. Investment Value
Another very important difference between these two B2B digital marketing strategies is the investment value.
What I mean by investment value is if you invest in the strategy then, are you getting back any ROI even if you stop? This metric should be like investing.
For example, if you invest in the house, gold, or anything, will you get back your money and if so, is it going to grow over time?
This is important to know because knowing what to expect from these two strategies in the future will help you to decide in which one you should invest.
So, let's first start with search engine marketing.
The problem with search engine marketing is exactly this, easy come, easy go, and if your advertising stop, then your sales as well.
Investing in PPC has no long-term value even though it could be argued like for example you create brand awareness and people will remember you and blah blah. But this is hard to measure so we focus only on the results we can measure.
And with B2B SEM, once your campaign stops, your lead generation and traffic stop with it. Therefore, those who are only dependent on search engine marketing are skating on thin ice.
On the other side, B2B SEO is almost a perfect example of long-term investment. In the beginning, you will barely see any results, but as you are growing your SEO as well and almost exponentially.
So, while your search engine optimization can take up to two years to see some meaningful results, most likely the results will be much better than from any other marketing strategy you will run.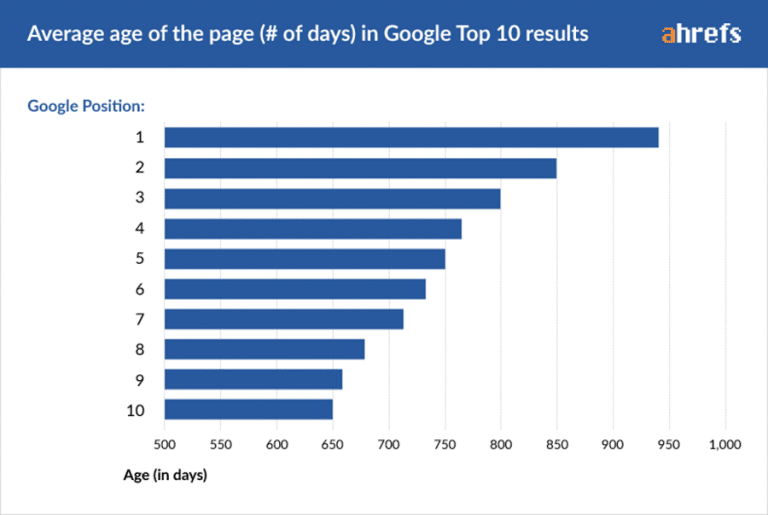 Therefore, those who are patient and keep investing the money, effort, and time into SEO will see results even long after they will stop. But don't stop for too long as you can lose it as well.
8. Lead Generation
The last difference between B2B SEO and B2B SEM is the lead generation. Here I want to compare these two strategies by showing some statistics and then share my experience based on that and see how it differs.
So first I want to share some lead generation statistics of search engine marketing strategy:
Businesses make an average of $2 in income for every $1 they spend in Google Ads. (Google)
PPC visitors are 50% more likely to purchase something than organic visitors. (Unbounce)
66% of buyer-intent keywords are paid clicks. (Clever Clicks)
Now I would like to talk about it a bit more. The first statistics about you make $2 for every $1 spend on Google Ads. From my experience, it is actually much better. For the last 18 months, my client spends $100K on Google Ads and generated over $500K and that is what we could trace and our honest estimate is it could be around $700K which means around 700% ROI in search engine marketing.
Also, about the last statistic, I have something interesting to share. My client is advertising for one of their targeted buyer-intent keywords and at the same time, they appear in the number one position on Google for that keyword.
And guess what, the PPC is generating more leads than the organic traffic even though they appear for the same keywords.
Alright so now, let's look at some statistics about B2B search engine optimization strategy:
By these statistics, there is no argument that SEO is much better for lead generation and while I agree, I also must disagree at the same time and I think the best answer depends. Let me explain.
The thing is, if you have already established a website with a high domain authority then SEO will be probably the most effective lead generation.
But what about if your website is new?
Then using B2B search engine optimization to generate leads is for the long run and probably you will not see any steady lead generation. But on the other side, with B2B search engine marketing you can start generating leads within hours if you take it with pinch of salt.
That is why if you are starting with a fresh new website, I recommend starting with PPC and also work on SEO because SEO is like an investment, which will grow over time and get better.
Conclusion
Both B2B digital marketing strategies B2B SEO and B2B SEM are very important strategies for businesses to generate leads and sales online.
If you can I would definitely recommend using both because marketers using both organic SEO techniques and pay-per-click ads see an average of 25% more clicks and 27% more profits compared to using a single technique.
I recommend be smart about it and think how you can utilize these two strategies to orchestrate your b2b buyer journey. Creating a seamless buyer journey by connecting multiple channels is ultimately what you should aim for to effectively generate leads for your business.
So I gave you the differences and pros and cons of both to help you better understand these online marketing strategies and drive better results for your business.
Related Articles:
Also, check out our SEO hub page to find all our SEO resources.
Disclaimer
This article was created by Eduard Dziak and may contain affiliate links. The following were used to optimize the article for the best user and search engine experience include:
SE Ranking for keyword research and on-page SEO optimization
Surfer SEO for SEO-friendly content creation for users and search engines.
Jasper AI for grammar correction and information enhancement.
The article is based on the author's own experience and knowledge, drawn from both their own work and that of their clients, to provide the latest, proven methods.