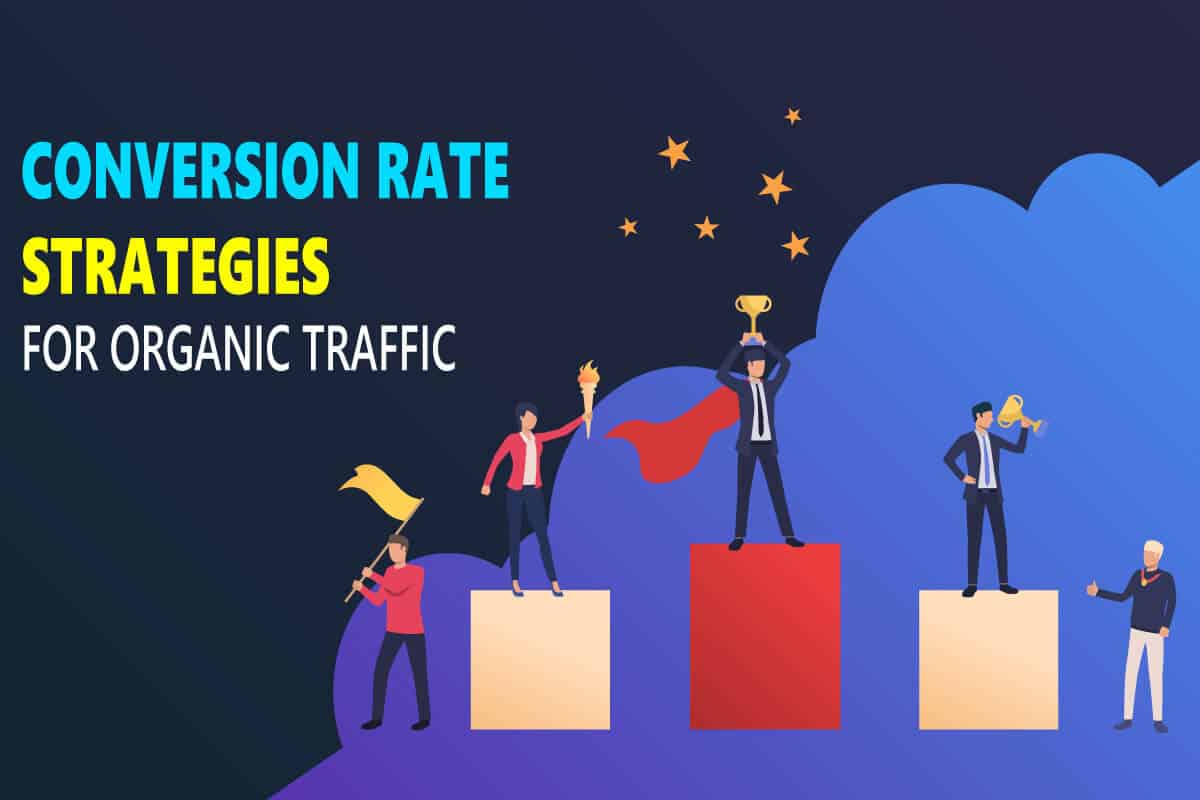 In this article, we will look at some of the advanced conversion rate optimization strategies for B2B landing pages that will help you to fix your conversion rates and get better results than average.
Is your landing pages generate average results according to benchmarks and you cannot just figure out why it is?
Do you think you have tried countless conversion rate optimization strategies for your b2b landing pages and yet your results are the best mediocre?
Then you should check out my 4 advanced conversion rate optimization strategies for b2b landing pages that help me to boost my conversion rates from 2% up to 8% within just a few days.
Don't worry these strategies are not difficult and I am going to give you some of my best tips on how you can apply these strategies even for your website to improve your results even faster!
1. Create Keyword-Targeting Landing Pages
The first on our list of conversion rate optimization strategies for b2b landing pages is to create keyword-targeting landing pages that are specifically designed to target a particular keyword.
Google is searching for relevance and their goals are clear, they want to provide the most relevant content to its users as soon as possible.
And the reason is simple. It is because everybody wants, get as soon as possible answer to their question without spending so much time searching for it.
That is why Google is all the time developing their algorithm to become better at it, so users keep coming back to it.
And that is the same reason why many searchers come to a particular website because they know it is a reliable source of information they are searching for.
So, if we know that relevancy is key, why do not we use this piece of information and use it to our advantage to increase the conversion rate for b2b landing pages?
Well, unfortunately, 40% of B2B marketers are using the homepage as a landing page which is not optimal for high conversion rates because it is not relevant to the keyword the searcher is using.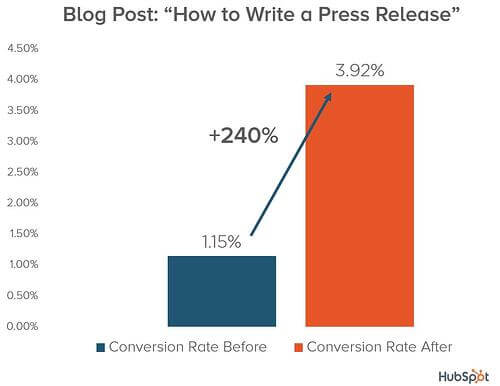 (source)
HubSpot has used this piece of information to increase the conversion rate for one of their post by 240% and then used for other 75 blog posts and increase the conversion rate for every single one of them.
Thus, creating landing pages based on a targeted keyword can greatly boost your conversion rate and ranking as it will be more relevant to the searcher, than generic landing pages.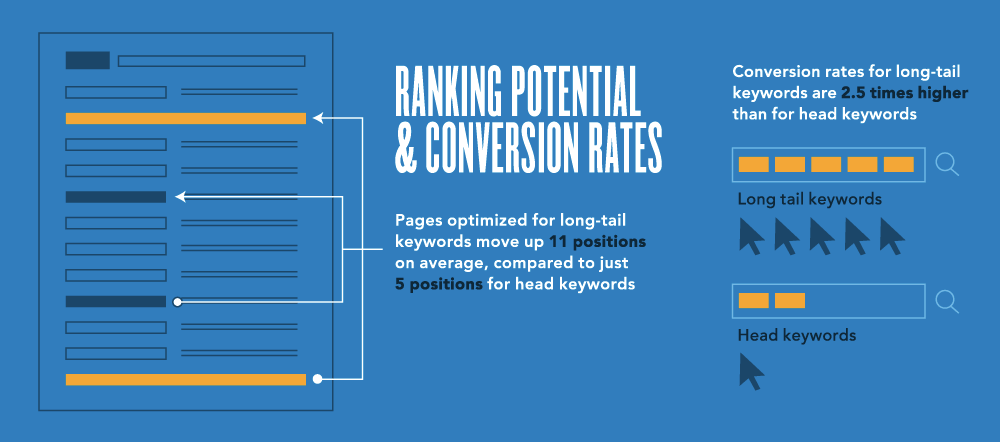 (source)
And to increase the conversion rate even further you should also focus on long-tail keywords. According to Moz, 70%-80% of search traffic comes from long-tail keywords. People tend to be more specific with their searches because they are looking for specific results.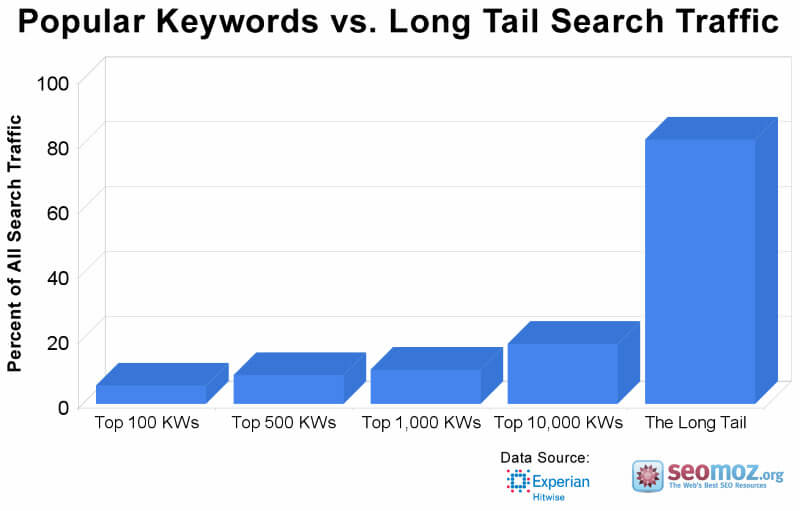 So, this means creating keyword-targeting landing pages to increase your conversion rate, also focusing on long-tail keywords can give you a great boost in your search traffic and conversions on your website.
Creating b2b landing pages specifically for targeted keywords is one of the best conversion rate optimization strategies for b2b landing pages that you can implement to increase your b2b lead generation from your website. (Learn more about B2B keyword research.)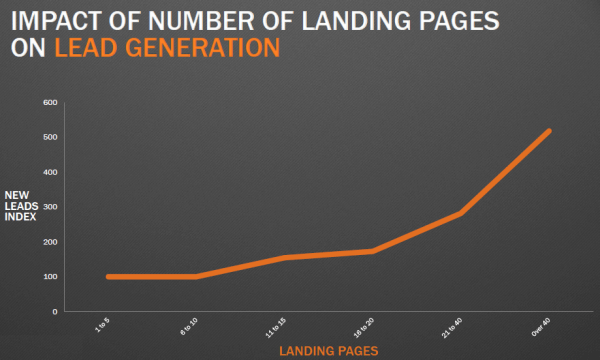 And according to HubSpot, the more landing pages you have the more leads you can generate. Studies have shown that business websites with 10-15 landing pages tend to increase conversions by 55% over business websites with less than 10 landing pages. And those with more than 40 landing pages increase conversions by over 500%.
So, don't be afraid to create more landing pages for your website as you can drive even more leads just by increasing the number of landing pages and keywords you are targeting.
How to Create Keyword Targeting Landing Pages
This is relatively easy to do, as you can just pick any keyword that you want to rank for and start creating a landing page specifically for that.
But always remember, that you must understand the keyword intent why people are searching for the particular keyword and then give them the answer.
This can be very difficult sometimes, but the best bet you can take is to look at the top 5 ranking pages and see what they included within their landing pages.
This usually gives you an idea of why people are searching for this and what they were looking for because Google places those pages there for a reason. After all, those pages performed the best according to their sophisticated algorithm and were the most related to the searcher intent.
Also, I recommend using a private browser and compere your targeted keyword in private and non-private windows as sometimes it can differ based on your history.
And to speed up your production of landing pages you should be using some of the advanced tools like LeadPages and Unbounce to help you not only create quickly landing pages but apply the best practices. (Check out Unbounce alternatives.)
Both these tools provide CRO recommendations based on the best performing landing pages so you can get quickly great results from your campaigns.
2. Create Better Lead Forms
The next on our list of conversion rate strategies for B2B landing pages is to create better lead forms on your website as in my experiences those can be one of the biggest reasons why you are not converting so well.
Lead forms can make or break your conversion rate on your b2b landing pages and online forms are the most commonly used type of lead capture tool, with 74% of respondents reporting they use them.
But typical looking lead forms are just not cutting it and not because they are ugly. (Even thou they are super ugly)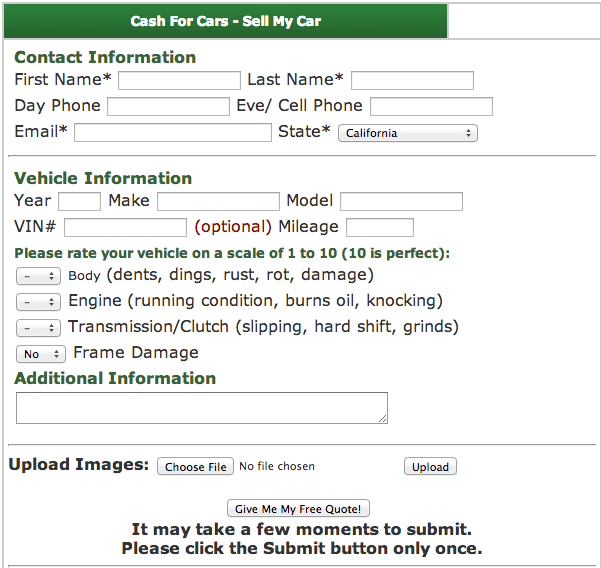 But because forms like this can scare your prospects as it looks complicated, too personal and most of the leads think they do not have time to fill-up the form and they do it later. Which means rarely.
And this is an old form, but not much has changed ever since, as many of the b2b landing pages still use complicated forms that decrease the conversion rate.
Using forms like HubSpot,