CTR Manipulation in SEO can be done in two ways, the one way is often fast and very effective, but also short-lived as it is against Google quality guidelines. The second CTR manipulation way is the right way to improve your CTR, get more clicks to your website, and increase your ranking position.
And in this article, I am going to explain both ways, how it works and how to manipulate CTR the right way without being penalized by Google but actually being rewarded using the right CTR manipulation techniques and best practices:
What is Click-Through Rate (CTR)?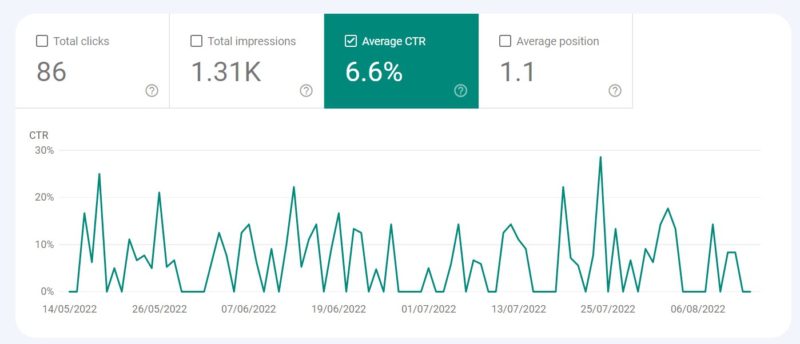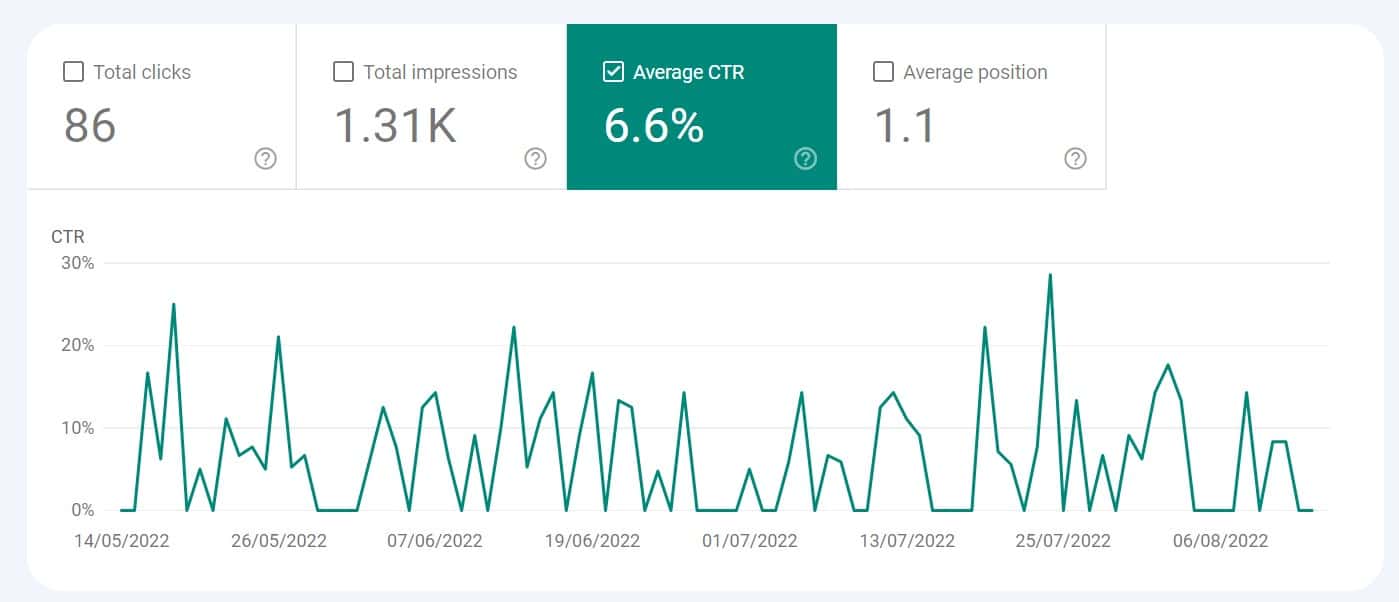 Click-Through Rate (CTR) is a ratio calculated based on impressions, which is a metric that represents how many times your search results or ads have been seen by people, and how many of those people that saw your search results or ads click on them. Therefore, CTR is one of the user signals used by search engines to better understand how relevant the ads or search results are to the searcher query.
Here you can see the CTR formula: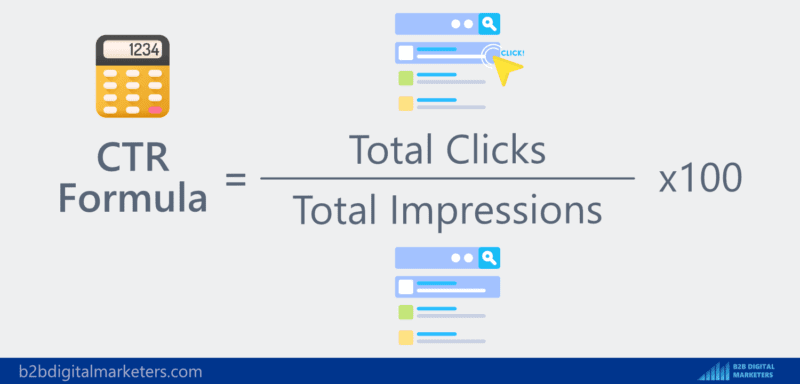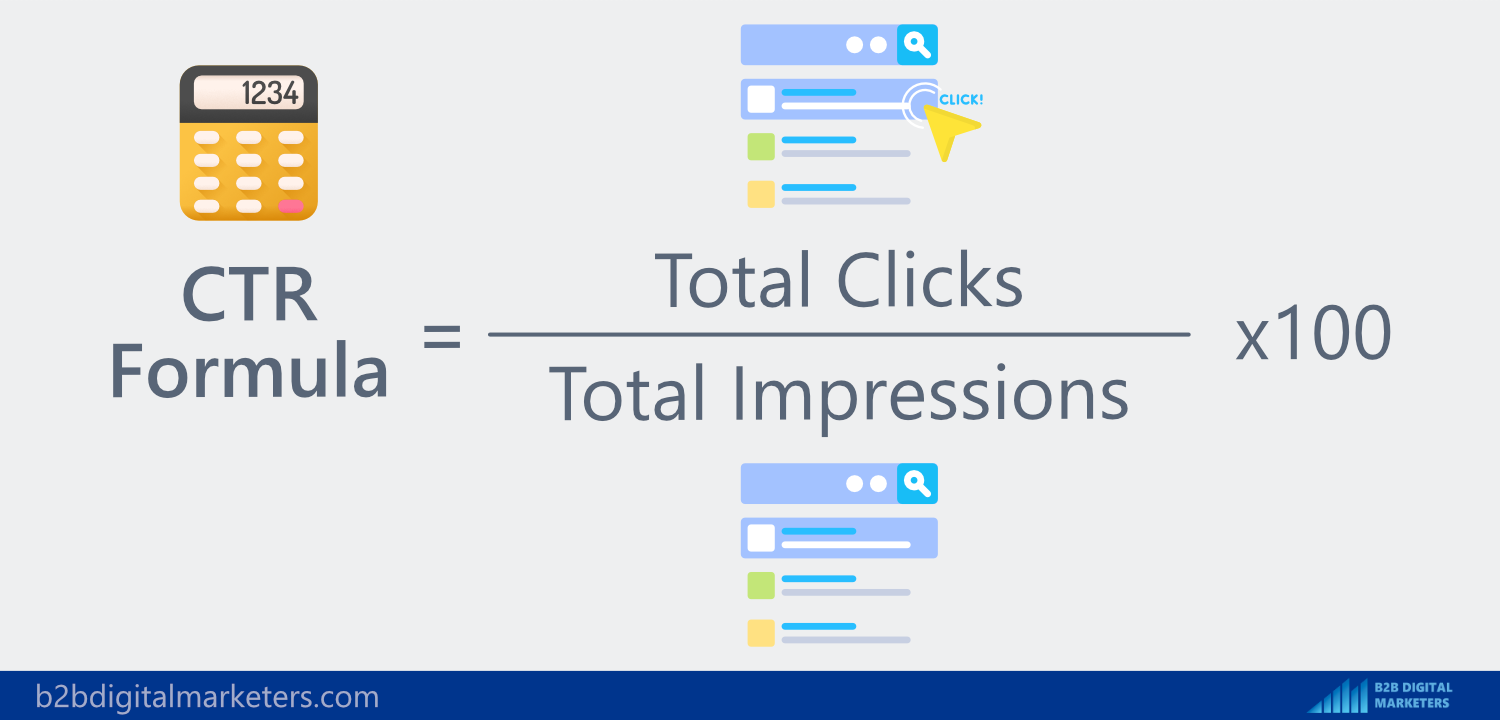 In an organic setting, If the CTR is lower in search results, it means people were finding it less relevant to what they are looking for. Thus, Google did not deliver the right results and will reshuffle it. However, if the CTR is higher, then the search results are relevant to the search query.
Let's give you an example of an organic CTR from the Google Search Console:
In Google Search Console you can see that one of your pages has 1,000 impressions. This means the page has appeared 1,000 times in the search results in the given period.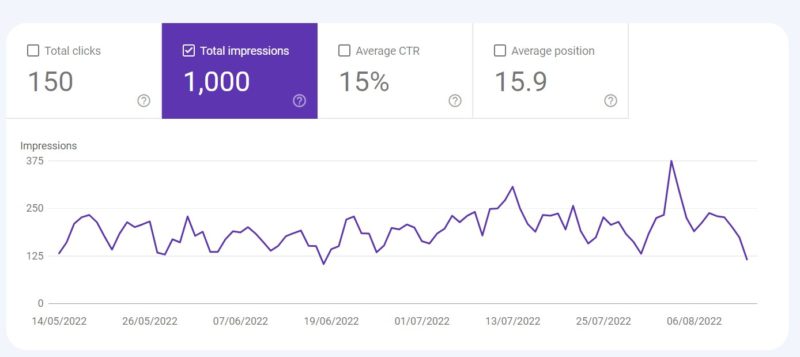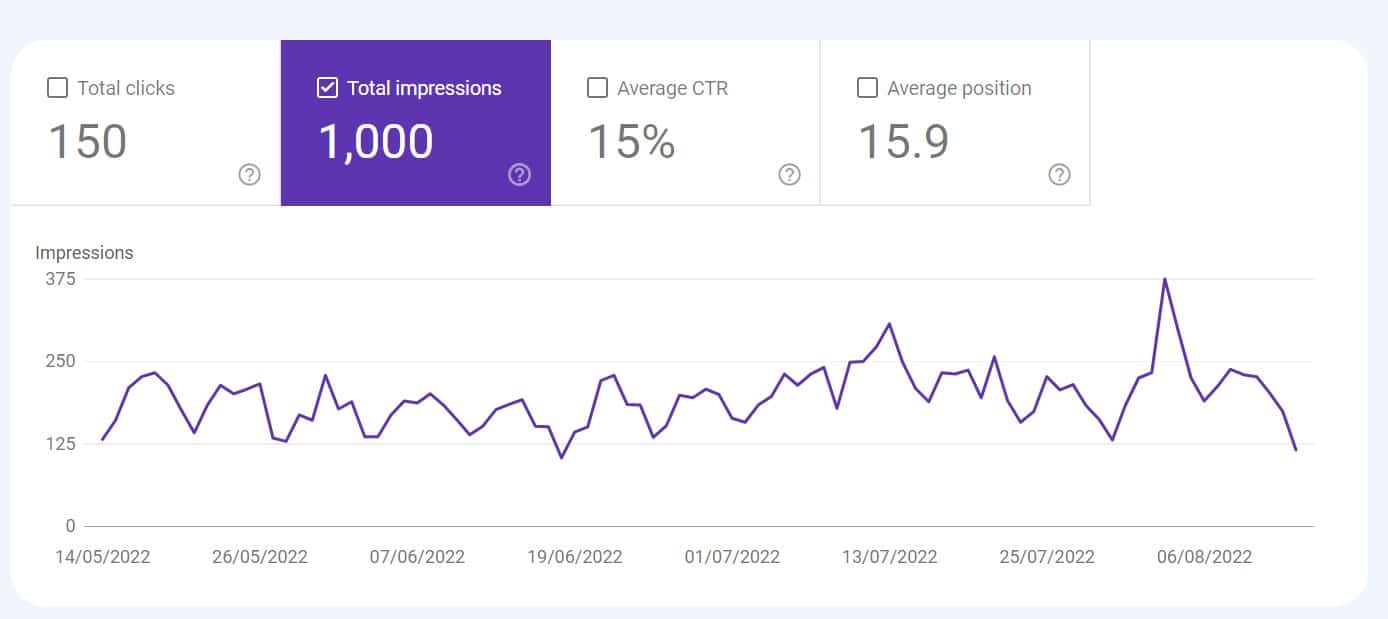 Now, this can be for many different keywords, as according to research, your page can appear for hundreds or even thousands of different keywords, each generating a different number of impressions.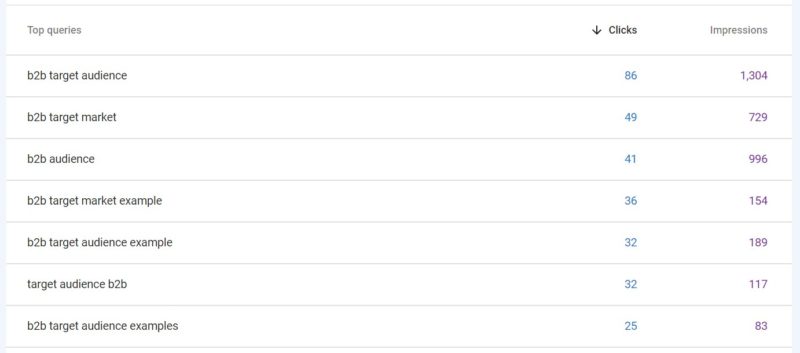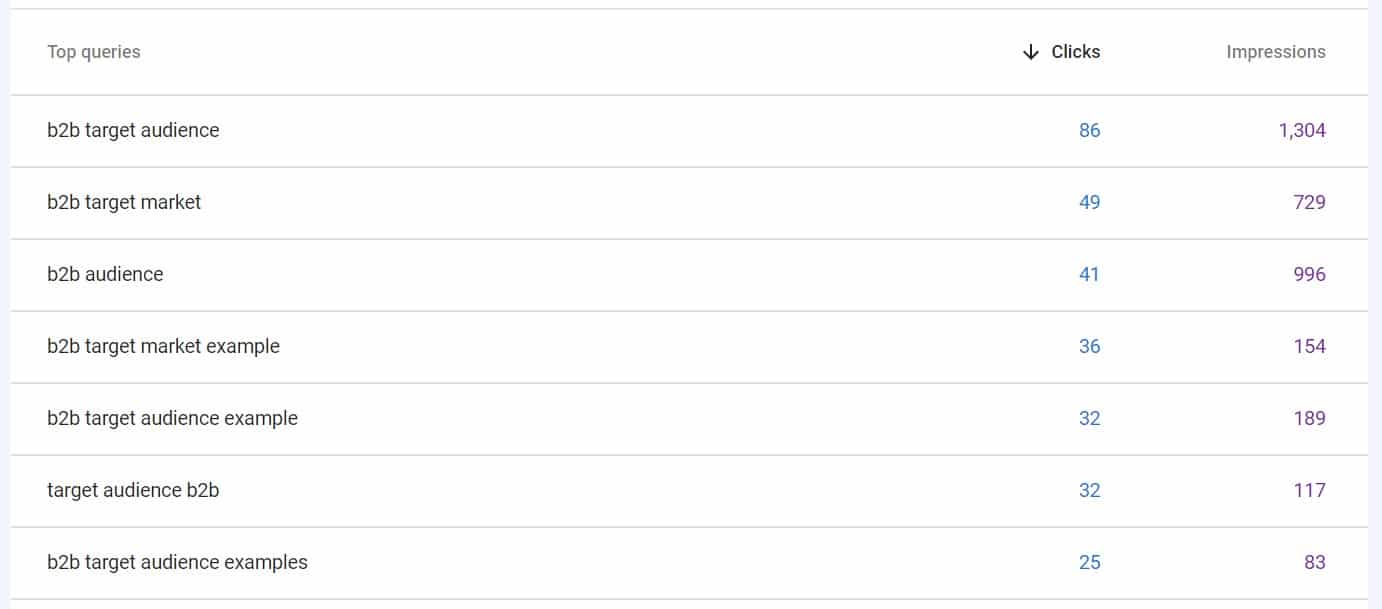 Also, unlike in advertisements where impressions are calculated every time the ads are visible on the screen, in organic search results impressions are calculated every time your page appears for the search query regardless of if somebody sees your page in SERPs or not. So if you rank on the 8th page of Google for certain search queries and nobody went that far to see your page, it is still calculated as an impression.
So, from the 1,000 impressions, 150 people clicked on your search results.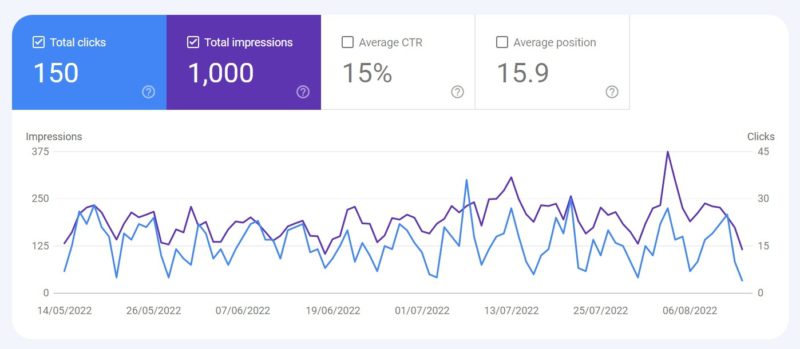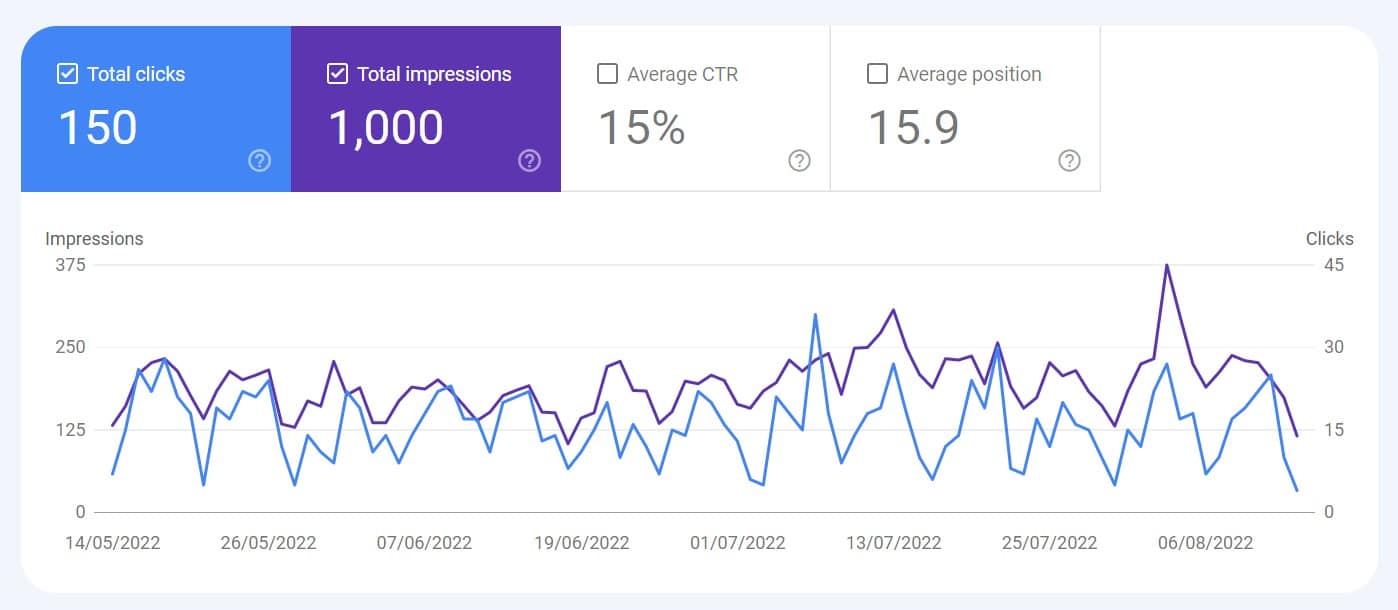 So based on this, you can use the CTR formula: Total Clicks / Total Impressions * 100 = CTR %, we can calculate 150/1,000*100=15% CTR. So, we know this page has an organic CTR of 15%.
What is a Good Organic Click-Through Rate?
Good organic click-through rate can largely vary based on the ranking position and the SERP features that appear for the query. According to the research Databox, a "good" organic CTR for a website ranges between 3-5% and anything above could be considered a great organic CTR.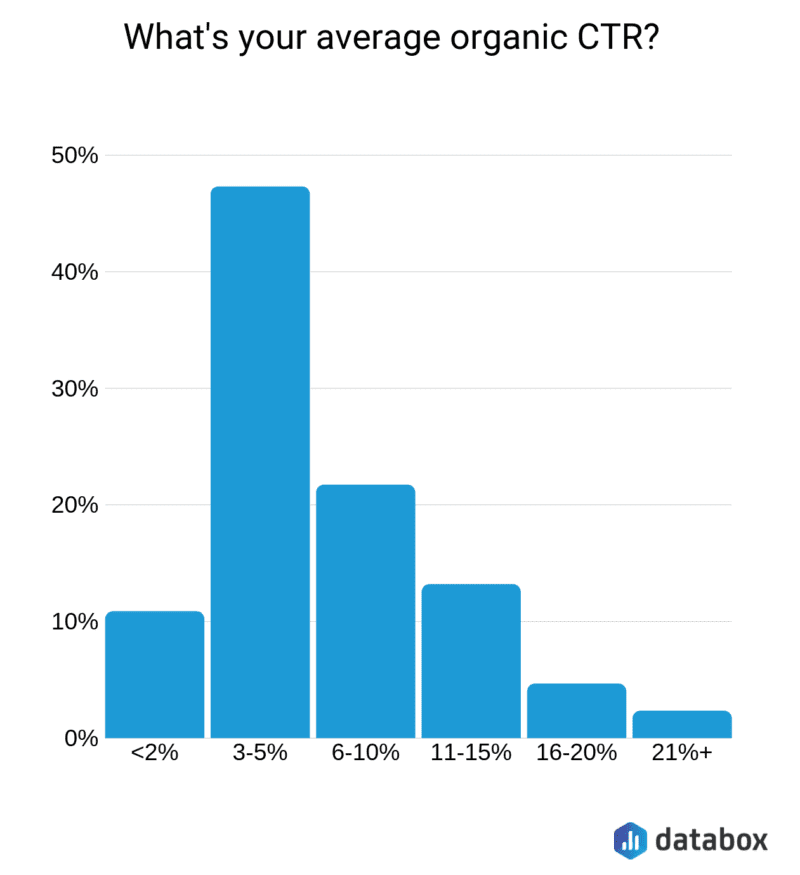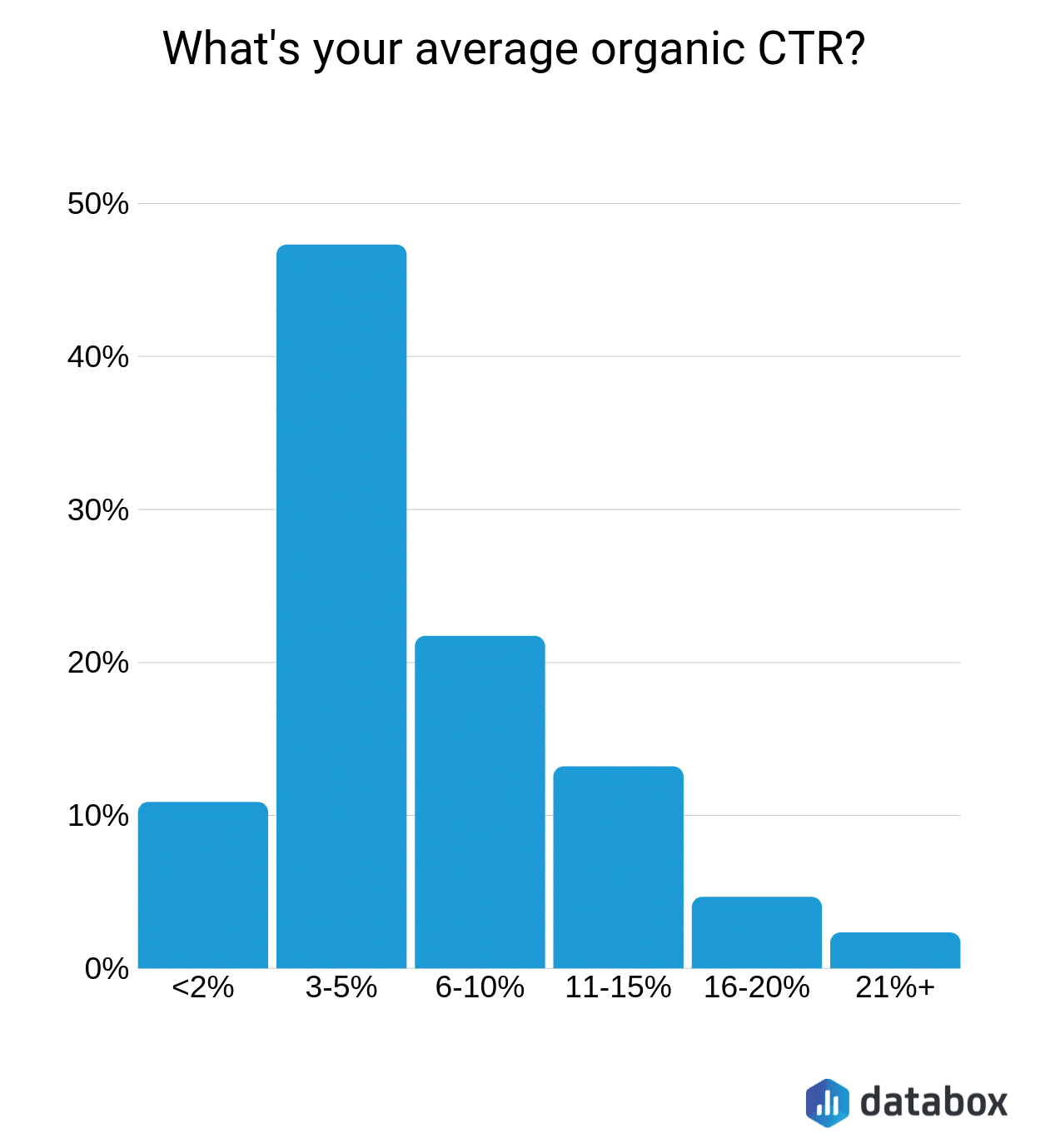 While in terms of organic CTR per ranking position a good click-through rate for the #1 result in Google's organic search results is CTR of 27.6% according to Backlinko.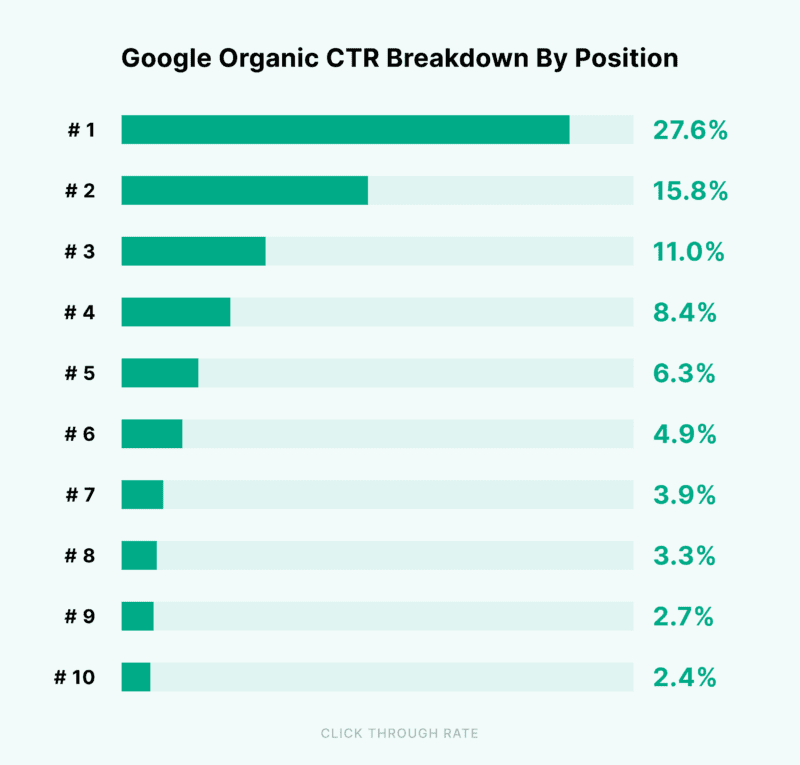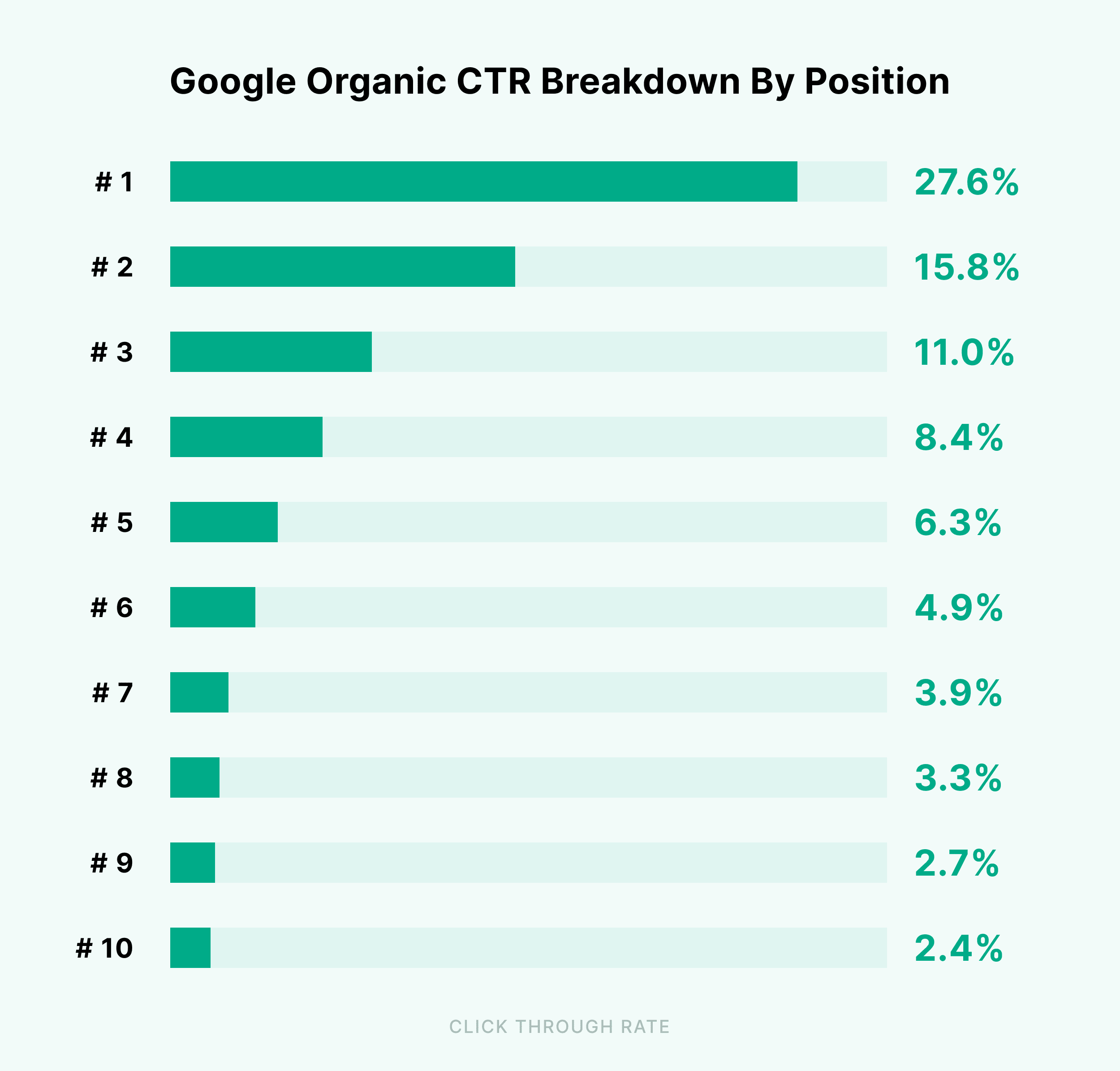 However, your organic CTR can be lower for certain queries because of the SERP features Google displays.
For example, when somebody is searching for an answer to their question such as "what is b2b target audience" Google will display a rich featured snippet highlighting the answer from the page which results in that the searcher doesn't need to visit it, thus, the page only generated impression but not click resulting in lower average CTR, which is fine by Google.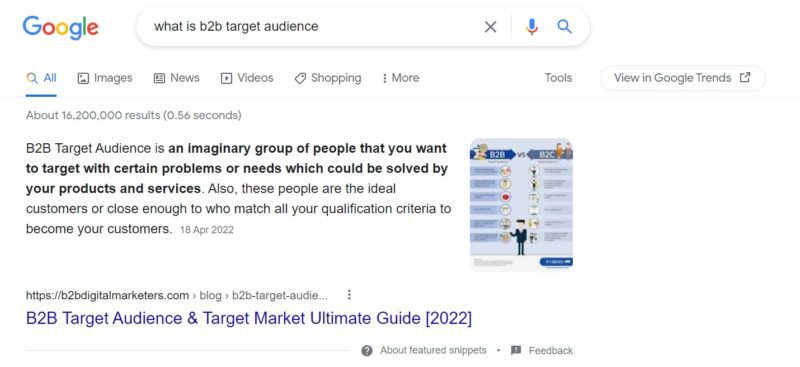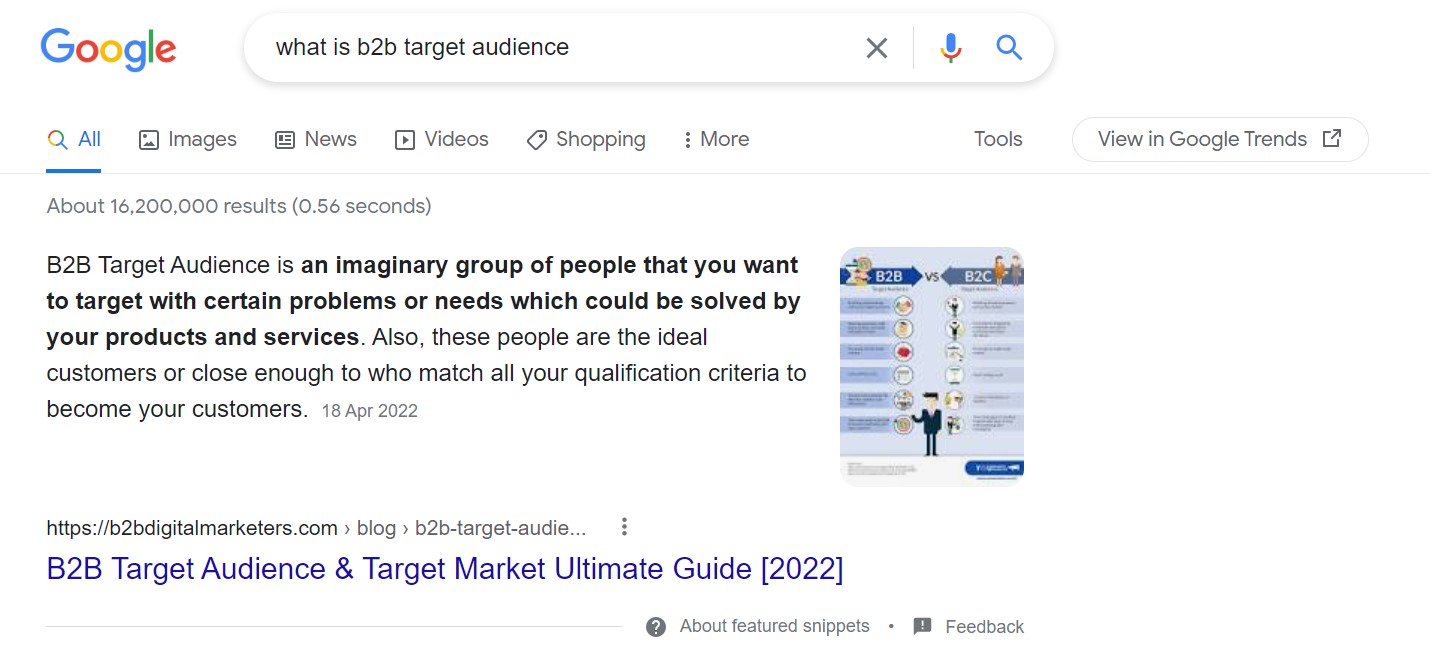 In conclusion, a good organic CTR is totally based on your ranking position and your target keywords. There is a big difference between good CTR for position #1 and ranking position #2 or even ranking position #10.
What is CTR Manipulation?
Click-through rate (CTR) manipulation is a process of getting more clicks to a website page to increase the organic CTR % above the ranking competitors in order to manipulate the CTR ranking factor and increase the page ranking in the SERPs. By doing this you'll send a strong signal to Google about your page is more relevant than others in the SERP.
Therefore, the better your organic CTR is the more likely you can outrank your competitors even despite you having a smaller website authority.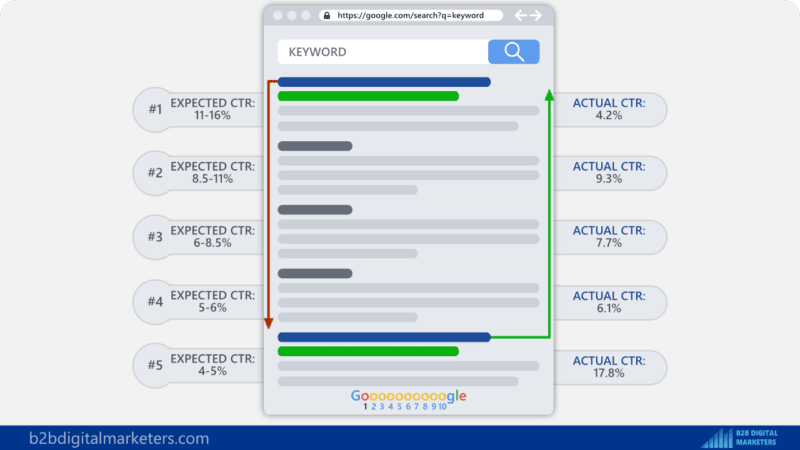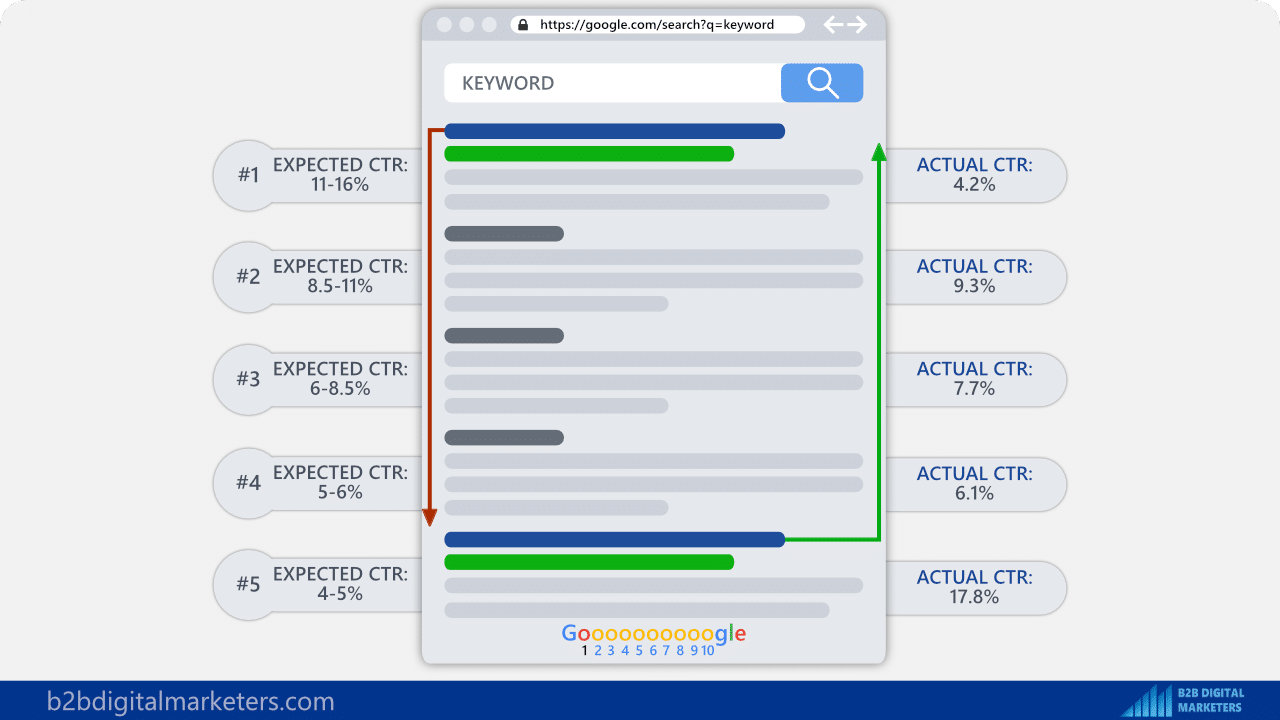 Why is CTR Important in SEO?
CTR is important in SEO because Google and other search engines are using CTR to determine the relevancy of the page for a particular query. If for example, users are clicking more (thus having higher CTR) on your page than your competitors, it sends a strong signal to Google that people are finding your page more relevant than others and Google will reward you by improving your ranking.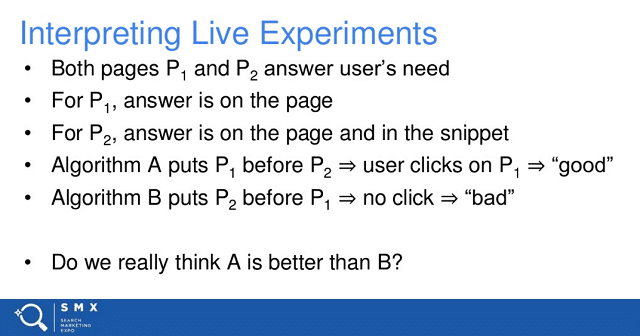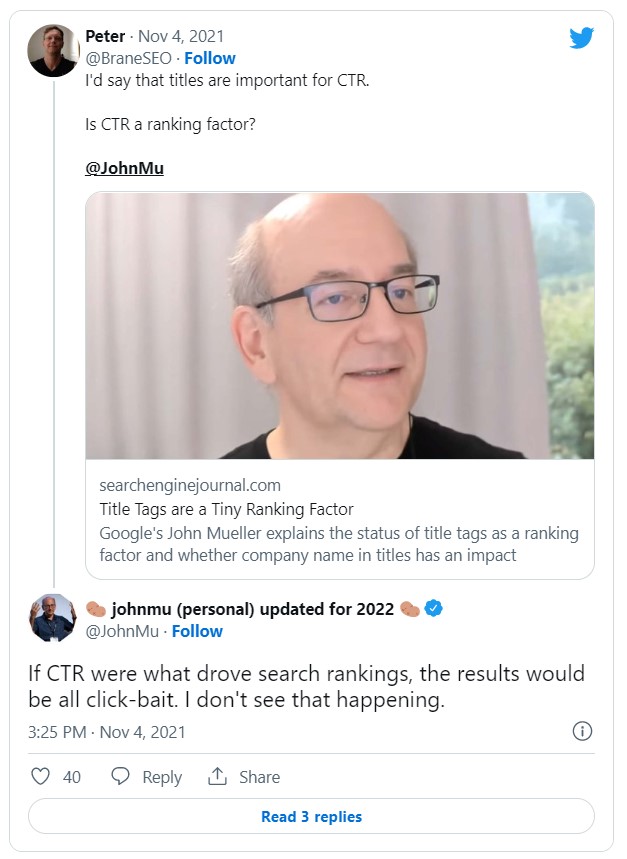 However, when Rand Fishin did the CTR test by getting a lot of people typing a certain keyword and clicking on the search results, it shot up from position #7 to position #1 in 3 hours.
But of course, this is not solid prove that Google uses CTR in their algorithm, but I dare you to try to change your titles and meta description in order to get fewer clicks…
Now, even if CTR is a ranking factor, it totally makes sense Google can't and won't admit that because it would promote CTR manipulation and click-baiting to a whole new level…
However, it's also very interesting that in Google Search Console you get 4 metrics and three of them are directly related to CTR.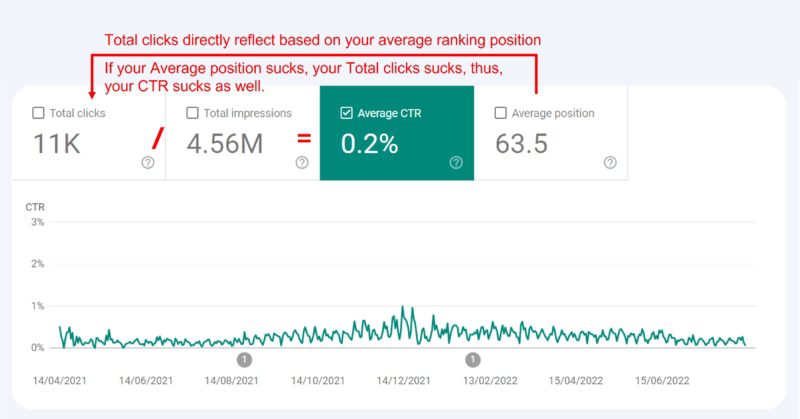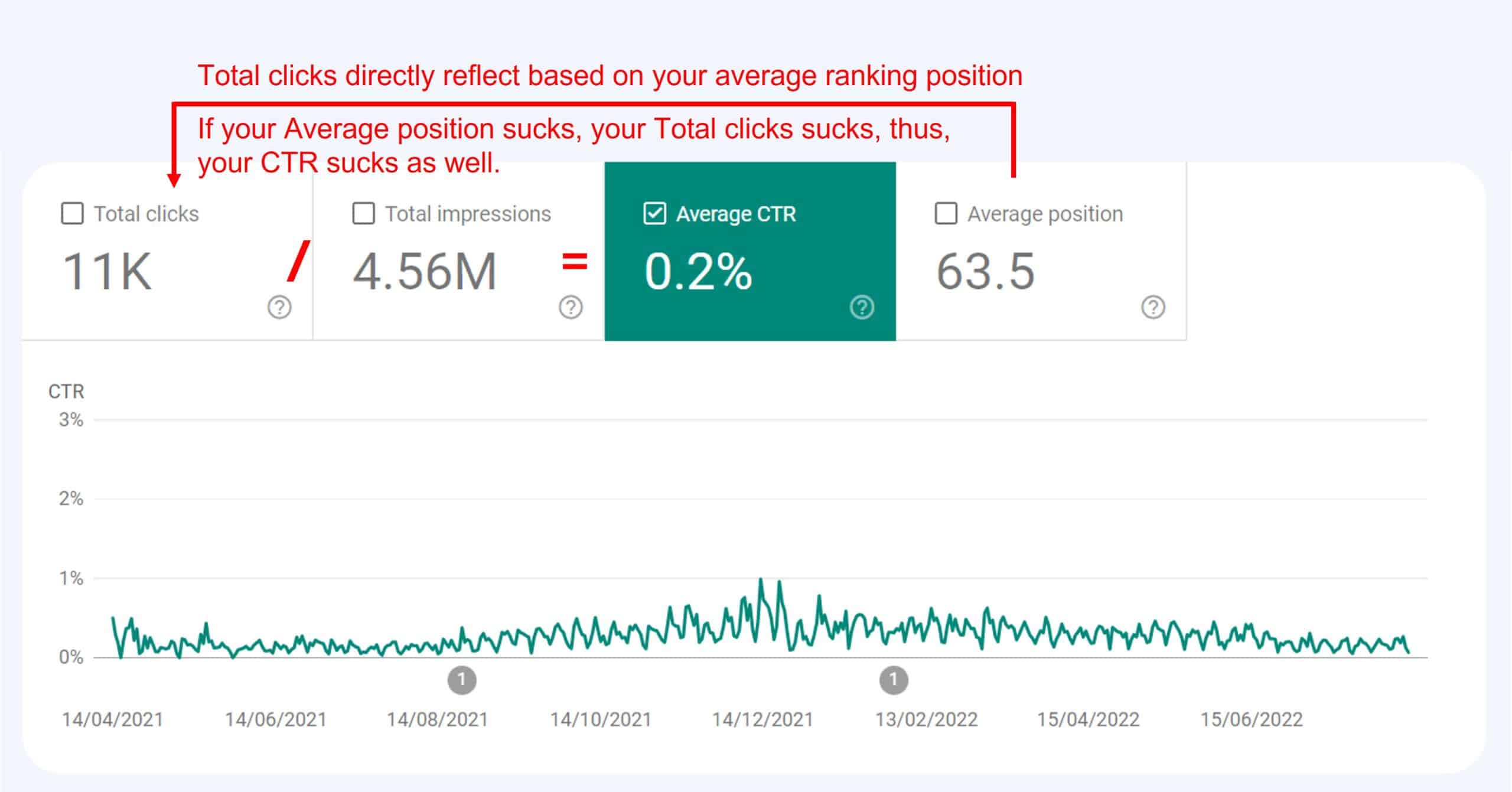 And also, this little document that has been leaked a while ago: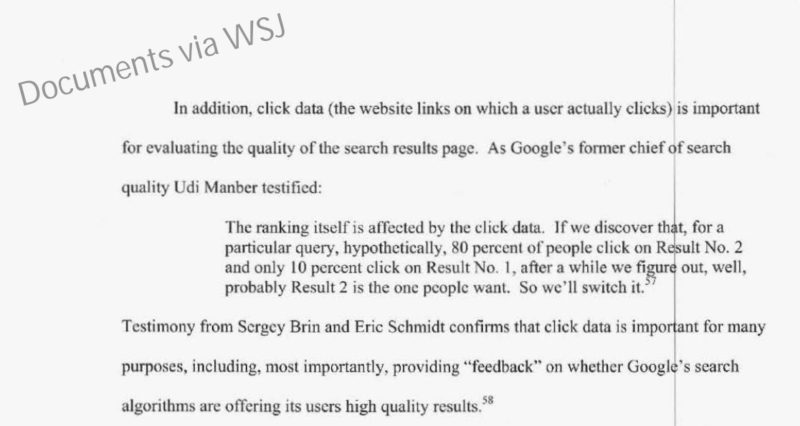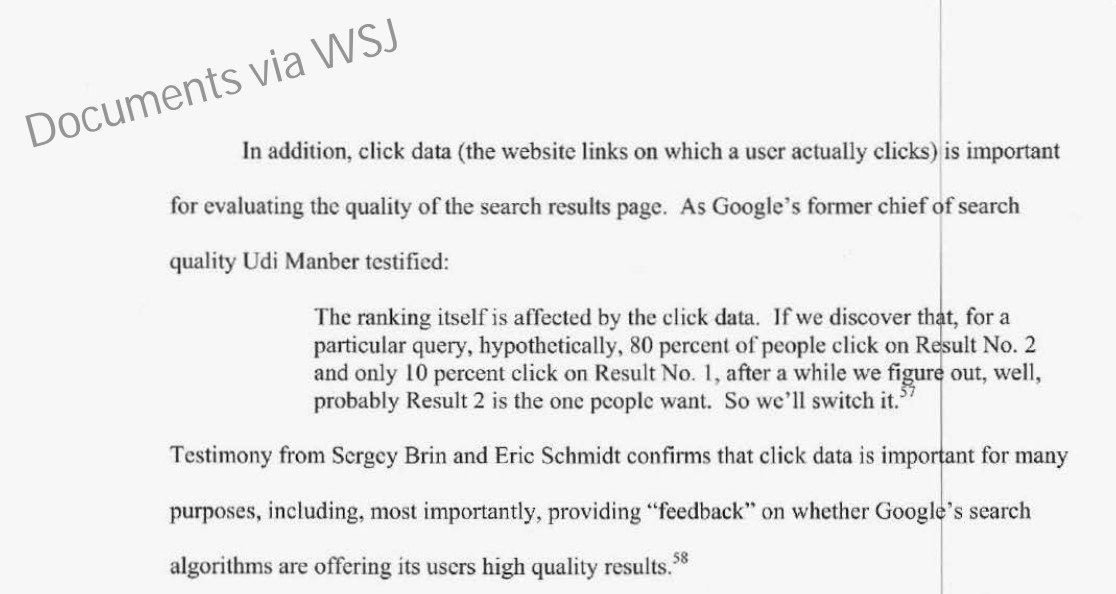 Regardless, improving your CTR is a good idea as it can get you more website traffic.
How to Know What CTR to Aim For?
When it comes to CTR, no search engine's result page is the same. As already explained, CTR vastly differs based on the keywords and featured snippets displayed there.
According to Ahrefs, keywords with featured snippets split their CTR, where position #0 gets 8.6% CTR and position #1 gets 19.6% CTR, while keywords without featured snippet, the position #1 gets 26% CTR on average.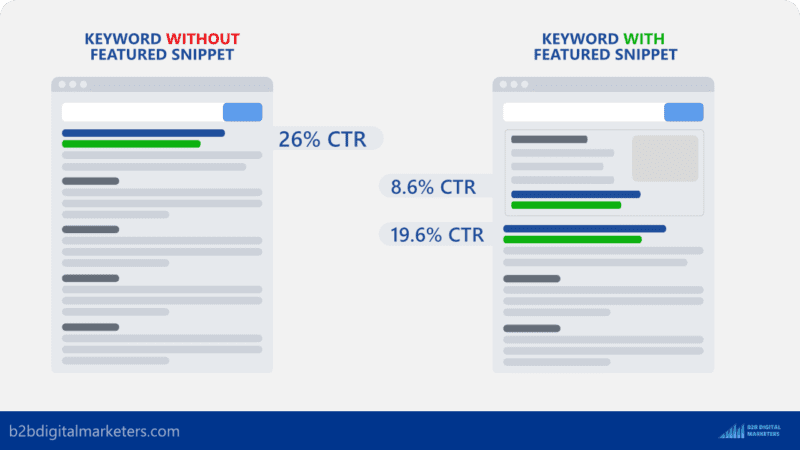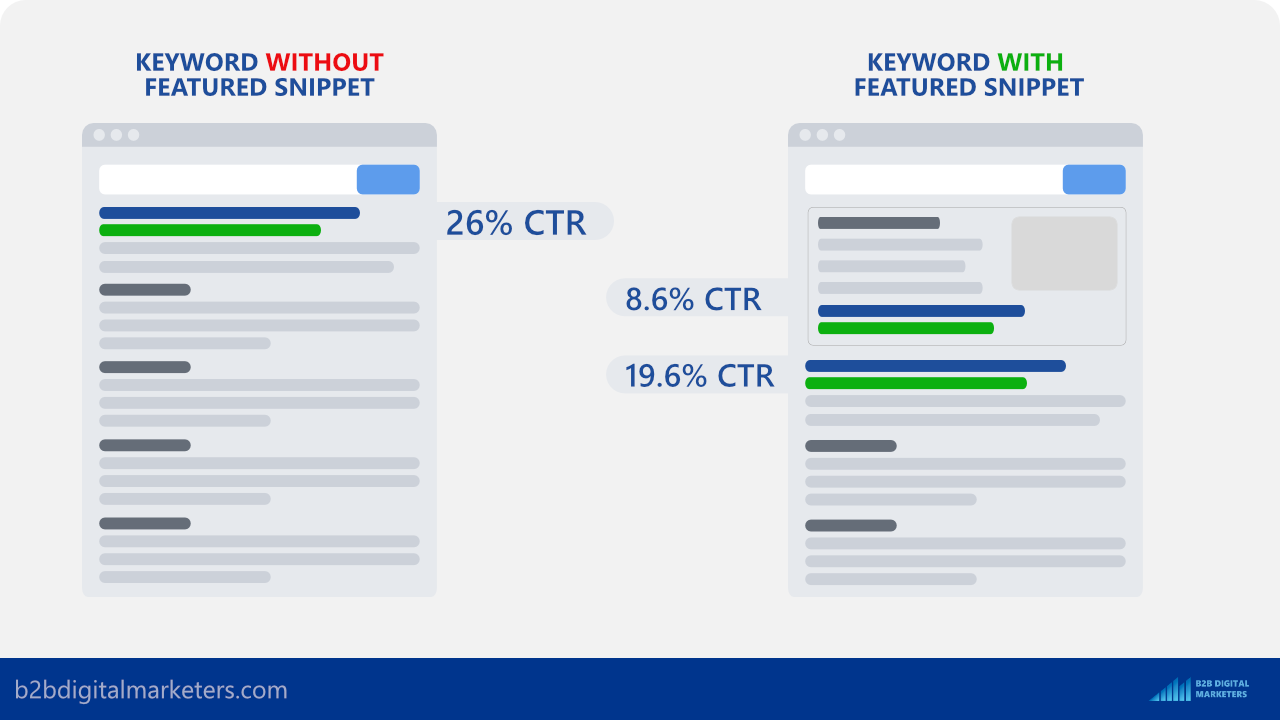 For example, my keyword "b2b target audience" has only a 6.6% average CTR despite being ranked as #1 consistently.

Why?
Because Google gives rich featured snippets which in most cases is sufficient. Therefore, this query has a lower organic CTR for #1.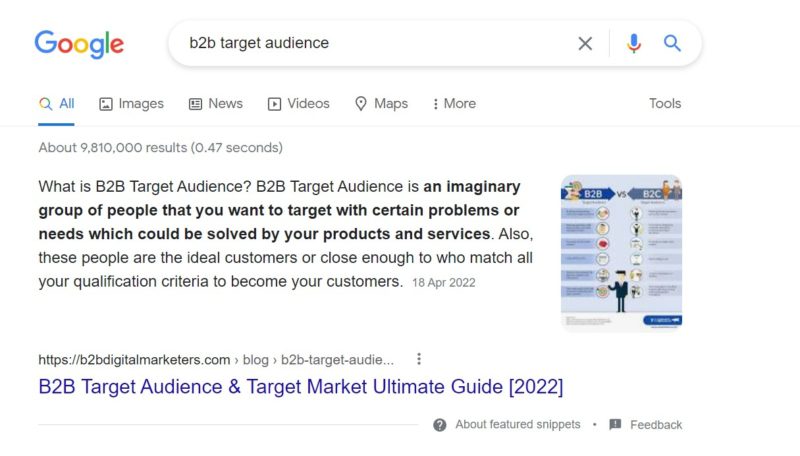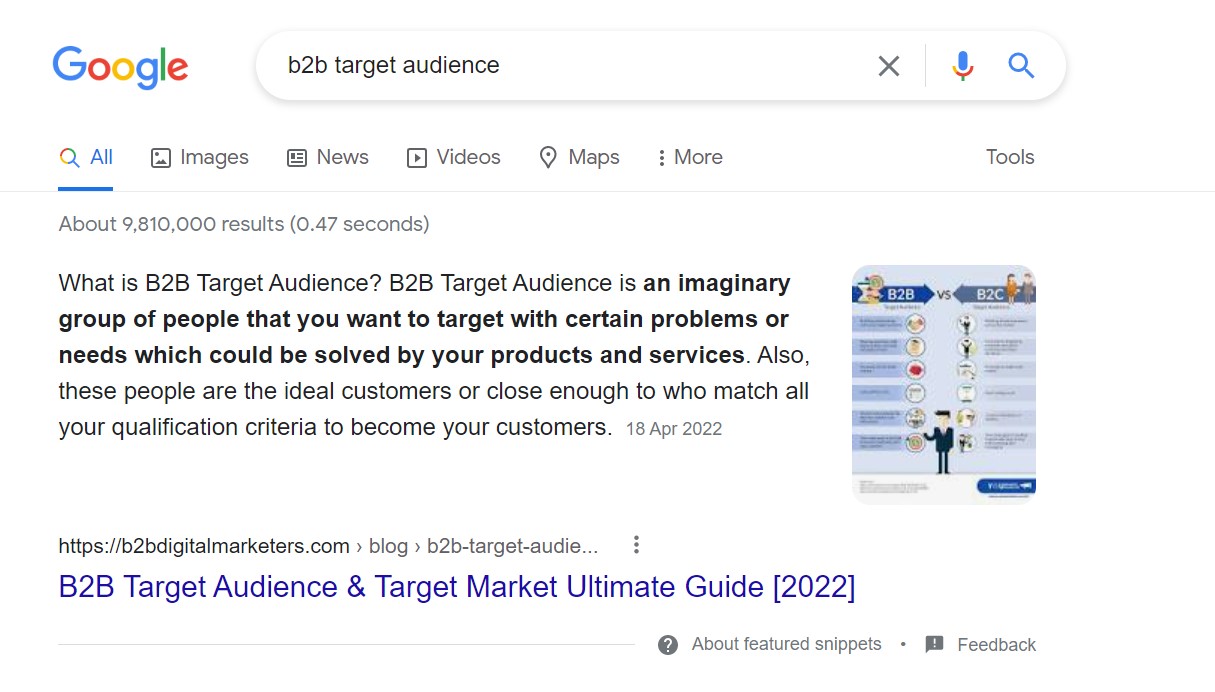 Another example could be the keyword "when did gen a start" which could be another low CTR keyword.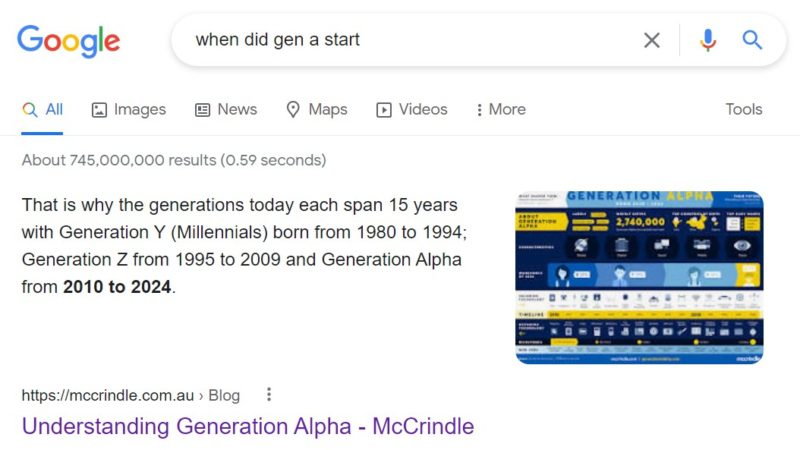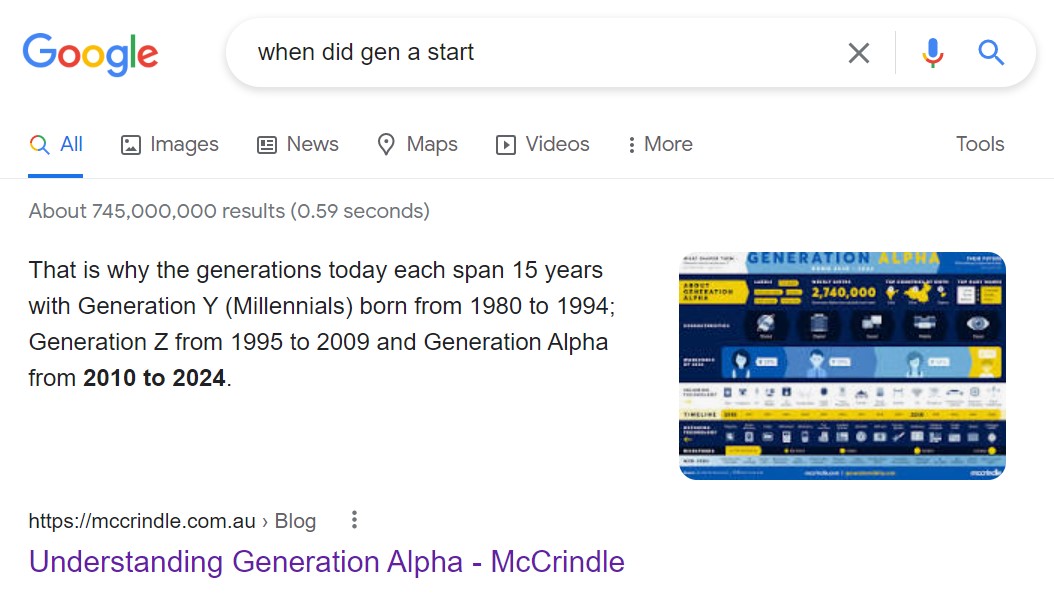 However, on the other side keyword like "free keyword research tool" will have higher CTR than average, as there are not any SERP features, and people needs to visit a ranking page to get what they are looking for.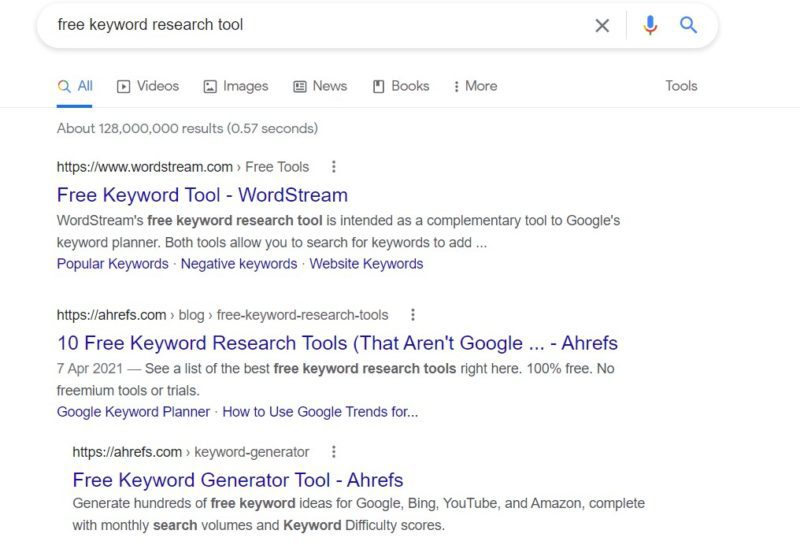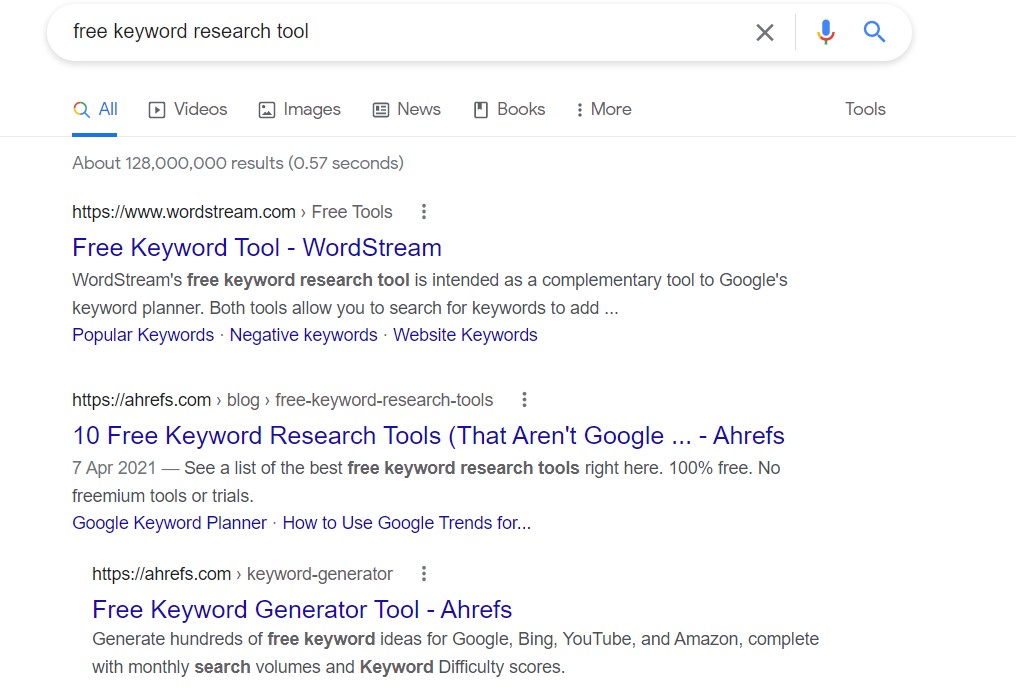 With that being said, to estimate what is the average CTR for a keyword, you can use your Google Search Console Data as well as common sense by looking at the featured snippets.
For example, one of my clients ranks #7 on average for the keyword "erp software" with an average CTR of 1.4% which is below the average CTR for that position.


And also, there are quite a few search features such as ads, rich results, Google Maps, a knowledge panel, and Videos and I saw a carousel pop up as well, so I could expect the #1 ranking results have an average CTR around 20-25%.
However, if you are not having available data, then looking at the SERP features as well as the keyword can give you a general idea and improve the estimation as your ranking improve. For example, the broader keyword has lower CTR than more specific ones, unless those keywords that Google can answer straight in the SERP as shown.
How to Manipulate CTR?
If you want to manipulate CTR there are two ways to go about it. The first way is to go Black Hat SEO which is the riskiest and Google can and will penalize you for doing it. Therefore, this is not an option for me.
And the second way is white hat SEO where you "manipulate" the CTR by using strategies that are endorsed by Google.
So let me show you each of these:
Black Hat SEO Strategies for CTR Manipulation
As mentioned, there are those strategies that can help you increase your organic click-through rate. However, it's not done organically, thus, these strategies are against Google quality guidelines and your website can get penalized or even be removed from search for good.
Therefore, I highly do not recommend using these strategies and you are taking on your own risk.
I warned you…
CTR Click Bots
CTR click bots are tools that are using IP proxies to generate "unique" website traffic in the same way as organic search does.
It searches for your keyword in the search engine result pages and then crawls all the results until it finds your web page to click on it to increase your CTR.
And in some cases, those that tried it saw positive effects from this black hat SEO CTR manipulation strategy for a short period of time.
However, the big problem with these tools is that while they can generate tons of cheap proxies to appear like "normal" website traffic, essentially, they come from the same or a few devices which is easily recognizable by search engines, thus rendering as ineffective.
Human CTR Services
Another Black Hat SEO strategy is to use real humans to search for your keywords and click on your web page in the search results.
One of the most well know services are Microworkers which allows you to hire people for small tasks, be it for anything including CTR manipulation.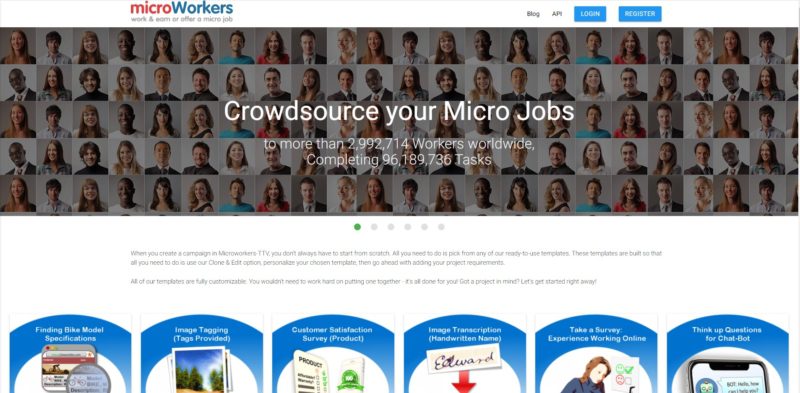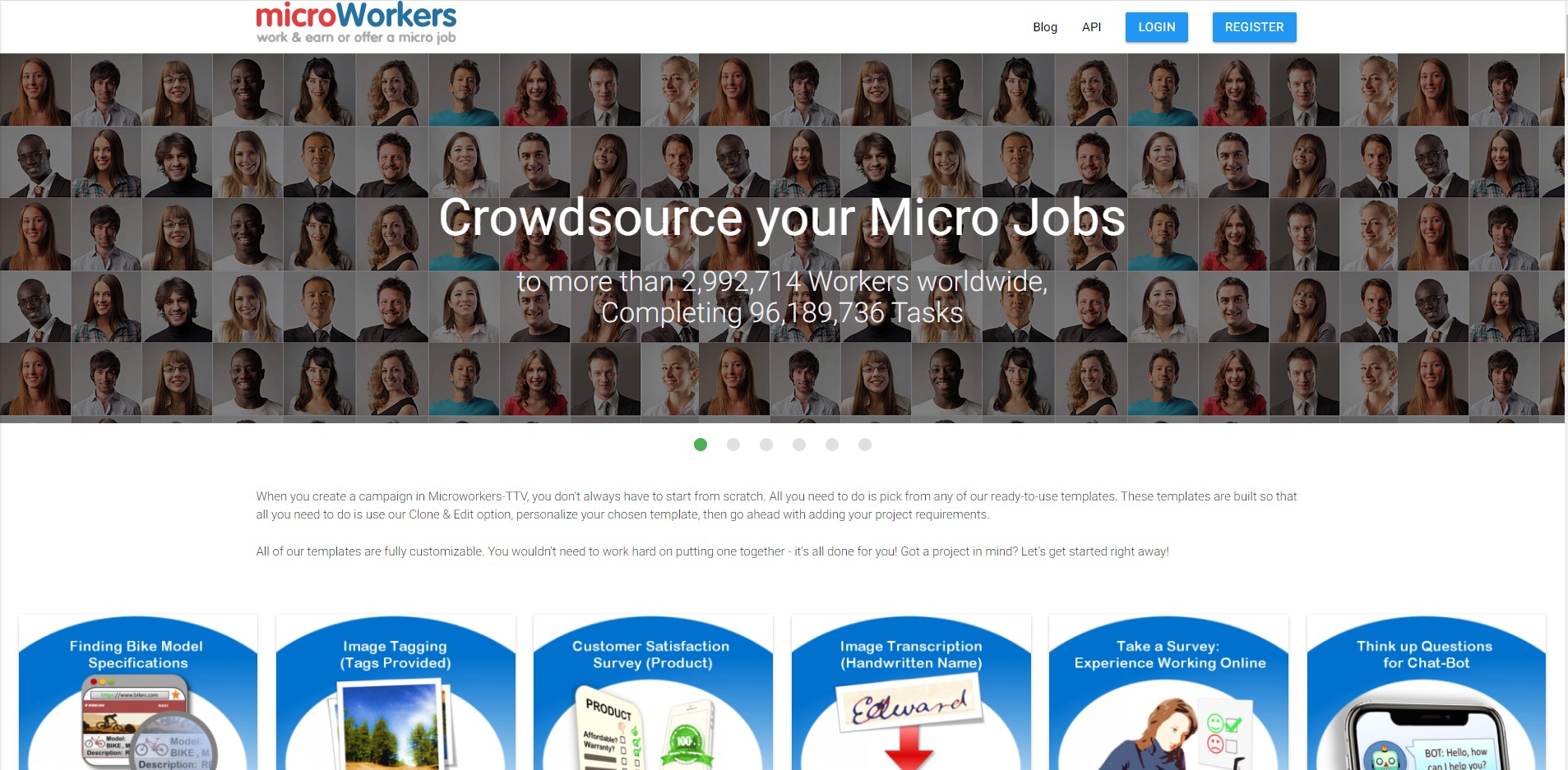 Or you can select specific CTR manipulation services such as SearchSEO which uses a network of real humans to click on your site. You can choose the location of these humans in over 150 countries around the world.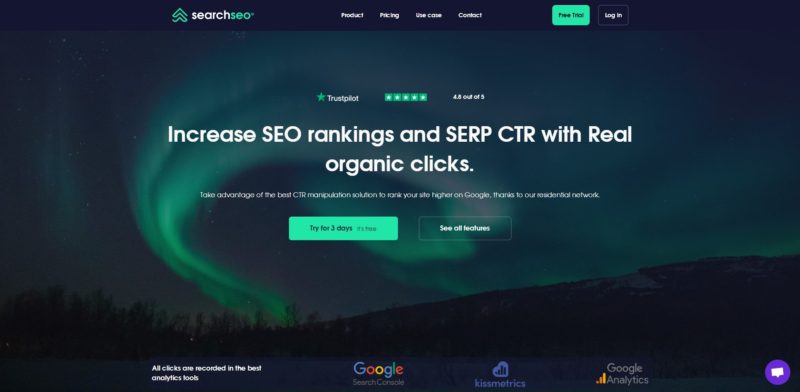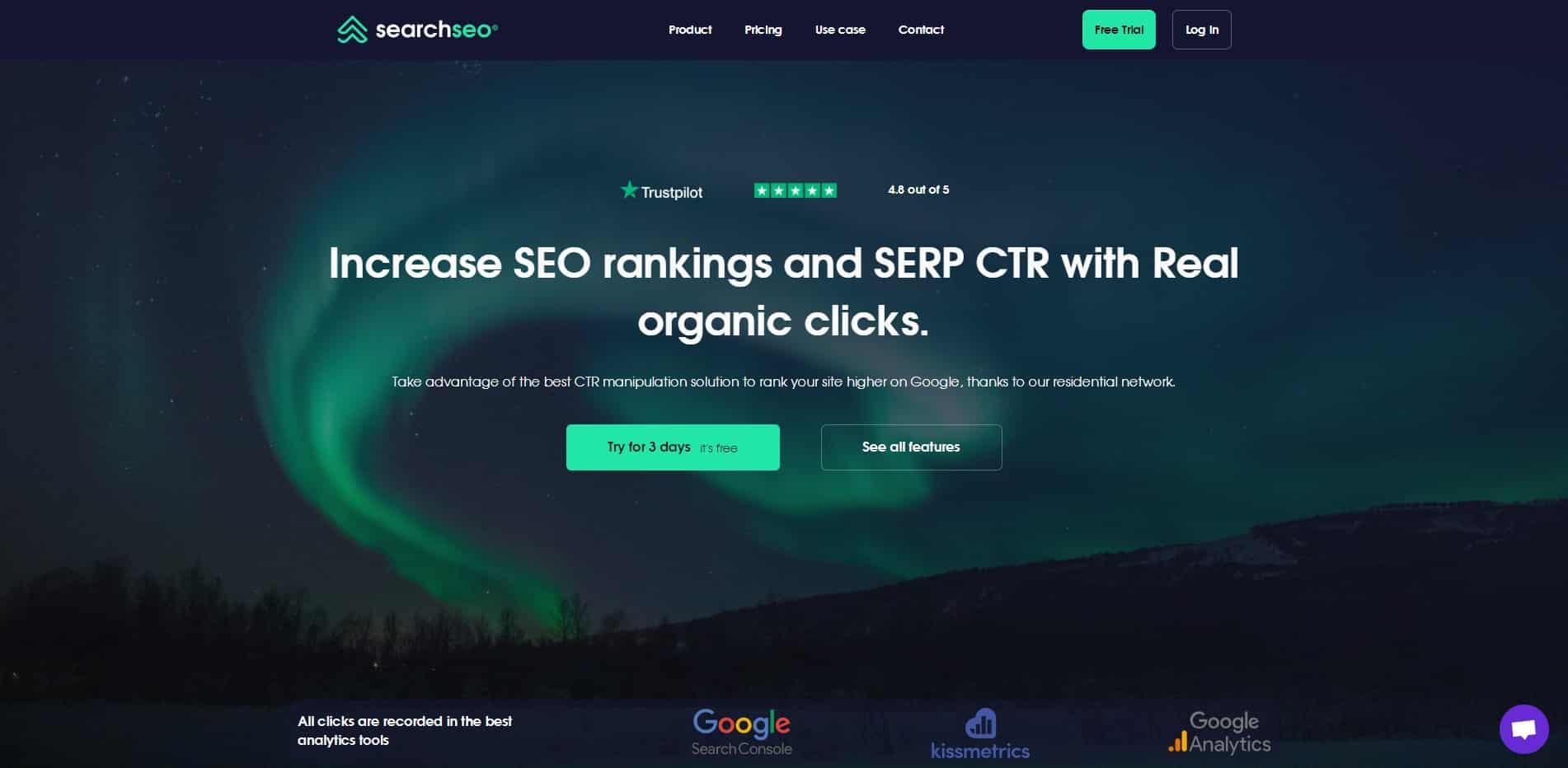 Now, they claim they are not a black hat SEO software, but if Google finds out, they penalize you the same way. Therefore, for me, they are 100% black hat SEO service as it is against Google quality guidelines, and you are taking the risk of doing so.
And of course, it's much harder for Google to actually find out you are using these services unlike from using bots, but it's a lot more expensive compared to bots.
White Hat SEO Strategies
Now, just because CTR manipulation sound sketchy and something that is not allowed it actually does not mean you cannot try to manipulate your CTR to get better results.
Using white hat SEO strategies to improve your CTR is totally allowed and endorsed by search engines and used by SEOs and marketers around the world, even by your competitors.
Therefore, CTR manipulation is an essential strategy that you should implement, and here are 6 best white hat SEO CTR manipulation techniques:
1. Email Marketing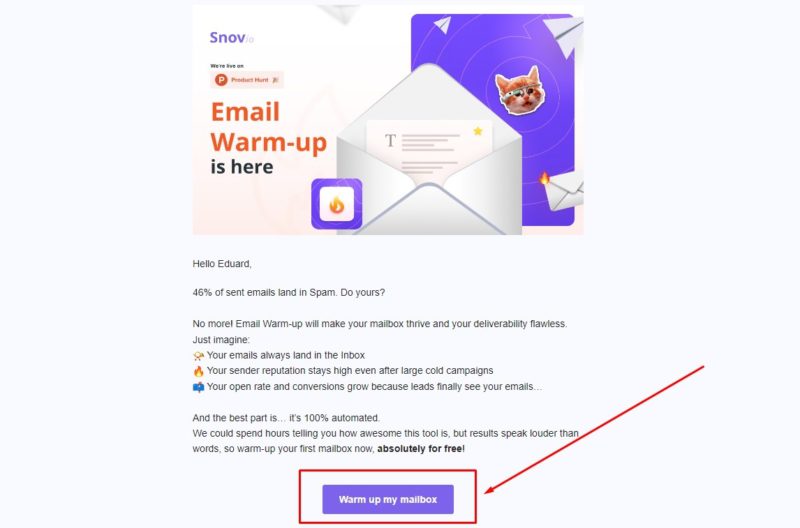 Email marketing is an essential strategy for every single business or blogger as unlike search engines or social media traffic, you own that traffic. You'll get to keep their information and you can easily boost email referral traffic to your website to wherever you need it.
It's arguably one of the easiest strategies to drive website traffic or even leads and sales for your business. Therefore, you should definitely be focusing on getting more email subscribers!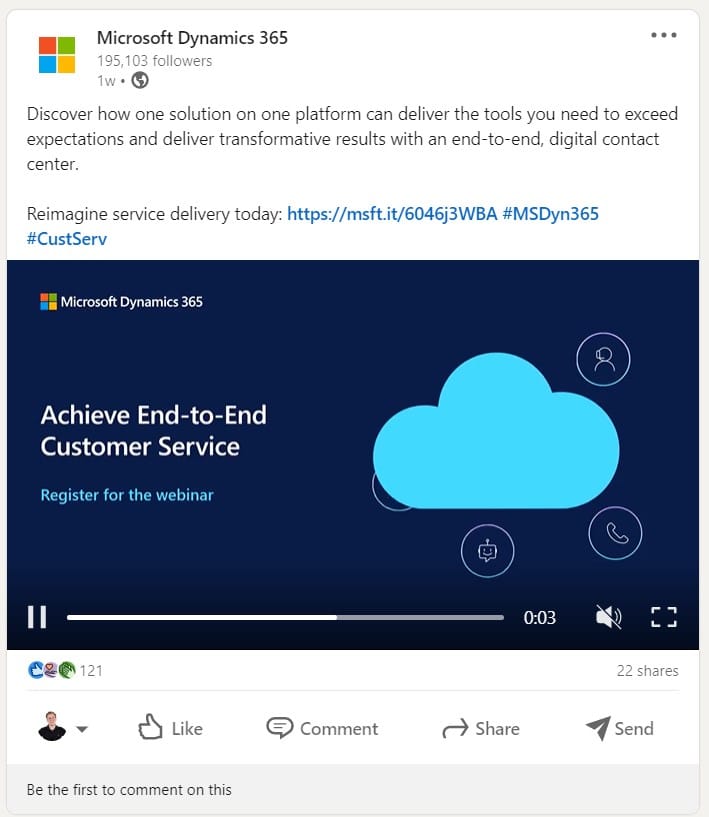 Another way to boost your website traffic and increase your CTR is via social media.
Google is actively analyzing traffic from social media to better understand your content and even the popularity of the content. And if you drive a lot of website traffic from social media to your pages and have high CTR it helps to build trust with search engines which can result in better ranking, thus more clicks, thus better CTR!
However, the issue with social share is that social media hates driving people off their websites.
Therefore, very rarely you'll find your social media post with a link to your website will get exposure to generate substantial referring traffic from social media it's more like death by thousands of cuts.
3. Paid Advertising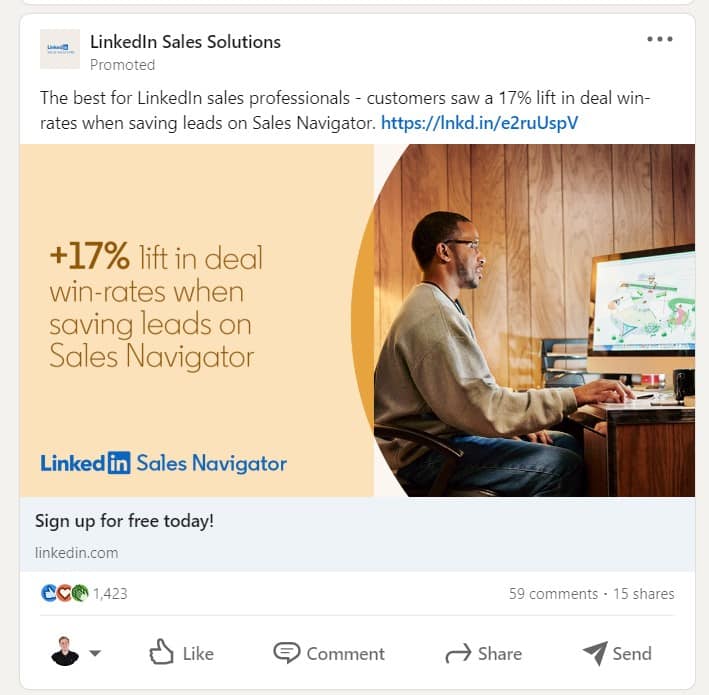 Paid advertising is one of the best ways to quickly generate website traffic. However, don't think that just by promoting your post on social media, you will get tons of social traffic and high CTR.
You'll need to do your research, create stunning and relevant visuals, write a compelling message, and everything in between. Needless to say, when done right your CTR will go off the roof!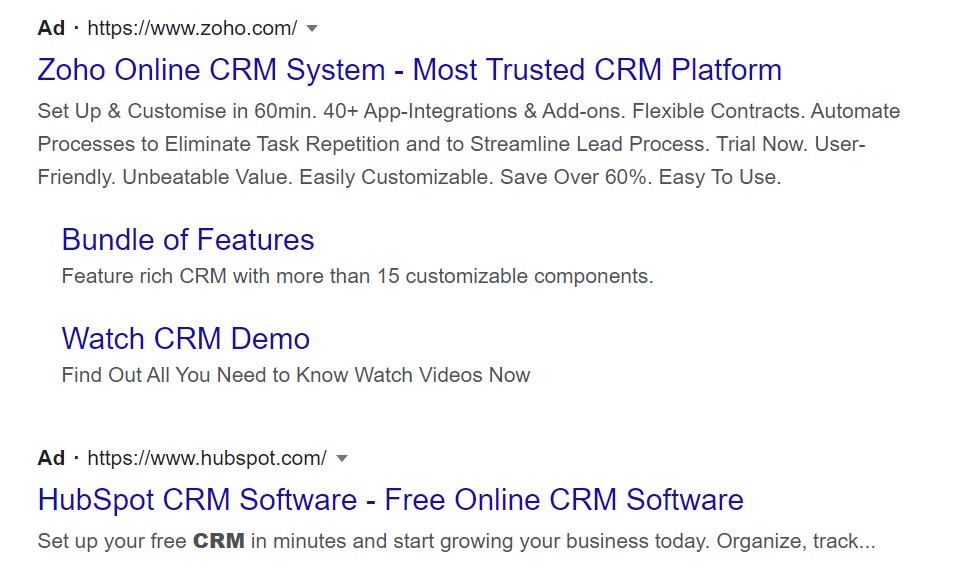 And that same applies to other advertising platforms. Google search ads are excellent in improving CTR and driving website traffic and when combined with SEO, the results are much better.
In fact, marketers using both organic SEO techniques and pay-per-click ads see an average of 25% more clicks and 27% more profits compared to using a single technique.
And from my personal experience, every time I turn off Google Ads, my SEO results go down as well including my organic CTR.
Therefore, using paid advertising, especially Google ads will help you increase your CTR.
4. Search Engine Optimization
Another way to manipulate your CTR is by doing SEO or search engine optimization.
Search engine optimization's main goal is to drive more clicks to a website and increase ranking which results in better and higher CTR by implementing proper SEO techniques such as link building, keywords research, on-page SEO, off-page SEO, and technical SEO.
Therefore, it comes as no surprise that SEO is one of the main keys to effective CTR manipulation.
So, if you really want to improve your organic click-through rate, make sure you start with SEO!
With that, here are some of the best SEO strategies to improve CTR:
Optimize your title tag and meta description similarly to Google Ads with primary keywords in it.
Implement a proper SEO-friendly URL structure for Google and users to better understand your website and content.
Add structured markup. Appearing in rich results can significantly increase your CTR!
Target long-tail keywords and low competition keywords. Your goal is to keep your average ranking position as low as possible. The best website should have an average position of 20 and below at all times!
Optimize for the "People also ask" box. This can enable you to rank for more competitive keywords that currently you wouldn't be able to rank for due to a low website and topical authority.
Especially for articles, make sure it has a current year in it. People do not like to click on articles with last year's date.
Add SEO images and custom graphics to your post in order to appear in Google images to drive more clicks = higher CTR.
Localize your content. Not only it's easier to compete in local SEO, but it's more relevant to users helping you get more clicks and growing your CTR.
5. Push Notification
Another great way to increase your CTR is using push notifications.
Push notification allows you to send short informative messages to your subscribers that agreed to receive them. Therefore, it's important to provide value within your push notification just like with your email marketing strategy.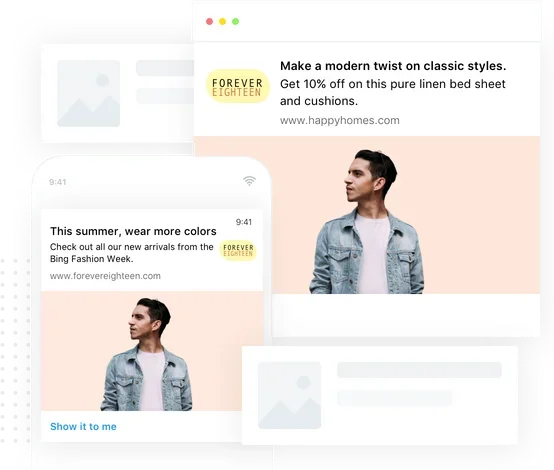 However, push notification enables you to send a small message straight to their browser on desktop or mobile giving you bigger exposure.
In fact push notifications appear to be outweighing email marketing by delivering better results. When compared, push notification campaigns observe opening rates increase by 50%, click rates by 7 times, and retention rates by 93%. (Source)
Plus, they are very easy to set up and you can start collecting subscribers on autopilot without the need of building a lead magnet like an eBook or something else.
With that being said, the more push notification subscribers you'll get, the more of them you can drive back to your site which can send a positive signal to Google about your page.
6. Blogging
And the last and probably the best way to manipulate CTR is by blogging.
Whether you are blogging for business, you are doing affiliate marketing, doing B2B blogging, or any other type of blogging, it's essential for you to do that as it allows you to target 90% of keywords within your industry.
The thing is, with product, service, or category pages you can only target profitable keywords which is a tiny fraction of all keywords within your industry because the keyword's search intent requires you to create blog posts.
And if you do not match keyword search intent, then nobody will click on it, thus, it will destroy your organic CTR.
That's why with smart keyword targeting and blogging you can easily and quickly increase your organic CTR. Definitely, this is the best CTR manipulation technique to boost your CTR!
Does CTR Manipulation Work?
CTR manipulation does work if you are going to apply some of the white hat SEO best practices to improve your CTR in the long term. In fact, it's essential to monitor your organic CTR as it represents your overall website performance and how well you have planned your SEO strategy.
In fact, CTR manipulation is one of the best ways to grow your website traffic and ranking.
For example, if you have a bad average ranking in GSC, it shows you were targeting highly competitive keywords that are out of your ballpark which of course directly reflects on the number of Total clicks (0) and very bad CTR just like in this case.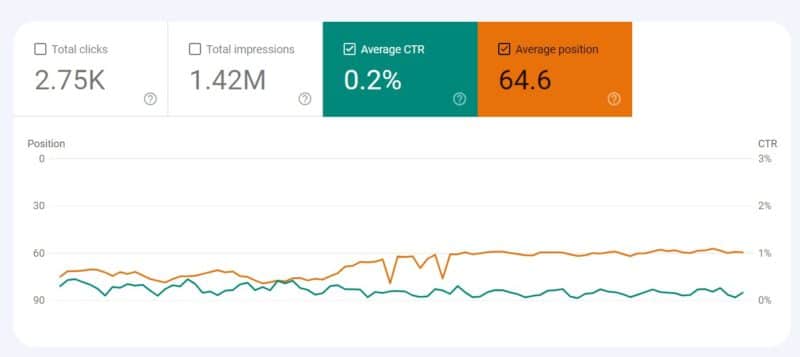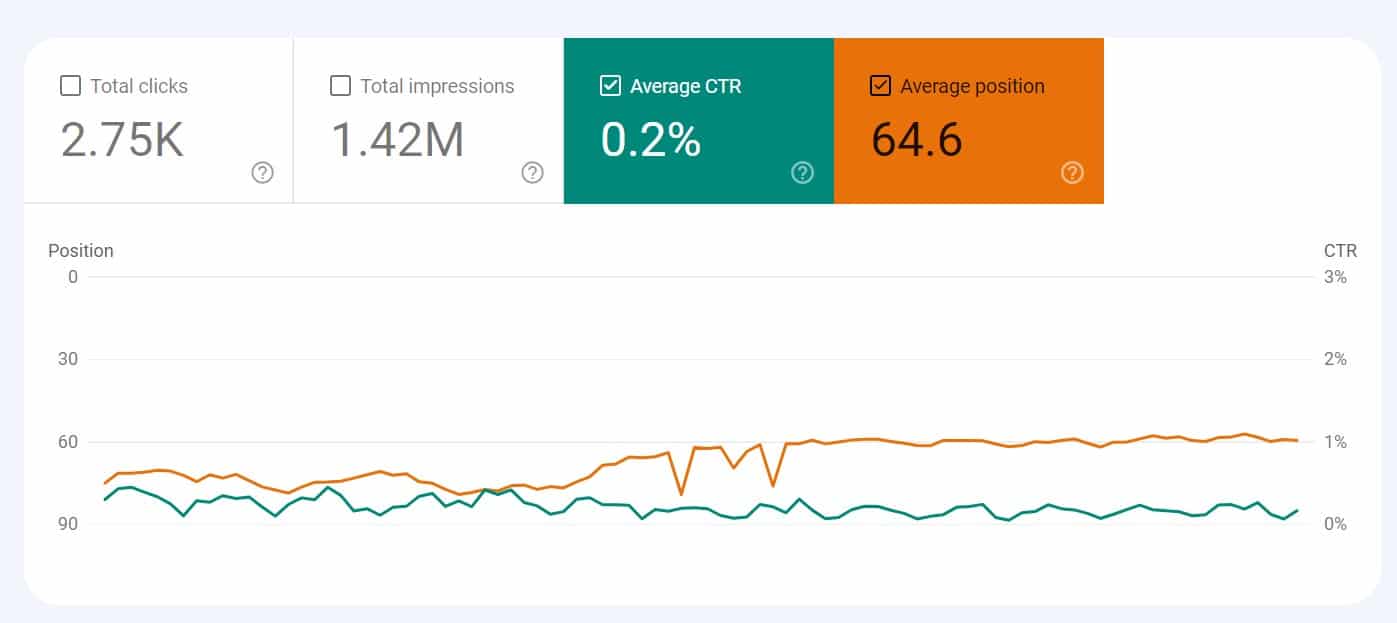 Therefore, learning the right SEO strategies to improve your CTR will benefit your business the most.
What To Do Instead of CTR Manipulation?
If you are considering the black hat SEO CTR manipulation, it does still work in a short period of time, and you will see an increase in your ranking. However, Google will eventually find out and in the best-case scenario, you will get penalized for two years, at worst, your website being permanently removed from SERPs.
Therefore, instead of the black hat SEO CTR manipulation technique apply the white hat SEO manipulation technique I have shown you above. These SEO strategies will not get you penalized and over the long run, you will see positive improvements in your website's SEO performance.
Your CTR is as a leading indicator, it won't tell you what's wrong but rather that something is wrong.
Final Words
When somebody talks about manipulation, everybody considers it a bad word and they think it's about dishonest actions and strategies to get what you want. However, that is mostly in psychology.
In computer terminology, this has different meanings.
As said in the Cambridge dictionary:
Manipulation means the process of changing, moving, etc. information on a computer.
Or
Manipulation means using something, often with a lot of skill.
And this is what I am referring to in this article, CTR manipulation requires SEO skills to effectively manipulate your website ranking in order to generate more clicks and improve your organic CTR.
Therefore, don't think about CTR manipulation as a bad thing, instead focus on the right techniques and strategies!
I hope you liked my article, let me know your comments on my YouTube channel!
Related Articles:
Also, check out our SEO hub page to find all our SEO resources.
Disclaimer
This article was created by Eduard Dziak and may contain affiliate links. The following were used to optimize the article for the best user and search engine experience include:
SE Ranking for keyword research and on-page SEO optimization
Surfer SEO for SEO-friendly content creation for users and search engines.
Jasper AI for grammar correction and information enhancement.
The article is based on the author's own experience and knowledge, drawn from both their own work and that of their clients, to provide the latest, proven methods.
Support the B2BDigitalMarketers
Hey, Eduard here.
As a solo blogger with limited resources, I need your support to keep creating in-depth SEO content like this. Please consider joining my Patreon community to help this site grow.
Your pledge – no matter how small – will enable me to dedicate more time to sharing actionable tips and strategies. With your help, I can take this project to the next level and really make a difference for other SEOs and marketers.
I would sincerely appreciate you joining me on this journey as a founding patron. Together, we can build an amazing resource hub. Hope to see you on the inside – thanks for your trust and support!