Google updates search results on regular basis. However, there is not an exact answer as it depends on many different factors such as how often the information needs to be updated, what new content has been published, what websites have published the content, what is the website authority and topical relevance and so much more.
Therefore, how often does Google updates search results depends on their ranking factors, the query, and the available content inventory.
For example, if we look at the keyword "premier league table" you will see it will be changed constantly every time a new match was played, and changes are made to the table.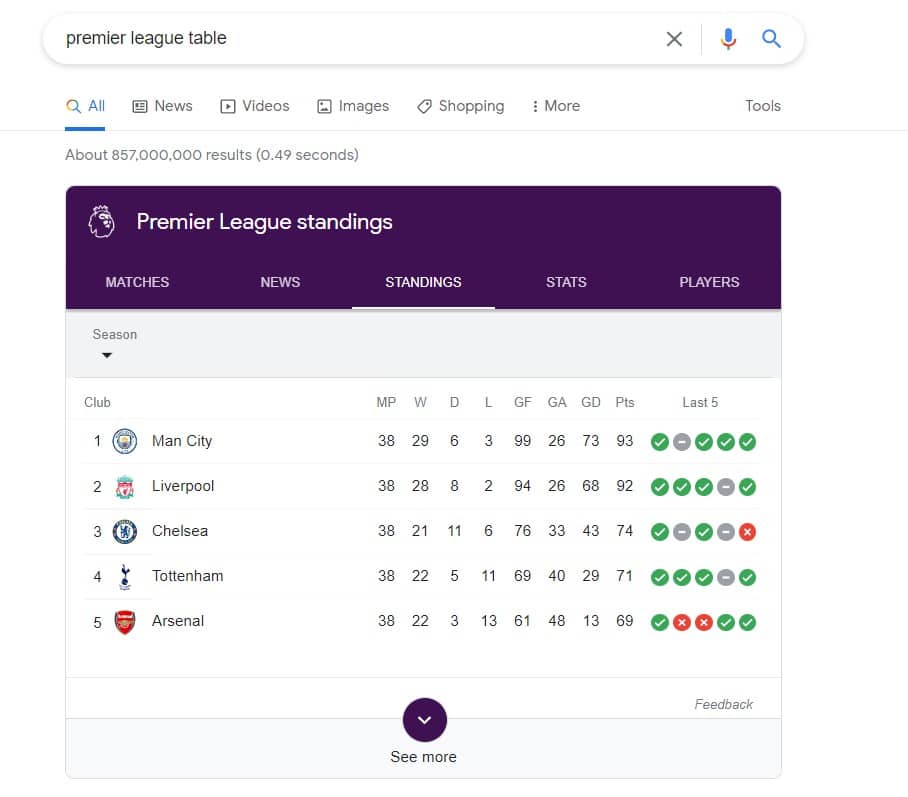 But then keyword such as "how to tell age of a tree" will change less frequently as the current results already answer the question perfectly and the information does not change.
Therefore, to understand how often Google updates search results you must understand the Query Deserves Freshness algorithm as this determine when users want new information and when they don't. Thus, this will influence the search results changing frequency.
However, the rule of thumb, any fast-changing informational keywords such as news-related, recent event-related, or other keywords where information is often changing will see the search results more volatile.
That's why searching for low-competition evergreen content has way more potential in the long run for you as you can consistently drive traffic without the need to constantly update your content to stay on top of the search results.
How Do I Refresh Google Search Results?
The best and fastest way to refresh your web page in search results is to request indexing using Google Search Console:
Login into your GSC account where is your website registered.
Enter the URL that you want to refresh in search results into the "Inspect bar" at the top.


And then click on "Request Indexing".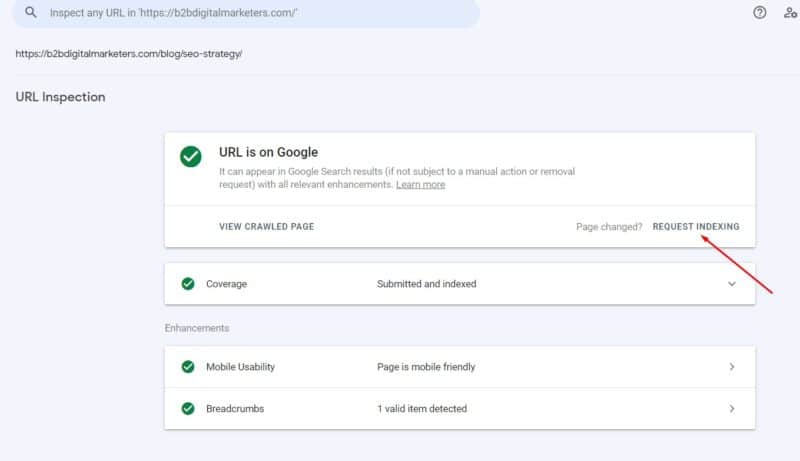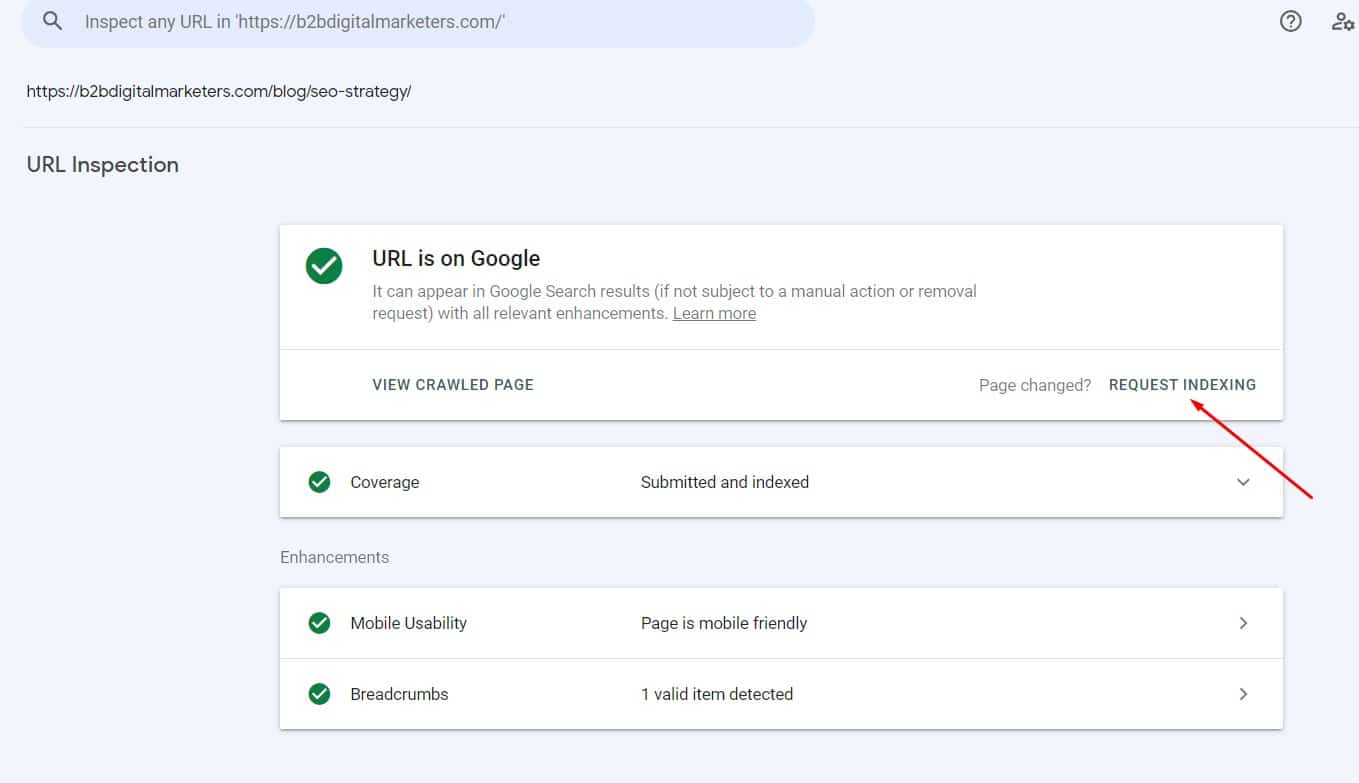 However, don't worry if you just update your content and didn't inspect it with Google Search Console, as the Google bot is trying to regularly inspect your content on its own to search for any changes or updates.
However, you must be aware that Google crawling your website more often might not always be good, as it significantly increases the load on the server, thus, slowing down your website.
That's why Google is trying to learn the best way to how often your site needs to be crawled to always provide the most up-to-date information, but don't overload your server and website.
For example, news sites will get crawled more often than evergreen sites. Also, different types of pages will get crawled differently, for example, homepage or category pages can get crawled more often than product pages as they usually change more often.
To learn more, watch this video:
How Google Finds and Crawls Your Site:
There are several methods to help Google find and crawl your website but first let me explain how Google actually discovers web pages and crawls the internet.
Google uses web crawlers to find pages on the internet to include them in their index. The web crawlers look at the pages and follow the internal and external links on those pages and go from link to link and inform about those pages to Google's servers in order to be scanned and analyzed for search results.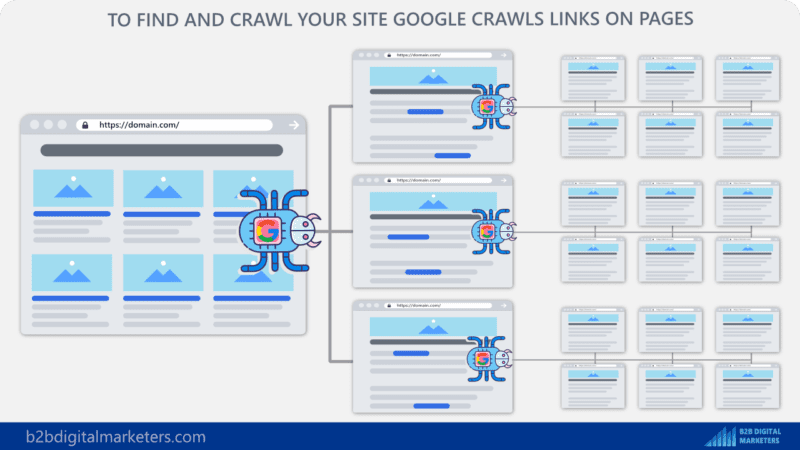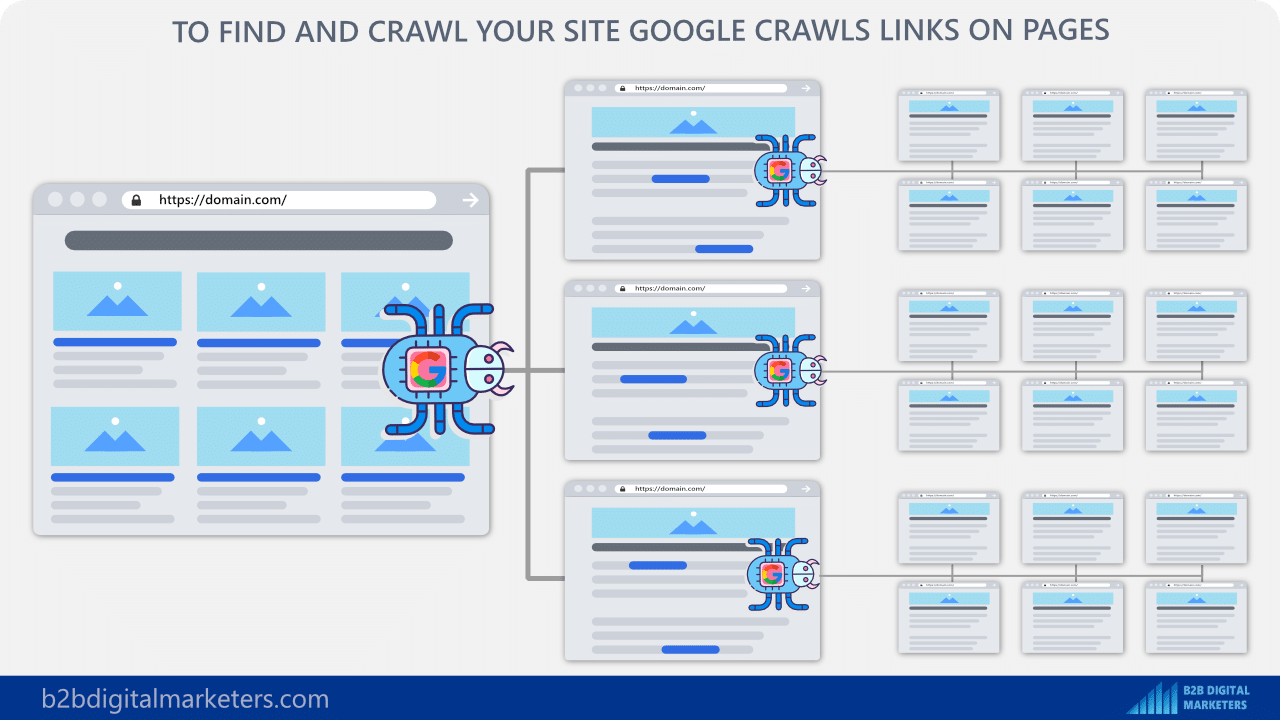 For example, when you publish a new blog post on your website and the new blog post appears on your hub page or category page, then Google can follow the link from your category/hub page to your new blog post and include it in their index and subsequently in related search results.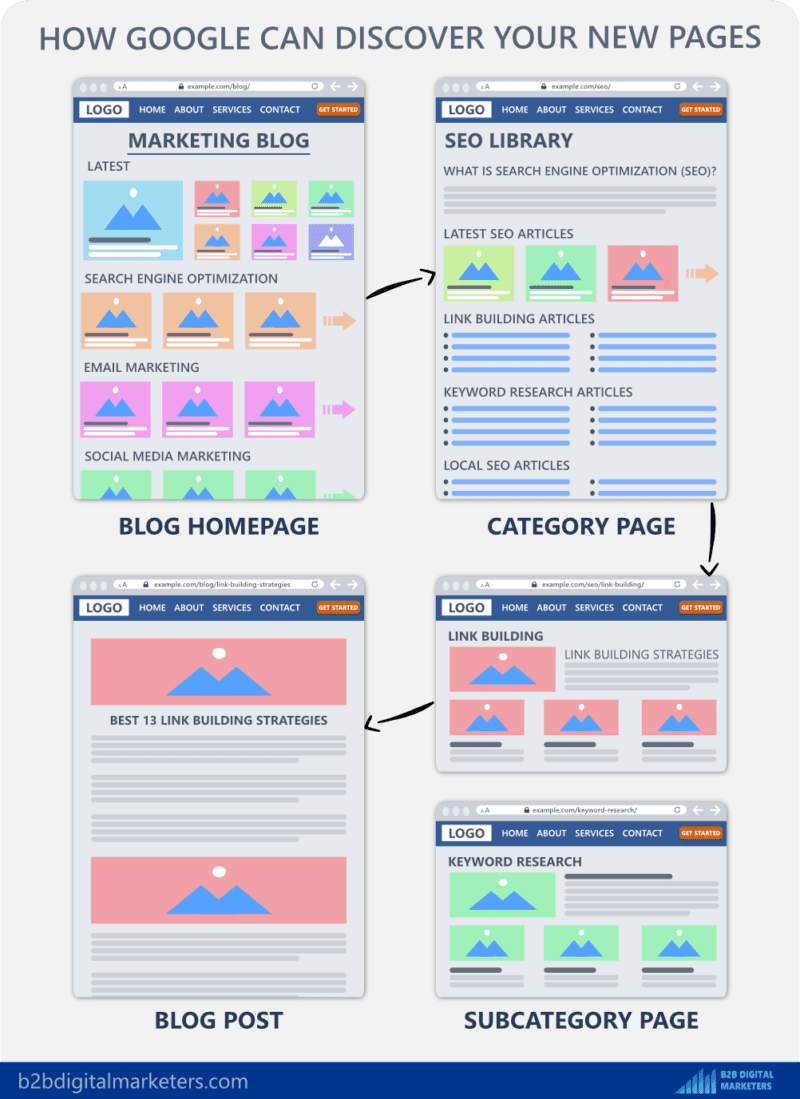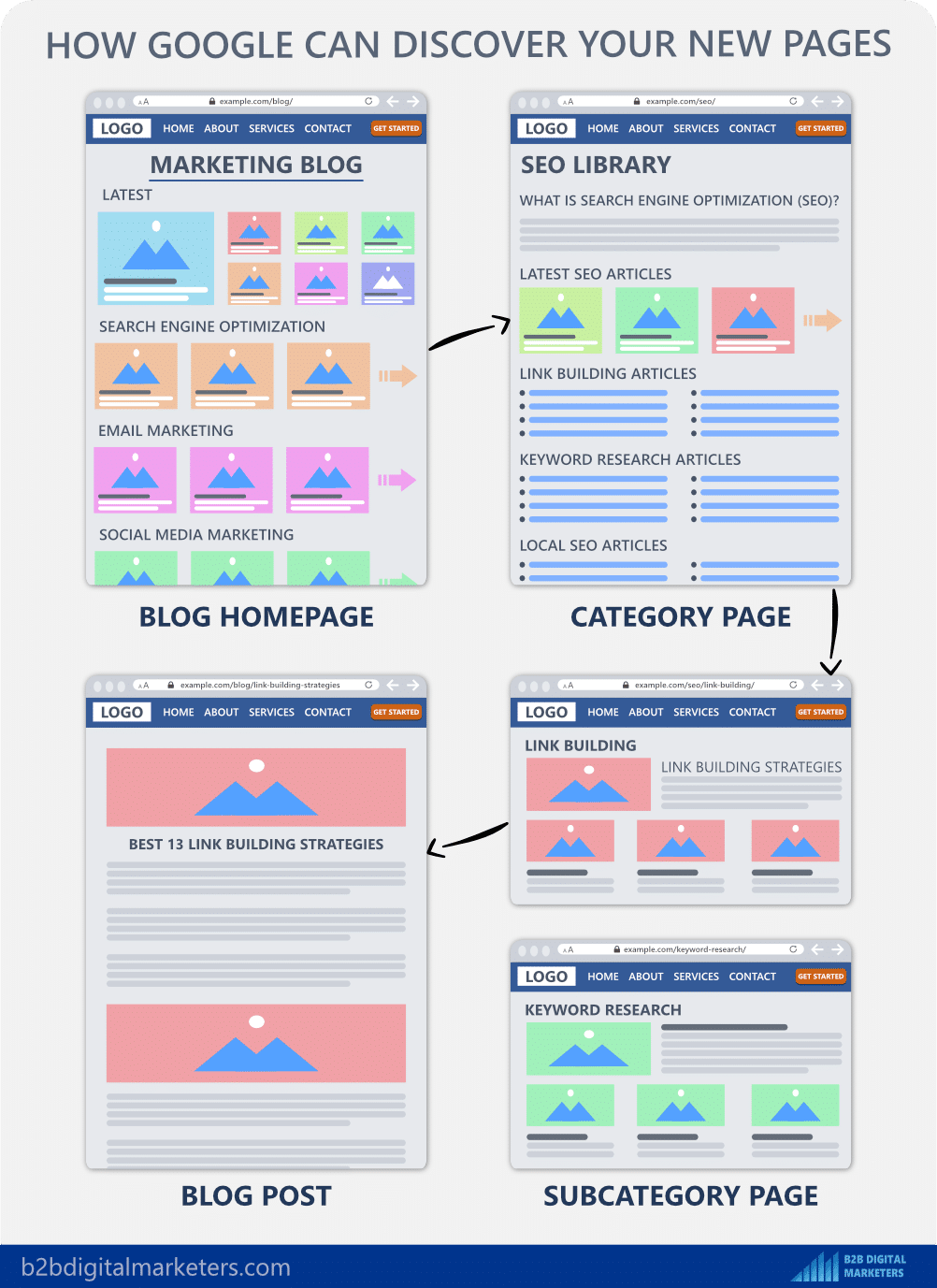 But as I have already said, there are a few ways how Google can find and crawl your website:
By crawling your internal links: As already explained, Google will crawl your internal links, therefore having proper SEO website architecture and internal linking strategy in place is essential.
Checking sitemap: New pages are also discovered by looking at your sitemap. This is a list of pages on your website for Google to crawl.
Using Google Search Console Inspect Tool: As already shown to you, you can also use the inspection tool in GSC to Google let know about your new or updated content.
Do Google Search Results Change?
Yes, Google search results change based on numerous factors such as location, personalization, search intent, device, history of a user, and algorithm changes. Therefore, it is essential to adapt your SEO strategy to these changes.
And there are many more aspects that Google takes into account when drawing the search results for a query. That's why you will see your stats fluctuating in your GSC account.


For example, if one can use VPN, then certain search results can look completely different based on the country where the user is located.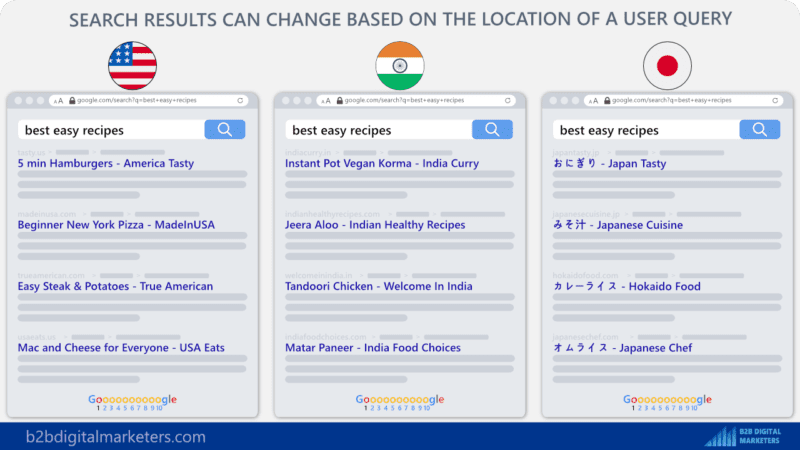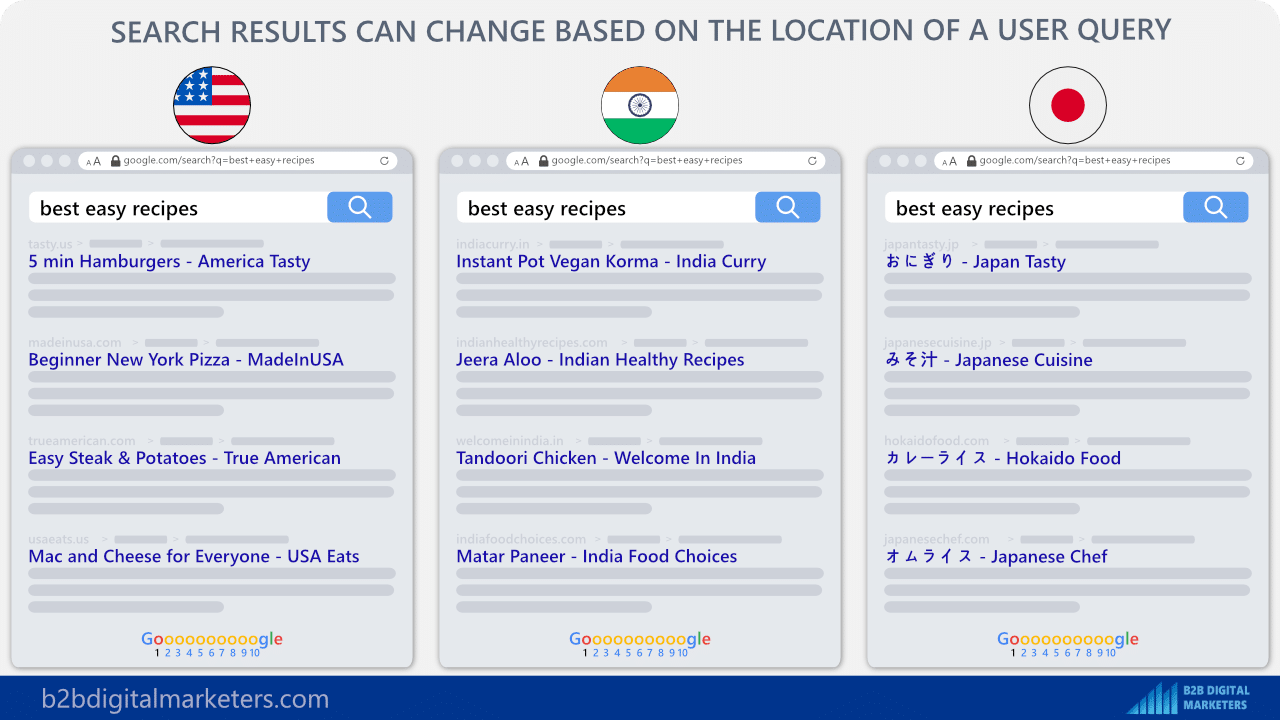 That's why you can also see that a lot of your ads are being personalized based on information Google knows about you. Google is trying to deliver the most personalized results to you. Thus they take everything into account.
How Long Will It Take to Index a New Pages or Website?
Indexing your new pages or website on Google can take somewhere between a few hours to a few days or even a few weeks or months. All this depends on whether you are indexing only one page, a few pages, or hundreds of pages.
It can also depend on other factors such as the competition for the keywords, niche, and many more.
And your page also might be indexed but doesn't show up in the search results which could be due to the keyword difficulty being too high.
For example, many of my keywords do not rank in search results because the competition is just too high.


Such as the keyword "white hat seo" has a keyword difficulty of only 41.


But if you look at the SERP competition, only websites with very high authority are ranking for such keywords.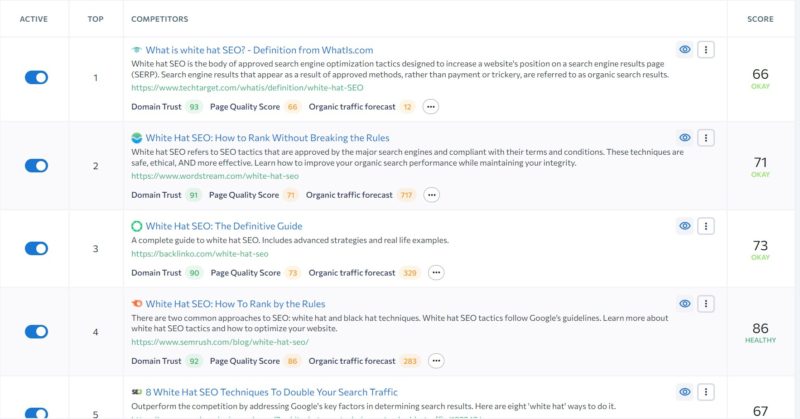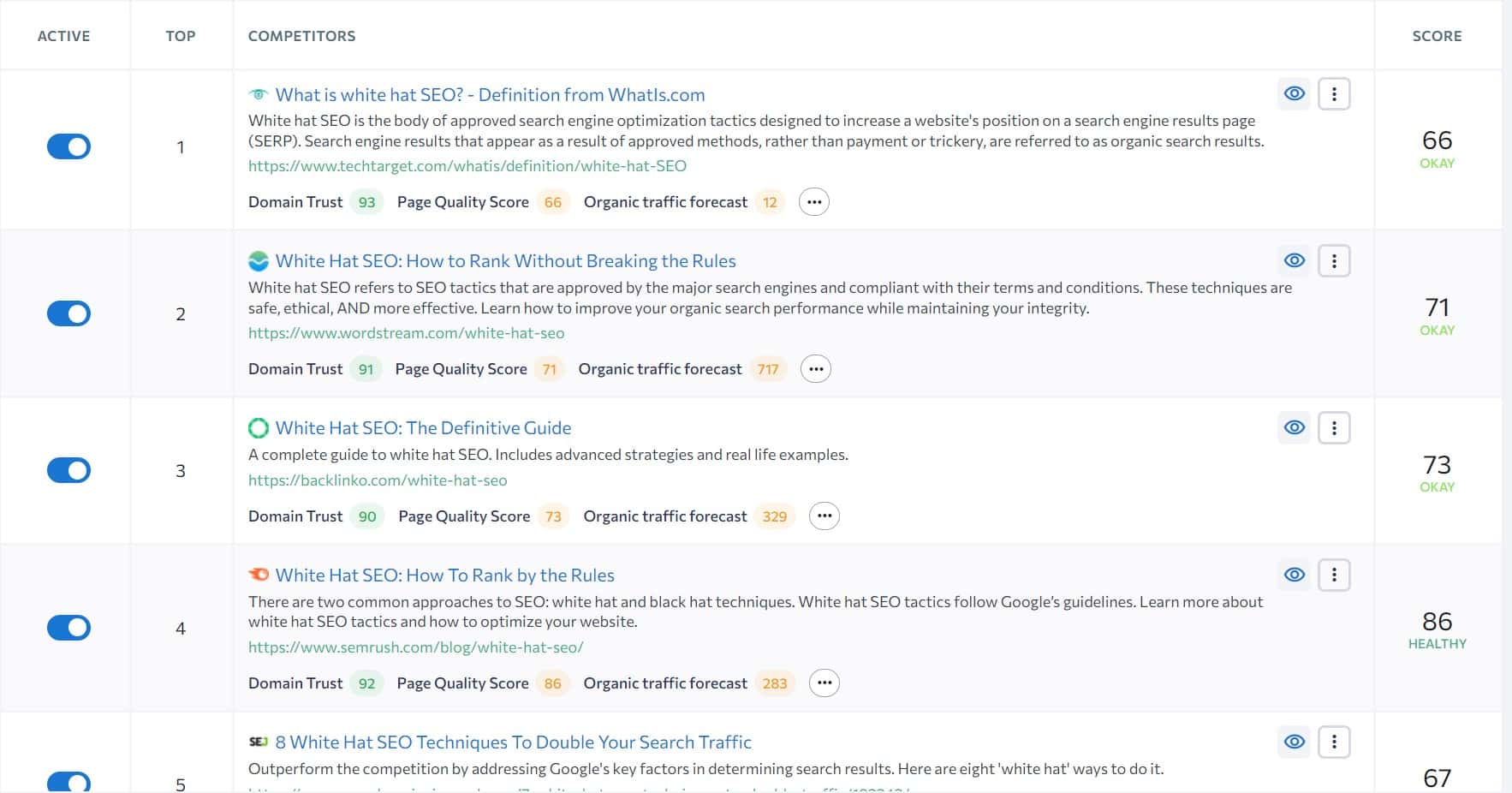 Therefore, if you want to know exactly when Google index and serve your content you should be using Rank Tracking tools such as SE Ranking.
By tracking your target keyword from the day one you publish your new content on your website, you will know precisely what keywords are too difficult and what type of keywords your website ranks better and you can adjust your SEO content marketing plan based on that.
Speed Up Indexing of Your Website
With that, you can also speed up the indexing of your website, here are 6 tips to speed up the indexing of your website:
1. Improve Your Internal Linking Structure: As said, internal links are used by Google, and they can improve indexing websites, new pages, and newly updated pages.
2. Create Google Search Console: By creating Google Search Console, you will be able to use the Inspection tool to help Google index your new content or re-index newly update content.
3. Submit Sitemap to GSC: Sitemap is a list of pages on your website which helps Google to index your content. Google makes it super easy to submit your sitemap.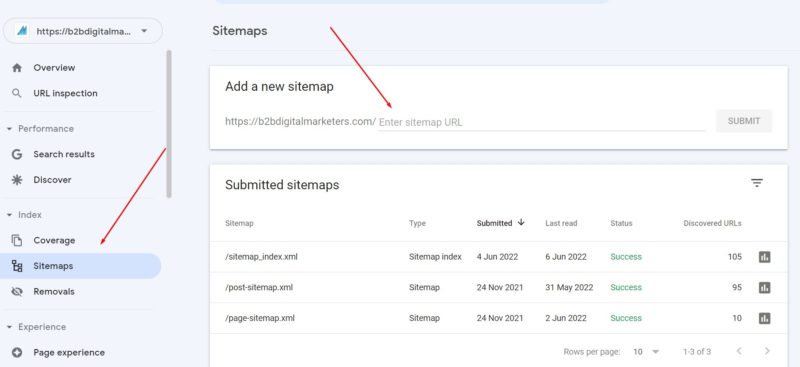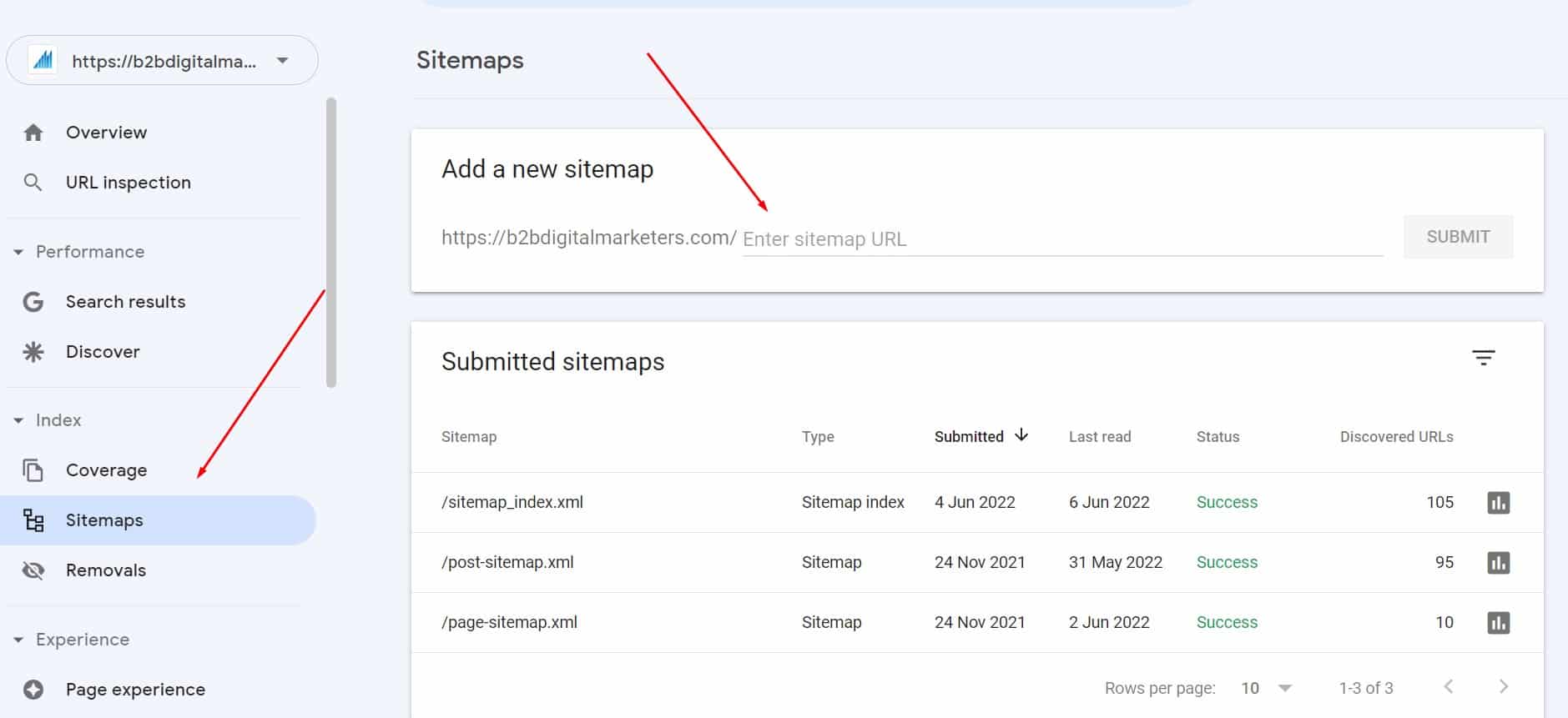 4. Request a URL Inspection: As said using the inspection tool can help you crawl and index your web page. Definitely, every time you publish or update your content you should use the inspection tool in GSC.
5. Update Publish Date: Every time you perform historical optimization you should not forget to update your published date. This will inform Google that your content has been changed. Also, it will be displayed in the sitemap as well.
How Many Times Does Google Crawl a Site?
This is depending on many different factors such as how often you publish or update your content, what's your website authority, and the social signals your website receives. However, you can expect Google to crawl your website anywhere between every few hours and one month.
If your website was not crawled for over 30 days, you should definitely start investing in what could be the cause of it by performing an SEO competitive analysis and backlink audit.
To see whether your website is being crawled or not, you can check "Crawl Stats" in Google Search Console in settings.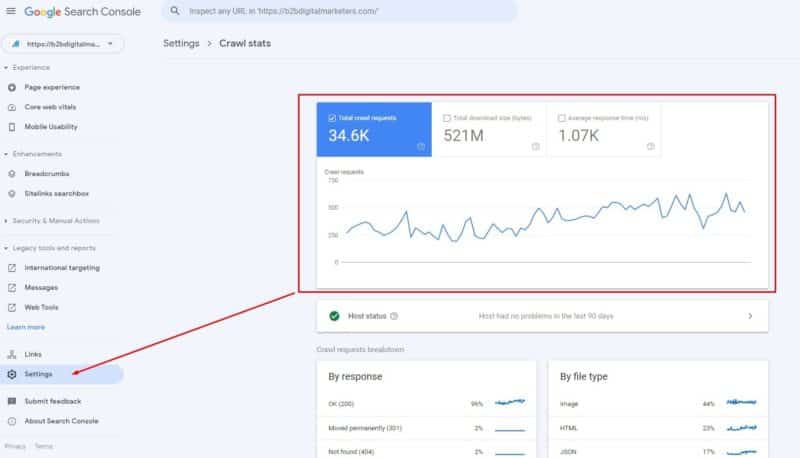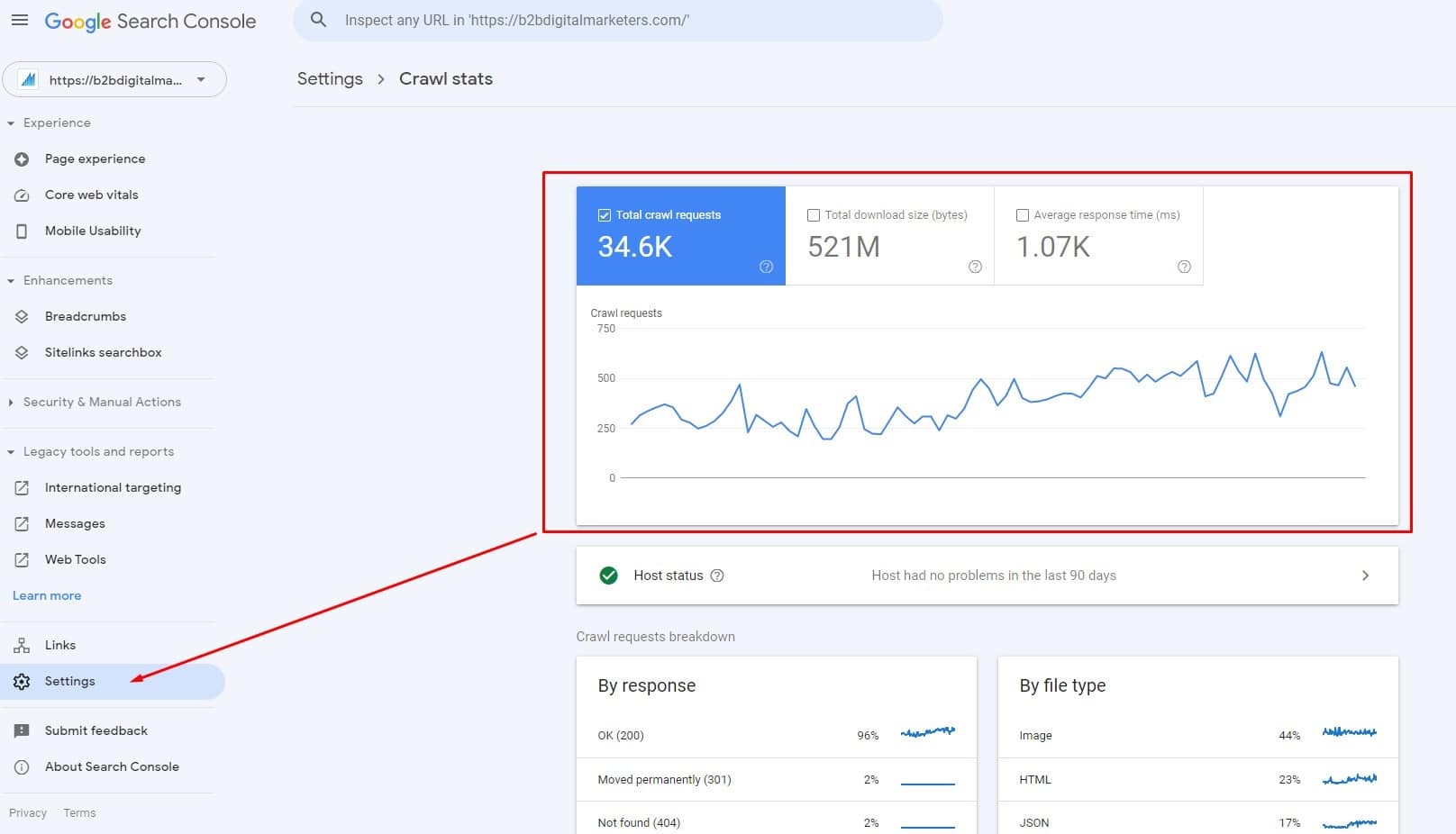 How To Get Google to Crawl Your Website More Often
Of course, you want Google to crawl your website as often as possible without overloading your server and not slowing down your website load time.
Therefore, here are eight best practices to help Google crawl your website:
Publish More Often: The most effective way to get Google to crawl your website is by publishing more often on your website, whether it is category pages, product pages, blog posts, or news, the more often you publish new content the more often Google will try to crawl your website.
Conduct Historical Optimization: AKA updating old content on your website not only helps you to increase organic traffic and ranking but also pushes Google to crawl your website.
Update Your Sitemap: If you are using an SEO plugin like Rank Math, then it will update automatically your sitemap every time you publish or update your web page.
Always Add Internal Links: Internal links are the number one way how Google discovers pages. Therefore, you should always include internal links on your pages, especially in your body/main content.
Start with Link Building: Not only internal links are being crawled but also external links as well. Therefore, the more links you build the more access points you have to your website from external sources that can be accessed by a Google bot.
Share Your Content on Social Media: Google tracks social shares and if they see high activity from social media, they can focus more on your website, including crawling your website.
Improve Page Click Depth: Generally, if your page click depth is 4,5,6 or higher Google will assume the page is less important for you and will crawl it less. Try to keep all your pages in click depth between 1-3.
Increase Your Serve Resources: In many situations, crawlability is hugely affected by the server response. If you are having cheap hosting, then most likely Google will crawl your website less often to not overload your servers. Thus, invest in good hosting such as SiteGround, Digital Ocean, or Ezoic.
How Often Does Google Make Algorithm Updates?
It seems to be that Google makes more and more changes year by year. It was estimated that Google changes or tweaks its algorithm around 500 times per year. However, this number could be much higher and in 2022 Google could make over 1,000 changes in its algorithm.
Google does make algorithm changes all the time and they are trying to improve the relevancy of their ranking content as they show them in the search results over time.
How to Keep Up with Google Algorithm Changes?
Obviously, you won't be able to see all the changes as Google does not publicly display every single tweak and change to their search algorithm. However, several websites keep looking out for any minor and major updates.
Here you can see links to the websites that announce changes in the Google algorithm.
Not only that, but if you are using an SEO tool like SE Ranking, they also include it within their tool so you can easily compare your ranking, search visibility, and other aspects.


Why does SEO take so long?
It is commonly believed that SEO can take months or years for websites to see any results. However, with a good SEO strategy, you can see results within the first few months. It all comes down to the SEO keywords you are targeting, the changes you implement, the SEO techniques you use, and of course Uncle Google.
It's important to note, that even if you implement all the SEO best practices, it might take a while for Google to recognize all those changes.
But generally, SEO takes so long because of the limited resources, if you can publish only a few articles a month and make only a few changes, then your SEO will take much longer, than if you publish tens or even hundreds of articles a month.
Therefore, remember, SEO has two sides to a coin, one is you and how well you implement all the SEO best practices, and second, how fast Google will see this and start recognizing you for that!
Conclusion
So how often do Google Update Search Results? This really depends on many factors that you can and cannot influence. However, as you could see, there are many different ways to improve the crawlability of your website.
So, as you can see how often Google crawls your website comes down to all SEO aspects such as Technical SEO, On-Page SEO, and SEO Content writing.
Related Articles:
Also, check out our SEO hub page to find all our SEO resources.
Disclaimer
This article was created by Eduard Dziak and may contain affiliate links. The following were used to optimize the article for the best user and search engine experience include:
SE Ranking for keyword research and on-page SEO optimization
Surfer SEO for SEO-friendly content creation for users and search engines.
Jasper AI for grammar correction and information enhancement.
The article is based on the author's own experience and knowledge, drawn from both their own work and that of their clients, to provide the latest, proven methods.