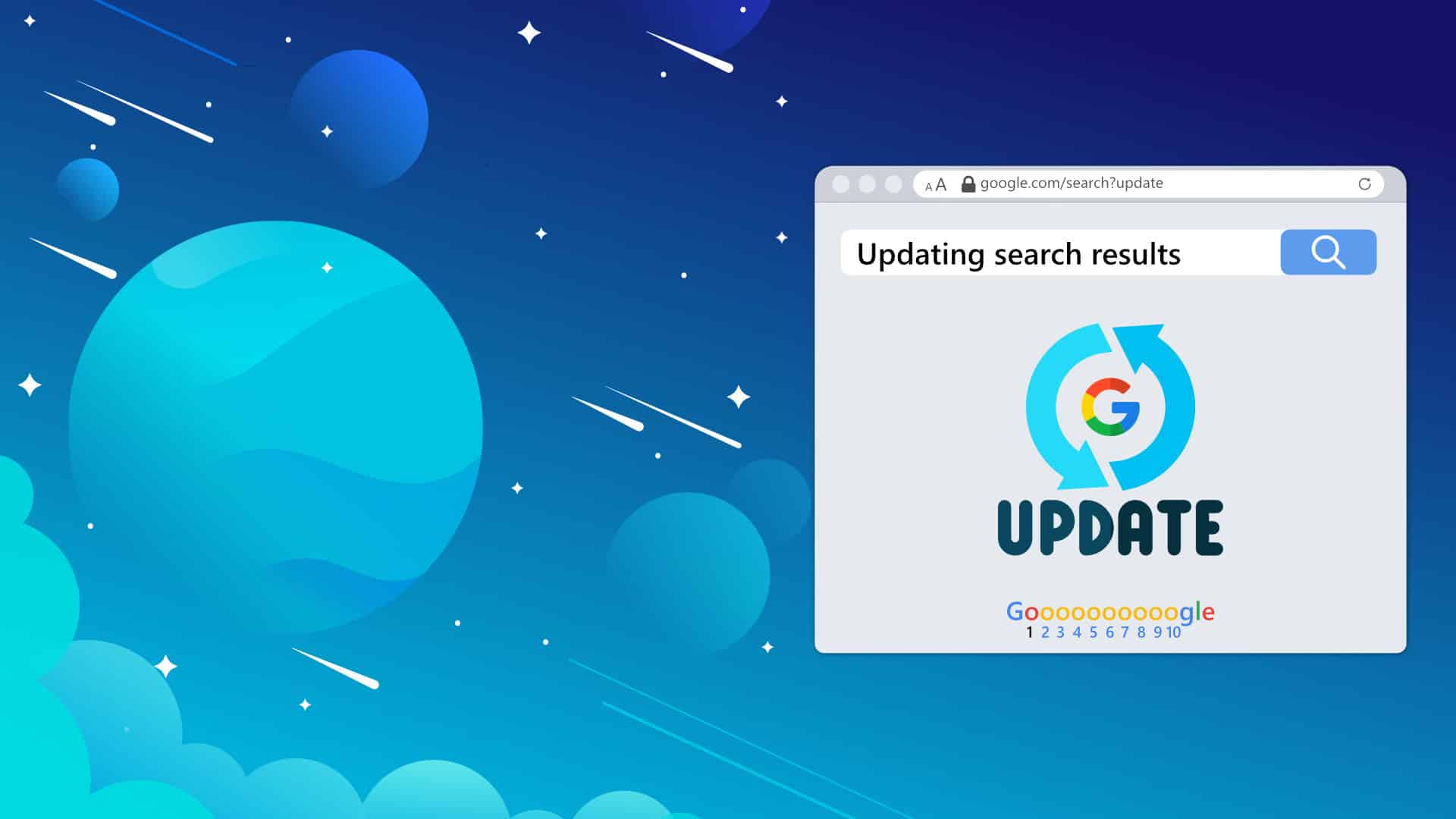 Google updates search results on regular basis. However, there is not an exact answer as it depends on many different factors such as how often the information needs to be updated, what new content has been published, what websites have published the content, what is the website authority and topical relevance and so much more.
Therefore, how often does Google updates search results depends on their ranking factors, the query, and the available content inventory.
For example, if we look at the keyword "premier league table" you will see it will be changed constantly every time a new match was played, and changes are made to the table.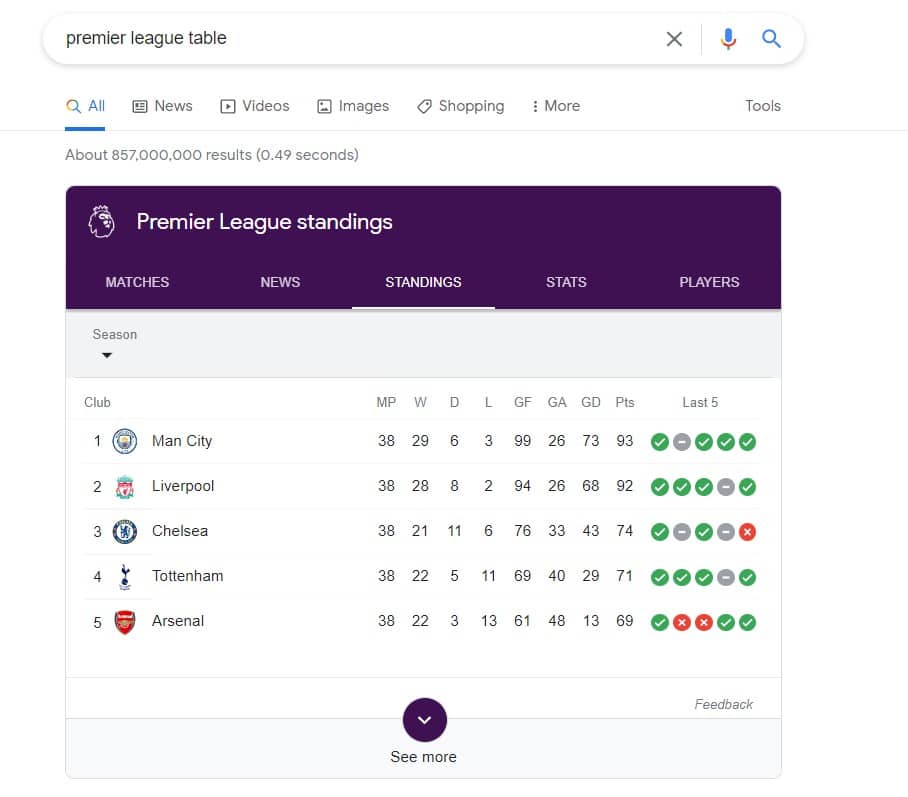 But then keyword such as "how to tell age of a tree" will change less frequently as the current results already answer the question perfectly and the information does not change.
Therefore, to understand how often Google updates search results you must understand the Query Deserves Freshness algorithm as this determine when users want new information and when they don't. Thus, this will influence the search results changing frequency.
However, the rule of thumb, any fast-changing informational keywords such as news-related, recent event-related, or other keywords where information is often changing will see the search results more volatile.
That's why searching for low-competition evergreen content has way more potential in the long run for you as you can consistently drive traffic without the need to constantly update your content to stay on top of the search results.
How Do I Refresh Google Search Results?
The best and fastest way to refresh your web page in search results is to request indexing using Google Search Console:
Login into your GSC account where is your website registered.
Enter the URL that you want to refresh in search results into the "Inspect bar" at the top.


And then click on "Request Indexing".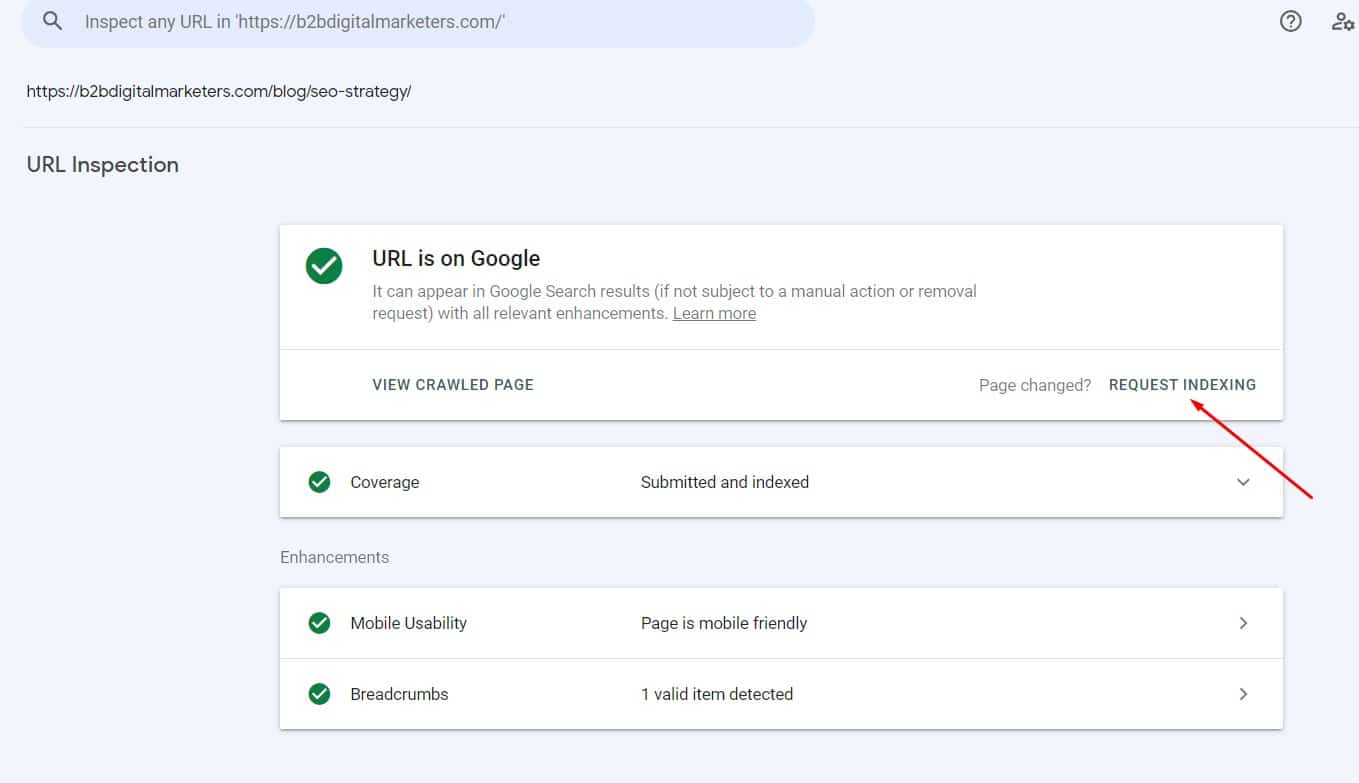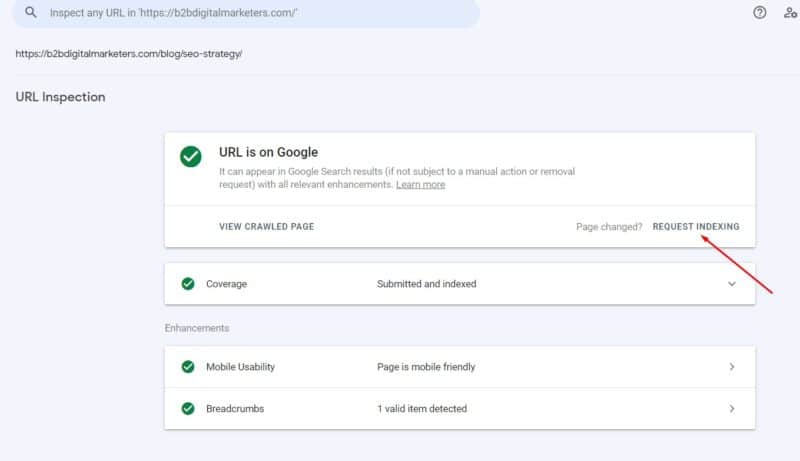 However, don't worry if you just update your content and didn't inspect it with Google Search Console, as the Google bot is trying to regularly inspect your content on its own to search for any changes or updates.
However, you must be aware that Google crawling your website more often might not always be good, as it significantly increases the load on the server, thus, slowing down your website.
That's why Google is trying to learn the best way to how often your site needs to be crawled to always provide the most up-to-date information, but don't overload your server and website.
For example, news sites will get crawled more often than evergreen sites. Also, different types of pages will get crawled differently, for example, homepage or category pages can get crawled more often than product pages as they usually change more often.
To learn more, watch this video:
How Google Finds and Crawls Your Site:
There are several methods to help Google find and crawl your website but first let me explain how Google actually discovers web pages and crawls the internet.
Google uses web crawlers to find pages on the internet to include them in their index. The web crawlers look at the pages and follow the internal and external links on those pages and go from link to link and inform about those pages to Google's servers in order to be scanned and analyzed for search results.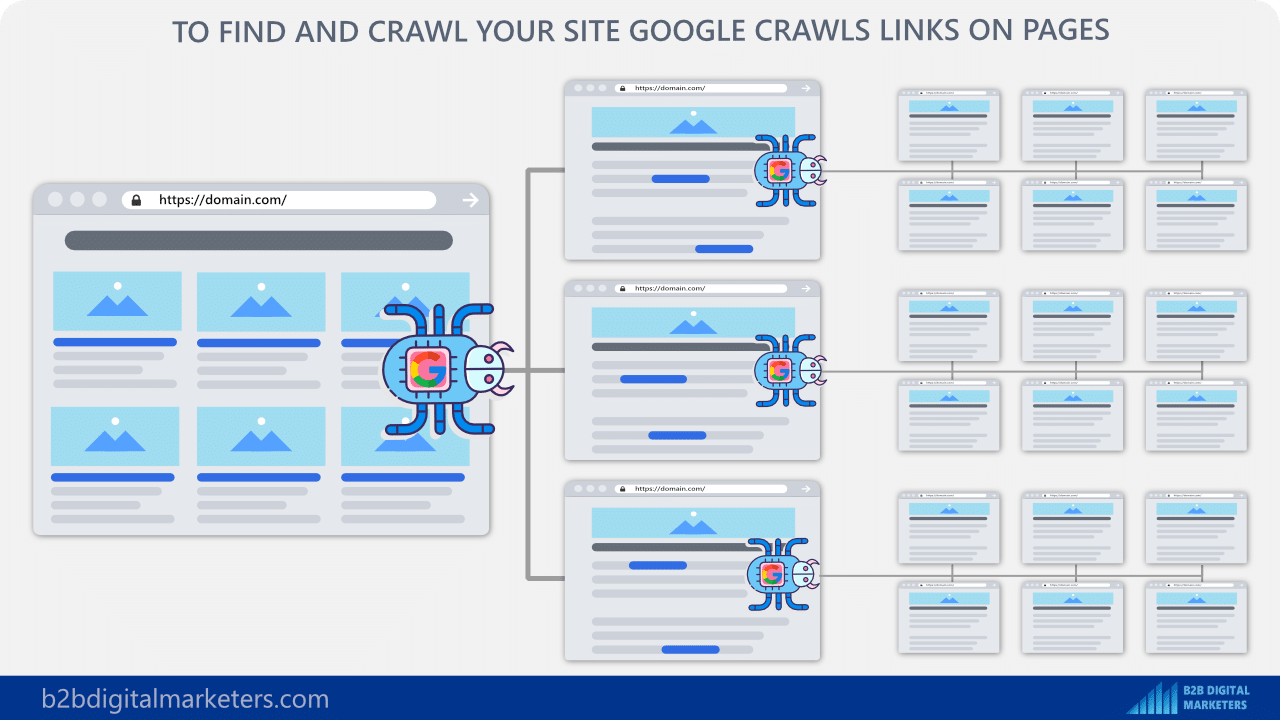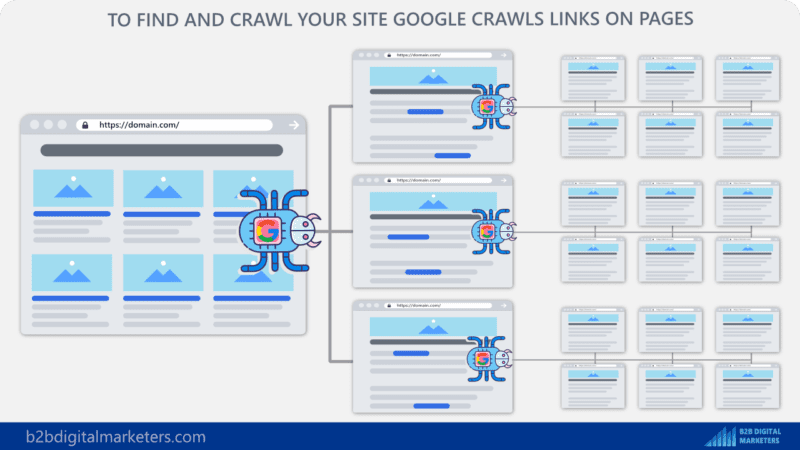 For example, when you publish a new blog post on your website and the new blog post appears on your hub page or category page, then Google can follow the link from your category/hub page to your new blog post and include it in their index and subsequently in related search results.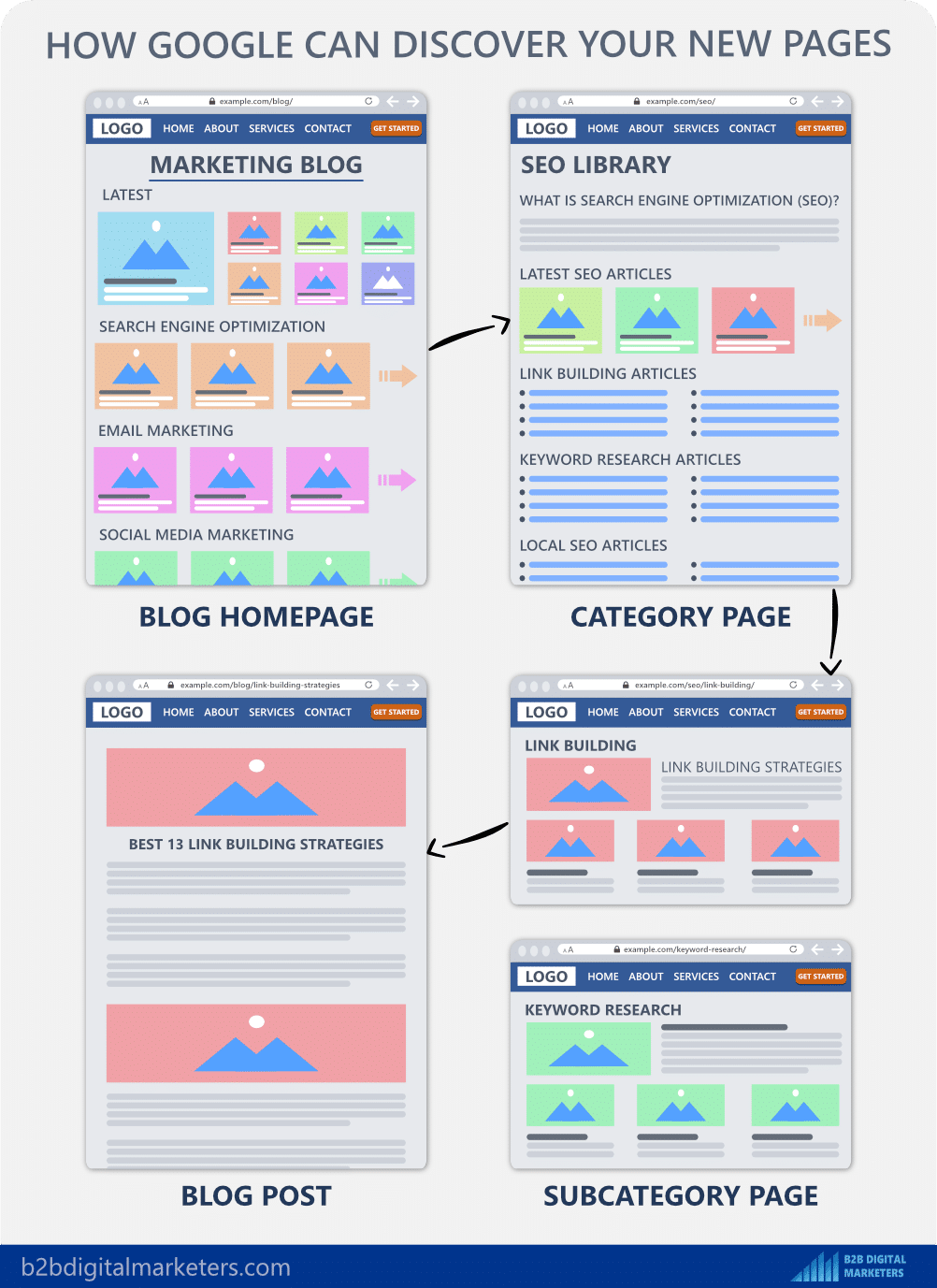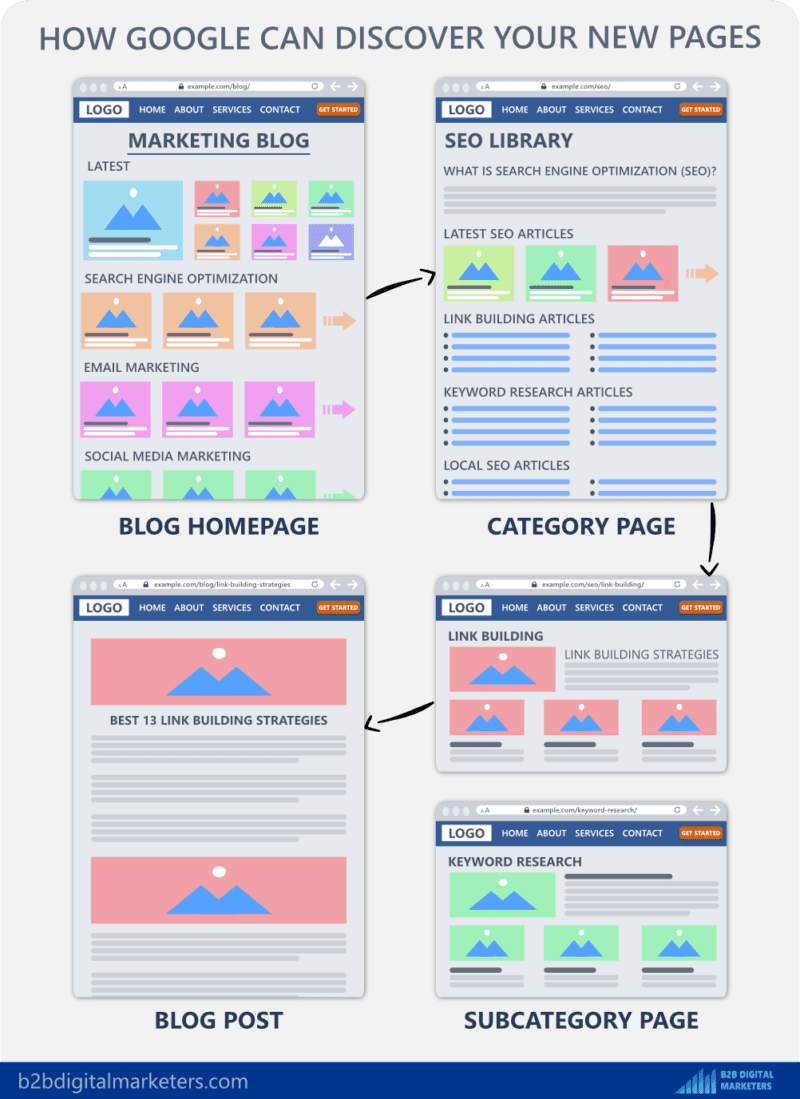 But as I have already said, there are a few ways how Google can find and crawl your website:
By crawling your internal links: As already explained, Google will crawl your internal links, therefore having proper SEO website architecture and internal linking strategy in place is essential.
Checking sitemap: New pages are also discovered by looking at your sitemap. This is a list of pages on your website for Google to crawl.
Using Google Search Console Inspect Tool: As already shown to you, you can also use the inspection tool in GSC to Google let know about your new or updated content.
Do Google Search Results Change?
Yes, Google search results change based on numerous factors such as location, personalization, search intent, device, history of a user, and algorithm changes. Therefore, it is essential to adapt your SEO strategy to these changes.
And there are many more aspects that Google takes into account when drawing the search results for a query. That's why you will see your stats fluctuating in your GSC account.