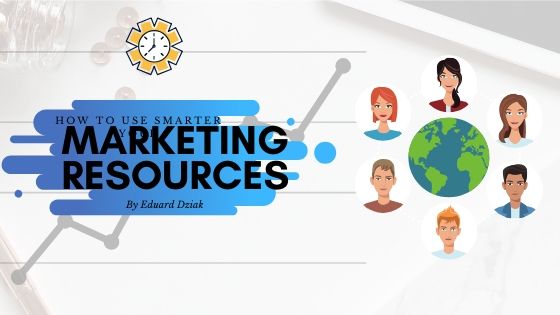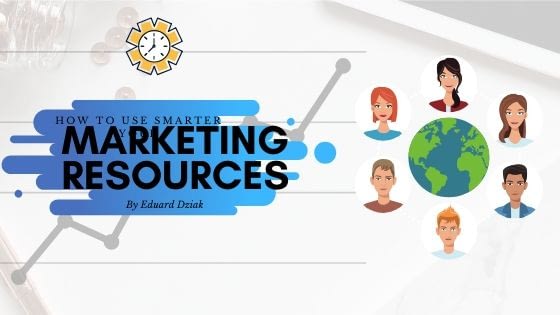 Using your marketing resources can be hard if you have a small marketing team about 1-2 people and a lot of work coming ahead. Especially during planning sessions at the end of the year. This can be very hard to execute marketing strategies and overall marketing plan. That's why you need to be very careful about how you are using your resources so your marketing department can be effective.
If you have a small marketing team of 1-2 then you need to more focus on overall marketing activities and look after their executions. Nowadays you can outsource all of your work so make sure you are focusing your power on the overall view and make sure; the budget and plan are well executed. Also, focus your staff is well trained to have a good knowledge of marketing.
What are the sources of digital marketing?
Before we jump into the article, first I would like to little bit explain what the digital marketing sources are so you know where your marketing resources might flow and where you will need help.
Digital marketing is formed by many activities on the internet and depending on your line of business, different digital marketing strategies you would need to use to successfully execute your digital marketing.
Basic digital marketing strategies are email marketing, SEO (search engine optimization) SEM (search engine marketing) which included google ads, YouTube ads, etc. And many more, those strategies help you to generate leads and awareness for your business.
If you are the first time preparing a digital marketing plan for your business, you will need to get some help. Having a small team is not just enough and you need to get some help.
Learn more about digital marketing: B2B Digital Marketing Guide for Beginners
Outsourcing Tasks
During our planning session, you have created a marketing plan, but you are wondering how you and your marketing guy can do all these. Write the copy, create graphics, plan events, post on social media, and much more.
Today digital marketing is more than creating a website, put in some information, and let people start coming. Ever since SEO became popular, create a successful digital marketing plan became much harder and you need to create and synchronize multiple marketing strategies to create a path for your prospects.
Due to such a high demand from prospects, there are many things you need to consider in your upcoming marketing plan. And that can be hard if you feel like you do not have enough people.
That is why you need to delegate tasks in a much smarter way when you have limited marketing resources.
Find Your Freelancer
As I have already said, finding a freelancer to outsource your tasks can be very helpful for small marketing resources, most of the time, you can find the skill you lack in your team and it can be done much faster and very cheap.
Resources are everywhere and you need to search outside our company. Do not limit your yourself just because you are afraid, and you do not trust the freelancers. Most of them are working professionals who just want to make some side income or replace their full income. If you will be searching, I am sure you will find the one which will be perfect to help your marketing resources.
How to Find the Right Freelancer as My Marketing Resource?
There are tons of websites where you can go and find your freelancer. You can see reviews, other people's comments, how much they made as a freelancer, and other useful information you need to know to make an informative decision.
Let's start first with yourself.
First, you need to think of what your objectives for the task you are outsourcing. What do you want and what you expected when is done?
If you want to get good quality work from your freelancer then first, you need to have a pretty good idea, what you want. Otherwise, who can know if you don't?
Second, write it down. Create a brief for your freelancer. With small marketing resources, it is easier to create what you want. The large marketing resources are, the messier it becomes.
Be as detail as possible, write how you want it to look, what colors, what feeling you want out of that, everything that comes to your mind and you think is important.
Third, then once you have written a brief where you specifically explain what you want, you need to search for your freelancer.
Here are a few websites you can use.
All kind of tasks freelancer
These are just examples and I use all of them to help me when my marketing resources were short. I can recommend all of them, but remember, do your research base on your job you want to outsource.
More to learn:
Marketing Knowledge, keep sharpening the saw
Outsourcing your work can be dangerous if you do not know what you do. One thing is not to have enough time and resources to do that, but another thing is not having a total clue about it.
I do not expect you will be master of all and know everything, but it is good to have a rough idea about the strategies you plan to use.
If you are about to outsource your work, you need to supervise the task and that requires knowledge about it.
That is why it is so important to keep learning and developing your skills because then you can confidently say what you want and easily check the quality of the work.
It is a key to more focus on what you know about it how to do that. That might not be relevant for you, because as I said, the work can be easily outsourced for a few bucks.
So, please make sure, you are keep learning, what are new trends in marketing, how other people are using it.
And my team we are trying to take at least 2-3 courses a year so we can stay on top of the game.
Summary
Remember today you do not need a large team to cover all skills needed for a successful marketing campaign. Just being resourceful and search for the right people to fill up the gap skills in your marketing department. Resources are everywhere and we just need to open our eyes.
Also, keep learning to be able to recognize those resources and opportunities coming every day.
More to learn:
B2B Inbound Marketing Guide to bring more leads
B2B Content Marketing Guide to attract more leads
B2B Digital Marketing Guide the art of online marketing
Why B2B Digital Marketing is important? Read 13 statistics reason why