In this article, I am going to share with step by step how to write a great SEO article for yourself or your organization so you can start driving massive traffic to your website without spending money on expensive agencies.
Content is still king nowadays and 72% of marketers say the single most effective B2B SEO strategy is creating relevant content., but first, the king has to learn how to become a good king, and therefore it needs guidance.
What I mean by that is that if you want to produce good content in this case, you need to observe and learn how to write a good SEO article. SEO article is essential to effectively implement a B2B SEO strategy for your business.
I have written hundreds of articles on numerous topics such as fitness, gardening, cooking, and marketing. Therefore, I will give you my methodology on how I write an SEO article for myself and my clients
And on all those different types of topics, I use the same methodology to ensure that I produce only the best quality articles for my users and search engine.
So, let's check out my method on how to write a great SEO article in 7 steps.
1. Keep it Real
What I mean by keeping it real is that if you have clicked on this article that means probably you are a beginner in writing SEO articles. At least that is my assumption I might be wrong, so please do not get angry with me.
And maybe you heard those marketers saying that the longer blog posts the better for SEO rather than the short one or maybe you have checked SEO statistics such as from HubSpot as according to their data the ideal blog posts for top 10 on Google is between 2,100 – 2400 words.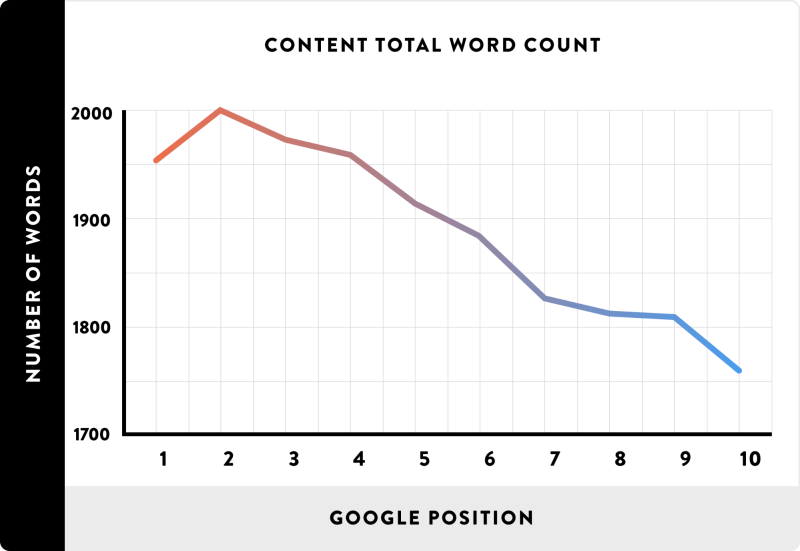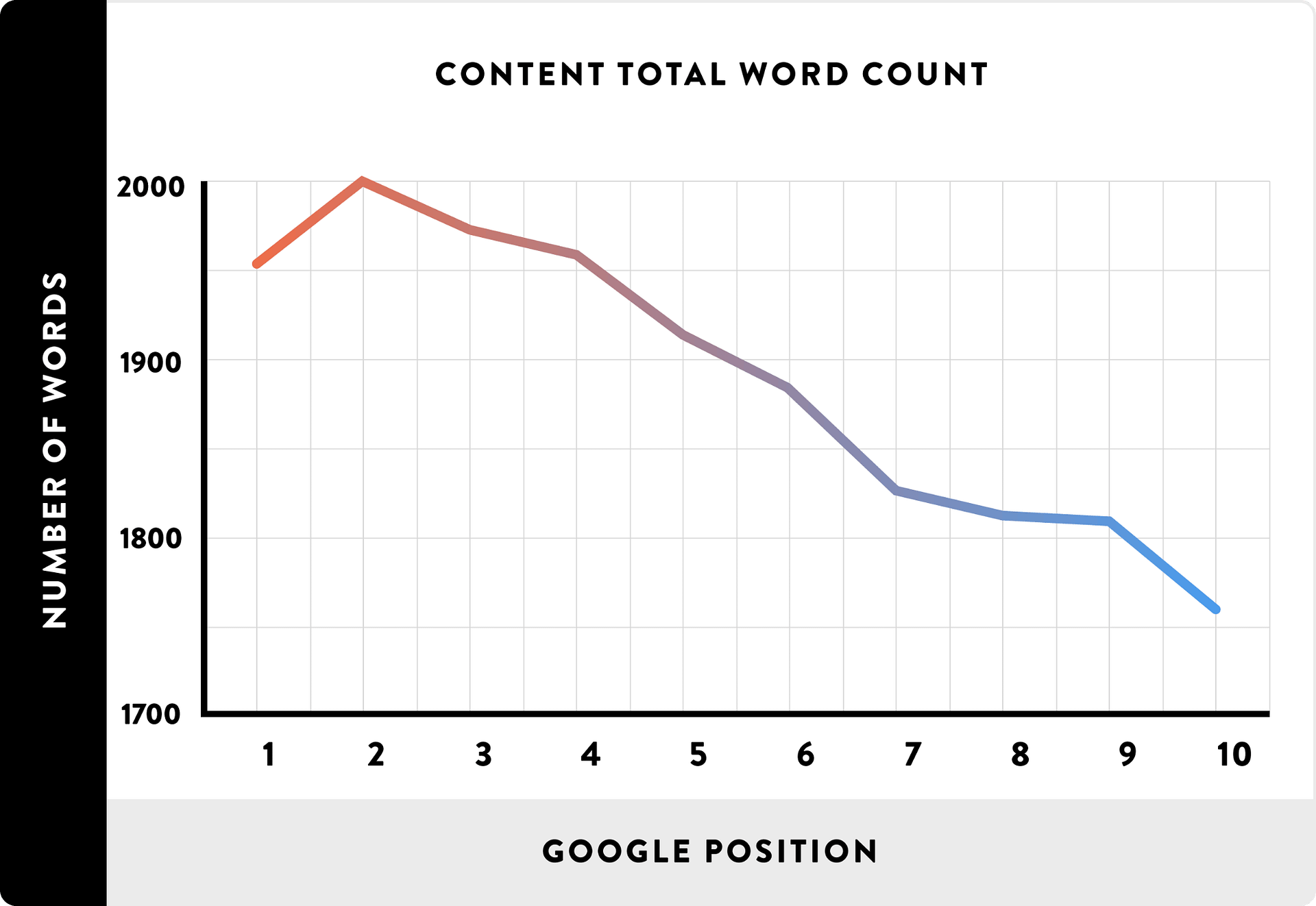 (Source: Neil Patel)
But to even have the top 10 rankings on Google, you need to write the super long articles called content pillar with 10,000+ words and create this spider of internal links.
And although all this might be true, you need to keep it real.
If you are starting writing SEO articles you probably will not be able to write a blog article with 10,000+ words or even 2,000 words, because it is harder than it looks.
Because you need to remember that quality always comes first. Google always rewards the quality of the content more than anything else.
And if you are starting writing your first SEO article and try to write 2,000+ words or more you will end up writing points as long as possible to just get the number and you will be writing just for sake of writing without providing any value.
And those articles will never be on the top 10 on Google.
But instead, start writing shorter articles such as 800-1000 words with a ton of value. Those articles still can do great, especially those with long-term keywords.
And most importantly those articles are easy to update, as only 38% of marketers do updates for their older articles, even though it significantly increases the article's lifespan, increases ranking & brings more traffic.
And once you become better than you can start writing longer, in more depth content. But I recommend starting with 800-1000 words for your first 30 articles.
And anyway, with practice, you will see the word counts will naturally raise without you even knowing it.
2. Find 1 Keyword to target (Preferably a long-tail keyword)
It is hard to write an article about something if you do not have an idea what to write about. Therefore, you need to find a keyword, preferably a long-tail keyword with 3 words you want to target.
Because this keyword will be your topic for the blog posts, and you need to stick to it. As the upcoming steps will be following this keyword.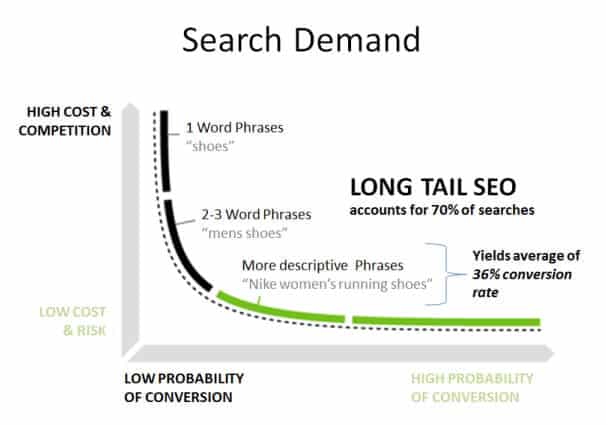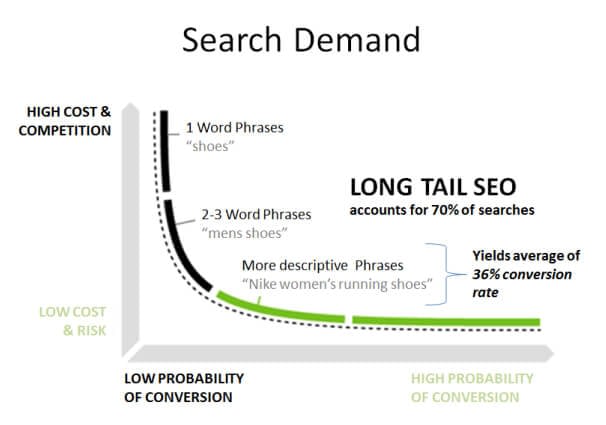 The reasons why preferably long-tail keywords are:
Better conversion rate, the average conversion rate for long-tail keyword is 36%! (Source)
Long-tail keywords help you rank for single keywords
70% of searches are long-tail keywords
Long-tail keywords are the best to outrank your competition
And there are more reasons I could mention, but I hope you got the point.
Also, find long-term keywords is not difficult. You can use tools such as Google Search Console, Google Keyword Planner, or Ubersuggest. Also check out Ubersuggest alternatives
For example, this article is about SEO Article and to make it long-tail by adding SEO Article for SMBs or SEO Article for personal blog and etc. There are tons of possibilities for you to create long-tail keywords to start driving traffic.
Just make sure it is relevant to your business so you are driving only people who could be potential buyers.
3. Write Your Main Points (Those are the headlines)
The third step in how to write your SEO articles is to put your main points down on paper and use it as an anchor for yourself and your writing.
Too many times I have seen bloggers writing articles and did not draw out their main points and they end up drifting away from the topic and writing about something else.
Remember, value always first! But value is always seen differently if I click on the article on how to cook spaghetti but get how to organize my pots and pans, I will not see it as valuable even it could be a really good article.
Therefore, putting your main points first will ensure that you are staying at the topic and not drifting away from it, as this is very important.
Writing your SEO article is about what keywords you will hit, as search engines are crawling your articles and picked keywords within your article.
So, if you stick to the topic, you will naturally use all types of keywords close related or any way related to the topic. So, like this, your SEO article can rank for more varieties of the targeted keyword.
That is why having outlines such as headlines before you start writing any piece of content will significantly improve your focus and your results.
4. Do Your Due Diligence (Research) For Each Point
Once you have lined up your main points then you can start doing some research for your blog and the points you have included.
Do not worry, nobody expects you to know everything, and using references and citation is normal within blogs or even science publications.
Actually, using references and resources from outside your company adds the credibility and trustworthiness of your website.
Also, it drives link building too, trust me you want to include resources from somewhere else.
But how do you do that?
Let's look at each of your points and Google it. You will find plenty of information just for that one point, take the first 5 articles and read it and try to find some valuable information such as:
Statistics
Graphs
Citations
Quotes
Pictures
And etc. Read and find anything that could add value to your article. This is great to expand your knowledge and add extra value to your articles.
Therefore, it is important this step do your due diligence properly and really spend some time and do research. This is when you can get a lot of shares and big engagement for your content.
Well done research provides your content value, that people appreciate, and they are happy to link back, which is important for your SEO for your blog or YouTube or even on Social media.
5. Organize Your Research in the Natural Logic Flow and Start Writing
Step number 5 for how to write a great SEO blog is to organize all of your points and research information in the natural and logic flow which sounds good to you and then start writing.
Many times I am collecting all the information from the internet, books, videos, etc. and put them together and trying to figure out how to write it, but it is hard.
Therefore, this step will ease your job as once you have all the information you just need to read it and put it together what makes sense for you.
This is when you filter the information as sometimes, we can get carried away by all the information out there.
So, it is normal to filter out some of the information to have a good flow of your SEO article.
Because your flow is important for readers, as it is easy to read and learn from your articles, and user experience plays a massive role in SEO.
Therefore, it is important to organize your research notes in the natural and logical flow to have a great SEO article.
Yes, it is a lot of reading again, but it really helps you to write faster and better as it will lead you and therefore speed up the process.
6. Proofread and Optimize for SEO
The sixth step is to proofread and optimize for SEO your new articles. This will help you to fix your mistakes while you are writing and then add additional ideas to your SEO article.
This step is as well very important as many writers will get tired after writing and they often skip this step which can cause to have some silly mistakes within the writing.
Therefore, it is important to proofread your articles whenever you finish. Also, the best way is to have someone to help you, because proofreading your SEO article is harder.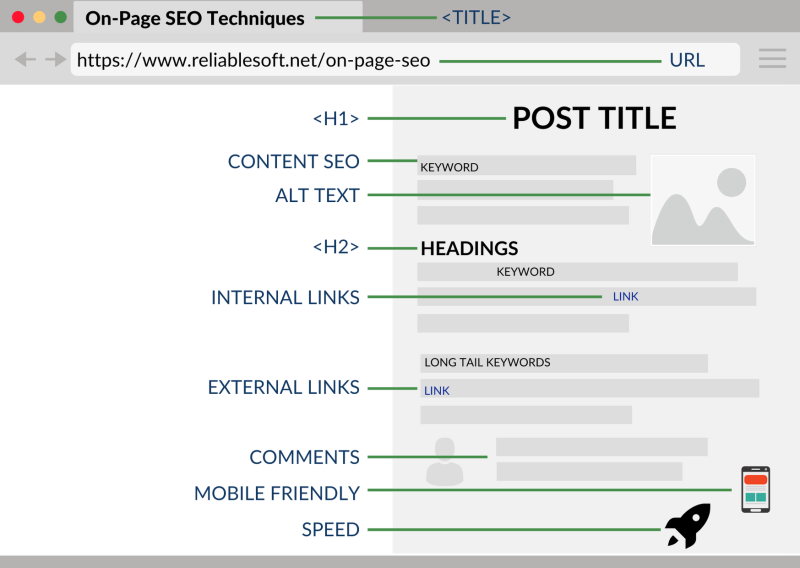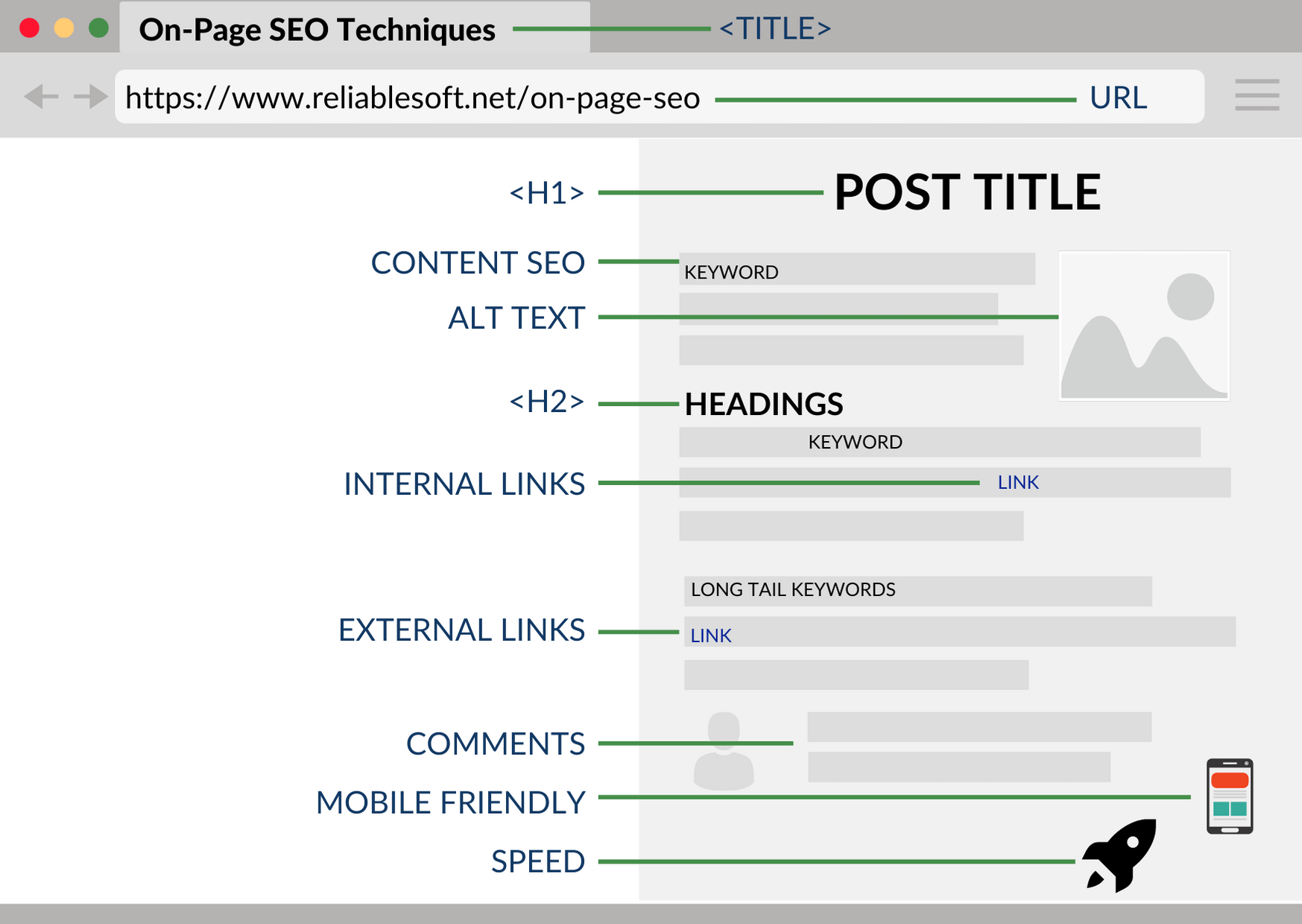 As you might understand the meaning of your sentences, but others won't. So, if you have someone, always let them read your article.
The next thing is to optimize your Article for SEO. This is the next part when you turn your attention to the guidelines of search engines.
Here you will add some important aspects every SEO article needs to have such as:
Internal links (To related articles and other content of yours)
External links (done if you have collected resources as you should link back to them)
Alt text – (for your pictures)
Meta-description
Keywords density (of course you shouldn't be stuffing keywords, but have at least 0.6%-1.5%)
Optimize the size of pictures
Of course, your users are first to keep in mind and none of these SEO aspects should decrease the quality of your article, but it is important to add these SEO tactics to ensure search engines understand your articles as well.
Also check out our articles on:
The last step to write an SEO articles is to post your article and share it across your social media channels and add it to your Google Search Console & Bing Console.
Unfortunately, it is not always the best article that wins but the most promoted.
Content Marketing is fire and Social Media is Gasoline
– Jay Baer
Therefore, share your articles across social media is an important part for you to get the initial first traffic fast and created enough engagement and signals for your new SEO article that search engine will notice it fast.
As Google and other search engines are looking at social media signals which they can help your SEO to rank higher.
So share it across your social media, email list, friends, and families if you can, so you get the initial first boost for your article which can be important especially when you starting and not have enough organic traffic.
And that is all from my methodology how to write a great SEO article for your business or yourself to start getting organic traffic.
It might sound a bit overwhelming at first but trust me helps a lot!
BTW: If you need help with your SEO, hit me up as I am providing SEO consultancy to help you rank higher and faster to start driving good quality leads for your business.
Conclusion
Writing articles for your audience is always the most important aspect of every blog article for your business or yourself, but we can not forget about the SEO aspect as we need to please both sides.
I used to write articles only for the audience to provide the most value than anybody else, but Google did not give me much of the chance to get it across the people.
So, I realized that writing just articles is not enough but your article needs to be SEO article and focus on both sides. But as I said, your audience always comes first.
But it is important to not forget about the SEO aspect of your articles as this will help Google and other search engines to understand your articles what it is about.
Therefore, provide as much value you can, do your deep research and optimize your article and you will benefit from organic traffic sooner.
What is SEO Article?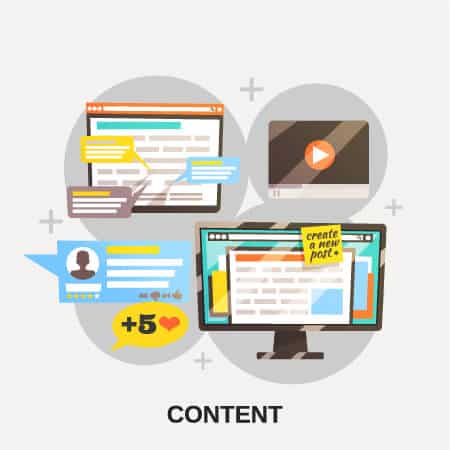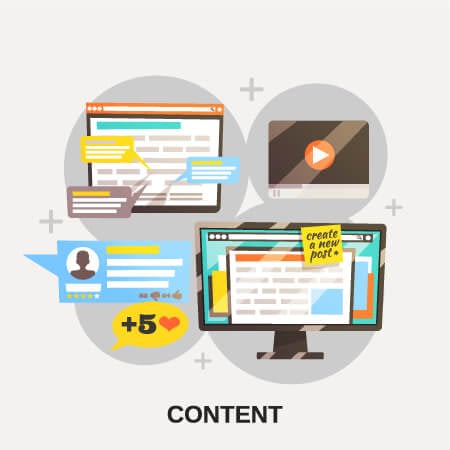 SEO Article is the type of article that's written in a way that helps and provides value to users based on their query and also helps search engines to understand better your article to better position it and rank it high. Therefore, SEO article is focusing on user experience and Search engine algorithm at the same time to please both sides.
So, SEO articles are the bridge your website needs to connect with your target audience with search engines as they can provide you with the traffic you need to start generating leads.
Why do You Need SEO Article?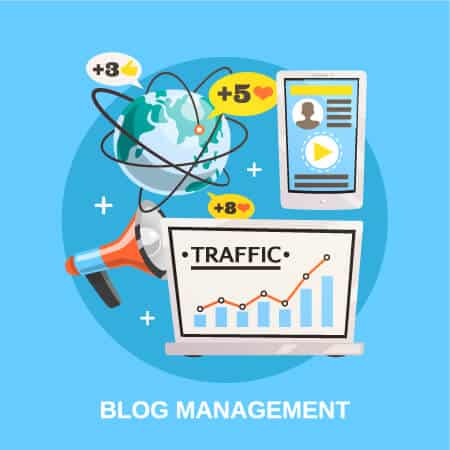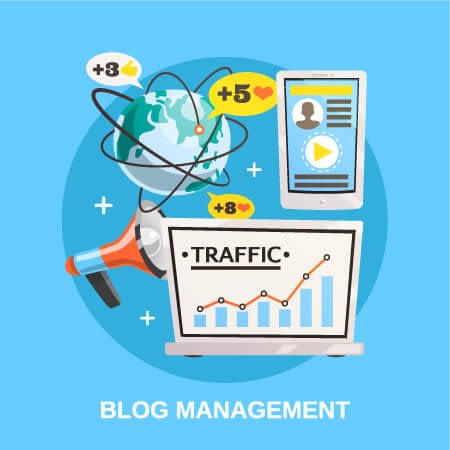 You need SEO Article because the SEO part of the article ensure that your article is done correctly from the technical part, so search engines can understand it and the second part of the article is aimed at your users because well-written article ensures that users will get the answer and value within your article and won't bounce back.
That is why SEO article is important that search engine plays the vital role to get you the traffic in the first place, but then the good quality of article ensure that traffic stays and get the answer they are searching for.
If one of these sides is not satisfied, then it will damage your ranking and organic traffic. Therefore, both sides need their parts so your article can rank high.
Related Content
Also, check out our SEO hub page to find all our SEO resources & Content Marketing resources.
Disclaimer:
Some pictures are coming from Freepik and some of my links are affiliate links, which means if you purchase something I might get some small commission as a reward for reference. Of course, I am actively using all of these services and products and I only affiliate products or service I have full trust in their quality!
Support the B2BDigitalMarketers
Hey, Eduard here.
As a solo blogger with limited resources, I need your support to keep creating in-depth SEO content like this. Please consider joining my Patreon community to help this site grow.
Your pledge – no matter how small – will enable me to dedicate more time to sharing actionable tips and strategies. With your help, I can take this project to the next level and really make a difference for other SEOs and marketers.
I would sincerely appreciate you joining me on this journey as a founding patron. Together, we can build an amazing resource hub. Hope to see you on the inside – thanks for your trust and support!