In this article, I am going to share with you the 12 worst SEO mistakes you can probably make to ruin your organic traffic, ranking, and conversions for your website.
B2B SEO is a complicated game that always comes with new rules and strategies as search engines always update their website. Just Google itself does roll out close to a thousand algorithm updates each year.
And if you are not a professional SEO marketer it can be difficult to follow all the SEO rules and make as few mistakes as possible. But even professional SEOs will make mistakes because is so dynamic and complex that what worked yesterday might not today.
Therefore here is my list of top SEO mistakes to avoid and fix so you can improve your site ranking, increase organic traffic, and drive more leads to your business.
And without further due here is my list of SEO mistakes:
1. Not Including Any Outbound links within Your Text
The first on our list of SEO mistakes that might be one of the biggest SEO mistakes you might make is not including any outbound links within your content.
Outbound links are links that are referring to other websites and not some of your web pages. Usually, these links are used due to another resource such as data, visuals, related content, and others to back up your points and provide more comprehensiveness.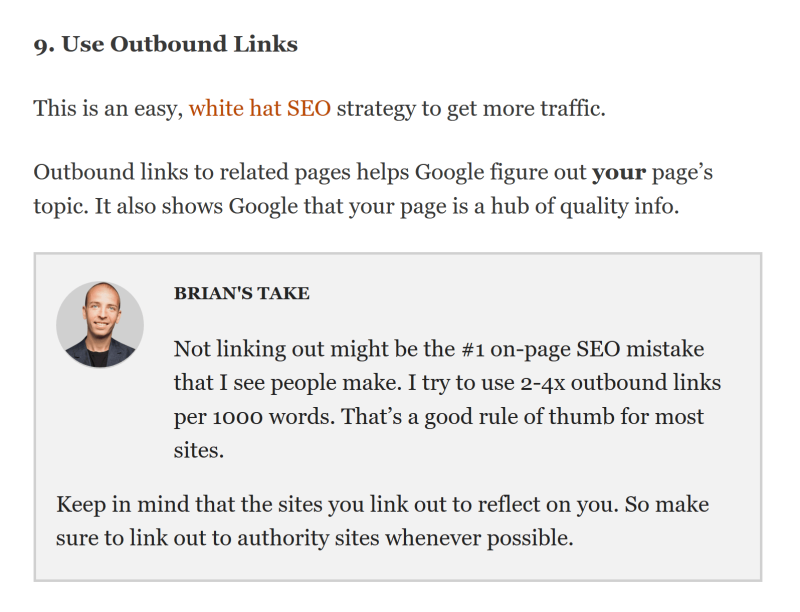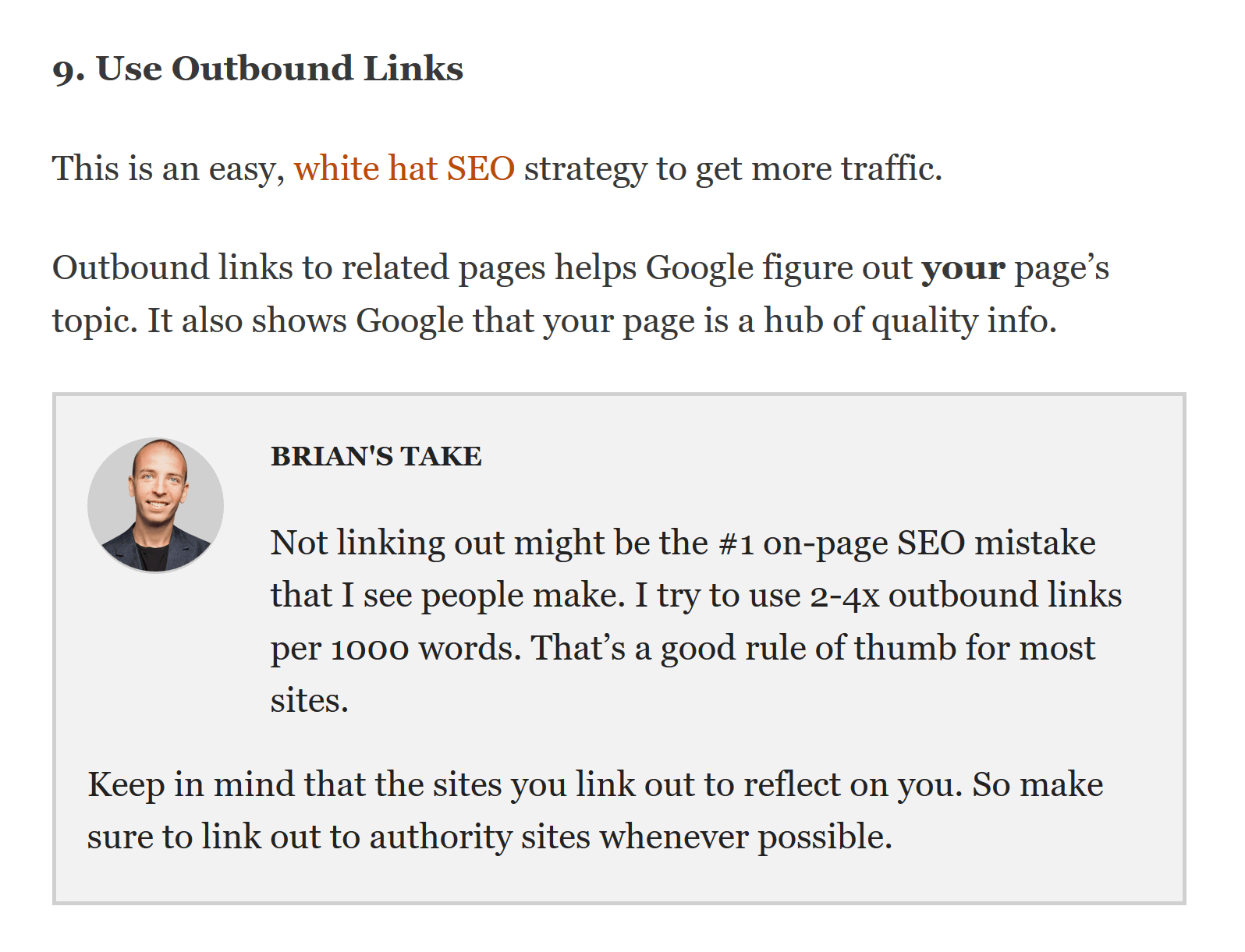 Outbound links are extremely important and as said by Brian Dean, the SEO expert:
"Not linking out might be the #1 on-page SEO mistake that I see people make."
And while Google did not exactly say that outbound links are a ranking factor, we know that outbound links should help users to learn more about your topic you are covering and provide a better user experience.
But either way, you should include outbound links within your content because it strengthens topics signals of your webpage and helps Google to understand your site better and it will help you to demonstrate your points.
Next outbound links are important because they will help you to add more value to your content by linking to other websites that are covering or having related resources to your content that add more value to yours.
And lastly, outbound links help build trust with readers as it shows that you are doing your research and you are not just sharing your opinion.
Remember when at school wanted you to always include references? Outbound links work in the same way, you cannot know everything, and doing thorough research shows to your users you want to provide good quality content.
So, make sure you adding outbound links within your b2b content marketing as this is one of the top SEO mistakes a lot of people are still doing it.
2. Not Optimizing for B2B SEO
The second on the list of SEO mistakes are not optimizing your content for SEO at all and writing your content only for people.
Unfortunately, this is one of the common SEO mistakes that is done by a lot of people, especially by those who just want to write helpful articles and create a website for people but forgetting about SEO is badly hurting your website.
You need to understand that first for people to actually find your content, Google and other search engines must understand what is your website about to properly crawl it and index it where it belongs to.
But if search engines cannot understand your content, then it is hard to categorize your content and serve it to the right user who is looking for your content. Thus, if your content does not pass this test, then it can be hardly found or even deindexed.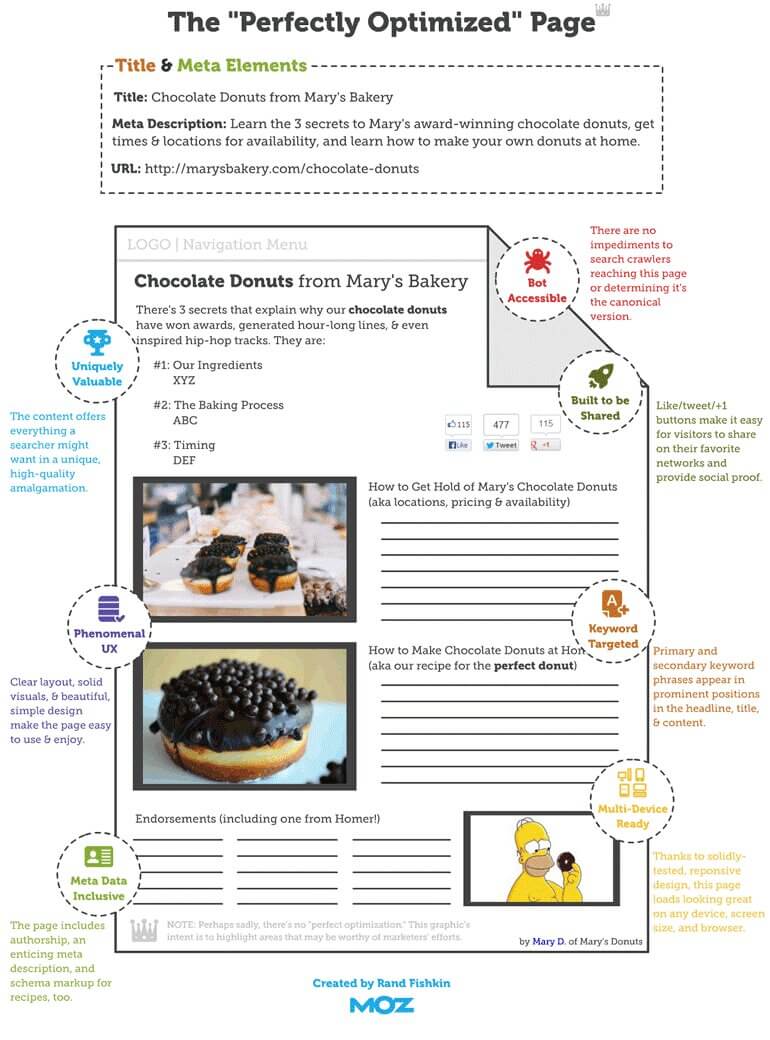 (source)
So, whether you like it or not, make sure you are also optimizing your content for SEO and help search engines to better understand what your content is about so they can help you to bring more and relevant organic traffic.
Therefore, make sure to optimize your B2B SEO by strategies such as:
Adding your keywords in the meta description, title tags, alt-text, and content body
Providing internal and outbound links
And optimizing for mobile devices
And this will help the search engine crawl your content and index it better and you will avoid this SEO mistake that is ruining your hard work.
3. Keyword Stuffing

(Source)
Another very common SEO mistake is keyword stuffing which is considered a strictly black hat SEO strategy.
Keyword stuffing is using too often the same keyword or similar keyword within your content in favor to get better ranking but ever since Google started updating their algorithm to punish this SEO strategy it is less likely to see this.
But still, you can see this strategy being used, especially by less experienced bloggers or marketers, that is trying to win a better position in the search result.
Fortunately, this is not the way how you should get better ranking and instead of focusing on providing high quality and relevant content for your readers.
That is why it is important to have content written by an expert. As I always say if you need to write an article about how to fix a toilet, ask Plummer to write the article. Therefore, if you are not an expert, then you should hire one.
4. Not Including Your Keywords & Latent Semantic Keywords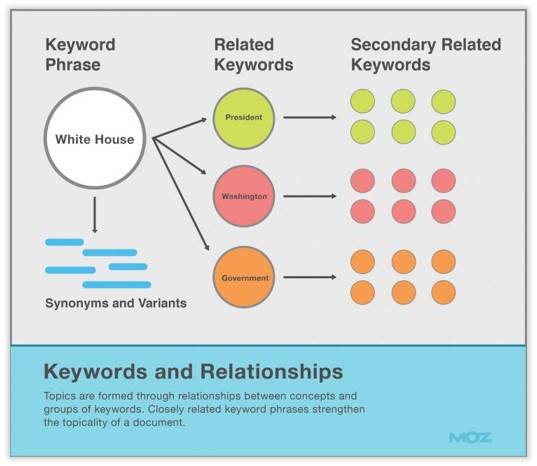 (source)
The fourth on our list of SEO mistakes is not including your keywords and latent semantic keywords (LSK) within your piece of content.
While keyword stuffing is a very bad SEO mistake that can cause your website to be penalized and removed from the search.
Not including your keywords and latent semantic keywords can have a similar impact on your website because search engines cannot properly understand what your content is about, thus it can be barely indexed, or it means your website is providing only thin content.
Including keywords and latent semantic keywords in a natural way will help search engines and users to properly understand your content and deliver more value.
So properly optimized content with keywords will help search engines to understand it and properly index it to the right place.
And using latent sematic keywords is the way how you should start thinking about creating content as you cannot just simply focus on one keyword or phrase which is as well bad SEO mistake that comes often with keyword stuffing.
Because Google is searching for more comprehensive and thorough content that provides answers to users' questions when they are typing a specific keyword.
Thus, this means you must understand the user intent behind the keyword you want to target.
For example, keyword weather is usually used to find out what is the weather today in your location, and users usually do not search for thorough in-depth content, but keyword B2B SEO is very broad and not specific, often used by people who want to learn more about B2B SEO, thus in-depth guide on B2B SEO would be the best for this keyword.
Of course, if you are an expert within your industry, keywords and latent semantic keywords will come naturally when you are creating a piece of content.
5. Not Doing Historical Optimization
The fifth on our list of SEO mistakes is not doing historical optimization of your old pages and old blog posts and just leaving them to become zombie pages.
Writing new content all the time can be very challenging for every content marketer and business especially if you have been writing content for your niche for a couple of years.
Because some of your more evergreen content can provide value to your users even after a few years its official publication date it just needs to be refreshed and updated with the latest stats, data, and pictures.
Also, blog posts and pages that are used to generate a lot of traffic and leads for your business should be historically optimized to bring back the traffic and leads.
Historical optimization is an important content and SEO marketing strategy that should be regularly practiced by businesses to ensure their website pages are up to date with fresh information.
Therefore, make sure you regularly updating your old pages so you can avoid this SEO mistake that can harm your ranking and organic traffic.
6. Leaving Your Zombie Pages
The sixth SEO mistake you should avoid is leaving zombie pages on your website that have no traffic and no value to you and your users.
I understand that creating new content comes with a lot of hard work and nobody wants to just delete it, but there are those pages like:
Non-responsive pages
Obsolete or low-quality pages
Bad SEO optimized pages
Orphan pages
Those are simply just a burden for your website and by deleting these web pages you can improve your ranking and organic traffic.
For example, Proven.com saw their organic search traffic increase by 88.3% after deleting 40 thousand Zombie Pages from their site: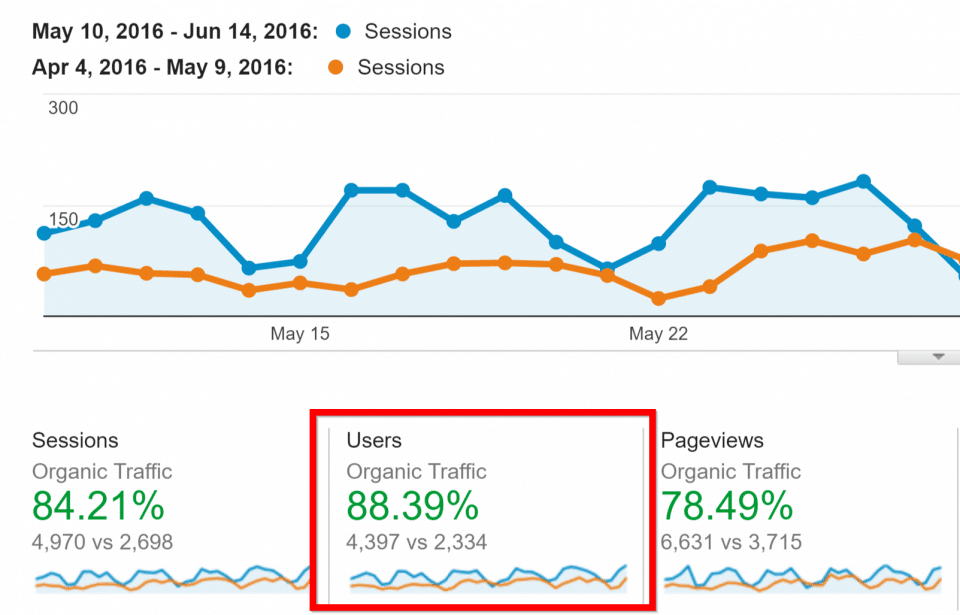 (source)
And the reason behind this is because Google prefers one comprehensive and thorough piece of content to plenty of smaller pages with less value.
Therefore, instead of focusing on quantity, you should focus on quality. The best example is Brian Dean from Backlinko, who only published 44 blog posts but generated over 120k organic traffic from those articles.
(source)
7. Not Including Internal Links
The next and one of the biggest SEO mistakes that I can still see very often even with experienced marketers is not including your internal links within your content.
Internal linking is one of the most important and basic B2B SEO practices that you should make sure that you always follow to allow search engines to discover your new and old pages within your website.
Because search engines like Google are crawling pages by following links, internal and external, and like this, they can work out what pages are more important by the number of links and better understand each page.
Also, this B2B SEO strategy gives you a certain power of what pages on your website are the most important and thus you can improve the ranking for those pages.
Ahrefs and their Middleman method are focusing on building authority and increasing ranking for your most important pages, most of often your money pages, where most of your revenue is coming from.
But of course, most importantly you should include internal links to only relevant pages that are adding extra value to your users and provide more relevant information for the topic.
Because remember that relevancy is the essential key and recommending not relevant pages will harm your ranking and organic traffic by providing a bad user experience.
8. Writing Content Only for Search Engine and Not for Users
Another very common SEO mistake to avoid is writing content only for search engines and not for users in favor to improve ranking and drive more organic traffic.
The first and most important content and SEO practice that you should always follow is to create the most relevant and high-quality content for your users.
As stated by Google their main goal is to deliver the most relevant and reliable information available to their users as soon as possible.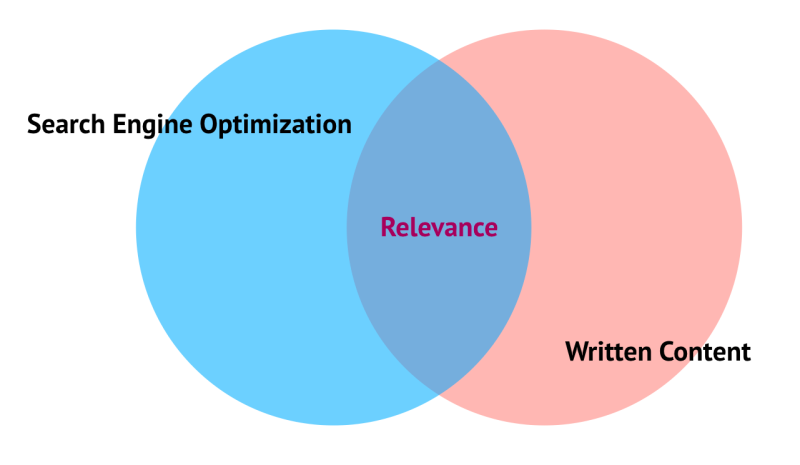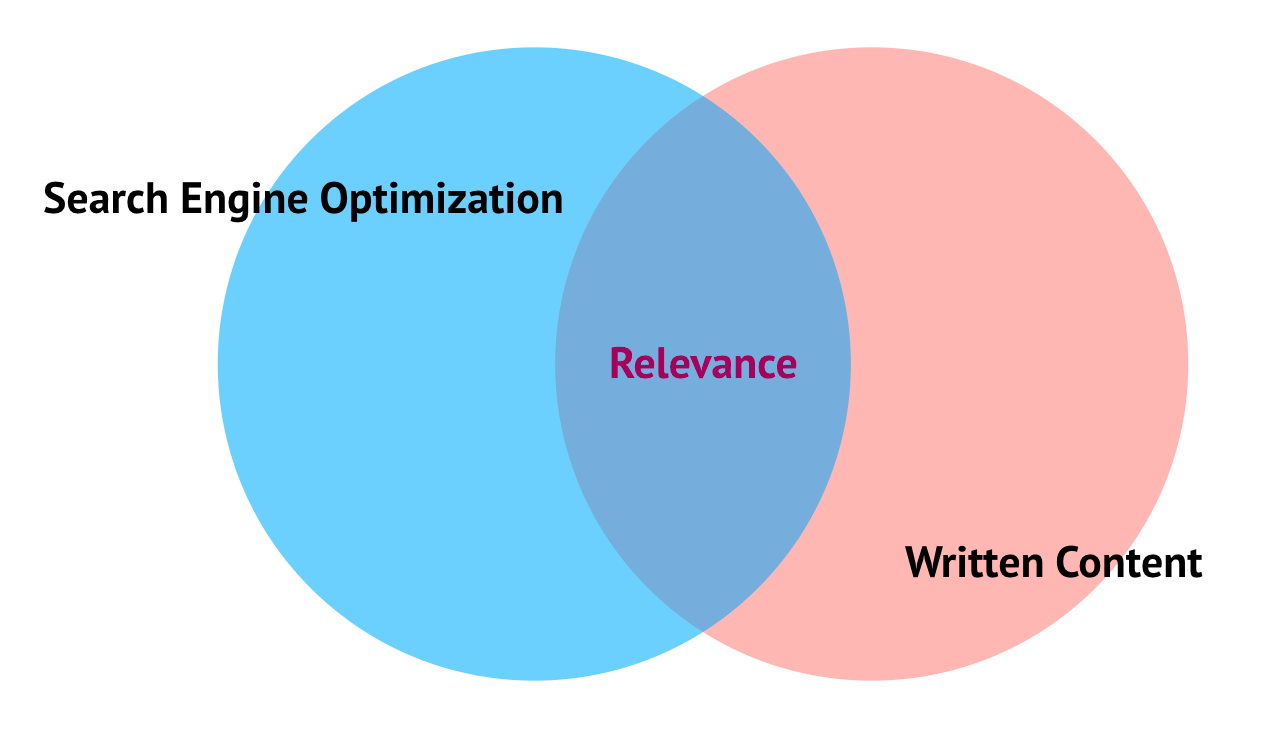 This means, if you want to rank on Google, you must be a reliable source of information that provides the most relevant content for your target audience.
And while this can be complicated to explain, the first thing you should start with is to focus on your b2b target audience and put yourself in their shoes.
Ask yourself, If my target audience would be searching for my content, what would they want to find within the piece of content I am preparing?
Understanding the needs and user intent for every keyword you are targeting and being or having the subject matter expert is essential for you to successfully drive organic traffic to your website.
Therefore, make sure you avoid writing content only for search engines and practice black hat SEO strategies like keyword stuffing.
But as I mentioned, within the second SEO mistake you should also do not forget to write for search engines, as those are the first who will read your article, and optimizing your content with the best B2B SEO practices will help search engines better understand your content and properly index it.
9. Wrong Keyword Research
Another very common and biggest SEO mistake that you should definitely avoid is doing wrong keyword research.
Generally, keyword research is important for you to effectively create content that attracts organic traffic and leads to your business by finding the right keywords.
But because keyword research can be complicated many people and non-marketers are making mistakes when doing keyword research whether it is:
Targeting wrong keywords
Not planning ahead
Targeting too highly competitive keywords
Not reviewing keywords
This can lead to many different scenarios, such as your B2B Target Audience is not coming to your website or not driving any organic traffic to your website.
Thus, it is recommended to take some courses and learn to do proper keyword research to avoid this SEO mistake because it can ruin all your hard work.
Because I believe planning and doing keyword research is the success of your B2B SEO and seeing much better results earlier than you would normally see. Remember failing to plan is planning to fail. Benjamin Franklin.
10. Not Optimizing for Conversion Rate
One of the biggest SEO mistakes that you can make is not optimizing your content and website for conversion rate because like this even driving traffic to your website will have no impact.
Whether you are an entrepreneur, SMB owner, agency, or enterprise one of your biggest objectives for driving website traffic is to attract potential buyers for whatever you are selling, whether it is affiliate products, services, your products, or anything else.
And while you might be doing it very well and your organic traffic is booming, if you do not optimize your content website with conversion rate optimization strategies you will never see any good results.
Therefore, an SEO mistake that you should avoid at all costs is not optimizing your website for conversion rate as this will ruin all your hard work and it will not bring any ROI from your investment in SEO and your website.
So, make sure that every piece of content that you are producing, and every single page is optimized with conversion rate strategies to start generating leads for your business.
11. Duplicated Content
Another top SEO mistake that can be seen on a lot of websites and across the internet is duplicated content.
Duplicated content can appear on your own website due to many reasons or across the internet that somebody or you have republished your content which is a not bad strategy if everything is done correctly.
Because for search engines it can be difficult to decide which content is original and more relevant and which content is duplicated. This can end up in a penalty or search engines can exclude your original content and promote the other one.
Either way, duplicated content must be fixed whether it is On-Site SEO Mistake or an Off-Site SEO mistake.
But the way how you should fix it depends on the situation you are facing. Therefore, to check out my guide about in SEO how many keywords per page.
12. Not Doing Regular B2B SEO Audit
One of the biggest SEO mistakes that you can ever do is not doing a regular B2B SEO audit for your website because this can ruin all your hard work.
Along the way as you are adding new pages, writing new content, updating, and changing on your website, you will make some mistakes, like:
Forget alt-text for your images
Not having a meta description
Linking to non-existing pages anymore
Having orphan pages
Having slow pages
And tones of more things that you should monitor on a regular schedule to ensure that your website is SEO friendly, otherwise you might be losing your ranking and organic traffic for your website.
Luckily, there are B2B SEO tools that will exactly help you with that, so you do not have to check everything manually.
For example, great B2B SEO tools that I recommend for your B2B SEO audit are SEMrush and SE Ranking as both provide excellent SEO audits and a bunch of more features to help you fix all kinds of SEO Mistakes on your website.
And how often you should do your SEO audit depends on the size of your website and how often you are adding new pages, blog posts, and other content to your website. If you add 1-5 new pages to your website I believe once a month should be enough to start and then adjust along the way.
Conclusion
While there are many more mistakes that you can make in B2B SEO and I am slowly updating this webpage to ensure that you have a comprehensive list of all SEO Mistakes to avoid, these are some of the top SEO mistakes that you should avoid. These also could be considered as one of the biggest B2B blogging mistakes you can make.
Of course, you will make some mistakes along the way, therefore, using tools like SEMrush or SE Ranking will help you to monitor your website from any SEO mistake and it will save plenty of time and get you a better ranking.
Therefore, I recommend using some of the B2B SEO tools for your website to increase your ranking, drive more organic traffic, and bring more leads to your website.
SEO can be a complicated game, thus do not make it even more complicated than it is already.
Related Articles
Also, check out our SEO hub page to find all our SEO resources.
Disclaimer
Some pictures are coming from Freepik and some of my links are affiliate links, which means if you purchase something, I might get some small commission as a reward for reference. Of course, I am actively using all these services and products and I only affiliate products or services I have full trust in their quality!
Support the B2BDigitalMarketers
Hey, Eduard here.
As a solo blogger with limited resources, I need your support to keep creating in-depth SEO content like this. Please consider joining my Patreon community to help this site grow.
Your pledge – no matter how small – will enable me to dedicate more time to sharing actionable tips and strategies. With your help, I can take this project to the next level and really make a difference for other SEOs and marketers.
I would sincerely appreciate you joining me on this journey as a founding patron. Together, we can build an amazing resource hub. Hope to see you on the inside – thanks for your trust and support!