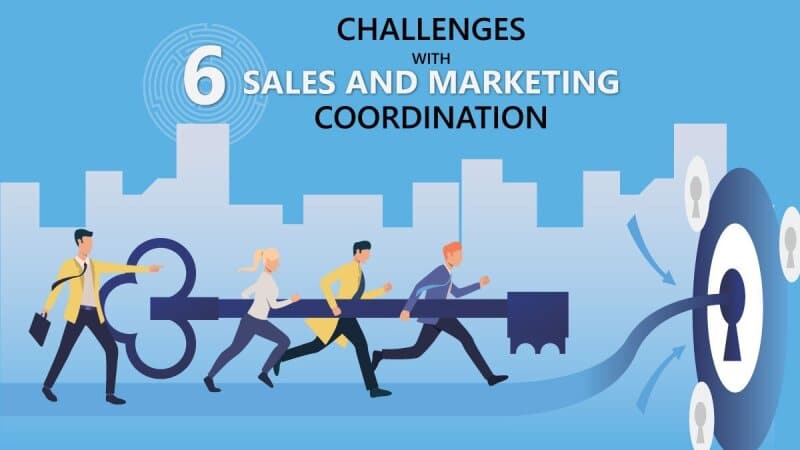 The pressure on Sales and Marketing is increasing year by year as competitions are growing and getting smarter. Nowadays b2b companies cannot ignore whether the marketing and sales are cooperating or not, it is essential that your teams get together, so they can grow the business.
Businesses becoming more united to achieve the business objectives, Marketing becomes involved in sales and customer service to drive better results with marketing automation for example.
But today, I would like to answer some of the key coordination challenges facing Sales and Marketing in the modern businesses, and also my best tips how to face these challenges, so you are aware what you can be facing if you do not properly create sync within your sales and marketing.
Therefore, read carefully and try to examine your teams if they are facing these challenges. Remember, coordination is essential for your teams and before you can start to try to fix anything, you should be aware of these challenges with Marketing and Sales desynchronization.
1. Poor Quality of Leads and No Visibility About Sales Conversion
As one of the main challenges for marketing is the quality of the leads brought to the business. People would think that the targeting possibilities across digital technology would eliminate the challenge of the quality of leads, but unfortunately, it is thill here.
As coming with new leads consistently then sometimes marketing is forced to bring any types of leads to the business to just hit the KPI's, but unfortunately that negatively involve the sales team and whole company, as being busy with people who never become your customers is just a total waste of time, rather focus only the good quality leads.
Not only that but as the marketing team needs to improve the quality leads, they need to know the sales conversion too.
Sales conversation rates can tell a lot about the leads, how they have been generated, and whether the marketing effort pays off, or you should rather focus your energy somewhere else.
Also, it tells you about sales as well, if they really take care of the leads. Study shows that only 40% of leads have been properly contacted.  The rest have been wasted.
How Aligned Marketing Improve Quality of Leads and Sales Conversation
Visibility?
As has been mentioned, sales and marketing together have a direct impact on the leads generated for the business. If you want to make sure that your business going forward, then you need really make sure that leads are good quality leads and sales teams keep high conversion rates.
Sales conversation statistics have a lot of insights for marketing to see whether the effort they have made has some sense, generating enough leads for sales to keep them busy is not any more important but the quality. If you start observing sales conversation soon you will be able to read how you are doing.
Quality leads are directly influenced by sales insights given to marketing. In the end, you as a marketing guy do not spend much time with leads and therefore can't really tell whether you have generated something meaningful for your company.
The barriers between marketing and sales often limit the marketing effort and it causes poor quality leads and low conversation rate. Try to focus on how to put these two metrics together so it can help your teams to achieve business objectives.
In the end, to make the business thrive, it is about how well you organize your teams, so you create the best experience for your prospects and customers.
2. Differing Understanding and Definition of Leads
If you would make a survey and ask your sales and marketing about what aspects make qualify leads and why they are important, would you get the same answer from both sides?
As already discussed, poor communication of marketing and sales can lead to poor quality of leads and that can affect the whole company and lead to bankruptcy as spending money on leads that never become your customers would just cause total waste of money.
One of the challenges of not aligned marketing and sales can be a different understanding of leads for your company.
For example, the marketing team can think that a certain role at the company is the best due to high leads volume but for sales the role causes trouble as they are not primarily decision-makers, and therefore, they need to go around them which influences the sales cycle and their time.
How to Align Marketing and Sales to Solve Leads Misunderstanding?
In many of my articles, you would find that I do not agree with a "shotgun" approach to generating leads. I see it as a total waste of money and energy from the marketing team.
I believe in a much precise approach more like a sniper with the right targeting. That's why you need to make sure, that your sales and marketing have the same picture of the perfect lead.
Regular sales and marketing meetings are essential for your teams to figure out what is best for both sides, as you can decide what works and what doesn't. Bringing revenue is directly proportionate to your marketing and sales communication. Having regular meetings will keep your teams to consistently improve on targeting and delivering good quality leads.
CRM and ERP System in place is the next part of how to make sure, you have the right data so you know what works and what doesn't. Data are the real asset for the company, there is no shortage of data but the actual converting and analyzing data into insights. Remember, you should be having a proper place for your data so you can more accurately predict better outcomes for your sales and marketing efforts. But remember, just having CRM or ERP system is not enough, you need to make sure, that you are using it properly.
Establish your sales and marketing as united teams that can't cooperate without each other, as both are important parts for the business. So, make sure that both having a clear picture of what leads to bringing in.
3. Inconsistent Views of Leads
Each lead is a bit different but all of them share the same patterns in the buying journey, but what happens when there is no process in lead handling? Leads require consistency and as little confusion as possible and if there is no written step-by-step guide on how to handle leads then not just your leads are confused but your marketing and sales are too.
Having processes in place is essential but also, to know what duties are given to marketing and what to sales. As it is important to know from one point of the sales cycle or buyer journey will be lead given to sales and what steps sales will take onwards.
Remember, if you are inconsistent, your results are too, if you want to grow your revenue, you and your team need to know what to do, otherwise, there will be a lot of confusion.
How to Fix Inconsistent Views of Leads?
Handling leads is about how to deliver the best possible experience, which requires that sales and marketing are aligned with each of them has its role and place. I have said you should have a system in place, but it doesn't mean that once I will give you the lead, I don't care anymore.
Inconsistent views of leads can be fixed primarily by sharing data across and update each other about the status of new incoming leads and the previous ones.
Don't forget the capabilities of each other team and plans like for example:
Upcoming events should be shared with sales, so they can prepare for the event ahead and schedule their times with customers and leads. Prioritize so they can make sure they have enough time to follow up with the event leads.
Maximum leads per salesperson can be handled at the same time. Creating strong leads doesn't mean anything for your business if your salespeople can't handle all of them. If each salesperson can handle 20 leads, do not try to give them 40, that's where inconstancy happening
Separate responsibilities between teams in what is done by sales and what by marketing. For example, if somebody requests for a demo on your website, the email follow-ups are done by marketing, and once the leads act, it is sent across sales to call.
Recently I had a conversation with the sales team about the buyer journey and what could we do to make it more pleasant for our prospects. I have assumed that they have the same picture as me about Buyer Journey and how it works. Apparently, they did not and it's not their fault as it is mostly taught within marketing.
(If you do not know, what is it buyer journey, read more here.)
Aligning sales and marketing teams is done by a shared understanding of the buyer journey and how prospects usually move from start to end. Most companies have their own buyer journey, but they are similar to each other.
The b2b buyer journey is a way of prospect how he/she buys and your sales and marketing should cooperate to make the way as enjoyable as possible because the company who does that usually wins the deal.
So, read understand the buyer journey and discuss with the sales and marketing and find how you can help each other to really deliver the experience every prospect would appreciate. So, read more on the buyer
journey.
5. Degree of Control Over the Brand (content customization)
Marketing is the voice of one man done by many. People love consistency and deal with the people and not the robots, therefore your marketing and sales should be like one man, no difference, and no inconsistency.
The usual challenge within marketing and sales is to make things the same across multiple channels, therefore the degree of control over the brand should be balanced.
I have no intention that salesperson should sound like a robot, scripted calls and sales questions as bringing their own magic is important to establish a relationship, but the brand itself should speak the same way on the website, banner, brochures, and other marketing materials. It should be recognizable.
Your content is what represents you and your brand and how people associate you within. So, if you sound like an unsynchronized bunch of girls screaming at each other which actor is more handsome then… I hope you got the point.
But if you sound like one person united by thousands the same as an orchestra then your brands create a strong voice that will spread across.
How to Deliver Consistent Branding?
There are a few things you should remember to make sure that your sales and marketing does not create something that is not totally aligned with your branding.
Templates should be created for each of the occasions your sales and marketing need templates
or follow guidelines, so they won't go off the grip. Remember, you want to deliver consistency across multiple channels to avoid confusion.  If you ever been to a 5* luxury hotel, you will notice how consistency is so important for them to deliver a seamless and enjoyable experience. Because people expect some kind of standards and the same should apply for your content and marketing and sales.
Access to brand materials to everyone. Make sure, that everyone knows where to find the logo to paste it on branded materials and the exact type of color your brand using, and other marketing materials you are using to differentiate yourself from competitors.
Align branding with internal culture as creating a voice that will resonate with your customers is important, you need to make sure it is not fake. Your culture should reflect on your branding too. Does your work culture suck? Maybe you should first work on yourself than your brand.
Remember, they are the one who represents the brand they should sound the same with a special touch from each of them.
6. Conflicting or Misaligned Performance Objectives (KPI's)
The last but not least challenge I would like to mention of sales and marketing coordination is conflicting or misaligned KPI's. It's like your brand is the body and the left hand doesn't know what the right hand is doing if you understand me.
If you are a private company, your main goal is to drive profit which is powered by properly set KPI's but not once happened to me that companies having conflicting or misaligned performance objectives and having a hard time achieving the business goals.
It's like your team players trying to backstab themselves because everybody wants to strike.
Okay, enough examples I think you got my point. So, make sure you avoid this mistake as I see it very often within companies and they just hurt themselves.
How to Fix Conflicting or Misaligned Performance Objectives?
Marketing and sales should deliver the very best results each and every day, but sometimes it can damage the other team performance, I have already mentioned one example where I have done it.
So, make sure you try to find conflicts between each other so you can start working as a team.
KPI's should be approved by both sides because as I already mentioned, what if your marketing team has KPI where they should deliver 200 strong leads every month, but your sales team can barely handle 50? Make sure, that both sides are happy with each other KPI's.
If there is poor communication between the teams then that's what usually happens, when each of them creates their own performance and doesn't look about other teams. As long as I have done my part, I am okay.
But that's not anymore a very effective strategy and in the end, both sides start struggling which would bring lower revenue and lower budget for next year.
So, make sure, both teams are involved when you are planning for next year's KPI so you know what marketing and sale can expect from each other.
Summary of the Challenges
Remember, today's prospect wants to feel like they are taking care of since the very beginning of their buyer journey. They want to have served the right information, so they do not need to look for the information elsewhere and waste their time.
The easier and pleasant you make your information accessible for your prospects, the more your sales and marketing will be successful.
That's why it is so important for you to coordinate your sales and marketing so you can deliver the best possible experience for your leads.
Thanks to modern technologies you can coordinate your sales and marketing much easier and deliver the right type of content all the time and close faster.
But first, you need to make sales and marketing as one team, marketing is when you align sales and marketing.