Question: Why is my business not showing up on Google?
Answer: It depends!
And in this article, I am going to give you 13 reasons why is your business not showing up on Google.
Reason #1: GMB Not Verified (Now Known as Google Business Profile)
The first reason why is my business not showing up on Google could be due to verification problems.
It's essential for your business to verify your GMB or GBP listing as until then you won't be in control of the information displayed there.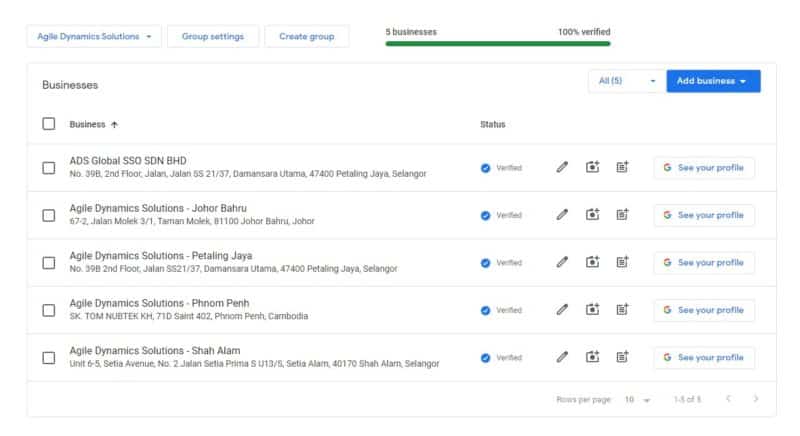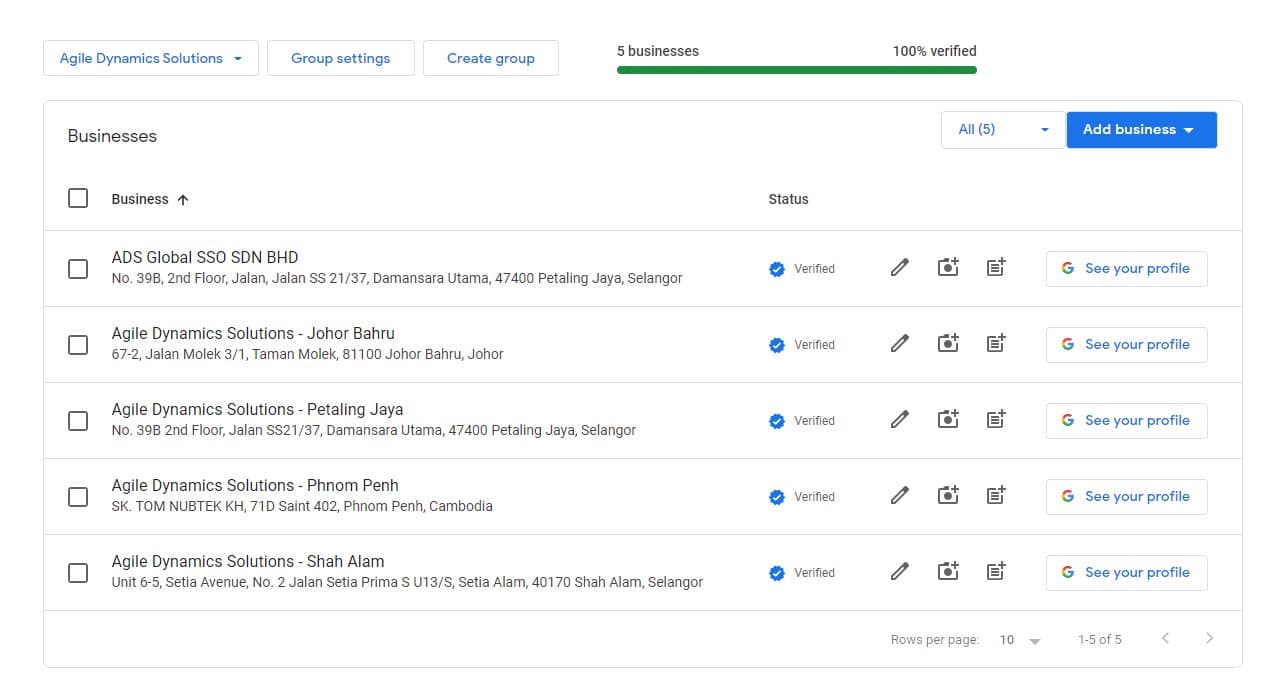 This means anybody can change the information such as the address by submitting "suggested edits" which Google may publish without your permission.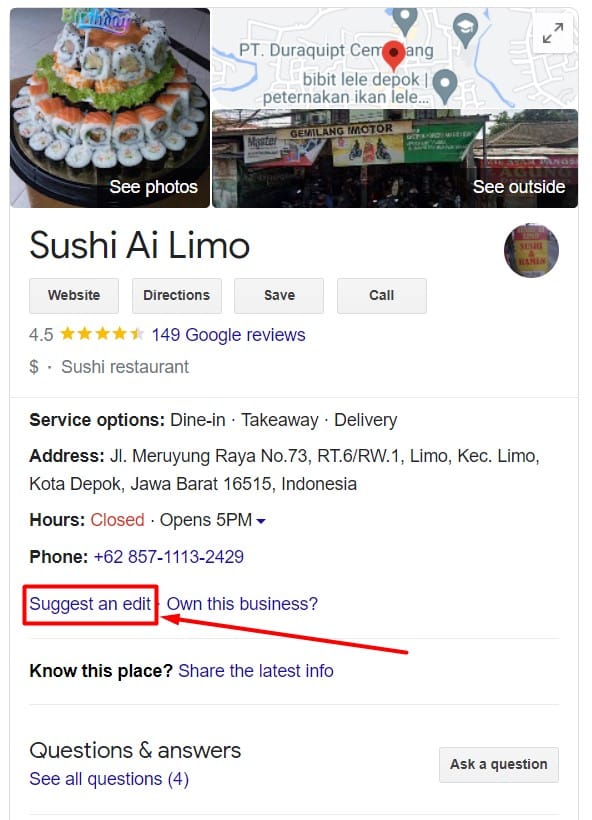 It also could be the reason why is your business not showing up on Google, whether it is on Google maps,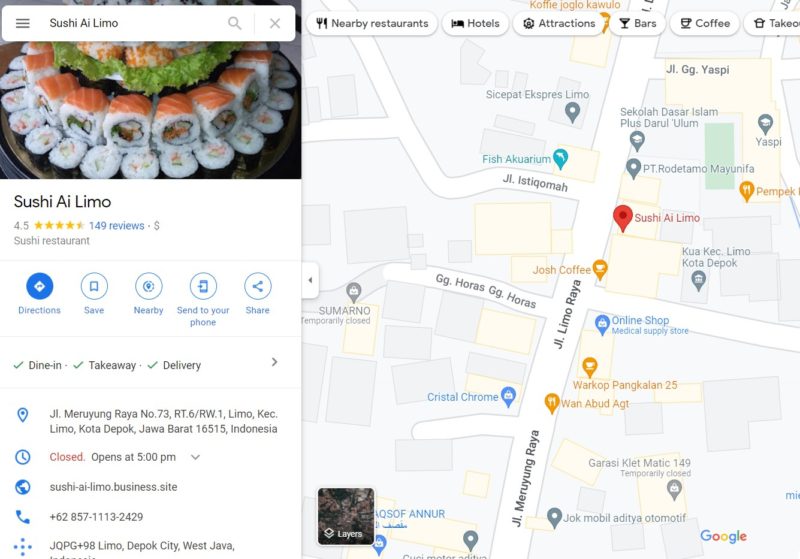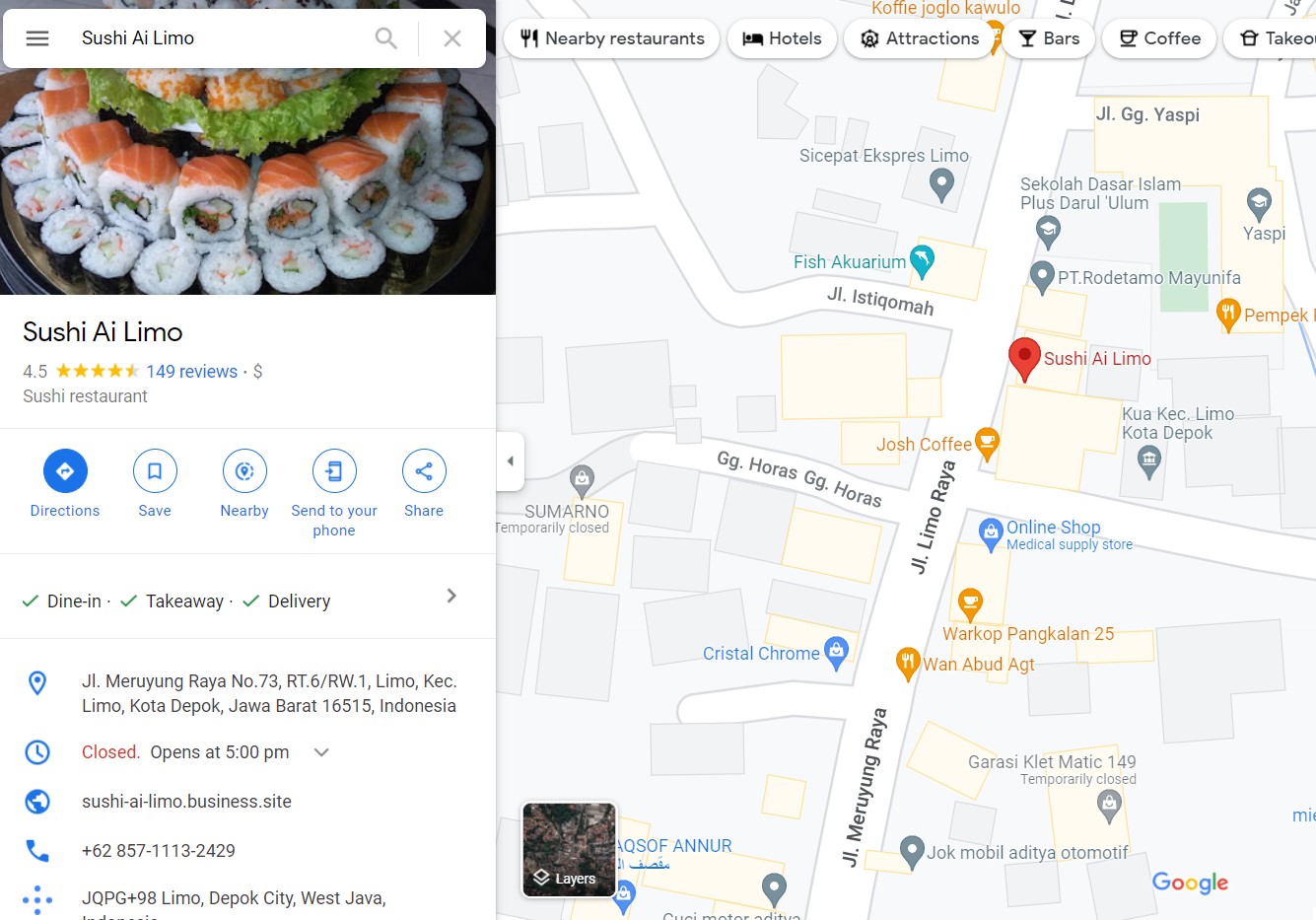 Or not having the local business details displayed in the Google knowledge panel.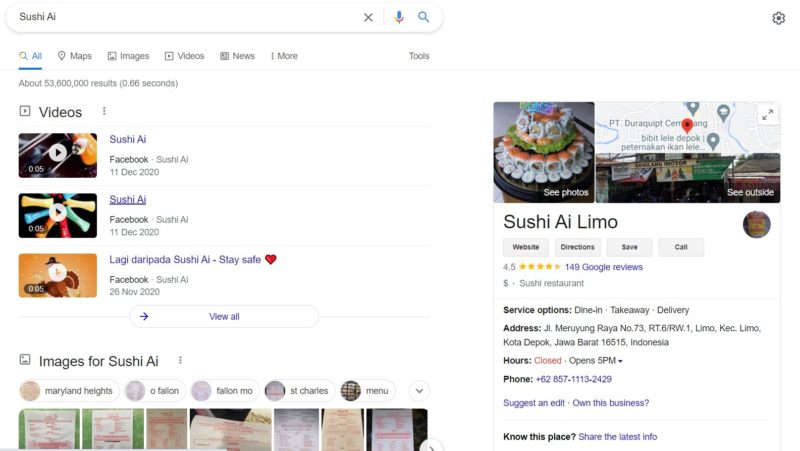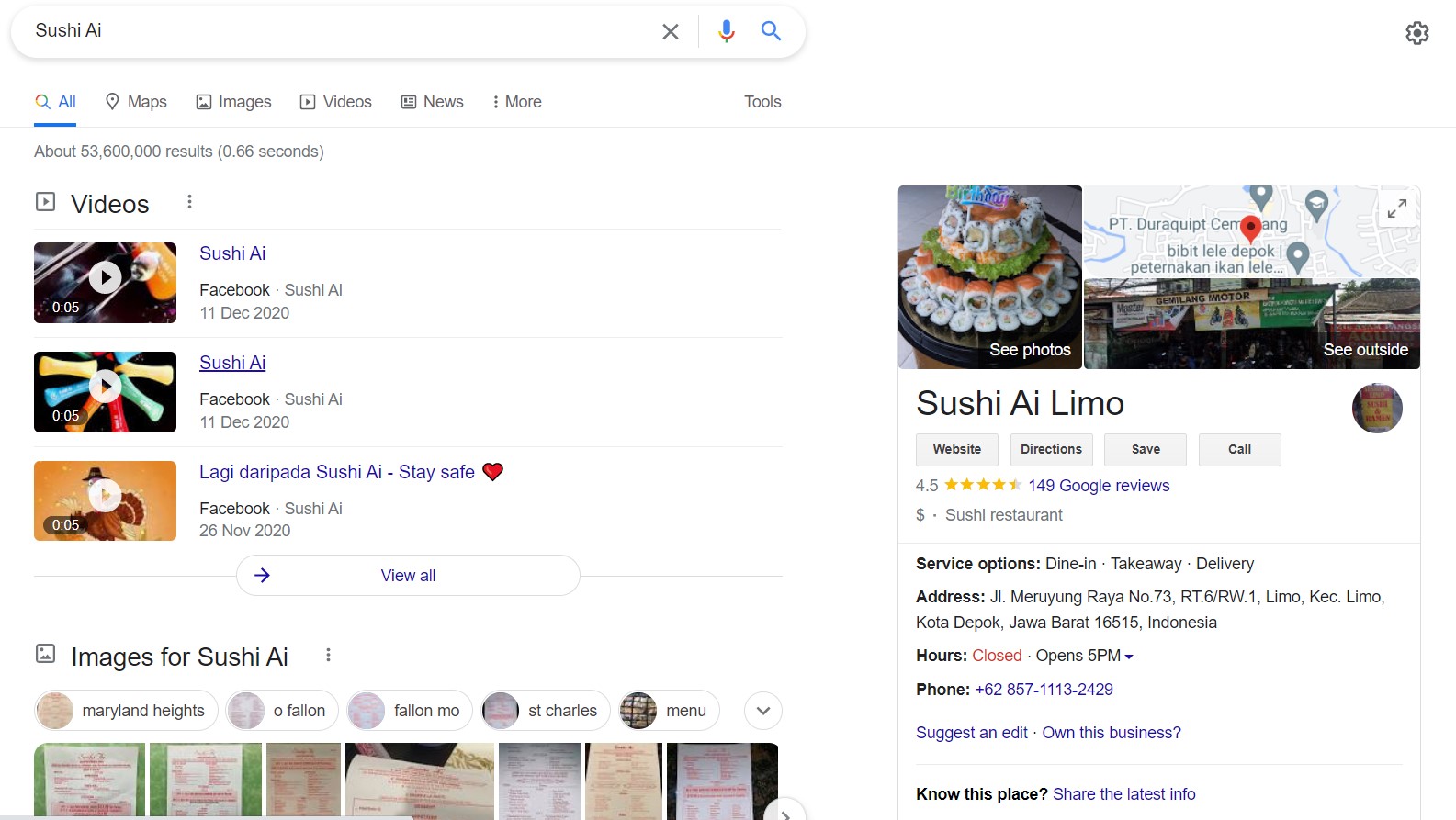 You can check your GMB verification status using this tool from Google which helps whether you are verified or not. Don't forget to use the right email account of your business
How to Verify Your Google My Business/Google Business Profile
Now there can be many different ways to verify your GMB/GBP listing such as using phone calls, text messages, email, and others.
However, the best way is to verify your business via postcard send to your business address. This gives solid proof to Google that your business is real and the location is owned by you, but on the other side, it can be quite a hassle to get the postcard as in many instances business owners report they never received it.
Here are 5 steps to verify your GMB:
Step #1: Login into your GMB profile. Here you will see verification needed.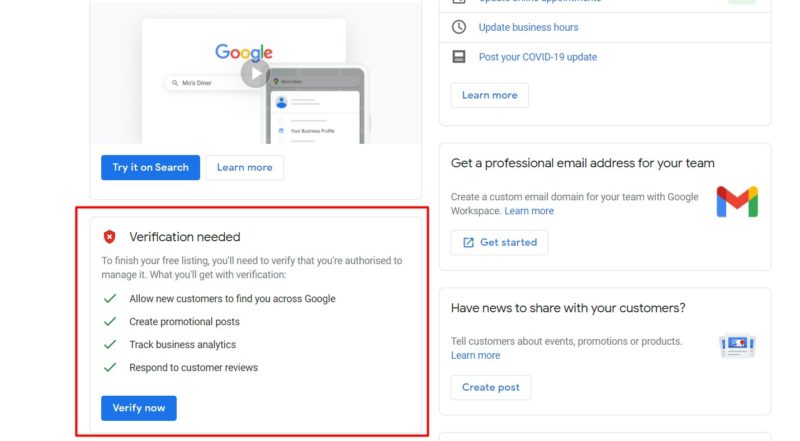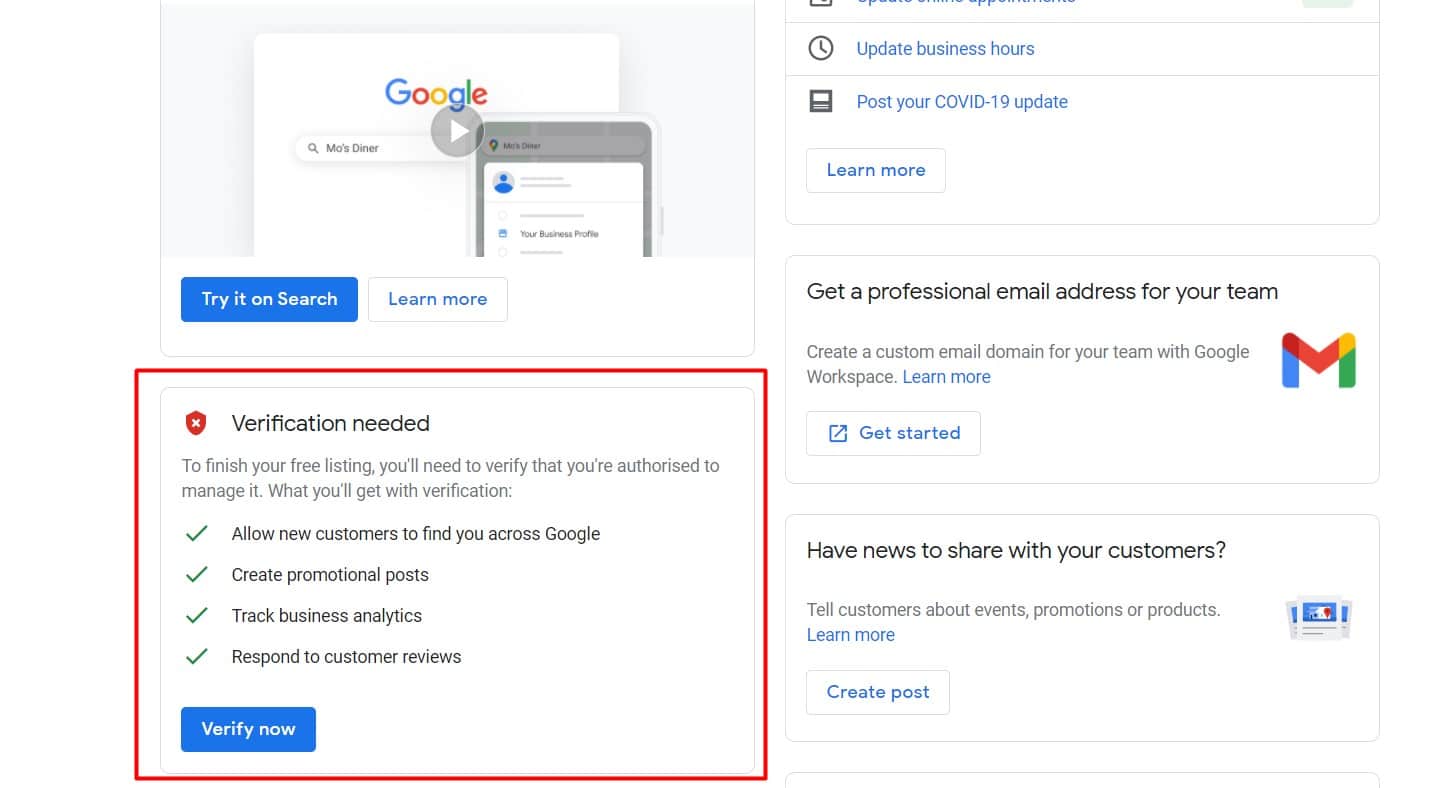 Step #2: Enter your correct address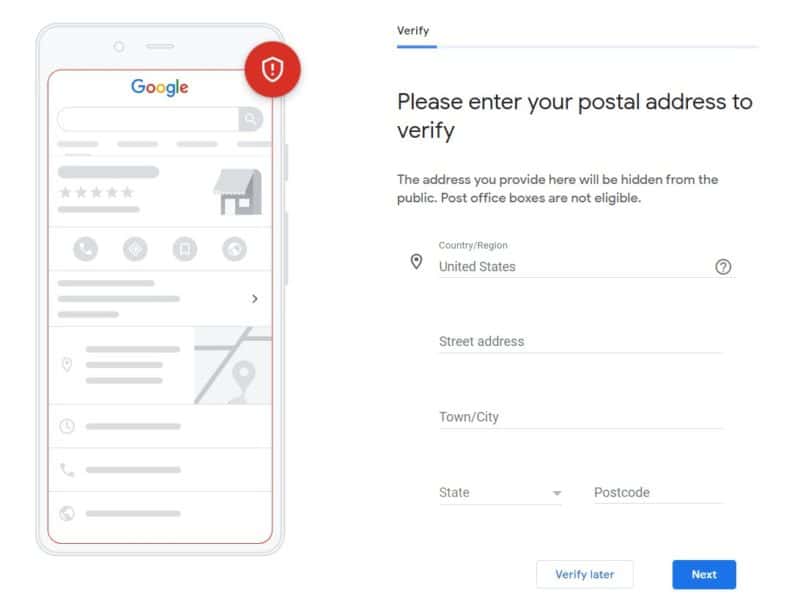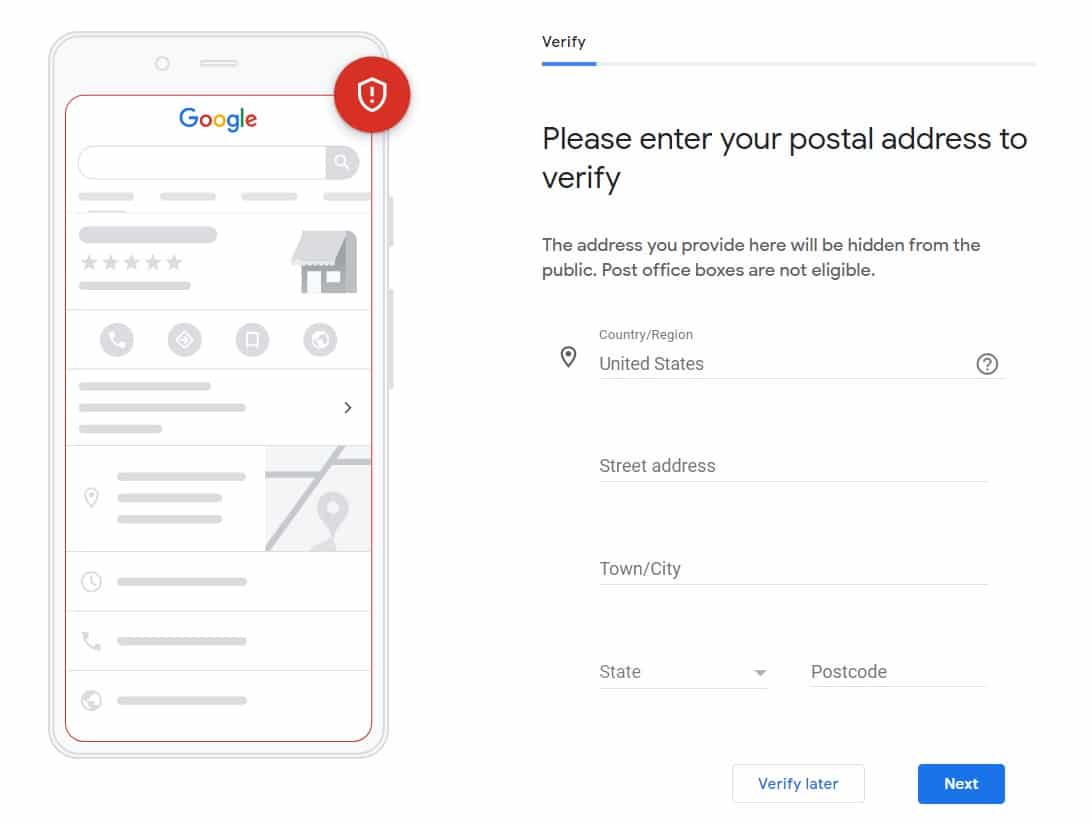 Step #3: Enter your website email address. This helps Google to verify the domain is owned by you.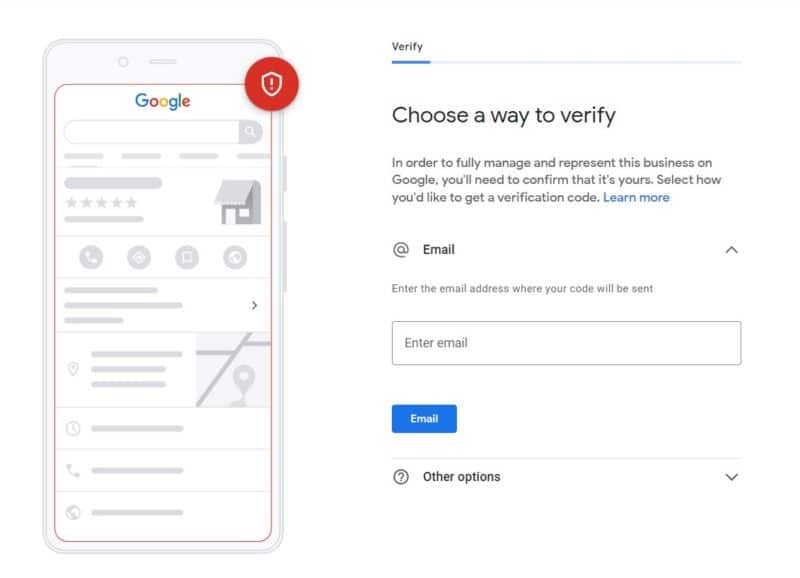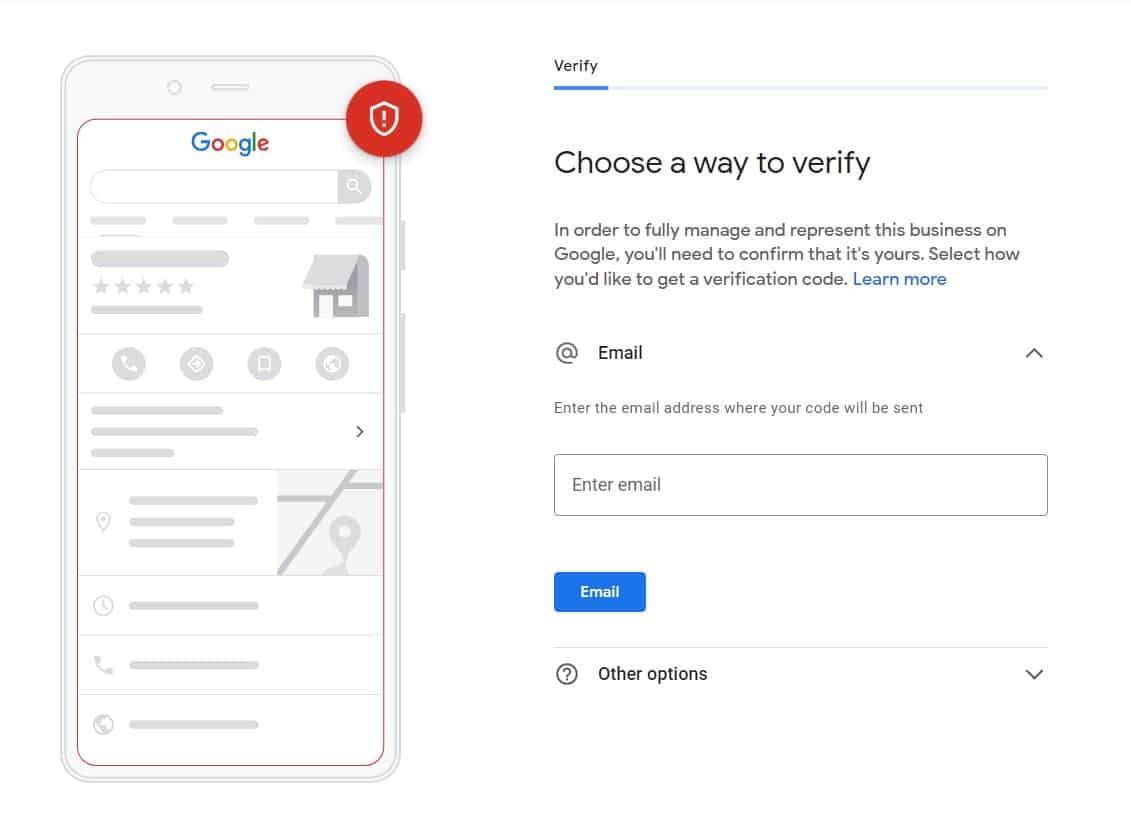 Step #4: Wait for Pending approval: Now you need to wait until the changes have been approved and you received your card. It should take around 7-14 days to receive it.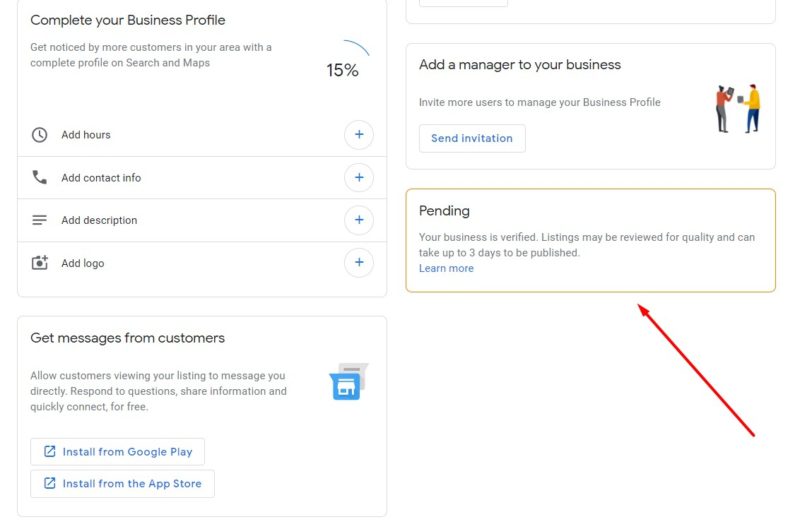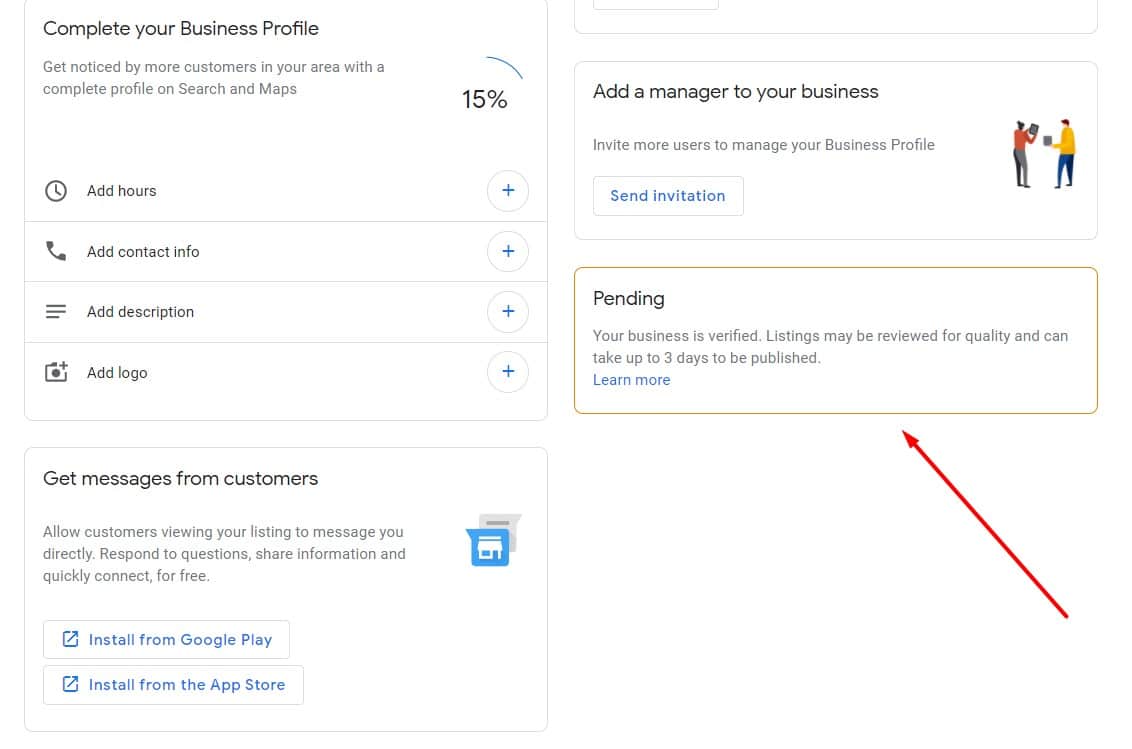 Step #5: Verify without postcard (Optional): If you don't receive the postcard you can use other methods to verify your business. Click on "I don't have a code". And Sometimes they approve your listing even before the postcard arrives.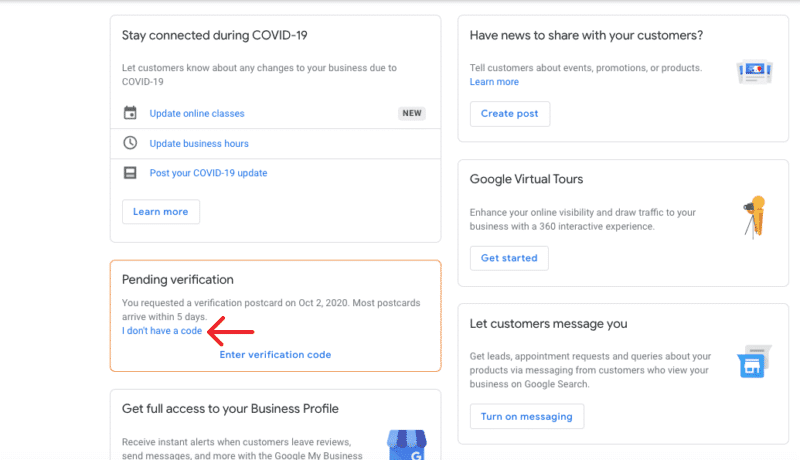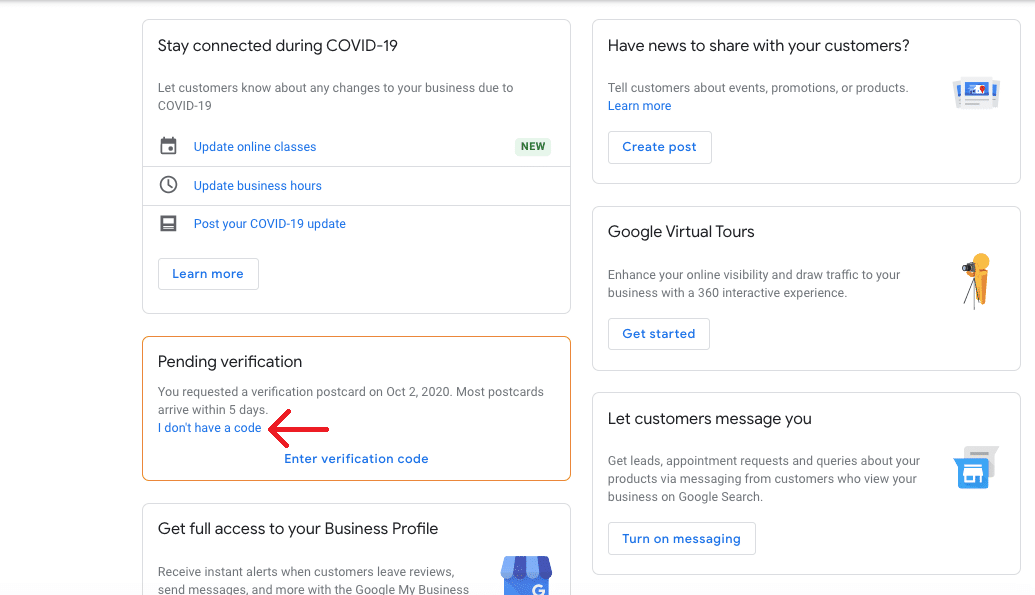 Step #6: Select "Change Method": Here you select the most convenient method for you. This can be a phone number, email address, or other methods.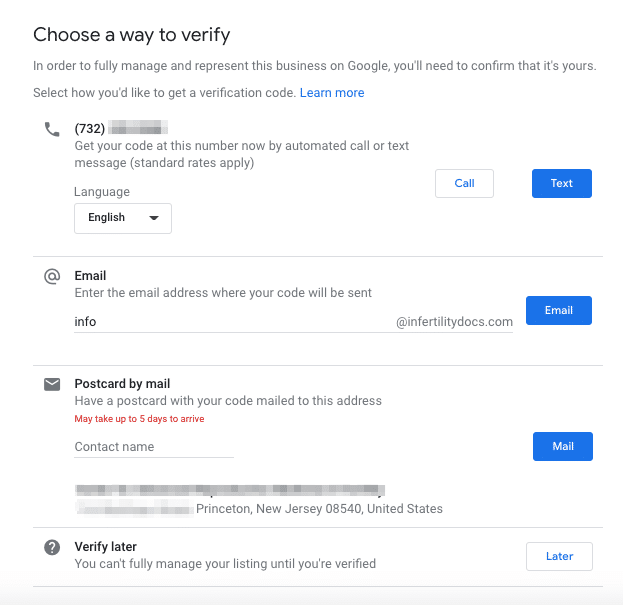 To learn more about how to verify your GMB, visit this webpage or contact the Google community.
Reason #2: Not Having Local Authority
The second reason why is my business not showing up on Google could be because it's not having high local authority to compete.
Google is highly utilizing backlinks in their algorithm when assessing web pages for ranking and that also applies to local searches as well, especially for general searches related to the industry such as "plumber near me", "vet near me", etc.
Such local keywords are extremely valuable to businesses and convert very high as 70% of consumers will visit a store because of information found online 80% of Local Searches on Mobile Phones Convert.
Just think about it, whenever you do a local search for restaurants, shops, or services, you are in a state of making a purchase, often as soon as possible.
Therefore, if your business is not appearing for such keywords, you are losing a lot of money and the reason could be because you do not have website authority to compete.
How to Increase Local Authority for SEO
To increase your website local authority there are several things I recommend you to do:
Start doing citation building: Register your business on local directories, chambers of commerce, and local listings.
Start collecting reviews: Not any reviews, make sure you have good reviews in terms of numbers and quality. If your competitors have on average 50 reviews with 4.2 stars, you need to at least match this.
Respond to Reviews and Q&A: Google is focusing on your engagement with your customers or leads. You should respond to your reviews and questions as soon as possible!
Start with link building: There are a lot of link building strategies you can start with to increase your website authority. I recommend you build backlinks on websites that mostly drive users from your target country.
Start with local PR: According to John Mueller from Google, a Press Release for SEO is one of the best ways to earn high-quality backlinks. Try to build coverage from local news sites, blogs, etc.
Ensure Your NAP Information is Consistent: Your Business Name, Address, and Phone number should be consistent across all directories, listings, and other sites and they match with your website.
Add photos: Try to consistently add new photos of our place, people, outside, and anything related to your location.
Use posts: Posts are a great way to promote your business and they help with ranking. More active businesses get promoted by the Google algorithm.
Reason #3: GMB Suspended or Removed
Google My Business is one of the top local listings where you can register your business to connect with consumers that are searching for your products or services and if it gets' suspended it could be another reason why your business is not showing up on Google.
In fact, many small businesses are heavily relying on GMB to bring customers to their storefront. And problems like GMB being suspended can be a big threat to businesses and another reason why my business not showing up on Google.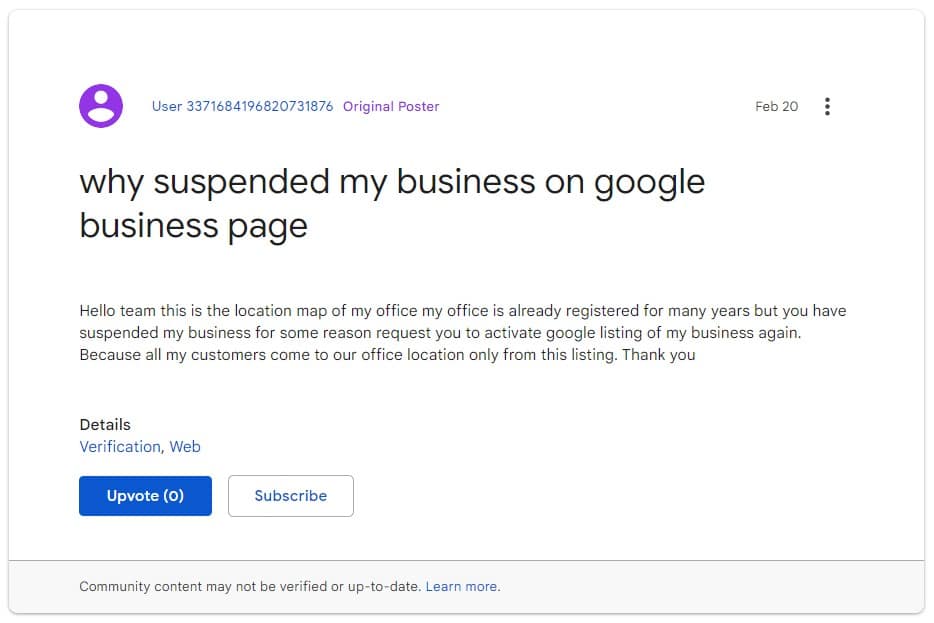 Because if GMB is being suspended, your business will no longer be visible on Google and Google Maps and you will have no control over the listing.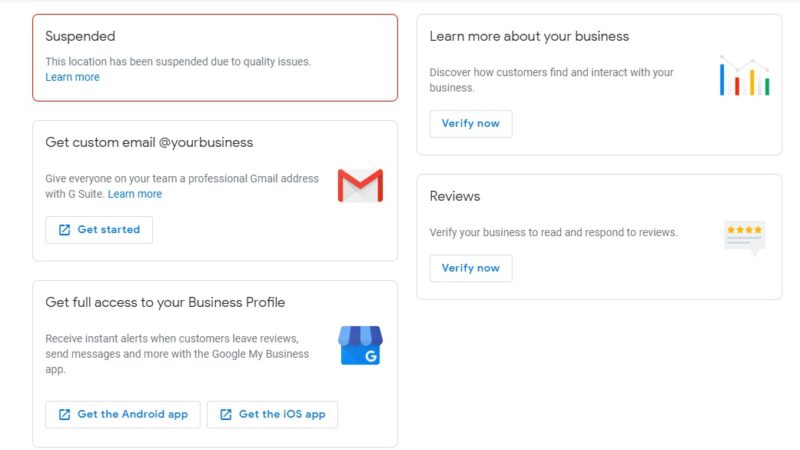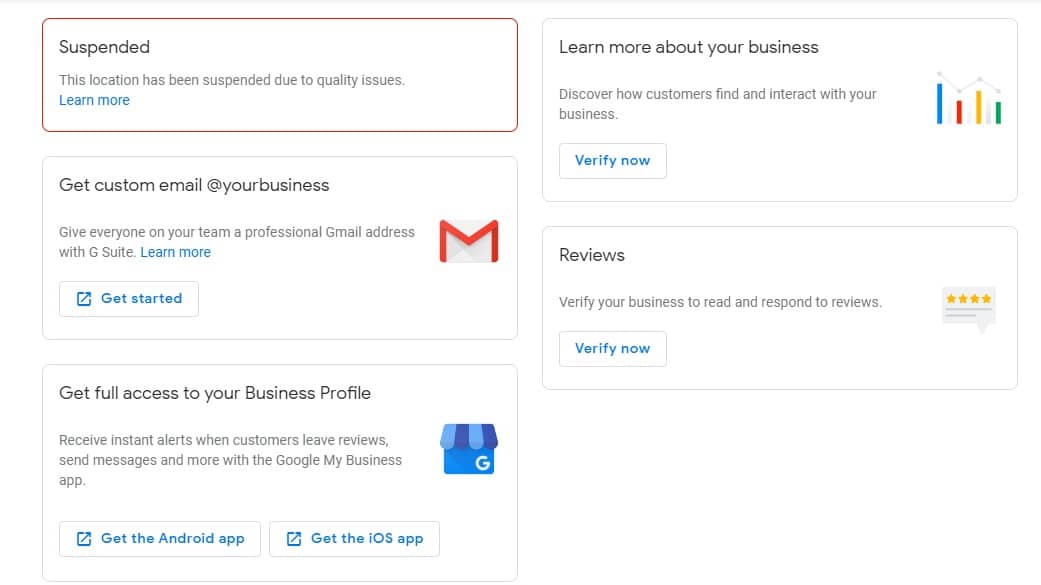 How to Fix Suspended GMB?
If your business has been suspended, it's most likely because you have not followed the Google quality guidelines for GMB.
So, first read that and try to identify what is that you have not followed and could cause your account to be suspended.
Second, once you identify it, fix your GMB account. Here you can find all the features of GMB that allow you to edit your profile. Follow this to make appropriate changes.
Lastly, once you are sure you are now following all the quality guidelines and your business is clear of violation, you can ask for reinstatement using this Google form.
I hope this will help you, with fixing your suspended account.
Reason #4: Relocated Business
Another reason why is my business not showing up on Google could be because the business has been relocated.
When your business is relocating into a different location you should make sure, you are not creating a new location but are updating your original GMB listing in order not to lose your reviews, local authority, and ranking.
However, even if done correctly, your listing will take time before it will be approved and start ranking accordingly in the new location. Thus don't worry if you don't see your business on Google the first month.
What to Do When Relocating Business in GMB?
When you are relocating your business there are a couple of best practices to follow to ensure everything goes smoothly and it yields the best results:
Update your website: Make sure your new NAP – Business Name, Address, and Phone Number is exactly as in your GMB listing.
Update existing listings and directories: Make sure all your listings and directories where your business is registered such as Facebook, YellowPages, Yelp, Bing for Places, Apple Maps, etc. are updated accordingly and follow the same format as your GMB listing.
Update your NAP on other websites: Make sure any mention of your business NAP is updated, check blogs, news sites, or forums, and reach out to them to update the information.
Reason #5: Recent Changes
Another reason why is my business not showing up on Google I see that can happen is due to recent changes.
For example, if you change your product offerings, it might take a while for Google to update these changes, and your business start ranking for those terms.
Another could be the location changes that we have already discussed.
The next reason could be your competitors started working on their rankings and actively improving them. This could cause outranking you and even disappear from Google as the location and industry become more competitive. Often I am seeing this with local services like plumbers, electricians, locksmiths, etc.
And lastly, it could also be due to outside recent changes such as algorithmic or policy changes. It's very important to follow these to understand what is required from business owners to keep their listings ranking high.
Reason #6: Not Complying with Google Guidelines
When it comes to Google, there are a lot of things you cannot do and if you do it, it can be another reason why your business not showing up on Google.
As mentioned, if you do not follow GMB guidelines your account can be suspended or removed from Google.
Therefore, you should ensure you follow the guidelines, below you can find helpful links to Google guidelines:
Here you will find everything you need to know about Google's policies and what to do and what not to do. Visit this site for more information.
Reason #7: Not Created Citations
Another reason why is my business not showing up on Google could be due to a lack of citations pointing to the business.
Search engines are using different sources to verify the authenticity of the business, some of them are internal and some are external such as business and directory listings and other external sources.
These data aggregators influence a web of businesses across the ecosystem and the consequences of not creating and maintaining accurate data can cause your business not to show up on Google. It's aslo recommended to add Google Business Profile backlinks to your website to associate it together.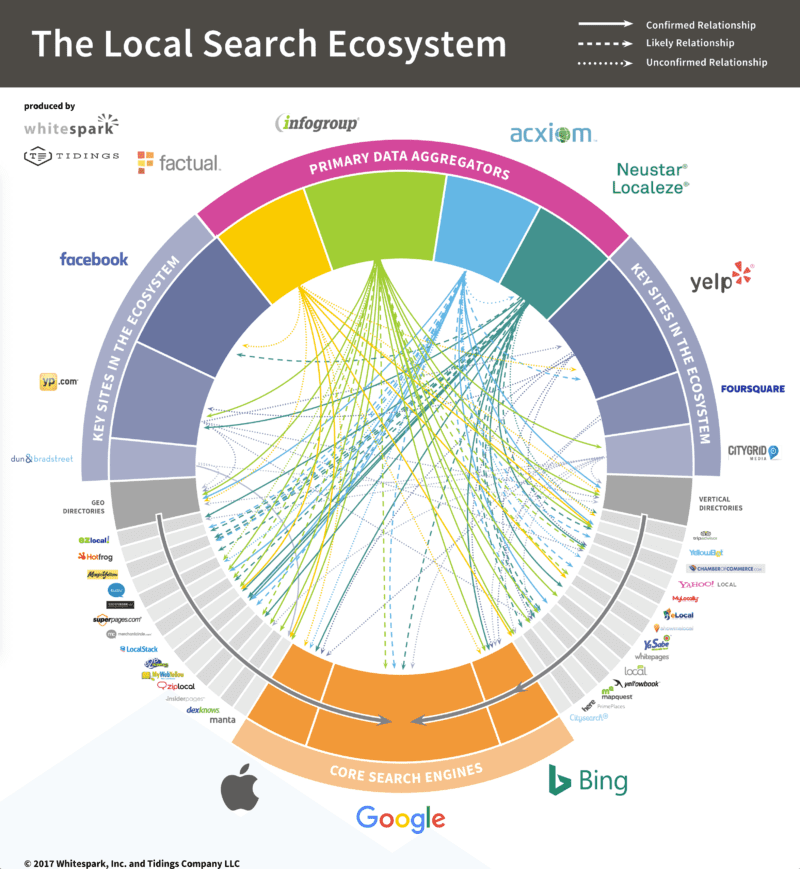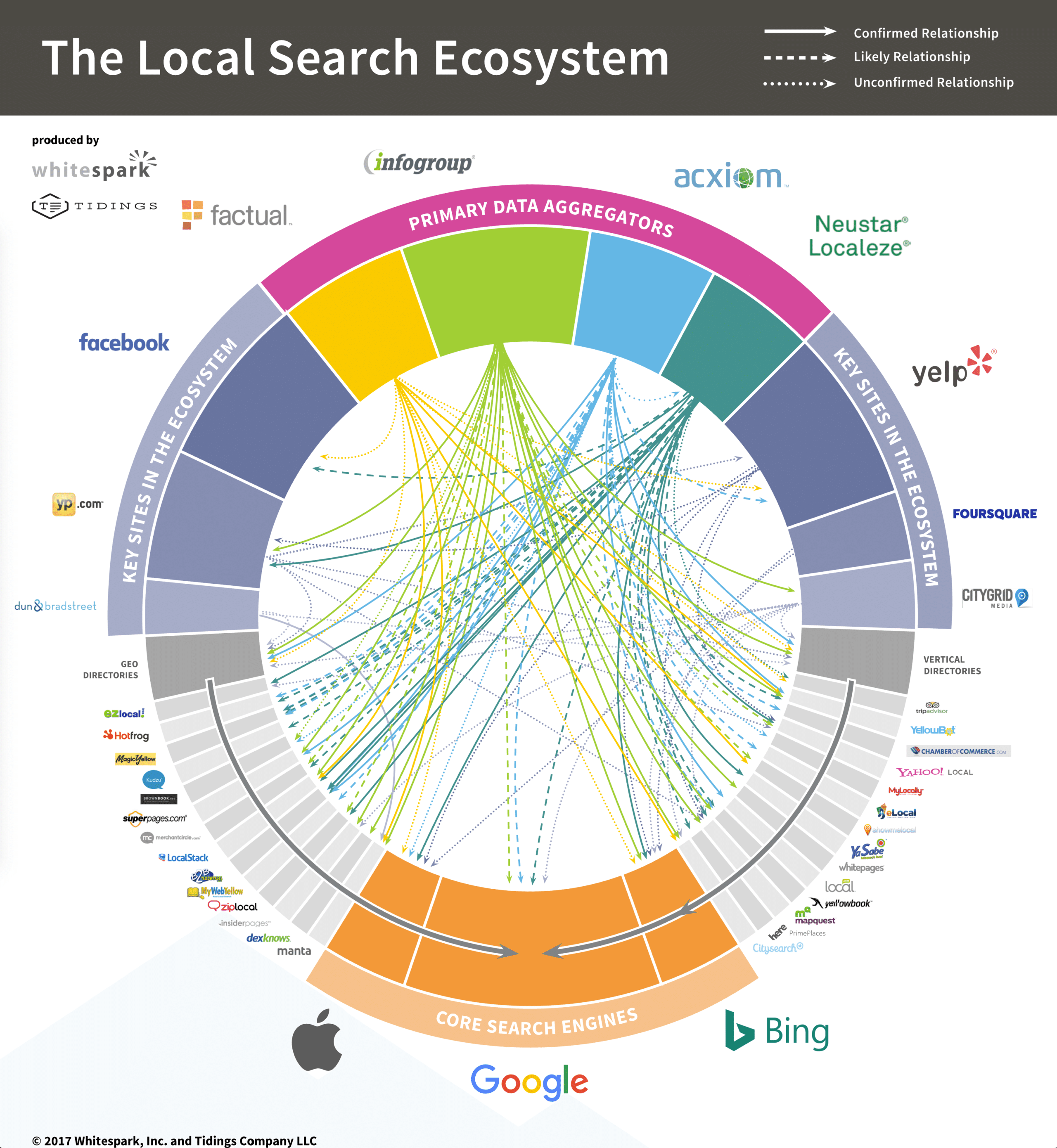 How to Start with Citation Building?
The number of location data directories, publishers, and aggregators that help search engines draw the local search results can be overwhelming, to say the least.
However, to simplify it for you, I will divide all the listings into four separate categories that you should focus on when you are starting with citation building:
General Listings: These are the general listings that every small and large business regardless of industry and location should register. Examples of such listings would be Google My Business, Bing for Places, Apple Maps, YellowPages, Yelp, Jobstreet, etc.
Location Listings: These are the location-specific listings where you are selling your products or services. This could go from a territorial such as EU listings, to country listing, city listing all the way down district listing. Examples of such listings would be your local chamber of commerce, EuroPages, United States Business Directory, or Local NYC.
Industry/Category Listings: These listings are specific to your industry and the category of your business. For example, if you are a lawyer company then you would find lawyer directories, listings, and other sites. It could be also a more specific category like divorce lawyers only listings.
Social Media Listings: These are any social media sites where you can register your business or create your company page. The type would be Facebook, LinkedIn, Twitter, Pinterest, Instagram, and others.
To speed up the process you can use listing management tools that help you to create and manage your listings easily and efficiently. My recommended listing management tools are:
You can also use freelancers on Fiverr to create these listings for you, which is another good way to do that.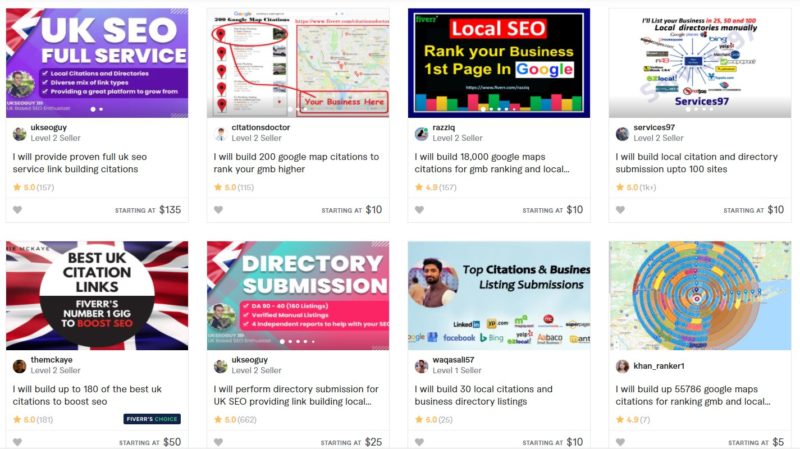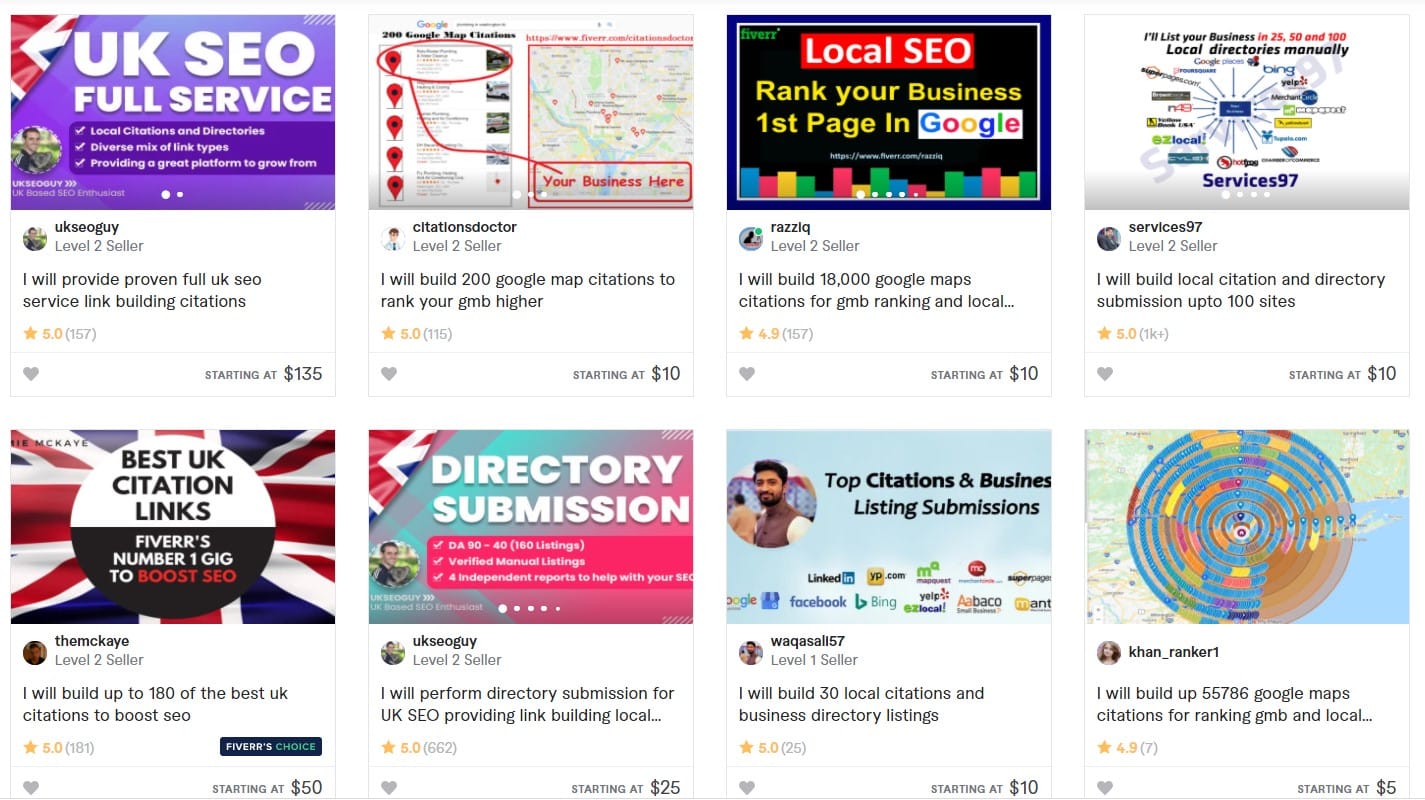 Also, in SE Ranking Marketing Plan you'll get a list of business listings that you can follow. It gives you different global and local listings for each country.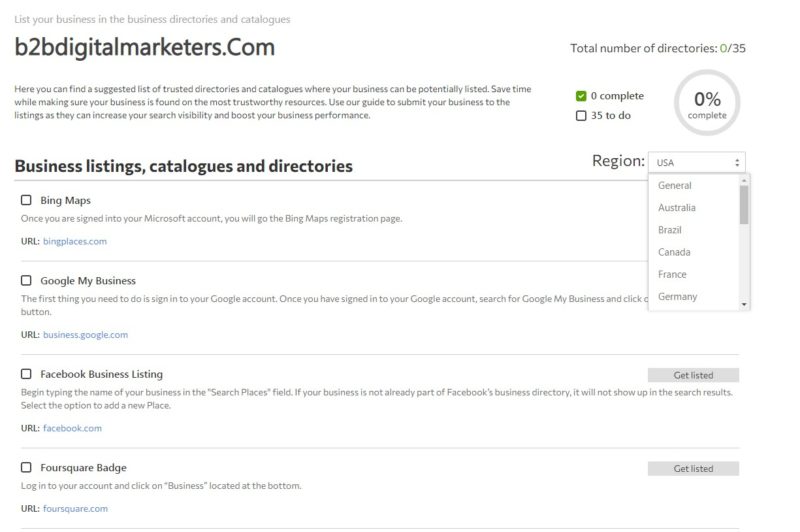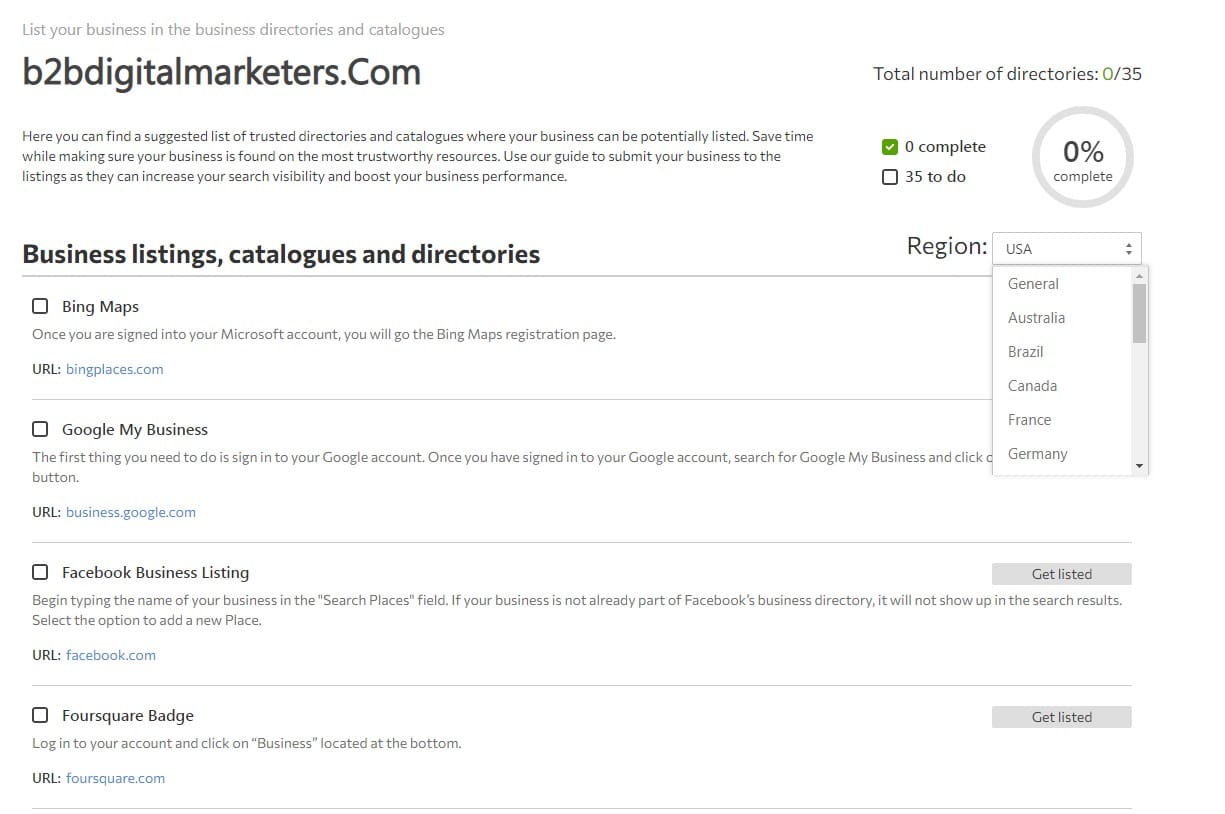 Reason #8: I am a New Business
A very common reason that can answer your question why is my business not showing up on Google is because it's a new business.
When a new business is created, there is very little information about the business, making it hard for people and search engines to verify it, thus trust it.
You must understand that to rank in Google search, you must create trust with Google and prove that you are a legitimate business and trusted source, that provides high-quality information, services, and/or products.
Therefore, if you are a new business, then it's very hard to show up on Google even if it is your branded search terms or easy to rank long-tail keywords.
What to Do to Speed Up the Process?
Now, even if you are a new business, there are several things you can do, to speed up the process and establish yourself as a trusted source, so you can start showing up on Google. Here are some of the best tips to speed up the process:
Start building your social fortress: As mentioned this includes all the directory and business listings, social media, and other third-party sites, where you can register your business for users to find you, and search engines use it as a data source.
Create active social media channels: It's also very important to create active social media, where you share your content, news, and other content from your site. Your goal is to increase your following and social shares as Google can use this as a ranking signal.
Start low-tier link building: Backlinks are the backbone of rating on Google. Therefore you should start with low-tier link building like guest posting and infographic link building.
Publish new content consistently: Google needs content, period. It's what their business model is made of. Thus Google loves websites that create high-quality content on a consistent basis.
If you or your team start following these best practices, you can be start ranking within just a few months and start driving organic traffic that converts for your business.
Reason #9: Inconsistent Listings
Another reason to answer the question of why is my business not showing up on Google could be due to the inconsistent listings.
In fact, most common local business search ranking issues are due to inconsistent listings.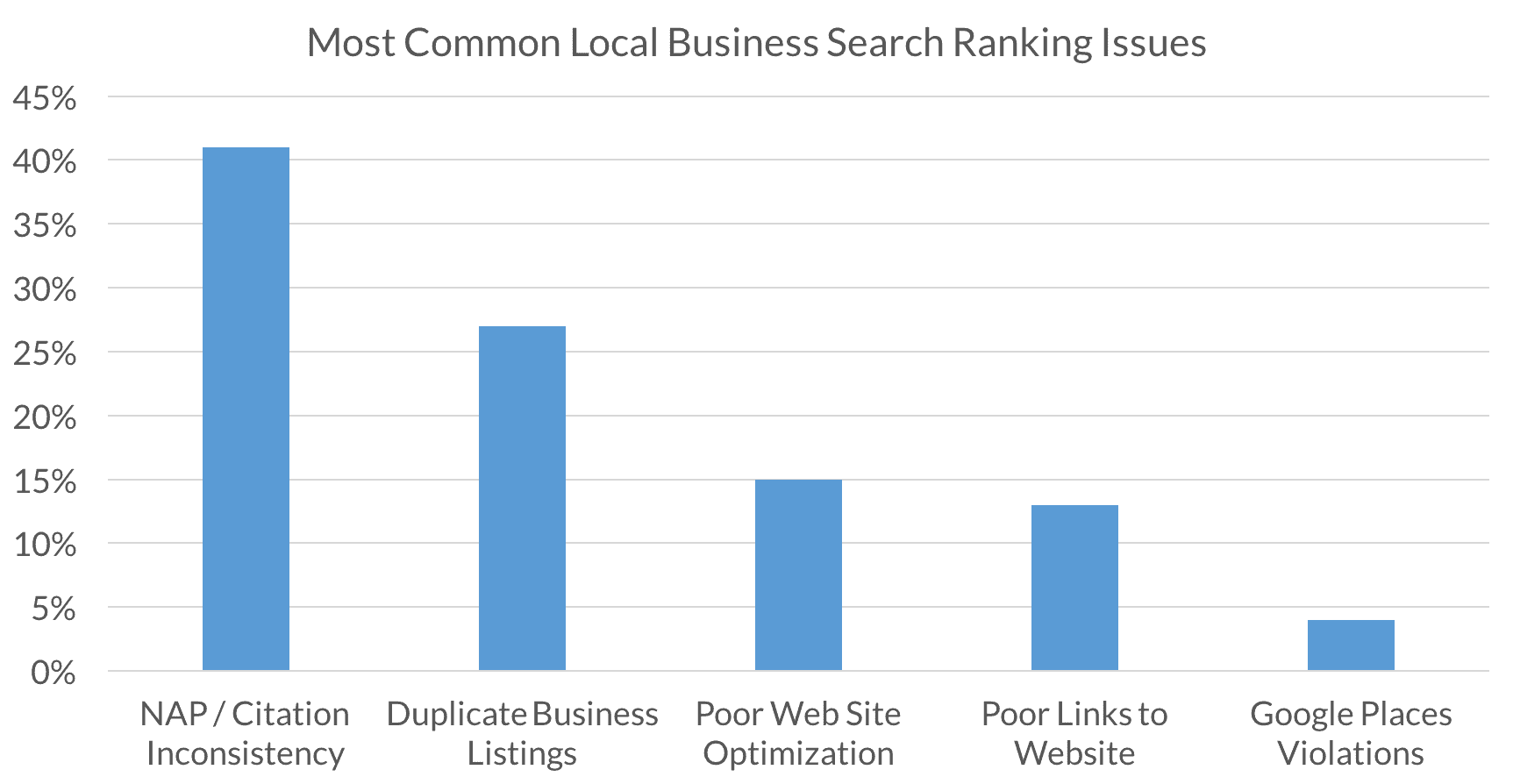 Just like said, Google is using local search portals to draw search results, this includes looking at the NAP information, which means getting the location data that influences which locations your business appears.
Therefore, if those data are not matching, Google will be confused and will have a hard time recognizing the location of your business which in result means you might not appear on Google for your target location or branded queries.
How to Fix Inconsistent Listings?
When it comes to fixing your inconsistent listing you need to be precise with the way how you post your NAP information as well as what websites you are including. Everything needs to match, so here s my three-step process to fix your inconsistent listings:
(NAP + W = Name, Address, Phone + Website)
Step #1: Know Your NAP + W: You might think, this is easy, however, this is where most businesses make a mistake. So, to know your exact business address, I recommend you create your GMB listing first, get approved, and include your business name, address, phone number, and website.
Once everything is approved you will want to take the business name and address from your GMB listing setting. This is because sometimes Google changes the address to fit it for Google Maps and because most of the listings are using Google maps, you want to make sure you are following their format.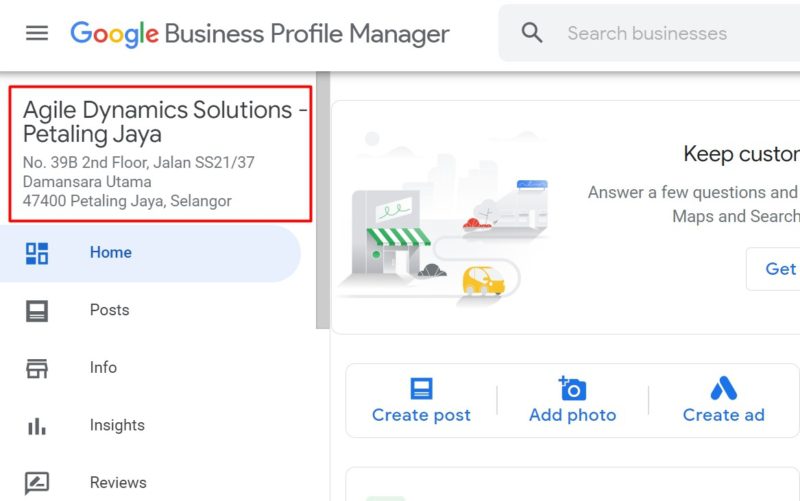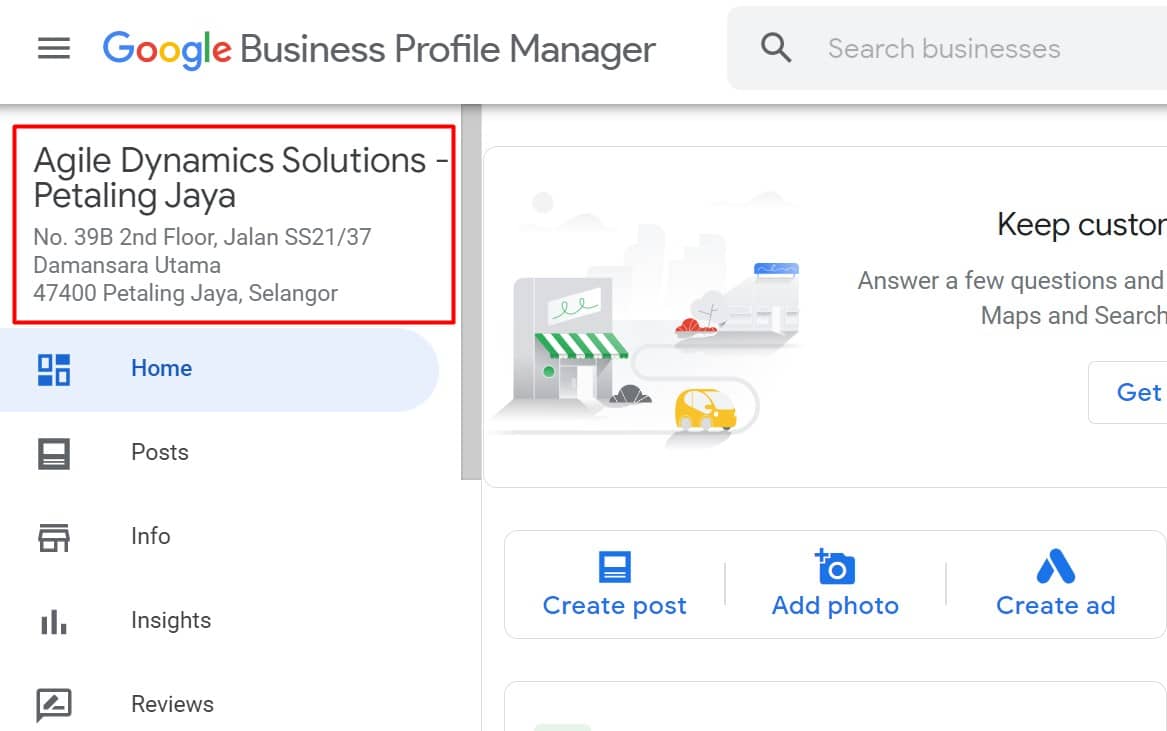 Step #2: Use the exact NAP+W from Your GMB listing: Then every time you create a new listing, use the exact same information. For the website make sure you are using only the homepage (https://example.com) don't use your company page (https://example.com/about-us/) or other pages of your website.
Step #3: Find all your listings: Lastly find all your listings and update them accordingly. Make sure you update all your business and directory listings, business registration addresses within the government body, better business bureau listings, data providers, and other major online listings.
Reason #10: Website Not Being Indexed
The next reason that can answer your question why is my business not showing up on Google could be because your website is not being indexed properly or at all.
Your website is one of the top sources Google is getting data from to understand your business so it can rank your website for related local search queries and in the Google maps as well.
However, if your website cannot be indexed or is not indexed properly it will result in not appearing on Google and its properties.
Therefore, it's essential you make sure Google index your website and you need to make sure your website is indexable by Google.
How to Index Your Website on Google?
Google is using numerous ways to crawl web pages and index them in their SERP so here are several best practices to help Google index your website:
Get Google Search Console: This nifty tool helps you to index your website on Google. Every time you publish a new web page on your website you can inspect it if the page is on Google and if not, you can request indexing.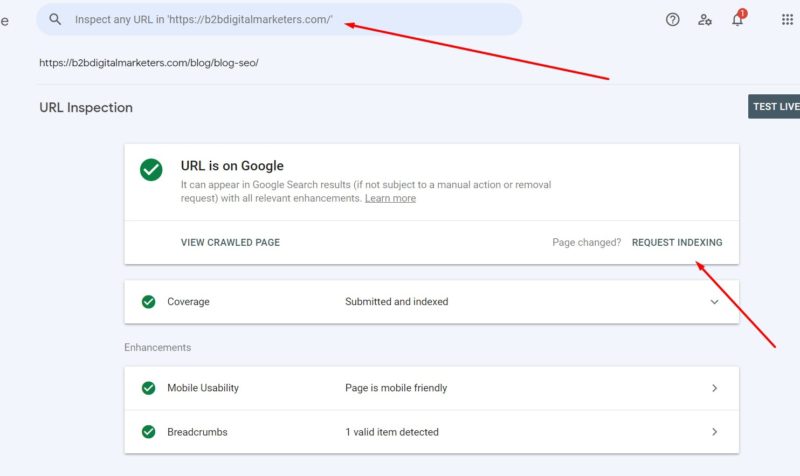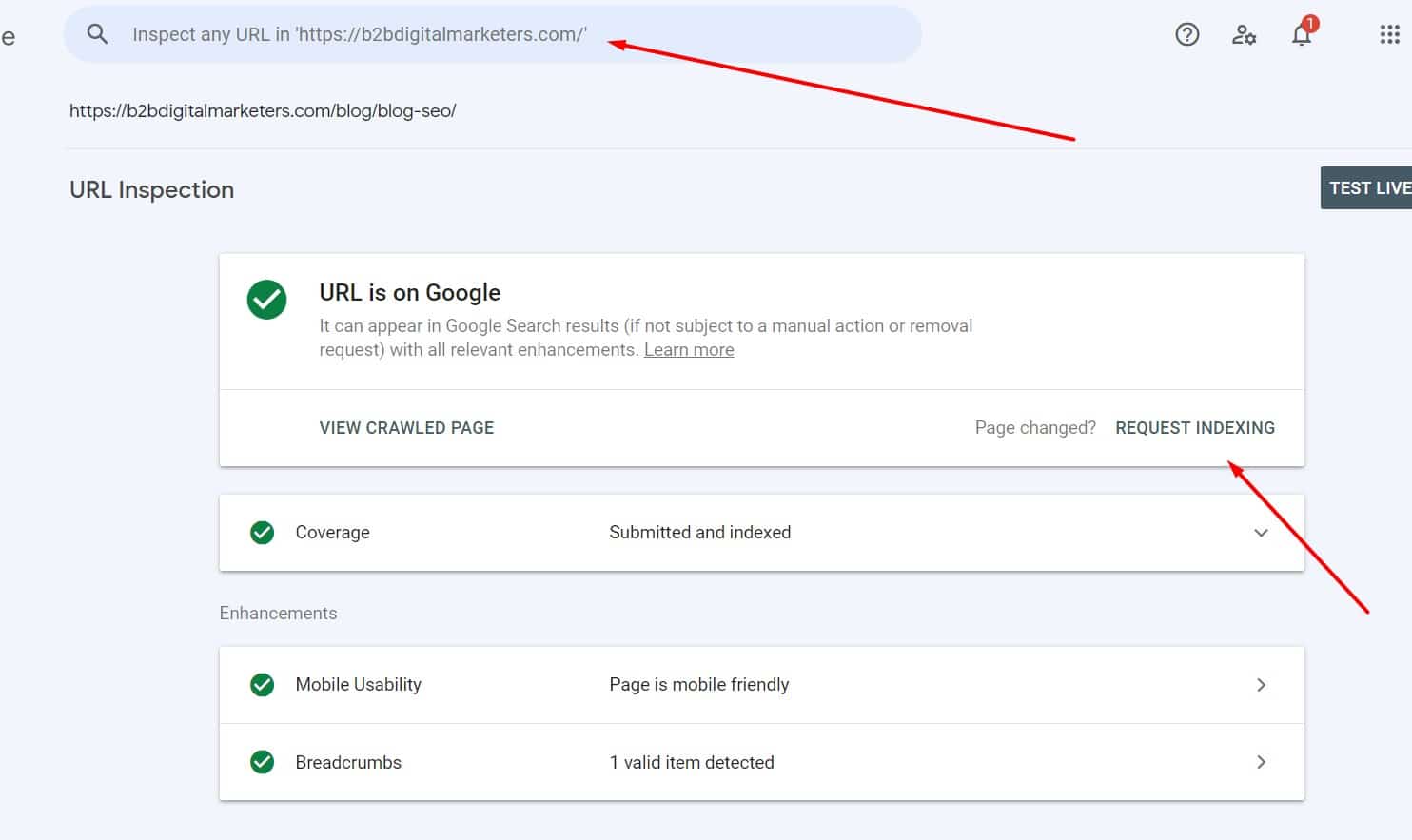 Check Coverage report: Google search console also shows you any issues on your website, this includes if your web pages are indexed or not.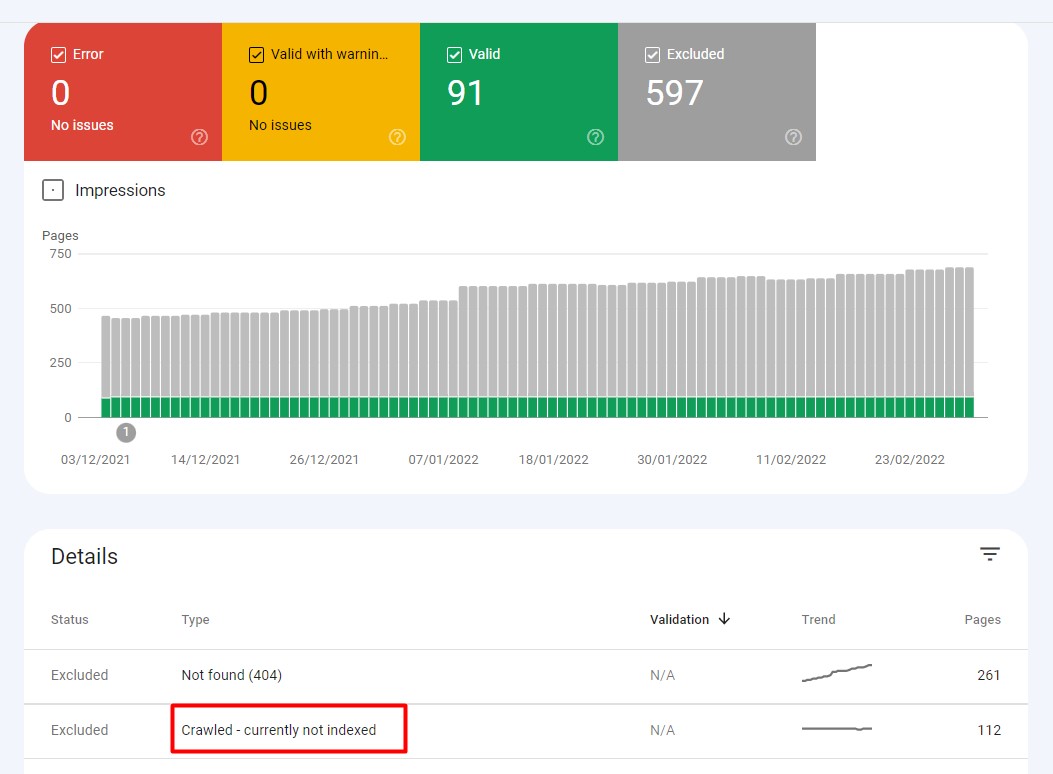 Remove noindex tags on your web pages: On some occasions what can happen is that you or somebody mistakenly include noindex tags on your webpage. If you are using a WordPress plugin such as RankMath, you can easily set it for each of your web pages.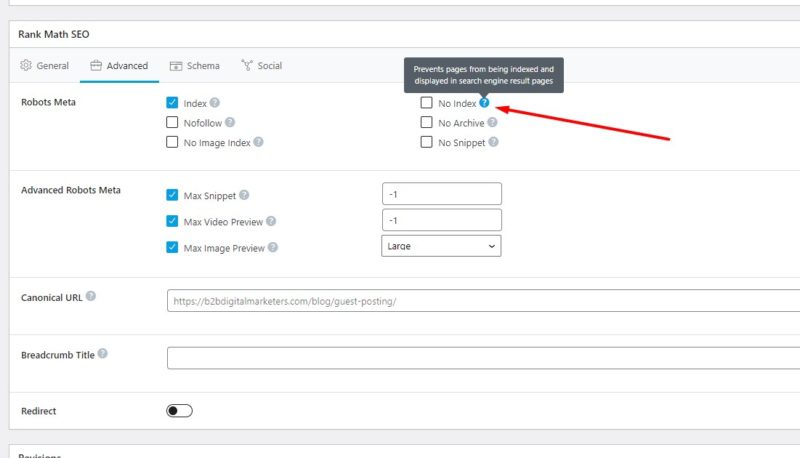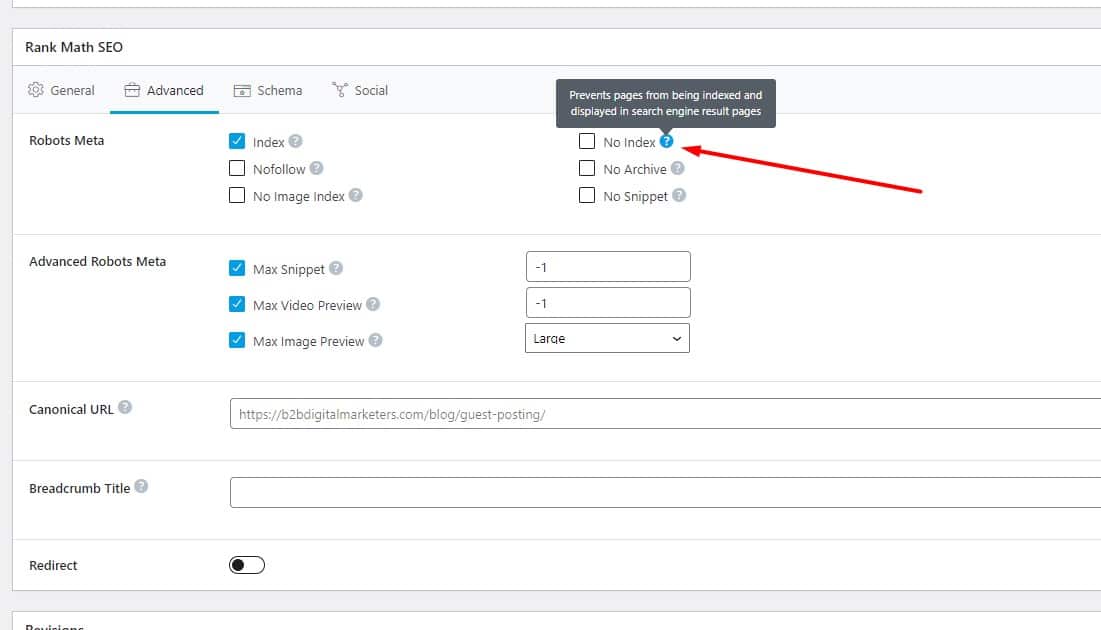 Improve Internal Linking Strategy for SEO: Google is using predominantly links to crawl your website and the entire internet. A good internal linking strategy helps you to properly index your website.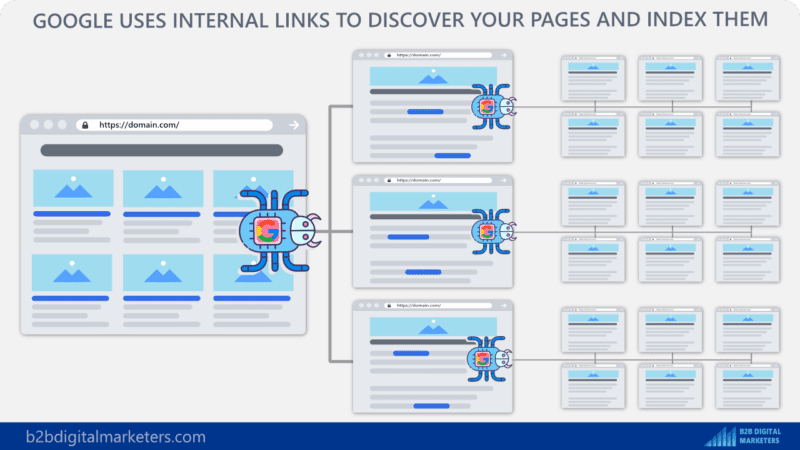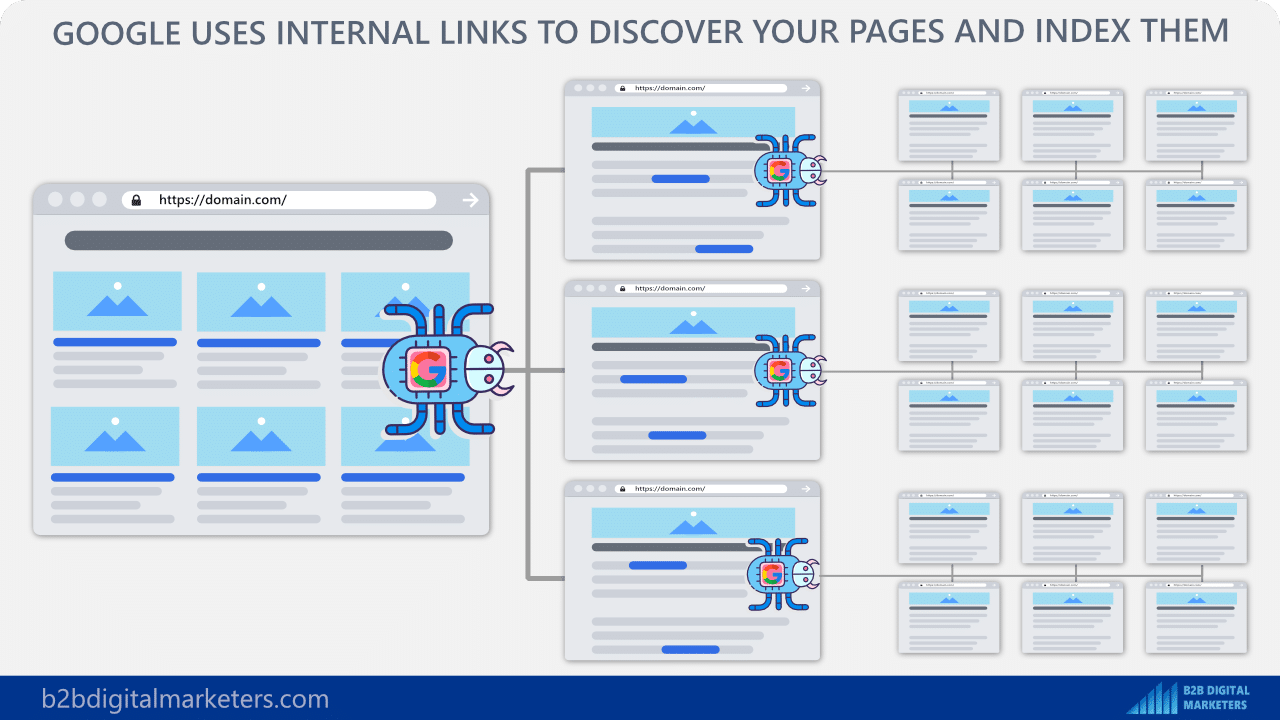 Remove Crawl blocks in your robot.txt file: This file is specifically made to tell Google what pages, subfolders, and other parts of your website cannot be crawled and indexed. So, make sure you are not blocking your important web pages.
Check if your website is being penalized: Similarly, to penalization in GMB, if your website is being penalized you will most likely not show up on Google. So, if you go to Google Search Console, they will show you a notification if you are being penalized and why.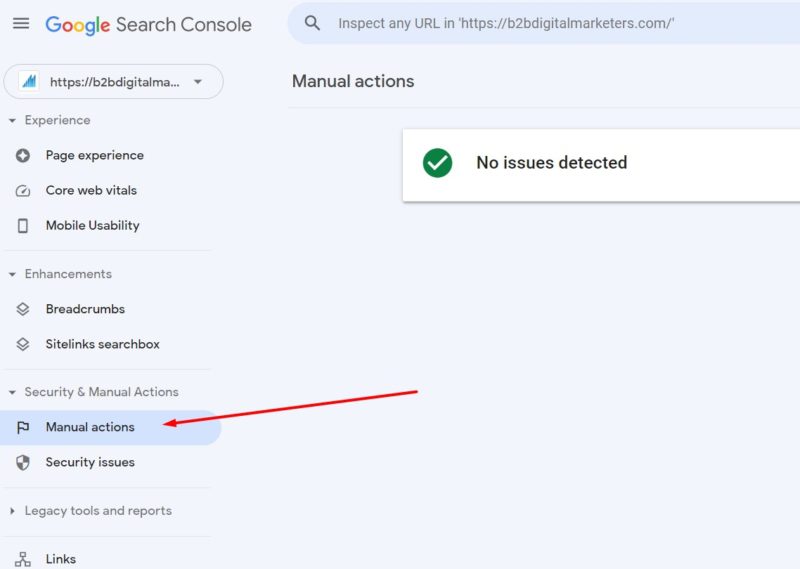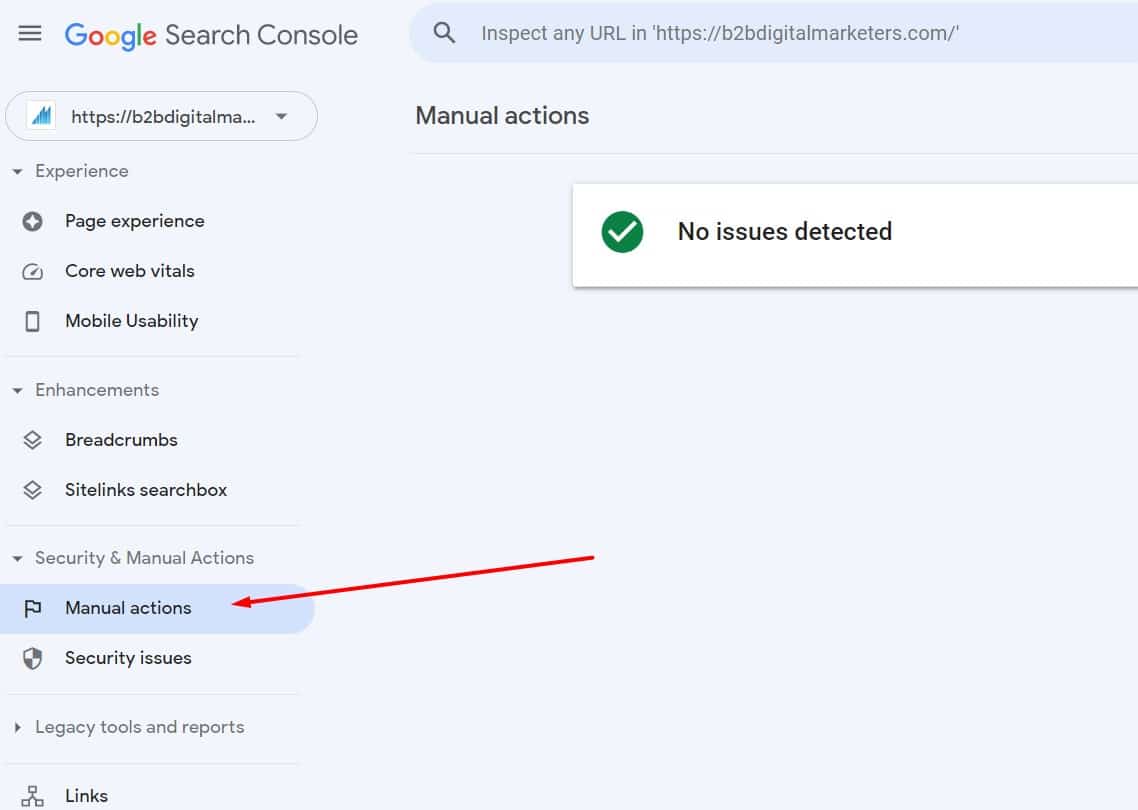 Ensure your website health is optimal: Using website audit tools like SE Ranking helps you to identify any website issue that can hurt your SEO performance and can prevent your site from being crawled and indexed. Make sure to regularly run website audits to fix issues on the website. Try to keep your website healthy above 80.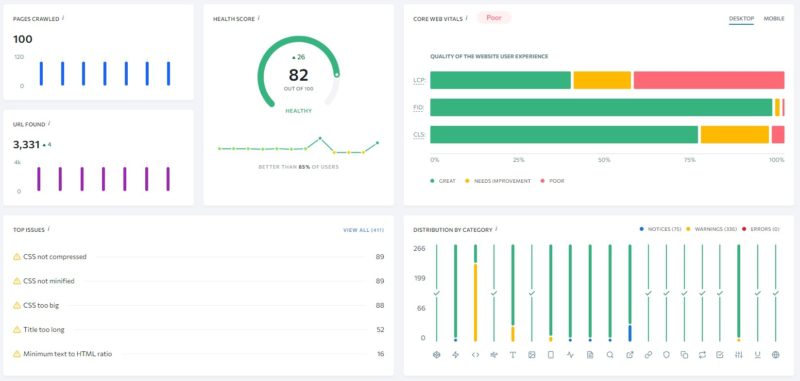 Reason #11: Not correct GMB Setting
Another reason why is your business not showing up on Google could be due to an incorrect GMB setting.
Not taking full advantage of the GMB features will likely cause losing you many opportunities in terms of leads or sales for your business.
However, a lack of proper setting will result in similar consequences. If you want to get discover on Google and Google maps, get foot traffic to your store, then you need to properly set up your GMB listing.
The most common issues with GMB settings are:
Missing/Incorrect category tags: Your business categories should be as relevant as possible to your business. For example, if you are providing gardening services only, you don't want to use business tags such as "Garden Furniture Shop" or "Garden building supplier" unless you are providing such services or products.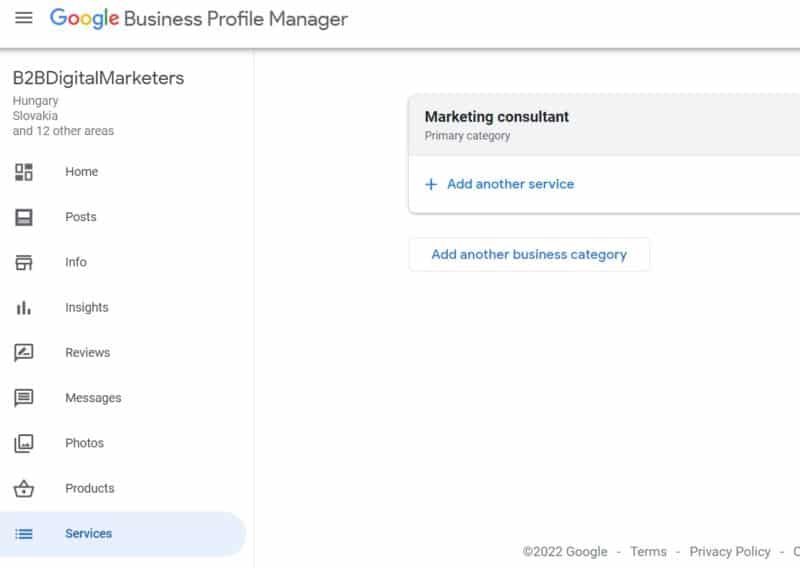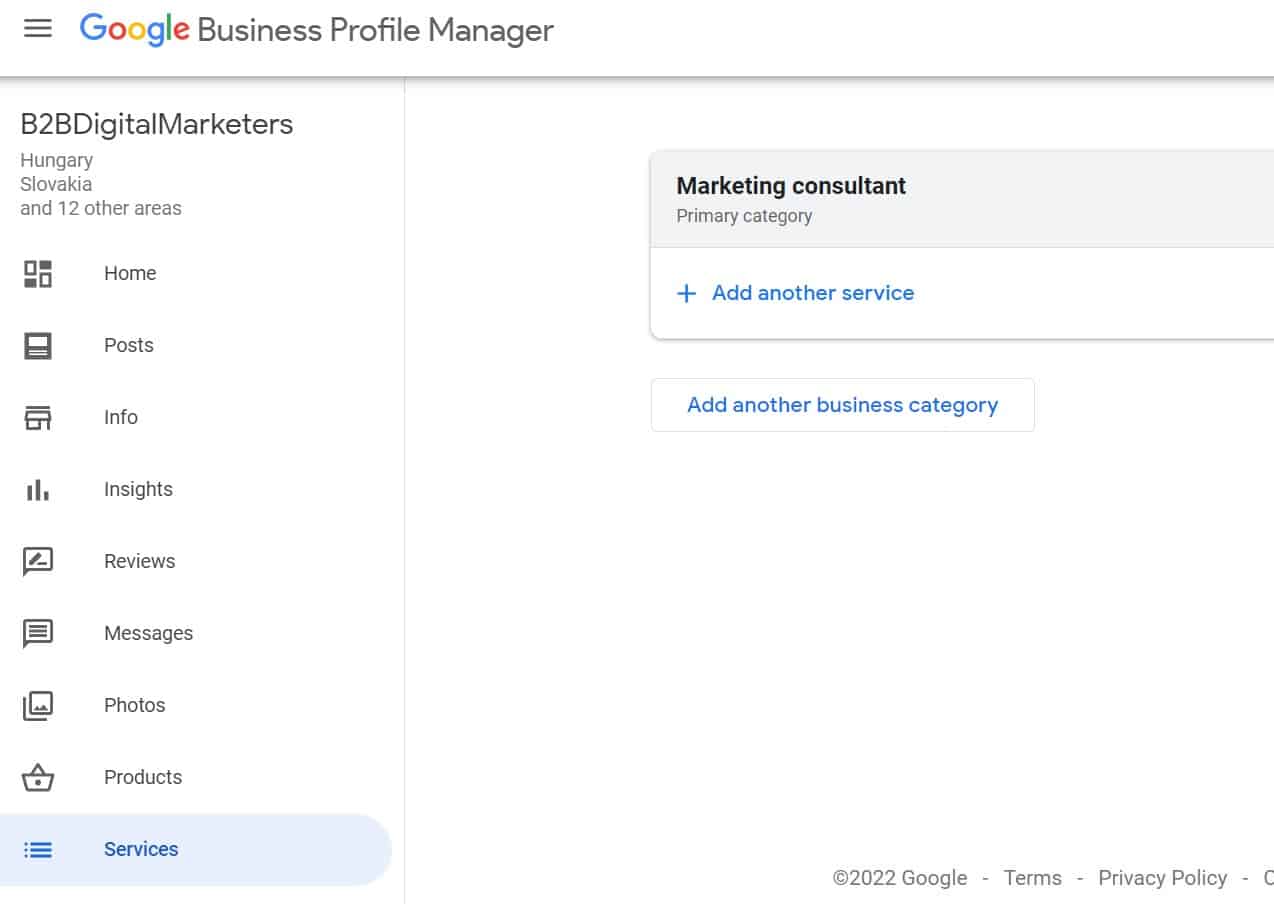 Incorrect serving locations: If you are providing services only in a certain neighborhood you want to make sure you will use only those and do not put general locations like the United States.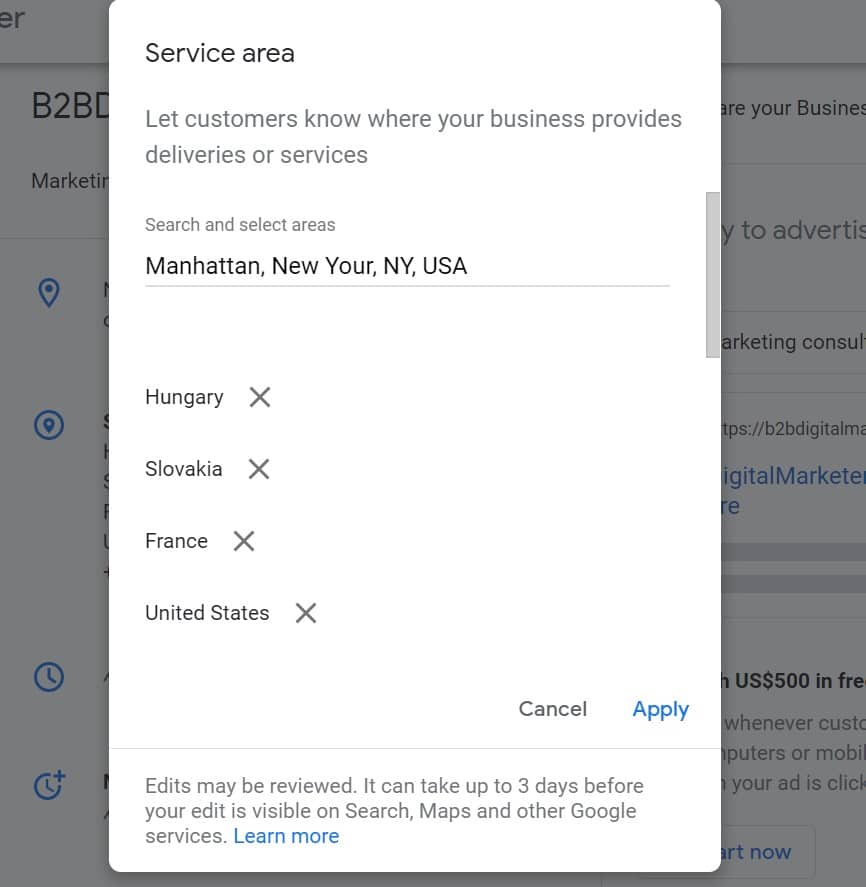 Incorrect address: As already discussed if you provide an incorrect address or not consistent address, then your business might not show up on Google either.
Missing products or services: To ensure you are really maximizing the opportunities and have a chance to appear for relevant local services, you must ensure have set up your products and services correctly.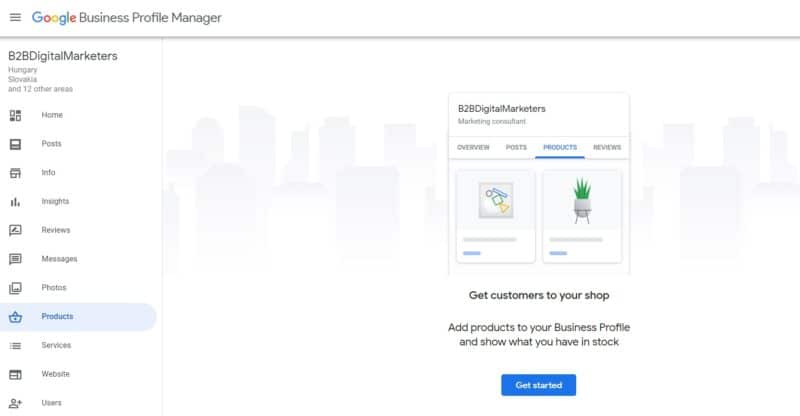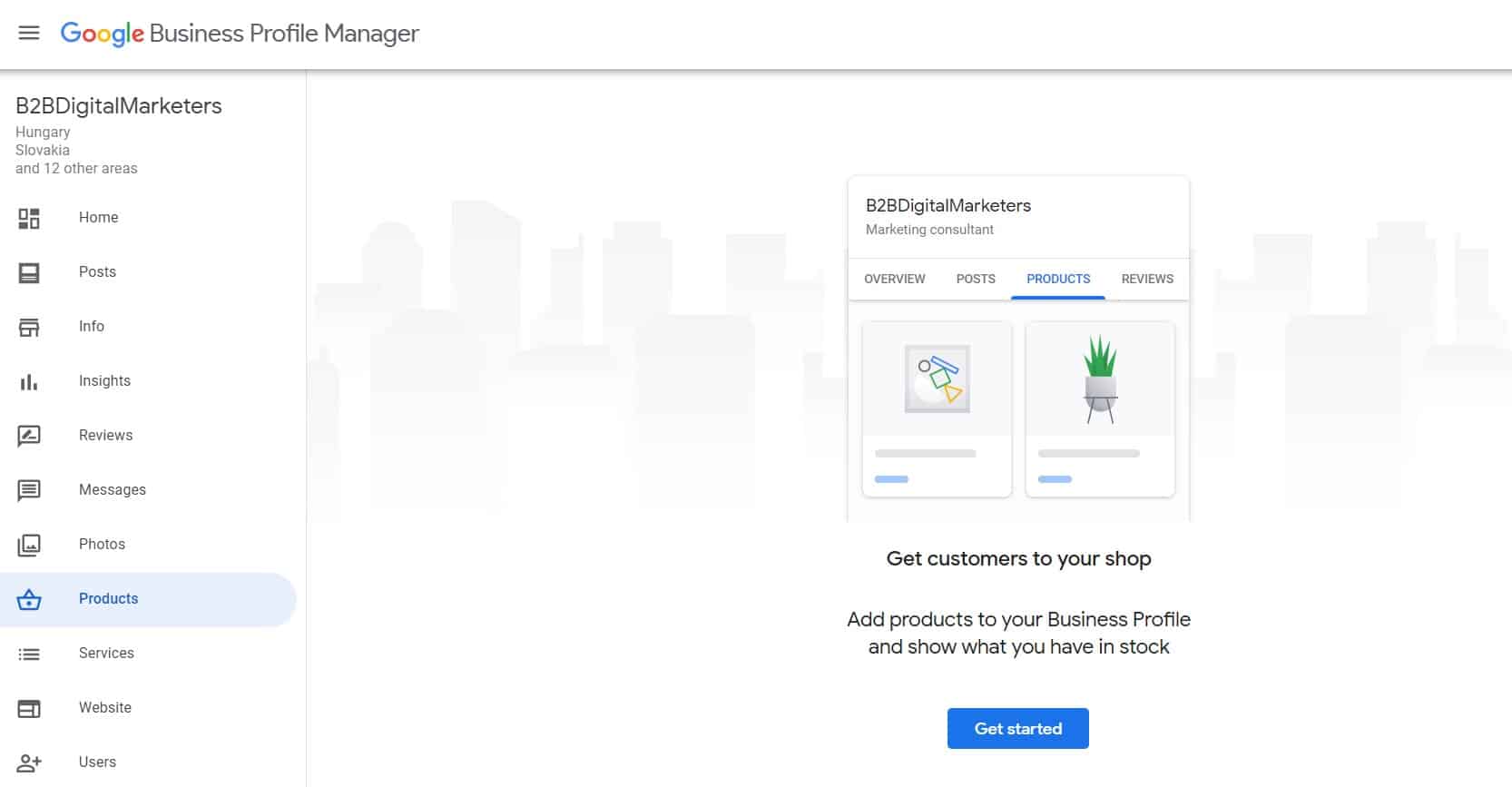 Many businesses around the world are using so-called coworking offices, or one office where multiple companies are registered.
The major benefit of using the shared address is that it enables companies to have multiple offices around cities or even countries at a fraction of the cost so they can operate there.
However, once you want to create Google My Business listing with an address at one of these coworking spaces, it might prevent you from your business showing up on Google.
As stated by GMB guidelines:
"Businesses can't list an office at a co-working space unless that office maintains clear signage, receives customers at the location during business hours, and is staffed during business hours by your business staff."
As you can see, Google specifically has three rules for co-working spaces to be eligible to have a Google My Business Listing:
Signage that is clear and visible of the business name.
The business needs to be able to accept customers at that location during business hours.
The business must be staffed during business hours.
If any of these conditions cannot be met, then your co-working office might not be eligible for their listings and your business won't show up on Google.
I definitely recommend you read more about their guidelines to understand better their address policy, service area, and how you can better reach your customers in your target area with GMB.
Reason #13: Negative SEO Attack
And the last reason that could be why is my website not showing up on Google is because of a Negative SEO attack.
Negative SEO attack is often launched by competitors to affect your ranking in Google in order to overtake you. It can take many different forms from hacking your site, scrapping your content to giving you bad backlinks and manipulating keywords ranking to rank you for inappropriate keywords.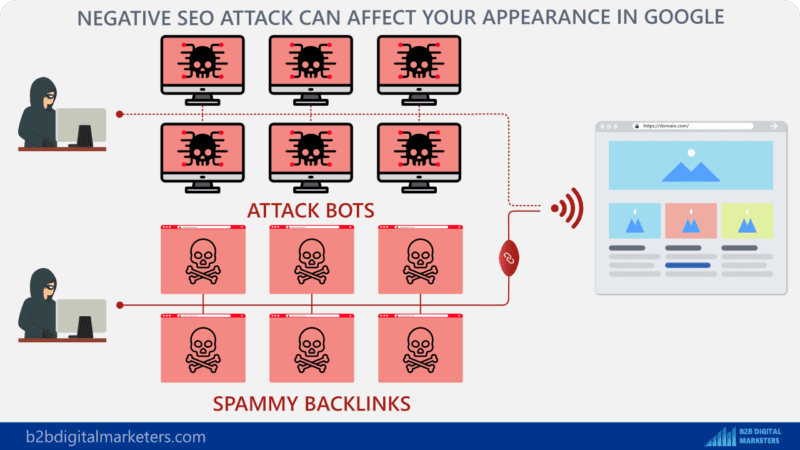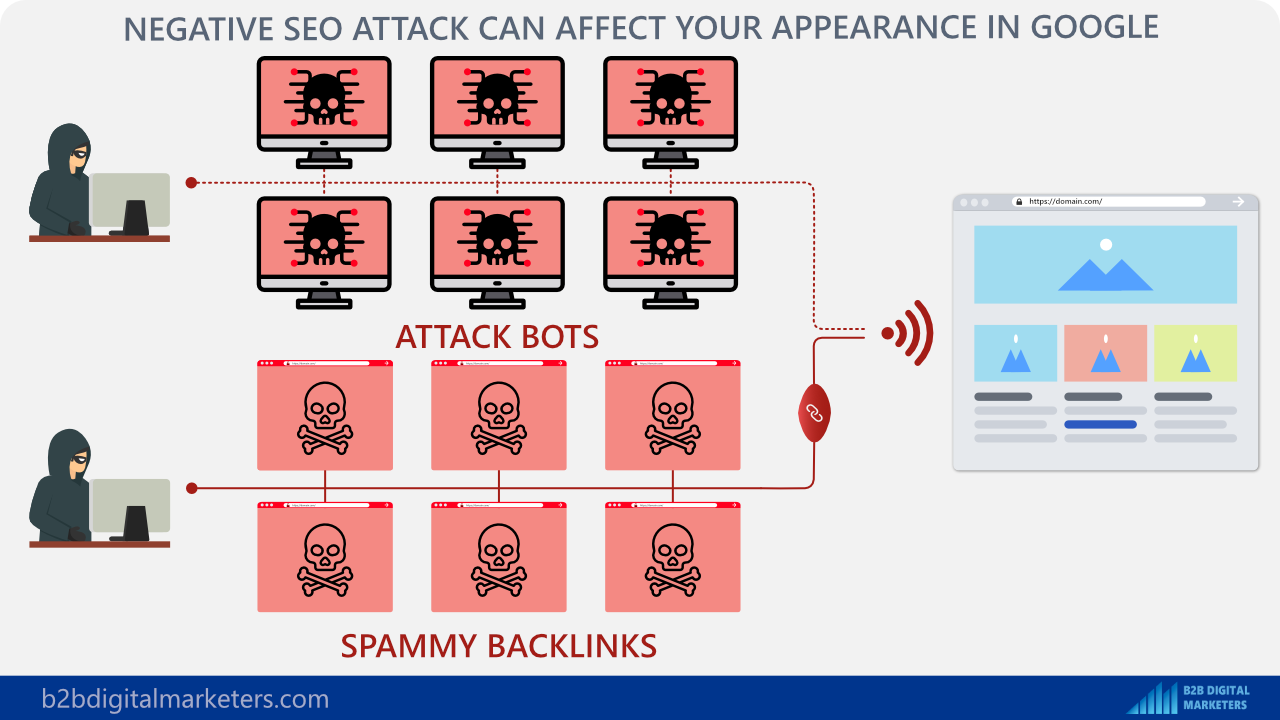 Such an example could be an Ahrefs product page being attacked with Negative SEO. As you can see they are ranking for some adult stuff keywords.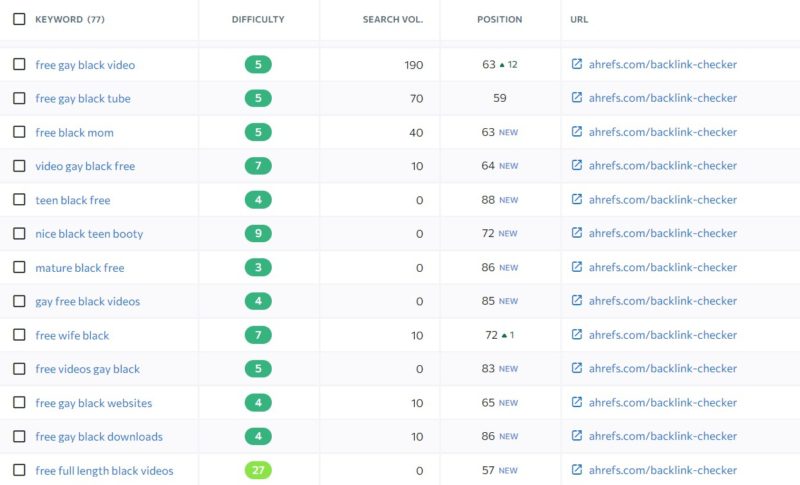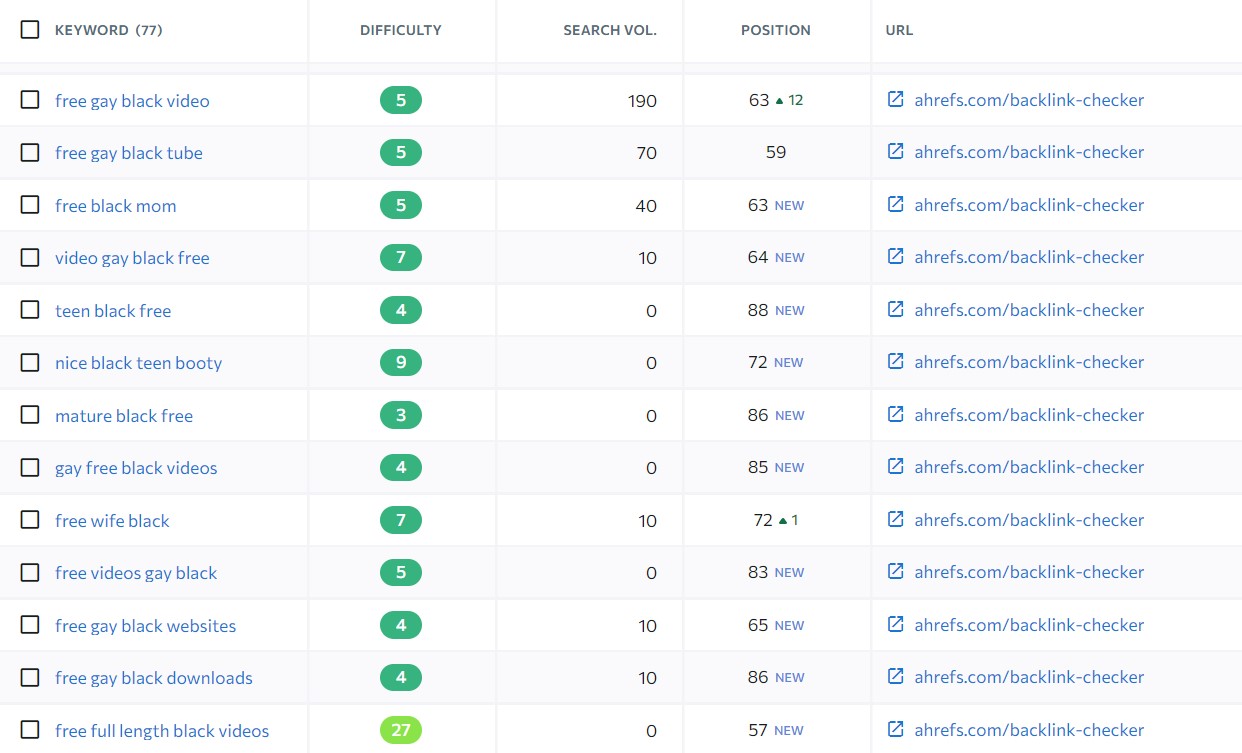 And while Google is saying they have a lot of experience with negative SEO and most of them are automatically detected and ignored.
However, the risk is still there, therefore you should regularly look out for any signs of a Negative SEO attack, as you might get a manual penalty from Google which would results in your business and website not showing up on Google at all.
So the best way to do that is by doing a backlink audit. To learn more you can watch my video on how to do it to avoid Google penalty.
Conclusion:
As you can see, there can be many different reasons why my business does not show up on Google, and sometimes it can be hard to find the real reason.
And of course, if you can, it's always better to hire a professional to help you fix it. However, if you are making your own website and want to learn SEO, then eliminating these reasons why by one is a great way to learn how SEO and Google work.
I hope you have learned something new. Did I forget something, do you want to share your comments with me? Come to my YouTube channel and let me know your thoughts in the comment section.
Related Articles:
Also, check out our SEO hub page to find all our SEO resources.
Disclaimer
This article was created by Eduard Dziak and may contain affiliate links. The following were used to optimize the article for the best user and search engine experience include:
SE Ranking for keyword research and on-page SEO optimization
Surfer SEO for SEO-friendly content creation for users and search engines.
Jasper AI for grammar correction and information enhancement.
The article is based on the author's own experience and knowledge, drawn from both their own work and that of their clients, to provide the latest, proven methods.