If you're looking for a way to improve your content creation capabilities, you've likely heard about copy ai. Copy ai is a tool that can automatically generate text based on the style of other pieces of content. Its ability to do this makes it valuable in many different contexts, from generating headlines and pulling quotes to creating entire blog posts or whitepapers—and even books!
However, there are some limitations to using copy ai; namely, that its results aren't always great. That's why I want to introduce you to some Copy AI alternatives free and paid so that you can find one (or more) that works best for your needs:
Top 3 Copy AI Alternatives in 2023
TL;DR: Best Copy AI Alternatives
1. Jasper AI Alternative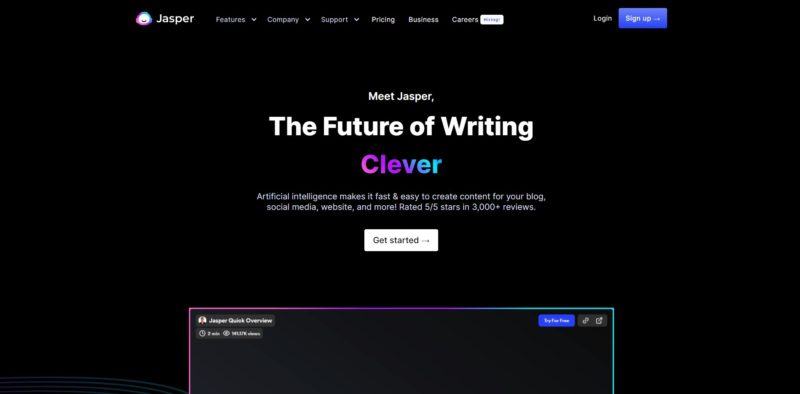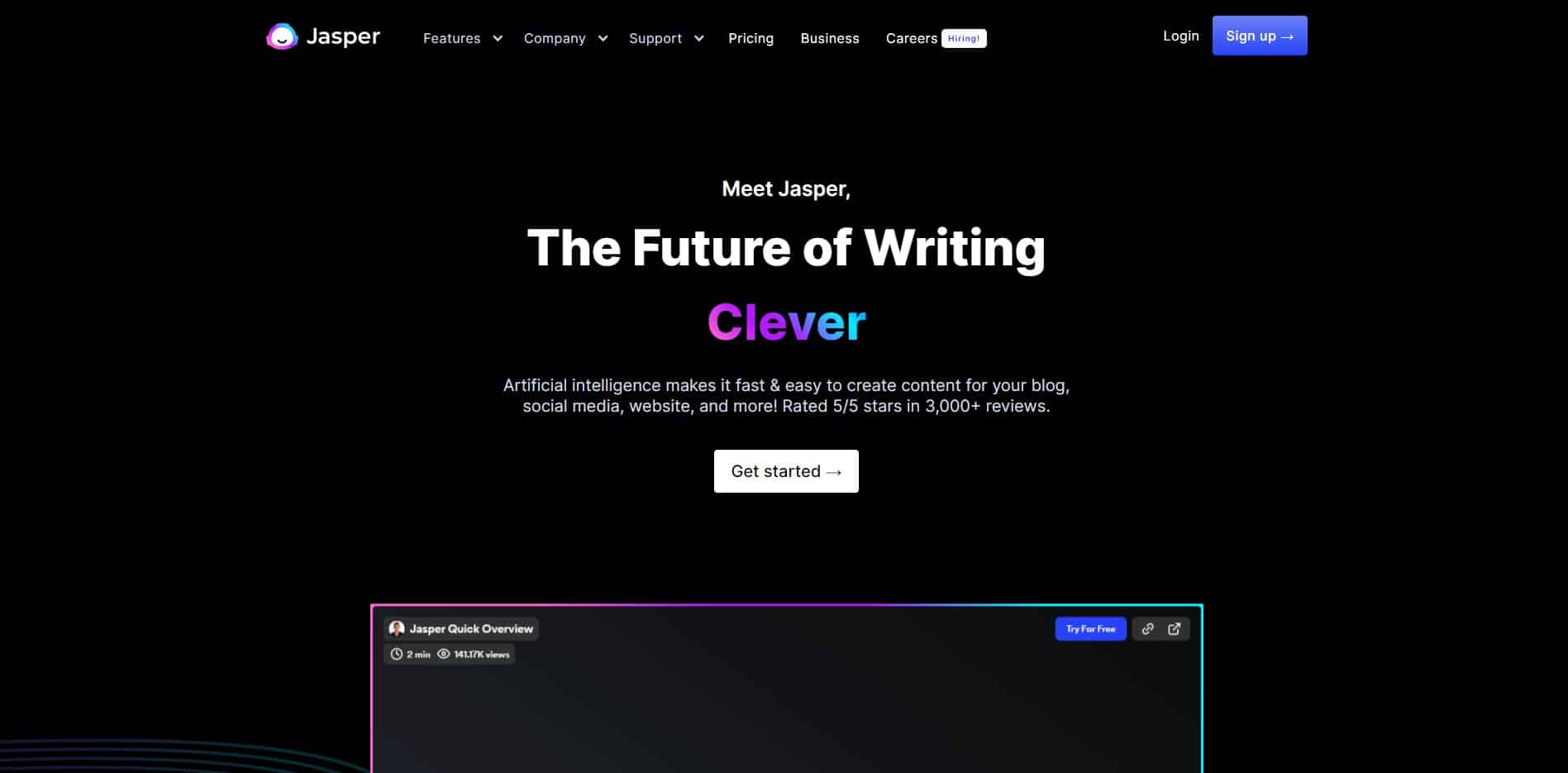 Best long-form content AI Writer
In my opinion, Jasper AI is one of the best, nor the best AI & GPT content generation and AI writing tools on the market helping you write email marketing, social media, landing page copies, blog posts, and more.
It provides many great features helping you create long and short-form content using 50+ templates, offering 25+ supported languages and it has SEO mode to help you create better-ranking content for your website.
Leading best AI content creation tools

High number of features

Surfer SEO integration

25 supported languages
Can get a bit expensive quite fast

Requires you to be online

Longer learning curve
Jasper AI is Best for:
Jasper AI is best for writing long-form content regardless it's for sales, marketing, or customer service.
Jasper AI Pricing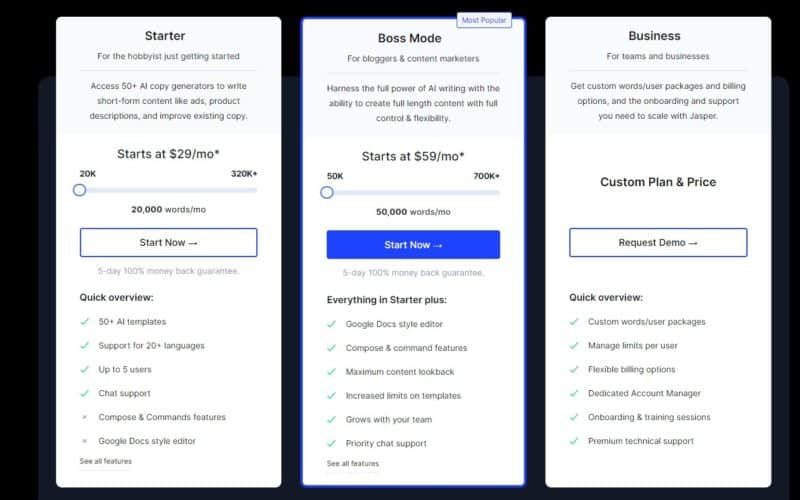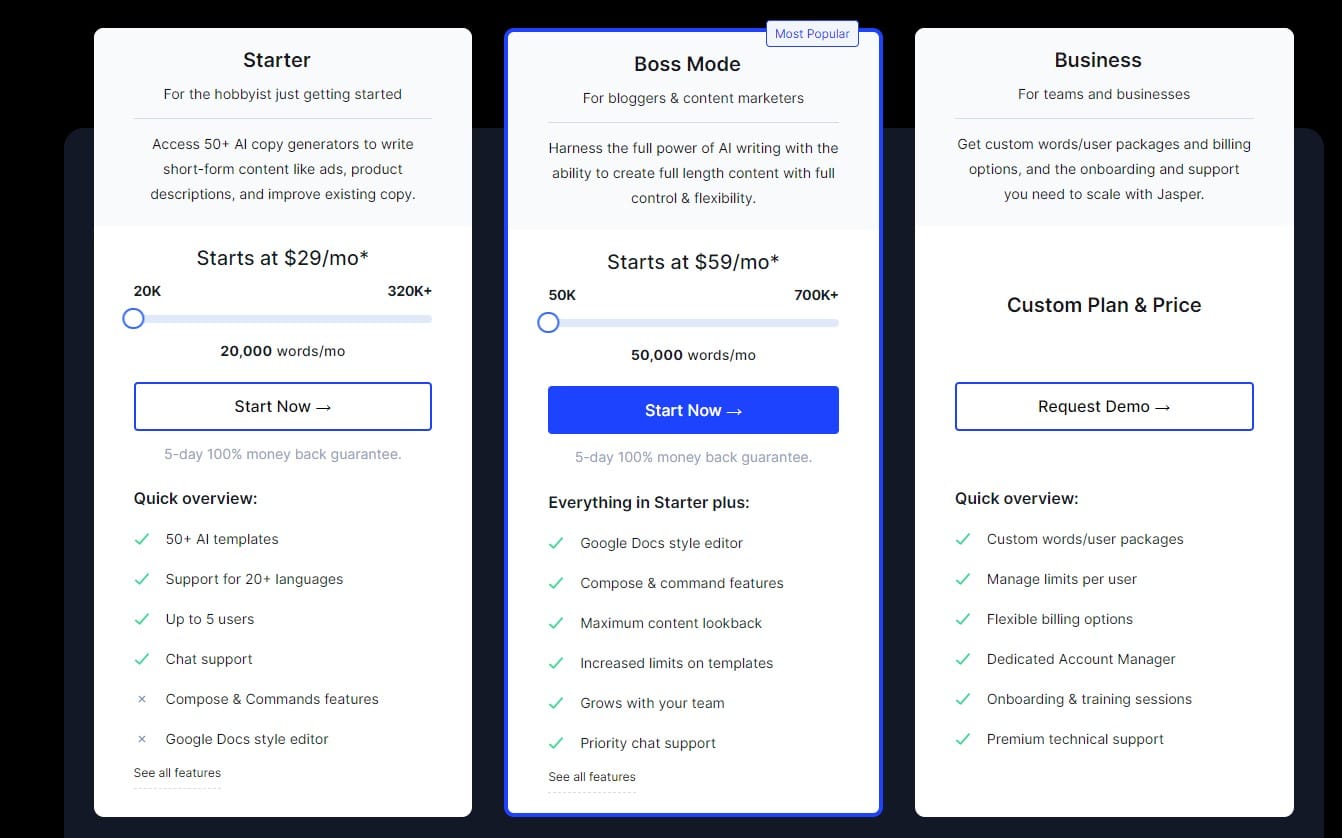 Jasper offers three pricing plans starting as low as $29 per month with 20,000 words. This is a great plan to start with. However, you will find yourself using up the credit pretty fast and later on, moving to the "Boss Mode" pricing plan is inevitable if you want to create long-form content fast.
They also offer custom business plans, mainly used by Agencies or for those that are scaling their content creation with Jasper.
Jasper AI vs Copy AI
The main difference between Jasper AI and Copy AI is that Jasper is mainly focused on long-form content helping you create SEO-friendly content for your website, while Copy AI is more focused on shorter content for social media, landing pages, and email marketing content, helping you create better-converting content.
Needless to say, both of these options are awesome AI generation tools, I would choose Jasper over Copy AI when I am looking to create long-form content as they have a lot of features helping you create SEO-friendly blog posts.
But if you are looking to create short-form content or generate great ideas, then Copy AI can be a better choice. Also check out our list of best Jasper AI alternatives and competitors.
Get Started with Jasper and get 10,000 bonus credits.
2. SE Ranking Alternative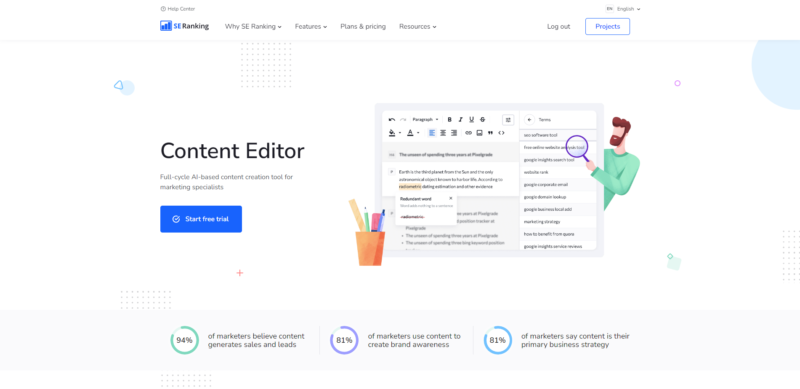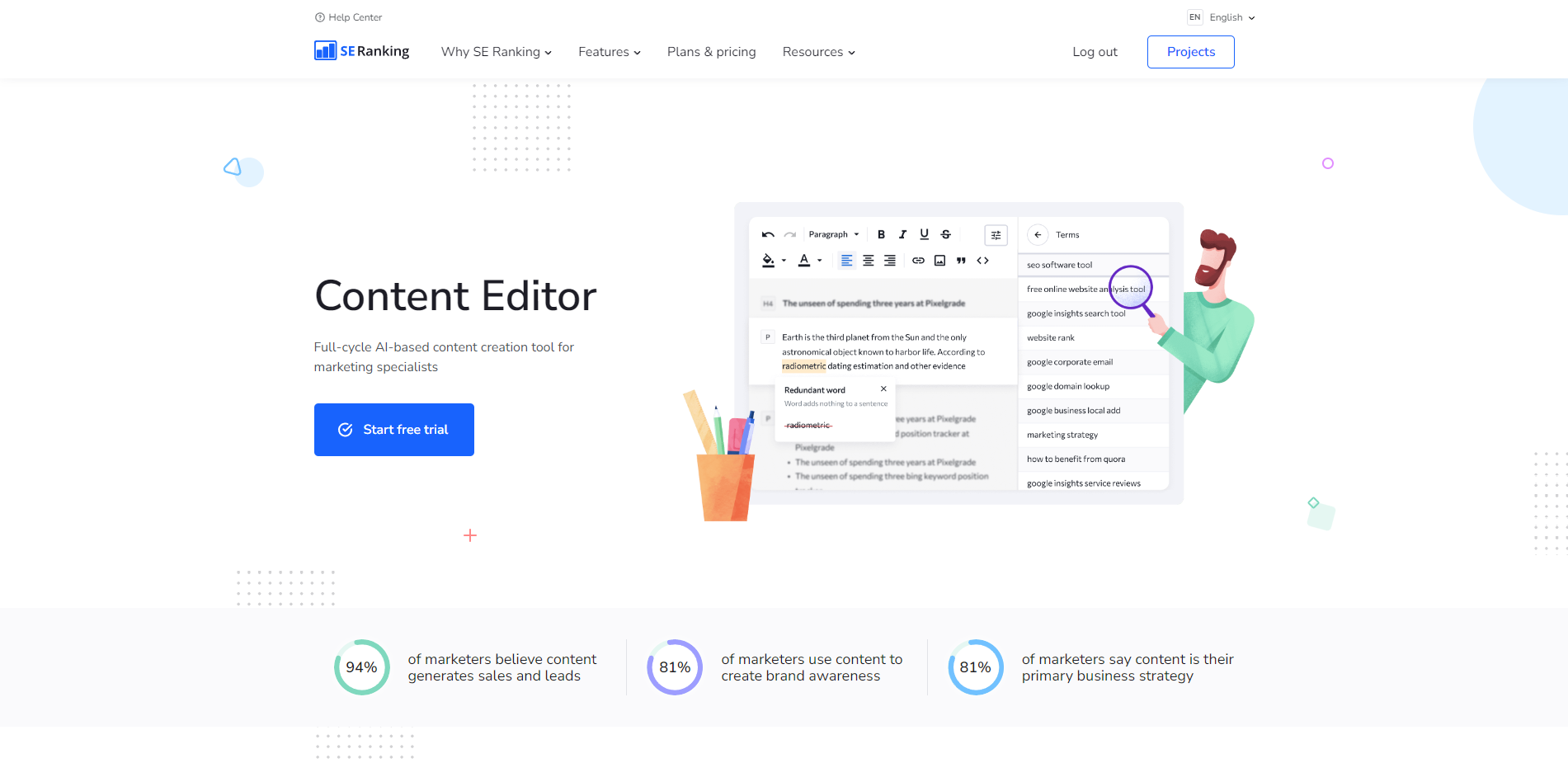 Best AI Writer for those who need more than a simple content tool and want to get organic visitors from Google
SE Ranking is an all-in-one SEO platform that helps businesses improve their website's search engine ranking. It covers the whole cycle of creating content that is meant to drive organic traffic to the website. With powerful Keyword Research and Competitive Research tools, you can find the best topics to target.
Their AI-powered Content Editor and AI Writer will then help you create an optimized copy capable of outranking your competitors. The tool can quickly generate a first draft for you, and then you'll need to follow recommendations on the wordcount, keyword usage, the number of images, etc., to improve your Content Score.
Powerful AI writing assistant

Upgraded brief settings

Plagiarism Checker feature

New Content Score

Google Doc Add-on
Dependent on keyword selection

Requires manual content polishing

Mostly for blog posts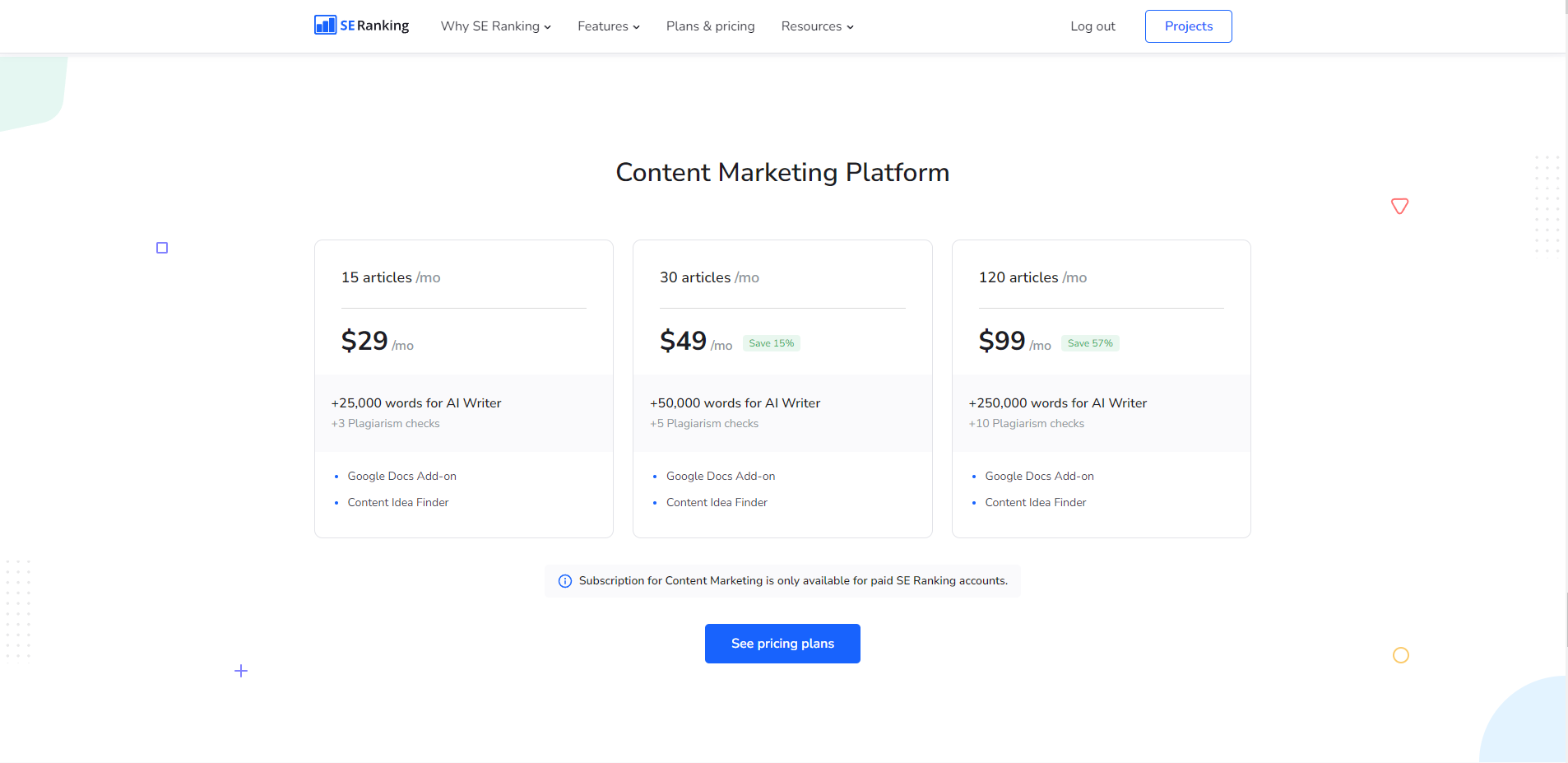 The pricing for SE Ranking's Content Marketing Platform is structured around the number of words for the AI Writer and the number of Plagiarism checks. Here are the options:
15 articles/mo: $29 /mo +25,000 words for AI Writer +3 Plagiarism check.
30 articles /mo: $49 /mo Save 15% +50,000 words for AI Writer +5 Plagiarism checks.
120 articles /mo: $99 /mo Save 57% +250,000 words for AI Writer +10 Plagiarism checks.
Please note that the subscription for Content Marketing is only available for paid SE Ranking accounts. For detailed pricing plans, you would need to check their pricing page.
SE Ranking Vs Copy AI
The major differences between SE Ranking and Copy AI lie in their core functionalities and target users. SE Ranking is a comprehensive SEO platform offering features like keyword rank tracking, website audit, backlink monitoring, and a robust AI tool for blog post creation. It's ideal for SEO professionals and marketers seeking to improve website visibility and rankings. On the other hand, Copy AI is an AI-powered copywriting tool designed to generate creative content such as blog intros, product descriptions, and social media posts, excelling particularly in copy creation. It's beneficial for copywriters and content creators needing assistance with idea generation and content creation.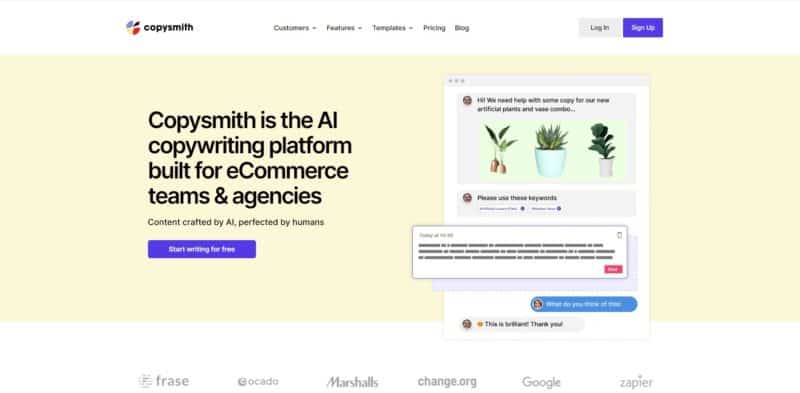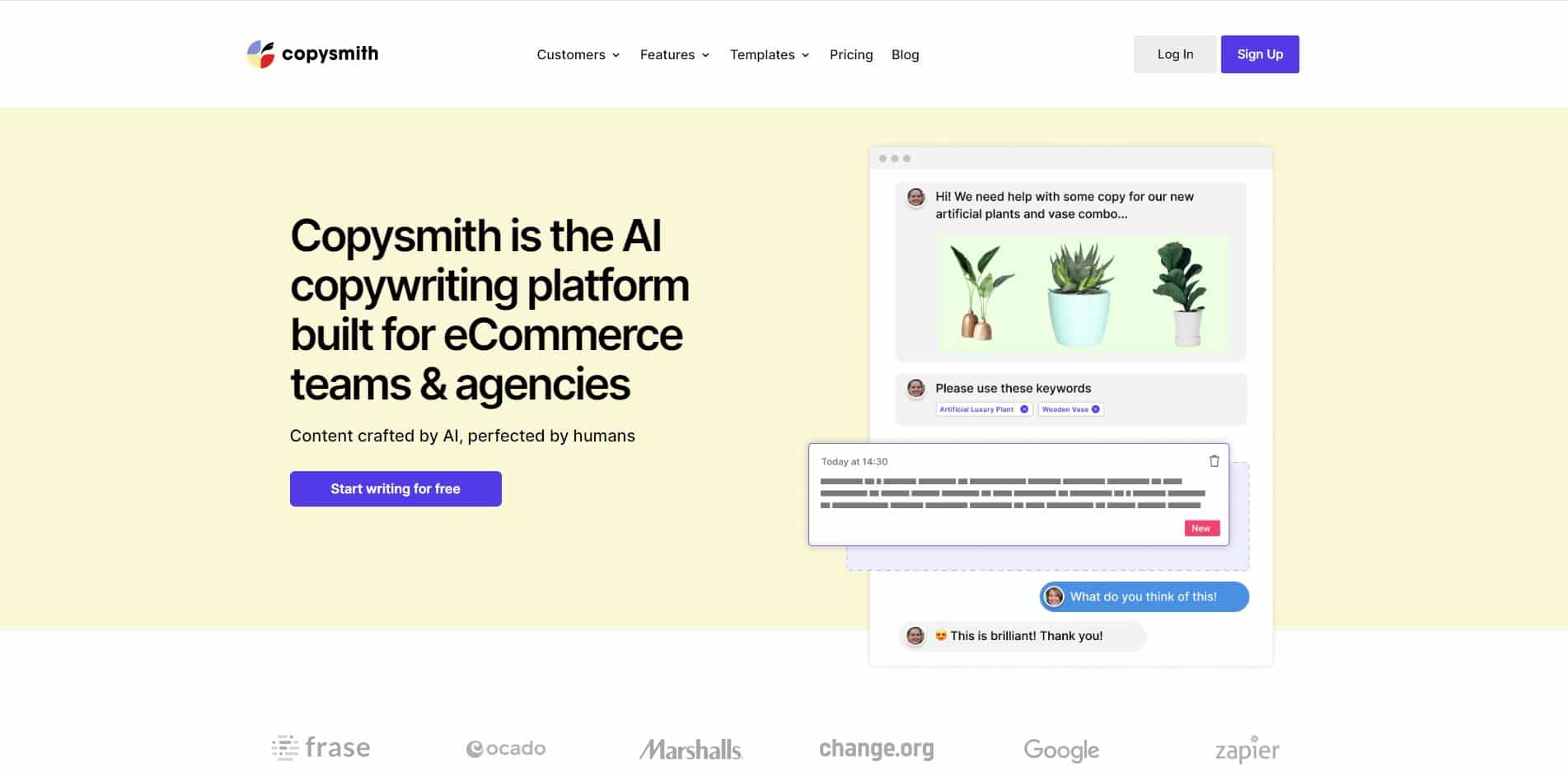 Best Copywriting AI Writer for copies.
Copysmith helps you to create high converting copies by creating creative and unique copies for all your marketing campaigns. It can save you hours when preparing any copies and help you to generate more leads or revenue with less effort, who wouldn't like that, right?
On top of that Copysmith is fairly easy to use compared to other AI writing tools making it very attractive for beginners as well as for marketing professionals who are starting with AI writing. Therefore, if you are starting with AI writing, this tool could be your choice.
Great marketing copies in a matter of seconds

Great for all types of copies

Fast in generating ideas

Very easy to use
Long-form content poor

Not many tutorials

A few bugs from time to time
Copysmith is Best for:
Copysmith is a great tool for people who are starting with AI writing and wants to create better copies for their marketing campaigns, whether it is for emails, landing pages, product pages, or other marketing copies.
Copysmith Pricing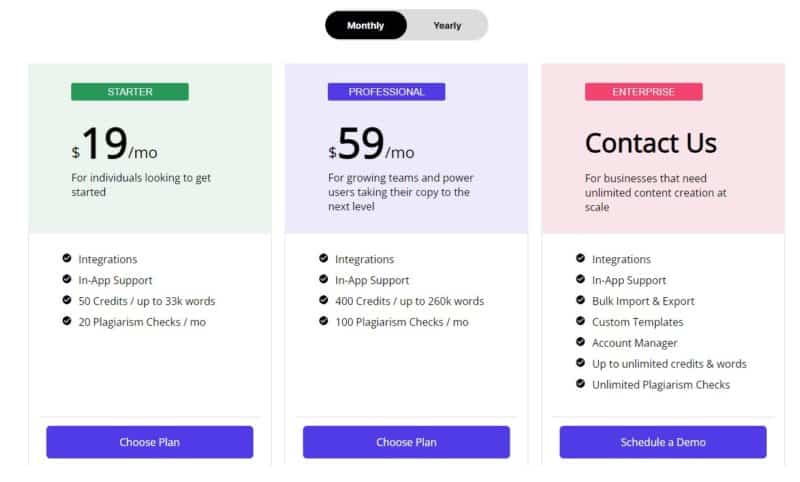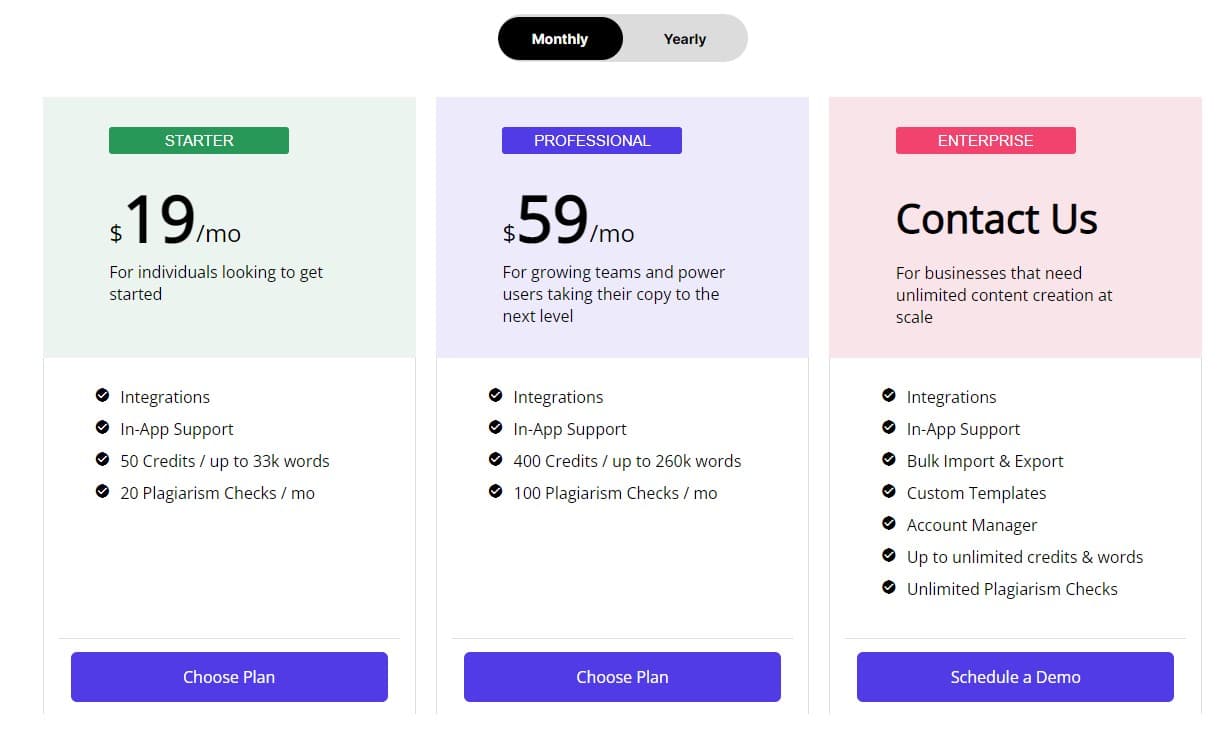 Copysmith pricing offers three variants starting at only $19 per month for up to 33k words and with 20 plagiarism checks which is a great plan for most small businesses. However, then you can upgrade to 260k words and 100 plagiarism checks for only $59 per month making it far more affordable than Jarvis.
And in case you need more, then they have a custom plan as well.
Copysmith vs Copy AI
The biggest difference between Copysmith and Copy AI is that Copysmith is great for beginners users as well as for marketing agencies focusing on creating highly converting marketing materials for their clients mainly for eCommerce websites while Copy AI helps you create great ideas at a fast pace and improve your editorial processes for any business. Also check out the best copysmith alternatives and competitors.
Get started now with Copysmith
4. Anyword Alternative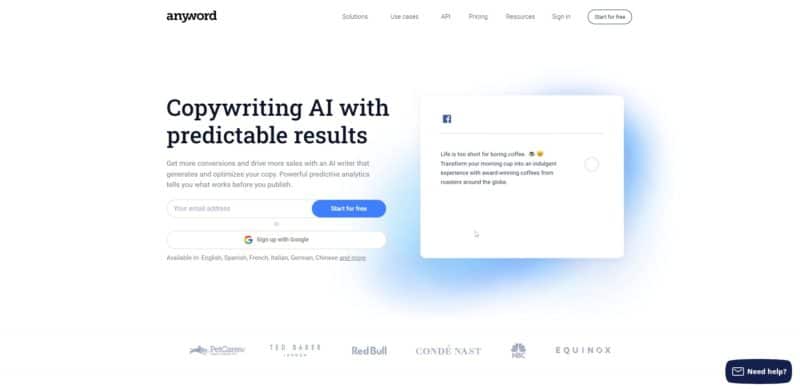 Best AI Copywriting for the target audience and personalized high converting messages. Best Overall
Anyword is a copywriting AI tool specifically focused on getting more conversions and sales from your marketing campaigns whether it is from social media posts, emails, landing pages, or others.
With their powerful predictive analytics and customer personas feature, you can easily analyze your text to see which of your copies are great, and how you can improve your copies with more concise, engaging, and smarter messages that better resonate with your customer personas and target audience.
Personalized copies for your personas

Predictive analytics to improve every copy

Boosting conversions and sales

Easy to learn with intuitive design

Great tone matching

Free option
Higher pricing

Texts to be edited most of the time

Limited free trial

Not many templates
Anyword is Best for:
Anyword is the best copywriting AI tool to create personalized messages that resonate with your audience and with their predictive analytics, you know exactly what to improve every time.
Anyword Pricing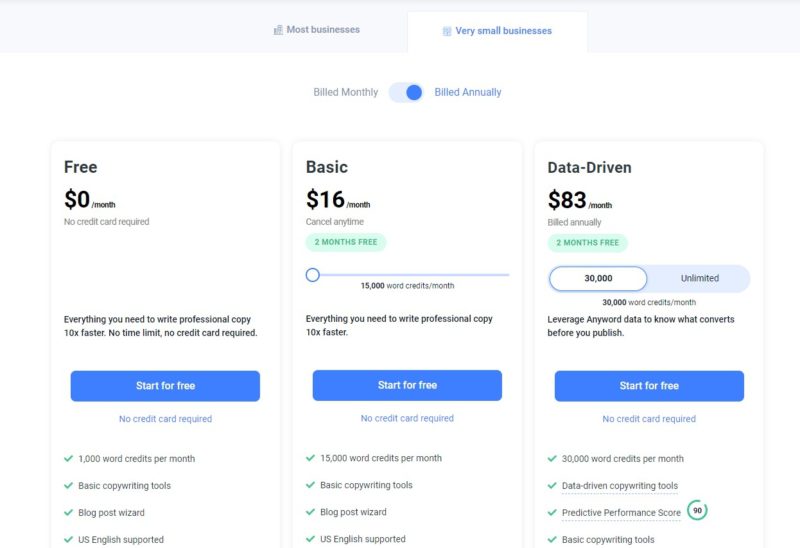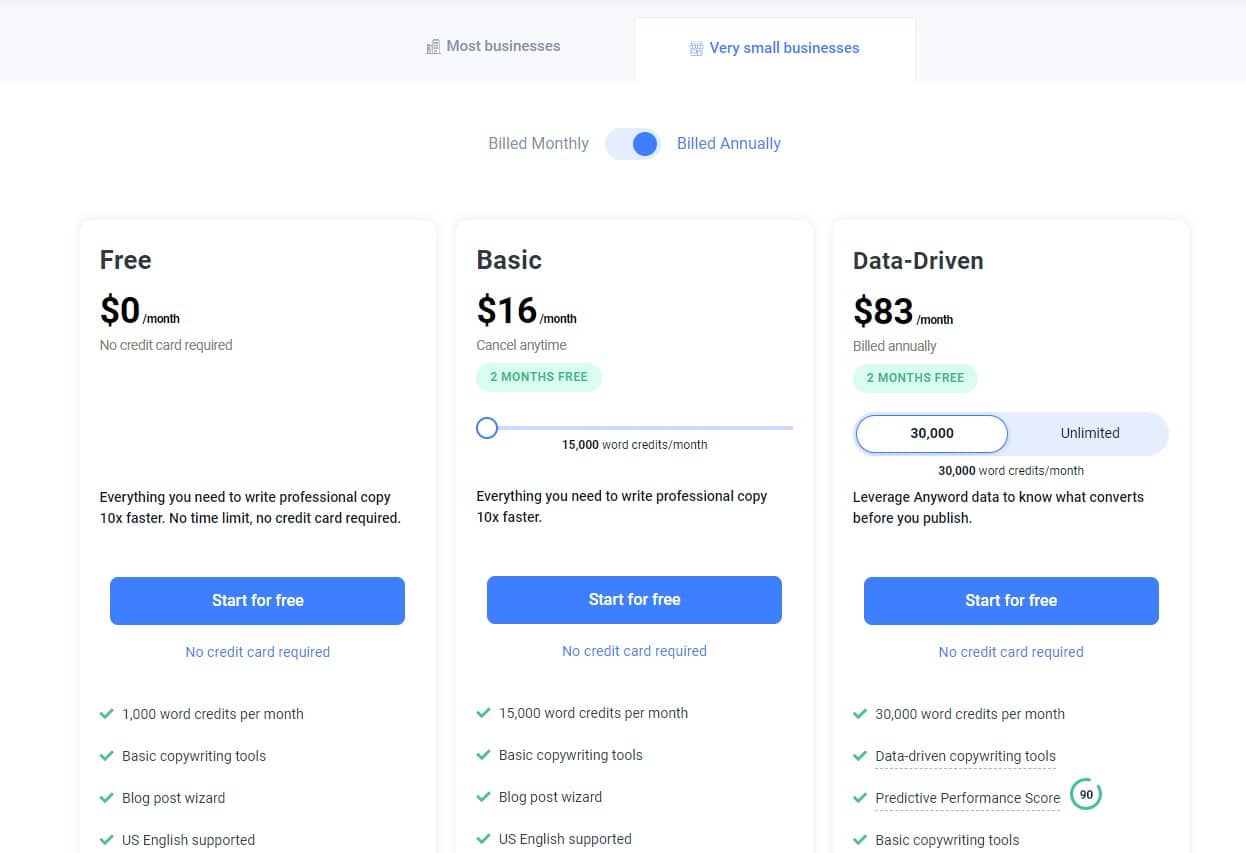 Anyword pricing offers two versions, one of which is for very small businesses and offers to start with a free version with only a few features. Then you can move to the Basic plan which starts at $16 per month and offer only basic functionalities and the highest plan starts at $83 per month offering most of the features you would need but only 30k words/month.
Honestly, only the "Data'Driven" plan makes sense here, the rest just gives you a small taste of what the tool actually can do and if you are looking for a more affordable AI writing tool, then this might not be your option.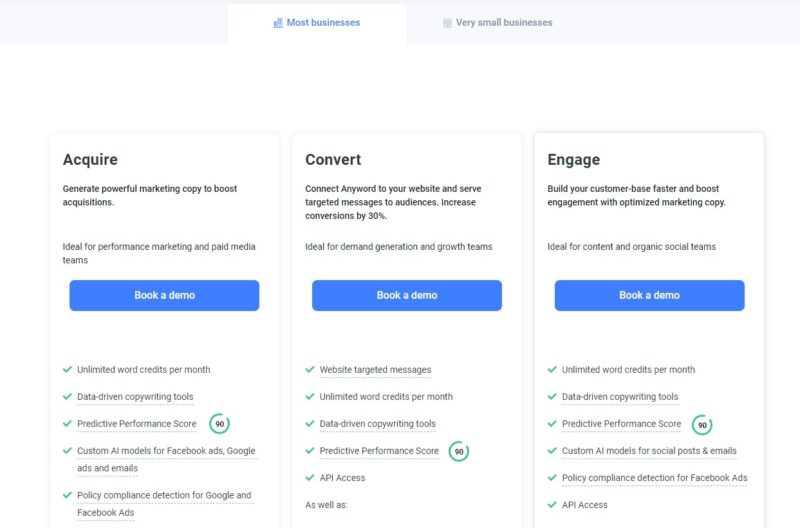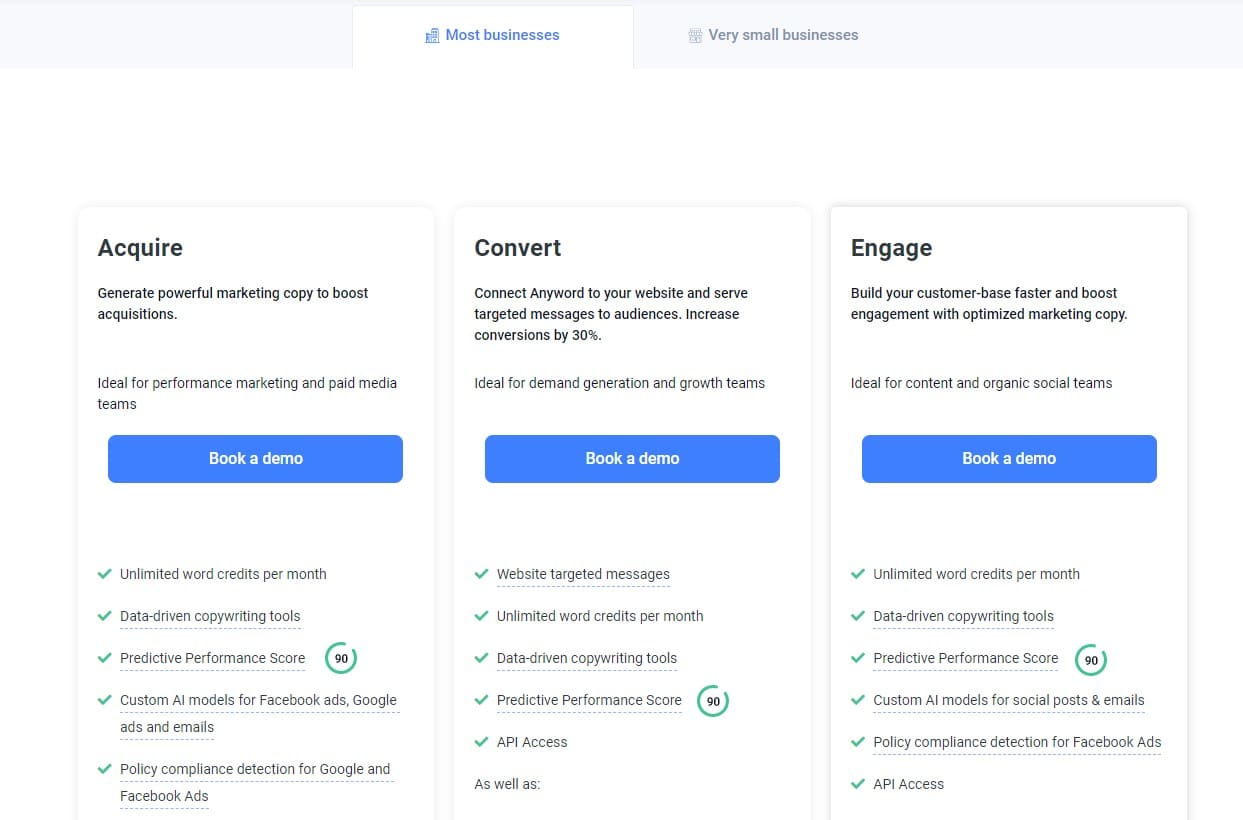 But then their "Most businesses" pricing version offers a lot more features to create high converting marketing copies and messages, but Anyword does not provide pricing for these plans, and you need to contact them to learn more. So, I expect this plan will be pricier.
Anyword vs Copy AI
While both of the tools are focusing on creating short-form content, the major difference between Anyword and Copy AI is that Anyword is highly focused on creating highly converting copies and messages, helping marketing, salespeople, and business owners to get more money from their marketing campaigns while Copy AI is generally better to create any short-form content not specifically focusing on generating sales or conversions.
Get a 20% discount on Anyword using this link.
5. Article Forge Alternative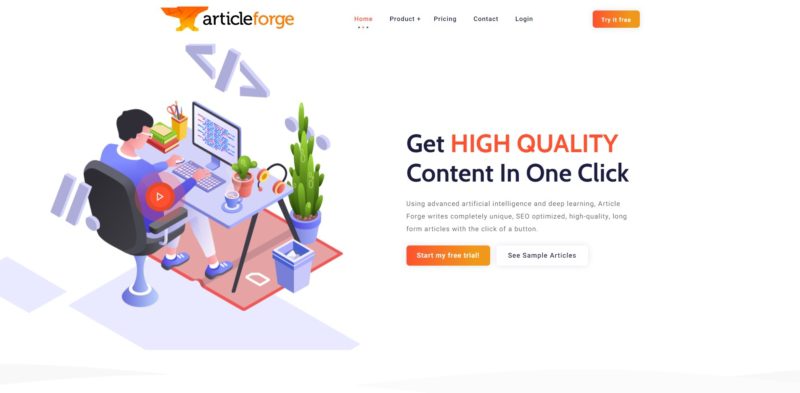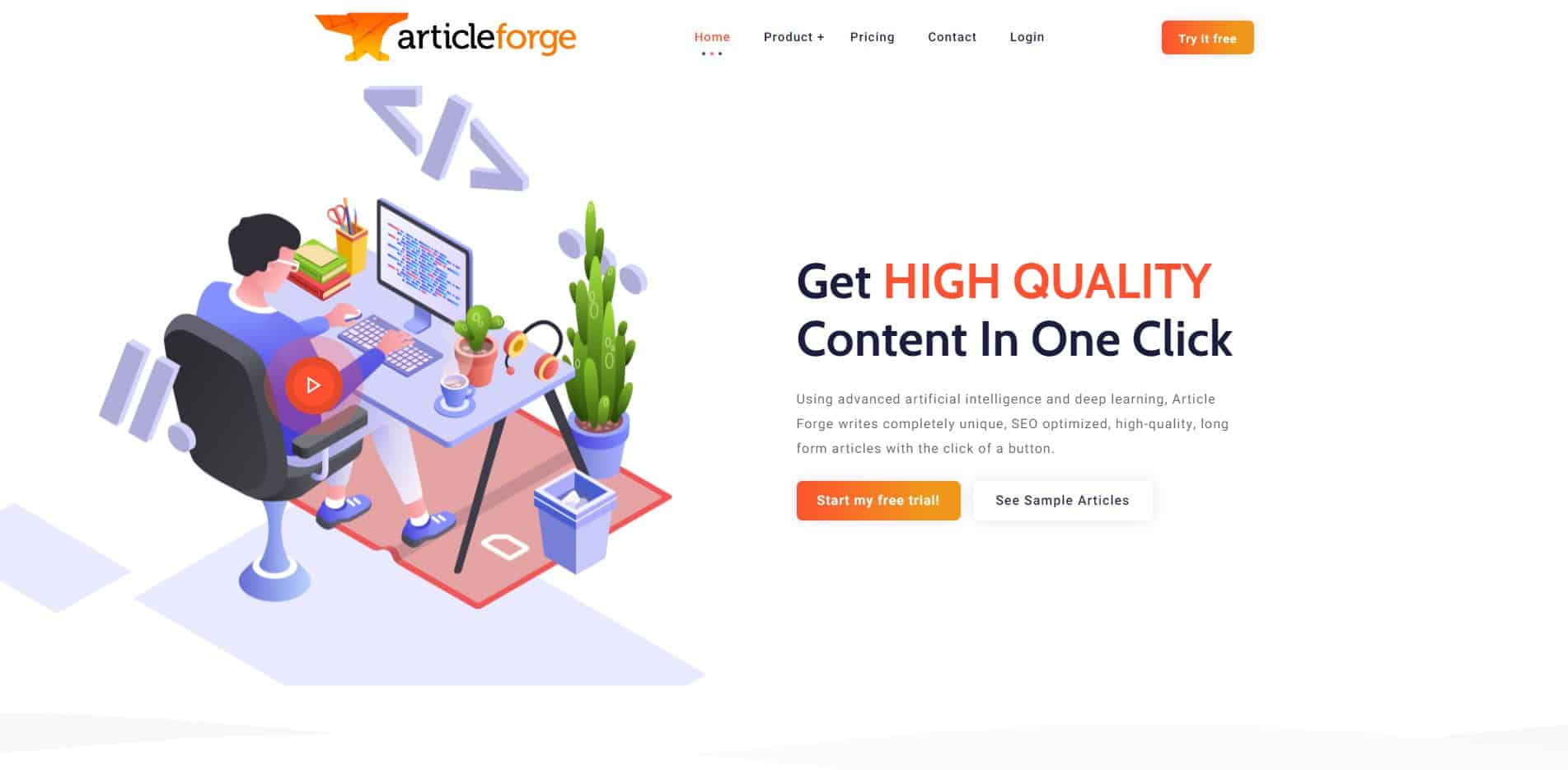 Best AI tool for instant articles
Article Forge is an AI writing tool fully focusing on generating high-quality, long-form SEO articles for your website fast and efficiently with the minimum of human interference for a fraction of the cost.
Their main goal is to write unique, SEO-optimized, high-quality, long-form articles as fast as possible that rank high in SERPs helping website owners to produce content much faster in order to drive organic traffic.
WordAI integration

Plagiarism free

Easy to use

Original content

Instant articles
Struggles with context

No spin rewrites

Not always produce great stuff
Article Forge is Best for:
Article Forge as the name suggest is the best for forging articles at a fast pace. You cannot expect subject matter expert quality in terms of information, but it can surprise and deliver decent quality articles that need only a few edits.
Article Forge Pricing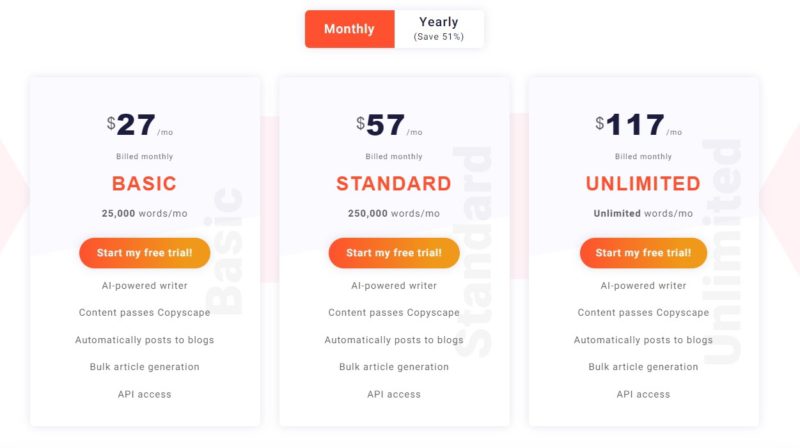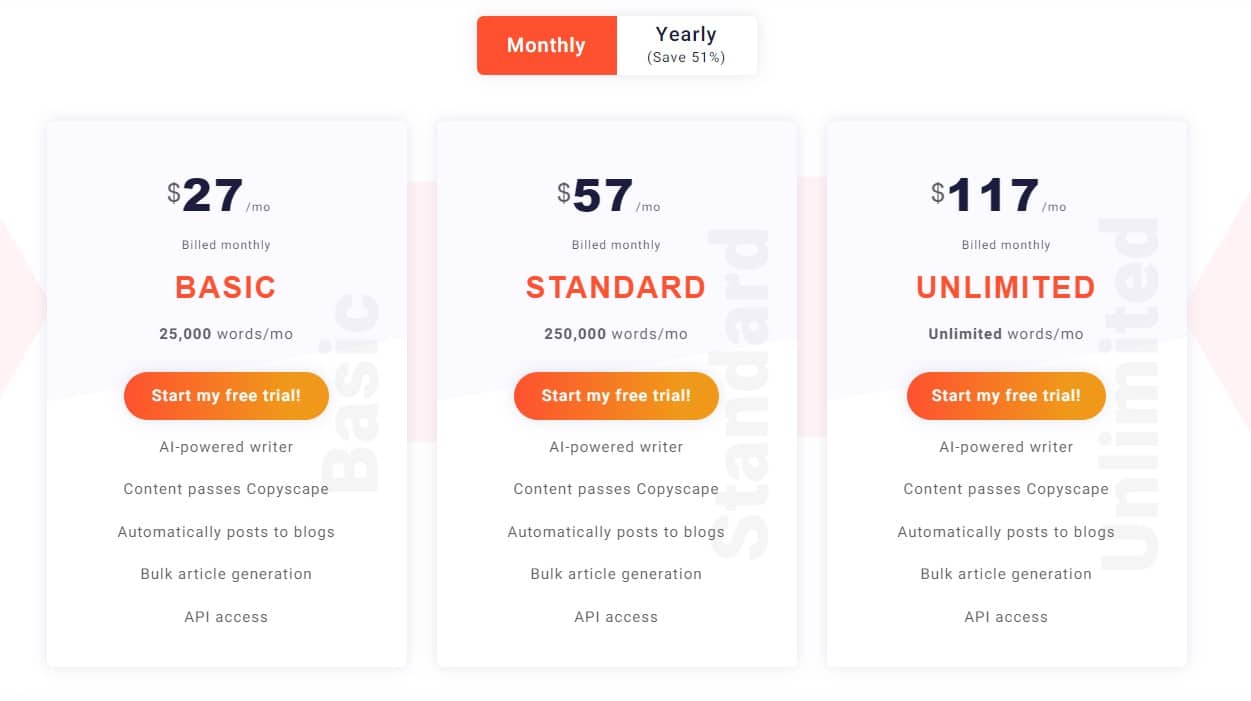 Article Forge pricing offers three affordable variants starting with $27 per month offering 25k words, $57 per month for 250k words, or for $117 you can get unlimited words.
Article Forge vs Copy AI
The major difference between Article Forge and Copy AI or any writing AI tool is that Article Forge is truly an AI writer that writes full fletch articles while Copy AI and other AI writing tools are more like an assistant that needs to be assistant on every step of the way.
So, if you are on a tide budget with article production and cannot hire writers, then Article Forge could be your best option.
Get started now with Article Forge.
6. Frase Alternative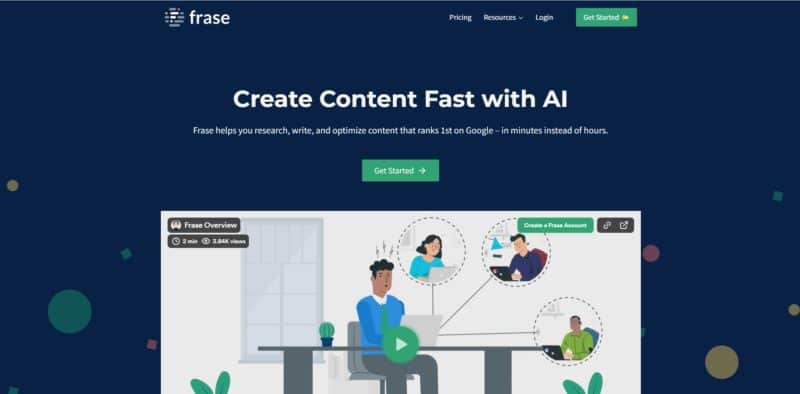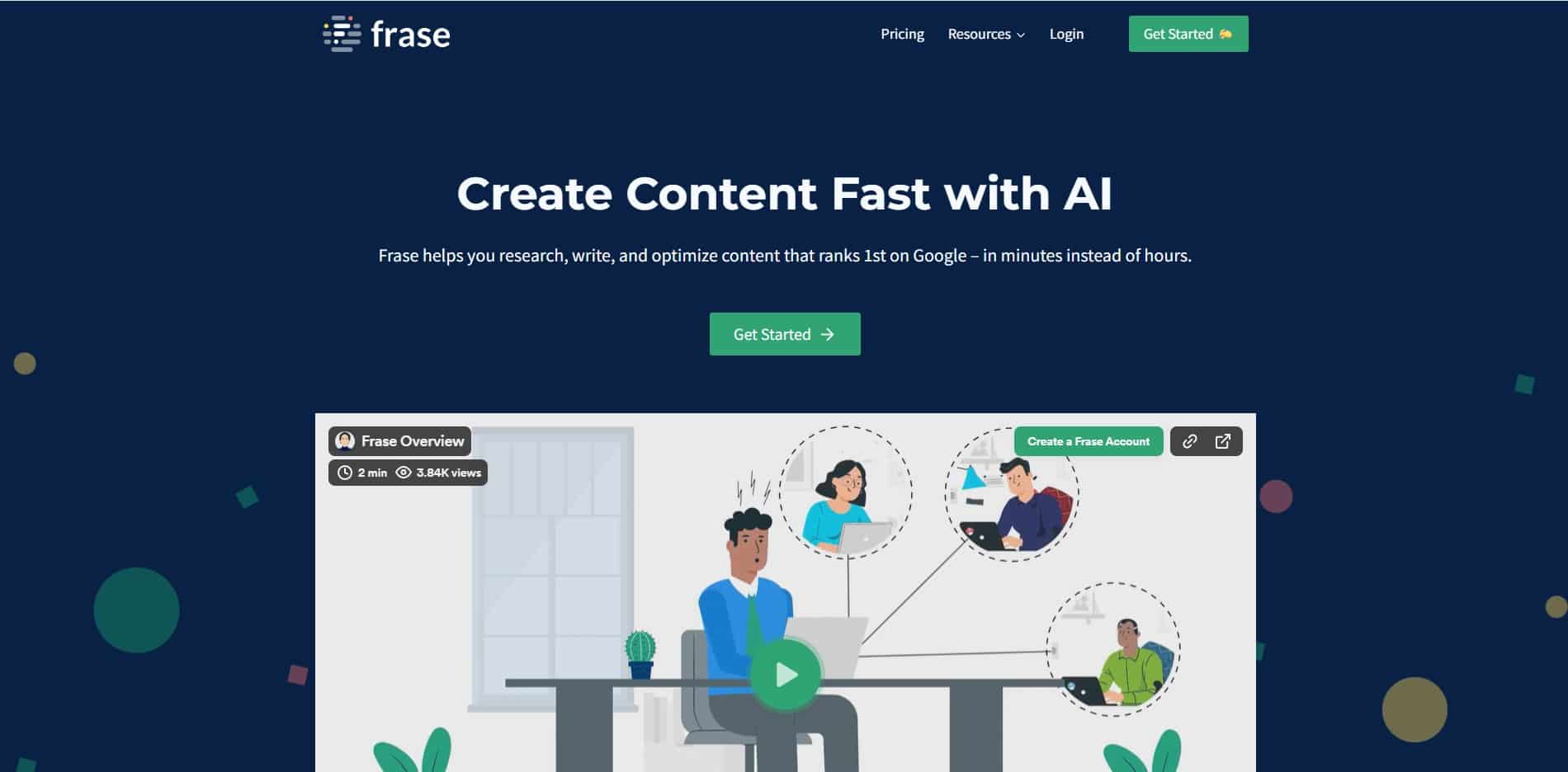 Best for balanced AI writing needs.
Frase is a perfect combination of tools like Surfer SEO to help you figure out what keywords to use, and how to structure your headlines with AI writing tools like Jasper to create a lot of content in a short amount of time.
Their main goal is to help you research, write and optimize content that ranks 1st on Google in minutes instead of hours going from keyword to SEO-optimized article quickly and easily really transforming SEO and content creation with AI.
Frase AI is also one of the top Surfer SEO alternatives.
Create fast SEO-friendly content

Speed up content creation and SEO processes

Effective topic research

Quick content brief creation

Great customer service
Pricier if you want SEO add-on

Mostly only for SEO and content creation

Longer learning curve

Not as strong as other AI writers
Frase is Best for:
Frase is best for SEO writers and content writers that are focusing on creating SEO-friendly content to rank 1st on Google as fast as possible in terms of content creating and ranking.
Frase Pricing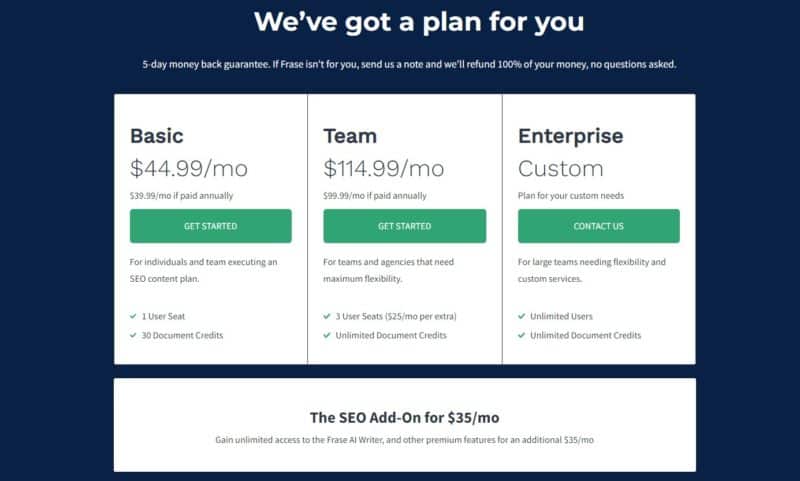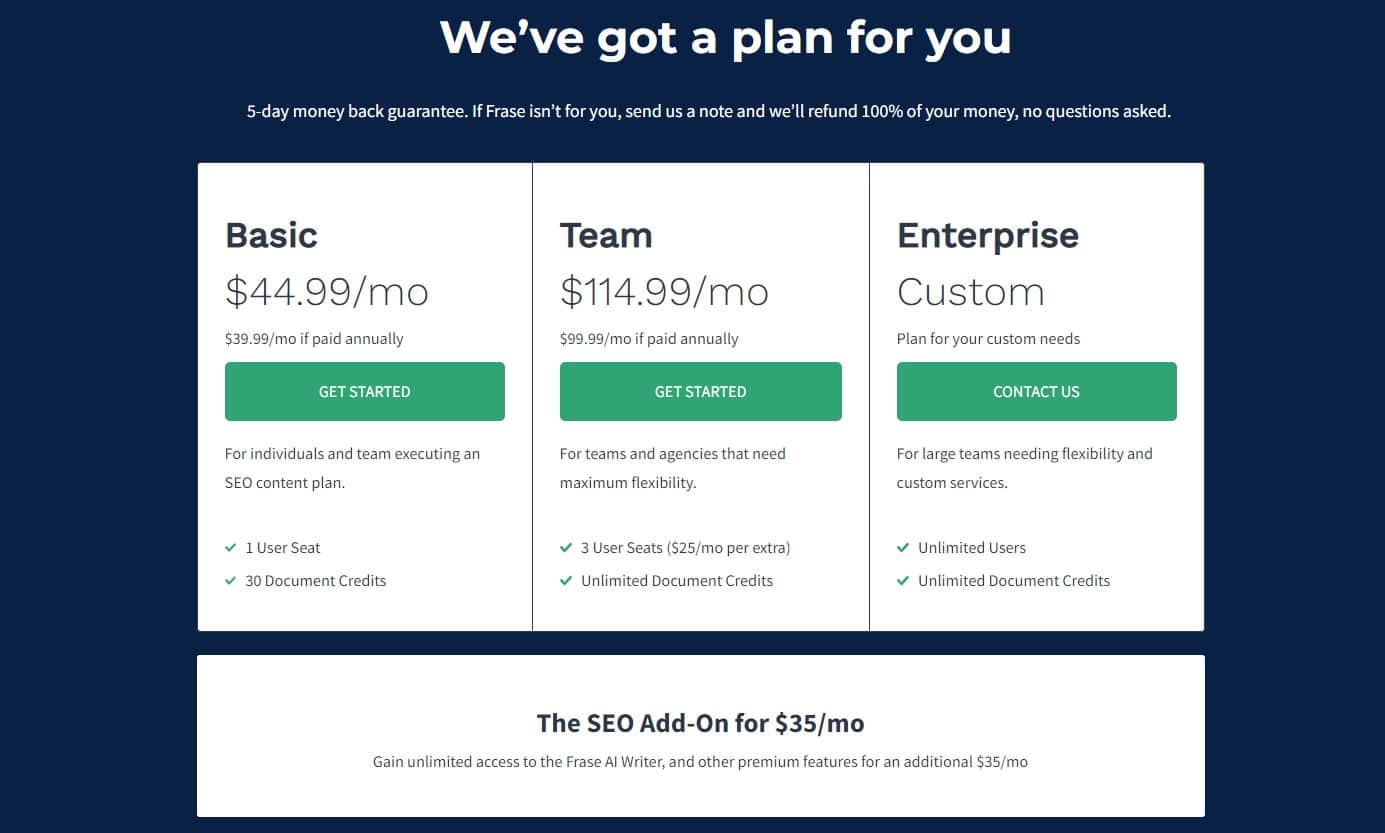 Frase pricing comes with three variants starting from $45 per month which is great for small businesses and small content production teams. Then $115 gives you unlimited options for your content and of course they also have a custom plan for large teams and agencies.
Frase vs Copy AI
The major difference between Frase and Copy AI is that Frase is mainly focusing on creating SEO content for your website as fast as possible while Copy AI is focused on short-form content to generate messages and copies for any of your marketing campaigns.
However, Copy AI is trying to compensate for the SEO content with Surfer SEO integration, but this can get very expensive. With Frase, it is like to have an AI writing tool together with Surfer SEO, but their AI writing tool is not as well performing as others. Also check out our list of best Frase alternatives and competitors
7. Smart Copy by Unbounce Alternative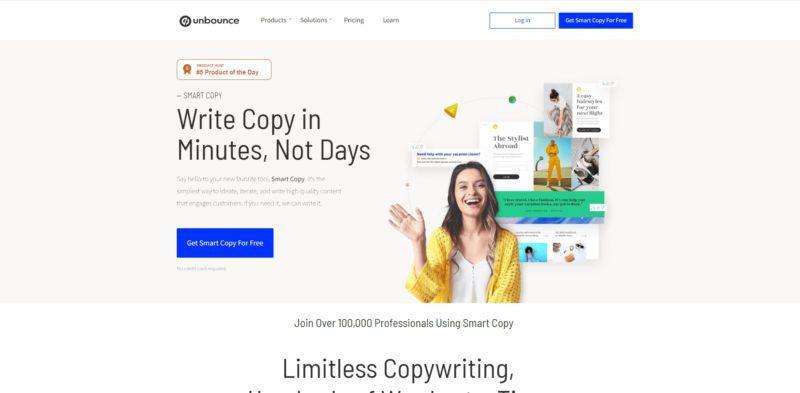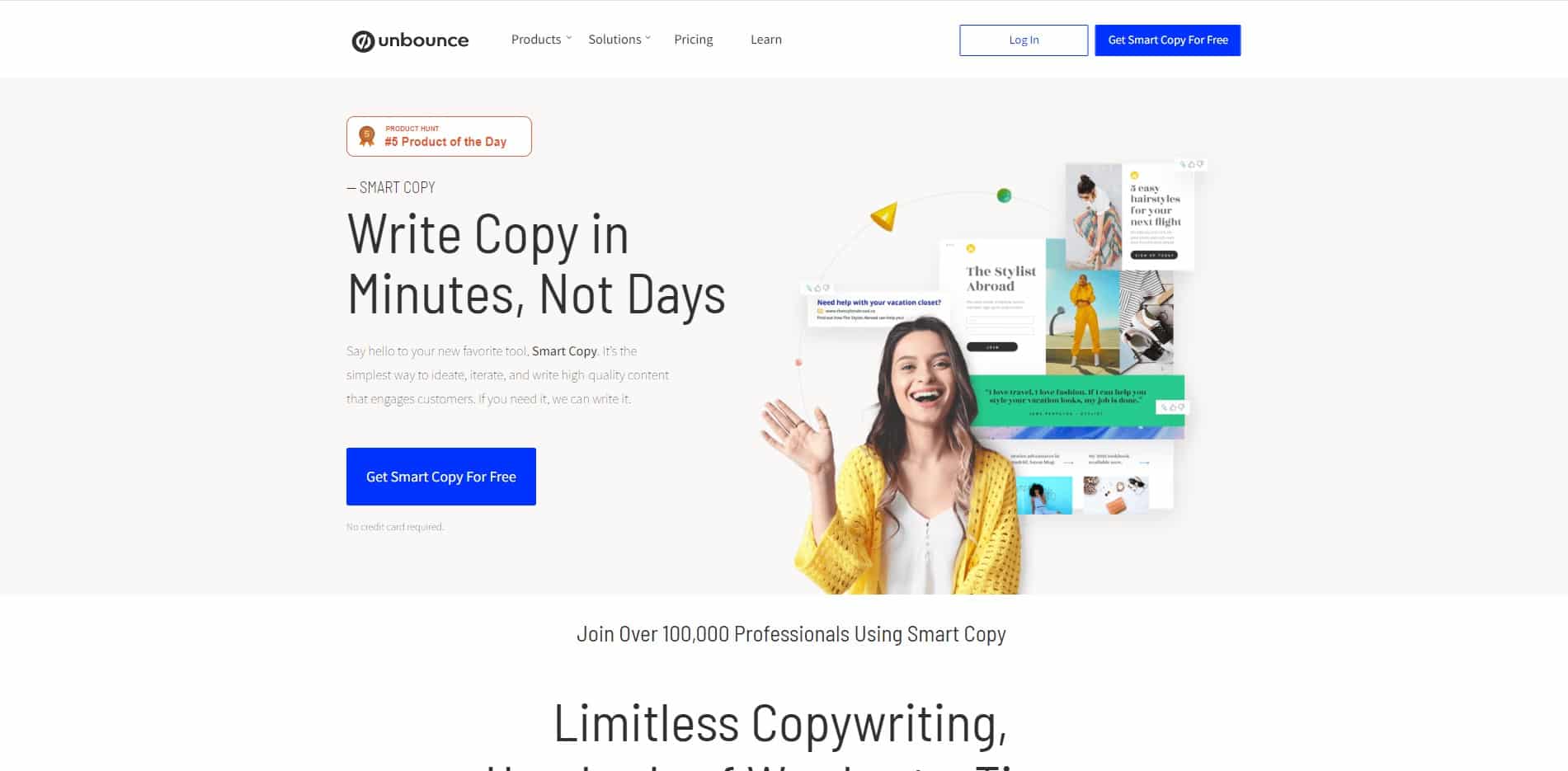 Best for creating landing pages and ads.
Smart Copy is an AI writing tool that helps you to create copy for your landing pages, ads, email, subject lines, or basically anything you would need. It works well with other Unbounce products helping you create better converting landing pages much faster.
And with the Profiles feature you can help the tool to better understand your brand and create more engaging and authentic content that matches your target audience.
Affordable

Works with other Unbounce tools

Remove writer's block

Chrome extension writing

45+ copywriting templates
Only a few AI writing features

Mostly for ads or landing pages
Smart Copy is Best for:
Smart Copy is a great and affordable AI writing assistant for those that want to improve their conversions from landing pages and ads, whether it is for Facebook, Google, Instagram, or others.
Smart Copy Pricing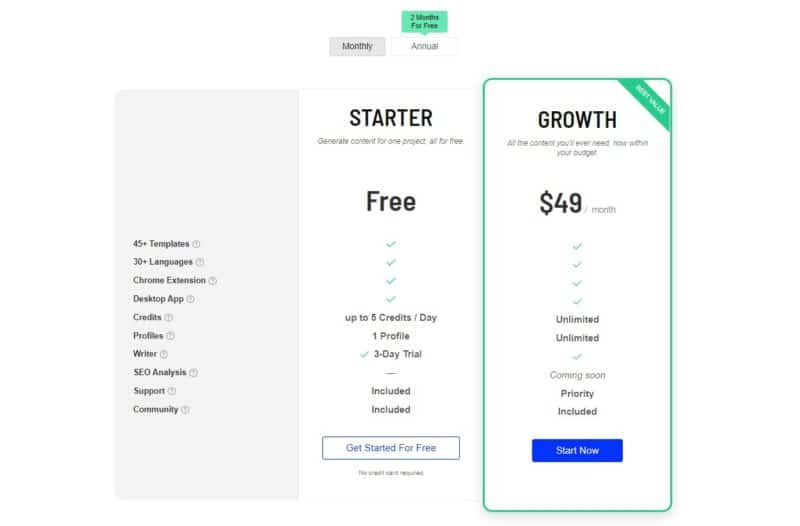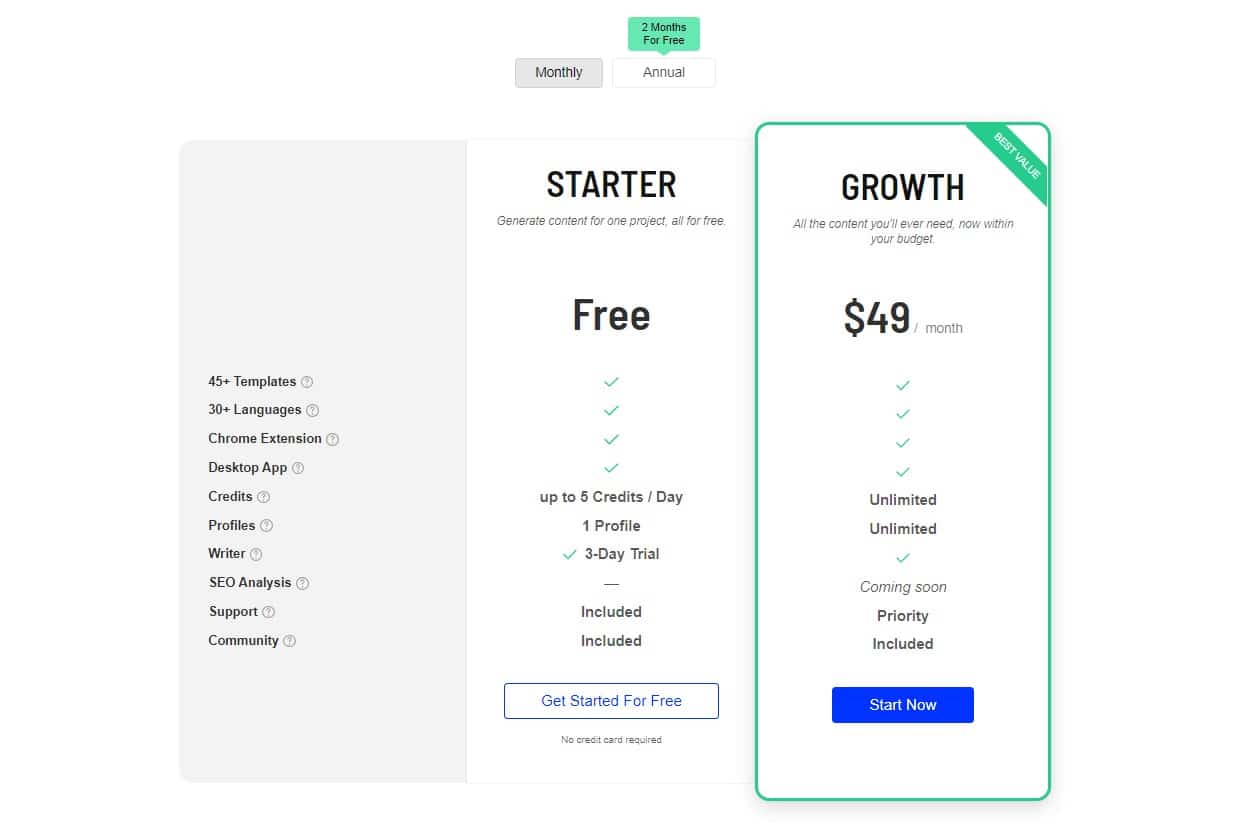 Smart Copy pricing comes with two options. The first is free, which is a great option to optimize a few of your copies on landing pages or ads every day or on regular basis. And the second option comes for $49 per month giving you unlimited access to their features. This is if your bread and butter is managing ads and landing pages for a bigger website or your clients.
Smart Copy vs Copy AI
The major difference between Smart Copy and Copy AI is that Copy AI is a complete AI writing tool giving you everything you would expect from it while Smart Copy is a very limited but affordable version of Copy AI with fewer features and the technology is not as advanced.
However, if you are on a budget or only need to optimize a few messages here and there, then Smart Copy could be your choice. Also check out the best Unbounce competitors.
8. WriterZen Alternative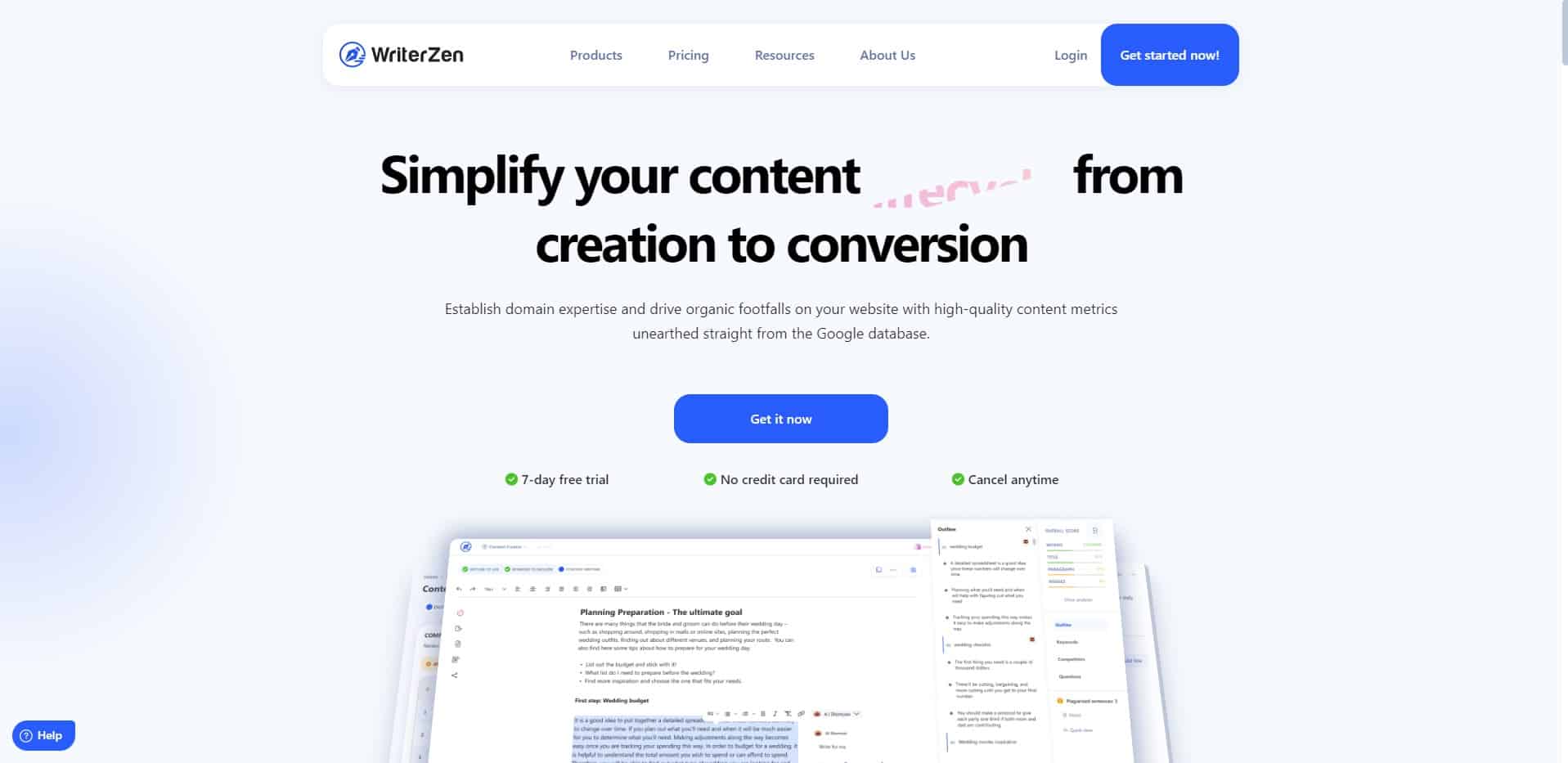 Best for creating SEO content campaigns.
WriterZen is an AI Content and Semantic SEO toolset that helps you with your content workflow by putting together content pillars related to your niche or industry in order to build topical authority and satisfy the Google's E-A-T.
It helps you to do effective keyword research and categorize keywords into keyword clusters and it provides useful metrics in order to target the best keywords in terms of ranking and organic traffic opportunities.
And of course, it also helps you to create SEO-friendly content to target those keywords with their AI writing tool.
Great keyword research tool

Content briefs

Ranking fast in SERPs

Easy to use
Keyword research limits

AI writing is not as good compared to others

Admin interface a bit outdated

Pricier if you need the AI writing assistant
WriterZen is Best for:
WriterZen is the best SEO and AI writing tool for SEO and content marketers that spend time on keyword research as well as creating high-quality content.
WriterZen Pricing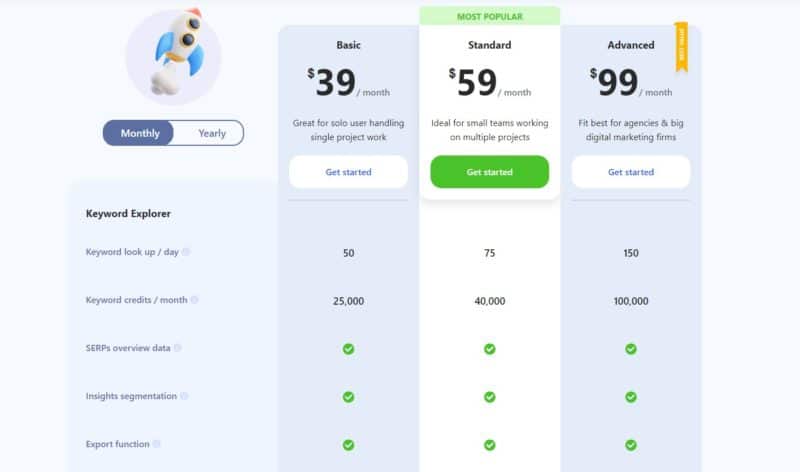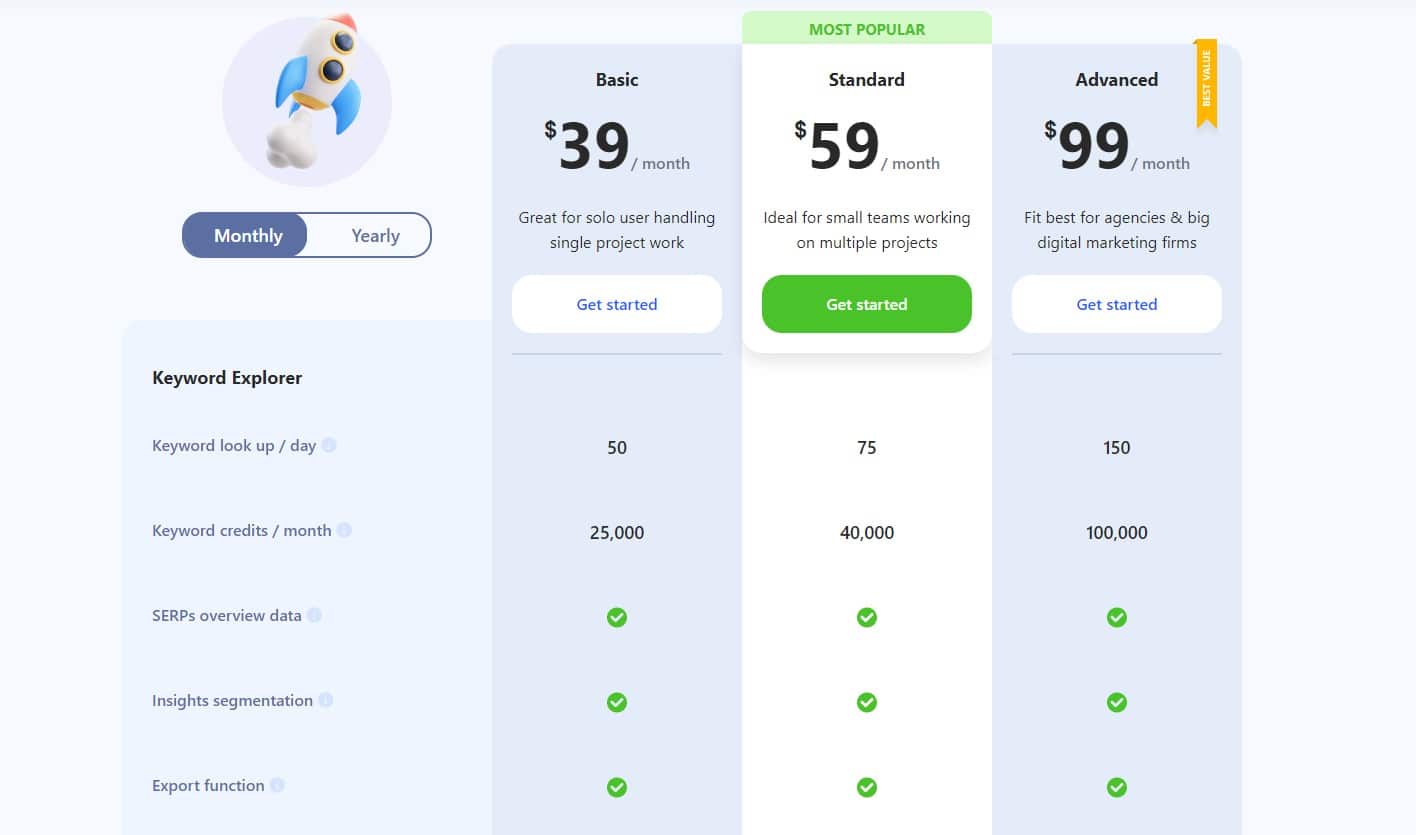 WriterZen pricing offers three plans, the lowest Basic plan starts at $39 per month giving you all the features only with lower quotes. The most popular plan costs $59 per month and the advanced is for $99 per month.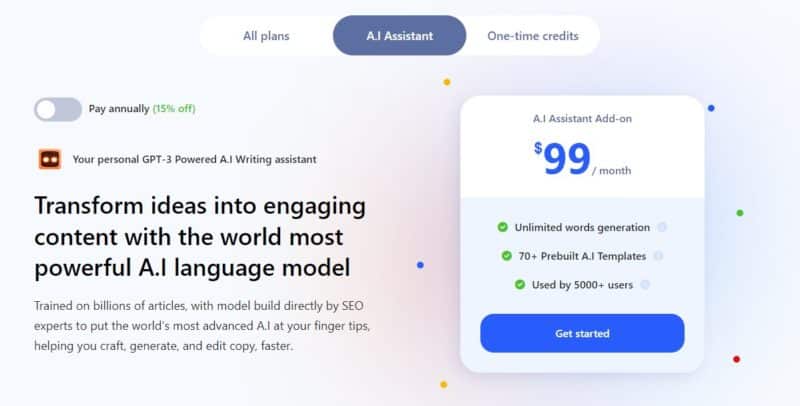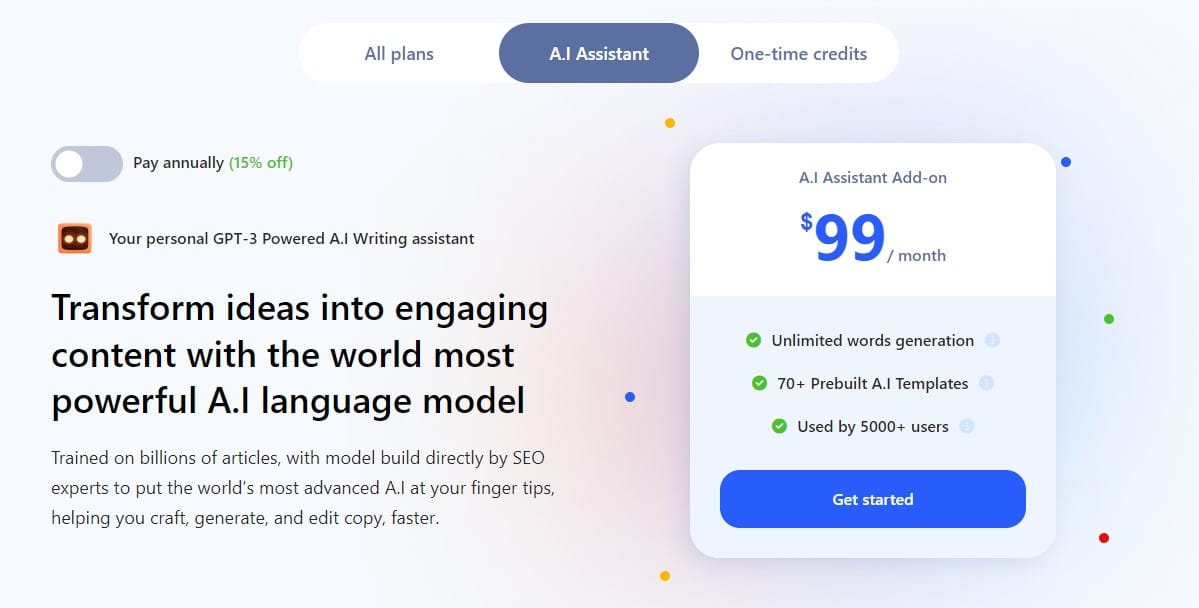 However, this does not include the AI writing assistant and you will need to add on for an additional $99 per month. So, in terms of AI writing tools, WriterZen is pricier, but it gives some unique features that can save a ton of time.
WriterZen vs Copy AI
The major difference between WriterZen and Copy AI is that WriterZen is focused on finding and targeting keywords for the best SEO results such as increased organic traffic and ranking but lacking in AI writing, while Copy AI is focused on creating the best copy for your marketing campaigns with limited SEO features but excelling as AI writing technology.
Copy AI Pros & Cons
Now, when you saw all the Copy AI alternatives, I would like to also point out the Copy AI strengths and weaknesses in order to decide whether you really need to find a Copy AI alternative, or if it is the best option for you.
Access to 90 copywriting tools

High AI writing accuracy

Best free AI writing option

Consistent updates
Only for short-form content

Sometimes buggy

Longer learning curve
Copy AI is Best for:
Copy AI is best for marketers with a limited budget that needs to create shot form content on social media or emails as well as great copies for their marketing campaigns.
Copy AI Pricing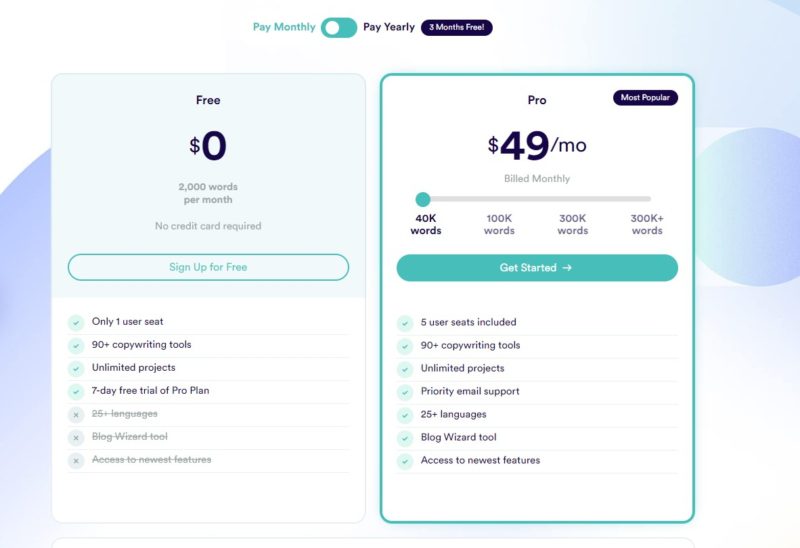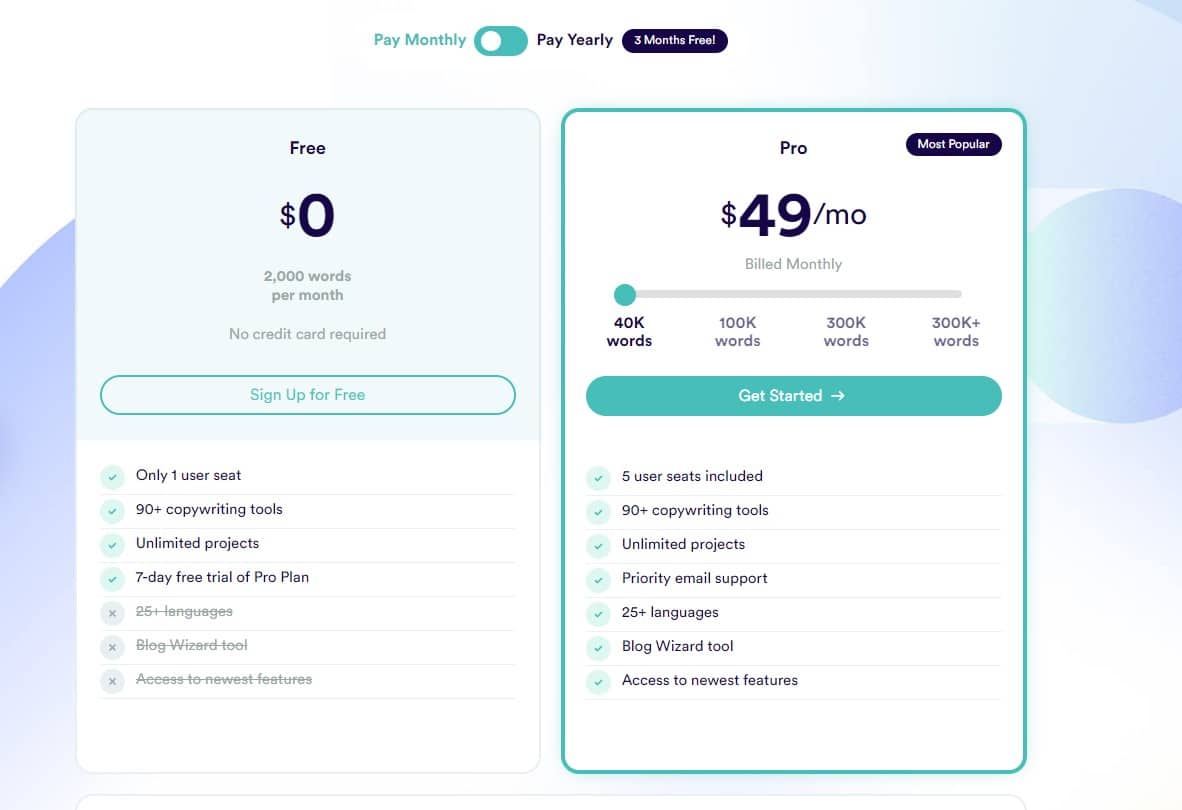 Copy AI pricing offers two plans. First is free offering all the 90+ copywriting tools, limited to only 2,000 words per month, and cutting on language options so, this will be only for English marketers, but still, they allow you unlimited projects.
And the second plan starts at $49 per month giving you full access and 40,000 words per month credit.
How to Choose the Best Copy AI Alternative? TL:DR
As you can see, all Copy AI alternatives have their own pros and cons, focusing on different things and helping customers in a different way and certainly they are one of the best AI writing tools on the market.
So, the key to choosing the right Copy AI alternative is to find out what exactly you need from AI writing tools.
Is it to generate long-form content, generic short-form content for any need, highly personalized content, or highly converting copies?
Whatever it is, first, you need to get a clear idea of how exactly and on what you will be using the AI writing tool the most.
Without understanding your needs, you probably won't be able to choose the right tool.
Related Articles:
Also, check out our other product reviews hub.
Disclaimer
This article was created by Eduard Dziak and may contain affiliate links. The following were used to optimize the article for the best user and search engine experience include:
SE Ranking for keyword research and on-page SEO optimization
Surfer SEO for SEO-friendly content creation for users and search engines.
Jasper AI for grammar correction and information enhancement.
The article is based on the author's own experience and knowledge, drawn from both their own work and that of their clients, to provide the latest, proven methods.