Are you looking for SpyFu alternatives or competitors? SpyFu is an excellent SEO software but not suitable for everybody. Therefore, here is a curated list of the best paid and free alternatives to SpyFu in 2023 for you to compare for your business or organization.
Compare pros and cons, pricing, user reviews, and more from SpyFu competitors and alternatives in order to make an informed decision for your business.
TL;DR:
Here is a summary of all the eleven SpyFu alternatives mentioned in this article as well as what they are best for:
SE Ranking: Best for digital marketers that need all-in-one SEO and they are looking for the best value for money to get everything they need. Best overall
SEMRush: Best for companies and high-ticket marketing consultants that need advanced SEM tools.
Serpstat: Best for digital marketers and business owners who want to grow their website's online visibility.
WebCEO: Best for digital marketing agencies that need SEO tools with robust analytics features and custom reports.
iSpionage: Best for digital marketers that need competitive intelligence into SEO and PPC of their competitors.
SEO PowerSuite: Best free alternative to SpyFu with advanced features and affordable yearly pricing.
Ahrefs: One of the best SEO tools on the market making it the top choice for SEOs with access to large budgets.
Moz: is best for SEOs that need access to highly accurate data to make informed decisions.
Mangools: is best for beginners and bloggers that want to improve their online visibility by using affordable and easy-to-use SEO tools.
GrowthBar: is best for SEOs and bloggers who want to create SEO content faster and better while having basic access to other SEO tools.
Netpeak Spider: is the best for performing deep technical SEO and on-site SEO analysis with a very affordable price tag.
SE Ranking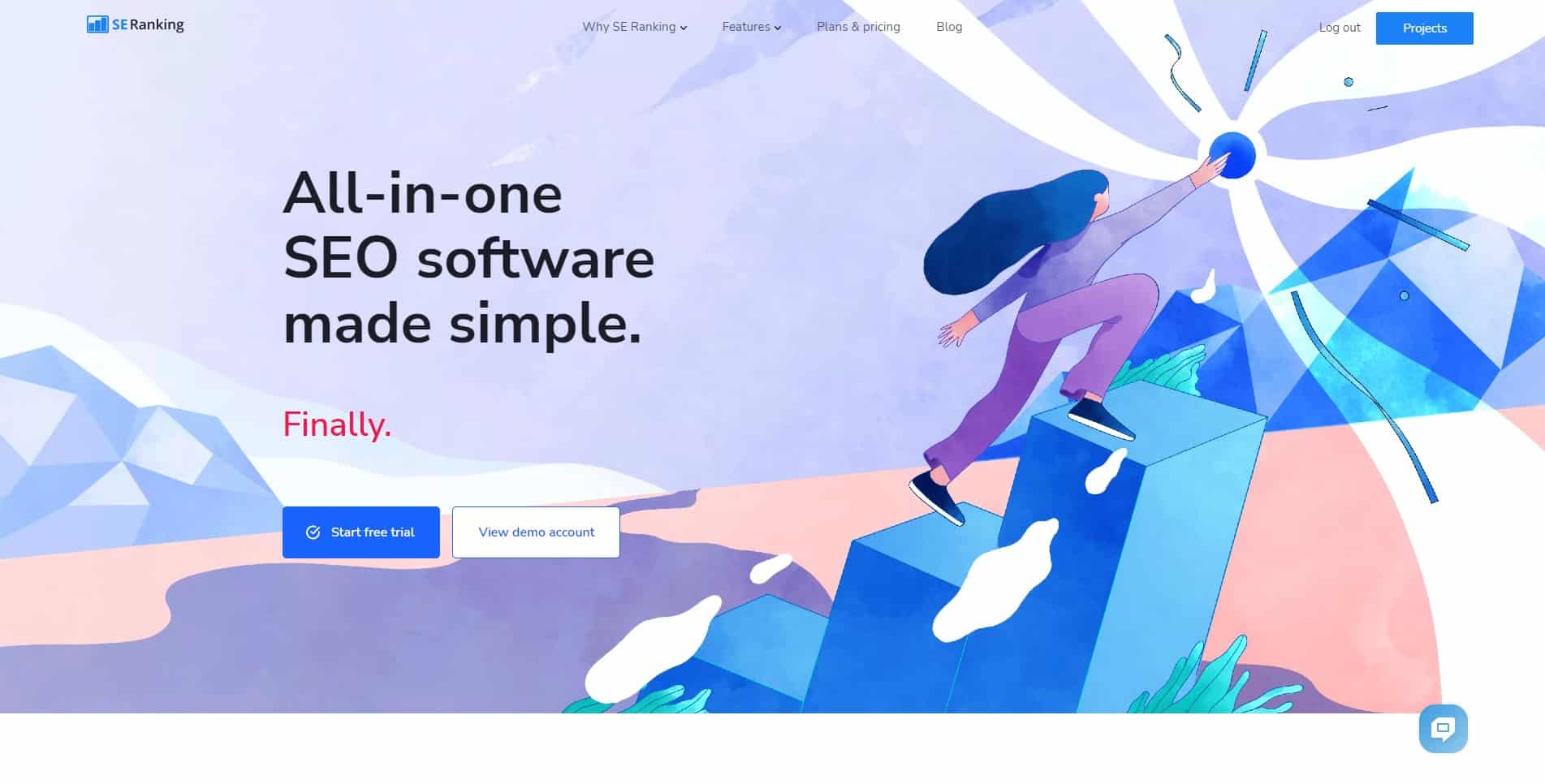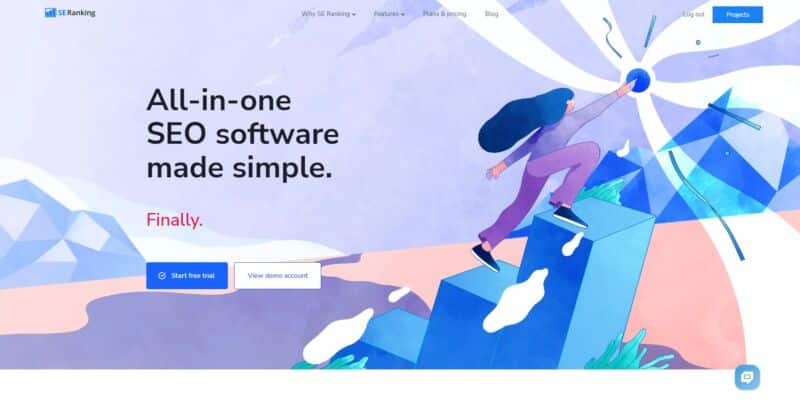 SE Ranking — is all-in-one SEO software with over 35+ tools for every task in search marketing. The platform provides analytical data and monitoring features that help specialists, agencies, marketers, and business owners bring their websites to the top of the SERPs and stay there, increasing website traffic and bringing more revenue or leads from SEO.
For me, SE Ranking is arguably the best SpyFu alternative on the market due to its large number of advanced SEO and PPC tools and very affordable pricing. Definitely, SE Ranking is the best value for money!
For example, SE Ranking has one of the largest keyword databases on the market, they provide awesome competitive analysis tools and now they also provide an SEO content editor to fully optimize your SEO content for SERPs. (Check out how to use SE Ranking Competitor Research Tool.)
Best value for money

Affordable

A lot of advanced SEO and Content Tools

Excellent keyword research tool

It has everything you need

Lovely customer service
Less precise keyword volume

Less precise keyword difficulty score

Sometimes lag or slow loading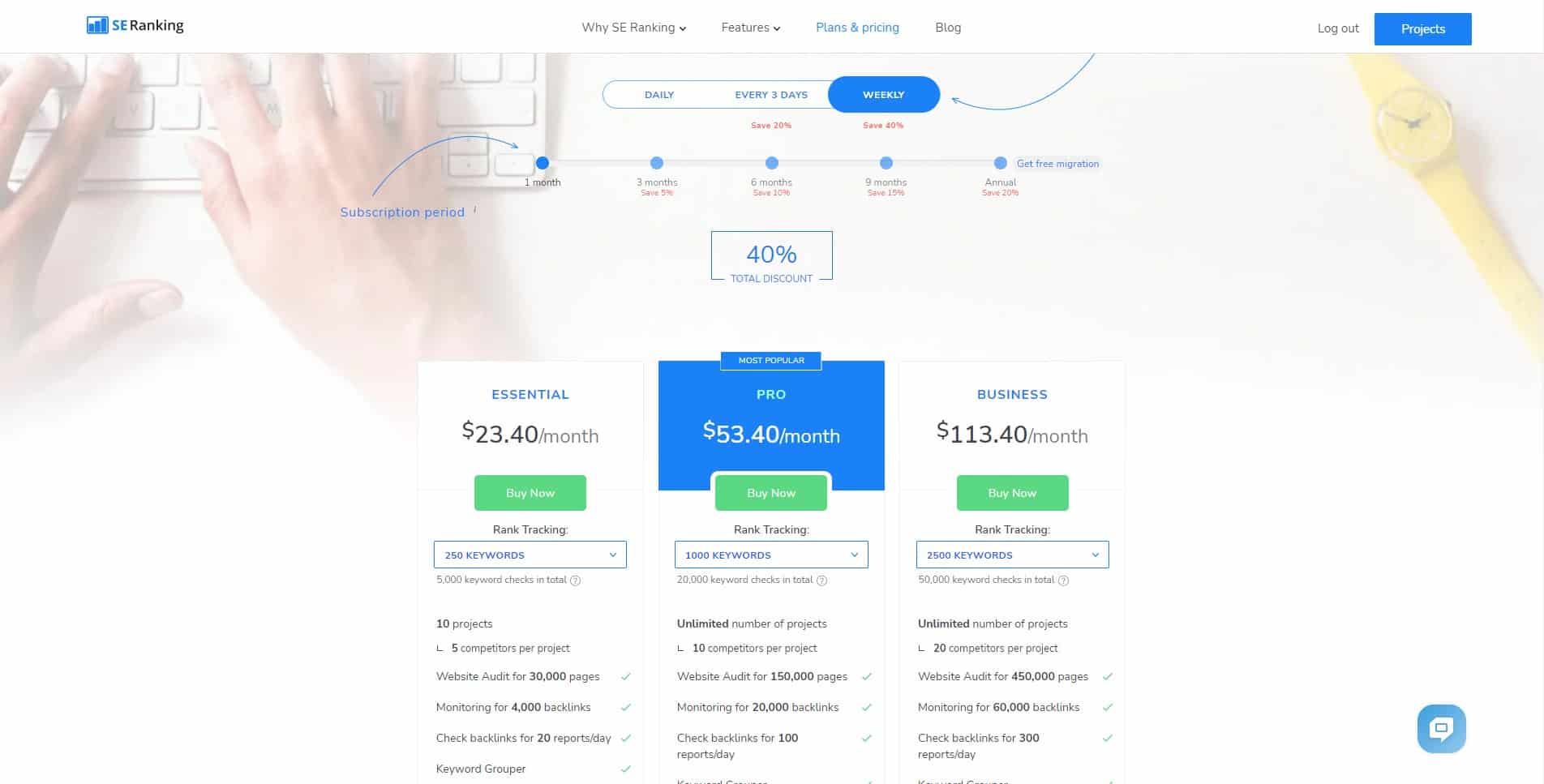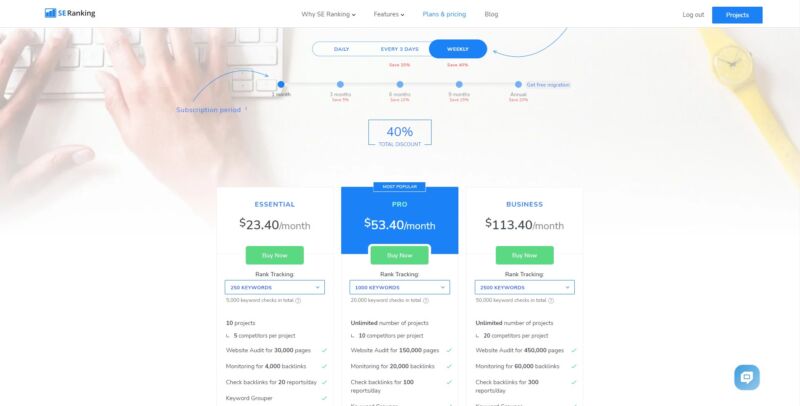 SE Ranking's has very affordable pricing and offers three plans. It starts at $24/mo if you select weekly ranking check frequency and pay monthly and it gives you access to most of their SEO tools. Definitely enough for small businesses. But then you can choose their Pro plan for only $54/mo and this allows you to fully utilize the tools even if you have a large website.
SE Ranking Is Best For
SE Ranking is best for everybody who needs a complete SEO tool with a limited marketing budget. They offer the best value for money compared to their competitors but often give you more. Definitely the best SpyFu alternative or any SEO tool.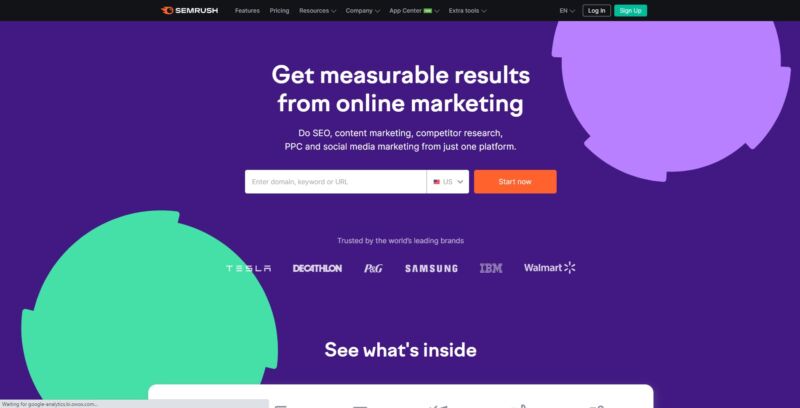 SEMRush is an all-in-one SEM tool with over 55 tools for SEO, content marketing, market research, PPC, and social media allowing you to effectively manage everything you need for your digital marketing needs and beyond. SEMrush is arguably the most complete SEO tool on the market used by entrepreneurs to Fortune 500 companies to grow their online presence and website traffic.
SEMRush is also one of the top SpyFu alternatives and the main difference between SpyFu and SEMRush is that SpyFy is mainly focused on competitive analysis and research with a large set of historical data allowing you to effectively analyze every website SEO journey while SEMrush gives you way more tools, but also it's way more expensive compare to SpyFu.
Needless to say, often people move from SpyFu to SEMrush when they grew their websites, and they need more to manage their growth.
Best SEM tools on the market

Freemium account

Biggest all-in-one SEM platform
Expensive

One login at the time

Longer learning curve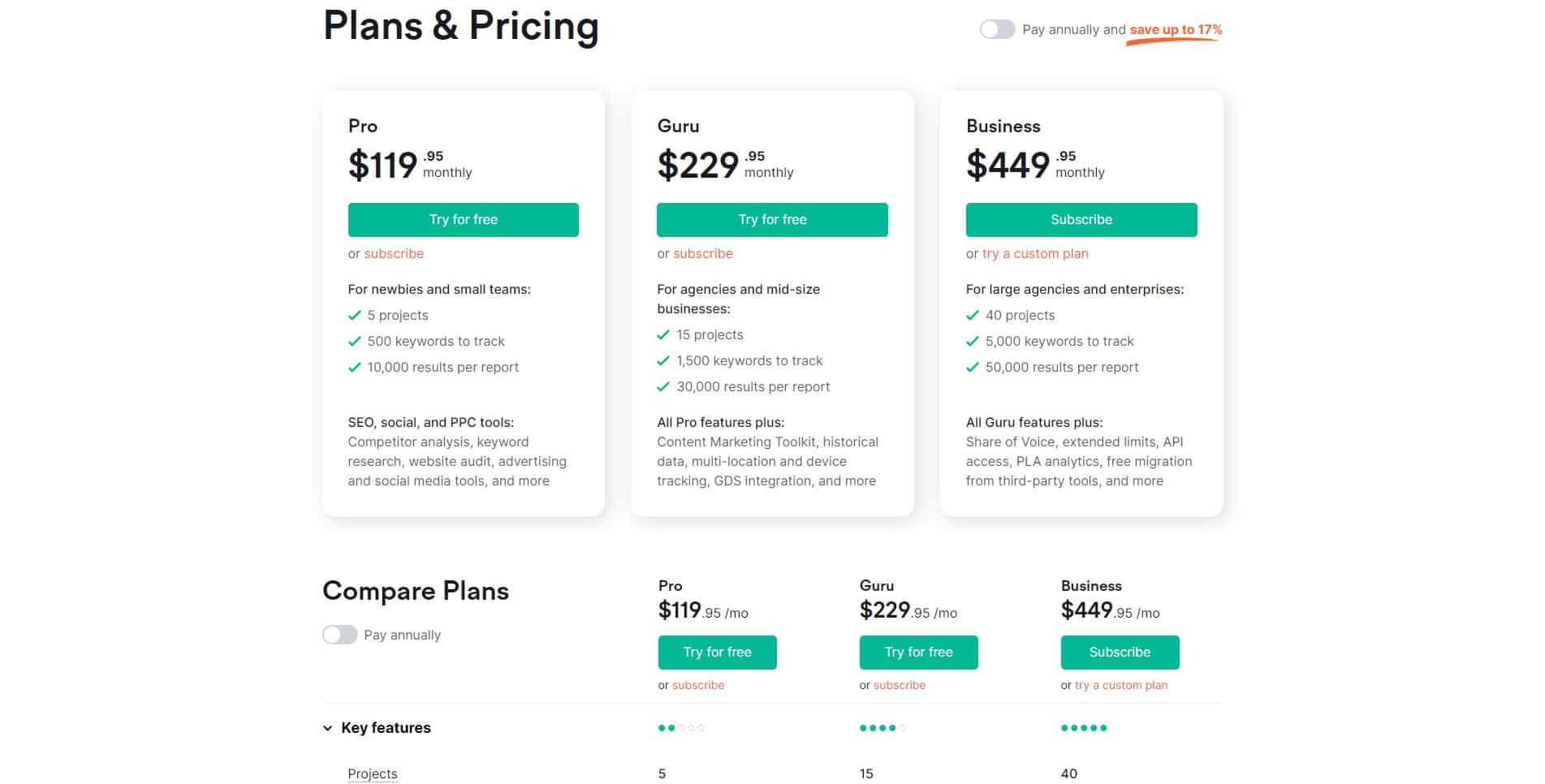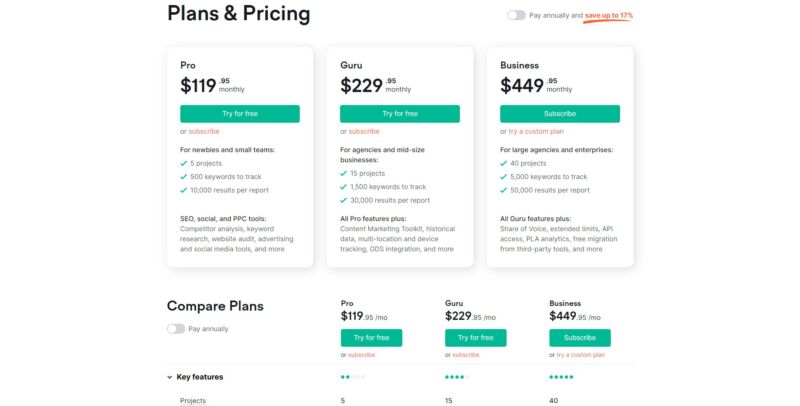 SEMrush offers three pricing plans starting from $120/mo which gives you minimum access to their wide range of features and in my opinion, it is not worth considering this plan. The Guru plan for $230/mo is something that you would be probably looking at as it gives you access to most of the tools that you would need.
SEMRush Is Best For
SEMrush is best for companies and high-ticket marketing consultants that need comprehensive and advanced SEM tools to manage and grow digital marketing channels and they have the budget to pay for it.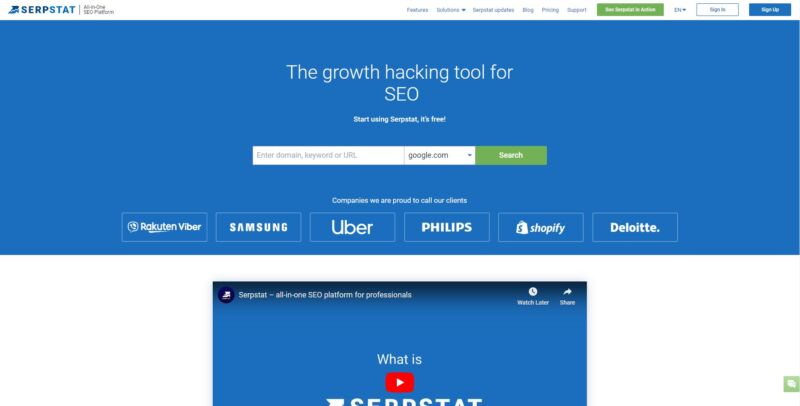 Serpstat is another all-in-one SEO tool for growth hacking for SEO, content marketing, and PPC with an arsenal of 30+ tools that helps companies to build up their online presence. It's one of the top SEO tools on the market loved by agencies, companies, and consultants.
Serpstat is one of the free alternatives to SpyFu offering you limited, yet good access to their tools allowing you to do basic SEO tasks such as research keywords, analyze competitors, competitor backlink analysis, and get acquainted with Serpstat without hassle.
Freemium account

Affordable SEO tool

Great customer support

Great coverage of other markets
Reporting view is limited

A lifetime deal gives no access to new tools

Small keyword database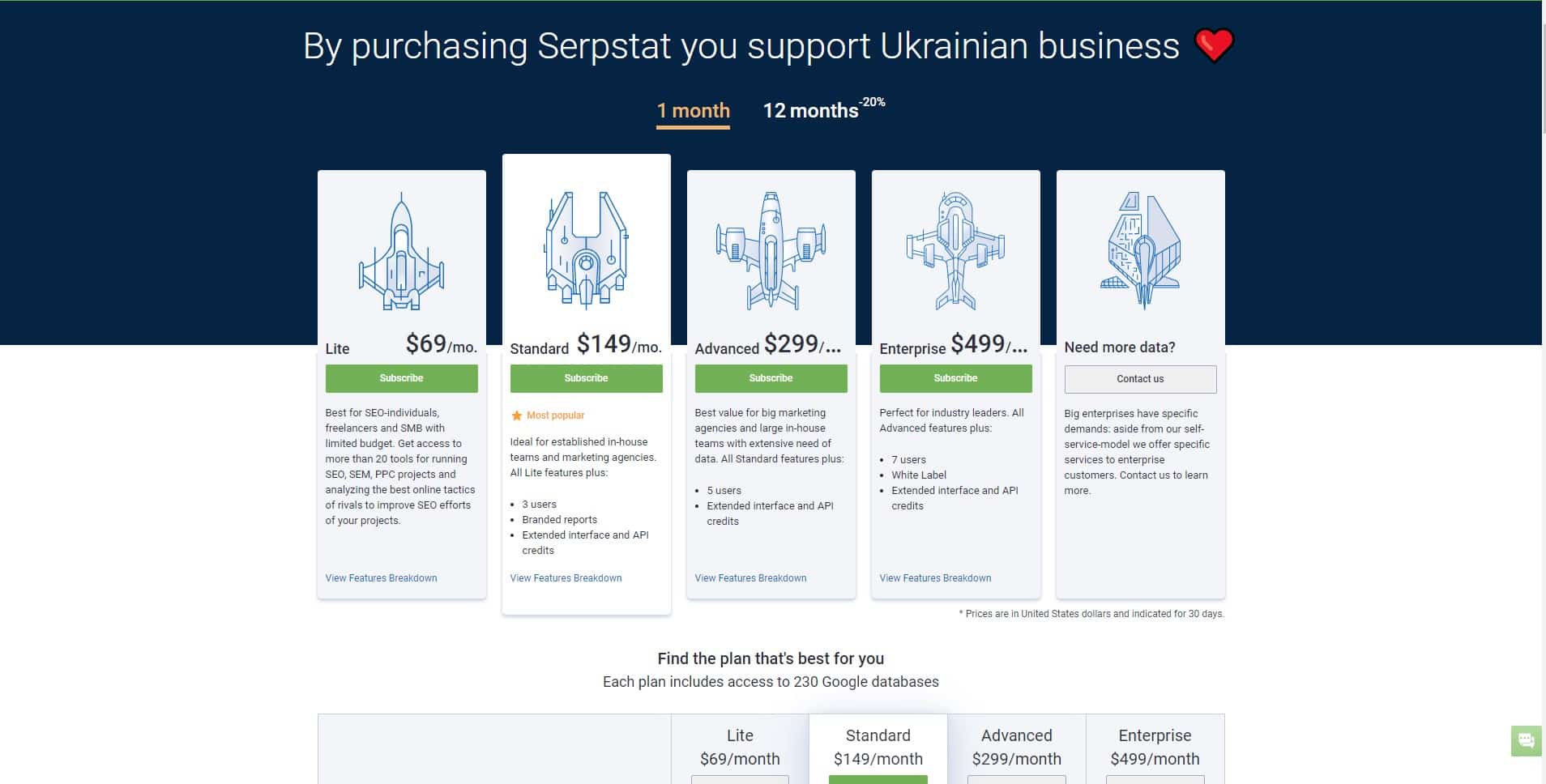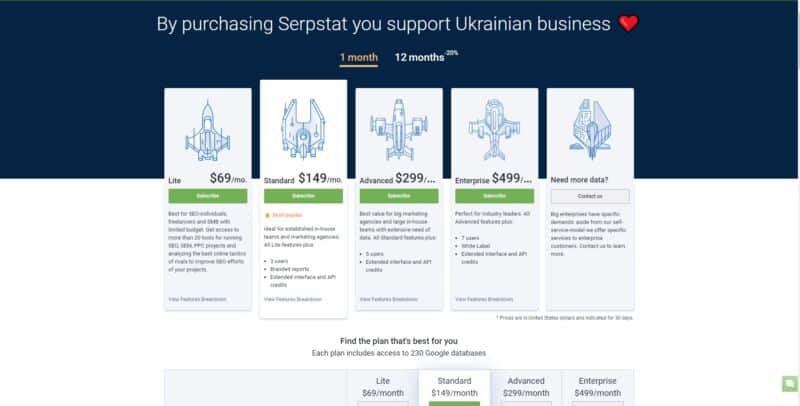 As said, Serpstat offers a limited freemium account that allows you to test their tools and perform the basic SEO task. However, besides that, they offer four plans starting at $69/mo which gives you access to most of their tools, and honestly, it's the best plan you can go with unlike with their competitors where their starting plan offers very little.
Serpstat Is Best For
Serpstat is the best for digital marketers and business owners that are looking to grow their website search visibility and track their performance.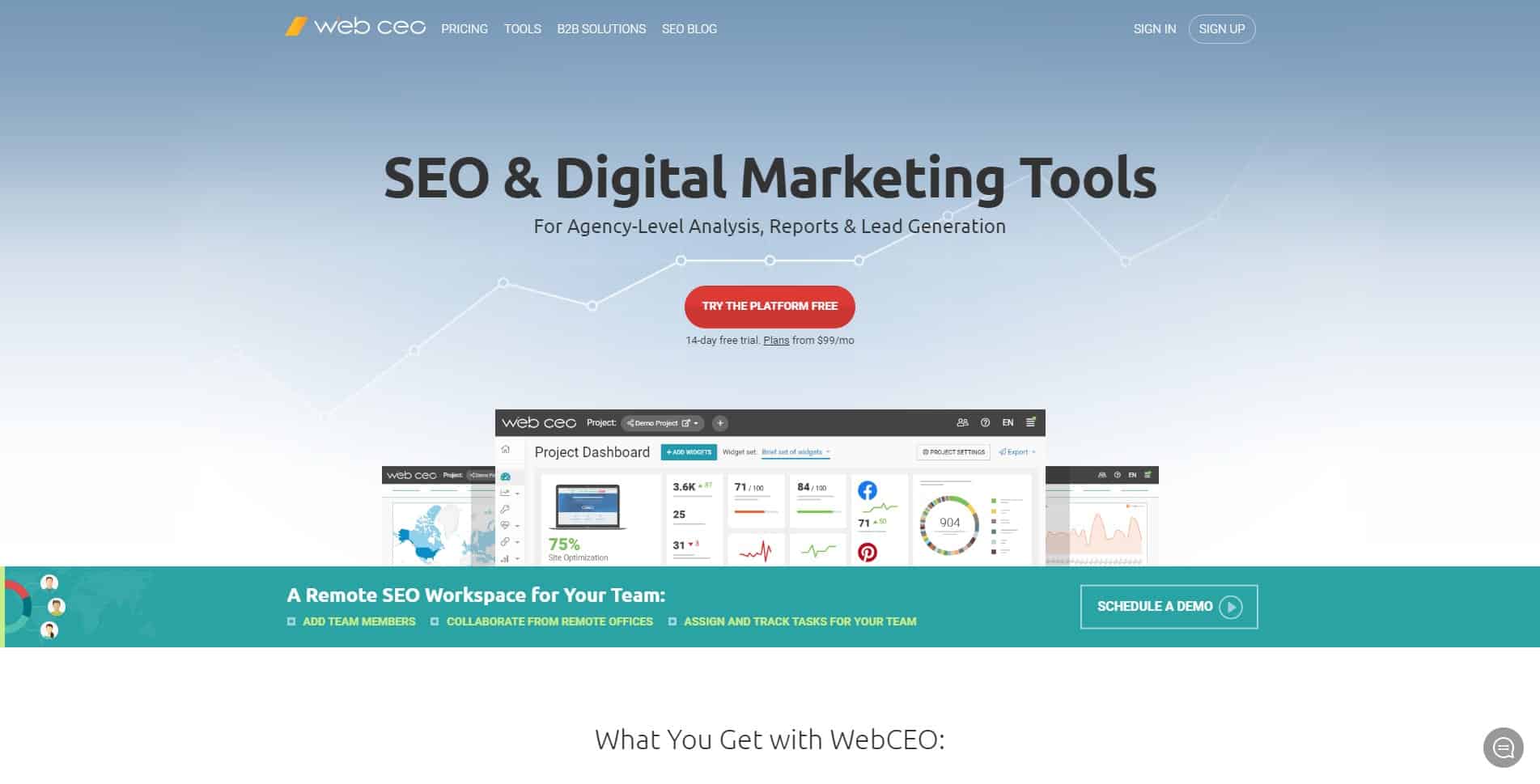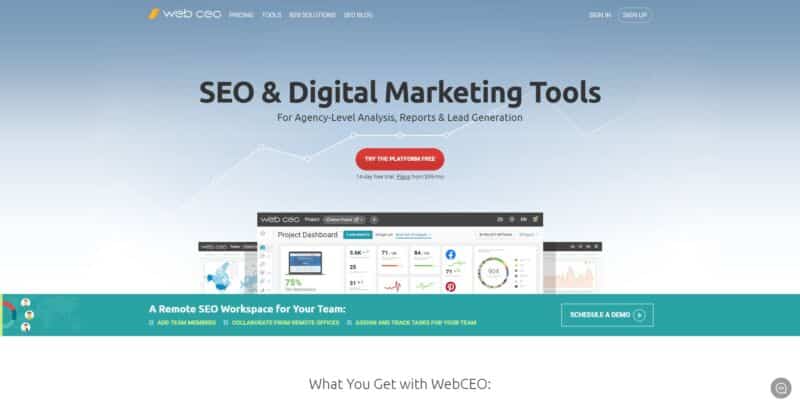 WebCEO provides digital marketing and SEO tools for agency-level analysis, reports, and lead generation to help them do common SEO tasks, generate leads, improve collaboration, manage hundreds of client sites easily, generate white-label SEO reports, and more.
WebCEO is a close SpyFu competitor and another great alternative to Spyfu as they offer similar pricing, however, WebCEO offers more features such as Google Analytics integration, link management, localization automation, mobile keywords, and others. Besides that these tools are similar to each other and you won't have a problem using either of them.
Intuitive design

Budget-friendly marketing tools

The great versatility of the platform
Sometimes a false technical alert

Custom reports are complex

Ranking reports are less accurate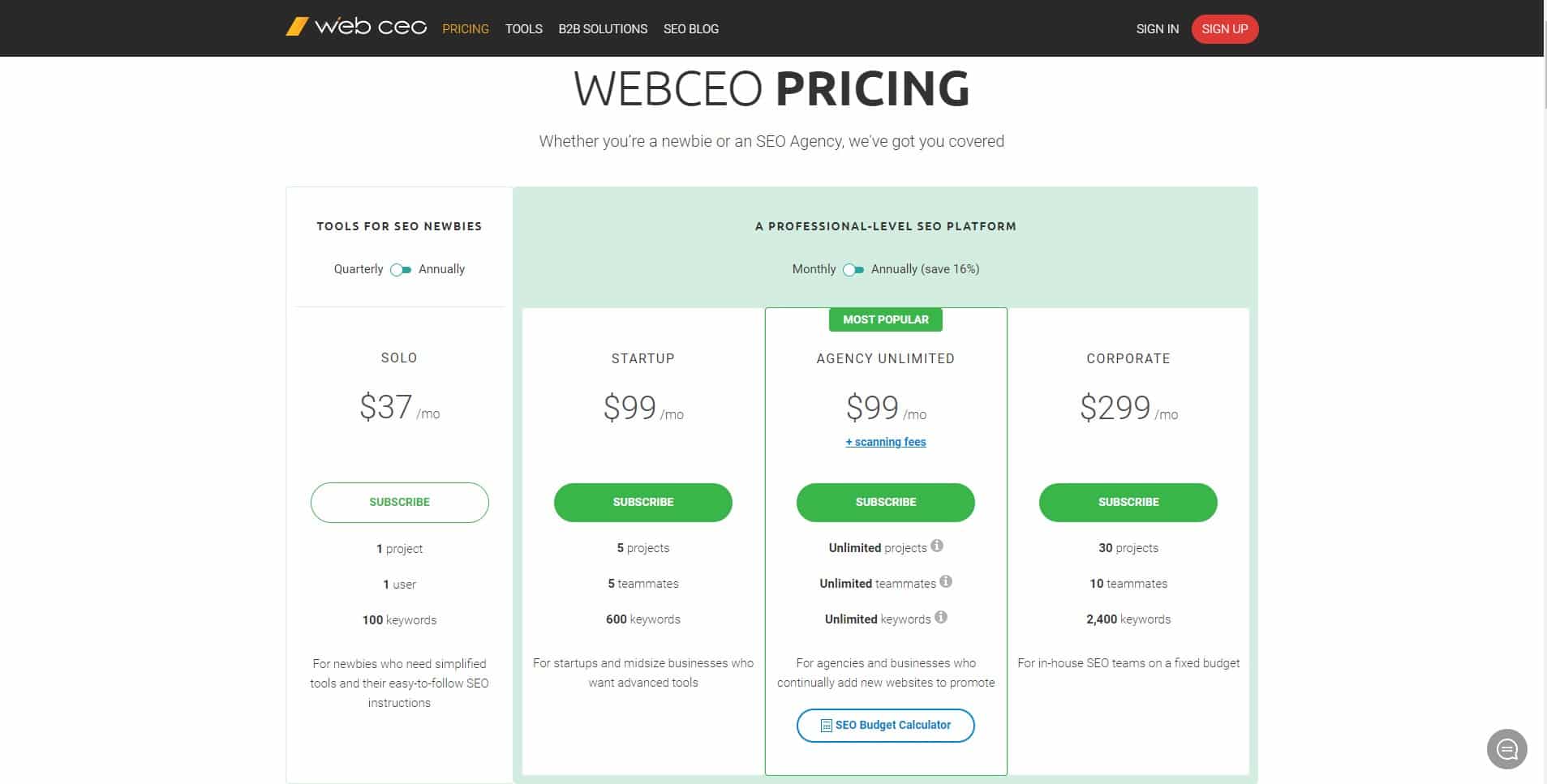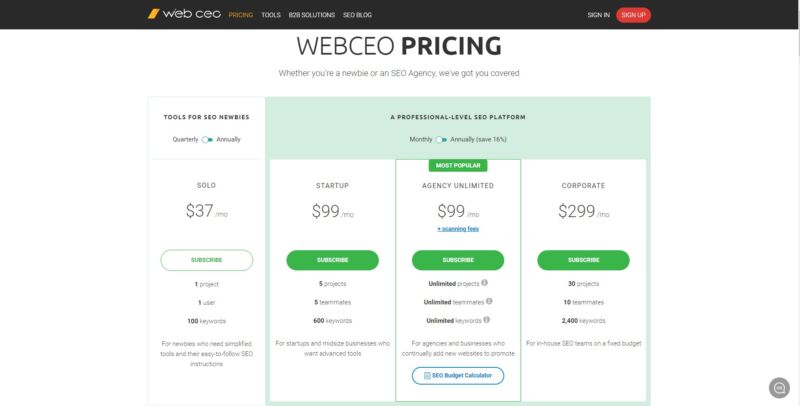 WebCEO pricing offers four different plans starting as low as $37/mo which is perfectly suitable for a one-man show who wants to optimize a website for bigger growth while the higher plan allows you to get important features used mostly by SEO or marketing agencies. But, the Corporate plan does not make sense to me.
WebCEO Is Best For
WebCEO is best for digital marketing agencies that need robust analytics features that allow them to create comprehensive reports while having access to other important SEO tools such as keyword research, competitor analysis, site audit, and others.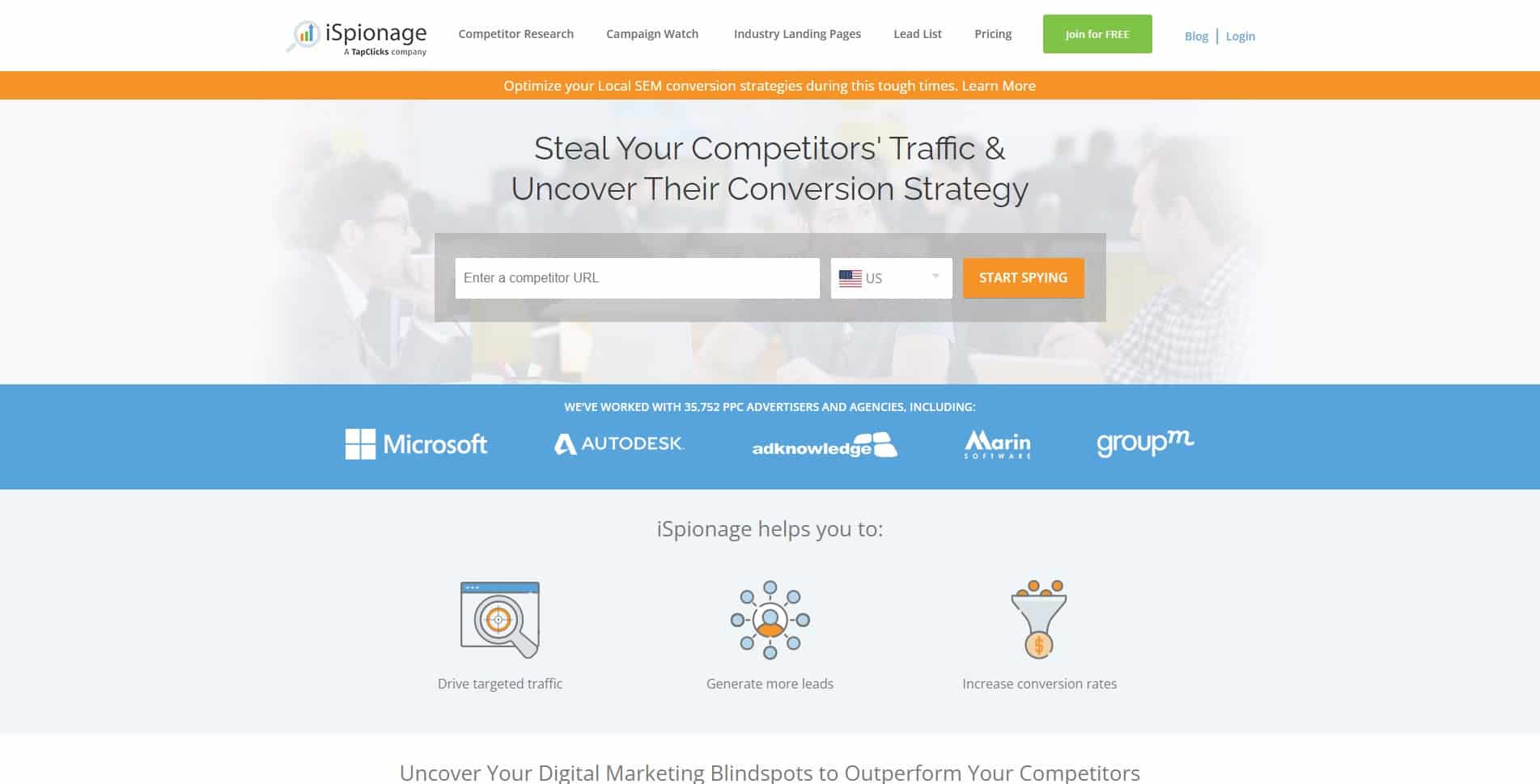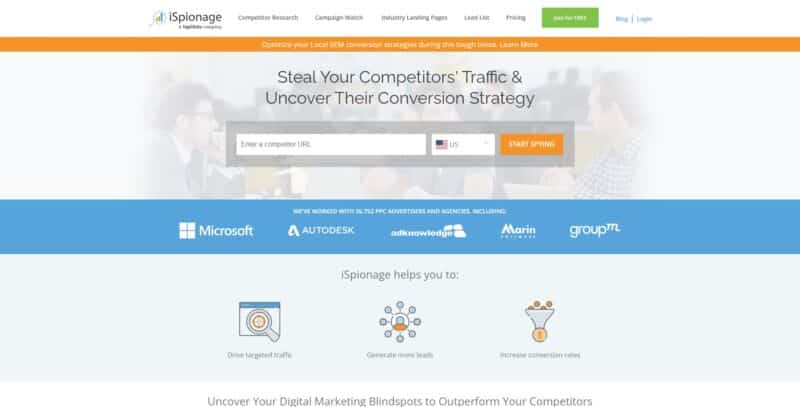 iSpionage is a competitive intelligence tool for search engine marketers that allows you to track and monitor what your competitors are doing, what's their current PPC and SEO strategy, and it gives you the intelligence to effectively compete.
While both tools offer PPC and SEO tools, the main difference between them is that SpyFu offers much more comprehensive SEO and PPC data while iSpionage provides better monitoring and intelligence data. Also, iSpionage does not provide any backlink data, but they iSpionage provides a large gallery of landing page screenshots allowing you to stay abreast of what others are doing.
Great intelligence data on PPC and SEO

Easy competitor analysis and research

Discover valuable keywords
Only US-UK-CA markets

Very expensive

Not a big database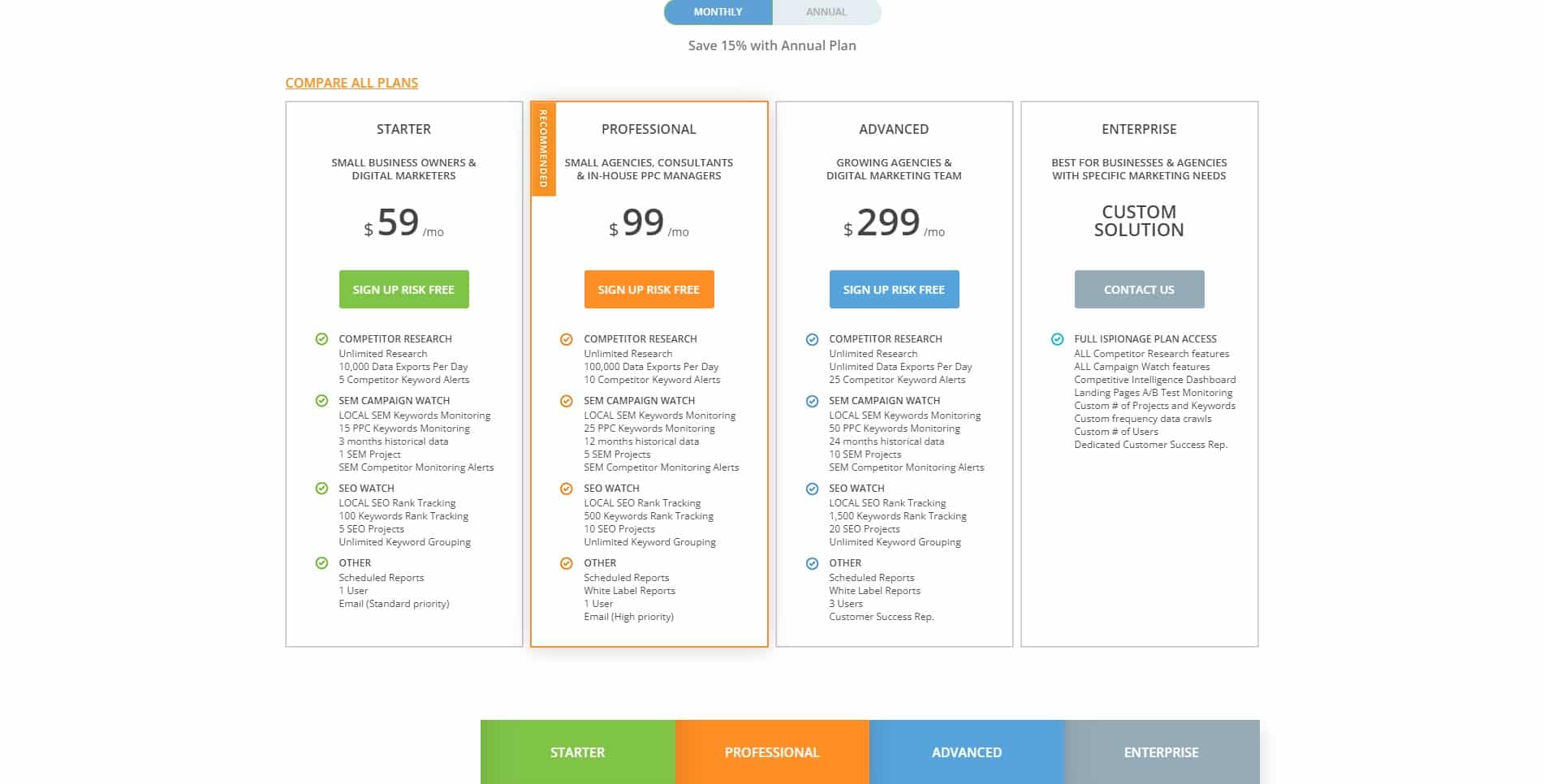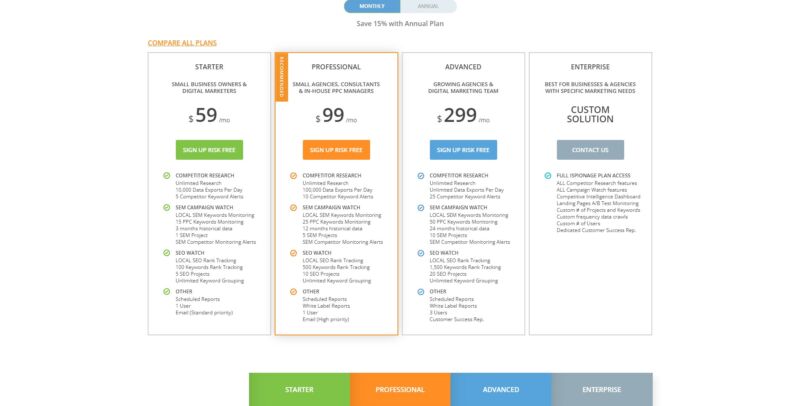 iSpionage offers four pricing plans each giving you access to all of their features and only they limit the number of reports, alerts, or data being exported which makes this value for money. The plans start at $59/mo which is perfect for in-house teams and of course if you need you can go with the higher plan. I always liked this kind of pricing where the limit is on data and not features.
iSpionage Is Best For
iSpionage is best for anybody who is looking for a competitive analysis tool that gives you deep intelligence into your competitor's SEO and PPC strategy to keep abreast of what others are doing.
SEO PowerSuite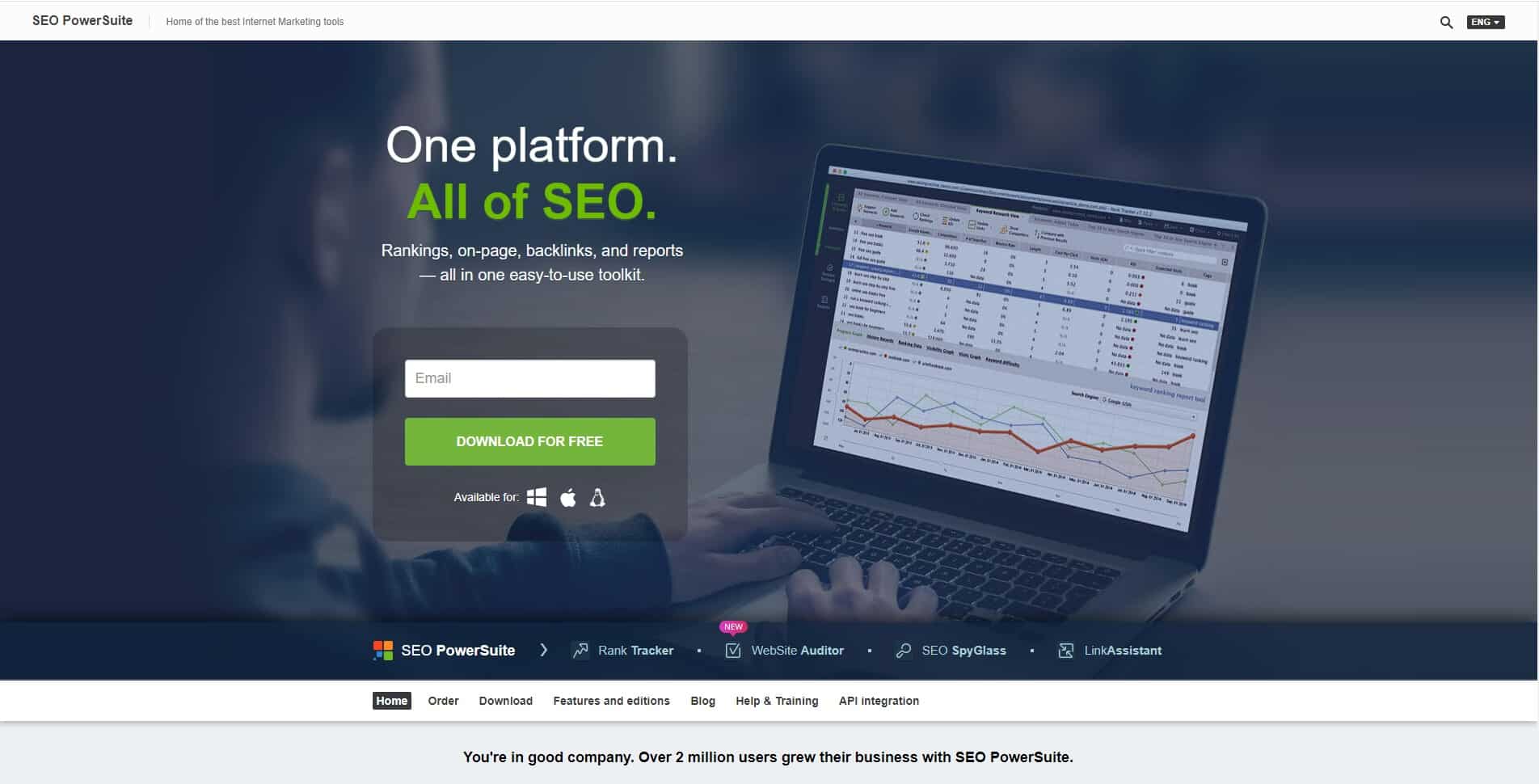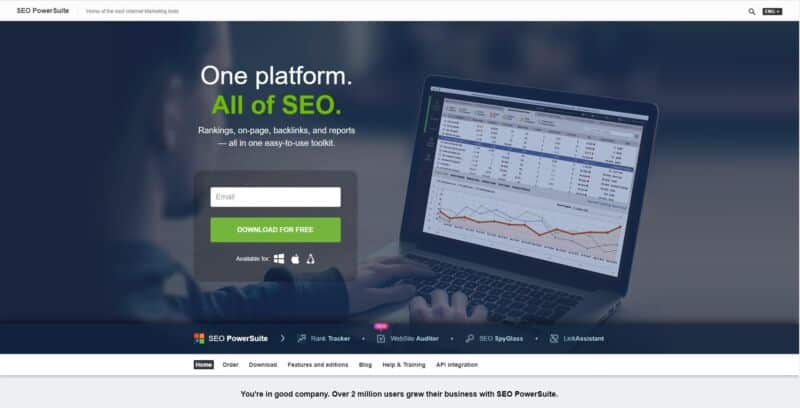 SEO PowerSuite is an all-in-one SEO tracking solution that helps businesses of all sizes conduct keyword research, monitor ranking, analyze backlinks, and more on a centralized platform. It's got everything crucial for the SEO industry: from an SEO analysis tool to keyword research tools, to backlinks checkers, to content editors, to PPC ads optimization, and much more.
SEO PowerSuite is one of the direct competitors of SpyFu offering similar features like SpyFu with free access to some of the advanced features unlike SpyFu making SEO PowerSuite one of the best free SpyFu alternatives giving you access to important SEO features.
Free access to most of their tools

Very affordable

In-depth reporting
Poor customer support

Java desktop application

Longer learning curve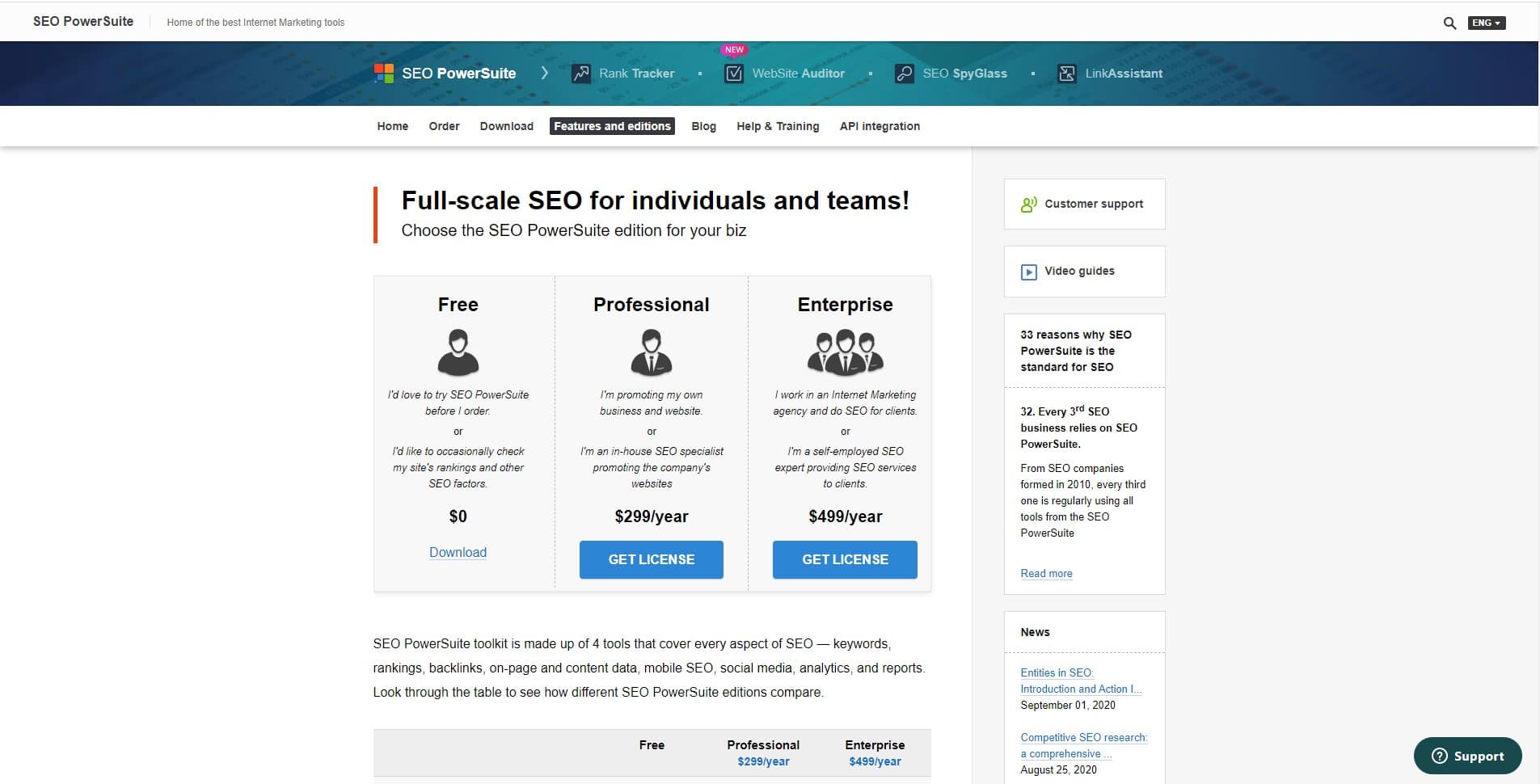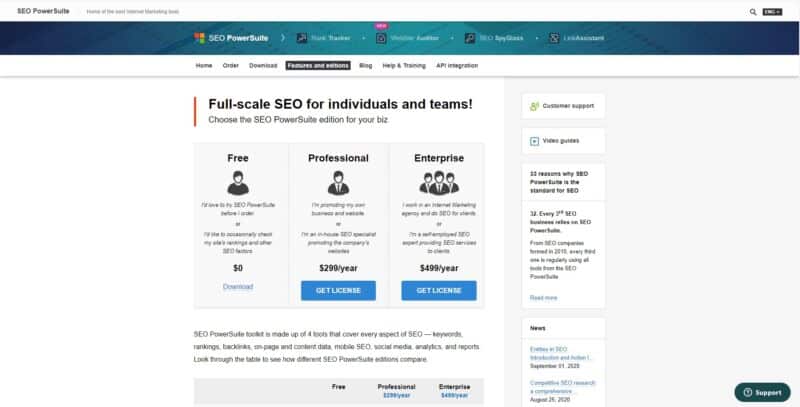 SEO PowerSuite pricing offers three different plans the first one is absolutely free, and it gives you access to quite a lot of their features with a higher number of quotas for certain reports making this an excellent free alternative to SpyFu. However, the other plans are only offered for yearly licenses starting at $299, which is approximately $25/mo if you calculate it. Again, this is a very affordable solution if you can pay at once.
SEO PowerSuite Is Best For
SEO PowerSuite is best for anybody who needs advanced SEO tools for a free or very affordable price and can afford to pay for a yearly license.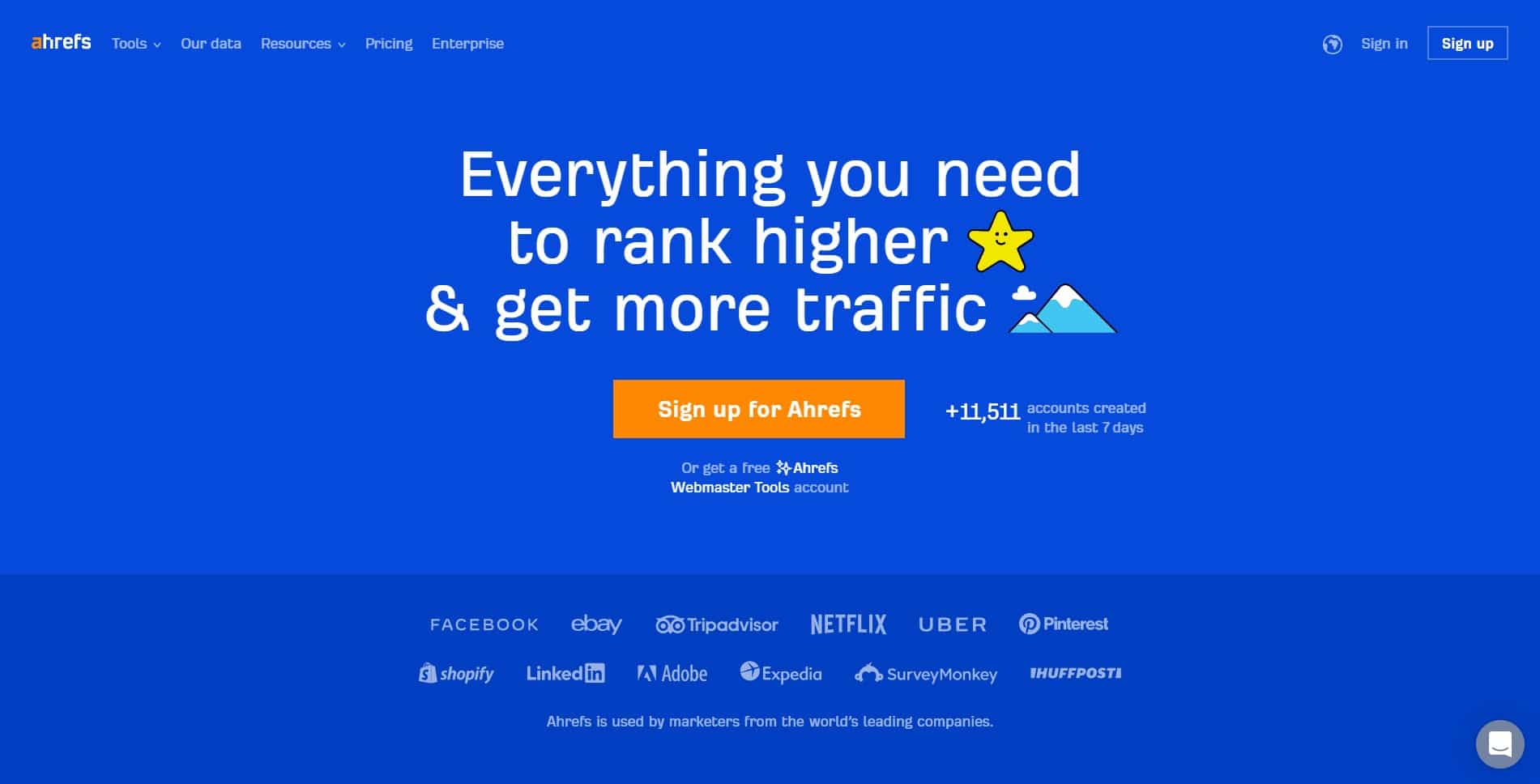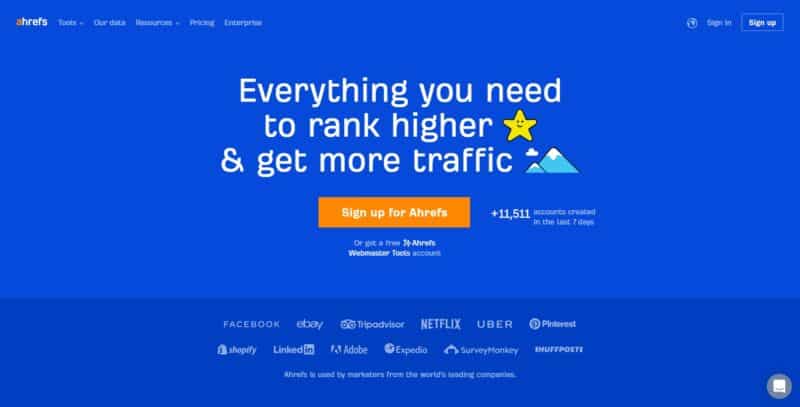 Ahrefs provides all the SEO tools and resources anybody needs to succeed in SEO from optimizing on-page SEO, and off-page SEO to fixing technical SEO issues even by newbies to finding content ideas that will rank fast in SERPs. Ahrefs is one of the fastest-growing SaaS platforms with its product-let SEO and content strategy.
Ahrefs is another direct competitor of SpyFu and one of the best SpyFu alternatives used by marketers and SEOs around the world and it is considered one of the best keyword research and link building tools on the market.
Also, unlike from SpyFu, Ahrefs offers a freemium version of their Webmaster tools helping you to monitor your website with their Ahrefs metrics. Ahrefs also offers an SEO toolbar and WordPress plugin enabling you quick access to important information. On top of that Ahrefs provides more features and advanced options, however, all this comes at a hefty price.
One of the top SEO platform

Free webmaster version

WordPress SEO plugin

Excellent SEO resource library
Expensive

Not Local SEO tools

Longer learning curve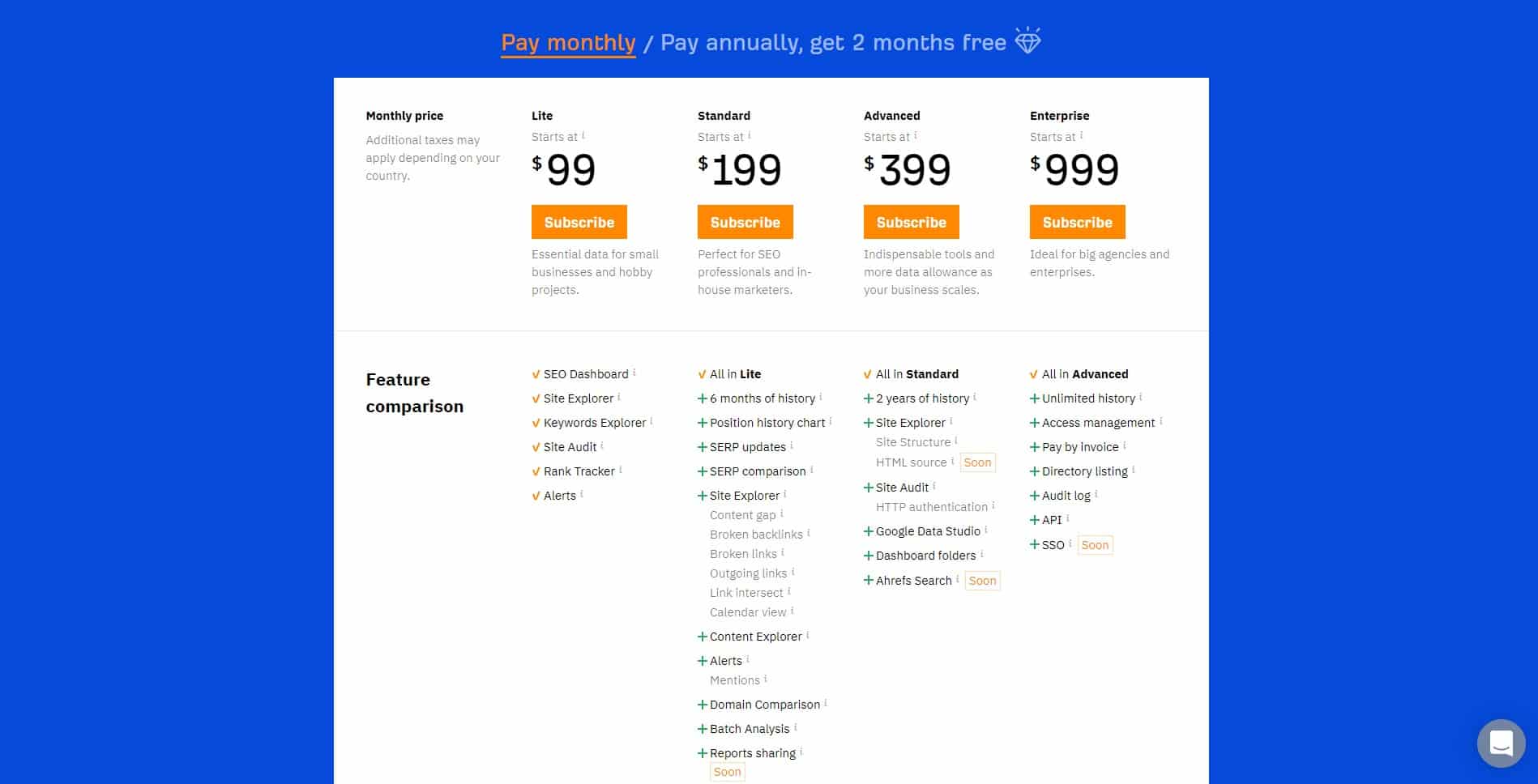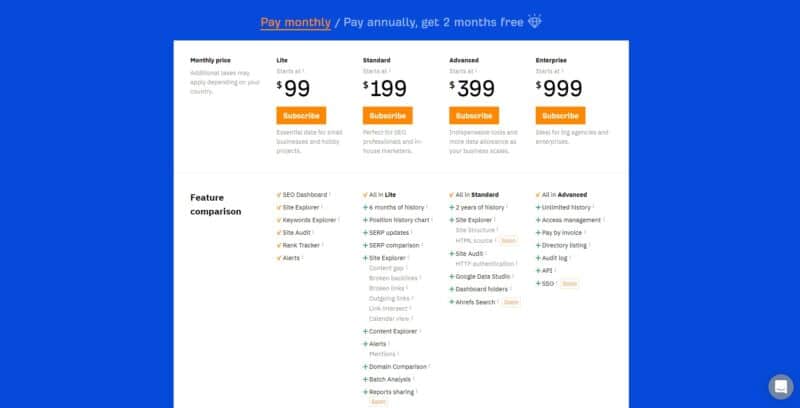 Ahrefs pricing is one of the highest in the market, while they do offer one of the best-of-breed SEO tools, they certainly charge for that as their pricing plans starts at $99/mo giving you access to standard features, and personally, this plan is not really worth if you are serious with SEO, which I assume you are if you are planning to use Ahrefs.
Therefore, the plans that you should consider are the Standard or preferably the Advanced, and these are priced at $199/mo or $399/mo respectively making this one of the most expensive SpyFu alternatives.
Ahrefs Is Best For
Ahrefs is best for marketers or SEOs that are serious to grow their SEO online visibility as they provide one of the best SEO tools on the market including keyword research, competitor analysis, backlink analysis, and much more.
Moz Pro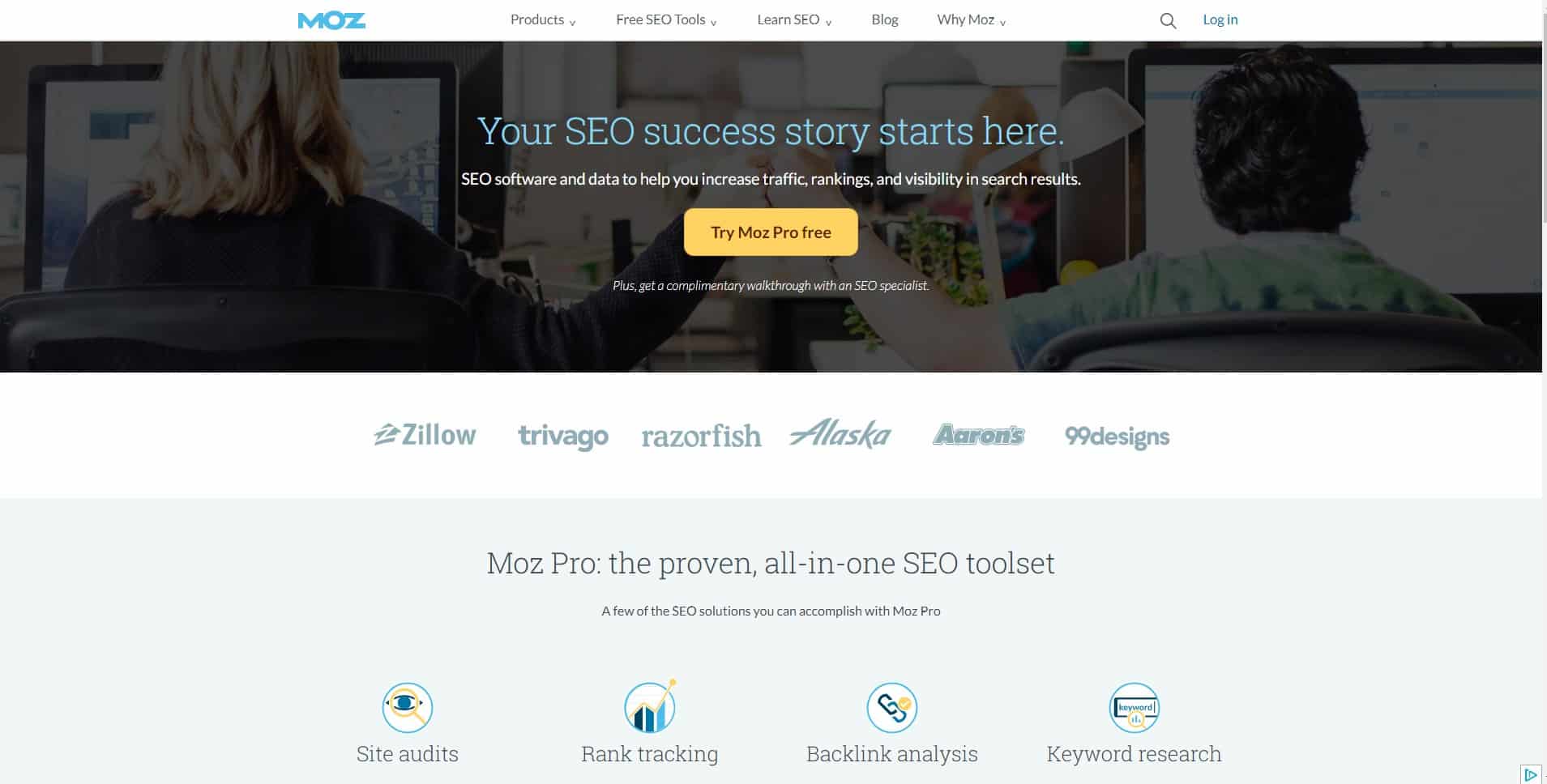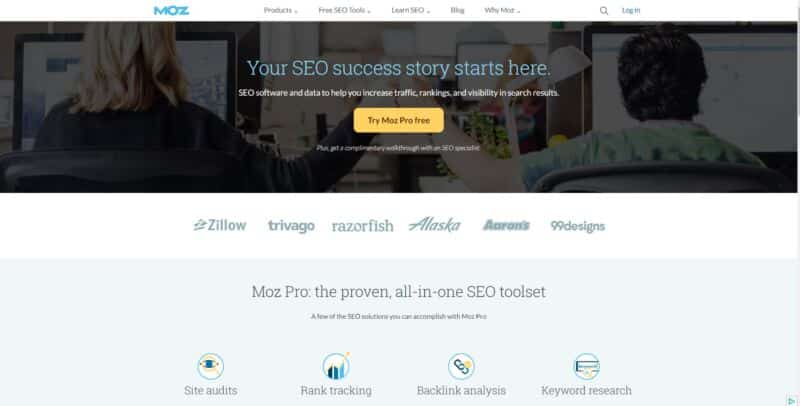 Moz is another all-in-one SEO platform giving you access to advanced SEO features and data used by SEOs and digital marketers to grow their website visibility. It is one of the oldest SEO software founded in 2004 by world-famous SEO expert Rand Fishkin and to this day it is one of the top SEO software on the market despite fierce competition.
Compared to Moz and SpyFu side by side they both offer very similar features and for most users, SpyFu was preferred in terms of data accessibility and usability as well as SpyFu is more affordable compared to Moz Pro while users preferred the direction of Moz Pro roadmap, and upcoming features compared to SpyFu. However, Moz does offer a freemium version making this a free alternative to SpyFu.
Very easy to use

Freemium access

Excellent side-audit tools
Keyword research tools not as relevant

Outdated interface

More expensive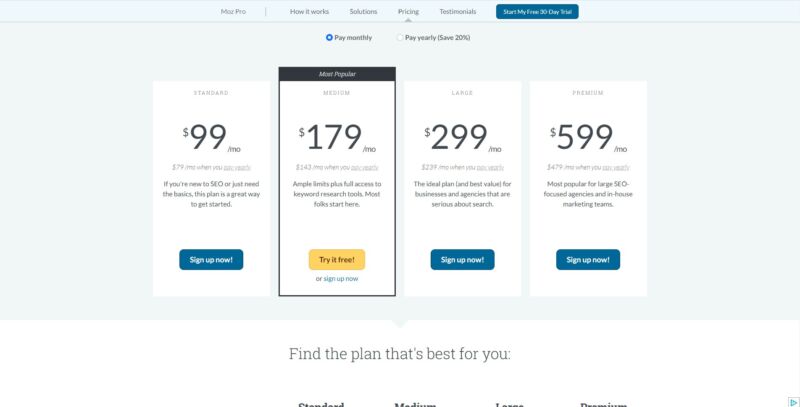 Moz Pro pricing offers four different pricing plans starting at $99/mo which gives you access to all of their features only with lower quotas for their reports which makes it perfect for smaller websites and if you need to increase you can subscribe to their large plans. Moz is not the most affordable SEO solution out there, but they certainly deliver high-quality tools.
Moz Pro Is Best For
Moz Pro offers one of the most accurate SEO data including keyword difficulty, spam score, and page and website authority that highly correlates with actual Google rankings. Moz Pro is best for SEOs that need access to highly accurate data to make informed decisions.
Mangools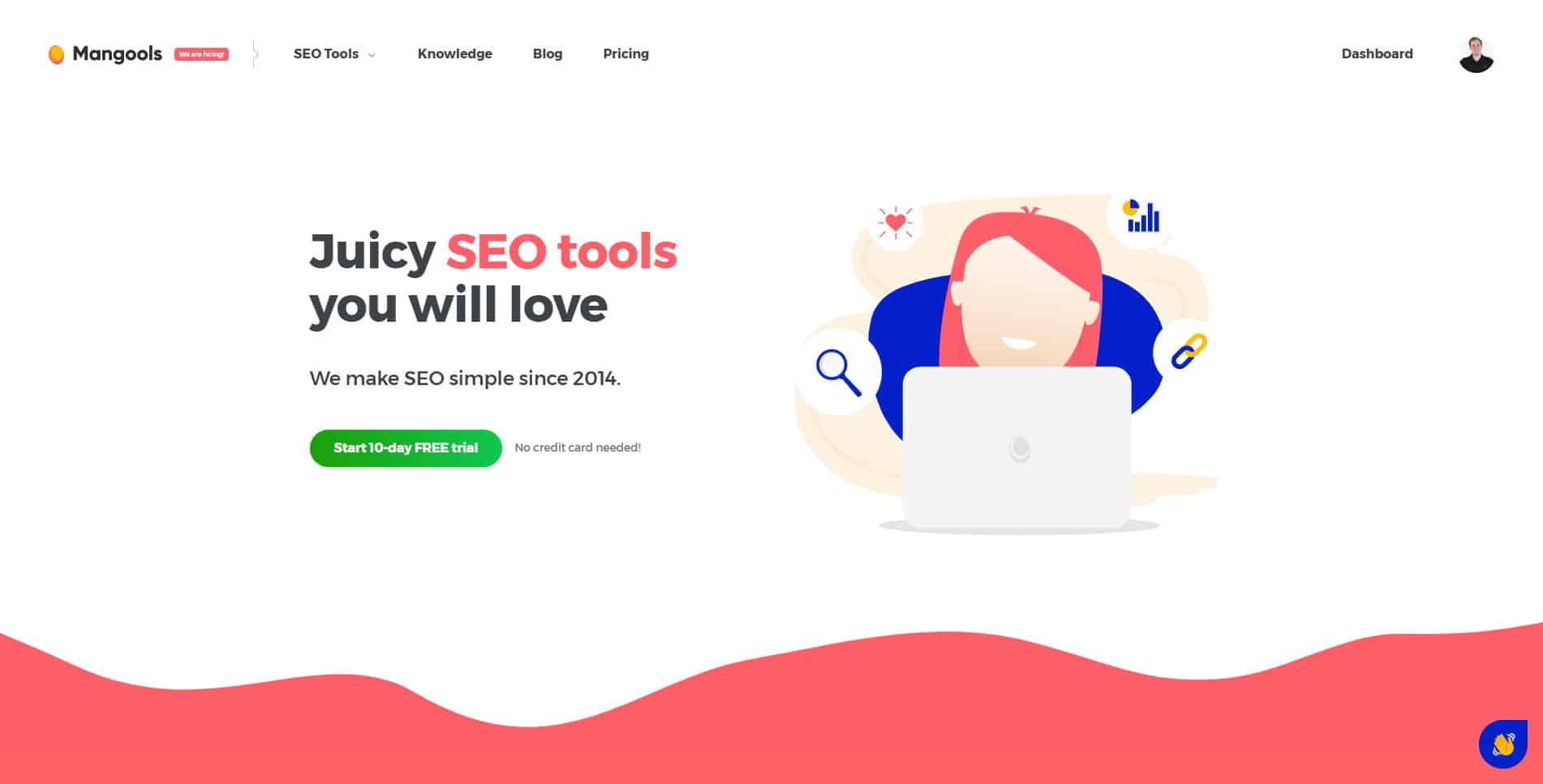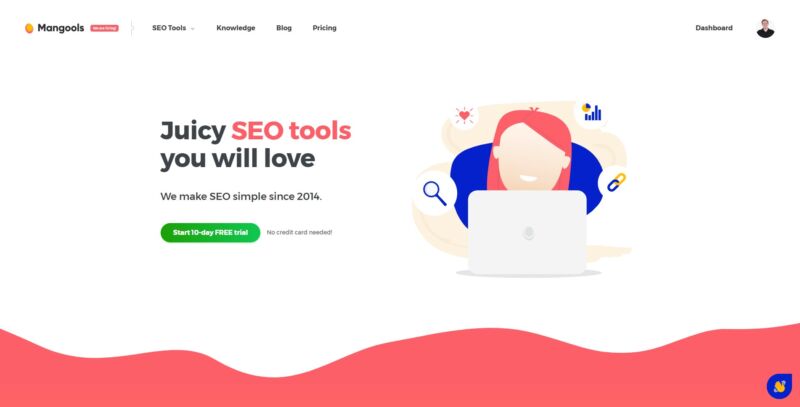 Mangools is a bundle of 5 simple but powerful SEO tools made for an effective SEO workflow including keyword research, SERP analysis, keyword tracking, link building, and competitor analysis. Mangools is loved by beginners and trusted by professionals with its seamless interface, powerful features, and beautiful design which makes it a great choice, especially for beginner bloggers.
The main difference between Mangools and SpyFu is that Mangools provide a more user-friendly and intuitive design focus on easy to use which makes this a great alternative for beginners who are learning how to do SEO and don't want to become SEO nerds while SpyFu is more for PPC reporting and especially searching for profitable keywords.
Very affordable

Excellent for beginners & bloggers

Great all-in-one SEO platform
Smaller database

Not so many advanced features

The monitoring feature is basic