Finding the high-quality backlinks that you can earn is one of the hardest parts of doing SEO or even having a website. Unfortunately, you need backlinks to rank in search results, that's why you need competitor backlink analysis for your SEO.
According to Search Engine Watch, High-quality content and link building are the two most important signals used by Google to rank your website for search.
So if you want to find hundreds of high-quality link building opportunities for your website, then you need to competitor backlink analysis.
by end of this guide, you will know how to create a list of hundreds of relevant high-quality link building opportunities for your website categorized by link building strategies.
Why Do You Need to Do Competitor Backlink Analysis?
Competitor backlink analysis gives you insights about where your competitors are getting links from in order to find link building opportunities for your website to increase your website authority and ranking. It shows you all competitors' backlinks and from what pages and domains the backlinks are coming from and why they link to your competitors.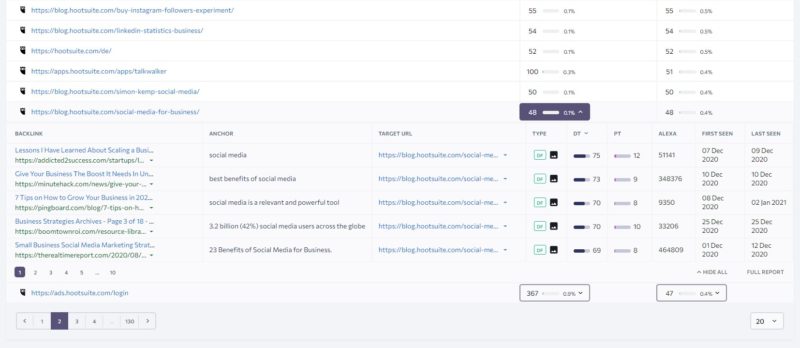 And based on this you can learn the most effective link building strategies used by your competitors and applied them to your own website.
Also, competitor backlink research will help you to understand how hard it will be to outrank your competitors and whether your niche is very competitive or low competitive. For example, the marketing niche is one of the toughest and for every keyword, you would be competing for a toe-to-toe with SEO experts.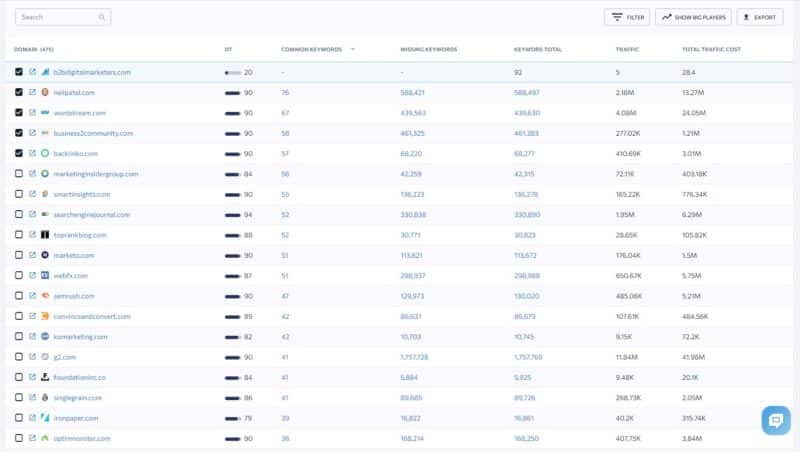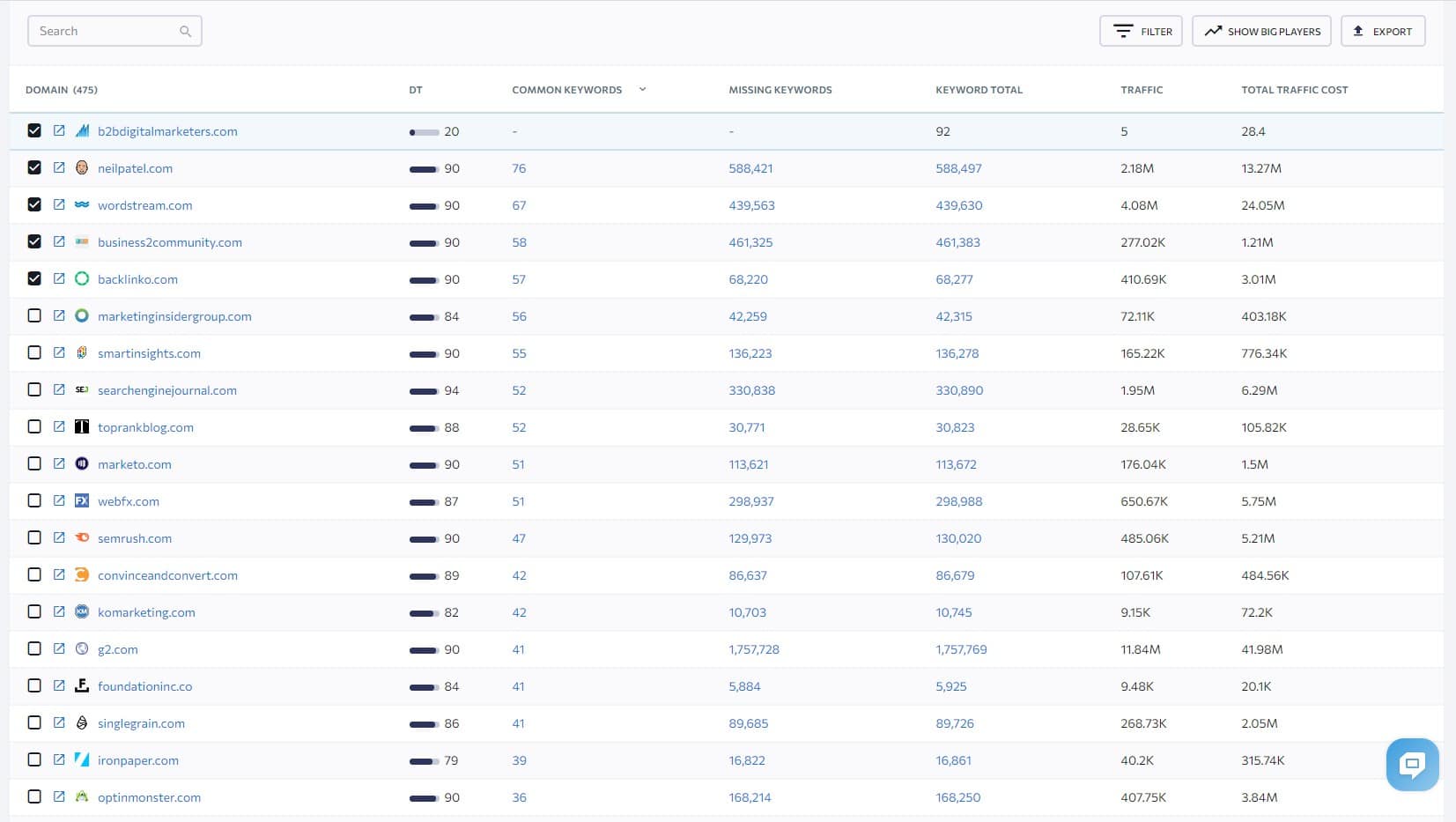 So, armed with this information, you can create your digital strategy plan for your website and better understand what it will take to rank in top positions for your targeted keywords.
Also, this could give you the answer on why you cannot increase your average ranking position, impressions, and clicks in Google Search Console.
To summarize, competitor backlink analysis gives you the information to determine whether you can outrank your competitors and how long it will take to do that.
So, if you want to learn all of that, then let's start with the competitor backlink analysis.
Step #1: Get Backlinks Analysis Tool
The first step of doing a backlink analysis is to get some SEO tool that is able to scan a website and give you the complete list of backlinks of your competitors along with additional helpful information, such as the number of referring domains, traffic, and website authority which also called Domain Trust (DT) or Domain Rating (DR).
Luckily, there are plenty of tools to choose from. However, the way, the difficulty, and time consumption to get the information will differ depending on the tool you are using. Sometimes it's easier, sometimes it's harder.
But I will be using SE Ranking to perform the competitor backlink analysis.
If you are not sure which SEO Tool you can use, then you can watch my video right here where you can learn more about my favorite SEO Tools and which could fit your needs.
However, if you are starting or having a limited budget, then I recommend you use SE Ranking because they offer by far the best value for money which makes it available for specialists and companies with limited marketing budgets.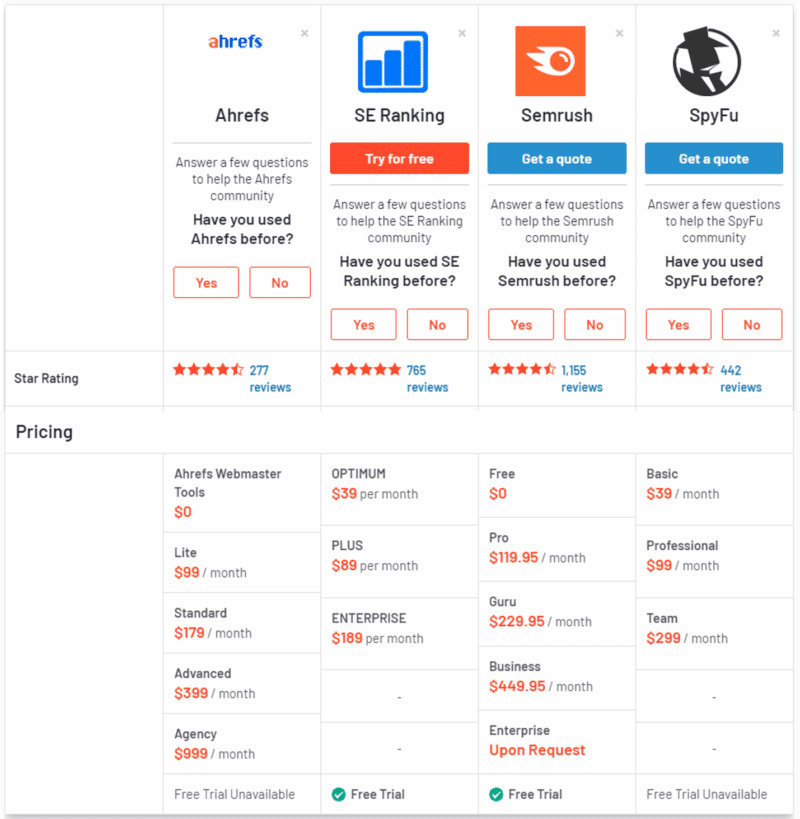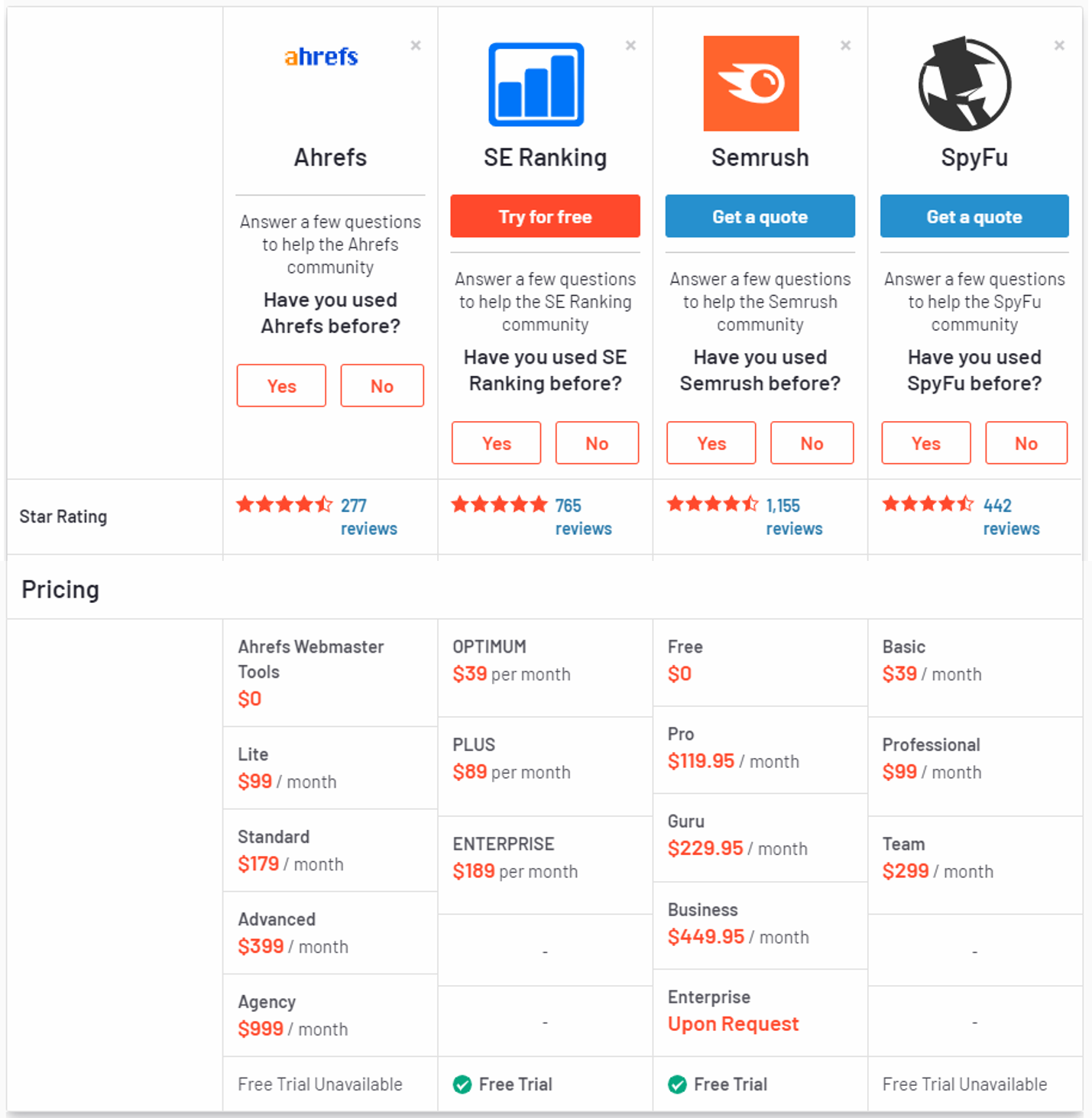 Also, I recommend you create some kind of spreadsheet to track all the link building opportunities you will find in this competitor backlink analysis.
What I usually do is I create an Excel sheet with all the link building strategies such as:
Resource Links: Where I track all the resource link building opportunities.
Broken Links: where I track all the broken pages with a decent number of backlinks.
Outdated Content: Where I track old pages with a decent number of backlinks.
Redirect Links: Where I track redirected links that do not contain the information domains linked to.
Journalist Links: Where I track links where I could potential collaborate with the journalist, brand, or blogger, such as a podcast.
Paid Links: All the links I assume have been paid for.
Other Links: Any links that do not fall under these categories such as Skyscraper technique, directories, social media links, reciprocal link, etc.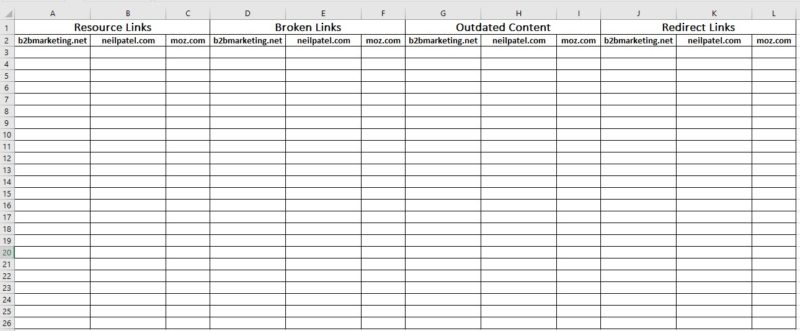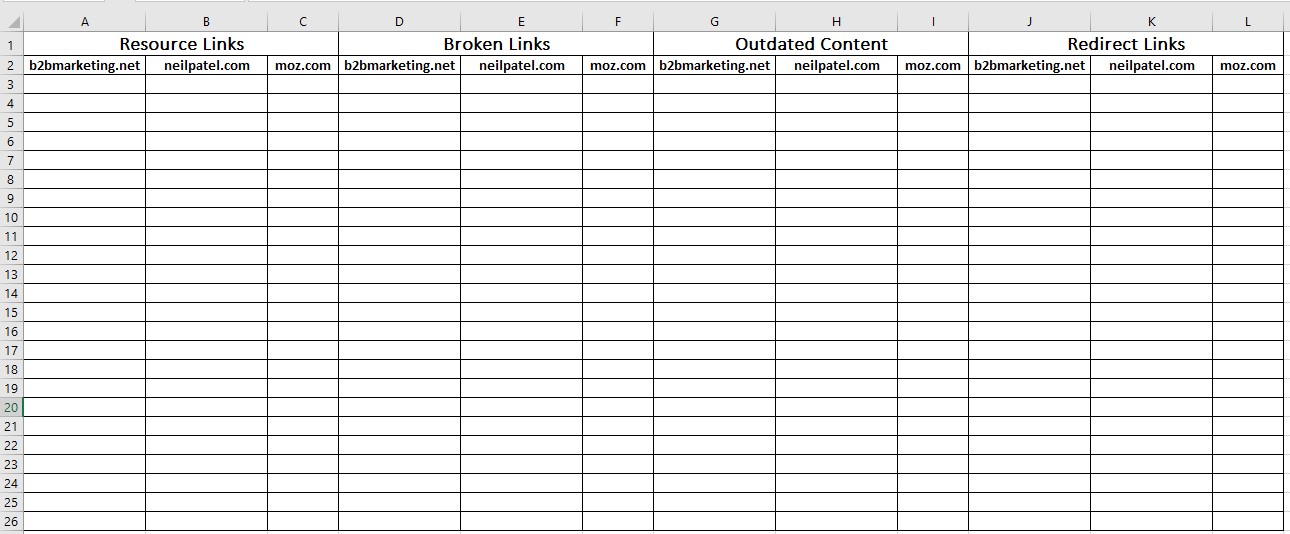 And of course, feel free to customize or change this sheet if you prefer, you can also add more columns and competitors. This is just a sample that you see.
Alright, once you have the spreadsheet where you can track competitor's backlinks whenever you find a link building opportunity, let's move to the second step.
Step #2: Find Competitor Backlinks
The second step of doing competitor backlink analysis is to find all the competitor backlinks.
This is a very easy task to do, as you can use any of your preferred SEO tools and they will give you the list of all of your competitor backlinks and their referring domains. In my case, I will be using the SE Ranking.
Let's say I want to find out backlinks of my direct competitor "b2bmarketing.net". So, I just go into the SE Ranking Competitive Research and insert my competitor URL.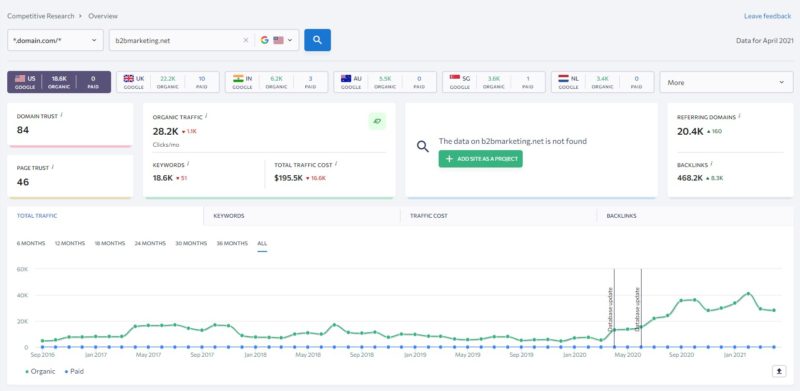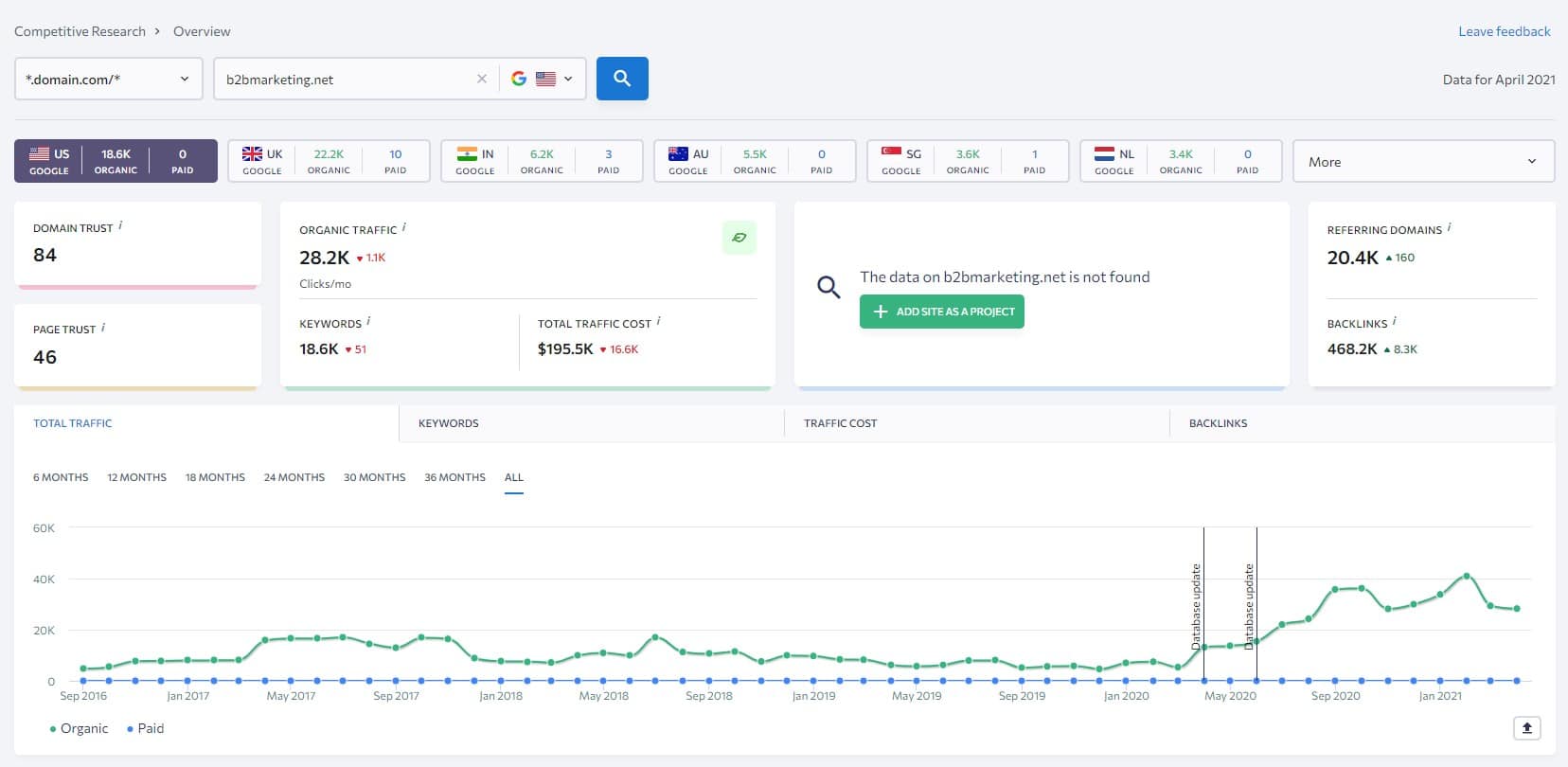 And just like this, I have plenty of useful information at my disposal, their domain trust, which is an estimated website authority, estimated organic traffic, ranking keywords, and most importantly their backlinks and referring domains.
And from here you can just click on the referring domains or backlinks and you will get the report with all their backlinks and referring domains.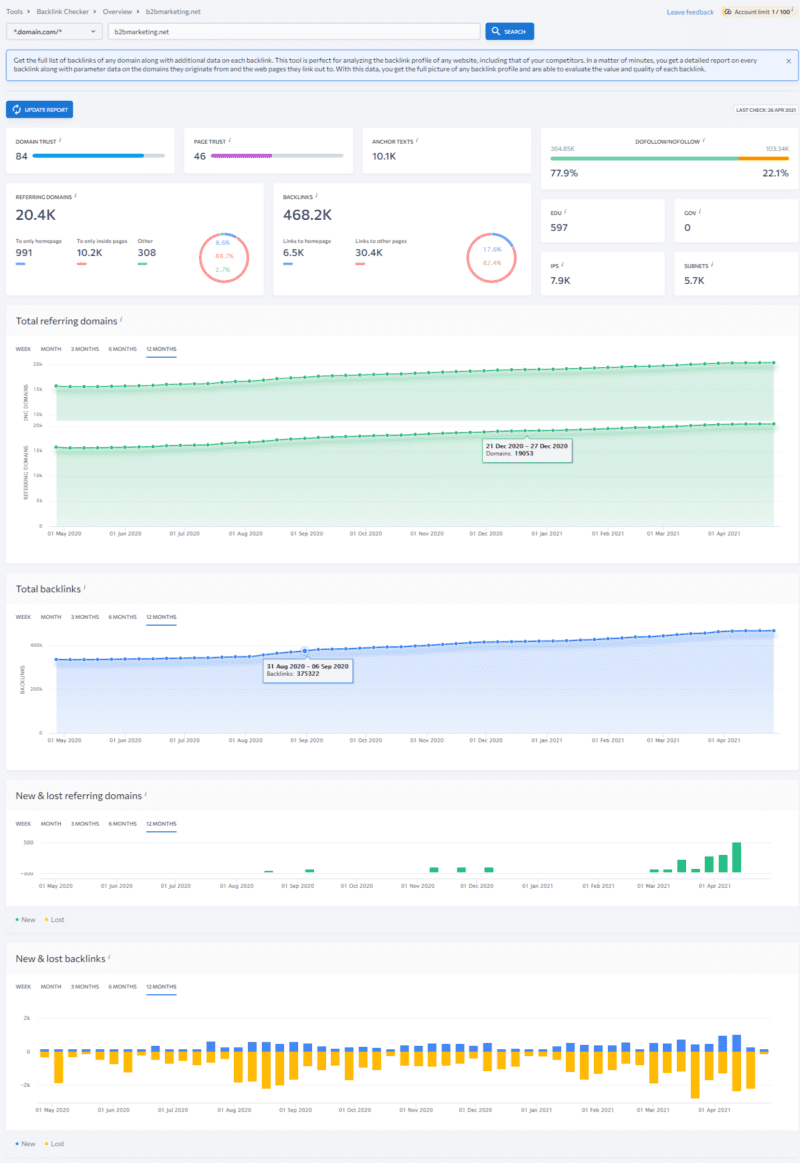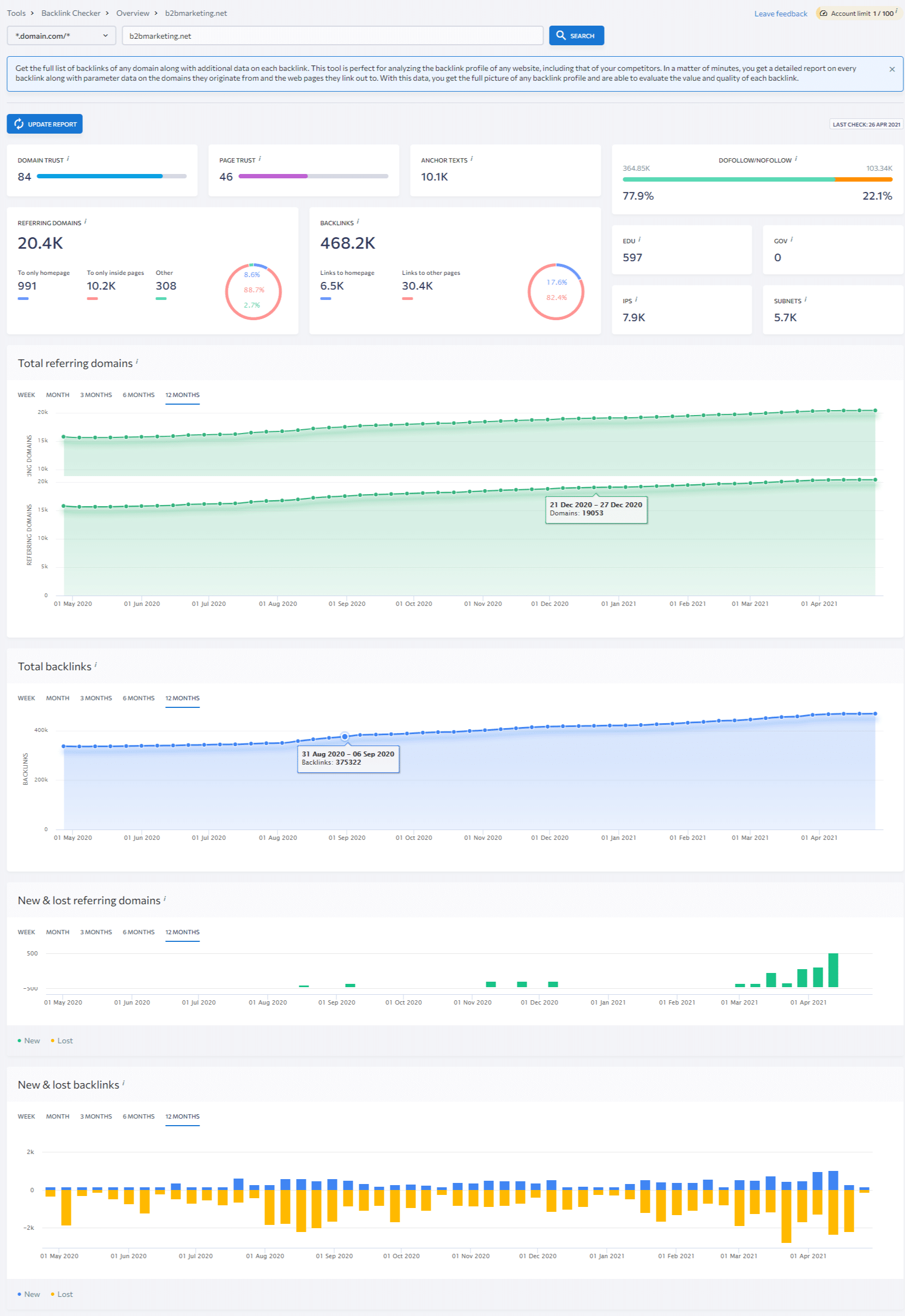 Also, if you prefer you can also use the Backlink Checker feature and get the information right away without actually going through the competitive research feature. Either way works well.
Alright, so now when you have the list, let me tell you what you should be looking at when analyzing competitor backlinks.
All Competitors Backlinks
The first thing you can look at is all your competitors' backlinks. However, this might sound a bit overwhelming especially if your competitor has a lot of backlinks. For example, "b2bmarketing.net" has 450 thousand backlinks.
So, to narrow down the list I can use the domain trust filter to get only websites with higher authority. For example, with a minimum domain trust of 30 till 100 which is the maximum. Also, I recommend checking only Dofollow links as those are the value or PageRank passing links.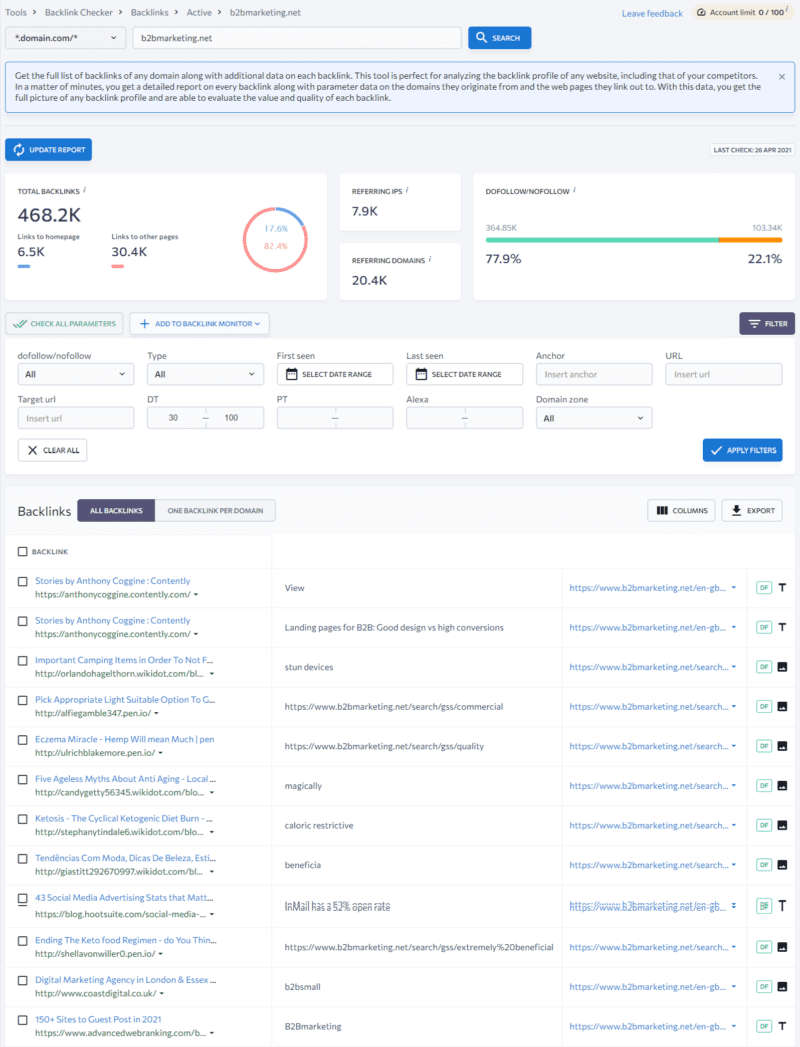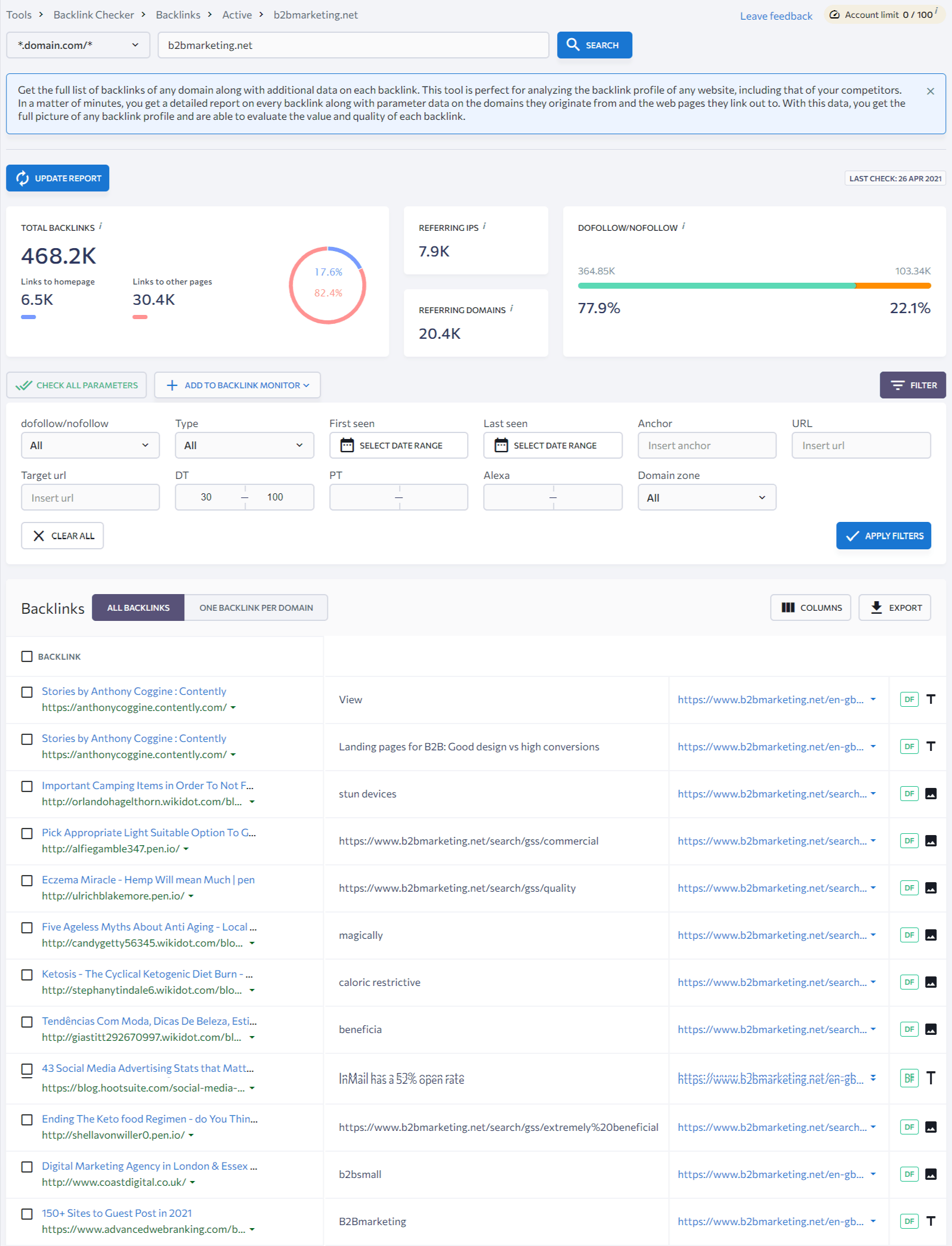 And just like this, you have a list of opportunities where you can build backlinks for your website.
For example, let's say first I want to search for resource link building opportunities, which means I want to find blog articles where they feature resources which could be:
Best Marketing Blogs
Best SEO blogs
Best marketing resources
But also, you can search for resource link building opportunities for your products or services. Anything that you believe could be relevant to your business.
Let's say I want to search for articles where they feature marketing or SEO blogs so I can reach them out and ask them to include my blog within their resource as well.
And I know that the common words used in URL are "best, resources, or links" so I can search for those within the URL filter.
And right from the bat, I can see at least three resource link building opportunities that I can include within my spreadsheet and there are hundreds of more domains I can go through and I am sure I would find even more link building opportunities.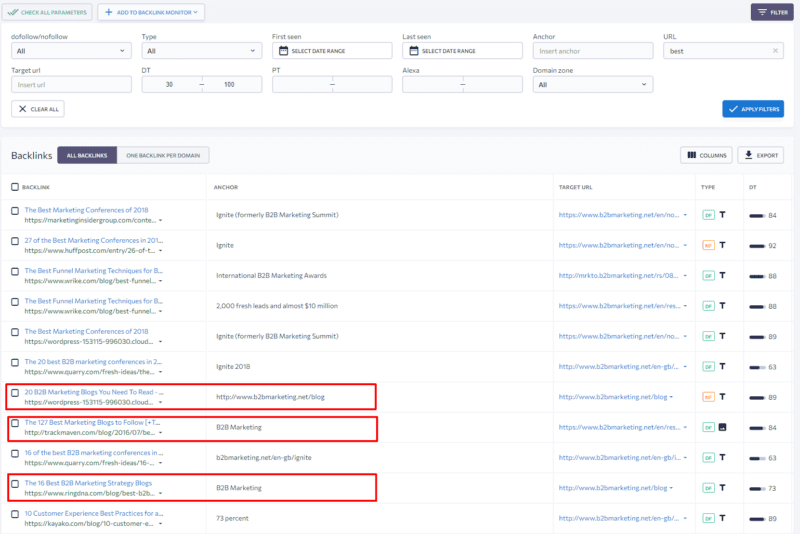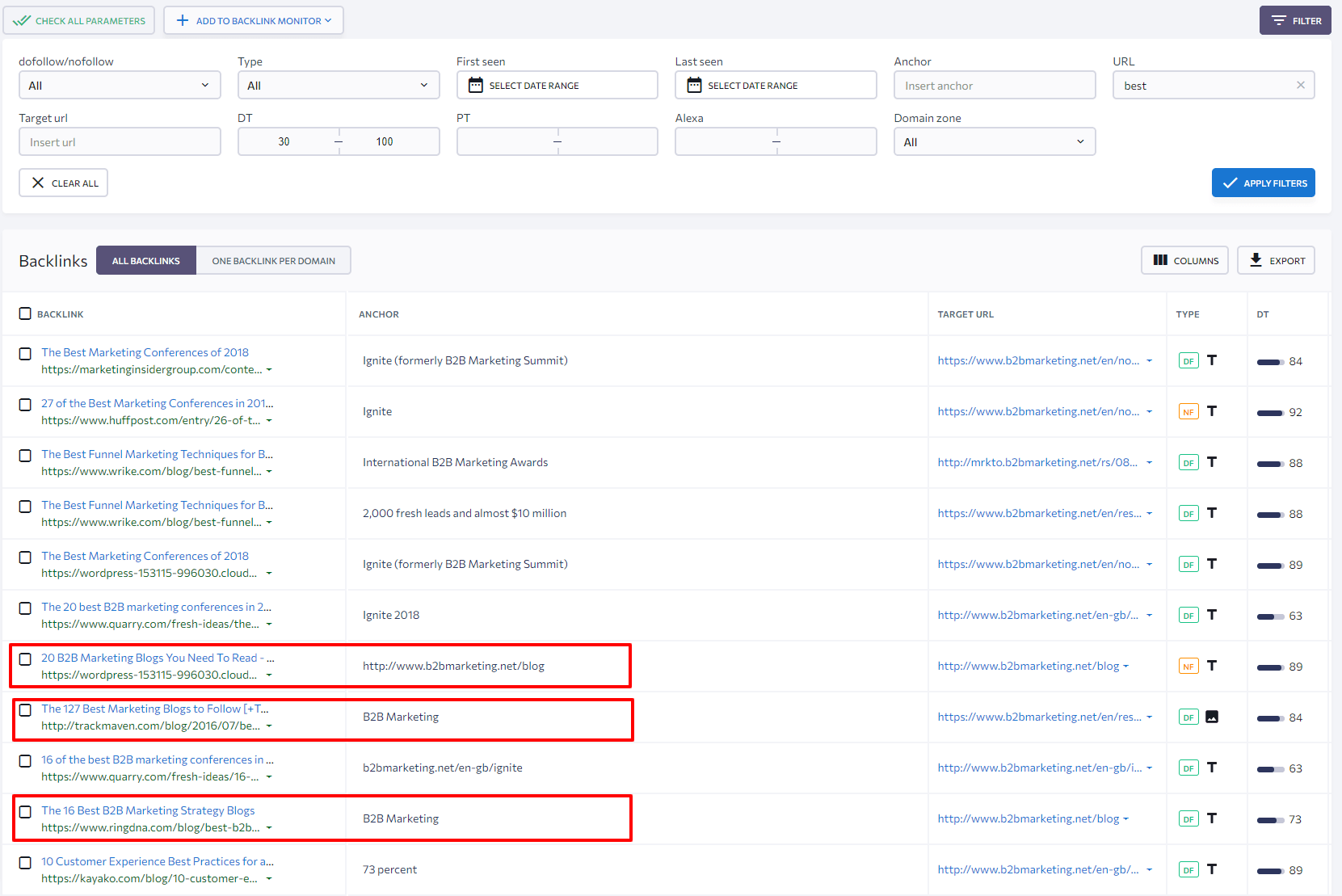 So, when you are looking at all your competitors' backlinks, I recommend you to know the specific link building strategy you want to search for, so you can go deeper into the rabbit hole and find the link building opportunities for your website.
New Competitors Backlinks
Another competitor links that you should be tracking is your competitors' new backlinks.
New links show you how many people and domains are linking to your competitors on regular basis and how many people have linked to them recently.
And the reason why you should monitor new competitor backlinks is that they are very recent and shows you newly created and updated content on the internet that is super relevant to you.
Because the thing is that nobody really cares about old content so if you want to pitch them and ask them to link to you, it would be quite difficult to provide any value.
However, on the other side, website owners or marketers are more likely to collaborate on a newly published article and it is much easier to provide value to a new article than to the old one.
For example, if you have a strong following or email list, you can offer them to promote their new article on your own platform and help them get the initial traction that is very important for ranking in an exchange for a backlink.
Trust me, it is much easier to negotiate on a newly created article than an old one. That's why I really love to track my competitors' new backlinks and search for link building opportunities.
So, to check your competitors' new backlinks, I go back into SE Ranking, open the Backlinks report, and click on "New".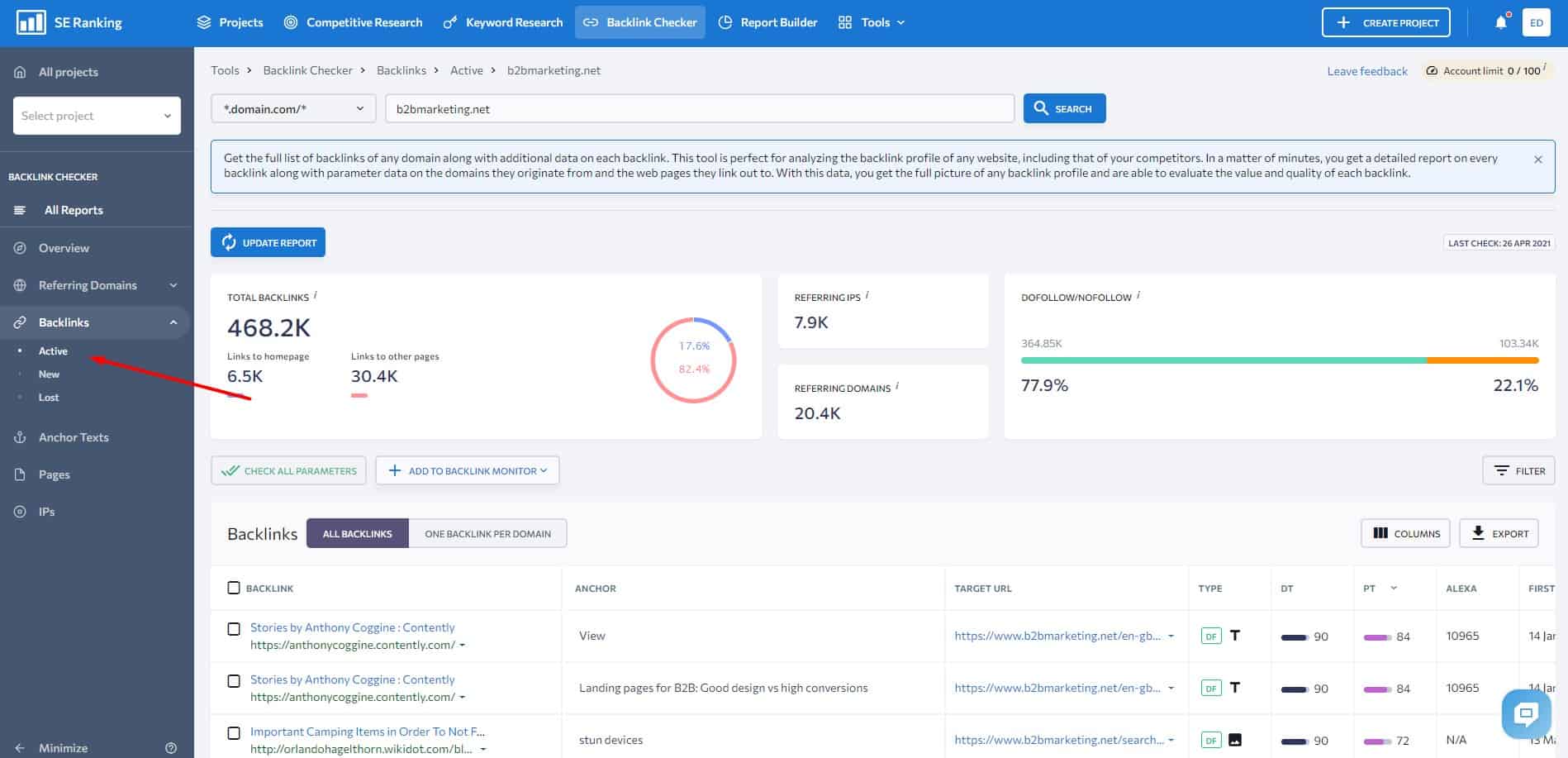 Then again, I recommend setting filters to find more qualified link building opportunities and remove the trash where you wouldn't want to waste your time. So, I set the filter only for Dofollow links, put the minimum domain trust of 30, select the date range for First seen for the past five days, and hit apply filters.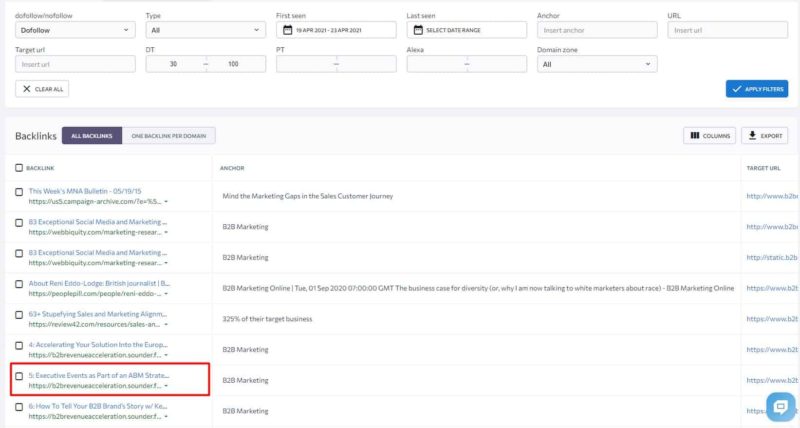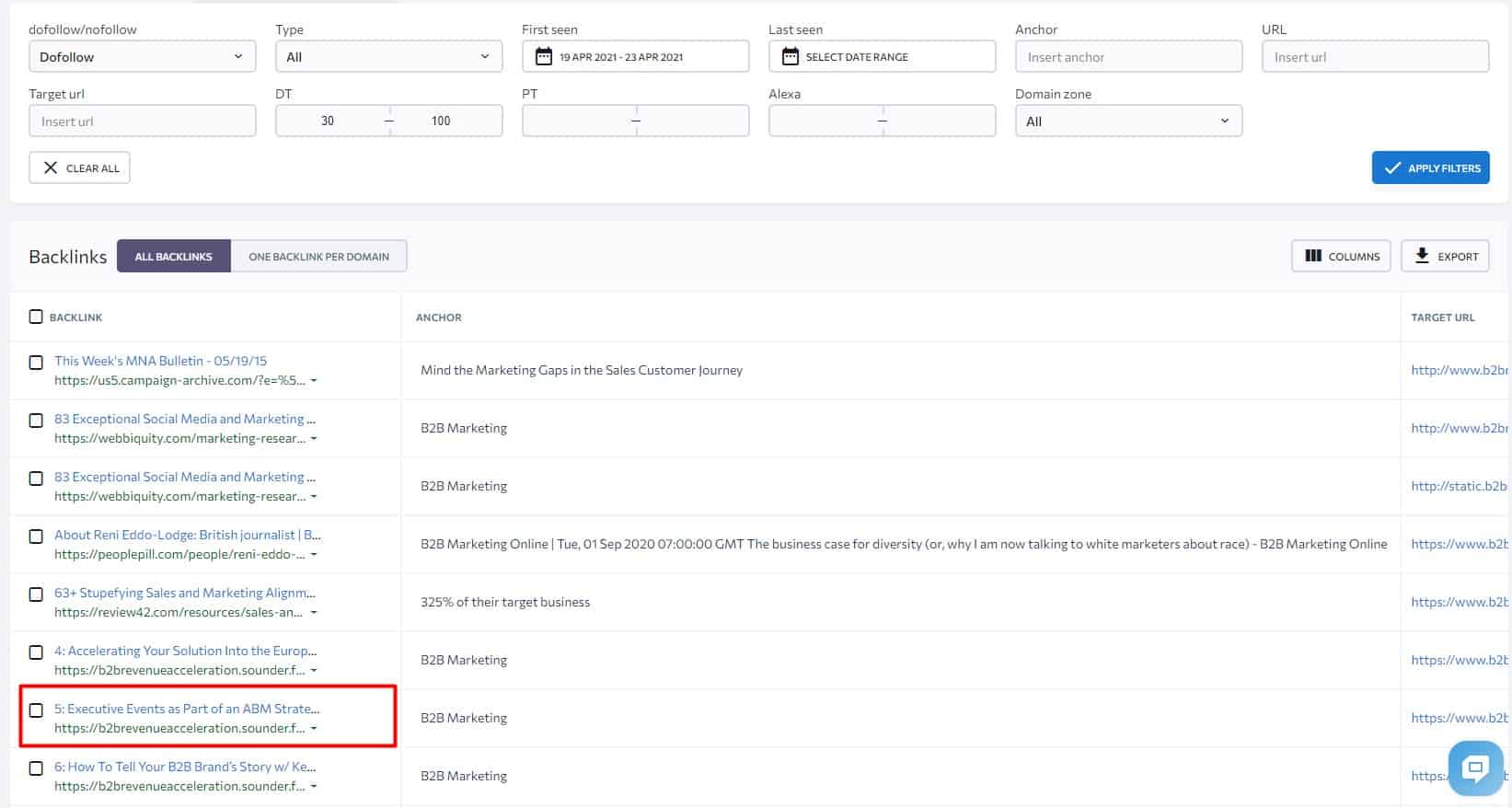 And now I have a list of new backlinks and I can search for relevant opportunities for me. And right away I see a link building opportunity like this one from the podcast.
So, I can include it within my spreadsheet and reach them out and ask them if I could participate in their upcoming podcasts as their guest.


And this is just one example, but you can also find paid links and domains that are willing to sell you a link placement on their website, skyscraper, resource, and other link building opportunities.
Monitoring competitors' new backlinks is a great way to find link building opportunities for you whether you are starting with link building or doing it for years.
Just don't forget to track all of your link building opportunities within your spreadsheet.
Lost Competitors Backlinks
The last competitors' backlinks that you should be monitoring are the lost competitors' backlinks.
Lost competitor backlinks are the recent backlinks that have been removed by domains.
And there can be many reasons why domains decided to remove your competitors' backlinks but the main reason that you should be looking for is that the page doesn't exist anymore or is super outdated.
And this is perfect for a broken link building strategy or finding outdated content.
Just by looking at lost competitors' backlinks, you can find broken pages that still have many backlinks that you can steal from your competitor just by replacing the broken page with yours.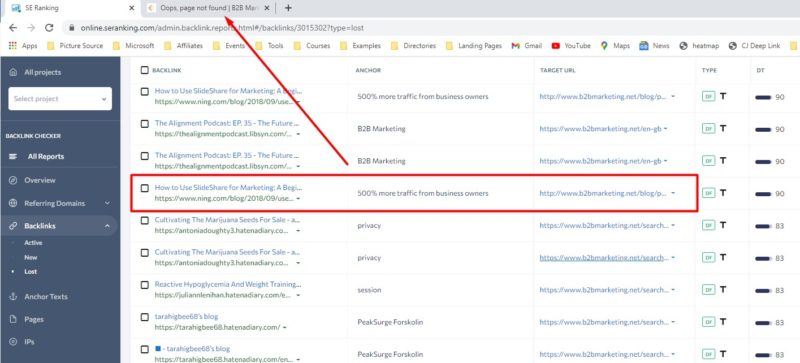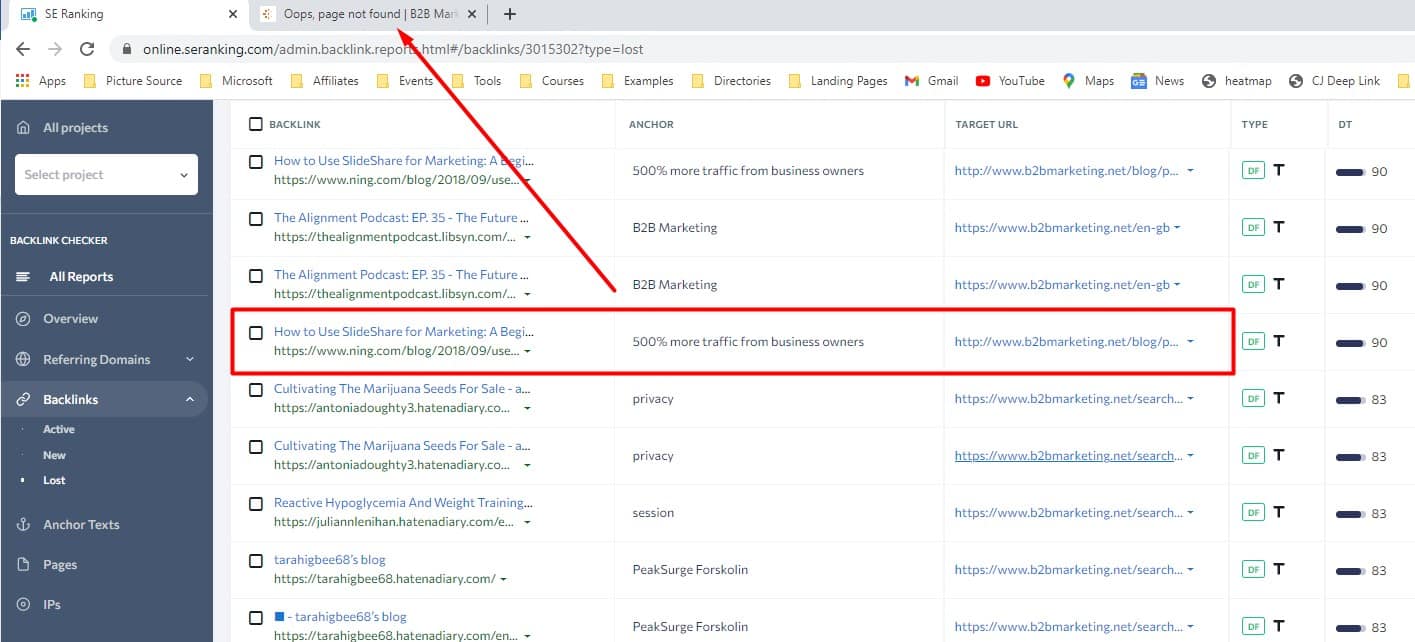 Also, often you can find your competitors' outdated content that has no value anymore for users and should be replaced by new up to date content like this.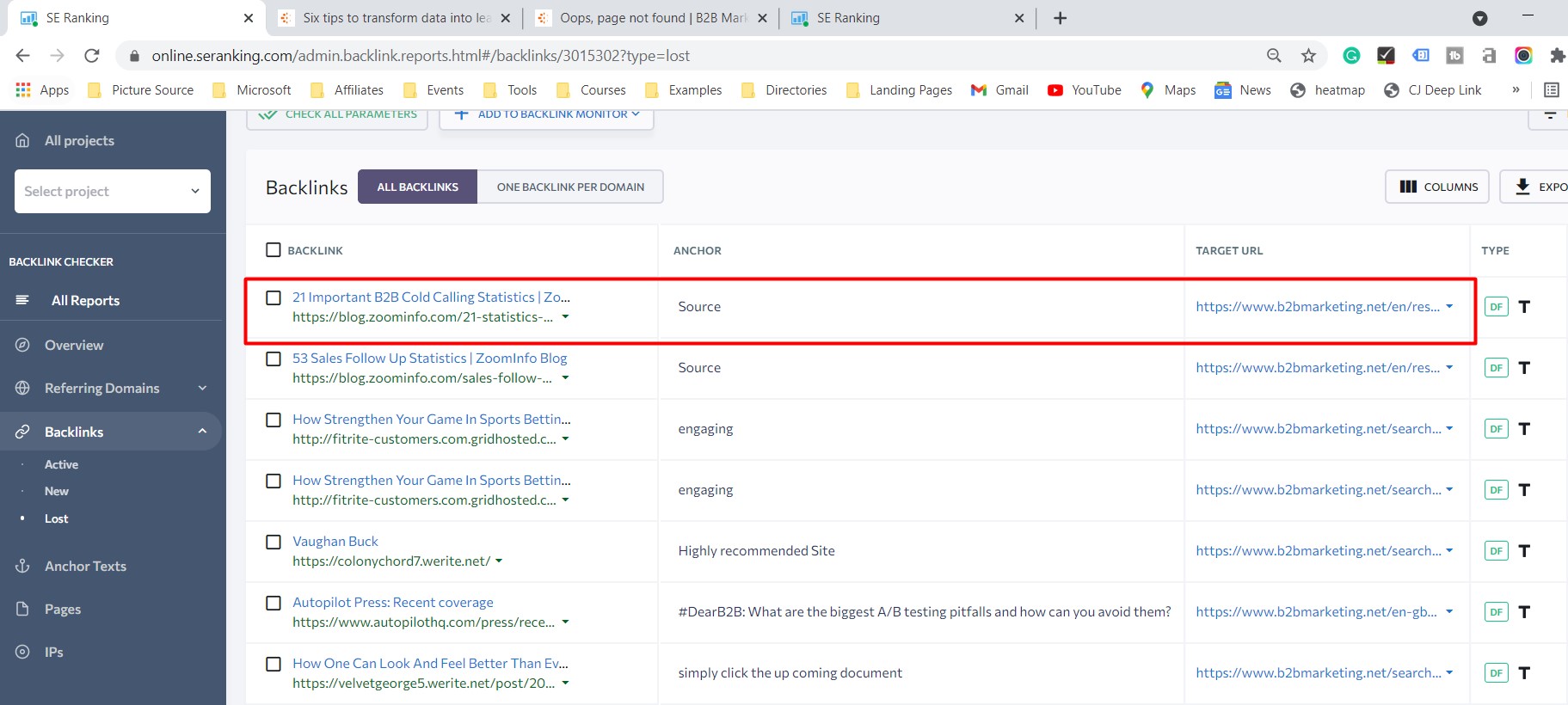 Both strategies help you to form a pitch where you are providing a certain value to the domain in an exchange for a backlink and increase your link building conversion rates instead of blindly asking for backlinks.
So find as many as you can and don't forget to include these links within your spreadsheet.
But let's move to the next step of the competitor backlink analysis.
Step #3: Find Competitor's Backlinks Generating Pages
The third step of competitor backlink analysis is to find competitor's backlinks generating pages to find backlink opportunities for your website.
With this, you can find many link building opportunities such as new directories, resource pages, and broken pages by scanning competitor's websites and understand what content brought them backlinks and from where they are coming from.
You just saw that by finding all competitor's backlinks you can get already a lot of backlinks for your website.
However, there are even more ways to earn more backlinks by analyzing competitor's pages, their content, and the source of the backlinks.
Top Linked Pages
The first and one of the best ways to find competitor's content-generating backlinks is to check their top backlink generating pages.
By using SE Ranking, you can go to the "Pages" report in the Backlink Checker and you will get a list of competitors pages that generate the most backlinks and referring domains.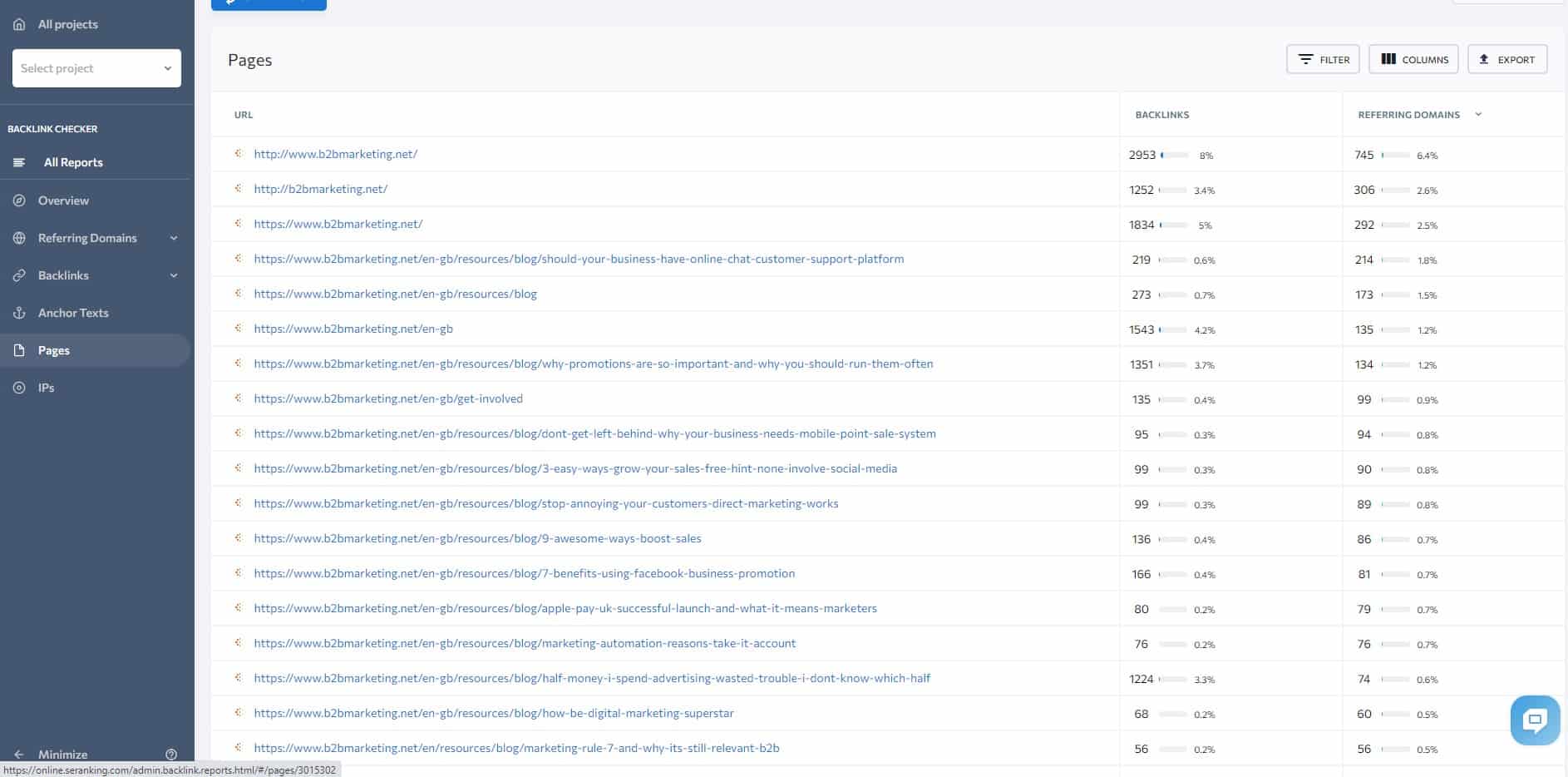 I would recommend you focus more on those pages that bring the most referring domains rather than backlinks because having one backlink from many referring domains is better for your B2B SEO rather than many backlinks from a few referring domains.
For example, as you can see my competitor blog posts generate a lot of backlinks. So, to get more information I can expand by clicking on the number of referring domains and sort them by "First Seen".
This shows me whether the page still generates referring domains or not anymore. And as you can see, this blog post has brought its last referring domain in Jan 2020, which is over a year ago, so for me, this page has no potential.


However, the next competitor blog post shows me that it generates a lot of backlinks and recently it got a lot of referring domains. This shows me the page is still very active and has link generating ability.


And if I check the page, I can see that the blog post is from 2015, has no pictures, videos, or any other graphics whatsoever and on top of that, the content is not very well structured with long paragraphs.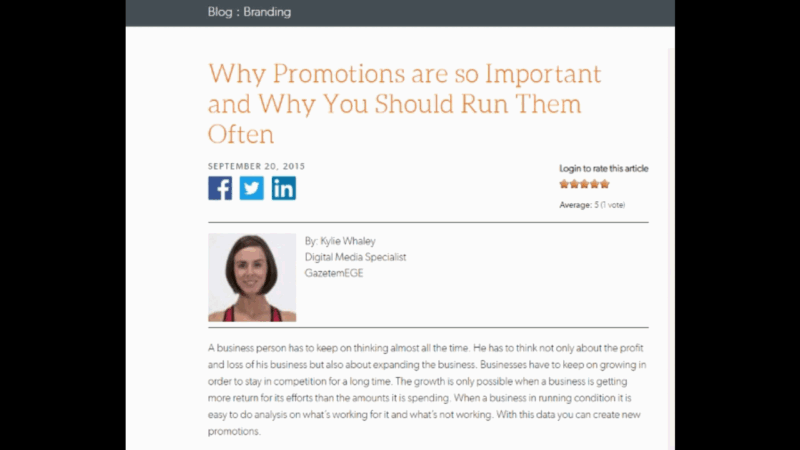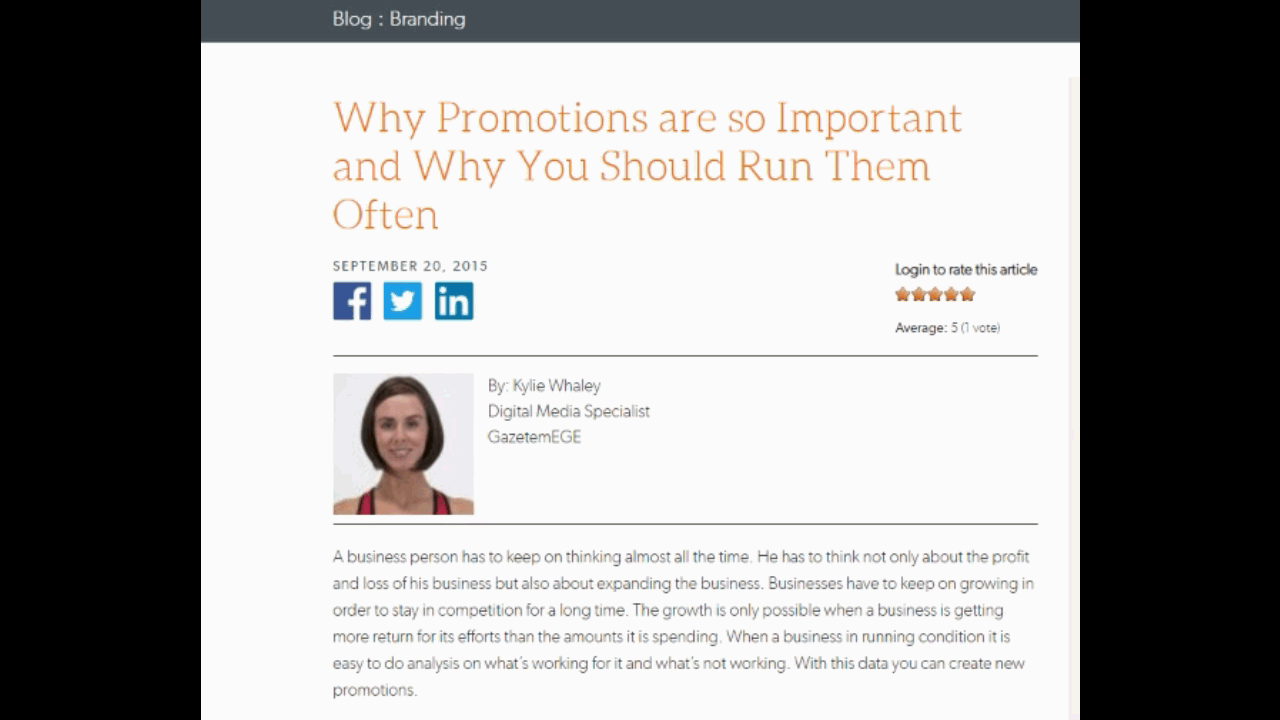 Sure, there is a lot of things I could improve. So, what I can do now, is to get the full report of the page referring domains and backlinks and analyze what and why the domains are linking to this page.
And if I feel the page brings great referring domains, then I include it within my spreadsheet because it's the perfect content to do skyscraper technique, so I included it within my spreadsheet.
And later I can create even better and more comprehensive content and reach out to the referring domains offering them even better content for their audience.
Of course, there are more ways to look at the page, often the pages are not outdated and poor quality like this, but they can give you an idea of what sources and information bloggers, journalists, and content marketers are searching to include within their contents.
So, by analyzing your competitor's top backlink generating pages you can create similar content and then do blogger outreach to generate more backlinks for your website.
Broken Pages
Another type of page you want to search for is broken pages on your competitors' websites.
Broken pages or broken link building is a strategy where you scan competitor's websites to find pages that do not exist anymore on your competitor's website but still have at least a decent number of backlinks.
Once you find these pages, then scan those pages using Archive.org, create updated and better versions of that content, reach out to referring domains and let them know that they have broken links, and offer them your content to replace the broken link.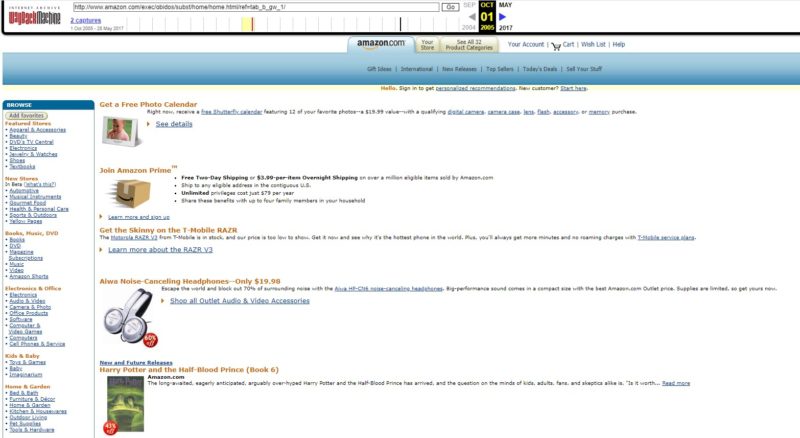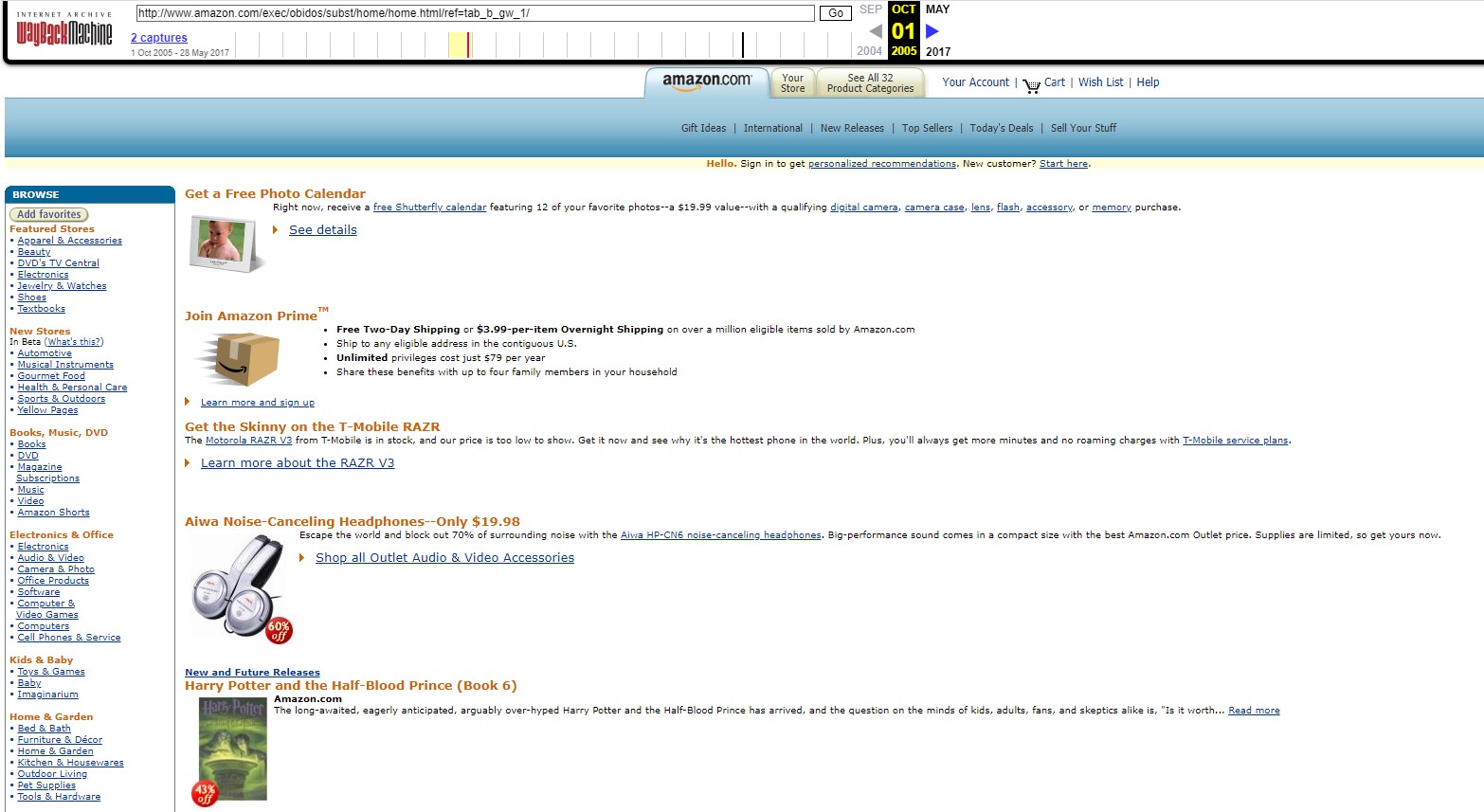 This is a very effective strategy because broken links are something that website owners and SEOs keep an eye on to make sure they limit them to the bare minimum. So, if you help them with it, they are often willing to swap the link with yours and grateful for your favor.
Of course, it is not always, but this strategy has often a better conversion rate than other link building strategies because you already coming from a place with a good reason to replace the link for yours.
So how can you find broken backlinks on your competitor's website?
Luckily, this is super easy to do with SE Ranking. Just go into the Backlink Checker report, click "Pages" and keep scrawling until you find missing Favicon next to the URL. Like this: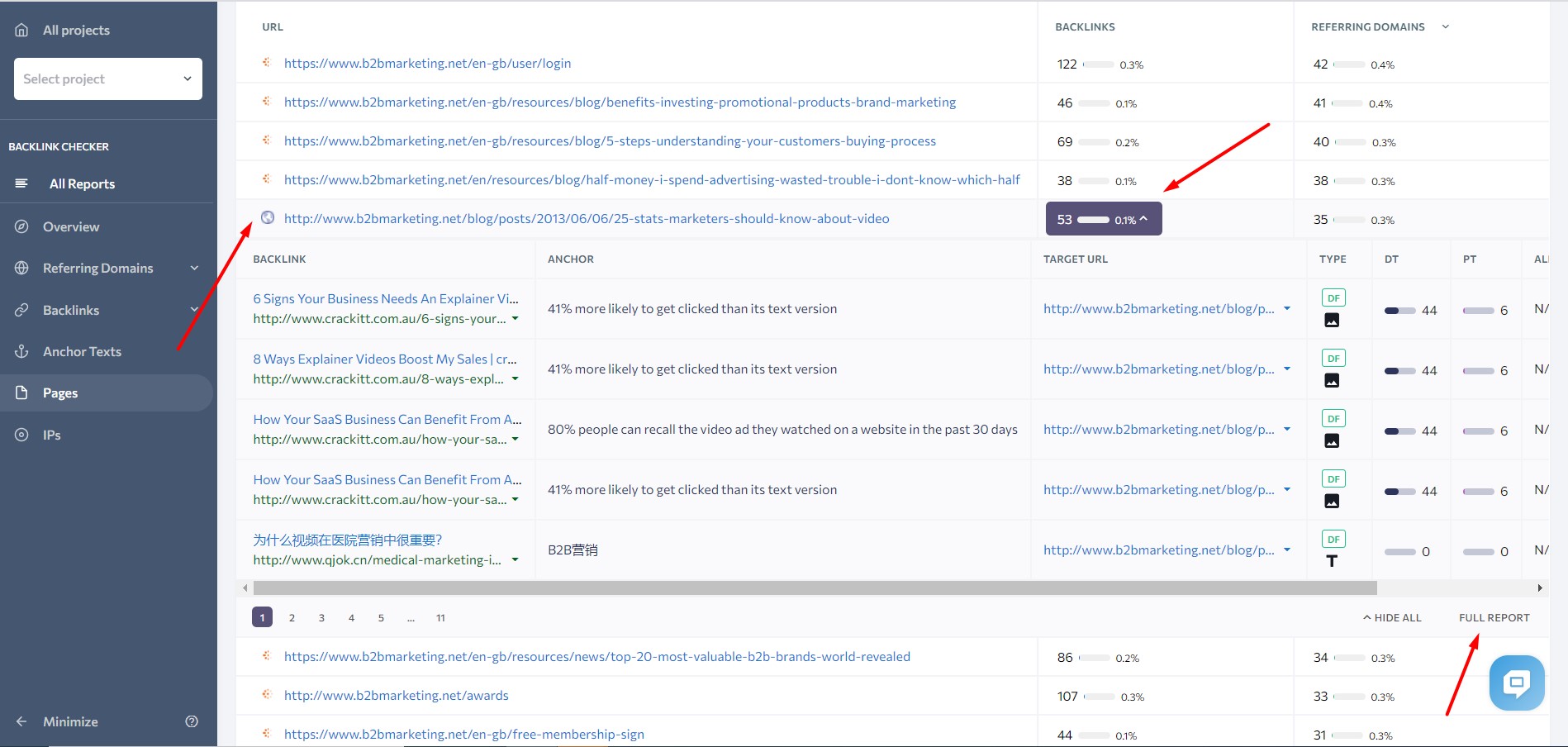 Perfect, this page is ideal to be recreated. It has a decent number of backlinks from many referring domains, and it is a blog post type of content.
So, what I can do now, is get a full report of the page backlink profile by clicking on the backlink number of 53, which will open a window with the list of backlinks, and then click on the "Full Report".
Then I open up the Backlinks profile by clicking on the Backlinks report.
After that I recommend you to set some filters like I already mentioned to avoid wasting your time on fewer quality backlinks and then you can start with blogging outreach.
Of course, before you do the blogger outreach, save the link within your spreadsheet and do it once you complete the competitor backlink analysis.
And again, this is not a full tutorial on broken link building, but rather the type of links you should be searching for during your competitor backlink analysis.
Outdated Content
The next content you want to search for is their outdated content with a high number of backlinks.
Outdated content is very common for any website size that has been up to for longer than two years. What used to be a good piece of content could get forgotten and lost among all the new published content.
And that old content could still have a lot of backlinks, but because the information within the content is outdated you can offer your more up-to-date content, or create one if you don't have one, to the referring domain to replace the old one.
But I won't lie to you as that's not always the strongest pitch and often the website owners do not really care or replace the link with the current top-ranking search result for the relevant keyword.
That's why I recommend you use this tactic mostly for your top-ranking web pages to improve your ranking or if you already rank in the #1 place, then strengthen the position.
Also, finding outdated content can be a tedious task.
For example, some websites have displayed the date of the published article within the URL just like this:


However, this is an old practice where websites did include the date within the URL and by 2016 this is completely gone. For example, neilpatel.com does not have these within its URLs, so it can be hard to find them.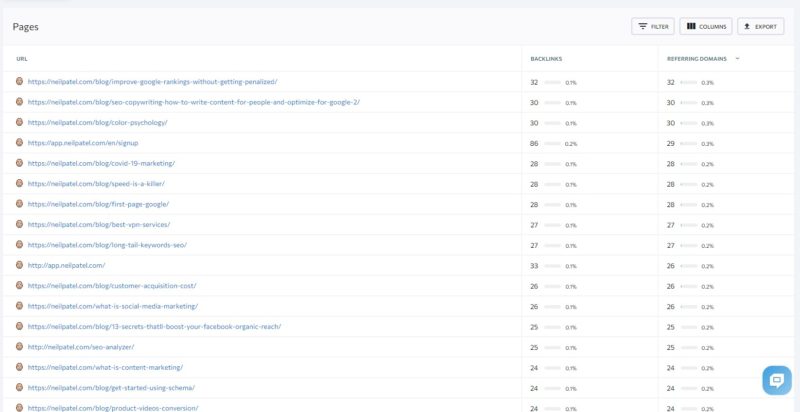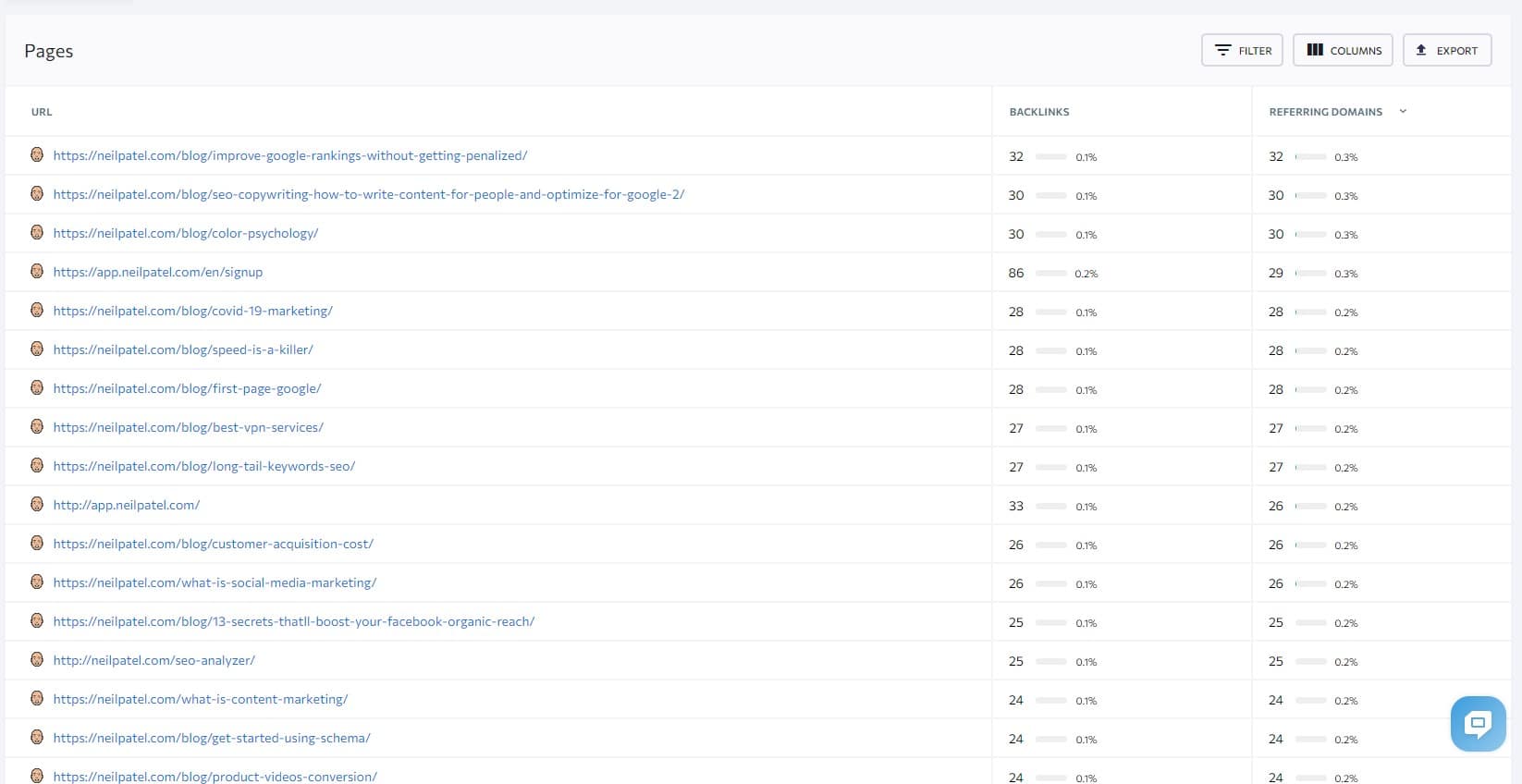 But when you visit some of their blog articles you can see that they do not display the published date, however in the metadata, you can see that the article was published in January 2016 and modified in April 2021. But you can still find a lot of old statistics used within his content which tells me that it wasn't really updated.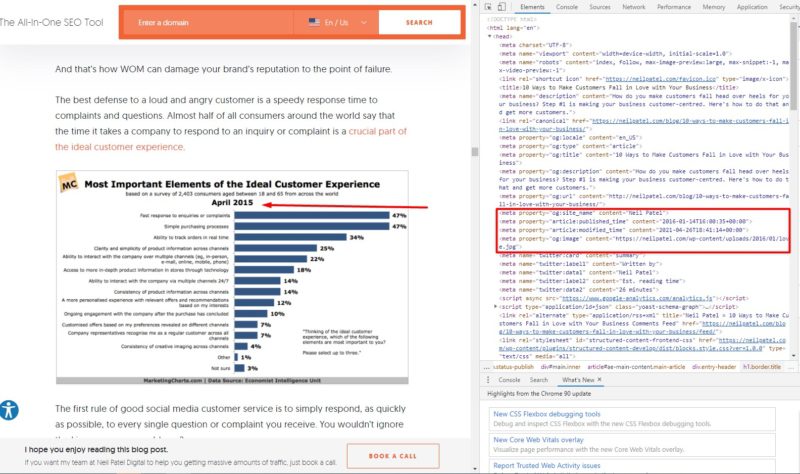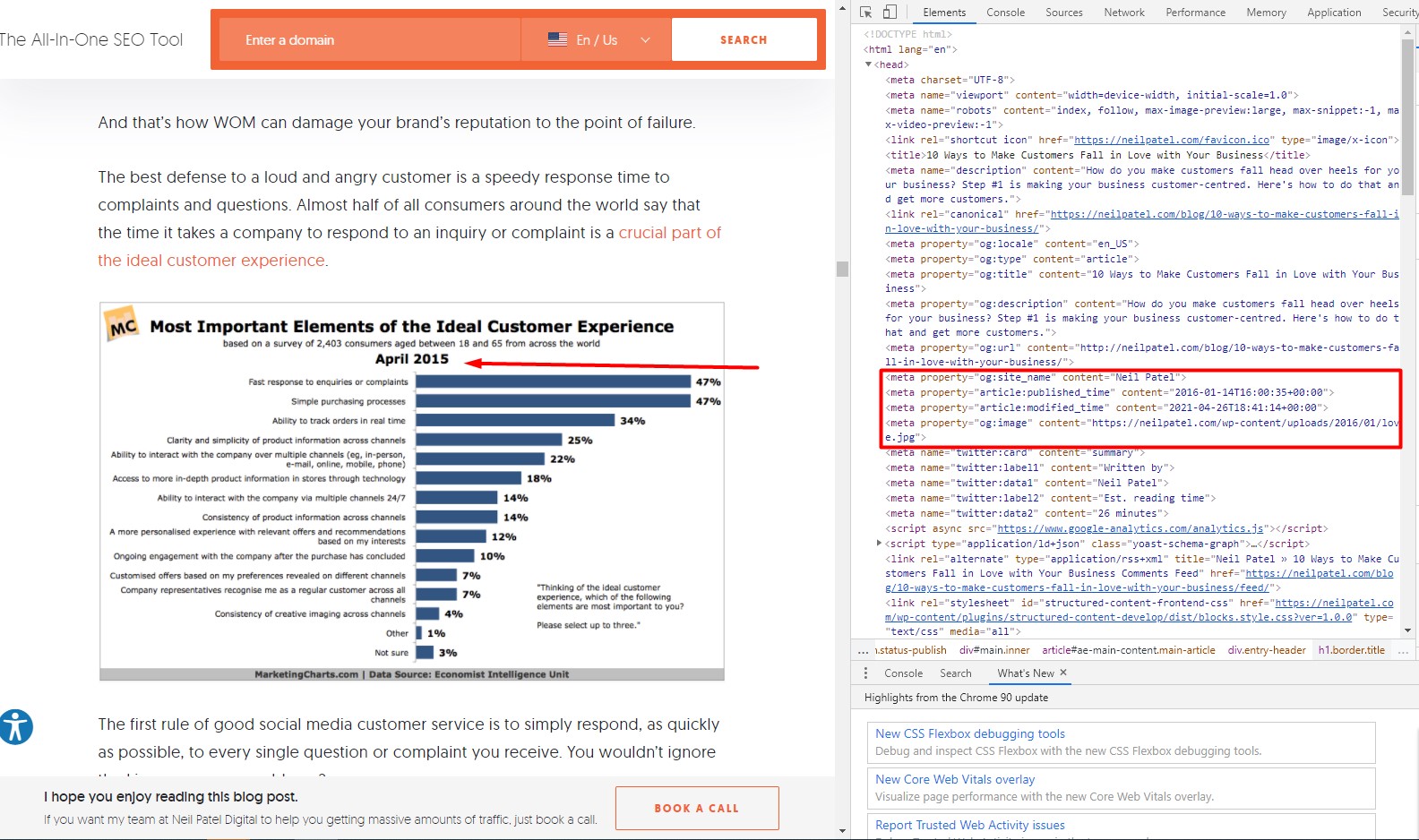 But then there are those websites where you can see the old published dates within the URL but they spend a lot of time to ensure that their website is always up to date even if the date within the URL display is from 2010.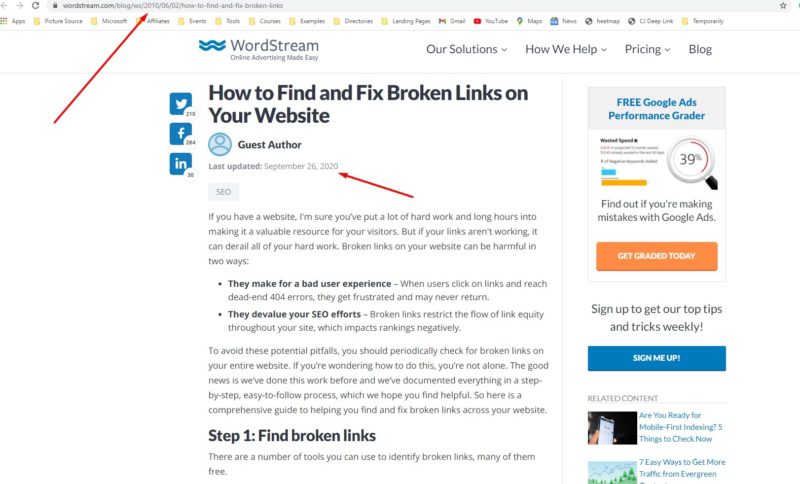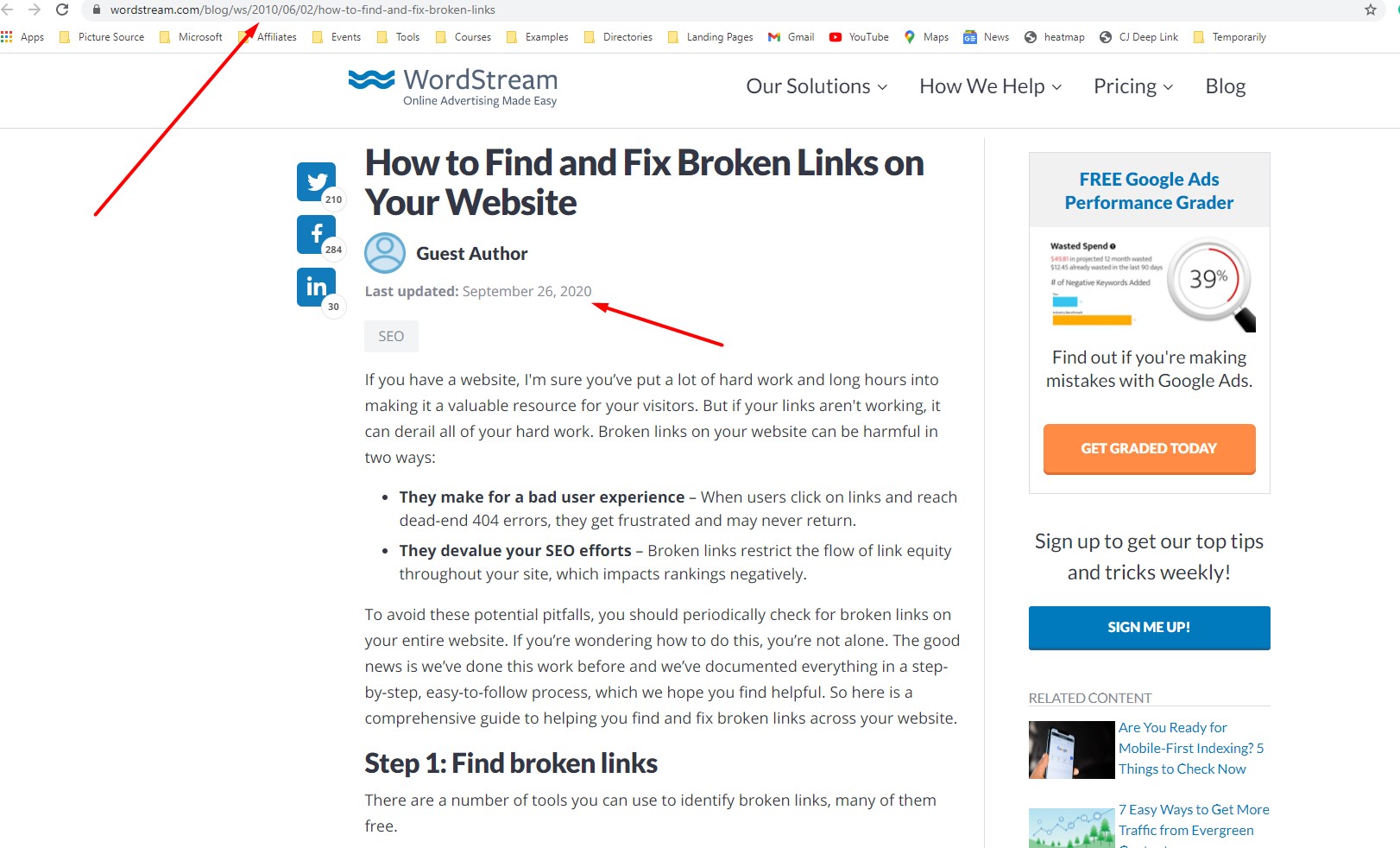 So, it can take a lot of your time to find outdated content on your competitor's websites. Thus, I recommend you to actually pay close attention whenever you see one and save it in your spreadsheet to not lose this opportunity to build more backlinks.
However, I personally do not actively search for outdated content as finding broken links is much easier and they also yield better results for me.
Because as I said, not always the referring domains will update their website in your favor without offering them something in exchange.
Redirected Pages
The last pages you want to search for are redirected pages.
Redirect pages are perfect to find untapped link building opportunities and the concept of this strategy is the same as broken link building.
However, instead of finding dead pages, you are looking for irrelevant redirects.
In other words, you want to find pages that are linking to a certain piece of data or information that used to be located on the redirected pages but not anymore.
So, to find redirected pages on your competitor's website in SE Ranking, create a new project and let run a website audit.
Once that's done, then go to "Issue Report" for the competitor website, select "HTTP Status Code" and click on the "Pages" number in the "Internal links to 3xx redirect" pages.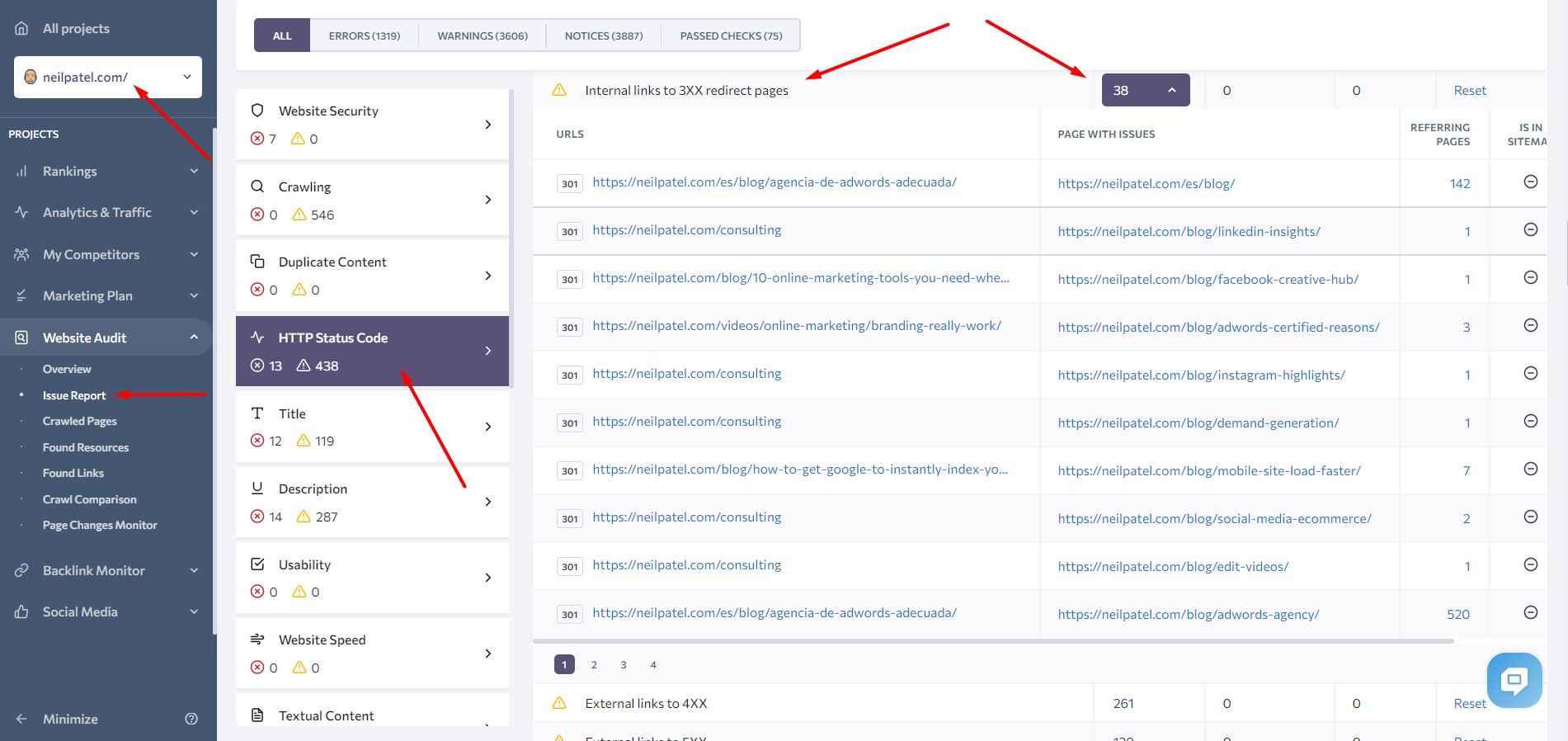 Then take any URL and put it into Google to see if the redirect is relevant or not by comparing the information from the old non-redirected page with the current one it has been redirected to. Again, you can use Archive.org to see the last version of the working page.
Also, I recommend you start with informational pages such as blog posts or eBooks as those often change the data.
If the current page isn't relevant, then take the URL and put it into the Backlink Checker to find out how many backlinks (including gov links and edu links) the URL has and the quality of backlinks.
If the URL has a decent number of quality backlinks, then include it within your spreadsheet and find as many you can.
And later on, once you are creating your piece of content, make sure to check why the websites are linking to this content by looking at the "Anchor Text" report.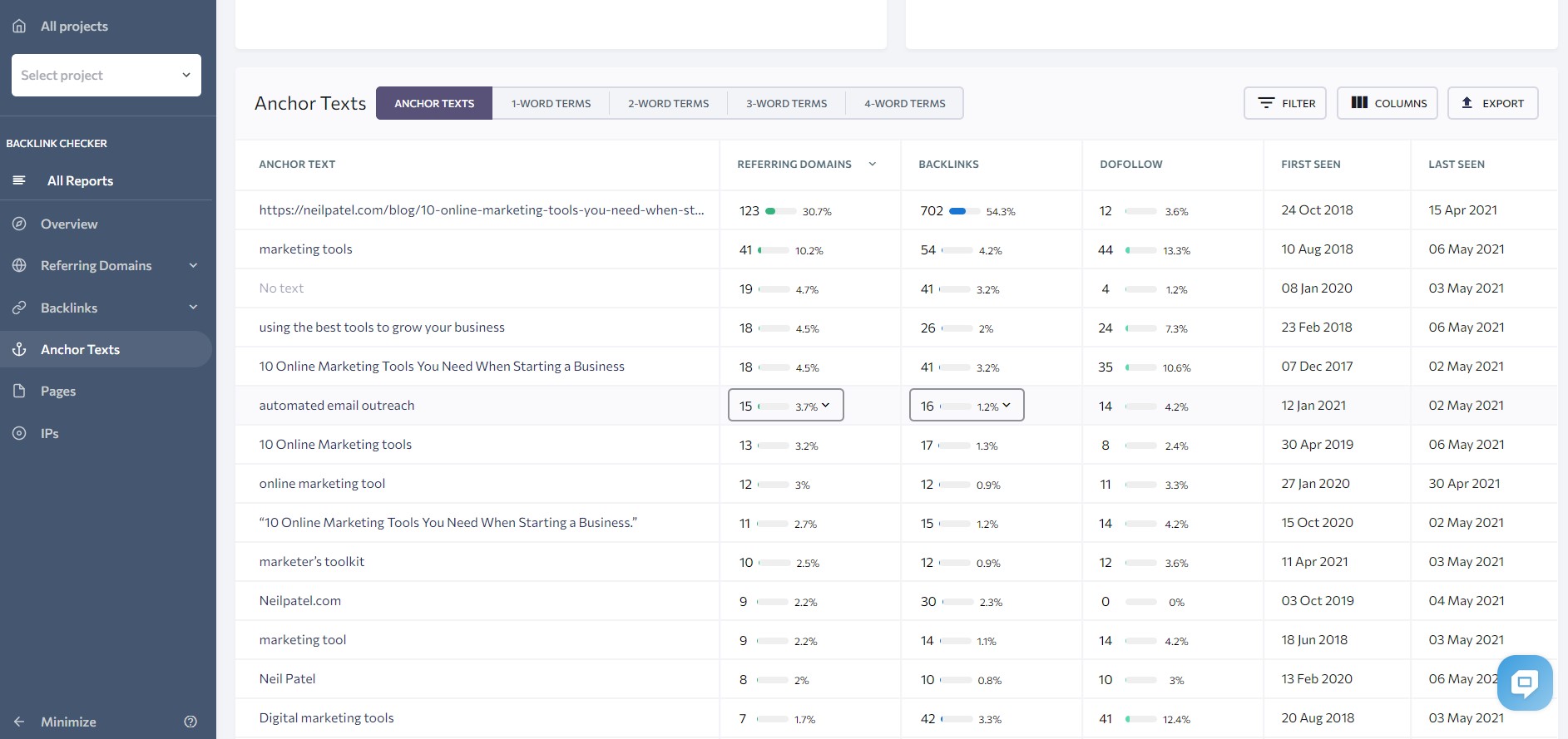 This will give you a good idea of why websites are linking to the website along with important talking points that you should include within your content to improve the odds of getting the links from the websites.
So, these are the competitor's web pages that you should be looking at to find link building opportunities and should be included within your competitor analysis.
Step #4: Select the Right Link Building Strategies
And the last step of your competitor backlink analysis is to analyze all your collected data and find the best link building strategy that fits your needs and create a link building plan.
Now when you know how to find link building opportunities, I want you to do steps #2 & #3 and fill up your competitor backlink analysis spreadsheet with as many link building opportunities as possible.
Once your spreadsheet contains tens or even hundreds of URLs for each link building strategy, then it's time to prepare your link building plan and which link building strategies to use.
Create your link building plan can be a complicated process as you will need to work with the content marketing team to plan the content that needs to be created or updated to earn the backlinks.
But in the end, this gives a much better data-driven approach to your content marketing and SEO plan and yields much better results because high-quality content and link building are the two most important signals used by Google to rank your website for search.
And because link building is very resource-heavy and according to 65% of digital marketers state that link building is the hardest part of SEO.
Thus, you want to make sure, that you are going to use those link building strategies that have the highest number of backlinks you can earn for your website.
Related Articles:
Also, check out our SEO hub page to find all our SEO resources.
Disclaimer
Some pictures are coming from Freepik and some of my links are affiliate links, which means if you purchase something, I might get some small commission as a reward for reference. Of course, I am actively using all these services and products, and I only affiliate products or services I have full trust in their quality!