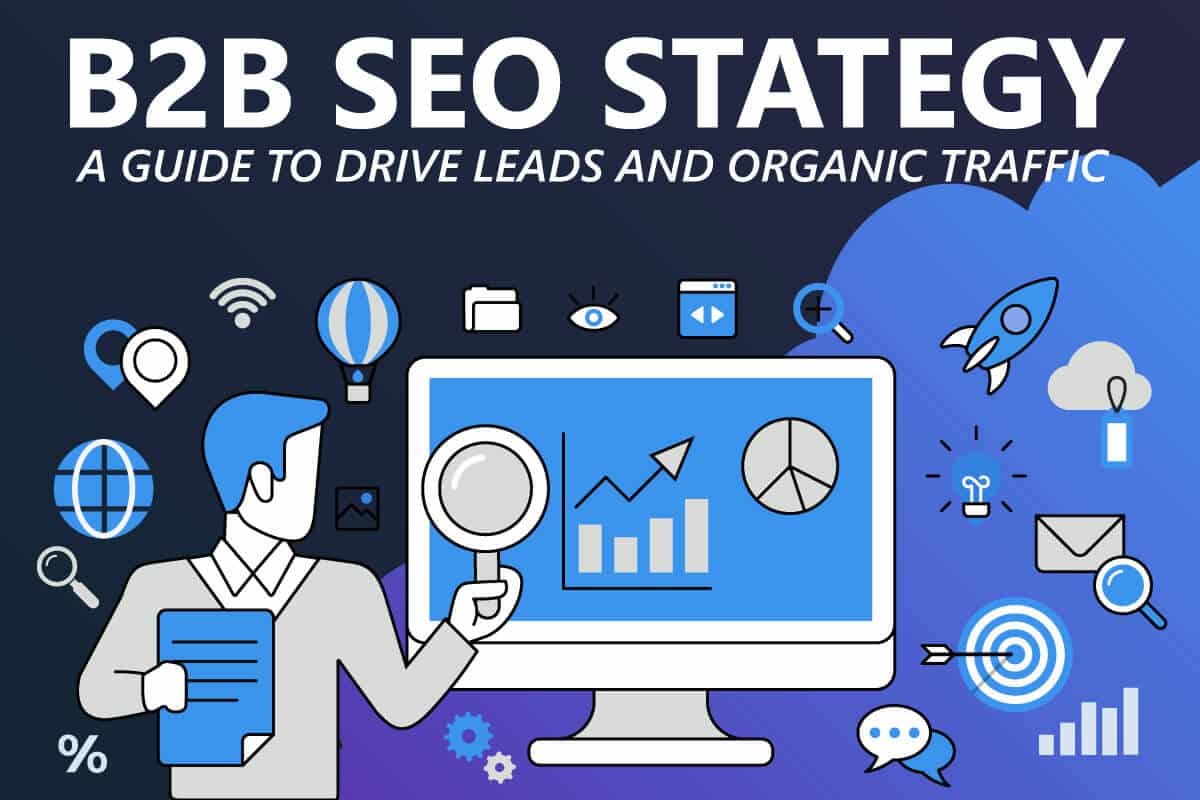 In this article, I am going to share with you how you can use B2B SEO Strategy to generate leads and organic traffic for your website, in step-by-step process.
B2B SEO strategy is arguably one of the most famous among digital marketing strategies and you probably heard all the success stories of companies that are generating thousands or even millions of visitors every month.
And not only that but from these visitors' companies can generate leads for their business.
And according to 57% of B2B marketers say that SEO generates more leads than any of their other marketing initiatives.
So B2B SEO is one of the most important online marketing strategies that your business can implement to drive leads and sales online.
But because SEO strategy is very complex and the competition is getting tougher many B2B companies are hesitating to start with it as they do not know how or from where.
So let me share with you my step-by-step process of doing SEO strategy for B2B companies.
What is B2B SEO?
Business-to-business search engine optimization (B2B SEO) refers to a type of digital marketing strategy used in order to help B2B website pages increase ranking and drive targeted organic traffic from search engines like Google or Bing. B2B SEO marketers are mainly focusing on driving more leads for a business rather than driving organic traffic unlike in B2C SEO.
This means that in B2B SEO you will not be mainly focusing on SEO keywords that drive the most amount of traffic but rather the most number of leads.
Therefore, keyword research is extremely important in B2B SEO as you need to find the right keywords that decision-makers, influencers, and researchers are using to find your solutions.
And this will lead your entire B2B SEO strategy as you need to put yourself in the shoes of your B2B target audience. That is why it is also very important to understand your B2B target audience, you must understand their challenges, pain points, and problems they are facing.
Thus, B2B SEO is not only about understanding search engines and how their algorithms work but also understand your B2B target audience and how they search for your solutions.
And this is what it means B2B SEO, both users and search engines influence your ranking that is why you must understand both search engines and target audience to successfully use B2B SEO for your organization.
If you are new to B2B SEO, then read our article about What is B2B SEO and Why B2b Organizations Need SEO.
B2B SEO Strategy in 8 Steps: Proven Framework
Before we move to the actual steps on how to start with B2B SEO for your business I want to mention that each step and section is a topic itself that you might want to learn to effectively apply B2B SEO strategy.
I have tried in my best ability to explain and teach you what to do in each step in short, but as you will find out each step could have a more in-depth explanation.
For example, step one is about your target audience and while I tried my best to explain everything you need to know about it to effectively apply the B2B SEO strategy, there is so much more to discuss and learn.
Therefore I also recommend reading guides to properly understand each step, as each step is the topic itself that requires an in-depth guide to really understand it.
But without further due, let's get started with step one!
Step #1: Build Your B2B Target Audience
The first step to start effectively with a B2B SEO strategy is to know who you want to attract to your website. This is important to ensure you are driving the right traffic so you can convert it into leads for your business.
Therefore, let's first start with how to research your B2B Target Audience.
To effectively determine your target audience, you first must understand your products or services you are offering. This is step 1 of identifying your B2B target audience.
So, look at your products and/or services and think who could benefit the most from your solutions, who are the people and companies that will be using and benefiting from your products or services.
For example:
If you own a product like SEMrush that is helping with SEO, content marketing, competitor research, PPC, and other aspects of B2B digital marketing, you might be focusing on brands looking to improve their digital marketing such as SEO or PPC.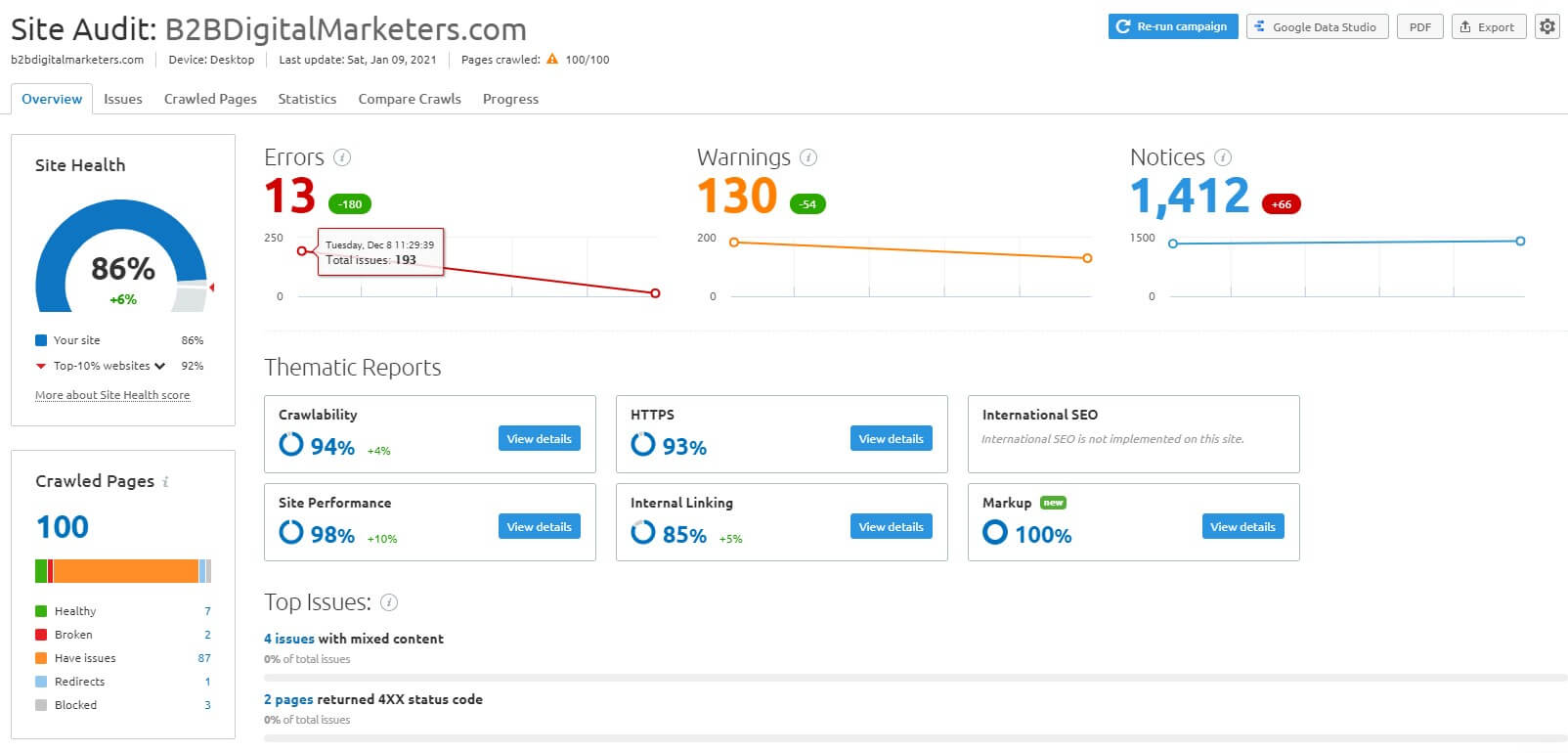 But not only that, but you might be also focusing on specific industry and size of the brand, while a product like SEMrush can be rather used by anyone, it does not always apply to B2B companies.
Therefore, determining the right industry and size of the company is very important for B2B organizations as well. Because you do not want to attract companies that can't afford or have no need for your products or services.
To summarize it:
Step #1: Find the benefits of your products or services
Step #2: Come up with brands that will benefit the most from your products or services
Step #3: Narrow down the list by demographics, such as industry, size, yearly revenue, etc. that are most likely to buy from you. TIP: if you already have customers, make a list and look at what they have in common, and start with that.
Step #4: Write down your B2B target audience. E.g. Companies in Service, Retail, and Manufacturing Industry, with 50+ employees and $10 million annual revenue.
And there you have your target audience, now let's move to the actual people or your personas.
Build Your Decision Maker Persona
Once you have your B2B target audience then you must create your B2B buyer personas. These are the actual and ideal people in the company who will be deciding whether to buy your solutions or not.
To build your personas you first need to know the 3 important types of personas:
Decision-Maker: is the person who has the purchasing power and signs the contract. Typically, these are the high-level management like C-levels, VP, and Directors.
Influencer: Is the person in charge of searching for the solution and in charge of the department that will be using the solution. And while this person has no authority to sign the contract he can strongly influence what solution to choose. Typically, these are in the management positions like managers and senior managers.
Researcher: The last person is the one who will be doing actual research and finding a potential solution to solve the problem the company is facing. Typically these people are one of the 2 previous personas or it can be the actual users of the solution like Admins, Finance executive, or Marketing executives.
What you also need to know that these roles can be combined and one person can be an influencer and research at the same time or the decision-maker is also a researcher. This is a good thing because it gives you space to produce content for multiple personas.
So to create your personas first you must understand your target audience, if it is a large corporation, then probably there will be multiple roles involve, or if it is smaller businesses then fewer people will be involved in the purchasing decision.
For creating your personas you can use tools like Xtensio, just select what template you want to create, in this case, User Personas.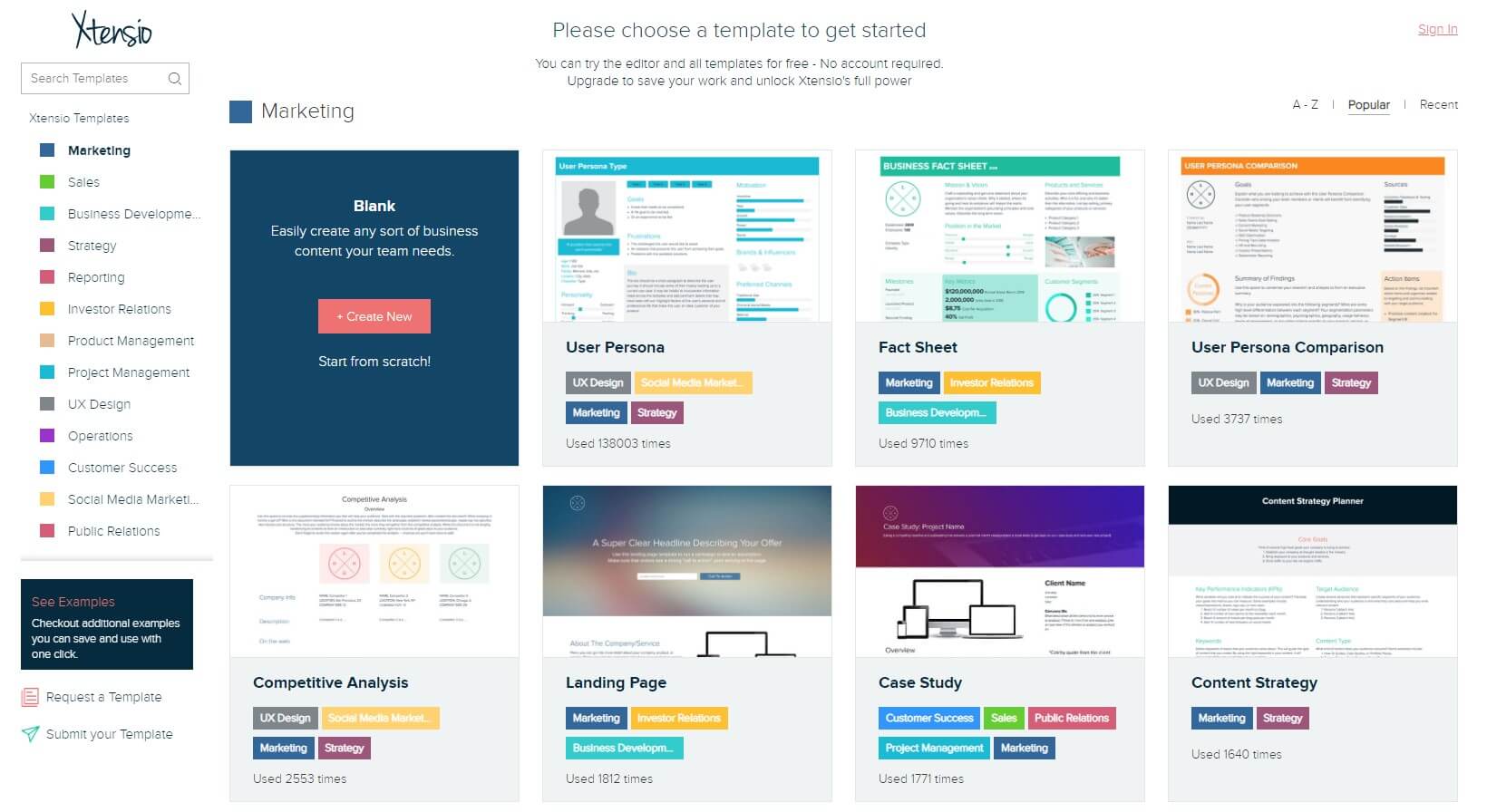 And here you can fill up all the information you need to create your first B2B buyer personas. I definitely recommend starting with at least 3-5 different personas, so you have a clear picture of who you are targeting.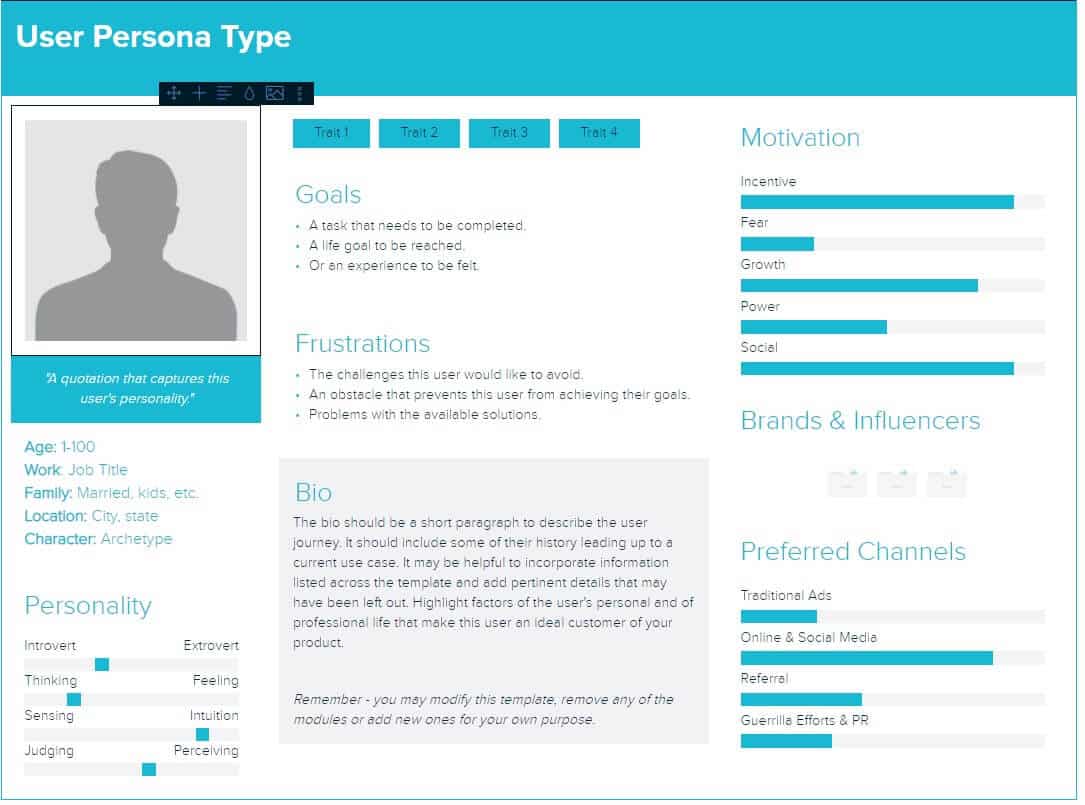 Remember, that you want to focus on the most important points such as department and position, also include the industry and size of the company of the person that will be searching and buying your solution.
To learn more read my guide on how to create your personas.
Step #2: Find Your Keywords
The second step is to find the keywords your personas are using to find your products and services. This step is super important because the keywords you will be targeting will determine the success of your B2B SEO strategy.
Because if you target the wrong keywords for example:
Do not have any potential to drive website traffic.
Are too hard to compete.
Keywords that bring different target audiences and not yours.
Then your B2B SEO strategy will not be effective, and you would waste so much time, effort, and resources on targeting wrong keywords, therefore pay close attention to the keyword research.
To effectively do B2B keyword research, you must understand the b2b buyer journey and then find your keywords for each stage of the buyer journey.
B2B Buyer Journey
B2B Buyer Journey is getting more complicated due to the vast amount of information available online. According to Accenture, most B2B buyers are already 57% of the way through the buying process before the first meeting with a representative.
B2