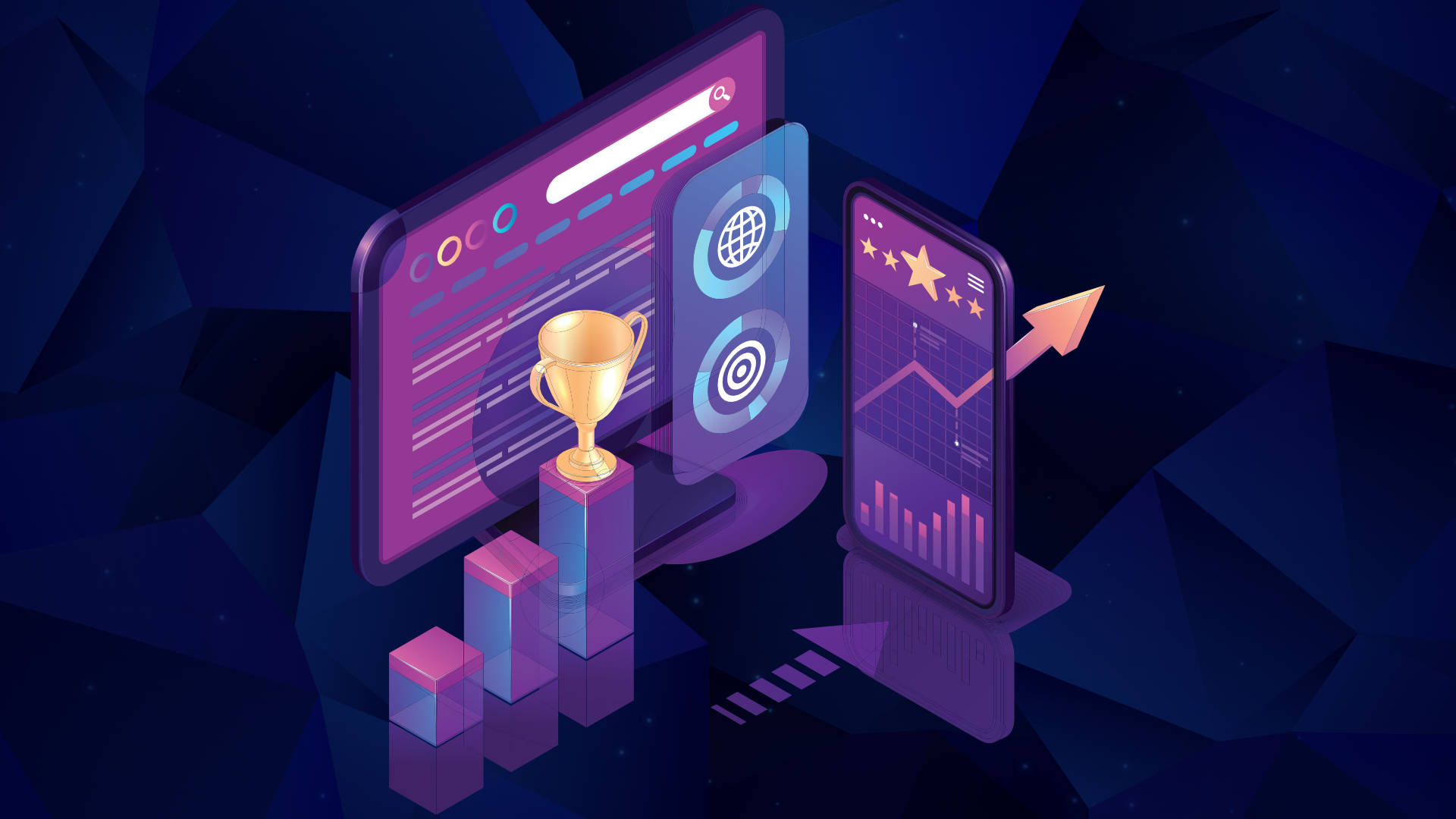 Doing On-Page SEO can be a tedious and endless job that can make difference for your website to rank in top positions or have absolutely zero effect whatsoever.
So to avoid the second scenario I am going to show you step-by-step how to do on-page SEO to boost your ranking and organic traffic.
In fact, I have used these exact steps to land my few months old website on the first page of Google.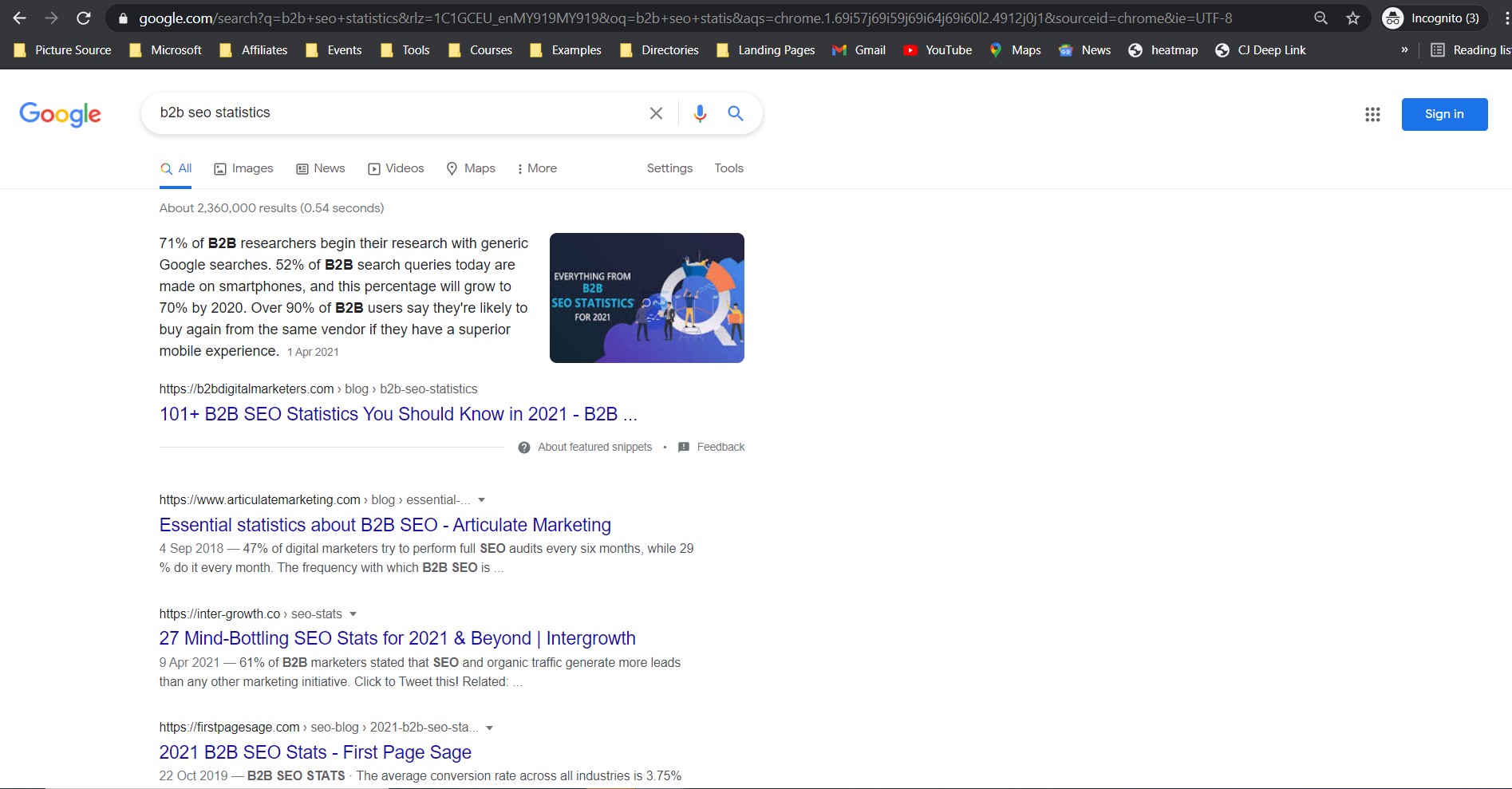 So, if you want to learn how to do on-page SEO then stick around till the end of the video. Let's get started!
What is On-Page SEO?
On-Page SEO or on-page optimization refers to using strategies to optimize your content and HTML on your individual web pages in order to improve ranking in search engine results pages (SERPs) and drive more organic traffic to the page.
On-Page SEO addresses every aspect of your website that can potentially hurt your ranking and user experience and subsequently your organic traffic. It contains so many aspects that often on-page & technical SEO is the same thing.
And even though both parts are focused on improving website user experience and ranking, technical SEO is more focused on optimizing the overall aspects of the entire website such as mobile-friendliness or having an SSL certificate.
And on-page SEO rather focuses on the aspects of individual web pages such as keyword placement, title tag & meta description but even some technical aspects such as page speed and size of the web page.
That's why in this guide, I will be focusing on the technical, content, and structural elements of an on-page SEO strategy. Also, check out our handy On-Page SEO vs Off-Page SEO Infographic.
Why Do You Need On-Page SEO?
There are numerous on-page SEO factors that are essential for you to be successful on the internet. However, these factors can be separated into two categories:
Search Engine Factors: Which are the ones that search engines use when assessing your website for ranking. These factors are based on algorithms used by search engines like Google.
User Experience Factors: Which are the ones that your users influence such as how they are interacting with your website, how long, and if they are satisfied with an answer on your web page. This often comes down to the actual content, but also some technical aspects as well.
Therefore, the on-page SEO is important for your website because it can help satisfy both of these elements by delivering unified experiences for both search engines and your users which helps boost your ranking, organic traffic, and revenue.
The way how it helps to boost your revenue is by increasing relevant organic traffic that is searching for your products or services and has high intent to buy, unlike just driving random traffic that has no interest in buying your solutions.
Therefore on-page SEO is crucial for your website and big part of an SEO strategy because it helps you to follow SEO guidelines set by Google and other search engines and the latest SEO practices.
So, let's move to the actual steps and how you can create and optimize your web pages with the latest and best on-page SEO practices that follow search engine guidelines.
Step #1 Install On-Page SEO Tools on Your Website
The first step of doing On-Page SEO for your website is to install SEO software that will help you to monitor the most important on-page SEO requirements and will work as a checklist for you.
The thing is, that not everybody is an SEO expert and knows all 200+ ranking signals, even I don't remember all the ranking factors and I do SEO for living.
And most certainly not everybody has the passion and dedication to learn SEO to rank #1 in Google and you do not even need to.
Luckily, there are SEO tools and plugins that help you to check your website and your web pages regularly and provide a checklist to ensure you have the most important technical and on-page SEO aspects covered.
Plus, they make things much easier.
So, there are two types of SEO software you need to install.
The first is the SEO plugin if you are using WordPress or any similar CMS. These plugins help you to check how well is your web content optimize for SEO.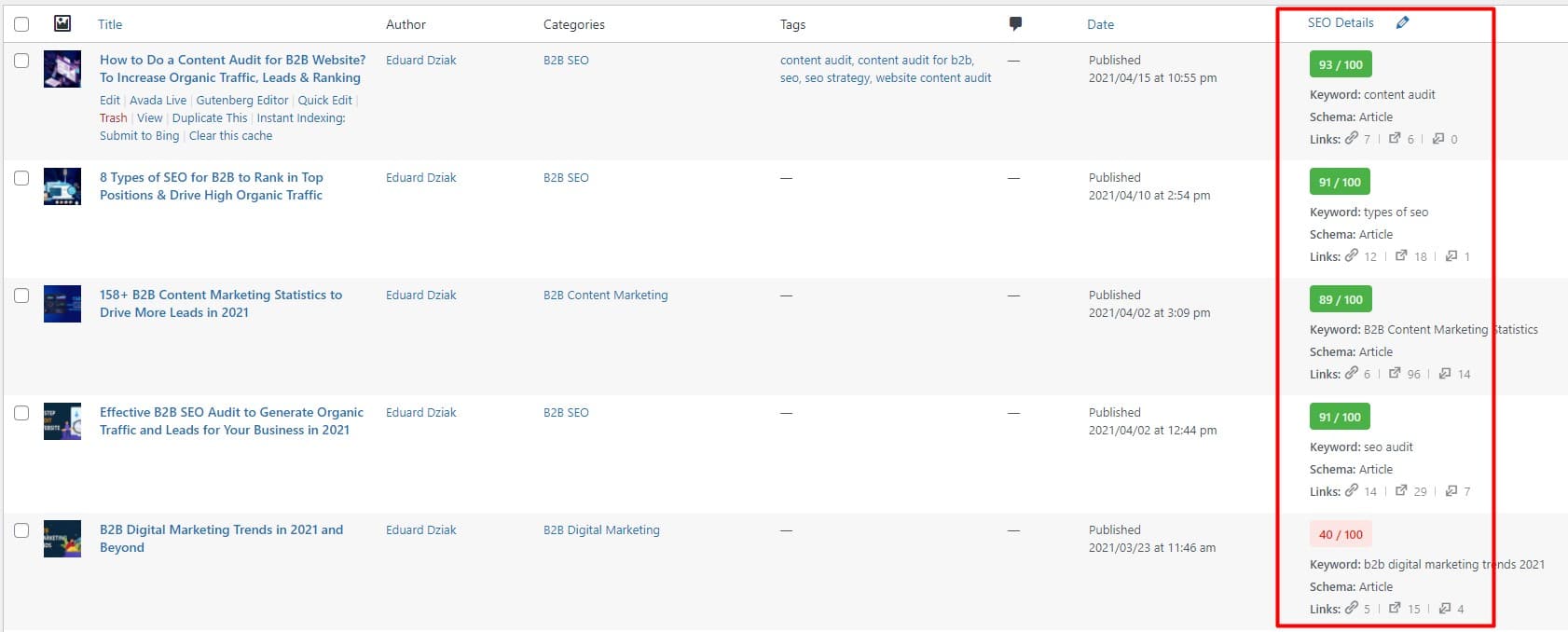 They provide you with a checklist that will guide you on how to optimize your page for SEO and what strategies should be included within the content so search engines can better understand what's the page about and rank it accordingly.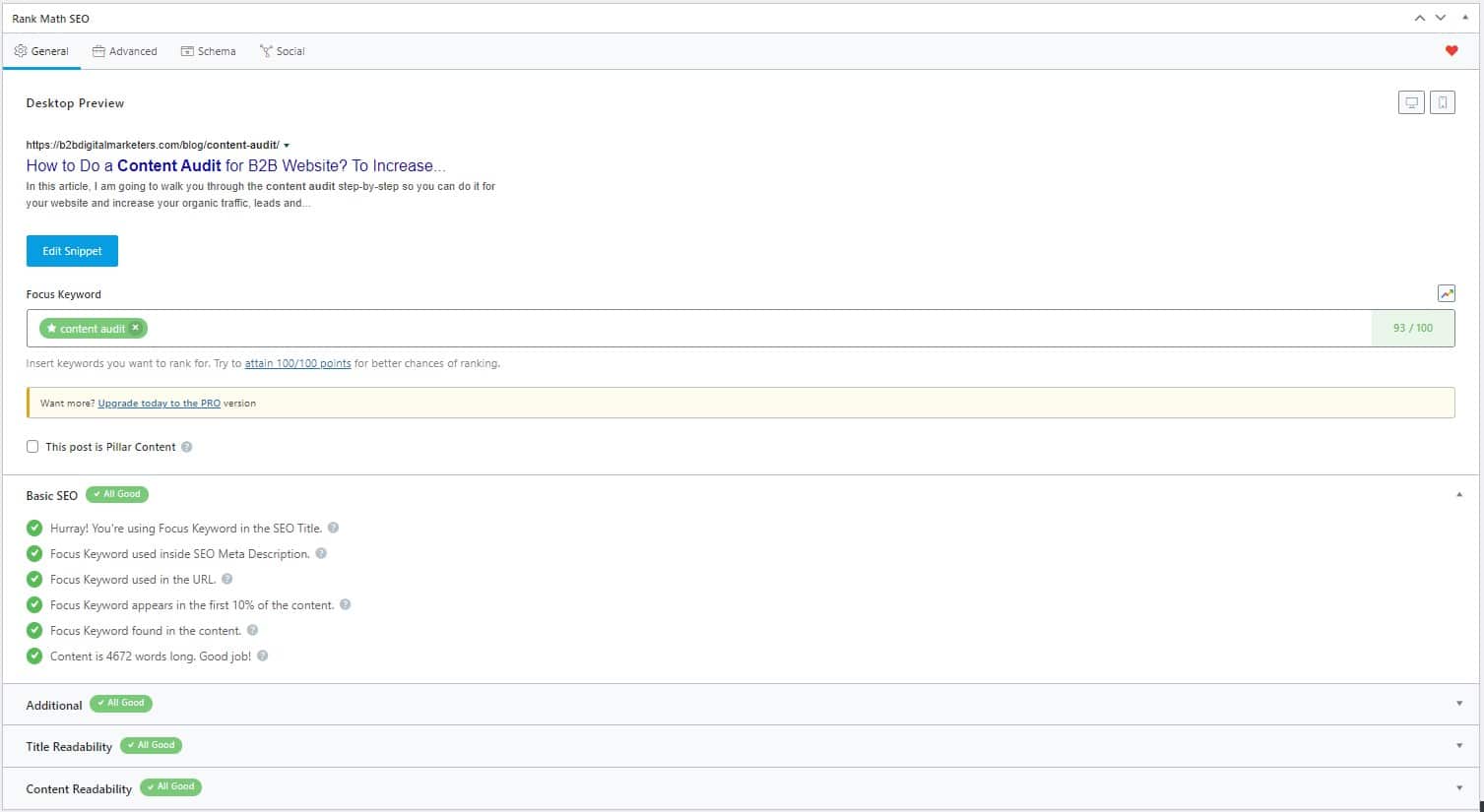 Plugins like this make it easy to optimize your web page for on-page SEO strategies even if you are not an SEO or technical expert.
My choice of preference is Rank Math. However, there are tons of other SEO plugins you can choose from. An SEO plugin is not mandatory, but highly recommended and used by SEOs, marketers, and bloggers.
And the second SEO software you should use is an SEO tool that helps you with on-page SEO and much more. Typically, these tools come with a wide range of features that help you with keyword research, competitor analysis, backlink profile, and auditing your website.
Again, there are plenty of SEO tools, but my recommended SEO tool is SE Ranking because it's easy to use with a wide range of features ranging from keyword research, backlink analysis to a super-fast comprehensive website audit.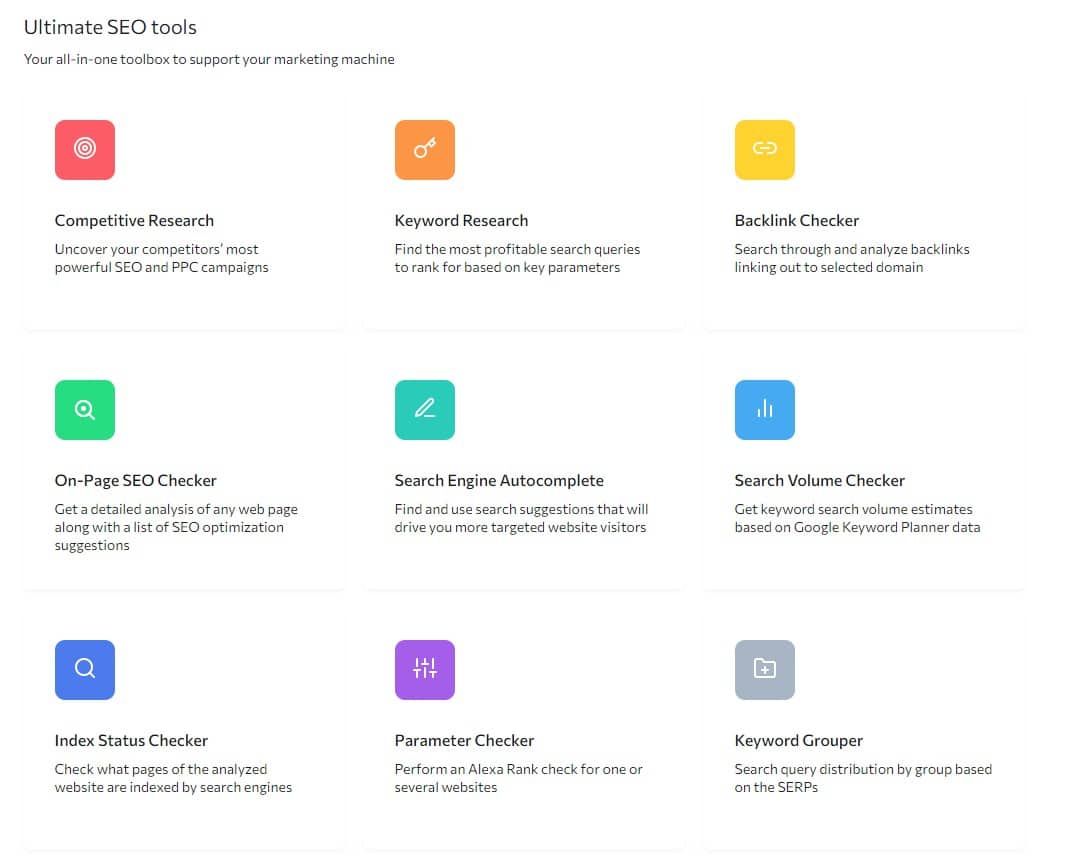 And the best thing, SE Ranking offers by far the best value for money which makes it available for specialists and companies with limited marketing budgets.
So by having SE Ranking on your website, you can easily discover errors on your website that could potentially be hurting your ranking.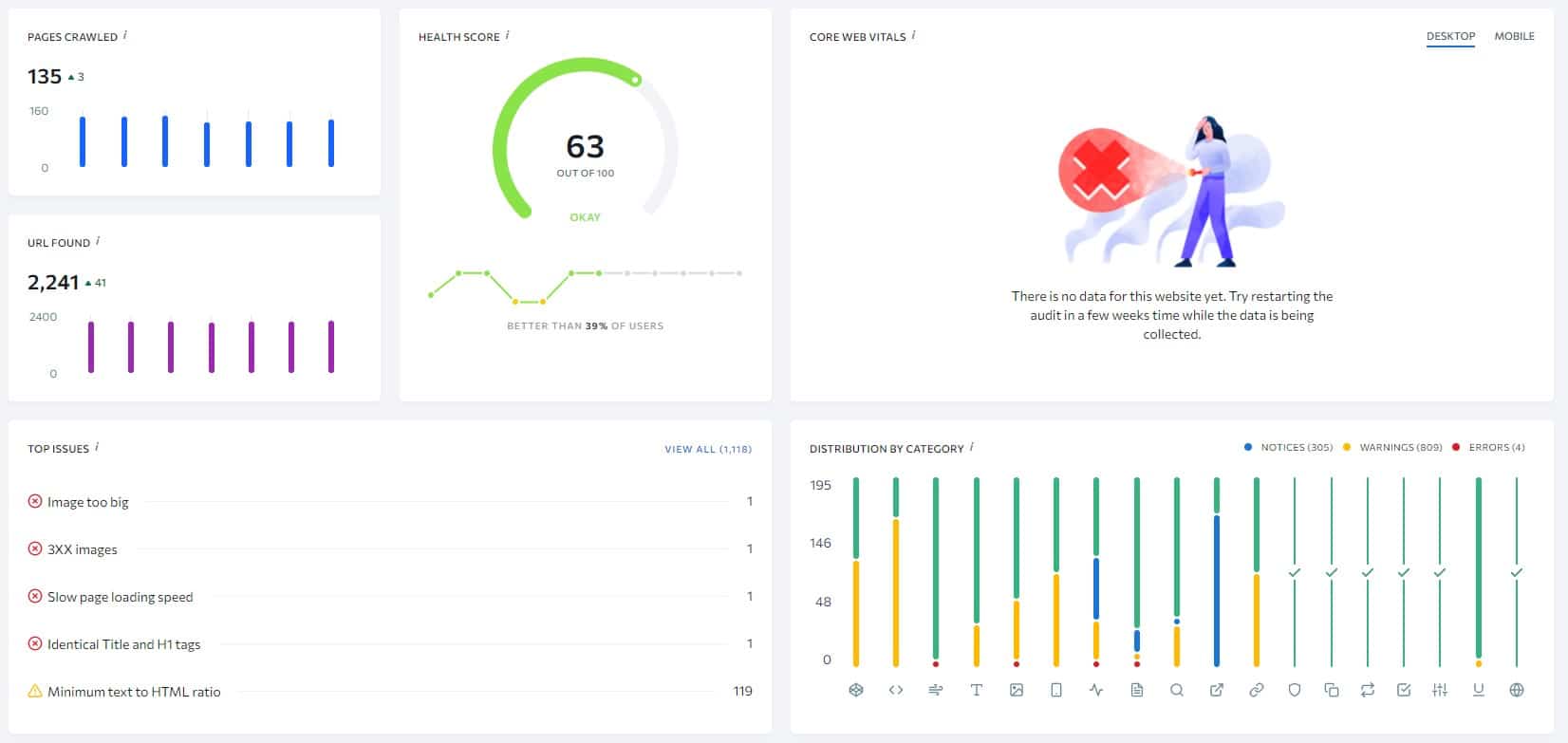 Also, you can check the exact issues of every page individually, so you can make sure, that your HTML and content on the page are well optimized for SEO best practices.
Having an SEO tool is essential and unfortunately, without that, you cannot keep your site and on-page health optimized and I am not even talking about a hard time of doing keyword research or competitor analysis without an SEO tool.
So, if you are serious about your website, then you need to have an SEO tool.
Step #2 Audit Your Website
The next step once you have installed your SEO software is to do a website audit and find any issues on your current web pages. if you do not have any websi