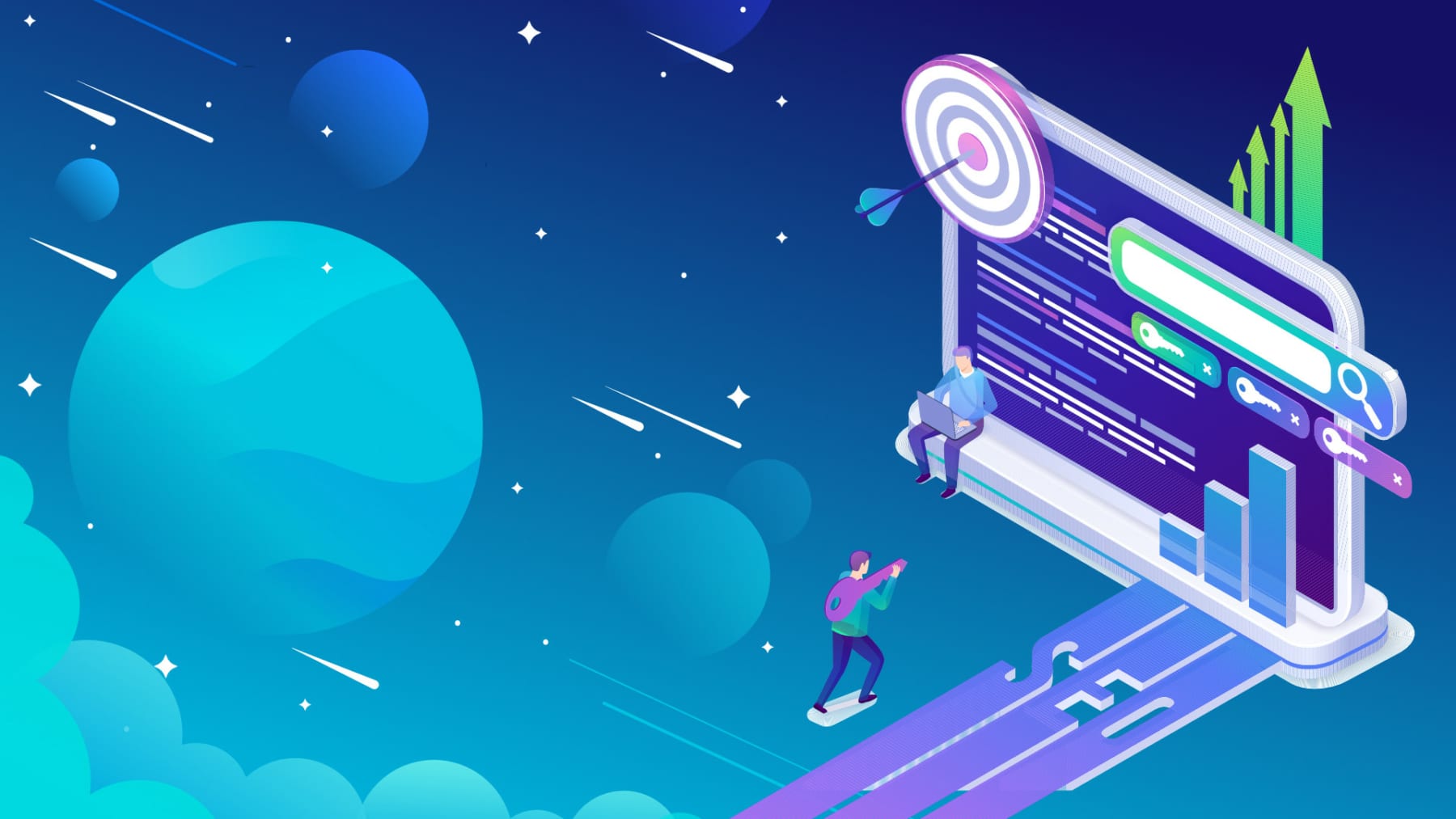 In this article, I am going to share with you the 11  best techniques to find SEO keywords in a step-by-step process using free and paid tools.
If you currently not searching for SEO keywords then you are not maximizing your organic traffic potential and blindly creating content wishing to hit the organic traffic jackpot.
So, if you no longer want to just make guesses what topics or keywords you should target and get tons of content and keyword ideas, let me teach you the important things you should know about SEO keywords and how to find them to increase your organic traffic, SEO lead generation and ranking for your website.
So let's get started with the basics:
What Are SEO Keywords?
SEO Keywords or just keywords are words or phrases that are search on the internet and specifically targeted by SEOs in order to appear for those searches and drive organic traffic to the website. The goal is to rank as high as possible for the keyword as many studies proved that the higher the ranking position you obtain the higher is traffic the keyword can bring.
SEO keywords are an essential part of every website that is focused on driving organic traffic via SEO strategy for B2B or B2C. These keywords are often closely related to the business services or products in order to drive high-quality traffic that can converts as leads or sales later on.
When you are analyzing the quality of SEO keywords you can measure the quality of keywords by using a keyword analysis checklist:
Keyword Difficulty: It shows an estimated difficulty score. The higher the number the harder it is to rank for the keyword.
Search Volume: This metric shows the number of monthly searches the keyword gets in the selected location.
Traffic Potential: This shows how many clicks the keyword and its variants can generate to top-ranking pages.
Cost-Per-Click: This metric shows how much advertisers are willing to pay for the keyword click. The higher the number the higher is the transactional value of the keyword.
Business Potential: This should represent the value of the keyword that has to your business. This is a relative metric and it really depends on your niche and the angle you are targeting.
Search Intent: Which represents the reason behind the searcher's query.
This can be used when you are evaluating the quality of keywords for your business. Remember, not every business is equal and everybody can perceive the keyword quality differently depending mostly on the keyword potential for your business.
However, for a keyword to be considered an SEO keyword it has to have a certain business potential and fit within your marketing funnel. Any keyword that does not have a purpose for the business cannot be considered an SEO keyword and is a liability to you.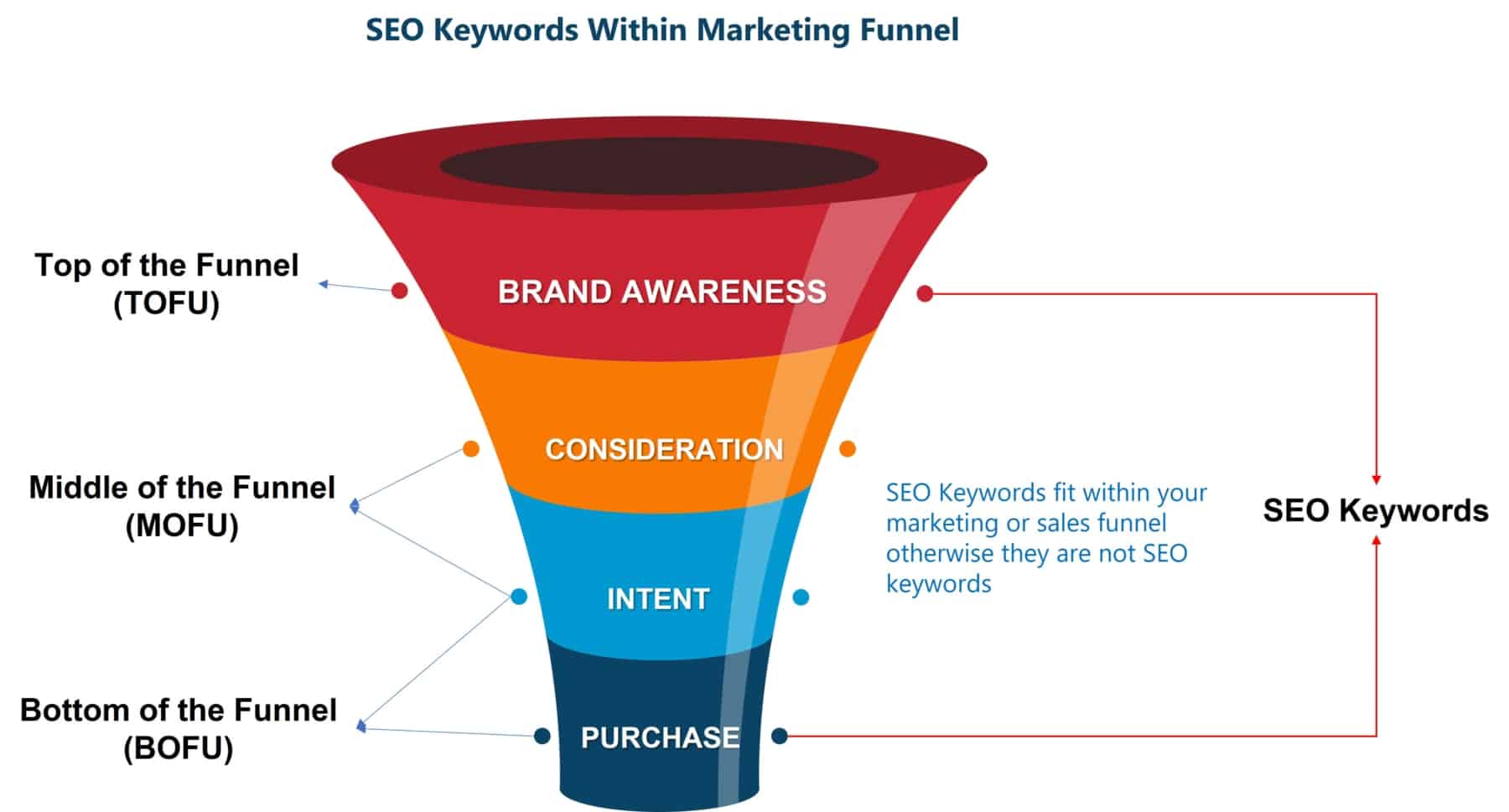 Why Do You Need Keywords for SEO?
Unfortunately, many websites owners and marketers still do not realize that every indexed content on your website is either liability or an asset and if the content does not have any potential to drive meaningful and profitable organic traffic, then it's a liability for you and it should be deindexed or remove to save crawl budget.
And for content to have the potential of driving organic traffic to a website it needs to target keywords with a certain search volume otherwise there is a point to target the keyword.

A good search volume for keywords highly depends on the industry you are in. However, targeting SEO keywords with a search volume lower than 50 has minimum potential to drive any meaningful and profitable traffic.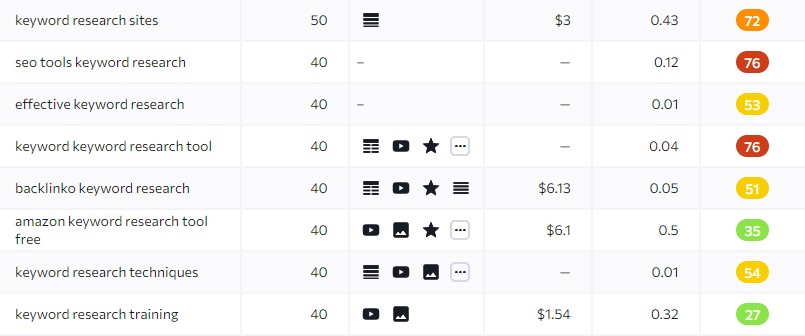 With that SEO Keywords are important for websites to strategically target keywords that can drive organic traffic to the websites that later can convert as leads or sales for the business or increase the brand awareness.
And by using the keyword research tool you can get a rough estimate of how much traffic it can drive you and whether your website has the authoritativeness to compete for the keyword by analyzing the website authority score and keyword difficulty.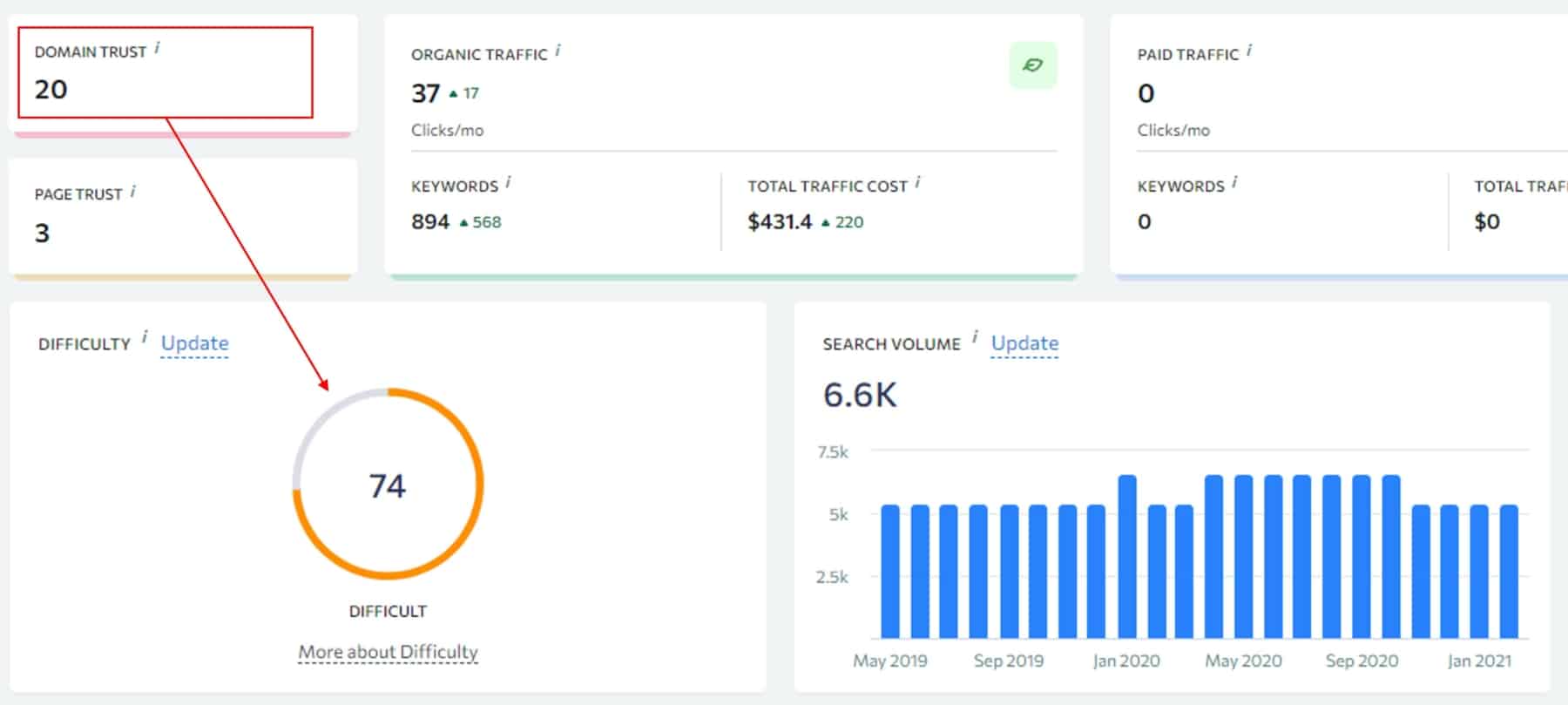 As you can see my Domain Trust which is an aggregate domain quality score developed by SE Ranking does not come even close to the keyword difficulty. Therefore I do not even rank for the keyword in search with my content targeting the keyword.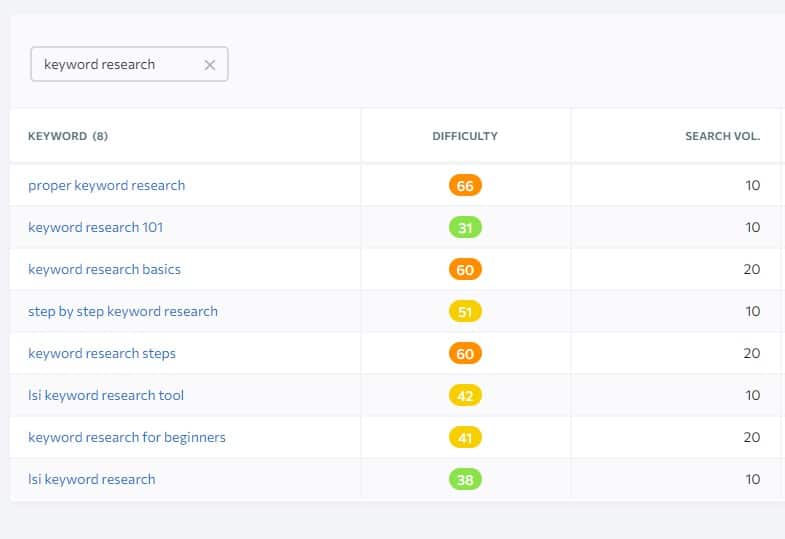 However, as I am improving my website authority by working on off-page SEO and link-building strategies I can slowly start ranking even for the most difficult SEO keywords in my niche. But for now, targeting long-tail keywords is easier for me to rank.
Therefore finding SEO keywords is important for you if you want to finally see the SEO results everybody is talking about and drive organic traffic that converts.
With that in mind, let me share with you 11 techniques how to find SEO keywords starting from basic and slowly moving to more advanced keyword research techniques to find SEO keywords:
Technique #1: Toss Seed Keywords in Keyword Research Tools
The most common and one of the easiest ways to find SEO keywords is to toss seed keywords into keyword research tools.
This technique can be still very effective depending on your keyword strategy plan and how you want to go about targeting keywords. If you are just searching for keyword ideas this can be one of the easiest ways to do that.
However, because it is so easy, everybody can do that and find the exact same keywords as you in a matter of seconds.
With that let me show you how you can do that.
Before that, if you do not use any SEO tool and you are a beginner with a limited marketing budget, then I recommend you to try SE Ranking for 14 days and then subscribe to their super affordable all-in-one SEO tool for just 25$.
First I fire up my SE Ranking Keyword research tool. Enter some broad keywords closely related to my niche, select my targeted location and hit analyze.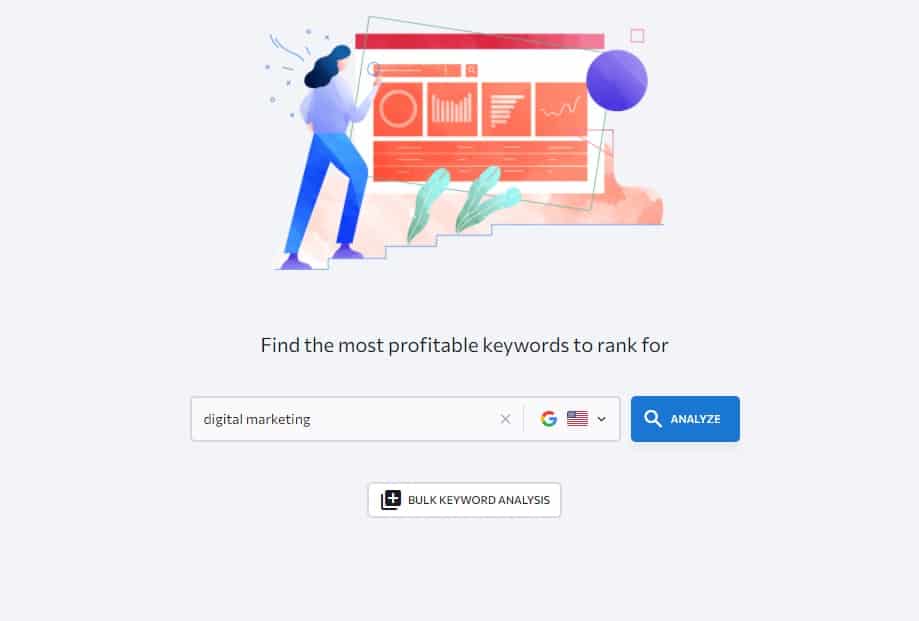 Here I will get important information about the analyzed keyword such as the difficulty, search volume, and CPC. Also, I get keyword ideas that are related or similar to the analyzed keyword "digital marketing".