Link exchanges can help SEO, but also carry risks if overdone, and many struggle to use them effectively.
Is link exchange safe in 2023? How can you incorporate reciprocal links without getting penalized? What are the best practices?
This definitive guide covers everything you need to know about link exchanges. You'll learn how to safely add them as a supplementary tactic. Follow the best practices outlined here for risk-free SEO benefits.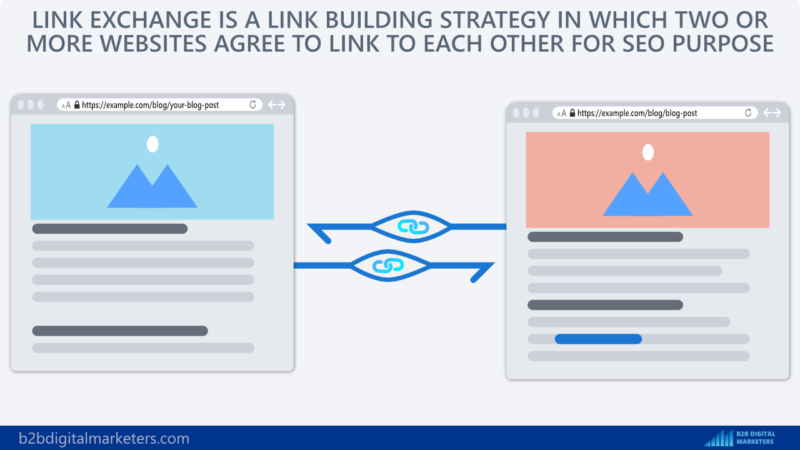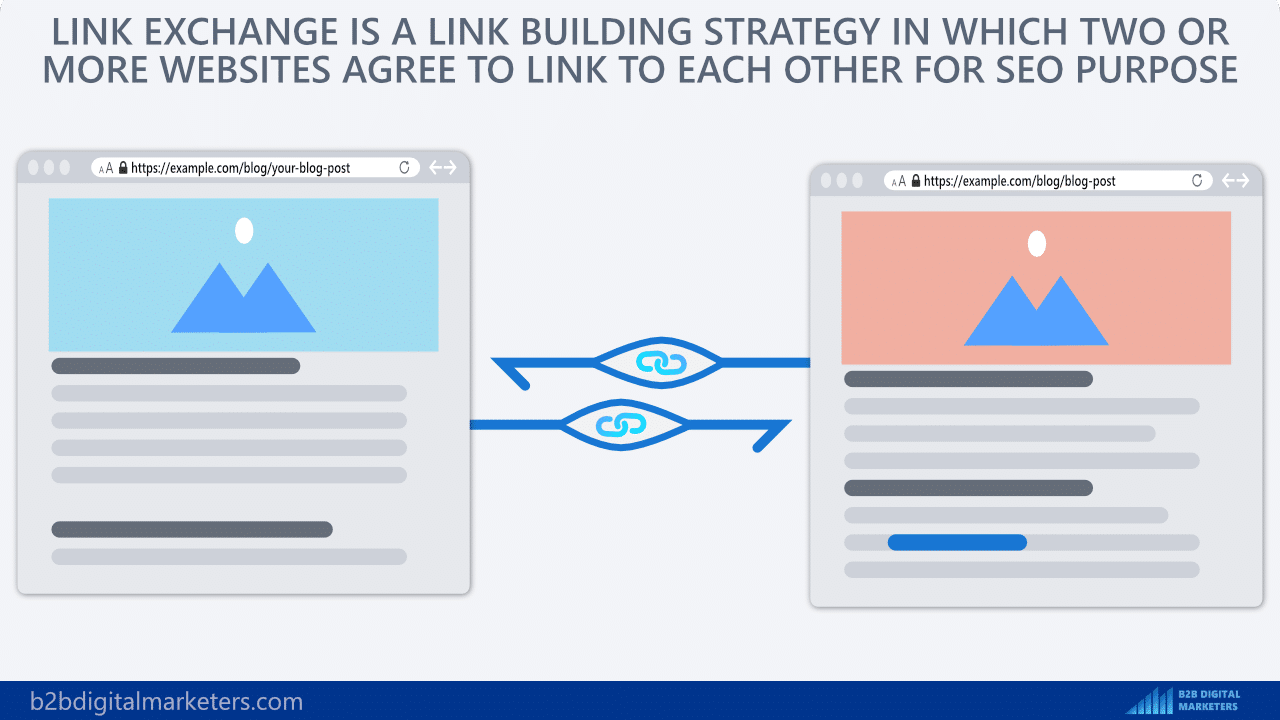 Link exchange is a link building practice in which two or more websites agree to link to each other, often intending to increase their respective site's search engine rankings and drive more traffic.
At its core, link exchange is a simple concept: "I'll link to you if you link to me."
This is based on the premise that search engines, especially Google, see backlinks as a form of endorsement for a website.
The more high-quality backlinks a website has, the more authoritative and relevant it might appear to search engines, which can positively influence its ranking in search results and of course website traffic.
Pros of Link Exchange
While link exchange is one of the oldest link building strategies since SEOs knew that backlinks are important for ranking in SERPs (search engine result pages), they're still commonly used by SEOs to improve ranking.
And that's because link exchange strategy still has a lot of benefits even in modern search engines and algorithms.
Extremely Easy to Do
One of the most evident advantages of link exchange is its simplicity. You reach out to a website owner or administrator, propose a mutual link exchange, and if both parties agree, you place each other's links on your respective sites.
There's no need for complex tools, writing guest posts, or in-depth technical and SEO knowledge. It's a straightforward process that even those new to SEO can undertake.
Easy to Find
Another pro of link exchanges is that potential partners are not hard to come by. Numerous forums, communities, and platforms are dedicated to link exchange proposals. By joining these communities or simply searching for websites in your niche, you can find potential link exchange partners with relative ease.
For Free
And lastly and perhaps one of the best aspects of link exchanges is that they can be cost-effective. Unlike paid advertising, guest posting, resource link building, or sponsored content, where you might have to shell out significant amounts for visibility, link exchanges can be done without any monetary exchange.
It's a mutual agreement where both parties benefit from the increased visibility and potential traffic, without any financial commitment.
Cons of Link Exchange
However, despite the benefits of link exchange, there are also some significant disadvantages of link exchange that many SEOs, website owners, and bloggers see as a dealbreaker:
Easy to Get Devaluaded
Search engines have become increasingly sophisticated over the years. They can now easily identify and devalue links that don't offer genuine value to users. If a link doesn't seem organic or appears to be part of a large-scale link exchange scheme, search engines might devalue it, rendering the exchange ineffective.
This means that even if you've invested time in securing a link exchange, there's no guarantee that it'll positively impact your SEO.
Potential Penalty
Beyond just devaluing links, search engines, especially Google, can penalize websites that engage in manipulative link building practices.
If a site is found to be part of a link exchange scheme that violates search engine guidelines, it could face severe penalties, including a drop in rankings or even removal from the search index.
Cannot Be Done a Lot
And the last disadvantage of link exchange is that, unlike guest posting, resource link building, SEO press releases, etc. You cannot rely on it as the only or the main source of your backlinks.
If the majority of your backlinks come from a link exchange, you definitely are signing up for big trouble with Big G.
Thus, link exchange can never be your go-to strategy to compete in search. It can only be used as a supplemental strategy.
Meaning, you still need to do other link building strategies!
Are Link Exchanges Safe?
This question can be answered only with cold-hard facts.
First thing first…
Google and other search engines are seeing link exchange as link spam ONLY if and I cite:
"Excessive link exchanges ("Link to me and I'll link to you") or partner pages exclusively for the sake of cross-linking"
Meaning, Google expects that businesses/websites will exchange backlinks with each other, and it can still be considered natural links.
Furthermore, even John Mueller, confirmed that the algorithm will take action or notify the web spam team ONLY if it is the majority of the backlinks: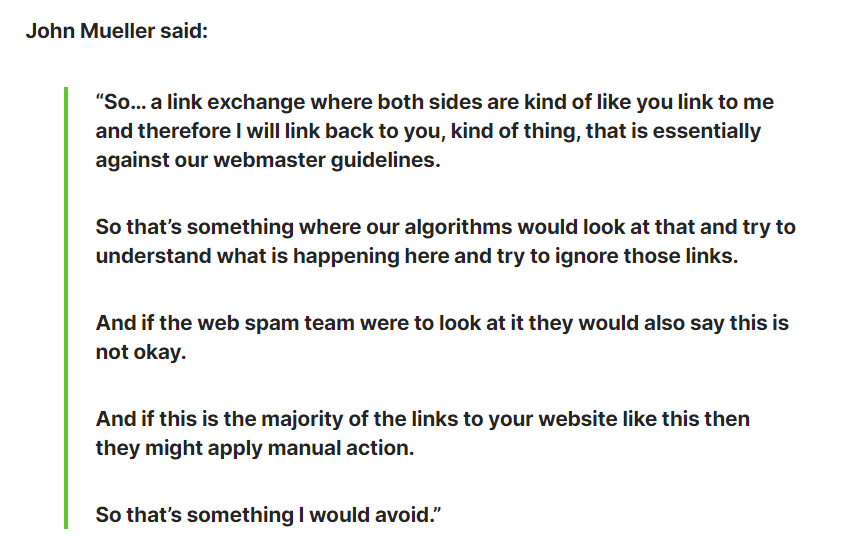 Meaning that you get in trouble only if that's the main source of your quality backlinks.
For example, QuickBooks does link to its partners.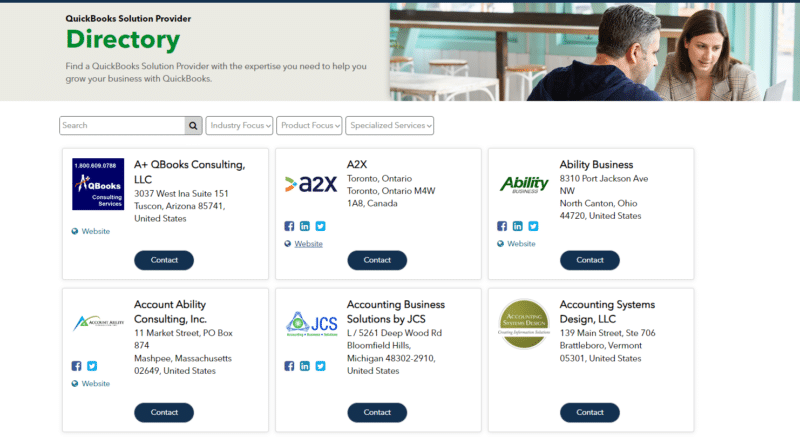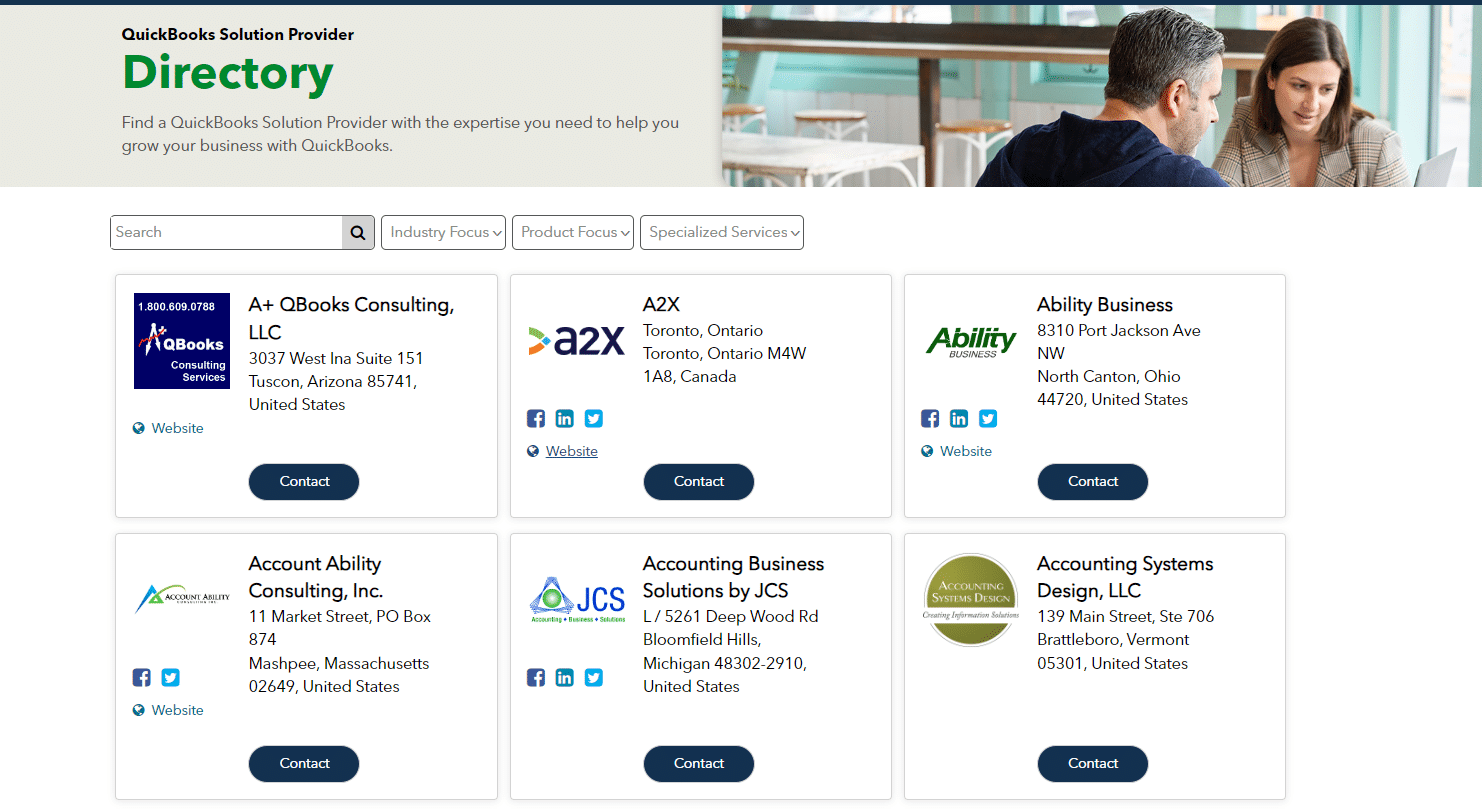 Do most of these partners link back to QuickBooks?
Of course!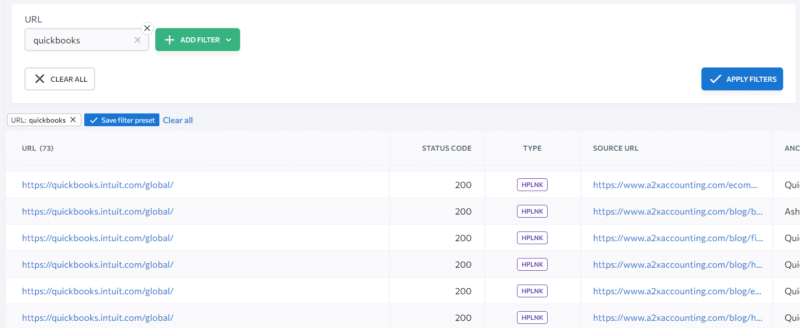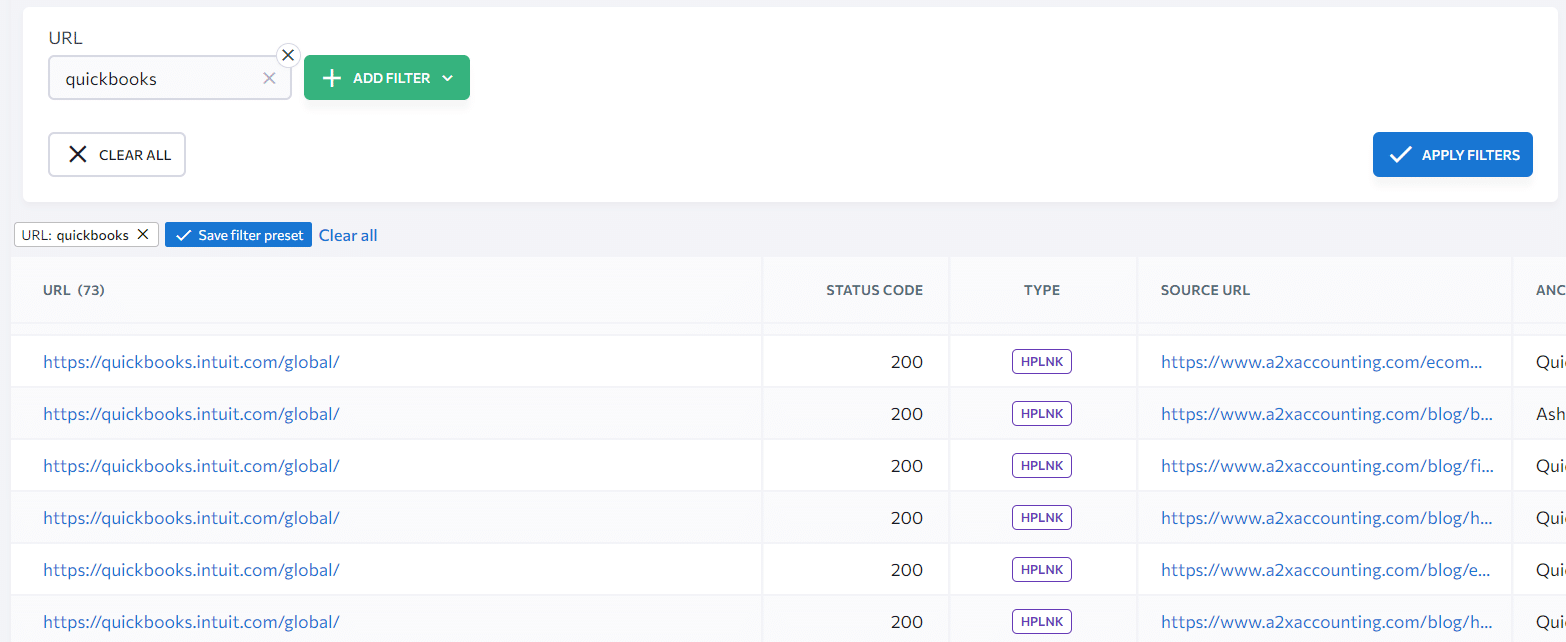 And does Google know about this? Yes! Does Google see it as a bad thing? Of course not!
As proved by Ahrefs's study, reciprocal links are a common thing!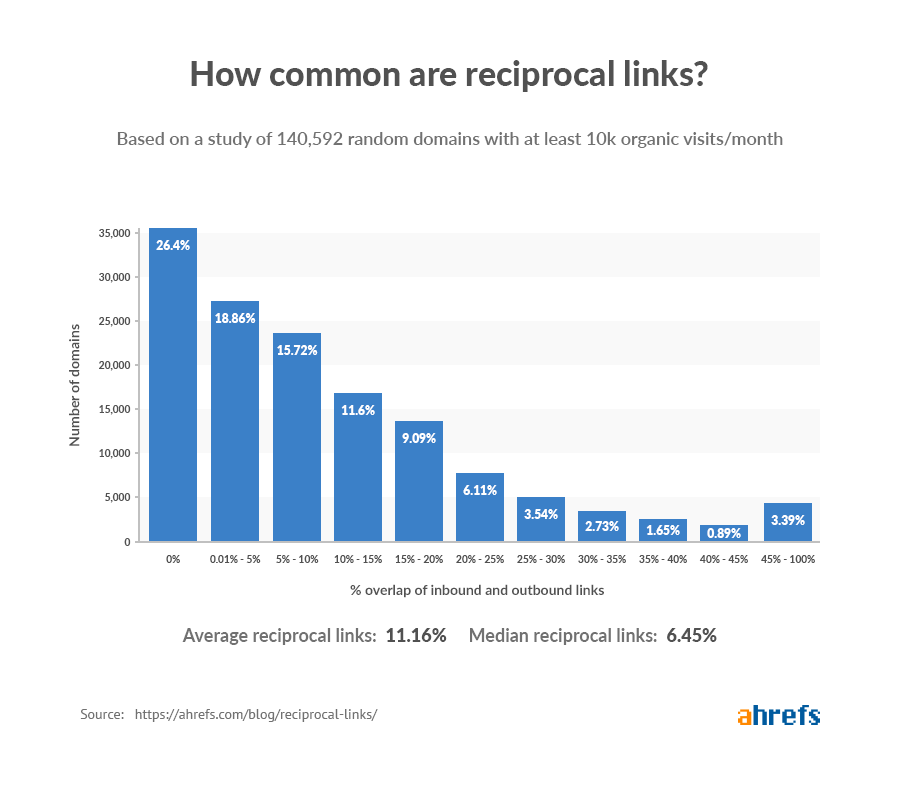 Because niche-relevant websites will link to each other naturally!
The bigger you get, the more likely you will get links from websites in your industry and of course, you'll link to them as well in other of your content.
And 99.99% of all these links happen without any mutual consensus of exchanging backlinks.
That's just how the internet works!
Thus, a link exchange can be good if done correctly and a link exchange can be bad if done incorrectly. It comes down to execution!
Types of Link Exchange
So now, let's have a look at the common types of link exchange you might experience and perhaps try!
Reciprocal Link Exchange
A reciprocal link exchange is the most common and straightforward type of link exchange. As the name suggests, it involves two websites linking to each other in a mutual exchange.
For example, Website A places a link pointing to Website B on a relevant page, and in return, Website B places a link pointing back to Website A on another relevant page. This is a classic reciprocal link exchange arrangement.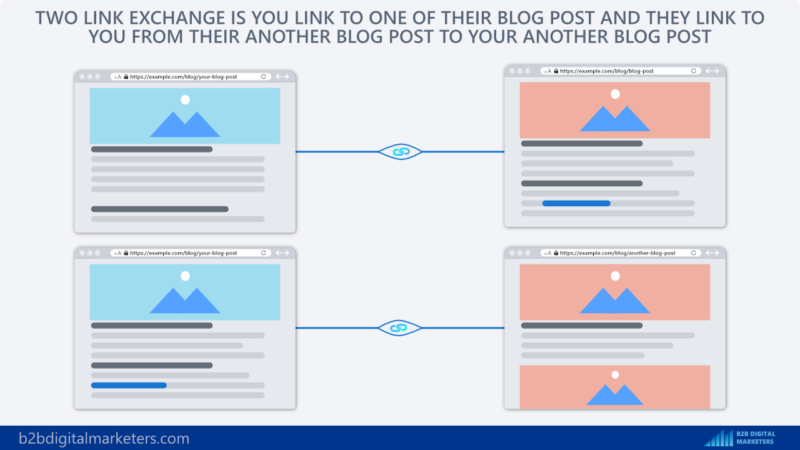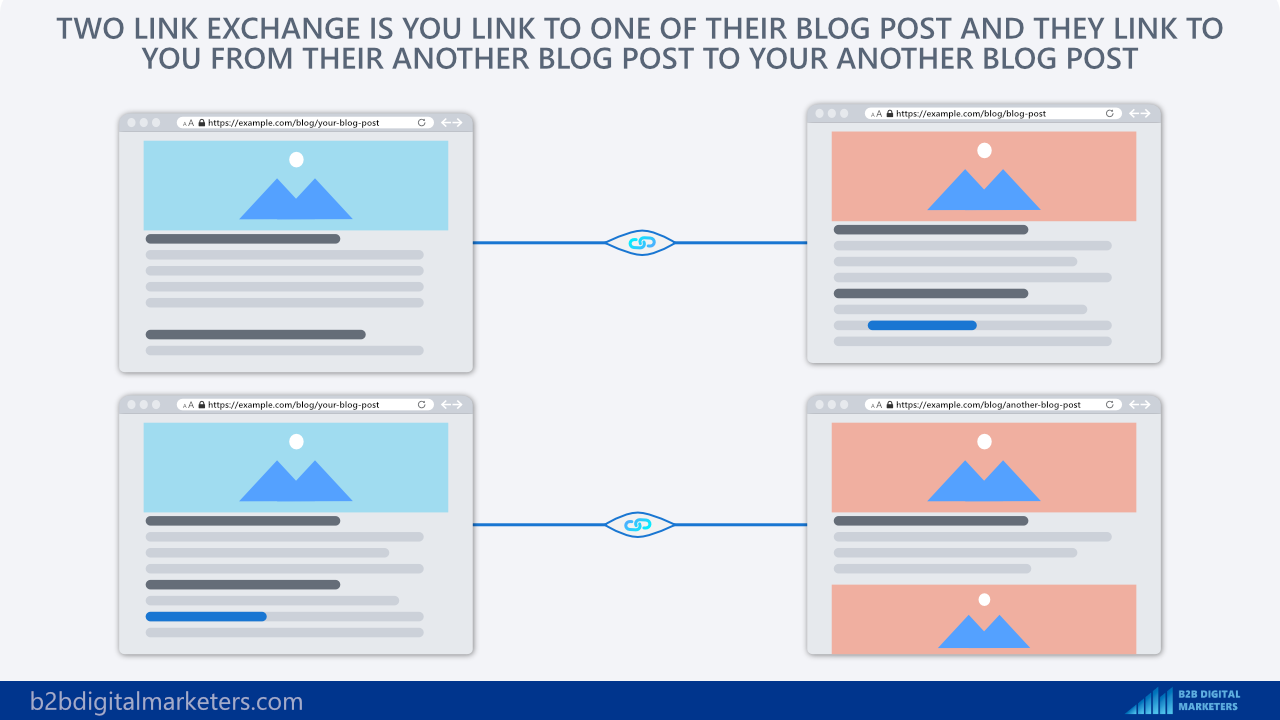 The key advantage of reciprocal link exchanges is their simplicity. Both parties get a backlink by providing one.
However, as discussed earlier, the reciprocal nature can cause issues if overdone or not executed properly. Moderation is key.
3-Way Link Exchange
A 3-way link exchange involves three websites. Instead of a one-to-one exchange, each website links to another one, forming a triangle.
For example, Website A links to Website B. In return, Website B links to Website C, and Website C links to Website A.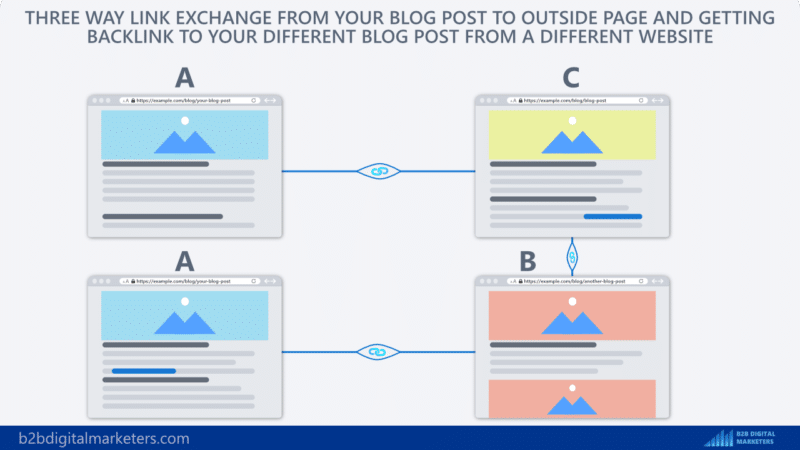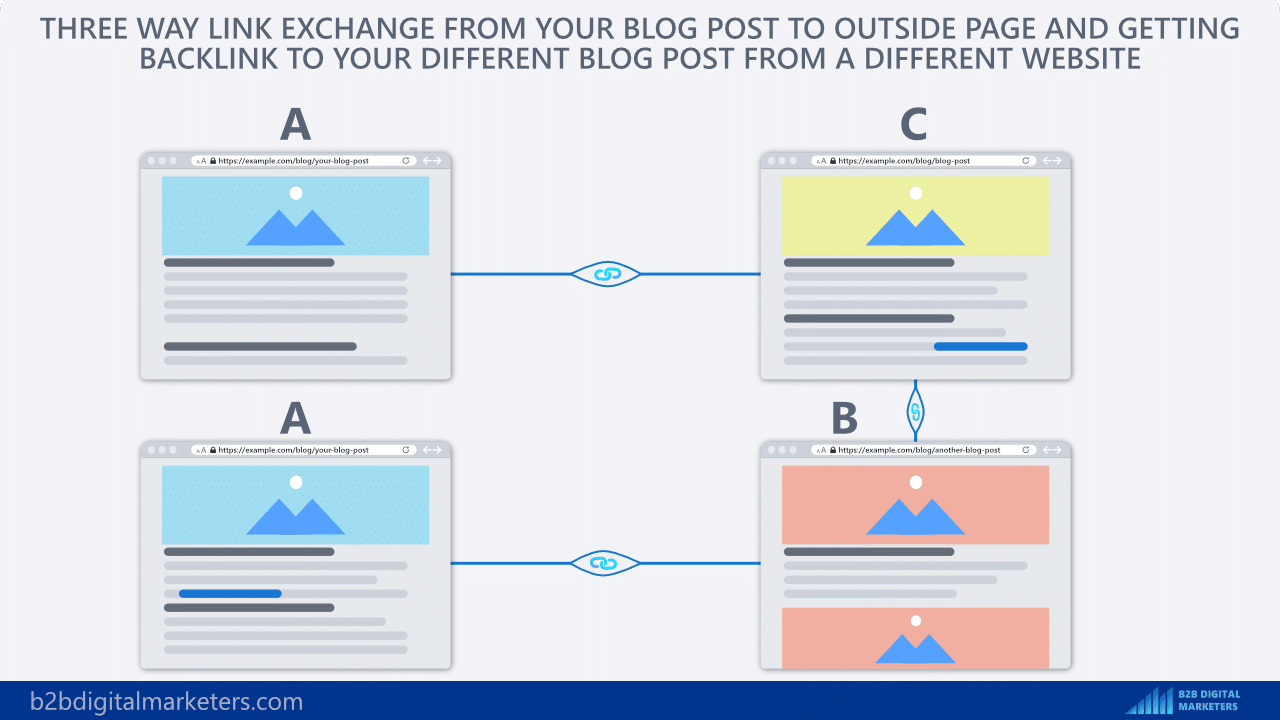 The main advantage of a 3-way link exchange is that it seems more natural and less visibly reciprocal to search engines and is considered safer. The links are more spread out across multiple domains.
However, the risks of manipulation remain if done excessively. The general guidelines of moderation, relevance, and quality still apply.
Guest Posting 3-Way Link Exchange
Another variation of a 3-way link exchange utilizes guest posting. Here is how it works:
Website A writes and publishes a guest post on Website B, with two links – one to Website A and one to Website C. In return, Website C adds a link to another web page to Website A.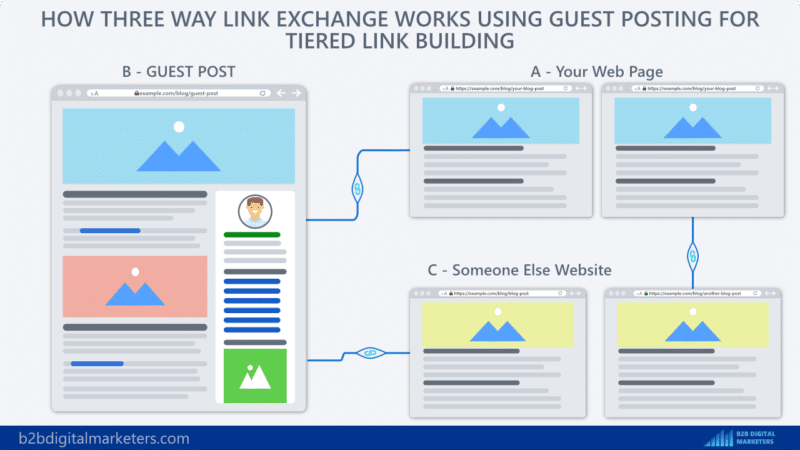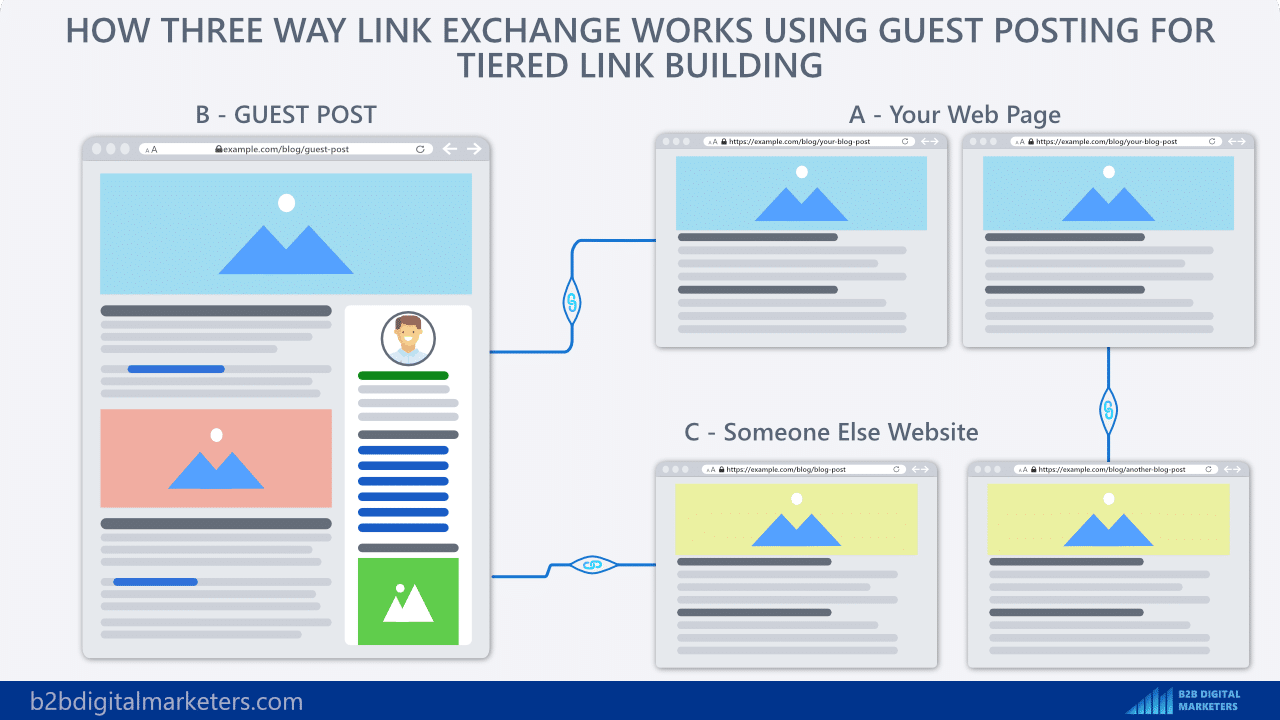 The end result is you're getting extra backlinks through guest post content you have created.
Of course, you can add an extra 2,3,4, and more backlinks to your website in this way.
However, you don't want to publish a guest post on a website that allows a lot of backlinks in their guest posts, as they could be of less quality.
But this is a very effective way to get more music from your bucks and one of my preferred ways to maximize my link building effectiveness.
To learn more, I recommend you check out my tiered link building strategy.
How To Do a Link Exchange in SEO Safely
Link exchange is relatively simple. You find a relevant website in your niche, reach out to propose a link swap, and place links once both parties agree. However, proper execution requires caution.
As mentioned earlier, you should not make link exchanges your sole or primary link building strategy. It should not be the source of the majority of your backlinks.
Rather, link exchanges should only be a supplemental tactic to give your overall link building efforts a helpful boost. They can serve as a nice additional kick but are not your main source.
Ideally, link exchanges should account for no more than 10% of your total build backlinks. The rest should come from other link building tactics like guest posting, resource link building, etc.
However, there is more to how to do a link exchange safely, and for that let's move on to link exchange best practices.
Link Exchange Best Practices to Follow & Mistakes to Avoid
Now, if you want to make your link exchange even safer, here are the link exchange best practices that you should follow:
Perform Backlink Audit
Before reaching out for a link swap, make sure you do a backlink audit to ensure the website does have a healthy-looking backlink profile as well as some authority to pass it to you.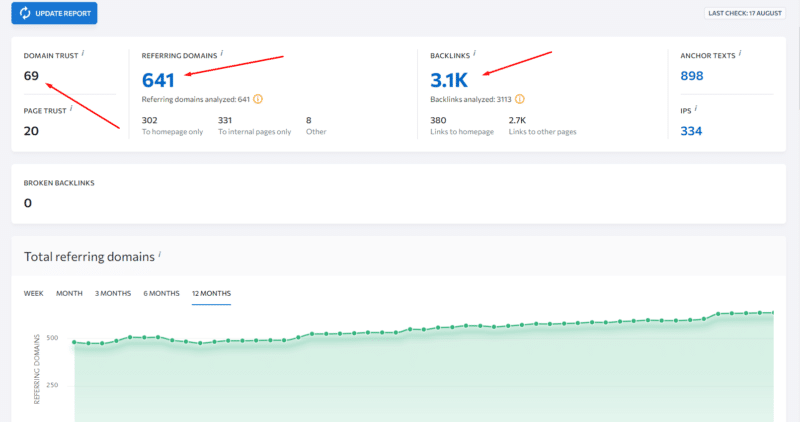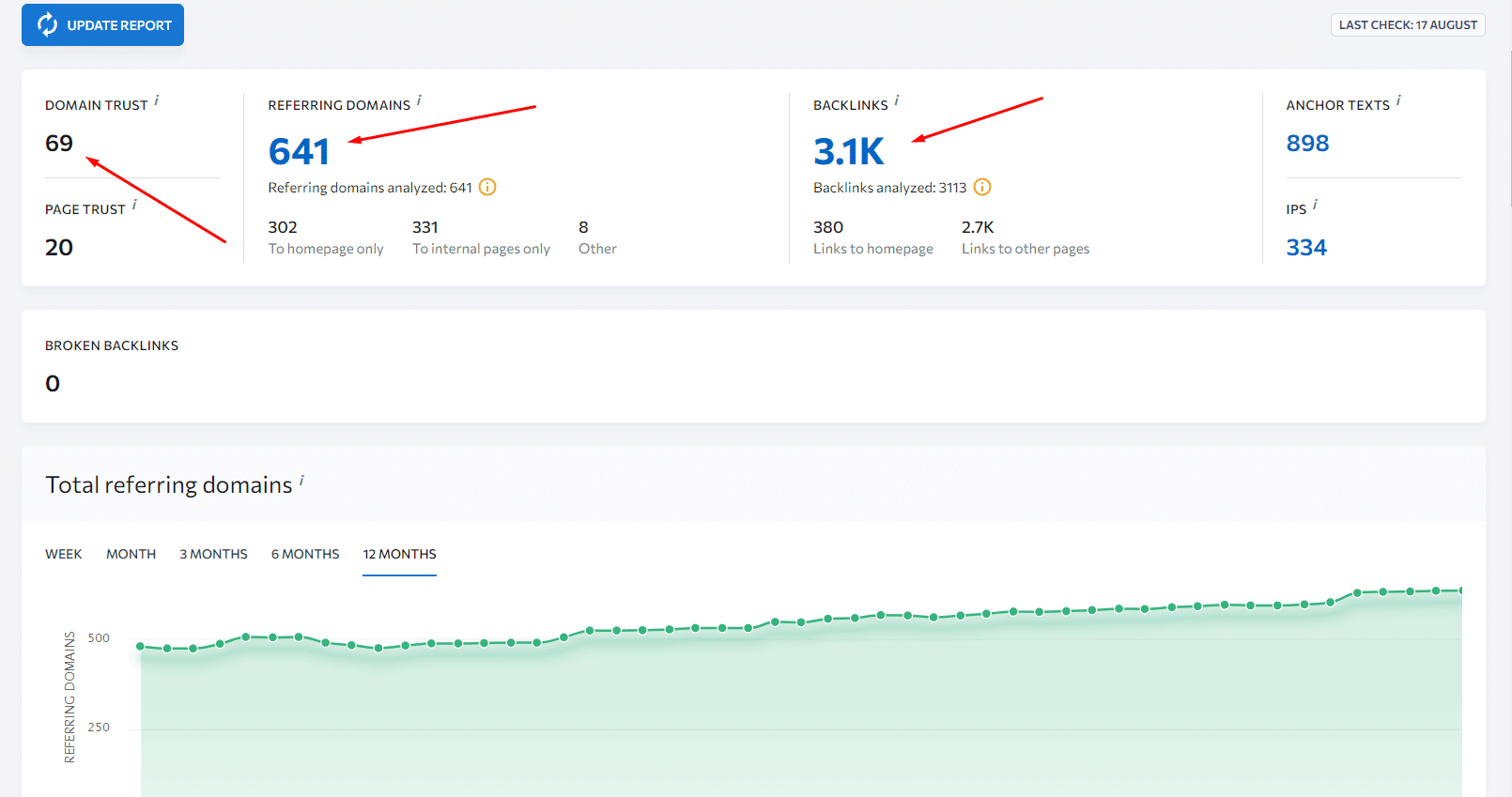 Additionally, you want to ensure that the website has organic traffic. Only build backlinks on websites with a minimum of 500 preferably 1,000 organic traffic according to an SEO tool such as SE Ranking.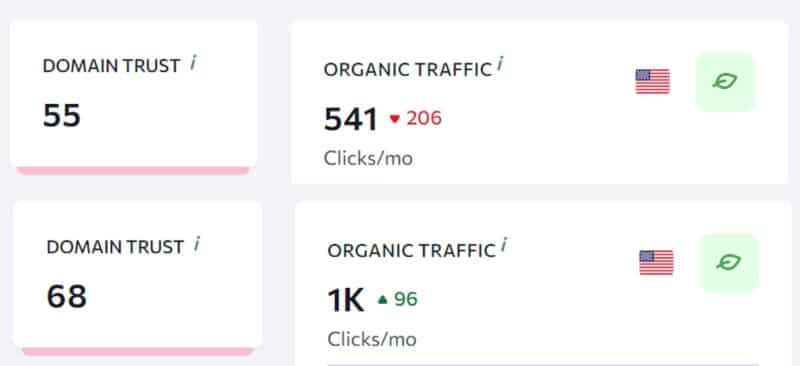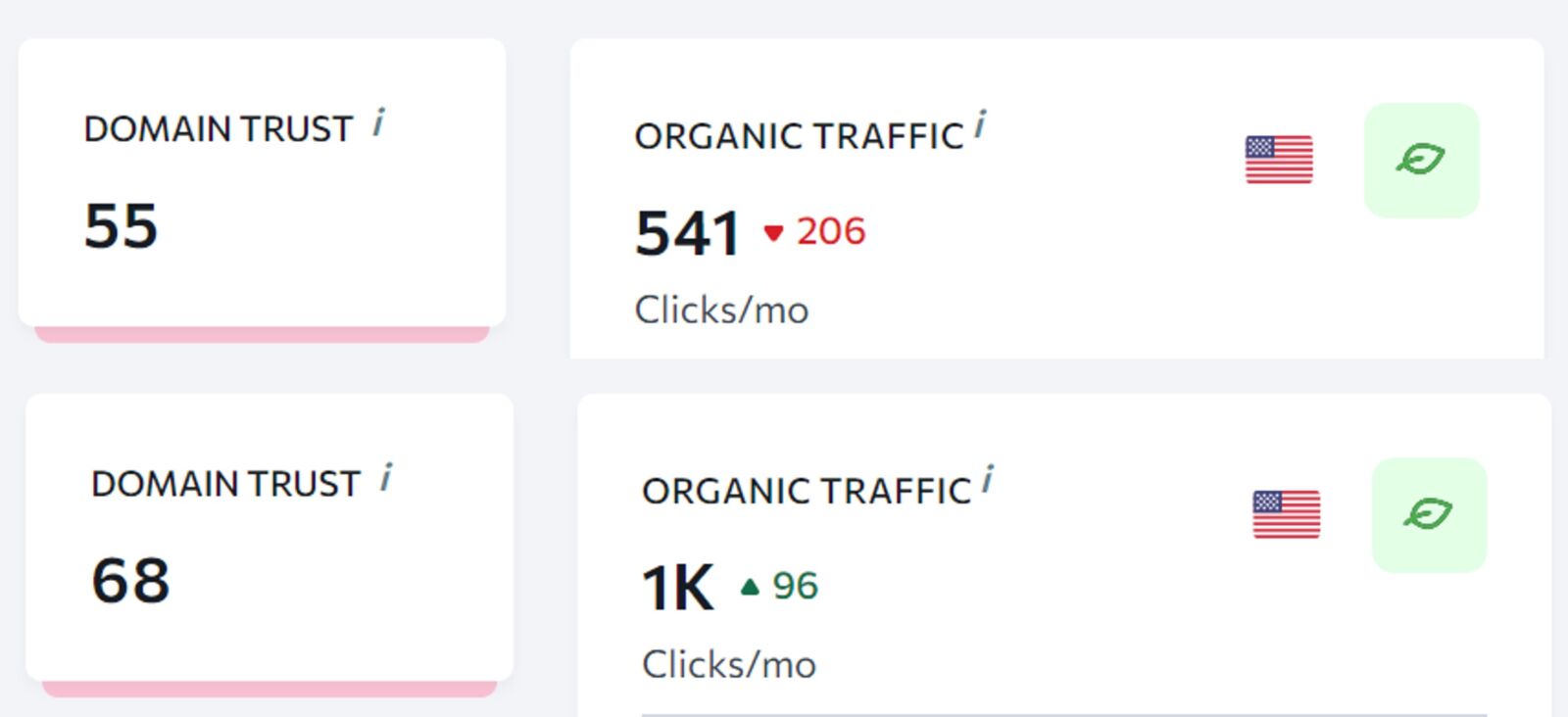 Get Up to 10% of Backlinks from Link Exchange
As noted already, limit link exchanges to no more than 10% of the total backlinks you build. Exceeding this threshold makes your link profile appear manipulative and increases the potential of devaluation or getting a manual penalty.
Avoid Only Getting Backlinks from Exchanges
This comes as obvious, but never rely solely on direct link swaps. Have diverse sources like HARO link building, resource link building, guest posts, affiliation links, etc. An exclusively reciprocal profile is easily spotted.
Get Backlinks from Pages with Highest Backlinks/Traffic
Preferably seek links on a website from their popular pages that already have many external links and/or high traffic.
Like this, you can get the best quality backlink for your website that passes a lot of juice link juice!
To do that, you can use SE Ranking Competitive Research Tool => Pages and here you'll find the best-performing pages in terms of organic traffic.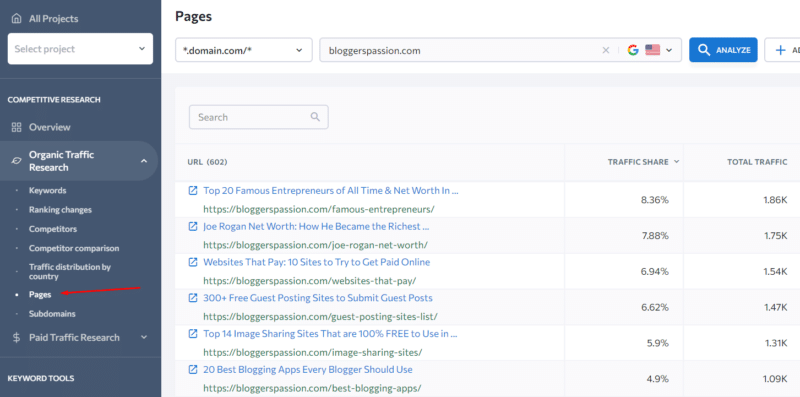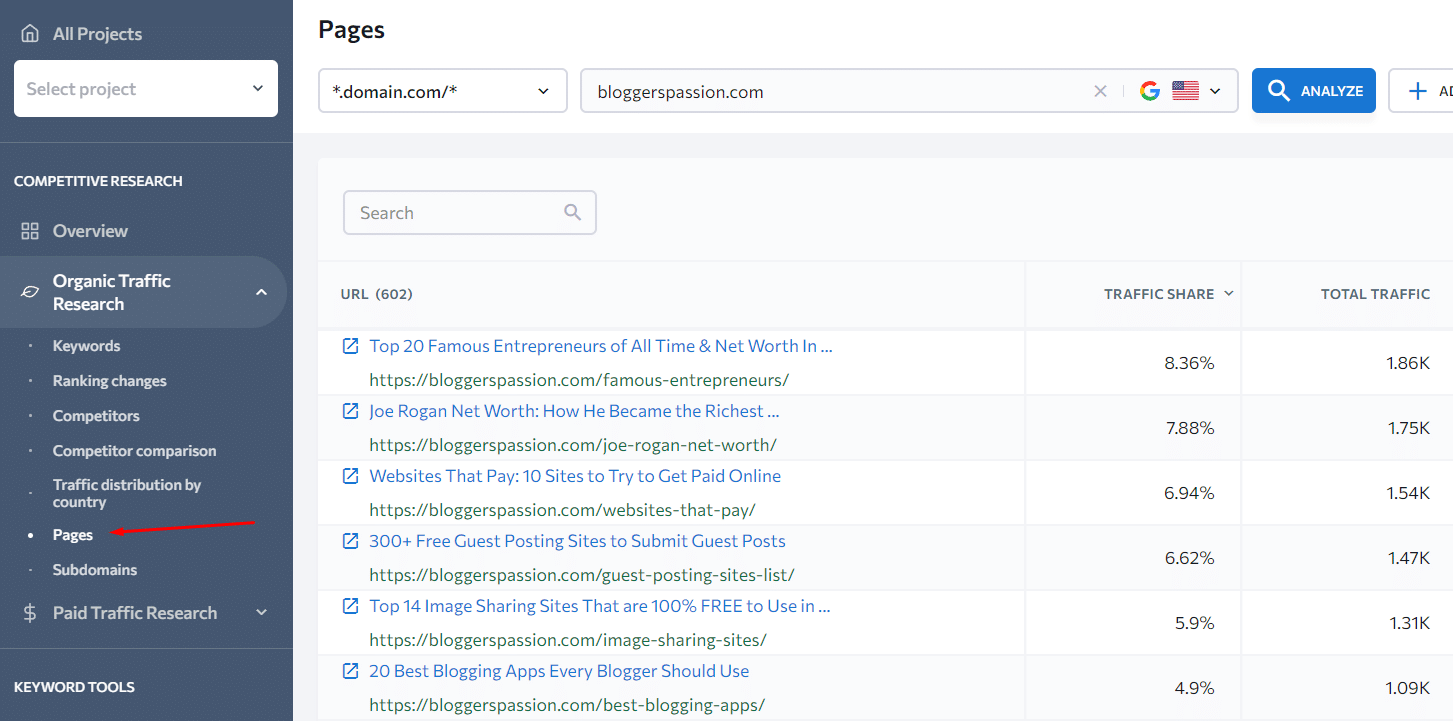 Or use SE Ranking Backlink Checker => Pages and here you'll find the website pages with the most backlinks or referring domains.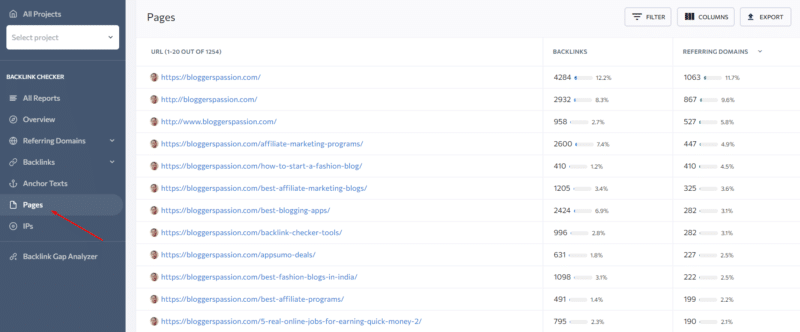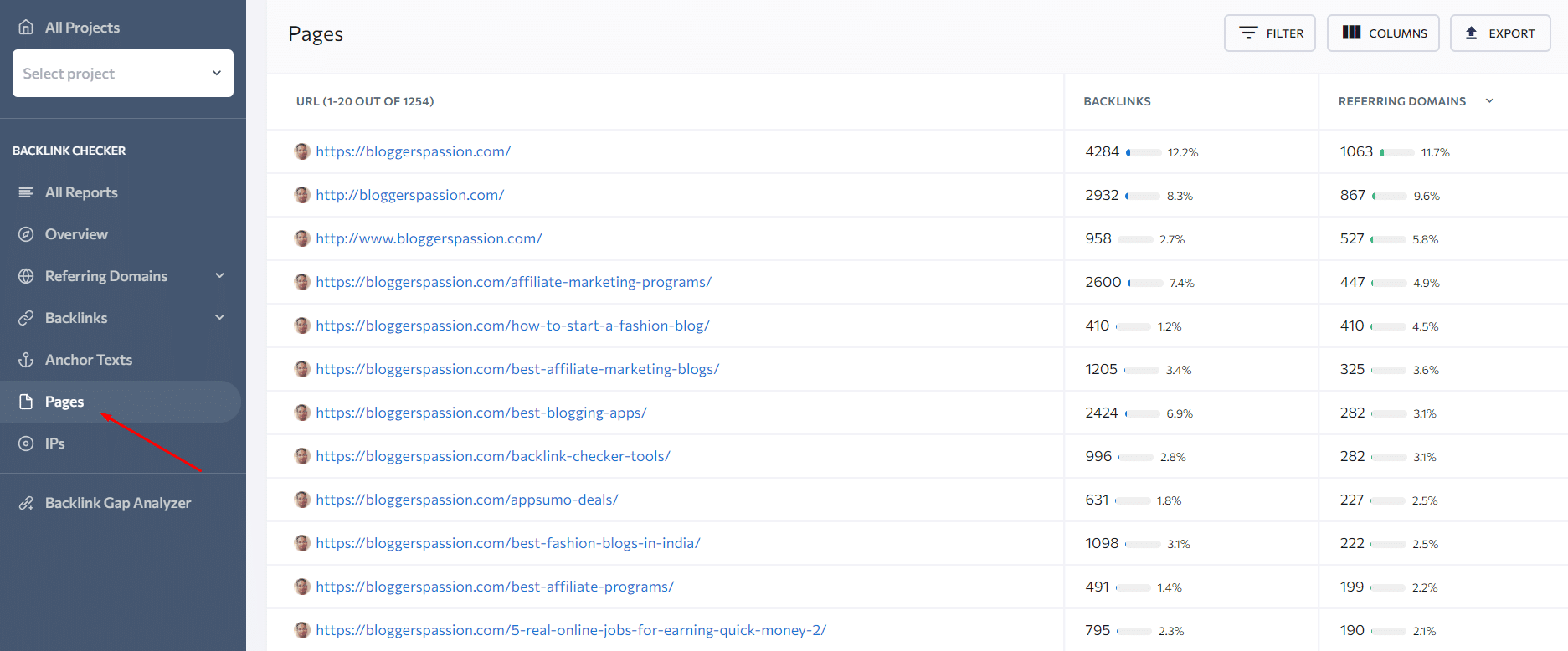 Don't Over-Optimize Anchor Text
Use branded, URL, or generic text anchors like "read more", not exact match keywords all the time. Otherwise, it looks like you're trying to manipulate rankings rather than get a natural link.
Here is my anchor text ratio infographic that you should follow.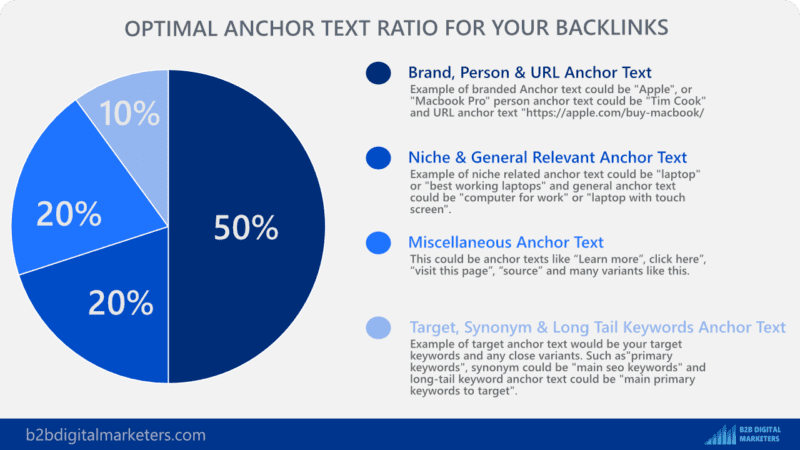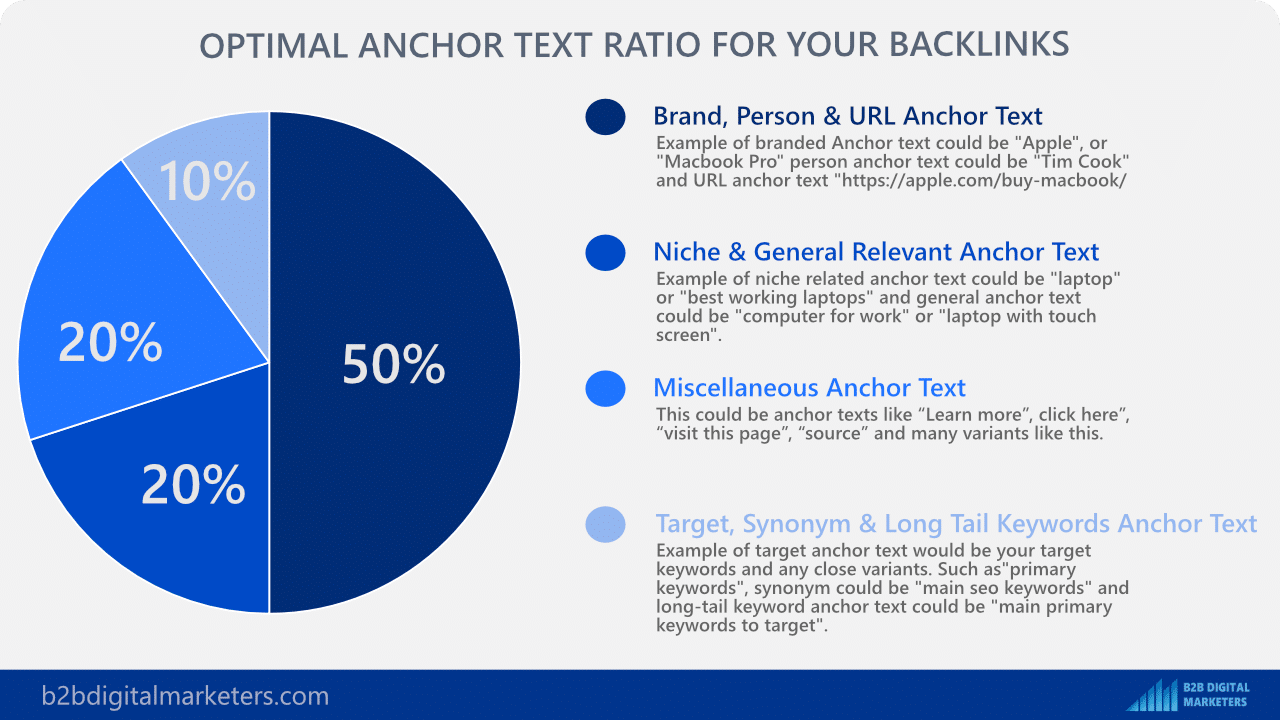 Get Only Editorial Links Within a Blog Content
Ask only for editorial links within a site's blog content, not just branded links in sidebars or footers. Links within high-value content like articles and blog posts appear more organic and editorially given, versus a standalone partner link.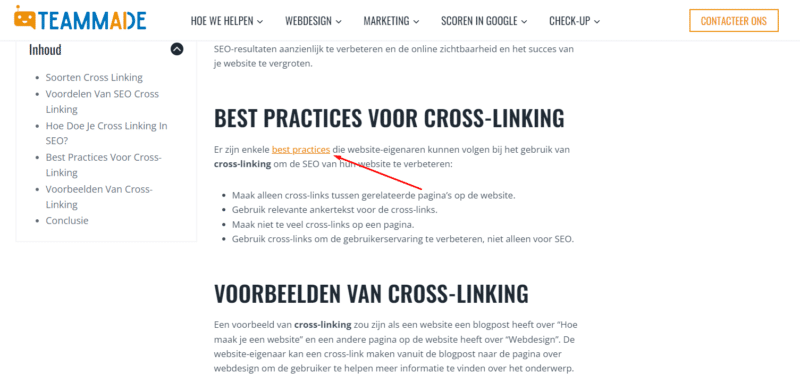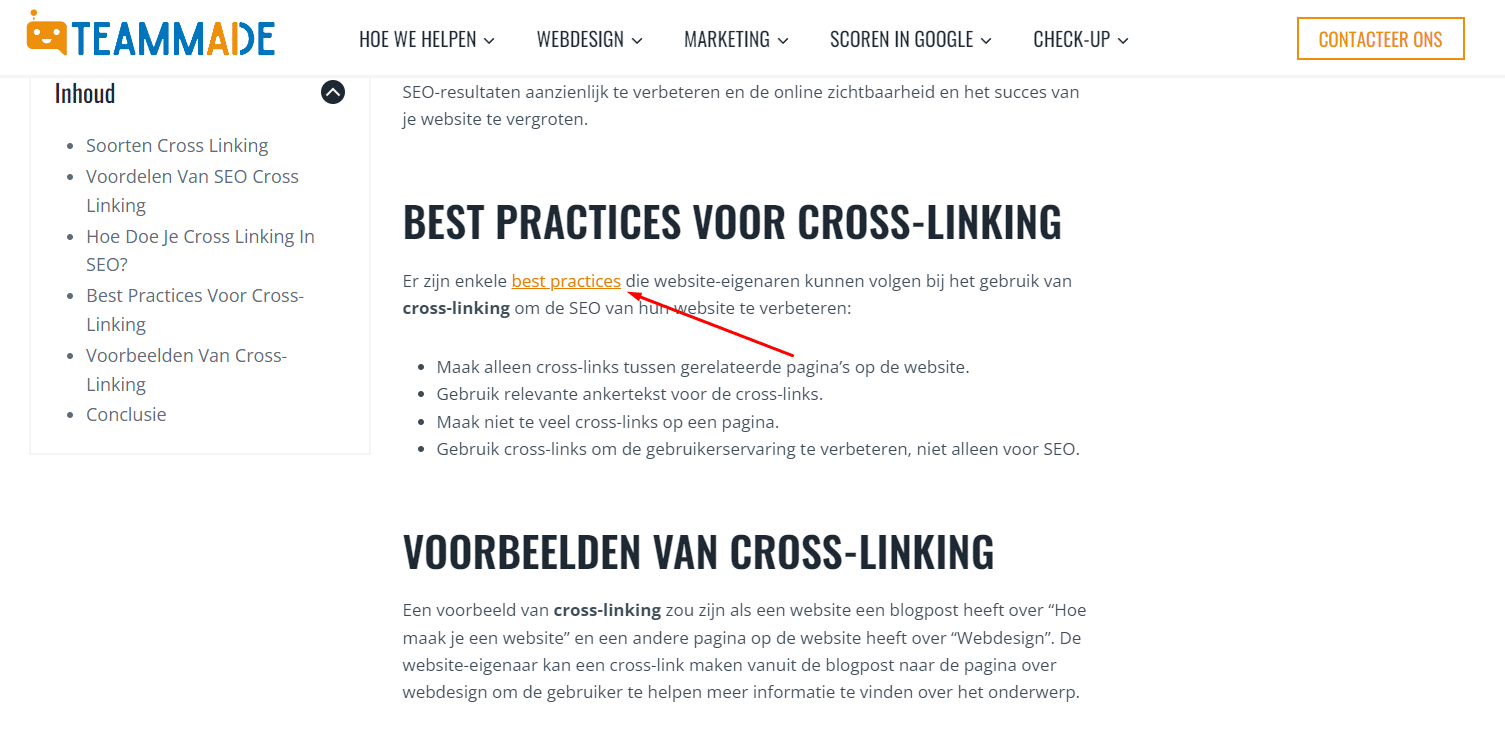 (P.S. For Google, this link is natural, I didn't build it!!!)
With that said, aim for sites where you can get a link within their blog post.
Ensure you Track Your Backlinks
Closely track all your backlinks gained through exchanges via backlink tracking tools such as SE Ranking.
This will make it easy to see whether the links are improving in quality, stagnating, or decreasing.
Additionally, it allows you to easily monitor any removed link exchange backlinks.
Trust me, sometimes some dodgy website owners do that…
To learn more, check out my guide on how to track backlinks.
Ensure the Backlink is DoFollow
When engaging in a link swap, verify that the link you receive from the other website is a dofollow link, not nofollowed. Nofollow links will not pass SEO value to your site in terms of authority and rankings influence.
Check the page source of the URL linking to you to confirm there is no rel="nofollow" attribute assigned to the link code. Only dofollow links from exchanges will help your SEO.


Final Advice
In summary, link exchanges can play a helpful supporting role in SEO when done properly – but restraint and prudence is the key.
Use them sparingly, seek quality over quantity, diversify sources, and integrate exchanged links naturally into content.
With a measured, ethical approach, they can provide a nice boost without undue risk. But relying too heavily on direct swaps can backfire.
Moderation is the watchword when incorporating link exchanges into your overall link building activities.
Support the B2BDigitalMarketers
Hey, Eduard here.
As a solo blogger with limited resources, I need your support to keep creating in-depth SEO content like this. Please consider joining my Patreon community to help this site grow.
Your pledge – no matter how small – will enable me to dedicate more time to sharing actionable tips and strategies. With your help, I can take this project to the next level and really make a difference for other SEOs and marketers.
I would sincerely appreciate you joining me on this journey as a founding patron. Together, we can build an amazing resource hub. Hope to see you on the inside – thanks for your trust and support!
What is an example of a link exchange?
2023-08-18T09:45:19+08:00
A common example is Site A places a link to Site B in a blog post, and in return Site B places a link back to Site A in another of their blog post. This reciprocal swap is a basic link exchange.
Related Articles:
Also, check out our SEO hub page to find all our SEO resources.
Disclaimer
This article was created by Eduard Dziak and may contain affiliate links. The following were used to optimize the article for the best user and search engine experience include:
SE Ranking for keyword research and on-page SEO optimization
Surfer SEO for SEO-friendly content creation for users and search engines.
Jasper AI for grammar correction and information enhancement.
The article is based on the author's own experience and knowledge, drawn from both their own work and that of their clients, to provide the latest, proven methods.