Imagine investing time and resources into building high-quality backlinks, only to lose them without even realizing it.
This loss can lead to a drop in your SEO rankings and a decrease in your website's authority.
In this ultimate guide on how to track backlinks, we'll explore how you can prevent this from happening.
I'll show you how to keep a close eye on your backlinks, ensuring they remain intact and continue to boost your SEO.
Ready to safeguard your investment and secure your website's authority? Let's dive in!
Why Tracking Backlinks is Important
The main reason why you want to track your backlinks is to maintain your earned, built, or purchased backlinks. When you earn a backlink, it's essential to ensure that it doesn't disappear or become broken over time.
Websites update and change, and sometimes this can result in the loss of your backlinks. Regular tracking of your backlinks allows you to monitor the status of your earned backlinks and take action if they are removed or altered.
Building high-quality backlinks is hard or expensive and if you don't track your backlinks, then you can be losing all that effort or money.
That's why, by tracking your backlinks you can prolong the lifetime of your backlinks, virtually indefinitely as you can always make sure they're alive as they are supposed to be.
How to Track Backlinks
Tracking backlinks is one of the easiest, yet most effective ways of preserving your website authority over the long run by keeping the backlinks you've built.
It enables you to keep your backlinks live to ensure you are getting the link juice you so much need to rank for more competitive and profitable keywords.
Therefore, here is my step-by-step process of how to track backlinks as well as some of the best practices for tracking backlinks to improve the process of it:
Step 1: Select Backlink Monitoring Tool
There are numerous backlink tracking tools available, each with its unique features and capabilities.
However, they all provide the same way how you can track backlinks as well as what you can track over there.
Therefore, I am going to show you how you can track your backlinks with SE Ranking in this process and later I recommend you my favorite backlink monitor tools.
So, you can sign up to SE Ranking using my link (affiliate) and get a 14-day free trial so you can actually test the tool to see if it's working for you.
Step 2: Create New Project
Once you register for SE Ranking or any other tool, you will need to create a new project, which is basically adding your domain into the tool so it can be tracked and analyzed.
In SE Ranking click on "Create Project" in the main admin dashboard.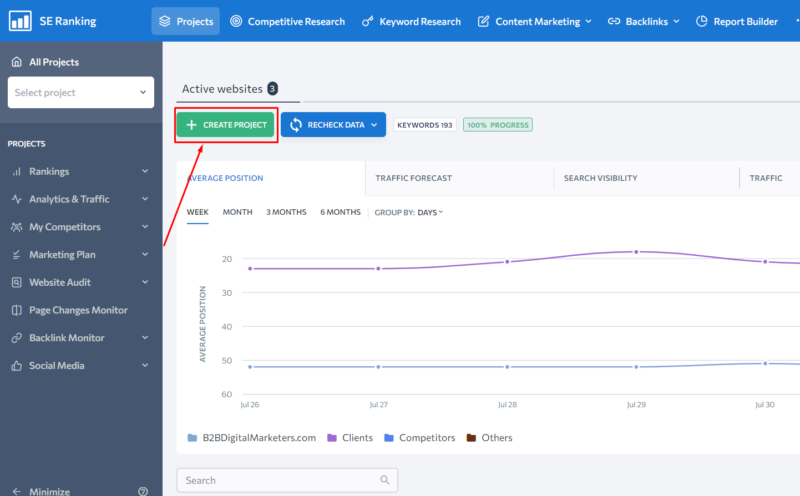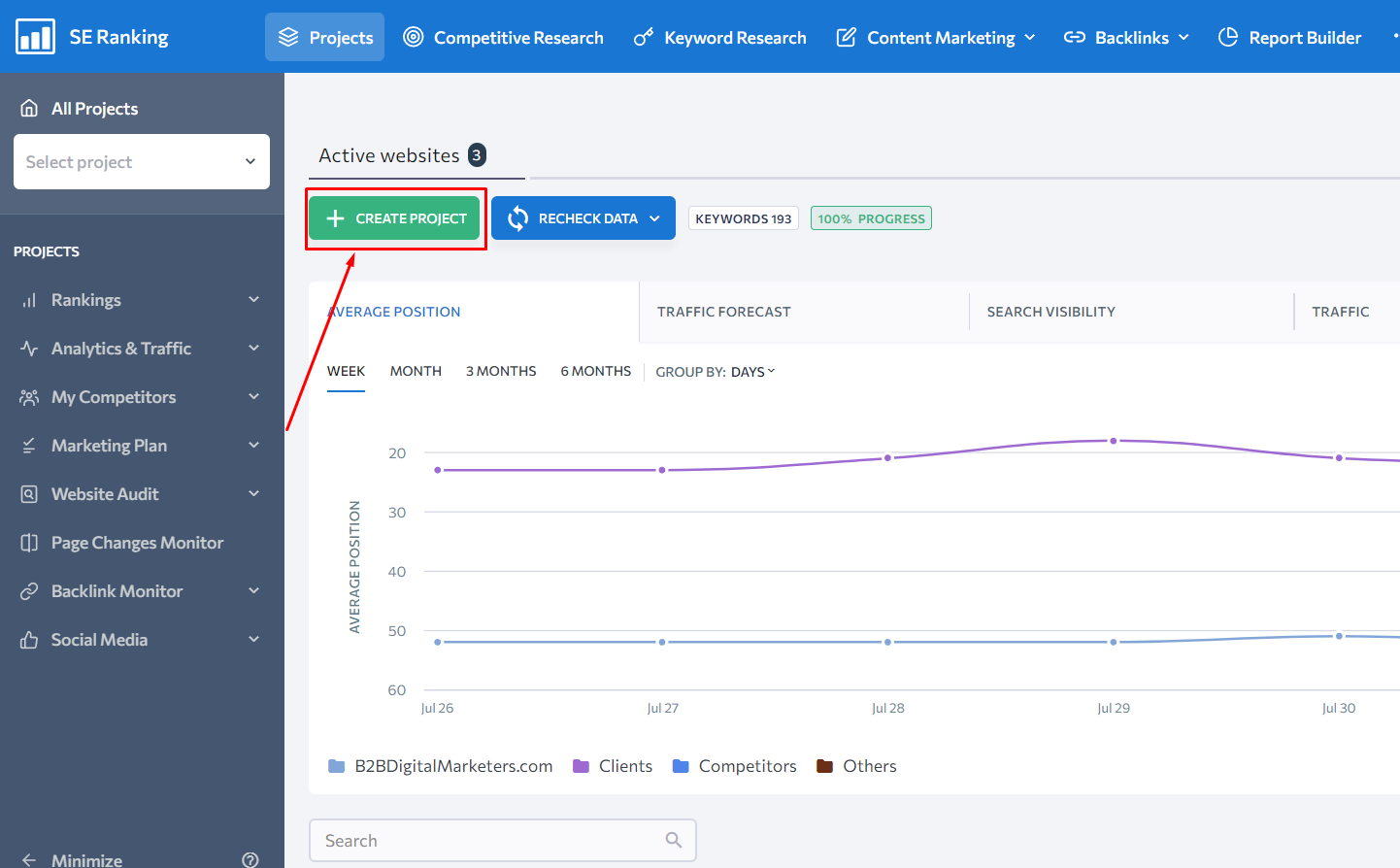 Then go through the settings required to create a new project such as adding general information, adding search engines where you want to track your keywords, adding keywords that you want to track, adding competitors and lastly connecting with Google Analytics and Google Search Console.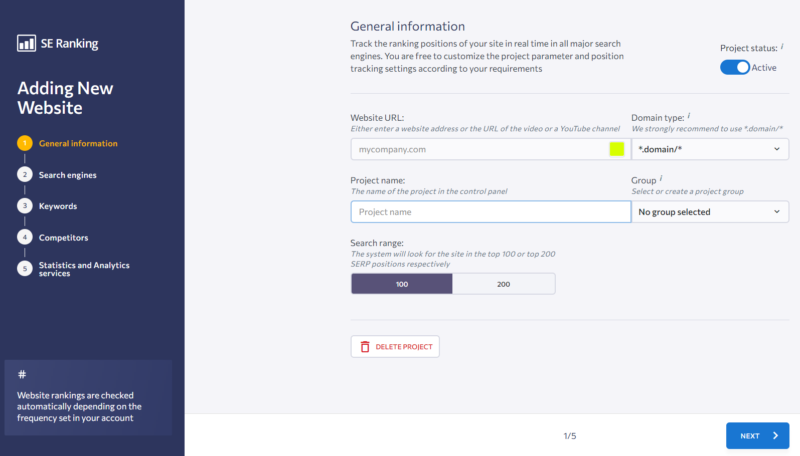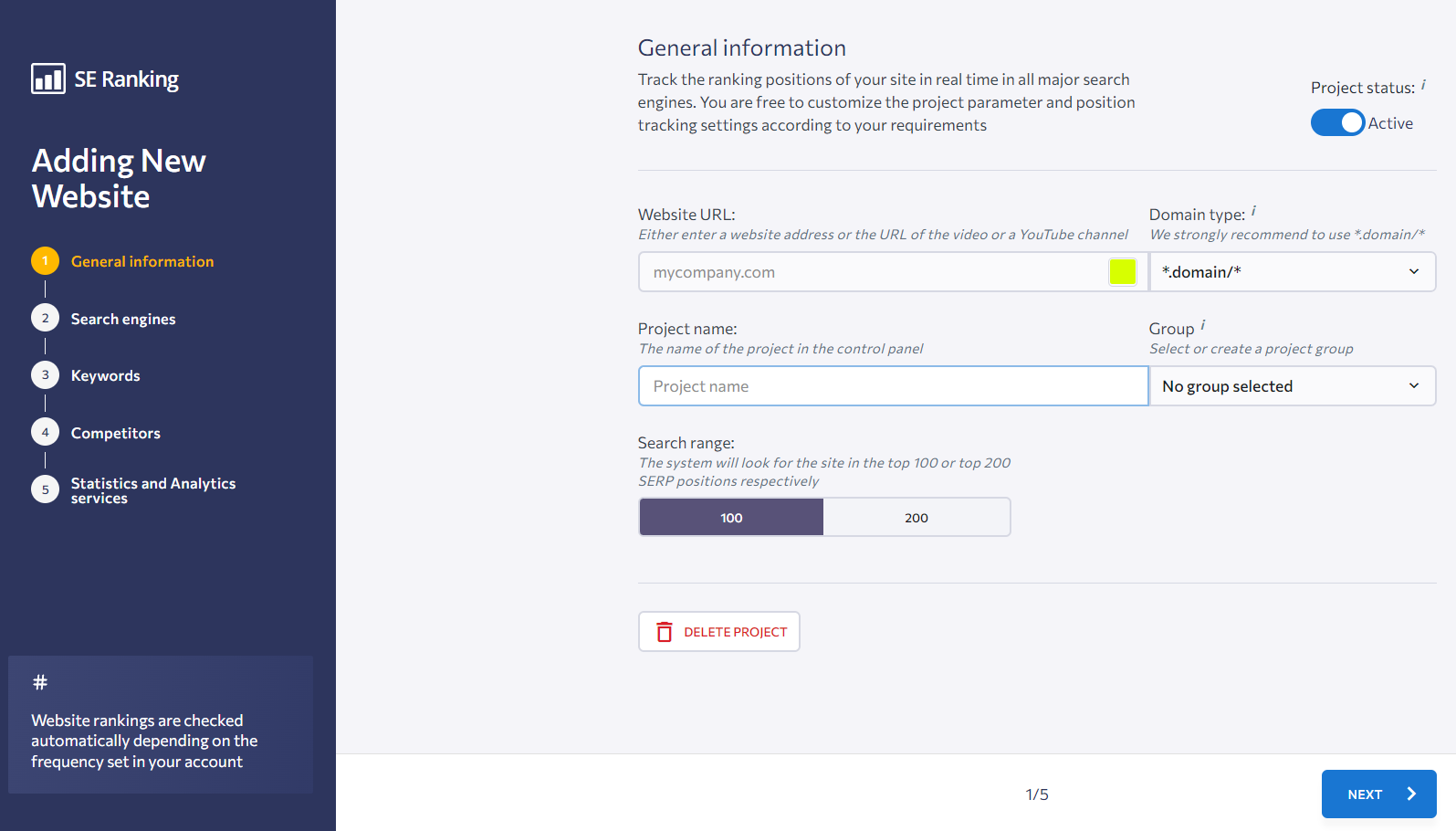 However, you can skip the keywords and competitors and add them later if you want.
Of course, if you like the tool, then you can customize it as you need. Also, I recommend you check out my guide on how to track keywords for more information.
Step 3: Create Groups/Folders in Your Backlink Monitor
Once you complete the project then the next step is to create your groups or folders in SE Ranking Backlink Monitoring tool to categorize your backlinks.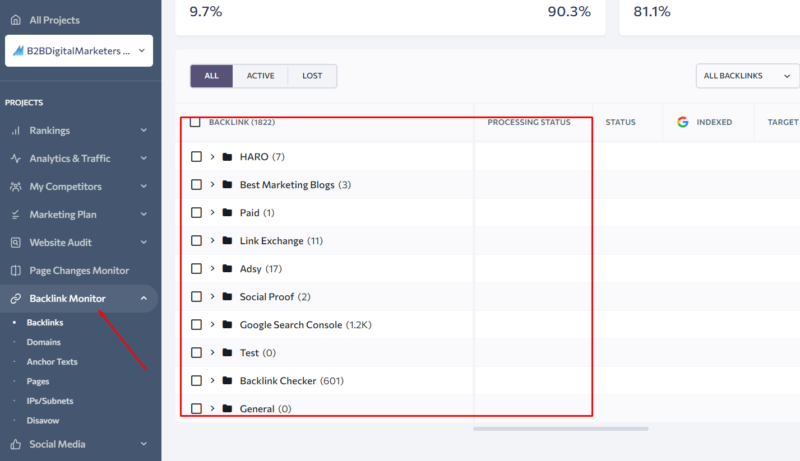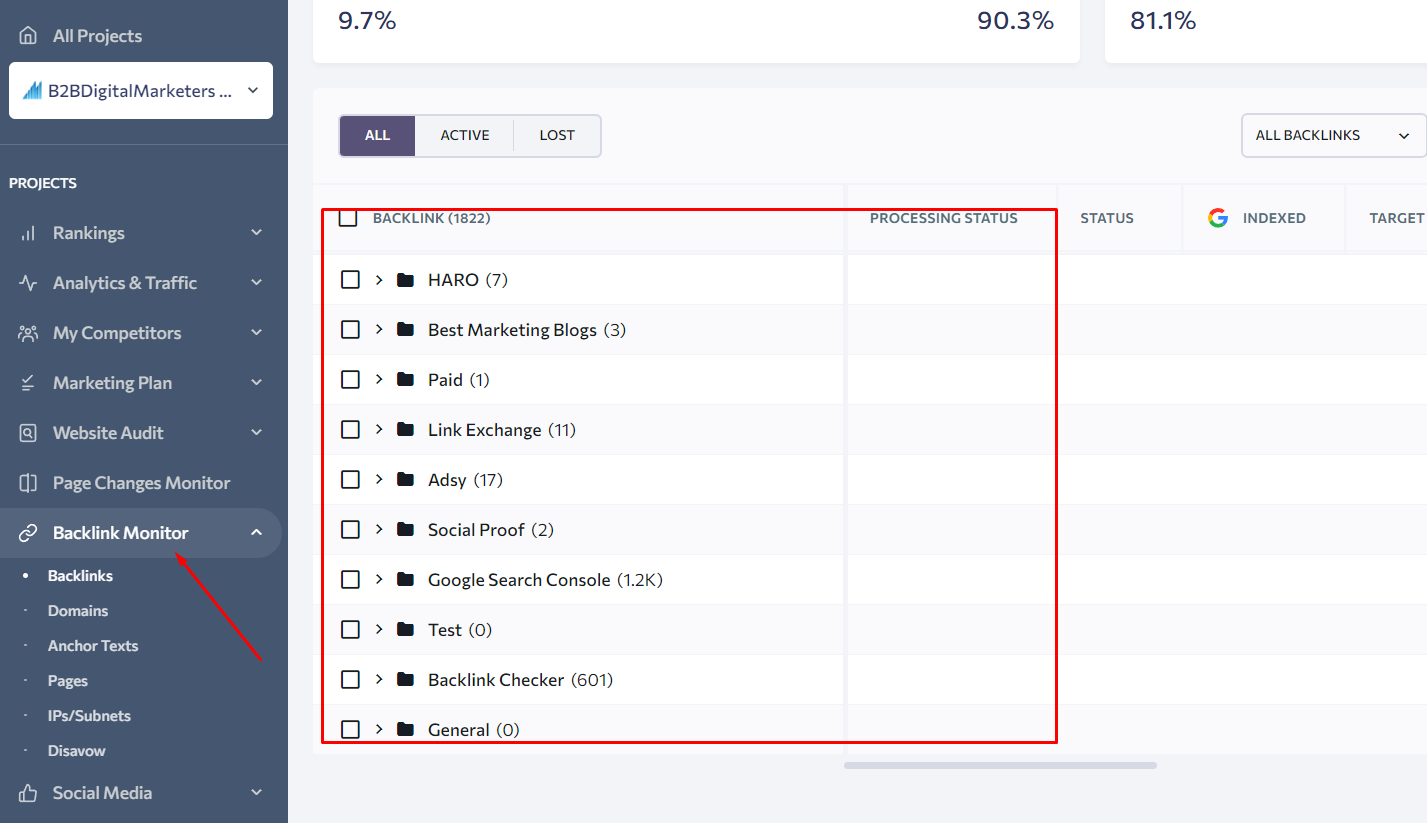 Here I recommend you create categories based on your different link building campaigns.
To do that, just click on the "Add backlinks" button.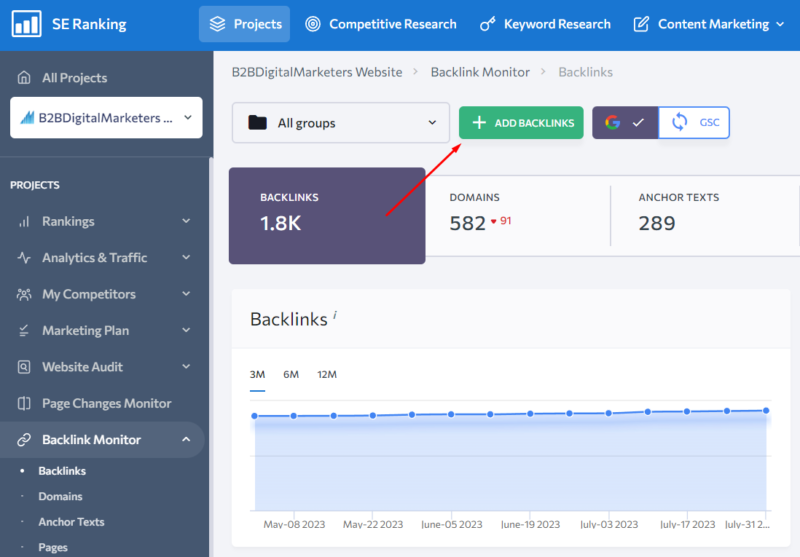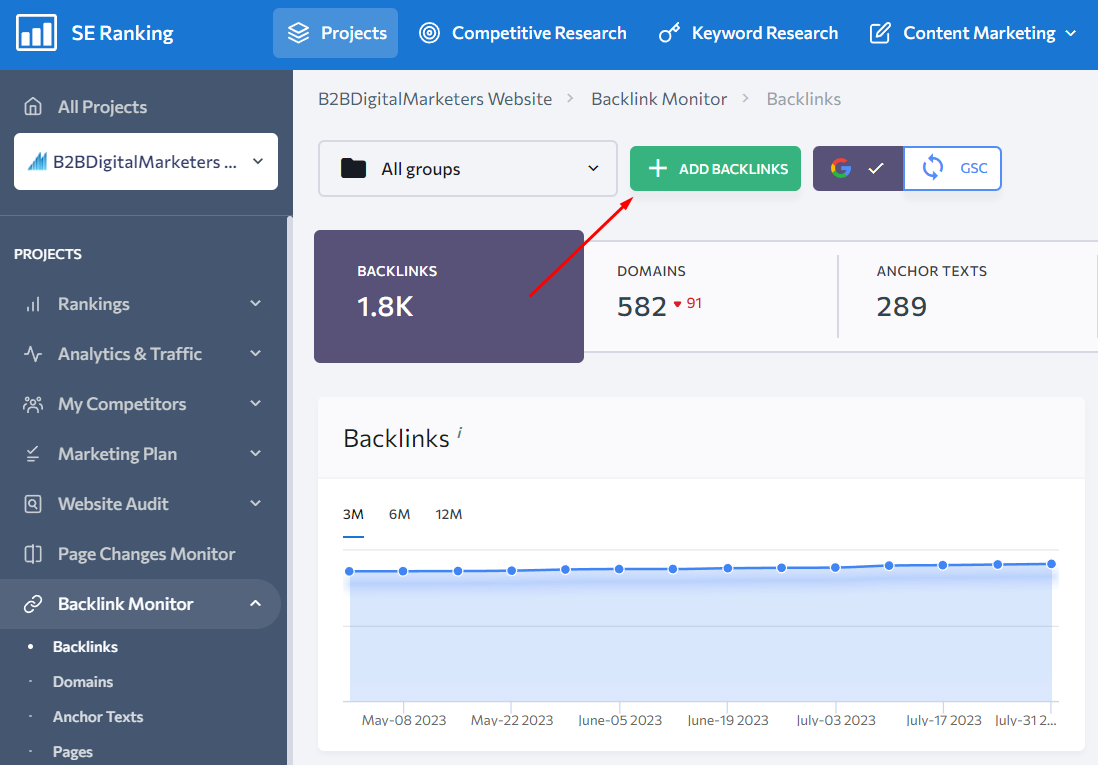 And here you click on the drop-down where you most likely see the "General" group and then select "Create new group".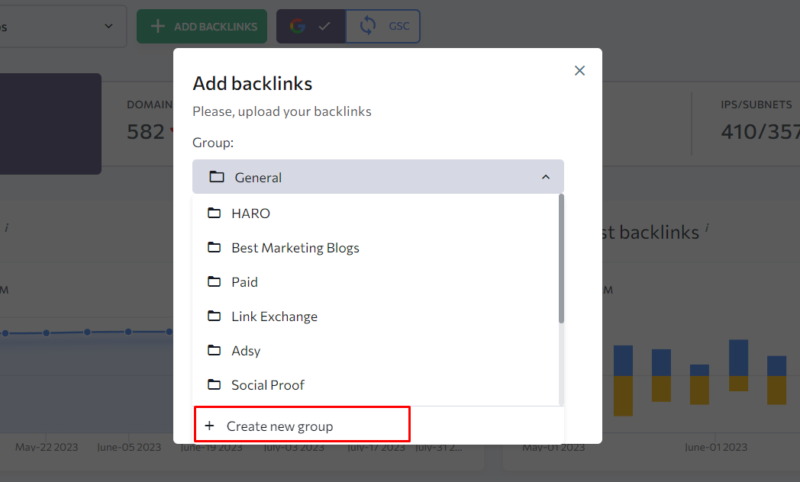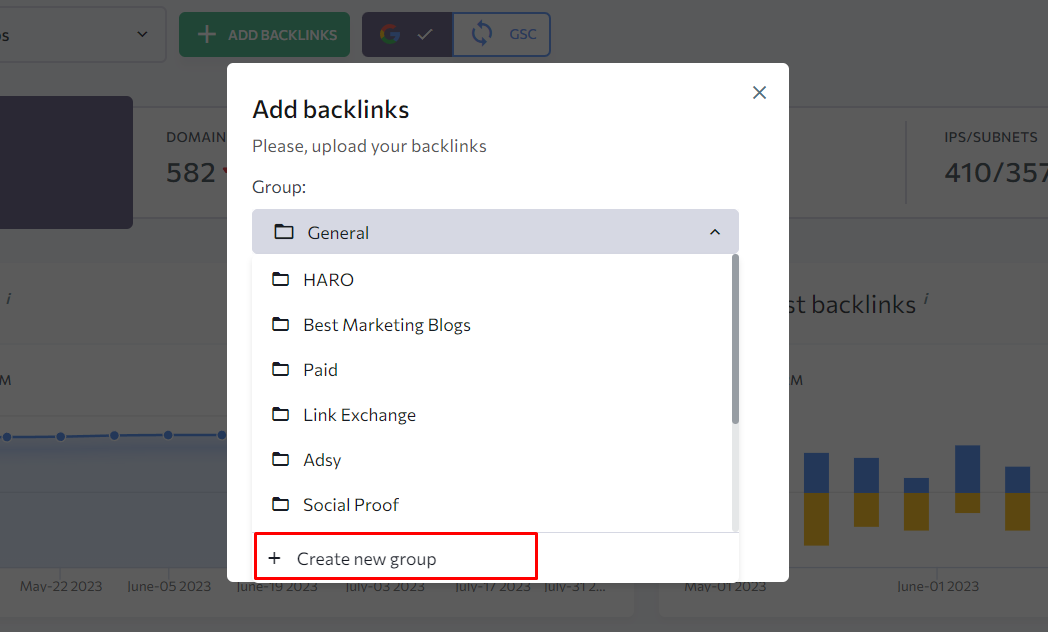 But before that, let me give you a few examples of how you should create your groups from personal experiences:
HARO: If you're using HARO for building backlinks then you can create a folder for backlinks that you have earned through HARO.
Link Building Agency: Are you using a link building agency to get backlinks? Then you should definitely create a folder for them too to track their backlinks!
Guest Posting: Are you running your own guest posting campaign? Definitely, you should track that too.
Resource Link Building: If you're running a resource link building campaign, then you should track that too.
Your goal is to create a logical organization of your backlinks to ensure that you can easily monitor them.
The goal is to preserve your backlinks as much as possible.
And while some of the categories of your backlinks might be harder to preserve such as backlinks from HARO, other ones like those from your link building agency should be easier to preserve and often you just need to contact them when a link disappears to get it back.
Step 4: Add Backlinks
The next step is to add backlinks to your backlink monitor tool.
This process is super easy. Just click on "Add backlinks" >> Select Group >> Click on "Add Manually", and here you will enter:
Price: If you paid for the backlink, it's good to track it here.
Manager: The person's email address you've been in contact with to get the backlink.
Backlinks: The exact URL of the backlink where you got it.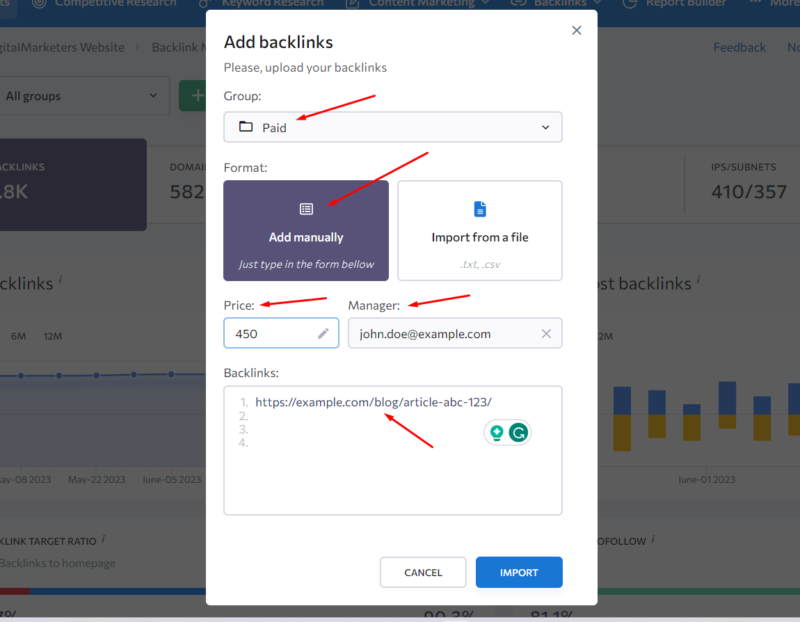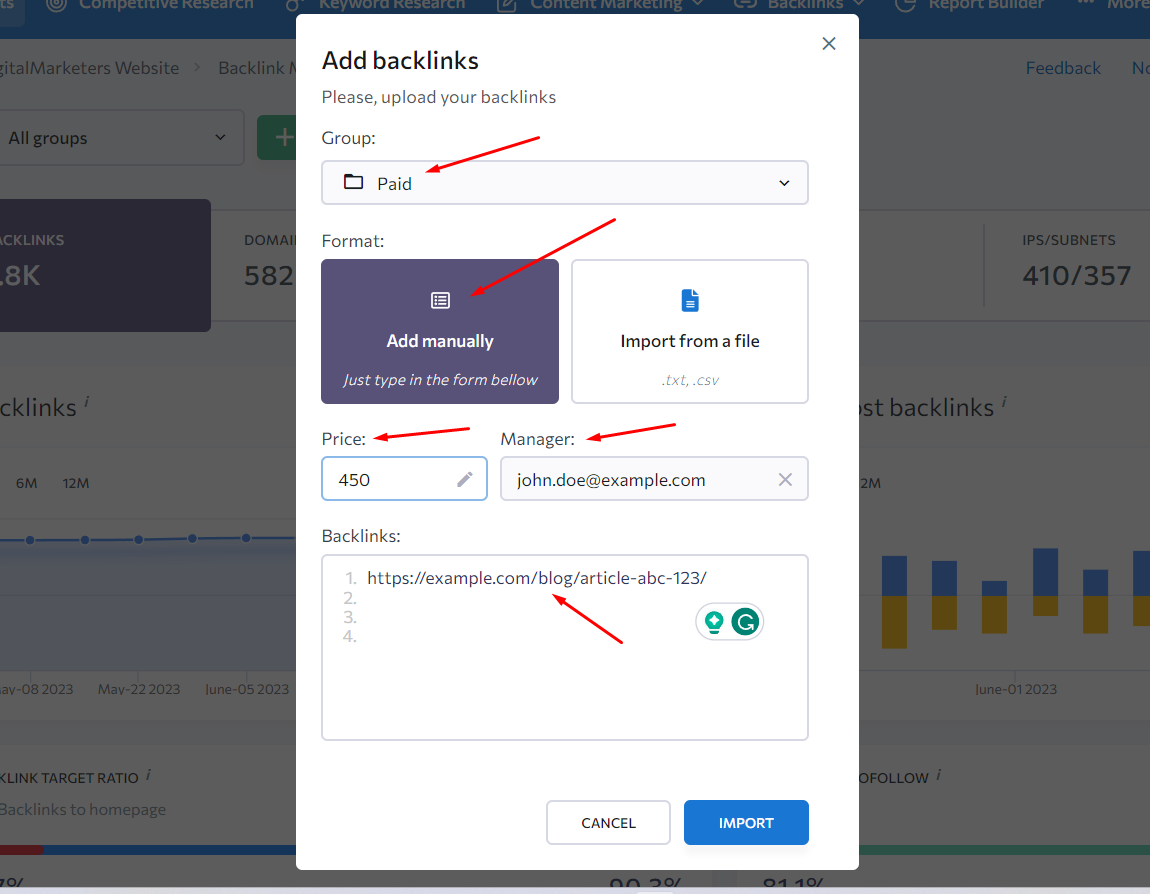 And click on "Import" and you're done.
Then you can click on the group to open the backlink and you will see more information about the backlink such as status, indexed, target URL, anchor text, attributes, type, and a lot more.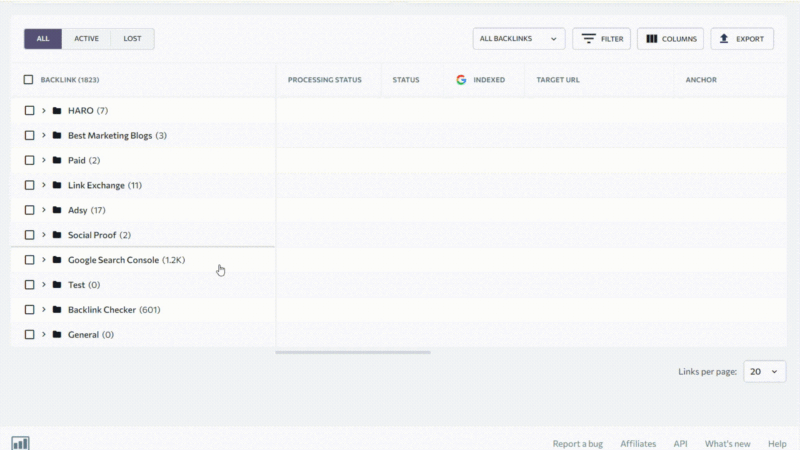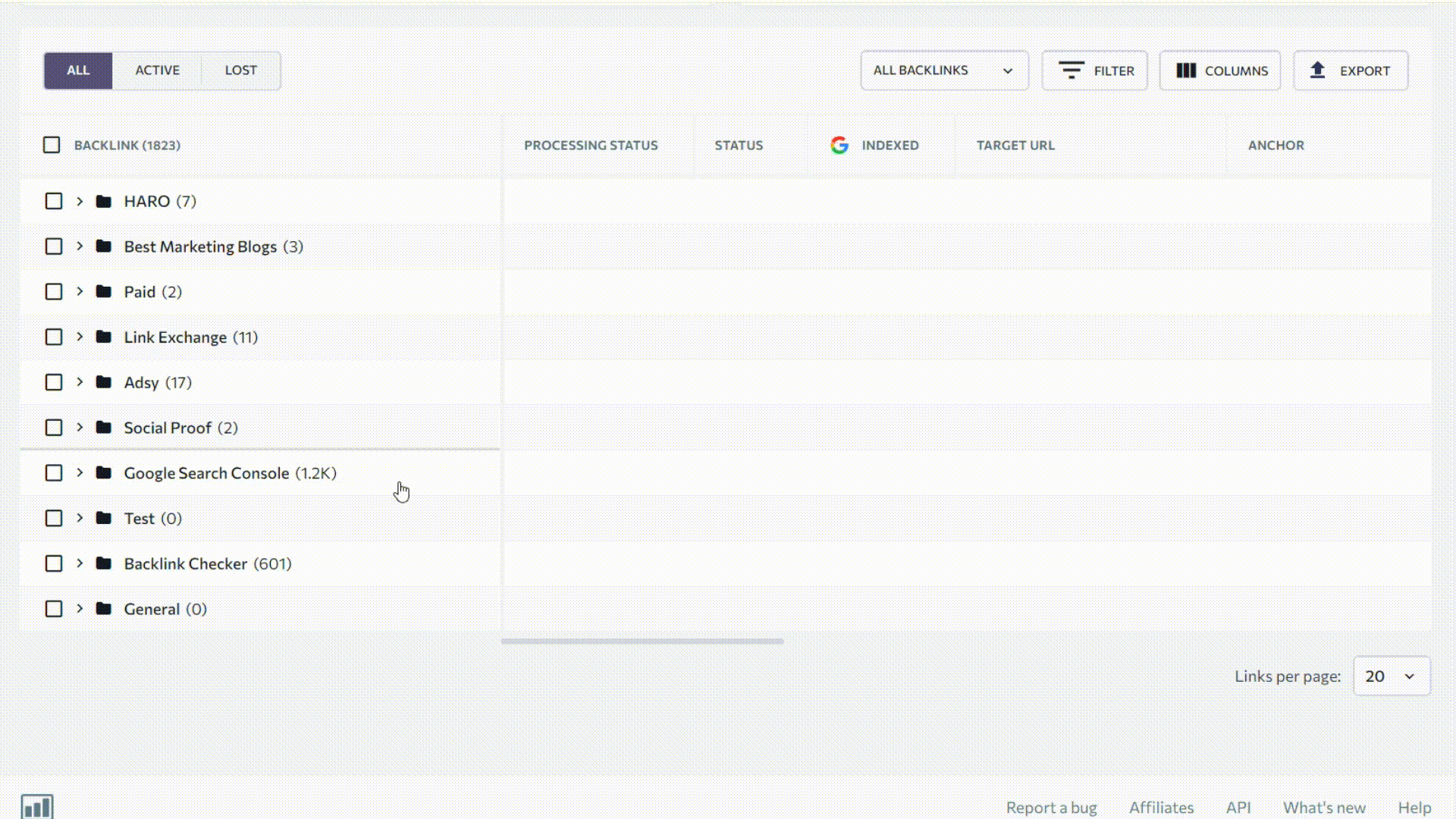 Step 5: Include Important Details
Once you know how to add and monitor your backlinks in SE Ranking, the next step is to also include other important information.
From my own experience, I found out that only tracking the backlink, the manager, and the price of a backlink is not enough to quickly resolve any removed backlinks.
Therefore, here are some of the other details you should track within the Backlink Monitor tool.
Email Conversation
Within the backlink itself, I like to save the URL of the email conversation I had with the manager so in case of anything I can quickly refer to it without searching for it.
You can add it within your Note section.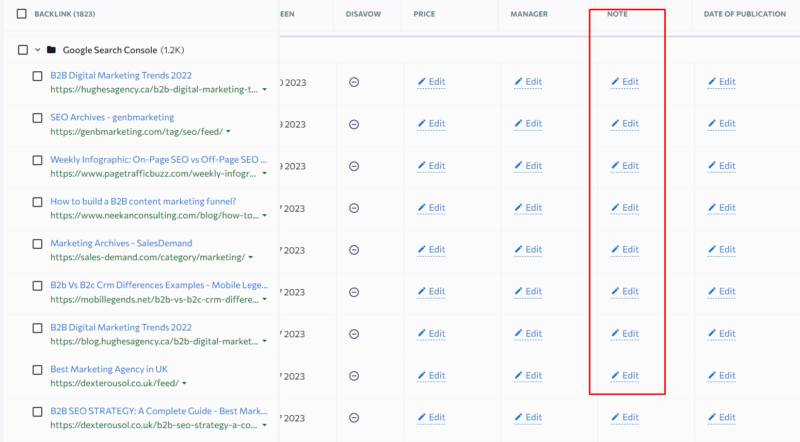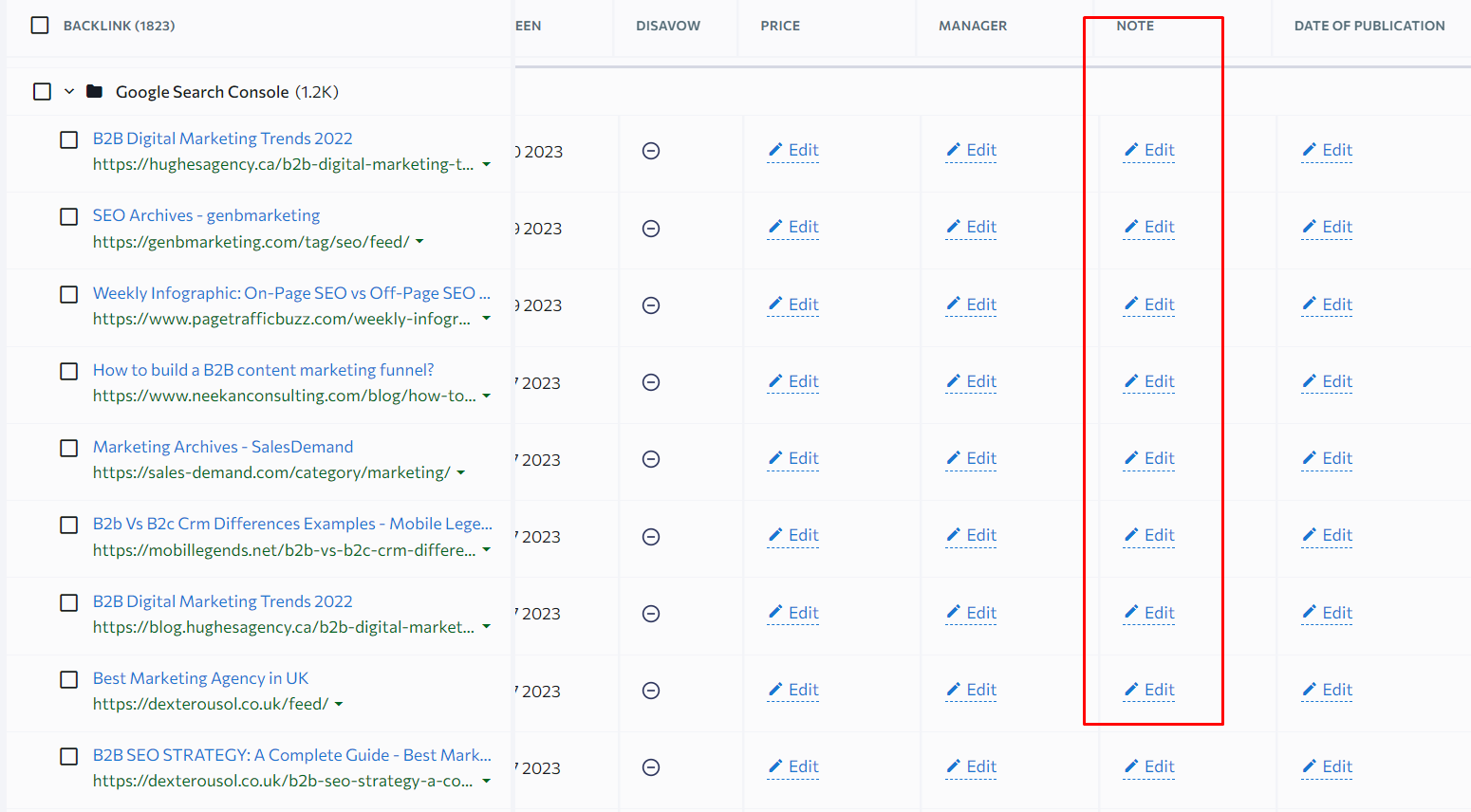 Exchanged URL
If I do a link exchange, whether two ways or three ways, I also want to include the URL of my web page from which I gave the backlink.
Sometimes some dodgy website owners do link exchanges but then in a couple of weeks or months remove the backlink.
So, like this, you can do the same without searching for the backlink for very long.
Again, you can add it in the Note section.
This two additional information I recommend you include these within your tracking, as it will save you a ton of time in the future!
Step 6: Regularly Monitor Your Backlinks
And the very last step in how to track backlinks is to monitor your backlinks on a regular basis.
Now, this can be subjective to how many backlinks you're tracking.
If you're tracking over 100+ backlinks I recommend you to do it every month.
If you are tracking less than 100 backlinks I recommend you do it once every three months.
If you're tracking thousands of backlinks, then you might need to do it more regularly.
So, to see if the links are still online, you need to check the "Status" and "Indexed".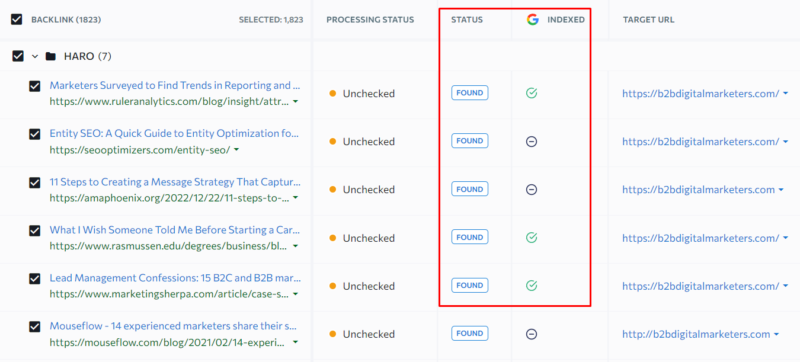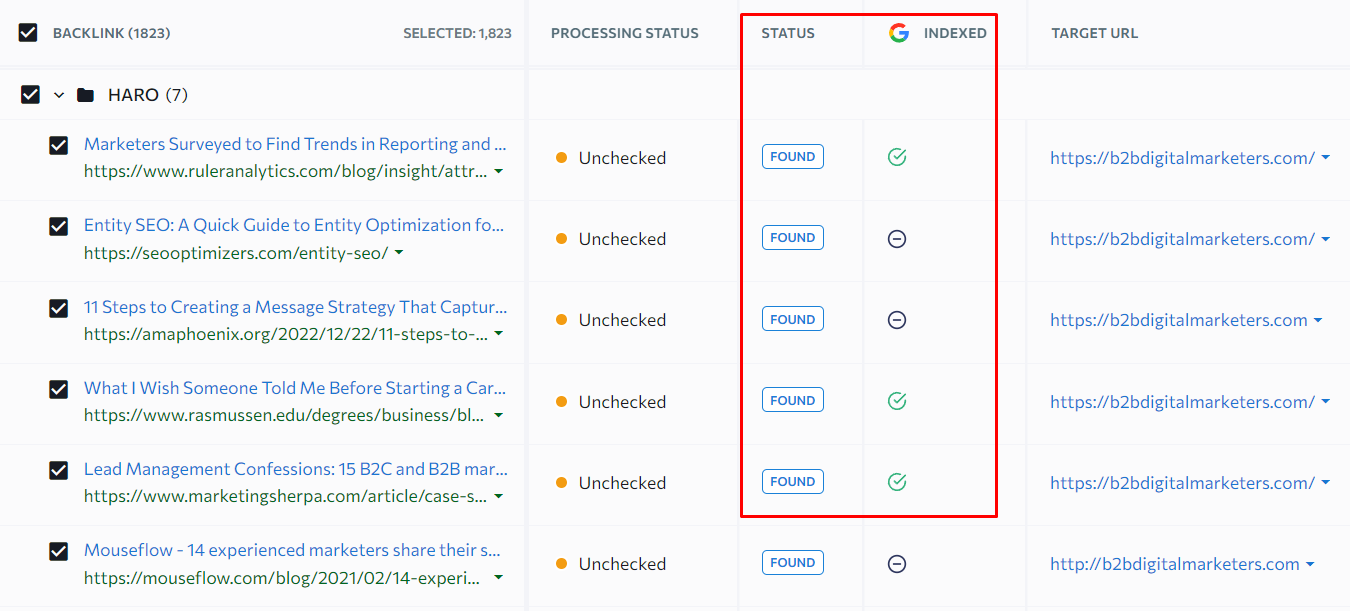 To do that, select the groups you want to refresh. Click on the Update button with spinning arrows, and then click on "Status" and "Indexed" one by one.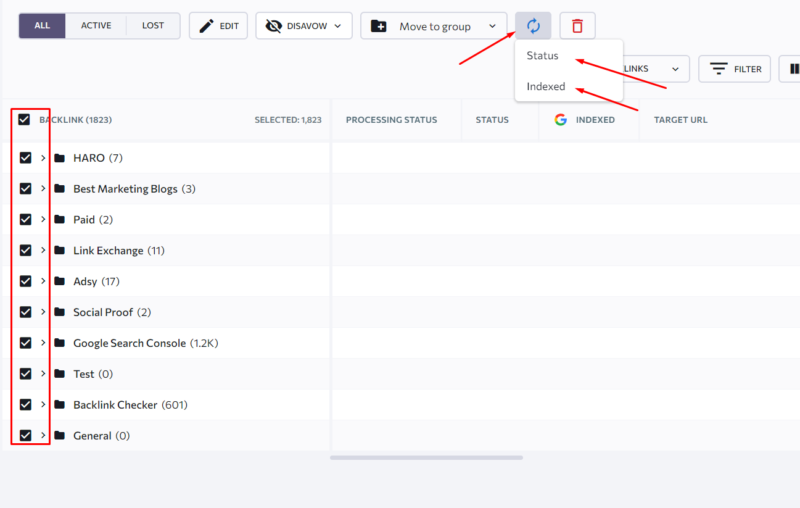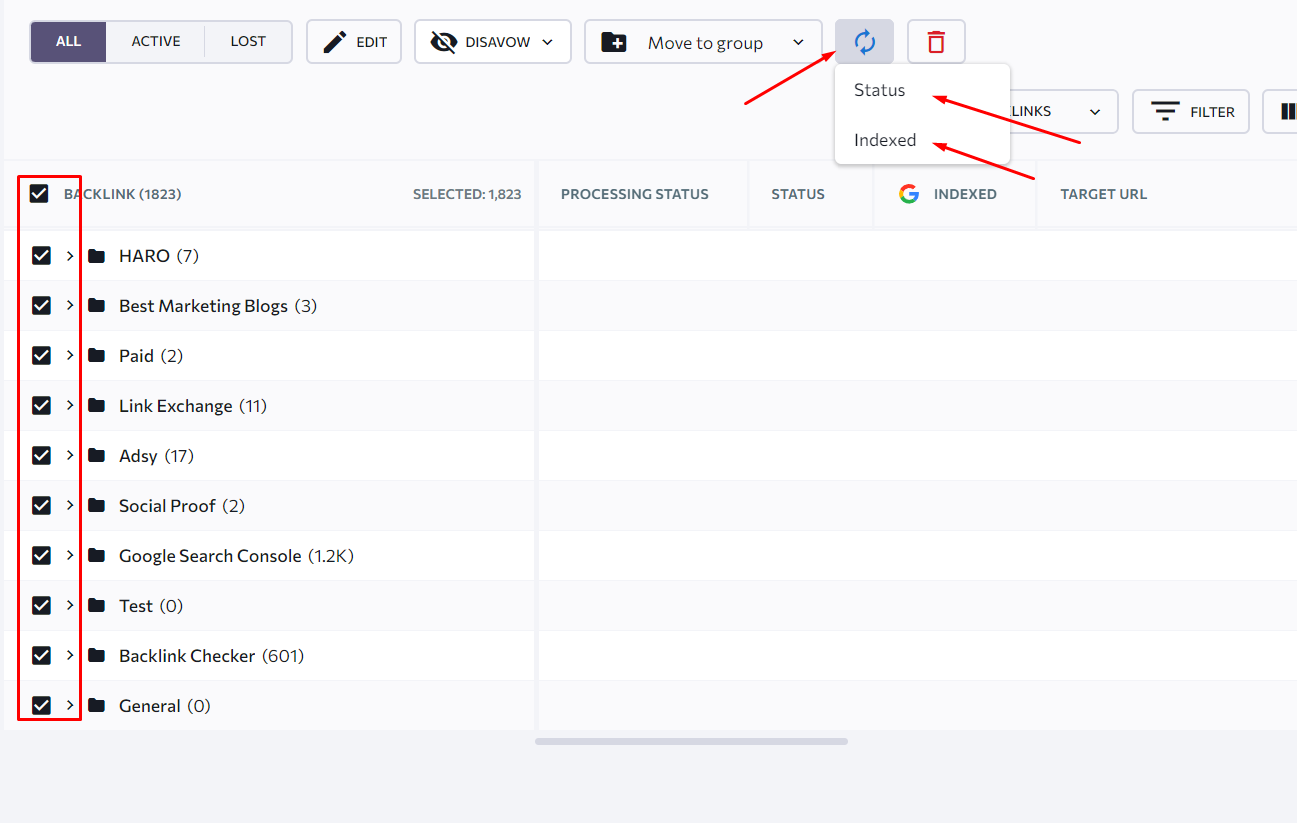 This will update the backlinks, so you might need to wait sometime.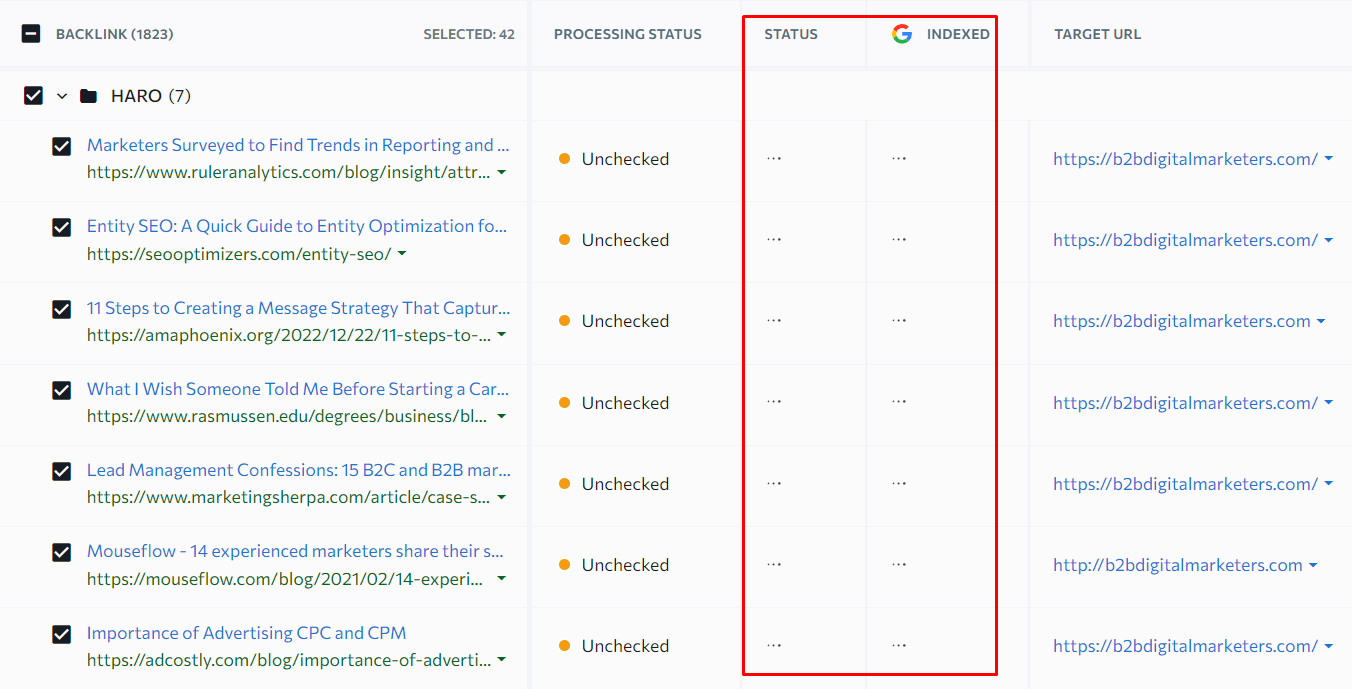 Once done, you'll see the new "Status" and "Indexed" information. And if some of your backlinks were removed, you can start your outreach.
You can also update the 'Processing Status" for management purposes.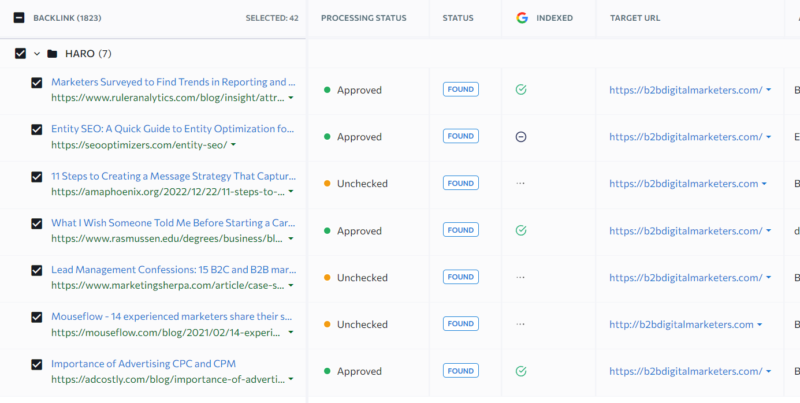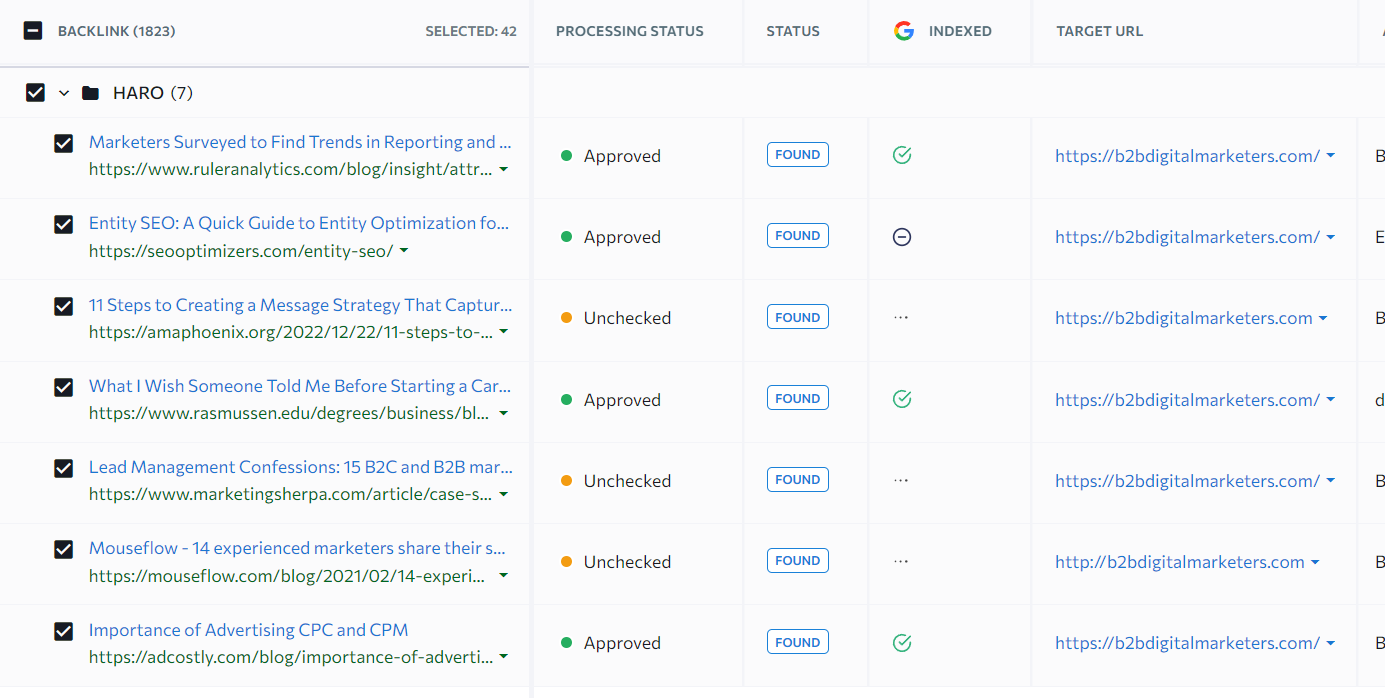 As you can see, it is super easy to track your backlinks, yet a very important process of preserving your backlinks, thus your website authority, thus, your ranking and organic traffic.
Best Backlink Tracking Tools
Choosing the right backlink tracking tool is crucial for effectively managing and optimizing your backlink profile.
While there are numerous tools available, each with its unique features and capabilities, here are some of the best ones that I personally recommend:
SE Ranking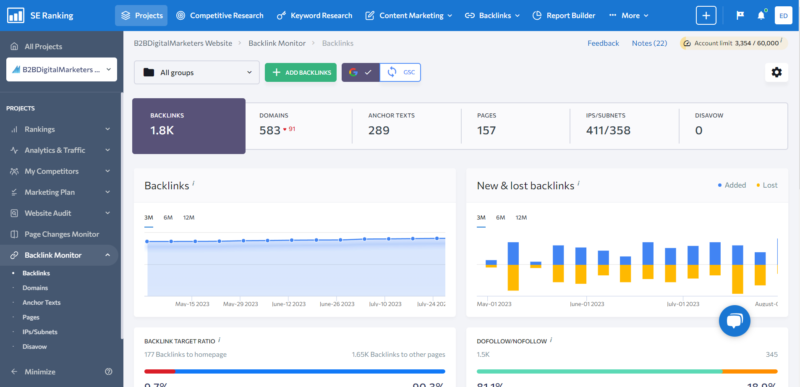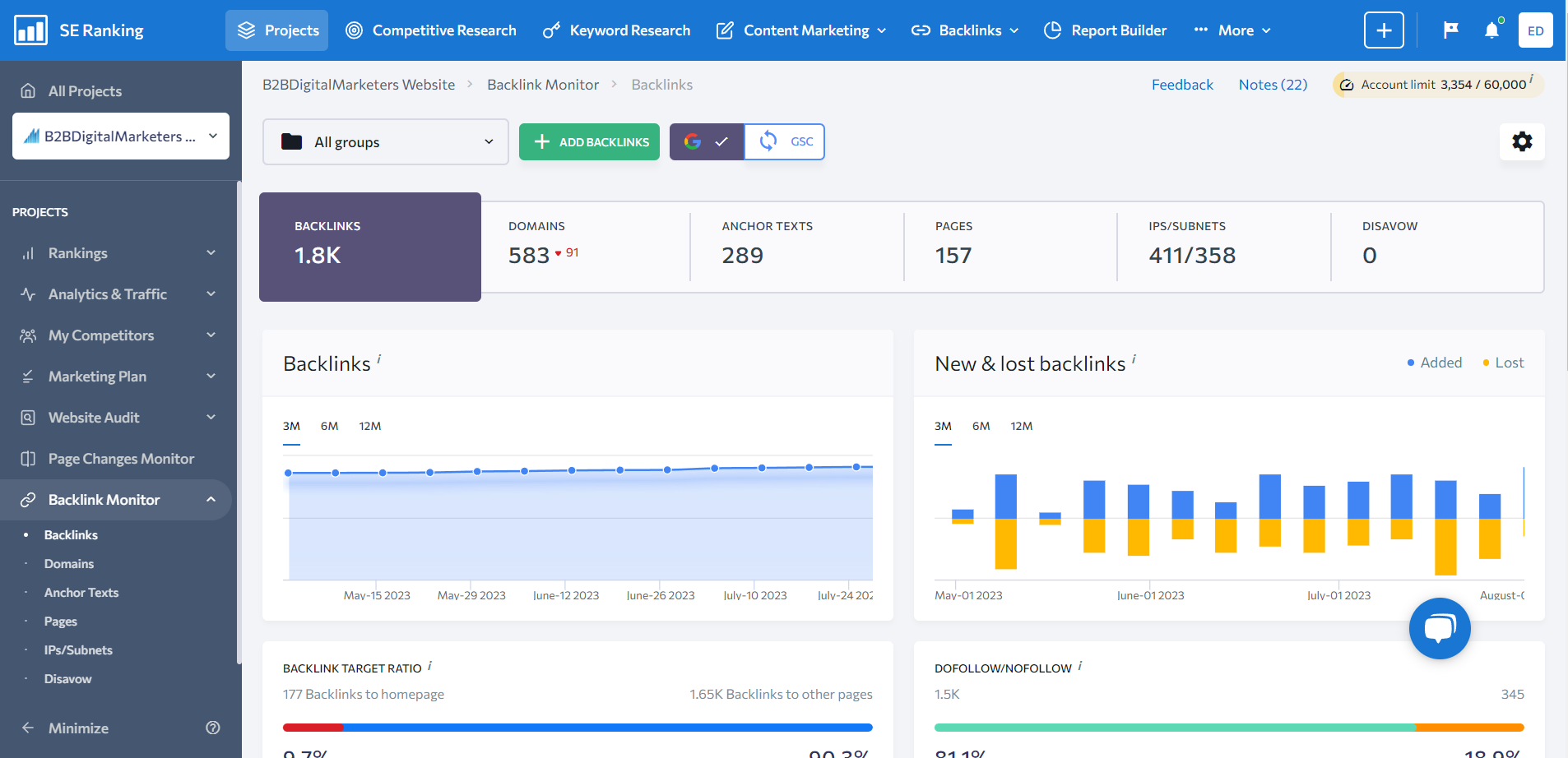 SE Ranking is an all-in-one SEO tool that offers a comprehensive suite of features at an affordable price point.
It stands out as one of the most precise rank-tracking tools on the market, making it an excellent choice for monitoring the impact of your backlink-building efforts on your search engine rankings.
The platform's backlink tracking tool is particularly user-friendly, with an intuitive interface and clear, easy-to-understand reports.
Whether you're a seasoned SEO professional or a beginner just getting started with backlink tracking, SE Ranking offers a powerful yet accessible solution.
SEMRush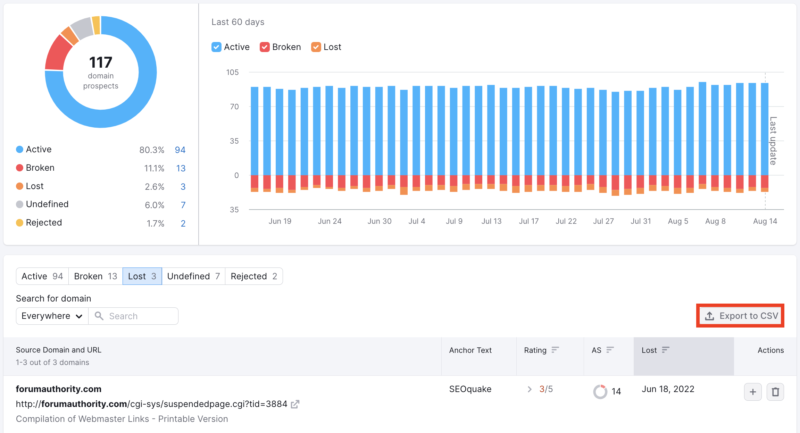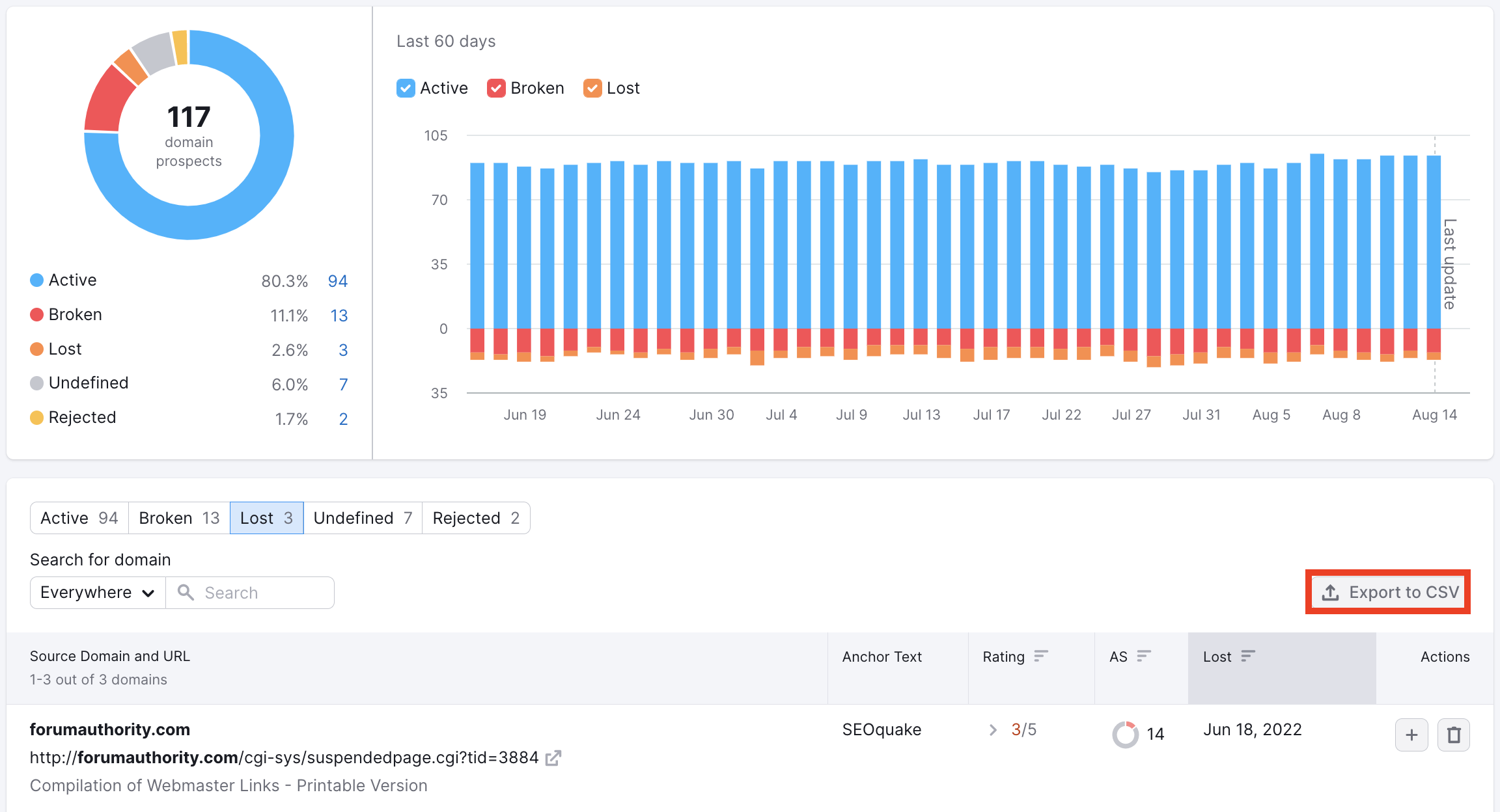 As one of the most comprehensive SEO tools on the market, SEMRush offers over 60 online marketing tools, making it a powerhouse for any digital marketing professional.
Its backlink monitoring tool is particularly noteworthy, offering a high degree of customization to suit your specific needs.
However, this extensive feature set comes with a relatively high price tag, making it a more significant investment.
Additionally, due to its vast array of features, there can be a longer learning curve for new users.
Despite these considerations, its robust capabilities make it a valuable tool for those serious about SEO.
Linkody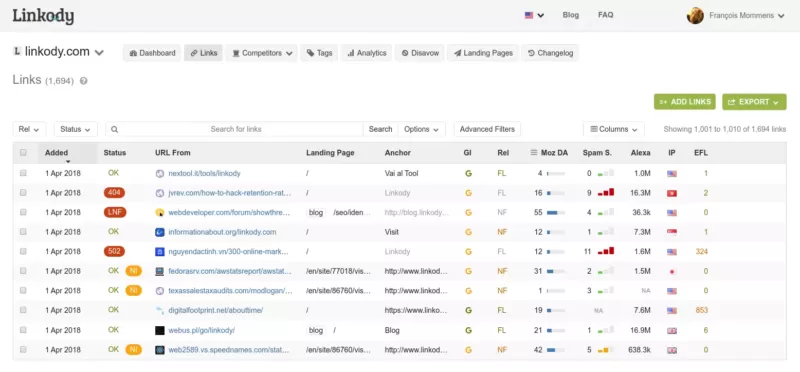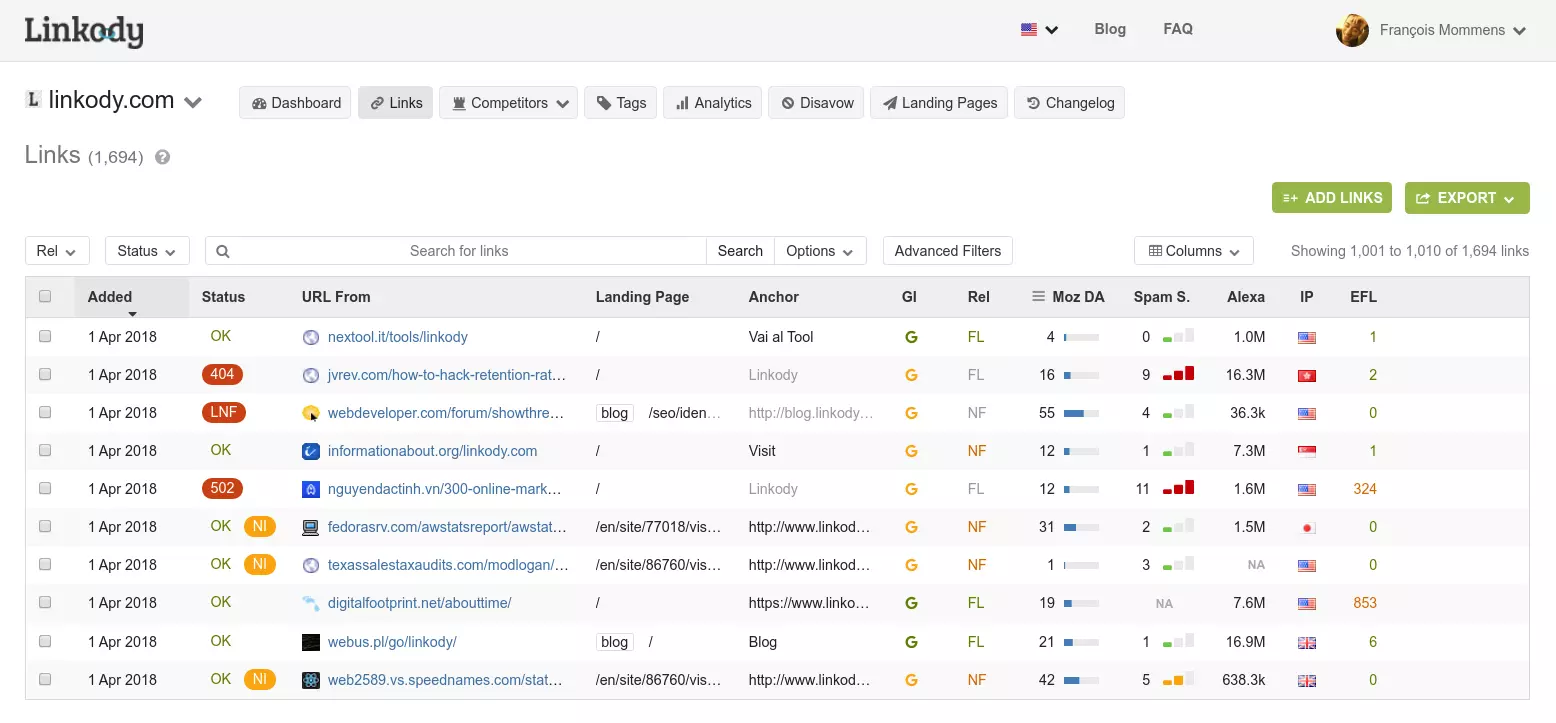 Linkody is a tool specifically designed for tracking and retaining your hard-earned backlinks.
Unlike many other SEO tools, Linkody focuses primarily on backlinks, providing advanced features such as deep backlink audits and competitor backlink analysis.
This laser-focused approach makes it an excellent choice for businesses and SEO professionals who want to dive deep into their backlink profiles and gain a thorough understanding of their link landscape.
Whether you're tracking your own backlinks or auditing your competitors', Linkody provides the detailed insights you need.
Monitor Backlinks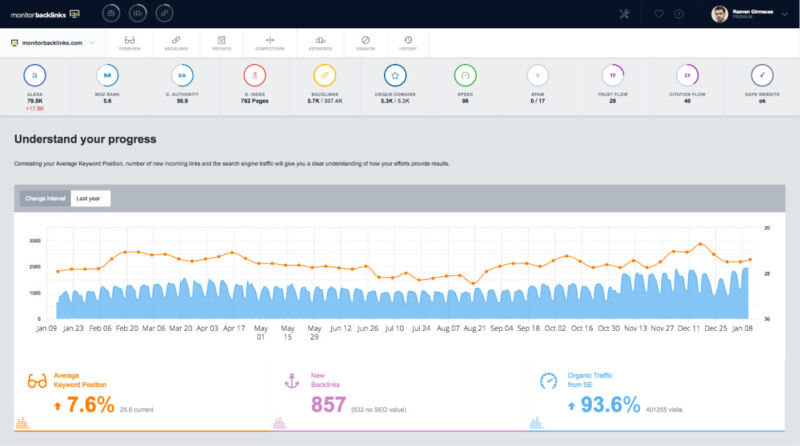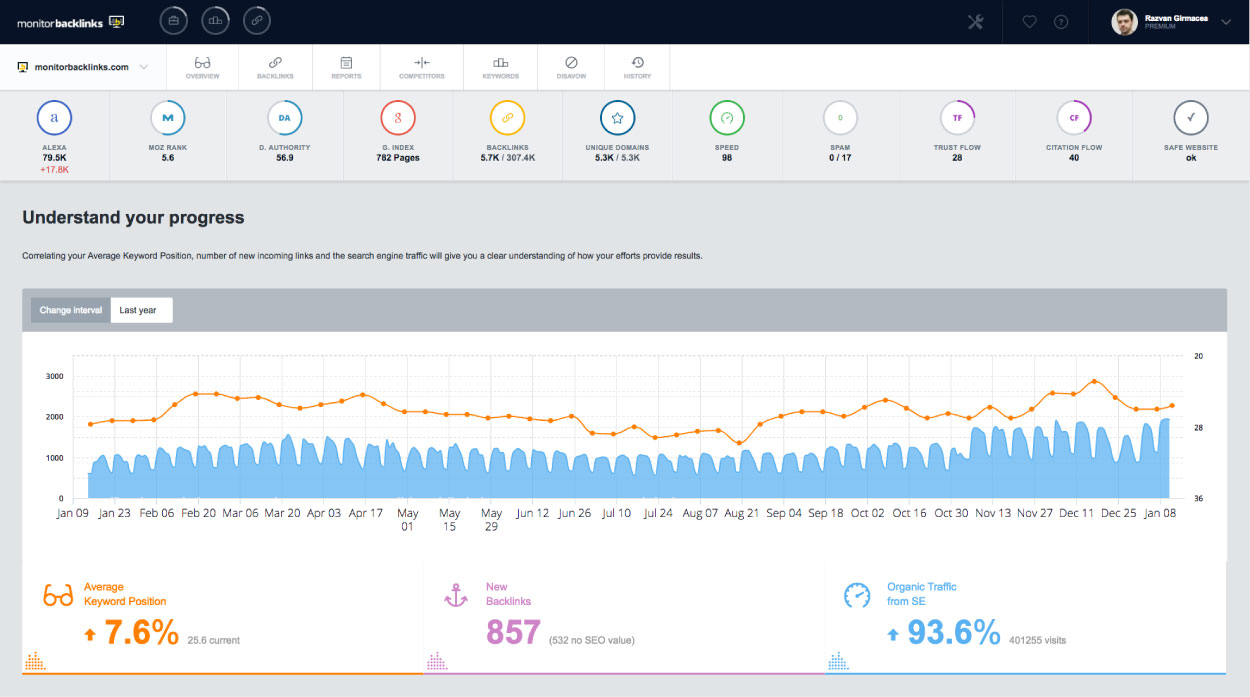 As the name suggests, Monitor Backlinks is a tool specifically designed for tracking, monitoring, and retaining your hard-earned backlinks.
Despite its user-friendly interface, it doesn't skimp on depth, providing detailed analysis of backlinks.
It's relatively affordable and offers many advanced features, including one of the best backlink checkers in the industry.
However, it's worth noting that Monitor Backlinks is a specialized tool – it focuses solely on monitoring and analyzing backlinks, without offering other SEO features. For those seeking a dedicated backlink tool, it's an excellent choice.
Final Advice
Knowing how to track backlinks is essential for you to preserve the backlinks that you work hard for!
Luckily, with modern SEO tools, this is super easy and you only need to reach out to the person in case you lose your backlink.
Otherwise, the rest is done for you by using SEO tools such as SE Ranking.
Support the B2BDigitalMarketers
Hey there,
Eduard here, the founder and writer at B2BDigitalMarketers. I hope you are getting value out of my article, and that it is helping you achieve your goals. I am doing this to help companies, entrepreneurs, and marketers like you get better results from your marketing efforts.
However, it can get tough and expensive to maintain this website. I have really nothing to sell here as I do it out of my passion for marketing and helping people like you.
Therefore, if you are in a position to be able to help, please consider joining my Patreon. I would like to get help with this website so I can produce better quality articles, create templates, checklists, and more marketing materials so I can provide them for free to anybody who needs them. Including you, of course!
So if you can, please support us on a monthly basis from just $2. It takes less than a minute to set up. Thank you.
Thanks,
Eduard!
Frequently Asked Questions About How to Track Backlinks
In this section I am going to answer some of the questions related to tracking and monitoring backlinks:
Can you track backlinks?
2023-08-02T09:40:30+08:00
Yes, you can track backlinks using various SEO tools like SE Ranking, SEMRush, or Linkody. These tools help you monitor your backlinks, identify where they're coming from, check their status, and analyze their impact on your website's SEO performance. Regular backlink tracking is crucial for maintaining your site's authority and improving its search engine rankings.
Related Articles:
Also, check out our SEO hub page to find all our SEO Resources.
Disclaimer
This article was created by Eduard Dziak and may contain affiliate links. The following were used to optimize the article for the best user and search engine experience include:
SE Ranking for keyword research and on-page SEO optimization
Surfer SEO for SEO-friendly content creation for users and search engines.
Jasper AI for grammar correction and information enhancement.
The article is based on the author's own experience and knowledge, drawn from both their own work and that of their clients, to provide the latest, proven methods.