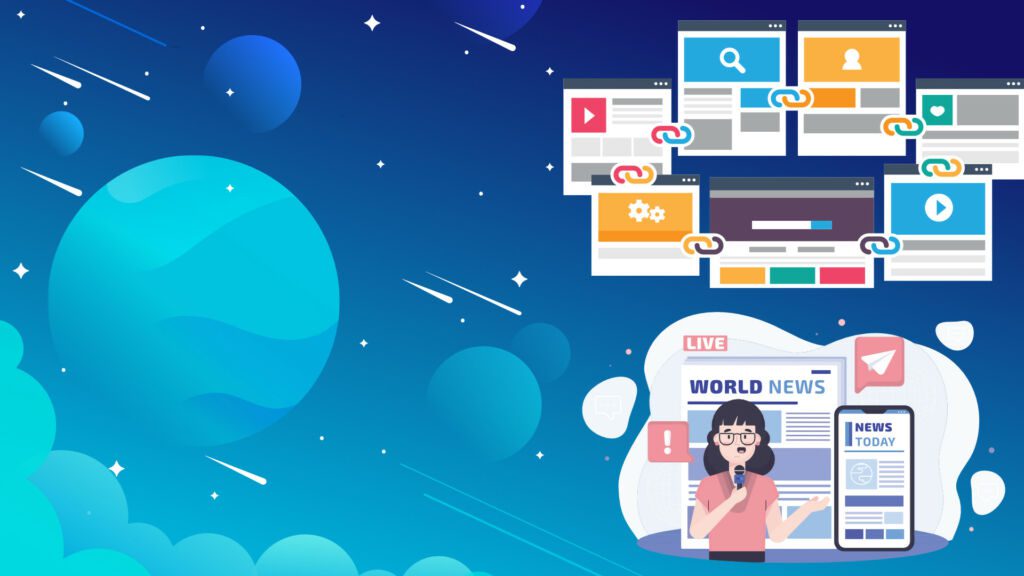 HARO, HARO, HARO… Such a great place to get backlinks and get ripped off by marketing agencies.
Hey, if you are thinking about doing HARO link building, then it's a great idea!
However, if you are thinking about purchasing HARO link building services, then don't do that, because I am going to share with you how you can do it yourself and even outsource it at the fraction of the cost and don't get ripped off!
So without further due, let's get started!
What is HARO Link Building?
HARO Link building is a link building strategy where you are using HARO (help a reporter out) free services that connect you with journalists seeking expertise for their upcoming articles. HARO sends you 3 times daily, Monday to Friday journalist queries for you to answer and if the journalist selects your response, then you will get backlinks that are often from a very authoritative website. It is arguably the easiest link building strategy and one of the best ways to get great quality backlinks.
Why SEOs Love HARO?
Link building is hard, according to SEOTribunal, 65% of marketers affirm that link building is the hardest SEO tactic to complete and for me, this number could be much higher.
And if you are learning about link building then you will find plenty of people seeing link building being the hardest part of doing SEO.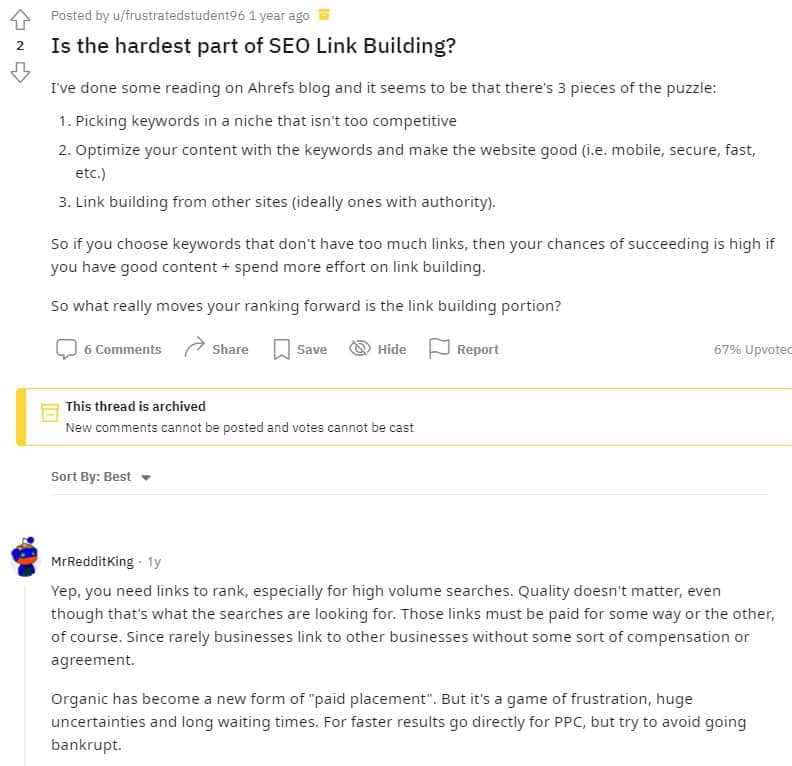 So why SEOs love HARO?
It is because the hardest parts of link building that are prospecting, vetting, and outreach are literally done for you, and you only have to focus on providing your expertise and value to journalists and that's it.
You don't need to know where to find prospects, how to vet those prospects, find their email addresses, and how to send your cold email to your prospects to build backlinks.
Literally, HARO does all that for you. And on top of that HARO link building is having one of the best link building conversion rates and it brings one of the highest quality backlinks your website can get as a journalist from big media like The New York Times, WSJ, BBC, and many niche relevant authority sites are searching for your expertise and get niche relevant backlinks.
Sounds great? Well, that's because it is! HARO Link building is really one of the best ways for you to earn backlinks on a consistent basis especially if you are starting.
However! Because it is so great, then link building agencies are taking advantage of HARO and providing super expensive HARO link building services!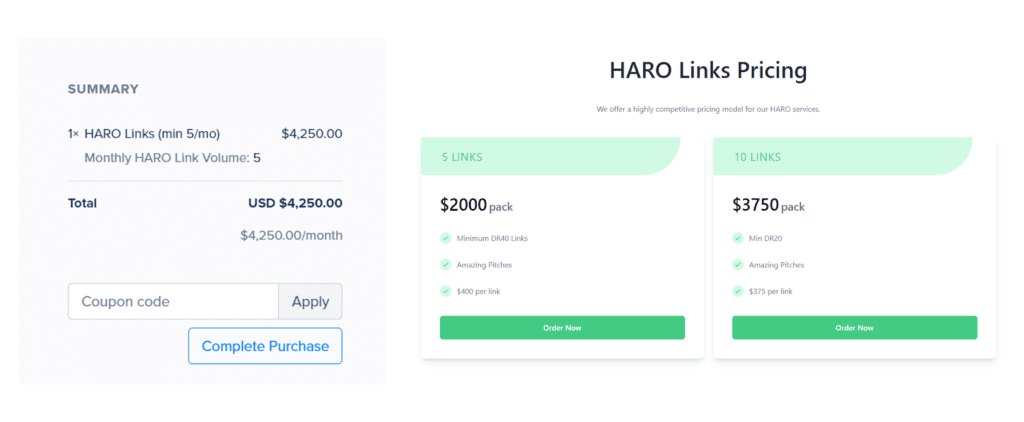 So here, I will share with you how you can do HARO yourself and even outsource HARO with almost no effort and for fraction of this stupidly expensive service.
In fact, I show you how link building agencies doing it and keeping a big chunk of your money for themselves.
How Do You Use the HARO in Link Building?
If you have never done HARO link building, then don't worry, it is super easy. In fact, it is so easy, that anybody can do that with no experience!
I have seen a company's subject matter experts with no background in SEO and marketing getting links from HARO at a much higher success rate than SEOs and marketers.
How is that possible? Because journalists are seeking industry subject matter experts to give them quotes for their upcoming stories.
So, getting your subject matter experts answering HARO inquiries can be the best way to get you backlinks. And the best thing, it only takes 10 minutes of their time.
However, I am going to also show you how you can do HARO link building without asking your subject matter experts, or anybody on your team.
There are so many ways to do that, so let's get started:
Step #1: Prospecting
Prospecting with HARO is as easy as it gets. Just click on sign up as a source.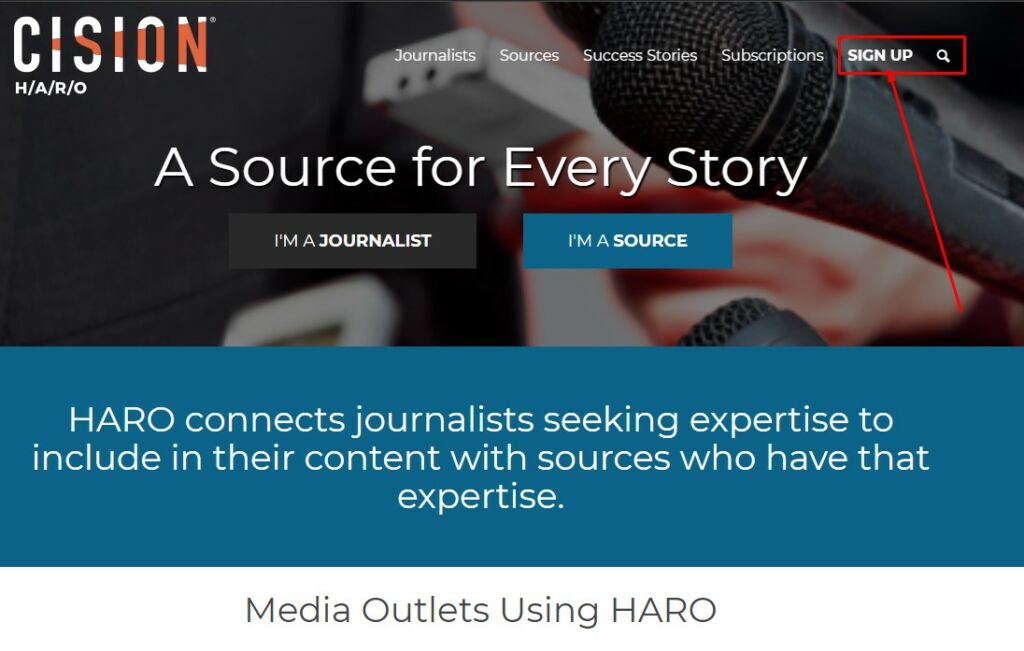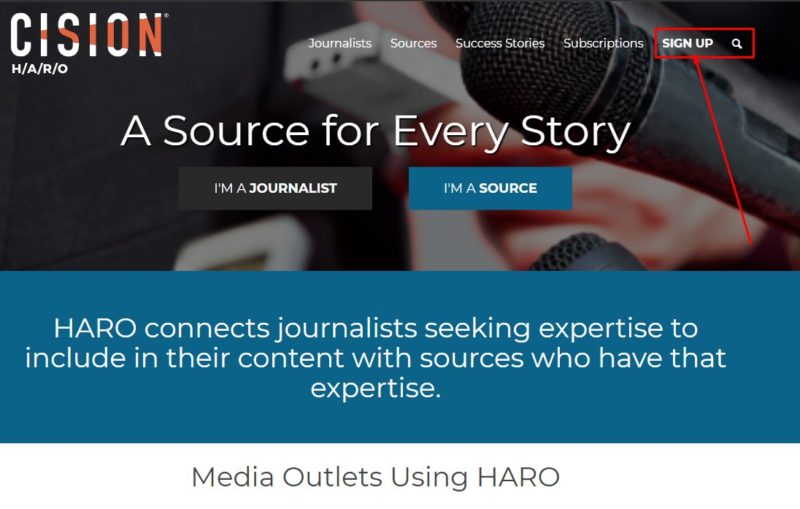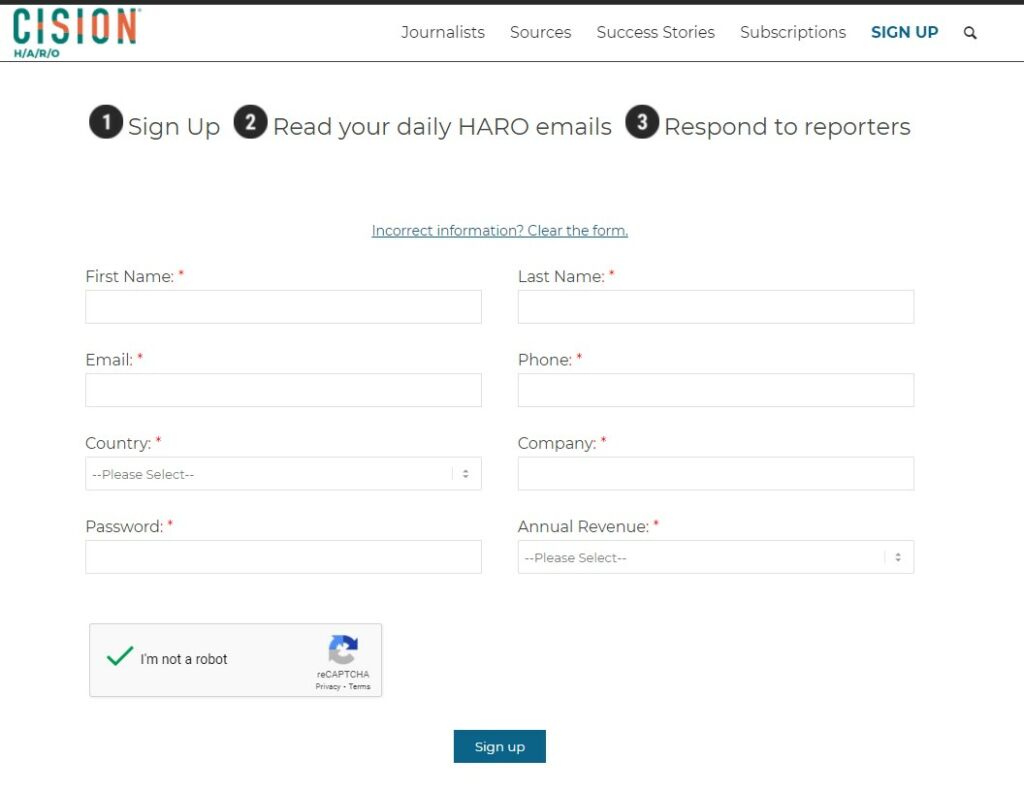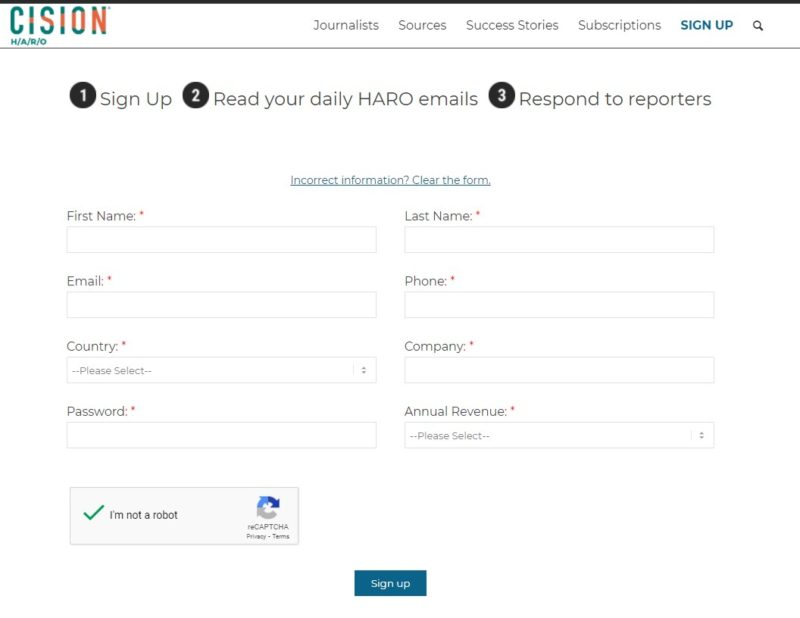 Once you sign up, you will be directed into an Account detail where you fill up basic information like your name, company, email address, country, etc.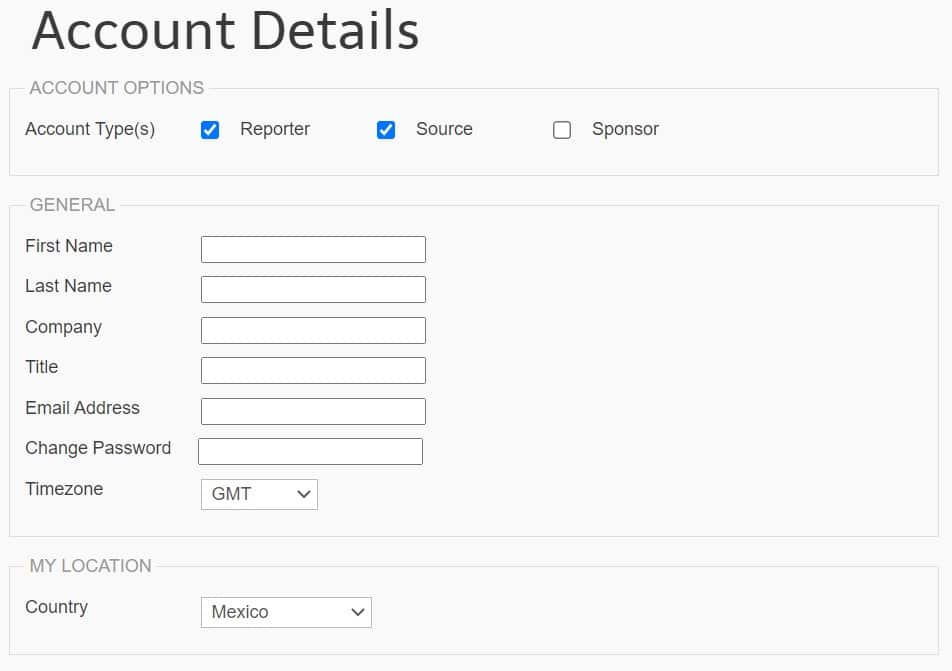 Now, if you do it for your own website, for the company field you can put the name of your website. For location if you are located somewhere else, then put whatever, it doesn't matter.
In the reporter details section (picture below), for the Outlet column, you can fill up your website name or your company name.
In HARO preferences, you select your industry or any close. This will send you journalist queries related to your niche and your expertise.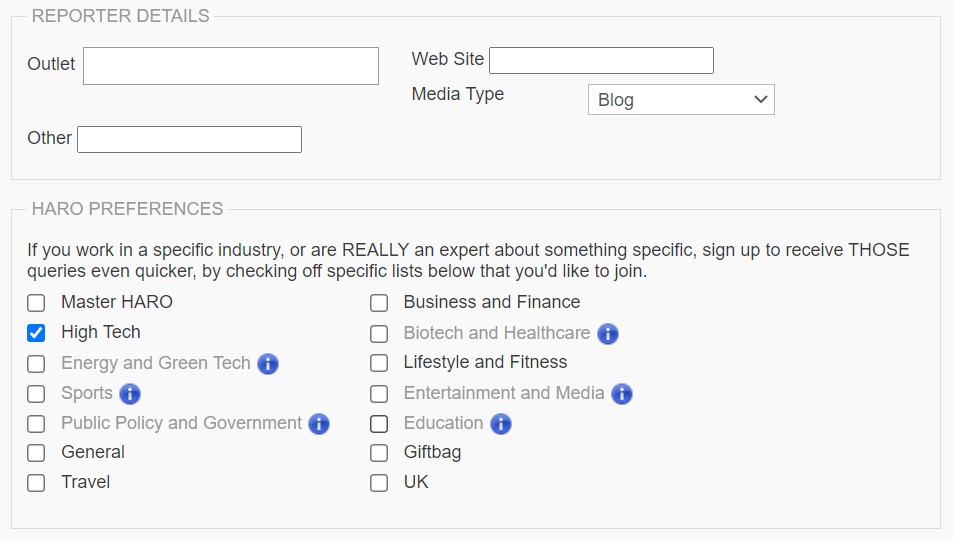 And for the other contact info section, I think you can manage it yourself. The address can be the actual address of your home or business address, even though it won't match the location setting from above. However, this is not mandatory.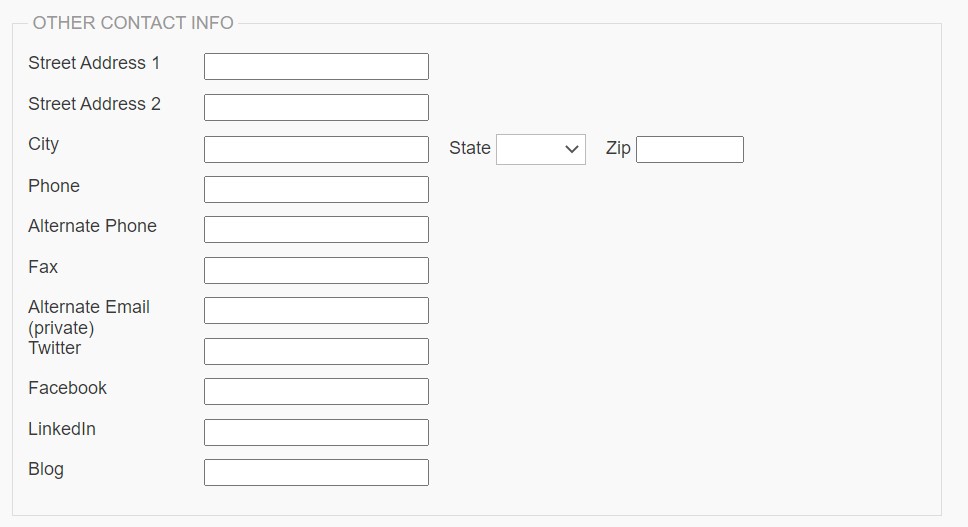 Once you complete all the information and save & update it, then you are ready to start receiving your first journalist queries.
Remember, HARO will send you three times daily Monday to Friday journalist queries. When exactly depends on your location of course.
Step #2: Vetting
The second step of HARO link building is vetting your queries.
As you probably guess this gets even easier. Whenever you receive an email from HARO just open it and scan for any relevant queries you can answer.
As you can see, each query has a short descriptive title to give you an idea of what they are looking for and in the bracket, you can see the outlet.
For example, I am in the SEO niche, therefore the second query "SEO for Small Businesses" is something I am very interested in.