HARO, HARO, HARO… Such a great place to get backlinks and get ripped off by marketing agencies.
Hey, if you are thinking about doing HARO link building, then it's a great idea!
However, if you are thinking about purchasing HARO link building services, then don't do that, because I am going to share with you how you can do it yourself and even outsource it at the fraction of the cost and don't get ripped off!
So without further due, let's get started!
What is HARO Link Building?
HARO Link building is a link building strategy where you are using HARO (help a reporter out) free services that connect you with journalists seeking expertise for their upcoming articles. HARO sends you 3 times daily, Monday to Friday journalist queries for you to answer and if the journalist selects your response, then you will get backlinks that are often from a very authoritative website. It is arguably the easiest link building strategy and one of the best ways to get great quality backlinks. HARO Link building, an integral part of a comprehensive link building plan.
Why SEOs Love HARO?
Link building is hard, according to SEOTribunal, 65% of marketers affirm that link building is the hardest SEO tactic to complete and for me, this number could be much higher.
And if you are learning about link building then you will find plenty of people seeing link building being the hardest part of doing SEO.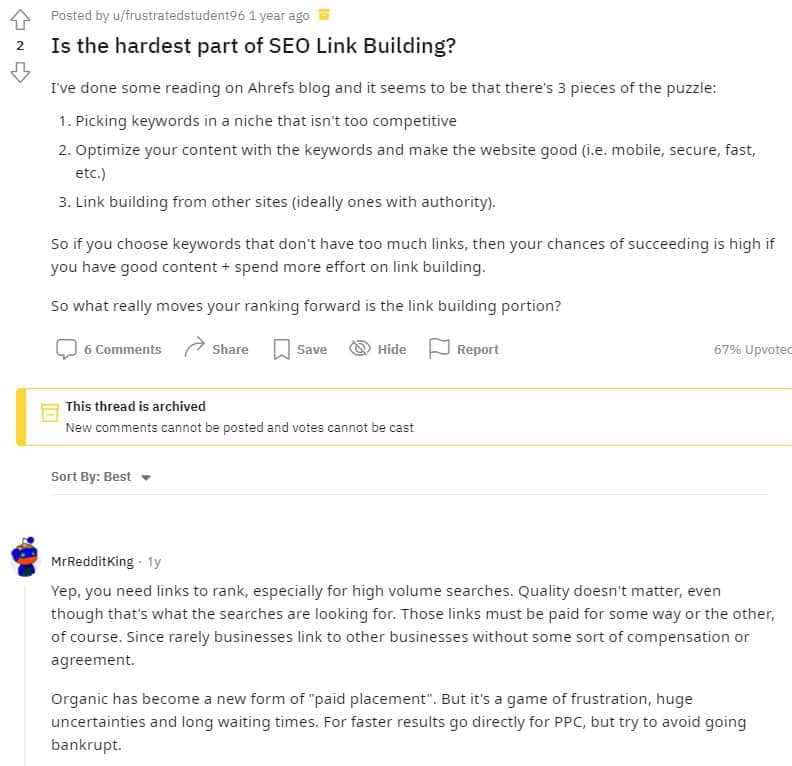 So why SEOs love HARO?
It is because the hardest parts of link building that are prospecting, vetting, and outreach are literally done for you, and you only have to focus on providing your expertise and value to journalists and that's it.
You don't need to know where to find prospects, how to vet those prospects, find their email addresses, and how to send your cold email to your prospects to build backlinks.
Literally, HARO does all that for you. And on top of that HARO link building is having one of the best link building conversion rates and meets all the backlink quality standards that you can get for your website.
Yu will be able to build backlinks from big media like The New York Times, WSJ, BBC, and many niche-relevant authority sites are searching for your expertise and get niche relevant backlinks.
Sounds great? Well, that's because it is! HARO Link building is really one of the best ways for you to earn backlinks on a consistent basis especially if you are starting and brings you one of the biggest link building benefits.
However! Because it is so great, then link building agencies are taking advantage of HARO and providing super expensive HARO link building services!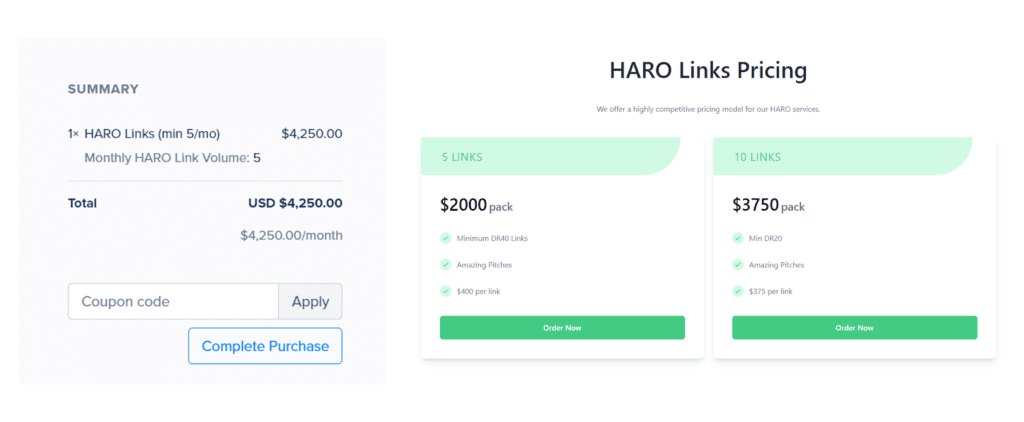 So here, I will share with you how you can do HARO yourself and even outsource HARO with almost no effort and for fraction of this stupidly expensive service.
In fact, I show you how link building agencies doing it and keeping a big chunk of your money for themselves.
How Do You Use the HARO in Link Building?
If you have never done HARO link building, then don't worry, it is super easy. In fact, it is so easy, that anybody can do that with no experience!
I have seen a company's subject matter experts with no background in SEO and marketing getting links from HARO at a much higher success rate than SEOs and marketers.
How is that possible? Because journalists are seeking industry subject matter experts to give them quotes for their upcoming stories.
So, getting your subject matter experts answering HARO inquiries can be the best way to get you backlinks. And the best thing, it only takes 10 minutes of their time.
However, I am going to also show you how you can do HARO link building without asking your subject matter experts, or anybody on your team.
There are so many ways to do that, so let's get started:
Step #1: Prospecting
Prospecting with HARO is as easy as it gets. Just click on sign up as a source.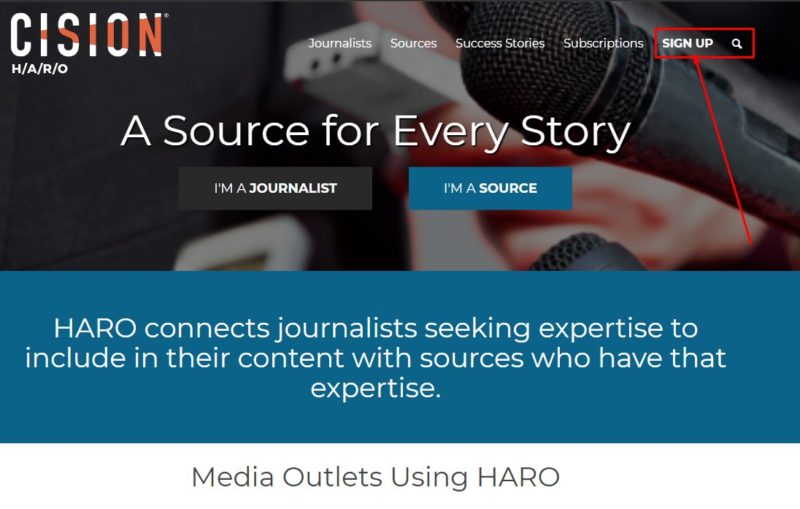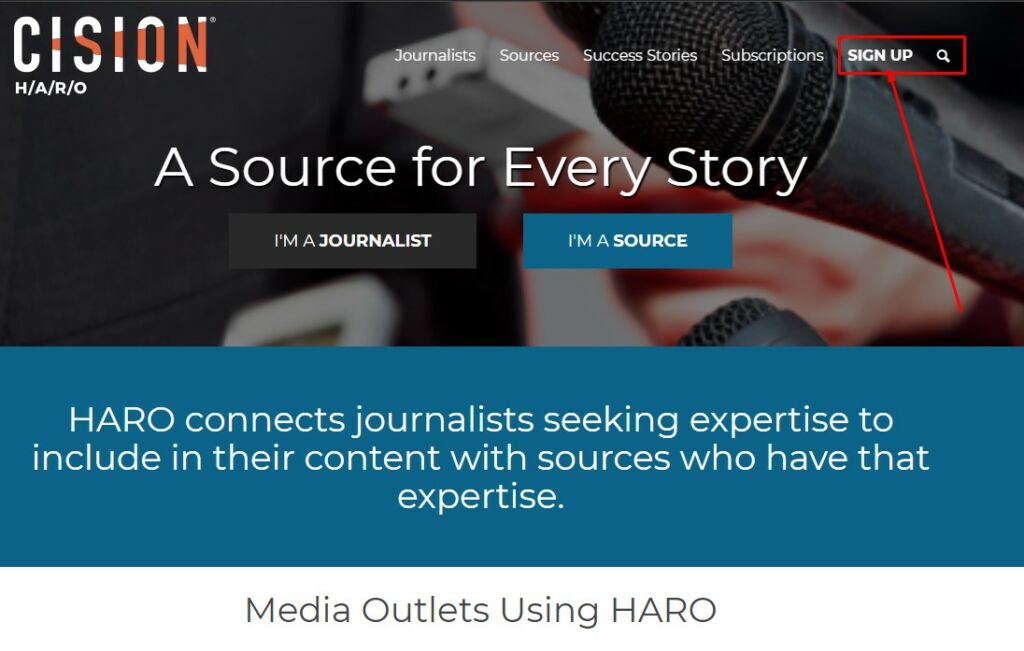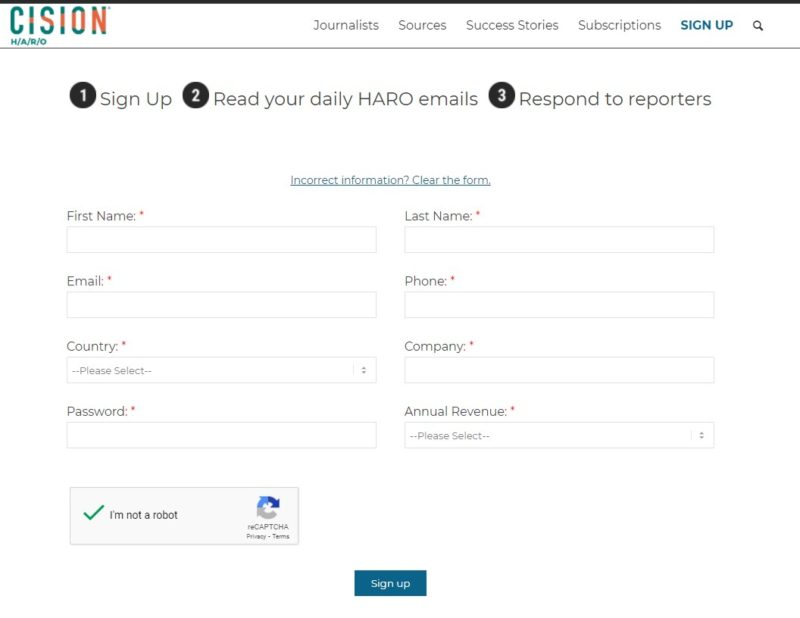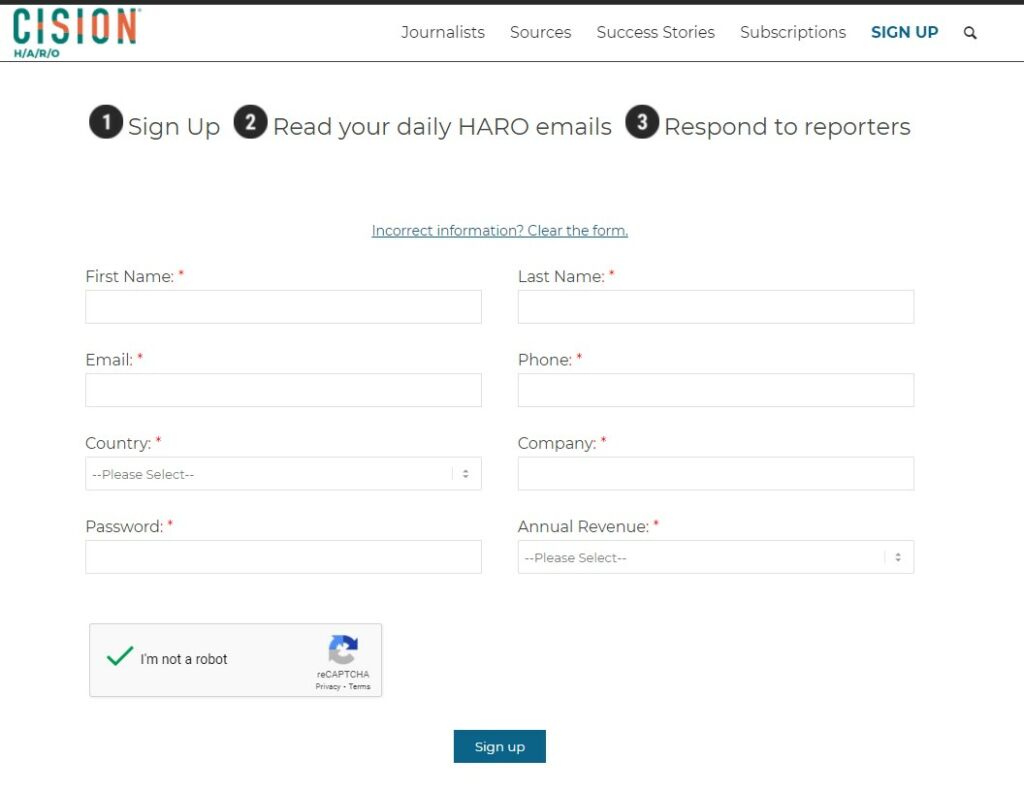 Once you sign up, you will be directed into an Account detail where you fill up basic information like your name, company, email address, country, etc.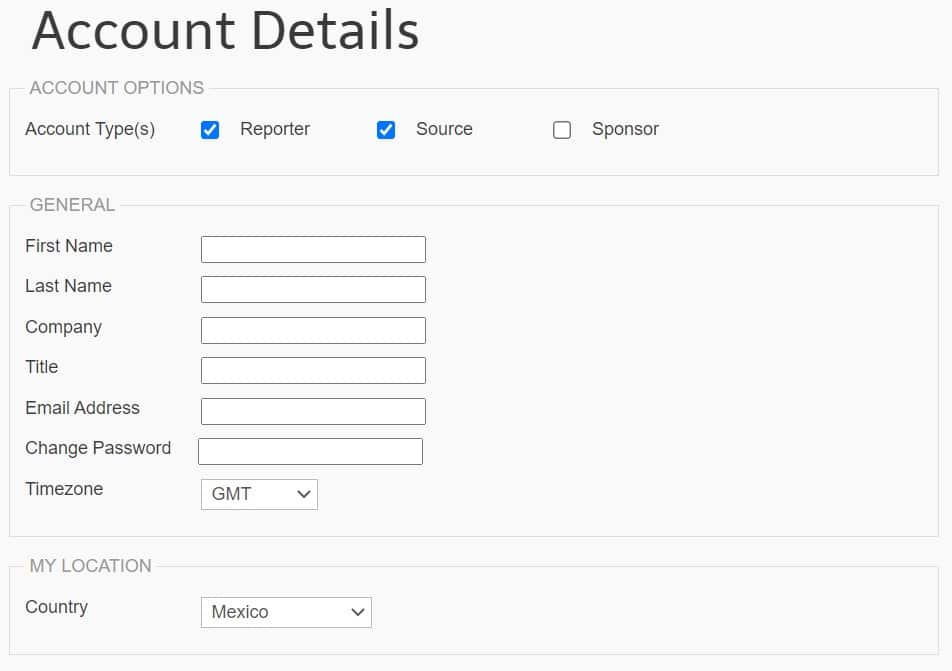 Now, if you do it for your own website, for the company field you can put the name of your website. For location if you are located somewhere else, then put whatever, it doesn't matter.
In the reporter details section (picture below), for the Outlet column, you can fill up your website name or your company name.
In HARO preferences, you select your industry or any close. This will send you journalist queries related to your niche and your expertise.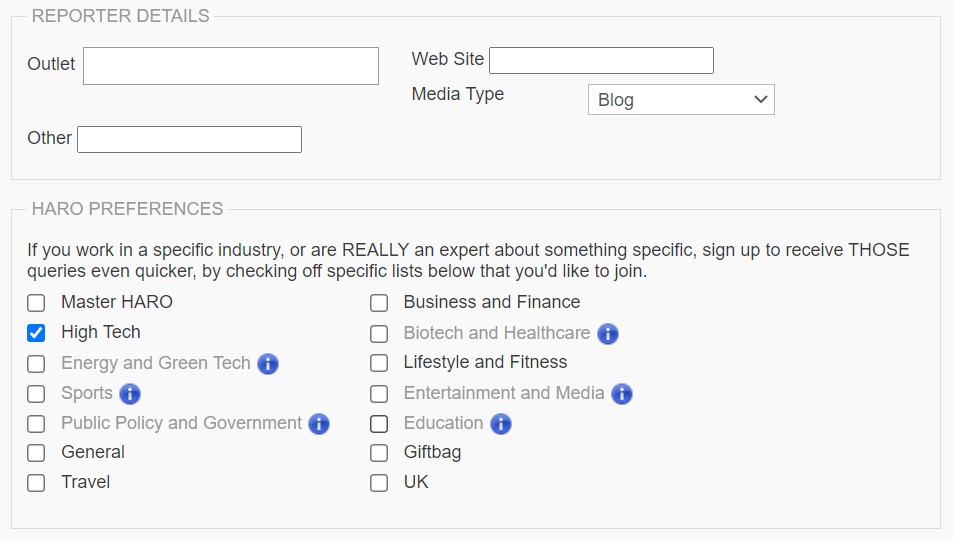 And for the other contact info section, I think you can manage it yourself. The address can be the actual address of your home or business address, even though it won't match the location setting from above. However, this is not mandatory.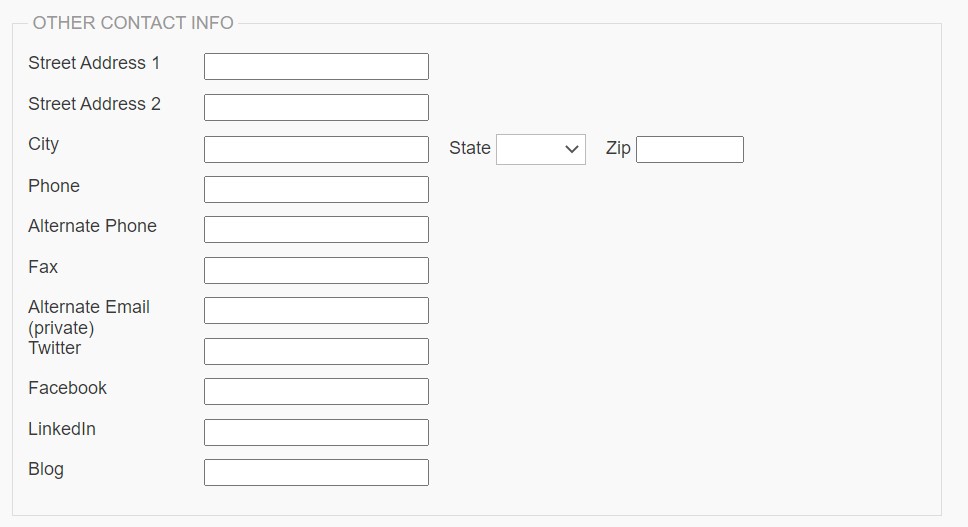 Once you complete all the information and save & update it, then you are ready to start receiving your first journalist queries.
Remember, HARO will send you three times daily Monday to Friday journalist queries. When exactly depends on your location of course.
Step #2: Vetting
The second step of HARO link building is vetting your queries.
As you probably guess this gets even easier. Whenever you receive an email from HARO just open it and scan for any relevant queries you can answer.
As you can see, each query has a short descriptive title to give you an idea of what they are looking for and in the bracket, you can see the outlet.
For example, I am in the SEO niche, therefore the second query "SEO for Small Businesses" is something I am very interested in.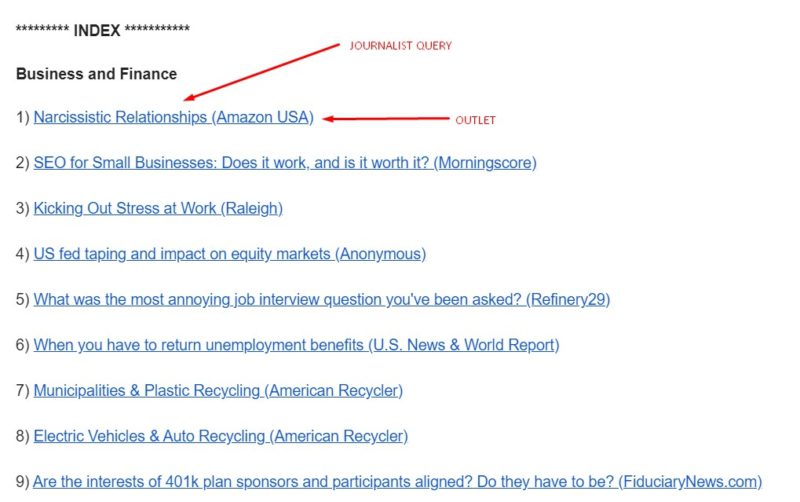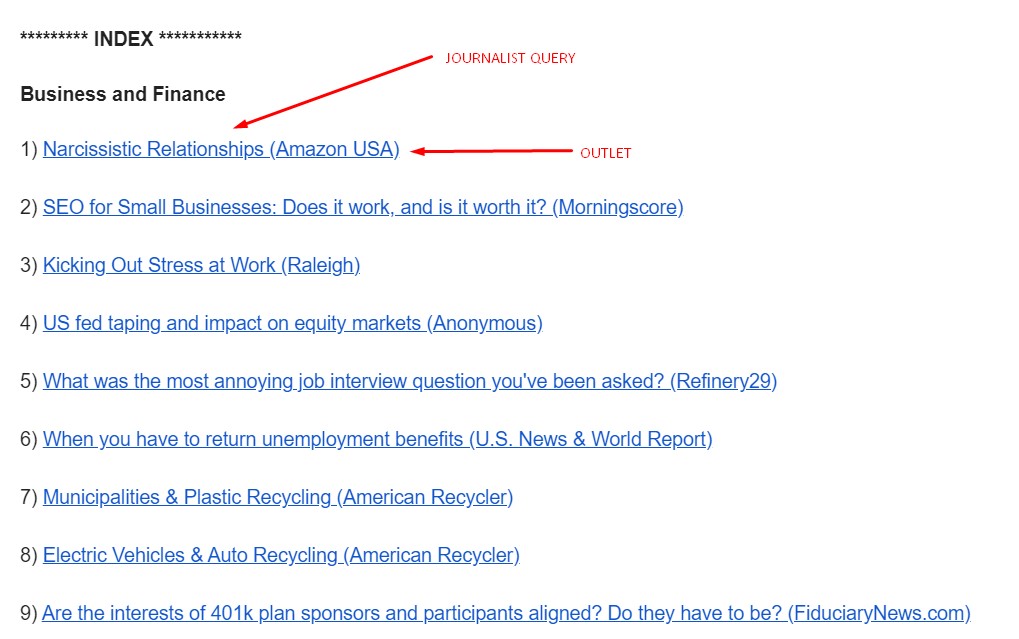 As you can see, vetting is even easier for HARO as you just need to scan queries from journalists and find the one you believe you can answer.
Automating the Vetting Process
Manually vetting all the inquiries three times a day can get a bit annoying, so let me show you, how you can set up a Gmail filter to automatically vet those queries that contain certain words.
For example, I have set up my own Gmail filter for the keyword "SEO" and whenever I receive a HARO query that contains the word "SEO" Gmail will highlight it for me like this one:


It also moves the HARO email into a separate folder.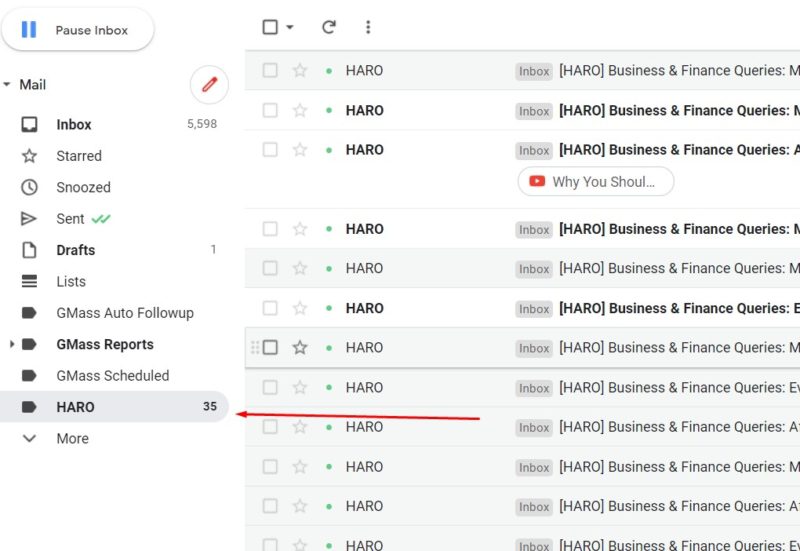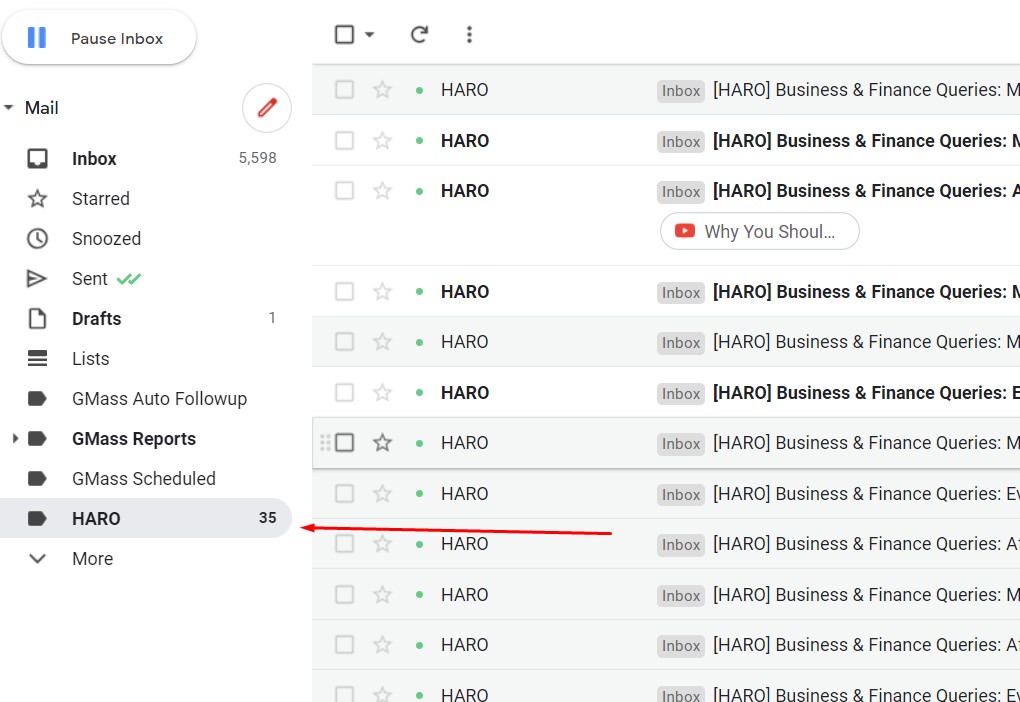 Like this, it makes it much easier to track HARO emails every day without me manually going through them one by one.
So, let me show you how you can do that.
Step #1: Click on this fancy "filter" icon.


This will open then Gmail Filter.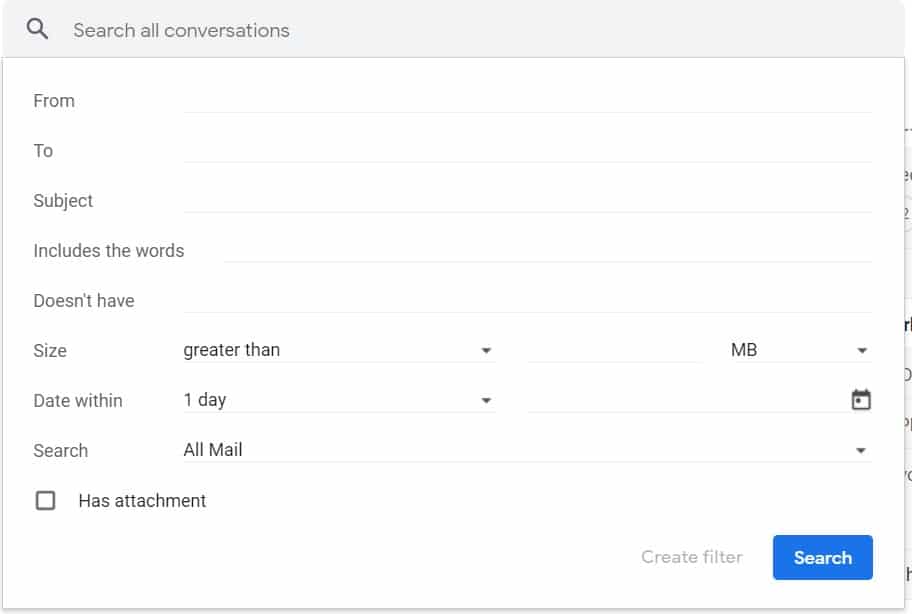 Step #2: Enter HARO email into the "From" column and the "Subject" column enter the world HARO with the square brackets. Into the "Includes the words" column enter your keyword.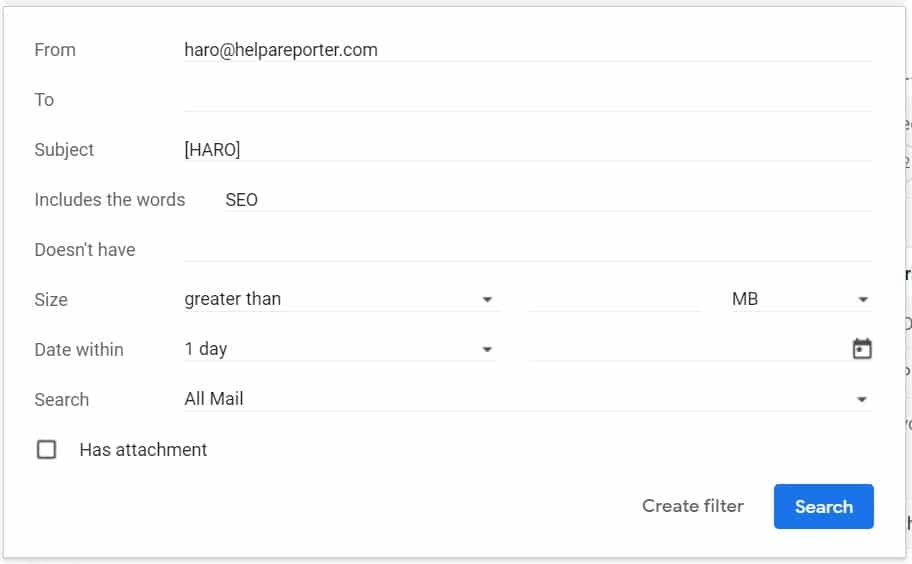 You can also add more keywords using "AND" and "OR" search operators. Also, I recommend using the quotation mark.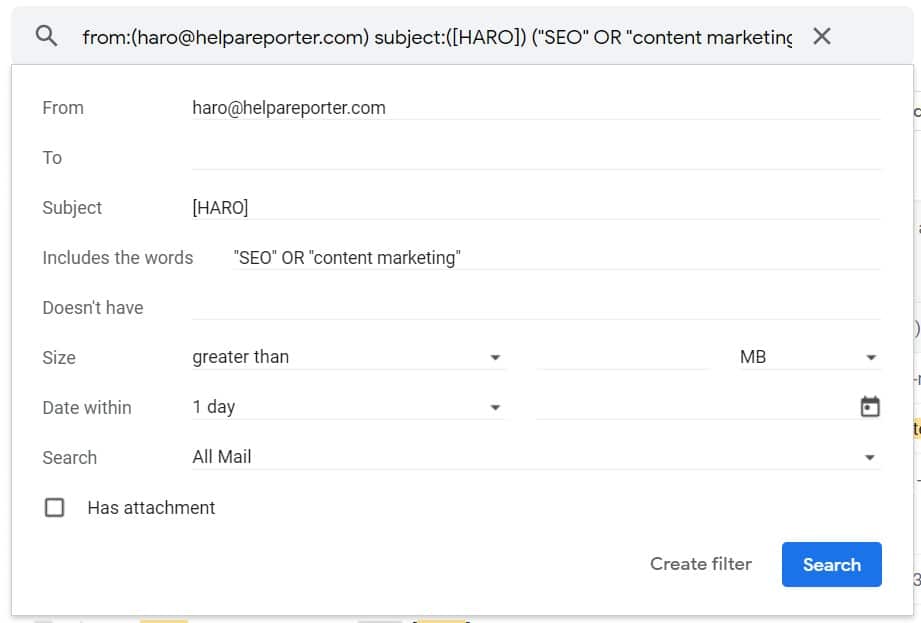 Once, you are done, you can click on "Search" to test it out. Of course, to test it you would need to be receiving HARO inquiries for while like me. If everything works fine you can go back to filter and click on "Create filter".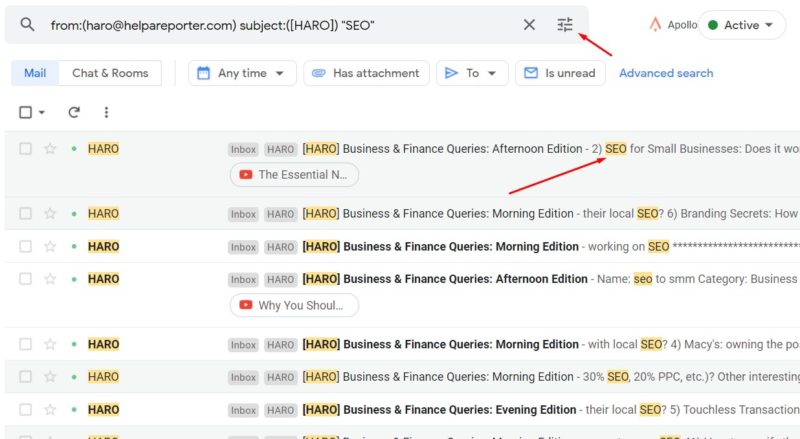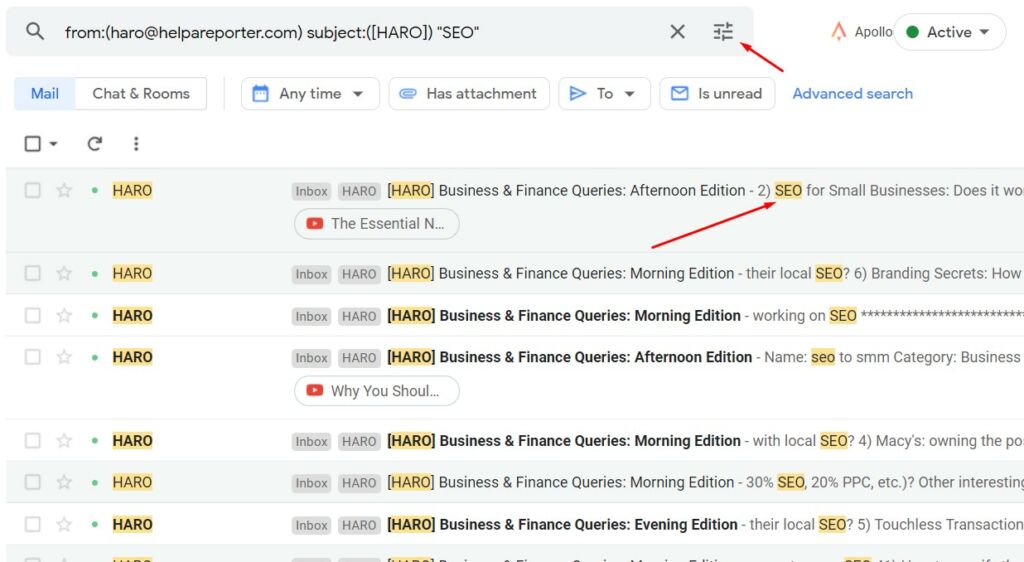 Step #3: Create designated folder (optional). Here you will get an option to create a special folder for your relevant HARO queries just like I did.
To do that, just tick the box for "Apply the label" and click on the dropdown menu. Here you will click on "New Label".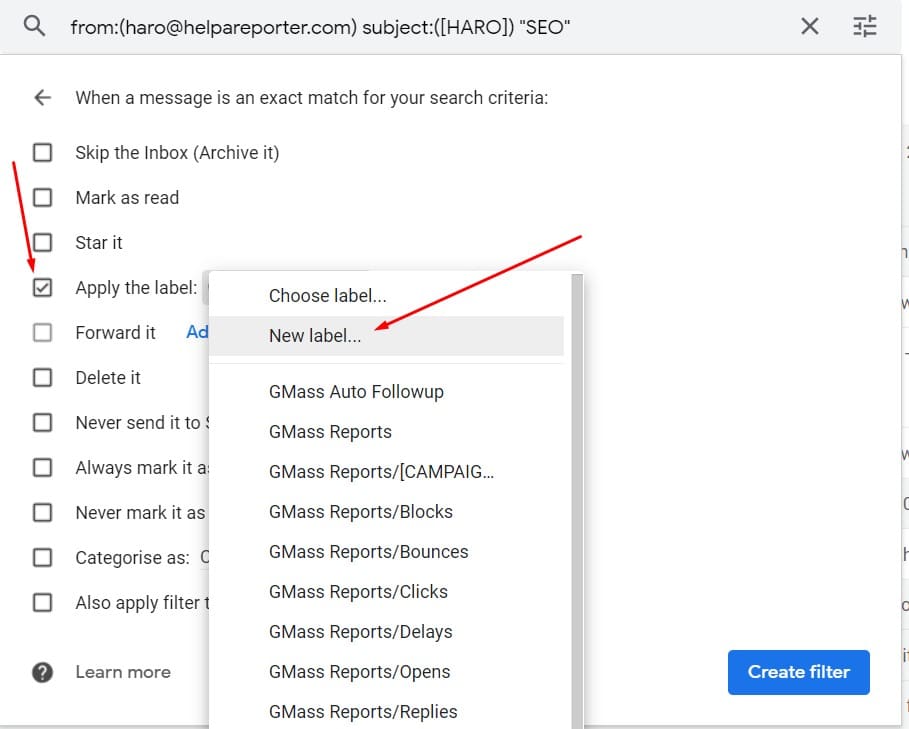 Then just enter your new label name. I recommend using HARO and Keywords as your label name. For example, in my case it would be HARO SEO, like this I can easily monitor the HARO queries for different keywords or clients.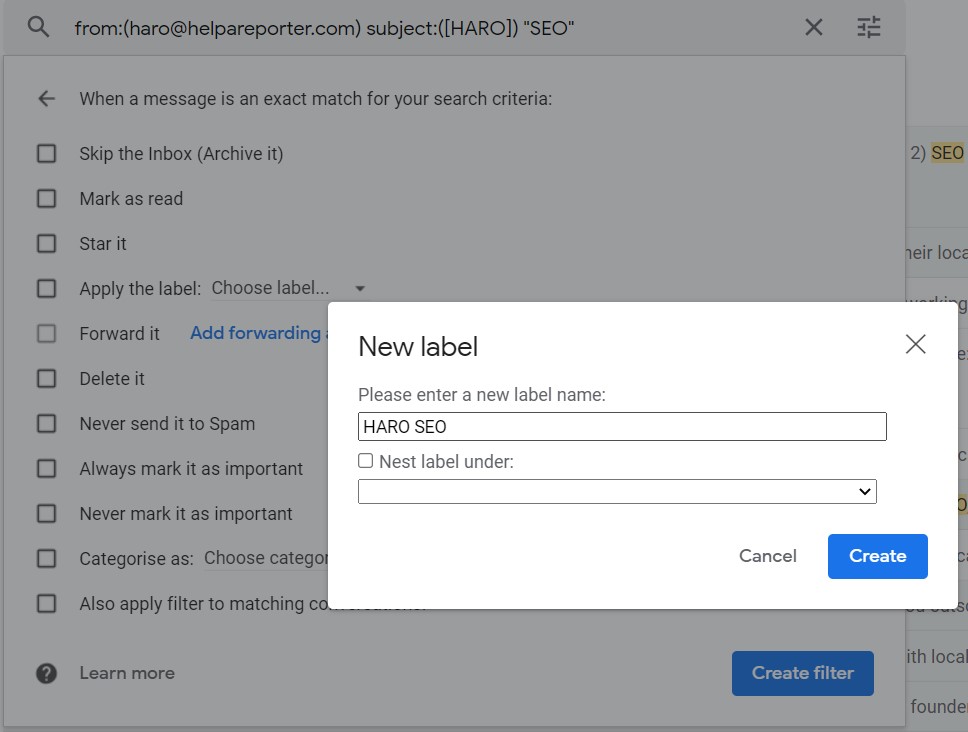 Once you are done, then click on "Create" and then click on "Create filter". And you are done with automating your vetting process.
I really recommend you set this filter as it will save you a ton of time and it takes only 5 minutes!
Step #3: Outreach
Alright, moving on, the third step is outreach.
Once you find the query that is relevant to you and you think you can answer, just click on it and it will navigate you to the query description and requirements.
Here you pay close attention to the deadline. If the query is not expired, then you can still answer the query.
Also, check out other information, like the name of the journalist, to help you personalized your answer. You should also look at the outlet. This is especially important to check if you have already a backlink, if so, then you might want to prioritize other queries first. However, it's always better to have two backlinks than one from the same domain.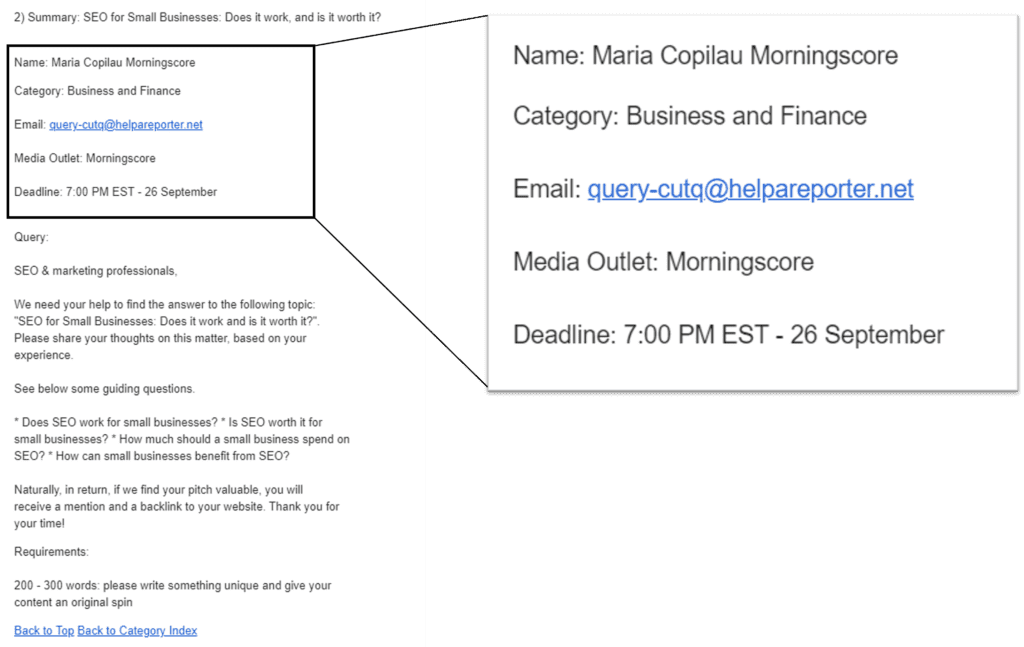 Then you can check the query. Usually, the first paragraph is a short description followed by a question the journalist has, that you should answer.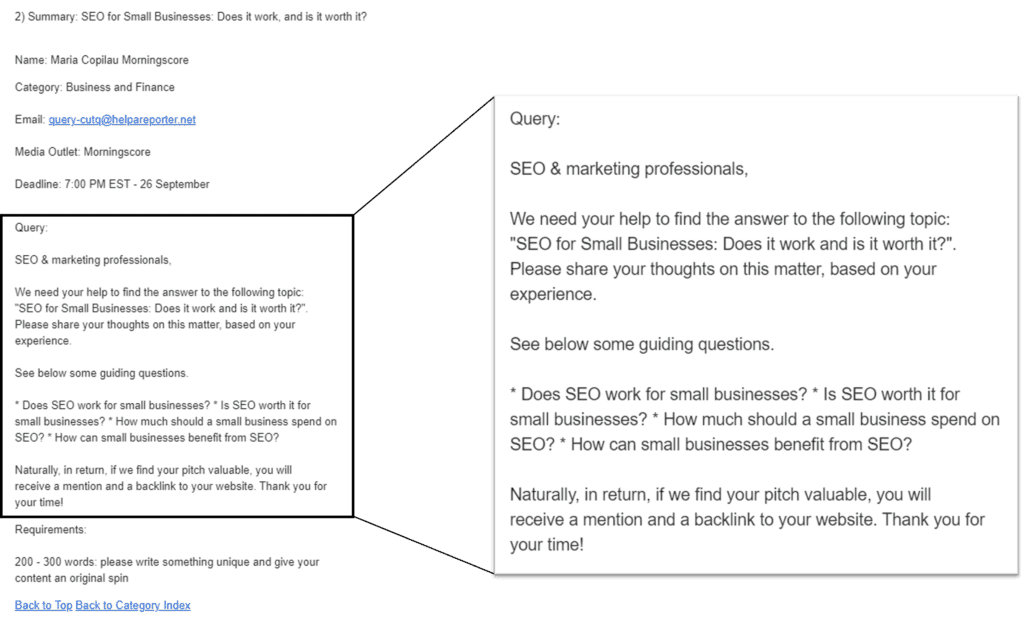 And after that, there are the requirements. Here the journalist specifies what he/she actually wants. Usually, they expect short answers, however, they do not always include it within requirements.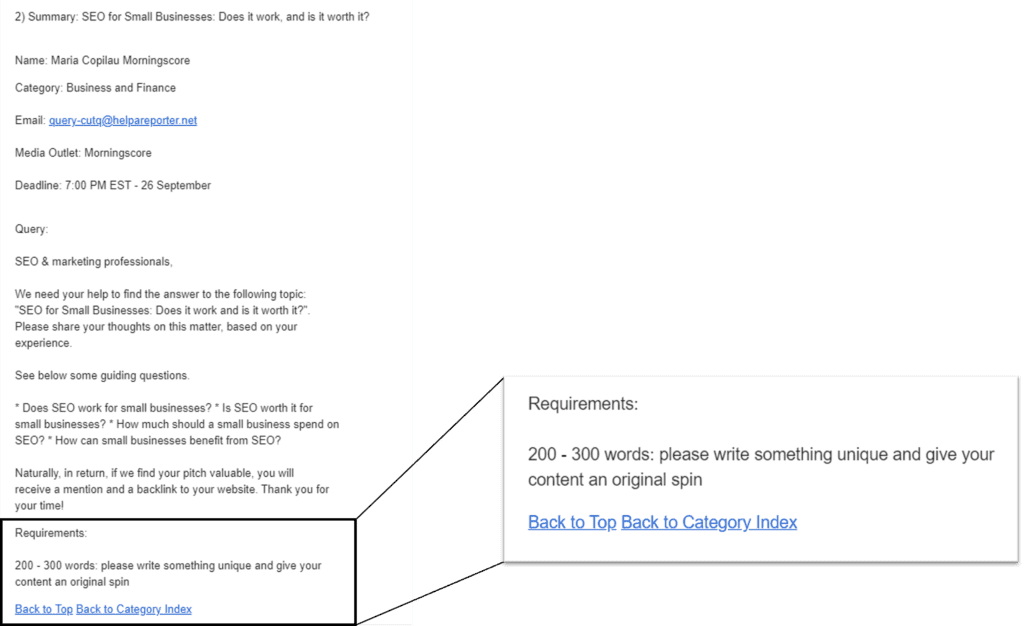 Other requirements could be certain positions or working in specific industries, including your profile, usually, it is LinkedIn to verify your expertise and other requirements. Of course, you should also include your website in every situation.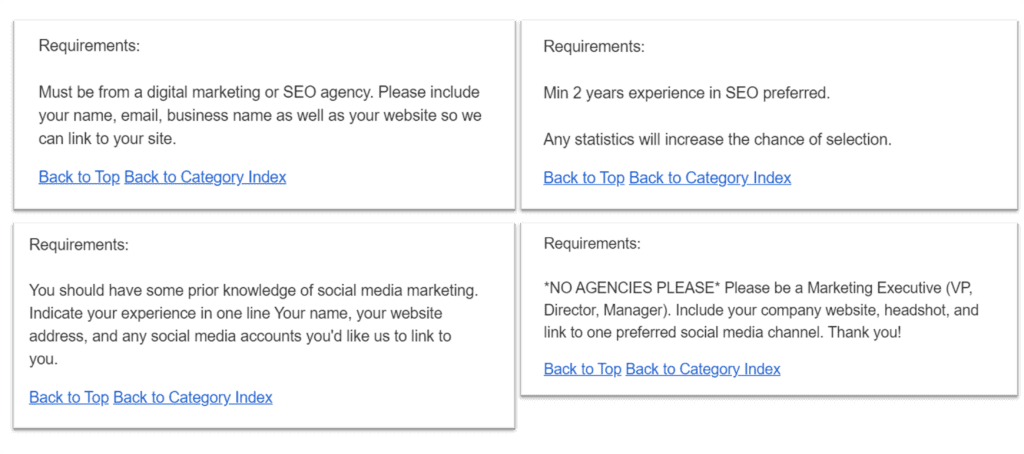 It is very important to read the requirements to make sure you provide what they want, and you are the person they are looking for. If you are not somebody they need, don't bother answering. They will want to verify it.
With that here is an example of my answer to the query.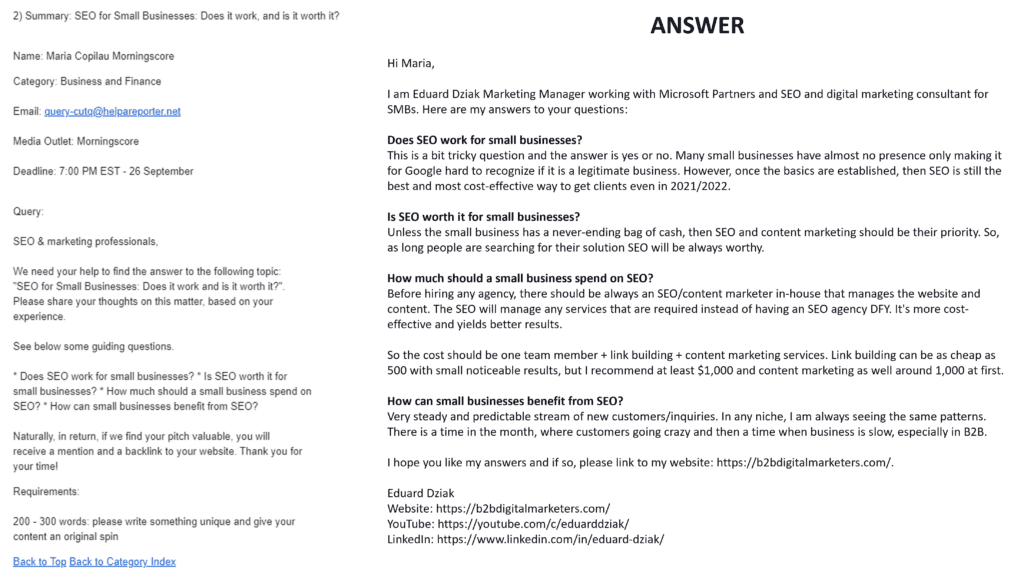 experience, you can expect one backlink for every 5 to 10 queries you answered.
Step #4: Scaling Up
Now, let's have a look at how you can scale your link building effort using HARO.
There is a super-easy way to scale your link building with HARO using marketing agencies. This method as I said, is super expensive, like really expensive, but on another side, you don't have to do almost anything.
Then, there is the easy way to do HARO link building at scale, which is way cheaper, but you need to put a little bit of effort.
Let me show you:
Step #1: You need to get a freelancer on Fiverr or UpWork with experience in your industry to answer HARO queries on behalf of your company.
This is super easy, just log in, create work, and write job descriptions. You can use my template:
I am looking for an industry expert in [industry] to answer questions on a daily basis on HARO (Help a Reporter Out) in English. You will receive queries from journalists three times a day, Monday to Friday and you will need to sort through these questions and answer relevant questions to the industry. We will reward you to [amount you are willing to pay for I recommend around $10-$20] per relevant answered question + 100% bonus for getting your answer featured on journalist website.

For more information please DM.
Step #2: You need to negotiate with the freelancer. Here are examples of some of my requirements:
Answer only queries NOT older than 24h. (Mandatory only in very competitive niches like Marketing}
We pay at the end of the month for all queries answered + including the links you generated.
Answer only relevant queries on [list of topics relevant to your industry]
Each answer must contain a request to link to our company website.
All answers are in English.
Of course, if you can think of any other requirements, that you want to include.
Step #3: Get your freelancer. Now, once you start getting your applications from freelancers, then you can select the right one. You can also send them a few sample questions from HARO to test them and select the best.
Step #4: You need to create a company email for your freelancer. He/she should not answer any questions without your company email. Also, you should create a nice signature for the freelancer with a suitable position to showcase the credibility.
And just like this, you can scale your link building with HARO for fraction of the cost. Typically, using this method, you can expect the cost per link around $100 while using agency it is around $300-$500 per link.
And guess what, most likely they will use the exact same strategy just like I showed you now, or they will use somebody in-house.
Regardless, I let you decide which method you prefer. Also if you want more backlinks chechk out tiered link building.
HARO Link Building Best Practices
Now, HARO link building is one of the easiest ways to get links. However, over the years of using HARO, I have learned some tricks and tips that help me to improve my conversion rates.
So, you can use these best practices to get more links or share them with your freelancer to get you more backlinks:
Practice #1: Prove Your Credibility
The first and one of the best practices of HARO link building is to prove you are a credible source.
Obviously, if a journalist likes your answer they will want to confirm that it is from a legitimate source. This means, they will want to look at your website, blog, company profile, and social media, and even at your personal profile to see if you are the subject matter expert.
Therefore, having a nice signature, using a gravatar and picture of your face in your email address with quick links to important sites like your company website, social media, and including your position will help you to build trust with journalists that you are a great source.
Also, don't forget to include a short bio (1-2 sentences) about yourself and why you are credible to answer the question.
Remember, they will link to you, so they want to make sure you are the expert and not some scam doing link building…
Practice #2: Answer ASAP
The next important practice I recommend you to follow is to answer ASAP.
Over the time of building links from HARO, I have noticed that the sooner I answer the higher is the chance I get a backlink from a journalist.
Usually, the journalist gives only a 1-3 days deadline, however, I noticed that most of my HARO links are from queries I have answered within 12 hours.
But it doesn't mean you should not try to answer all the queries within the deadline, I just recommend you to answer as soon as possible if you can.
I don't know why it's like that, but many that are doing HARO for a long time will agree with me.
Practice #3: Keep It Short
Another important practice for HARO link building is to keep your answer short within 100-300 words maximum and position your response at the top of your email and then the rest.
Remember, most likely they are only looking for a quote from an expert. This quote will be part of their article, included within.
This means if you write a long response with 400 words, it will be hard to include your answer, plus they will have to read it and change it up a little to fit into the context, which means extra work for them.
Therefore, try to always keep your answer brief, on point, pack with full of value, and remove all the fluff. I know it can be a struggle, I sometimes send answers with 800+ words… It never got selected and I wasted like 1 hour…
Practice #4: Focus on Relevancy
The next practice I recommend you to follow is to focus on relevancy.
If you are focusing on the supply chain automobile industry, then answering journalist queries on marketing or SEO would not make much sense.
Not only the journalist would not find you legitimate and probably not link to you, but also getting links from completely different niches would not help your ranking.
Google is looking at the relevancy of the website and if the domain is ranking for completely different keywords you are not targeting and ranking, then it will not help you much.
On top of that, you might trigger the Google Spam Detector and they could take a manual action like further devalued your links.
Practice #5: Focus on Your Subject Line
And the last practice that is super important is to focus on your subject line.
Some may assume that journalist reads every HARO response that they receive, thus, the subject line is not important at all.
However, just like with email marketing, journalists will scan the subject lines of virtually every response they receive and will make the decision to open those responses based on the subject line alone.
Just think about it, if you would receive 50+ or even 100+ responses, would you read everything? Of course not, especially when you have a deadline to make.
Therefore, skipping on the subject line can cost you valuable backlinks and you should use some of the best practices to improve your email subject line.
Final Word
So this is my process and my tips to improve your HARO link building. Of course, as you will do it more, you will find that some things work better for you and some do not.
What's important is to keep testing, learning, and finding a different way to get journalists' attention.
Also, don't forget to measure your success!
Remember:
What gets measured gets improved

– Robin Sharma, Peter Ducker
Your goal should be at least one backlink per ten responses and go from there. I wish you good luck and if you have any questions, drop them on my YouTube Channel and I'll do my best to answer them!
Related Articles:
Also, check out our SEO hub page to find all our SEO resources.
Disclaimer
This article was created by Eduard Dziak and may contain affiliate links. The following were used to optimize the article for the best user and search engine experience include:
SE Ranking for keyword research and on-page SEO optimization
Surfer SEO for SEO-friendly content creation for users and search engines.
Jasper AI for grammar correction and information enhancement.
The article is based on the author's own experience and knowledge, drawn from both their own work and that of their clients, to provide the latest, proven methods.