Are you struggling to attract website traffic despite creating a wealth of content?
It's possible that you haven't invested in link building yet. One of the primary link building benefits is its ability to drive traffic to your website.
In addition to this, there are many other compelling reasons to prioritize link building in 2023, from dominating against AI content to its potential to grow your business.
To explore these benefits further, I've compiled a list of the top biggest 13 advantages of link building.
1. Brings You PageRank
Let's start with the main and number one benefit of link building and why most SEOs are doing link building in the first place and that's because it passes PageRank.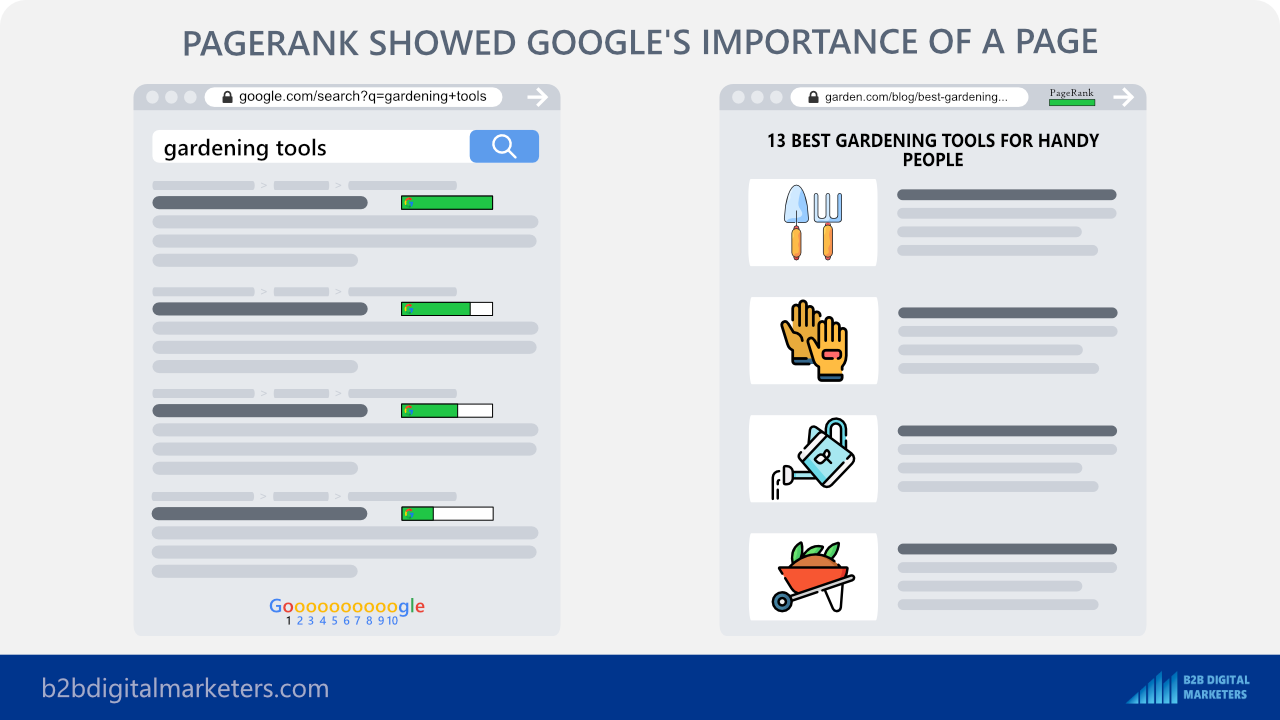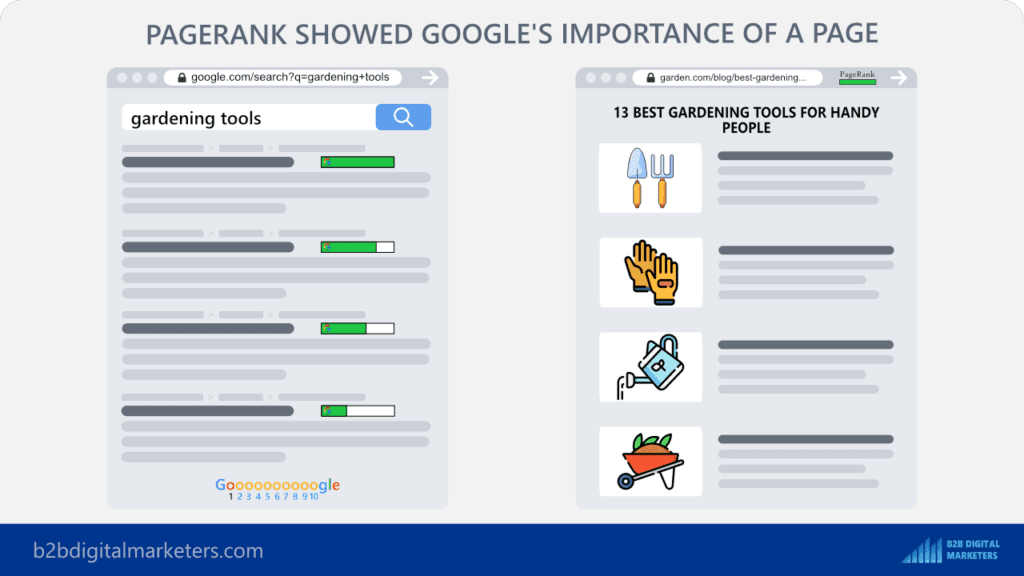 PageRank is a Google Ranking algorithm that is looking at the number and the quality of links incoming to your website and calculate the ranking score of your website.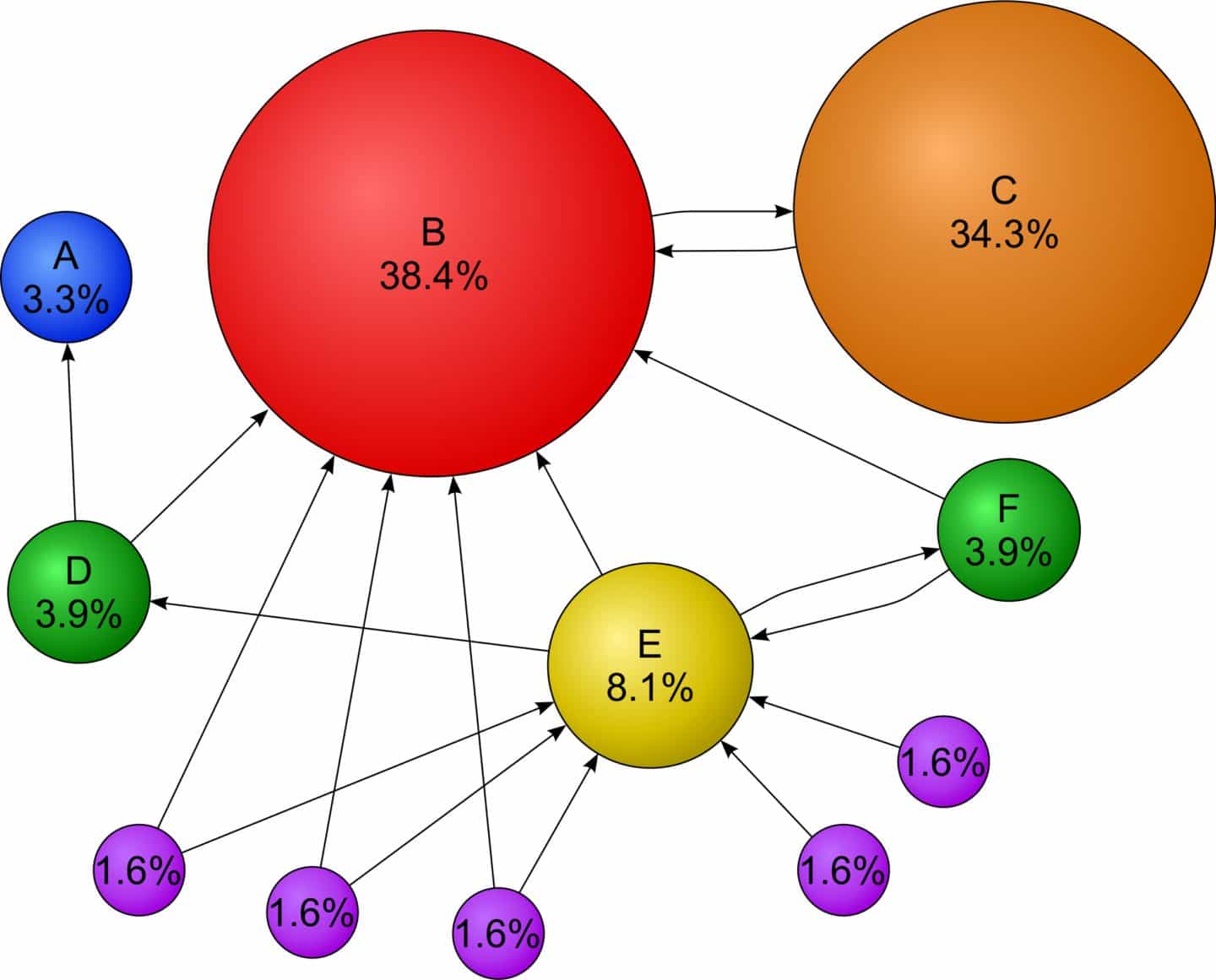 PageRank is also called Link Juice and the amount of link juice that you receive from a backlink is influenced by the authority of the page and domain that is linking to you. If a webpage with high PageRank is linking to your site, it can pass more link juice/PageRank to your site than a page with lower PageRank.
For example, Page A has a few but strong incoming backlinks to it, Page B has a lot of incoming backlinks but they are from weak or even spammy websites, and Page C has a mix of incoming backlinks from big and small websites. (Learn How to Find Backlinks).
Based on this, Page A would have more link juice/PageRank than Page B, but Page C has more PageRank than Page A.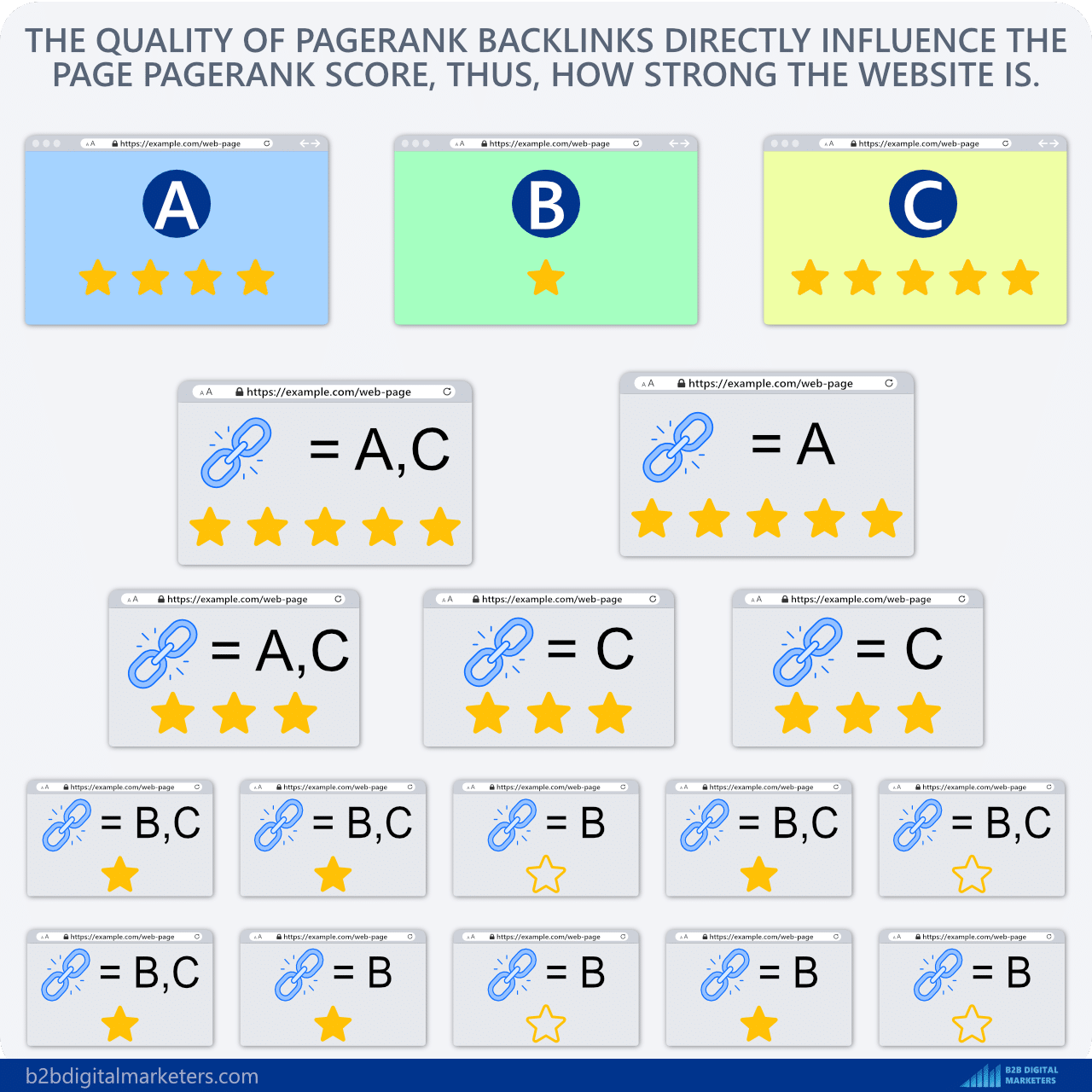 That's why in link building Quality is way more important than Quantity. Especially because Google and other search engines can penalize you for unnatural link building.
Yet, 56.2% of SEOs and link builders believe that link quality and quantity impact rankings.
And, having only authoritative websites linking to you can raise red flags as in natural settings, websites always have a mix of incoming spammy, low, medium, and high-quality backlinks.
But your goal should be to only build contextual backlinks and niche-relevant backlinks to your website as you will naturally gain any spammy and low-quality backlinks.
2. Boost Your Ranking in SERPs
The second on the list of link building benefits is that it boosts your ranking in SERPs for your target SEO keywords.
As said, PageRank is a Google Ranking algorithm. In fact, PageRanks or Backlinks are considered the second most important ranking algorithm, the first is content on a website, and the third is RankBrain.
This is according to Greg Corrado and Andrey Lipattsev, both employees at Google.
And surveys show that 67.5% of SEOs believe that backlinks have a major impact on search engine rankings.
Therefore, with link building, link builders and SEOs are trying to improve the ranking of their pages in SERPs by getting the link juice to their pages and spreading it across their sites with internal links.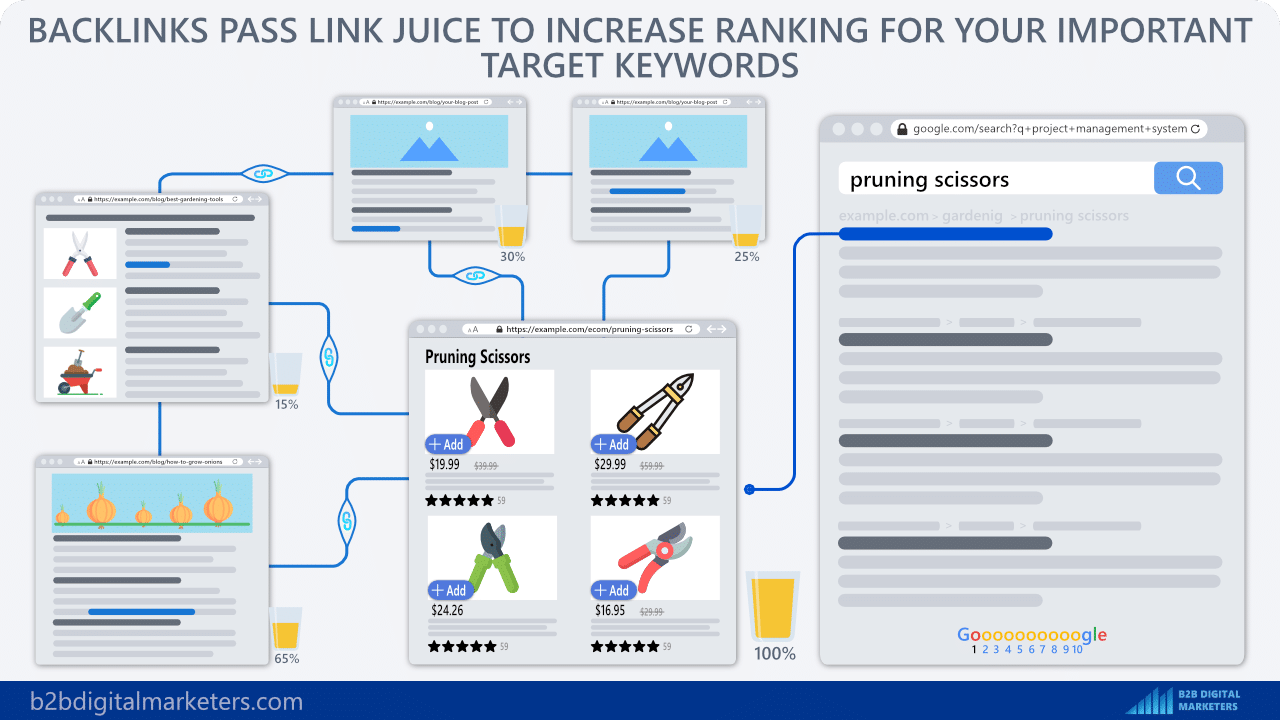 The benefits of internal links are very similar to backlinks benefits as both pass the PageRank/Link Juice across web pages resulting in boosting your rankings in SERPs.
3. Improve Understanding What's Your Page About
Another link building benefit is that it improves the understanding of what's your page about.
How well search engines understand your pages directly influences what keywords your pages are ranking for. If Google does not understand your page properly, it will rank you for fewer keywords as well as less relevant keywords which results in smaller website traffic.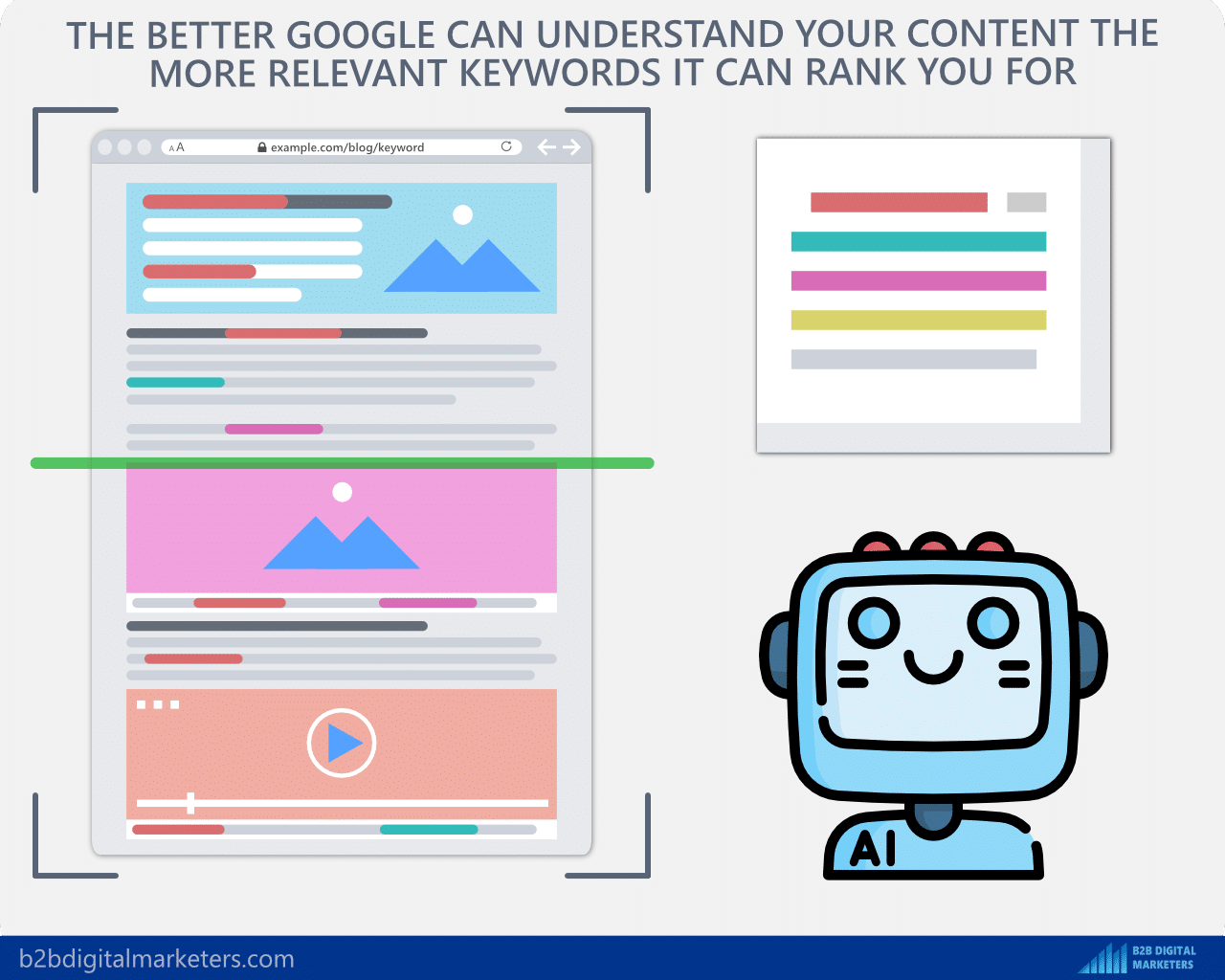 So how does link building improves Google and other search engines' understanding of your web pages?
This is achieved through anchor text, also known as link text, which is the clickable text that appears as a hyperlink. When a link is created with specific anchor text, the search engines analyze the words within the anchor text to gain a better understanding of the content on the linked page.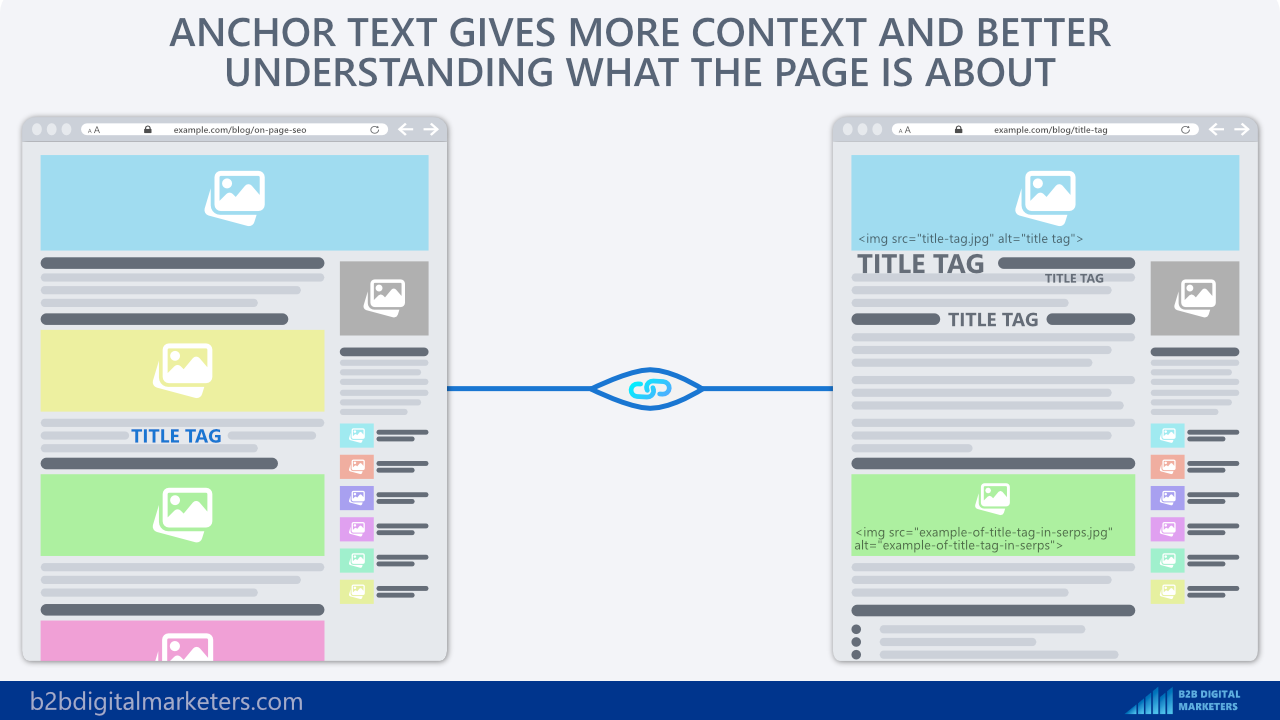 The anchor text can signal to the search engines the relevance of the linked page to certain keywords and topics, helping the search engines to categorize and rank the page appropriately in their index.
And this was also approved by John Mueller.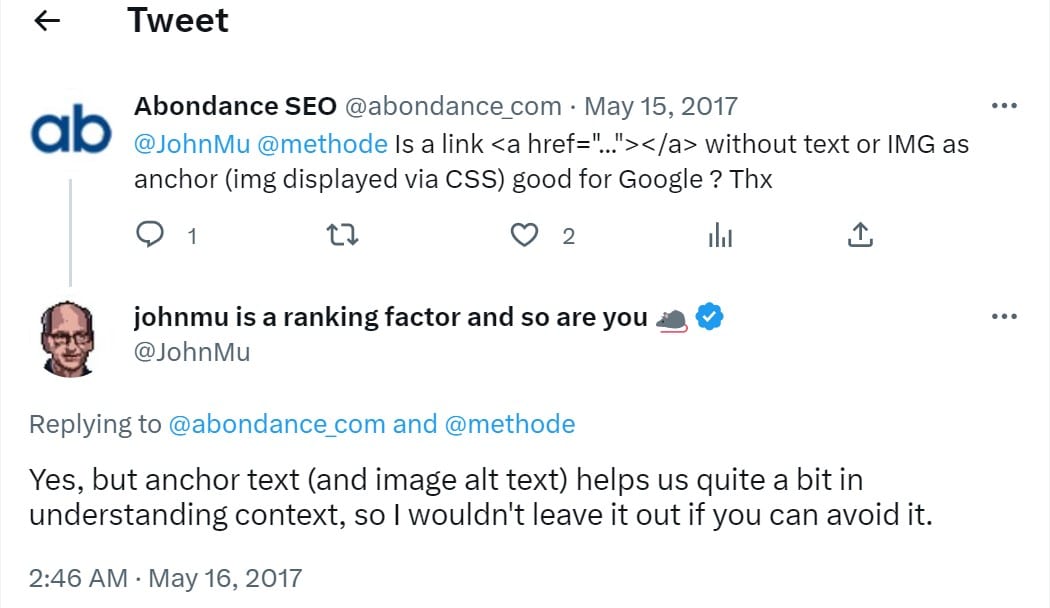 That's why you could probably see that many amateur SEOs and link builders are trying to get as many exact anchors text as possible to improve ranking of their primary keywords which is a huge SEO mistake.
For example, if their primary keyword is "best gaming laptops" then they would try to get as many backlinks with the anchor text "best gaming laptops".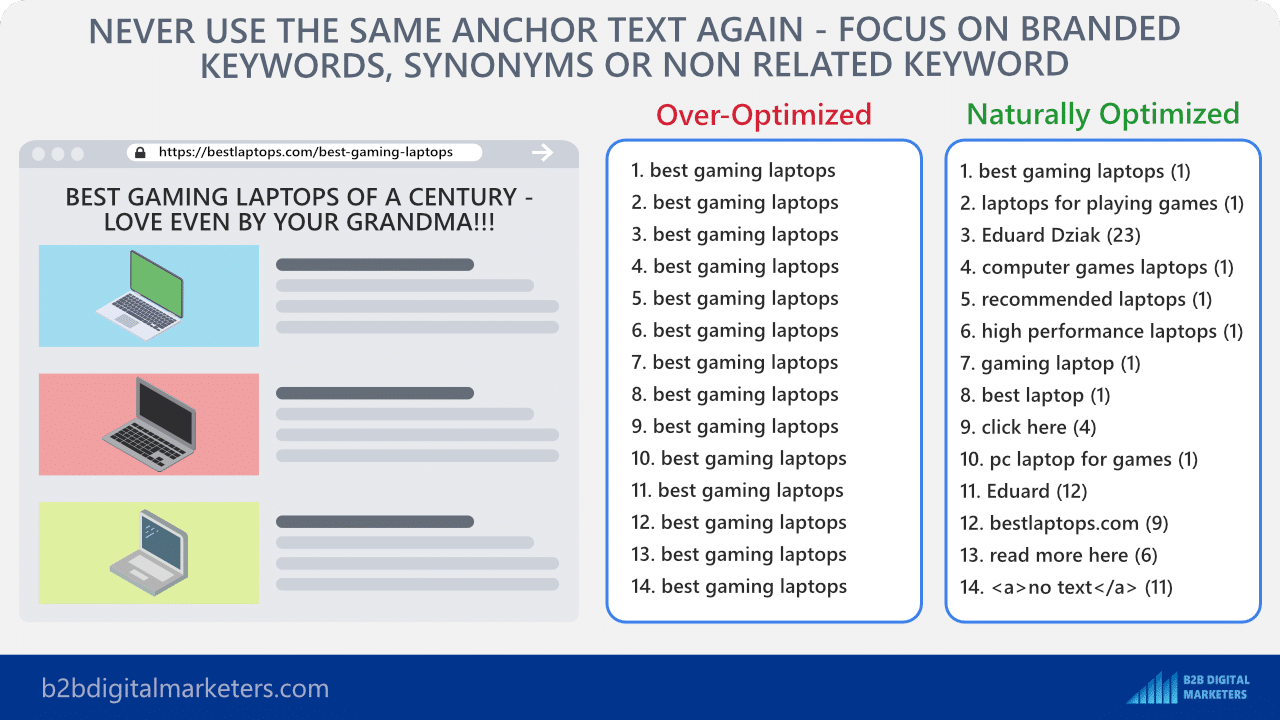 However, building many exact-match keywords is the fastest way to get penalized!
Therefore, you should follow a natural pattern of anchor text when you are building backlinks.
Here is my recommended anchor text ratio for each of your pages: you should aim to have only 10% of your anchor texts as an exact match keyword. And, it is important to note that you should never repeat the same anchor text twice.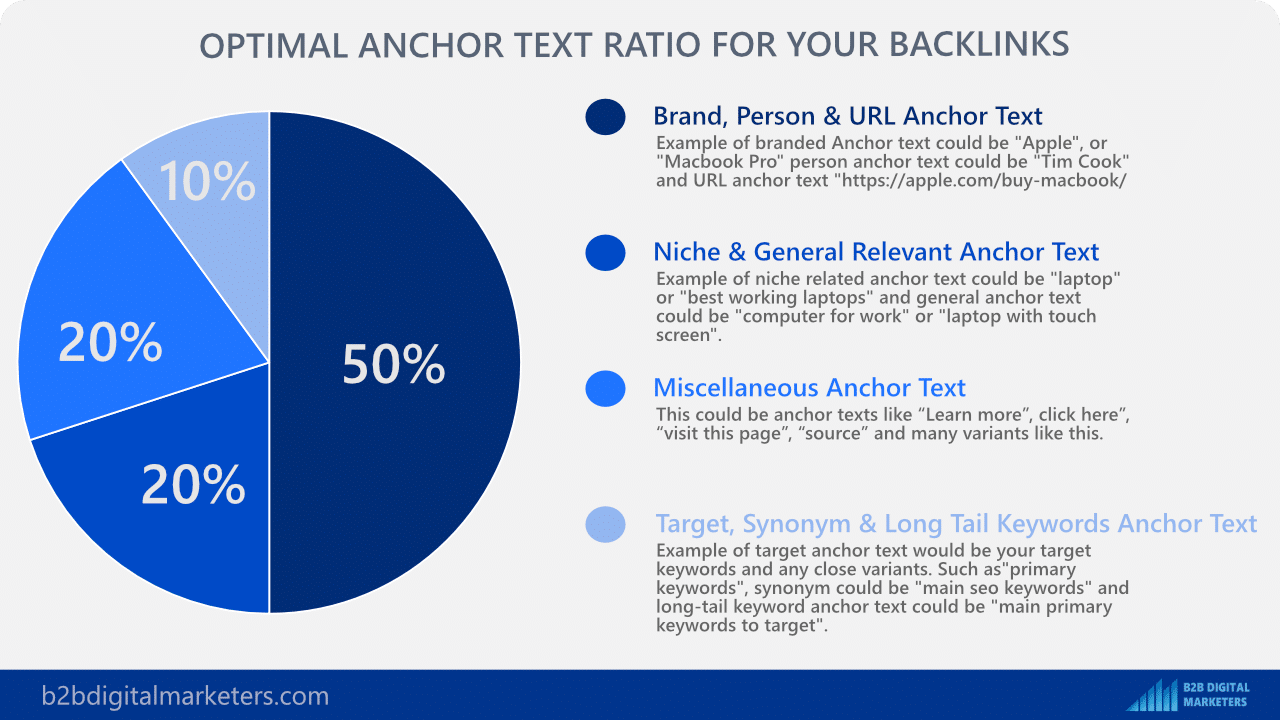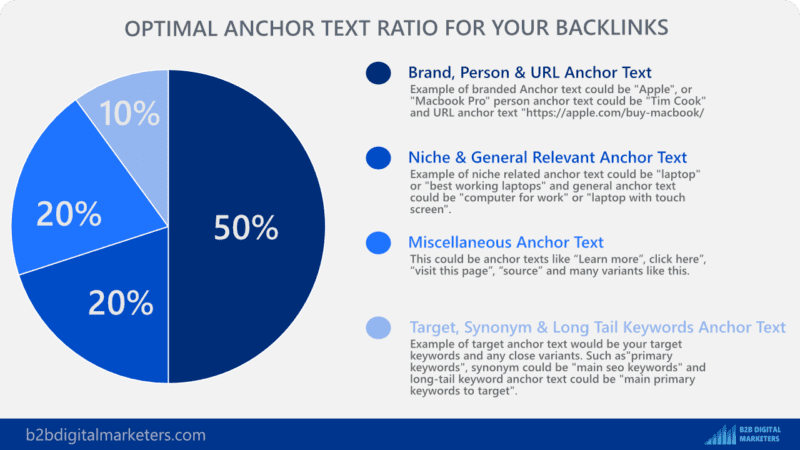 4. Better & Increased Crawlability
The next link building benefit is it provides better crawlability for your website.
Links are the #1 way how Google discovers new pages and discover the wide world of the internet. You can think of links as pathways used by search engines' bot crawlers.
Therefore, every time you gain a new backlink when you are doing link building, you are increasing the number of pathways leading to your website resulting in better and increased crawling frequency of your web pages.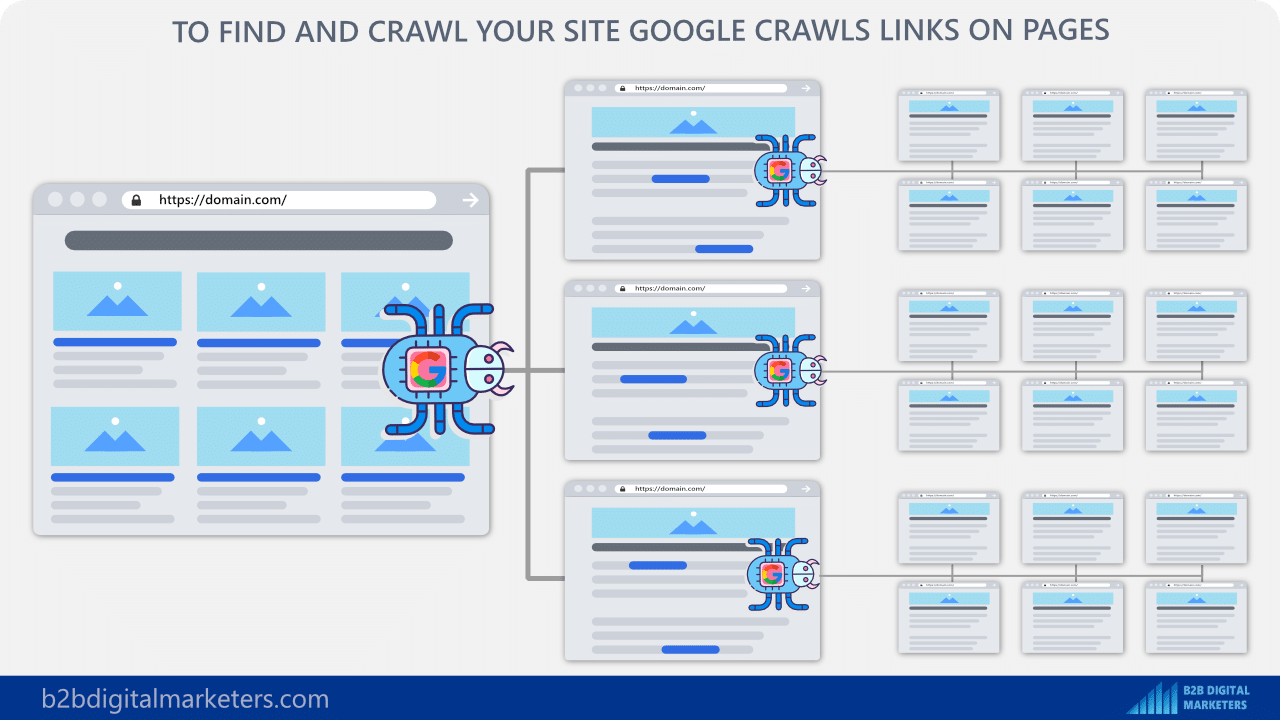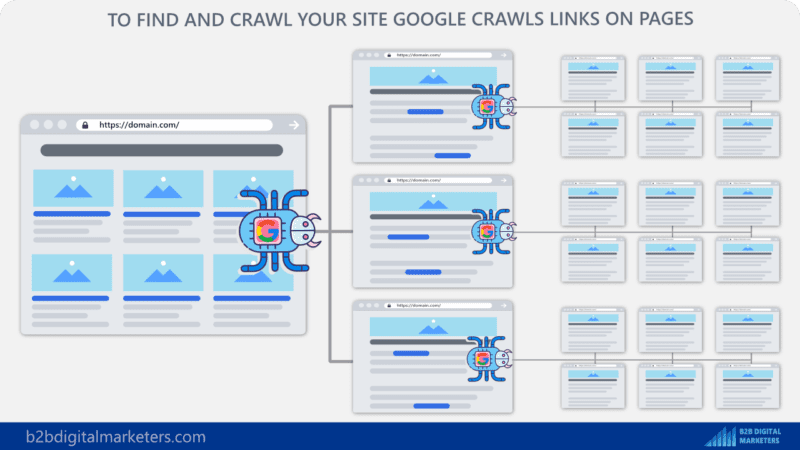 To see, what pages Google crawls and indexes, how often, and how many pages they crawl, you can go to the Google Search Console -> Pages -> View data about indexed pages.
Here you can see how many pages Google crawls every single day as well as all your indexed pages. For example, I can see that Google usually crawls between 4-10 pages a day on my website. I have around 200 pages on my website, which means, it can take Google around 30 days to crawl and recrawl all my pages, and on average I add 2 new pages every week.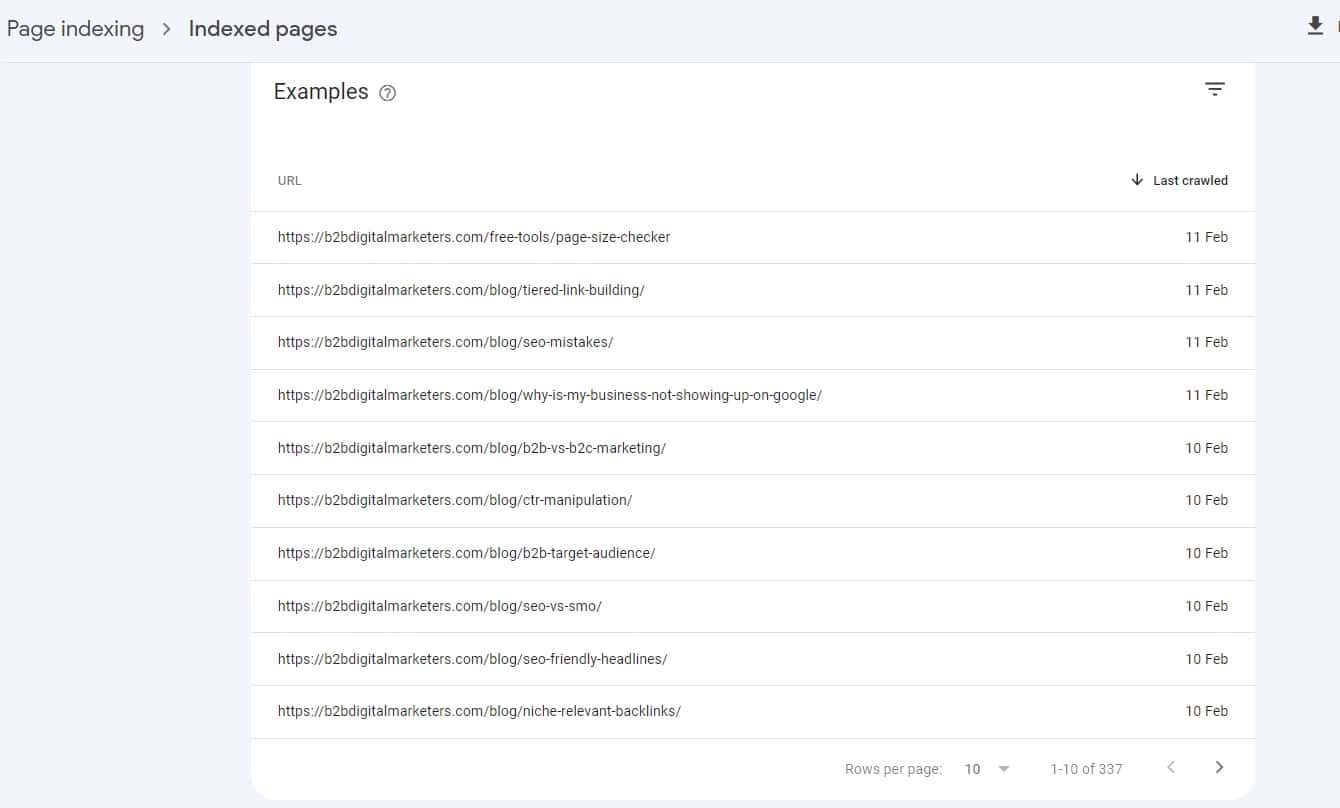 I also recommend checking the "Crawled – currently, not indexed" report as it can show you which pages have not been indexed.
Usually, those pages might use some extra love whether by getting backlinks to these pages or internal links.
5. Higher Discoverability
Link building can greatly enhance the discoverability of your website making it easier for potential customers, partners, and collaborators to find you.
Link building helps you to build a strong online presence enabling you to be easier found on the internet be it because you are ranking higher in search or through the backlink as a referral traffic.
Backlinks are playing a vital part to be discovered on the internet by both search engines as explained so by people as well.
6. Increase Credibility & Reputation
Since AI is improving and the internet is becoming flooded with AI-generated content, the credibility and reputation of your website and yourself will play a major role in ranking on top of the SERPs.
Until recently, Google was focusing on devaluating and moving away from the importance of backlinks, because it was one of the best ways how SEOs and webmasters could "cheat" the Google ranking algorithm.
And Google has been saying for a while that backlinks are becoming less and less important in the ranking algorithm.
But since marketers have flooded the internet with AI-generated content, Google has shifted its focus from the importance of high-quality content to the credibility of the content producers.
This change was introduced through a major update to Google's quality rater guidelines, called E-E-A-T (Experience, Expertise, Authoritativeness, Trustworthiness).
Now, Google places significant emphasis on the experience and expertise of the author and the credibility of the website or brand publishing the content.
And backlinks are one of the big signals indicating a brand's or author's reputation, credibility, experience, and expertise.
Thus, backlinks will become even more important as now, it's much easier to manipulate the ranking algorithm with AI content than with link building.
Therefore, link building will become even more important in the upcoming years as everybody can generate tens or even hundreds of pages with AI and combined with programmatic SEO, this will even amplify content generation at scale.
And one of the link building benefits is that it improves your authority and credibility for both your website and authors.
7. Increase Sales & Lead Generation
Another great benefit of link building is that it directly influences your SEO sales and SEO lead generation.
By building quality links to your website, you can improve the ranking of your crucial money pages, whether you operate in B2B, B2C, SaaS, or affiliate marketing.
This is achieved by distributing "link juice" to your key product, service, or revenue-generating pages, which can result in improved search engine rankings and increased website traffic to those pages.
By doing so, you can effectively drive more organic traffic to your website, increasing your chances of generating leads and/or sales from your SEO strategy.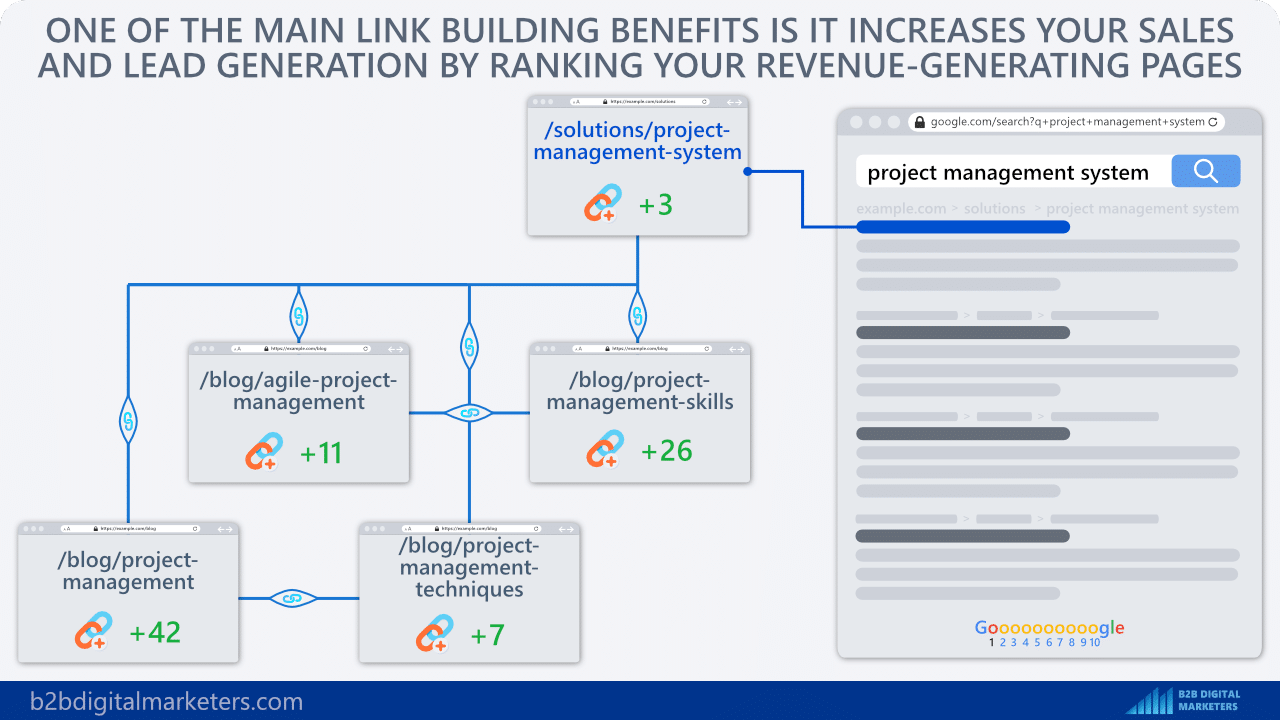 Another way how link building improves your B2C or B2B sales and lead generation in SEO is by driving referral traffic from relevant websites.
For example, if you are selling "Electric Push Lawn Mowers", then by doing resource link building you can get on the list of best electric push lawn mowers such as this one.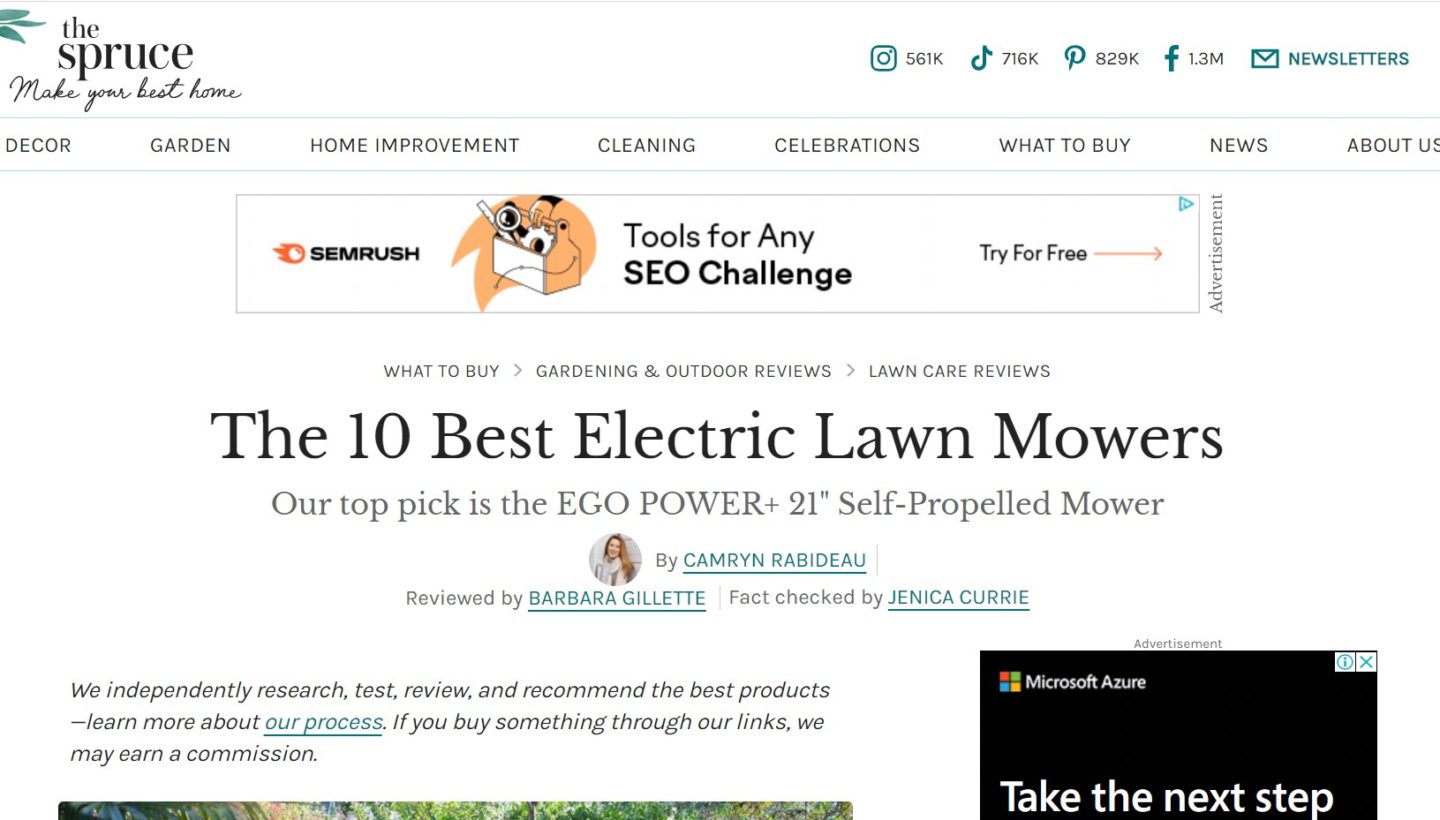 Or if you are providing accounting services in Michigan, then you would want to be listed on the list of best accounting firms in Michigan, etc.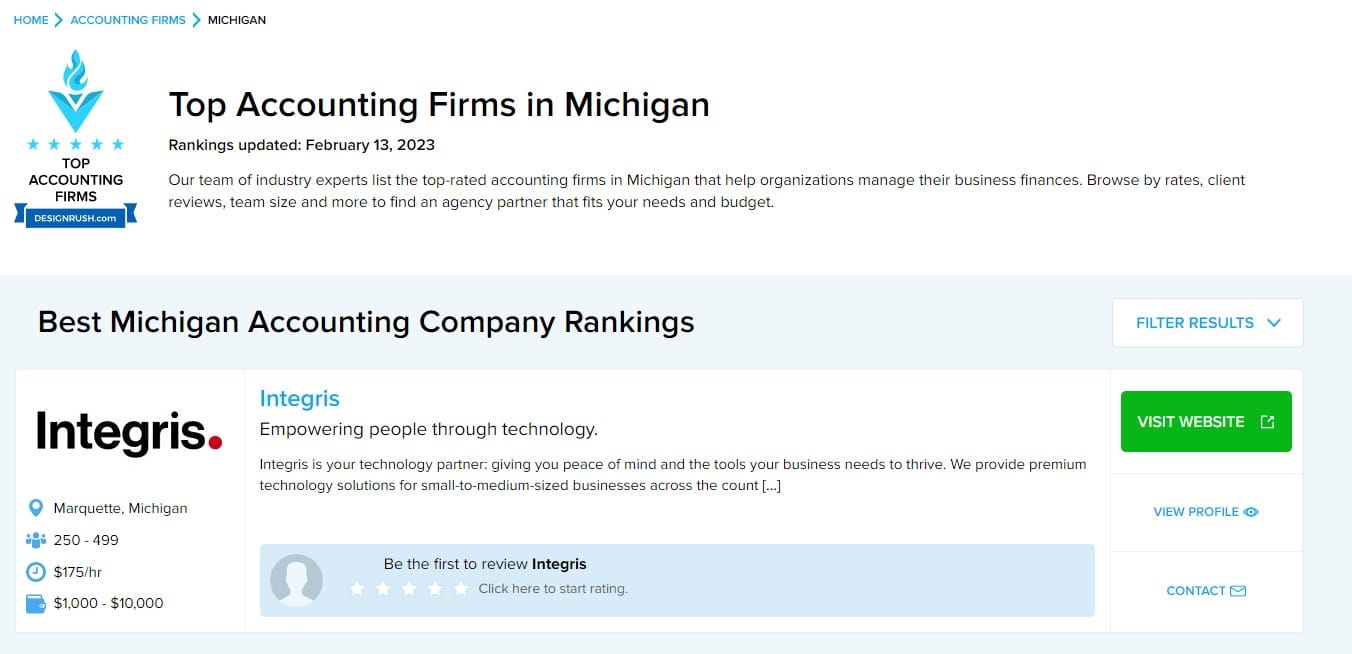 Articles like these are proven to be extremely effective in lead generation or bringing sales for your business and with effective blogger outreach your product can appear on lists like these if you are unable to rank your resource page for such keywords.
And of course, link building allows you to rank for more keywords and higher in search pages resulting in more organic traffic which can also contribute to bringing more sales or leads from your website.
8. Boost Authority
One of the main reasons why websites are ranking for one of the most competitive keywords is because of the website authority they have which is mainly built by the number and the quality of backlinks pointing to the website.
As John Mueller said:
"We try to understand what is relevant for a website, how much should we weigh these individual links, and the total number of links doesn't matter at all. Because you could go off and create millions of links across millions of websites if you wanted to, and we could just ignore them all."
And by doing link building you will be able to boost your website authority, so you can rank for more competitive keywords in your niche or industry.
Now, it used to be that you could measure your website authority with Google Page Rank, but since 2016 when Google discontinued it, SEOs relied on third-party metrics developed by SEO tools such as from SE Ranking called "Domain Trust".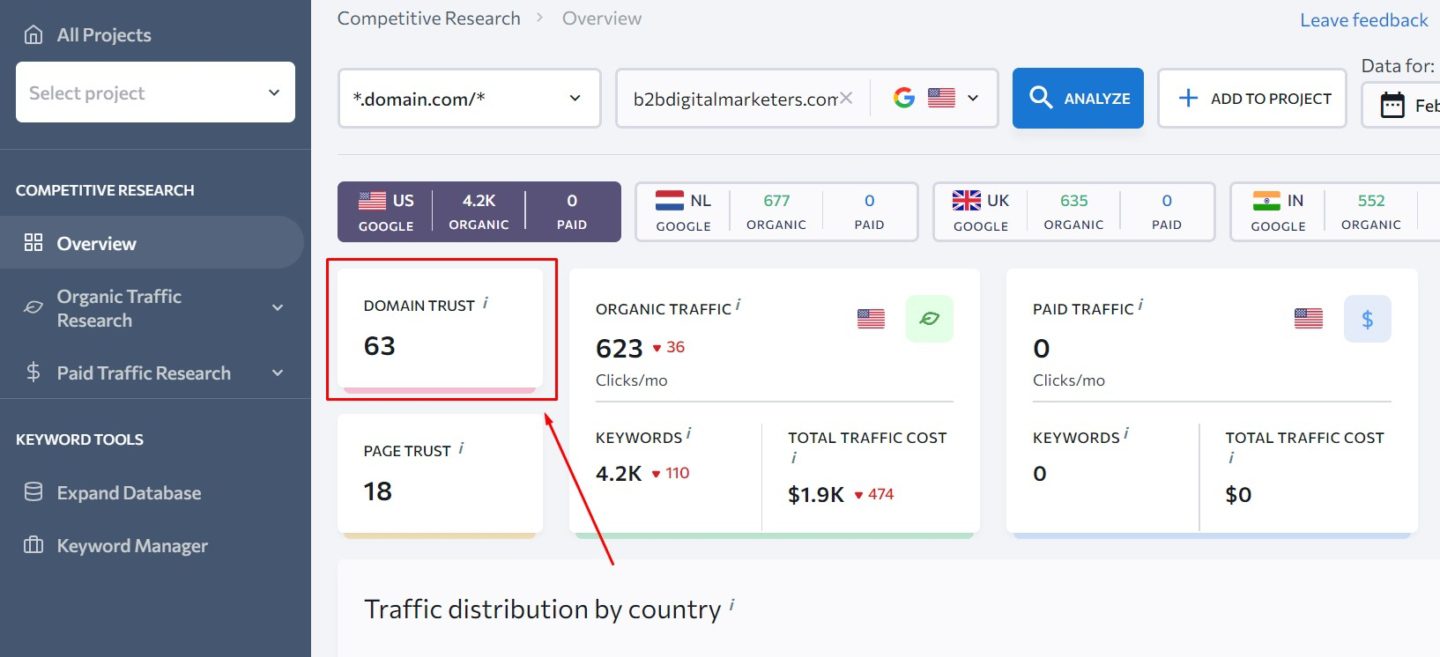 Needless to say, they work on similar principles, in fact, Websites with a higher Ahrefs/Moz/SEMrush/SE Ranking Domain Rating correlate with higher rankings on the first page of Google. (Backlinko)
SEO metrics like these help SEOs and webmasters to track their website performance and growth of website authority as well as the SEO impact of every link they built.
With SE Ranking Backlink Checker, you can check your backlink profile to see how many referring domains and backlinks you have as well as how many Edu backlinks and Gov backlinks you have.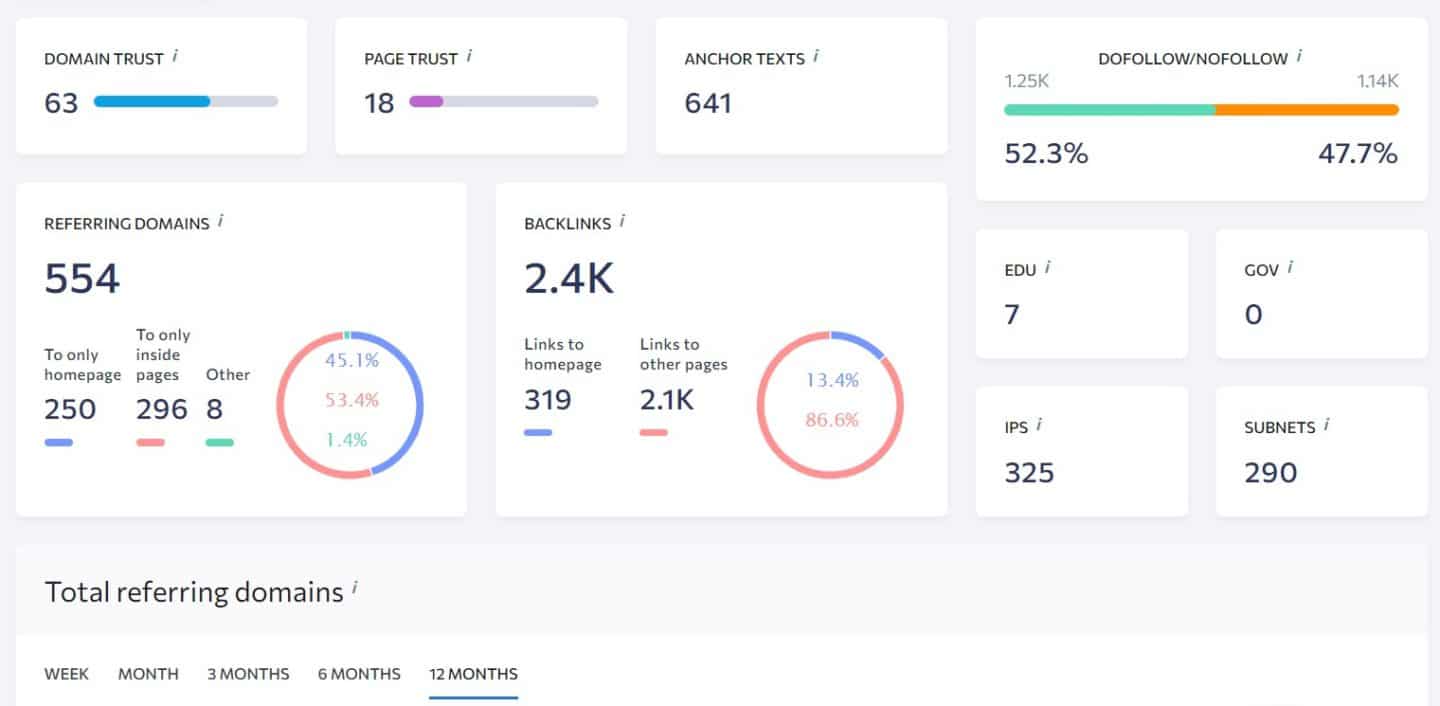 You can also check your anchor text which allows you to optimize your link building strategy for the best possible results.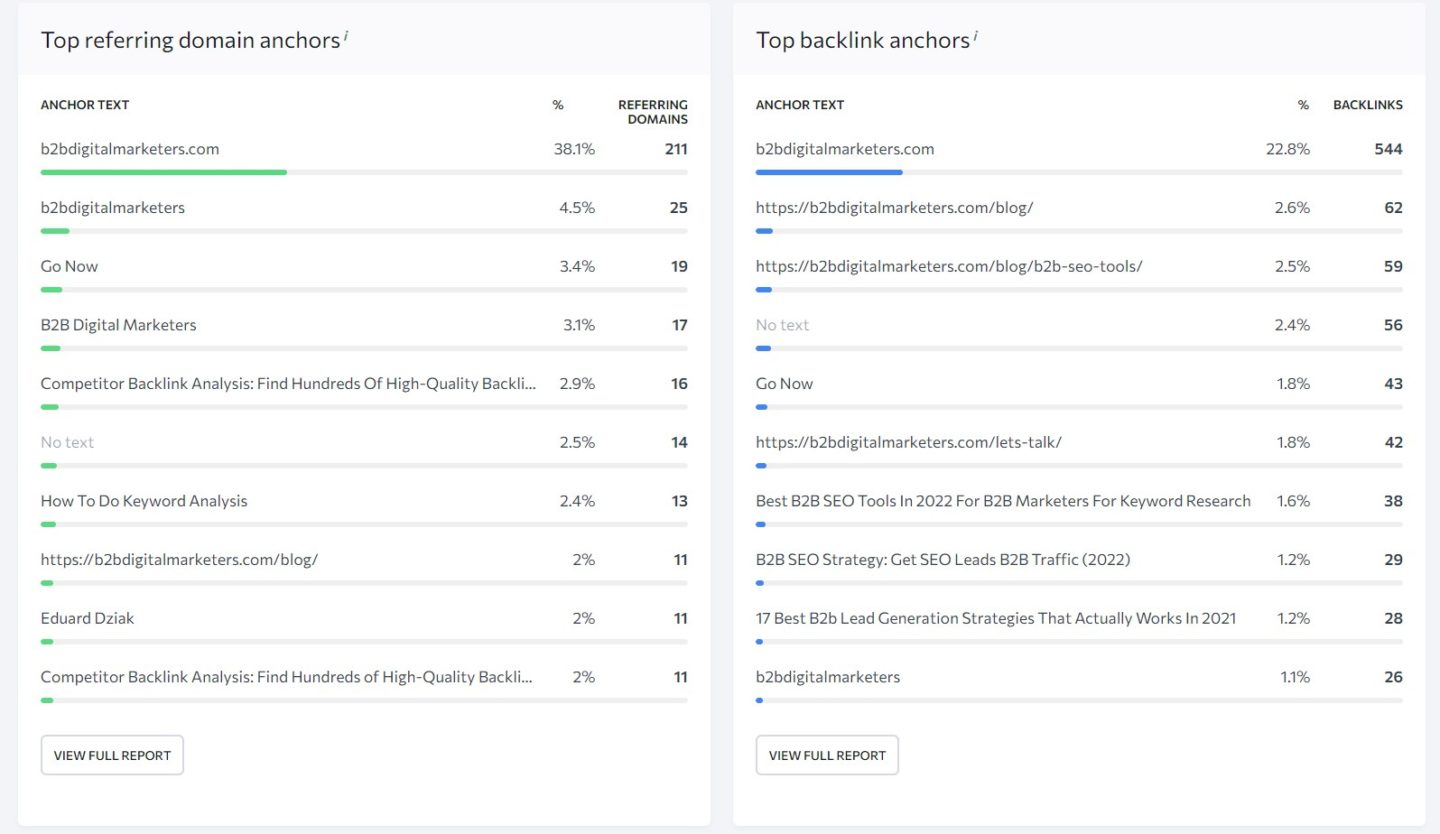 With that being said, one of the main benefits of link building is that it boosts your website authority as well as your persona brand or brand authority as well.
9. Increase Brand Awareness
The next on the list of link building benefits is that it helps you to increase your brand awareness. In fact, 85% of SEOs and marketers believe that link building has a big impact on brand authority and brand building
According to Internet Live Stats, there are more than 8.5 billion searches a day and some of those users are looking for your products, services, or information related to your industry.
And while it's hard to achieve success such as HubSpot has with 50+ million organic traffic a month according to SE Ranking.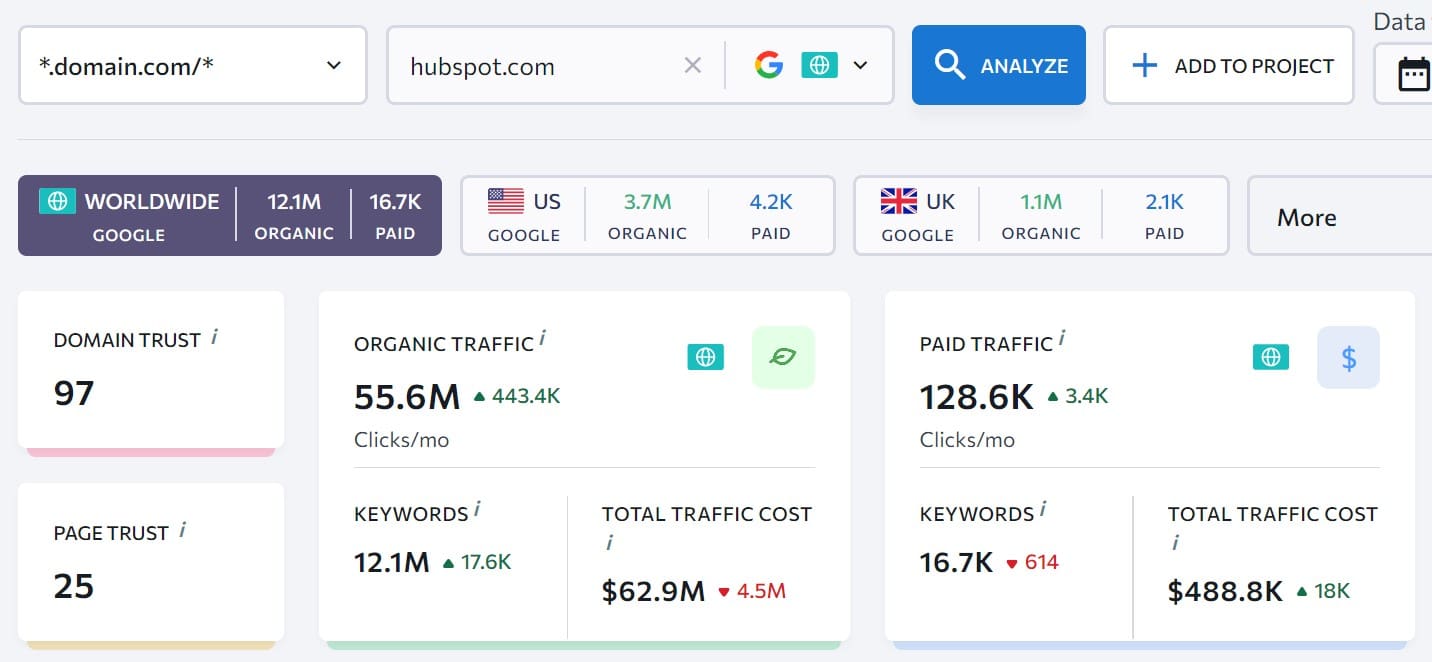 Or NerdWallet with 70+ million users every month.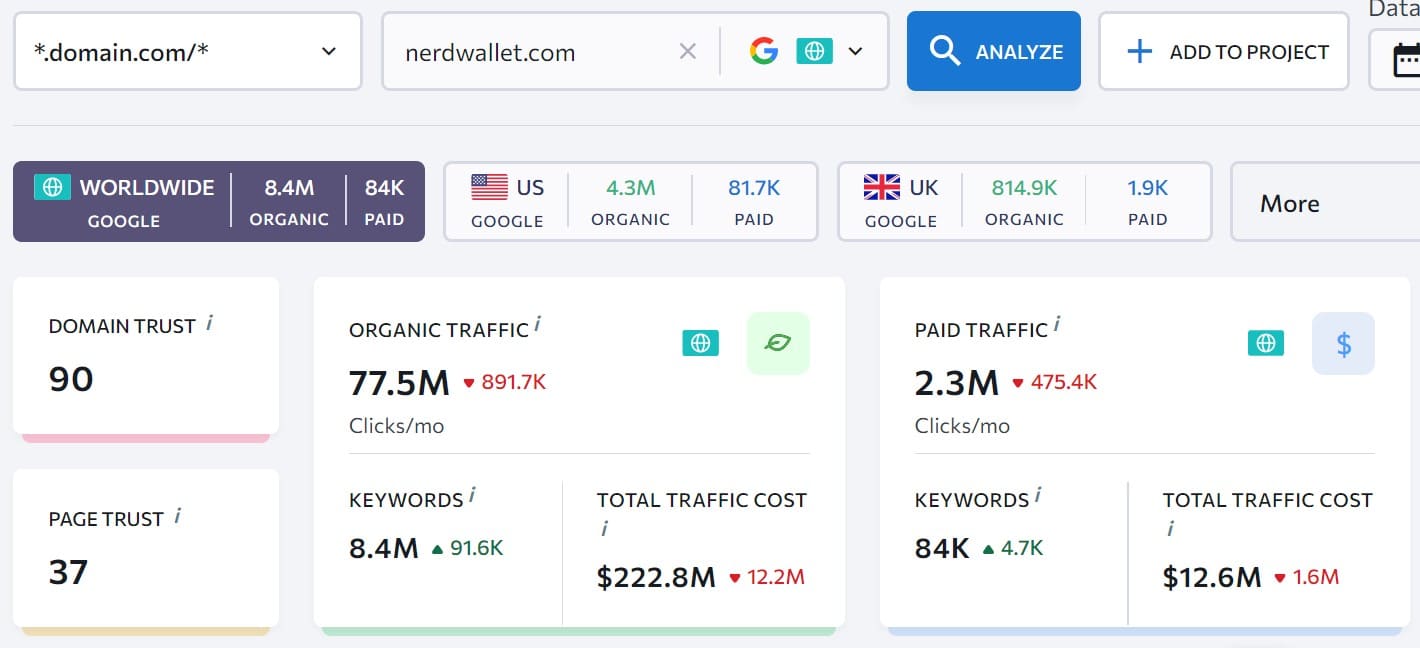 However, you can still achieve 10,000s-100,000s monthly organic traffic if you develop a proper SEO content strategy together with the right link building plan.
And this will result in massive brand awareness for your brand, products, and/or services.
Just ask any random marketer or salesperson if they ever heard about HubSpot, the chances are he/she did.
Thanks to link building you can improve authority, get more PageRank, improved ranking and ranking for more long-tail keywords, body keywords and head keywords, informational keywords, transactional keywords, and commercial keywords, and you will be able to drive higher organic traffic via search pages resulting in higher brand awareness.
10. Brings Referral Traffic
The next link building benefit is that it brings referral traffic to your website.
Doing link building the right way and on bigger websites, you will also drive relevant referral traffic to your website which results in higher brand awareness and a possible increase in revenue.
Referral traffic is also important for SEO. When somebody uses a link to visit your web page and go through your website and content, this sends a positive signal to the Google algorithm based on positive engagement metrics.
That's why it's so important to build only backlinks on relevant sites, so they don't just click and leave as that would send a negative signal to Google.
Referral traffic can also be powerful in terms of lead generation. For example, Brain Dean used guest posting to drive more email subscribers.
Or as I said, about appearing on high commercial intent keyword pages, you can drive sales or leads for your business.
11. Increase Website Traffic
As I already showed, another link building benefit is that it can drive you a ton of website traffic, whether be it thanks to referral traffic or increased ranking and keywords in SERPs.
According to research, 91% of all pages on the internet get zero organic traffic, mostly because they have zero backlinks pointing to their content.
Some of the largest websites can drive hundreds of millions of clicks every month to their website such as Britannica.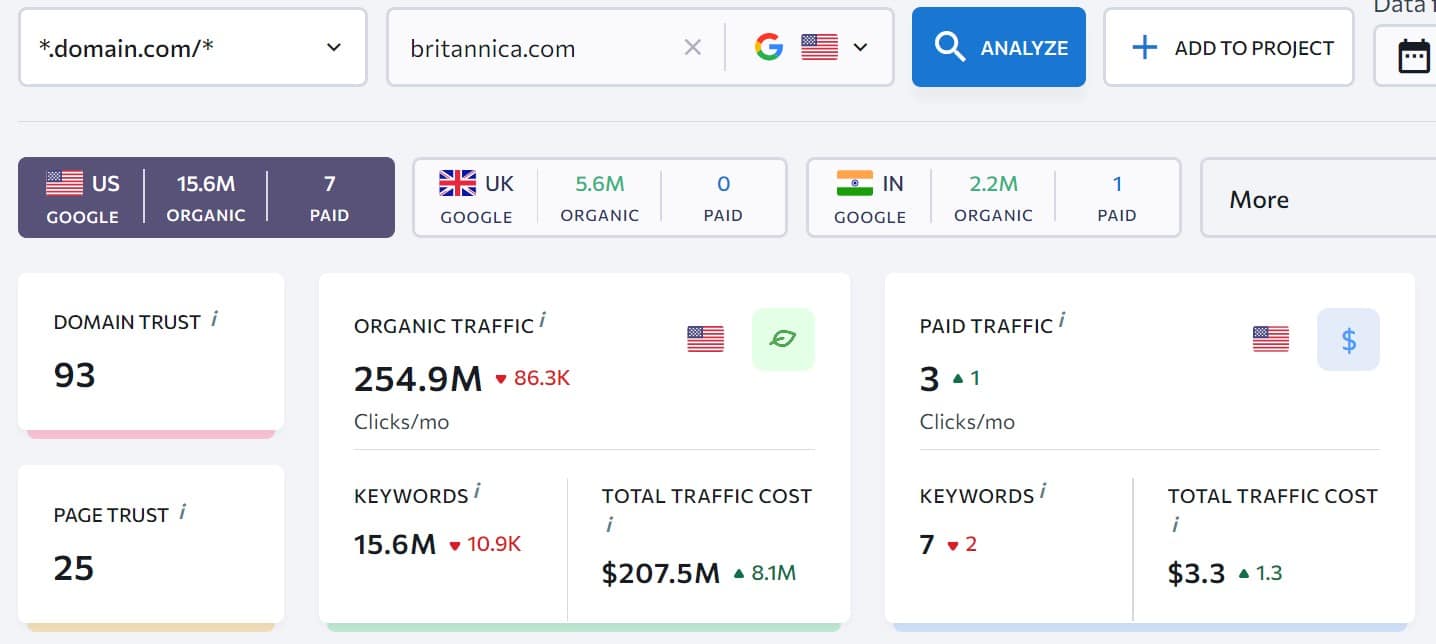 Or even if you are a local brand and driving a few thousand visitors every month it can make a huge difference in your bottom line.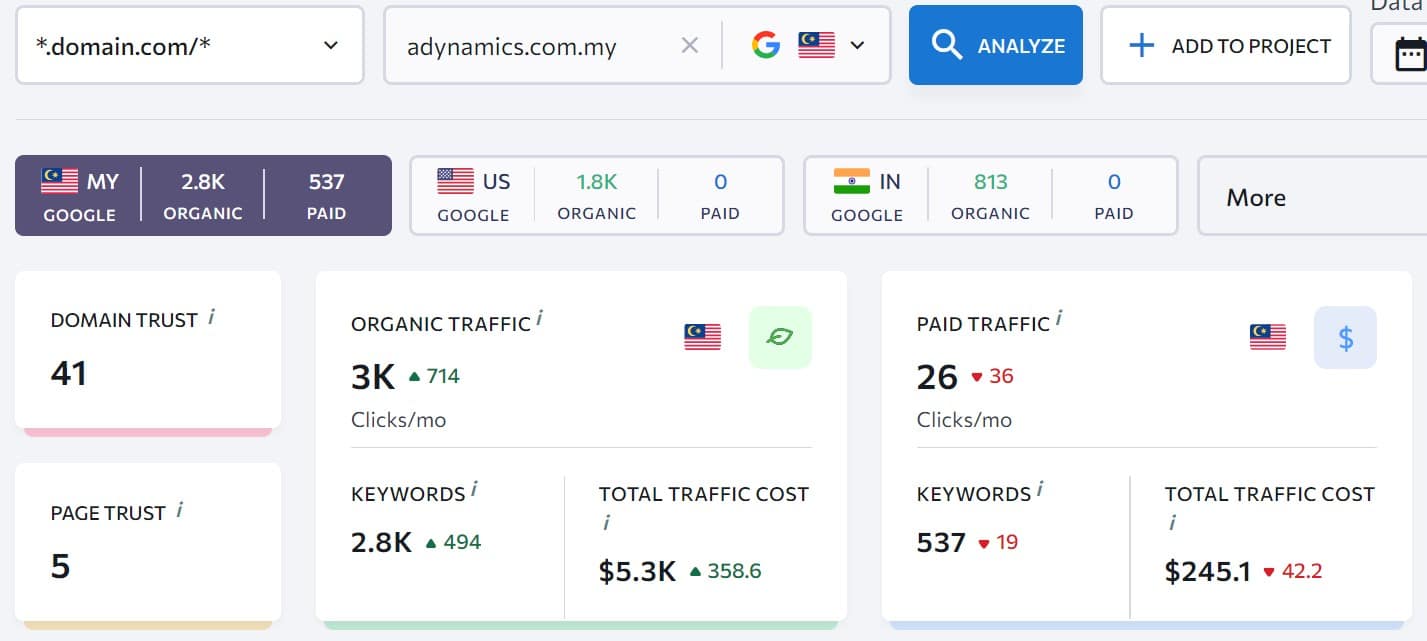 A customer of mine is bringing roughly 3,000 monthly organic traffic and is generating millions in sales opportunities every year just from that small traffic.
So, while, one of the main link building and SEO benefits is increased website traffic, it's important to ensure that the website traffic the keywords and referral traffic brings is relevant and can bring potential customers to your business.
Because remember, only website traffic doesn't pay the bills!
12. Brings Networking Opportunities
Another great benefit of link building is that it brings you networking opportunities to grow your brand and your personal brand.
As said:
"Your network is your net worth."
And proper link building is all about networking, making connections, putting your needs ahead of others, and creating more opportunities for yourself and others.
Link building is all about connecting with the right people in your industry, who can provide valuable insights, advice, and even business opportunities.
By building relationships with other websites, bloggers, and influencers in your industry, you can establish yourself as a trusted and respected member of your community, and potentially open doors for collaborations, partnerships, and other mutually beneficial arrangements.
In this way, link building can help you not only improve your website's search engine rankings and traffic but also expand your professional network and increase your overall net worth.
Unfortunately, the current link building state is all about selfish ways of link builders asking for something without offering something back.
So, my advice, if you want to be successful at link building, is:
"Always offer twice more value than you are asking for."
Like this, I guarantee you will become successful at link building or anything.
13. Long-Term Benefits
And the last link building benefit is it bring long-term benefits.
Link building is a strategy that requires patience and long-term thinking, as it may not yield immediate results. This aspect of link building can be both an advantage and a disadvantage.
Typically, it can take anywhere from 6 to 12 months for the results of your link building efforts to become apparent, and in some cases, it may take even longer due to various factors.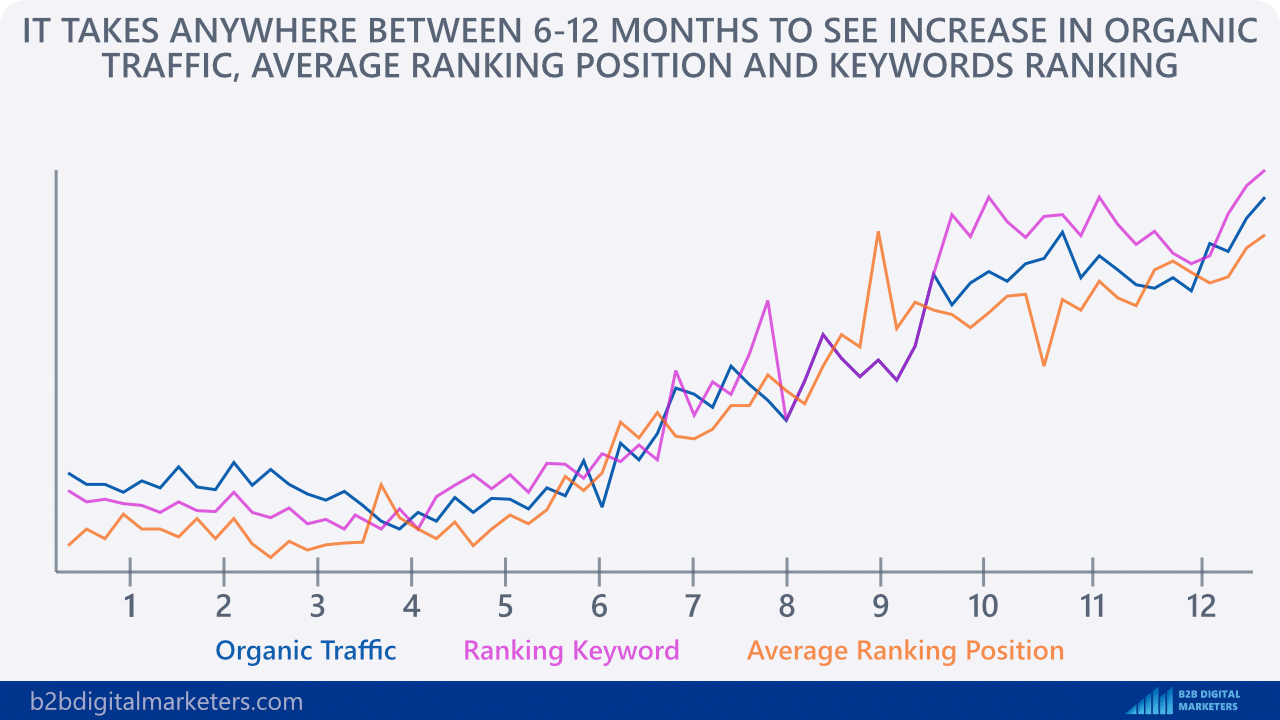 And as the competition is getting higher, the results may show up even later.
Needless to say, the long-term benefits of link building are significant and can include improved search engine rankings, increased website traffic, brand visibility and awareness, and the establishment of your website as a credible source in your industry.
While the results of link building may not be immediate, the time and effort invested in the link building strategy can lead to long-lasting and sustainable benefits for your website and brand.
Best Link Building Strategies
With all that being said, link building is an essential part of off-page SEO and your B2B SEO or B2C SEO strategy and it can bring numerous benefits to your website.
In order to take advantage of these benefits, it's important to implement the right link building strategies. Here are some of the best link building strategies you can use:
These are just a few of the link building strategies you can use to improve your website's search engine visibility and attract more organic traffic. By implementing these strategies and combining them with other SEO best practices and SEO techniques, you can achieve great results and see significant benefits for your website.
Cost of Link Building
Link building is a crucial aspect of SEO which helps websites improve their ranking on search engines and attract more organic traffic. From my experience, the cost of link building can vary widely depending on the quality and authority of the links you are trying to acquire.
For most of my clients, the average cost of link building is between $1,000 and $5,000 per month and the average cost per highly relevant contextual link is somewhere around $500.
This correlates with other research done as according to them most companies spend between $1,000 and $15,000+ on link building each month and the cost per link can range from $300 to $2,000 or more.
And nearly half of all SEOs spend $10,000 or more annually on link building, which shows how important this activity is for improving search engine visibility. However, with increasing competition, 41% of SEOs believe that the cost to acquire new backlinks will increase further in the future.
In conclusion, the cost of link building can be substantial, but it is an investment that can pay off in the long run by improving your website's visibility and attracting more organic traffic. Whether you're looking to acquire high-authority or lower-quality links, it's important to work with a reliable and experienced agency or consultant who can help you achieve your goals within your budget.
FAQs for Link Building Benefits
What is link building?
2023-02-14T22:30:18+08:00
Link building is the process of acquiring backlinks to a website from other websites in order to improve its search engine visibility and ranking. Backlinks are considered "votes of confidence" for a website and help search engines determine the authority and credibility of a website. Link building is a crucial part of any SEO strategy and can help a website attract more organic traffic from search engines.
Why is link building important for SEO?
2023-02-14T22:29:33+08:00
Link building is important for SEO because it helps search engines determine the credibility, authority, and popularity of a website. Backlinks are considered "votes of confidence" and the more high-quality backlinks a website has, the more likely it is to rank higher in search engine results in pages. Link building can also help attract more organic traffic to a website and increase its visibility. By implementing a comprehensive link building strategy, businesses can improve their search engine visibility and attract more organic traffic, ultimately leading to increased website traffic and revenue.
What is Backlink?
2023-02-14T22:29:11+08:00
A backlink, also known as an "inbound link" or "incoming link," is a link from one website to another. Backlinks are important for SEO because they help search engines understand the popularity and authority of a website. The more high-quality backlinks a website has, the higher it is likely to rank in search engine results pages. Backlinks are considered "votes of confidence" for a website and can also help attract more organic traffic from search engines.
Final Words to Link Building Benefits
Link building is a vital aspect of any off-page SEO strategy that can bring numerous benefits to a website. By acquiring high-quality backlinks, businesses can improve their search engine visibility and attract more organic traffic. This, in turn, can result in increased website traffic and revenue and link building and is the essential part of SEO pyramid.
So, what's the key to unlocking these benefits? It's simple – implementing the right link building strategies and combining them with other SEO best practices. Whether you're a B2B or B2C business, link building is an essential part of your SEO strategy and can help you achieve your marketing goals.
Now, I know what you're thinking – link building sounds like a lot of work. But trust me, with the right approach and a little patience, you can reap the rewards of a successful link building campaign. So, why not give it a shot and see what a difference it can make for your website?
Related Articles:
Also, check out our SEO hub page to find all our SEO resources.
Disclaimer
This article was created by Eduard Dziak and may contain affiliate links. The following were used to optimize the article for the best user and search engine experience include:
SE Ranking for keyword research and on-page SEO optimization
Surfer SEO for SEO-friendly content creation for users and search engines.
Jasper AI for grammar correction and information enhancement.
The article is based on the author's own experience and knowledge, drawn from both their own work and that of their clients, to provide the latest, proven methods.