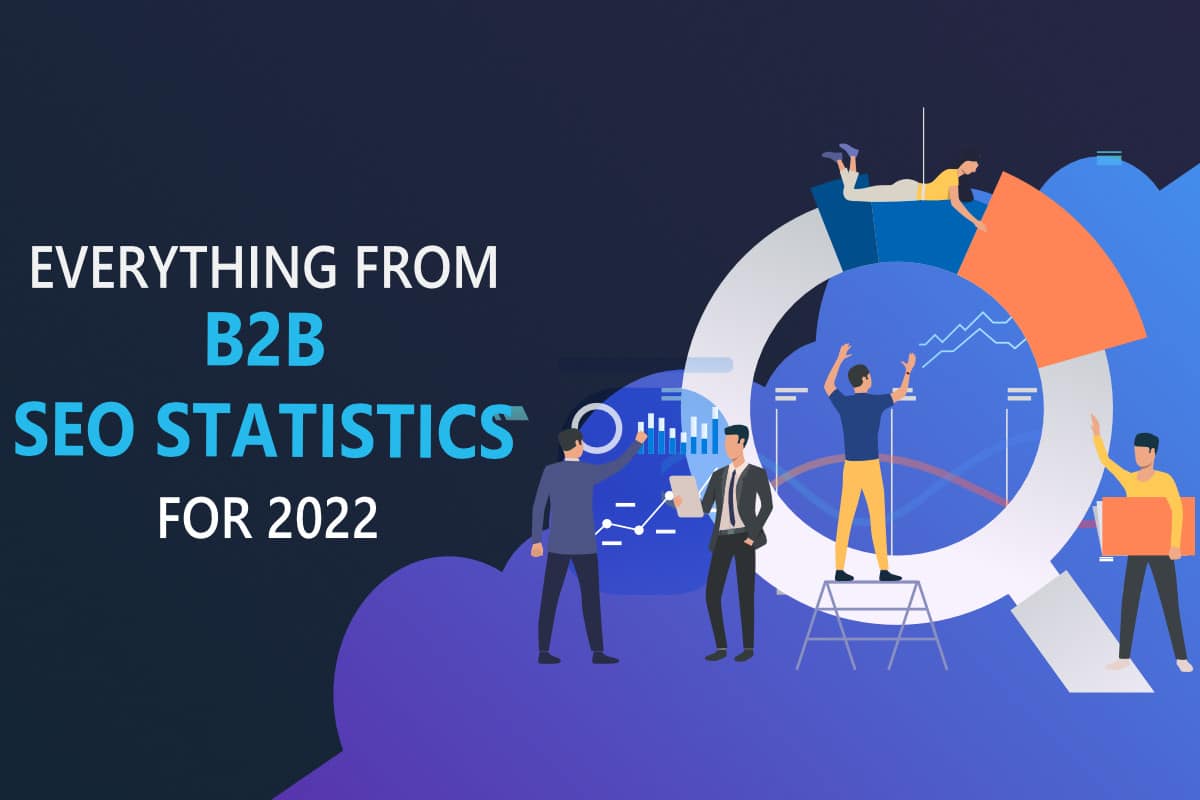 Learning SEO in 2022 can be quite challenging especially when everything is changing every year. Therefore B2B SEO statistics will lead you to what works today and what does not and improve your B2B SEO.
B2B SEO Statistics are a great way for you to stay up to date and learn about the best practices from marketers all over the world.
That's why I brought you the most important B2B SEO statistics you should know to create an effective content marketing plan.
Because wasting your money on trying SEO techniques you don't need to do. Unless you have plenty of money to spare and want to try a new untried marketing tactic, then go ahead.
But then do not forget to generate reports and statistics to share with others. ;)
So let's dive in and improve your digital marketing and content marketing with the best B2B SEO Statistics for your organizations.
B2B SEO Statistics of Search Engine in 2022
marketers using both organic SEO techniques and pay-per-click ads see an average of 25% more clicks and 27% more profits compared to using a single technique.
Having video on the landing page of your site makes it 53% more likely to show up on page 1 of Google. (41 Stories)
Integrating PPC and organic SEO efforts results on average in a 25% increase in clicks and a 27% increase in profits over isolated or disconnected efforts. (Digital Marketing Philippines)
Organic search drives 51% of all visitors to business-to-business and business-to-consumer Web sites, whereas paid search drives 10% and social 5%. (MediaPost)
The top organic result still captures the same amount of click activity (32.8%) as it did in 2005. However, organic results that are positioned in the 2nd through 4th slots now receive a significantly higher share of clicks than in 2005–63% vs. 48%. (MarketingProfs)
On the first page alone, the first five organic results account for 67.60% of all the clicks.
The top four ranking factors are website visits, time on site, pages per session, and bounce rate.
Long-tail keyword searches have a click-through rate of 3% to 5% higher than generic searches.
50% of search queries are four words or longer. (IMPACT, 2021)
Infographic search volumes have increased over 800%
There are 6,586,013,574 searches made a day worldwide. (SmartInsights, 2021)
50% of visitors are more likely to click a result if the brand appears multiple times in search engine results. (Search Engine People, 2021)
More than 50% of all searches end in no click. (Sparktoro, 2021)
45% of enterprise-level companies invest more than $20,000 a month in SEO. The majority of small businesses invest less than $1,000.
20% of online searches are image searches. (Sparktoro, 2021)
75% of internet users never scroll past the first page of search engines. (Junto, 2017)
It's also become clear that content with a specific topic tends to rank higher than broader alternatives, so zeroing in on an area of expertise is worth the effort.
The first organic desktop listing gets 19.3% of clicks (SEOClarity, 2021)
The first organic mobile listing gets 27.7% of clicks (SEOClarity, 2021)
SEO Industry is poised to reach $80 billion
Google Itself B2B SEO Statistics for 2022
Google (currently) has 71.98% of the search engine market share. It pays to learn its platform and optimize for Google search engine.
Google has received nearly 2.3 trillion searches this year.
Of the billions of searches that happen on a given day, 15% of daily searches are new to Google.
According to Andrey Lipattsev, Search Quality Senior Strategist at Google, high-quality content and link building are the two most important signals used by Google to rank your website for search. (SearchEngineWatch, 2021)
Google's search algorithm uses more than 200 factors to rank websites.
Google is responsible for 94% of total organic traffic. (Web Presence Solutions, 2017)
The average content length of the top position Google article contains 2,416 words.
91% of all pages never get any organic traffic from Google, mostly due to the fact they don't have backlinks.
Google accounted for nearly 40% of all U.S. digital ad spending last year, while Facebook's share was about 8%; and Google's advertising revenue is larger than that of the entire U.S. print industry.
Google estimates that the Internet now contains roughly five million terabytes of data – but the search giant has indexed only 0.04% of it all. (The Wonder of Tech)
55.24% of pages don't have a single backlink.
The more backlinks a page has, the more search traffic it gets from Google.
Getting to the top of Google's first page is still a top priority for most B2B firms, and the strategy is still well worth the effort.
B2B Organic Search Statistics
Text will be always the foundation of search. Thus making sure you optimize your website asset with description and SEO best practices helps you to improve ranking. (HubSpot, 2020)
Mobile performance is the Top technical SEO aspect for marketers to improve site performance. (HubSpot, 2020)
Google is Using 810 features, 161 are found on more than 0.2% of keywords. (SEOClarity, 2020)
50.33% of all searches are zero-click. (SEOClarity, 2020)
On both desktop and mobile, there was an 8% drop in CTR for rank position one. Interestingly, position two had a 4% increase. (SEOClarity, 2020)
Organic Search share of traffic increased to 53.3% on average across industries. (BrightEdge)
In average 68.3% of all traffic comes from search engines. (BrightEdge)

In B2B Combined Search averages 76% of traffic. (BrightEdge)
Local B2B SEO Statistics in 2022
51% of Google searches are local. (Hubspot, 2021)
"Where to buy" + "near me" mobile queries have grown by over 200% in the past two years.
There has been a 900% increase in searches that contain "___ near me today/tonight" over the last two years. (Think with Google, 2018)
Germany has the highest average conversion rate by country, followed by the U.S. (Growcode, 2020)
61% of mobile searchers are more likely to contact a local business if they have a mobile-friendly site. (Junto, 2019)
78% of location-based mobile searches result in an offline purchase. (Junto, 2021)
86% of people look up the location of a business on Google Maps. (Junto, 2021)
B2B Buyers and Research SEO Statistics in 2022
The internet the source of unlimited information made the B2B buying journey is hard and 77% of B2B buyers stated that their latest purchase was very complex or difficult.
89% of B2B researchers use the internet during the B2B research process. (Google, 2020)
B2B researchers won't get in touch with a salesperson until they're 57% of the way through their buyer's journey. In translation, they're ready to make a decision and look for the best price they can find.
61% of B2B buyers visit review sites before deciding on a service provider. A study performed by Clutch showed that each review a company gained on their site resulted in 20 new profile views. Asking existing customers to write reviews could result in a significant increase in lead-bearing traffic.
96% of B2B buyers look for content backed by thought leaders, reflecting the importance of research and authority in converting leads.
The average person will only spend 37 seconds reading your article. (foundationinc.co)
71% of B2B researchers begin their research with generic Google searches.
90% of B2B researchers who are online use search specifically to research business purchases. (Google, 2020)
On average, B2B researchers do 12 searches prior to engaging on a specific brand's site. (Google, 2020)
52% of B2B search queries today are made on smartphones, and this percentage will grow to 70% by 2020.
B2B buyers typically consume between three and seven pieces of content before speaking with a salesperson
Over 90% of B2B users say they're likely to buy again from the same vendor if they have a superior mobile experience. Only 50% will buy again if they report a poor mobile experience.
What B2B Marketers Say About SEO in 2022
65% of digital marketers state that link building is the hardest part of SEO. (SEO Tribunal, 2020)
57% of B2B marketers say that SEO generates more leads than any of their other marketing initiatives in 2020. (Junto, 2020)
61% of marketers say improving SEO and growing their organic presence is their top inbound marketing priority. (HubSpot, 2018)
The top challenges in SEO are link building (cited by 41% of corporate marketers) and keyword research (39%). (MediaPost)
70% of marketers see SEO as more effective than PPC
59% of SEO specialists reported that technical onsite optimization was their most effective SEO strategy.
86% of B2B companies maintain a blog. (foundationinc.co)
64% of B2B marketers hire freelancers to outsource writing projects. (foundationinc.co)
59% of B2B marketers say SEO has the biggest impact on their lead generation goals. (Marketing Charts)
29% of marketers repurpose existing content. (foundationinc.co)
87% of US-based B2B organizations use digital content marketing. (emarketer)
36% of SEO experts think the headline/title tag is the most important SEO element.
45% of enterprises are investing more than $20,000 on SEO each month. (B2BMarketingZone, 2021)
72% of marketers say the single most effective SEO tactic is creating relevant content. (SearchEnginePeople, 2021)
B2B Blog SEO Statistics
Adding a blog to your website can increase its chances of ranking in search engines by 434%.
43% of people admit to skimming blogs when they read them. (Impact, 2021)
B2B (business-to-business) marketers receive 67% more leads if they have a blog. (SearchEnginePeople, 2021)
Republishing and updating information on old blogs can increase traffic by more than 100%. (SearchEnginePeople, 2021)
Companies that publish 16 or more blogs a month received 5 times more leads than companies that publish 4 or less a month. (Express Writers, 2017)
81% of U.S. online customers consider blogs a trusted source of information and advice. (Marketpath, 2016)
Blogs posts with images in them are viewed 94% more than those without. (Impact, 2018)
Companies with a blog receive 97% more links to their site. (Hubspot, 2021)
Marketers who prioritize blogging are 13 times more likely to experience positive ROI. (Hubspot, 2021)
Quality content is the key factor in any good SEO strategy. Improvements in the content have been known to increase blog traffic by as much as 2,000%. (SearchEnginePeople, 2018)
Results of Good B2B SEO Marketing Strategy
SEO has ~20X more traffic opportunities than PPC on both mobile and desktop. (Sparktoro, 2019)
SEO leads have a 14.6% close rate, compared to only 1.7% for outbound leads such as print advertisements. (Search Engine People, 2018)
Organic SEO is about 5.66 times better than paid search ads. (New Media Campaigns, 2018)
The average click-through rate for B2B websites is 2.55 percent. Of all the researchers that encounter your content, 2.55 percent will take further action and follow a link. Get one hundred views on your post, and you'll see two and a half people taking the next step down your sales funnel. If it's a thousand people, you've got 25. Get more traffic and the leads will follow. (articulate marketing)
SEO experts (57%) believe that content creation drives the best results.
Content creation leads to 434% more indexed pages than websites without updated content.
B2B Companies generate 2X more revenue from Organic Search than any other channel
Mobile B2B SEO Statistics
Mobile devices now drive over 52% of web traffic and account for nearly two out of every three minutes online.
Speed helps conversions. Mobile pages that load a second faster than otherwise-identical pages have 20% more conversions.
Mobile-optimized sites are more trusted by 51% of consumers.
Google drives 96% of mobile search traffic. (Jody Nimetz Co., 2020)
The average U.S. adult spent 3 hours, 35 minutes on their phones every day in 2020.
Out of the 100 billion searches Google receives a month, more than half of those come from mobile devices. (Google, 2020)
61% of mobile searches end in no click at all, and 33.7% of desktop searches end in no click at all. (Sparktoro, 2019)
Of those who own smartphones, 87% of them use a search engine daily. (Junto, 2017)
More Google searches come from mobile devices than on computers in 10 countries, including the U.S. (Hubspot, 2018)
51% of smartphone users have discovered a new company or product when searching on their phones. (Hubspot, 2018)
68% of b2b companies have integrated mobile marketing into their marketing strategy. (Salesforce, 2020)
60% of smartphone users say they've discovered a new company or product when conducting a search on their smartphones. (Google, 2019)
Website Speed SEO Statistics
Bounce rate doubles if your website takes an extra 2 seconds to load. (Junto, 2019)
Conversion rates fall by 12% for every extra second that it takes your website to load.
46% of people say waiting for pages to load is what they dislike most about browsing the web on mobile.
Pages that load within two seconds have an average bounce rate of 9%, while pages that take five seconds to load have a bounce rate of 38% (Pingdom)
On average, it takes 15.3 seconds to load a mobile landing page. (think with google)
79% of web shoppers who have trouble with website performance say they won't return to the site to buy again. (Neil Patel)
Sites that load in five seconds (compared to those that load in 19) see 70% longer average sessions. (think with google)
A 100-millisecond delay in load time can cause conversion rates to drop by 7%.
73% of mobile users have encountered websites that take too long to load. (Neil Patel)
Related Articles:
Also, check out our SEO hub page to find all our SEO resources.
Resources: