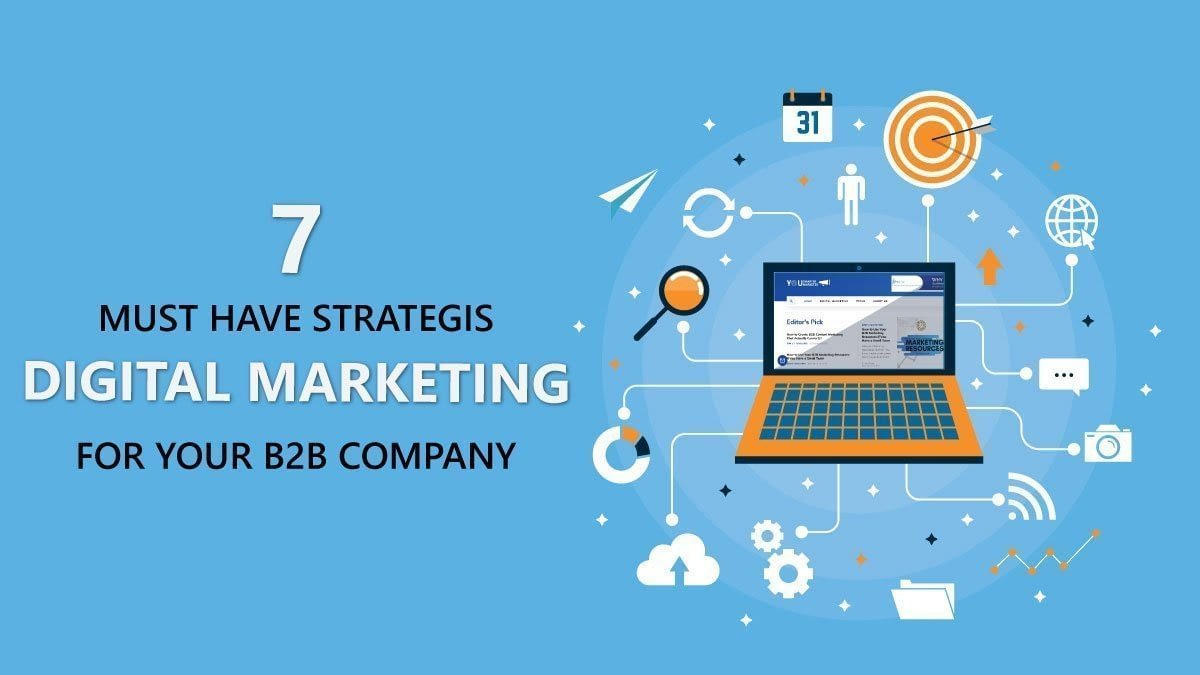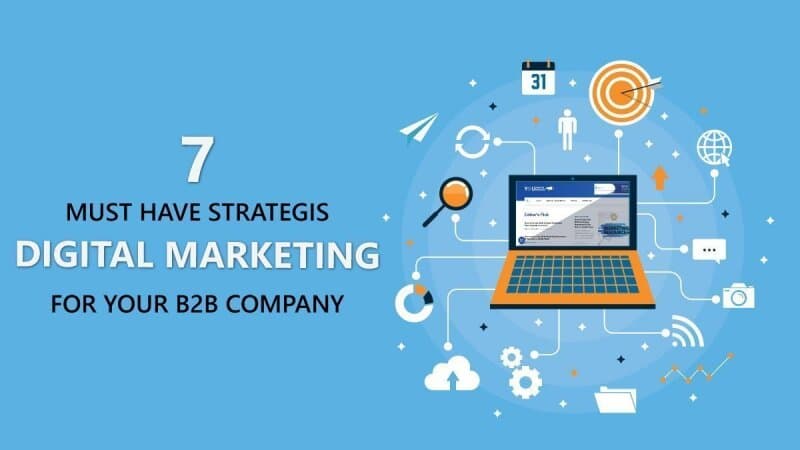 The early days when you created a commercial on tv, wrote copy for a local newspaper to amplify your marketing and start calling people so you have enough leads for your business is a long time gone. B2B digital marketing strategies are much more complicated in terms of the experience they receive from the company.
They expect consistency across multiple channels, adaptability to their terms, whether it is their preferred way of communications or receiving information. B2B Prospects want only related information to their pains and needs and anything extra is just a waste of their time.
Therefore, creating precise marketing targeting, communicate through many channels, and create fluid marketing techniques for your prospects so they feel like you take care of only them with special care and love.
Yes, B2B digital marketing plays a big role in departments like customer service and sales to create a seamless and pleasant experience for your prospect and customers.
Also, align your marketing and sales so you can produce better data. Data are becoming the company's most powerful asset and the ones who analyze it and use it, can adapt faster and stay competitive in the new age of digitalization.
That's why I am bringing you the best b2b digital marketing strategies for 2022 which will nourish your marketing department and make you look like a star!
1. Video Production
As there are many ways how you can engage with your prospects the video production is becoming one of the most effective in recent years, especially for its convenience to absorb information.
This technique is especially effective because of human nature to remember more than we read something because we are more visual creatures, as for thousands of years we have relied on your sense of remembering by visuals.
Hence, we can easily consume information from videos and pictures rather than reading a blog post, articles, or any written material.
Why digital marketing Video for B2B?
Nowadays b2b companies winning the prospects by educating them on their problems. The one who brought more knowledge to the table usually win the deal. Yes, prospects want to be educated and video marketing is a great way
By 2022, online videos will make up more than 82% of all consumer internet traffic. Just for your imagination, that is 15 times higher than it was in 2017. The research was done by Cisco in 2019.
At this time, we can monitor that 78% of people watch online videos every week and 55% watch online videos every day. And this trend is only going to grow as millennials going to be in charge of companies and gen Z will come to the marketplace too. This study was done by HubSpot in 2019
59% of executives say they would rather watch a video than reading the text. As I already mentioned it is more convenient and they remember more from that. This research was done by WordStream in 2017 and updated in 2019.
Luckily, with access to modern video tools, video production is becoming easier and easier and you don't need a massive budget, large team, and expensive equipment to start with the video marketing for B2B.
2. Blogging
Content is the actual king, and there are many ways how you can produce and content for your target audience. I already mentioned video marketing and its benefits but I do not want you to leave text content at all, as it is still a great way to bring more SEO leads for company.
Thanks to a great targeting ability provided by blogging, you can make sure you are getting the right prospects for your company, also bring them educational content which is important to executives when they are researching your solutions.
So, do not skip this marketing technique for your b2b company as it still and will bring many prospects to your b2b company.
Why Blogging for B2B Company?
Is B2B blogging good for business? I gave you already a couple of reasons why still blogging is so important for your company, but let's explain it with some data so you can understand better why b2b blogging is so important for your business.
Companies that blog receive 97% more external links than those who do not. This is caused by the helpful content you would be creating, therefore other hobby bloggers and also companies would link to your website, which will result in more traffic and that means leads for your company. Also, it is a great way for SEO.
67% More leads for your company thanks to creating a b2b blog strategy for your company. As it is the main SEO aspect for your company, the search engine has more pages to refer to when a prospect search for an answer related to your business solutions.
52% of B2B Marketers Agreed that blogging is crucial for them as it is a creative source of leads that is very constant and predictive with incredible ROI. In another way, over half of marketers rely on their blogs to bring consistently leads even when they sleep, or are on holiday.
93% of Marketers believe content marketing to be more effective than traditional marketing at generating leads for the company.
There are great benefits of blogging so make sure you read this so you know them all.
How Can You Start with Blogging?
First let's establish what you have to do if you will be blogging for business so you understand what it actually requires from you and how you can do that, as blogging is a skill too and it requires some time to master it.
So, this is a list of things you must consider when you are starting with B2B Blogging:
Expertise: Google's goal is to provide highly relevant pages provided by experts in an industry and to determine what pages are within their page quality rating, Google is using numerous signals such as backlinks and social media mentions. To fully understand Page Quality Rater Guidelines visit their website. So Are you the Expert in the Industry if not, hire one!
Writer: The next part is the actual writing of the blog posts. Over the years of writing articles, guidelines, and email marketing copies and other marketing materials I have developed the skill of writing blog articles, but not every expert is a writer. So, you can hire a writer yourself and guide him with your expertise.

SEO Knowledge: Whether you like it or not, writing articles is about SEO as well. Of course, your target audience always comes first and your quality of the article shouldn't be deteriorated by forcing the SEO practices, but to help search engines to crawl it, understand it and provide better UX, SEO knowledge is essential for writing articles. (Check out my article about How to Write SEO Article in the description)

Time: Lastly what you should be considering is your time, whether you can invest the time and effort into blogging for your business. Because blogging is not to create it and leave it, but it requires consistent effort week, after week. So, the question is, can you do that?
Alright if you have positive answers to all of those considerations for Blogging the next step is to set a plan for your Blog.
But because this article is not about Blogging we might cover it within the next article.
3. Lead Nurturing
B2B differs from B2C in that it requires a high level of relationship-building rather than in b2c marketing. Therefore I am including lead nurturing between an essential b2b digital marketing strategies for 2022. Because lead nurturing to take care of prospects who are not ready to buy yet, but they have an interest.
B2B Industry has a much longer selling process, it can take months to close the deal. Prospects want to get to know you, your product, and services and also build some relationship with you, so they can trust to buy from you.
With Lead nurturing you will educate and keep prospects under you as long as they have decided to buy or not.
Why B2B Lead Nurturing?
As I talked about above, building relationships is the key to b2b marketing and selling. But, build relationships takes time and a lot of effort.
Therefore modern b2b digital marketing strategies enhance your lead nurturing.
That's why you should try to automate at least part of it, so your sales can take more leads under them and also do not let get away your prospects. You will still keep them, for later, once they are ready.
80% of new leads never translate into sales due to sales follow-up late, they are
already busy with current leads, and my other reasons why leads never become
sales. With Lead nurturing you would ease the work of sales and increase the
translation
Companies that excel at lead nurturing generate 50% of more sales-ready leads at 33% lower cost. As with the right lead nurturing you are able to keep your prospects longer and educate them, therefore build the trust and increase your sales-ready leads.
47% of Nurtured leads make a large purchase than non-nurtured leads. With bringing the right education to your prospects you can also deliver up-sells and cross-sells as you better know what they want and need for their business so you can offer to them through educational content so it is not pushy.
4. Search Engine Optimization (SEO) for B2B
With booming digitalization, cloud technology, and IoT, marketing needs to catch up too with all-new inventions across. Search engine optimization is growing on popularity by marketers day by day, thanks to low cost and its return on investments. That's the kind of tactics marketers likes, isn't it?
But as search engines changing algorithms every day (Google does 10 updates each day) it is becoming harder to have proper SEO in place, as it is an ongoing journey to constantly improve the website to keep up with it.
But if you have done SEO properly, you can benefit from a constant source of good quality leads, without spending too much budget and with outsourcing, you can find SEO expert cheaply and done for you.
Why Search Engine Optimization (SEO) for your business?
As b2b digital marketing strategies are evolving the SEO with it too, your website is one of the first interaction with you for your prospects in most of the time. Website is the digital home for your business and if you want to bring more leads, you need to make sure your SEO is done correctly, and once it is, you can benefit from:
SEO Generate 20x more traffic opportunities than PPC and both mobile and desktop. PPC – pay per click for example AdWords is when you pay to appear on to of the result of the keyword. On another side, SEO is a tactic that you do to be in search results too in the organic sections, which get 80% more clicks than the PPC section.
57% of B2B Marketers say that SEO Generates more Leads than any other tactic they use. (Junto, 2017)
59% of Marketers say SEO has the biggest impact on their lead generation goals. As most of the decision-makers do research online, only a few people actually go out and start asking questions about the solutions. Because it's time-consuming and impractical to go out when you can just write a few keywords into a Google and get your answer.
Search engine bringing opportunities served on the silver plate if you play by the rules. As I already mentioned, you can create an SEO website with outsourcing freelancers if you do not know how to do it, so you can start getting organic traffic to your website.
How Can You Start with B2B SEO for Your Business?
Starting with B2B SEO is not that scary anymore like it used to be as the