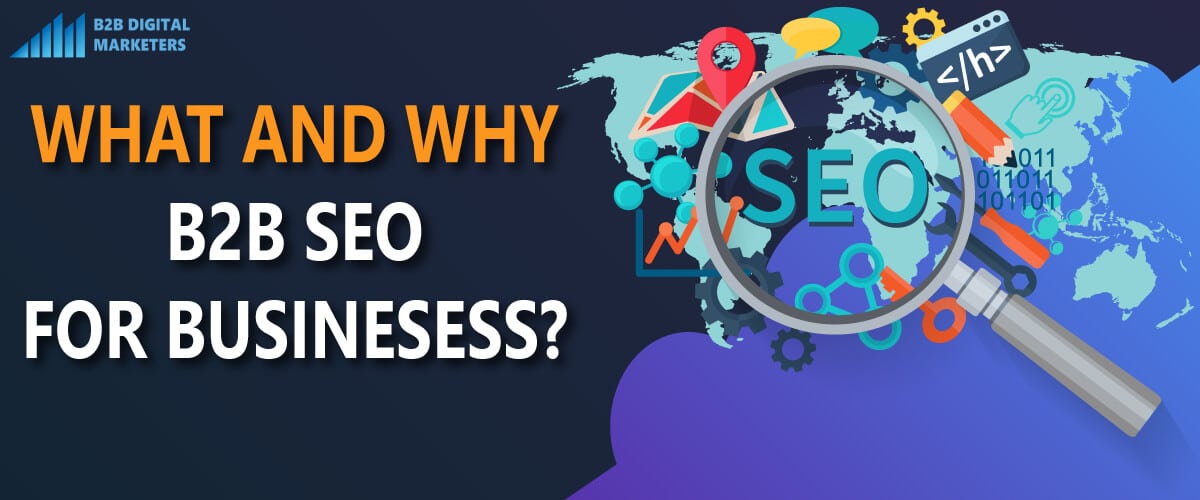 In this article, I am going to explain what B2B SEO or SEO for B2B Organizations is and why many marketers are spending so much time and resources to optimize their websites for SEO.
SEO has been around since the early 1990s and ever since it has been growing. Businesses of all sizes are implementing SEO strategies to drive organic traffic and leas and ever since COVID-19, the SEO and digital marketing strategies have been implemented even by the most skeptical.
And the importance of having SEO especially SEO for B2B is growing as according to a recent study from McKinsey, only 20% to 30% of b2b buyers want to move back to in-person sales.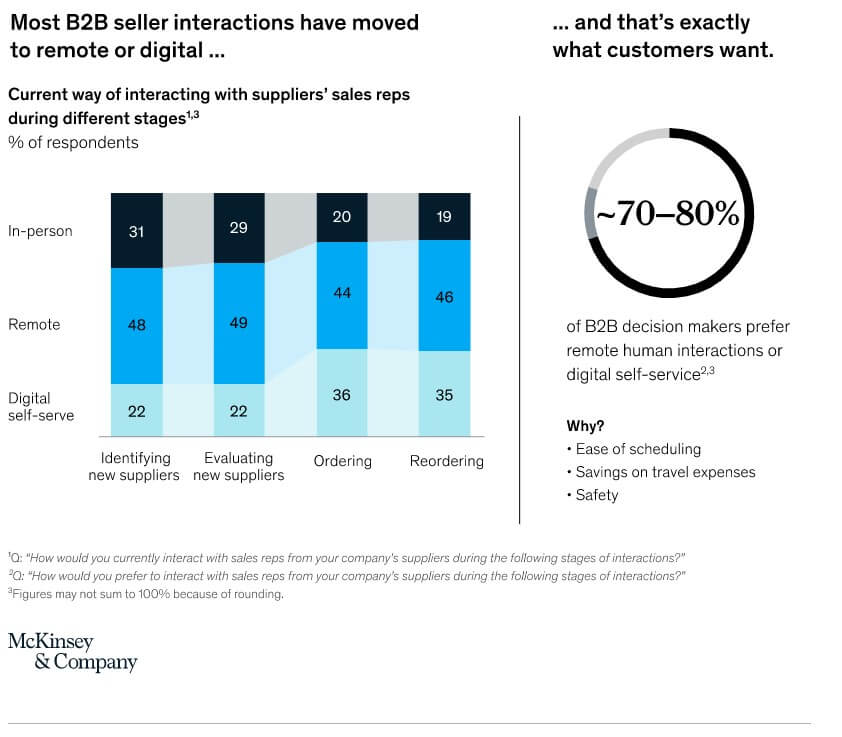 This rapid change in B2B selling requires businesses to change their strategies and one of them which is very important is B2B SEO, so let's drill down and discover what is B2B SEO and why B2B organizations need SEO to drive B2B Byers and leads for their business.
What is B2B SEO?
B2B SEO or B2B search engine optimization is the process of improving your company website and its pages in search results for targeted queries in order to drive more quality and quantity traffic to your web page from search engines. This traffic is often targeted to attract professionals that are searching for your company solution during office hours.
SEO traffic is called often free or organic traffic as you do not need to pay to get this traffic from search engines, unlike the paid traffic, that you must pay for.
So, this is the definition of B2B SEO, but that might not say anything to you if you are not an expert in digital marketing, so let's explain it in plain English.
B2B SEO helps your business website to improve your ranking in search results for keywords that are important to your business so you can drive your B2B target audience to your website that is looking to buy your products or services.
These keywords are words or phrases used by professionals that they type into search engines to find your products or services.
For example:
If your business is selling cleaning services of offices in New York, then you must find out the keywords that professionals are using to find your services on the internet. To find these keywords, marketers must conduct keyword research.
Alright, Let's say that you have done the keyword research and one of the keywords is "Office Cleaning in New York" or "Cleaning for Offices New York".
So, these are the keywords that professionals are using to find your services, and that is where you want your web page to appear in the search results preferably at the top to drive the organic traffic with high value to your business.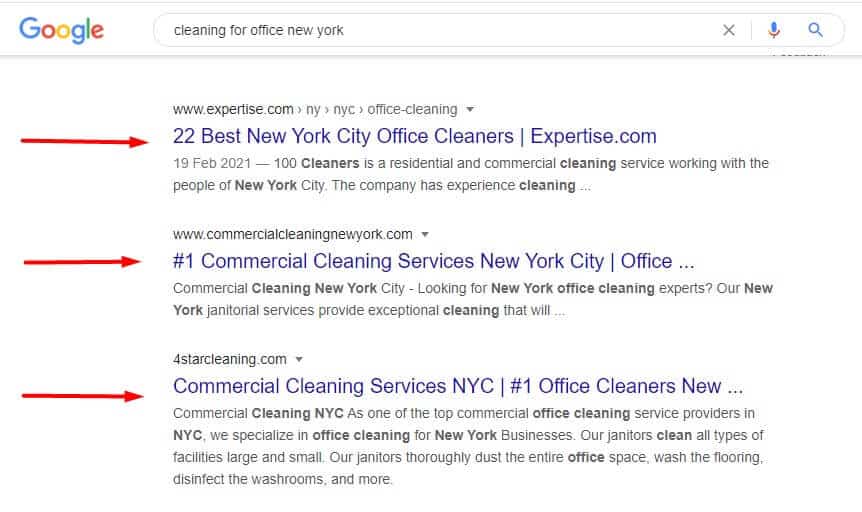 And that's exactly the job of SEO as it helps your business website to appear in the search results.
Like this, you can drive organic traffic, but most importantly drive targeted organic traffic that is most likely to purchase your products and services.
Remember, organic traffic does not pay the bills, and driving any traffic to your website is not good, that is why you want to target only those that have the intent to buy from you.
How B2B SEO Works?
B2B search engine optimizations in theory might sound easy, basically, you want to target keywords that professionals are using to find your products or services.
However, to appear in the results is a much more complicated process and a bunch of stuff is required from you to do in order to rank in the top positions.
What you need to know first is that search engines are using very complex algorithms with technologies artificial intelligence, machine learning, and neural network-based technique for natural language processing to determine relevant pages for user queries.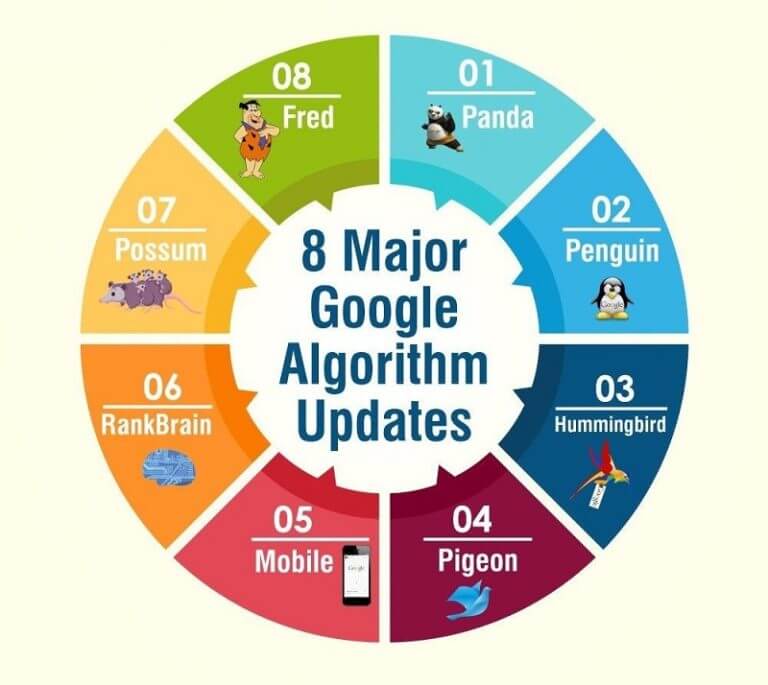 (Source)
With this very complex algorithm, search engines crawl or scan your website and then trying to understand what your website is about, so they organize the information and categorize it into the right section.
So, when a user is searching for any information, search engines can quickly serve the relevant information to the user. However, because of the competition, search engines cannot display all the search results on the top.
Just the keyword "Cleaning for office New York" that we have used as an example has about 205 million results. That is a lot of results you must compete against and search engines must determine the most relevant web page to serve the user.

So that is when SEO plays a vital role. Search engine optimization helps search engines better understand what your web page is about and where the information within the page should be ranked.
So, by applying SEO strategies you will be able to rank your website on the top of the search results for your targeted keyword. The right SEO strategies follow the search engine's algorithm and its guidelines.
And by applying those strategies you will help search engines to discover, crawl and index your content, and also you will help search users that are searching for your information.
Basics of SEO for B2B
So, by now you already understand that SEO helps search engines to better understand your web pages and rank them accordingly.
You already know that you need to use SEO strategies in order to win the favor of search engines to rank you at the top of the results.
However, there are a lot of SEO strategies that you need to apply to successfully land your web page on the first page of Google and even more to hit the first position.
And to better understand what SEO strategies you need for your website and when you should apply them, you need to understand that there are 6 important types or categories of SEO strategies:
1. Technical SEO
The first is Technical SEO which should be done as a first thing before you do anything else.
Technical SEO is focusing on the technical aspects of your website to ensure, that search engines can find, crawl, render, and index the web pages, and your website is ready for the traffic to deliver optimal user experience according to benchmarks given by search engines such as Google Core Web Vitals.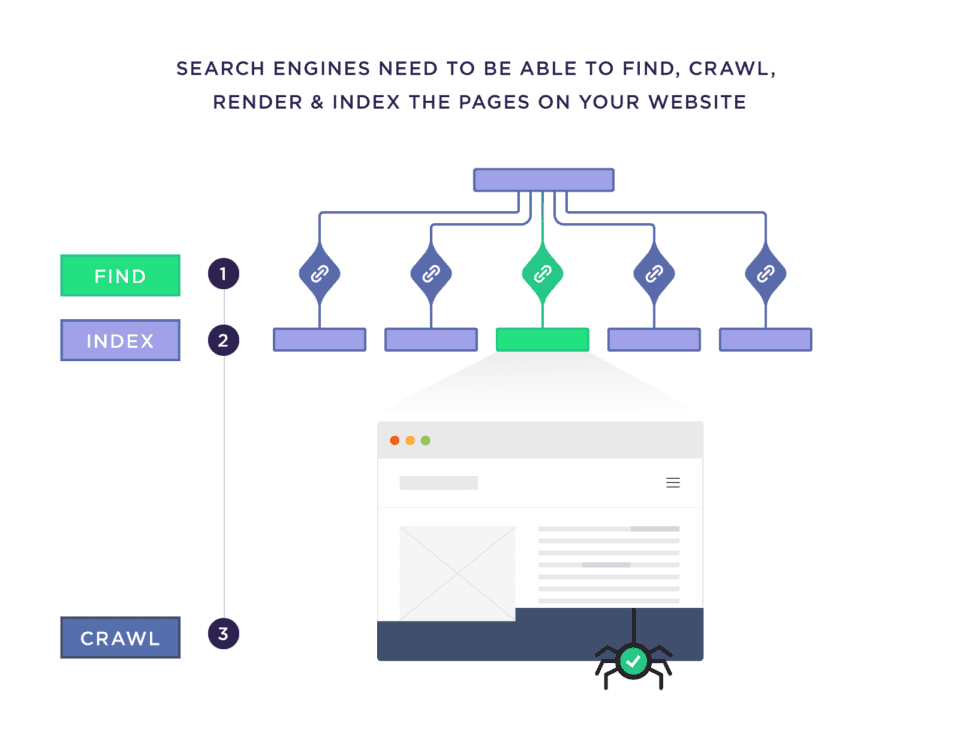 (Source)
The most important technical SEO strategies are:
Page Speed Optimization: To ensure your website loads fast when a user is visiting or moving around your website.
Crawlability: To ensure your website is crawlable by search engines so they scan your website.
Mobile Indexing: Google crawls your website with the mobile bot first to ensure your website is mobile-friendly as most of the traffic comes from mobile.
Secure Website: To ensure your website is secure for users to browse and enter some persona detail.
XML Sitemaps: To ensure your website has a core structure and search engines can find, crawl, and index all of your website content.
Breadcrumbs: Helps crawl your website and solidify your website structure.
And there are many more technical SEO strategies, but those are the basic that you should ensure that you have on your website.
But don't worry as you don't need to become a website developer to have all of those on your website as these technical aspects are often handled by Theme and CMS developers. I strongly recommend using some of the commonly used content management systems like