In this article, I am going to explain what B2B SEO or SEO for B2B Organizations is and why many marketers are spending so much time and resources to optimize their websites for SEO.
SEO has been around since the early 1990s and ever since it has been growing. Businesses of all sizes are implementing SEO strategies to drive organic traffic and leas and ever since COVID-19, the SEO and digital marketing strategies have been implemented even by the most skeptical.
And the importance of having SEO especially SEO for B2B is growing as according to a recent study from McKinsey, only 20% to 30% of b2b buyers want to move back to in-person sales.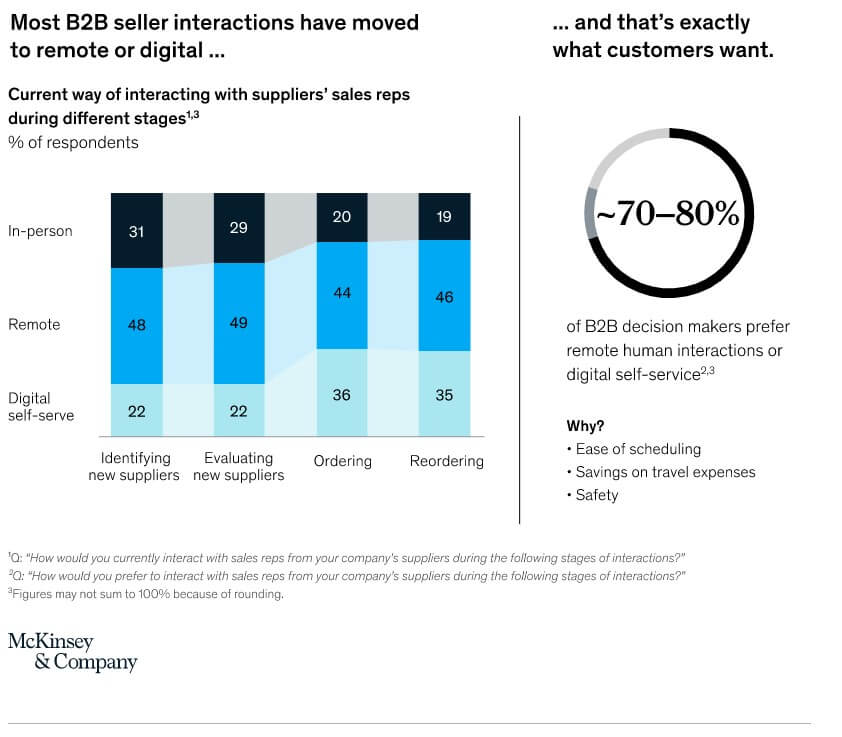 This rapid change in B2B selling requires businesses to change their strategies and one of them which is very important is B2B SEO, so let's drill down and discover what is B2B SEO and why B2B organizations need SEO to drive B2B Byers and leads for their business.
What is B2B SEO?
B2B SEO or B2B search engine optimization is the process of improving your company website and its pages in search results for targeted queries in order to drive more quality and quantity traffic to your web page from search engines. This traffic is often targeted to attract professionals that are searching for your company solution during office hours.
SEO traffic is called often free or organic traffic as you do not need to pay to get this traffic from search engines, unlike the paid traffic, that you must pay for.
So, this is the definition of B2B SEO, but that might not say anything to you if you are not an expert in digital marketing, so let's explain it in plain English.
B2B SEO helps your business website to improve your ranking in search results for keywords that are important to your business so you can drive your B2B target audience to your website that is looking to buy your products or services.
These keywords are words or phrases used by professionals that they type into search engines to find your products or services.
For example:
If your business is selling cleaning services of offices in New York, then you must find out the keywords that professionals are using to find your services on the internet. To find these keywords, marketers must conduct keyword research.
Alright, Let's say that you have done the keyword research and one of the keywords is "Office Cleaning in New York" or "Cleaning for Offices New York".
So, these are the keywords that professionals are using to find your services, and that is where you want your web page to appear in the search results preferably at the top to drive the organic traffic with high value to your business.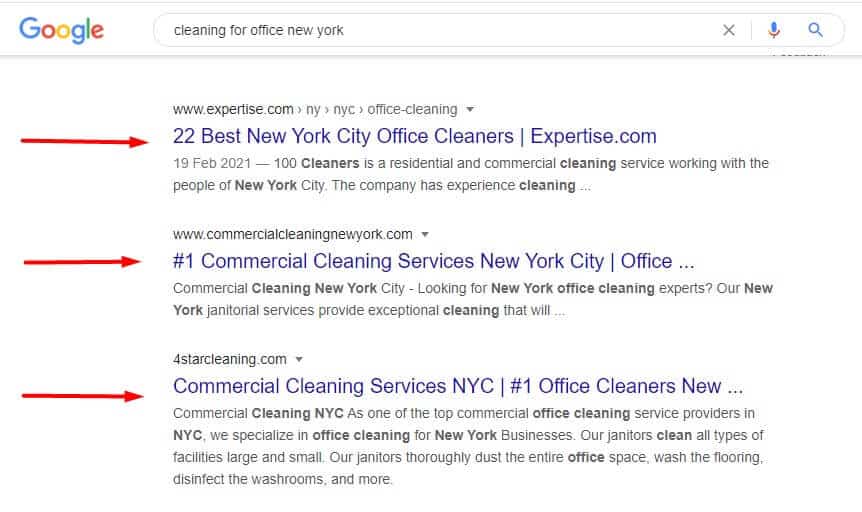 And that's exactly the job of SEO as it helps your business website to appear in the search results.
Like this, you can drive organic traffic, but most importantly drive targeted organic traffic that is most likely to purchase your products and services.
Remember, organic traffic does not pay the bills, and driving any traffic to your website is not good, that is why you want to target only those that have the intent to buy from you.
How B2B SEO Works?
B2B search engine optimizations in theory might sound easy, basically, you want to target keywords that professionals are using to find your products or services.
However, to appear in the results is a much more complicated process and a bunch of stuff is required from you to do in order to rank in the top positions.
What you need to know first is that search engines are using very complex algorithms with technologies artificial intelligence, machine learning, and neural network-based technique for natural language processing to determine relevant pages for user queries.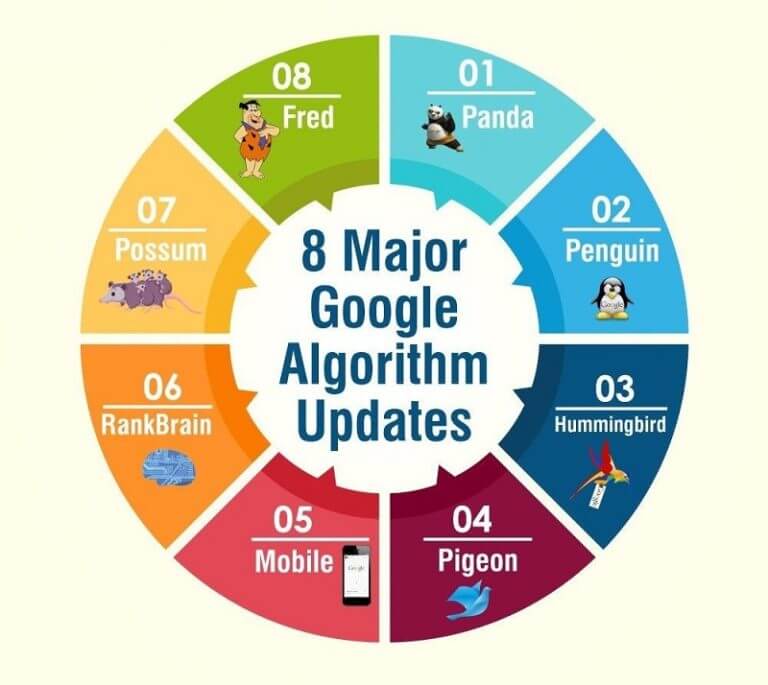 (Source)
With this very complex algorithm, search engines crawl or scan your website and then trying to understand what your website is about, so they organize the information and categorize it into the right section.
So, when a user is searching for any information, search engines can quickly serve the relevant information to the user. However, because of the competition, search engines cannot display all the search results on the top.
Just the keyword "Cleaning for office New York" that we have used as an example has about 205 million results. That is a lot of results you must compete against and search engines must determine the most relevant web page to serve the user.

So that is when SEO plays a vital role. Search engine optimization helps search engines better understand what your web page is about and where the information within the page should be ranked.
So, by applying SEO strategies you will be able to rank your website on the top of the search results for your targeted keyword. The right SEO strategies follow the search engine's algorithm and its guidelines.
And by applying those strategies you will help search engines to discover, crawl and index your content, and also you will help search users that are searching for your information.
Basics of SEO for B2B
So, by now you already understand that SEO helps search engines to better understand your web pages and rank them accordingly.
You already know that you need to use SEO strategies in order to win the favor of search engines to rank you at the top of the results.
However, there are a lot of SEO strategies that you need to apply to successfully land your web page on the first page of Google and even more to hit the first position.
And to better understand what SEO strategies you need for your website and when you should apply them, you need to understand that there are 6 important types or categories of SEO strategies:
1. Technical SEO
The first is Technical SEO which should be done as a first thing before you do anything else and it's the essential part of SEO pyramid.
Technical SEO is focusing on the technical aspects of your website to ensure, that search engines can find, crawl, render, and index the web pages, and your website is ready for the traffic to deliver optimal user experience according to benchmarks given by search engines such as Google Core Web Vitals.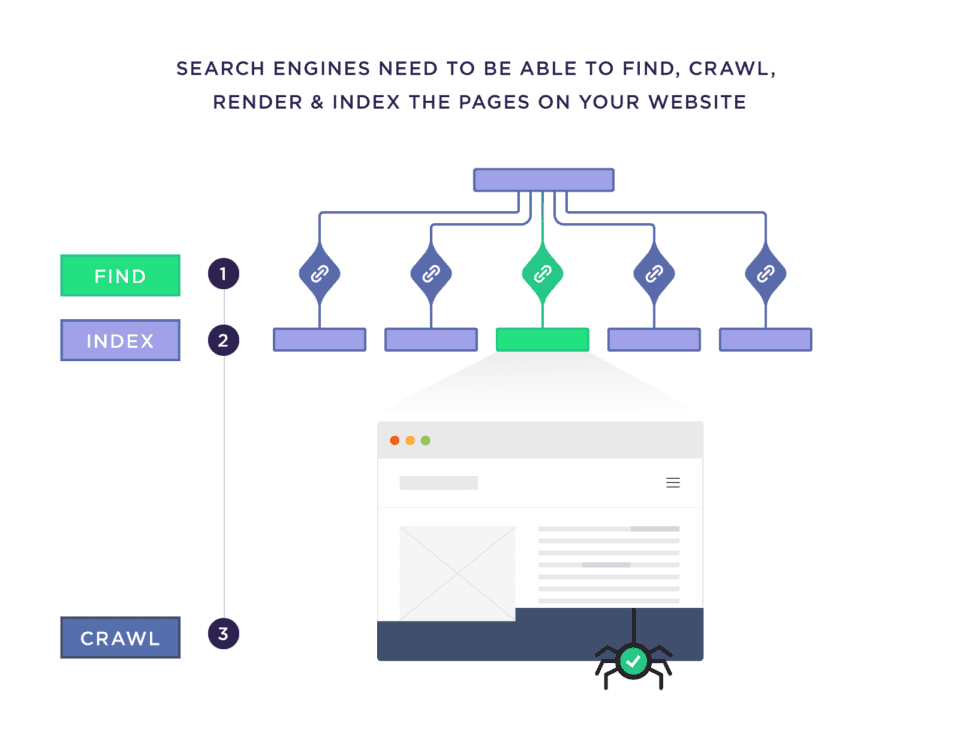 (Source)
The most important technical SEO strategies are:
Page Speed Optimization: To ensure your website loads fast when a user is visiting or moving around your website.
Crawlability: To ensure your website is crawlable by search engines so they scan your website.
Mobile Indexing: Google crawls your website with the mobile bot first to ensure your website is mobile-friendly as most of the traffic comes from mobile.
Secure Website: To ensure your website is secure for users to browse and enter some persona detail.
XML Sitemaps: To ensure your website has a core structure and search engines can find, crawl, and index all of your website content.
Breadcrumbs: Helps crawl your website and solidify your website structure.
And there are many more technical SEO strategies, but those are the basic that you should ensure that you have on your website.
But don't worry as you don't need to become a website developer to have all of those on your website as these technical aspects are often handled by Theme and CMS developers. I strongly recommend using some of the commonly used content management systems like WordPress or more premium HubSpot CMS.
If you are already using WordPress then I highly encourage you to invest in some of the professional themes such as Elementor, Divi, or Avada.
All these themes are developed by a team of professionals and come already with technical SEO aspects within the theme so you don't have to do it.
Trust me, it will save you so much headache in the future when your website will grow from 100 pages to thousands and more.
2. On-Page SEO
The second category of SEO strategies is On-Page SEO.
On-Page SEO is focusing on optimizing individual web pages on your website in order to help search engines understand your content, so you earn higher and more relevant traffic. On-Page as the name said refers to SEO strategies that are done on a page level within the content and HTML source code of the page.
The best On-Page SEO practices are:
Title Tag: This is the name of the web page that appears in the big, blue, bold text in the search results.
URL: Helps show the website structure, purpose of the web page, and the type of the page.
Meta Description: This is a short description of the web page that is shown under the Title tag.
H1 Tag: This is the most important heading of the web page. Often Title tag and H1 tag are the same or similar in order to avoid confusion of search engines and users.
Content of the Page: Or call also the body which includes all the text within the page and the other headings exclude the footer and header.
Image name: Helps better search engines and users to understand what's the picture about
Optimize Your Footer: Footer SEO is an important part of optimizing your UX, link juice flow, and improve your overall ranking.
Image alt text: This is a brief explanation of the picture that helps better search engines and users to better understand the picture and the context of the picture and the information on the page.
Internal Links Are links that connect relevant pages within your own website. These often help strengthen topic signals and provide more information to users and search engines.
Again, there are more on-page SEO strategies, but these are basics that you should be aware of when you are creating or updating any of your web pages on your website.
Also, you might realize or not, but the highest-ranked pages in search results often include a targeted keyword within all these on-page SEO strategies.
3. Content Creation
The third type of SEO strategy is content creation.
Arguably Content Creation is the most important aspect of your search engine optimization and probably it will take most of your time.
Also, content creation is considered one of the best lead generation strategies for B2B. Content marketing brings in 3X as many leads as traditional marketing and costs 62% less.
Your content is the key to drive high and relevant organic traffic to your website. However, it is not that easy as your content must be AWESOME!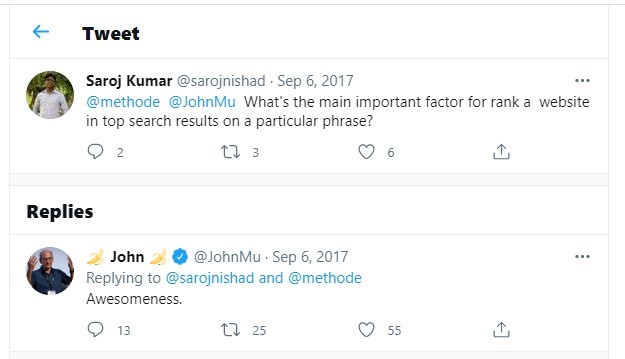 What I mean and John Mueller from Google is that creating just regular content is not enough anymore and every piece of your content should be the best you can produce that is worth ranking in the top results.
However, that is not easy because being a subject matter expert is one thing, but then writing and teaching your audiences about your niche is another thing, and often not every expert can write blogs, do podcasts or create videos.
So 81% of B2B organizations outsource content creation in order to tackle this problem.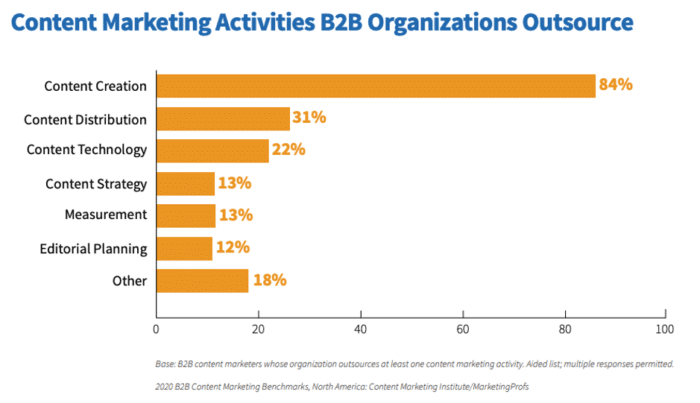 However, that is one of the biggest B2B marketing challenges as often the experts are not able to produce the SEO optimized content and marketers are not the experts to produce the thought leadership.
4. Off-Page SEO
The fourth type of SEO strategy is Off-Page SEO.
An Off-Page SEO is focusing on building and improving your website credibility and authority in order to improve your search engine results pages. (SERPs). Off-Page SEO strategies take place outside of your website.
And the most important Off-Page SEO strategies are:
Link Building: Building links from another website, preferably high authority to increase trust with search engines
Brand Mentions: Getting mentions of your brand on the internet, often in magazines or online newspapers.
Social Shares: Getting shared your content on social media and forum like platforms as Google does track social shares.
Typically, when somebody says they need to improve Off-Page SEO, it means they need to get more backlinks to improve their domain authority.

5. Local SEO
The fifth type of SEO strategy is Local SEO.
Local SEO as the name suggests is focusing on increasing brand website visibility for local search terms in search results. The most known search terms that Local SEO affects is "near me" e.g. "digital marketing agency near me"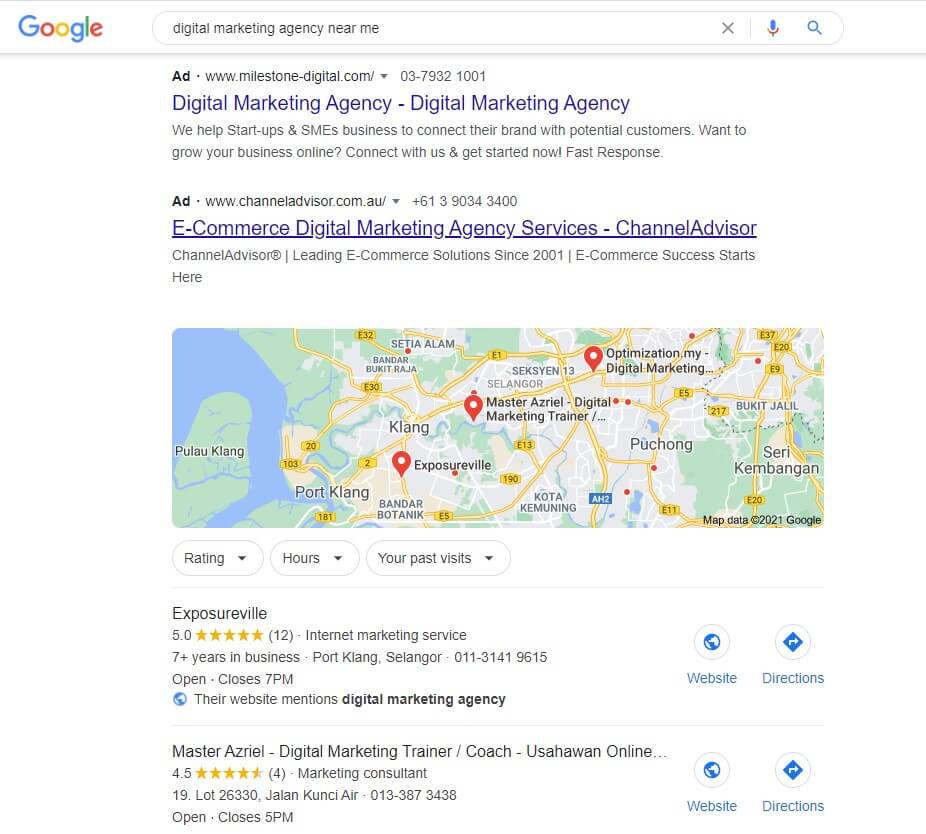 Any business that serves a certain geological location should be using local SEO to not only drive targeted traffic but narrow it down to drive predominantly organic traffic from the location the business is operating.
Local SEO is a very useful and effective SEO strategy that helps businesses to drive the most valuable target audience from their targeted location and I strongly recommend every local business to optimize their Local SEO.
And the best Local SEO strategies to optimize your Local SEO is
Create Local Listing: Google, Bing, and others have a place where you can register your business so you will appear on their maps.
Register on Directories: Find local directories for your targeted location.
Collect Reviews: Collecting reviews for your listings and directories is very important, it shows users and search engines your website is credible.
Add Local Keywords: Use local keywords within your content. E.g. Digital Marketing Agency in Boston or Cleaning Services in New York.
These are some of the most effective Local SEO strategies that will help you increase your local lead generation and as a local business, you should dedicate focus on Local SEO.
If you want to learn more about Local SEO I have created a video, that you can watch here. Or if you are medical specialist, check out my local SEO for doctors.
6. Voice SEO
And the sixth and last type of SEO strategy is Voice SEO.
Voice SEO is similar to On-Page SEO in optimizing keywords and keyword phrases but for searches using voice assistants to find information.
Voice searching is becoming quickly popular among people and 20% of mobile queries are currently done with voice search and it's not surprising that mobile users are 3 times more likely to use voice search. (Source)
And the best Voice SEO strategies are:
Optimize for Rich Answers: This is when you ask what is the weather today or what is SEO and Google will give you an answer without visiting any website.
Mobile-Friendly Website: Most of the voice searches are done via mobile, thus, it makes sense to focus on that.
Improve Content Readability: According to a voice search study, you should aim for around 8 on the Flesch Kincaid Grade.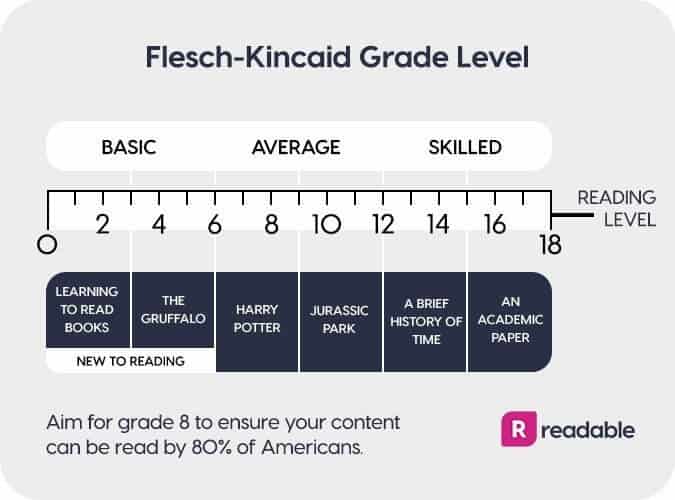 (Source)
Voice SEO is expected to get better and more to be used around the general population once smart speakers like Alexa or Google Home become widely available in other countries across the world.
Why B2B SEO is Different from B2C SEO?
While there is not a search algorithm specially dedicated to B2B or B2C industry and search engines do not differentiate these two SEO industries, still there some differences between them that you should be aware of.
And the reason why B2B SEO is different is because of the B2B buyer journey and how they are purchasing or selecting products or services for their company.
While B2C SEO is focused on driving sales and revenue as fast as possible without really focusing on building relationships, the B2B SEO is different because there you want to build relationships and increase trust with your users before asking them to take an action.
The reasons are that buying B2B products or services is a very complex process and are often not purchased via the internet, so rather to track sales on your website, B2B websites track conversions such as:
Lead forms
Price quotes
Demo request
And also, B2B websites track mini conversions such as:
Sign up for the newsletter.
Downloading eBook
Using ROI calculator
Mini conversions are when users take the action to learn more about your products or services. This is a good sign that they have the interest to purchase from you, but they are not ready to buy as they are in the research phase.
And because B2B Buyer journey is becoming more complicated than ever and according to Gartner
"B2B buying doesn't play out in any kind of predictable, linear order. Instead, customers engage in what one might call "looping" across a typical B2B purchase, revisiting each of the six buying jobs at least once."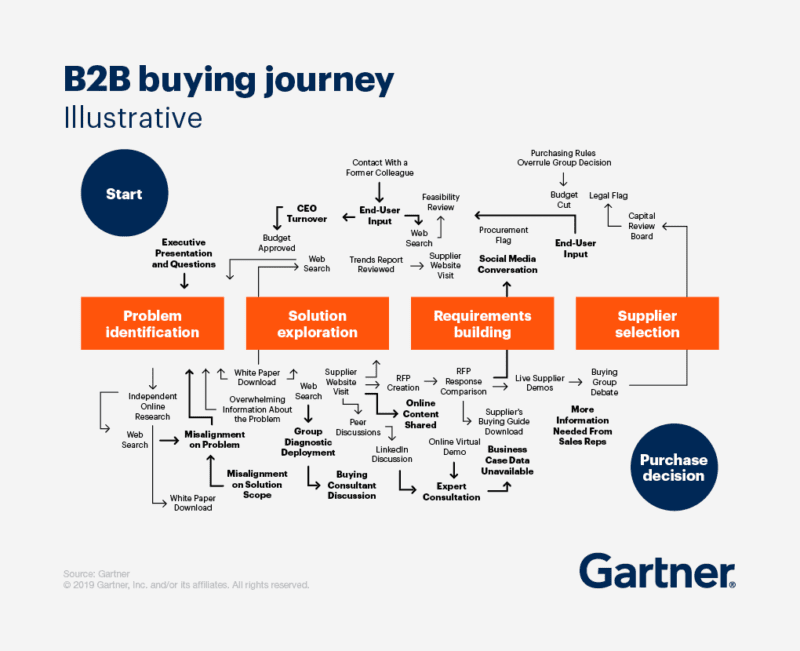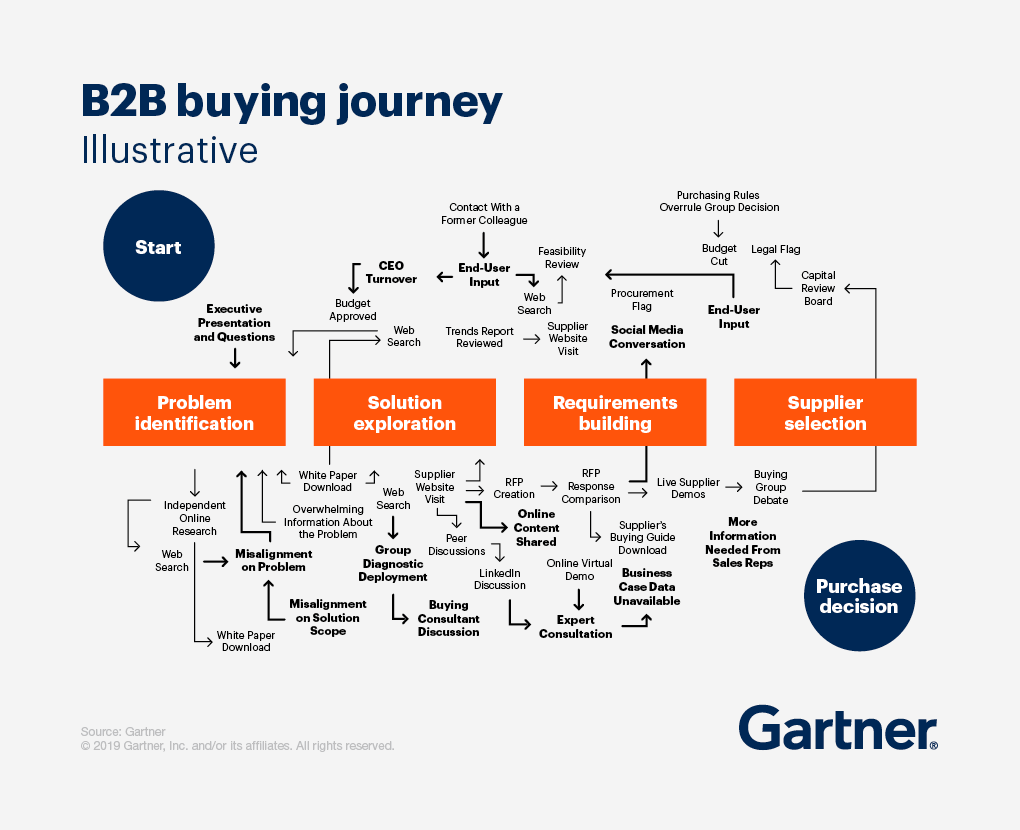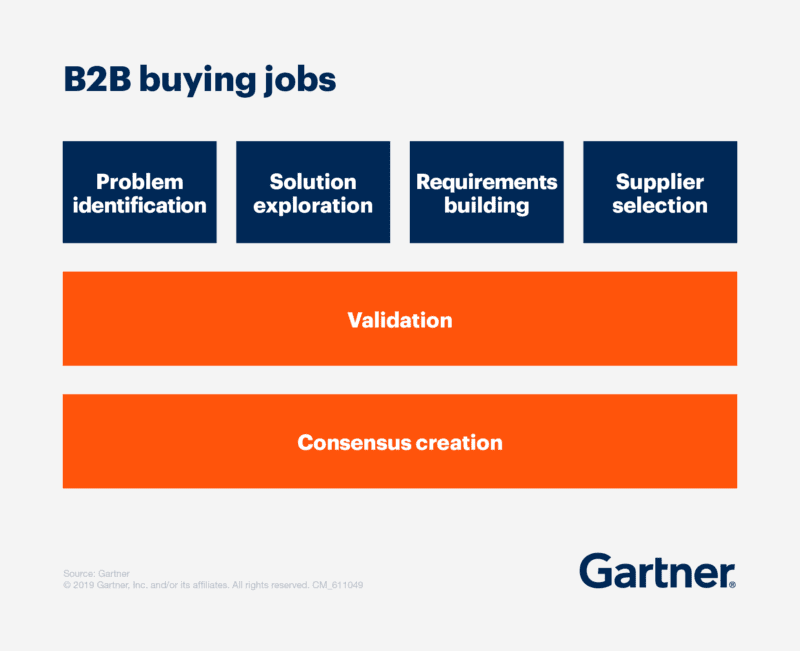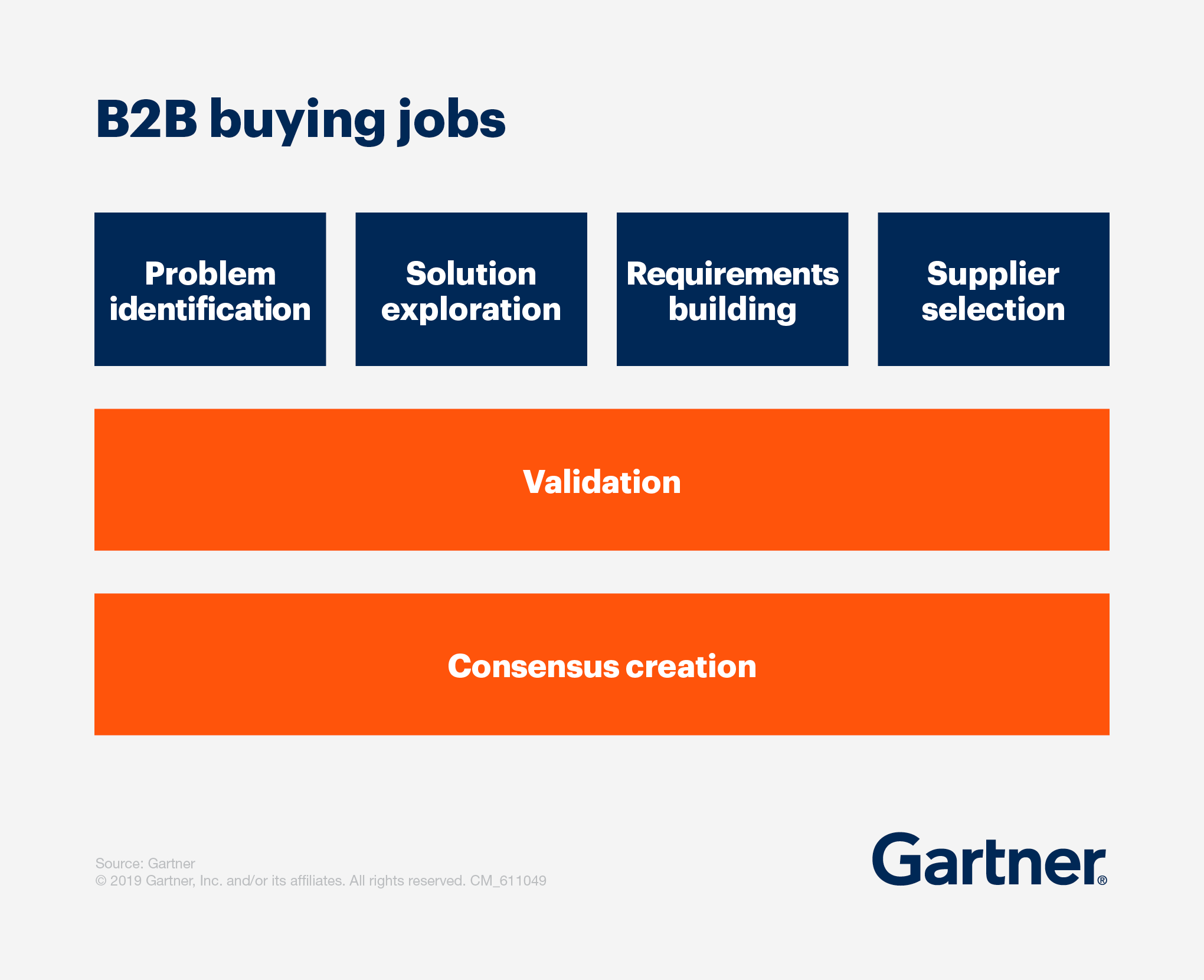 So, to summarize it, the difference in B2B SEO is not due to some special algorithm from search engines but rather from your own buyers. That's why it is so important to understand the journey of your buyers.
Why Is SEO Important for B2B Marketers?
Without a doubt, SEO for B2B could be the single most effective marketing strategy out there at the moment. Companies that excel in SEO drive high-quality sales leads, improve trust with their prospects, improve domain authority, shorten the sales cycle and so much more.
And once this SEO lead generation process is properly set then B2B SEO can bring you high-quality leads day after day.
One of the reasons why SEO for B2B is so important is that B2B SEO drives most of the website traffic for organizations and organic search equates to 95% of all web traffic and if you are using paid advertising for traffic then SEO has ~20X more traffic opportunities than PPC on both mobile and desktop.
So in terms of traffic, SEO can bring you more website traffic than any other marketing activities.
Also, what is important to know and another reason why SEO is particularly important for B2B organizations is that B2B buyers are researching products on the internet as I already mentioned.
89% of B2B researchers use the internet during the B2B research process, 71% of B2B researchers begin their research with generic Google searches, and 90% of B2B researchers who are online use search specifically to research business purchases.
And to capture those B2B researchers you must create content for their informational needs and allow them to complete their B2B buying jobs.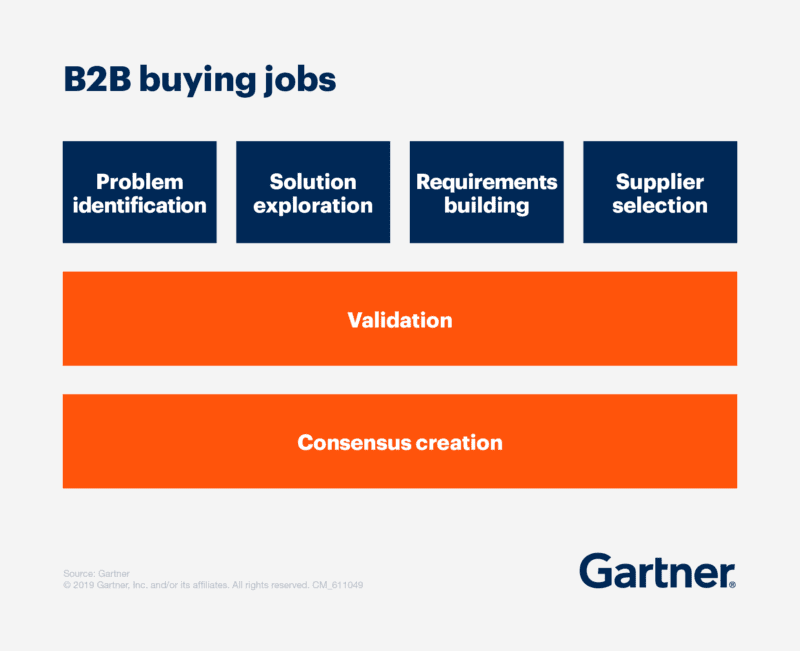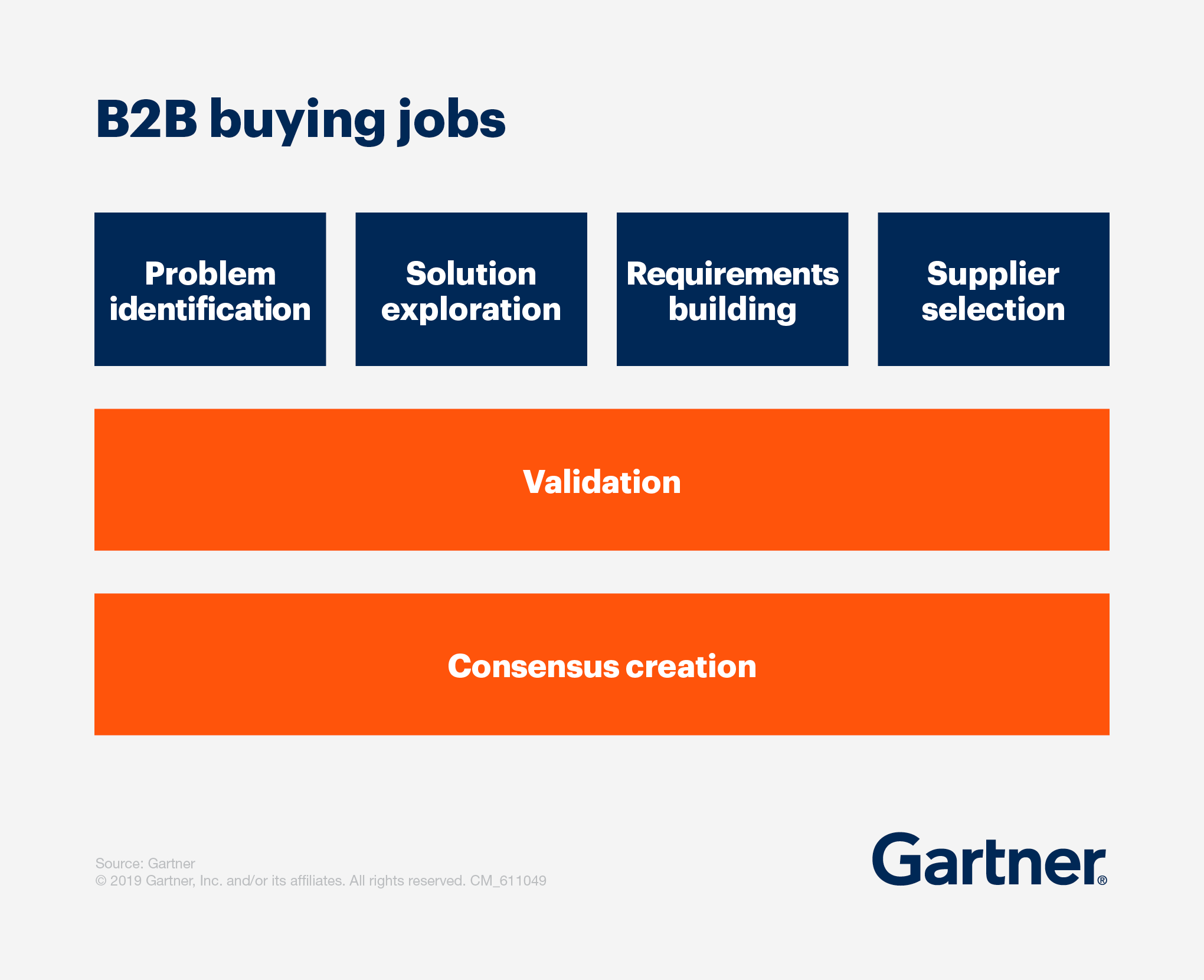 Garner called this buyer enablement. And in definition, it means providing content to your B2B buyers so they can complete buying jobs to their satisfaction in order to successfully finalize a purchase.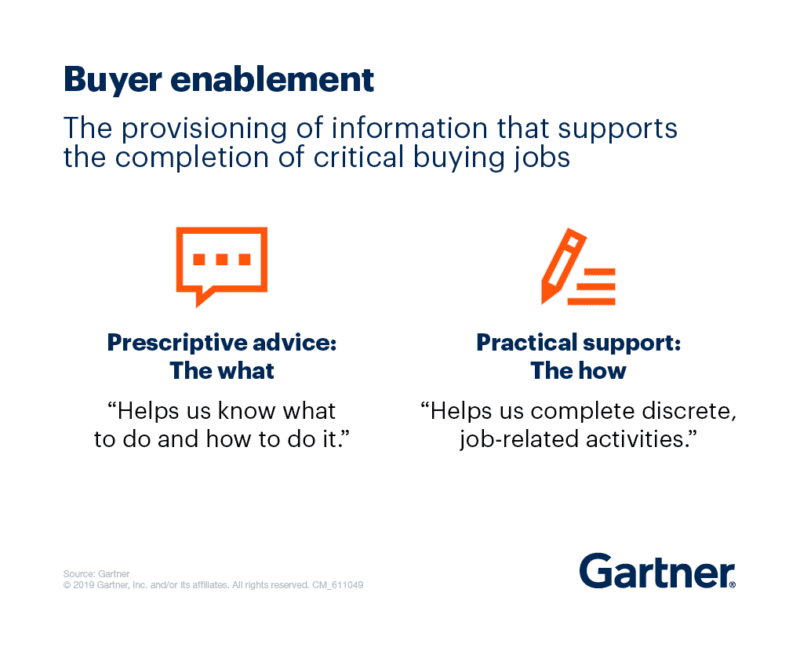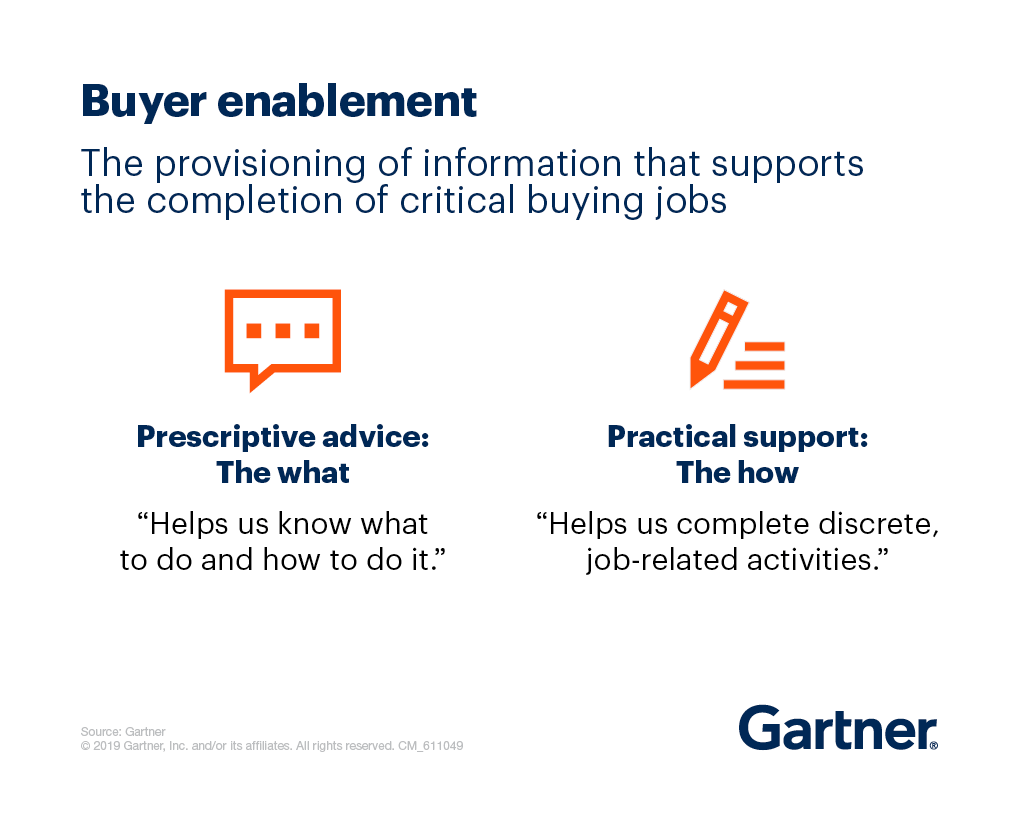 Another important reason why SEO is important is that 57% of B2B marketers say that SEO generates more leads than any of their other marketing initiatives in 2020.
During COVID-19 many organizations had to shift their mindset of how to generate leads for their businesses and even those most skeptical about digital marketing did not have any other option rather give it try.
And from my personal experience, my client could generate more than twice more leads with B2B SEO than with PPC for half of the price. And not just my client experience this, but 70% of marketers see SEO as more effective than PPC.
And the last reason I want to mention why SEO is important is that SEO leads have an average of a 14.6% close rate, compared to only 1.7% for outbound leads such as print advertisements.
And there are even more reasons, but from a business perspective, these are some of the most important reasons why SEO is important for B2B marketers and why you should jump on the boat as well!
How to Learn B2B SEO?
The last two things I want to mention are how to learn B2B SEO and if you are considering hiring an SEO agency for your B2B organization then important things that you should know about hiring an SEO agency for B2B.
Let's first start with how to learn B2B SEO.
The first thing you should understand is the six types of SEO strategies that I have mentioned above, but let's go through it one more time:
Technical SEO
On-Page SEO
Content Creation
Off-Page SEO
Local SEO
Voice SEO
And there are more types of SEO strategies, but these are the most important that you should understand first. This will help you have a clear picture when you go deeper into the rabbit hole.
Once you understand those SEO categories, then before you go to learn SEO strategies for each individual SEO category, you must understand and master B2B keyword research.
And once you mastered keyword research, then I recommend you learn more about the SEO categories and how to apply its most important SEO strategies to your website. Start with technical SEO as here you do not need to be an expert and website developer, but you should have at least some understanding of how things work here.
After technical SEO, you should learn and master On-Page SEO and Content Creation as these are the foundation to rank high in the search results. Without these, especially content creation you will not be able to rank in Google.
And lastly, I recommend you learn Off-Page SEO.
I am sure if you follow this, then you are on your way to creating a website with high and relevant organic traffic that generates a lot of leads for your business. (Read more on how long does it take to learn SEO.)
Hiring SEO for B2B Organization?
The last thing I want to mention is hiring an SEO agency for B2B organizations.
If you want to hire SEO or any marketing agency, you must realize that they are in the game of making money and whenever you are paying for their services they can only provide as much according to the fees you are paying.
So, over-time the agency will reach the point that they cannot do more, otherwise they will be losing revenue. Unless you are willing to pay more.
And of course, you can change the agency, which specializes in different SEO tactics and B2B SEO best practices so they might change up a few things and move the SEO needle bit higher, but eventually, you will hit the plateau again.
Also, you need to know that whenever you hire an agency, your brand voice and identity will suffer, as they can never imitate the voice of your brand, plus your website will look like that it was done by two different people which brings inconsistencies and often it will hurt your UX.
But do not take me wrong, as I do recommend having SEO agencies as often, they possess skills and experiences that are hard to find within in-house SEOs.
So, let me quickly share with you what works best for me and other partners. We are actually having both, a small SEO/digital marketing in-house team and an SEO agency.
The in-house SEOs are focusing on the big picture, to ensure that all the activities are done according to our plan, standards and reflect our brand, but then we chunk those big tasks and let the agency help us. Like this we benefit from both, having a consistent brand voice and skills and experiences from the agency, that help us get better results in our marketing.
Related Articles:
Also, check out our SEO hub page to find all our SEO resources.
Disclaimer
Some pictures are coming from Freepik and some of my links are affiliate links, which means if you purchase something, I might get some small commission as a reward for reference. Of course, I am actively using all these services and products and I only affiliate products or services I have full trust in their quality!