This is the complete B2B Digital Marketing guide for you to understand and apply it to improve your marketing or create marketing from scratch.
This comprehensive and complete guide will take you from A-Z what everything you need to know about b2b digital marketing, and also this guide will give you actionable insights, statistics, tips & tricks and much more to create a great digital marketing plan for your business.
So once you finish reading this guide you will know exactly what is B2B Digital Marketing, how to use it for your business, and also the best b2b digital marketing practices, so you can apply them and achieve better results.
Let's dive into the complete guide to B2B Digital Marketing in 2020 and let's make your business successful.
What is B2B Marketing?
B2B Marketing is a short form of Business to Business Marketing and it is a type of marketing used by organizations to increase brand awareness, drive more demand and improve brand health to achieve business objectives. Successful B2B marketing allows the organization to create more opportunities with lower costs for the business. It is done with digital and traditional marketing strategies and tactics to promote the products and services to their target audience.
In addition, David Lichtenthal Professor of marketing at Zicklin School of Business has noted in his research that b2b marketing has existed since the mid-19th century and ever since b2b marketing has become a popular way how organization attracts their target audience.
Therefore, it is worth noting that B2B Marketing is a skill acquired by studying and practicing the knowledge of B2B marketing due to the dynamic modern environment of technologies.
So, learning about b2b marketing you need to stay up to trends that are changing in marketing and predictions from marketing experts.
Because modern b2b marketing is dependent on modern technologies like:
Marketing Automation Software's
CMS (Content Management Software)
Artificial Intelligence
Analytics tools
And many more.
To learn more you can check out our B2B marketing automation strategies and AI digital marketing trends.
Therefore, b2b marketing is constantly evolving and if you want to successfully implement it, you need to keep learning and watching for new trends.
Therefore, what you have learned last year might not be relevant anymore this year. That's why it is so important to keep improving the knowledge.
Differences between B2B and B2C Marketing
Despite most people are familiar with the terms B2B (business to business) and B2C (business to consumer) marketing but only a few of them actually know what the main differences between them are and why digital marketing is important in both industries.
As both types of marketing have a different way of how you communicate with your target audience to successfully drive sales.
Therefore, it is important for you to know what the main differences are between b2b and b2c marketing so you can create an effective b2b marketing plan and not getting confused by the different approaches of each of those.
So, let's look at the main differences between B2B and B2C Marketing.
| B2B MARKETING | B2C MARKETING |
| --- | --- |
| A few clients with large purchasing volume | Many clients with low purchasing volume |
| Sell products and services to companies | Sell products and services to individuals |
| Prices of products and services are usually expensive. | Prices usually lower prices to be affordable to a large group of people. |
| Buyers are searching for efficiency | Buyers look for self-satisfaction |
| Selling is based on building relationships and expertise | Selling is based on emotion selling |
| Long Selling Cycles | Short Quick Emotional Decision |
| Usually, 7-12 decision-makers involved in purchasing decision | Usually, 1-2 People Involved in purchasing decision |
| Buyers want to be educated | Buyers want good deals |
| Focus more logic and characteristics | Focus more on benefits and desires |
| Look for long term cooperation's | Look for quick fix and satisfaction |
| Need to resolve specific pains and needs | Need to resolve basic necessities |
To summarize it, B2B marketing is different because of the different target audience and their behavior. B2B Marketers are focusing on decision-makers who are representing the company's interests like improve productivity, lower cost, and make smarter decisions.
Of course, b2b marketers can't forget that those decision-makers are still people and consumers as well, but decision-makers mostly act on behalf of the interested their company.
Also, the larger the company is, the more decision-makers are involved in purchasing decisions of products and services to ensure good quality decisions.
Therefore, b2b marketers need to create multiple varieties of content to educate and provide value to each of the decision-makers.
B2B Marketing Funnel & Buyer Journey
First of all, I would like to talk about, why the traditional marketing funnel is not effective anymore and how we should create a funnel where prospects can move up and down.
As worth noting, modern marketing should be personalized and adaptable to every prospect's needs and we should not familiarize and throw every prospect into the same bucket.
As recent statistics said that over 74% of customers feel frustrated when website content is not personalized (Business2Community) and 94% of customer insights and marketing professionals across multiple industries said personalization is "important," "very important," or "extremely important" for meeting their current marketing objectives. (CMO.com)
With that being said, the classic buying process and marketing funnel have been disrupted and you should have in mind that prospects are moving in different directions in the marketing funnel than would be expected.
The B2B Marketing Funnel
A marketing funnel is a classic tool used by marketers for many years and it gives a business general idea of where the prospects are located.
This concept of having a marketing funnel helps marketers and businesses to create a straightforward way for prospects to become from strangers to customers.
So, it should work like a guideline for marketers to create a unified marketing plan which brings and convert a lot of prospects.
And even thou the general idea of the marketing funnel and stages within the marketing funnel is right, unfortunately, many prospects don't have the same or even similar behavior patterns.
And each of your prospects should have special treatment.
Therefore b2b marketing funnel can't work on its own as many prospects have a different preferred way how to interact with organizations and do research about products and services, especially b2b prospects.
The problem with the marketing funnel is that it is a linear/one way for a prospect to enter it and the only way is down.
But with the access to the enormous amount of information online, prospects no more move so predictively, and on average b2b researchers read 5-12 pieces of content before they interact with the organization.
Also, these contents do not come from the same source as 63% of decision-makers prefer multiple sources of information.
Therefore it can happen your prospect is jumping up and down in the marketing funnel.
So, with this problem, a new approach to marketing needs to be.
But before, let's look at the classic marketing funnel: B2B vs B2C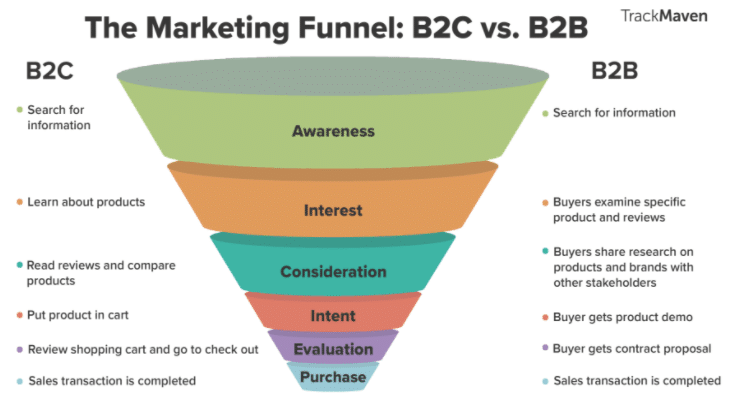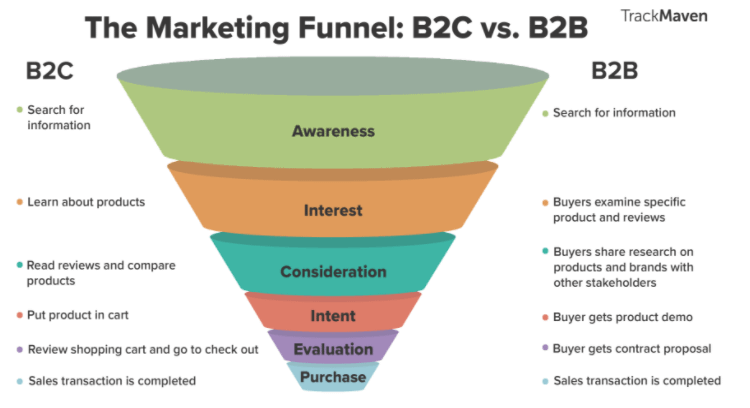 Source: https://erdelcroix.tumblr.com/
Awareness, as you can see, is a stage when the prospect is searching for solutions and information related to their problem whether you are in b2b or b2c. But, before we will be focusing on b2b marketing, let me more discussion about that. It is a stage when the prospect is searching for a trusted source of information.
Interest in products comes once the prospect read enough information and have a general idea of what products are available on the market and what to expect. Usually, they will find a few products and learn more about them. Both b2b and b2c sides are very similar although you must remember that the b2c side is much faster than the b2b side. For b2c the searching for product and learning about the product can take hours or days, but b2b it can be months.
Consideration: once a prospect is interested in a certain product, a prospect will be looking at the reviews and comparison for "social proof" in the b2c sector. On the other side, in b2b (business to business) sector the researcher (the responsible person for finding solutions for company pains and needs) will present selected products and services to other decision-makers and shareholders.
The intent is when the prospect selects products in which the prospect is interested in. In B2C, it is when prospect selected item and put it in a cart. Also to remember, 70% of people abandon their shopping cart. B2B prospects usually request a product demo from vendors. On average 3-5 vendors are contacted to present their demo product. So, it is not time to celebrate yet.
The evaluation part is the very last and important part when your prospects are selecting the right product for their needs. Here it will show who done the best job. Obviously, your product is not suitable for every prospect, but also Evaluation part shows whether you have provided better customer experience throughout the funnel. Here, everything counts.
Purchase is the very last part when you have collected your rewards for your hard work, but that's it, as once your prospect became a customer.
The B2B Buyer Journey
The new marketing funnel is called the buyer journey and it is based on touchpoints of each of your prospects within your sales funnel.
The Buyer Journey touchpoints help you to recognize whether the prospect is ready to buy or needs more information.
Although it is hard to track each of your prospect's steps, it still gives you an idea of how you should structure your content.
By IDC, decision-makers finish 57% of the buyer journey before they even engage with a salesperson.
Thanks to many sources of online information, buyers can do easily researcher on their own from home and or their office as 70% of buyers fully define their needs on their own before they even talk to the salesperson.
And it is because b2b buyers are educating themselves before they contact salesperson and it gives them certain power to decide on their solutions, as used to be that you had to trust the salesperson as you could not do proper research about products and services due to very limited of resources.
But with the internet you can easily type anything into a search engine and get a bunch of opinions and information related to your searches, therefore 44% of b2b buyers are able to identify specific solutions to their own needs.
Content is more important than ever as it gives you a way how to connect with your prospect even before he/she will engage you, therefore B2B content marketing has become #1 priority for many marketers to generate leads and brand awareness.
That's why a new b2b marketing funnel is called a buyer journey and it is mostly based on prospects own decision and you being helpful and provide them with the resources to learn more about your products and services.
Let's look at the modern b2b buyer journey as you will see, a new section was added.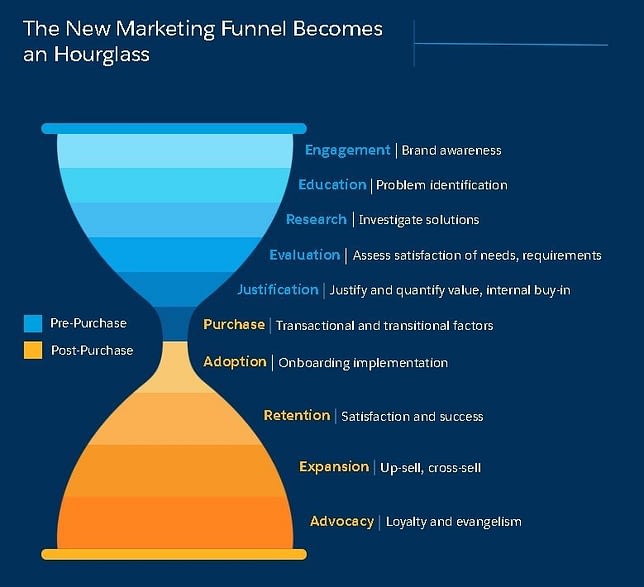 Source: https://www.salesforce.com/ca/blog/2018/08/marketing-funnels-customer-journey-maps.html
Pre-Purchase Phase
Engagement is based on creating enough content across multiple channels to connect with your prospects and provide the information he or she is looking for. 84% of CEOs and VPs use social media to make a purchasing decision by IDC. Also what is important to know that by Sirius Decisions 64% of the buyer journey is done digitally, therefore your prospects might be engaging with you across multiple channels.
Education is an important step for prospects and that's because prospects have lost trust in the salesperson and rather educate themselves. Also, as I mentioned thanks to almost unlimited online resources to almost anything, it is easy to educate yourself on your problem. By Google, 73% of solutions searches start with generic searches, and later with more knowledge buyers are able to narrow it to the specific searches. Therefore content like "How-to" is the great starting point for you to bring prospects in the very beginning stage.
Research is the next phase of your buyer journey, as prospects could already identify their problem and what options are available for them to solve the problem. As I already mentioned b2b decision-makers are doing research across multiple channels like social media, blogs, ebooks, video, etc. Therefore before they meet the first salesperson, they are well educated on their current problem and possible options to solve it. That's why salespeople need to be well prepared, but unfortunately, by Biznology 82% of decision-makers think that sales reps are unprepared.
The evaluation will once happen when prospects believe they have enough information to make the decision and therefore they can evaluate their options. On average b2b buyers meet with 3-5 salespeople to learn more about. Once they do, they involve other departments to discuss more the solutions. In a typical firm with 100 to 500 employees, an average of seven people is involved in most buying decisions by Gartner Group.
Justification is when b2b researches believe they found the right solution for their organization. With data like industry best practices, statistics, pricing, and problem-solving solutions an so on, b2b researches (also called influencers) engage people in business with decision-making power to make the final decision about the product. C-levels and VPs are deciding whether it is a good investment or not as most of the b2b transactions are high volume, therefore inform decisions must be made.
Purchase is when a decision has been made and the salesperson has been informed to prepare the contract. As that is where the old b2b marketing funnel has finished, but there is still a lot to do.
Post Purchase Phase
This section is quite new to marketing and even thou it may seem obvious that your job is not finishing after acquiring the customer, yet many companies do not practice Post Purchase Phase in b2b marketing.
Therefore let's discuss in more detail what each stage of the post-purchase phase means for the marketing and sales department to enhance customer experience and increase the lifetime value of customers.
Adoption is the time when you deliver your product and services to the customer and customers is to start learning how to use it. Especially in the B2B sector, it may be used by many people within the company. For example, if you are implementing ERP software, then departments like HR, Finance, Supply Chain, and so on, maybe using too, therefore adoption phase is crucial for you and your customer to successfully use your product or service and solve the problem. You need to make sure, that your customer will have as easier as possible the adoption phase with things like providing training, guides, and FAQ.
Retention is to keep your customer for the customer as long as possible. That means if you are selling subscription services for 1 year, then before the expiry date, your customer will subscribe for another year which means successful retention. Obviously, the objective is to keep your customer as long as possible, therefore you need to keep your customer happy with proper customer service.
Expansion is once you feel your customer is very happy with your product or services you can go and try to expand and create upsell or cross-sell. So, instead of selling the customer basic package you upgrade to premium or add extra service. This requires enough information about your customer to make sure you provide the right suggestion, as the last thing you would want it is to lose customer from bad advice.
Advocacy is to ask your customers for references, case studies, and testimonials. Unfortunately, by recent statistics by Dale Carnegie 91% of customers say they'd give referrals, but only 11% of salespeople ask for them. Again, it may sound obvious to ask for advocacy but the truth is that only a few organizations having an advocacy system in place, therefore to maximize your profit, you must include advocacy marketing within your organization. As it doesn't require much of the budget and just the ROI is amazing. So, create loyalty and evangelism within your customer and tap into a totally new low budget source of qualify good quality leads.
Why Do You Need B2B Marketing?
Marketing space is getting louder and noisier year by year and cutting through the "white noise" can be very difficult and also expensive when every channel is getting more expensive.
Just inflation of Google ads went up by 312% in the last 5 years and predictions don't say that it will decrease any time soon.
And of course, that's not just Google, but everything else is getting more expensive therefore blasting your resources, like email blast and cold calling is not anymore ROI effective, and so in today b2b marketing and b2c marketing is needed a better approach.
Also, prospects' behavior is changing too thanks to the wide variety of online sources to get information almost about everything, so b2b buyers not anymore rely on the salesperson to educate them, but they educate themselves.
By statistics, 62% of b2b buyers can make purchasing decision solely based only on digital content by Blue Corona
And with increasing sources of online information, B2B buyers conducting more detailed and precise ROI analysis on their future investment before they make the decision. Therefore 58% of buyers said their decision-making process is getting longer. (77%); using more information sources for research and evaluation (75%), and increasing the number of buying group members (52%) by Blue Corona
So, why do you need b2b marketing?
Because successful B2B marketing helps you to cut through the noise, increase brand awareness and deliver the message to the target audience to bring more leads, increase conversion, maximize ROI and decrease your already high expenses. That's why b2b marketing is an essential department within your organization.
But to make b2b marketing successful you must learn the right way to conduct your marketing plan, therefore I will present you 2 marketing types of marketing strategies for you to better understand b2b marketing.
Old Marketing – Outbound Marketing
Outbound marketing is a way of a marketer to push their messages to their target audience in a certain way and hope they will bring some leads.
Some of the outbound marketing strategies are more invasive and some are less.
By recent studies outbound marketing has been decreasing on popularity as 32% of marketers say that "print advertising (print, outdoor, broadcast)" is the most overrated marketing tactic. And one-third of marketers say outbound marketing is the most overrated tactic and a waste of time and resources by IronPaper.
Outbound marketing has been declining due to easy access to information on the internet as b2b buyers prefer to educate themselves without being chased or interrupted by a salesperson.
So no wonder that 73% of B2B buyers have found annoying receiving cold email.
But let's look at other b2b outbound marketing strategies and what other marketers has to say about it.
TradeShows are still popular and 68% of B2B marketers use in-person events for lead generation. [AdStage]41% of b2b marketers believe that events are single most effective marketing channels over digital advertising, email marketing, and content marketing. [Bizzabo]
Print Ads again have become a trusted source and 82% of buyers trust print ads to make a purchase decision. [Cash4Toners]
Direct mail Average response on direct mail has increased over the years by 200% and the average response rate for prospects is 4.9% and for the house, lists were 9%.
Tv Ads have been still popular with $71.1B spending and with predictive increment to $74.2B in 2020.
Email Blast has been still used by a few companies but 73% of buyers have found annoying receive cold emails.
Billboard Ads: 71% of Americans consciously look at billboard messages while driving [Harleydream]
Of course, outbound marketing is still out there and used by many b2b marketers to increase brand awareness and lead generation, but each of the strategies has its own place and to make it effective you should learn more about outbound marketing.
New Marketing – Inbound Marketing
Inbound marketing is a new way of lead generation somewhere in 2005, but it really starts to grow in 2012, where marketers start realizing the power of inbound marketing.
Just after 8 years, Inbound Marketing has become then the main type of marketing across the world to bring more leads and increase brand awareness.
The principle of inbound marketing is to let prospects to come to you instead you chasing them.
This works based on prospects' needs when prospects acknowledge they are having challenges which they need to solve and with inbound marketing strategies and tactics you can target these prospects which are having problems you can solve.
Therefore, inbound marketing has become popular due to the high level of targeting and relatively low investments and high ROI.
Of course, with growing on popularity Inbound Marketing, it has become a competitive place where companies trying to catch the attention of the prospect, therefore in the past few years Inbound Marketing becoming more expensive.
Based on recent inbound marketing statistics we can see that:
Inbound leads cost 61% less on average than outbound leads.
Properly executed inbound marketing is 10X more effective for lead generation than outbound marketing.
3 out of 4 inbound marketing channels cost less than any outbound marketing channel.
Again, it depends on the proper execution of inbound marketing as if you do not have proper knowledge of strategies to use, then you may not see good results and ROI.
Therefore let's look at the 5 common b2b inbound marketing strategies.
Blogging has become very popular in B2B marketing and many marketers have found it an important or crucial marketing strategy for their business. (Read more: Is B2B Blogging Already Dead?) From statistics, we can see that companies who blog receive 97% more links to their website and 52% of B2B Marketers agreed that blogging is their most critical content marketing tactic. Also, small businesses that blog see 126% more lead growth than the businesses don't.
Content marketing is anything you do to create and promote content across multiple channels. It can be videos, emails, blogs, podcasts, and social media posts. Content marketing is the core of inbound marketing. Content marketing brings 3x times more traffic than paid advertising, has 13x higher ROI and improve ranking by 432%.
SEO has become popular due to the oversaturated search engine market, so to succeed you must start using the SEO strategy. With that b2b marketers also see that SEO leads have a 14.6% close rate and it drives 106% more organic traffic if not use SEO. Which nowadays is important because 70-80% of search engine users only focusing on organic results and ignore ads.
Email Marketing is here already for some time but also the rules have changed, especially in recent years when AI and Machine Learning have started improving. Email marketing is a popular platform and 92% millennials prefer communication via email. Also, email marketing delivers a strong return on investment for every $1 spent on email marketing you can expect an average return of $42.
Social Media Marketing is very popular among your peers b2b marketers as 83% of b2b marketers are using social media and 63% of b2b marketers had acquired leads from them with only six hours a week spent on social media. Worth to note that 84% of C-level and VP-level buyers are influenced by social media and their purchasing decisions.
As you can see, the Inbound Marketing has become very popular and very effective, and you still can tap in and gain so much out of that.
Therefore, before you start creating a B2B marketing plan, make sure you look properly at the different types of digital marketing. Inbound and Outbound Marketing, for example, are key strategies that should be placed within your B2B marketing to drive excellent results.
What Factors Influence B2B Marketing?
Ever since the internet come up there was always a fight between traditional and digital marketing whether it is b2c or b2b marketing is better.
And even thou many marketers have their points to actually prove that one marketing is better than another, it still doesn't mean that it is totally true.
Because B2B Marketing has many influencing factors which can determine your overall marketing strategy and therefore it is not guaranteed that your b2b marketing plan will work out the same way like others, because there are many factors which can influence it like:
Location
Objectives
Target audience
Industry
Demographics
Budget
So, based your marketing solely on statistics can not be enough and you should take into consideration all factors to make inform the decision to choose which b2b marketing strategies are better for your company.
Of course, benchmarks and statistics of b2b marketing should work as a guideline for you to determine, which way to go, but keep in mind other factors.
B2B Digital Marketing
B2B Digital Marketing is changing drastically every single year with new trends, technologies, and tactics coming out, and it requires creativity and skills in digital marketing areas to successfully deploy your B2B Digital Marketing.
Therefore mastering digital marketing requires many years of practice and learning, it is a skill which if you stop learning you will fall behind.
So, this fast-pacing skill called digital marketing has many sections, which they are a skill own their own.
Digital marketing strategies like social media or SEO has so many aspects you need to learn to become successful.
Although to learn digital marketing and master it is extremely difficult but it is worthwhile doing it. B2B digital marketing will ramp up your b2b marketing and bring you amazing results.
Therefore, let's dive into b2b digital marketing and what you should know about b2b digital marketing to create a comprehensive b2b marketing plan.
What is B2B Digital Marketing?
In official statement B2B, Digital Marketing is a marketing practice of individuals or organizations using digital technologies on the internet via social media, search engines, websites, digital advertising, and any other digital channels to market and sell products and services to other companies in order to improve profit.
So, to explain it in detail, I split the b2b digital marketing and describe each of the words, so you have a better idea of what exactly means B2B Digital Marketing as the one I have used is the official statement of what is b2b digital marketing.
What Does B2B Means?
B2B is a short form of Business to Business and it is a term used in the business world to describe industries or organizations which mostly selling products and/or services to other organizations. This is important to differentiate because it has a different target audience, selling, and financial processes as I already mentioned in section "Differences of B2B and B2C Marketing".
Therefore is important to know what is actually B2B (Business-to-Business)
Digital (Technologies)
There are many types of digital things, but what we will be focusing on is digital technologies in b2b marketing.
And to explain it, digital technologies are online, electronics, machines, systems, and resources tools and gadgets that use information/data in form of numeric code called binary code to generate, store or process data.
Digital technologies impact the way how prospects react, engage, and connect with the organization, therefore digital technologies are important in b2b marketing.
What is Marketing?
It is a business process of creating and establishing relationships with prospects and customers to drive business objectives such as improve profit. It is an essential part of the business to attract customers online (social media, search engines, websites, etc) and offline (events, print advertising) and other strategies and tactics.
Marketing selects those strategies based on objectives they want to achieve, therefore it is important to know what is your goal when you are creating marketing campaigns.
But we will be talking more about different types of marketing and b2b marketing campaigns.
Why is B2B Digital Marketing Important?
With the growing popularity of online technologies, you need b2b digital marketing because it allows you to create digital brand awareness, attract more leads, improve the quality of leads with targeted content, increase conversion rate, decrease the time of selling cycle and establish credibility and thought leadership with your audience.
As I already mentioned what is b2b marketing I have also briefly explained why businesses need b2b digital marketing.
But let's discuss more why you actually need B2B Digital Marketing within your b2b marketing plan.
Of course, you could find more reasons why you should do digital marketing and because of that, I want to point out a few statistics related to why you should start using b2b digital marketing within your b2b marketing plan.
Read more about why B2B Digital Marketing is important for you and your business.
10 B2B Digital Marketing Statistics why you should use it:
84% of CEOs and VPs use social media to make purchasing decisions. (IDC)
67% of the buyer's journey is now done digitally. (Sirius Decisions)
Nine out of 10 B2B buyers say online content has a moderate to major effect on purchasing decisions. (CMO Council)
80% of business decision makers favor getting brand information via an article series more than ads (Content Marketing Institute)
62% of B2B buyers say they can make a purchase selection based solely on digital content. (Blue Corona)
Mobile marketing can accelerate time to B2B purchase by 20%
89% of B2B researchers use the internet during the B2B research process. (Google, 2015)
Nurtured leads make 47% larger purchases than non-nurtured leads. (The Annuitas Group)
Over 80% of B2B buyers visit a website before making a purchase decision. (HubSpot)
Google has a 92.42% search engine market share as of April 2019 (StatCounter, 2019).
B2B Digital Marketing Strategies
So, once we have established what is B2B (business to business) digital marketing and why you need b2b digital marketing for your company, we can move to what b2b digital marketing strategies are out there.
As you may realize, digital marketing has become essential for companies to even survive in a fast-pacing word.
Just imagine a company without a website, even just using the Facebook page or the Instagram page for the company page does not seem legit anymore and it is must use some b2b digital marketing strategies for your b2b company.
Things like:
Website
Social media
Product Info
Contact information
Has become an essential online tool to become noticed by prospects and 80% of b2b buyers want to visit the website before they do a purchase decision.
So, let's look at commonly use b2b digital marketing strategies across all industries.
1. B2B Website Marketing
Website for your B2B (business to business) organization has become an absolute necessity as it works as your digital home for your business.
And every organization must have a website, but nowadays even just a website is not enough as there are rules you need to follow to make it an effective marketing strategy.
Why?
Because people are expecting a certain level of user experience which can include things like:
Website Design
Personalize content
Easy Navigation across your web
Contact information
Live chat
All these tools are becoming a must for b2b companies to provide good quality service and capture leads on their website.
Because a single bad experience on a website makes users 88% less likely to visit the website again. (Blue Corona)
2. B2B Mobile Marketing
So, when we establish how important is phones for today's generations, let's discuss more mobile marketing in b2b industries.
Phone usage is growing and people spend more time on their phones than on laptops or desktops and with improving technologies like 5G internet and Cloud technology, it is going to be more convenient to use the phone.
In 2019 has been reported that 52% of web internet traffic was mobile (DataReportal) and for global internet traffic it was 47.96%.
With that, we can see, that most likely your website visitors are using a phone to see your website and do business with you.
What does that mean for marketing?
As the mobile trend is going up so we need to adapt to the mobile trend and provide a pleasant customer experience.
So, if let say your website has amazing functions and design on desktop but then poor user experience on phone then it will cause that people on the phone will leave, which means half of your traffic will be gone.
To prevent this happening Google has created a "mobile-first" indexing policy which means if your website is not mobile-friendly, you will have a hard time ranking, as Google knows that people are searching on the phone more than on computers or tablets.
Also, that is not just a website as emails.
Recent statistics show that 75% of all emails are opened via smartphones in the USA.
So, mobile marketing is a technique to improve your customer experience and reach more people.
3. B2B Content Marketing
As I already explained about B2B content marketing, it is a core strategy in Inbound Marketing to make it work.
With content marketing, you can drive targeted traffic with well-written materials targeted for your audience.
These contents need to provide value to visitors and be helpful to be effective, as just writing content for sake of doing it, it will have minimum or zero results and you would just blow your budget.
Therefore, creating helpful content is the #1 ranking algorithm which influences the most your website whether it ranks good or bad.
So, businesses who dedicated resources to b2b content marketing gets 3x more leads than from paid advertising. (Content Marketing Institute).
Also, b2b marketers who prioritize blogging efforts are 13x more likely to see positive ROI (Hubspot).
Why?
Because 80% of business decision-makers prefer to get company information from a series of articles versus an advertisement. (B2B PR Sense Blog).
Therefore content marketing is becoming extremely important for you to succeed in a modern world where buyers complete 57% of buyer journeys before they contact salespersons and 62% B2B decision-makers can make a decision solely on digital content.
So, creating digital content like:
Videos
eBooks
Articles
Infographics
Podcast
Are crucial for companies to attract more prospects to the business.
4. B2B SEO
B2B SEO is a strategy to bring everything all together to maximize your profit from digital marketing, especially from mobile marketing, content marketing, and social media marketing.
B2B SEO will give you a guideline for you to know what you should be focusing on in terms of optimizations of your website and content.
SEO is a short form for Search Engine Optimization which explains the purpose of this strategy.
Therefore if you follow B2B SEO best practices you can improve your b2b marketing results.
Because SEO helps you to drive organic traffic and 70-80% of search engine users are ignoring advertisements and only focus on the organic results.
As you can see, B2B SEO can drive more traffic to your website, create authority for your business, and help you to build a solid foundation for you to be discovered by your prospects.
Therefore focusing on the B2B search engine optimization strategy will maximize your results from your hard work creating content.
That's why if you are willing to create content, don't forget to include SEO within your b2b marketing plan.
5. B2B Email Marketing
Email marketing has been here already for some time but the rules have changed quite a lot in recent years.
But still, b2b email marketing has a lot to offer to your business.
Even tho many marketers are doubting email marketing, it is still a very reliable and effective source of leads, ROI, and other marketing objectives improvements such as:
Conversion rate
Customer lifetime value
Leads Quality
By recent statistics we can see, that email marketing is not dying yet and you can still generate a lot of leads as 73% of millennials prefer communications from businesses to come via email (Hubspot).
But that's not is as business professionals using email to strengthen relationships with customers and provide them valuable content to improve their adoption time or sharing helpful content related to them.
Therefore 80% of business professionals believe that email marketing increases customer retention.
And also 59% of buyers responded that email marketing has influenced their purchasing decisions based on helpful articles and promotional offers.
Although b2b email marketing strategy seems old, still <59% of markets say email is their biggest source of ROI and once marketers use segmented campaigns noted as much as a 760% increase in revenue (Hubspot).
So, b2b email marketing has great potential for your business.
6. B2B Social Media Marketing
Social media are the biggest time consumer for their users and therefore it has great potential for marketers, as the rule for marketers is to be present where is their target audience.
In the event that lot of people spend a lot of time on social media, b2b social media marketing has become very popular for marketers to:
drive traffic to their website by sharing their articles, thought leadership, and other helpful content.
Improve customer service with a convenient way for their customers to connect with the organization.
And much more can be achieved from creating and maintain social media for b2b.
Therefore we can see from statistics that B2B organizations having 6 social media channels on average to improve odds of achieving their goals.
Also, no wonder that marketers love social media and actually it is the most popular B2B (business to business) marketing tactic with 83% of marketers using it to generate leads and increase brand awareness.
Because 84% of C-level and VP-level buyers are influenced by social media when purchasing.
So, the best B2B Social media platforms are:
LinkedIn use by 9/10 B2B companies.
YouTube is becoming more important to B2B marketers. 56% of marketers rated YouTube as important to their overall success. (Content Marketing Institute).
Twitter 75% of B2B businesses market their products and/or services on Twitter. (Oberlo)
6 Top B2B Digital Marketing Tools
So, let's discuss the top 6 digital marketing tools to help you maximize your marketing effort and generate more leads.
As we know, the data are the source of intelligence we can use it to improve our decision making, quality leads, business outcomes, and so on.
But unfortunately generating and analyzing data is difficult especially without proper software.
Therefore leads discuss my top 6 digital marketing software for 2022.
1. Leadfeeder
Leadfeeder helps you identify companies that visiting your website and create a lead scoring based on their behavior on your website.
This is extremely helpful for you to generate quality leads as you can see, what pages they have visited, and how long, from where they came from, and company information.
Thanks to this data you can provide to your sales to improve sales pitches based on customer interest. Try their free demo!
2. BuzzSumo
BuzzSume is extremely helpful to find out which contents perform the best and find the most trending topics.
It gives you a great insight to create popular content on your blog which gets a lot of shares, links, and traffic.
As content marketing is essential for your B2B inbound marketing strategy, this tool helps you always create the most up to date content for your industry.
3. Google (Seach Analytics + Console)
Google Search Analytics and Google Search Console are absolutely necessary to free b2b digital marketing tools every b2b marketers must use.
It gives you static data about your website like for example:
The number of your website traffic
The source of your traffic
What keywords your visitors used to get to your website
What landing pages they have entered
There is much more you can discover within those two free tools provided by Google, therefore implement them into your website and use it for making smarter marketing decisions.
4. Tawk.to
Tawk.to is an amazing live chat software with premium features and the best thing about it is that Tawk.to is absolutely for free! No catch or limited usage.
They have managed to create a free premium live chat for b2b or b2c companies with features you normally have to pay. Tawk.to can afford it by providing live chat agents. So if you want or if not, then you can still use it all by yourself unlimited with premium features.
So, whether you want to hire a live chat agent or not, you can always use Tawk.to for free forever!
6. CRM
The last very important tool for b2b marketing is a CRM system.
It will give you an overview of all your activities, budget, leads, and generate quick graphs and reports and it gives you quick insights from data you have inputted.
With the CRM system, you can quickly analyze data and act fast on changing trends and keep up with your marketing, especially when you run a lot of b2b marketing campaigns and strategies.
There are a couple of CRM systems and some of our more expensive and some are less, but it all depends on your needs.
I definitely can recommend a great CRM system such as:
Hubspot
Dynamics 365
Salesforce
Zoho
But again, there are plenty of CRM systems and it is totally up to you to choose which one will fit the best your needs and budget.
So, make sure you do proper research to get what you want, but generally, all these tools will do the work for you to improve your marketing and generate more b2b leads.
B2B Digital Marketing Campaigns
Once we understand the core information about b2b digital marketing, then we can jump into doing specific b2b digital marketing campaigns.
You already understand what is your target audience and how your target audience moves across the internet to educate themselves on specific needs.
Therefore you can start planning b2b digital marketing strategies that could work best for you to attract b2b leads, converting them, and create a truly unifying experience for your customers.
So, once you understand that then we can move into b2b digital marketing campaigns and be more specific on how we can those strategies and create highly effective b2b digital marketing campaigns for your business.
Because remember, b2b marketing strategies are principles for you to keep in mind, when you are creating a specific goal-oriented b2b marketing campaigns to achieve your KPI's (Key performance indicators).
What are B2B Digital Marketing Campaigns?
B2B digital marketing campaigns are specific online marketing activities created by marketing departments to achieve a single objective within your b2b marketing strategy such as drive more signups to your newsletter or increase engagement of your social media posts to help you support your b2b marketing strategy. A successful marketing strategy can have multiple running campaigns at once to achieve the objectives of the marketing strategy and campaigns vary depending on a strategy.
So, B2B Digital marketing campaigns are an essential part of your B2B Digital Marketing strategies and you using campaigns to enhance the strategies and improve the results.
Therefore strategy has many campaigns that can be used to achieve the goal of your strategy.
How to Use B2B Digital Marketing Campaigns?
There is plenty of different ways that show you can use B2B digital marketing campaigns to achieve your goals and it all depends on many factors like:
Chosen b2b digital marketing strategy
Objectives you want to use
Budget
Timing
Target audience
Platform
So, to give you a straight answer on how to use b2b digital marketing campaigns is difficult and to get the answer you must learn different types of campaigns and what's their purpose.
Or you can just hire a consultant or just outsource it to an experienced freelancer.
But let me give you an example to have an idea of what I mean by using multiple campaigns to enhance a single marketing strategy.
For example, let's say you have started using social media strategy to achieve your marketing objective which brings more leads to your business and you chose LinkedIn as a social media platform for your b2b social media strategy.
So, to make sure your social media strategy work, you have to use some tactics and campaigns to make it work.
Therefore you have decided to run a campaign to promote your best-performing posts on your LinkedIn profile to reach more people, create higher engagement, and get more visits to your LinkedIn company profile.
Then, you will run a second campaign for people who coming to your LinkedIn company profile to become followers.
So, you have created a competition with prizes worth up to $50,000 and to participate, people need to follow your LinkedIn profile and share your competition.
I hoped you got the concept of using marketing campaigns to improve your marketing strategy.
Think of it this way:
"Marketing strategy is like train and campaigns are the fuel"
7 B2B Digital Marketing Tips & Tricks You Should Know in 2023
B2B Digital marketing is highly dependant on technologies but it doesn't mean you should create robotic marketing.
In other words, technologies suppose to help you to create a better user experience, improve your productivity and results, and generally help you to achieve your business objectives.
Therefore, b2b digital marketing has great potential for your business to grow and thrive in the next years. This growth can be amplified by investing in digital marketing courses to gain a deeper understanding of strategies and trends including AI digital marketing trends.
But as I said, you should not become like a robot and still remember that people want to do business with people and technology should help you to connect with people, your prospects and create better and stronger relationships with your target audience.
That's why I want to bring the 7 most important b2b digital marketing tips & tricks you should have always in mind when you are creating a b2b digital marketing strategy.
7 B2B Digital Marketing Tips & Tricks:
Create valuable content
Personalized your marketing
Create content for each of the stages in the buyer journey
Deliver consistency across digital marketing channels
Think from a prospect perspective
Collect & analyze data
Watch out for upcoming trends
Relevant Articles
Also, check out our Digital Marketing hub page to learn more.