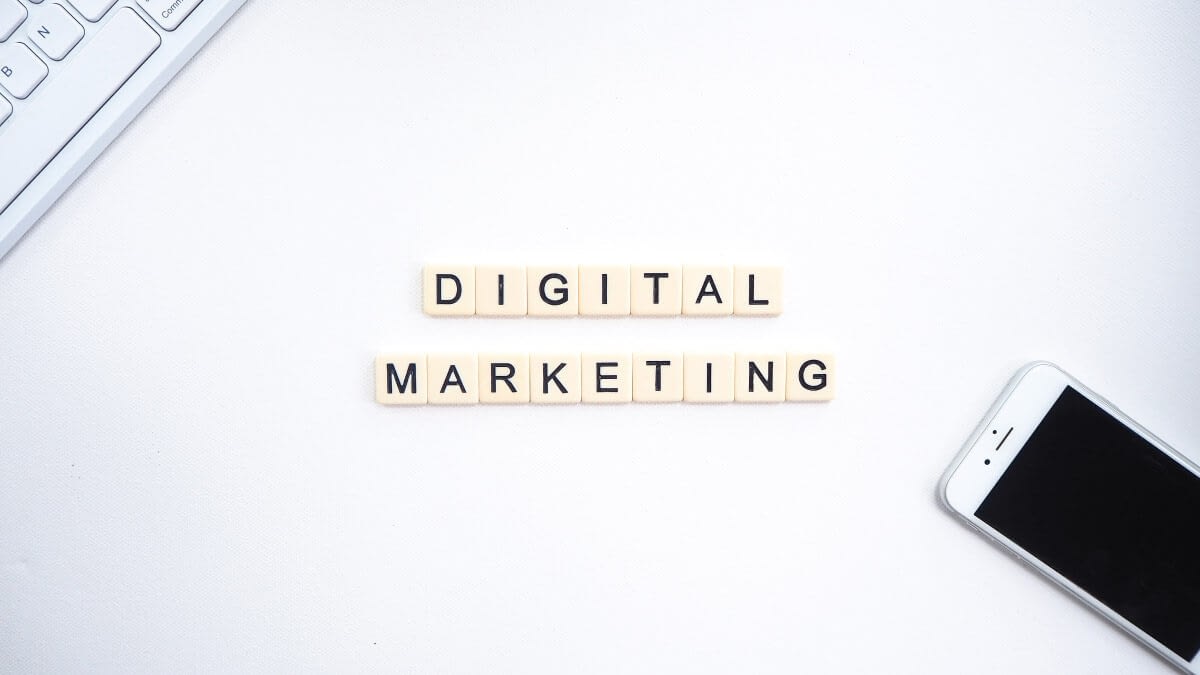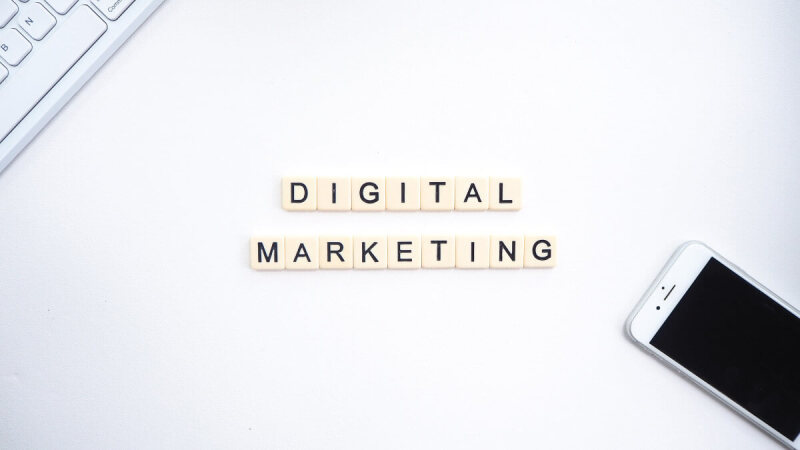 This is the complete B2B Digital Marketing guide for you to understand and apply it to improve your marketing or create marketing from scratch.
This comprehensive and complete guide will take you from A-Z what everything you need to know about b2b digital marketing, and also this guide will give you actionable insights, statistics, tips & tricks and much more to create a great digital marketing plan for your business.
So once you finish reading this guide you will know exactly what is B2B Digital Marketing, how to use it for your business, and also the best b2b digital marketing practices, so you can apply them and achieve better results.
Let's dive into the complete guide to B2B Digital Marketing in 2020 and let's make your business successful.
What is B2B Marketing?
B2B Marketing is a short form of Business to Business Marketing and it is a type of marketing used by organizations to increase brand awareness, drive more demand and improve brand health to achieve business objectives. Successful B2B marketing allows the organization to create more opportunities with lower costs for the business. It is done with digital and traditional marketing strategies and tactics to promote the products and services to their target audience.
In addition, David Lichtenthal Professor of marketing at Zicklin School of Business has noted in his research that b2b marketing has existed since the mid-19th century and ever since b2b marketing has become a popular way how organization attracts their target audience.
Therefore, it is worth noting that B2B Marketing is a skill acquired by studying and practicing the knowledge of B2B marketing due to the dynamic modern environment of technologies.
So, learning about b2b marketing you need to stay up to trends that are changing in marketing and predictions from marketing experts.
Because modern b2b marketing is dependent on modern technologies like:
Marketing Automation Software's
CMS (Content Management Software)
Artificial Intelligence
Analytics tools
And many more.
To learn more you can check out our B2B marketing automation strategies.
Therefore, b2b marketing is constantly evolving and if you want to successfully implement it, you need to keep learning and watching for new trends.
Therefore, what you have learned last year might not be relevant anymore this year. That's why it is so important to keep improving the knowledge.
Differences between B2B and B2C Marketing
Despite most people are familiar with the terms B2B (business to business) and B2C (business to consumer) marketing but only a few of them actually know what the main differences between them are and why digital marketing is important in both industries.
As both types of marketing have a different way of how you communicate with your target audience to successfully drive sales.
Therefore, it is important for you to know what the main differences are between b2b and b2c marketing so you can create an effective b2b marketing plan and not getting confused by the different approaches of each of those.
So, let's look at the main differences between B2B and B2C Marketing.
| B2B MARKETING | B2C MARKETING |
| --- | --- |
| A few clients with large purchasing volume | Many clients with low purchasing volume |
| Sell products and services to companies | Sell products and services to individuals |
| Prices of products and services are usually expensive. | Prices usually lower prices to be affordable to a large group of people. |
| Buyers are searching for efficiency | Buyers look for self-satisfaction |
| Selling is based on building relationships and expertise | Selling is based on emotion selling |
| Long Selling Cycles | Short Quick Emotional Decision |
| Usually, 7-12 decision-makers involved in purchasing decision | Usually, 1-2 People Involved in purchasing decision |
| Buyers want to be educated | Buyers want good deals |
| Focus more logic and characteristics | Focus more on benefits and desires |
| Look for long term cooperation's | Look for quick fix and satisfaction |
| Need to resolve specific pains and needs | Need to resolve basic necessities |
To summarize it, B2B marketing is different because of the different target audience and their behavior. B2B Marketers are focusing on decision-makers who are representing the company's interests like improve productivity, lower cost, and make smarter decisions.
Of course, b2b marketers can't forget that those decision-makers are still people and consumers as well, but decision-makers mostly act on behalf of the interested their company.
Also, the larger the company is, the more decision-makers are involved in purchasing decisions of products and services to ensure good quality decisions.
Therefore, b2b marketers need to create multiple varieties of content to educate and provide value to each of the decision-makers.
B2B Marketing Funnel & Buyer Journey
First of all, I would like to talk about, why the traditional marketing funnel is not effective anymore and how we should create a funnel where prospects can move up and down.
As worth noting, modern marketing should be personalized and adaptable to every prospect's needs and we should not familiarize and throw every prospect into the same bucket.
As recent statistics said that over 74% of customers feel frustrated when website content is not personalized (Business2Community) and 94% of customer insights and marketing professionals across multiple industries said personalization is "important," "very important," or "extremely important" for meeting their current marketing objectives. (CMO.com)
With that being said, the classic buying process and marketing funnel have been disrupted and you should have in mind that prospects are moving in different directions in the marketing funnel than would be expected.
The B2B Marketing Funnel
A marketing funnel is a classic tool used by marketers for many years and it gives a business general idea of where the prospects are located.
This concept of having a marketing funnel helps marketers and businesses to create a straightforward way for prospects to become from strangers to customers.
So, it should work like a guideline for marketers to create a unified marketing plan which brings and convert a lot of prospects.
And even thou the general idea of the marketing funnel and stages within the marketing funnel is right, unfortunately, many prospects don't have the same or even similar behavior patterns.
And each of your prospects should have special treatment.
Therefore b2b marketing funnel can't work on its own as many prospects have a different preferred way how to interact with organizations and do research about products and services, especially b2b prospects.
The problem with the marketing funnel is that it is a linear/one way for a prospect to enter it and the only way is down.
But with the access to the enormous amount of information online, prospects no more move so predictively, and on average b2b researchers read 5-12 pieces of content before they interact with the organization.
Also, these contents do not come from the same source as 63% of decision-makers prefer multiple sources of information.
Therefore it can happen your prospect is jumping up and down in the marketing funnel.
So, with this problem, a new approach to marketing needs to be.
But before, let's look at the classic marketing funnel: B2B vs B2C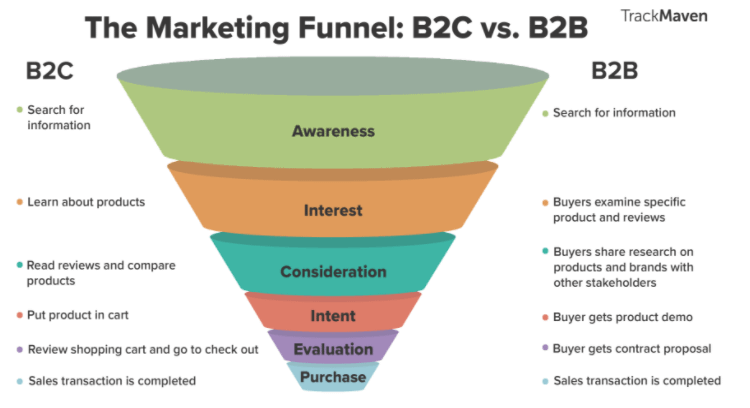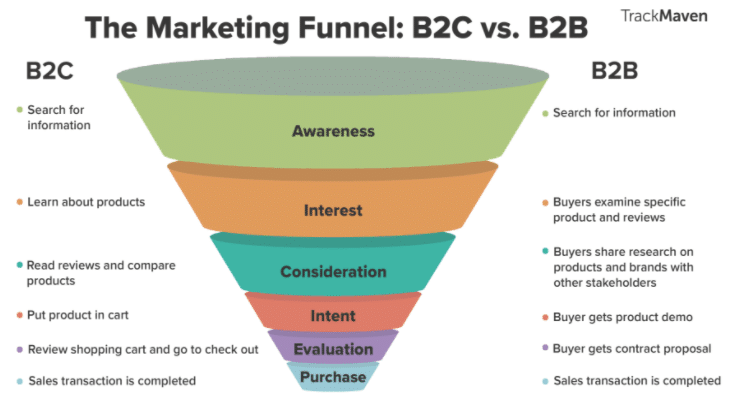 Source: https://erdelcroix.tumblr.com/
Awareness, as you can see, is a stage when the prospect is searching for solutions and information related to their problem whether you are in b2b or b2c. But, before we will be focusing on b2b marketing, let me more discussion about that. It is a stage when the prospect is searching for a trusted source of information.
Interest in products comes once the prospect read enough information and have a general idea of what products are available on the market and what to expect. Usually, they will find a few products and learn more about them. Both b2b and b2c sides are very similar although you must remember that the b2c side is much faster than the b2b side. For b2c the searching for product and learning about the product can take hours or days, but b2b it can be months.
Consideration: once a prospect is interested in a certain product, a prospect will be looking at the reviews and comparison for "social proof" in the b2c sector. On the other side, in b2b (business to business) sector the researcher (the responsible person for finding solutions for company pains and needs) will present selected products and services to other decision-makers and shareholders.
The intent is when the prospect selects products in which the prospect is interested in. In B2C, it is when prospect selected item and put it in a cart. Also to remember, 70% of people abandon their shopping cart. B2B prospects usually request a product demo from vendors. On average 3-5 vendors are contacted to present their demo product. So, it is not time to celebrate yet.
The evaluation part is the very last and important part when your prospects are selecting the right product for their needs. Here it will show who done the best job. Obviously, your product is not suitable for every prospect, but also Evaluation part shows whether you have provided better customer experience throughout the funnel. Here, everything counts.
Purchase is the very last part when you have collected your rewards for your hard work, but that's it, as once your prospect became a customer.
The B2B Buyer Journey
The new marketing funnel is called the buyer journey and it is based on touchpoints of each of your prospects within your sales funnel.
The Buyer Journey touchpoints help you to recognize whether the prospect is ready to buy or needs more information.
Although it is hard to track each of your prospect's steps, it still gives you an idea of how you should structure your content.
By IDC, decision-makers finish 57% of the buyer journey before they even engage with a salesperson.
Thanks to many sources of online information, buyers can do easily researcher on their own from home and or their office as 70% of buyers fully define their needs on their own before they even talk to the salesperson.
And it is because b2b buyers are educating themselves before they contact salesperson and it gives them certain power to decide on their solutions, as used to be that you had to trust the salesperson as you could not do proper research about products and services due to very limited of resources.
But with the internet you can easily type anything into a search engine and get a bunch of opinions and information related to your searches, therefore 44% of b2b buyers are able to identify specific solutions to their own needs.
Content is more im