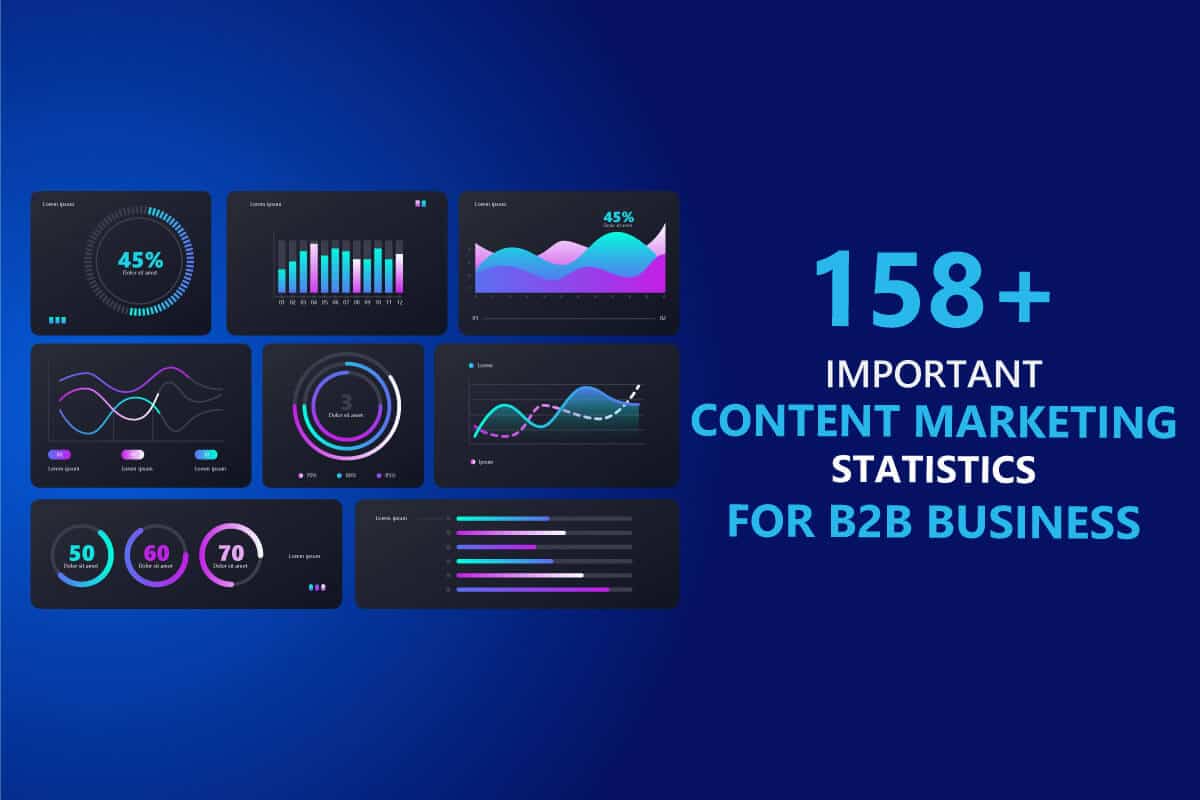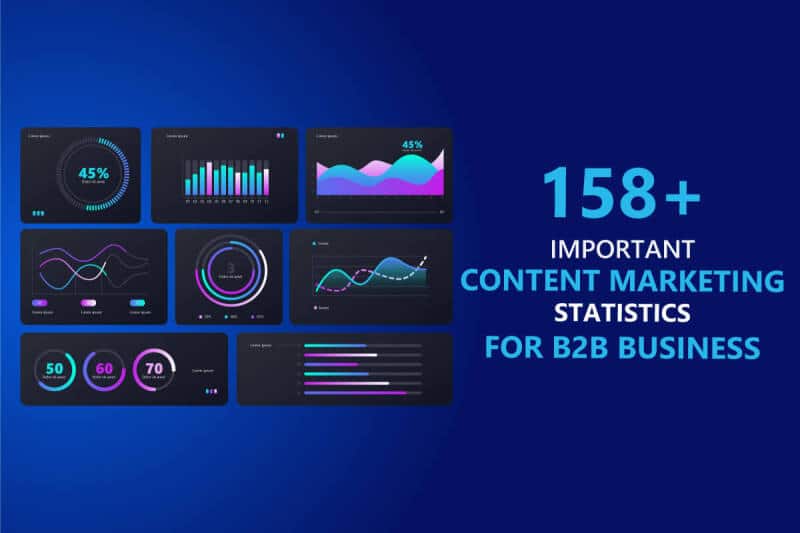 Drive more informed decisions with the latest updated B2B Content Marketing Statistics to drive leads in 2023. Get all the industry knowledge and benchmark about Content Marketing so you know what to aim for. I have divided the statistics in numerous sections for you to easily find what you looking for.
Also do not forget to use (CTRL + F) to find quickly what you need to know. You can select keywords you want to know, so like this, it is easier to find something.
I am constantly updating the B2B Content Marketing Statistics for you so you have the latest information about the current content marketing strategy. But if you see something missing you can hit me up and will be more than happy to add it.
Top Content Marketing Statistics
86% of B2C marketers think content marketing is a key strategy. (Content Marketing Institute)
Content marketing is 3 times more efficient in terms of leads than outbound marketing. (Review 42)
General Content Marketing Statistics
91% of B2B marketers use content marketing to reach customers (Content Marketing Institute)
60% of B2C marketers use content marketing strategies. (Review 42)
63% of businesses don't have a documented content strategy. (SlideShare)
67% of marketers say SEO is the most effective marketing tactic. (Smart Insights)
B2C marketers dedicate an average 26% of their total marketing budget towards content marketing. The most successful content marketers dedicate 40%. (Content Marketing Institute)
76% of marketers use organic traffic as a measure of content success. (Smart Insights)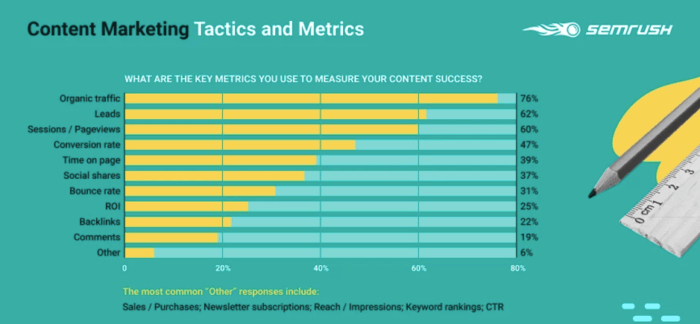 (Image Source)
60% of B2C marketers are committed to content marketing. (PointVisible)
69% of B2B marketers have a documented content strategy. (Smart Insights)
56% of businesses worldwide intend to spend more on content creation. (Review 42)
Only 48% of B2B marketers frequently craft content based on the specific stages to the customer journey. Of the most successful content marketers, 74% do. (Content Marketing Institute)
73% of businesses have a designated employee to monitor content creation. (Review 42)
63% of content marketers use their content strategy to build loyalty with their existing clients. (Content Marketing Institute)
Only 33% of B2C content marketers reported always utilizing data in their distribution strategies. (Conductor)
86% of B2C marketers think content marketing is a key strategy. (Content Marketing Institute)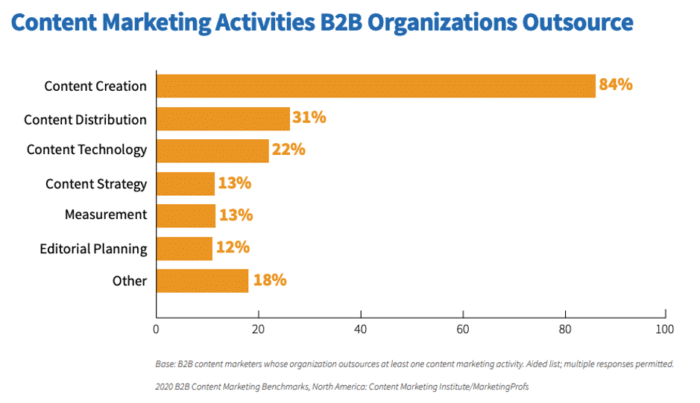 (Image Source)
84% of B2B marketers are outsourcing content creation. (Smart Insights)
72% of companies say content marketing increases leads. (Review 42)
70%prioritize content quality over quantity. (Point Visible)
36% of content marketing teams considered implementing more "how to" guides and educational content as an efficient tactic. (SEMrush)
32% of marketers think their content creation workflow is fair or poor (Content Marketing Institute)
Content Marketing ROI Statistics
72% of marketers say content marketing increases engagement (Content Marketing Institute)
Marketers who prioritize marketing efforts (e.g. making blogging a serious priority) are 13 times more likely to see positive ROI. (HubSpot)
72% say it has increased the number of leads. (Content Marketing Institute)
Tiger Fitness got a 60% returning customer rate with video content marketing. (Marketing Sherpa)
Content Marketing Challenges Statistics

60% of people find it hard to produce content consistently. (Zazzle Media)
65% of people find it hard to produce engaging content. (Zazzle Media)
62% marketers don't know how to measure the ROI of their campaigns. (Zazzle Media)
The biggest challenges for content marketing are reportedly lack of data (27%) and lack of strategy (28%). (DMA)
Changes to Search Algorithms is the top concern (61%) of content marketing organizations, followed by social media algorithm changes at 45%. (Content Marketing Institute)
7% of marketers report that creating engaging visual content consistently is one of their top struggles. (Venngage)
Blogging Statistics
32% of respondents always checked the analytics of their blog posts (Statista, 2020)
26% of blogs include videos but 41% of bloggers report strong results from videos. (Smart Insights)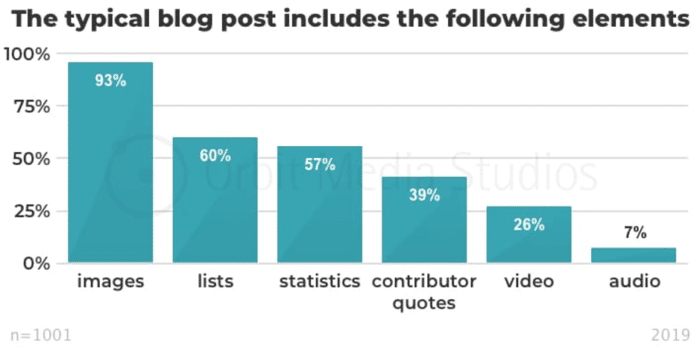 (Image Source)
WordPress users produce about 70 million new posts and 77 million new comments each month. (WordPress 2022)
Blogs are among the primary three forms pf media used in content strategies today. (HubSpot, 2022)
It takes 65% more time to write a blog than in 2020. (Smart Insights)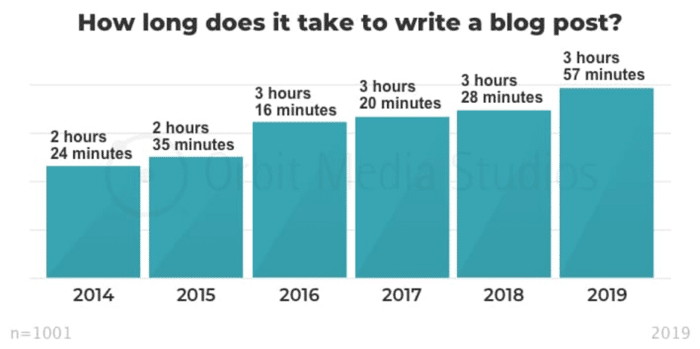 (Image Source)
73% of people admit to skimming blog posts while 27% consume them thoroughly. (HubSpot, 2022)
18% of marketers choose WordPress as their website content management system (CMS) (HubSpot, 2022)
Companies spend 46% of their budget on content creation. (HubSpot 2022)
83% of traffic to marketing blogs comes from desktops. (SEMrush, 2022)
Search is the number one traffic source for blogs across all industries. (SEMrush, 2019)
In the marketing industry, the top-performing articles are over 5,700 words in length. (SEMrush, 2022)
While 40% of content marketers most frequently used stock photography in 2019, only 13% reported reaching their marketing goals with these visuals. The use of original graphics helped 40% of marketers reach their goals.
38% of bloggers who spend more than 6+ hours on writing a post report "strong results". (Orbit Media)
20 billion WordPress pages are viewed by over 409 million people each month. (WordPress)
Articles that are >3,000 words get 3x more traffic, 4x more shares, and 3.5x more backlinks than shorter articles (SEMrush, 2022)
Listicles get 2x more shares than other blog post formats. (SEMrush, 2022)
51% of companies say updating old content has proven the most efficient tactic implemented (SEMrush, 2022)
86% of companies produce blog content compared to other formats. (SEMrush 2022)
Video Marketing Statistics
92% of marketers make videos with assets they already have. (Animoto, 2022)
43% of survey respondents say that branded video is the most memorable type of content shared by companies. (HubSpot, 2022)
80% report an increase in dwell time on their site if it has video content. (Wyzowl)
26% of consumers are less likely to finish a video if they need to turn their phones horizontally to watch.
43% of consumers will decide if they want to watch a video until the end of the first 15 seconds. (HubSpot)
In 2020, social media engagement videos are among the top four most common types of video marketers are investing in today. (HubSpot, 2020)
44% of consumers choose to watch live video from brands and other businesses once per week. (Animoto)
Only 11% of video marketers say they've used Snapchat as a video channel in 2020. (Wyzowl, 2022)
43% of video marketers say video has reduced the number of support calls they've received. (Wyzowl, 2022)
92% of video marketers feel the levels of noise and competition have increased in the last year. (Wyzowl, 2022)
Consumers prefer video content that is humorous, educational or related to a social issue or cause. (HubSpot)
Video is the second most-used content type on social media used to increase audience engagement. (HubSpot, 2022)
YouTube and Facebook are the most widely used platforms among video marketers – used by 85% and 79%, respectively. (Wyzowl, 2022)
83% of video marketers say video helped them generate leads. (Wyzowl, 2022)
Live video is the third most-used social media marketing tactic. (HubSpot, 2022)
People are more likely to watch videos daily on a smartphone than on a computer. (Faceboo, 2022)
99% of people who use video for marketing say they will continue using video in 2021. (Wyzowl, 2022)
84% of people say that they've been convinced to buy a product or service by watching a brand's video. (Wyzowl, 2022)
93% of brands got a new customer because of a video on social media. (Animoto, 2022)
88% of video marketers reported that video gives them a positive ROI. (Wyzowl, 2022)
95% of video marketers said they felt they'd increased understanding of their products or service using video. (Wyzowl, 2022)
93% of brands got a new customer because of a video on social media. (Wyzowl, 2022)
YouTube Statistics