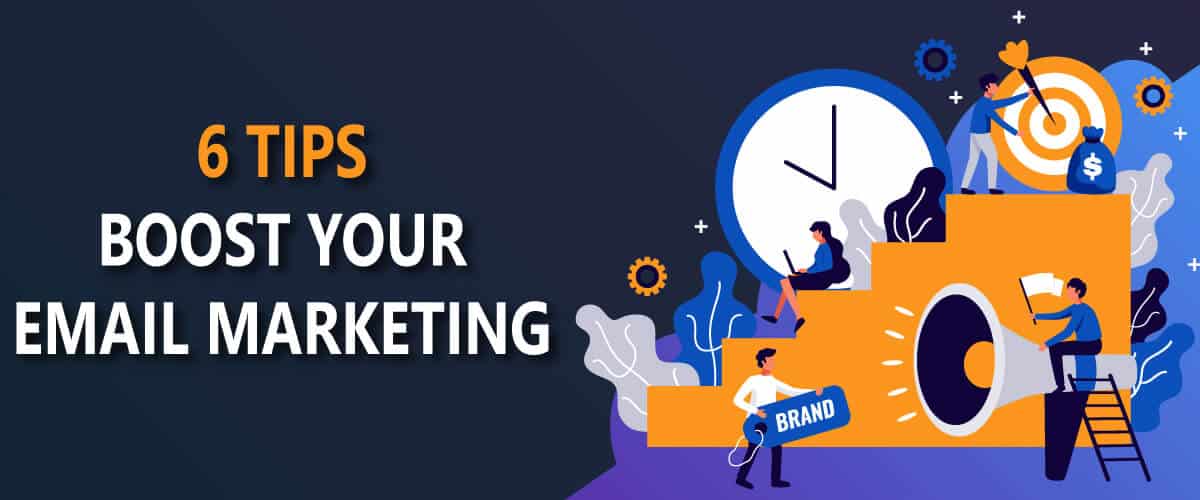 In this article, I am going to share with you the 6 essential ways to boost your B2B email marketing results in 2023 and get more leads for your business. Nowadays marketers are having so many new options to reach prospective customers such as influencer marketing, social media marketing, chatbots, and other strategies to grow the business. But we should not forget about one of the oldest and still most effective digital marketing strategies email marketing.
You can also check AccuWebHosting's email delivery services for all of your requirements.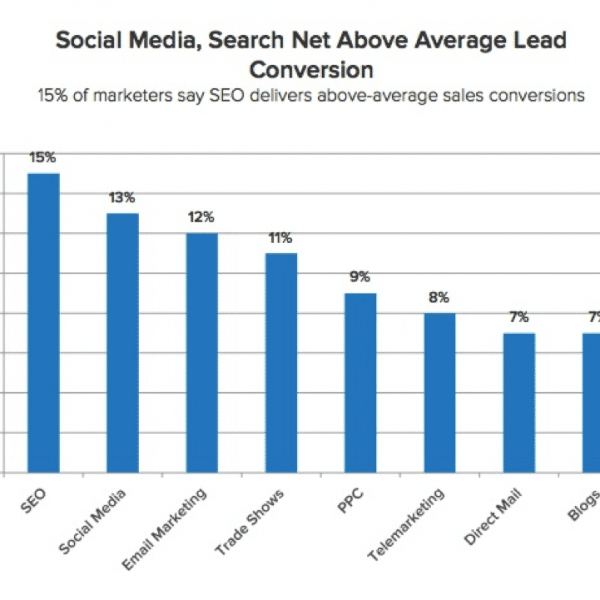 (Source)
The ROI of email marketing is consistently delivering great results year after year. I have done small research about email marketing ROI and I have found out that since 2015 email marketing slightly improves the ROI.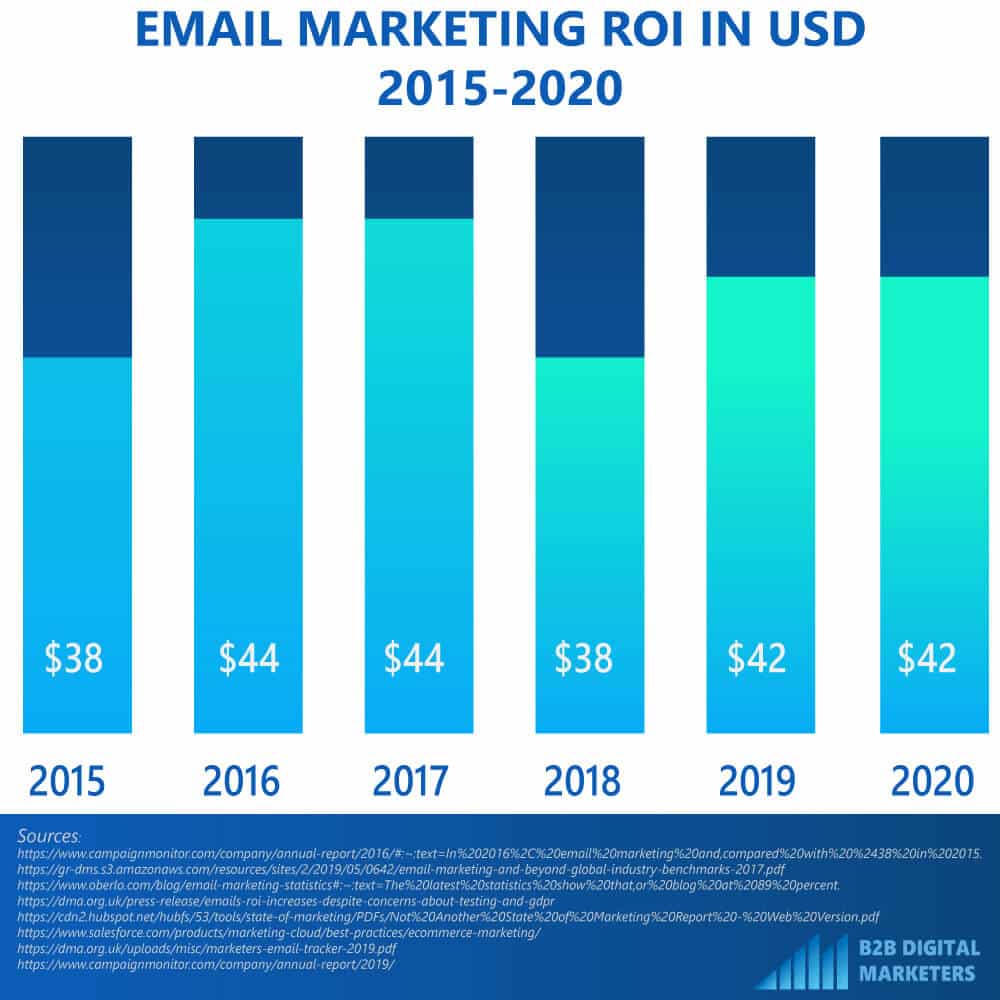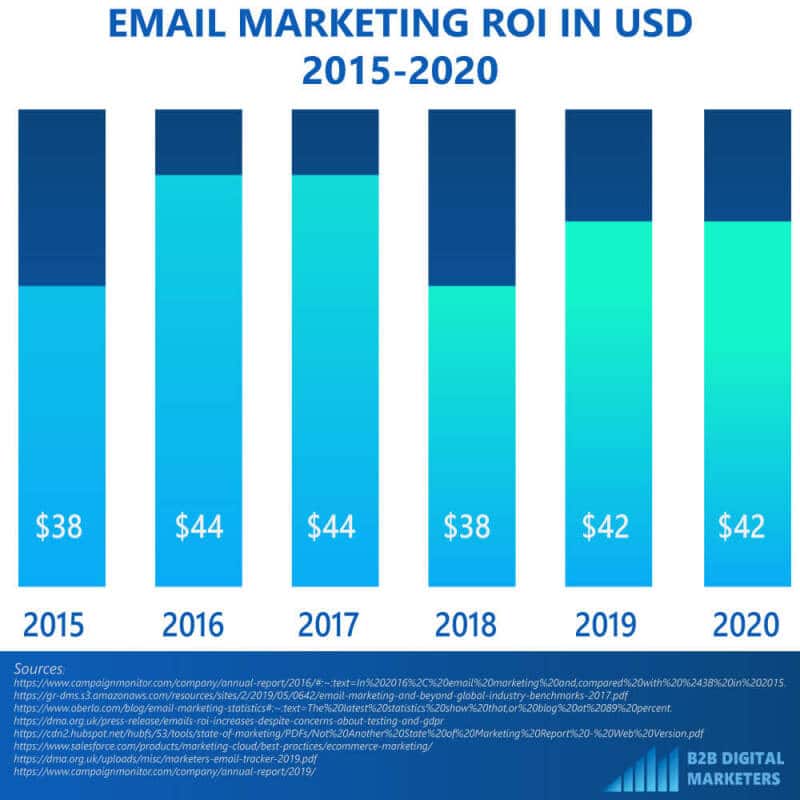 So the goal of this video is to help you manage your email marketing to boost your email marketing results by implementing some of the most effective email marketing strategies that I have ever implemented for my clients' business. These strategies are more like evergreen and I am sure if you implement any of these strategies, they will be effective in the next 5 years. Thus, I believe these are not much as strategies but principles as strategies change every time with new technologies and so on, but principles stay. So let's look at some essential ways how to boost your email marketing results in 2023:
1. Focus on Omnichannel Engagements to Improve Marketing Results
The first way of how you can boost your email marketing results is by understanding and improving your omnichannel engagements and follow your engagement journey as recent studies show that at the end of 2020, customer experience will overtake price and product as the key brand differentiator.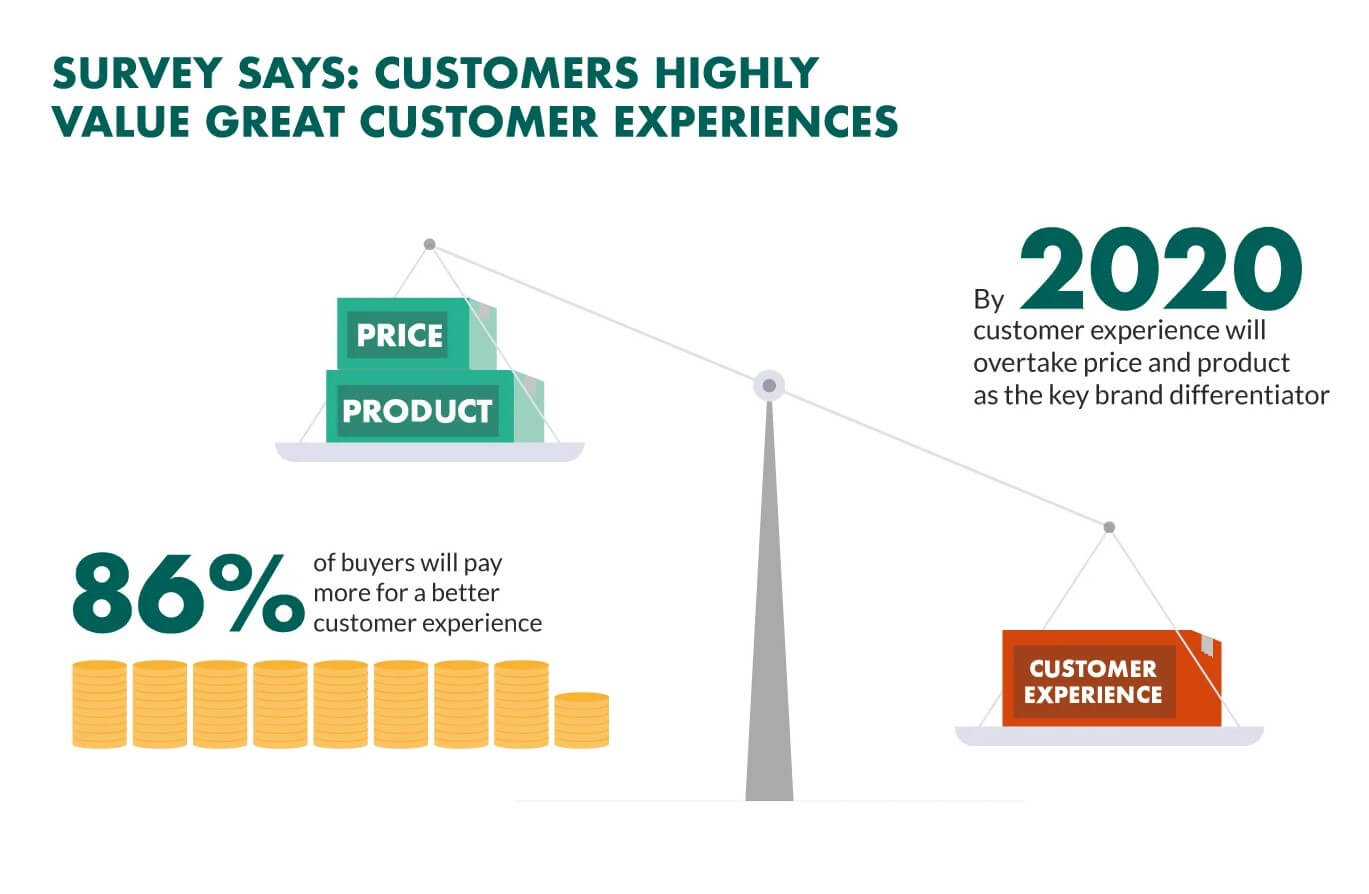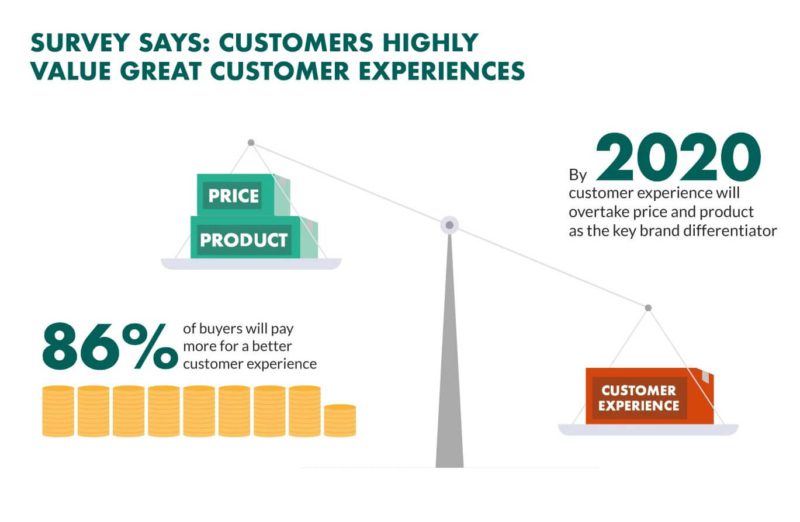 (source)
We know that driving lead generation with content marketing is based on delivering a proactive and compelling experience at every touchpoint with the customers and provide an educational experience. And the way how we engage with our prospects and customers directly reflects how well our organization is united because one of the biggest challenges that you must first solve is aligning multiple departments together like Sales, Marketing, Operations, and Customer Service. This is essential as engagement is the building block of successful email marketing campaigns. Adobe found that companies with the strongest omnichannel customer engagement strategies enjoy a 10% Y-O-Y growth, a 10% increase in average order value, and a 25% increase in close rates. So, to successfully launch your email marketing campaigns and improve your marketing results, your organization must focus on the omnichannel engagement journey and satisfy customers' and prospects' information needs along the way. Your brand must orchestrate all their potential email interactions with customers based on their needs and use some of the modern technologies to email follow up with customers. A great example is Fiverr and how they are using trigger emails based on customer interactions and searches on the web, not only this improves customer engagement, but their email marketing yields great results.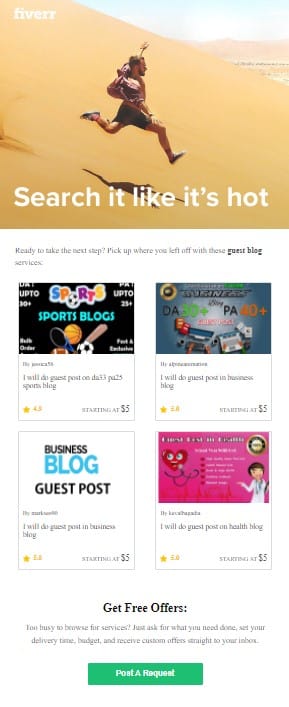 And as Myles Kleeger, president & Chief Customer Officer from Braze said: "If you married email with one more channel we see three times better performance from an engagement perspective than just using email alone and then we see if you add a third channel you get five times greater engagement. 75% of our clients now are using more than one message type. This really embraces this notion of multi-channel as critical and making sure that your strategies match what your customers need." Delivering the right engagement at the right time, providing more educational emails based on the customer journey, buyer's needs, and their interactions across different channels with your brand will be the main driver for email marketing campaigns to drive great results.
2. Measure Content Marketing KPI to Improve Email Results
The second way how you can improve your email marketing results is to measure your Content Marketing KPI and based on that improve your email marketing campaigns. As I have already mentioned that modern marketing, customer service, and sales should be aligned to effectively market, provide seamless customer experience, and drive high-quality leads to their business. Measuring your email marketing metrics is only 1 piece of the pie. Running content marketing across multiple channels could be compared to running a business as you must gather information across departments to make more impactful and right decisions. Thus, measuring your email marketing metrics to improve your email marketing results is really in the box thinking as your prospects and customers do not only interact with your emails but using multiple channels.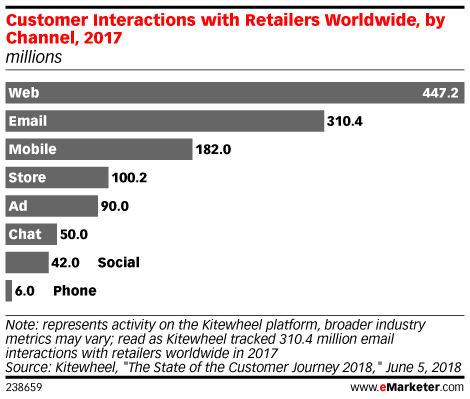 (source)
Unify experiences on any channel come with understanding how your overall content marketing performs and take the action to deliver a seamless customer journey. To give you an example, understanding what keywords drive the most amount of traffic to certain a page, optimize the page with related content upgrades and offers based on keywords that drive the traffic, and upon customer downloading the content upgrade or signing up you can provide optimized email marketing automation campaign based on that keywords.
And this is just a short example of how to improve conversion rates of your pages, drive more subscribers and leads with email marketing. And you can take it even further as the more you understand your content marketing KPIs and what content drive the best results you can then orchestrate your customer journey with your email marketing and drive great results. Remember, that you should start with the best performing content and understand your KPI's of each of those and what makes it so successful. And while it might sound like tedious tasks usually there are only a handful of contents that drive the most number of leads and traffic.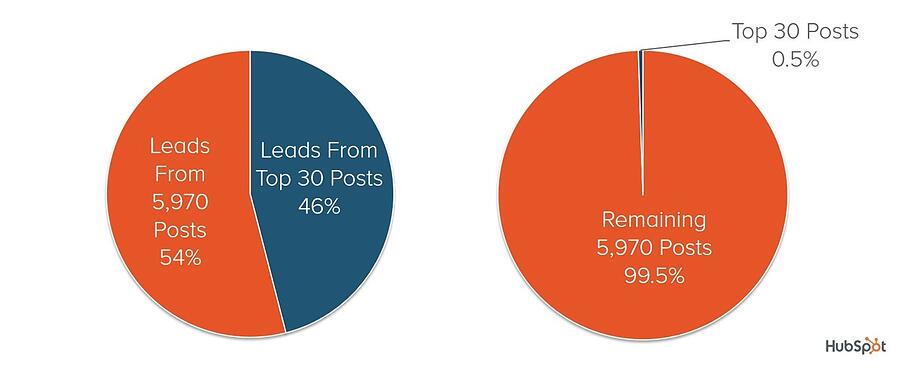 Even big sites like HubSpot, drive the most amount of their blog leads from just 30 blog articles among all 6,000. So, make sure you understand the whole picture of how your customers are interacting with your brand and use your Content Marketing KPIs metrics to boost your email marketing results as this will help you to generate and convert more prospects and improve your engagement metrics.
3. Total Customer Experience with Your Email Marketing
The third way to boost your email marketing results and to drive customer loyalty is by managing the total customer experience. Many companies are realizing the value of having email marketing software to improve marketing results as it allows them to connect with customers, share useful information, and build rapport with them. And in the age of customer experience when customers are having total control of choice whether doing business with you or not, businesses must focus on moving from traditional email marketing techniques and go above and beyond. To drive total customer experience with email marketing, companies cannot focus only on what email to send next but understand the whole picture of customer experience with the organization across all:
touchpoints (website, email, social media, service technicians, etc.)
business departments and divisions
experiential elements (presales activity, product/service experience, post-sales support, etc.)
Understanding how your customers and prospects are interacting with your brand will improve understanding of your customers because the total customer exp