In this article, I am going to share if is email marketing dead in 2023 and if it is worth starting it or keeps doing it in 2023.
Email marketing has been one of the main marketing activities for many organizations for decades and some are heavily relying on it. But thing is, will email marketing work even in 2023, or should we rather focus on different marketing activities?
A lot changed during 2022 due to the COVID-19, war, supply chain crisis and Post-Covid, therefore, I will be only using the latest email marketing statistics from 2022 to see how email marketing changed and if it still has a place in digital marketing.
This hope will answer mine and your question if email marketing is dead or is worth to invest money and effort in it.
And without further due, let's get started.
Latest Statistics Email Marketing Statistics (Only Stats from 2023)
As I mentioned a lot of changes during 2022 and digital marketing channels suddenly have become oversaturated.
E.g., from just a few webinars done by a few companies, suddenly every small and large business has started doing a webinar to replace lead generation from live events, and hey no wonder.
And the same applies to email marketing, a lot of marketers have seen an increase in engagement, precisely 78% of marketers have seen an increase in email engagement over the last 12 months in 2022.
And this is because a lot of people were stuck at home during quarantine, had more time to read emails, rather than being stuck in the jam also from my experience, people prefer to use email for business communication, but on this later.
Not only that but 87% of B2B marketers reported email is one of their top free organic distribution channels because it is easy to quickly create an email to distribute your blogs or webinars and send it to only people who could be interested in that particular piece of content.
And lastly, if you believe that your emails are not being open due to over-saturation, then you are wrong because 99% of email users check their email every day, some as much as 20 times a day!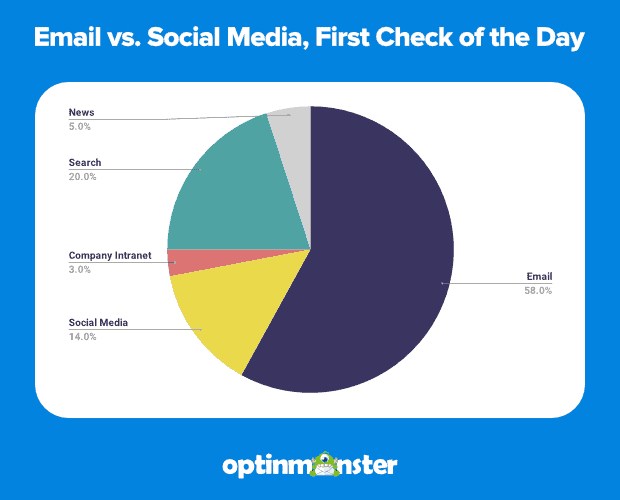 (source)
So there is a big chance that the reason is not that your email has not been seen but rather did not catch the reader's attention and peak interest to open it for numerous reasons like badly personalized, not good preview text or headline, etc.
And I could go even deeper but from these 3 email marketing statistics I want to give 5 reasons why email marketing is not dead in 2023.
Why Email Marketing Isn't Dead?
From email marketing statistics and my own experience from my clients' email marketing results, I can definitely conclude thatemail marketing isn't dead at all in 2023 and it still has a big impact on your marketing results if done correctly.
Of course, there are a lot of things you must know to effectively drive lead generation from email marketing like the basics of lead nurturing, personalization, and targeting, and of course, it is not about volume but the quality.
Also, customer experiences (CX) has become the top priority for businesses to effectively drive the business forward and increase revenue in 2023. Thus, we can expect a lot of companies will invest in improving CX.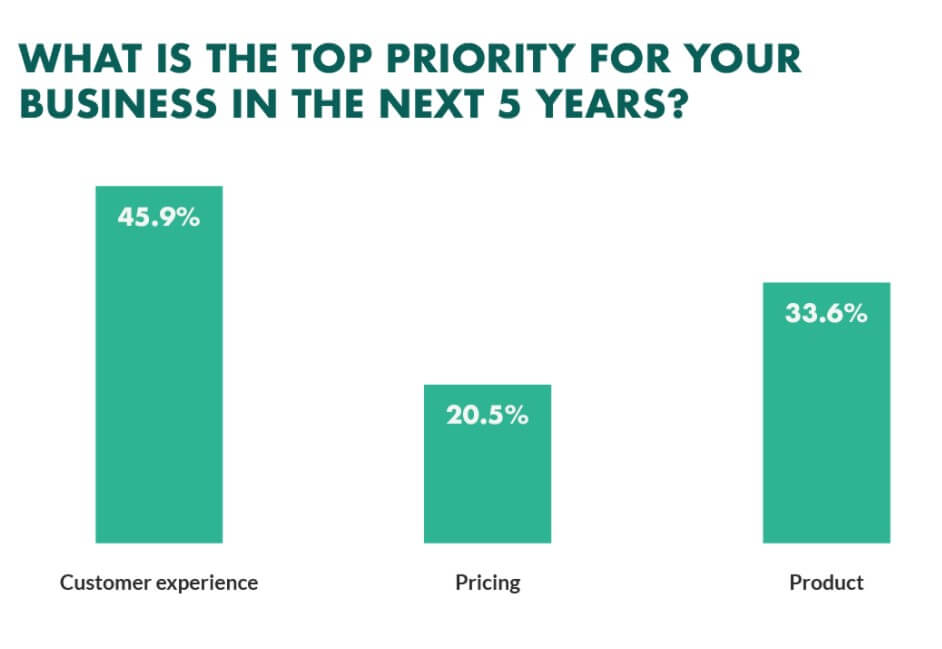 (source)
Therefore rather than focusing on sending email to get more sales, focus on sending emails to provide better customer experiences such as providing more educational emails to satisfy your prospects' information needs to make the purchasing decision.
This rather shift will help you to acquire more customers than sending salesy and promotional emails.
But let's look at the 5 main reasons why email marketing isn't dead in 2023 and why you should be using email marketing for lead generation for your company.
1. Everyone is and will use email.
The first reason why email marketing isn't dead is that now almost everyone is using and will be using email.
While yet there are no official statistics from 2023 for how many email users worldwide there are, from the previous year 2022, there were 3.9 billion email users and it was expected to climb to 4 billion users.
And I strongly believe that this number was definitely reached especially due to the Covid-19 situation when working from home became a thing and even the less technical people had to use email more often.
Heck, even my grandma started using email, but she was already using Facebook and Instagram before, so she had some background in using these channels. But she told me she subscribes to a newsletter to receive promotions and interesting news of her interest.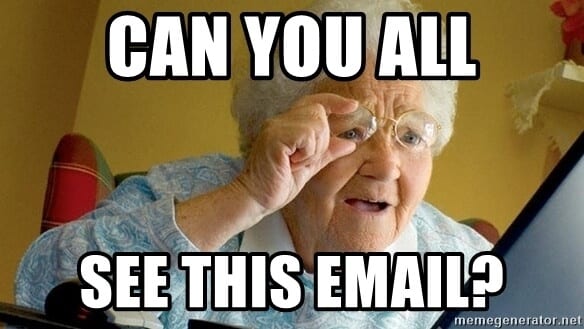 But not only older people had started using emails for communication, but also the young generation, as well as Generation Z, had to start using emails because of studying from home.
So, because of the covid-19 many people old and young were forced to use email to complete daily tasks. Therefore, the usage of email grew in 2022 even more than it was predicted in 2019.
So, for sure even your target audience is using email daily and you should definitely include email marketing in your B2B Content Marketing strategy in 2023.
2. Email Marketing Deliver Strong ROI YoY
The second reason why you should start using Email Marketing within your marketing mix is that email marketing is delivering a strong ROI year over year. and incorporating AI content marketing and AI email marketing can potentially boost these results even further.
Recently I have spent some time and done a research to see how email marketing was performing in the last 5 years.
The reason was that I wanted to know what is the trend of email marketing and if the ROI is going down or not.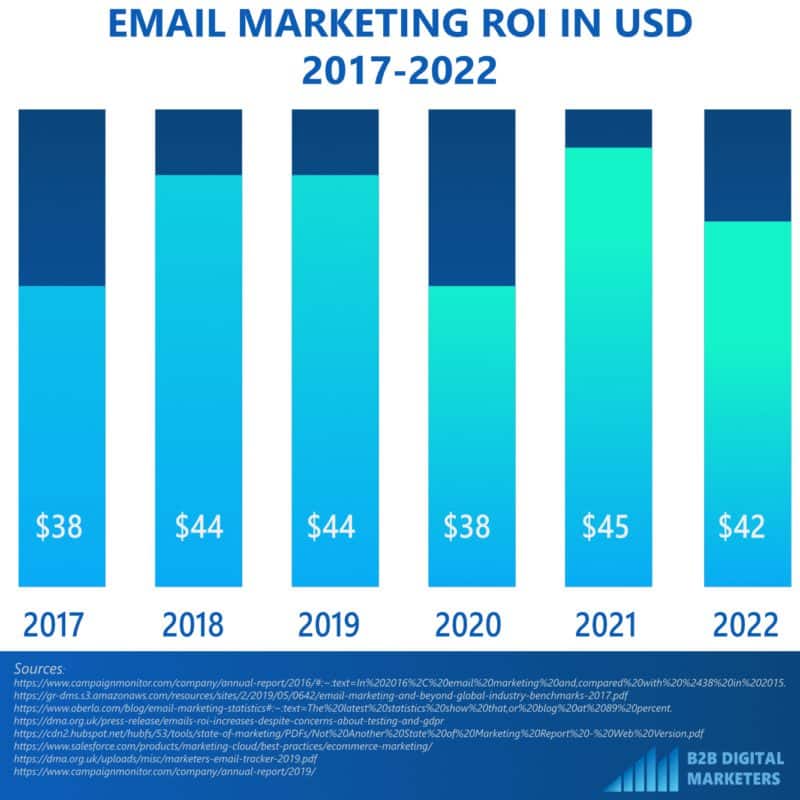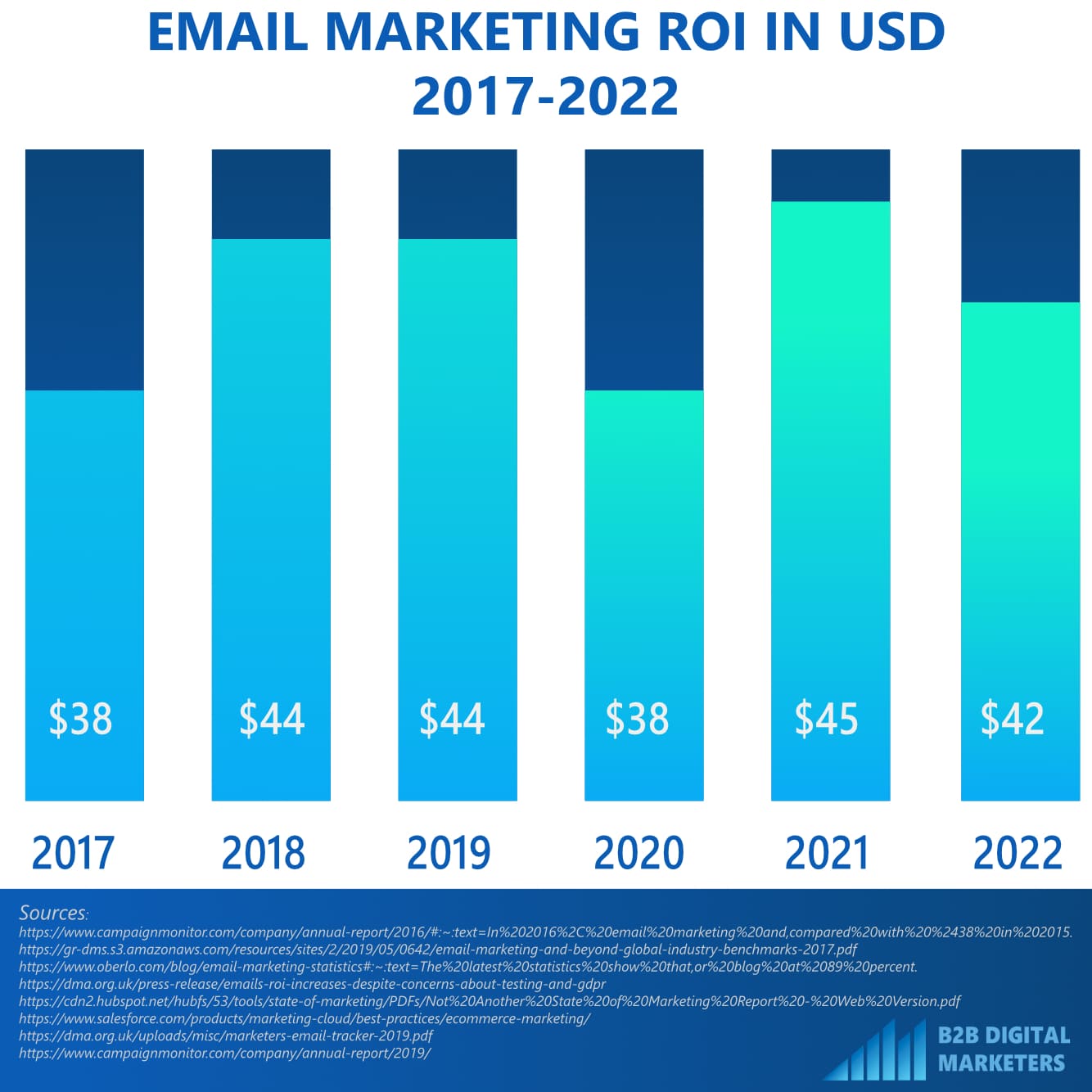 And from my research, I can see that on average email marketing is consistently delivering and great ROI YoY where an average email marketing ROI is USD42 across industries in the past 5 years.
But if you look by industries we can see that some are doing even much better than just getting 4200% ROI from email marketing.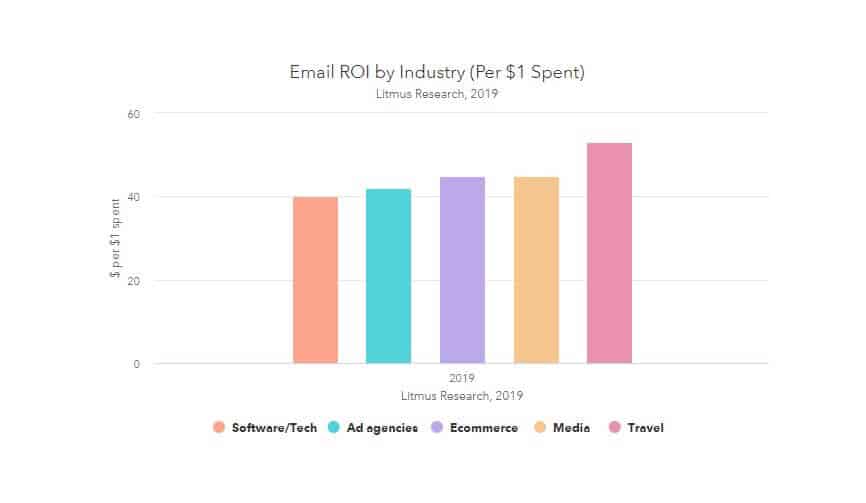 According to HubSpot's latest research, the best ROI from email marketing is getting the Travel industry, then Media, and third Ecommerce.
And from my experience in Software/Tech industry, I can see that around 40 dollars are very accurate.
But 18% of companies achieve ROI greater than $70 per $1 invested and that is almost twice more than an average organization.
Therefore I definitely recommend you to start with email marketing as soon as possible, because email marketing will be delivering great results even in 2023.
Also, check out my favorite Email Marketing tools that I recommend everyone to start with as they provide great features for an affordable price and start effectively with email marketing.
3. Email is Preferred Business Communication
The third reason why you should include Email Marketing in your B2B Content Marketing mix is that it is a preferred business communication for many business professionals.
86% of professionals give priority to email connection. 73% of millennials prefer communications from businesses to come via email.
My mentor always said, if you do not have it in email, it is not official, so whenever you make a decision, send an official email, do not WhatsApp.
And I agree with this, and some people may argue, that there is no difference between sending a message through an app or email and using an app like WhatsApp it makes it even faster to get things going.
And I agree with this as well, as in many instances I prefer to send WhatsApp when I need something very fast to be read.
So, while there could be a strong argument among using email and messaging apps and each of those has its pros and cons, email marketing is still very much the top preferred communication tool for businesses, especially in the beginning of communication with a brand or customer.
From my experience, usually, in the later stage, people switch from using email to messaging apps for faster communication and send emails only to make an official statement or decision.
So, I always recommend using email marketing to build trust and stay in touch with prospects in not an intrusive way, as sending every week WhatsApp lead nurturing message is not appropriate to someone who is not ready to buy.
4. Easy & Affordable to Start for Anyone
The fourth reason why you should at least consider and do further research about email marketing and why email marketing is not dead is that it is super affordable to start with as many email marketing vendors offers affordable pricing or even for free.
This makes it easy & affordable to start for anyone and generate leads for a business. But of course, first, you need to get email subscribers and for that, I have an entire video which you can watch here!
But to start you can use some of the email marketing tools like SendinBlue and start for free with some great email marketing features like:
Automation
Personalization
Segmentation
Reporting
Live Chat
CRM
Or if your business is more willing to, then invest in more advanced email marketing tools like GetResponse or HubSpot. (check out the best Sendinblue alternatives & competitors.)
Either way, email marketing is super affordable for anyone and with the possibility of driving a lot of leads, it would be almost foolish to not start with email marketing.
But hey no judgment and you know what is the best for your business and also I understand that getting email subscribers is not that easy because the market is oversaturated.
5. AI Can Improve Your Email Marketing Results
The last, fifth reason why email marketing is not dead is because of AI and how it will drive great results for your marketing and business.
Artificial Intelligence is a massive game-changer in every industry, and I do not know a single industry that is or will not be affected by AI technology.
And while not long time ago AI was only affordable to large organizations like Microsoft, Google, Apple, and so on, nowadays we can start to see that even small businesses can use some of the power of artificial intelligence.
And that applies even to email marketing tools as those started using AI to deliver better email marketing results.
Artificial intelligence is helping us to send emails at the right time when your subscribers are most likely to open your email.
Also, AI helps to move from basic personalization to expand the possibilities by using predictive analytics, customer data, and machine learning to predict future behavior based on previous interactions and data trends.
And there is so much more from automating content, optimizing subject lines to analyzing and creating segments, email marketing soon will be even easier and better to use and remove the human factor like own experiences, thoughts, beliefs, and mores and solely based on data which in most cases deliver better results.
I am sorry humans no offense.
So, email marketing and AI will be the main driver of delivering maybe even stronger ROI and most importantly help us to do more with less. And you already can use some of the AI features within email marketing.
Therefore without hesitation, I recommend every company to start with email marketing in 2023.
Conclusion
The last thing I want to share with you is that you can start with email marketing easily and cheaply in 2023 and start driving leads for your business by using email marketing tools.
Email marketing isn't dead and it never was and many organizations small and large are driving excellent results with email marketing strategy and you can too.
So if you have never started with email marketing simply do this:
Subscribe to some of the email marketing tools, you can check out my favorite here.
Create 3-5 basic segments of your prospects that you see the most.
Start creating automation for those segments to lead nurture those leads by creating educational emails.
Create newsletter and content upgrades for your website to drive subscribers. You can read this article to learn more about content upgrades.
Optimize based on statistics
Of course, there is much more than this, but always the most important aspect of every strategy is to start, and later you can use some of the email marketing tactics to improve your results.
Related Resources:
Also, check out our Content Marketing hub page to find all our Content Marketing resources.
Sources:
Disclaimer
This article was created by Eduard Dziak and may contain affiliate links. The following were used to optimize the article for the best user and search engine experience include:
SE Ranking for keyword research and on-page SEO optimization
Surfer SEO for SEO-friendly content creation for users and search engines.
Jasper AI for grammar correction and information enhancement.
The article is based on the author's own experience and knowledge, drawn from both their own work and that of their clients, to provide the latest, proven methods.