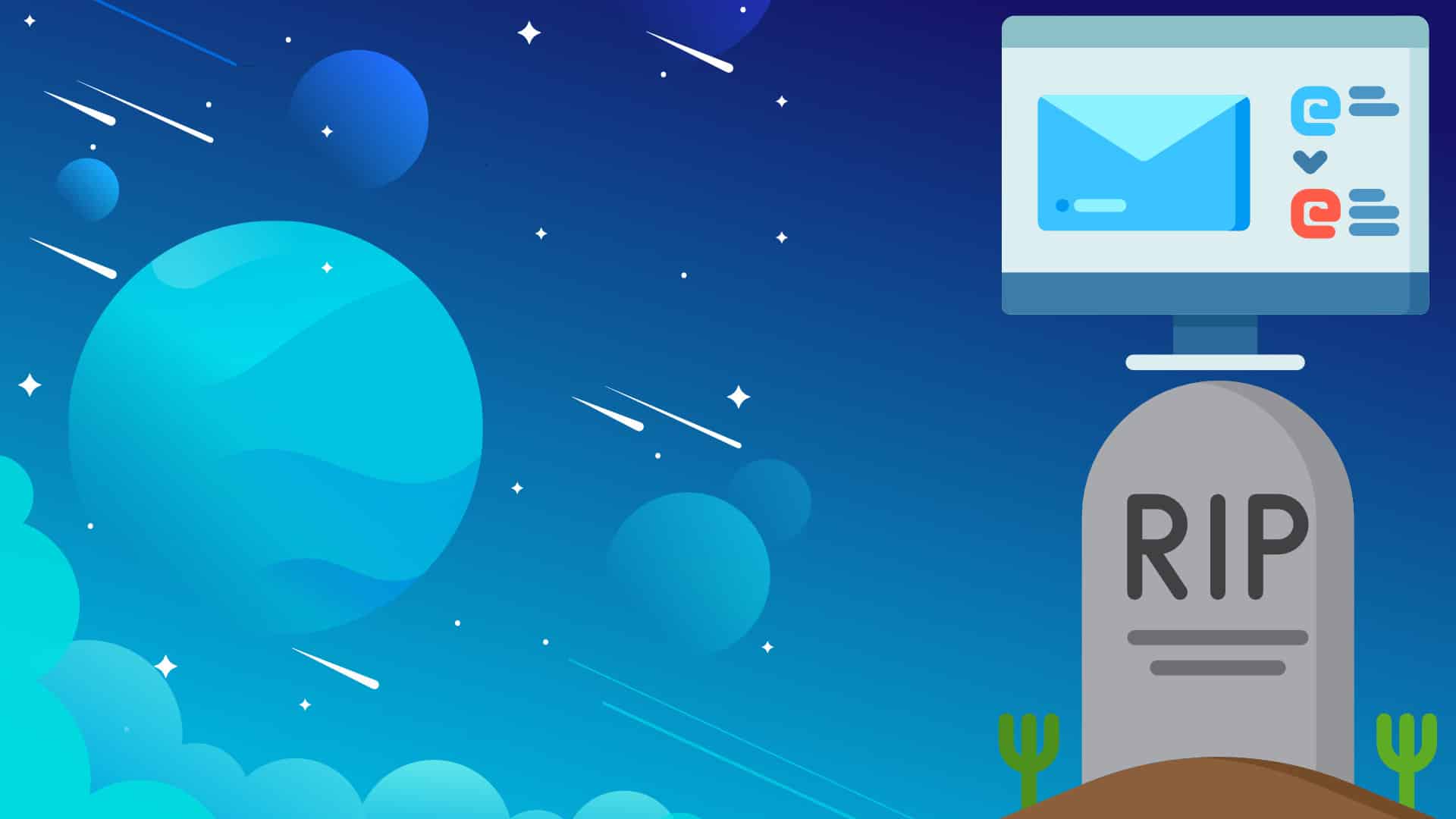 In this article, I am going to share if is email marketing dead in 2023 and if it is worth starting it or keeps doing it in 2023.
Email marketing has been one of the main marketing activities for many organizations for decades and some are heavily relying on it. But thing is, will email marketing work even in 2023, or should we rather focus on different marketing activities?
A lot changed during 2022 due to the COVID-19, war, supply chain crisis and Post-Covid, therefore, I will be only using the latest email marketing statistics from 2022 to see how email marketing changed and if it still has a place in digital marketing.
This hope will answer mine and your question if email marketing is dead or is worth to invest money and effort in it.
And without further due, let's get started.
Latest Statistics Email Marketing Statistics (Only Stats from 2023)
As I mentioned a lot of changes during 2022 and digital marketing channels suddenly have become oversaturated.
E.g., from just a few webinars done by a few companies, suddenly every small and large business has started doing a webinar to replace lead generation from live events, and hey no wonder.
And the same applies to email marketing, a lot of marketers have seen an increase in engagement, precisely 78% of marketers have seen an increase in email engagement over the last 12 months in 2022.
And this is because a lot of people were stuck at home during quarantine, had more time to read emails, rather than being stuck in the jam also from my experience, people prefer to use email for business communication, but on this later.
Not only that but 87% of B2B marketers reported email is one of their top free organic distribution channels because it is easy to quickly create an email to distribute your blogs or webinars and send it to only people who could be interested in that particular piece of content.
And lastly, if you believe that your emails are not being open due to over-saturation, then you are wrong because 99% of email users check their email every day, some as much as 20 times a day!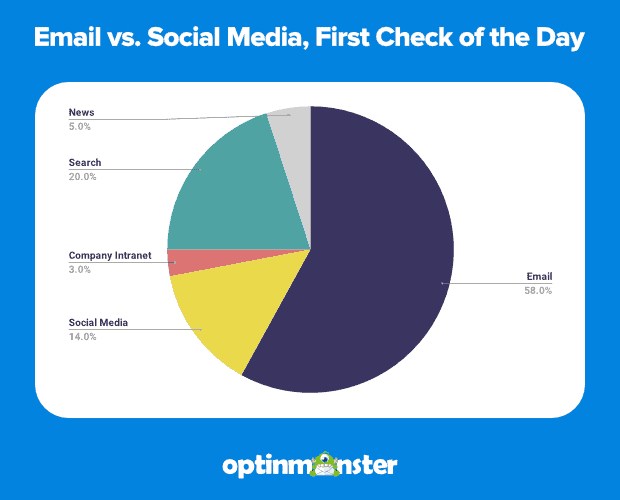 (source)
So there is a big chance that the reason is not that your email has not been seen but rather did not catch the reader's attention and peak interest to open it for numerous reasons like badly personalized, not good preview text or headline, etc.
And I could go even deeper but from these 3 email marketing statistics I want to give 5 reasons why email marketing is not dead in 2023.
Why Email Marketing Isn't Dead?
From email marketing statistics and my own experience from my clients' email marketing results, I can definitely conclude thatemail marketing isn't dead at all in 2023 and it still has a big impact on your marketing results if done correctly.
Of course, there are a lot of things you must know to effectively drive lead generation from email marketing like the basics of lead nurturing, personalization, and targeting, and of course, it is not about volume but the quality.
Also, customer experiences (CX) has become the top priority for businesses to effectively drive the business forward and increase revenue in 2023. Thus, we can expect a lot of companies will invest in improving CX.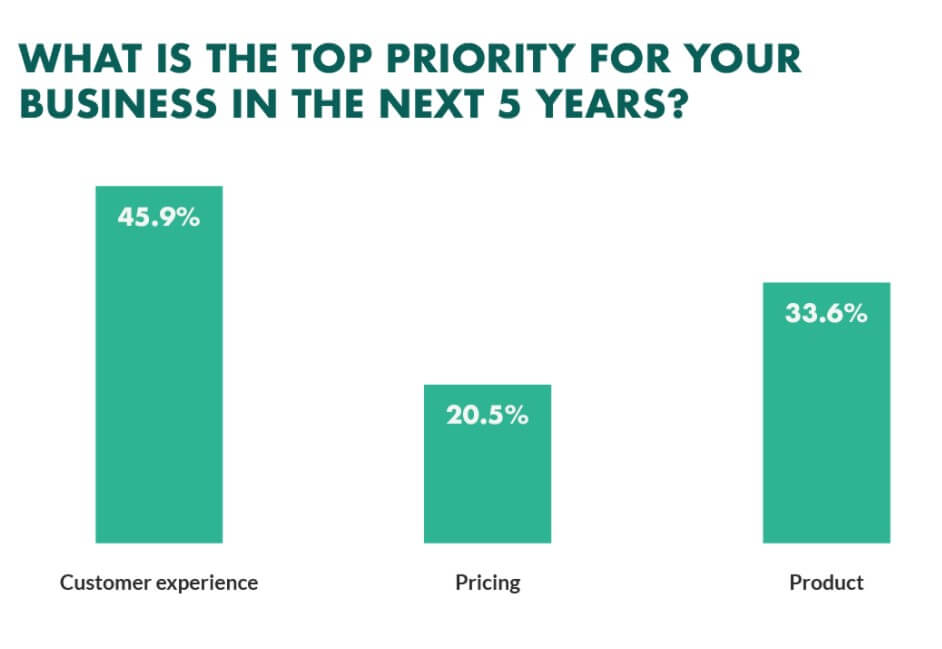 (source)
Therefore rather than focusing on sending email to get more sales, focus on sending emails to provide better customer experiences such as providing more educational emails to satisfy your prospects' information needs to make the purchasing decision.
This rather shift will help you to acquire more customers than sending salesy and promotional emails.
But let's look at the 5 main reasons why email marketing isn't dead in 2023 and why you should be using email marketing for lead generation for your company.
1. Everyone is and will use email.
The first reason why email marketing isn't dead is that now almost everyone is using and will be using email.
While yet there are no official statistics from 2023 for how many email users worldwide there are, from the previous year 2022, there were 3.9 billion email users and it was expected to climb to 4 billion users.
And I strongly believe that this number was definitely reached especially due to the Covid-19 situation when working from home became a thing and even the less technical people had to use email more often.
Heck, even my grandma started using email, but she was already using Facebook and Instagram before, so she had some background in using these channels. But she told me she subscribes to a newsletter to receive promotions and interesting news of her interest.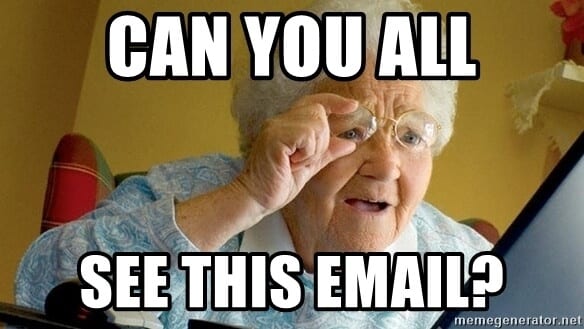 But not only older people had started using emails for communication, but also the young generation, as well as Generation Z, had to start using emails because of studying from home.
So, because of the covid-19 many people old and young were forced to use email to complete daily tasks. Therefore, the usage of email grew in 2022 even more than it was predicted in 2019.
So, for sure even your target audience is using email daily and you should definitely include email marketing in your B2B Content Marketing strategy in 2023.
2. Email Marketing Deliver Strong ROI YoY
The second reason why you should start using Email Marketing within your marketing mix is that email marketing is delivering a strong ROI year over year.
Recently I have spent some time and done a research to see how email marketing was performing in the last 5 years.
The reason was that I wanted to know what is the trend of email marketing and if the ROI is going down or not.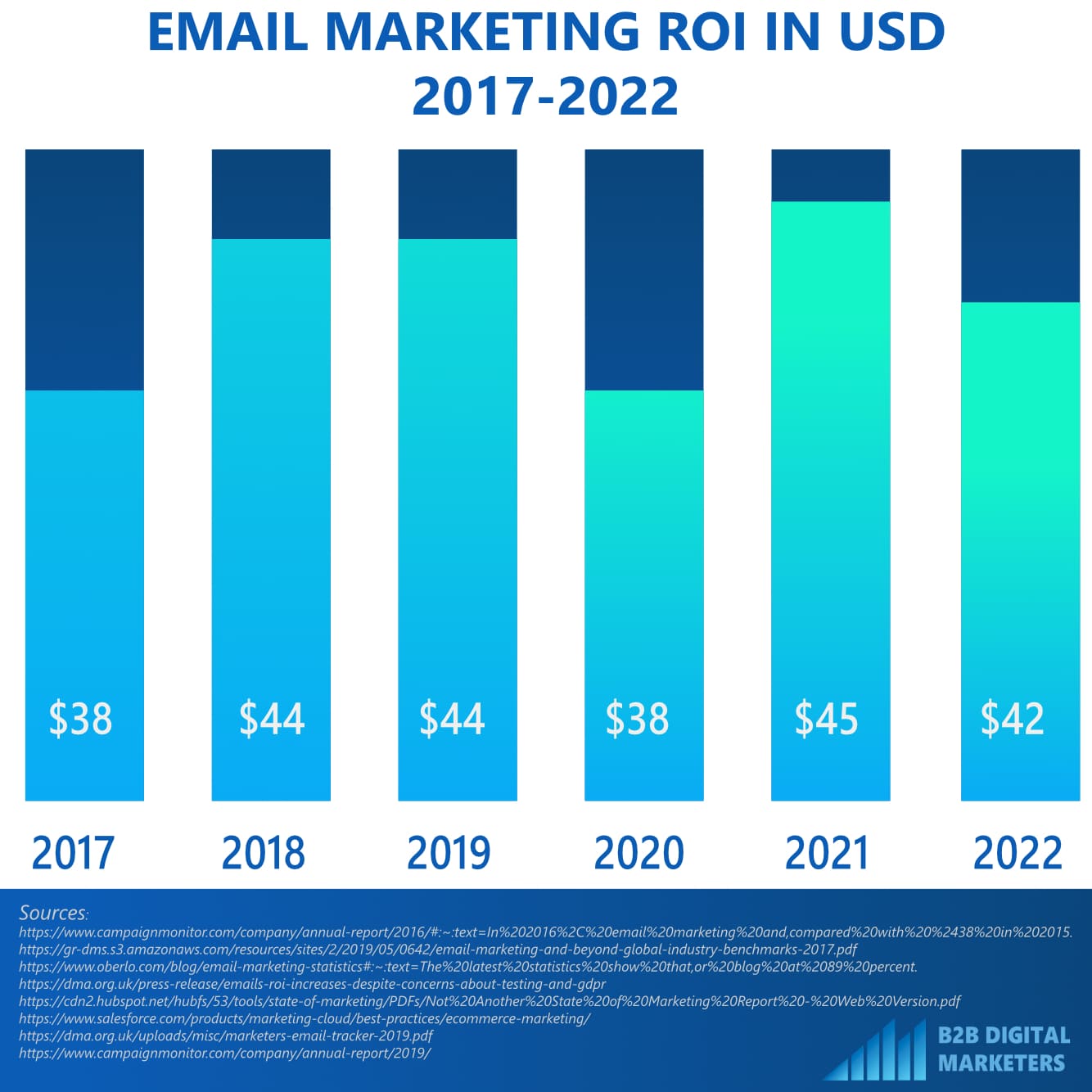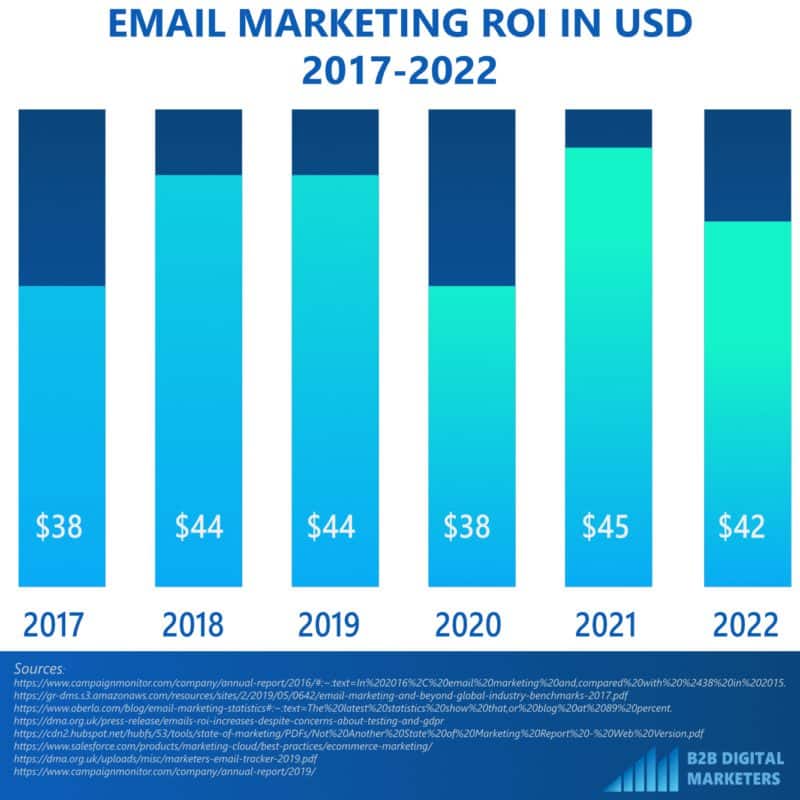 And from my research, I can see that on average email marketing is consistently delivering and great ROI YoY where an average email marketing ROI is USD42 across industries in the past 5 years.
But if you look by industries we can see that some are doing even much better than just getting 4200% ROI from email marketing.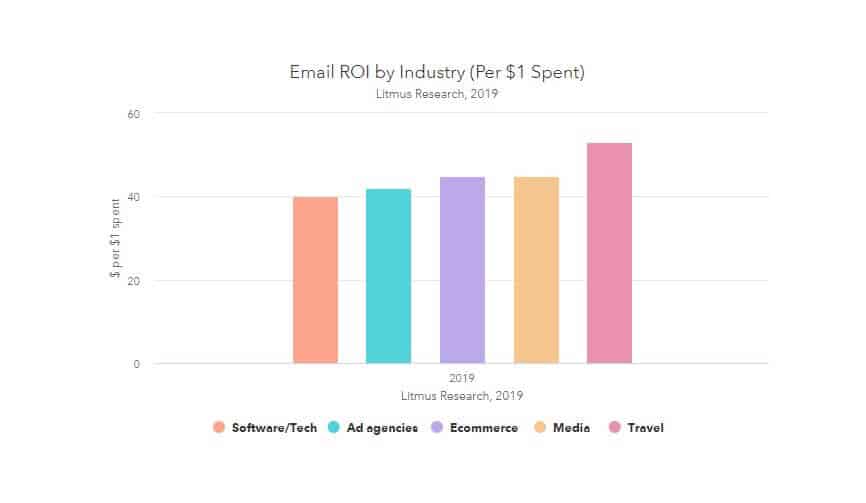 According to HubSpot's latest research, the best ROI from email marketing is getting the Travel industry, then Media, and third Ecommerce.
And from my experience in Software/Tech industry, I can see that around 40 dollars are very accurate.
But 18% of companies achieve ROI greater than $70 per $1 invested and that is almost