Content marketing is becoming very important than ever before for the b2b organization. Due it is massive scalability and leverage you can use to drive great results b2b.
Modern companies are already using content to increase traffic to their websites. And also leads to their businesses.
And not only for that is content marketing is very popular. But it has its role on every stage of the buyer journey in the pre-purchase and post-purchase phase.
So, if you do not use content marketing, let me explain why you should use it. And also how you can use it and what are the results out of that.
What is B2B Content Marketing?
B2B Content marketing is an activity to create and distribute varieties of content like videos, blog posts, and infographics to drive targeted traffic. With addressing buyer's needs, pains, providing helpful and valuable content you increase brand credibility and expertise. This will increase the demand for your products and services. And ultimately increase business profit.
Of course, content marketing is more than just that, and you need to think strategically to improve the objectives of your b2b company. Hence, focusing just on business profit is not what is content marketing is.
You need to remember that content marketing is all about being helpful to others whenever they need it.
That means, if you are offer water to a hungry person, it is not going to work, even thou you think you've been helpful.
Content marketing is all about helping people whenever they need you.
What I mean by that is do not do these things:
Don't force people to consume your content.
Never try to outreach buyers who are not your target audience.
And do not try to fake your knowledge, if you do not have it.
You know, modern marketing of b2b organizations is about to provide help to others. And be there whenever b2b buyers need you and offer them the helpful content.
What Content Marketing is Not?
Content marketing is not promoting your products and services on online platforms to show them what they might need. Display and Search ads are not content marketing as you are buying your audience, not earning. Content marketing is not about pushing out your content and try to generate profit.
I have never really talked about what content marketing is not, as for me it sounds logical. However, I started noticing people misunderstand the concept of content marketing.
Consequently, I feel I should address it.
Content marketing is not about write, record, and or display your products and services in the best possible light. Rather provide help even thou you would recommend other products for the sake of being helpful.
Look at the Buffer, they created a helpful content for marketers who need a recommendation for social media tools.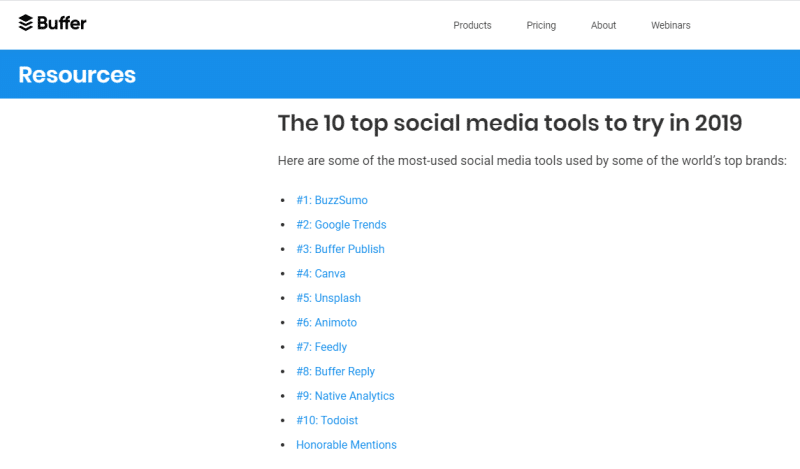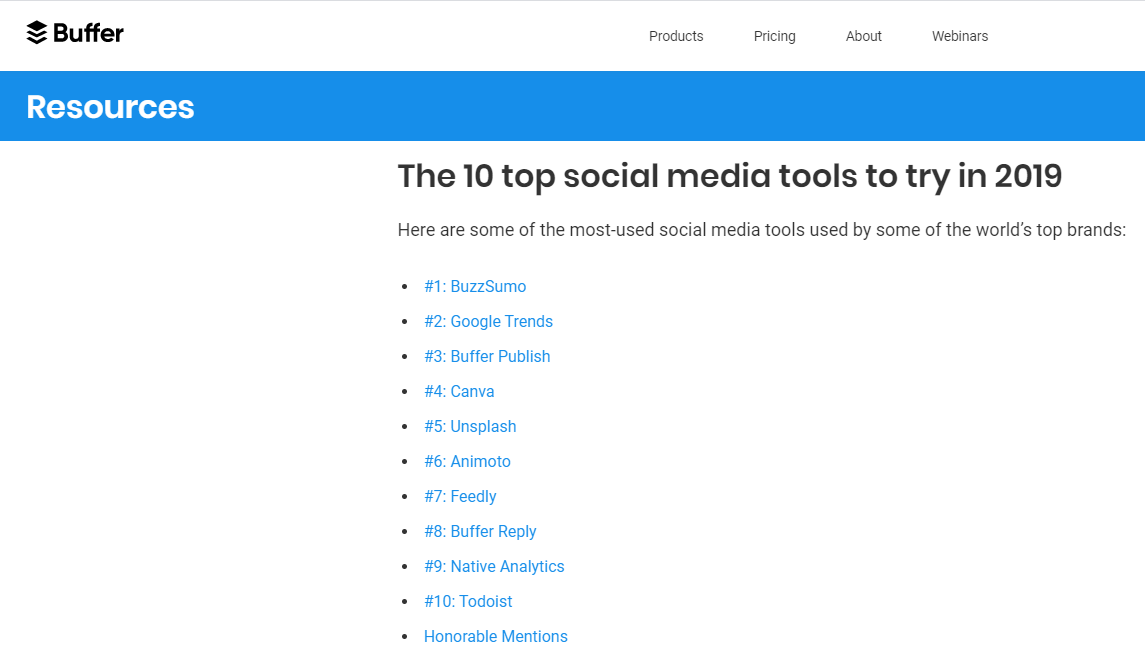 With the value Buffer has provided, many people found this article helpful and valuable.
Therefore, Google has rewarded it by positioning the blog post on the first rank.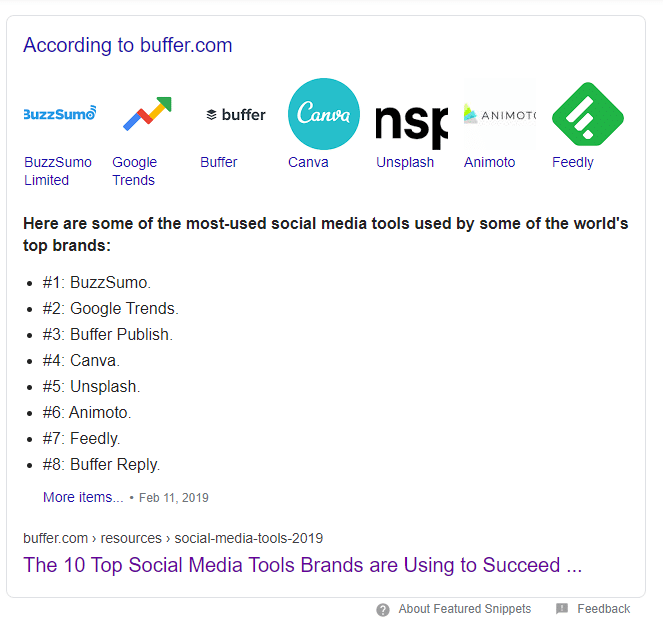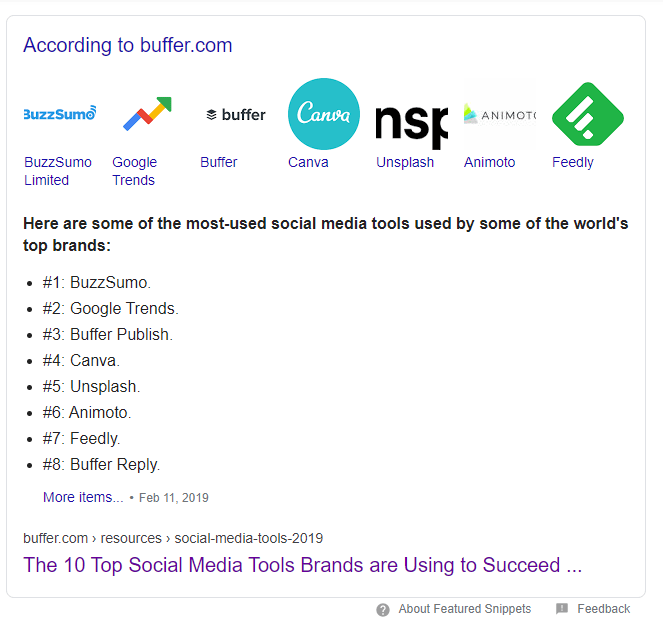 Do you think, they drive a lot of traffic because of that?
Of course, yes!
Yes, most of the traffic goes somewhere else. Yet they still make a lot of money and for sure, the other companies will create content and link back to them.
This is Win-Win-Win (You, other companies, searchers).
Remember, content marketing is not forcing other people to see your content.
But it is about giving them the chance to find the content whenever they need it.
What is the B2B Content Marketing Funnel?
Content marketing funnel for b2b organizations is a system to maximize input leads with step-by-step content materials for your buyers to move them deeper into the funnel until they become customers. And it is an imaginative guideline for marketers to create different levels of content materials for buyers depending on where they are in a funnel to maximize conversion rate into customers.
To visualize it, let's look at the graphic from Single Grain and to better understand what content marketing funnel for b2b organizations really is.
As you can see, each stage requires different in-depth content. BTW which you could relate to yourself too when you do research.
Whenever buyers are conducting research to learn more about their pains and needs and how to solve them they start with generic B2B keywords.
By statistics, 71% of B2B buyers start with generic keywords and later narrow it down with a better understanding. Therefore, it is important to provide different content level difficulty depending on your b2b target audience knowledge.
And because of that, a content marketing funnel and even SEO funnels can guide you with creating content for your target audience.
You should also remember, do not press so hard on that as it is just a guideline for you to check if you go in the right way. But first, always make sure, you have done it right.
If you would be rushing with creating your content, you would probably create crappy content, and nobody would care about it.
Always make sure, you are delivering value.
Why do You Need B2B Content Marketing?
You need content marketing for your b2b organizations because it is a modern and more friendly way how to attract, engage, and delight your prospects to ultimately increase business profit. With declining traditional media on effectiveness, content marketing is a new approach to drive demand.
Unfortunately, many marketers are still trying to get quick wins with blasting emails and cold calling, but marketing times have changed.
Also, other traditional marketing activities have experienced a big decline in their effectiveness.
And it is no wonder, people feel fed up with all the ads showing on TV. This advertisement has nothing to do with what interests them.
Or very rarely.
Nowadays, prospects want personalized content based on their needs. That's why YouTube is so popular because they do not show 40 years old man new make-up foundation. (I have a wife.)
YouTube using AI (artificial intelligence) to recommend related content based on their interest.
People demand more to learn about your products and services in a non-salesy way.
But that's not it, as b2b content marketing brings great benefits to companies if it is done properly.
So, you need b2b content marketing because it's more friendly and personalized for prospects.
Some statistics to prove that you need content marketing for your b2b organizations:
Marketers who prioritize blogging efforts are 13x more likely to see positive ROI. (HubSpot 2019)
Content marketing gets three times more leads than paid search advertising. (Content Marketing Institute)
61% of respondents are now publishing content multiple times per week. Furthermore, 89% of those marketers cited higher quality leads through content marketing, versus other tactics. (ContentWriters)
Content marketing costs 62% less than traditional marketing (DemandMetric)
42% of B2B marketers say they're effective at content marketing. (businessgrow)
B2B Content Marketing vs Online Advertising
Content marketing is the long-term marketing strategy where you need to plan and create content to bring leads and convert them into customers. Content marketing takes somewhere between 6 months to 3 years to be effective. On the other side, online advertising starts working instantly, once you set it up and make payment.
The problem is that people are still searching for quick wins and shiny objects to achieve their goals and dreams.
The same applies to businesses.
They want something that brings results instantly. Therefore, online advertising is still very popular despite the statistics.
As I already mentioned, content marketing is cheaper with better results, yet many marketers prefer online marketing.
On the other side, I do not want to say the online marketing is bad and it doesn't work as it is also a great way to drive demand for your business.
Let's look at the main differences between Online Advertising and Content Marketing.
| CONTENT MARKETING | ONLINE ADVERTISING |
| --- | --- |
| Builds trust and authority over time with a relevant and helpful content build for the target audience. | Uses persuasive messaging to bring leads with pains and needs. |
| Focusses on users' needs to address and provide help or solution to establish trust. | Stimulates emotions, and try to trigger people's emotions to be more interested. |
| Brings targeted leads with personalized content to the target audience's needs and pains. | Grabs quickly the attention of users and try to capture them with appealing messaging. |
| Takes longer to start working, usually between 6 – 36 months. Depending on website current traffic. | Work instantly, once set up and paid, ads start showing and bringing traffic to the designated destination. |
| You earn it. Drive traffic you need to earn your place between your target audience. | You pay for it. Once you pay, you are ready to go. |
| Relatively cheap to afford it. | Expensive to have it. |
| Works like an investment, bit by bit you are getting better results. Compound effect. | Works like anything else, you get what you pay for usually. (Need to set it up properly) |
In my opinion, you should have a mix of both.
As you can drive amazing results for your business with online advertising and content marketing. Therefore, if you can afford it, make sure that you create a mix of content marketing and online advertising.
You will see the real power of digital marketing.
However, over a longer period, content marketing brings over much better results.
How B2B Content Marketing Helps Businesses?
Content marketing helps improve overall business results and profit by building trust with the target audience and by sharing expertise across multiple channels. It helps b2b buyers to find solutions and make decisions based on the provided information. Content marketing makes prospects to see you as an expert and they choose you to help them rather than from unknown businesses.
Many b2b marketers have experienced great improvement within areas of their objectives once they started using content marketing properly.
And many of them twisted their marketing plan and started prioritizing content marketing as the main driver for qualified leads.
Worth to note American author and former dot com business executive Seth Godin said:
"Content Marketing is all the Marketing that's left."
1. Bring More Qualified Leads
Content marketing for b2b organizations is a game of relevancy and the more relevant content you create to your target audience, the better leads you get.
Bringing better leads with content marketing is mostly how well you can answer a series of questions your prospects have.
Therefore, your content brings more qualified leads with targeted content personalized to your audience.
Remember, it is important to focus on answering your prospect's questions to make them interested. Because the better answer you provide, the more they will see you as a good source of information on the related topic.
That's especially important in B2B marketing and selling where you need to build relationships and trust with your buyers and content is a great tool to start building trust and relationships.
2. Increase Conversion Rate
In hand to hand with better quality leads coming to your b2b organizations, you will also improve your conversion rate.
Conversion rates are nearly 6x higher for content marketing adopters than non-adopters (2.9% vs 0.5%).
But as I have already mentioned, the importance is to create relevant content for your target audience.
So, if the piece of content is not relevant to your target audience, just don't bother to create it.
Most likely it will do any good for you.
3. Increase Customers Lifetime Value
Modern content marketing not just helps bring customers, but also to create upsell and cross-sell with relevant offering to them.
The thing is, content marketing works no matter what, even once prospects become customers, they still do research and learning more about your product and services.
Therefore, having a post-purchase content marketing strategy improve customer lifetime value and create more opportunities for your business.
Acquiring customers is expensive especially for b2b organizations. Therefore, maximizing value out of that is essential for businesses.
That's why content marketing is a great way to maximize the profit from your current customers.
Remember, creating content brings backs customers to learn more about you and news about your products and services.
4. Decrease Cost per Acquisition
For many companies is important to decrease cost per acquisition and increase profit.
Based on statistics the average cost of content marketing to acquire lead is $143 across B2B industries.
On the other side, the average cost of traditional marketing to acquire leads is $343.
That's almost 240% more expensive to drive demand and get leads.
Another great thing about content marketing for b2b organizations is the way how it works as an investment.
Once you start consistently producing content, you will realize the steady growth of your traffic, even though you stop.
5. Improve Online Reputation
Online reputation is more important than ever, and many organizations spend a tremendous amount of money to improve it.
Prospects spend 60-70% of buyer journeys online and researching about products, services, and companies.
They also search for, what is the reputation of the company.
What thought leaders and blogs are saying about you and your product and services.
So, if you start producing valuable content, then it will improve your online reputation because many thought leaders and blogs are happy to share it and link to your content if they found it valuable for themselves and their audience.
They will provide reviews and opinions, which is a great way for prospects to see. (Assuming you have a great product)
Because essentially, prospects do not trust what you say, but they trust what others say about you. Therefore, content marketing can improve your online reputation if you are willing to share your knowledge.
By sharing your knowledge online, you will earn your reputation and become an expert in the industry. So, don't hold on your knowledge but share it with others!
5 B2B Content Marketing Strategies
B2B Content marketing strategies are a form of content how you want to produce and share it with your target audience. Each strategy has its own style and form of creating and distributing the content to the target audience. It is how you want to share your expertise and also how prospects can find you and learn more about your products and services.
The requirements for content marketing strategies are different and you need to consider what your marketing resources can afford to produce.
So, whenever you are choosing a content marketing strategy you should consider these things like:
What's your budget to produce your content, can you effort it?
How will you promote your content?
How or who will create it?
Can you outsource it?
Can you produce the content for a year or 2?
What often are you able to produce the content?
Do you have an expert to help you with the strategy to maximize impact?
Because remember, content marketing is about staying consistent, produce valuable content, and promote it well across multiple channels.
So, you need to make sure you can stay in the game for a long period of time, otherwise, it may not work for you.
But let's look at the most common content marketing strategies for b2b organizations.
1. Blog
Blogs have been very popular by b2b organizations and have been rated as the 5th most trusted source for accurate online information by HubSpot.
That's why many b2b buyers are searching to learn more about products and services from blogs.
Therefore, B2B marketers that use blogs get 67% more leads than those that do not according to HubSpot.
Also, some businesses that blog also witness their monthly leads rise by 126% more than those who don't.
So, it is no wonder that 60% of marketers say blog content creation is their top inbound marketing priority to drive leads. HubSpot
As a result, the blog for b2b organizations is becoming a critical strategy for their success.
Additionally, 72% of B2B buyers said they prefer to learn about the company from a series of the article rather than from paid advertising or talking to a salesperson.
Therefore 81% of companies consider their blogs "useful," "Important," or "critical" to their marketing success. (HubSpot)
2. Social Media
"Content is fire. Social media is gasoline."
Social media for b2b organizations are another big part to successfully drive demand for their products and services.
Especially in the modern world when social media reaches b2b decision-makers too. 83% of C-level and VP- level buyers are influenced by social media when purchasing according to IDC.
Therefore, there is no wonder that 76% of B2B tech companies are using social media to drive results.
Also, social media giving social proof of your products and services. Buyers who are spending a lot of money searching for such things as social media and case studies to furthermore ensure good vendors.
As a result of that, social media are the most popular b2b marketing tactic with 83% of markets using it.
Additionally, B2B buyers love social media as it gives them to connect with thought leaders and other experts to learn more and look for information.
3. Video Marketing
Video marketing for b2b organizations has been booming the last couple of years as 87% of businesses use video as a marketing tool — up from 63% in 2017 and 81% in 2018.
An additional 88% of marketers finding that video brings them positive ROI and 99% of current video marketers plan to continue using video in 2020 and 95% plan to increase or maintain their spending.
So, there is no doubt that video marketing is a big thing and with improving technologies like 5G Internet and AI, the video will be more than effective in the next couple of years.
Already now, videos driving a huge amount of traffic and it has been predicted that video marketing will drive more traffic than SEO or social media.
Indeed, video generates 1200% more shares than text and images combined on social platforms and that makes it very effective to create huge brand awareness.
Also, 83% of video marketers say video helped them generate leads and 80% of video marketers say video directly helped increase sales.
Video marketing for b2b organizations has been predicted as one of the top future lead generation tactics.
But so far, there are not many companies using it yet.
So, you have your chance to easily get into the game.
4. Email Marketing
Email marketing for b2b organizations has been said that is slowly dying. And even thou, statistics said the effectiveness of it went a bit down, still, you can drive great results by email marketing.
Email marketing is the third most influential source of information for b2b buyers, just right after colleague recommendation and industry-specific thought leaders according to imaginepub.
In addition to that, 86% of professional it is a preferred choice of communication for business purpose according to HubSpot.
And many marketers have reported it is a very effective strategy to increase profit and drive leads.
According to emma, 59% of marketers say email is their most effective channel in terms of revenue generation.
But of course, it comes down to creating a strong foundation for your content marketing. If your b2b organization does not create valuable content, the effectiveness won't be there no matter what.
Also, do not spam in your email marketing and learn how to effectively drive better leads by email marketing.
5. Infographics
Infographics are growing on popularity year by year and having them within your marketing mix is a great thing.
Nowadays is easy to collect data and create infographic and share it on social platforms such as Pinterest, LinkedIn or Facebook.
You will get plenty of shares if the visuals are appealing.
Another thing, you can also ask website owners from where you collect the resources for sharing your infographic on their social media.
Usually, they are willing to do that, and you get a ton of engagement for your website.
Look, just last year, infographic usage grew from 9% to 52% according to DemandGen and that's because many marketers realize that Infographics get a ton of engagement and shares.
It is no wonder it does as the demand for infographics has increased 800% in the past year (Unbounce) as people prefer to learn from visuals.
The demand for infographics has increased by 800% in the past year.
4 B2B Content Marketing Channels for Organizations
Content marketing channels for B2B organizations are platforms where you can distribute and share your created content with audiences, including content enhanced by
AI content marketing
Channels are platforms easy to engage with your followers or users to increase brand awareness and drive demand for your products and services. Effective channels usually already have a large base of users that match your target audience.
Using online platforms has become a must for b2b marketers to drive demand and increase brand awareness at a relatively low cost.
Nowadays, you can build a large follower base that can grow itself.
Of course, it still requires a lot of work, to build the large following, but it is worthy to do that.
But nowadays, B2B organizations are focusing on building these followers across many platforms.
Actually, B2B organizations are on 6 content marketing channels on average where they are producing and distributing content including content generated through AI content marketing tools.
And recent statistics said marketers are still willing to add more.
Of course, there are many channels you can use to distribute and repurpose your content. But I will talk about the 4 most common B2B content marketing channels.
1. YouTube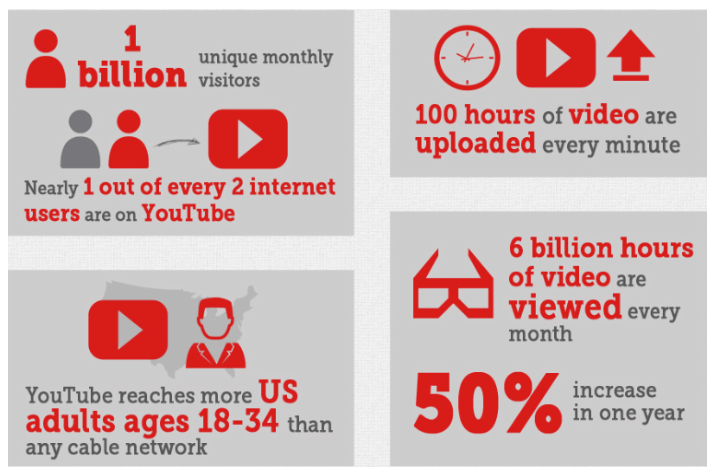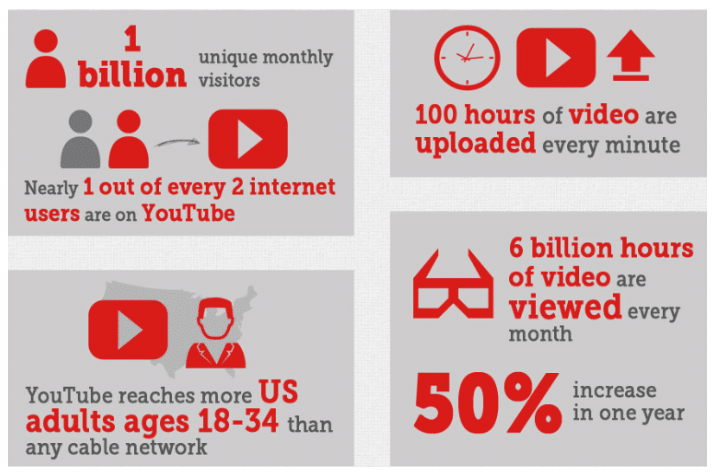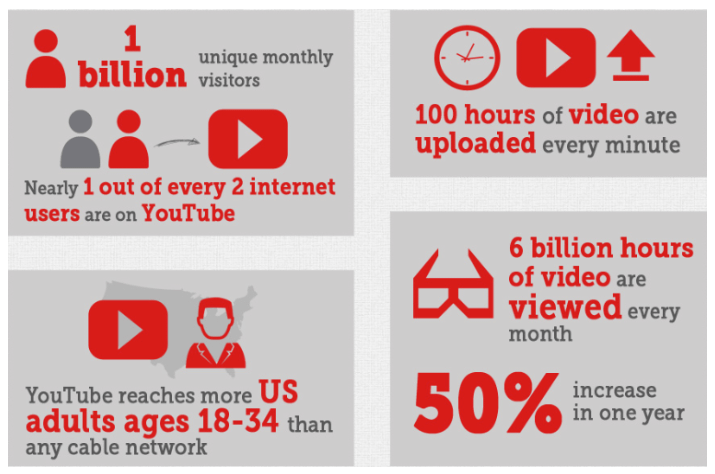 YouTube is a huge channel for almost everybody to increase engagement, drive traffic, and demand. Whether you are a small business or large international corporation you will find your target audience there.
Also, recent statistics show that video marketing will be the next big trend for marketers to achieve their objectives.
And even thou, the production of video could be more expensive, the videos are having 1200% large engagement than pictures and text combined.
Just with improved internet technologies, people prefer to watch videos rather than read.
73% of b2b buyers would rather watch a video than reading blog posts.
So, many marketers already realize YouTube can drive massive results and 73% of B2B marketers use YouTube to distribute content. (TopRankBlog)
Other benefits of YouTube are:
Improved SEO
Tremendous reach across the internet
High Engagement
Good organic reach
A free platform to share videos
So, if your budget allows or your creativity you should definitely intercorporate YouTube channel for your b2b content marketing plan as it will get better within the next few years.
Especially with upcoming technologies video marketing will be the main driver for organizations to get business.
2. LinkedIn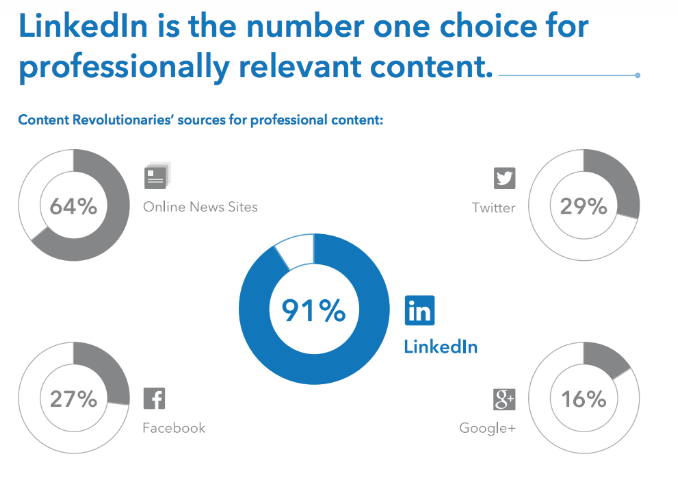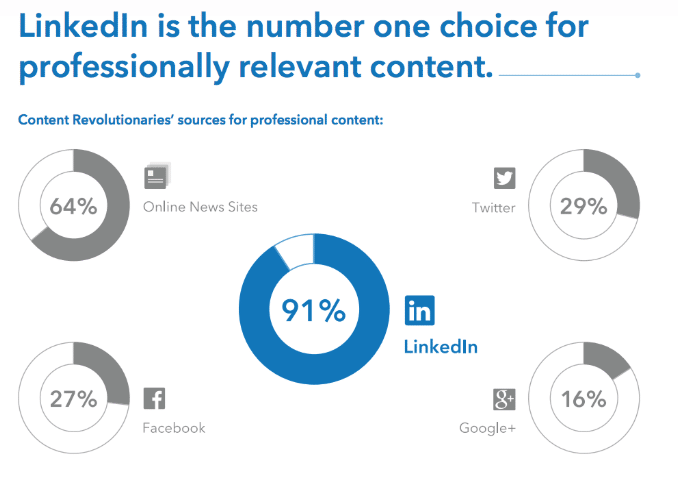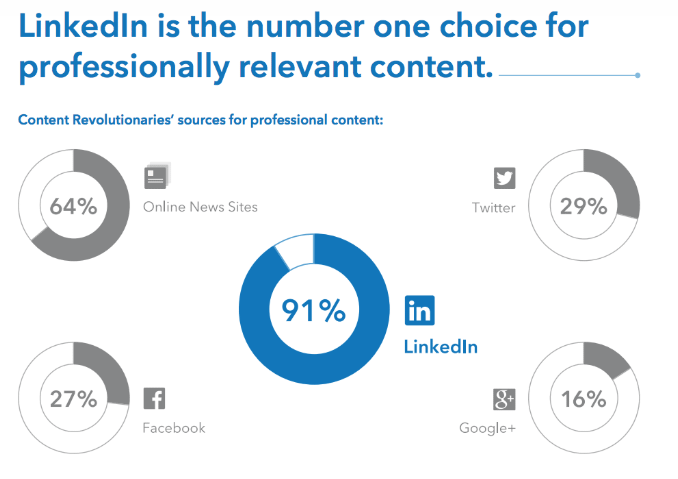 According to foundationinc LinkedIn is a B2B gold mine…
And I honestly must agree.
I have generated some amazing results for my b2b organizations. Whether it was for events, webinars, or just promote content, LinkedIn helps me to drive good quality leads.
And not just me, 59% of B2B marketers say LinkedIn generates leads for their business. Therefore, it is no wonder that many marketers love LinkedIn.
Ever since Microsoft bought LinkedIn for USD27 billion, it has changed a lot. And today, they are focusing on helping businesses to develop relationships and connect with prospects.
In addition to that, it's where most Fortune 500 decision-makers and executives like to spend their spare time and finding interesting news and trends.
And that's why LinkedIn became the #1 channel B2B marketers use to distribute content as 94% b2b marketers are using it.
Therefore, 92% of B2B marketers include LinkedIn in their digital marketing mix.
As I have already mentioned LinkedIn is great for distributing content and it makes up more than 50% of all social traffic to B2B websites & blogs.
So, having LinkedIn for your b2b organizations is a great channel to help you drive traffic and leads to your business.
Also, it is not that difficult to manage it, as 5 times a week is recommended to post.
3. Website


A website is a digital home for your organizations, where people come to learn more about you and your products or services.
And if you won't keep your home nice and clean then people will not want to have a good impression of you.
Do you think I over-exaggerate?
A bad experience can be pop-up, not clear navigation panel, and other things that brings user experience down.
Let's list down a few more:
Do you still think that the website is not important?
Trust me, people will judge you based on your website even before you know about them.
4. Blog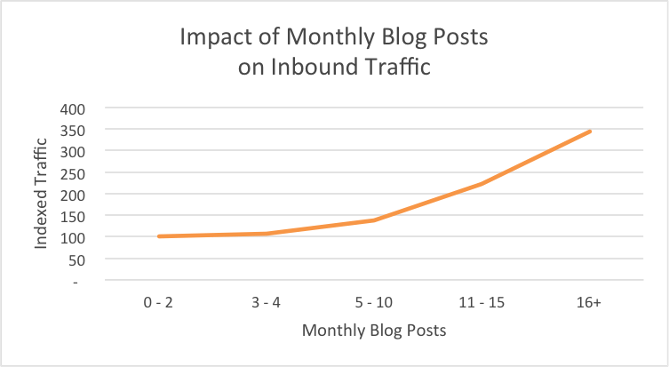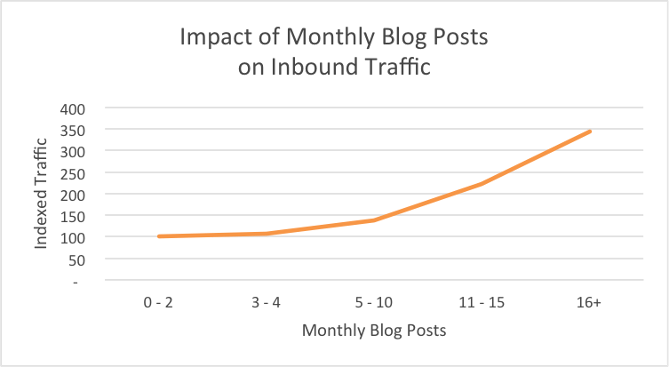 Blogging is a popular channel for b2b organizations to drive consistent traffic and leads for their business with small upfront investment and B2B blogging is definitely good for business.
As blogging becomes popular, 53% of marketers say blogging is their top content marketing priority. (HubSpot)
And not just for marketers but also buyers are constantly browsing on the internet to educate themselves on their current challenges.
Statistics said 47% of buyers viewed 3-5 pieces of content before engaging with a sales rep. (Demand Gen Report)
And according to HubSpot, B2B marketers that use blogs get 67% more leads than those that do not use the blog.
In addition to that, Marketers who prioritize blogging are 13x more likely to achieve a positive ROI on their efforts.
The reason why is blogging so effective is that 70-80% of users ignore paid ads and only focus on organic results. (Search Engine Journal)
Another bonus of having is that blog improve SEO and SEO leads have a 14.6% close rate, while outbound leads (such as direct mail or print advertising) have a 1.7% close rate. (Search Engine Journal)
5 B2B Content Marketing Practices
Content marketing practices of B2B organizations are the actual application or use of an idea, belief, or method, as opposed to theories relating to it to maximize your return on investment from content marketing. The practices will give you heads up and get you up to today's standards of creating content.
These practices should be included whenever you are creating your content. Therefore, it is important to pay attention to these.
Starting content marketing for your b2b organizations can be confusing due to the variety of options you can use. Therefore, I bring you the best content marketing practices which you should always use for your business.
Before you start, grab a piece of paper and make notes so later you can use it as a checklist whenever you are making content.
Remember, these practices or what I like to call principles are not changing and will stay here doesn't matter what you will channel you use.
1. High-Value Content
I am assuming that you are an expert within your industry and that you know what you are doing. Therefore, you can provide value within your products and services.
Listen, if your products and services work an people like it, then you should use content marketing as it solely based on that.
I mean, your knowledge would be greatly appreciated and would make you look like Rockstar.
Heck, you have worked hard to learn all of it, so you should maximize the potential from all of your hard work.
As Robert Rose said:
When taking a content-first approach, our job as marketers is not to create more content … it's to create the minimum amount of content with the maximum amount of results." 
And one big part of the success in content marketing is the high-value content you can produce with your knowledge.
People love to do research and they do it mostly online, so you can capture those who are interested in your products and services.
I mean, if you deliver them all the value and educate them, they will start trusting you, that you are the guy who knows how to help them.
So, they would come to you, and ask for your products and services.
Remember, b2b buyers, want to have confidence whenever they do purchase decisions. And if you deliver the content, which helps them during their research. Then they will feel much more confident.
2. 1:1 Ratio of Creating and Promoting Content
I would love to tell you that just creating a perfect and most valuable piece of content is the only thing you need. But unfortunately, it is not.
Yes, deliver value to your audience is always important, and without it, content marketing will never work.
But, I said, only create helpful and valuable content is just not enough. It used to be, but today's channels are just full of people already doing it, so you better help some promotion.
That's why I brought you this quote:
"It's not the best content that wins. It's the best promoted content that wins."
Therefore, you should spend at least the same amount of time promoting the content as you have been creating it.
Today, your success is dependent on algorithms used by channels, and most of the channels are triggered by the amount of engagement the content gets.
Therefore, the more people see it as soon as you publish it, the more likely the channels are happy to give a good ranking.
But again, if the content is not good, not any promotion will work, but the opposite, it will go bad even faster.
So, assume you have great content, then you can proudly promote it and do it hard!
3. Documented Strategy (Content Calendar)
A documented strategy is another important part to be successful with your content marketing strategy.
As it will help you to stay focus on your goals and achieving objectives.
Like every plan, even marketing strategy needs to be well planned to achieve success.
Otherwise, it could be confusing, and you would not achieve any great results.
Because publishing and promoting your content should be synchronized and have some pattern, so people can get easily used to.
Remember, people are more prompted to do something if they get to know it and become familiar with it.
So, if you consistently deliver meaningful content on the channel, people will be more likely to engage with the content.
Also, recent statistics have proven that b2b marketers with a documented content marketing strategy are more successful.
Look at the graph below.
That's why having documented content marketing for your b2b organizations will help you stay focus and be consistent.
4. Keep Your Target Audience Top of Mind
Whenever you are creating content for your target audience, you should always have them on top of your mind.
Imagine that you are a doctor and your target audience are you, patients. Would you describe all of them the same medicine and the same treatment?
Of course not!
Every patient is different, and you need to treat them accordingly!
And the same applies to your marketing.
Recent statistics said that 92% of B2B marketing leaders claim that content plays a critical role in the decision-making process. However, 1 in 2 of these individuals believes that the content they receive is irrelevant to their pain points, challenges, and responsibilities.
Therefore, you should always think about your B2B target audience when you are creating and piece of content.
You do not want to talk about the best food for dogs if your target audience is cat owners…
Simply, if you successfully deliver valuable content to your target audience you will experience a better ROI
According to recent statistics, 93% of companies with an advanced personalization strategy have experienced revenue growth. 78% of those with a full or partially personalization strategy has also seen growth in revenue.
Remember in modern marketing buyers are searching for personalized content to their pains and needs.
5. Repurpose Your Content
Repurposing your content is a simple but very powerful practice, how you can maximize your results from already created content.
Once you start creating your content you will slowly realize that you are running out of ideas what to write about. Which is totally normal.
As you will see, the biggest challenge for b2b content marketing is producing engaging content. Therefore, whenever you have created engaging content you should repurpose it and use it on other channels like videos, podcasts, blogs, etc.
So, as I said this powerful practice yet, not really use is a great way how to maximize your already hard work.
Creating consistent content is not easy.
So, the easiest way to repurpose content is to hire somebody and give them your already made content and just let them follow the script.
Usually, they make pretty good work and it is not that expensive. But of course, it all depends on how you repurpose your content.
If you make a blog post and want to repurpose it for infographics, the price won't be that high like for example making a video from the blog post.
B2B Content Marketing Challenges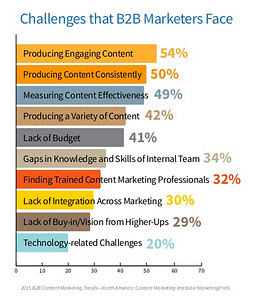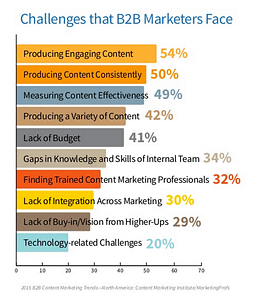 If you plan to create an effective content marketing strategy for your b2b organizations, then you will face these most common marketing challenges.
According to b2b marketers, 54% of them said that their content marketing is crucial for their marketing.
Also, many of the marketers said that content marketing is one of the hardest strategies out there.
It's because it requires you to create consistent content that is better than one of your competitors.
Which requires to think outside-the-box and do things differently and better. Which is not always an easy task, especially for beginners. Therefore, b2b content marketing can be quite challenging.
Despite all the challenges, the benefits are still too good to be ignored, so do not get discouraged by them.
6 B2B Content Marketing Tools
Producing content marketing without proper tools will be even more difficult than it is already. Therefore, I give you my top 6 content marketing tools for you to accelerate your success.
But remember, before you start, make sure you get familiar with these tools and learn properly how you can benefit from them.
That's why to watch the videos I'll give you for each of the tools, so you maximize your investment.
1. BuzzSumo
BuzzSumo is a great tool for you to discover trending content across industries and which content is most likely to get good engagement.
It will give you an overview of what was recently popular and what topics you should be creating within your industry,
Also, BuzzSumo gives statistics about the content trending content like for example how many share the content got and where it was shared.
LeadFeeder is another great tool for b2b organizations to find out what companies are visiting your website, how they found you, and what they have visited.
This tool is especially important to get insights about your prospects and customize the content for them literally within the first contact your salesperson makes.
Because of the tool's insights, your sales can be prepared for your prospect ahead. This is very important as 82% of B2B decision-makers think sales reps are unprepared.
(Biznology)
Register here and get a free lite version account.
3. Ahrefs
Ahrefs is the next secret sauce for digital marketers and content marketers to research yours and competitor's links and backlinks.
Also, it audits your SEO health and gives you a handy recommendation on how to improve it.
Just remind you, High-quality content and link building are the two most important signals used by Google to rank your website for search. (Impact)
That's why you should try to focus on your links because they are important for your success to actually drive good traffic and improve the odds of succeeding in your content marketing strategy.
4. Google (Analytics + Search Console)
Google free tools for your website and content marketing are absolutely essential for your business.
Honestly, I did not want to talk about it, as I assumed that all b2b organizations are using these two free tools from Google, but I was wrong.
Recently I have found out that some of them even don't know what is it or don't want to bother themselves to learn how to use it.
But trust me, Google Search Console and Analytics are just basic and most important tools to start with when you are having a website or digital presence.
It gives you great static information about your website which you can use to improve your pages and content.
5. Freelancers website
I understand that people are not a tool, but I have to include freelancers within the tools as they are very important for your business.
I have used many times freelancing websites to actually outsource some of my work, whenever I feel short of staff or the task is just not worthy of my time then better to just outsource it.
Sometimes a lot of things happen, and you need to get quick and cheap help.
That's why hiring freelancer come handy. Because you can get quick help.
Most of them are professionals who are just making some side hustle for extra cash.
So, make sure you use this cheap and quality help for your business.
Doesn't matter what size company you are, there is always a time when you need help, but hiring extra staff is just not cost-effective.
Sometimes it is just 1 thing, which can take a lot of your time but can be outsourced for a few bucks.
6. SocialPilot
SocialPilot is another great tool I love to use to get better results from my content marketing.
This tool helps you to plan, schedule, and publish your post using advanced features and save your time.
So, you can build your brand more effectively.
As the name already says, this tool is for social media.
Honestly from my point of view, doing social media is a drag for me.
But because of this tool, I can get good results with just a few hours a week.
So, definitely I recommend every marketer to use this tool to ease his/her job and most importantly get better results.
Get your free trial here.
B2B Content Marketing Examples
B2B Content marketing examples are for you to learn from them. And also see, how the real magic happens.
I love to observe and learn from the masters of B2B content marketing, it helps me to find out what works and how I can improve my marketing.
So, that's why I want to bring you the best content marketing b2b organizations who get their content to the next level.
Of course, you will not get there overnight but they give you an idea where you can be if you work hard.
1. HubSpot
HubSpot is a wonderful example of B2B content marketing and how to make it effective.
They are mastering the content marketing its fullest and their organic traffic is just booming day by day.
It is a great organization to follow and to learn more about content marketing.
Also, their products are designed for content marketing. Therefore, it will help you to make sure your content marketing is fully utilized.
So, I definitely recommend following the HubSpot blog and also try their products. They offer a free version and also a trial. Nothing to lose
2. Microsoft
Most of people know Microsoft for its B2C products but only a few know that they are actually focusing on b2b as well.
Yes, some of the products like Office 365 are for both. They have a version for families and individuals as well as for small organizations or large.
But they have also other products solely focusing only on selling to companies which are Dynamics 365 for example.
Their content marketing is the largest in the world, even combine Alibaba and Salesforce, their content database is still larger.
Of course, most of the content is lockdown for their partners, but you can still find some free available for you to use.
But remember, that they have trademarks and you can use it only under certain rules and you do not want to play with their lawyers.
3. Neil Patel
Last but not last of amazing content production for b2b organizations is Neil Patel.
He uses all types of content to help individuals become better marketers and show is massive expertise and drive demand for its marketing agency.
His philosophy to distribute helpful DYI content help him generate a tremendous amount of leads.
Neil believes if he provides everything, he has to his target audience, they simply will come to him and ask him to do it for them. The reason is that they are just too busy to learn and because he shared his knowledge with them, they already trust him.