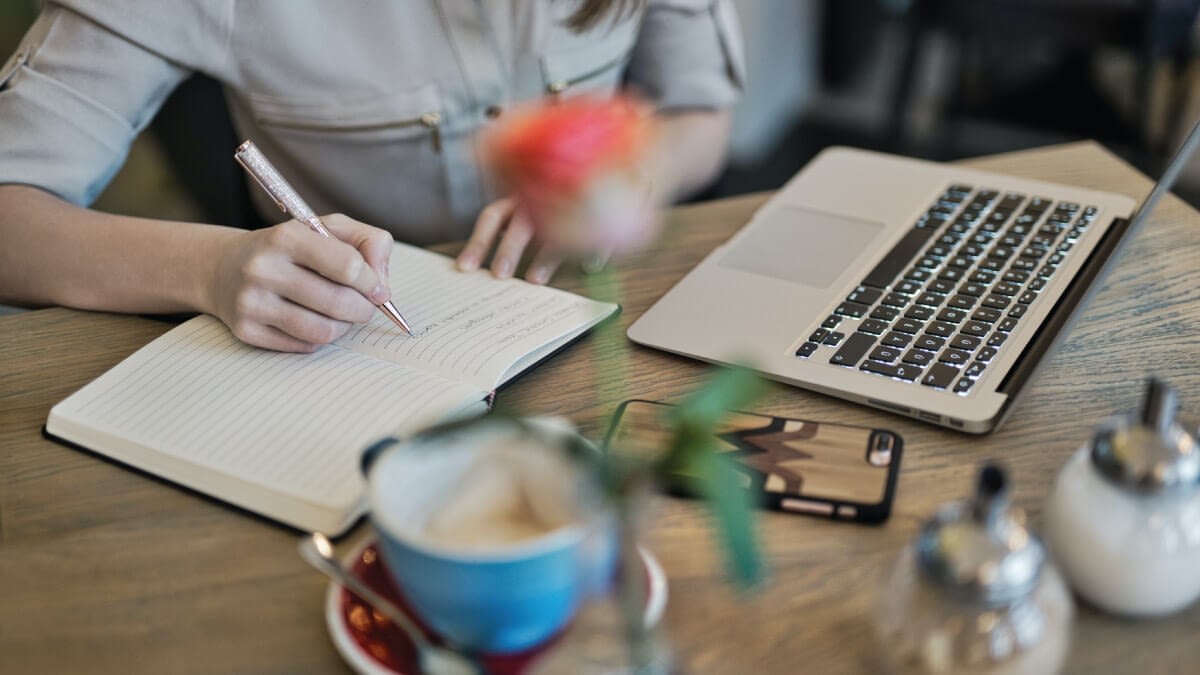 Content marketing is becoming very important than ever before for the b2b organization. Due it is massive scalability and leverage you can use to drive great results b2b.
Modern companies are already using content to increase traffic to their websites. And also leads to their businesses.
And not only for that is content marketing is very popular. But it has its role on every stage of the buyer journey in the pre-purchase and post-purchase phase.
So, if you do not use content marketing, let me explain why you should use it. And also how you can use it and what are the results out of that.
What is B2B Content Marketing?
B2B Content marketing is an activity to create and distribute varieties of content like videos, blog posts, and infographics to drive targeted traffic. With addressing buyer's needs, pains, providing helpful and valuable content you increase brand credibility and expertise. This will increase the demand for your products and services. And ultimately increase business profit.
Of course, content marketing is more than just that, and you need to think strategically to improve the objectives of your b2b company. Hence, focusing just on business profit is not what is content marketing is.
You need to remember that content marketing is all about being helpful to others whenever they need it.
That means, if you are offer water to a hungry person, it is not going to work, even thou you think you've been helpful.
Content marketing is all about helping people whenever they need you.
What I mean by that is do not do these things:
Don't force people to consume your content.
Never try to outreach buyers who are not your target audience.
And do not try to fake your knowledge, if you do not have it.
You know, modern marketing of b2b organizations is about to provide help to others. And be there whenever b2b buyers need you and offer them the helpful content.
What Content Marketing is Not?
Content marketing is not promoting your products and services on online platforms to show them what they might need. Display and Search ads are not content marketing as you are buying your audience, not earning. Content marketing is not about pushing out your content and try to generate profit.
I have never really talked about what content marketing is not, as for me it sounds logical. However, I started noticing people misunderstand the concept of content marketing.
Consequently, I feel I should address it.
Content marketing is not about write, record, and or display your products and services in the best possible light. Rather provide help even thou you would recommend other products for the sake of being helpful.
Look at the Buffer, they created a helpful content for marketers who need a recommendation for social media tools.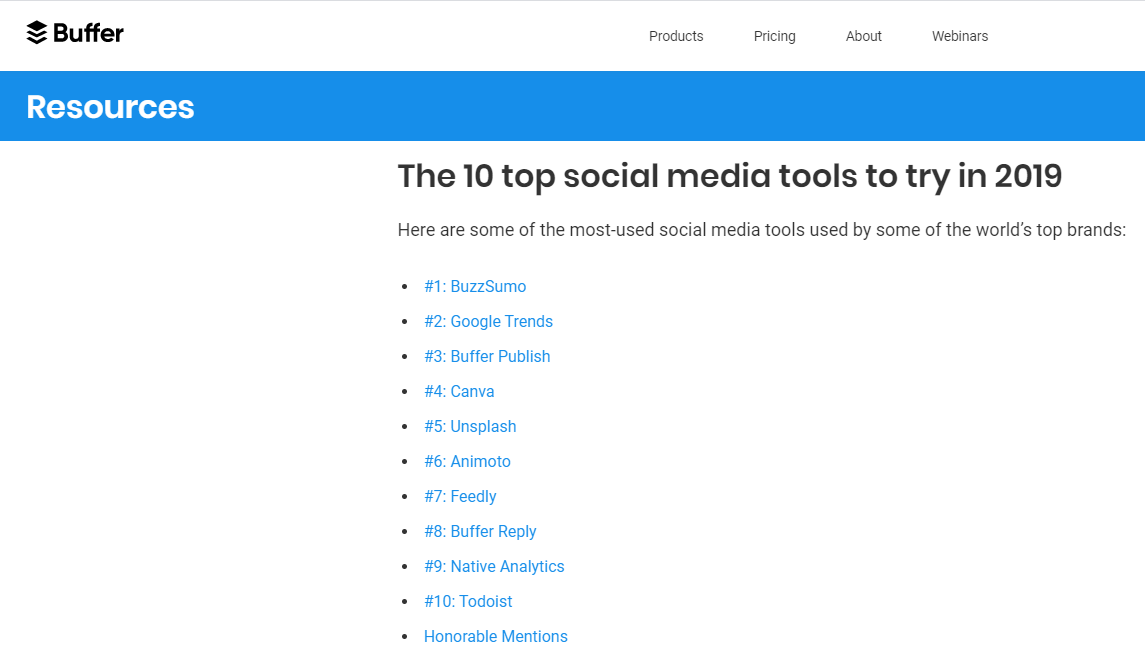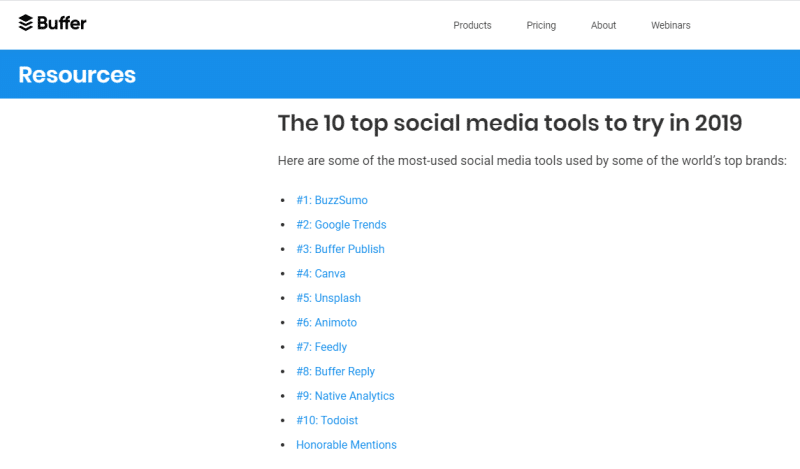 With the value Buffer has provided, many people found this article helpful and valuable.
Therefore, Google has rewarded it by positioning the blog post on the first rank.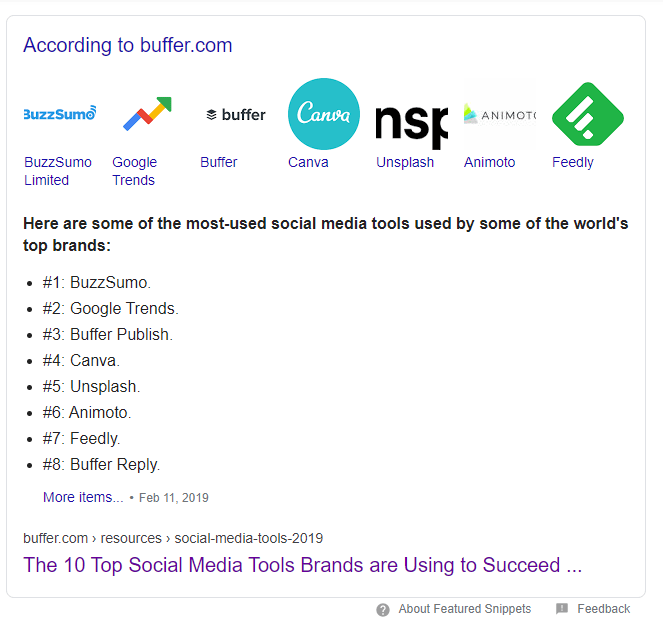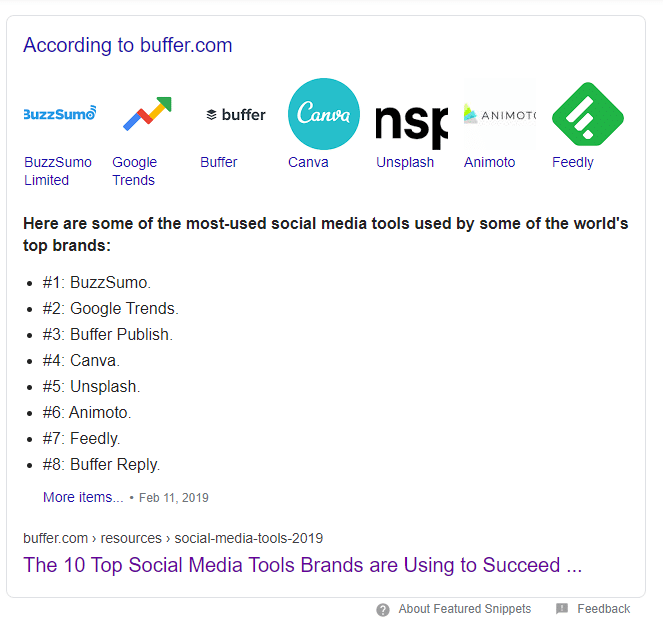 Do you think, they drive a lot of traffic because of that?
Of course, yes!
Yes, most of the traffic goes somewhere else. Yet they still make a lot of money and for sure, the other companies will create content and link back to them.
This is Win-Win-Win (You, other companies, searchers).
Remember, content marketing is not forcing other people to see your content.
But it is about giving them the chance to find the content whenever they need it.
What is the B2B Content Marketing Funnel?
Content marketing funnel for b2b organizations is a system to maximize input leads with step-by-step content materials for your buyers to move them deeper into the funnel until they become customers. And it is an imaginative guideline for marketers to create different levels of content materials for buyers depending on where they are in a funnel to maximize conversion rate into customers.
To visualize it, let's look at the graphic from Single Grain and to better understand what content marketing funnel for b2b organizations really is.
As you can see, each stage requires different in-depth content. BTW which you could relate to yourself too when you do research.
Whenever buyers are conducting research to learn more about their pains and needs and how to solve them they start with generic B2B keywords.
By statistics, 71% of B2B buyers start with generic keywords and later narrow it down with a better understanding. Therefore, it is important to provide different content level difficulty depending on your b2b target audience knowledge.
And because of that, a content marketing funnel and even SEO funnels can guide you with creating content for your target audience.
You should also remember, do not press so hard on that as it is just a guideline for you to check if you go in the right way. But first, always make sure, you have done it right.
If you would be rushing with creating your content, you would probably create crappy content, and nobody would care about it.
Always make sure, you are delivering value.
Why do You Need B2B Content Marketing?
You need content marketing for your b2b organizations because it is a modern and more friendly way how to attract, engage, and delight your prospects to ultimately increase business profit. With declining traditional media on effectiveness, content marketing is a new approach to drive demand.
Unfortunately, many marketers are still trying to get quick wins with blasting emails and cold calling, but marketing times have changed.
Also, other traditional marketing activities have experienced a big decline in their effectiveness.
And it is no wonder, people feel fed up with all the ads showing on TV. This advertisement has nothing to do with what interests them.
Or very rarely.
Nowadays, prospects want personalized content based on their needs. That's why YouTube is so popular because they do not show 40 years old man new make-up foundation. (I have a wife.)
YouTube using AI (artificial intelligence) to recommend related content based on their interest.
People demand more to learn about your products and services in a non-salesy way.
But that's not it, as b2b content marketing brings great benefits to companies if it is done properly.
So, you need b2b content marketing because it's more friendly and personalized for prospects.
Some statistics to prove that you need content marketing for your b2b organizations:
Marketers who prioritize blogging efforts are 13x more likely to see positive ROI. (HubSpot 2019)
Content marketing gets three times more leads than paid search advertising. (Content Marketing Institute)
61% of respondents are now publishing content multiple times per week. Furthermore, 89% of those marketers cited higher quality leads through content marketing, versus other tactics. (ContentWriters)
Content marketing costs 62% less than traditional marketing (DemandMetric)
42% of B2B marketers say they're effective at content marketing. (businessgrow)
B2B Content Marketing vs Online Advertising
Content marketing is the long-term marketing strategy where you need to plan and create content to bring leads and convert them into customers. Content marketing takes somewhere between 6 months to 3 years to be effective. On the other side, online advertising starts working instantly, once you set it up and make payment.
The problem is that people are still searching for quick wins and shiny objects to achieve their goals and dreams.
The same applies to businesses.
They want something that brings results instantly. Therefore, online advertising is still very popular despite the statistics.
As I already mentioned, content marketing is cheaper with better results, yet many marketers prefer online marketing.
On the other side, I do not want to say the online marketing is bad and it doesn't work as it is also a great way to drive demand for your business.
Let's look at the main differences between Online Advertising and Content Marketing.
CONTENT MARKETING
ONLINE ADVERTISING
Builds trust and authority over time w