What if I told you the overlooked footer section could hold the key to unlocking major SEO gains for your website?
Most websites fail to tap into the footer's potential.
This extensive guide reveals 14 proven footer SEO optimizations to elevate your overall SEO.
From link structures to metadata to design, properly optimizing the footer improves page rank, authority, and search visibility site-wide.
Implement these actionable tips to reinforce relevance, boost rankings, and create cohesive user experiences. A strategic, well-executed footer amplifies your entire SEO program.
Footer SEO refers to optimizing the content and HTML code in your website's footer to improve search engine optimization overall indexability of your website, and ranking of your content.
The footer sits at the bottom of every page on a website. It typically includes site navigation links, contact information, legal notices, and links to social media profiles.
This makes the footer an important part of strengthening a site's keyword targeting and authority building.
The goal of footer SEO is to ensure this valuable space is used effectively to enhance search marketing efforts.
Optimizing the footer may seem not as important for your SEO, but it can provide substantial SEO value especially because it's located on every page of your website.
Thus, your footer is essential, and here are some key reasons why footer SEO matters:
Additional Keywords and Links – The footer allows extra opportunities to incorporate relevant keywords and internal links on each page. This helps search engines better crawl, index, and understand the purpose of the page content.
Improved Page Rank – Strategic use of anchor text links and keywords in the footer can boost a page's ranking potential for those terms. Pages that rank well get more traffic and it can bring more revenue.
Related Content Navigation – Well-organized footer links pointing visitors to related content, category pages or popular posts enable easier on-site navigation and better UX.
Trust and Authority – Social media icons, association memberships, and other links in the footer help establish domain authority and credibility.
Brand Reinforcement – Company bios, slogans, and logos in the footer keep reinforcing the brand throughout the website.
Internal Link Juice Distribution – Footer links help pass link equity ("juice") to other internal pages, boosting their rankings.
Optimizing footer SEO is not a stand-alone tactic but an impactful part of an integrated SEO strategy.
When leveraged effectively, footer optimization can improve search visibility and user experience.
While the footer presents an SEO opportunity, it can also become a problem area for your website and SEO if not optimized properly. Some common footer SEO mistakes that I often see and recommend you avoid are:
Overloading on Links – Too many footer links can dilute the PageRank passed to each one. Focus on linking to just the most important pages such as product, service, or category pages.
Generic Anchor Text – Anchor text like "click here" or "read more" doesn't help search engines understand the content. Use descriptive, keyword-rich links.
Indiscriminate "follow" Links – Having too many external links marked "follow" will leak too much PageRank away from your site.
Excessive Bloat – Loading the footer up with lots of JavaScript widgets and content can slow page load speed and affect your ranking and overall follow technical SEO best practices.
Weak Content – Generic footers with boilerplate content fail to reinforce relevancy for search engines. Customize with unique descriptions and links.
Irrelevant Content – Avoid rambling footer content that has nothing to do with the rest of the page. Stick to tightly relevant information.
With that said, optimizing your footer SEO requires finding the right balance and avoiding these common pitfalls.
Taking the time to analyze and fine-tune footer content, links, and markup pays dividends in search performance.
Before we get started, there will be quite a few Footer SEO best practices, but it doesn't mean you need to apply all of them.
Some of them are more relevant to specific websites like local websites and some are more relevant to SaaS, etc.
So read carefully so you can decide which of these footer SEO best practices are relevant to your website:
The bigger the website the more structured and clear navigation you need to have in your footer so you can link to your most important pages.
The footer navigation menu gives users easy access to key content and internal links. Prioritize linking to popular or high-authority pages like:
High-converting landing pages
Key category/section pages
Most-visited content
About Us
Contact
Sitemap
Legal links
So, organize these primary links in a logical, easy-to-scan layout so users and even search engines can easily understand what each link means.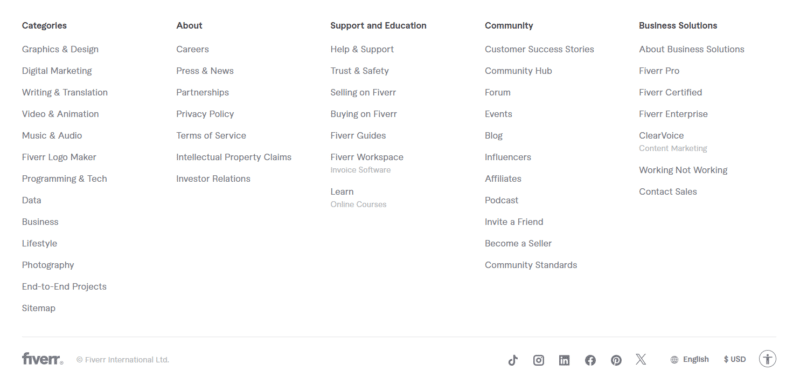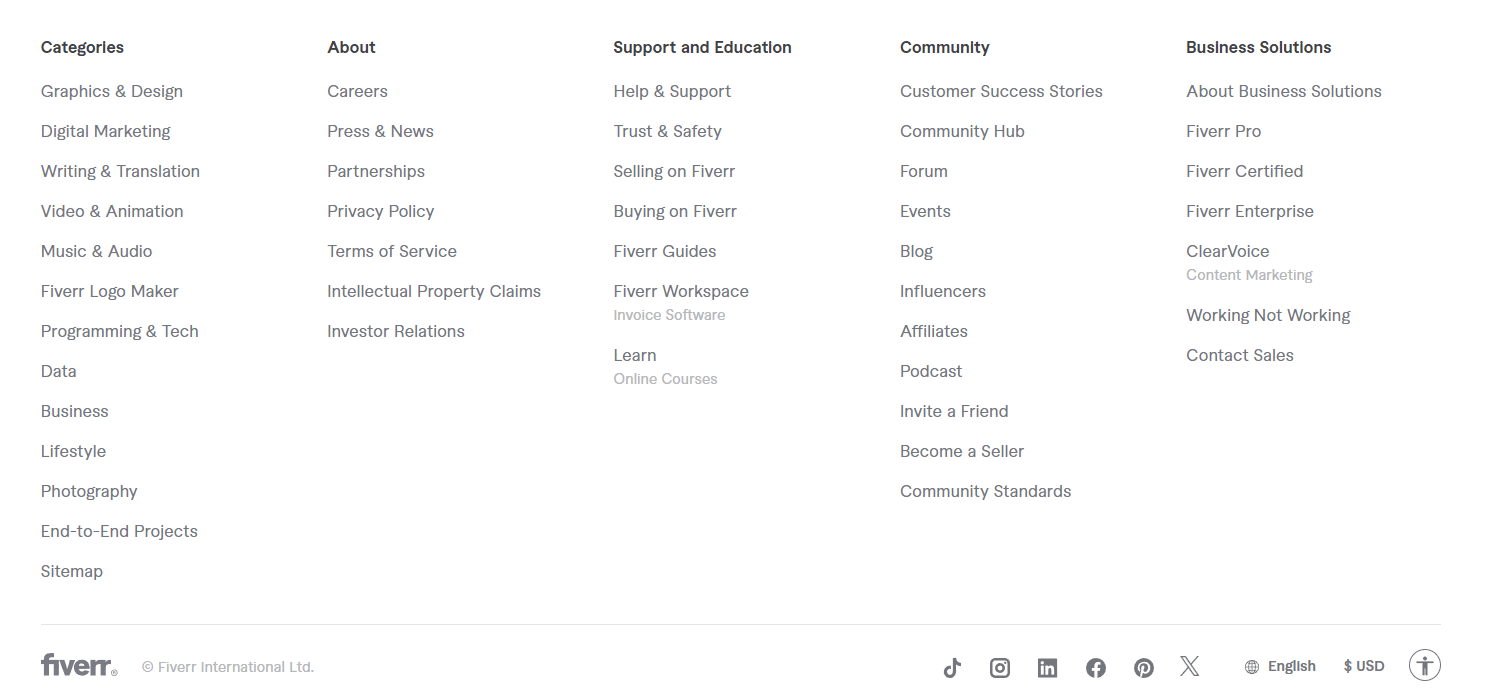 Definitely avoid overly long navigation menus in the footer. Keep it scannable by sticking to the pages that matter most for users and search engines.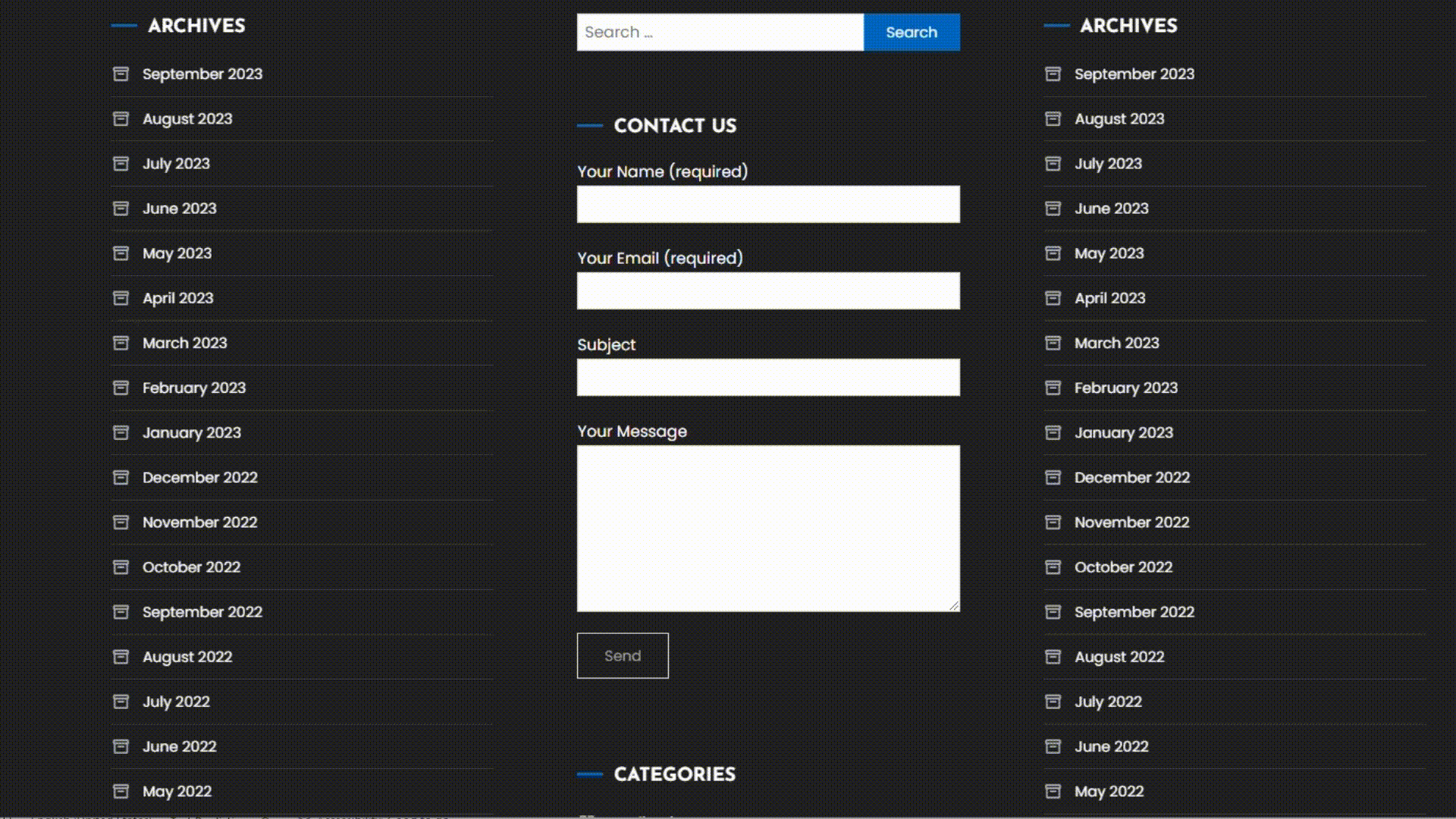 Nor not having any links in your footer is bad practice as well that you should avoid.


Remember, having core site pages clearly linked in your footer improves crawlability for search engines and site navigation for users on every page.
2. Relevant Internal Links
Another important footer SEO best practice is to ensure you're only adding relevant internal links in your footer.
Firstly, you need to make sure, you link to your Related Category/Section Pages such as solutions, product, features, and category pages.
This improves the overall internal linking structure by connecting related content across the site.
For SaaS, this would be mostly for solution, product, use cases, and features pages.


For eCommerce, this would be category pages, policies & resources, and perhaps local addresses.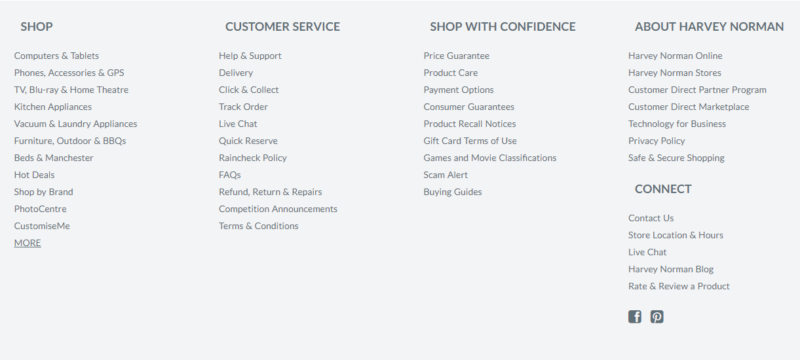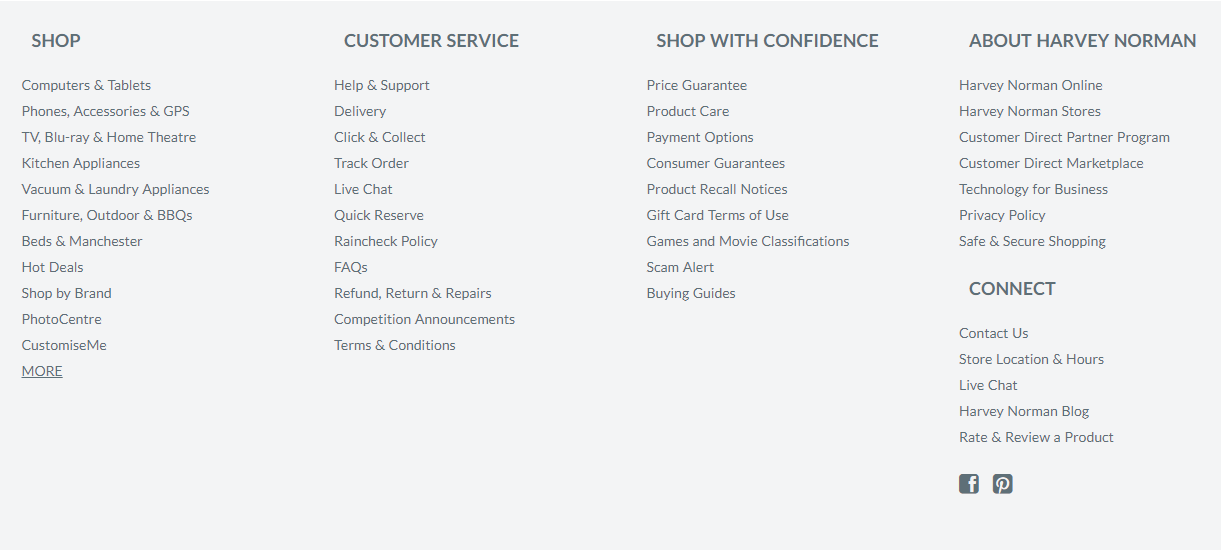 And for bloggers, this could be the most important blog categories, latest articles, best-earning blog posts, and links to advertising opportunities.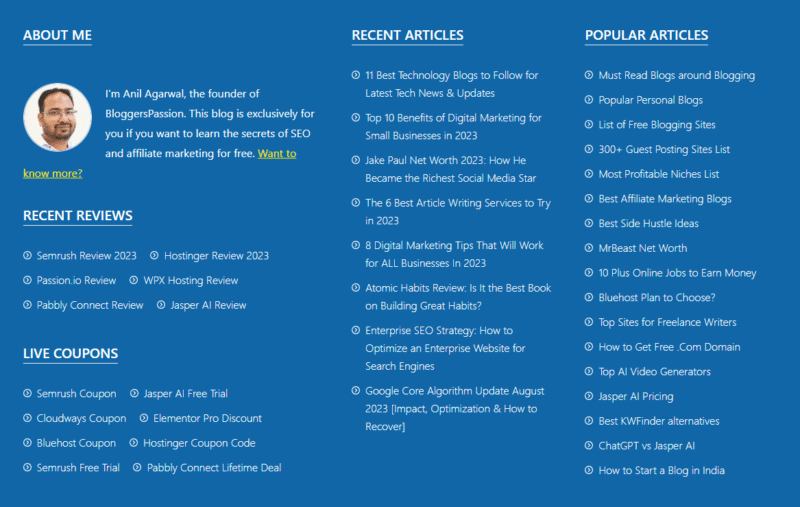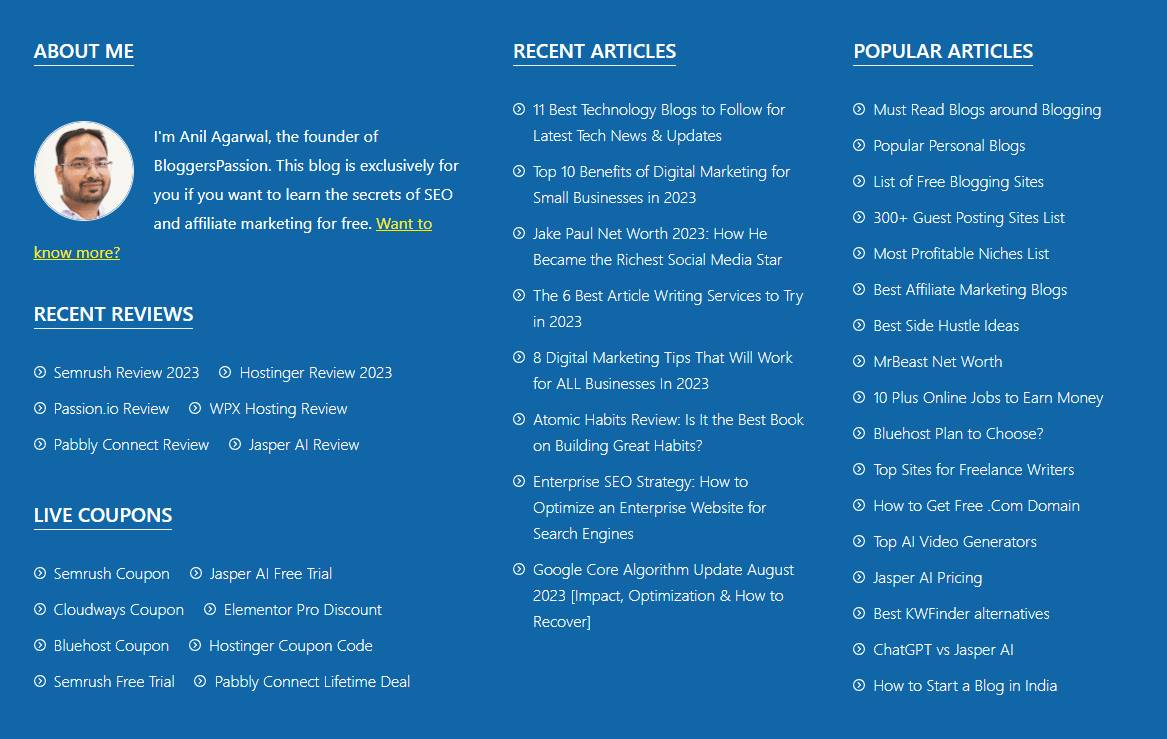 You definitely want to avoid adding totally irrelevant links such as links to your /tags/ pages.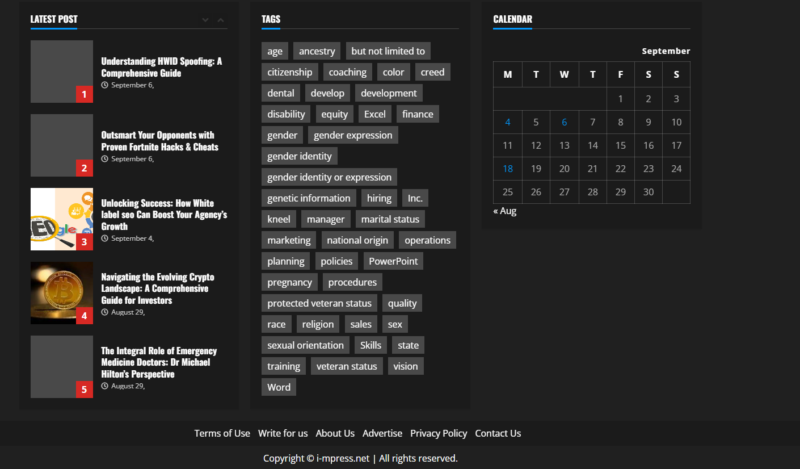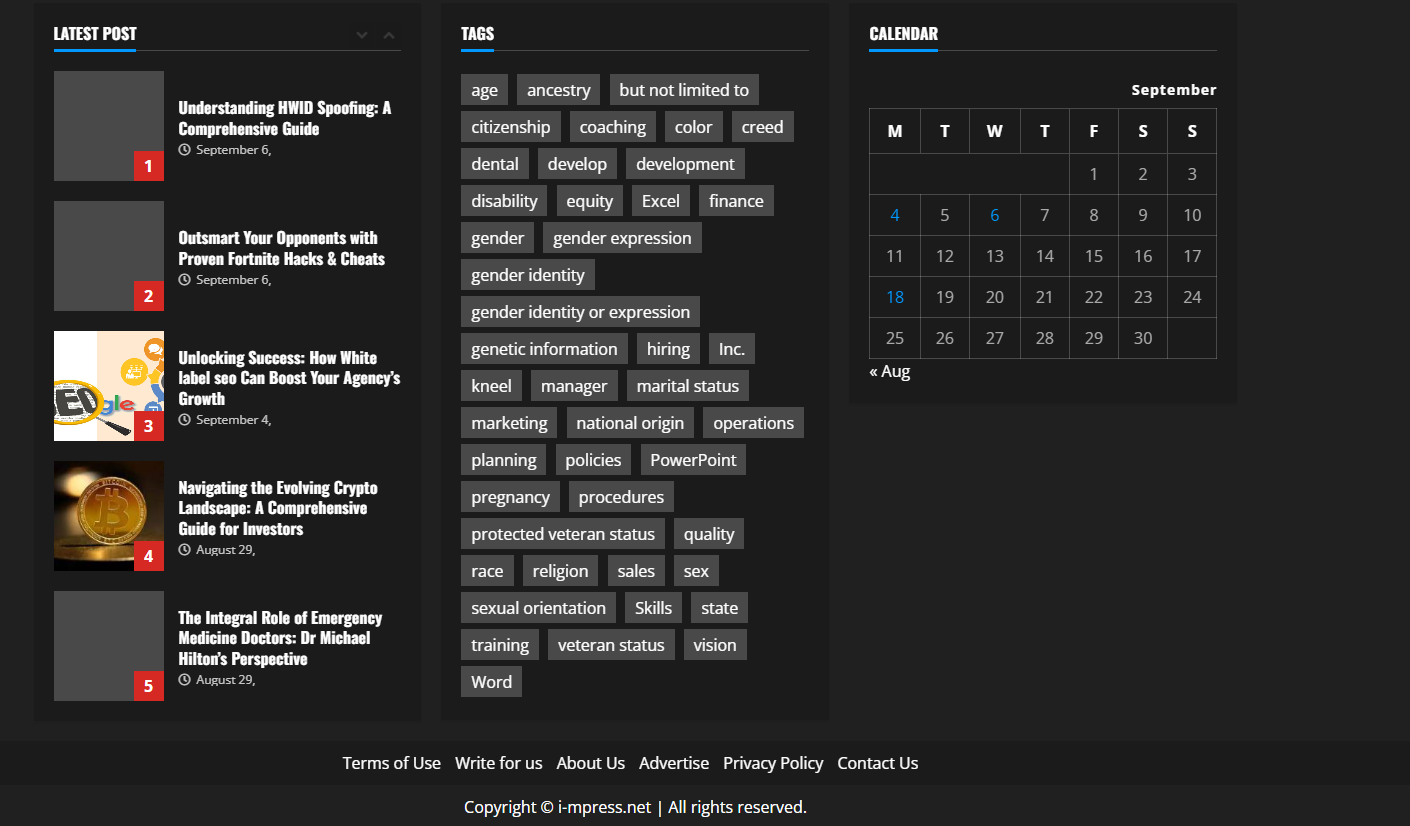 This is a total waste of link juice and overall, you don't even want to index tag pages.
Instead include those pages that bring you the most profit.
3. Optimized Anchor Text
Anchor text refers to the clickable words used for hyperlinks. Optimizing anchor text is crucial for footer SEO as it allows you to give important context to search engines on what your web page is about and what SEO keywords, you're targeting with your web pages.
For example, the Activecampaign footer clearly shows what keywords they're after.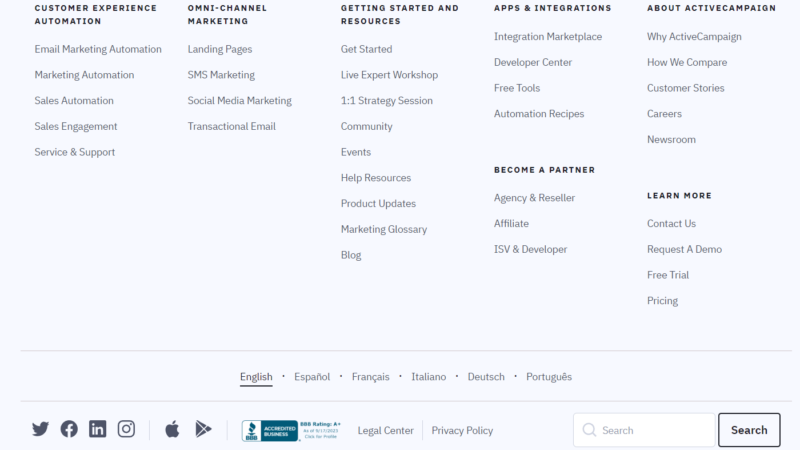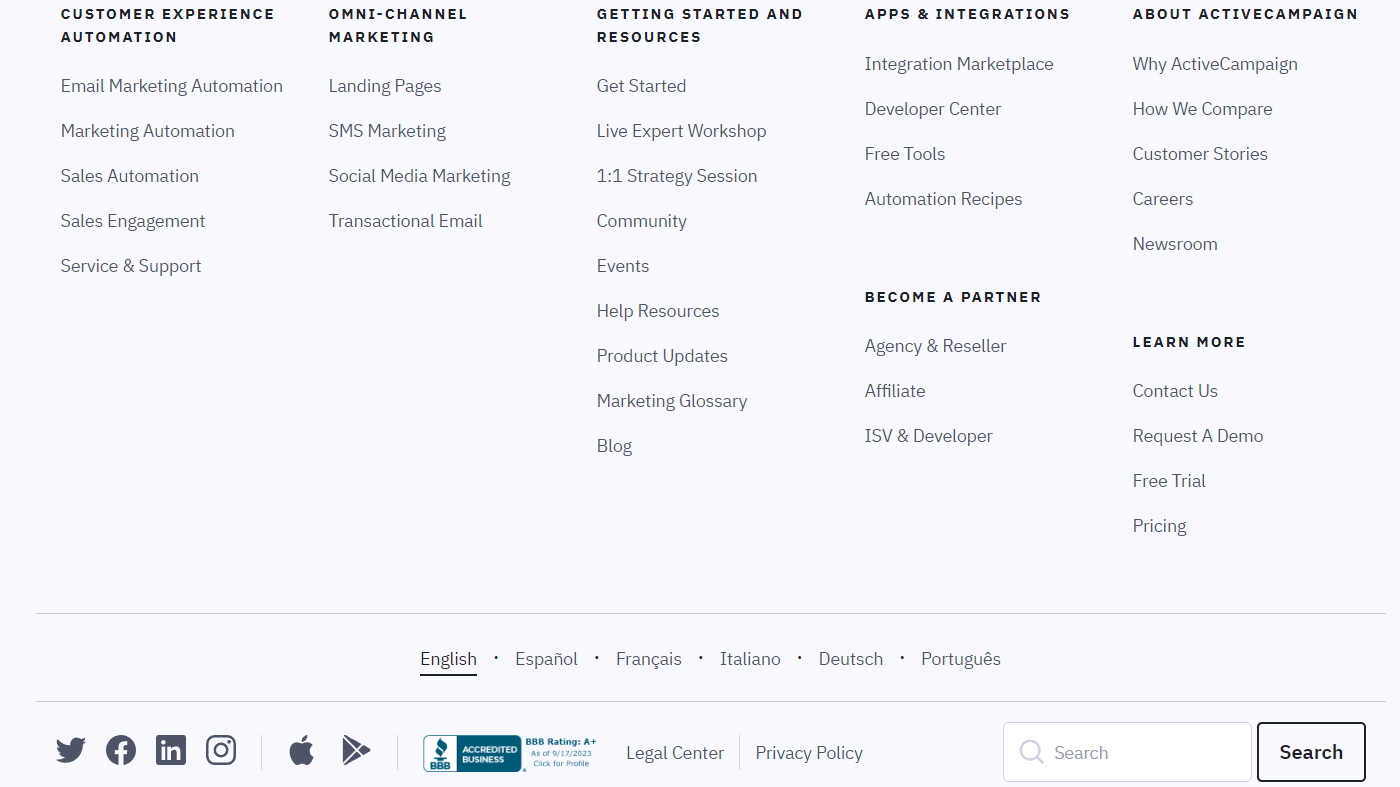 Typically, these keywords should have high intent such as commercial keywords or transactional keywords in order to drive revenue for your business.
So, ensure you choose your important pages targeting profitable keywords and the anchor text follows the primary keywords of your landing pages in order to rank for your profitable keywords.
Of course, you can also include some informational keywords, especially for those that bring you profit.
4. Mobile Optimization
With mobile accounting for over half of web traffic today, it's crucial to optimize footers for mobile user experiences.
Of course, it also depends on your industry, in eCommerce, this number can be much higher while in B2B, and SaaS, this number could be much lower.
However, it's still essential to make your footer mobile-friendly, and here are some tips to do that:
Simplify Layout – Streamline footer navigation and content into a single-column layout to minimize scrolling on small screens. Themes like Elementor allow you to design your web page for mobile and desktop separately.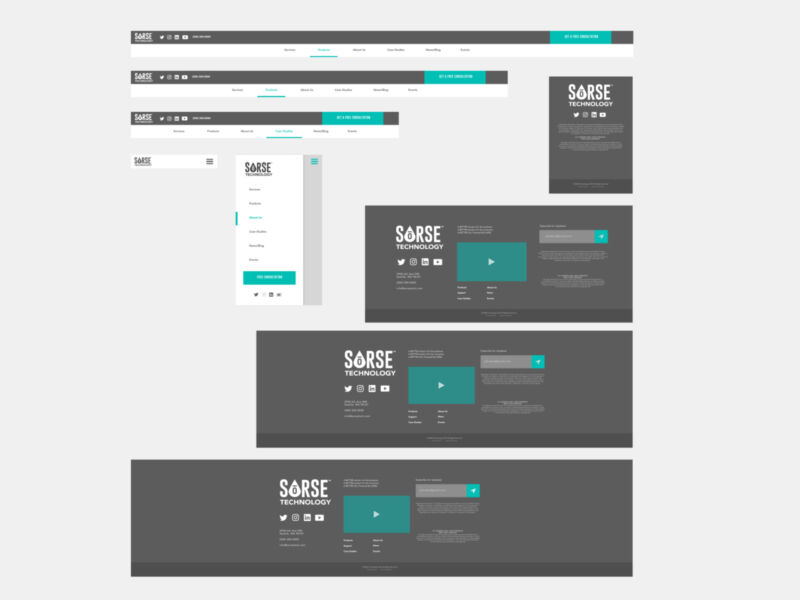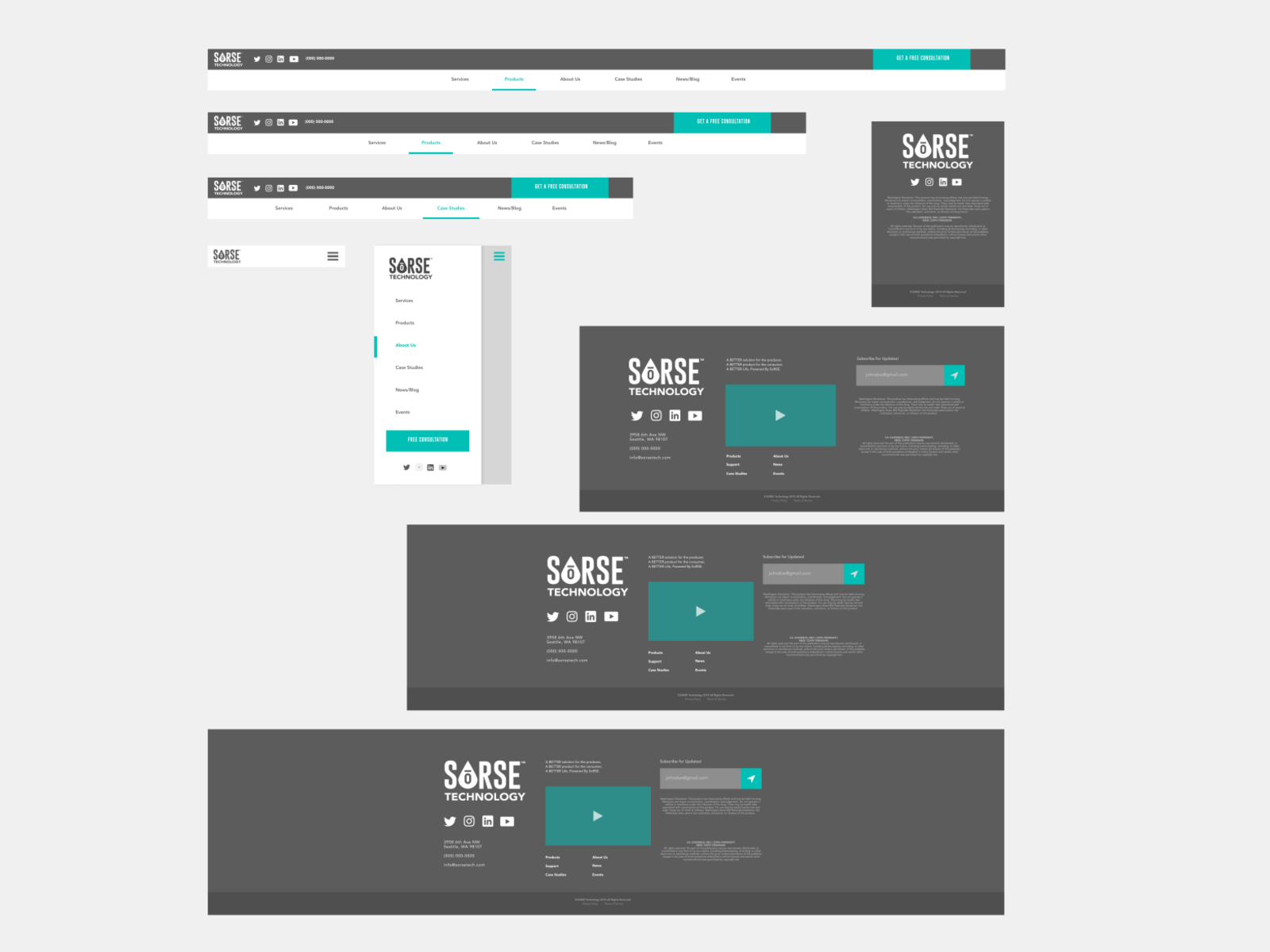 (Source)
Increase Tap Targets – Make sure buttons/links have enough padding to be easy to tap on touchscreens.
Check Font Size – Body text and links should be sufficiently large to read on mobile. Consider a minimum of 16px.
Reduce Bloat – Eliminate excessive images, sliders, and widgets that clutter the footer on mobile.
Test Mobile Page Speed – Use Google PageSpeed Insights and eliminate render-blocking elements.
Assess On All Devices – Test the footer on phones, tablets, and varying viewports. Identify issues.
Implement Mobile Styling – Use CSS media queries to adjust footer layout and styling for mobile.
Make Links Functional – Ensure footer links and buttons work for fat fingers through testing.
Again, for some like eCommerce, you will need to put some effort into this, while in B2B or less mobile traffic industries, you might just need to style it, so there are no issues, but don't need to spend too much time on this.
5. Use of Schema Markup
Implementing schema markup in the footer can enhance how search engines understand and index the site's content.
Some ways to leverage footer schema markup include:
Organization Schema – Provide info like company name, address, logo, and social links using Organization schema.
Contact Schema – List phone number, email, and contact page URL with Contact schema.
Business Hours Schema – Display opening hours and time zones using OpeningHoursSpecification.
Site Links Searchbox – Use Sitelinks Search Box schema for the on-site search feature.
Social Profile Links – Denote social media links with Person or Organization schema.
Copyright Date – Tag the copyright date with CreativeWork datePublished schema markup.
There are many types of schemas appropriate for footers depending on the site.
When added, Google will display this markup in the Knowledge Panel in some searches which can help you improve ranking, and CTR and get you more traffic.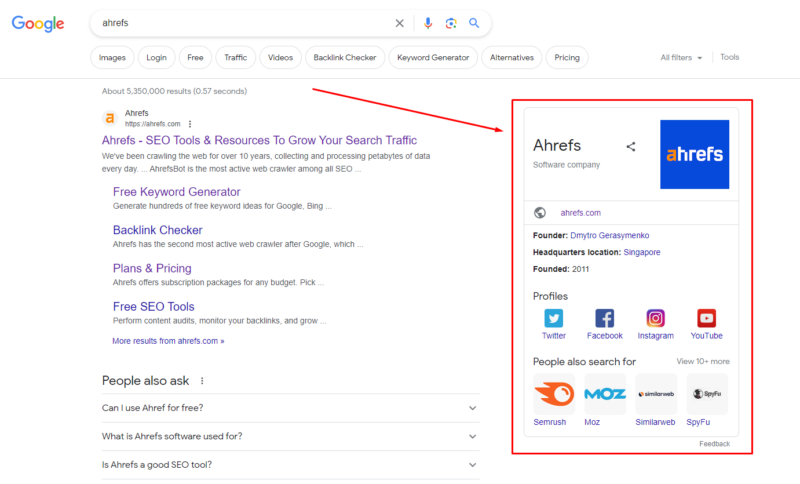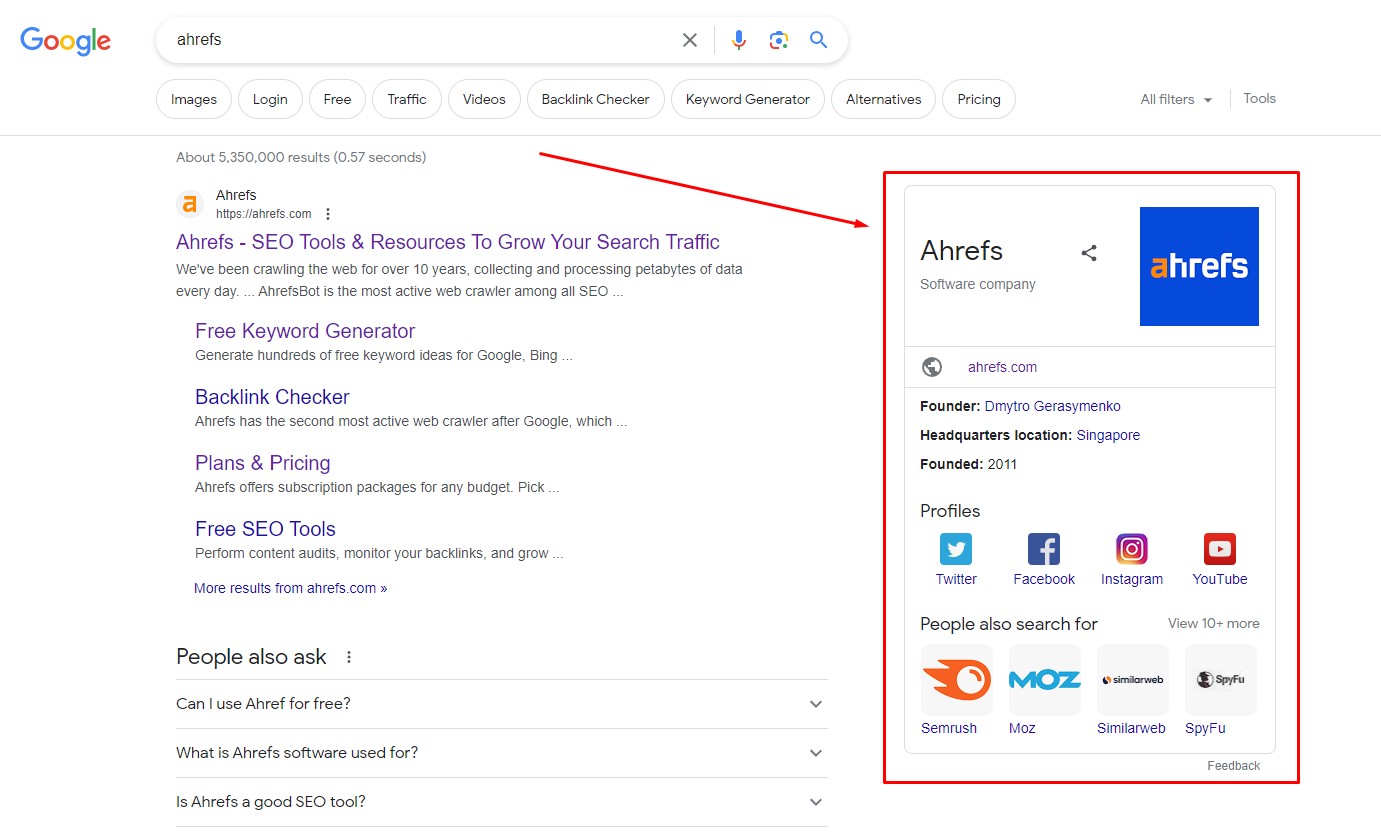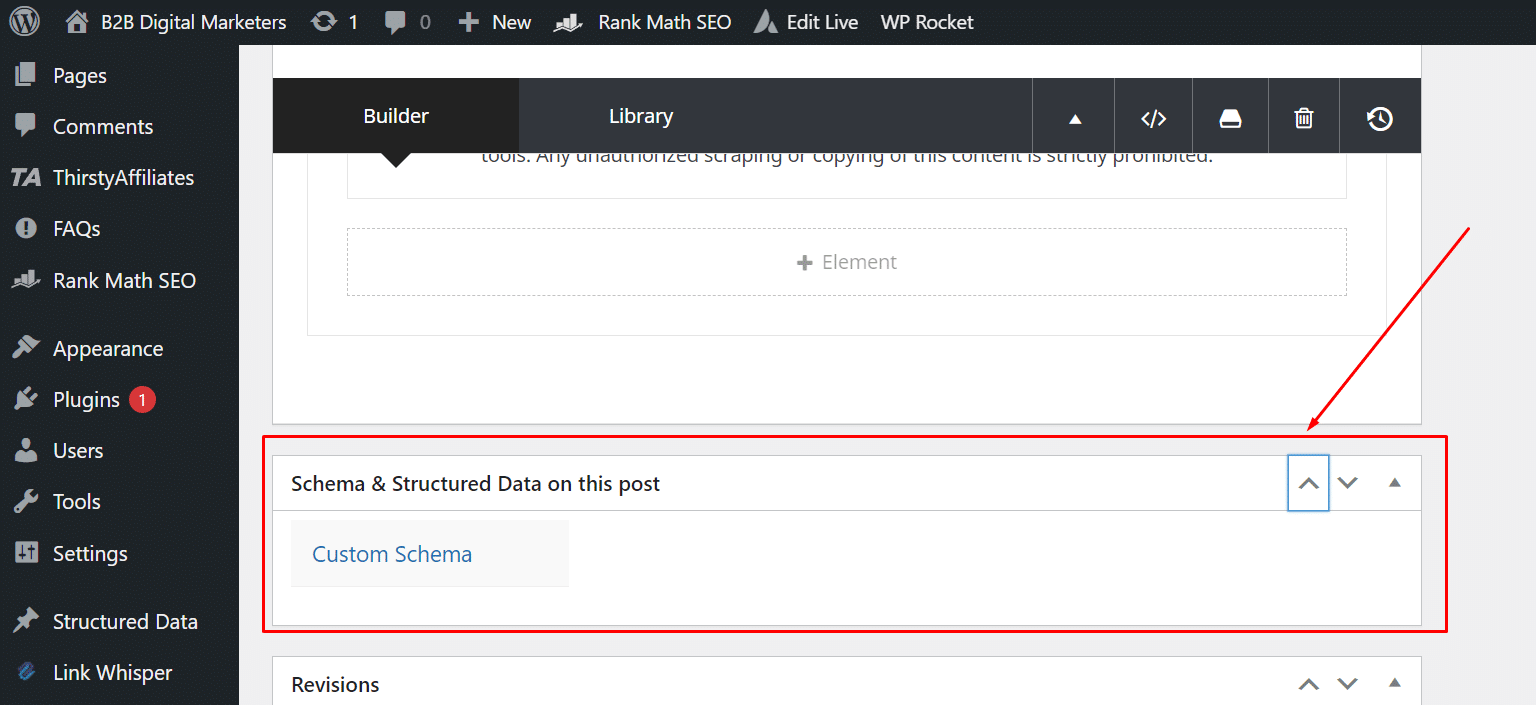 Together with ChatGPT or Claude, you have a perfect opportunity to create any schema markup you need without knowing how to code.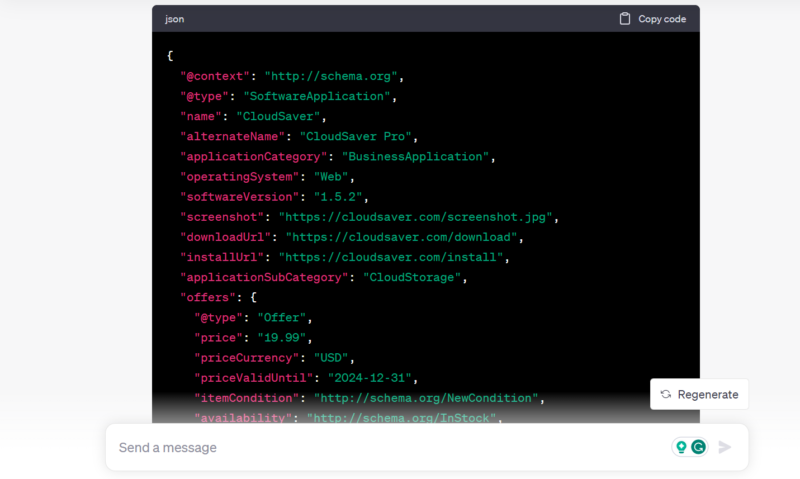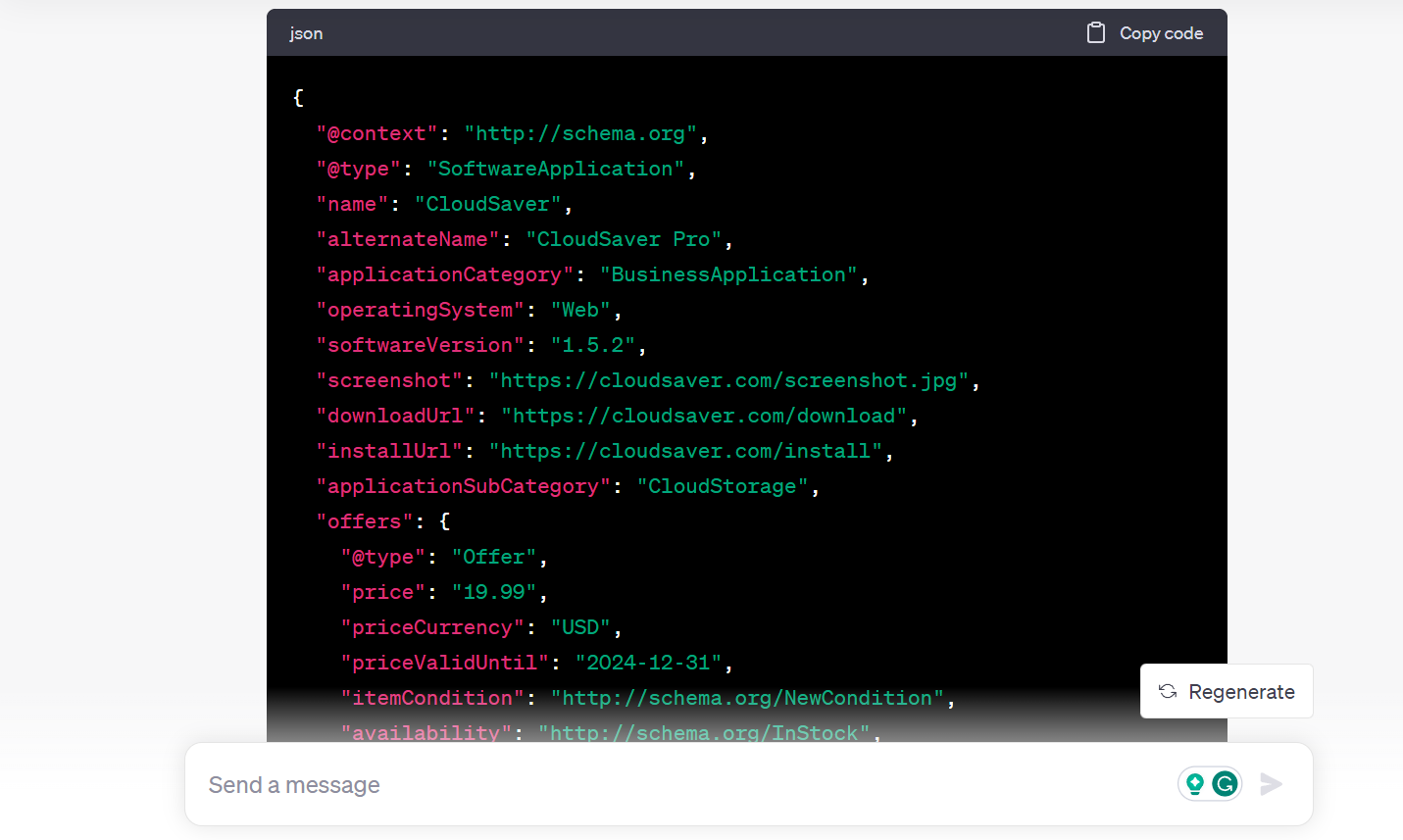 6. Add Social Media Links
Another footer SEO best practice is to include social media links.
By including your social media links in the footer it helps establish domain authority and trust signals as having presence on major social platforms improves the perception and trustworthiness of your business.
Something that is very important nowadays since Google is focusing on E-E-A-T more than ever.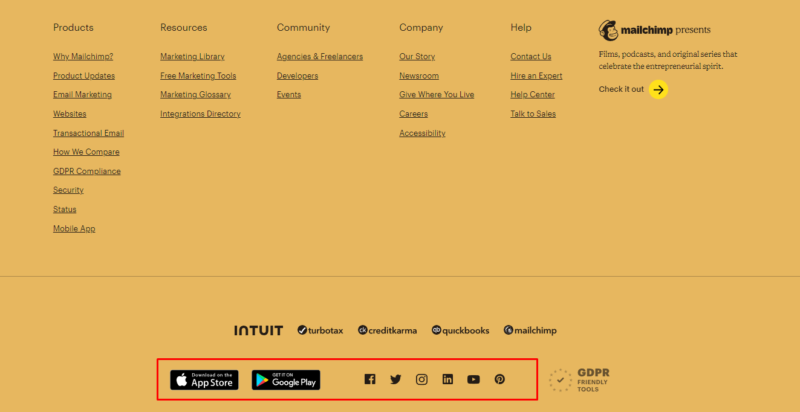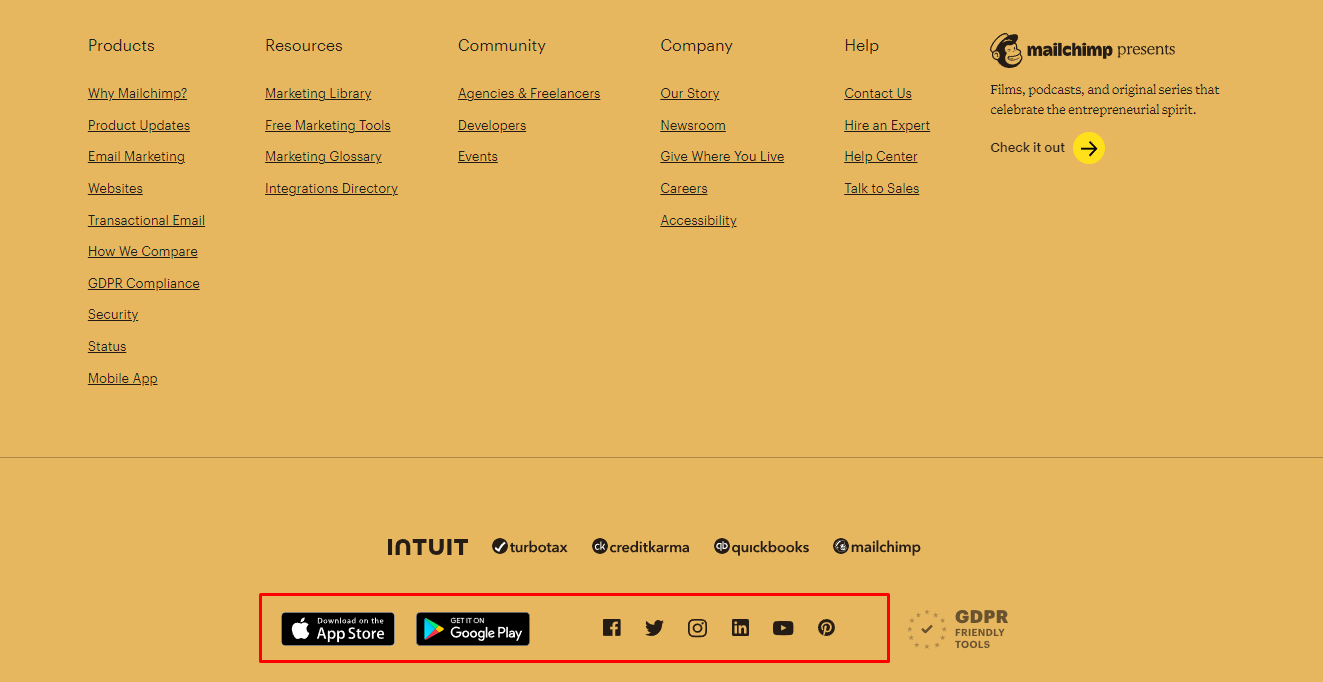 Additionally, it helps users to easily share site content to their social networks, potentially increasing reach and gaining social signals that can be used when assessing your website for ranking.
Now, social media signals are debatable topics whether they help with ranking or not.
But what I am trying to say is that they can help you grow your business beyond just your website, and integrate your overall marketing strategy and grow your audience.
So, be it for SEO or for marketing, including social media links in the footer is an essential part of growing your business and improving brand awareness and perception.
7. Nofollow External & Some Internal Links
Another very important footer SEO best practice is to nofollow external and internal links in order to preserve your link juice.
So, with that, here are internal and external links that you should nofollow in your footer:
Social Media Links – Any social media links in your footer should be nofollow. Do not share your valuable link juice with them, they do not share it back.
Legal & Sitemaps Links – Links to Sitemap, Privacy Policy, T&C, Legal, Disclaimers, Cookie, etc. do not need your link juice, make them indexable, but don't waste your link juice on them.


Links to Reviews – While it's good to have reviews such as from G2 or Clutch, you don't need to send link juice to them.


Partnerships – If you have partnerships with brands like Facebook, Google, and Forbes, then you can nofollow the links as well. Unless they're more personal or close partnerships.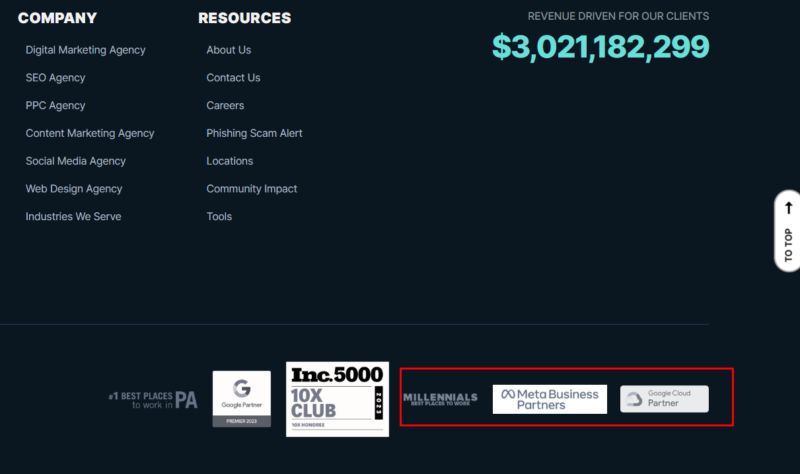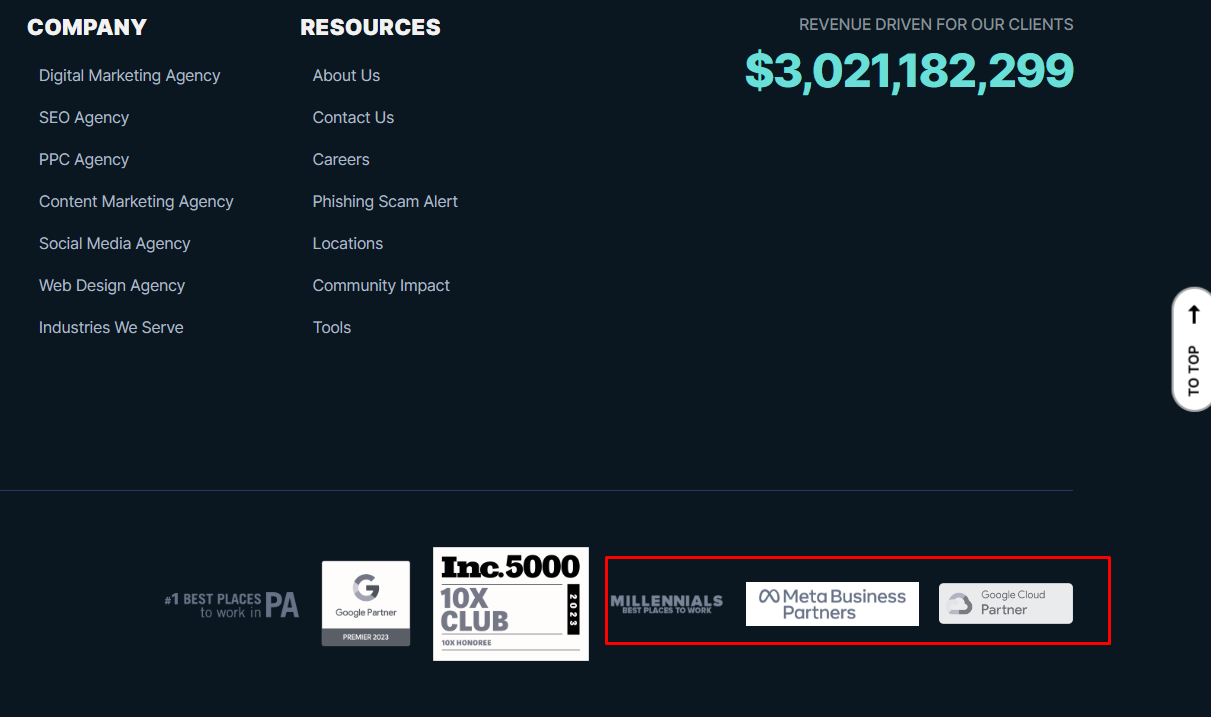 External Links –99.9% of the time, your external links should be nofollow in your footer just to preserve your valuable link juice.
Internal Links – Dofollow links should be only to the pages that you really want to rank and there is competition, other than that, nofollow it.
As I said, adding nofollow selectively to footer links helps manage SEO power and flow from page to page. It requires balancing followed and nofollowed links appropriately to get the best results from your SEO.
8. Include CTA
Another good practice for footer SEO is to include some form of CTA.
This can be to sign up for your newsletter.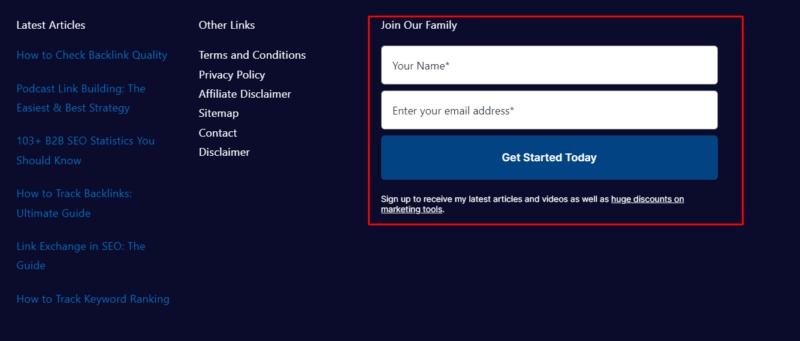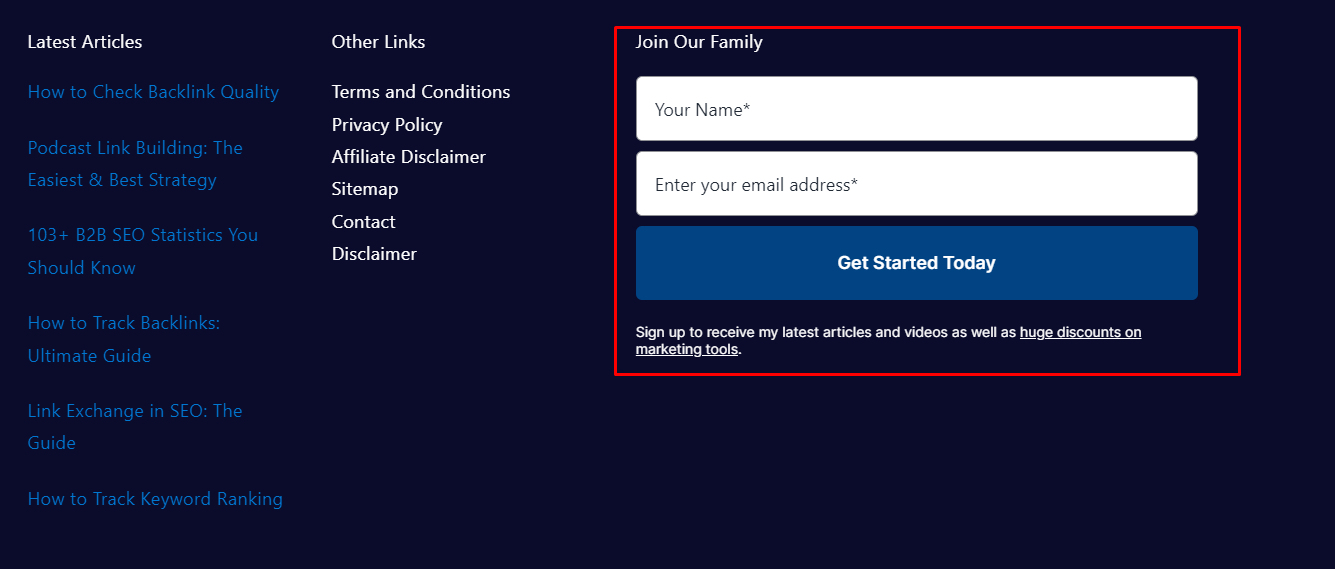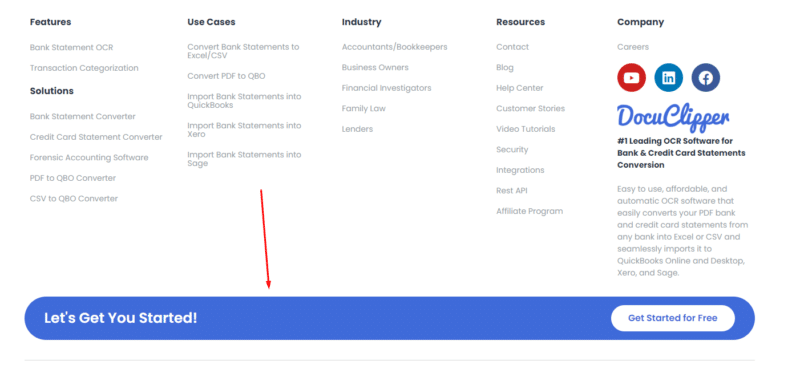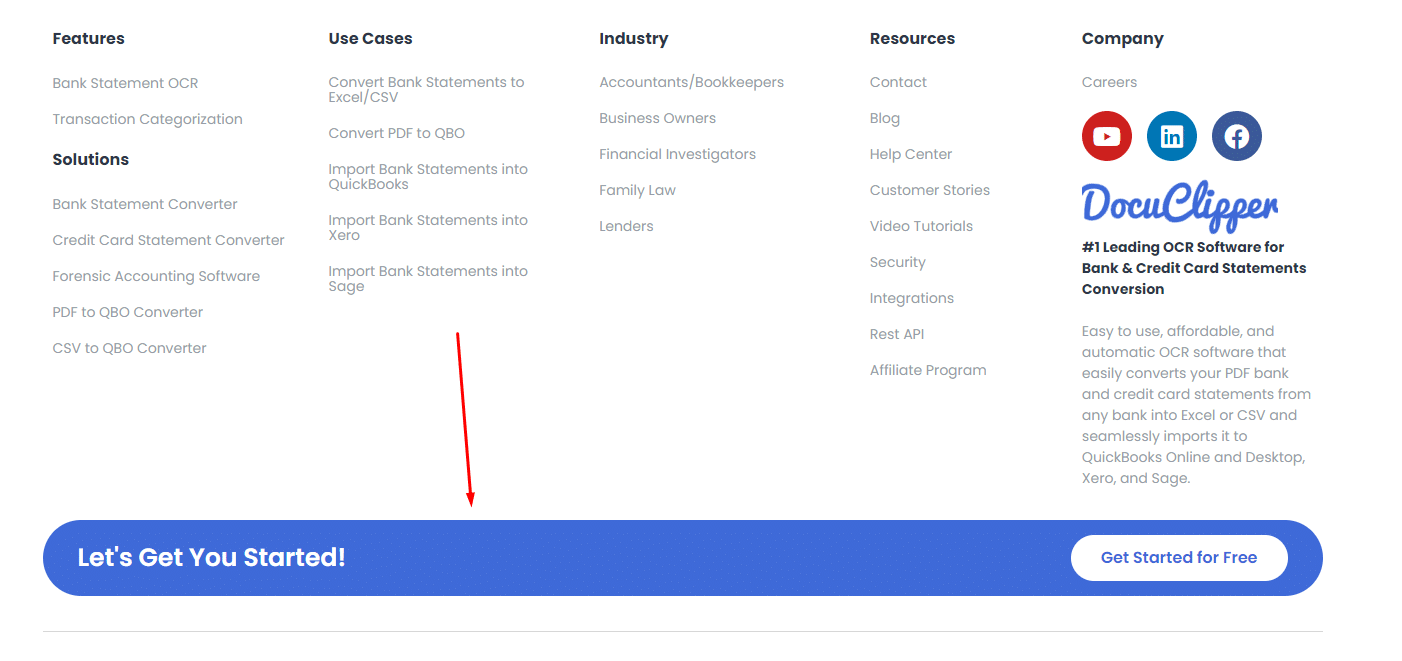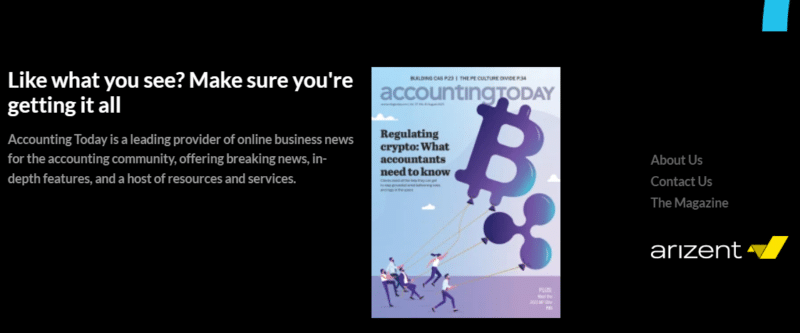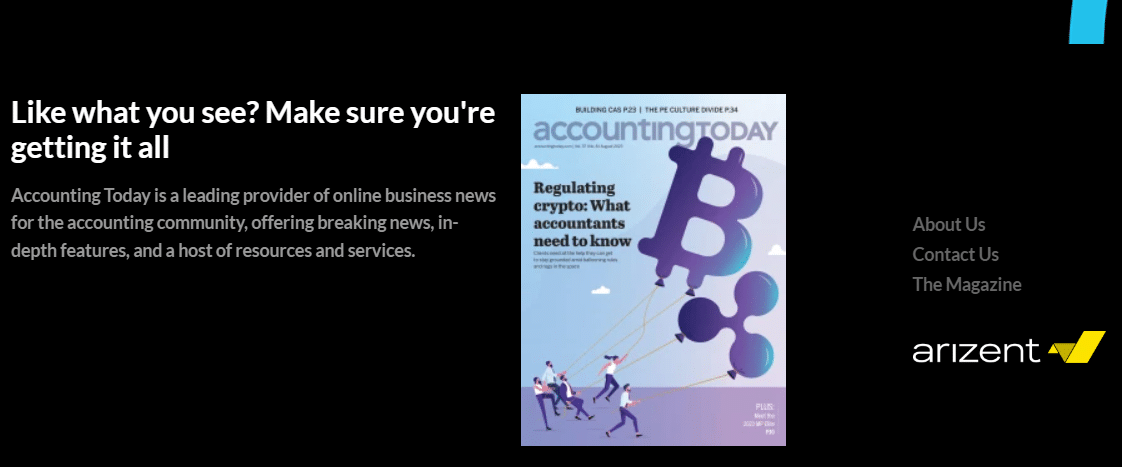 Having your contact information.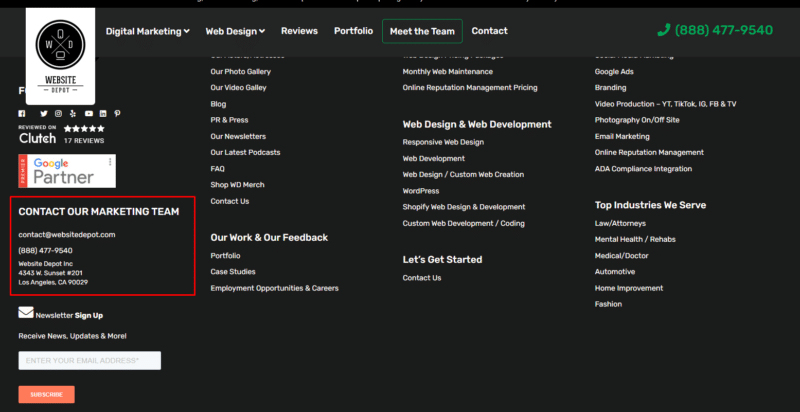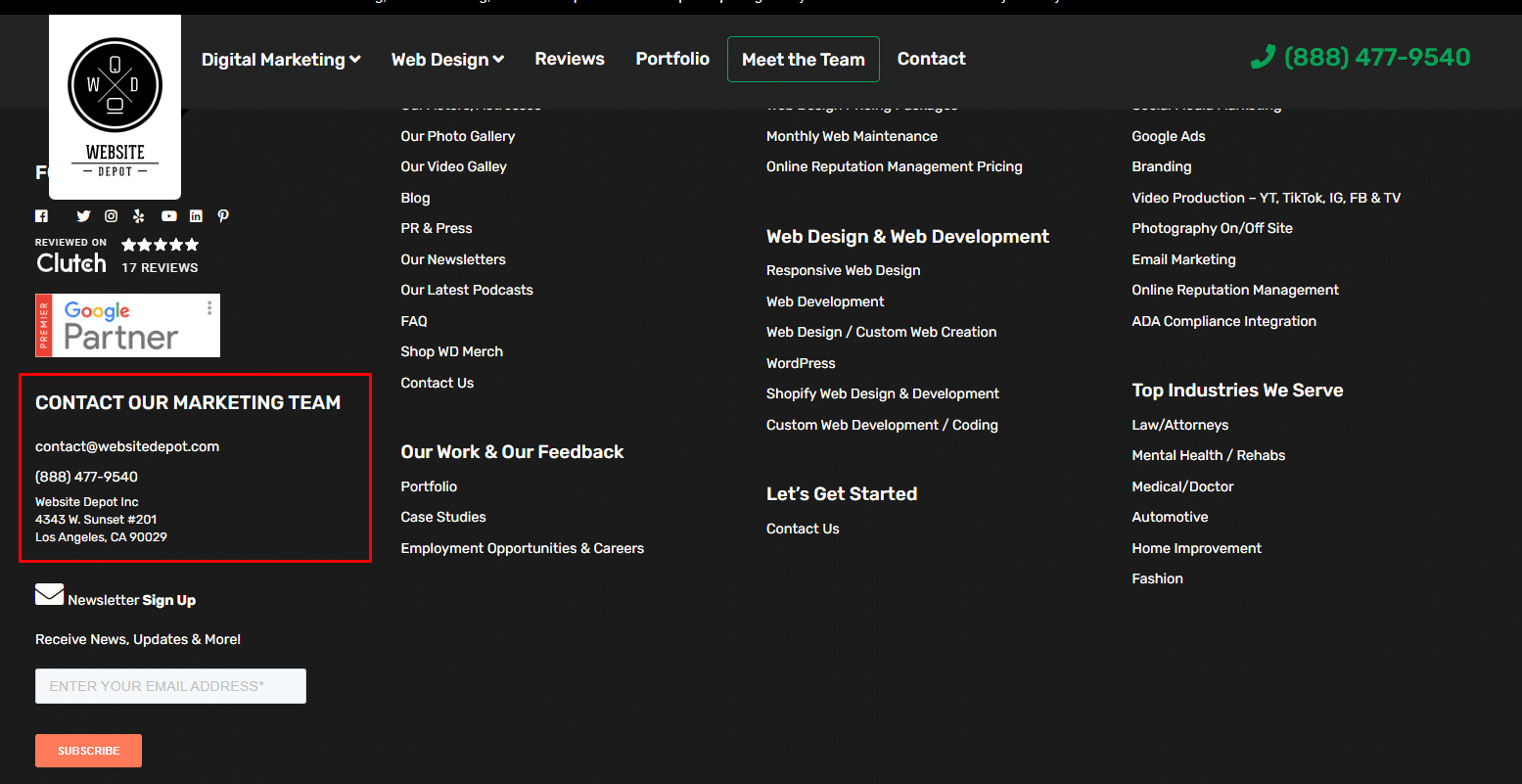 Or whatever you find important.
While only 2-10% of your users scroll down all the way to your footer, it still has a good potential to grow your business and you should not waste this valuable space.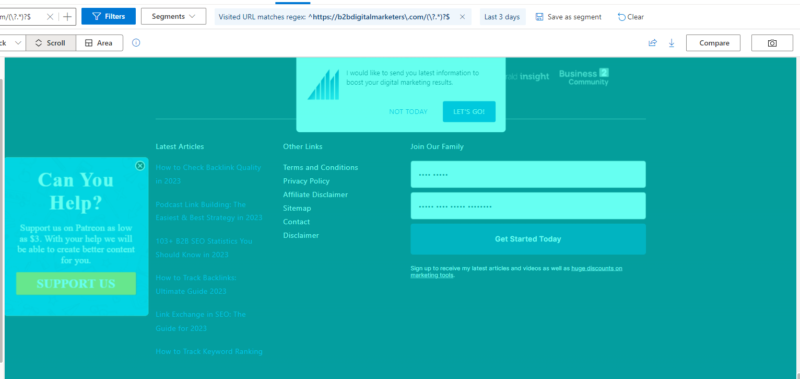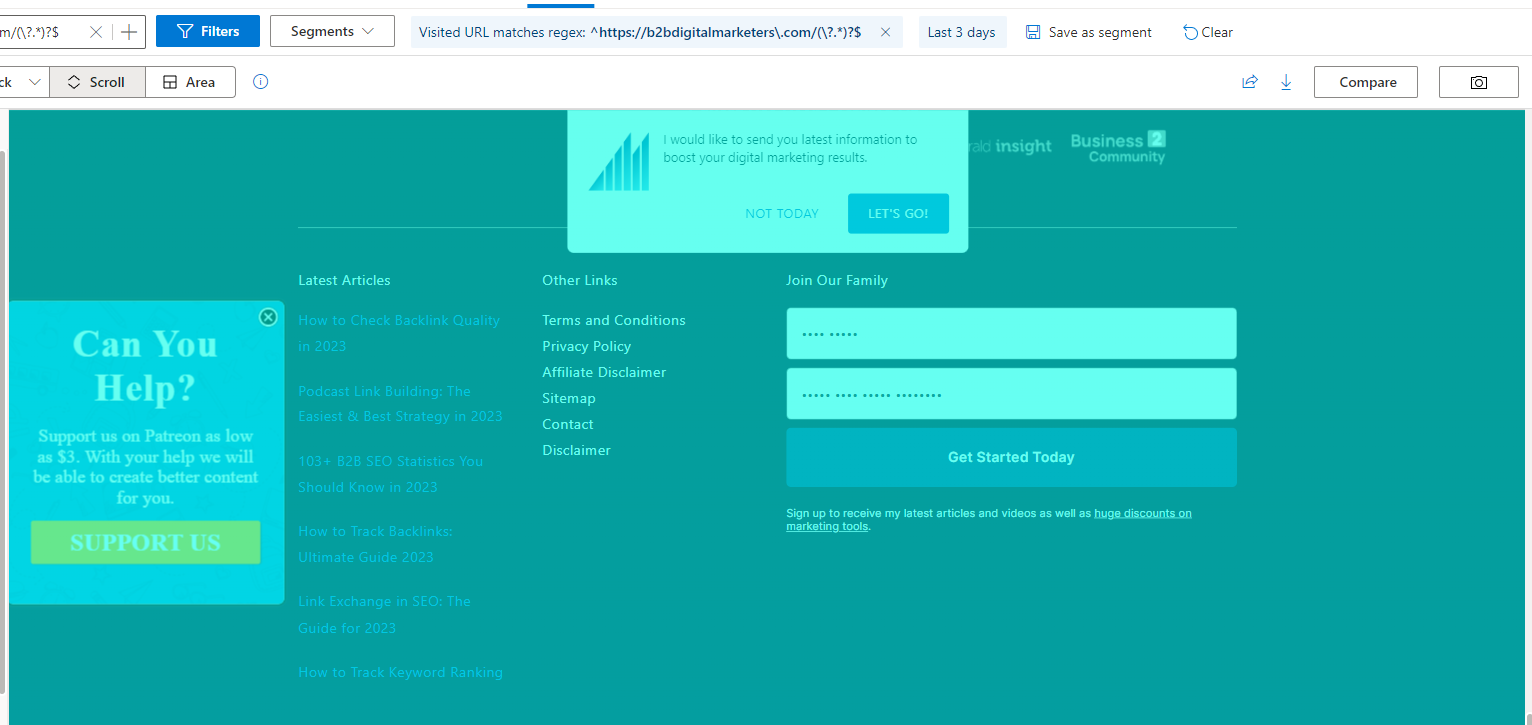 9. Include Copyright with Who Owns the Website
The footer copyright statement provides an opportunity to indicate who owns and operates the site as well and the copyright statement with the website's owning entity name can help search engines better understand the site's E-E-A-T signals.


By clearly indicating the website's owner in the footer copyright, search engines can better associate the E-E-A-T of that company with the content. This improves perceptions of experience, expertise, authority, and trust.
10. Include Business Descriptions
Another footer SEO best practice is to include a short business description for users and search engines to better understand what your business is about.
In most cases, I see this only for service-based companies.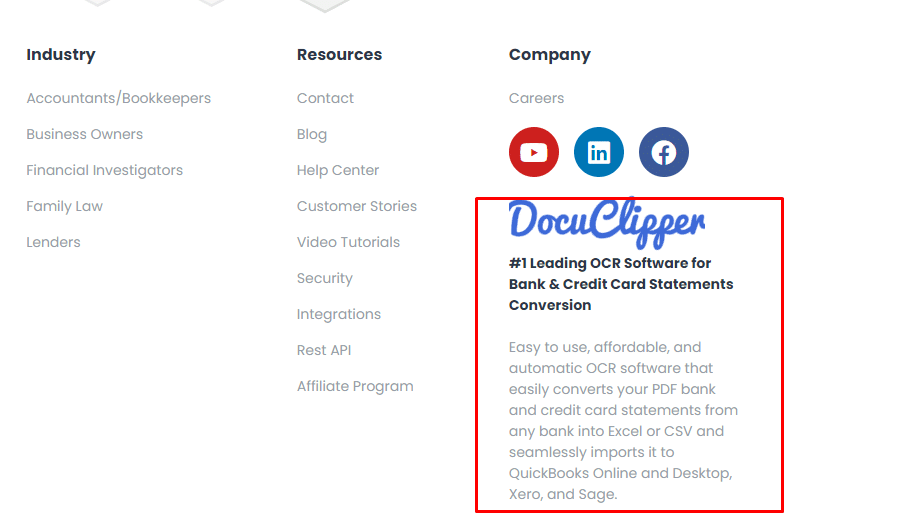 However, I would recommend this to any company that is trying to improve conversions and SEO as this gives you the opportunity to communicate with your users what you do and how you can help them.
So, when you are writing a business description here are some useful tips:
Keep it concise – 1-2 sentences or less than 150 characters. You don't want lengthy content bloating the footer.
Focus on what makes your business unique, your core values, or your competitive advantage. This helps establish your brand identity.
Use relevant SEO keywords but don't over-optimize. The description should sound natural.
Adding a slogan, tagline, or positioning statement can also work for establishing brand identity.
11. Include Business Address
Adding a business address in the footer can be particularly beneficial for local SEO when you're trying to rank for location-based searches.
So, this is especially useful for service area businesses – retail stores, restaurants, professional services, etc. But any business can include a contact address.


Of course, if you have a lot of physical locations, then including it in your footer might not be an option.
But for companies with less than 5 locations, you can easily include it in your footer, especially if getting foot traffic is your main source of revenue.
Also remember to format the address appropriately with street, city, state, and zip code. I recommend following your GBP listings to ensure you match your NAP.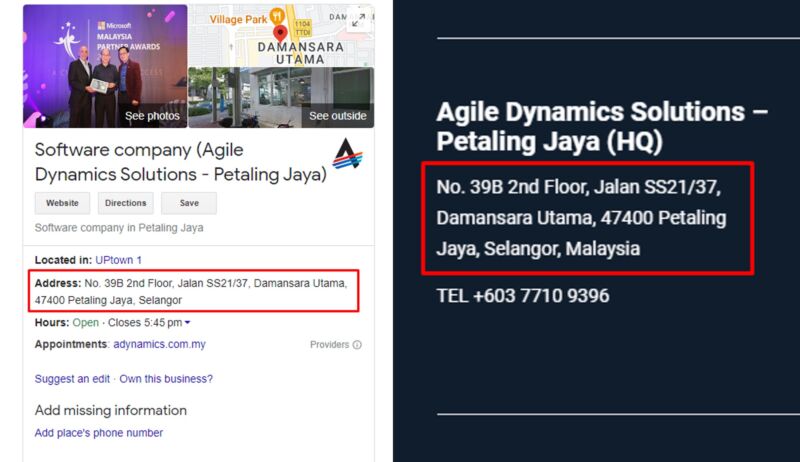 Furthermore, I recommend you add schema.org markup like PostalAddress or Business schema markup to further optimize your SEO.
Remember, having an address in the footer helps search engines understand the business' geographic service area and improves local SEO rankings factors.
It also builds trust and authority by providing a physical location, especially for service-based businesses. This improves the perceived experience, expertise, authoritativeness, and trustworthiness (E-E-A-T) for search engines.
12. Add Social Proof
Another essential footer SEO best practice I really recommend is to include any social proof you can.
This can be:
Customer or Partner Logos – Showcasing recognizable brand names you work with builds trust through association. Keep logos small and design tastefully.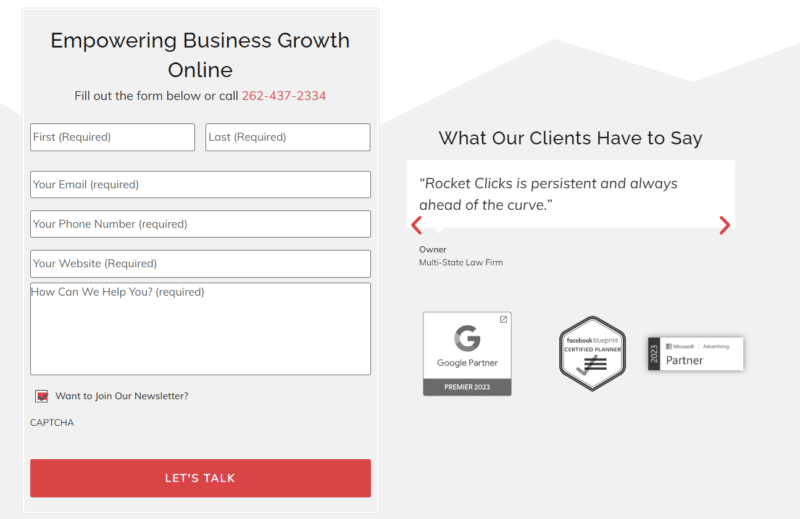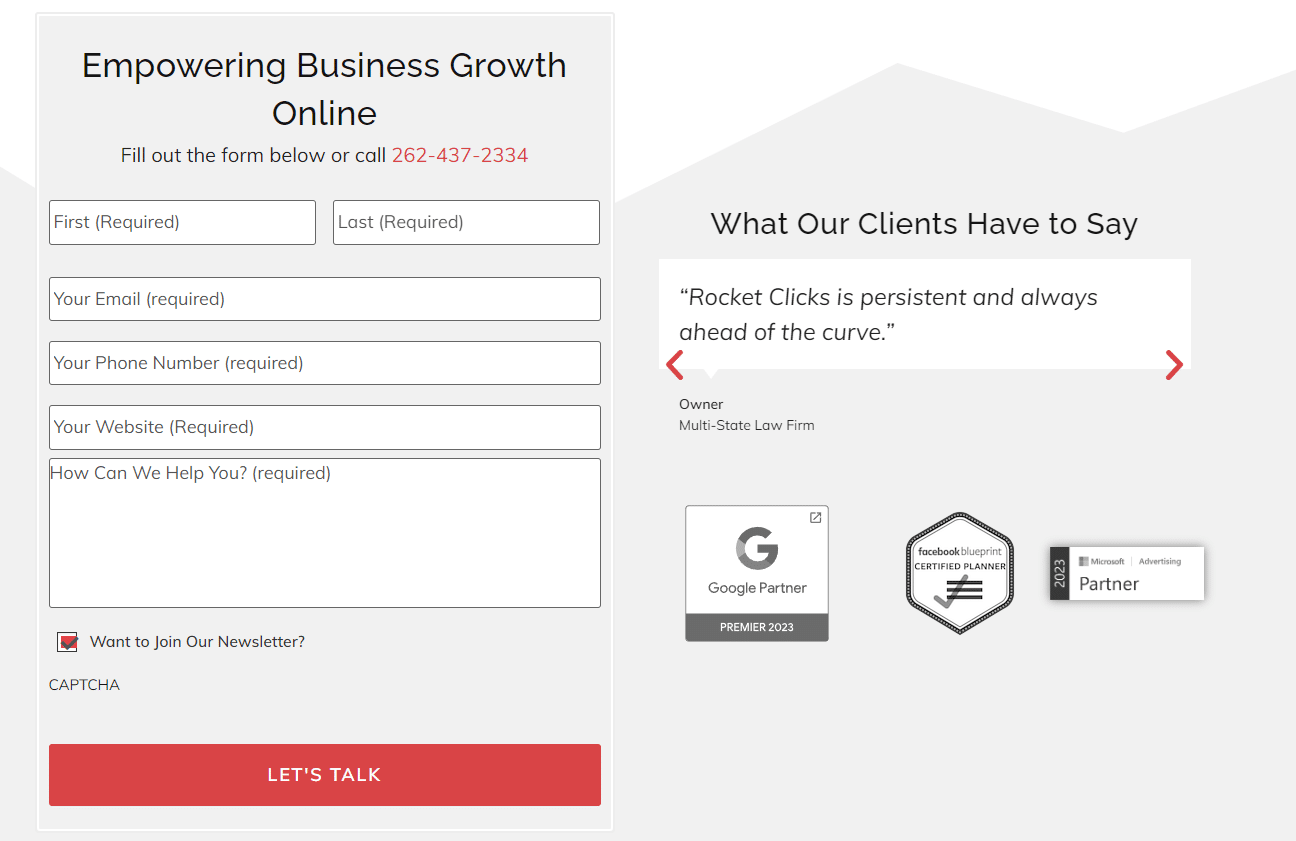 Compliance & Security Badges – Displaying badges like PCI Certified, Norton Secured, or McAfee SECURE shows commitment to safety and security.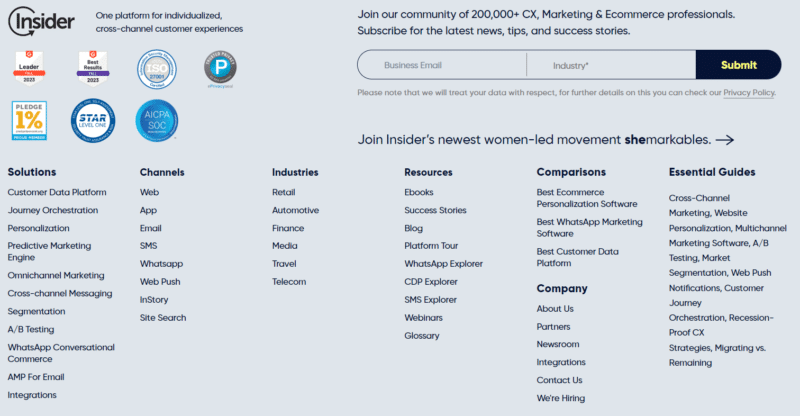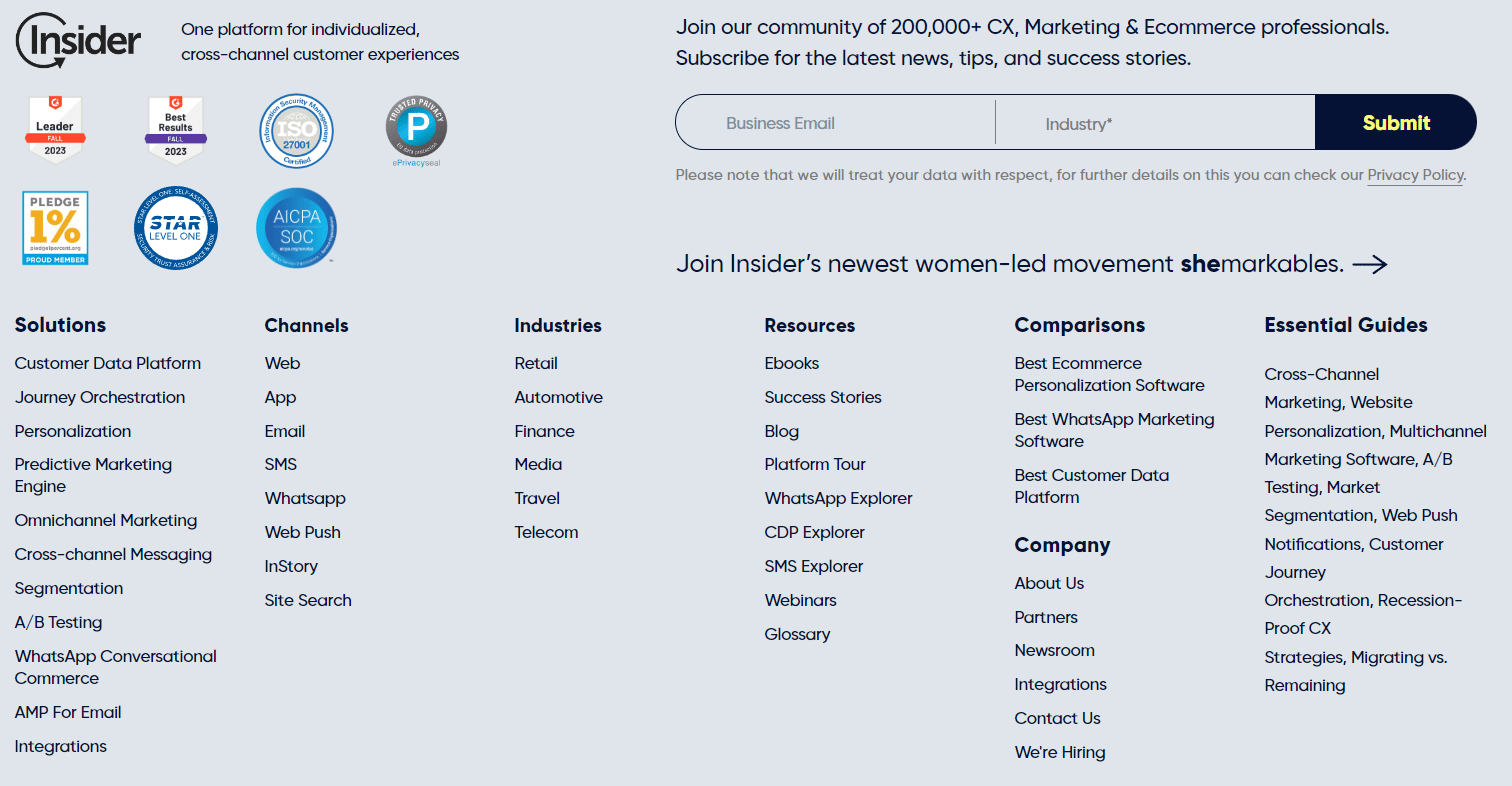 Rating Platform Scores – Review scores from sites like G2, Clutch or Capterra displayed as badges highlight positive sentiment.


Association/Group Memberships – Being an approved member of recognized industry groups and associations improves authority.
Awards – Showcasing honors and awards from reputable organizations demonstrate quality.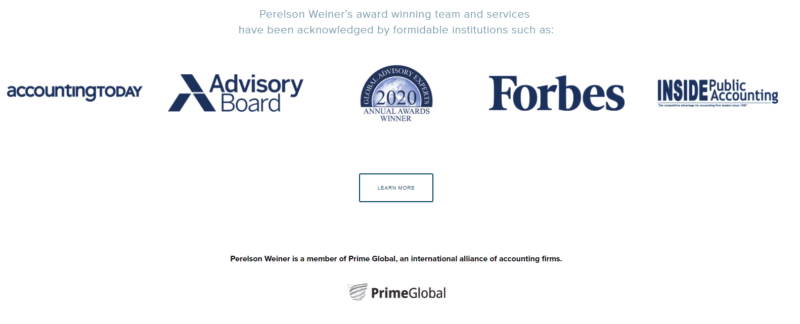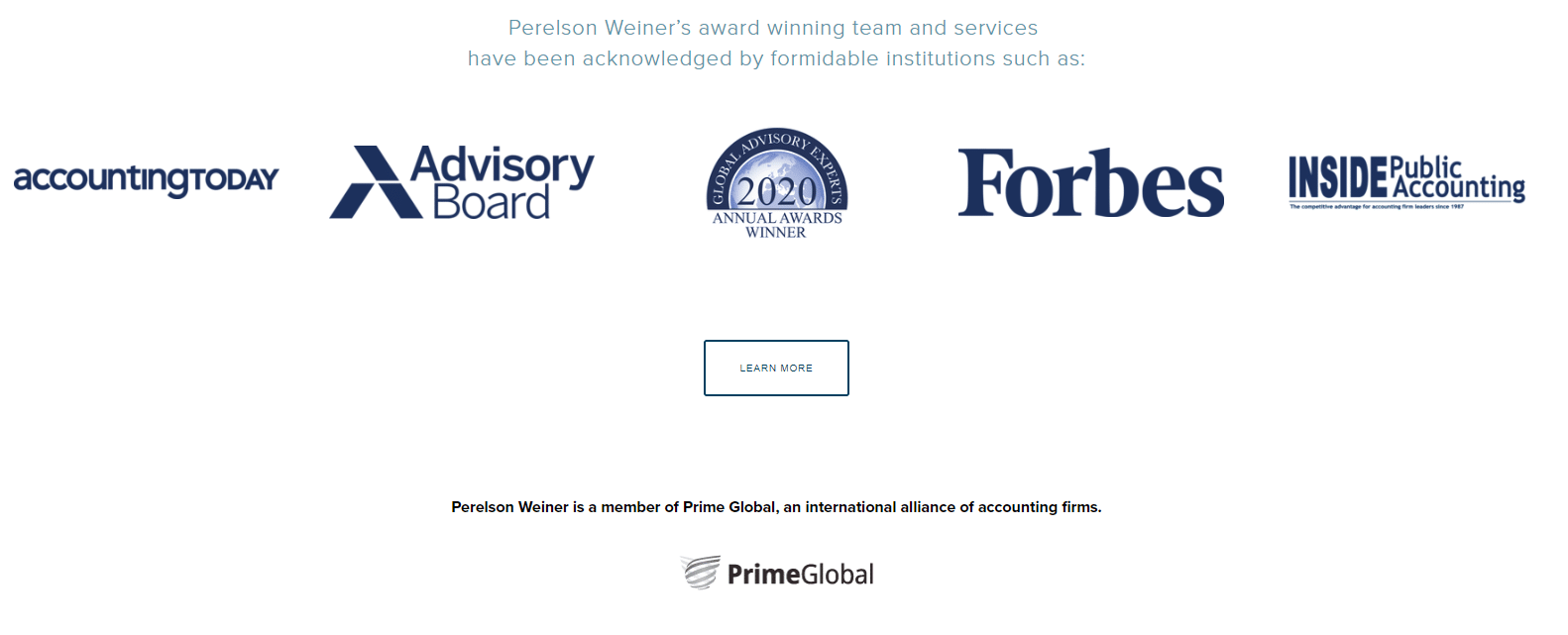 Trust Seals – Third-party trust seals like BBB A+ Rating, Truste, or TRUSTe Certified establish reliability.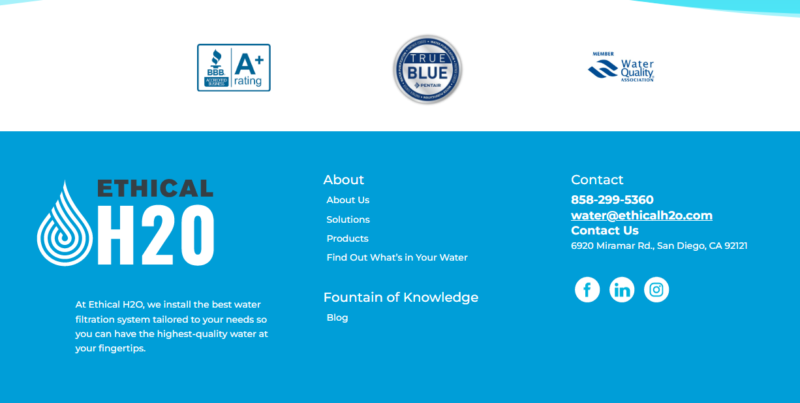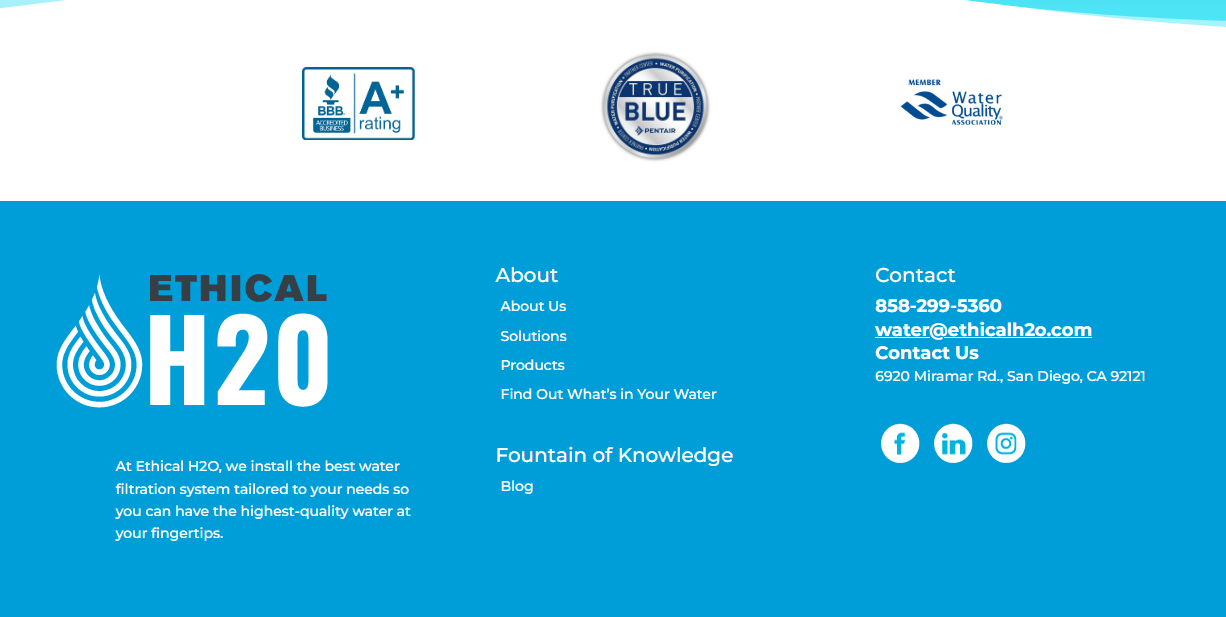 Payment badges – Showcasing accepted payment methods like Visa, Mastercard, and PayPal gives customers confidence in transacting.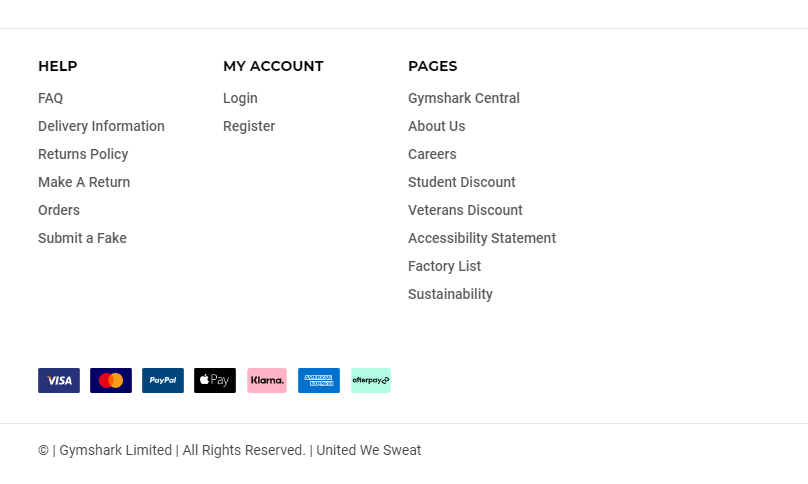 And of course, there could be a lot of other relevant social proofs you could include in your footer.
The goal here is to improve the user perception of your brand and ultimately get them to take the desired action.
13. Include Contact Information
Having contact info like phone, email, or contact form in the footer makes it easy for visitors to get in touch and can greatly improve your lead generation.
Using the proper HTML footer tag provides structure and semantic meaning:


Using the footer tag may seem minor but improves the crawler's ability to handle footer content appropriately. It also demonstrates coding best practices.
Now hopefully, after reading this article, you understand that the footer is not just a space at the bottom of the page without any significant value.
If used correctly, your footer can increase your revenue, and search visibility, and improve your overall user experience.
When leveraged effectively as part of an integrated SEO strategy and on-page SEO, an optimized footer can boost search visibility, increase traffic, and ultimately help convert more visitors into customers. The footer is an important part of the bigger picture.
Final Advice
Now, of course, you don't have to implement all these Footer SEO best practices as that would be just overkill…
Instead look at your competitors and industry, what they've in their footers, and what they don't have, and come up with similar, but unique footers with relevant features, content, CTA, images, etc.
Remember, your footer should be part of your overall marketing strategy not just for SEO.
Support the B2BDigitalMarketers
Hey, Eduard here.
As a solo blogger with limited resources, I need your support to keep creating in-depth SEO content like this. Please consider joining my Patreon community to help this site grow.
Your pledge – no matter how small – will enable me to dedicate more time to sharing actionable tips and strategies. With your help, I can take this project to the next level and really make a difference for other SEOs and marketers.
I would sincerely appreciate you joining me on this journey as a founding patron. Together, we can build an amazing resource hub. Hope to see you on the inside – thanks for your trust and support!
Related Articles:
Also, check out our SEO hub page to find all our SEO resources.
Disclaimer
This article was written by Eduard Dziak and may contain affiliate links. The following tools were used to optimize the article for the best user and search engine experience:
SE Ranking for keyword research and on-page SEO optimization
Surfer SEO for SEO-friendly content creation for users and search engines.
Jasper AI for grammar correction and information enhancement.
The article is based on the author's own experience and knowledge, drawn from both his own work and that of his clients, to provide the latest, proven methods.