In this article, I am going to share with you how to get email subscribers for your business fast and easily so you can start driving high qualify leads with email marketing and grow your business.
I will show you exactly the formula many digital marketers use for their clients to start generating email subscribers and later bring leads.
This is essential especially for starting businesses because capturing your potential leads earlier on can help you to boost your customer acquisition and lower the cost per acquisition.
Therefore starting this step-by-step formula to get more email subscribers for your businesses will help you to start generating subscribers literally from 0 to thousands or in my example, I have got over 5,000 email subscribers in just a few months.
So, let's get started with the first step.
Step #1: Create Pop Up for Your Blog Posts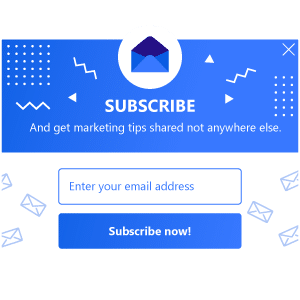 The first step is to create pop-ups for your blog posts. Because that is the place where you will generate the most traffic and it is the best place to get more email subscribers for your business.
The easiest way to start getting subscribers is to show pop up and ask your readers to subscribe to your email list.
And obviously, you must give them a reason why they should subscribe and therefore the first reason should be your blog post. If you have provided value and solve the reader problem within your blog post, then your readers are happy to subscribe and that is the first reason.
The second reason should be included on your pop-up, where you should explain more what they can expect if they are opt-in, like for example: Subscribe to get special digital marketing secrets not share anywhere else, or subscribe to get cool freebies, discounts, and promotions.
Also later, once you are having more subscribers you can use the number as social proof, like for example mine.
This will help you to get more email subscribers for small businesses who are at the beginning of the buyer journey and therefore it is a great opportunity for you to establish yourself as a thought leader in the eyes of your new subscribers.
Step #2: Use Subscribe Form on Thank You Page or your Lead Forms
The second step is to insert your subscribe form to your thank you page or your lead forms so you can maximize the results and get more email subscribers for your business.
This is the second step you should include for you to get more subscribers. Especially if you are getting already leads from your website, then to utilize this is another great way to get more subscribers for your business.
So, there are two ways how you can do that.
The first way is adding your newsletter form on your thank you page. You already have a lead but then not every lead will convert, therefore, it is better to also capture them for your email marketing, and later on, if they do not convert you can add them to your lead nurturing campaign.
Like this, you will increase your lead conversion rate and maximize your chances to bring more customers to your business.
The second way is to add a little newsletter checkbox on your lead form with something like: Do you want to receive our newsletter with helpful tips & tricks? And let your leads decide whether they want or not.
Personally, I prefer to use the first way to add the newsletter form on thank you page because I have experience drop-down in lead generation from the forms when I implemented the second way.
But I recommend you try both and see what works best for you to see what is the best way to get more email subscribers for your business.
Step #3: Create Relevant Gated Content
Alright, and the third step is to create relevant gated content and promote it across your channels such as social media, product pages, landing pages, and blog posts.
Definitely one of the most powerful steps for you to include to get more email subscribers for your business easily and effectively. And do not worry, produce eBook is not hard anymore.
This strategy is used by many marketers to keep growing their email marketing list without actually too much effort. Because once you have your gated content such as eBook, Whitepaper or Guide then the only thing that you need to do is drive the right eyeballs on it.
So how can you do it?
First, go into your Google Analytics account and look at the most popular pages and landing pages on your website. This will give you an idea of what gated content you should create.

If you already writing blog posts, then you can take the top 5 or 10 from a certain category and combine them together. For example, your top 5 performing blog posts about email marketing or digital marketing and put them together and throw some nice graphics and you are good to go. You have an eBook.
Also, you can, hire freelancers from Fiverr or UpWork to combine your blog posts which is honestly the way how I do it, it is a cheap and efficient way to get it done faster so you can focus on the more important stuff.
For those who do not have blog posts, then there are two ways, the first find eBook writing services, which is not that expensive around $100-$200, or the second way is to write it yourself.
And do not worry if you choose the second option, you do not need to write an eBook with 10,000 words but between 2,000-3,000 words are more than enough. And It might take you a week or two if you are not used to writing. And then again you can hire a freelancer to help you with the graphic part and you have your eBook.
Alright once you have your eBooks, the second step is to share it across your channels, such as social media, blog posts, product pages and etc.
This is the easy part as you can create exit-pops, slide-ins, and more. And once you have more eBooks, then you can personalize your eBooks based on user interest. For example, if somebody reads an article about email marketing and you have an eBook about email marketing then you can use that for that article.
This will bring amazing results and grow your email marketing strategy and it is definitely one of my favorite email marketing strategies to grow the email lists.
Final Thoughts
To get more email subscribers for your business is not that difficult as many business owners think it is, as long as you have your readers in mind and you want to provide value and solve their problem, your email marketing list will grow.
Also, email marketing will later help you grow your business so the sooner you start the better it will be for your business.
Remember, just by collecting your email subscribers you will not lose anything, but it is a big loss if you do not try to collect as many email subscribers as possible.
So, start early and later you can work on your email marketing campaigns. Also if you do not know which email marketing tools to use, you can check out the list of my favorite email marketing tools I love to use for my business clients.
Related Articles
Also, check out our Content Marketing hub page to find all our Content Marketing resources.
Disclaimer:
Some pictures are coming from Freepik and some of my links are affiliate links, which means if you purchase something, I might get some small commission as a reward for reference. Of course, I am actively using all these services and products and I only affiliate products or service I have full trust in their quality!