In this article, I am going to walk you through the content audit step-by-step so you can do it for your website and increase your organic traffic, leads and ranking!
This content audit guide is easy to follow even if you have never done it before and after reading it you will know exactly what to do from beginning to end.
So let's right dive in!
What is a Content Audit?
Content audit refers to a process of evaluating all content elements and information assets on your website. Content audit helps you keep a healthy stock of content inventory on your website and gives you insights into which content to create, update, delete, consolidate, or leave as it is.
If this sounds like a tedious process then you are damn right, a content audit can take pretty long depending on the size of your website.
For example, if you are having over 1,000 pages, then there will be a lot of pages that will need your attention. However, this has also, its own benefits as with content audit you will find a lot of ideas to create new content and update old ones, which will fill up your content calendar. But on this later.
Why Do You Need Content Audit?
Content audits are important for your website because it gives you important insights about the content located on the website and what you should do with it.
The content audit shows you the web pages that can potentially be hurting your website, but on the other side, it also shows you rising stars and all-time best content, that you should be aware of.
It gives you insights into your content so you can take appropriate action and minimizing the risk of deleting the wrong content which subsequently could hurt your organic traffic and ranking.
And if the content audit is done correctly, it can boost your organic traffic. One of my clients had over 500 pages on their website, but barely any organic traffic on their website. And after the content audit, we have deleted over 300 pages, and update the rest.
And results? From just 50 monthly organic traffic to 700 monthly organic traffic which is a 1300% increase in organic traffic in just 3 months. This might not sound like a lot, but they are competing in a very small and highly competitive niche and yet, they are able to generate more and more traffic and high-quality leads day after day.


A content audit is an important and powerful strategy that helps you to maximize and strategize your content marketing effort on your website in the right direction.
Also before we start, to perform a content audit I will be using some of the tools that I recommend you to use as well as you go along.
Of course, the most important tools are Google Analytics and Search Console, but then I recommend using some SEO tools as well to speed up the process.
My recommendation is SE Ranking because of their comprehensive platform, it is easy to use and they are very affordable compare to some of their competitors. And their super helpful customer support helps with anything you need to know.
But without further due, let's get to the actual steps of doing a content audit.
Step #1 Collect Your Content and Data
The first step of content audit for the b2b website is to collect all your content, specifically the URLs you have on your website and the important data to make the right decision.
And the important data I recommend you to collect and why you need to collect is:
All your web pages: This will create the list for your content audit
Organic Traffic: This will show you how if the page is driving you above-average organic traffic or not.
Page Views: This shows you the popularity of the web page. Not every page will have high organic traffic but can have a lot of page views.
Page Value: This shows you how well a page contributing to generating more leads or sales.
Referring Domains: Some pages are not created for traffic, but for their link generating abilities.
Targeted Keyword: This shows you the relevance to your business.
Published/Update Date: This shows you whether the page or blog posts are getting outdated
Average Ranking Position: This shows you whether the page is decreasing the overall average ranking of your website or increasing.
Don't worry, I will show you exactly how you can collect all these data using Google Analytics, Google Search Console, and SE Ranking SEO tool.
I also want to say that you do not need any content audit template as you can create it on your own without breaking a sweat, however, I recommend using some kind of spreadsheet to stay organized.
How to Get Your Data + Create Easily Your Content Audit Template
So to get started and get all of your pages on your website, go to SE Ranking Website Audit and choose Crawled Pages report, where you can find all of your indexed and not indexed pages.
Here you can also add extra filters to select only the pages you want to audit, such as blog posts or product pages, or add extra columns for more information. For example, I like to see the word counts of my web pages, but that's my personal preference.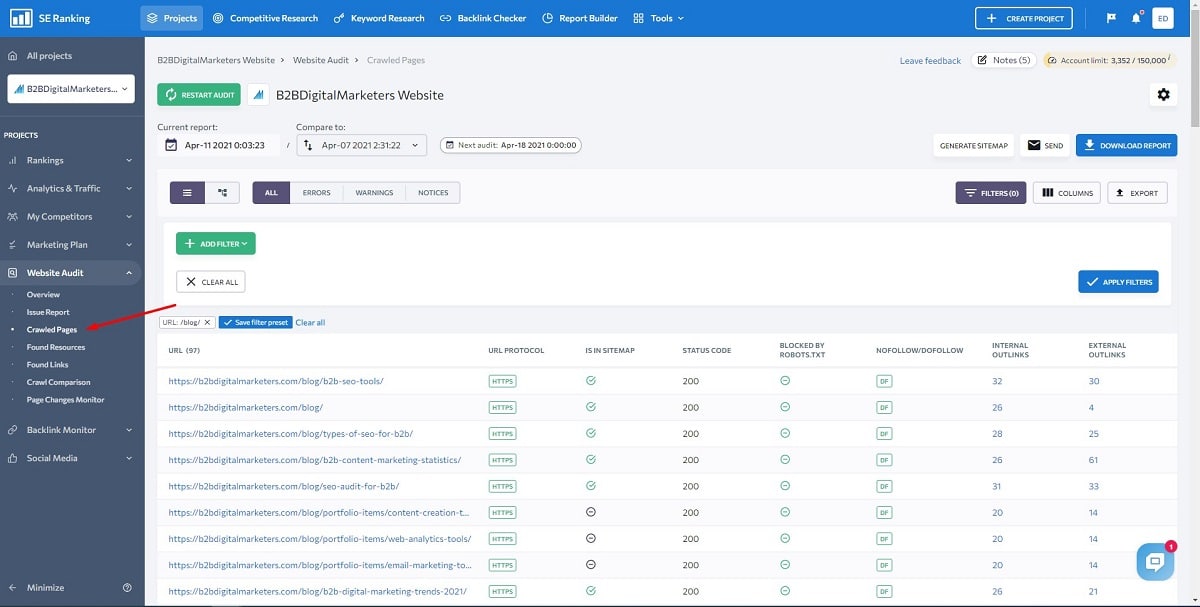 And from here you can export all of your pages into the spreadsheet and select the format that fits you the most. I choose CSV, even though I am using Microsoft Excel. And just like this, I am starting my content audit template.
Next, you can delete any unimportant data from the spreadsheet that you don't simply need such as URLs protocol and internal and external outlinks.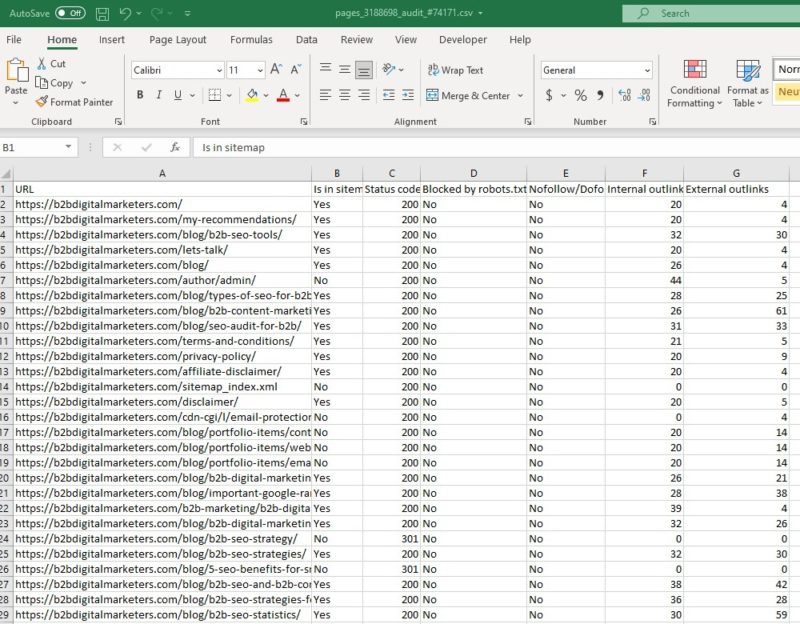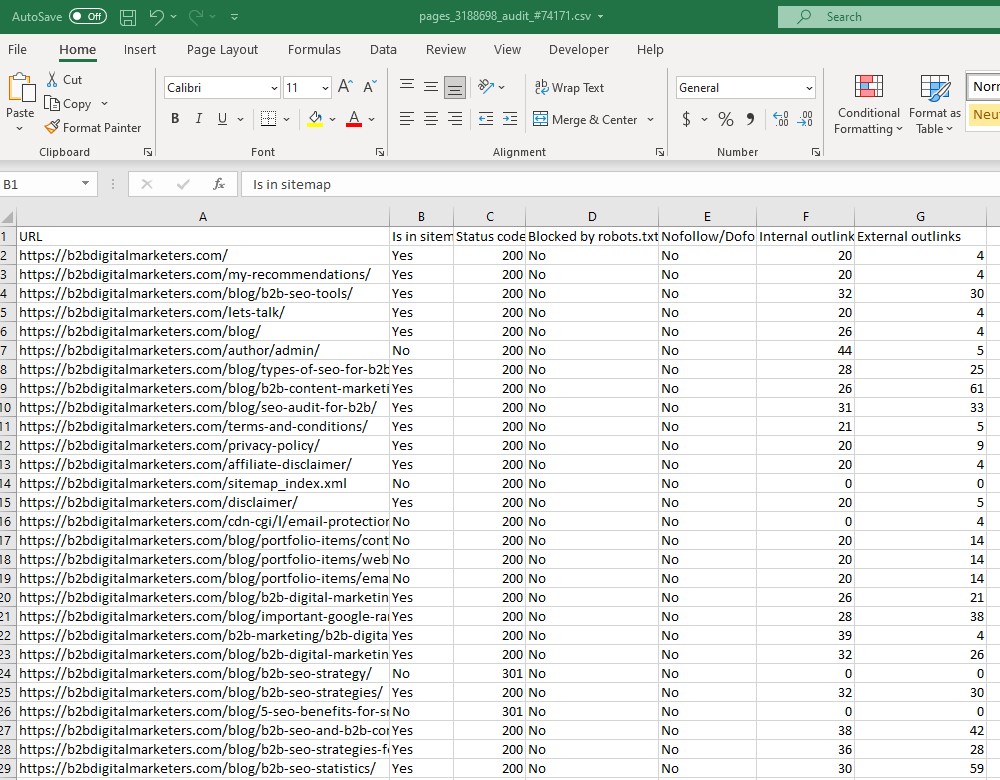 Also, now you can add the extra columns to your spreadsheet with the data that you need to collect for each of your web pages as I have mentioned above and if you prefer, then create a table.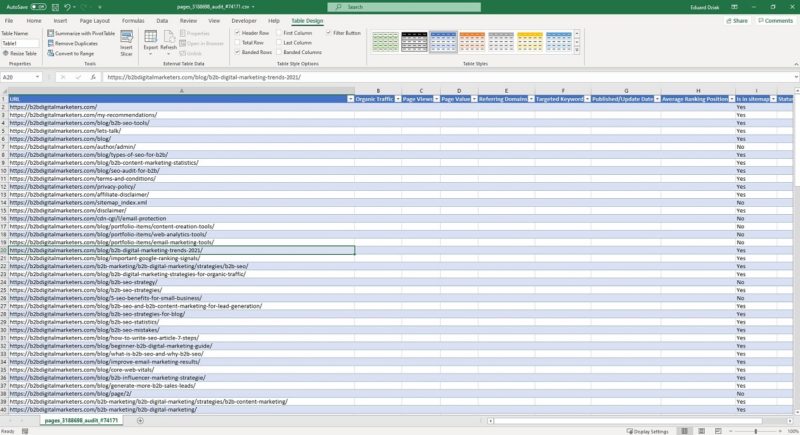 Now let's discuss how to get information for each of your columns:
Organic Traffic, Page Views, and Page Value you can get from your Google Analytics. If you are using the G4 version, then go to Engagement, Pages and Screens, and change the page title to page path and screen class and then add organic filter by choosing acquisition and user medium.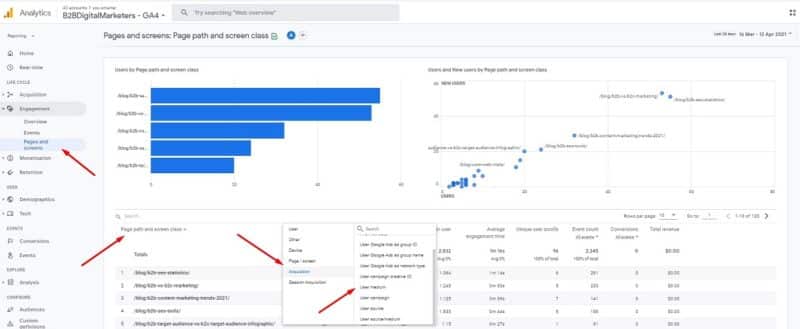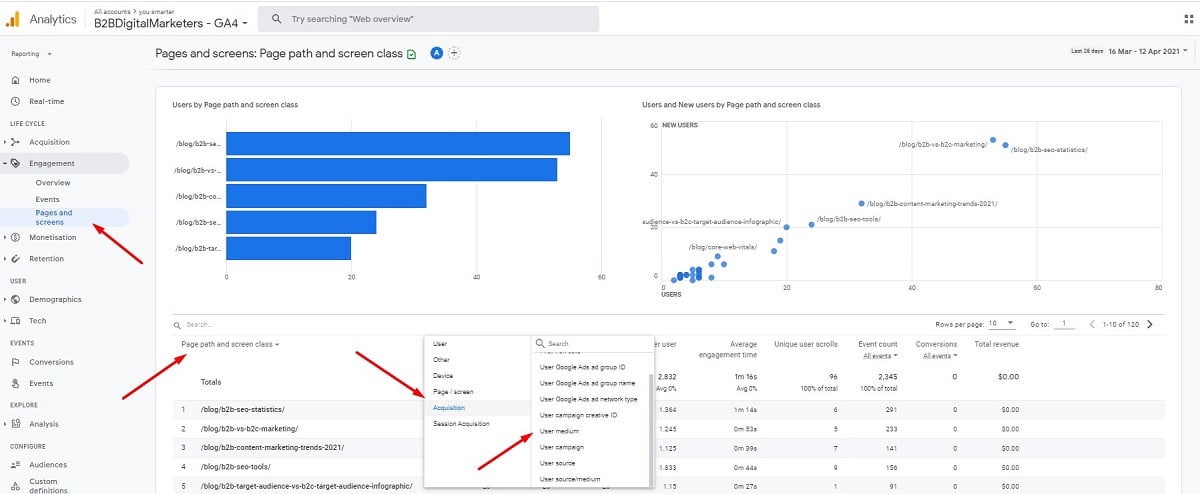 Referring domains you can find by going into SE Ranking, Backlink Checker, enter or choose your domain and go to pages report, and here you can find all of your pages and their backlinks and referring domains.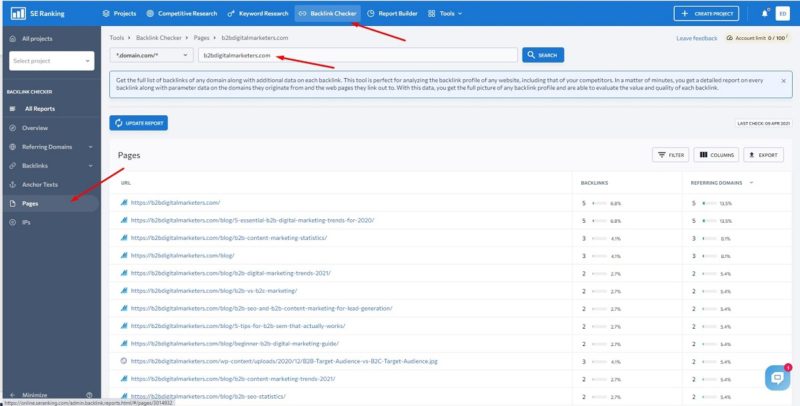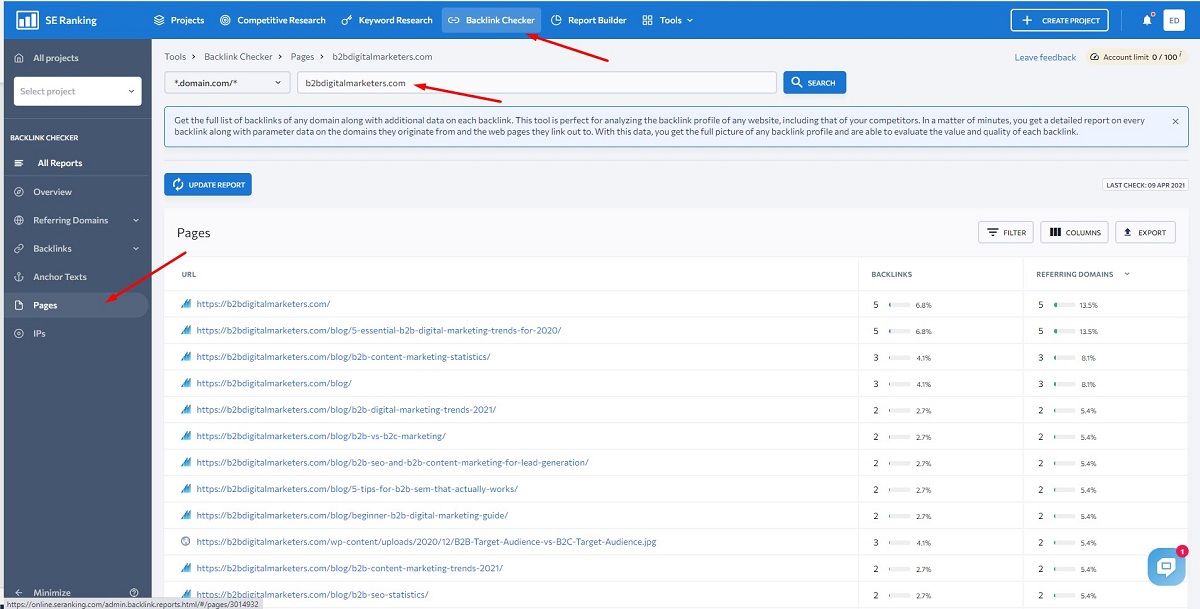 The published date you can find within your WordPress system of the particular page or any other system you are using.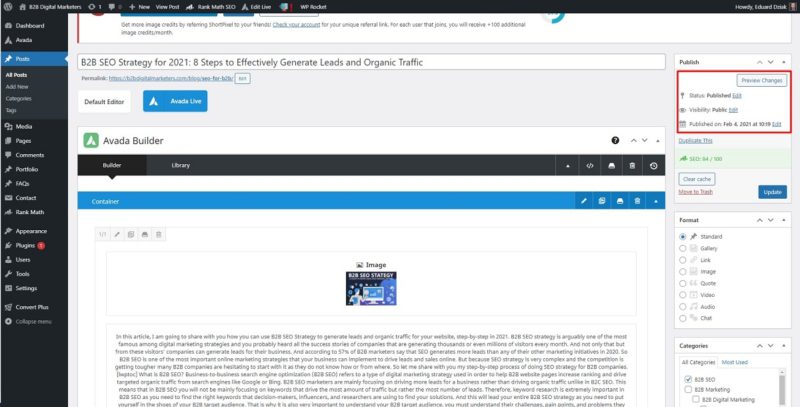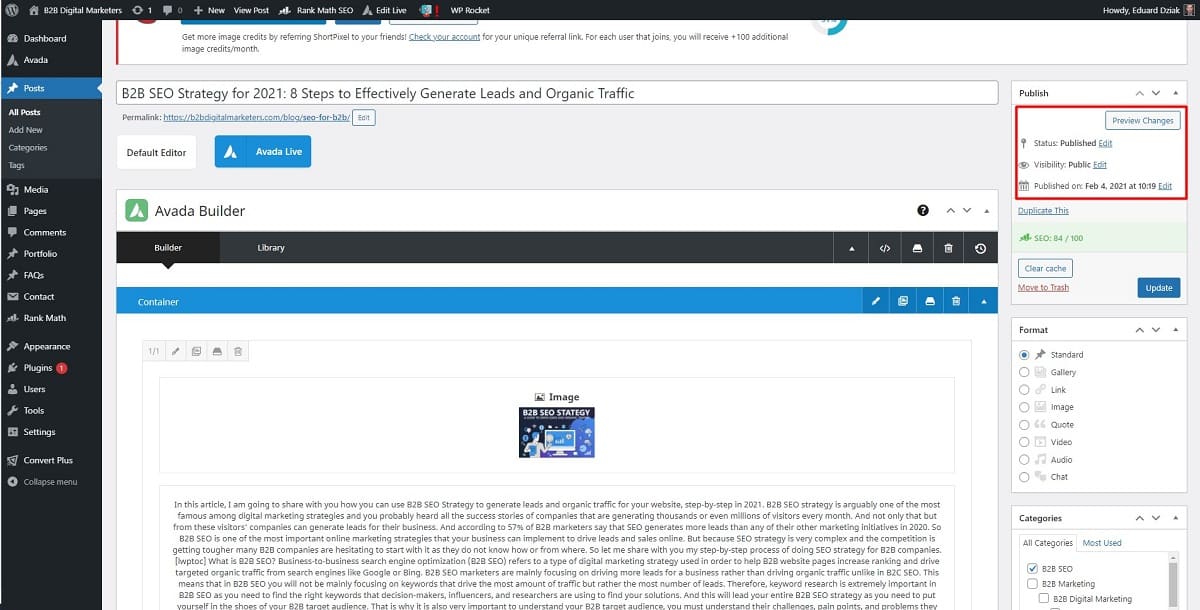 And targeted keyword really depends on how you are optimizing your web pages, but if you are using WordPress and some of the SEO plugins such as Rank Math, then you can find it at the bottom or within your sidebar.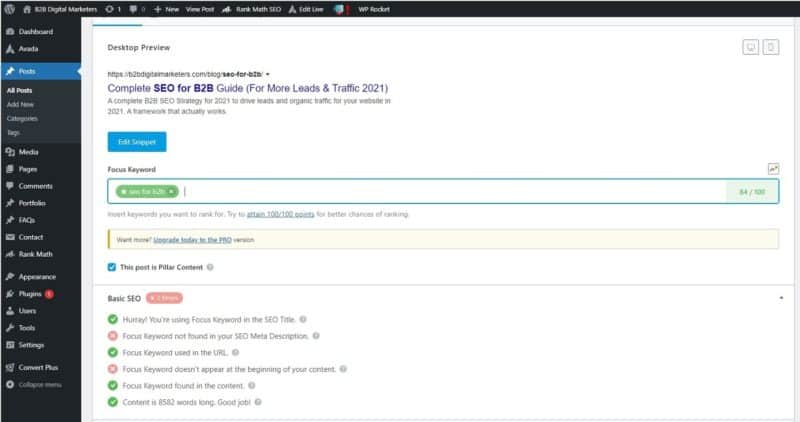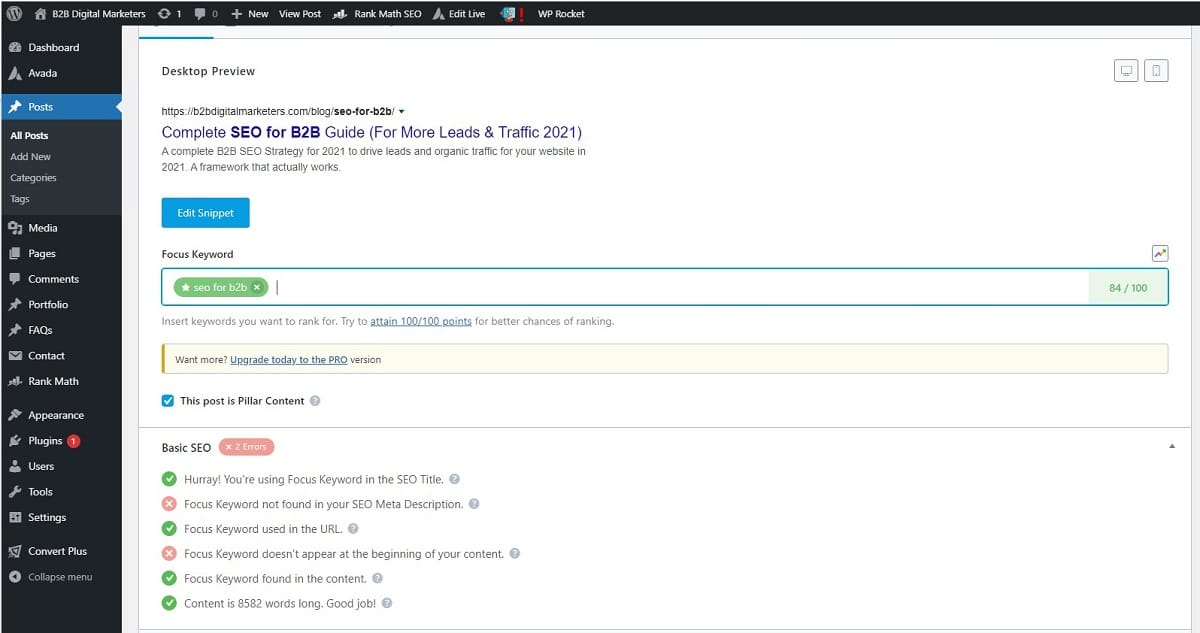 And lastly is finding your average position of the page which you can find within SE Ranking as well by going into Analytics & Traffic, Google Search Console Data, and select pages.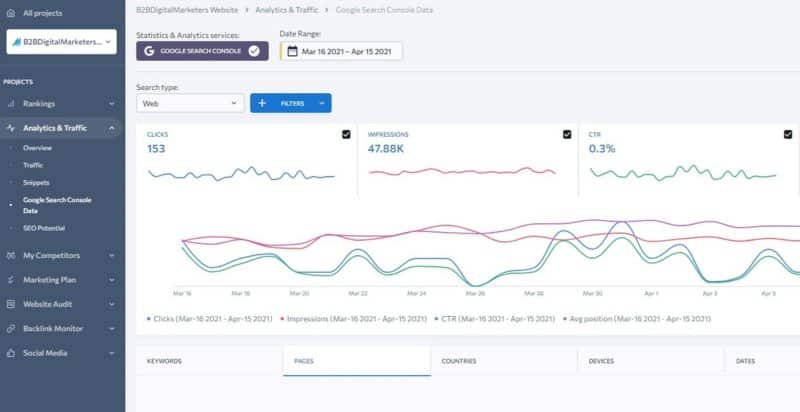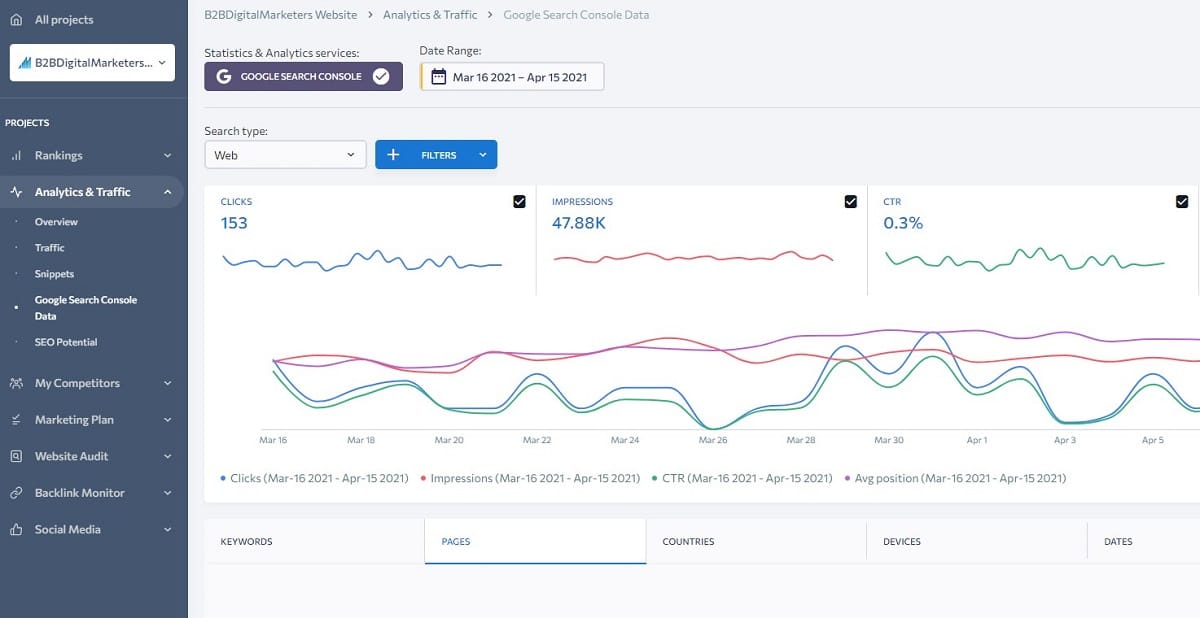 Also, the same information you can find within Google Search Console, by going into Performance and pages so I leave it up to you which one you prefer.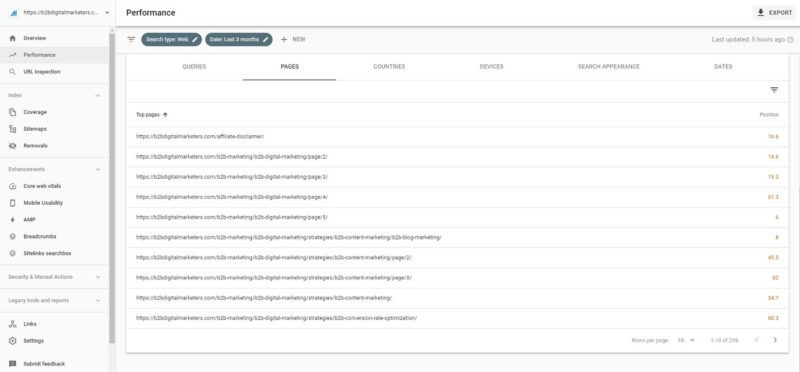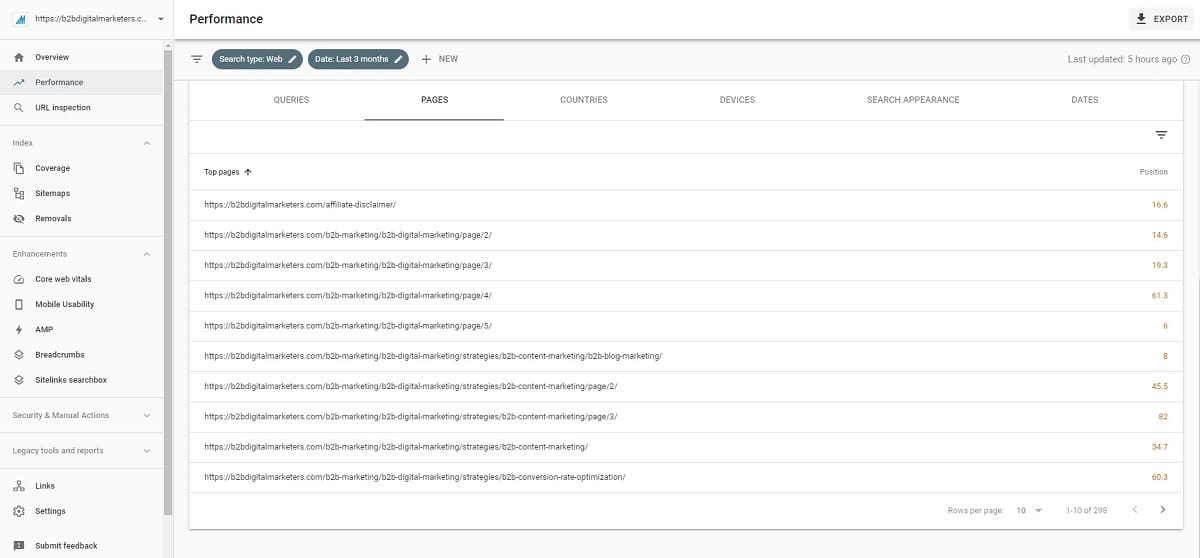 And there you have all the sources you need to find the information. Of course, you can always add more data that you want to collect such as the number of keywords the page is ranking or other data that are important to you or your business to make informed decisions.
So fill up your newly created Content Audit template with all the information so you can move to the next step. This might take you a while depending on the size of your website.
Step #2 Establish Benchmarks
Once you have finished collecting all of your data for your web pages, the next step is to establish benchmarks to recognize high-performing and low-performing content.
I am sure that you already know the top pages that drive you the most amount of organic traffic and have the highest number of backlinks. However, those are usually rare and make up a tiny percentage of your website.
So establishing benchmarks will help you to make the right decision for the other less performing web pages. You can just easily create a spreadsheet next to your content audit template and fill up the information.


As you can see within the spreadsheet here, there are 5 different columns that help you establish the benchmarks:
Min: is the smallest number your pages get for certain data.
Max: is the largest number your pages get for certain data.
A lower Average is the average number of numbers that are lower than the average number. (e.g. If the average number is 50, then you take only the numbers below 50 and then create an average out of them)
Average: is the average number for certain data.
Higher Average is the average number of numbers that are higher than the average number. (E.g. again if the number is 50, then you take all numbers above that and then create an average out of them)
Of course, if you are familiar with the spreadsheet, you can quickly create formulas that help you calculate that in seconds. Otherwise, you have to do it manually.
Step #3 Set the Action to Each Page
Alright, so you have set your benchmarks data, now is time to assign an action to each of your web pages.
Just a quick disclaimer, before you take any action on your web pages, I want you to know that the benchmarks you have just created for your website are more like guidelines and you should also use your common sense and gut feeling to ultimately decide what to do with your pages.
I believe using the benchmarks, common sense and your gut feeling will ultimately bring you the best possible results.
But first, let me remind you of the four types of action you can take on your website and little bit explain them:
200/Leave as is: These pages are within the benchmark or exceed it, thus no need to take any action.
301/Consolidate: Low performing pages or clashing pages that could be consolidated with other pages.
404/ Delete: Not relevant, outdated, or low-performing pages worth not having on the website.
101 Update: Relevant page but outdated with decreasing data such as organic traffic and conversions, that can be refreshed to increase the metrics. (To learn more, read my article on historical optimization of pages and blog posts.)
So now is the time to set dedicated action to each of your web pages. You can create an extra column within the content audit template and set the action like this.


Examples of Scenarios
Also, I want to run through a few scenarios to just give you an idea of certain situations you might end up in.
So, I have created my benchmarks for content audit, that looks like this, and I can start assessing my pages to set the action.


Scenario #1: My first page has decent traffic with a decent amount of page views. It is also relevant to my business and it is getting some links. However, I can see the traffic is slowing down and I can see that the potential traffic could be much higher. Also, I have room to improve my ranking. Thus, I give it 101/Update.


Scenario #2: My second page has very low traffic and page views and from the topic, I can see is relevant to my business. But the page is getting very outdated with minimum search traffic and there is no much room to improve. However, because it gets a lot of links I do not want to lose I will set the action to 301/consolidate with a similar page since Google does not reduce the link juice via 301 redirects and I can create a more comprehensive page.


Scenario #3: My next page has nothing to do with my business but I am ranking quite high for the targeted keyword and my traffic is decent and what's most important it has a high page value compere with others. However, when I check my CRM I see that these leads do not convert and being mainly disqualified. So based on this I rather 404/delete this page as this traffic has no value to my business.


Scenario #4: And my last scenario is a page that has great traffic, contributes to bringing more leads to my business, generates quite a lot of backlinks, and has a great ranking. Although the page is getting older, over 10 months, the topic is more like evergreen so at the moment I do not see the need to do anything with this page, so I set the action 200, leave as it is.


So, these are potential scenarios that can happen to you, but of course, there will be more situations where making the decision will be much harder.
That's why I said, you need to use the benchmarks, common sense, and your gut feelings to make the right decision.
Step #4 Update Content Calendar
And the last step, once you have completed the spreadsheet and set an action for all of your pages, is to update your content calendar.
Nobody expects you to update and change everything in one go and it will take time. So to ensure you are still productive, keep posting new content, and still do the updates on your website based on the content audit you have to set in your plan.
So what we do after we set the action status for all of your pages is update our content marketing calendar.
First, we schedule to remove all the pages with 404 actions within the first few days. It does not take long, even if you have a lot of pages to delete, and it improves your organic traffic and ranking almost immediately.
Second, we schedule all the pages that we want to consolidate or redirect within the next few weeks. This doesn't take as much time either and if you are having interns, that's the perfect job for them.
And lastly, we schedule those pages that need to be updated and rewritten. This takes more time to compare with the previous two steps. If you want to learn more about updating old content then here is a full video on how to update your old pages and blog posts.
It is easier to update your old pages and blog posts than create new ones, so typically we set these pages in the plan during busy times.
Especially when we are organizing conferences and seminars and our content team is very busy. Like this, we can ensure we can still consistently publish new content on our website even in the busiest times.
However, this is just our way how we assign a certain action, and it is more like the rule of thumb, and it depends on you if you do it alone or on your team and the projects you have already planned.
Final Recommendation for Content Audit
The last thing I want to say about doing a content audit for your website is that it can take a lot of your time. Therefore, as you go alone you should use some of the tools to automate your content audit.
You can use free tools like Google Data Studio to put the vast majority of your data from Google Analytics and Search Console into one table so you can collect your data much faster without switching between the platforms.
Also, I recommend using SEO tools like SE Ranking because you can use it as one of your data sources within your Google Data Studio, as such you can easily create content audits with the vast majority of collecting data is automated.


I really enjoy this feature at SE Ranking because it allows us to have vital data in one place and we can spend less time collecting and analyzing data and still make the informed decision.
Also, you can quickly create your own customize white label marketing reports for your marketing meetings or even for your clients. SE Ranking report tool helps us to create easily marketing reports to show the improvements after conducting a full content audit or even SEO audit.
Automating time-consuming manual tasks is crucial as you will need to do a content audit regularly at least once a year. Therefore I strongly recommend using these tools to ease your job and focus on how to grow your business.
Related Articles:
Also, check out our SEO hub page to find all our SEO resources.
Disclaimer
Some pictures are coming from Freepik and some of my links are affiliate links, which means if you purchase something, I might get some small commission as a reward for reference. Of course, I am actively using all these services and products, and I only affiliate products or services I have full trust in their quality!
Support the B2BDigitalMarketers
Hey, Eduard here.
As a solo blogger with limited resources, I need your support to keep creating in-depth SEO content like this. Please consider joining my Patreon community to help this site grow.
Your pledge – no matter how small – will enable me to dedicate more time to sharing actionable tips and strategies. With your help, I can take this project to the next level and really make a difference for other SEOs and marketers.
I would sincerely appreciate you joining me on this journey as a founding patron. Together, we can build an amazing resource hub. Hope to see you on the inside – thanks for your trust and support!