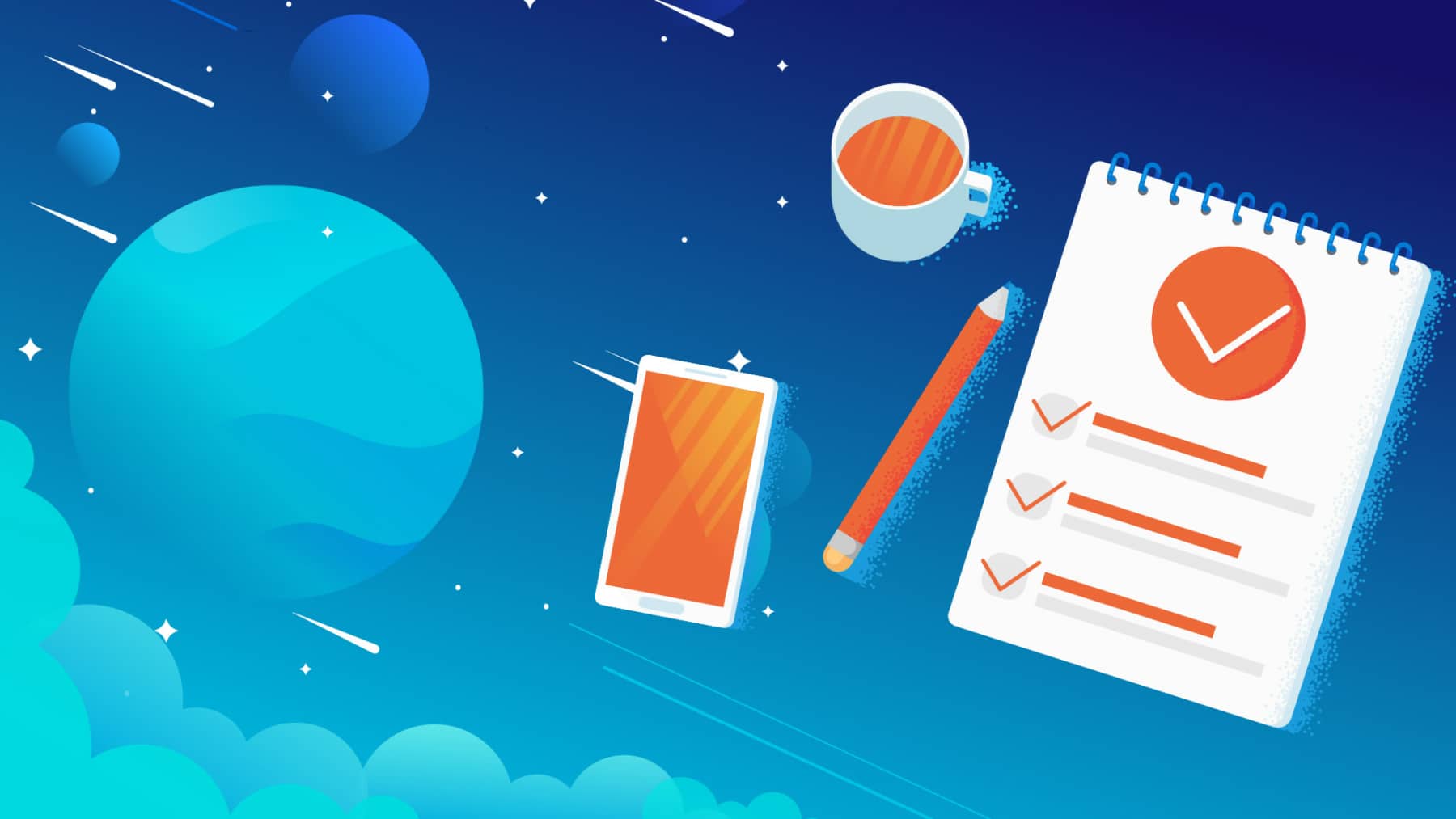 In this article, I am going to share with you my SEO checklist and how you can complete it with step-by-step tutorials.
This SEO checklist actually works for small and even large size websites and it will boost your ranking, organic traffic, and SEO lead generation or sales depending on your business without focusing on things that will never make any difference.
And without further due, let's get started:
Step #1: Set Up Basics
The first step in our SEO checklist is to set up the basics to help search engines to discover your website pages and find any issues on your website.
So let's get started with the first and probably most important tool.
Google Search Console
The first tool you want to set up for your website is Google Search Console.
Google Search Console is a free tool provided by Google that helps you to monitor your performance in Google search engine results pages. It shows you:
How many impressions your pages are getting.
How many clicks they are getting.
Your average CTR which you can also see for an individual page. (Read more about CTR Manipulation)
Average ranking position in Google, again for each of your page and keywords.

What keywords you are ranking for along with the same statistics.
And so much more
Google Search Console is an essential tool for every webmaster and whenever you create a new website, installing Google Search Console will be probably your first step.
With that, setting up Google Search Console is not difficult at all, and here is a four-step process:
Login or sign up into Google Search Console. I recommend you create a company Google Account for this, even if you are an individual because once your website is growing it is a hustle to move your property onto a different account.
Once you are in, then click on add property in the left top corner.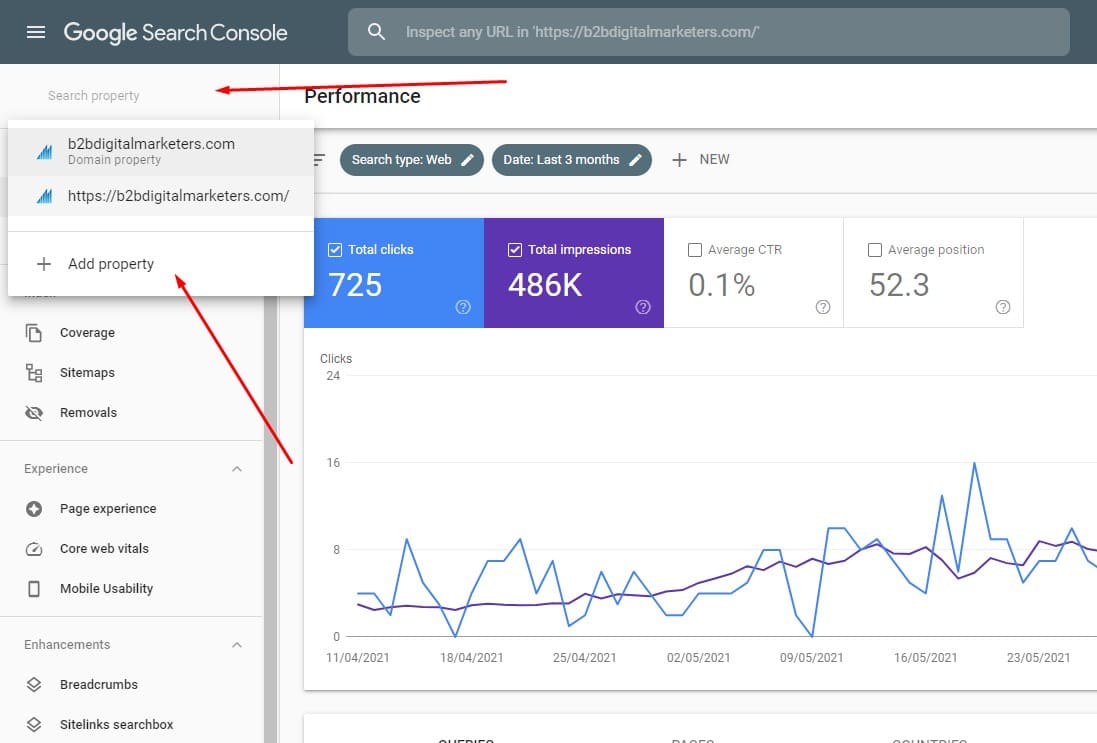 Then enter your domain here. I recommend you to verify your domain in both "Domain" and "URL prefix" because some tools prefer URL prefix and some "Domain" verification.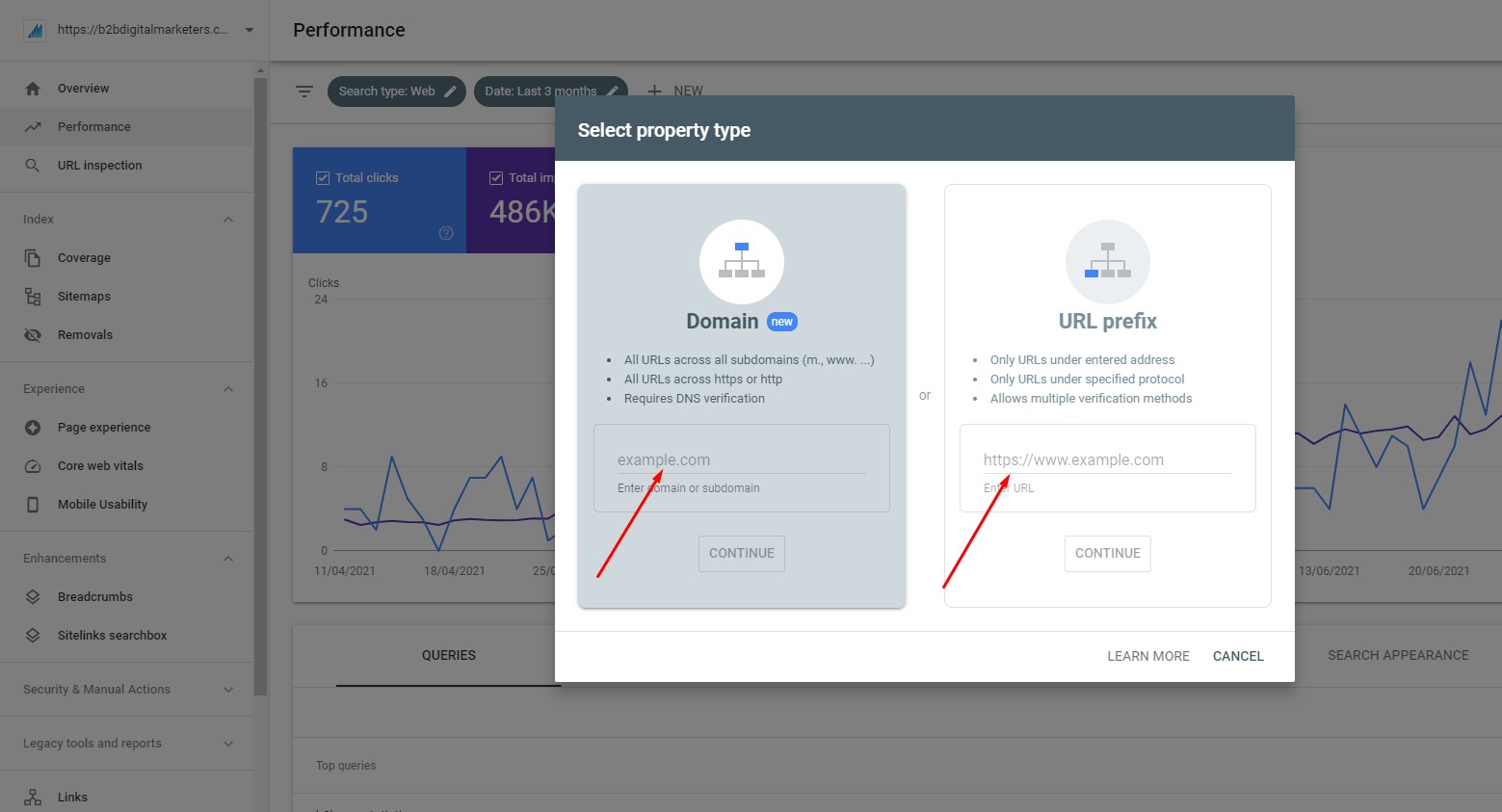 After you need to verify your domain. This is when most beginners struggle. However, the easiest way is to ask your hosting for help. For example, SiteGround provides excellent support and help even with verifying your domain. Also, you can watch some YouTube videos on how to verify your domain.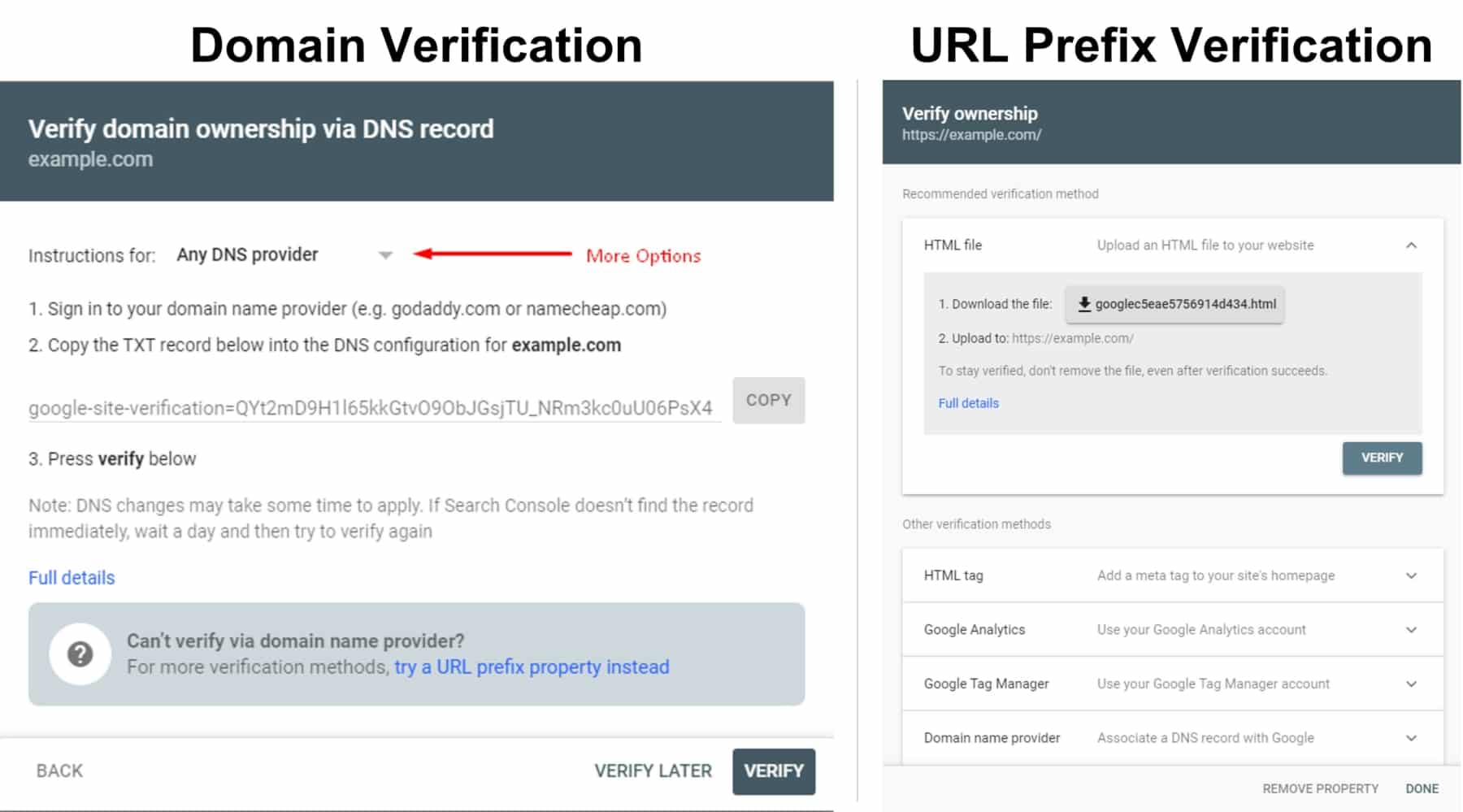 Once you complete installing Google Search Console, then wait a few days and you will start seeing your impressions, clicks, and other metrics.
Google Analytics
The second essential tool you should set up for your website is Google Analytics.
Google Analytics is a free web analytics tool provided by Google that gives you important information about your website traffic such as the source, average time spent on the website, generated revenue, and so much more.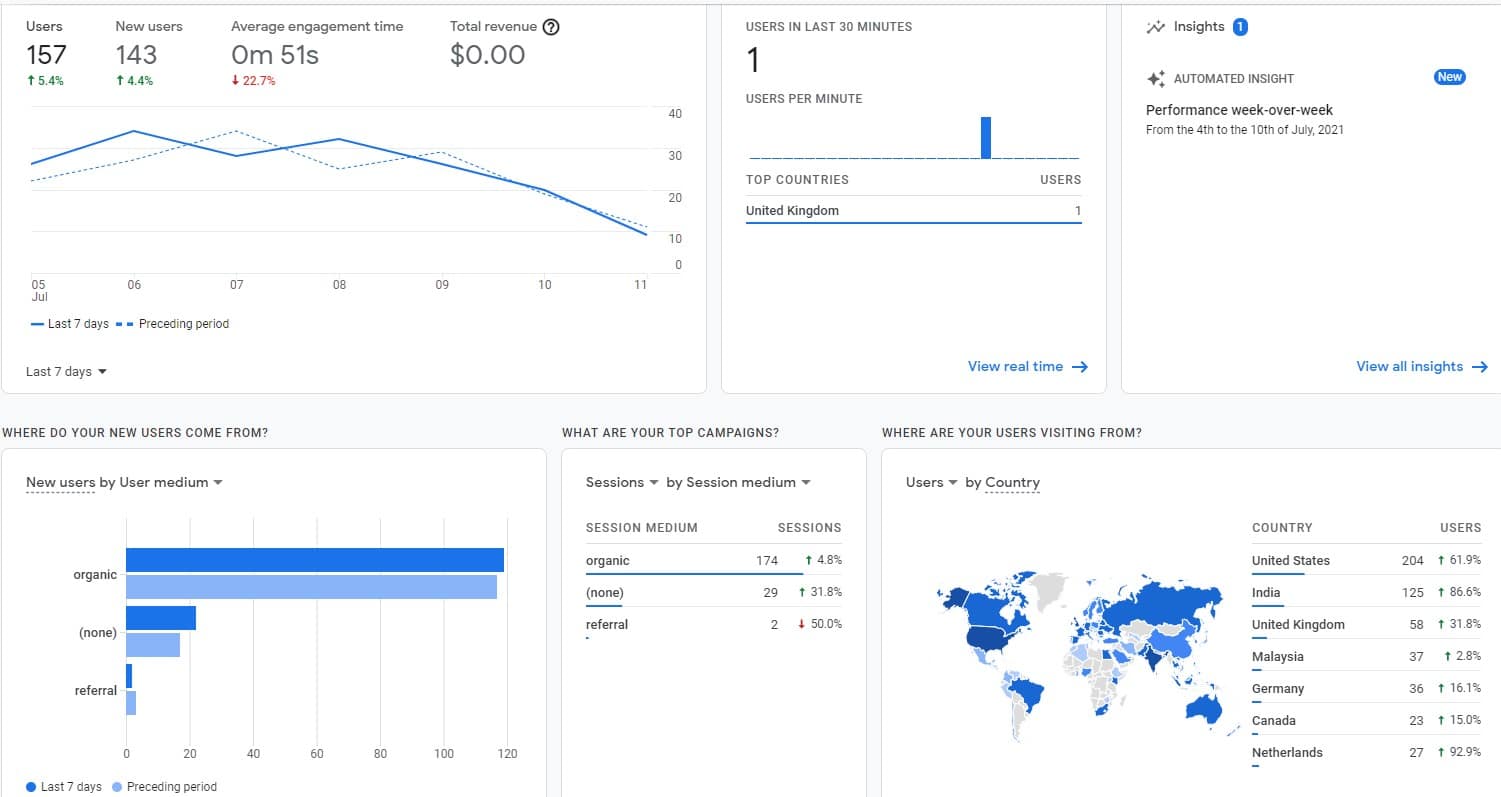 And while Google is trying to make Google Analytics as intuitive and user-friendly as possible the truth is that it hides so many features, settings, and customization that even advanced marketers still have problems using it to its fullest.
However, regardless of the complexity, even absolute beginners should set up Google analytics and track their website traffic because it gives you a view to effectively run your marketing campaign and track your digital marketing effectiveness.
Anyway, installing Google Analytics is not hard as well and same like with Google Search Console you will need to install it on your website.
Again, there are different ways how to do that, so I won't delve further into it as you can watch YouTube tutorials depending on the way you choose to install Google Analytics.
Also, installing Google Analytics depends on the CMS system and the theme you are using so I will not show you how to install it on your website.
However, I do recommend you to check out Google Analytics Academy because it will help you to maximize the use of Google Analytics and get the most out of your website data.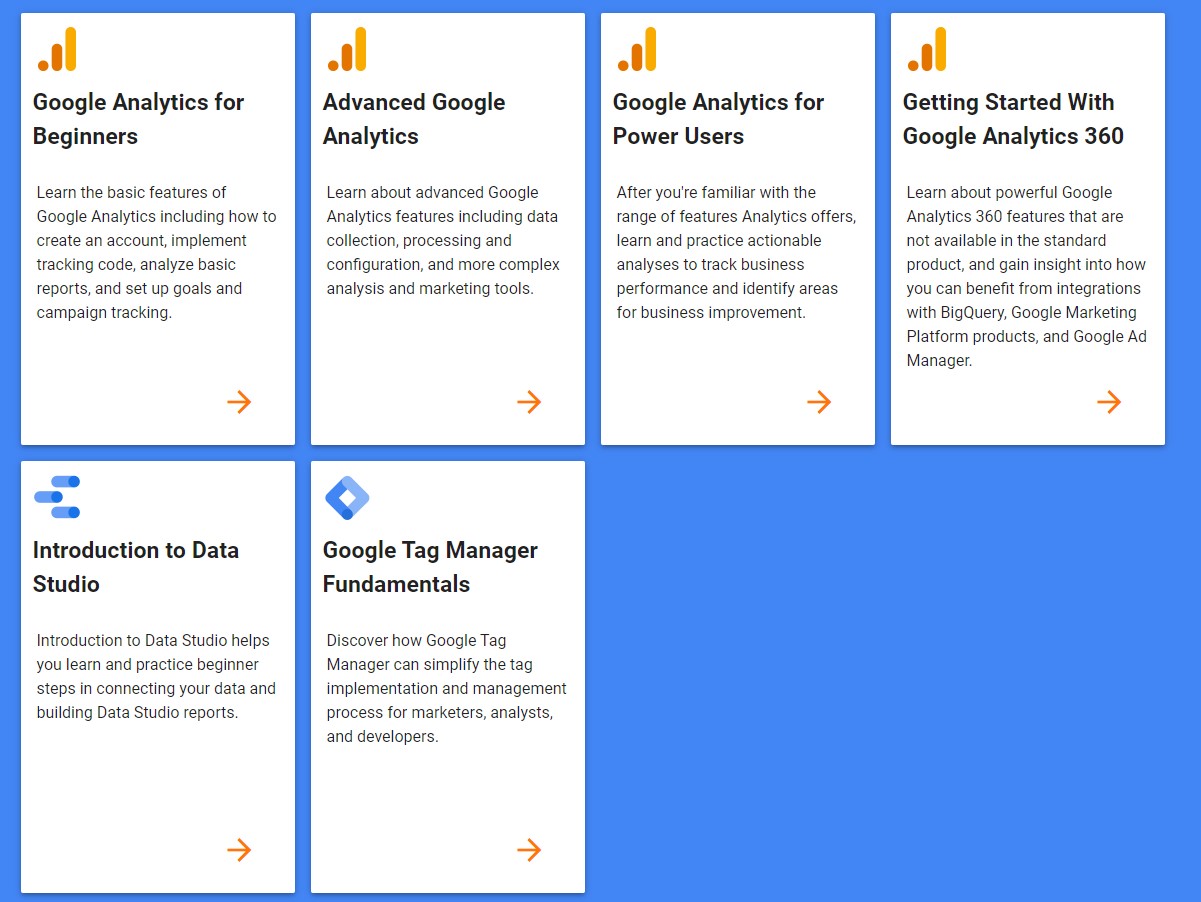 Bing Webmaster Tools + Microsoft Clarity
Another useful tool you should install is Microsoft Bing Webmaster Tools and Microsoft Clarity.
Similarly, like Google Analytics and Google Search Console, Bing Webmaster tools is free analytics tool from Microsoft which allows you to add your website and get personalized information about your website and traffic.