In this article, I will share with you 6 main reasons why you are not getting traffic to your website and what you can do about it to fix that.
I will tell you the most common 6 reasons I am seeing on other websites why they are not getting traffic on their website and if you will be able to fix that, then you can start driving big traffic to your website.
Therefore make sure you clear out all the reasons you have on your website so you can get the results you deserve for your website.
Of course, there can be even more complicated problems, but if you will fix these 6 reasons why you are not getting traffic to your website, then you will be absolutely alright to drive traffic to your website.
So let's kick off with the first reason.
1. You Are Targeting High Competition Keywords
The first reason why you are not getting traffic to your website and what I see almost with every website is you are targeting high competition keywords.
And I know it is very ambitious to target those keywords and they are like goldmine but unfortunately, you will not get there overnight, but rather you must deserve to get the spot there.
Because Google wants to be sure that only the best content is rank on their search engine and therefore you must first deserve it with low competition keywords. Which of course is much easier to rank for.
And you might think that even the low competition keywords are already taken, but luckily nothing is further from true, as 15% of searches are new to Google every single day…
So what can you do about this?
The first step is to find low competitive keywords for your industry, these low competitive keywords are usually long-tail keywords with 3+ words. Unfortunately, I cannot tell you which one is low competition long-tail keywords because I don't know your industry but can tell you where you can find it.
Also, you can use free tool ubersuggest to find how each keyword is difficult and it also gives you a recommendation for more related keywords. Also check out Ubersuggest alternatives


But the first source for your keywords is your Google Search Console, where you can easily see the queries your website already ranking for. This is one of the best and fast ways how you can increase your website traffic. Just imagine, you are already ranking for the keyword, and if you write a proper piece of content about this, that you start quickly ranking for that keyword even higher.
The next amazing source which I got from Brian Dean, the founder of Backlinko is Amazon, kindle ebooks. This is one of my favorite ways to find keywords. Just go on Amazon, kindle ebook store and search for your industry or keyword you want to target which for me could be SEO.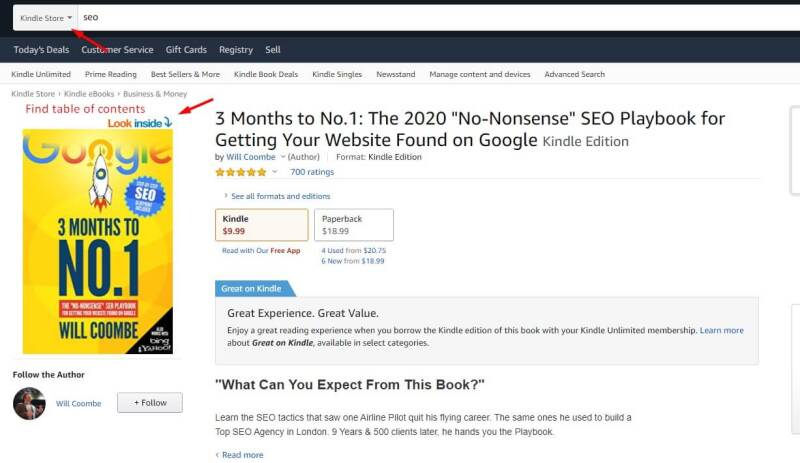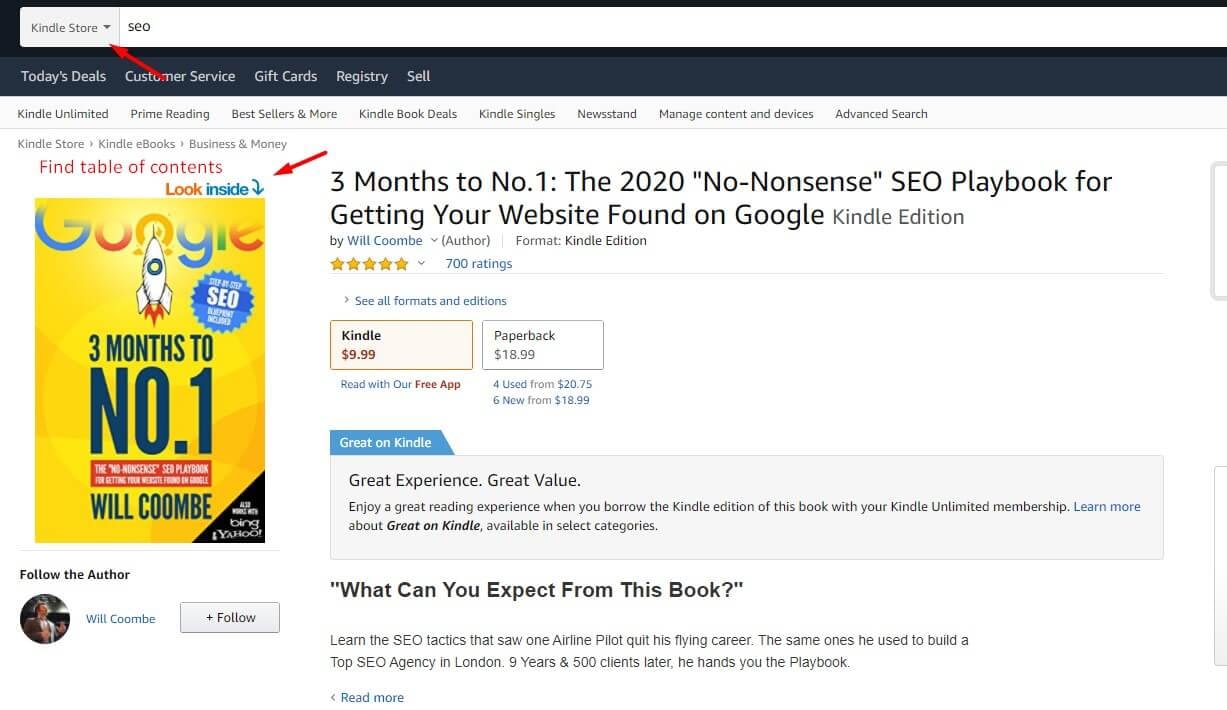 Also, I have taken it a bit further and actually bought the ebooks and books about it and within the content itself, you will find more than enough ideas for your content for the rest of the year even if you will be writing an article every single day.
And even if you will find a short keyword, you can easily make it a long-tail keyword like for example. Content Marketing is the High Competitive keyword and Content Marketing for Small Business in the USA or Content Marketing for Financial Services is the low competitive long-tail keyword.
And there you have it, plenty of ideas for low competition keywords for your business. Remember long-tail keywords will get you to start off and according to many sources, they actually help you to rank for the highly competitive keyword later on and most importantly long-tail keywords have a 36% average conversion rate (Union Street Media)
2. You Have No Backlinks or Low Quality
The second reason why you are not getting any traffic to your website is that you have no backlinks, or you have low-quality backlinks and not relevant backlinks.
According to Ahrefs, 90.63% of all pages in their index get zero traffic from Google and that's mostly because they have no backlinks or bad ones.
And it is not just according to Ahrefs as Google literally stated on their website "How Search Works"
We look for sites that many users seem to value for similar queries. For example, if other prominent websites link to the page (what is known as PageRank), that has proven to be a good sign that the information is well trusted.
What basically it means you need to have relevant backlinks for your website and for the pages you want to rank high.
Unfortunately, buying backlinks is not an option as it is very expensive as according to Ahrefs, The average cost of buying a link is $361.44
And most importantly it is against Google Guidelines as they stated on their support website:
Avoid getting involved in link schemes, such as buying links from other sites to increase your ranking. This is against Google's quality guidelines and can result in a manual action against some or all of your site, which will negatively affect your site ranking.
Make sure to check out the links after the blog article to learn more about current statistics and google guidelines.
So, what can you do about it?
Most importantly, you need to focus on building backlinks from relevant websites and blogs within your industry and niche, because Google does differentiate the type of backlinks based on categories.
Like for example, if you get backlinks from a website about a healthy diet but your website is about construction building then Google will not put so much weight on this backlink like for example from a website about construction building materials or architecture.
So, there are many ways how you can build backlinks, but only a handful of them actually work and most of them require quite a bit of work.
And unfortunately, I don't have time in this article to properly explain how to build backlinks but you can easily Google it and find the best method that suits you the most.
But these are my 3 most favorite building backlinks strategies:
The first is Skyscraper.
The second is guest blogging
And the third one is to check competitor backlinks from tools like Ahrefs or Ubersuggest, produce better content and send it to those websites so they can link to it within their next article or updates.
I will put the links in the description of the skyscraper technique to learn more about it.
3. You Are Not Consistently Producing Content
The third reason why you are not getting any traffic to your website is that you are not consistent with producing new content on your blog.
Unfortunately, many business owners think that publishing a few articles here and there will make ground-breaking changes to their website traffic.
And this is not that true, because Google and other search engines love websites that consistently produce and updates their contents and websites.
And the reason behind this is because people want always fresh and new content, especially since they can see when the piece of content was published.

Like for example blog posts about SEO strategies published in 2019 will get fewer clicks because people think it is outdated and irrelevant for today.
That's why if people and search engines see a few pieces of content here and there, they think the website is dead.
So, consistency is crucial not only for your website but also for SEO (Search Engine Optimisation) purposes.
So what can you do about it?
I understand that publishing content consistently is hard, but there are a few tricks and tips I can recommend you, the first is to create a reasonable and sustainable content marketing plan for your business. Like for example publish an article once a week.
Also, you can watch it here, where I explain in detail how you can create a content marketing plan for your business and what benefit it brings you.
The second tip is to start writing short articles between 500-1,000 words. And don't worry about not ranking in the first place of Google because it wants articles with 2,000+ words. Because even if you publish 2,000+ words you will not rank anyway there and you will get burnout.
Therefore, publish shorter articles, in the beginning, remember what I said about Google and that it loves regular updates. These short articles are easy to update once a while and it will massively increase the life span of the article.
So start with 500-1,000 words article and update them every six months or year and then create a reasonable content marketing plan which you can sustain.
4. Your content is not good enough
Alright, and the fourth reason is why you are not getting traffic is because your content is just not good enough.
Hey before you go and get upset with me, let me give you a concept of what I mean by not good enough. So for you to understand it better, let me give you my client example.
My client is selling ERP and CRM software which can be quite complicated to explain and I asked him to write an article about ERP implementation. Which he has done but it wasn't good enough, why?
Because it was too difficult to read. He used hard terms only experts and people within the industry can understand and therefore it was not good enough even though it was actually a well-written article.
Remember, this is not a study publication or research publication, but an article for simple people like me.
And this is happening a lot especially with B2B organizations, they're often written by engineers or other technical folks, making them:
Wordy
Dense
Difficult to parse
Focused on features, not pain points
Overly sales-y
And this kind of content is just not good and it is a major reason why websites do not get traffic.
Why? Because users hate it, and Google does, too.
A real expert in a topic can explain it in an engaging, evocative way. You don't really know something unless you can teach it. You must remember that your readers are not experts, that's why they coming to you.
That is why your articles must be written by experts for beginners. I understand it can be hard sometimes, but this is a kind of content that works to drive traffic and leads to your business.
Or the second reason is that your content is just not good enough. But don't worry writing articles is a skill like anything else and you can learn it.
You can check out my article about How to Write Great SEO Article where I teach you step by step how to write an article that brings massive traffic and generate leads. So check it out!
So, what can you do about it?
First is to focus on your audience, you need to understand who you want to attract with your content and what you want to achieve, like for example if you are selling software products most likely your target audience are not experts so you must be able to explain your product or services in easy to understand sentences.
It takes some practice but you can learn how to do that.
The second way is to hire freelancers, who can write the articles for you. Usually, it is a better option as they also know the SEO to go even further. So you just need to give them points and some knowledge about it and they will write your article.
My preferred choices are Fiverr or UpWork to find content marketers, so you can check out the links in the description for that.
5. You Have Not Followed SEO Checklist for Articles
The fifth reason why you are not getting traffic to your website is that you have not followed the SEO checklist for articles.
Unfortunately, even the best-written articles can get little or no exposure at all if they do not follow the SEO guidelines by search engines.
Yes, search engines value great content but you must use SEO to help search engines to understand your articles better so it can properly crawl it, index it, and rank it.
Just imagine, you have used a picture for your article that is perfect for your article and your readers getting a lot of value from that picture, but then you name it something like "picture14322" which of course says nothing to search engines about the picture itself and therefore it disregard it.
So therefore you must write not just great articles, but write great SEO articles to rank better for your targeted keyword.
Btw: I have written an entire article about this, where you can follow my method on how to write great SEO articles. It works for any industry and it will boost your traffic to the website.
So check it here: How to Write Great SEO Article
But what can you do about it?
First I recommend you to get an SEO checklist for blog posts which you can follow. It really helps you and me to make sure everything is in line with search engine guidelines to ensure the best possible result for your blog posts.
Also if you are using WordPress, then use some recommended SEO plugins that help you to stay accountable with SEO.
Like for example very famous are: RankMath (My favorite) or Yoast (Great, but you must pay for it to be great)
Also, the next thing you can hire freelancers to help you with your SEO, which I actually still do, just because I know what to do, it doesn't mean I have time.
Unfortunately, SEO is a full-time job just itself. Therefore I need help too. So you can check you my favorite freelancing websites which are Fiverr.com and UpWork.com
And that's all, if you follow the plugins and SEO checklist, then you are absolutely okay and your website will do perfectly fine. Getting your own SEO guy whether full-time or first as a freelancer is to take your SEO game to the next level.
BTW: Did you know I provide SEO consultation? Just hit me up here and we can skyrocket your ranking & website traffic! Let's talk
6. Your Headlines Are not Click-Through Rate Optimize
The sixth reason why you are not getting traffic to your website is that your headlines are not click-through optimize.
This one is a big one, even though many marketers and business owners do that really think it is, but just think about it. Who will read your article if nobody likes your headline or nobody find it interesting?
The simple math is 0 clicks = 0 traffic.
(And the winner of the Nobel mathematic prize is Eduard Dziak with the groundbreaking discovery of an absolutely amazing mathematic formula!)
Alright, maybe that did not happen, but I hope it still makes sense.
Remember, your SEO headline can make it or break it.
Let's look at another example. Let's say, your headline is doing just fine with a 3% click-through rate, but then you decide to give it a boost with click-through rate optimization strategies and you reach a 6% click-through rate. That means you have DOUBLE your traffic! (I am just breaking the math, my math teacher would be so proud of me!)
So what can you do about it?
First, I recommend you check out a list of proven headlines that work across multiple channels.
Here are a few examples of great headline examples:
This will help you to produce good-quality headlines to ensure you have a good click-through rate. Learning how to write great and SEO-friendly headlines is an essential part of every content. but let's not settle for mediocre and move to the best.
The next thing that you want to do is to produce more than just one headline. Yes, you might have a good idea on the first one, but trust me, if you come up with 20 different headlines, at least one of them will be great.
Yes, that is what I am saying and doing. I produce 10-20 different headlines for each of my content. Why? Because it opens my creativity and allows me to produce the best possible headlines for my content.
This 20 ideas method comes from Brian Tracy, and it is absolutely great to be used and it will help you to produce the best headlines for your content.
Conclusion
So this is the most common reason I am seeing why you are not getting traffic to your website, so make sure you clear out all of those reasons and you will see that your website traffic will increase a lot. Then it could also be because your business is not showing up on Google.
Because search engines becoming saturated with content as there are 4.4 million blog posts published every single day and therefore if you want to stand out, you must produce the best possible blog posts you can.
Therefore this article is meant to be helpful for you to maximize your resources and creativeness to produce the best articles you can.
But if you are still struggling you can contact me and I can give you a consultation to help you even more with your traffic to your website.
Related Resources
Also, check out our SEO hub page to find all our SEO resources.
Disclaimer:
Some pictures are coming from Freepik and some of my links are affiliate links, which means if you purchase something, I might get some small commission as a reward for reference. Of course, I am actively using all these services and products and I only affiliate products or service I have full trust in their quality!
Support the B2BDigitalMarketers
Hey, Eduard here.
As a solo blogger with limited resources, I need your support to keep creating in-depth SEO content like this. Please consider joining my Patreon community to help this site grow.
Your pledge – no matter how small – will enable me to dedicate more time to sharing actionable tips and strategies. With your help, I can take this project to the next level and really make a difference for other SEOs and marketers.
I would sincerely appreciate you joining me on this journey as a founding patron. Together, we can build an amazing resource hub. Hope to see you on the inside – thanks for your trust and support!