In this article, I am going to share with you how to start with b2b search engine marketing to effectively drive leads for your business and improve your online presence, step-by-step.
Today SEM is an important part of business, especially if you are starting and your website is not bringing any organic traffic, as this provides a quick solution to drive leads for your business.
But even if you are not starting but already a well-established company, running b2b search engine marketing is another basic and important channel to be, to capture those leads as well and bring more opportunities for your business.
And because modern advertising platforms provide great features for you to very precisely target your audience, you can increase your ROI above average with a few steps.
And that is what I am going to share with you, how I am setting up my b2b search engine marketing campaigns to get 5% and higher conversion rates with a lower cost per click.
Also remember, this guide is mostly made for Google Ads and Bing Ads, but you can utilize it for Facebook, Instagram, and LinkedIn as well, as most of them provide very similar features.
Alright, and without further due, let's start advertising!
Quick B2B SEM Stats
Before we get to the actual steps on how to start with b2b search engine marketing I want to quickly look at some data about SEM and if it is worthy to start with it.
According to Clutch, 75% of people say paid search ads make it easier to find the information they are searching for on a website or search engine. – People are no longer afraid to click on ads to be sold they are willing to be sold if you provide the right information or solution. You just need to make it easier for them to understand it and find information.
According to Google (So It should be legit), since 2015 more searches are done on mobile devices than desktops every day. – That means your website should be ready, but we will discuss this a bit later.
And lastly, I want to look at this graph.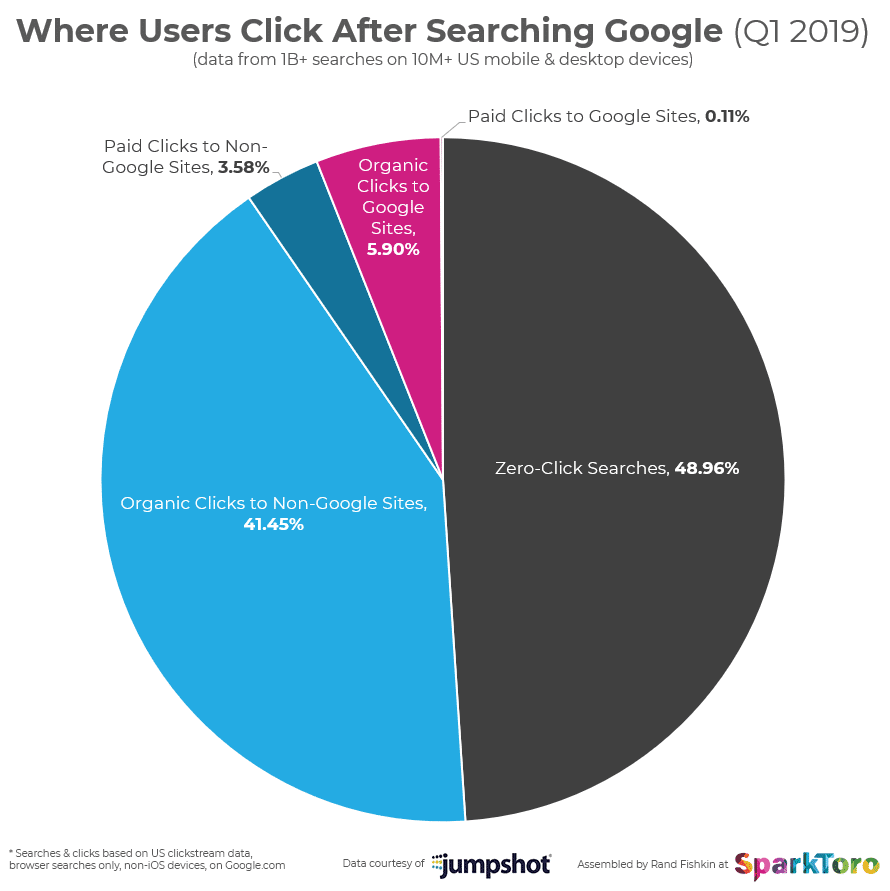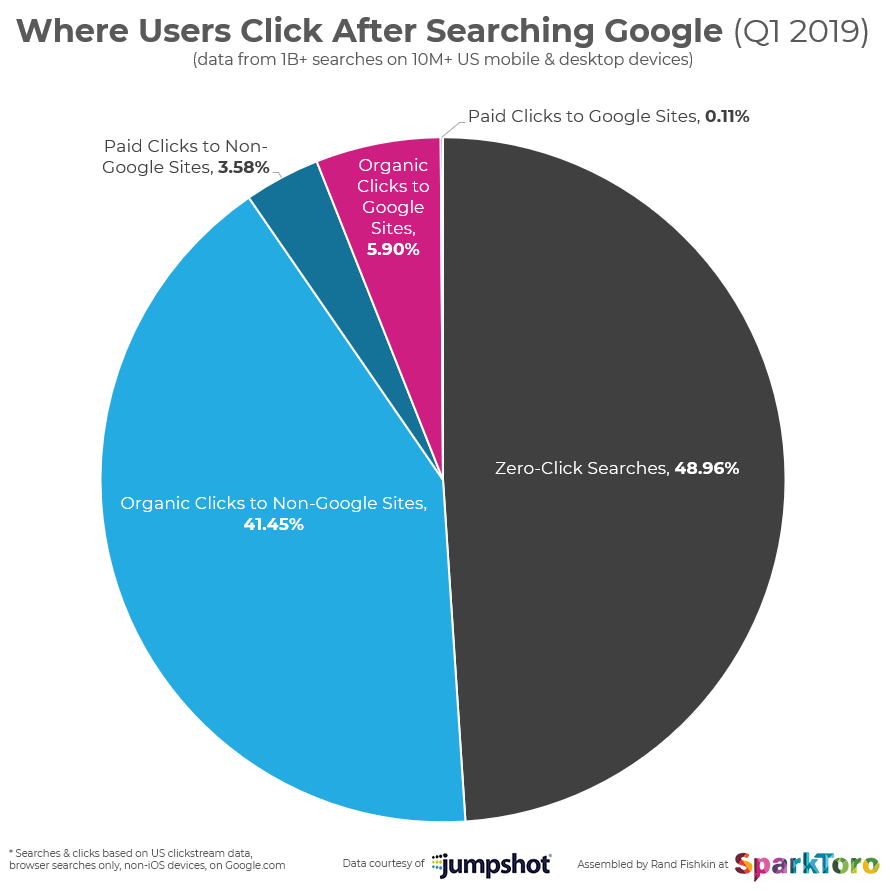 This graph represents where users click after searching Google and as you can see, the majority (48.96%) actually does not go anywhere.
And to answer this question, the United States Congress has asked Google's CEO Sundar Pichai, to answer it, but Google could not answer the question as they do not know why users terminate the search.
It could be that some users are dissatisfied with their answer, others may have found what they needed (Like the zero level search results can provide)
Like what is the weather today?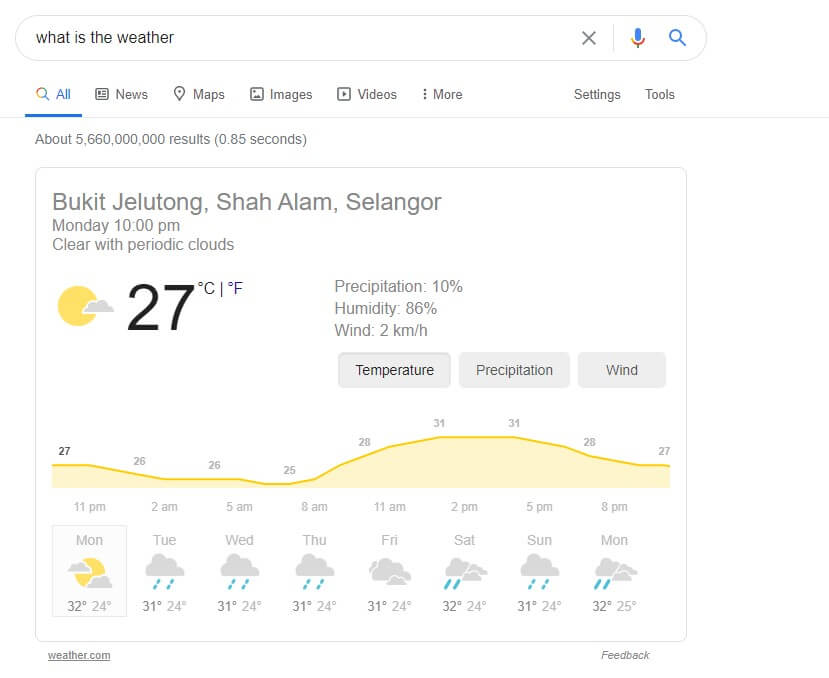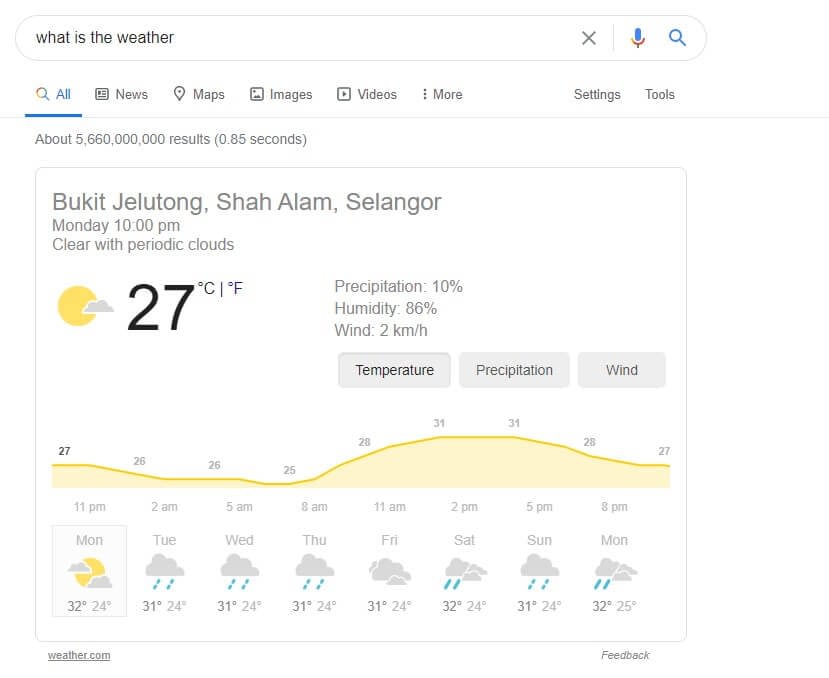 Or even more complicated questions, what is SEM in Digital Marketing?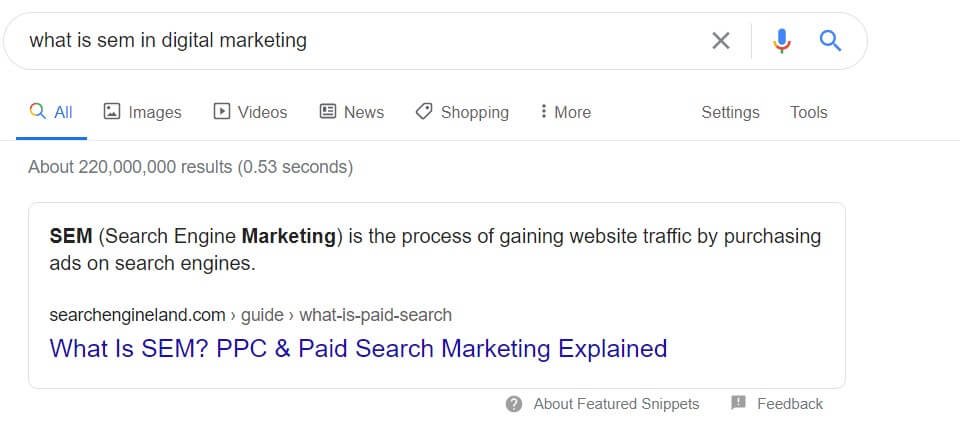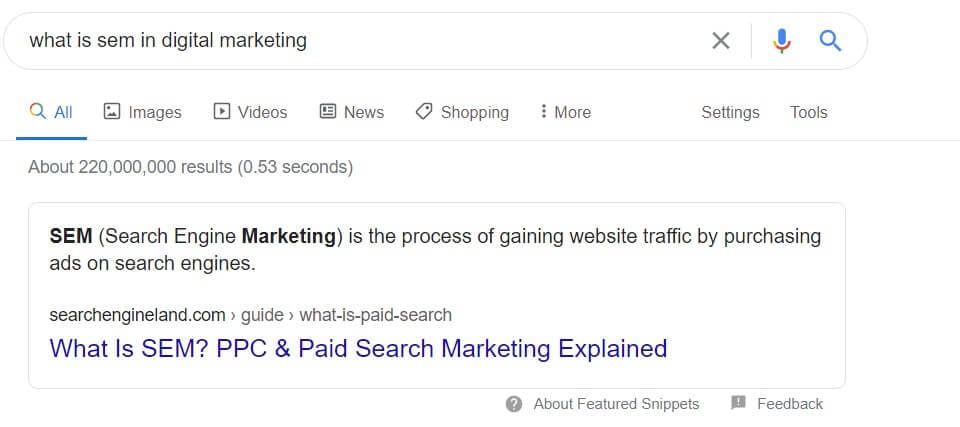 But Unfortunately, Google does not really know why 48.96% of searches result in zero-click searches. And which is not even important for us, at least not for this video.
The important question for us right now is, what about the 3.58% paid clicks in non-Google sites? Is it worth to go after it and spend your marketing budget?
The quick answer is yes! Because Google has roughly 2 trillion searches each year.
And my point is that Google paid ads can provide you with users that are currently and actively looking for your products and services.
Therefore, you should expand your digital marketing into search engine marketing, especially if your organic traffic has not kicked in or you do not even use any b2b digital marketing strategies to generate organic traffic.
Benefits of Using B2B Search Engine Marketing
Using B2B Search Engine Marketing can bring benefits to your organizations and discover why you should use B2B SEM for your business we need to discuss the most profound benefits of using SEM.
Of course, these benefits are not promised that you will achieve them, but also it doesn't mean you will not get even better and more benefits for your business.
Everything depends on how well your settings are done as well as the platform you are using.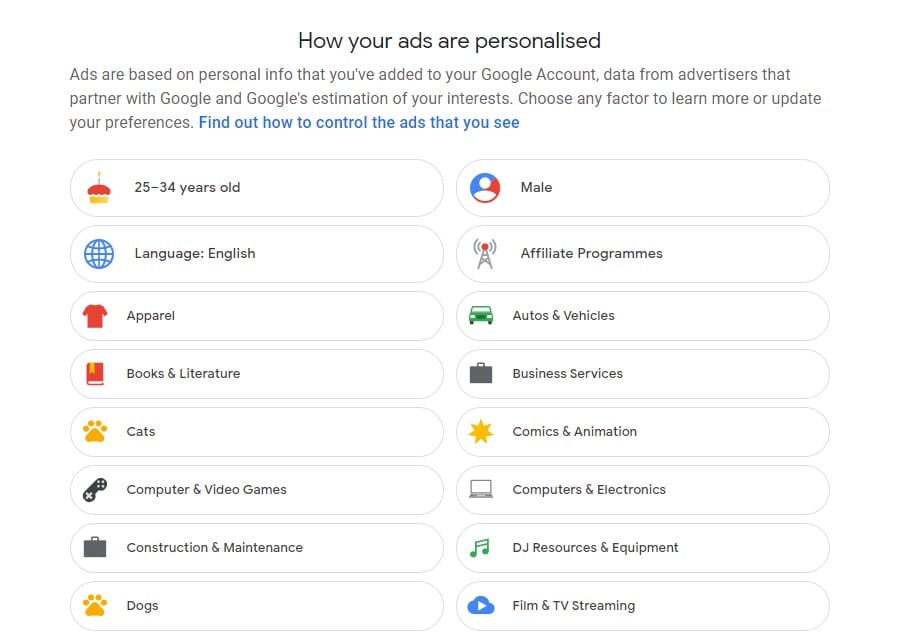 But these are the most common and important benefits you can achieve using b2b search engine marketing:
Reach Your Prospects Instantly: Search engines have already traffic every day waiting for you to be captured and with advertising, you can instantly appear in the search results and start driving clicks and prospects for your business.
Increase Traffic to Your Website: Unfortunately, not every click will end up in requesting in demo or getting in touch with you in any way. According to WordStream, the PPC campaigns average a conversions rate of 2.35%. Therefore to increase your Conversion rates you must focus on more than just getting leads.
Brings Massive Brand Awareness: B2B Search Engine Marketing can increase your brand awareness by up to 80%, depending on your budget. (Google)
Great Targeting Options with Almost Endless Possibilities: Platforms like Google Ads, Bing Ads, or Facebook Ads for Facebook and Instagram brings great features for you to target any audience, anytime and anywhere.
Pay Only When They Visit Your Website: There are numerous options you can choose for your advertising, but the most effective for generating leads for your business is using CPC (cost-per-click) options which means you pay only when somebody likes your ads.
And there are many more benefits of using B2B Search Engine Marketing, but these are usually the most important that matters to marketers and business owners when starting with advertising.
So, without actually further due, let's get into the actual steps on how to start with b2b search engine marketing.
Step #1: Set Your Goals and Budget
The first step is to set your goals and budget for your b2b search engine marketing.
This step can be hard if you have never started any Digital Ad Campaign, whether on social media or anywhere else, as deciding how much you should pay can be like shooting in dark.
But do not worry, there is actually a way how you can calculate how much you want to spend from your marketing budget based on the goals you will set.
So, first, you need to decide your goals. Also, I want you to consider your current digital marketing mix and how it can help you achieve your marketing goals and then analyze how you can use B2B SEM to maximize the impact of your current efforts.
Alright, let's say you have set one of your goals to generate around 50 leads each month from your Google AdWords.
And to generate 50 leads you need approximately 2,500 clicks from your Google AdWords, or in other words, the conversion rate is 2%.
Yes, I know, the conversion rate is approximately 2.35% in b2b industries, but trust me, usually in the first 6 months you will be happy for 2%. And I like to hope for the best but prepare for the worst.
Alright, so now when you know you need 2,500 clicks then you need to figure out the average cost-per-click within your industry.
And there are a couple of ways how you can do that:
Use Google and type something like "average AdWords cost per click in the manufacturing industry"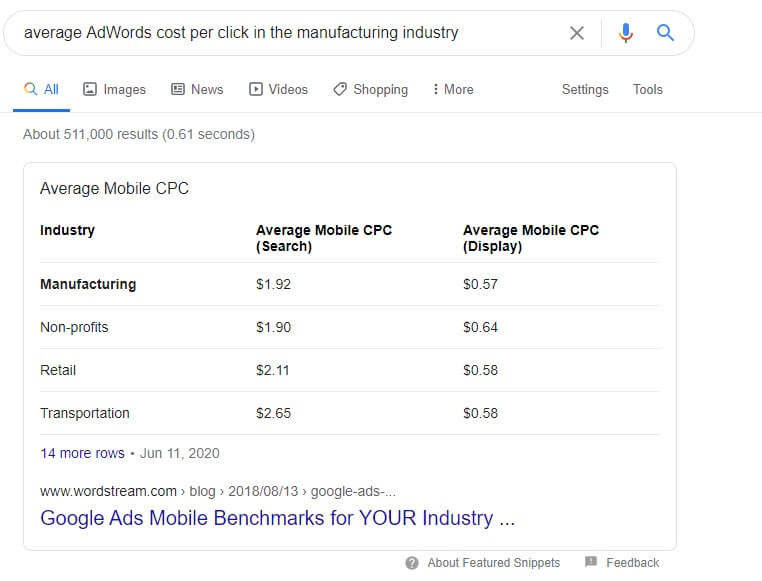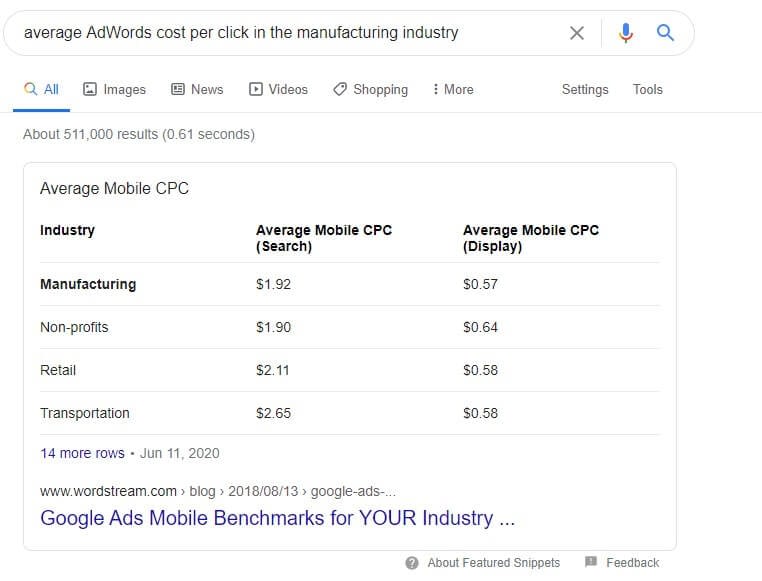 2) Use Keyword Planner and write your targeted keywords. Here you will see how much you will pay for your CPC for each of the keyword, so with a little a bit of math, you can easily determine how much you would pay for 1 click.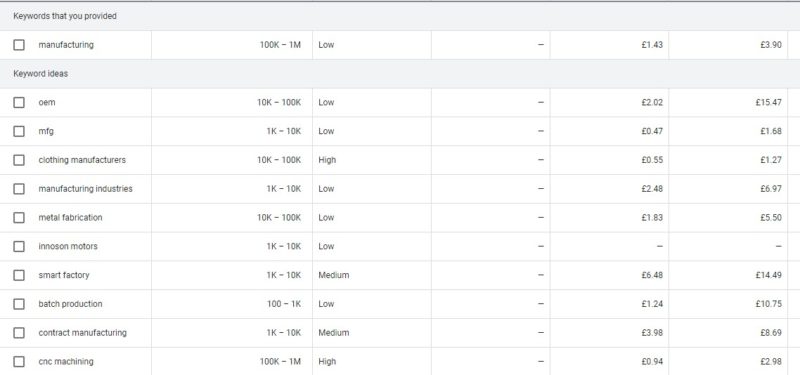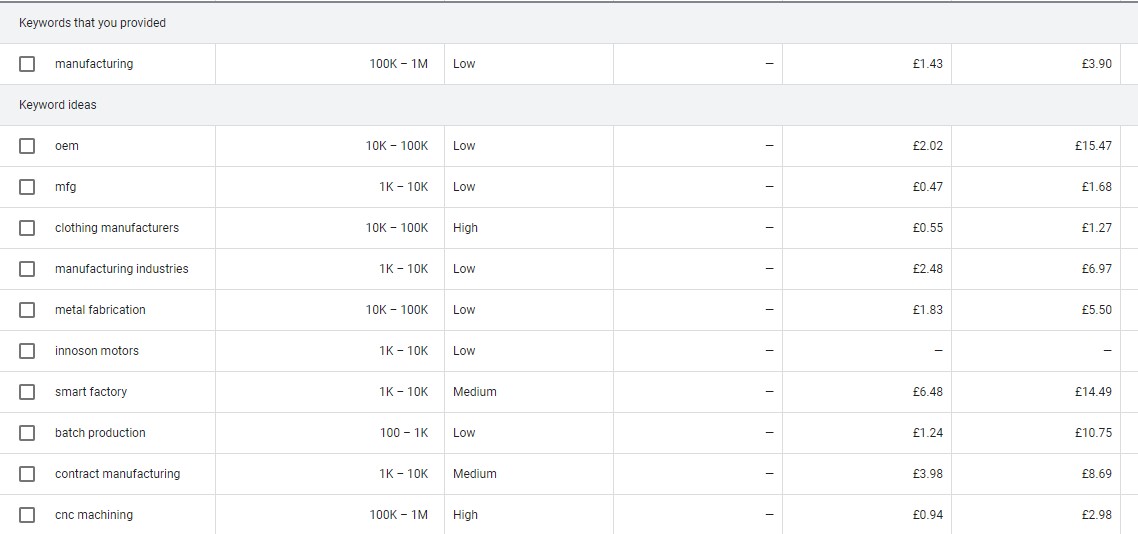 So let's say you have figured out that the average cost per click is 10$ dollars which means 2,500×10 is $25,000.
Please bear in mind that these numbers are just estimated and the cost can be much lower or higher depending on your industry. But just to give you the idea of how you can calculate how much it will cost you if you want to generate this amount of leads for your business every month.
Step #2: Understand Your Audience
The second step to successfully launch your b2b search engine marketing campaign is to understand your target audience.
This might sound like a daunting task to understand your target audience, but you do not have to worry.
If you are already having customers, simply looking at your best customers will help you to determine what audience you should target.
Also, I have talked about in this video " 5 Habits" to plan your content marketing with internal teams, and the reason why is because your sales team knows better than anyone else what makes a great prospect.
So, discuss with your sales team, C-levels, customer service team to determine what customers make really different for your company.
And once you have data, just trace the common things all these customers have such as industry, employees' number, annual revenue, location, etc. The more precise you can be the better.
And based on this you can create and understand your target audience for your b2b search engine marketing. But what if you do not have customers yet?
Well, if you are starting a business, then you must know who you are creating this business and what problems you are going to solve. And based on this you should have a vision of who is your target audience.
Based on this you can start targeting your audience and once you have data, you can refine and upgrade it along the way.
And don't worry, you do not need to be extra precise as you can never determine yourself what and how people will react to your business, therefore you must try and listen to the feedback.
Step #3: Design Your Campaign
The third step is to design your campaign that is mobile-friendly, local, and personal to your target audience.
Btw, this video could be useful to you to even better understand how you can optimize your b2b digital marketing.
With a solid understanding of your target audience, our next step is, to begin with, a campaign that reaches them at the right time and place.
And because today's digitally-savvy consumers are more demanding than ever, they will not be tolerating anything less than personalized messages and precise marketing.
In other words, you need to know exactly what to show them and say to them, as well as how and when to say it.
And that is why we will be focusing on using mobile-friendly, local, and personal methods to successfully engage with your customers where they are in their decision-making journey.
Be Mobile Friendly
The first method of designing your b2b search engine marketing is to be mobile-friendly.
Since 2015, Google as announced that more searches are done on mobile devices than on desktops and from my personal experiences, I often receive more traffic from mobile than from desktop.
Also, 52% of PPC clicks come from mobile devices. (WebFX) and 50% of mobile searches are aimed at local businesses. (Search Engine Watch)
And with more statistics like from Google report, 40% of mobile consumers turn to a competitor website after an unsatisfactory mobile web experience and 57% wouldn't recommend a business with a bad mobile experience.
And we could carry on with mobile statistics, but the importance is to have a mobile-friendly website for your PPC, as most likely you will be driving a lot of clicks from mobile devices. Check out best PPC reporting tools.
Also, the advertising platforms are checking if your landing page is mobile-friendly.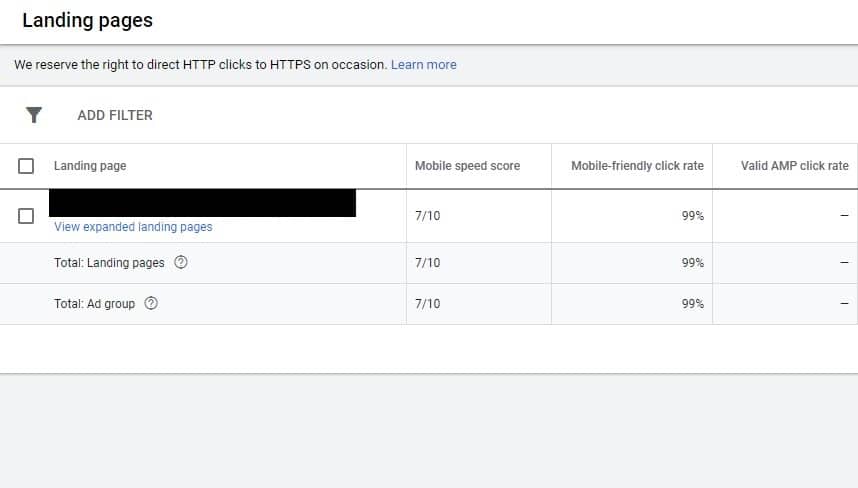 And to improve your mobile experience here are 5 quick tips what you can do to design your website and b2b search engine marketing to be mobile-friendly:
Focus on Your Website Speed as a priority. For WordPress, I always had a great experience with WP Rocket.
Keep the Font Size Legible and Large.
Use Optimized and Compressed Pictures. Using the WebP format from Google recommended.
Choose reliable good hosting, like for example Digital Ocean Cloud or SiteGround also check out HostGator alternatives.
This is just quick tips for landing page but I recommend you check your landing page with a Mobile-Friendly Test provided by Google.
Be Local
The next way how you should design your search engine marketing is to keep it local.
Even thou we are living in a world where everything is connected and you can order anything from one side of the planet and let it be delivered to the other side of the planet, creating local advertisement are seeing much better results than not specify.
According to Think with Google, Over the last two years, searches for local places without the qualifier "near me" have grown 150%, faster than comparable searches that do not include "near me."
And that also includes cities, regions, states or countries. If somebody searching for your products and services and have high interest to buy, they usually prefer to use [Product Name] + [Location]
Like for example:
Law firm in New York
Microsoft Partner in Malaysia
Plumber in Mayfair
And the reason is that search engines are full of these services and even thou they track your location to enhance the user experience and provide related offers, you will see better results from your b2b search engine marketing if you localize it and include the location you are targeting.
BTW if you are interested in Local SEO strategies, check out my video here.
Be Personalized
And lastly how you should design your b2b search engine marketing is to be personalized.
Thanks to digital ad platforms you are able to access a tremendous amount of information you will potentially need to create super personalized ads.
Information about your target audience, their locations, behaviors, interest, and much more, so you can use this data to your advantage and create highly targeted and personalized ads by mixing and matching different types of targeting and messaging.
For example, you can customize your ads for location and send it to your potential customers when they are searching for your products or services.
Also, you can choose day and time when is most likely you will bring the most amount of leads. For example, weekends do not perform so well, you can exclude them and leave running ads only on weekdays.
You can choose their age and more. As I said, there are tons of great features to create personalized ads.
So please do not try to go with the shotgun approach but rather with the sniper approach.
To learn more about personalizing your content, watch this video.
Step #4: Use the Right Keywords
The next step on how to start with b2b search engine marketing is to use the right keywords for your campaign.
As stated by Google, High-quality, relevant keywords can help you show your ads to the customers you want and when you want. Google recommends 5 – 20 keywords per ad group.
Selecting the right keywords is critical for your B2B SEM campaign because you want to be there when your target audience is searching for your products or services.
And with the right keywords, you can target those people who are interested to buy, but it requires some experimenting.
So, to help you to decide with what keywords you should go, here are some quick tips:
First, I would recommend starting with keywords that are related to your business, target audience, location, products or services, and campaign goals.
Second, ad a few general keywords and closely monitor them as they can be more expensive, but also can bring better results.
Thirds also consider focusing on keywords phrases as your customers might be using them to search for you or your competitors.
Fourth, before you start adding these keywords, make sure you make list and go through one by one in the keyword planner.
I would love to be more specific, but because I do not know your business, I cannot tell you much as every search engine marketing campaign is different even if it is the same product category.
But also, I want to mention important keyword match types. Google is using 4 types of keyword match types:
Broad Match
Broad Match Modifier
Phrase Match
Exact Match
If you are not familiar with these keyword match types, then I recommend learning more about them on Google Ads support page.
But I want to share with you the 3 best practices for keyword match types you should include within your B2B SEM.
First, I highly recommend avoiding broad match keywords if you are focusing on conversion rates.
Second, have a majority of Exact match types.
Third, have a balance between Phrase and Broad Modified types.
Remember, running your ads means consistently looking into them and optimizing them to ensure you are delivering the best possible results, and don't worry if it is not perfect for the first time as by time and with data, you will be able to improve.
Step #5: Craft Irresistible AD Copy
The next step on how to start with b2b search engine marketing is to craft irresistible ad copy.
Advertising on search engines is about short and on-point messages, that shows value and benefits to your target audience and include your selected keywords for relevancy and quality score. But of course, you should stress yourself because of that.
If you are planning to advertise on Google, then you must prepare yourself to write Headlines with a maximum of 30 characters and with a short description of 90 characters.
So that is when copywriting skills come in handy as your copy needs to resonate with your target audience to let them know what you are offering.
So, within this very limited space, you must be concise, create a sense of urgency, and highlight values, benefits, and any limited time offer.
Therefore, your ad copies must be well planned, and you need to think through what message you want to send to your target audience.
Also, I want to share with you some quick tip when setting up an ad group in Google AdWords for your search engine marketing campaigns:
I recommended having three active to four ads per ad group. This allows us to test different messages and keep only the best performing ads over time (CTR & Conversion Rate)
Step #6: Use Analytics to Improve Campaign Performance
The last step on our journey on how to start with b2b search engine marketing is to use analytics to improve campaign performance.
I have already mentioned this, but I would like to discuss it a bit more and also share some helpful tips and tricks that help me to stay on track.
Search engines provide analytics platforms that you should learn how to use it and leverage and track your KPIs (key performance indicators) to enhance your campaign performance.
Also, you need to be performing a B2B search engine marketing audit, but it is about a healthy balance to not doing it too much and not doing it too little.
As if you audit your B2B SEM too often, then the system will have not enough time to generate enough data to show the real results and learn about your campaigns.
For example, Google is using AI and machine learning to enhance your campaign results, but if you change it too often, then the system will not have enough time to learn how people react to your campaigns and who are most likely to convert.
And if you do not an audit, then your ads may fall behind. Therefore, you must find a healthy balance.
I recommend you do the weekly checkup to check things like:
Budget
Keywords Performance
Targeting
Important Metrics
Relevance
Ad copy
And If course you do not need to spend the whole day doing this, as just 30 minutes should be enough to literally check if everything is running okay and no need to do any major changes.
Only if there is something alarming like a massive and sudden drop down in conversion rates, click-through rate, or changes in budget, which can happen.
Otherwise, then there is a monthly performance checkup where you do a more thorough checkup of your b2b search engine marketing campaigns.
Here you will remove what is not working, ad more what is working, and add new things.
So remember, do weekly short check-up just 30 minutes and then more thorough at end of the month for example, and Always keep track of how your current campaign is performing. Use platforms such as the Microsoft Search Network to leverage dashboards and reports based on real-time data.
What Should You Be Tracking in B2B Search Engine Marketing Campaigns?
Lastly, is what should you be tracking in b2b search engine marketing campaigns?
Your tracking does not need to be complicated it and there are only a handful of things you really need to be aware of and keep tracking consistently.
So, this is my list of metrics I keep track of every campaign I launch:
Clickthrough rate: a ratio of users who click on a specific link to the number of total users who view your ad.
Average Cost Per Click: The cost you pay on average for a click on your ad.
Quality Score: is an estimate of how relevant your ads, keywords, and landing pages are to a person who sees your landing page.
Conversion rate: Shows how often, on average, an ad interaction leads to a conversion. It's "Conversions" divided by the interactions with your ad.
Average ad Position: Describe how your ad typically ranks against other ads.
Conversions: How many conversions I have generated
Impressions: How many people have seen my ad.
So, this is the metrics I track with every search engine marketing campaign to see how my ads perform and what I should improve to get better results, and most of my marketing budget.
But definitely feel free to add more, especially if you are using AI analytics, then you can add even more information with quick insights.
What is B2B Search Engine Marketing?
B2B Search Engine Marketing (B2B SEM) is a form of marketing focused on online advertising of your products or services on your website. It is advertising on platforms such as search engines or social media and typically with specifically design web pages (Also called Landing pages) to increase sales revenue.
With Search Engine Marketing marketers can quickly generate leads for their businesses with targeted messages and using targeting options ad platforms providing.
Therefore it is a favorite digital marketing strategy because as long as marketers pay to advertise platforms they are able to generate leads for their business with minimum time invested.
But B2B SEM does not provide such high ROI as B2B email marketing or B2B SEO can, but both tactics require more time and effort to generate the ROI.
Related Resources:
Also, check out our Digital Marketing hub page to learn more.
Disclaimer
Some pictures are coming from Freepik and some of my links are affiliate links, which means if you purchase something, I might get some small commission as a reward for reference. Of course, I am actively using all these services and products and I only affiliate products or service I have full trust in their quality!