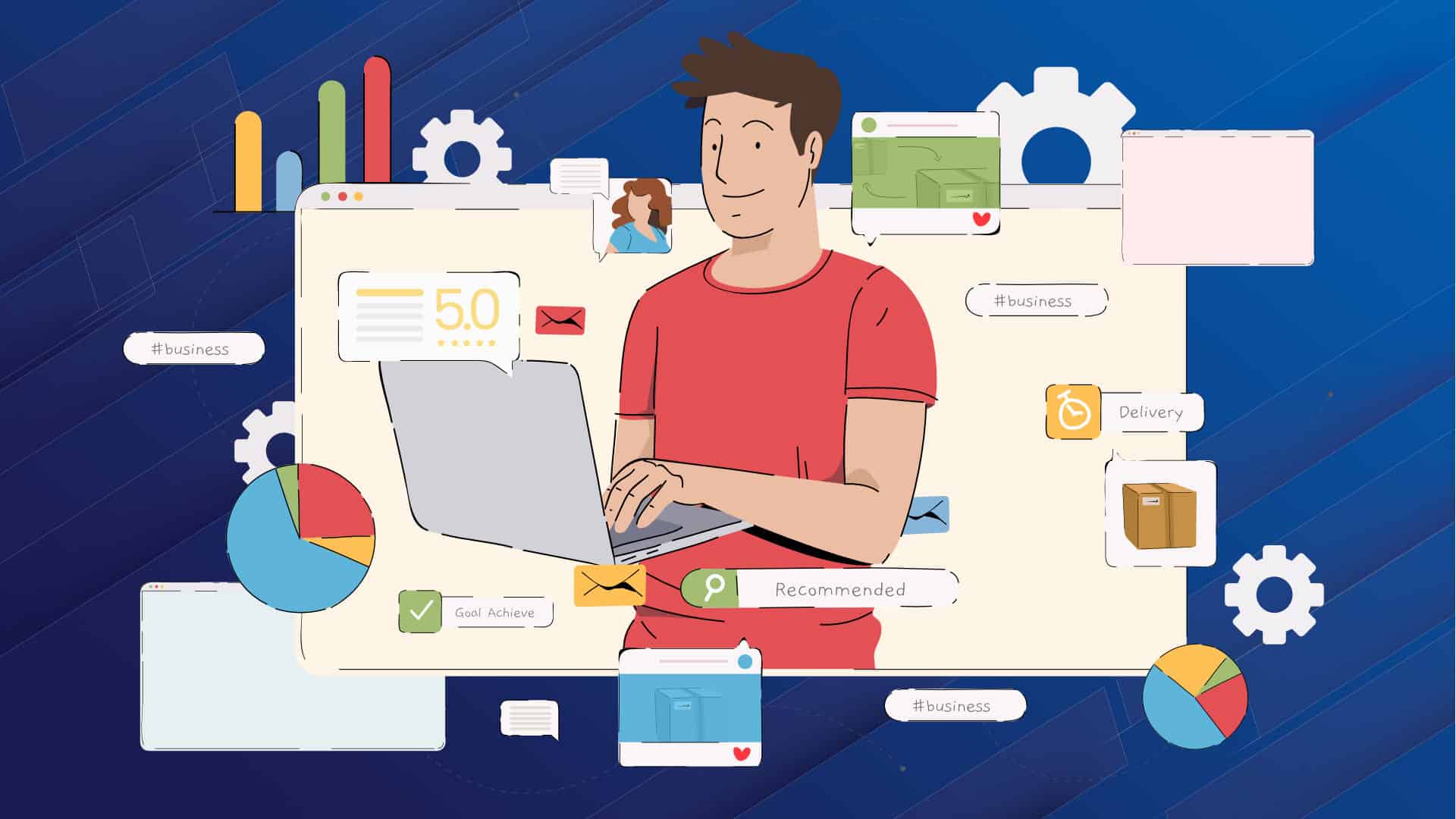 7.5 million blog posts are published every day and this number will be ever increasing in the next few years. Just publishing high-quality content is not enough to get on you on top of the search result pages for your targeted keyword and I have learned this the hard way.
So, if you want to succeed with your blog and website on the internet you need to publish high-quality SEO Content for your users and search engines.
And in today's article, I am going to walk you through a step-by-step process to write SEO content that ranks #1 in Google.
And without further due, let's write SEO content!
What is SEO Content?
SEO Content or also called content creation for SEO is a process of targeting your niche relevant keywords and creating valuable and SEO optimized content to improve ranking in search engine result pages for the targeted keywords and give users the information they are looking for when entering the targeted keyword.
Writing SEO content is a process where marketers strategically decide what keyword to target, how to create the content, and optimize the content for SEO in order to achieve the best results.
So instead of blankly targeting any keyword and hope for the best this way you can predict your outcome and focus only on the best keywords that can drive organic traffic and leads for your business.
However, writing SEO content is not only about targeting keywords, but it is about learning the search intent, why users are searching for the keyword, and then creating valuable content that helps the user and provides the information they are looking for.
Therefore, being a subject matter expert is crucial for creating SEO content as search engines like Google are searching for content from experts with valuable information, tips, and tricks.
Remember, even if you are creating SEO content, the content should be primarily for your users and not search engines. Creating compelling and useful content will likely influence your website more than any of the other ranking factors.
Step #1 Quick Keyword Research
Alright, to start with SEO friendly content we need to find keywords to target. And whether you are doing SEO for B2B or B2C, this applies to both industries.
There are multiple ways how you can do keyword research, but the easiest and most efficient way is using a keyword research tool.
I will be using SE Ranking Keyword Research Tool to find keywords I want to target.
So, I head over to SE Ranking keyword research tool and enter some broad term keyword that is relevant to my niche, product, or service. For me, this could be "SEO".  I also, enter my targeted location and click on "Analyze".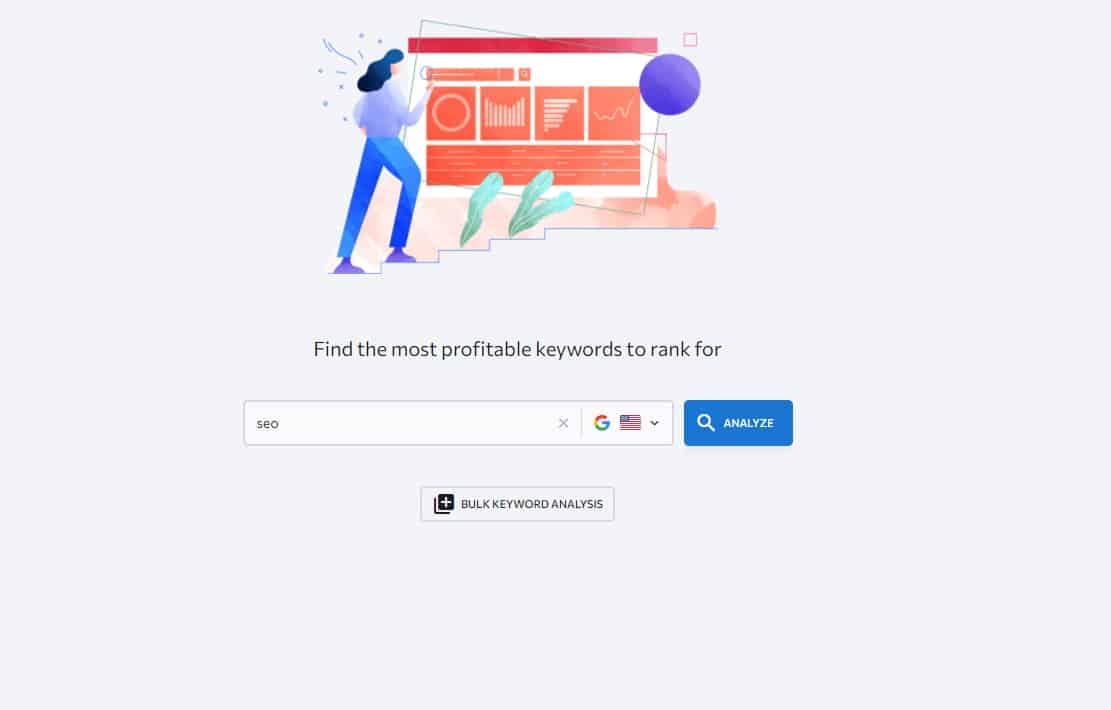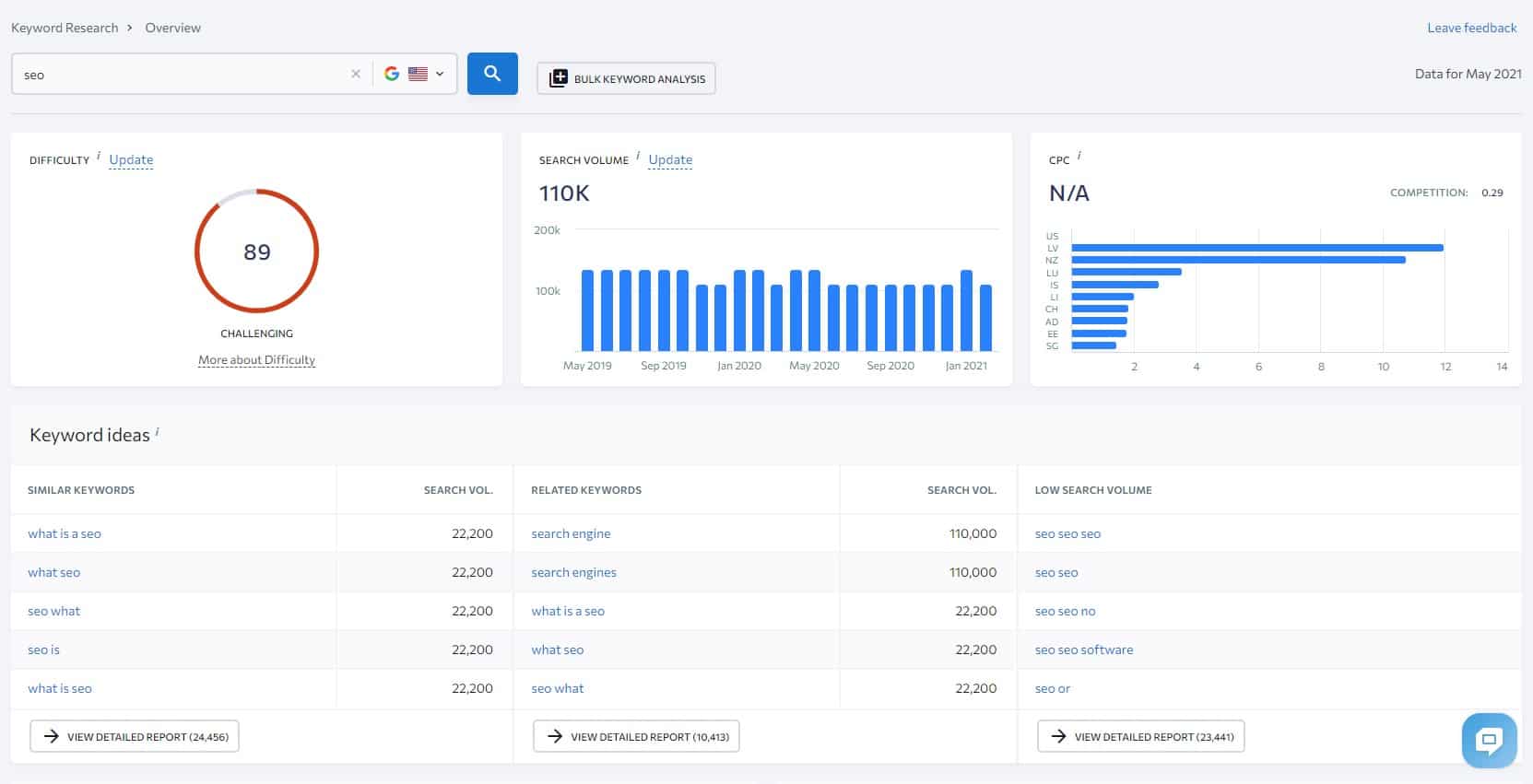 Now, I click on the "View Detailed Report" for the second "Related Keywords" report. And here you can see over 10 thousand keyword ideas for your broad term keyword. So, to narrow it down and find only the most relevant keywords to you I recommend you set some filters.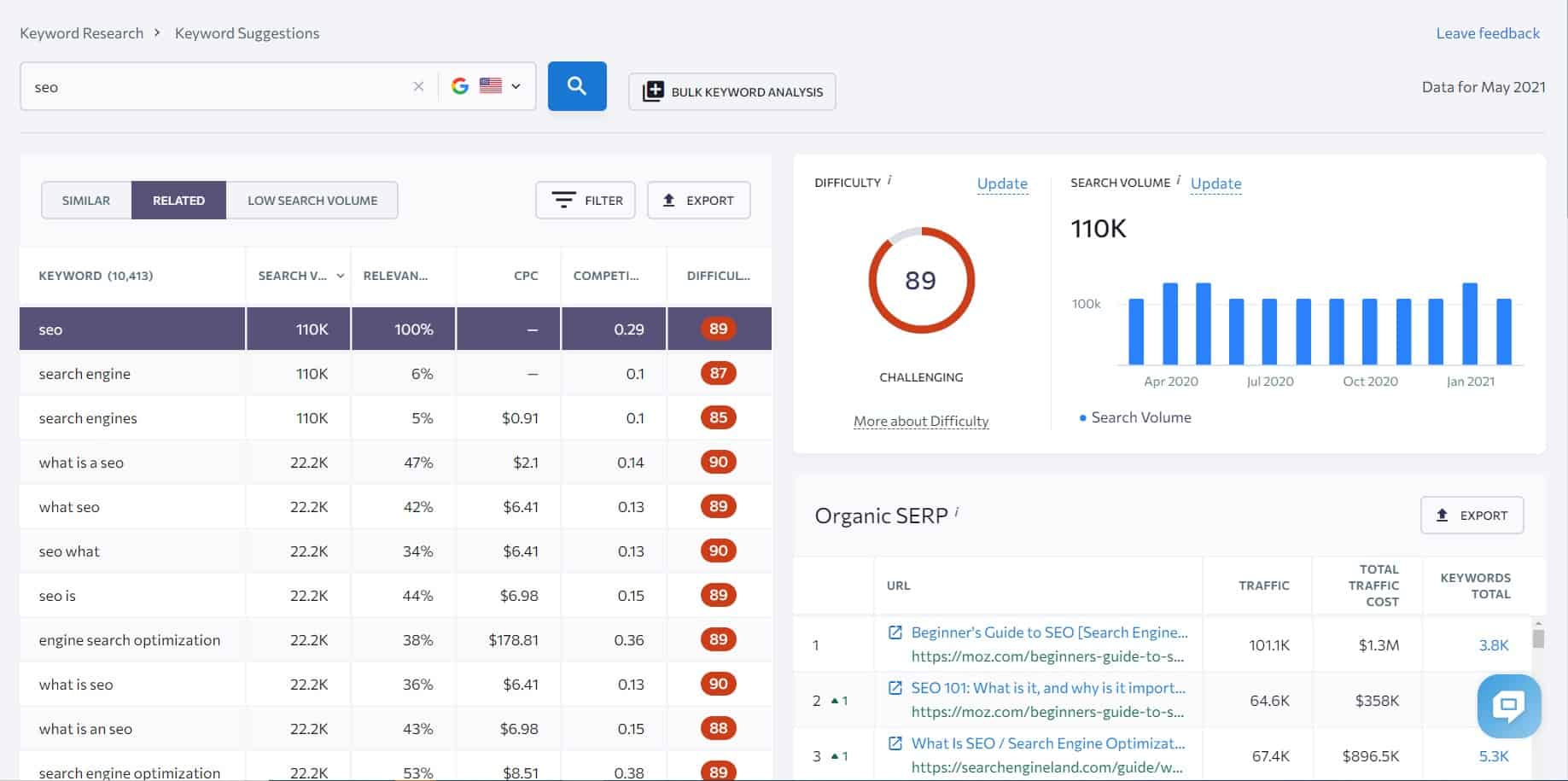 The first filter I recommend you set is the keyword difficulty. Typically, it is recommended to stay around your domain trust score. For example, if your domain trust is 30, then targeting keywords higher than 50 is almost impossible for you. So, let's say I set "Difficulty" maximum to 30.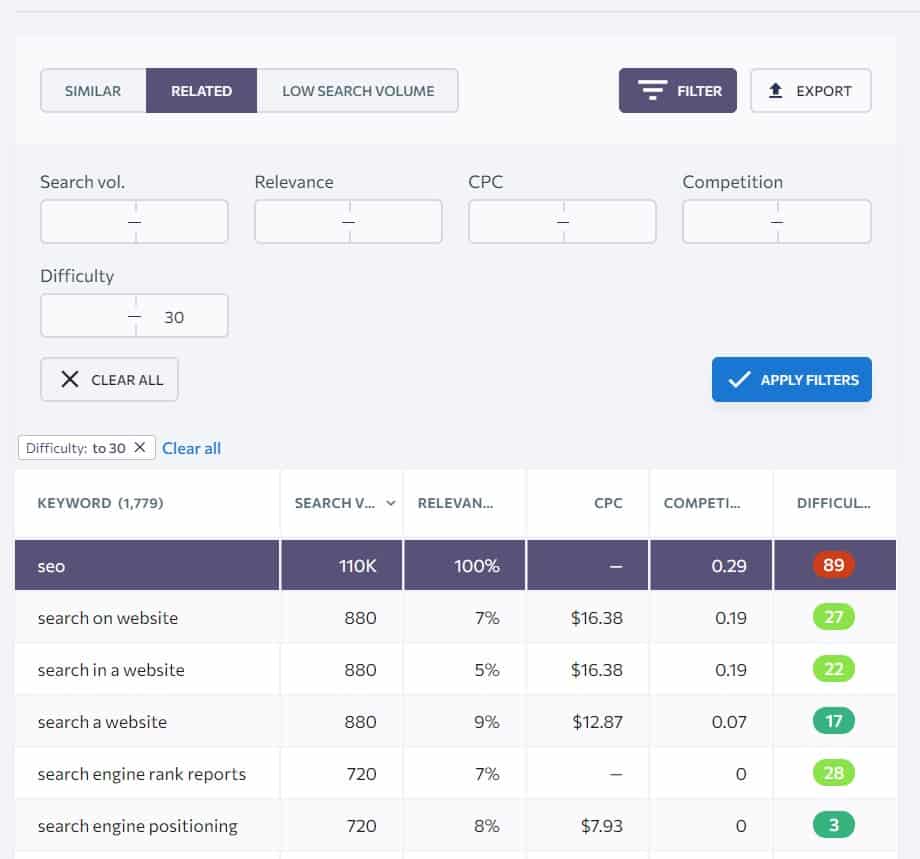 And the second filter you should set is the "search volume". This highly depends on your broad keyword, the difficulty you set, and how low you want to go.
As you can see, the highest search volume keyword is 880 after setting the filter. Therefore, I will set the "search volume" filter to something low like 200.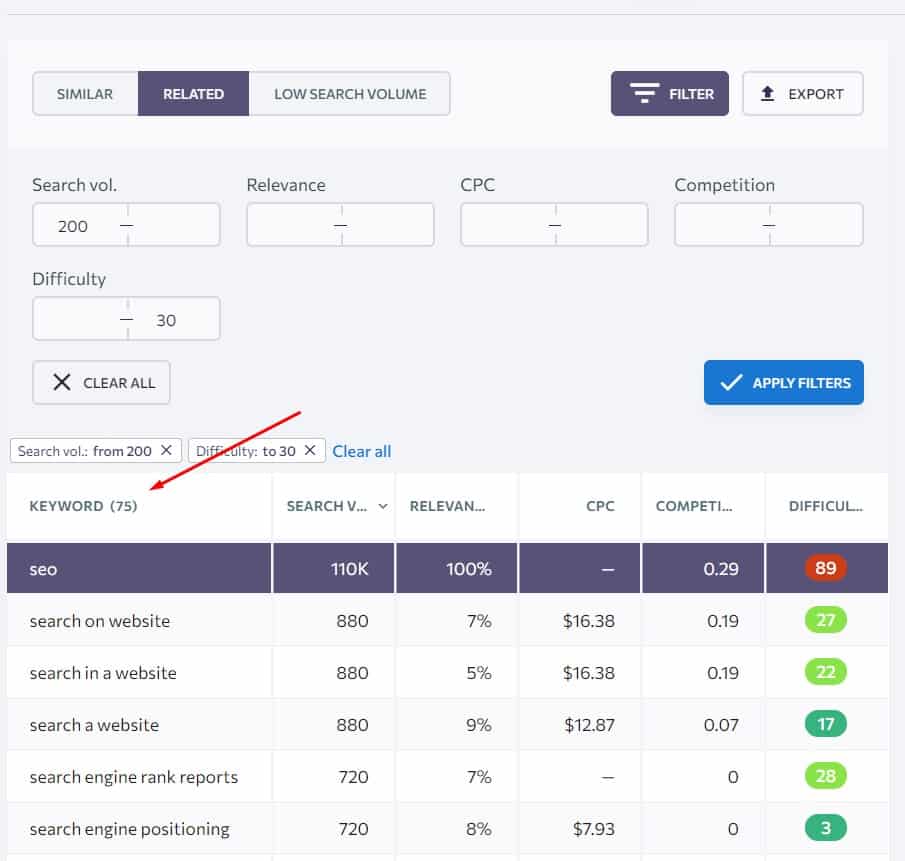 And as you can see from over 10 thousand keyword ideas, I am down to less than a hundred keyword ideas. Like this, I know I have only a list of keywords that I can rank for and have enough search volume. So, let's start scanning.
And right away I see, some interesting keyword "SEO campaign". This keyword is super relevant to my niche, and I should be definitely targeting this keyword.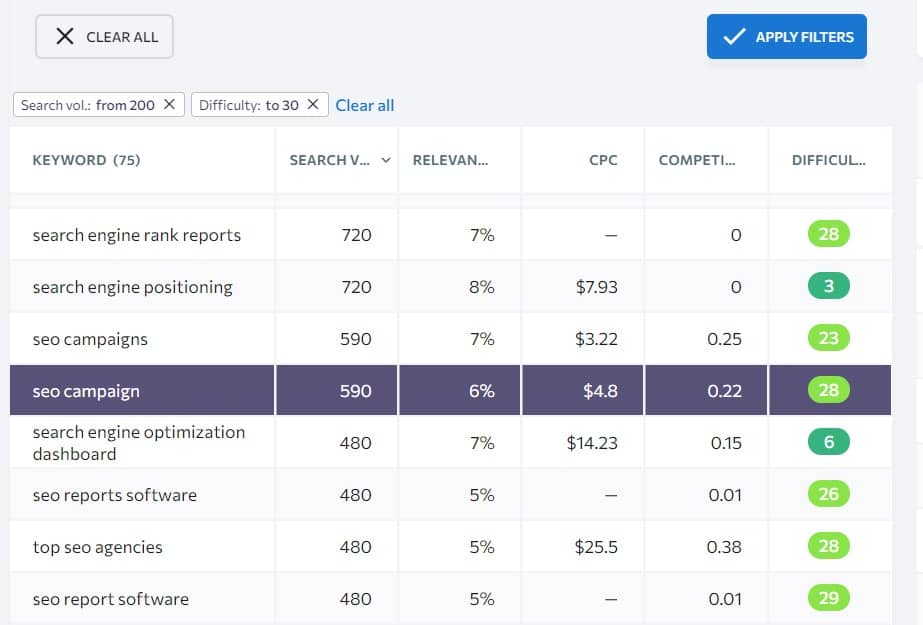 So, let's use this keyword as an example for this SEO content creation guide and create a new Word Document with the targeted keyword.