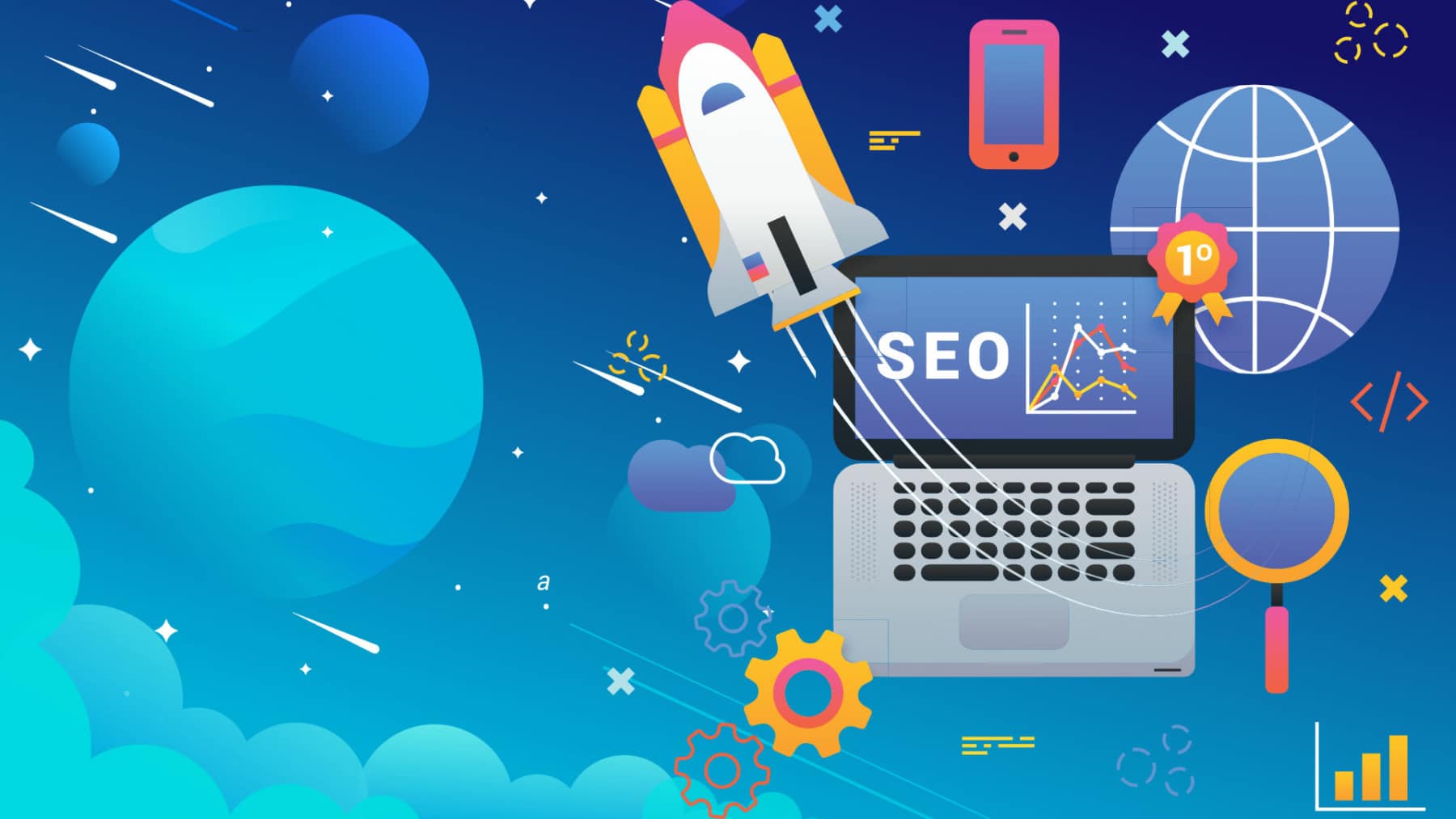 In this article, I am going to show you how you can do SEO Competitor Analysis to grow your organic traffic and how you can create your own Template in a step-by-step process.
I am going to show you exactly how you can spy on your competitors and find SEO gems hidden on your competitors' websites to grow your organic traffic and ranking.
Also, you will learn how you can create quickly and easily SEO competitor analysis template.
So, without further due, let's get started
What is SEO Competitor Analysis?
SEO Competitor Analysis is researching your competitor's website and dissect into fine details to find what your competitors are doing to grow their organic traffic. This involves researching multiple SEO elements such as their authority, keywords, content, and backlinks in order to reverse-engineer the most successful SEO techniques into your own SEO Strategy.
Thus, we could say that SEO Competitive Analysis is a data-driven marketing approach to your SEO strategy to ensure you are not wasting your marketing resources and maximizing your growth potential.
It will give you all the information you need to start growing your website's organic traffic, SEO lead generation, and/or sales as soon as possible.
Why is Competitor Analysis Important for SEO?
The main reason why you need to perform SEO competitor analysis is simple. It will allows you to no more guess what will be working for your website, but it will give you the precise answer on what you should be doing so your website grows.
However, there are more benefits to SEO Competitor Analysis.
As I said, it will give you the right information that helps you to make decisions that will grow your website as you are searching for proven patterns that work for your competitors.
SEO competitor analysis helps you to find your competitor at the same level as yours and it shows you the keywords they are ranking for and driving them the most amount of traffic. Thus, you can compete on these keywords to start driving traffic for your website as well.
And you have a high chance of appearing in the top ranking positions, like your competitors.
Another great benefit of SEO Competitive analysis is that it gives you a ton of keyword ideas to create content about that you can be creating content for the rest of the year.
Also, it shows you where your competitors are getting backlinks, where you can get backlinks too, and how to steal their backlinks to outgrow your competitors.
And there is so much more SEO Competitor analysis can offer you, but the best way to see that is by showing you, so without further due, let's get started!
Beforehand
Before we get started, there are a couple of ways to do SEO competitor analysis, like using Google and search for the most common keywords in the niche.
However, this will give you a very limited view and you will have a hard time completing the full SEO competitor analysis and growing your website. Therefore, the most efficient and effective way is by using SEO tools.
And there are many SEO tools you can use, however for the simplicity of this tutorial and not to make it more confusing I will be using my favorite SE Ranking.
If you do not have any SEO Tool, I recommend you try SE Ranking for 14 days for free and follow me along the way.
However, if you have already subscribed to one, then that's okay you can still easily follow me, as it doesn't really matter what SEO tool you are using because most of the SEO tools will give you the information, you'll need to complete SEO competitor analysis, only the process of getting the information will differ.
But like I said, if you do not have an SEO tool, then I highly recommend you try SE Ranking because they offer by far the best value for money for a full-fletch SEO tool.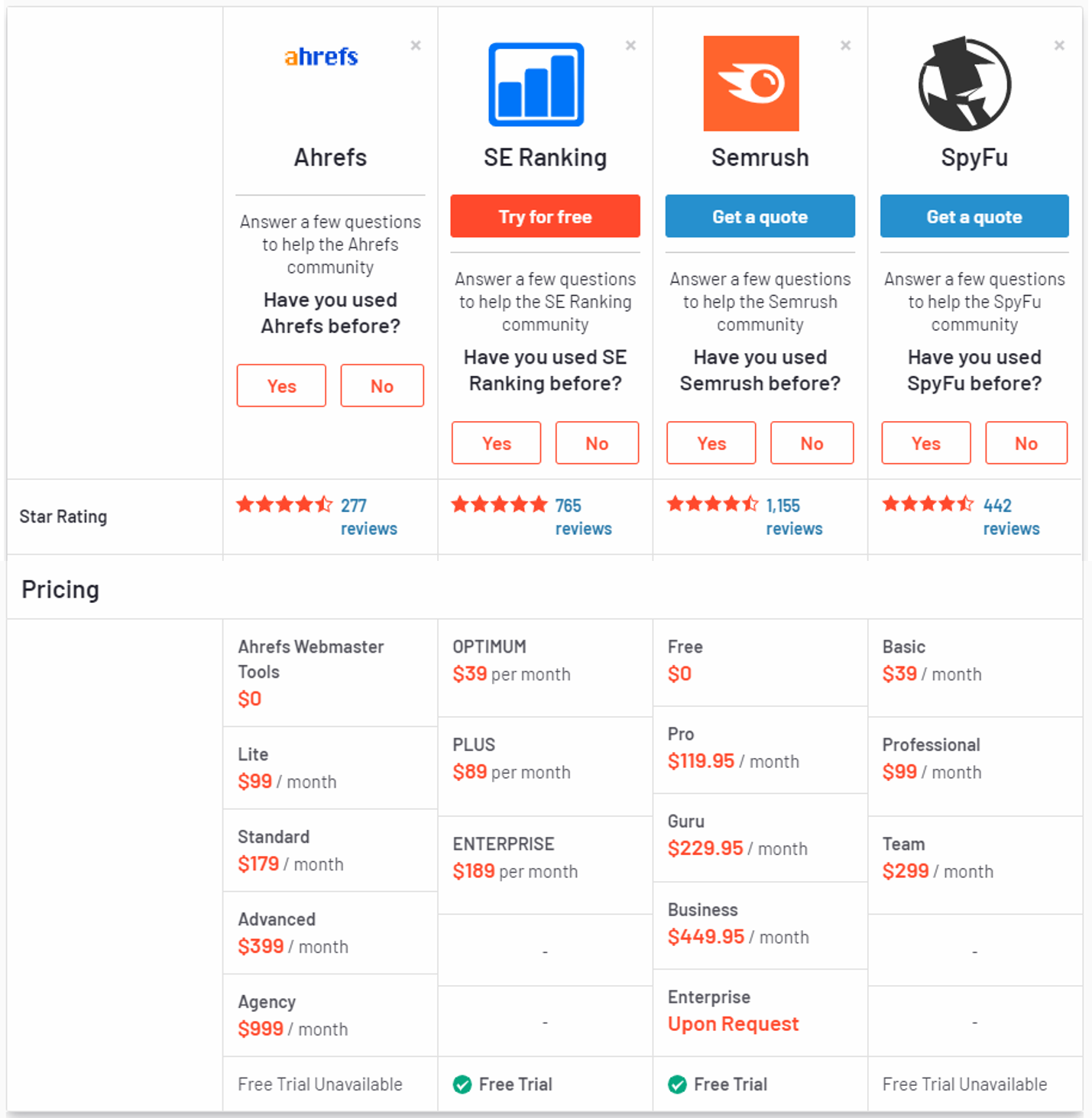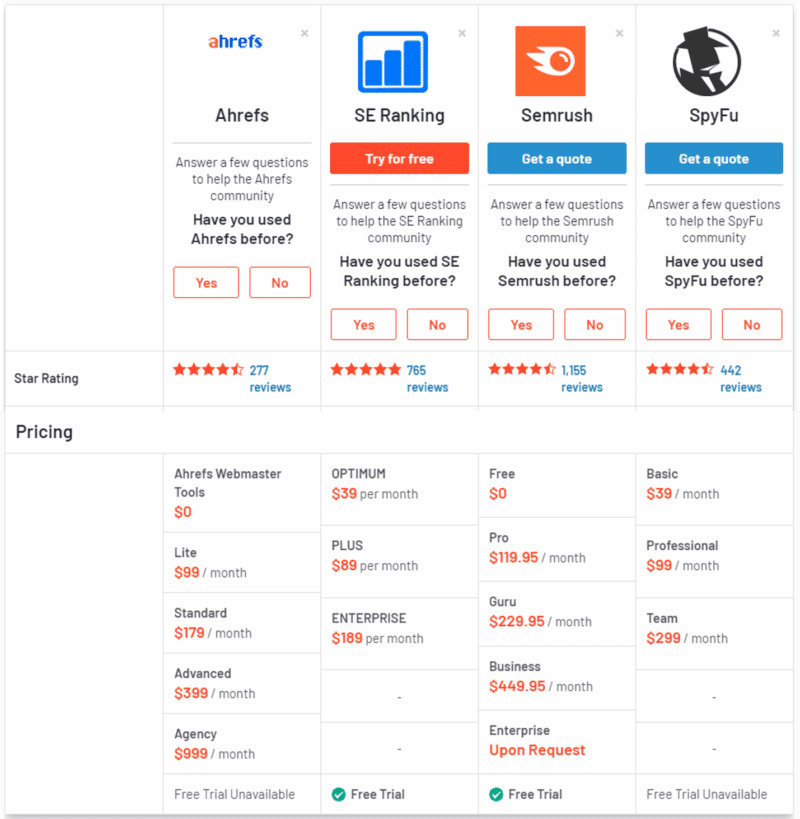 Step #1: Find Your Competitors for SEO
The first step of SEO Competitor analysis is to find your competitors.
So, to find my competitors I will be using SE Ranking Competitive Research tool. Simply, I enter my domain, select my targeted location and click analyze.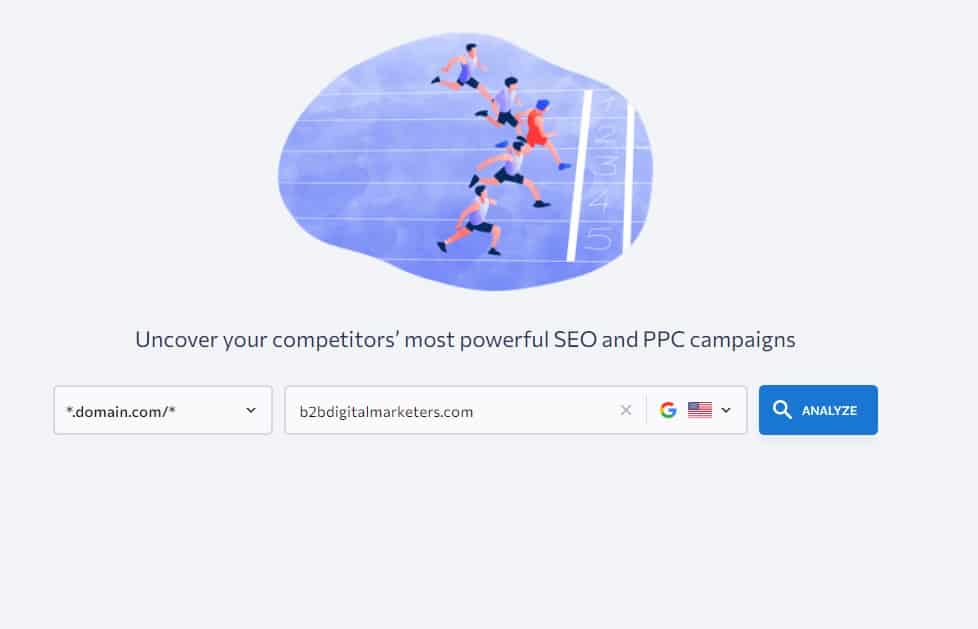 I like to use my website for this as you can see my website has still low domain trust, not high traffic, and not many backlinks. Because it is easy to do SEO competitor analysis for well-established websites with domain trust of 60 or higher.

But it is much harder to find keywords, link building, and other SEO opportunities to grow a smaller website, plus I assume your website is small as well, so it will be more helpful to you.
However, if you do or your brand has a larger site, then still you can follow me as there is not much difference, only owners of a smaller website need to do a bit more digging to find SEO opportunities for their website.
Anyway, to go back.
As you can see, I am ranking for around 200 organic keywords according to SE Ranking, which is not many, but enough to find my competitors.
So, to find them, I scroll down to Organic competitors report and click on "View Detailed Report". Or I can also use the left sidebar and click on "Competitors" in the "Organic traffic research" section.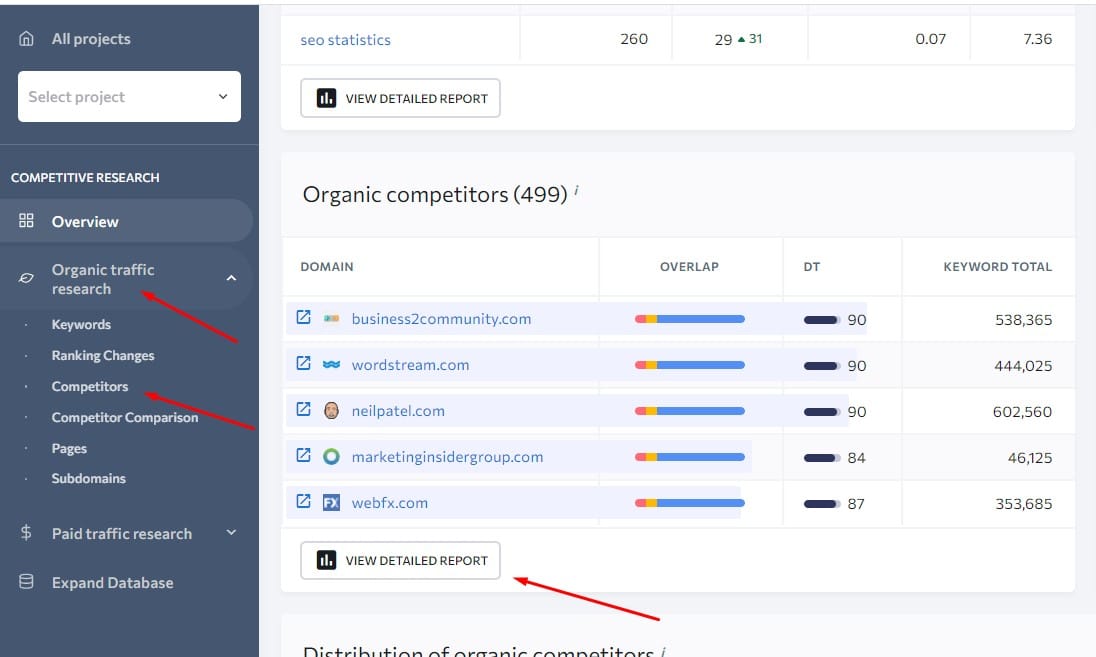 And here I have a list of almost 500 organic competitors that are ranking for the same keyword with additional helpful information.
Obviously, the first websites with the highest number of common keywords are the big sites because they have a ton of content on their website and that's why the chance of ranking for the same keywords is high.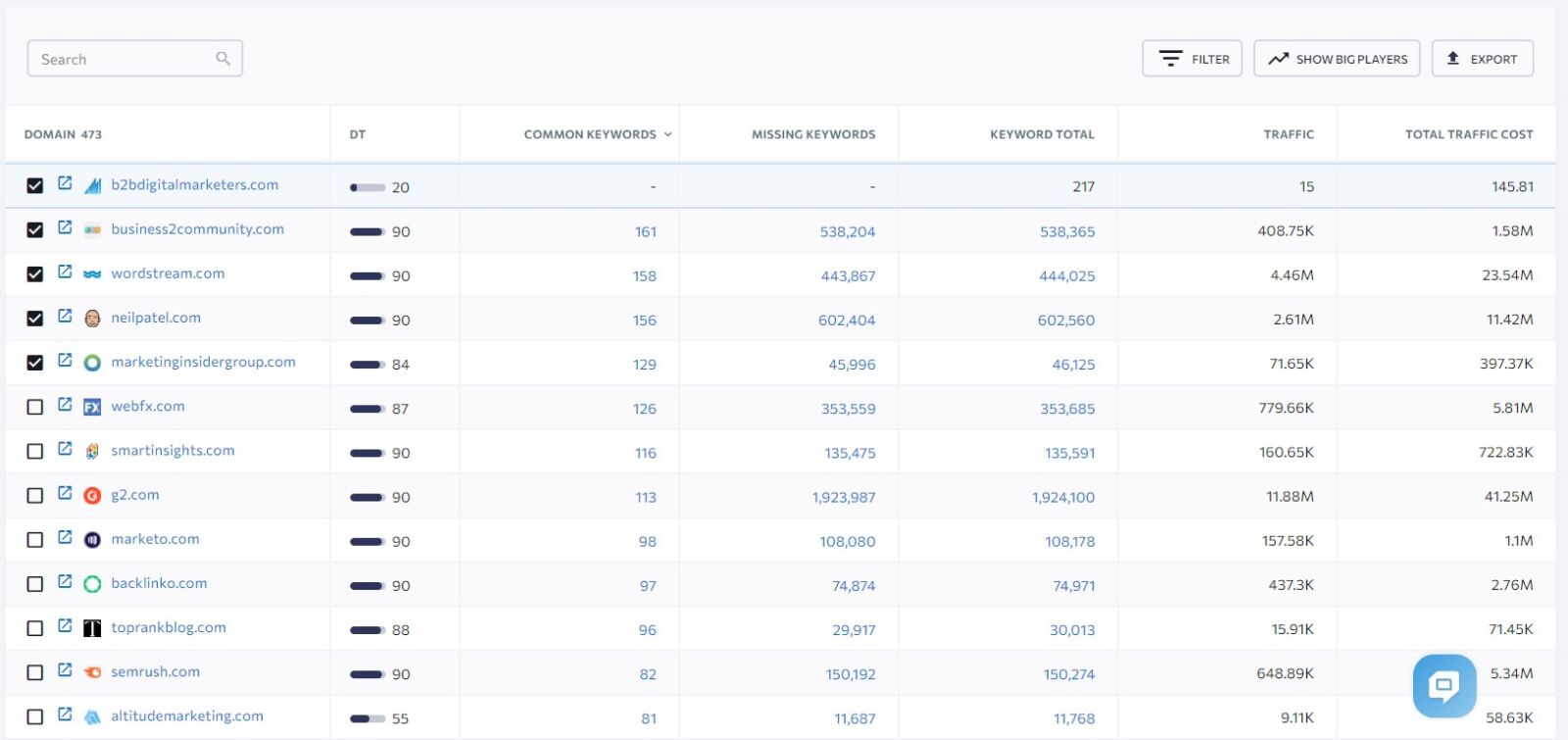 Second, I can see the missing keywords, these are the keywords my competitors rank for in the top 100 Google search results that my analyzed website does not rank. This is a great source of new keyword ideas, but on this later.
Next, there is keyword total, which is the total number of keywords competitors rank for in Google's top 100 search results.
And lastly, I can see the organic traffic and the total traffic cost, which means how much you would have to pay to get this traffic using Google Ads.
And that is how you can find your competitors. Of course, depending on the type of SEO tool you are using, the process will differ. However more or less you will get the same information.