In this article, I am going to give you the 5 top SEO benefits for your business and some statistics on why SEO is so important for businesses, and also I sprinkle around some useful SEO tips so make sure to read the whole article to get all the tips & benefits.
SEO for B2B or B2C has become an inevitable part of every business, whether it is a small business or large business, the SEO plays a vital role for all of them to drive traffic and leads for them.
It is because 93% of online experiences begin with a search engine and if you do not adapt to it, then you are losing a lot of potential customers for your business.
Unarguably SEO benefits for small businesses are just too big and therefore many small businesses have started to optimize their websites with content, responsiveness, and all other aspects necessary to provide good SEO and user experience.
And even for many businesses and marketers, SEO is a big struggle, but the SEO benefits are just so high that we cannot ignore it anymore.
So, let's get to 5 top SEO benefits for small businesses.
1. Brings Consistently New High-Quality Leads
The first SEO benefit for small business is SEO brings consistently new high quality leads for your business.
According to HubSpot, 60% of marketers say that SEO is their highest quality source of leads for their business.
And it is because SEO is focused on increasing web traffic and lead generation is focused on increasing the number of customers and prospects for your business.
This has a strong correlation with each other as it's not just any web traffic, but rather it focuses on driving on high-quality traffic for the website.
57% of B2B marketers say that SEO generates more leads than any of their other marketing initiatives. (Junto, 2022)
This means bringing people with questions related to your products or services and with SEO you can be the first to provide the answer to those questions.
Therefore, you can start capturing potential clients for your business while you sleep, work, or being a holiday as long as people are searching.
2. Can Bring the Highest ROI
The second benefit is, SEO can bring the highest ROI for your business.
According to the Search Engine Journal audience, SEO has the highest ROI out of all digital marketing strategies for businesses.
But it doesn't mean we should leave all our digital marketing strategies and go all-in for SEO, as we need to create a comprehensive & seamless digital journey for our audience.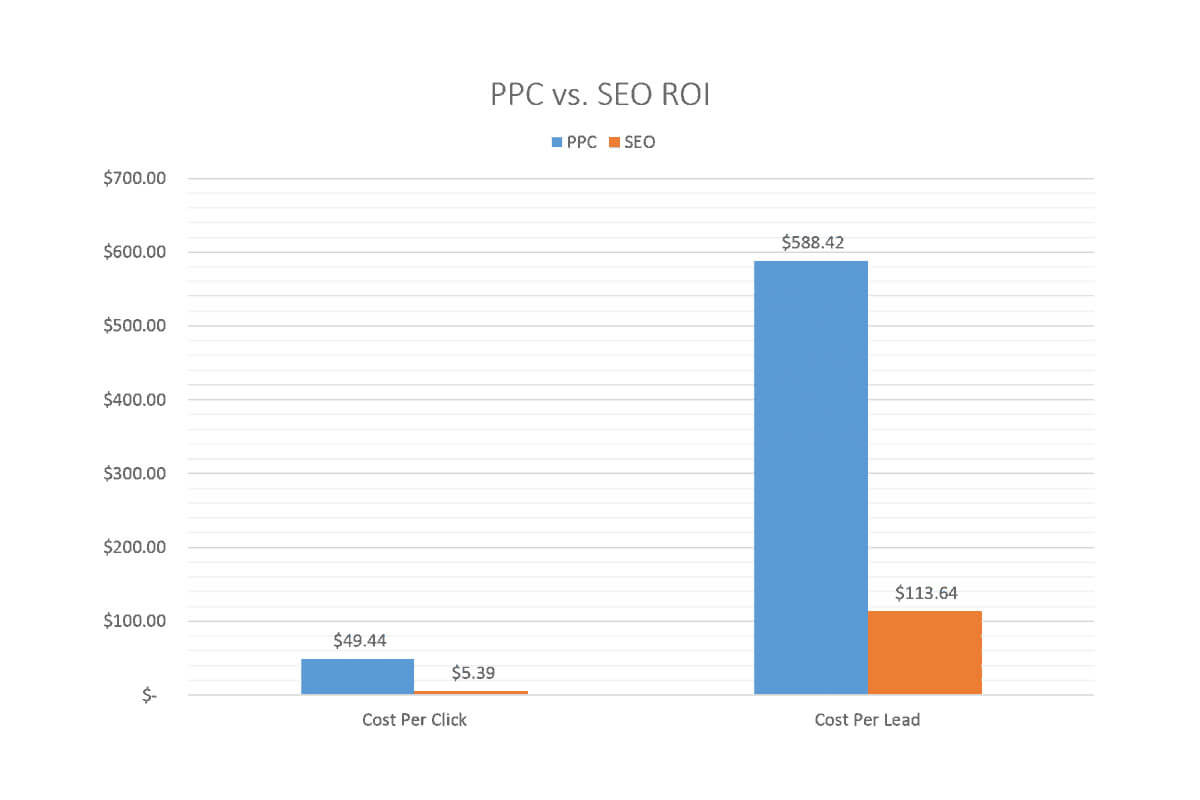 So I am bringing all this data to show how SEO is important, especially when it can bring amazing results for your business.
What I am trying to say, is that you can no longer ignore SEO anymore as it is an essential part of every business without a doubt.
Remember, SEO is a long-term investment and it takes a while to start getting your positive ROI, as you're building an asset for your company by investing in SEO.
And even though I highly recommend using PPC as well for your business, but rather to focus more on SEO as it can bring much better results than paid advertising. Check the best SEO reporting tools and PPC reporting tools.
And also paid advertising is much more expensive than SEO. This is another great SEO benefit for small businesses as everybody can effort it, unlike paid advertising on Google, Facebook, or somewhere else.
3. Improve Targeting and Conversion Rate
The third SEO benefit for small businesses is SEO Improve Targeting and Conversion rate.
As I already mentioned, SEO is focused on attracting visitors that are actively searching for information about your products or services, which makes it an excellent tactic for lead generation.
This lead generation is based on providing value and answers to the searches and therefore the better answer you can provide the more likely you are that people will like it & share it.
Not surprisingly, the leads that come from SEO have a 14.6% average conversion rate. For comparison, traditional strategies like print ads and direct mail have only a 1.7% average conversion rate.
Publishing in-depth content is pivotal for search engines to love you.
Detailed pieces will also position you as an industry leader, helping you boost the conversion rate and attract backlinks which also influence ranking positively.
This improvement in ranking comes with providing high-quality content for your audience. So be aware that just writing long articles for your users has no much use of there is no much value, even though search engine "prefer" it.
4. Long-term Benefits
The fourth SEO benefit for small businesses is, SEO brings long-term benefits for your business.
As I already mentioned that SEO can take a lot of time and effort to get it going, and it is about consistent work that counts and there is not really a quick win in the SEO game.
Therefore, many businesses are discouraged by the fact that SEO does not bring results right away, and it can take a year or two to see some positive results and ROI. That is why SEO might seem like a risk for an organization.
Which of course can be risky if your marketing team doesn't know SEO or you have hired the wrong SEO marketers, but luckily you can find plenty of good SEO marketers out there.
My definite choice for finding SEO marketers are Fiverr or Upwork, just to give you my personal recommendation.
But once your brand will pass this development stage and the SEO start really taking off, then you can be sure that this investment will bring a lot of fruits for a long time.,
Unlike advertising such as PPC, which you can expensively pay and get traffic and conversions within a day, but once you stop it then that is it no more traffic and conversion for your business.
And the more you will reinvest in SEO the better your SEO will be. And even when you stop it you will see the results for a long time.
But of course, if you totally leave it, then even your SEO will eventually fall, but it's no like it will stop right away to drive traffic and conversion like PPC.
5. SEO Makes Your Brand More Credible
The fifth SEO benefit for small businesses is: SEO Makes your Brand More Credible as the better ranking you have, the better your brand looks in eyes of searches.
When your website shows up in the first, second, or third spots in an online search, it gives the searcher the idea that you've probably been around for a long time and that you're top in your niche.
This is extremely important for brands as the more people trust the brand the more likely they will buy from them.
Therefore, in the last decade brands heavily invested in the SEO to get on the top of the ranking search to build credibility and trust from their customers.
And SEO brings so much more than just those 5 benefits, but I hope you got the point and start looking into the SEO for your Small Business.
Just be aware, that SEO is quite a bit of work. And even I & my team need help with SEO as we cannot manage everything by ourselves.
Therefore, we usually turn for help from Fiverr or Upwork, to get qualify SEO Marketers to help us, so check out the description where you will find the links.
Conclusion
I hope that his SEO benefits for small businesses help you to realize that you can no longer ignore to not have an SEO marketer for your business as it is really the essential marketing strategy to drive leads and business in the future.
SEO will not go anywhere anytime soon, and therefore you must start investing in an SEO strategy to drive high-quality leads for your business with minimal cost.
Remember, the sooner you start, the sooner you can see positive results and ROI for your business and get to the next level as most of the people are searching for your products and service online via search engines.
Yes of course it takes some patience and faith in the SEO, but trust me it is well worth it if you take the time and money to invest in SEO as I am sure you will not regret it. Do you want to learn more about B2B marketing? Check out my recommendation for best B2B marketing blogs.
Related Content
Also, check out our SEO hub page to find all our SEO resources.
Disclaimer:
Some pictures are coming from Freepik and some of my links are affiliate links, which means if you purchase something I might get some small commission as a reward for reference. Of course, I am actively using all of these services and products and I only affiliate products or service I have full trust in their quality!
Support the B2BDigitalMarketers
Hey, Eduard here.
As a solo blogger with limited resources, I need your support to keep creating in-depth SEO content like this. Please consider joining my Patreon community to help this site grow.
Your pledge – no matter how small – will enable me to dedicate more time to sharing actionable tips and strategies. With your help, I can take this project to the next level and really make a difference for other SEOs and marketers.
I would sincerely appreciate you joining me on this journey as a founding patron. Together, we can build an amazing resource hub. Hope to see you on the inside – thanks for your trust and support!