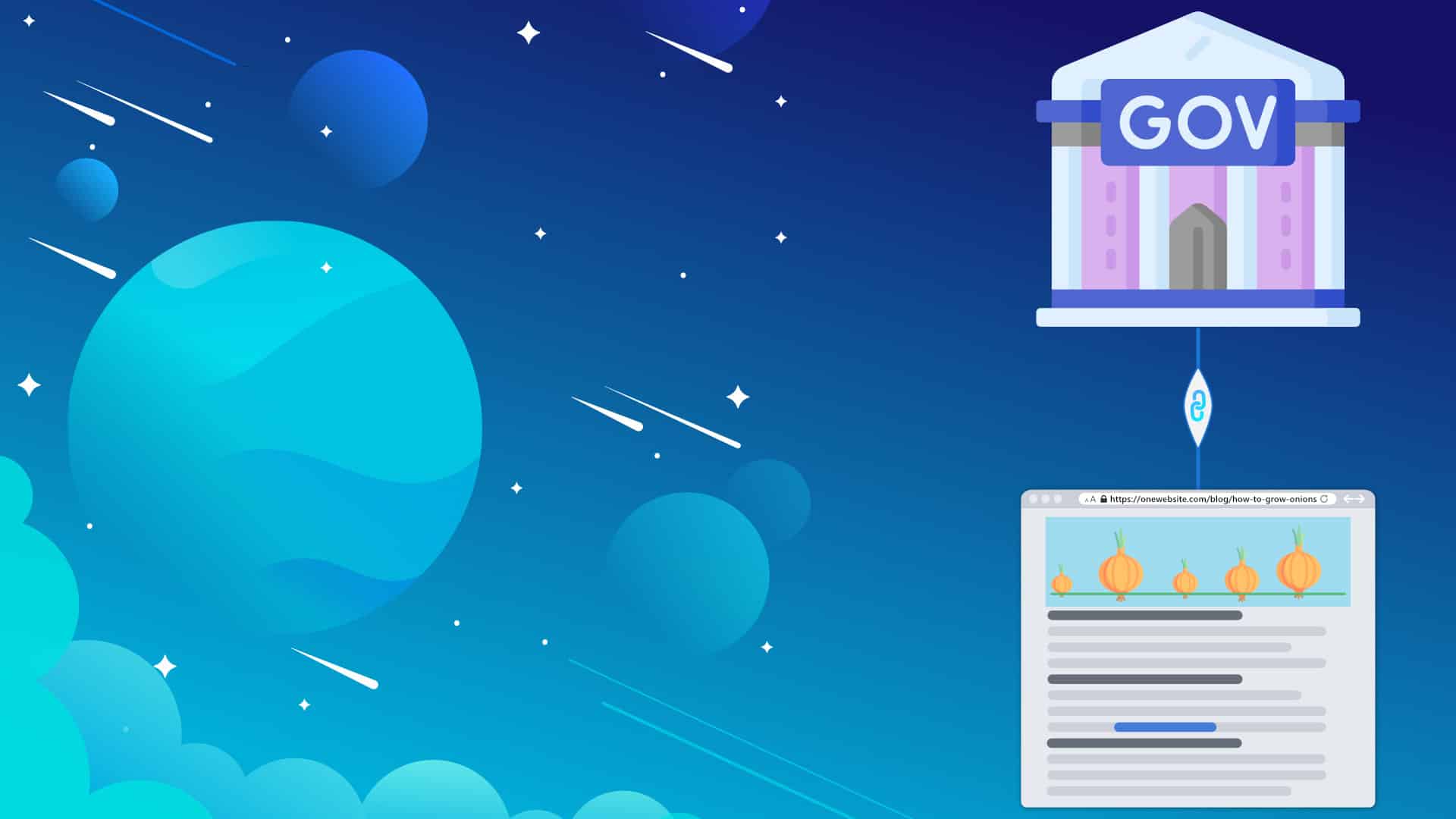 In this article, you will learn some of the best and real ways to get gov backlinks for your own website that actually works and will have positive impacts on your ranking.
And why these types of backlinks are so powerful and why Google cares about gov backlinks more than any other backlinks.
And lastly, you also get some examples of gov backlinks so you can see it's possible to get these and how others got them.
What Are .gov Backlinks?
.gov backlinks are incoming links from websites with .gov top-level domains (TLDs). These TLDs are available solely to official government organizations and public sector-controlled entities to own so the public can easily recognize a trusted government source.
Therefore, any backlink that comes from a website with .gov TLD is considered a government backlink and because of that gov backlinks are of high quality and have a highly positive impact on your SEO strategy as they come from trusted and high authority domains.
11 Best Ways to Get Gov Backlinks (That Actually Works)
If you want to get backlinks from government sites you must think about what would make government users and owners want to link to you.
With link building, especially when you want to get high-quality backlinks, it always comes to exchanging values for each other. So, if you want a government website link to your website, you must offer something valuable to them in return.
Therefore, I am not going to share with you the link building strategies and ways that don't work such as government comment posting, flattering government websites, etc. because these ways don't work and those that wrote about them know it.
Instead, I am going to give you the best ways how you can benefit government agencies which in return can get you backlinks from a government site and even from other authority websites!
Way #1: Resource Link Building
The first way to get a government backlink is by finding resource pages on government websites.
Government sites are made to help people get information and, in many situations, they will refer to more relevant and high-quality sites that offer information the government cannot or doesn't have the expertise.
Therefore, by searching for relevant and local government agencies with external links and resource pages you can try to include your website on these pages.
With that to find relevant resource pages on government sites you can use the following Google search operators:
site:.gov "resources"
site:.gov "links"
site:.gov "helpful links"
site:.gov "links" industry
site:.gov resources
site:.gov links
site:.gov external links
gov industry + inurl:resources
For example:
site:.gov "links" digital marketing
site:.gov "external links" email marketing
site:.gov external links digital marketing
gov digital marketing + inurl:resources
And pop them into Google. For example, I have used this Google string to find relevant resources for marketing: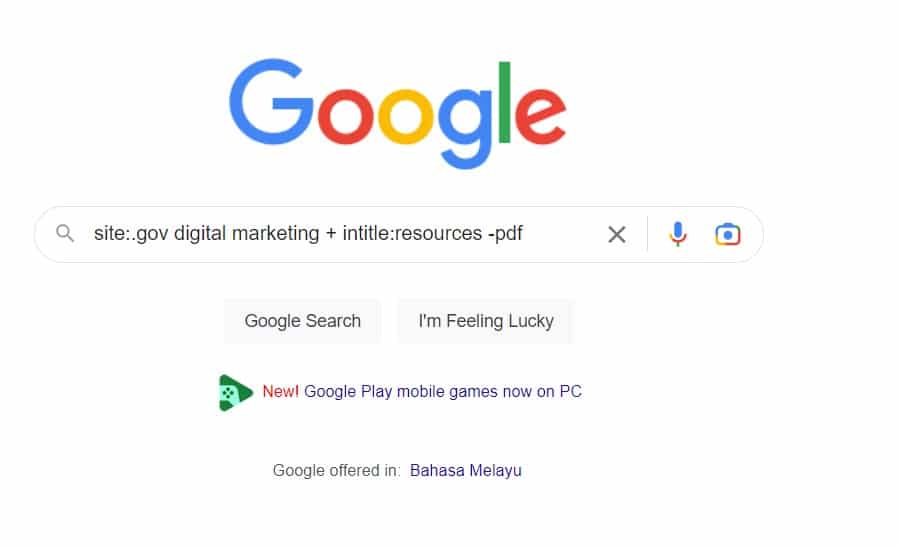 And now I need to scan and open the search results to find any relevant pages where possible I could ask to include my website as one of the resources such as this one: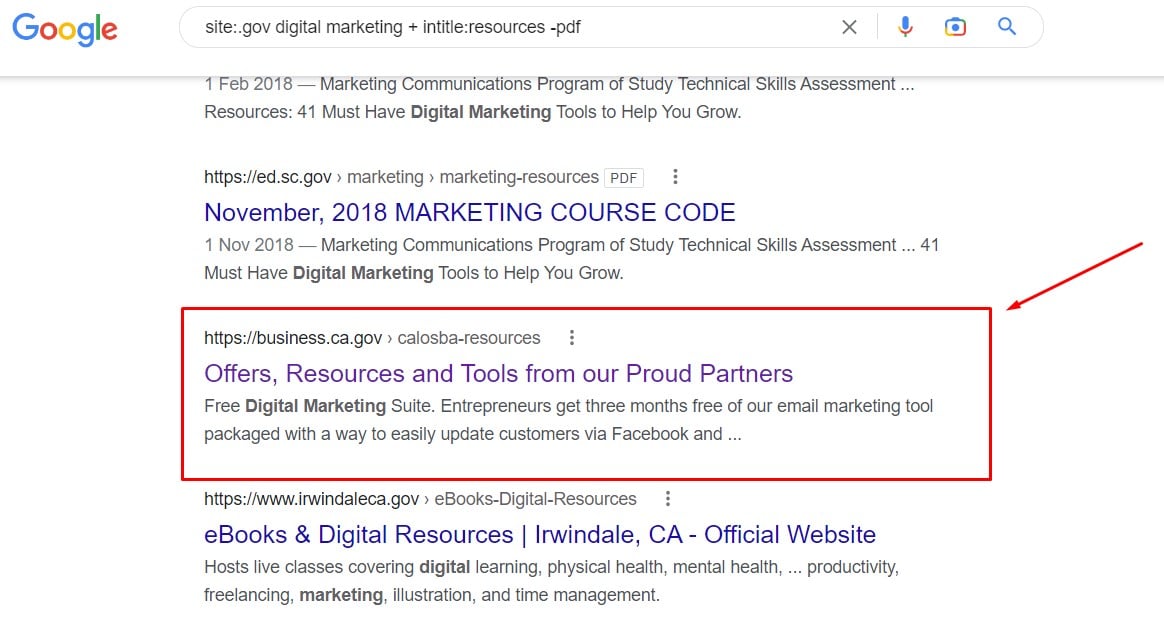 As you can see, here they offer links to a related site within the industry.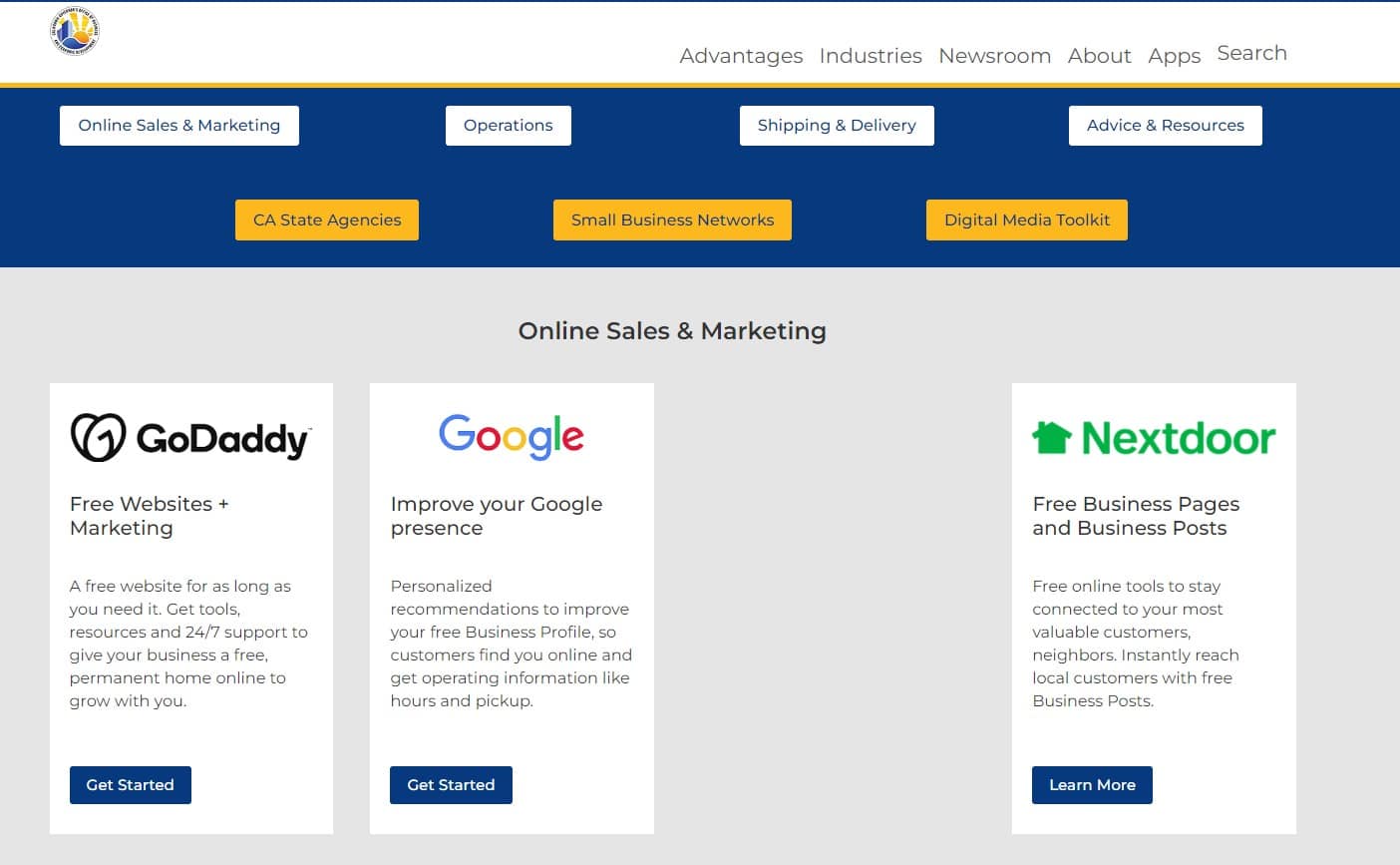 Or here is another example of a resource page on a government website for tech startups.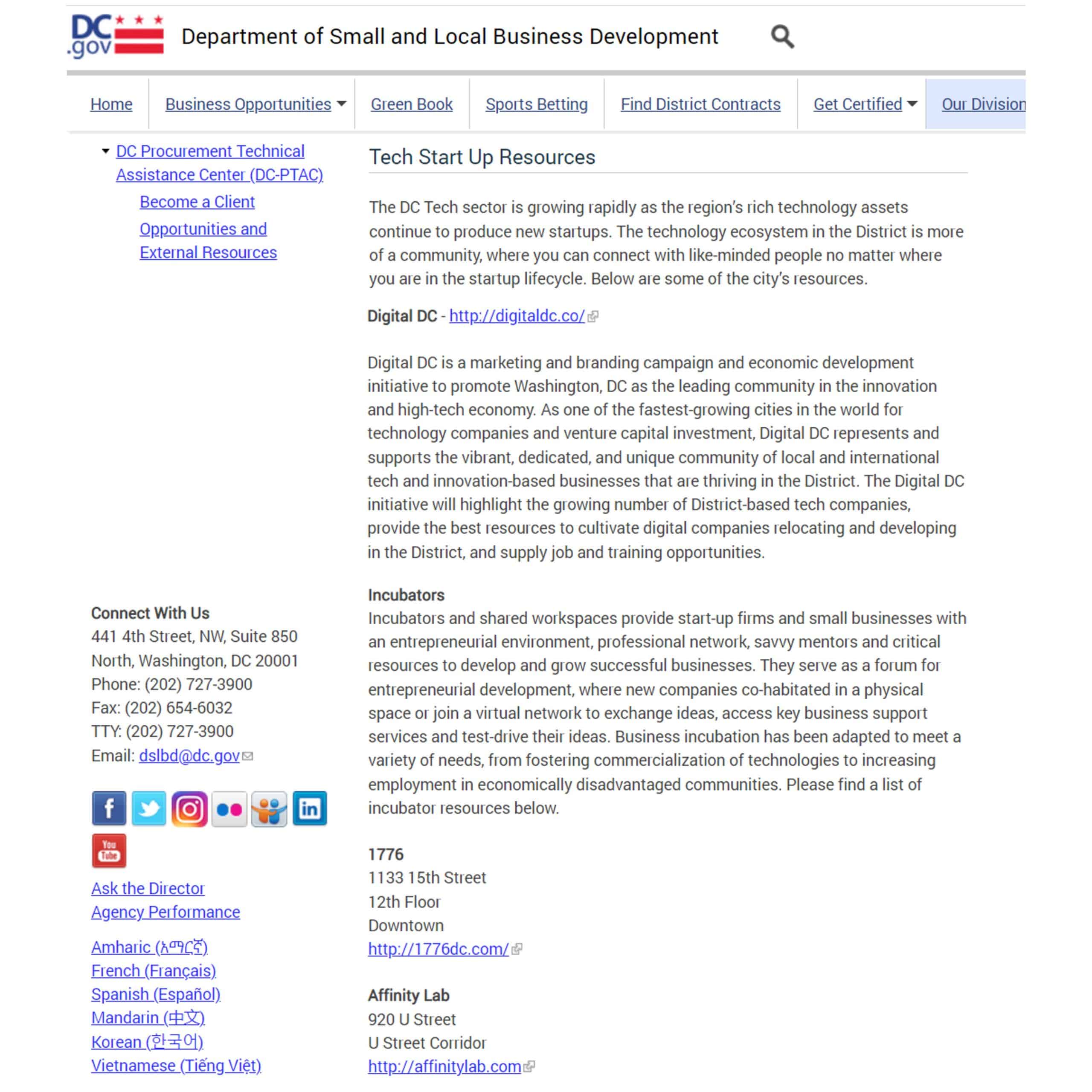 Or the ministry of digital transformation in Ukraine provides a list of Ukrainian technology companies with a dofollow backlink.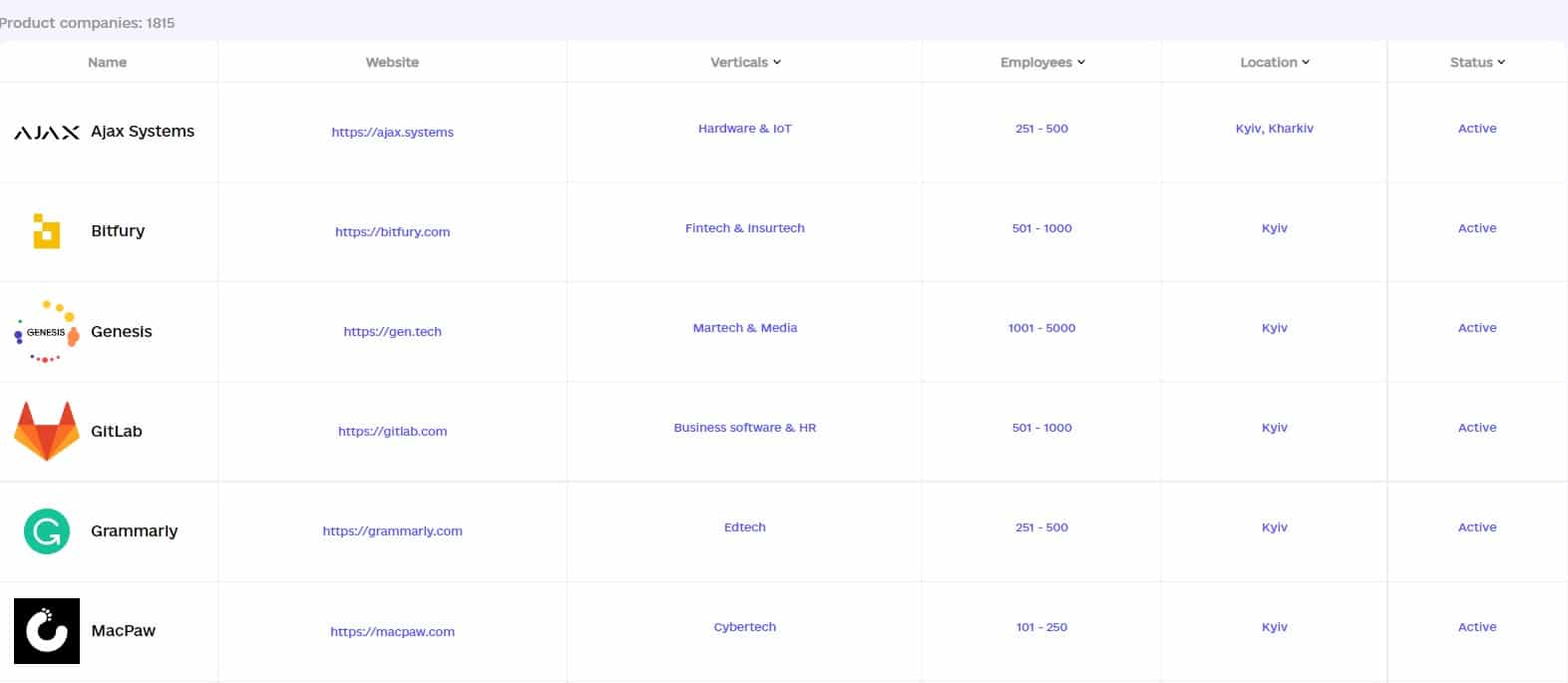 What's important with resource link building for government backlinks is to experiment with the strings, your industry, and keywords as you will find many unrelated sites & pages and it might take some time before you find the resource pages.
Also, even if you do not get featured on their website as one of the resources, you can use that opportunity to discuss other opportunities to provide the help that would get you featured on the government website.
Remember, you can use this as a way to start a conversation with them because they have many ongoing initiatives that you might not find but can get you a backlink from them.
So, use this to at least start a conversation and learn more about what other ways there might be to get you a backlink from a government site.
You also must be persistent as communication with them might be slow or "disconnecting".
Way #2: Interview a Government Agency Member
The next way to earn .gov backlinks is by interviewing somebody from the government to discuss related and trending topics within your industry.
Being in government is the same as in marketing, it's all about who makes the bigger noise.
Therefore, interviewing anybody from the government can potentially land you a backlink from the government site itself.
Of course, this is by chance as it does not happen often but again, remember, this can be another opportunity to discuss more opportunities with government officials and perhaps find other ways to land a backlink from their website.
So, I definitely recommend doing interviews with government members for networking purposes.
Way #3: Partner Up with the Government
The next way to get government backlinks is to partner up with them.
State, regional or local governments are always running different initiatives for their citizens or companies and by exploring these options you can get backlinks from .gov domains.
For example, the City of Irwindale has partnered up with educational websites and companies to help job seekers and learners to upskill and they of course provide a nice juice hyperlink to the course providers.