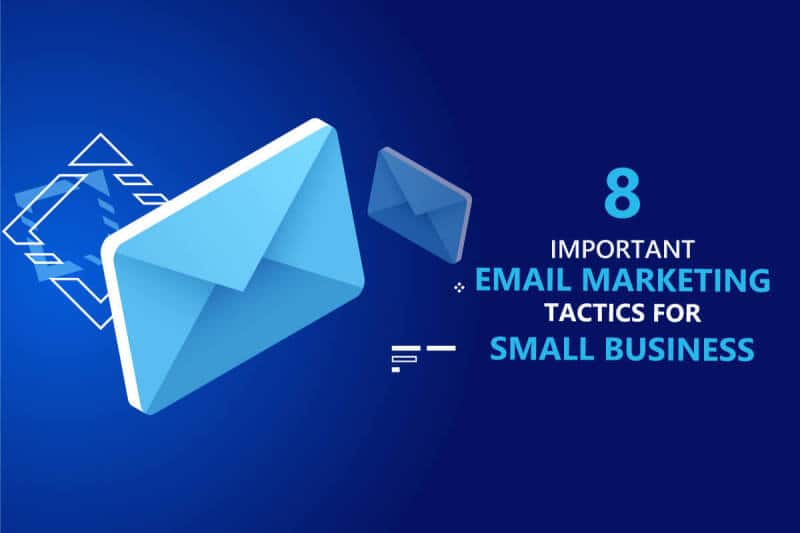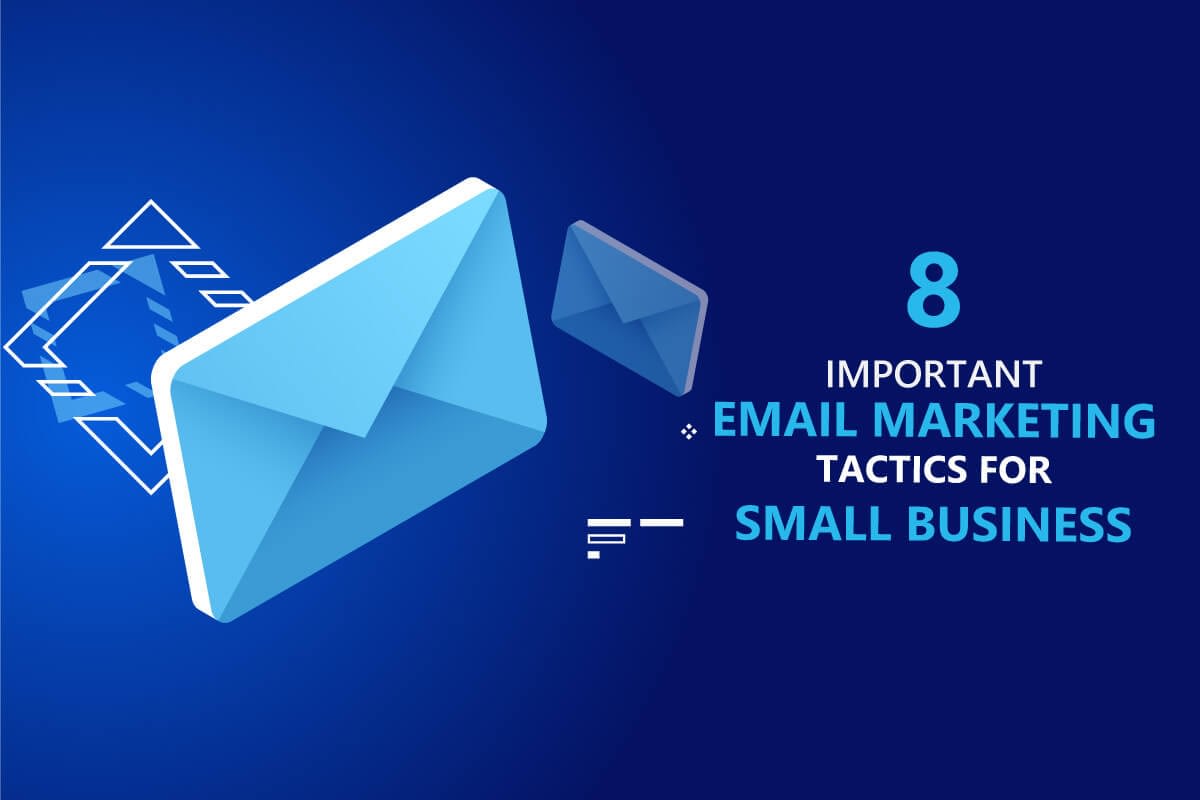 In recent months email marketing tactics for small business showed that are very effective especially during COVID-19 and post-COVID-19 situations for small business.
During this crisis, email marketing for small business was the main strategy many of marketers has been relaying to drive leads and acquisition and keep the business.
And until now the email marketing helps many small businesses to go through difficult times and therefore, I want to share with you my favorite tactics to help you out with your email marketing for small business.
Because your business might be badly affected too from the COVID-19, so in this article, I will share with you my favorite tactics I use for every single email to ensure I get the best results and ROI from my email marketing strategy.
So, let's kick off with the first one!
1. Segmentation for your Email Marketing for small business
Segmentation is a great and necessary tactic for your email marketing strategy whether you are a small business or large business.
Therefore, I have included this one as number one for you to pay close attention to the segmentation of your email marketing list.
Because unfortunately, small businesses do not know how to use their email marketing data properly as according to Website Planet, 49% of SMBs said they don't understand the data they collect, therefore having a difficult time creating proper segmentation.
So, let's discuss what you can do to improve your segmentation and start better results from your email marketing for small business. Because segmentation is one of the email marketing tactics for small businesses that are fairly simple to do but have a massive impact on your email marketing.
So, this is my tips for email marketing segmentation you should know about:
Don't be afraid to ask your subscribers questions on your email subscription forms, as it will give you information to start segmenting.
Send regular emails where your subscribers can update their information to help you further segment the list.
Start Segmenting your subscribers by their interest, location, or other demographics your business finds useful.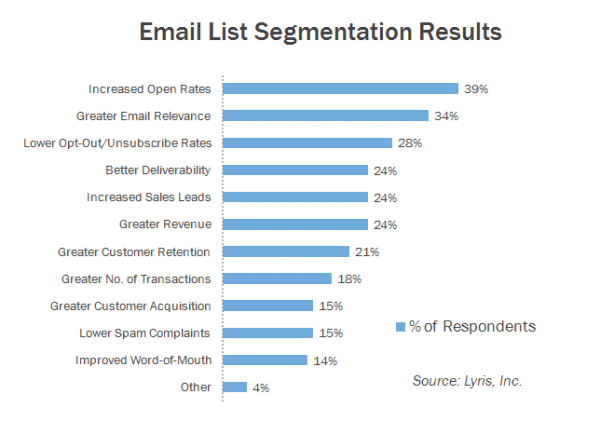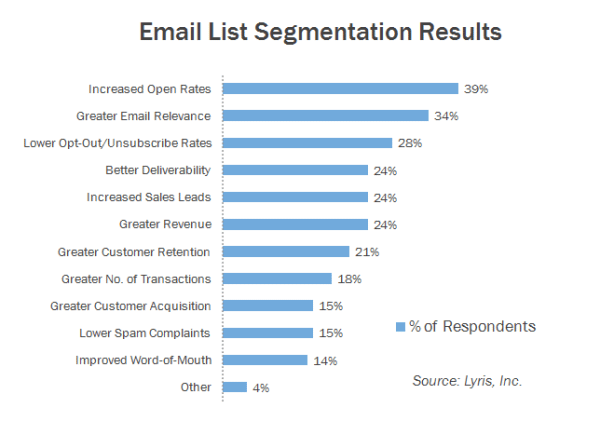 Remember email marketing tactics for a small business such as segmentation can bring astonishing results as according to Website Planet, Properly segmenting your subscriber list can increase your open rates by as much as 39% and for the click-through rate on lead-nurturing emails (8%) is more than double the rate for general emails (3%).
2. Personalization is Key Component for Email Marketing for Small Business
The second from email marketing tactics for small business is personalization and how well you can create a message for your subscribers that feels you talking to them directly.
The reason why I have decided personalization tactics for email marketing is that I have met a few business owners who took their time to segment their email marketing list but then still send generic messages.
Therefore, once you have email segmentation in place, then you need to create personalized messages for each segmented group.
This is one of the very important email marketing tactics for small businesses to drive effectively leads with email marketing.
Because by using email marketing segmentation your email marketing will benefit from:
And this is just a fraction from what personalization for email marketing can give you if you use it properly.
Read more on Marketing Personalization and How to Use It
3. Create Powerful CTA
Using CTA (call-to-action) within your email marketing is the next on our list of email marketing tactics for small businesses.
I guess you probably know about CTA and you should use it within your email marketing strategy for small business.
Therefore, I do not want to talk about that, but I want to rather focus on email marketing statistics to improve your call-to-action within your emails to get better results.
According to Campaign Monitor, In most cases, it's best to stick to a single CTA. Doing this helps to reduce your email clutter and makes the next step easier for your readers. Plus, emails with a single CTA receive 371% more clicks compared to those with multiple calls to action. However, if it is a content-oriented CTA, it might be good to have a primary button, with secondary options that are less bold to give a few more options.
Of course, your CTA has different aspects such as:
Color
Shape
Text
Position
But you must remember the number one principle of using CTA within your email marketing and that is, you must create related CTA for your email, as this can bring 90% more CTR than using generic such as Learn more, Download here, etc.
Your call-to-action must be bold in every sense, your messaging, positing, shape, and color must work to get optimal results from your email marketing.
Therefore, CTA is as well important within email marketing tactics for small businesses.
4. Images & Videos in Email Marketing for Small Business
Visuals are important to be used in email marketing because people are more visual creatures as it seems that our visual sense is the most important out of all our senses.
Therefore, using images & videos is the next between important email marketing tactics for small business.
As I said, people are more visual creature and the prettier things look the more likely it will capture people's attention.
That is why using images & videos within emails has a positive impact on your email marketing strategy to improve your results.
As according to AB Tasty:
An email including a video can increase your email click-through rate by up to 300%
An email including a video can reduce your unsubscribe rate by 75%
Emails including a video have been found to have a 96%higher click-through rate than those without
Of course, each statistic has a bit of space to work with as it all depends on what industry you are in, for example using videos or pictures for a cake shop and flower shop, it can have an even better impact.
That's why many small businesses invest in camera equipment and some photoshoot classes to get nice pictures for their products or services.
So definitely don't forget to include this within your email marketing tactics for small business because one picture can say thousands of words and that's a lot of words that can sell your products or services.
5. A/B Testing
The next in Email Marketing tactics for small business is A/B testing and why you should start doing it.
To be honest with you, I have work with a couple of small businesses that had a pretty good sense of what to do with their email marketing, but they never did it.
And most of the time the A/B Testing tactic for email marketing is one of them, even thou it is an important tactic to consistently drive better results for your email marketing or any other marketing activity.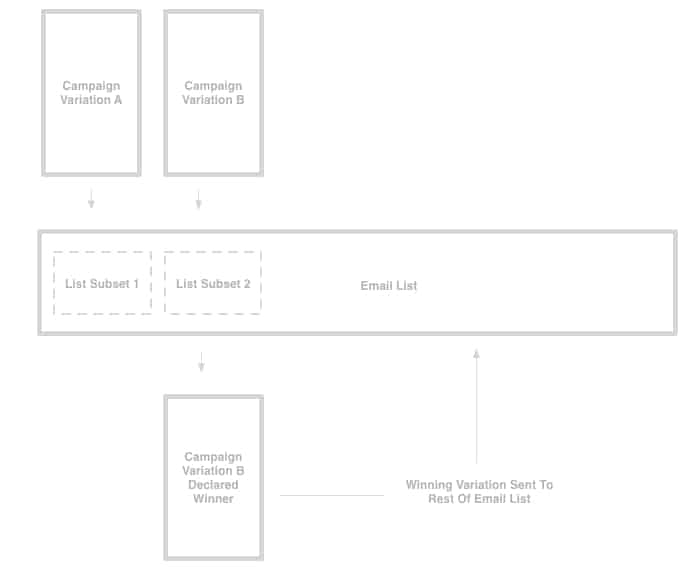 (Image source)
I even recommend the A/B/C tactic if the email list is big enough for it to get enough information.
So why many small businesses do not do that? Well, the reason I hear the most is that they are too busy to run the A/B test as it requires twice that work.
Which of course is not true, things like changing headline, picture, CTA, etc. do not require any extra time or barely.
That is why sometimes marketers and business owners just have this stigma that A/B testing is too big of a load for them. But it is not.
Therefore, another very important email marketing tactic for small businesses is A/B testing as it simply improves your email marketing without really trying hard.
Trust me, once you start A/B testing you will start understanding your subscribers much better.
6. Frequency
The next between Email Marketing tactics for small businesses is the frequency of how often you are sending emails to your email list.
This is where it gets a bit tricky because it has so many factors you must consider determining your email marketing frequency, for example:
The industry you are in
Purpose of the email campaign
The time of the year
Current trends & challenges (For example during COVID-19 email marketing saw boost)
Target audience
So It is really hard for me to give you any specific answer within this article, but if you need help you can reach me out here: Let's talk So I can give you personalized advice based specifically on your email marketing.
Either way, the frequency is very important for your email marketing as it can kill your email if it has the wrong timing.
That's why you must pay close attention to your statistics or if you are just starting to start with some general recommendations for the best time to send emails.
Here are a few articles to help you:
So, check out these articles, I read all of those and personally those my recommendation for you to get a better idea of your email marketing frequency.
7. Responsive Design
Responsive design for your email is the next tactic between our email marketing tactics for small businesses.
In today's world, your subscribers are more likely to read your emails on mobile phones rather on desktop or tablets.
81% use a smartphone for regularly checking emails. 21% use a tablet. Smartphones are the most common device especially for younger individuals (less than 35 years old) and females. – Adobe "Email Use 2017 – US Report" (2018)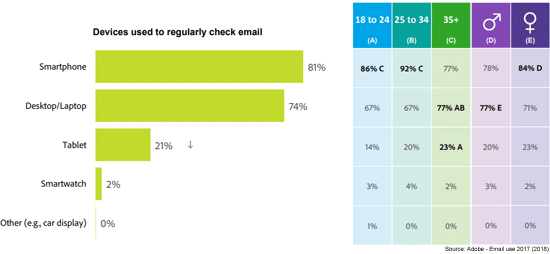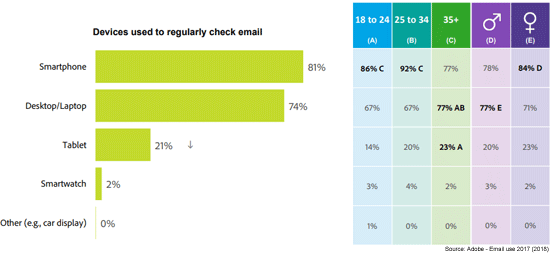 Thanks to the new technologies it is more convenient to check your emails on your phone, whether you are at a home, office or on the go, checking your emails on your phone is just simpler.
That's why your emails must be responsive to different types of screens, especially to mobile phones as when 37% of in-store retail sales are influenced by a shopper using a mobile device (Deloitte)
And not just that but email is always read first on mobile for an average of 25,6%. 40% aged 14-18 will always read emails on mobile-first, 29% for ages 19 – 34, and 8% of the group of 56 – 67. – Adestra "Consumer Adoption & Usage Study" (2016)
So, if you are not yet using a mobile responsive design for your emails you should start implementing this tactic as these numbers are going to rise year by year.
And therefore, it will or already it does affect your email marketing strategy.
8. Social Media Icons
The last for email marketing tactics for small businesses are including social media icons within every email.
Your subscribers expect your brand to be flexible and active on numerous channels and they like to read your emails and go on your social media to see you there too.
Therefore, including your social media icons within your email can boost your engagement rate and follow just by adding it within your email.
Of course, this one is the simplest between email marketing tactics for small business and many times overlooked by many small businesses.
That is why I have included this last tactic for you if you do not use it yet.
As I said it is a simple tactic but don't think it is not effective, as it can just easily drive your traffic and give you more ways to interact with your customers and leads and therefore create your signature with social media icons will boost your email marketing, SEO and overall digital marketing.
Recommendation for Email Marketing Tools for Small Business
Over the years I have tried many different email marketing tools and each of my clients have different email marketing tools they use.
Therefore, I had a chance to try most of the commercial email marketing solutions from the small one to the big one.
That is why I want to share my recommendation for email marketing tools for small businesses to help you get started without spending extra money on something you do not need or even worse missing essential features for your email marketing.
So, this is my 3 favorite recommendation for email marketing tools for small businesses.
Conclusion
These Email marketing tactics for small business are selected to be used with every single email you will send to ensure good results.
Of course, we can go much deeper than that, but I assume that your small business has a limited marketing staff and therefore it could be very difficult to manage it for you.
Please read it through again this list of email marketing tactics for small businesses whenever you needed or creating new email marketing campaigns or email marketing automation.
Remember, that the most important aspect of every email is to provide the most relevant and helpful offer to each reader.
If you manage that, then the rest is a nice addition to boost it.
Also, if you need help with your email marketing you can contact me for my email marketing consultation here on this link: Let's talk
Related Resources:
Sources:
I acknowledge every source I use for my articles and appreciate their hard effort to share their knowledge, expertise & information across with marketers like me! Btw if you want to link to my website, you are more than welcome! 😊
Disclaimer:
Some pictures are coming from Freepik and some of my links are affiliate links, which means if you purchase something, I might get some small commission as a reward for reference. Of course, I am actively using all these services and products and I only affiliate products or service I have full trust in their quality!