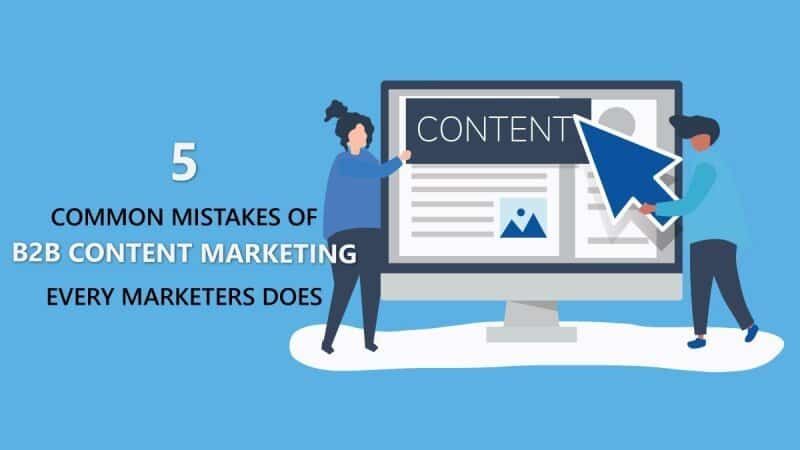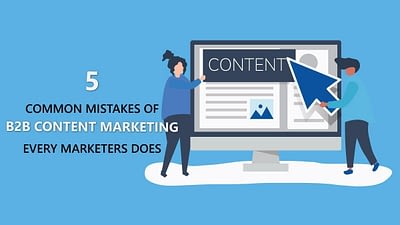 B2B content marketing has brought many benefits to the business especially in the past 2 decades when the internet starts booming.
Since when the internet started becoming more and more popular marketers having more opportunities to share the content with the targeted audience a bring more people and leads to the business.
Places like social media, forums, emails and blogs, and many others giving us a wide range of platforms where b2b marketers can promote the content and bring more leads.
With such opportunities for business to scale and create high ROI, more b2b marketers have started a content marketing strategy in some way.
But not everybody has known that there are some rules which you should follow to create a successful b2b content marketing campaign.
Especially when the popularity of this strategy exponential grows due to such a high effectivity and relatively small investment.
Honestly, it's hard to find better ROI from marketing campaigns rather than is content marketing. Hence only very few took the time to properly learn the tactics and strategies of content marketing to become really successful.
Therefore, before you start anything, first learn what it requires and what it makes a successful b2b content.
But many b2b marketers have failed because they didn't know these 5 common b2b content marketing mistakes which you should avoid so you can harvest all the benefits of b2b content marketing.
Related Article: The Complete Guide to B2B Content Marketing in 2020
1. Being Inconsistent
The first mistake that marketers do is being inconsistent. if you want to have a content marketing strategy you need to make sure you can stay consistent day by day week by week depending on the platform you have chosen.
Of course, each platform requires a different posting, some are less often and some more often, it all depends on the type of platform you choose.
For example
B2B Blog is usually on your website run by you or your chosen agency. The best is to post 4 times a week with longer 2-3k count words. But the content needs to be valuable, otherwise, it won't work.

Statistics about B2B Blog you should know

On the LinkedIn platform, you should be posting once a day between 10-11 am which is the best time to post by coschedule.com.

Statistics about LinkedIn you should know

LinkedIn is the most-used social media platform amongst Fortune 500 companies.

LinkedIn is the #1 channel B2B marketers use to distribute content at 94%.

LinkedIn makes up more than 50% of all social traffic to B2B websites & blogs.

Twitter platform with the short tweets you should be tweeting (posting) approximately 15 times a day. It maybe sounds a lot but, these short messages are easy to write and prepare and it's recommended to retweet about 7 times a day by coschedule.com.

Statistics about Twitter you should know

YouTube is a video platform where you post only videos. Another great b2b platform. Here you should be posting approximately 1-2 a week around 2-4 pm by coschedule.com.

Statistics about YouTube you should know
All these can bring you amazing results, but you need to keep consistent over a year to see the actual result for your business.
Otherwise, if you invest in a few resources and post once a while when you feel like, most likely your content marketing will not skyrocket, and it will stay flat.
2. Not Being Patience
Usually, right after I tell my clients to post regularly, they make the second mistake when they are starting their b2b content marketing strategy and that's not being patient.
Like I already said, content marketing requires time and persistence, even if you would keep posting consistently over the next 2 months, still you wouldn't succeed.
I am not saying you should choose all the platforms and start consistently posting on each of those, just chose one and set a goal to be consistent at least a year!
I promise that if you keep that, you will bring good results. Not the best, but you will already recognize the power of b2b content marketing.
Companies that blog 20 or more times in a month see the most return in traffic and leads (source)
Businesses that blog witness their monthly leads rise by 126% more than those who don't
B2B companies that blog more than 4 times a week see the biggest increase in traffic and leads (source)
69% of businesses attribute their lead generation success to blogging (source)
Again, yes it takes some time, but blogging is not that expensive and once you get hang of it, you will find that the results are far greater than the effort.
3. Too Much Selling
Content marketing is about being helpful to the reader. This is an essential part of writing any kind of content you want to promote.
If your content is not helping people, then they will skip it and move somewhere else.
Why?
Because people are turning to Google when they are searching for a solution, over 89% of all searches are relating some kind of problem.
Only a very few people come to actually buy something and when they do, first they do the research and that especially applies to b2b companies as the products are expensive and deep research is usually conducted before is anything bought.
Which where to gold is hidden. If you are the one, who will be educating the prospects when they are doing a search for the solution, most likely they would buy from you.
You just need to make sure you are the main source of information.
You are the expert and you create trust. So, do not be too salesy and offer help for free with educational and helpful content.
4. Not Promoting Content
Look, when you spend a lot of time creating helpful content does it make sense not to promote it? It takes so little and it brings so much.
Many marketers actually never promote the content which is very important, especially in the beginning when you have no or minimum traffic.
When you do not have any traffic, it is essential to first bring the people from faster sources rather than organic, because organic traffic can take over 40 weeks to actually start coming.
You need to think to help it with promoting on social media to bring quick traffic and give search engines the first signal about your content.
This is very important, so make sure, that in your strategy you actually included the promoting part as it can hurt you or slow down the process if you don't.
There are many places you can promote your content, whenever you are participating in events or between your partners.
The sky is limit, with access to so many sources, you can
start generating traffic very soon and later decline it once, your SEO hit.
5. Creating Useless Lengthy Content
Creating longer content has been already established that it works better to bring more traffic thanks to more keywords you can rank for on search engines.
The optimal blog post length is between 1,000 – and 1,500 words by databox
Recent statistics say that 67% of all click go to the first five organic search results by Advanced Web Ranking.
With these two statistics, most of the marketers just start stuffing words into their articles to just hit 1,000+ words and get the actual number.
But remember, you are writing the content for people, or at least you should!
Nowadays the search engine algorithms are smart enough that they can recognize whether you just write full of crap on your website to just tick all the SEO boxes.
Remember, the length is important but you still need to create helpful and smart content for your readers otherwise it will fail, no matter how long your blog post is.
To avoid this mistake because you would just waste your resources if you can't provide helpful content.
Because based on Google,
Helpful Content is #1 Ranking Factor!

Google
Summary of 5 B2B Content Marketing Mistakes
When you start with your first b2b content marketing campaign you will make tons of mistakes, but that's fine as long as you will stay consistent for a longer period of time.
Also, when you do your best to create the best possible content and teach your target audience with the best you have got, you will see the results and you will learn and become better with each written and published article.
Just try to avoid these common mistakes that will cause you to fail your entire b2b content marketing campaign.
As long you will keep doing your best, you will find your audience, there is plenty of space for everyone.
Yes, there are more and more bloggers but over 75% of them still don't know what they are doing and it requires skill to learn and master.
So, let me know if you have any questions or need help!
Related Resources
Resources: