Are YouTube Backlinks worthless of your time or do they have an actual SEO value for your website by increasing your ranking and driving more traffic to your website?
Does YouTube actually provide dofollow backlinks and if so, where can you get them?
All this and more you will learn in this article!
What are YouTube Backlinks?
YouTube Backlinks are incoming links from a YouTube website to your website and can be placed in your videos and your YouTube channel in order to create relevancy between these two online channels for search engines to associate them together.
Do YouTube Backlinks Work?
YouTube backlinks do work for website owners to create higher brand awareness and online visibility, increase referral traffic and brand recognition, and drive more sales or conversions or can be applied to achieve other marketing objectives.
YouTube backlinks can be used in numerous ways to achieve certain objectives. The common objectives of YouTube backlinks are:
Include affiliate links: Many creators are using YouTube for affiliate marketing, which can greatly boost affiliate sales. These links are typically placed in YouTube descriptions or comments sectioned and pinned.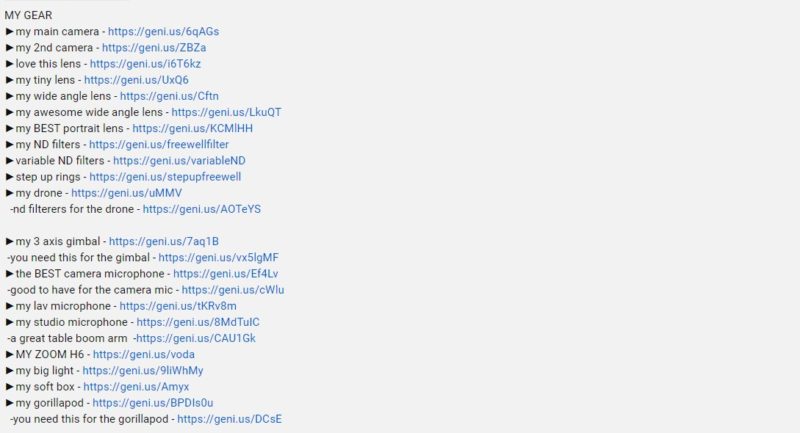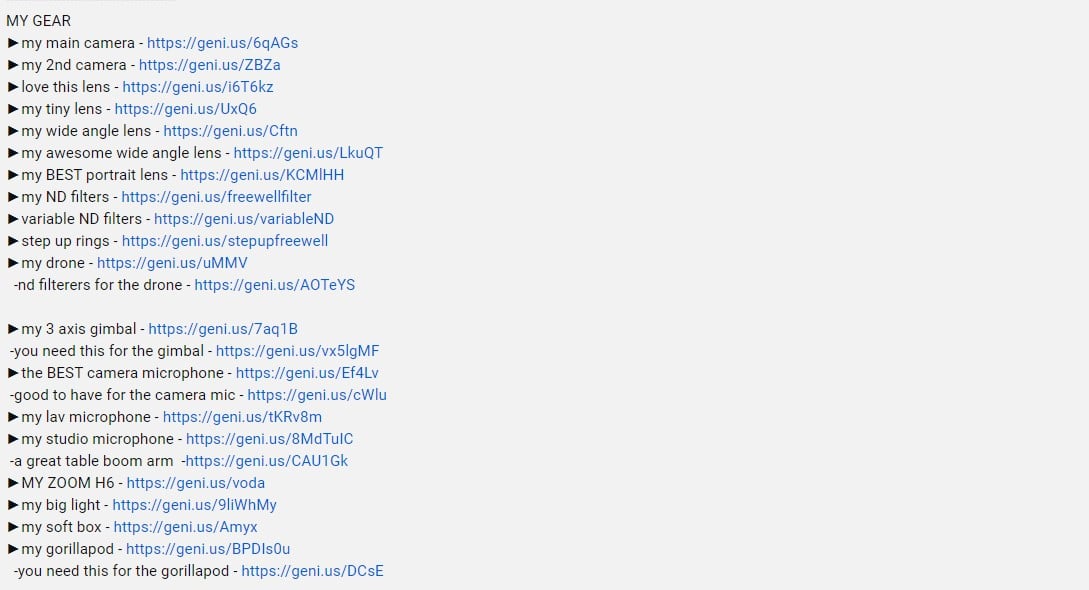 Include product links: Many brands use YouTube for product or service videos. This can be to explain what's their product, the new updates, how it can be used, etc. Typically, brands will provide a link to their products/services in the video description.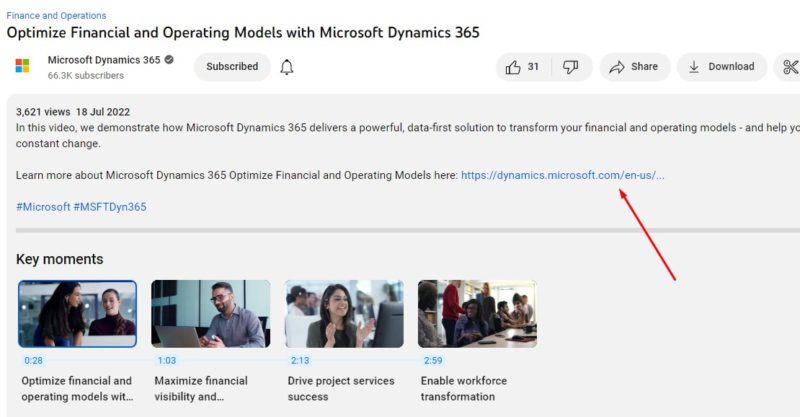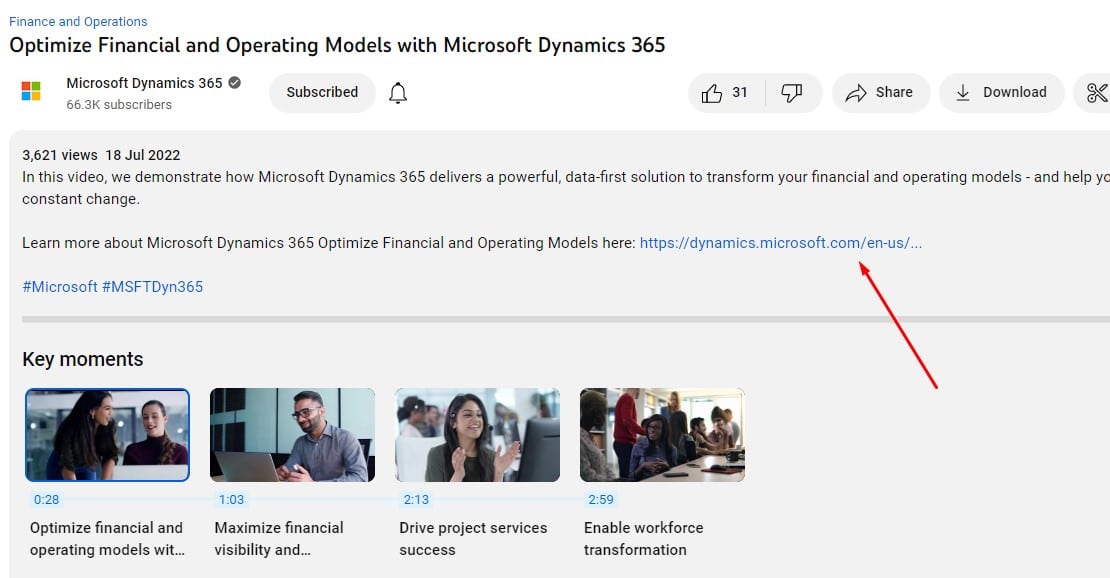 Provide more information: YouTube is an excellent way to educate your target audience and adding useful links under your videos is another way to include YouTube backlinks pointing to your site. This can be to your blog posts, downloadable resources, case studies, etc.


Because YouTube backlinks are so widely used by companies and creators, they obviously do provide certain benefits and ways to achieve your marketing objectives.
So, whatever is your marketing objective, YouTube backlinks can help you with that.
Are YouTube Backlinks Good for SEO?
YouTube backlinks are not good for SEO in terms of increasing website authority or PageRank to improve ranking for SEO keywords in search engine result pages (SERPs) because these links are unnatural and everybody can easily create them for their own website.
And Google barely tracks those links.
For example, I have included YouTube backlinks in every of my YouTube video description, as well as in my YouTube channel and other places.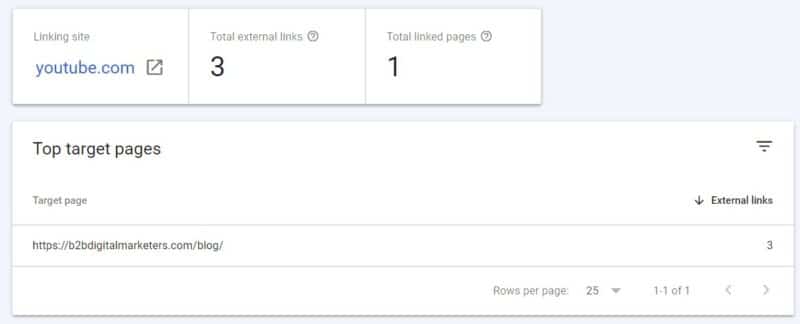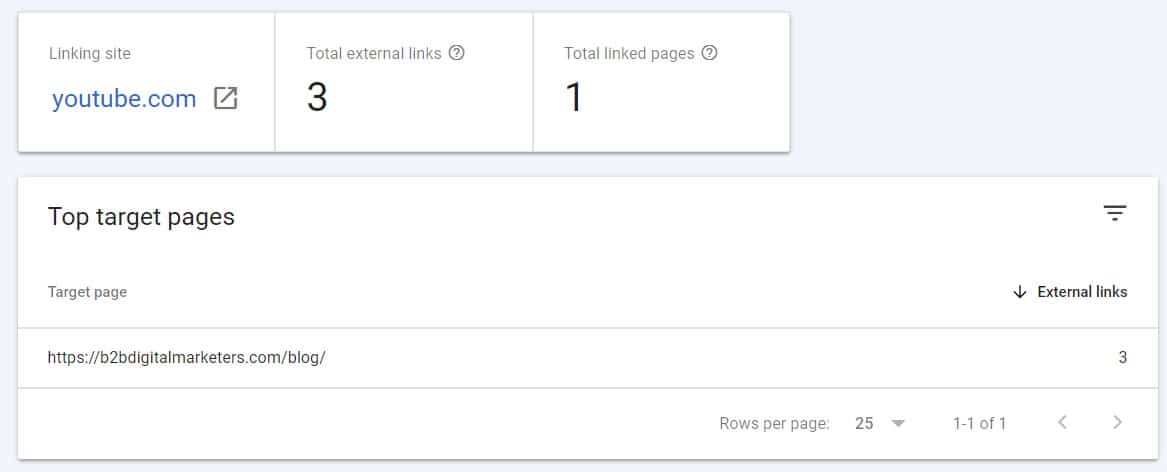 And SEO tools do not even display these backlinks in their backlink checker dashboard. For example, SE Ranking does not show any of my YouTube backlinks.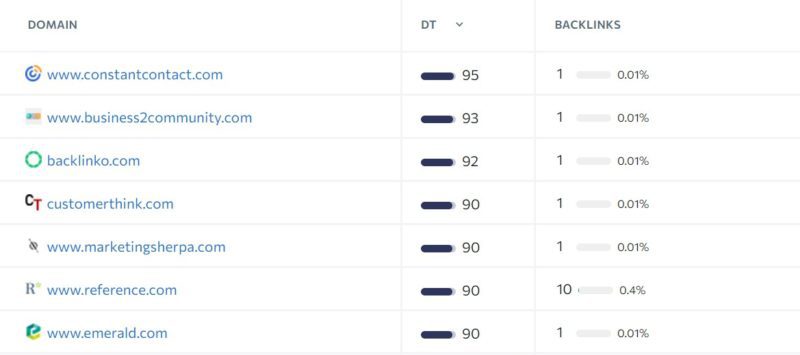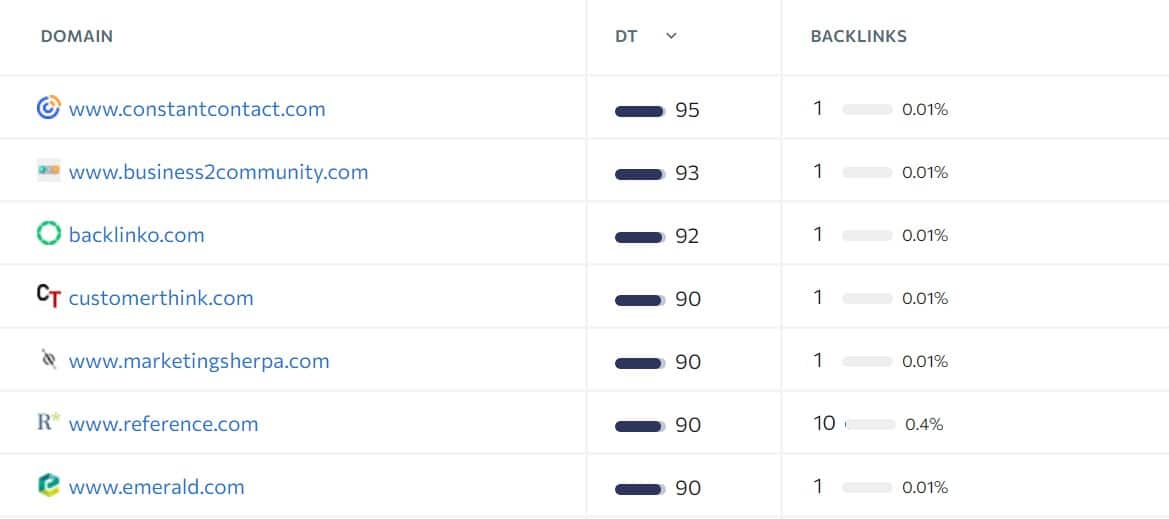 Or even Ahrefs does not show YouTube backlinks as well.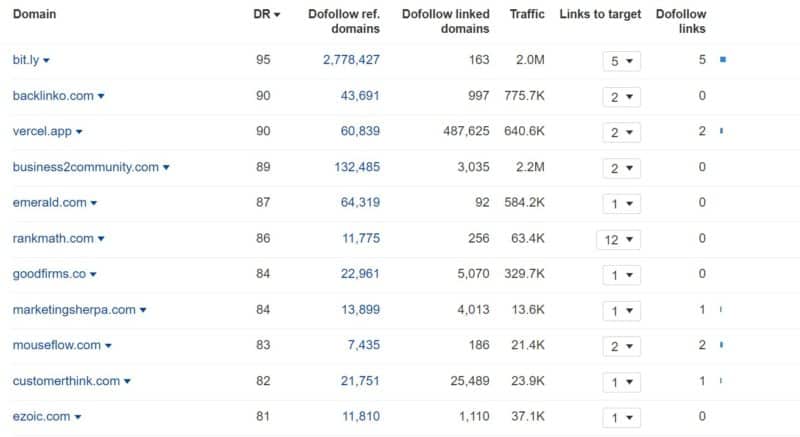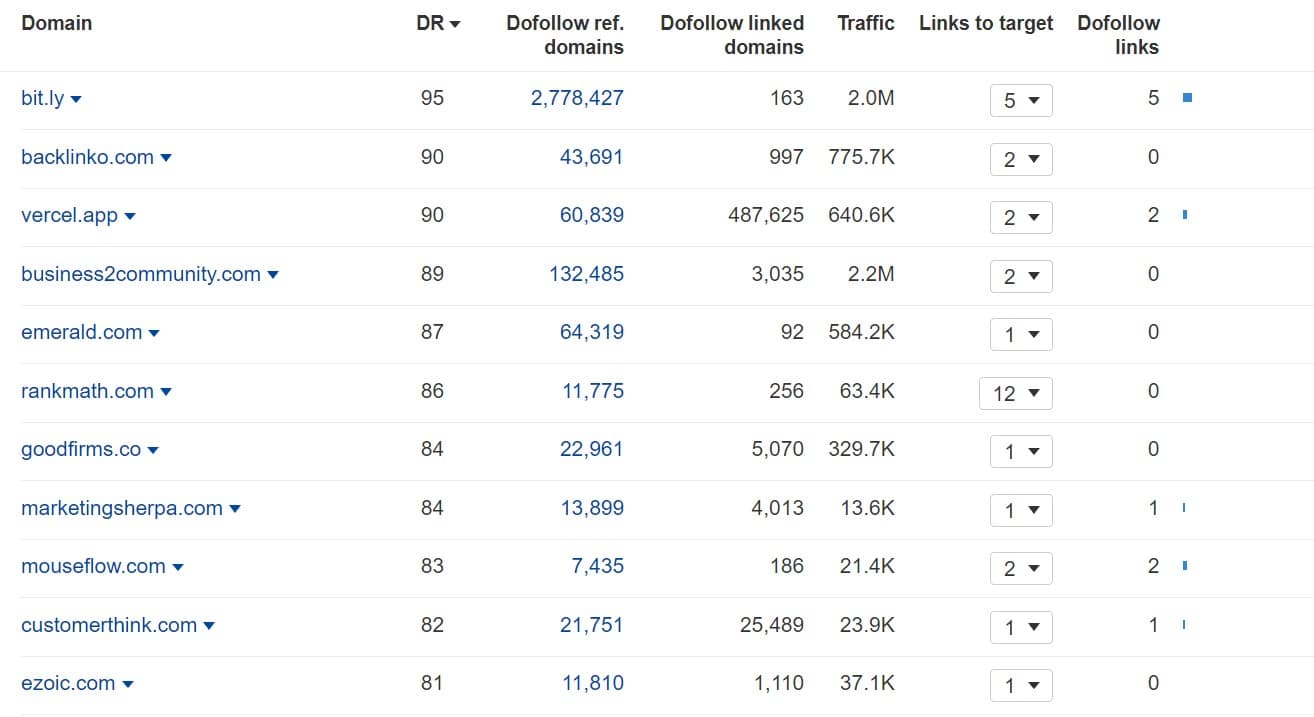 So, this shows that YouTube backlinks are essentially worthless in terms of boosting your website authority the same way you would do with link building strategies such as guest posting, link insertion, resource link building, or with HARO. The same applies to Google My Business backlinks.
Where to Get YouTube Dofollow Backlinks?
There are no dofollow backlinks that you can get from YouTube even if YouTube does not exactly state that the link is Nofollow.
First of all, Google is having pretty clear track of backlinks across the ecosystem of the internet of websites and they can recognize what backlinks should be nofollow and what backlinks should be dofollow.
For example, if you look at the link from the YouTube channel page: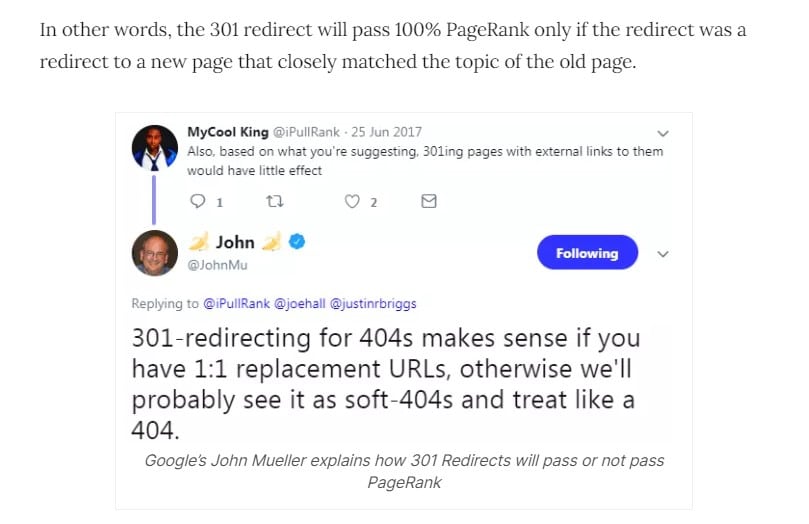 Therefore, YouTube links in the banner and YouTube About section should eventually pass PageRank as they are redirected and do not state they are nofollow, sponsored, or UGC.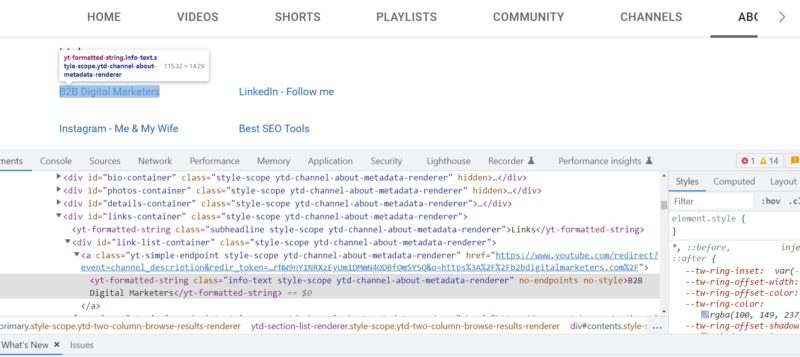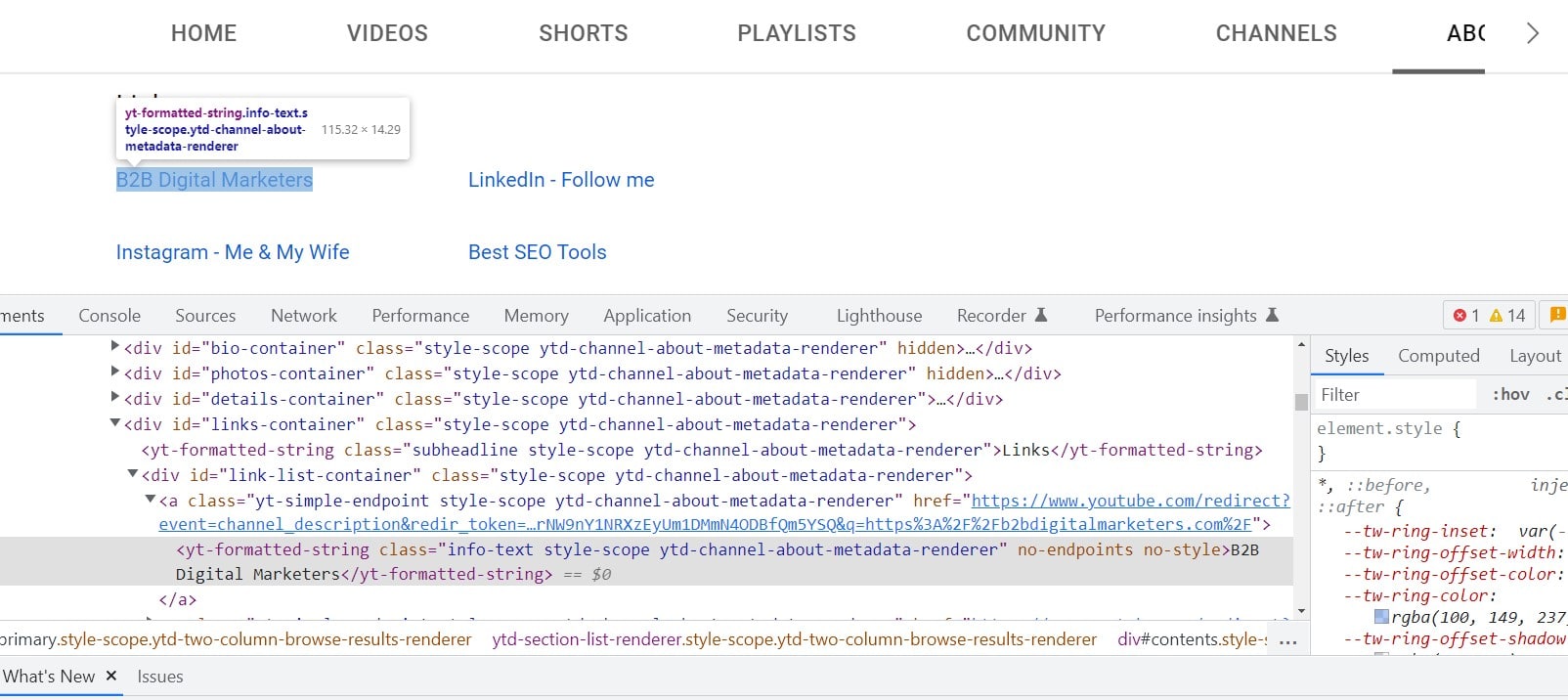 However, as you could see from my GSC links section and SEO tools, these links are not being tracked. So it's safe to assume that these links are essentially nofollow and do not pass any link juice.
Now, of course, if you are running a YouTube channel, you should still include links to your website even if it does not pass PageRank.
It still helps to diversify your backlink portfolio, which you can't go wrong and it can still help you, which I explain later on.
Where to Get YouTube NoFollow Backlinks?
Basically, every YouTube backlink that is generated by YOU is a nofollow. I will show you later all the sections where you can place YouTube backlinks and all are nofollow.
Therefore, you cannot get a dofollow backlink from your YouTube channel be it your channel page, or videos.
But again, these links still can have value for your SEO, just in a different way.
How Do I Get Backlinks from YouTube?
There are several places where you can include a backlink from your YouTube asset to your websites such as your channel page, about page, video description, and others.
Of course, all these YouTube backlinks do not provide PageRank but provide exposure to your website. Thus, you should utilize all the places.
With that here are all the YouTube places where you can place a backlink to your website:
Channel Page Backlinks
The first place where you can pop a backlink from YouTube is on your channel.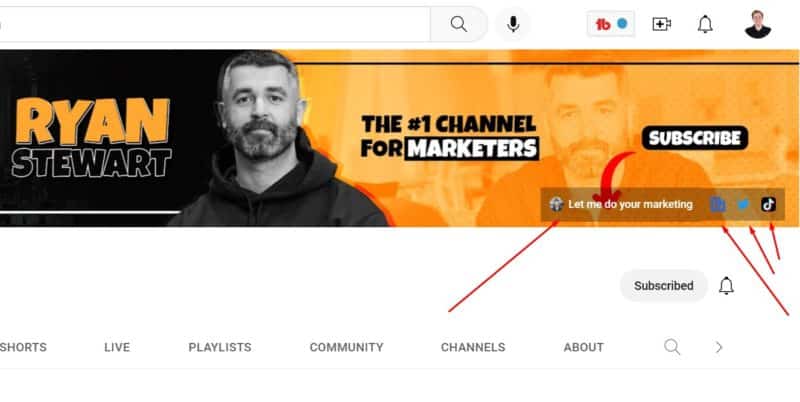 As you can see, Ryan knows the links do not bring any link juice but are valuable in other ways, that's why he uses these links in a much better way.
So, to add links to your Channel page go to your YouTube Studio -> Customization -> Basic info and scroll down to the "Links" section.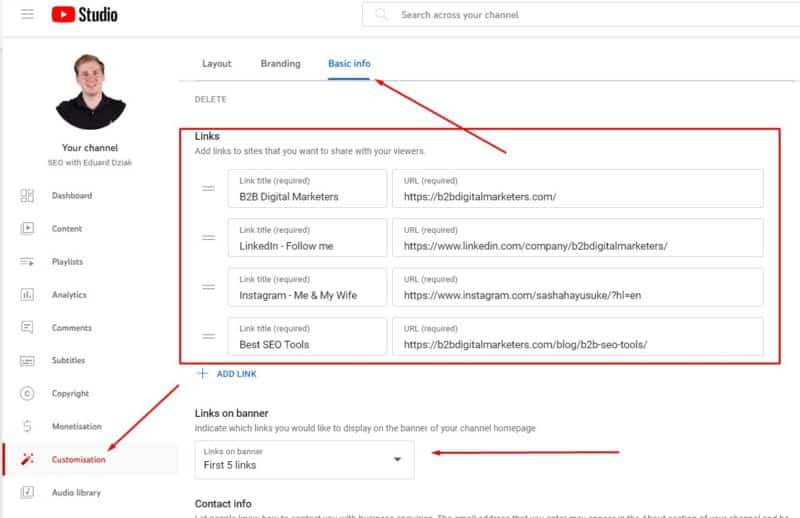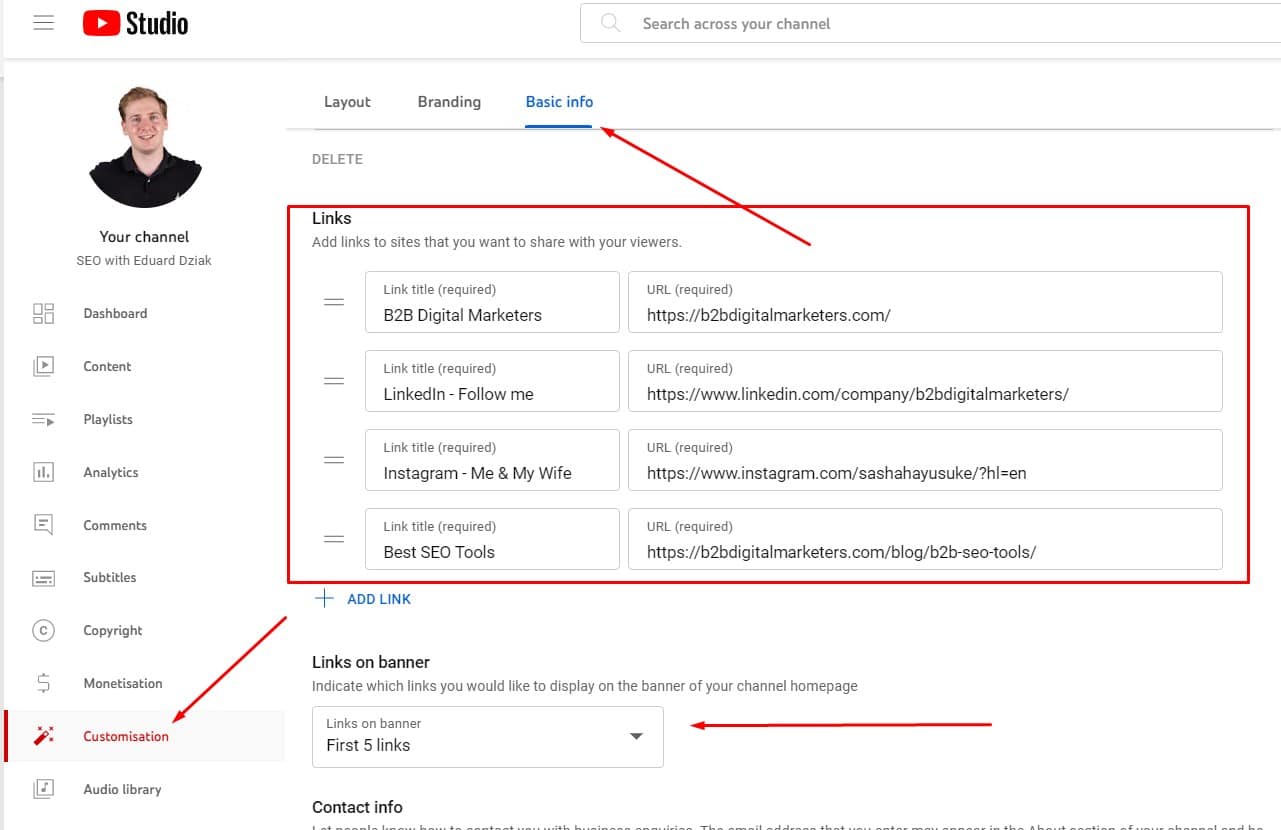 And here you can add up to 5 links and decide how many of these links will be displayed on your YouTube banner.
About Page Backlinks
About page backlinks are another place where you can place your backlinks.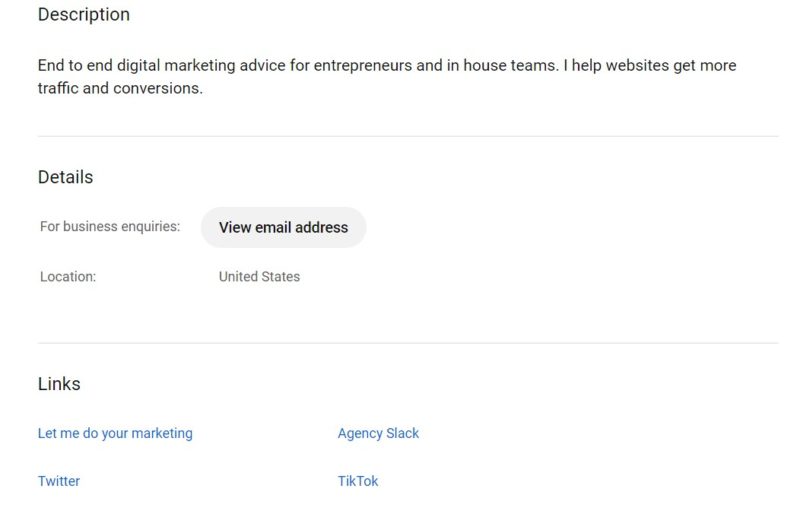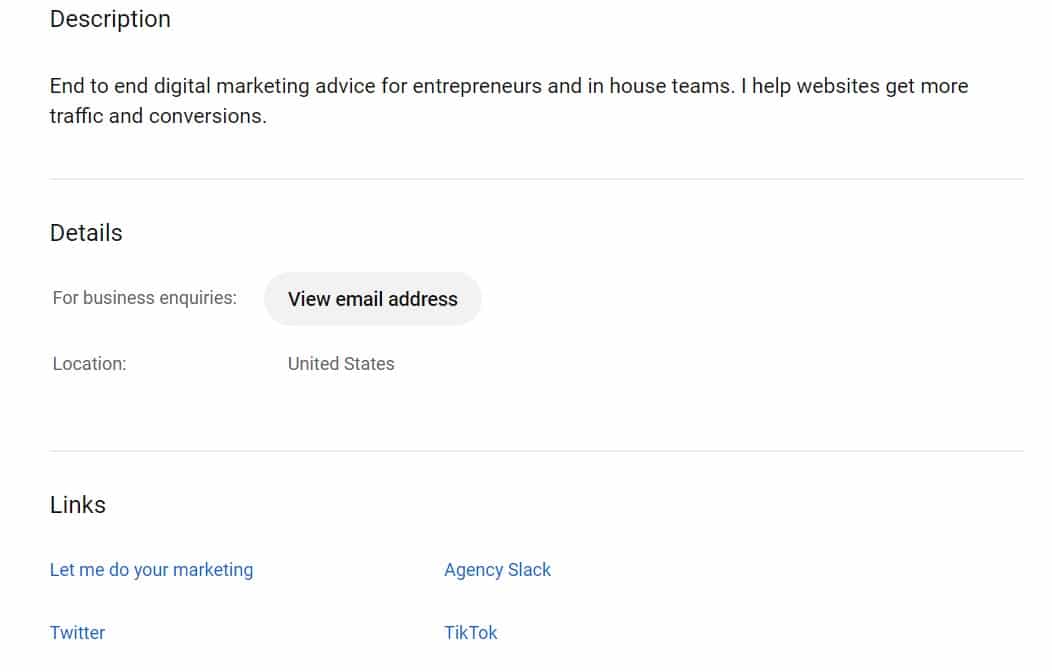 This is basically all the links you have posted on your channel page and it's just a different location.
So, the way how to add backlinks to YouTube about page is exactly the same as adding links to your YouTube channel page which I just showed you.
And not, you cannot customize this and have different links on your banner and About us page.
Card Backlinks
Another place where you can add YouTube backlinks is in "Cards" in your videos.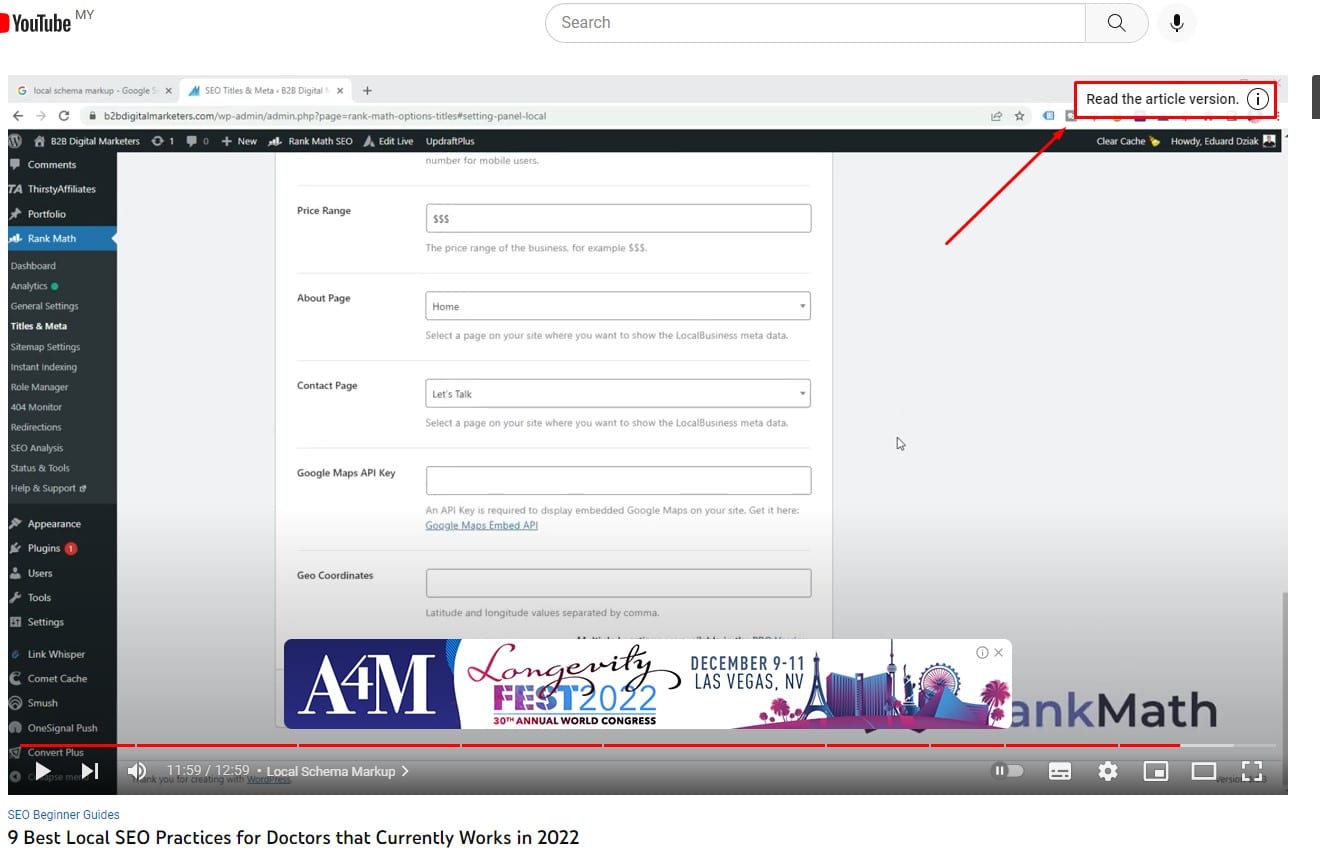 These are little info cards that appear in the right corner of a video which allows you to link to another video, channel, playlist, or even add a custom link such as to your website.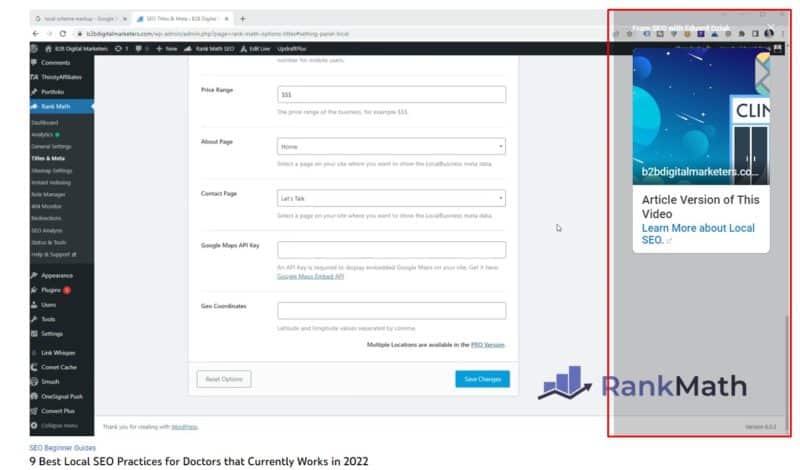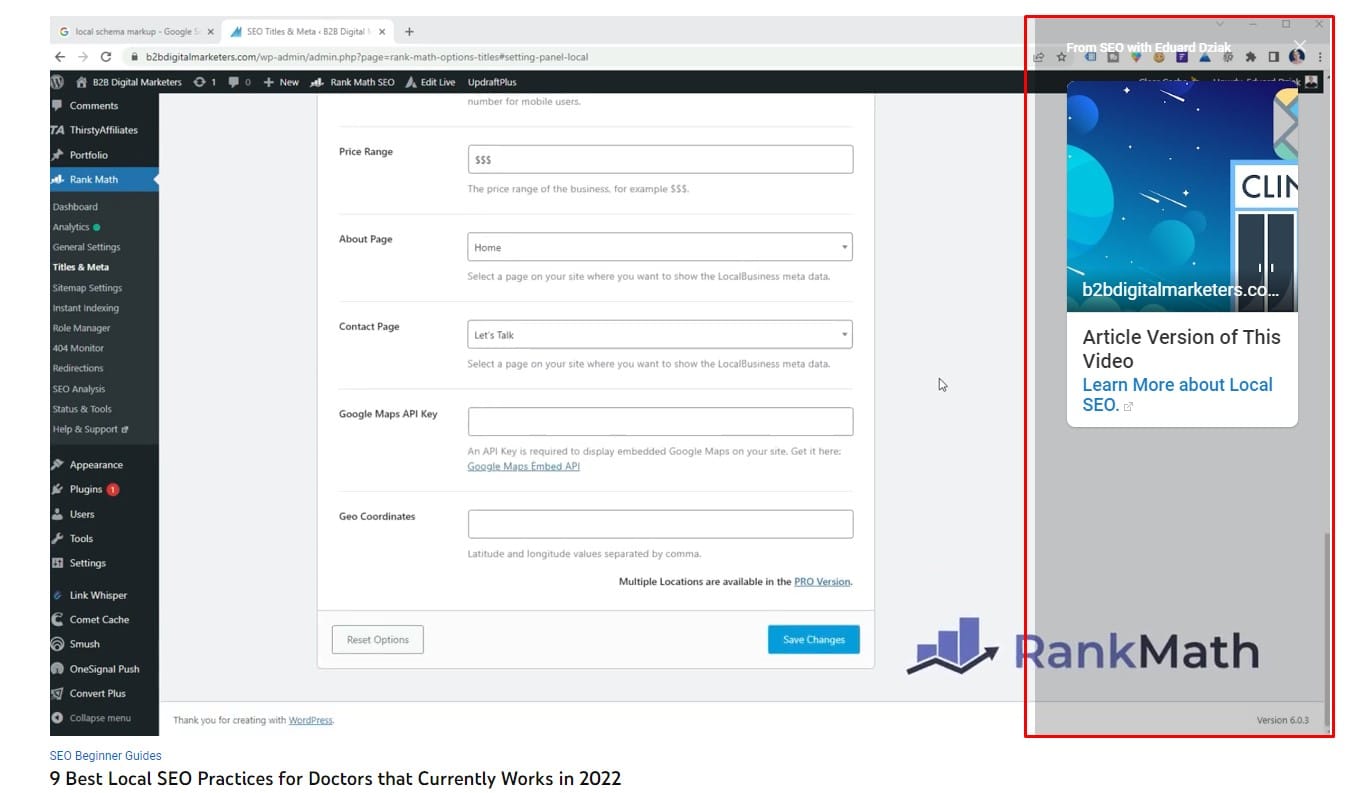 Usually, I use these when I mention some of my articles or reference some data and want to link to the source.
With that, to add a YouTube card with a link to your website you select the "+ card", "link" option, and insert the URL.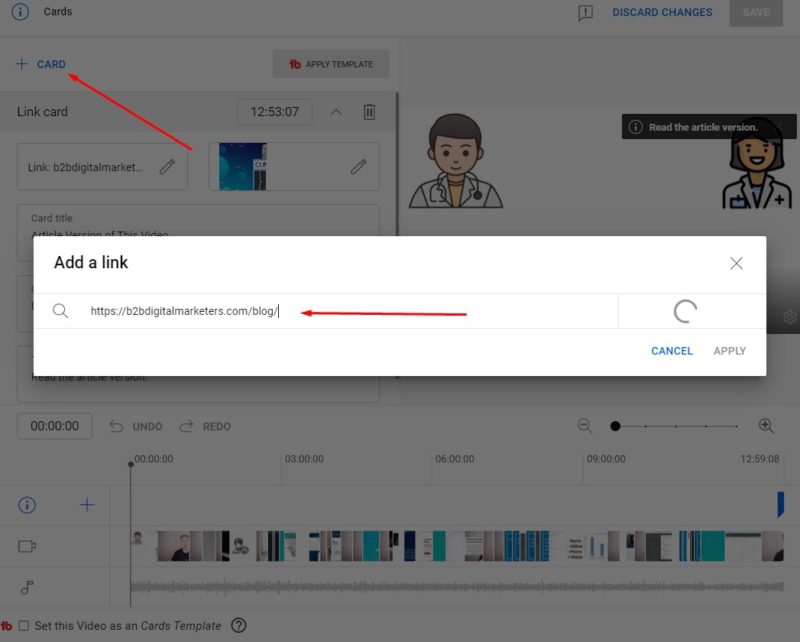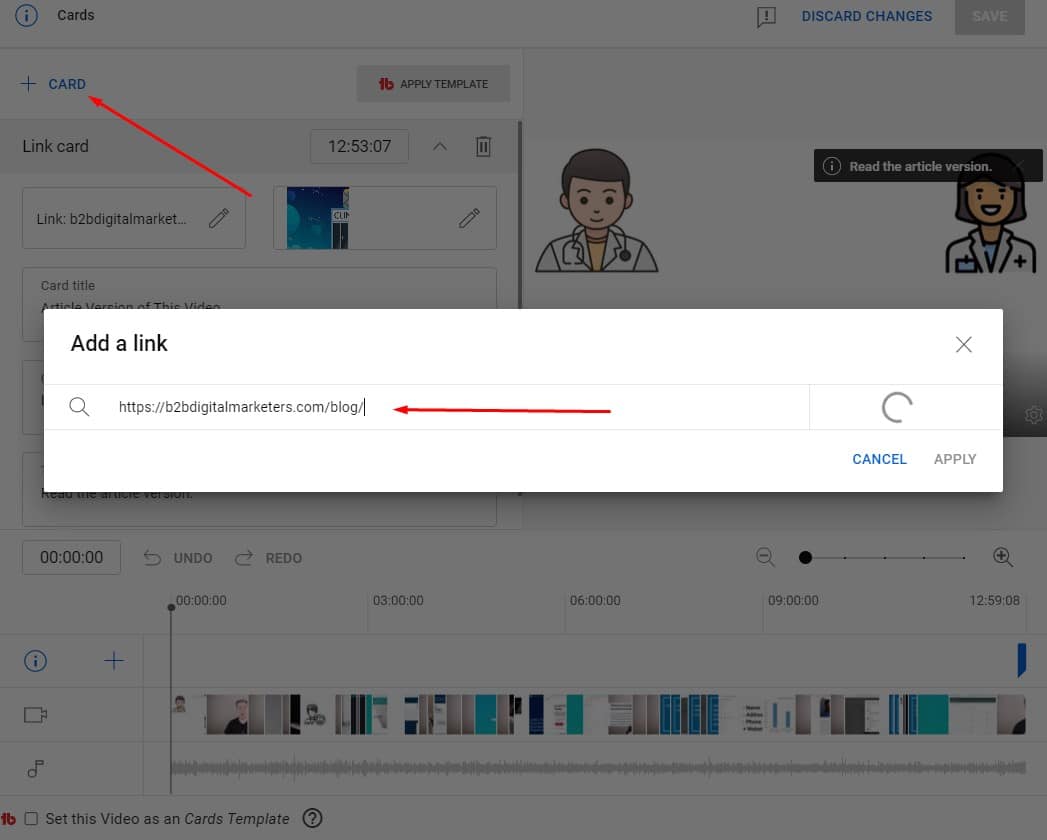 And here you just complete the information and you are ready to post it.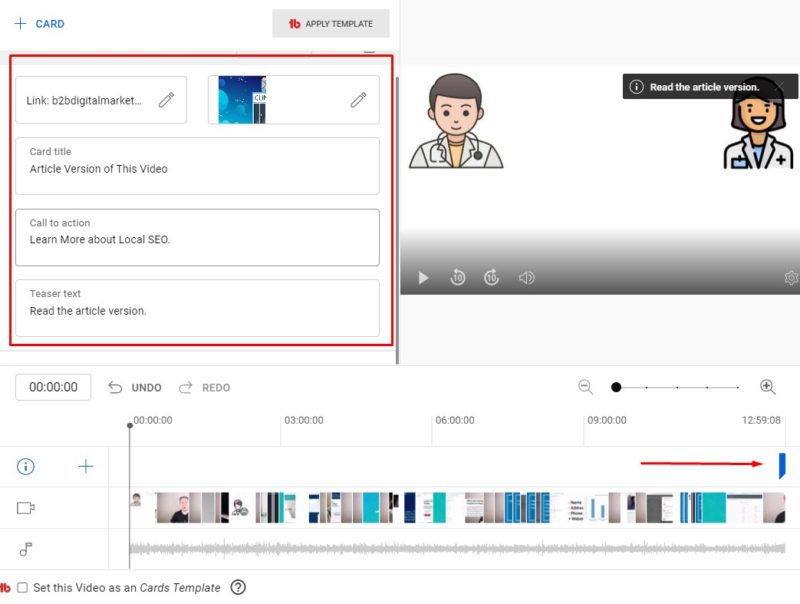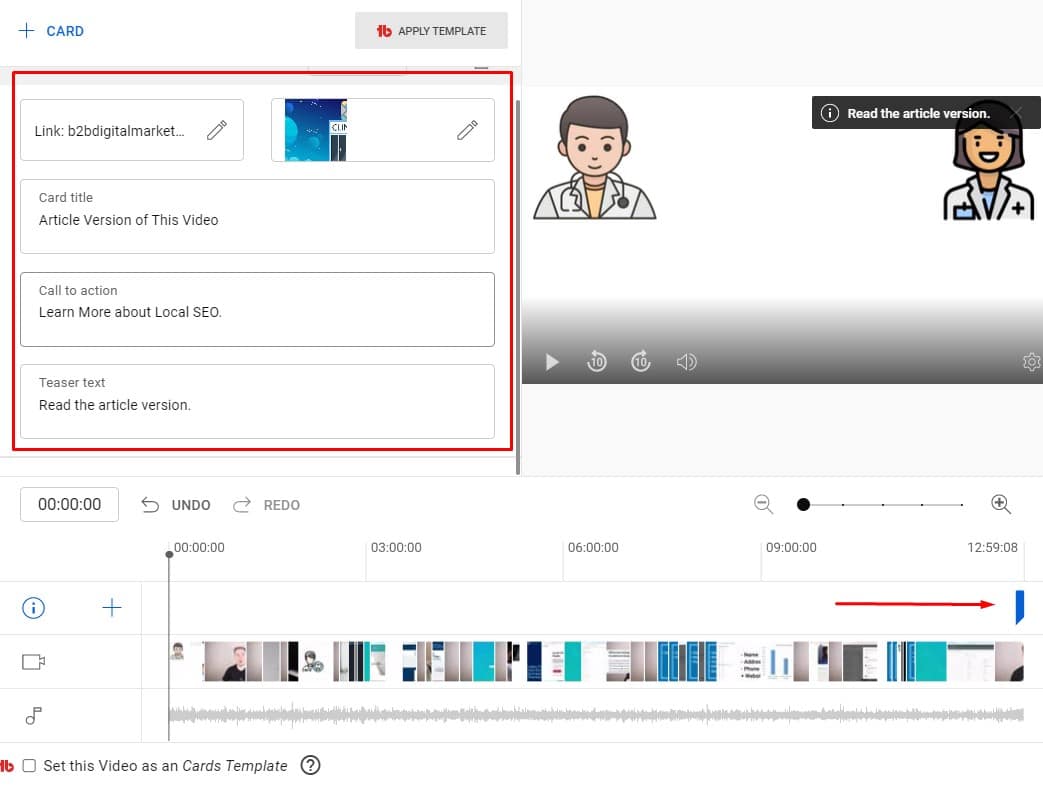 And if you have already posted the video and want to add the link card, then go to your video details and click on "cards".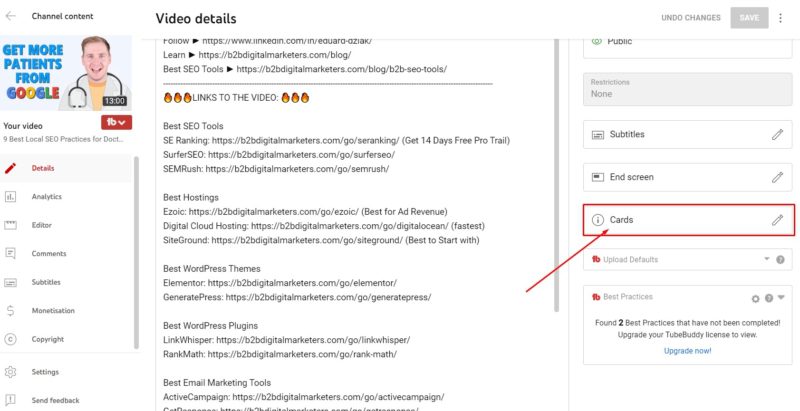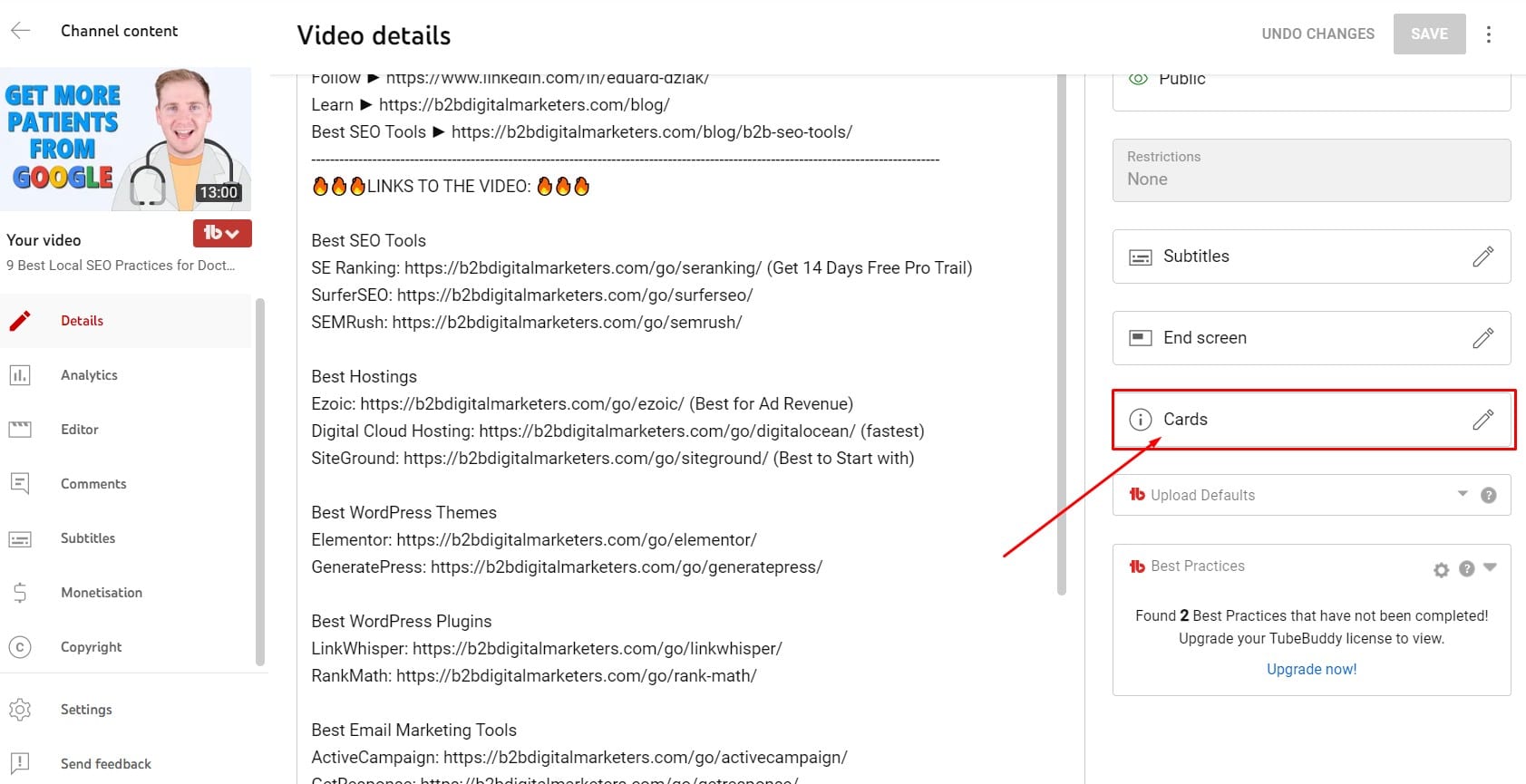 Again, it's a nofollow backlink but it can have some benefits which I talk about later.
End Screen Backlinks
Another place where you can place a YouTube backlink is on the YouTube end card.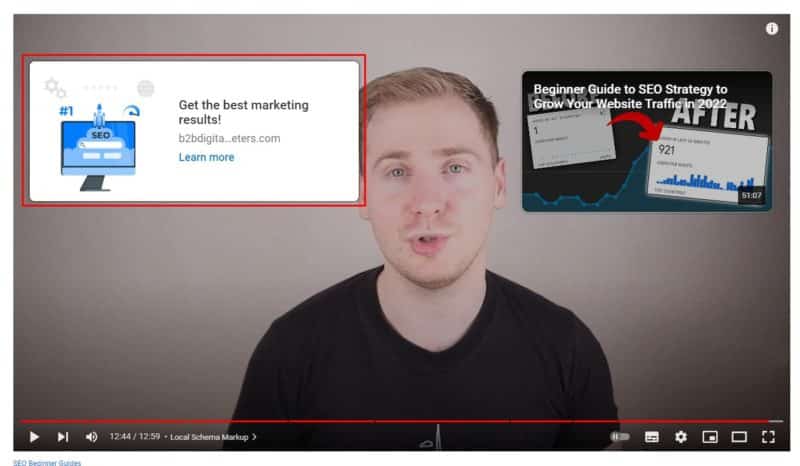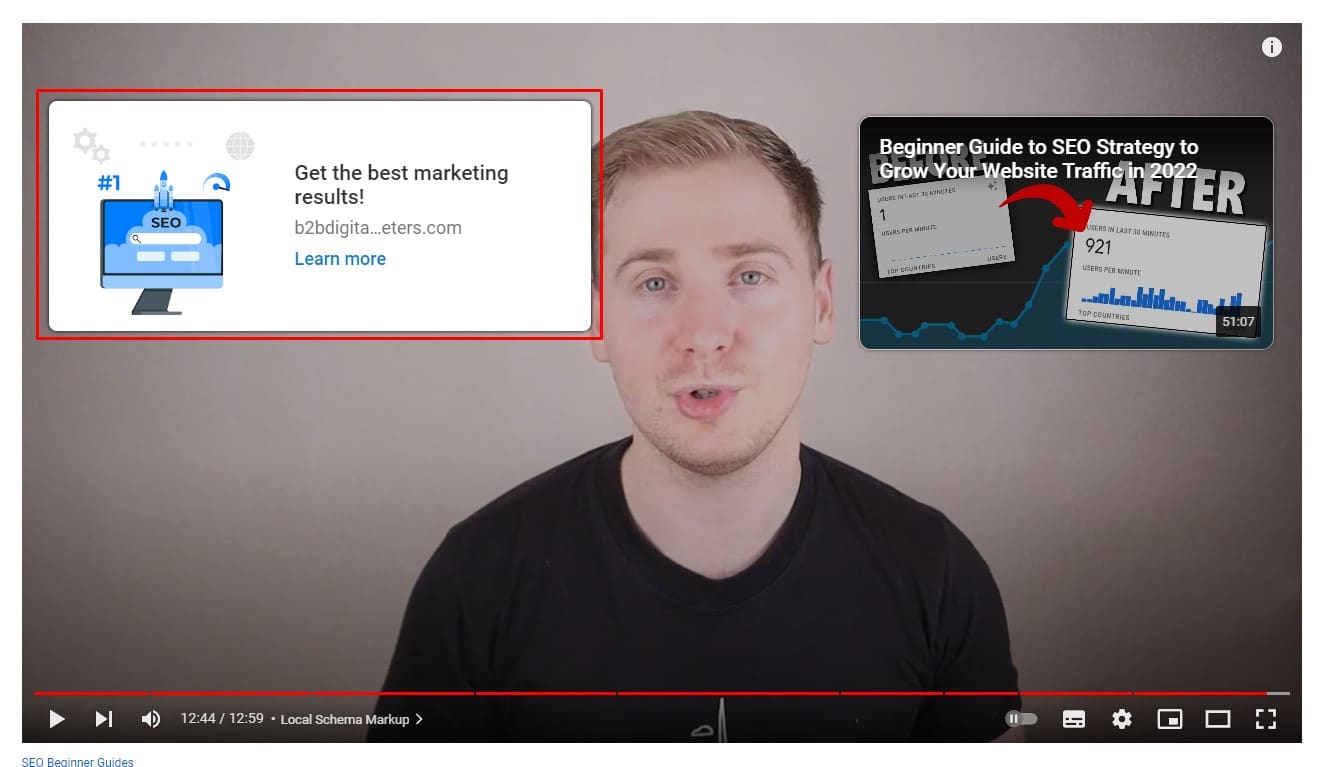 Similarly, to the YouTube card, this allows you to navigate your users to different videos, channels, playlists, or custom links.
The only difference is it only appears at the end of your video and it's much more prominent compared to the YouTube card.
With that, to add a YouTube end card backlink, click on "+element", and "link", and insert the URL where you want your YouTube end screen backlink.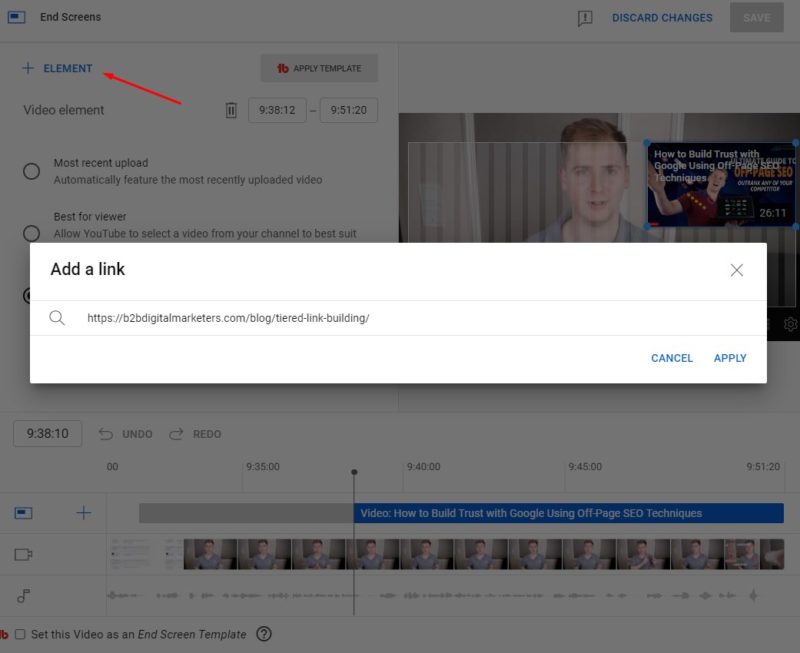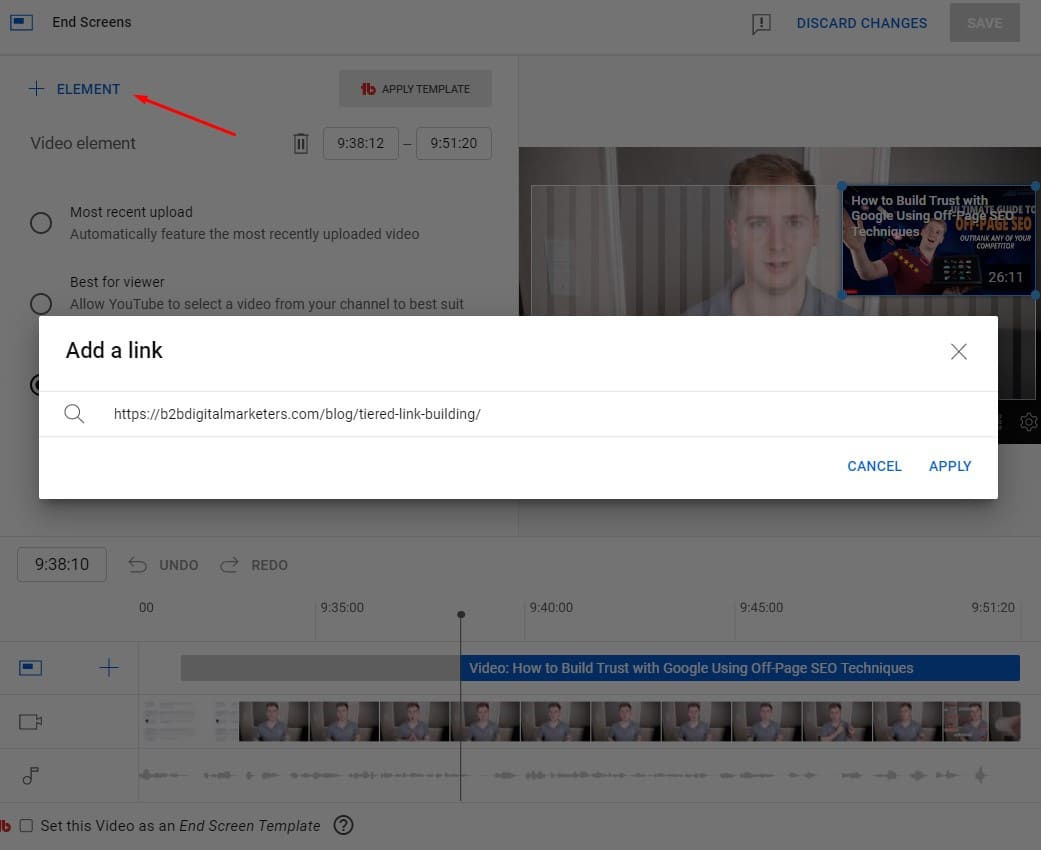 Then complete the information the same way as with YouTube cards and hit "Save".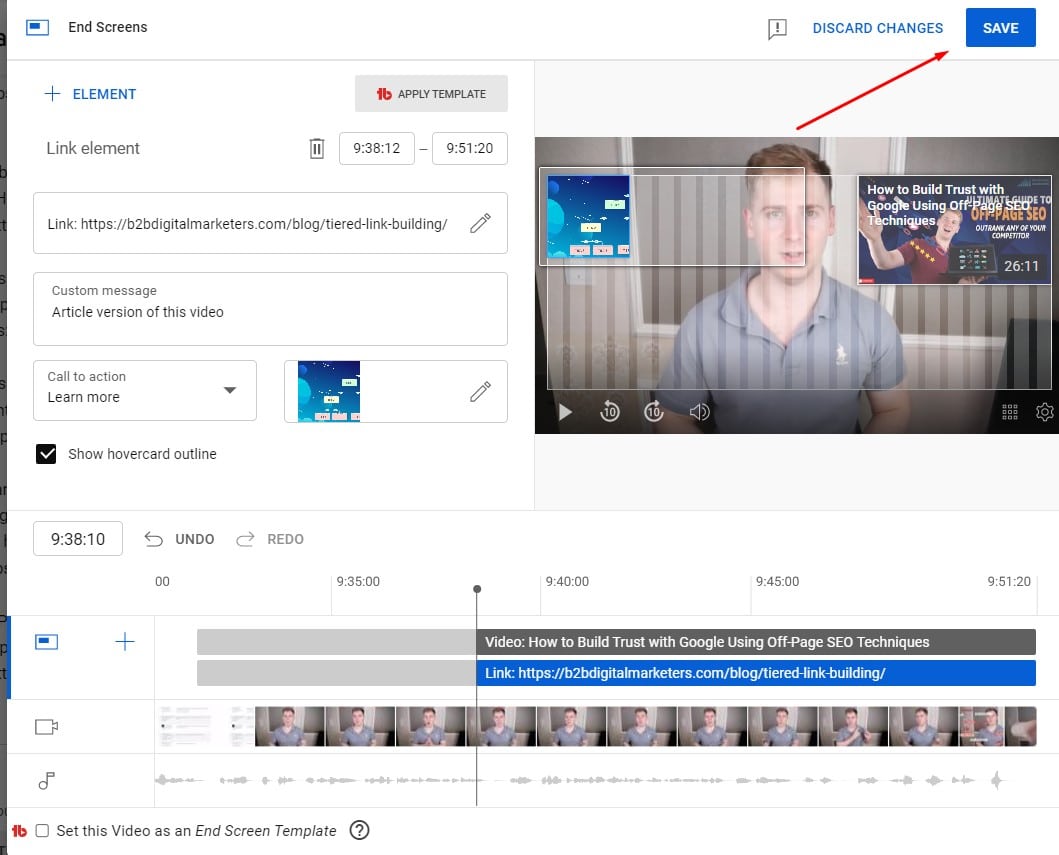 And that's how you add a YouTube backlink to your End Screen video!
Description Backlinks
The next place where you add a YouTube backlink is in your video description.
As you have probably already seen those YouTubers that are spamming their YouTube description section with tons of links, especially affiliate links. How desperate right?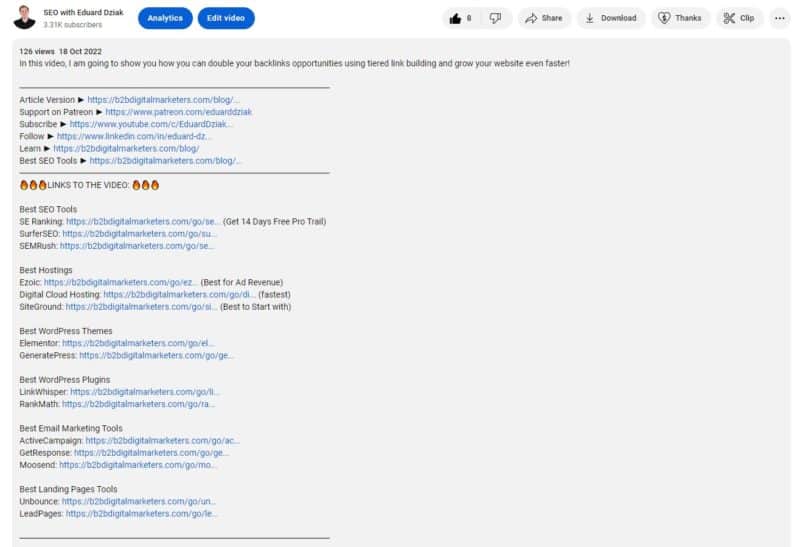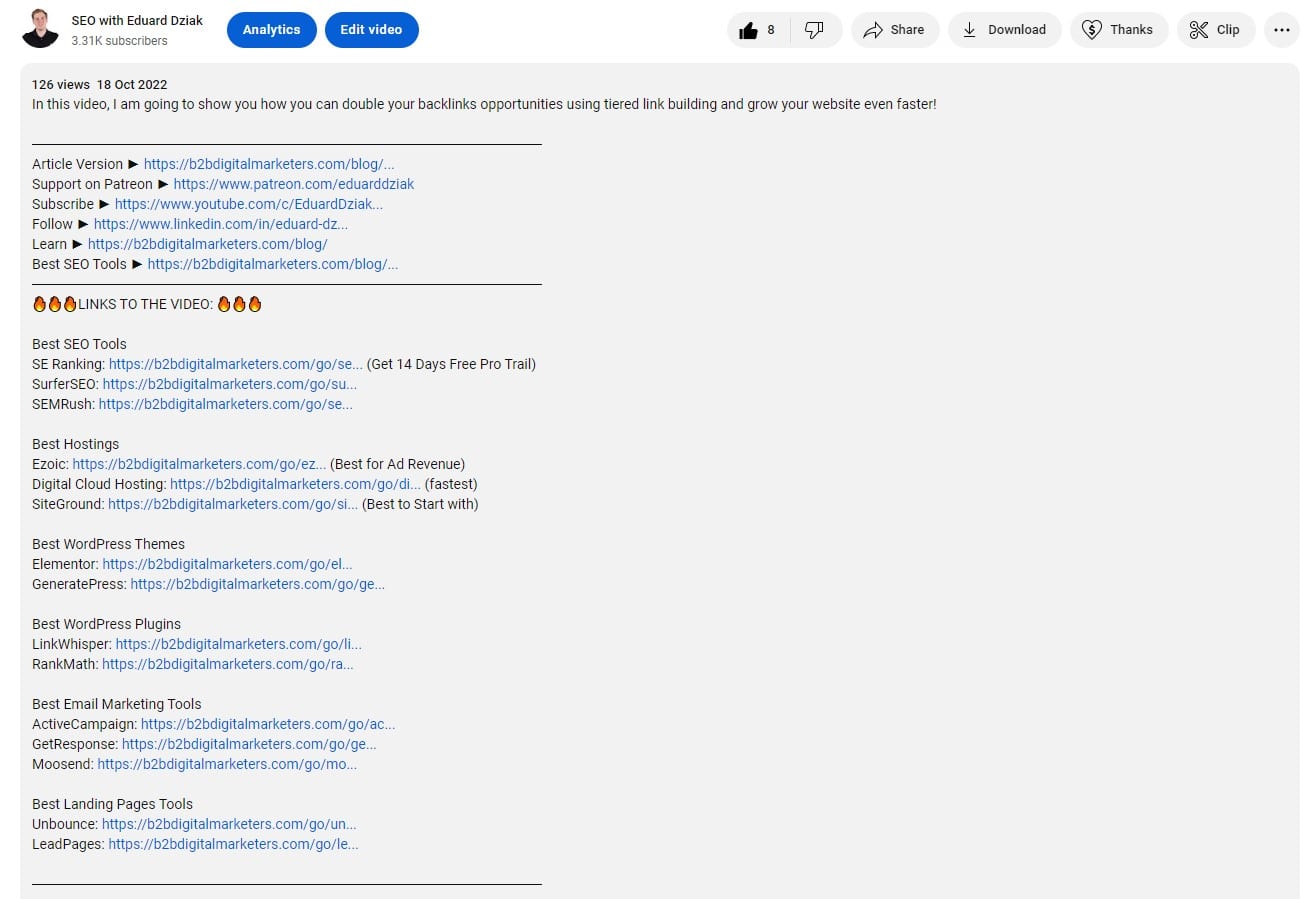 Well, regardless of how it looks, the YouTube description section allows you to add numerous backlinks to your website!
This can be to your newsletter, downloadable content, or anywhere you want! For example, this guy means business, well done on using that YouTube description backlink!


With that, do not expect Google will blow the ranking whistle for these types of YouTube backlinks and your ranking will skyrocket like Mr. Beast videos…
Comment Backlinks
And the last place where you can add a YouTube backlink is the comment section.


Using a comment section and pinning your comment is one of the best ways to promote your link be it for affiliate marketing or referring to your website.
So, I assume you know how to add comments under your video and to pin the comment, just click on the three dots and click on "pin comments".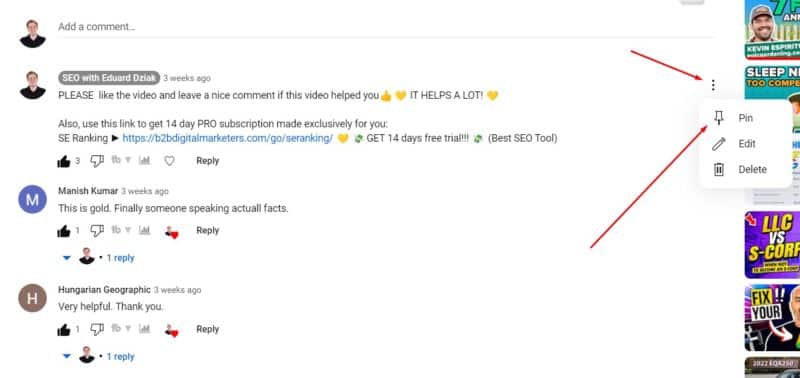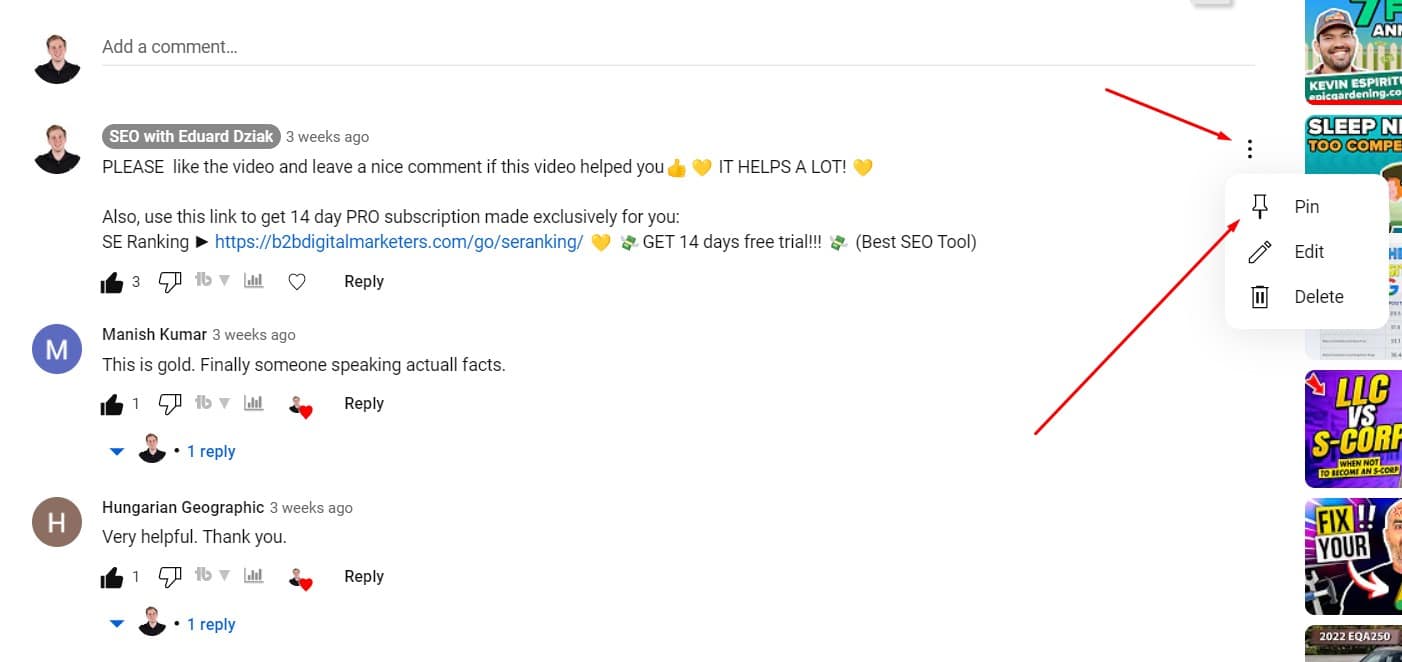 And there you have it, all the places where you can put your YouTube backlink.
Benefits of YouTube Backlinks for SEO
While YouTube backlinks cannot help you increase your PageRank or website authority to boost your ranking, they can still bring some SEO benefits that can indirectly boost your SEO.
Backlinks from forums/social media like YouTube won't necessarily boost your rankings but they can still have value for your website.
With that here are some of the biggest benefits of YouTube backlinks and why you should still use them.
Online Visibility
YouTube backlinks allow you to increase your online visibility across different channels and promote them.
As you could see, with YouTube backlinks I can easily promote my articles, downloadable content, other videos, and more.
This allows me to increase my online visibility beyond YouTube and get my viewers somewhere else I need them to go.
For example, if I am running a webinar, I can mention that in a video, and with the YouTube link I can get them to visit the page and signup.
Referral Traffic
YouTube backlinks are an excellent way to drive referral traffic to your website or landing page and bring more conversions to your website.
If you are having large YouTube following, then you can use that to grow your website and email list, increase your revenues, and more by directing your traffic to wherever you want.
This can be especially effective for YouTube lead generation, as you can direct viewers to landing pages specifically designed to capture leads.
For example, recently I saw big drops in my Google Ads performance so I went to watch a YouTube video on how to fix it and this guy used the YouTube backlink to navigate viewers to his Google AdWords checklist.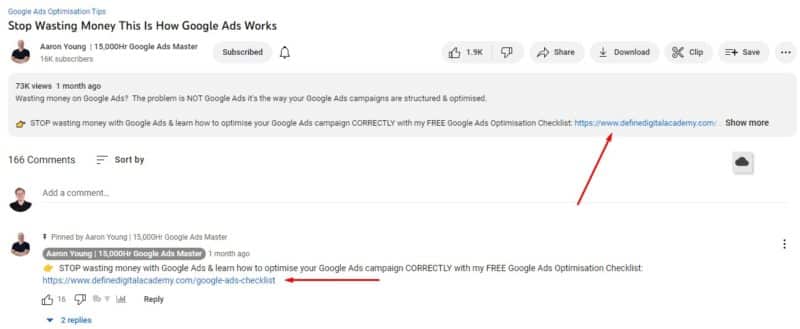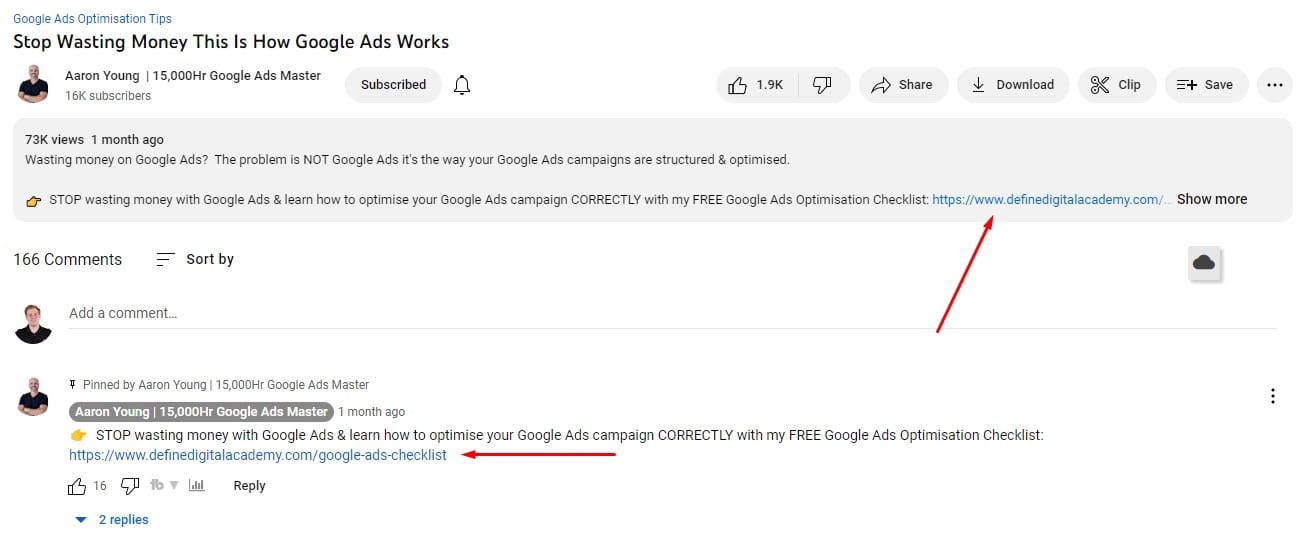 So of course, I did follow it and downloaded it!
Another example could be using links to other of your social media accounts to grow them. For example, this channel is referring its traffic to its Instagram, Facebook, and Twitter.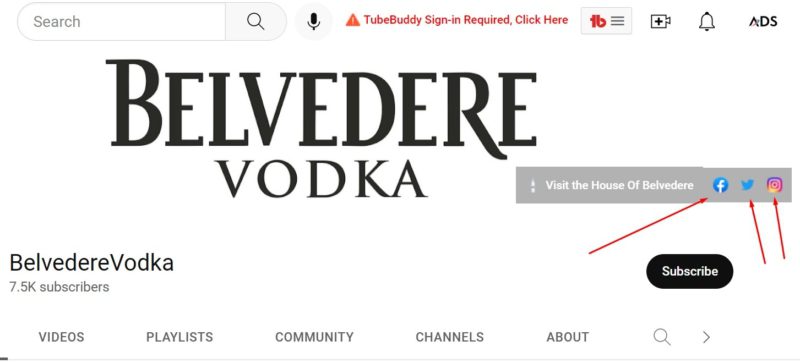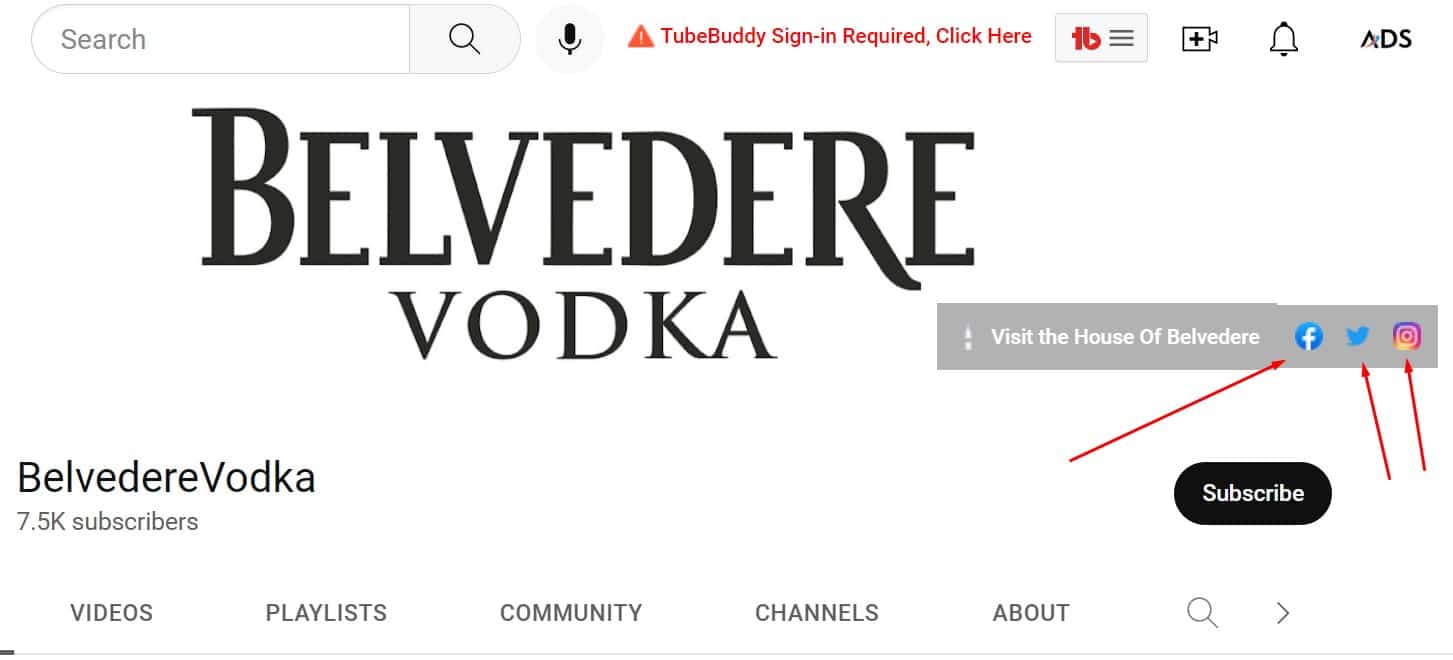 YouTube backlinks are excellent to drive referral traffic to your website or anywhere you want.
Therefore the SEO advantage of YouTube backlinks is more towards how people interact with your content which can indirectly improve your ranking.
Cross Linking
YouTube backlinks are excellent for SEO cross linking.
Using YouTube backlinks linking to your website will help Google and other search engines to recognize that these two channels are owned by the same person or company.
Also, this can help you with getting more branded searches, appearing for rich results, ranking for video keywords, having video enhancements, and more.
So, despite you not getting any link juice from your YouTube videos, your videos and YouTube channel still does get that link juice which can improve the ranking of your videos.
On top of that, it allows you to associate your channels together.
Backlinks from Social Media for SEO
Backlinks from social media are generally nofollow and search engines like Google keep databases of websites where the content is mainly UGC (user-generated content) such as social media or forums and devalue links from these platforms.
The reason for this is so that webmasters do not manipulate search engine ranking and focus on producing high-quality content on their website in order to attract those backlinks naturally.
Summary of YouTube Backlinks
Perhaps you hoped that YouTube backlinks are the secret way to get a ton of high-quality backlinks from one of the most authoritative website in the world.
But that's not going to happen.
However, that doesn't mean YouTube backlinks are worthless. By properly utilizing YouTube backlinks you can drive massive conversions, and revenue, drive referral traffic, and online visibility for your brand.
So don't give on YouTube backlinks and use them in much better ways to promote your business and increase brand awareness.
Related Articles:
Also, check out our SEO hub page to find all our SEO resources.
Disclaimer
Some of my links are affiliate links, which means if you purchase something, I might get a small commission as a reward for reference. Of course, I am actively using all these services and products, and I only affiliate products or services I have full trust in their quality!