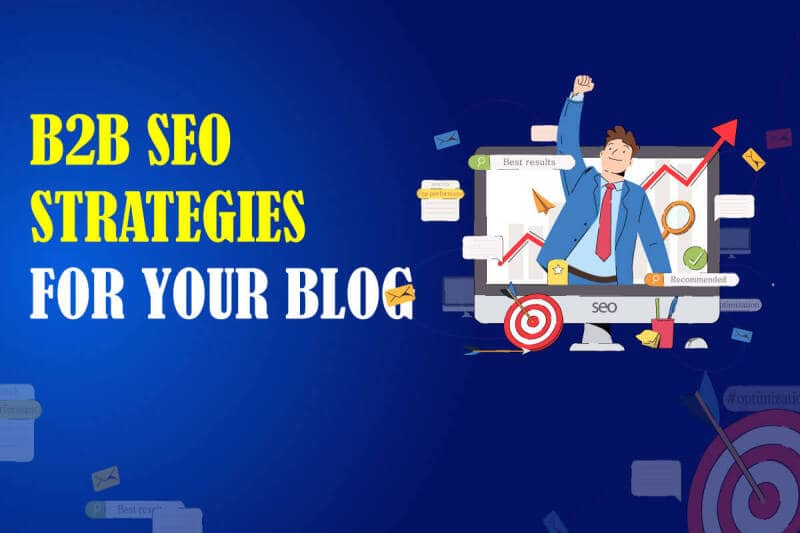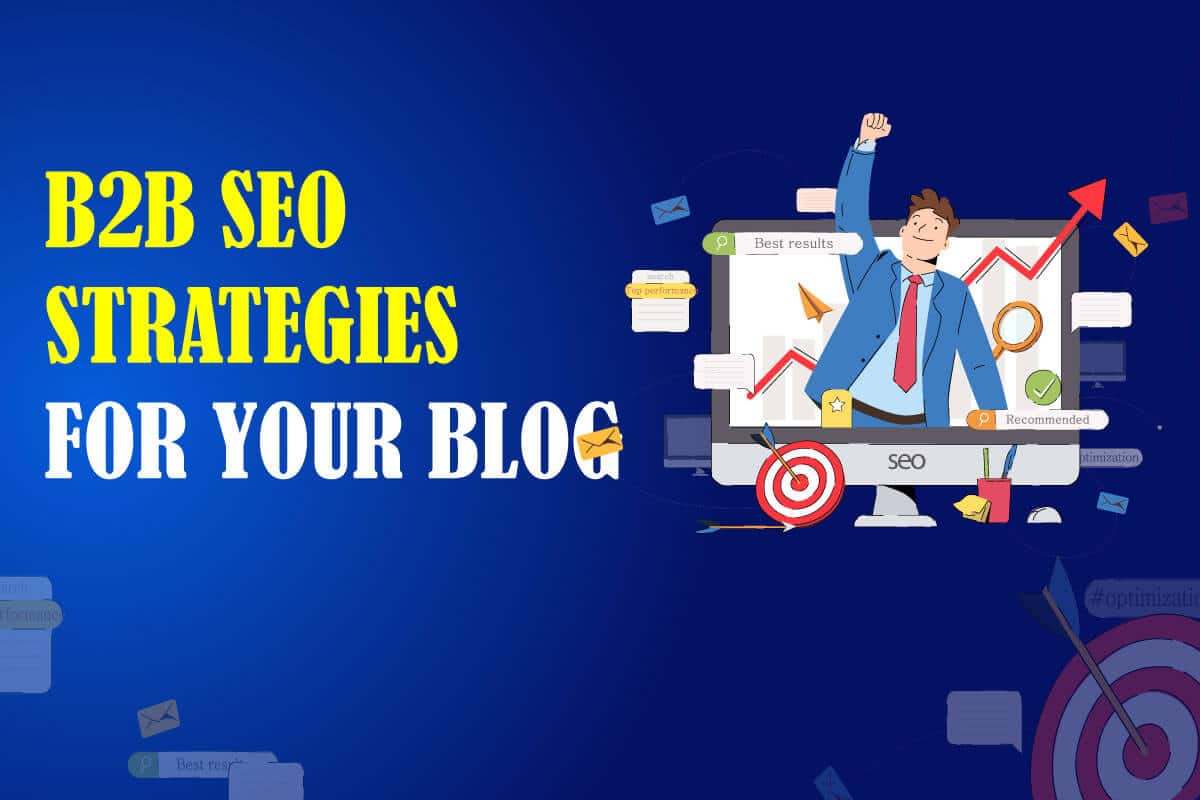 In this article, I am going to share one of the best B2B SEO Strategies for Blog so you can improve your ranking and start generating organic traffic that later will convert as leads for your business.
Your B2B Blog can be the main source of organic traffic, increasing your ranking for your money pages or product pages, and driving leads for your business.
Creating highly valuable and useful content will influence your website more than any other strategy you can implement for your website.
Therefore producing consistently new content that is valuable for your target audience creates many opportunities to grow your organic traffic and most importantly driving more high-quality leads for your business.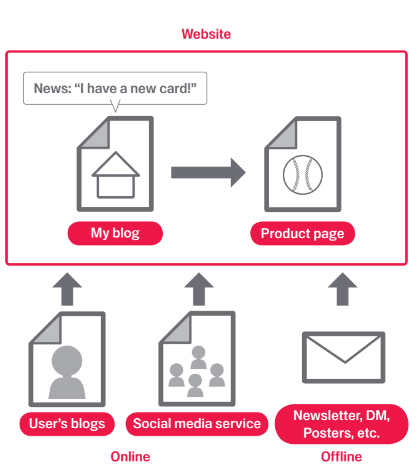 (Source)
So to make sure you are maximizing your results from your B2B Blog, let's check out one of the most important B2B SEO strategies for your B2B blog to increase ranking, organic traffic, and the amount of leads you are driving for your website.
Put Some Effort to Your Keyword Title Tag
The first on our list of B2B SEO Strategies for Blog is your Title Tag that should include your Keyword and be catchy, so people want to click on it, and Search Engines better understand what is this blog post about.
Your Title Tag has much bigger power than you think and if you are not putting enough effort into your title tags you are probably losing out on organic traffic and wasting the hard work you have put into your blog articles.
The thing is that even if you are already ranking on the first page of Google, but your Title tag does not cut it, it will be quickly replaced if it does not get the clicks it is supposed to get.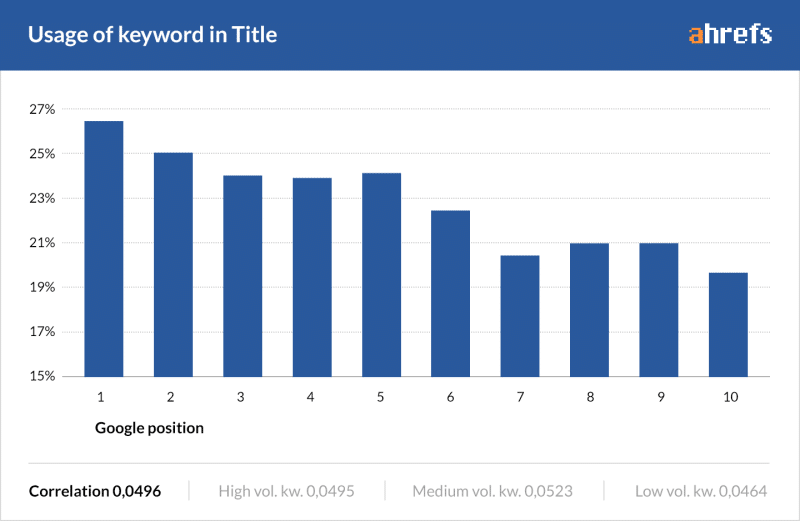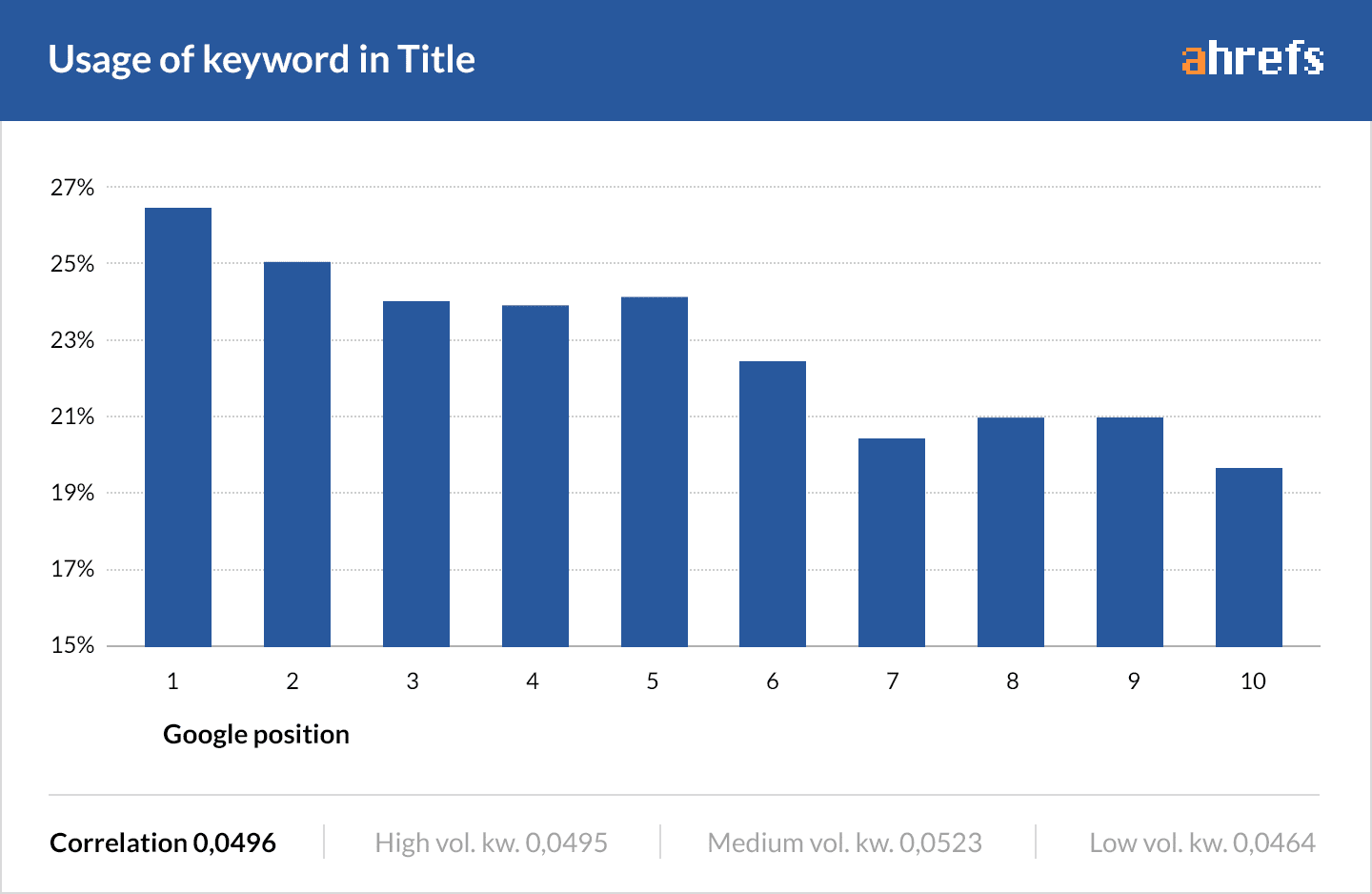 Also according to Ahrefs, there is a correlation between including optimized SEO title tag and ranking. But we should take it with a pinch of salt as Google is smart and not necessarily needs to match exact keywords ever since Hummingbird was introduced.
So, your title tag does play role in your ranking. Therefore, you should put in some effort to optimize your title tag to be click-worthy, interesting, and reflect the topic you want to target.
Because Google made it clear a long time ago as they are searching for relevancy and your Title Tag shows Google and your audience how relevant is your blog article.
" Our goal is simple: to give people the most relevant answers to their queries as quickly as possible. This requires constant tuning of our algorithms, as new content—both good and bad—comes online all the time. "
So, let's look at some of the best practices for SEO Title Tag:
Title tag length between 15 and 40 characters have an 8.6% higher CTR compared to those that are outside of that range. (Backlinko)
Title tags that contain a question have a 14.1% higher CTR. (Backlinko)
Keep your Title Tag around 50-60 Characters as Google will cut the rest.
Optimize for one main "head" keyword
Focus on Unique Part of Your Article
These are the best practices for Title tags, but of course, you can do more than just that, but remember sometimes is better to do less and properly than more but halfway.
Craft Your Meta Description
The next within B2B SEO Strategies for Blog is to craft your meta description with care and spend some time and effort on it.
Your meta description is like a good trailer, if you catch a user's attention and provide something valuable and interesting to them, they will click.
And that is the whole point of the meta description as it works a as short teaser and opens a window for users to peek in and see what the article is about.
But a recent study shows from Digital Information World, that Google prefers using its own meta description based on ranking, searcher used keywords, and to match the website content.
As we can see on the graph, around 75% of the time Google does rewrite your meta description on the desktop searches.
And on mobile searches, we can see that it is slightly higher the rate, and for both, we can conclude that Google does change your meta description a lot.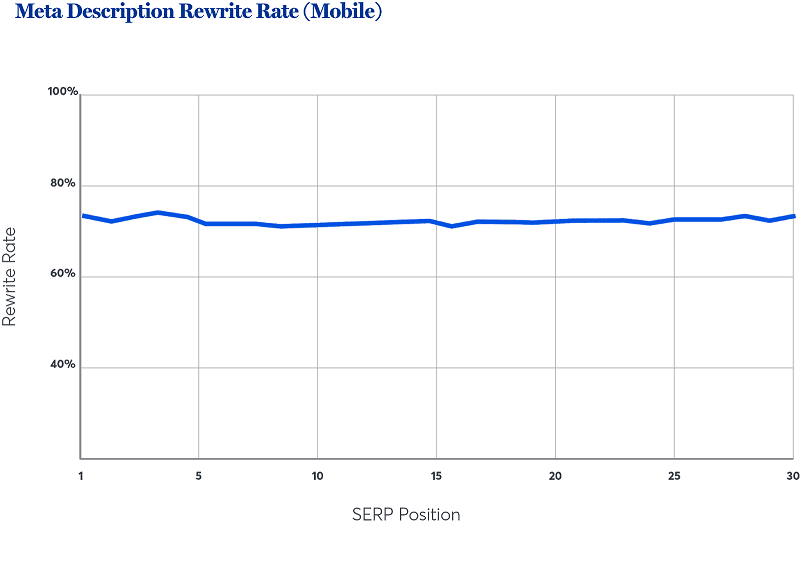 But it does not mean you shouldn't include your meta description as according to Backlinko, pages with a meta description have higher CTR vs without description. Thus, better ranking, and more organic traffic for you.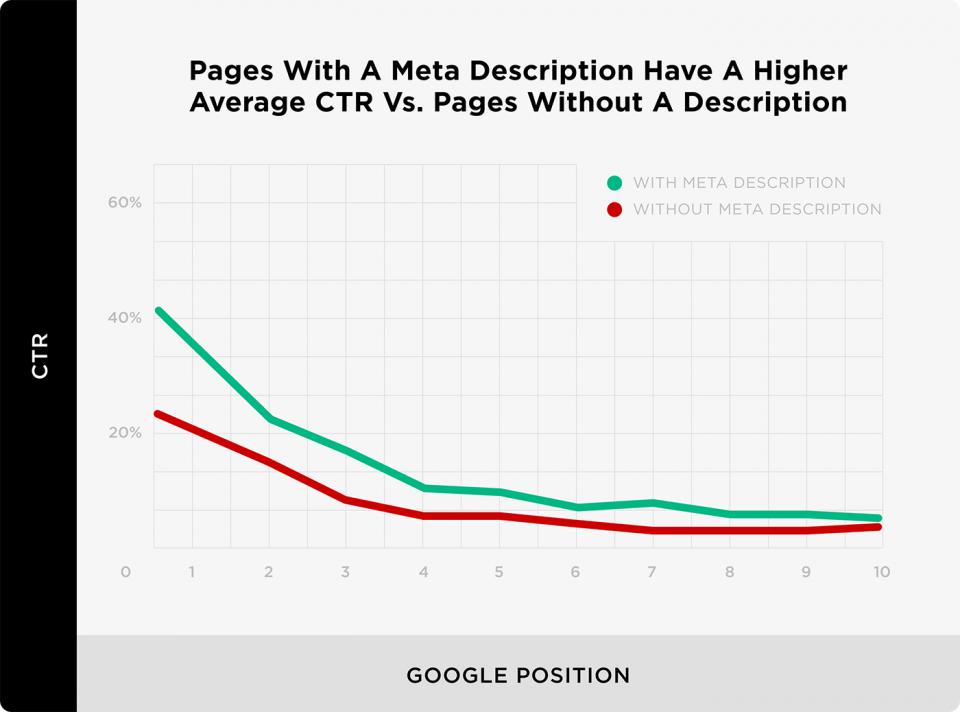 (Source)
So, whether Google does creates its own meta description for your pages or not, it is always better to include your meta description is it helps with your B2B SEO to rank better and for more relevant search terms.
And these are some of the best practices for meta description to improve your B2B SEO for Blog:
Recommend descriptions between 50–160 characters.
Create a compelling description that a searcher will want to click. (Need some copywriting skills)
Avoid duplicate meta description tags. Even for some reason, the meta description is "perfect" for more of your pages, do not do that!
Do not include double quotation marks. It does not work and Google can punish it with lower ranking or even removing the page from search.
Do some A/B Testing. Do not write any meta description. I know I have shown data that on average it is better to have a meta description, but sometimes we need to test it and see on ourselves. So, don't be scared to not write any.
So these are some of the best SEO meta description practices but feel free to Google more as there are plenty of good strategies.
Historical Optimization for B2B SEO Blog
The next on our list of B2B Blog SEO Strategies are historical optimization for your blog posts.
I have only seen a very few blogs written about this, but it is definitely an important strategy that just not increase your organic traffic, but also bring more leads to your business.
The thing is that more and more content is written every day by companies, but demand is not growing anymore. That means the supply is going up while the demand is stagnating.
And according to WordPress, on their own platform users publish 70 million posts each month and Each month, approximately 409 million people view more than 20 billion pages.
On top of that, getting organic traffic to your new blog posts and pages can take a while and rank on the first page of Google even longer. According to Ahrefs' study, the average Top10 ranking page is 2+ years old. And those that rank at position #1 are almost 3 years old (on average).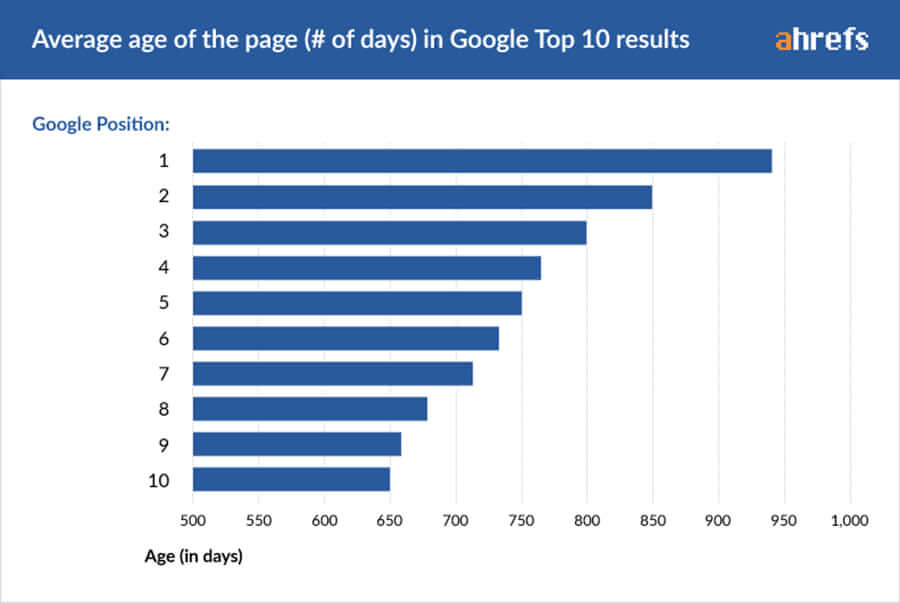 But who is going to read a blog post that is 3 years old? Most people when they see a blog post from 3 years back will not go there as they believe it cannot be relevant and they can easily find an article written in recent months.
Or at least updated in recent months. I hope you see where it goes.
So to explain what is historical optimization, first I had to go through these data to explain why it is so important and now I can explain what it is.
Historical optimization of blog posts is taking old articles and add new information, update data and statistics if included, and generally refresh the article with new relevant ideas and information.
This is super important because most of the articles on Google have been seen at least 3 years back and yet they are still relevant to you and that is because it has been consistently updated to keep the information and the article up to date.
So, let's look at some of the best historical optimization practices for B2B Blog you can apply right now to refresh your content, start getting traffic for your old blog posts again and keep bringing leads:
Check top-performing blog posts year and two years ago and find relevant keywords that they have ranked for but are not included within the content.
Focus on older than 12 months. If your website is new I recommend 18 months, as that is the average time when the website is getting some traction.
Add new or replace CTA within blog posts with more relevant and up to date content to keep conversion rate high.
Update your publish date with a current new date when you republish the blog post.
Promote the same way as you would do with a new article.
Define your conversion path for updated content to fit your current goals and customer journey.
So, these are some of the best historical optimization practices for the B2B blog, definitely an important B2B SEO strategy for Blog that you should include within your marketing mix. Just HubSpot itself has full-time people to just update their old blog posts to keep driving more organic traffic and leads for their business.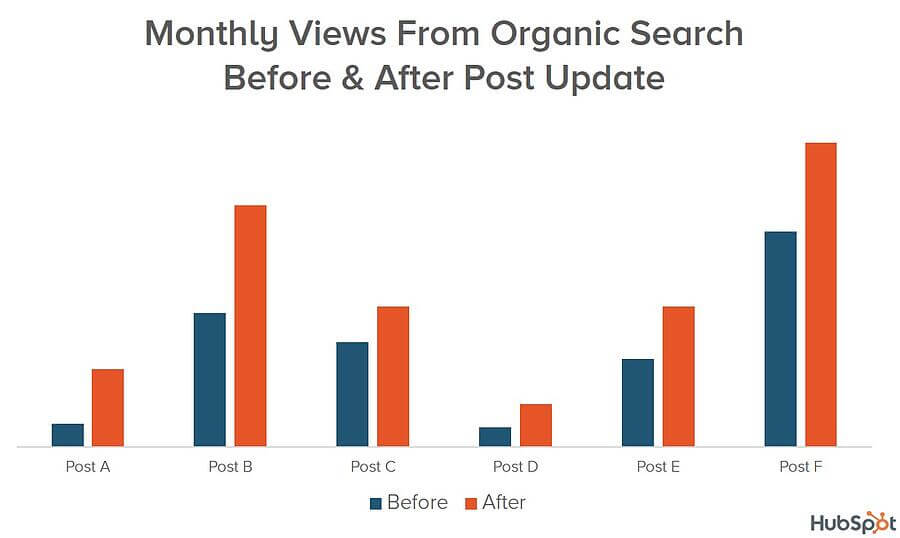 Shorten Your URL
The next on our list of B2B SEO strategies for Blogs to help you get a higher ranking and more organic traffic is using a shorter URL.
Google is using over 200 ranking factors to determine where to position your blog posts between others and of course, some are less of the ranking factor than others, but still paying attention to SEO details is essential to get you in the top 10 in Google.
And usually often overlooked by many marketers is the way how you structure your URL. Because URL does influence your ranking in two ways.
From an SEO standpoint, your URL has a week ranking factor that very little influence your ranking in search engines. But it still does and if you fight for top positions, small needy greedy B2B SEO details can make difference.
From a user standpoint and how they react to your URL, and if they see it relevant. This has a much stronger impact on your ranking than you might think.
And to prove this Backlinko did a study, They found a very slight correlation between URL length and rankings. Specifically, short URLs tend to have a slight ranking advantage over longer URLs.
Also, this has been confirming my Matt Cutts as he said: As it gets a little longer, then it starts to look a little worse. Now, our algorithms typically will just weigh those words less and just not give you as much credit.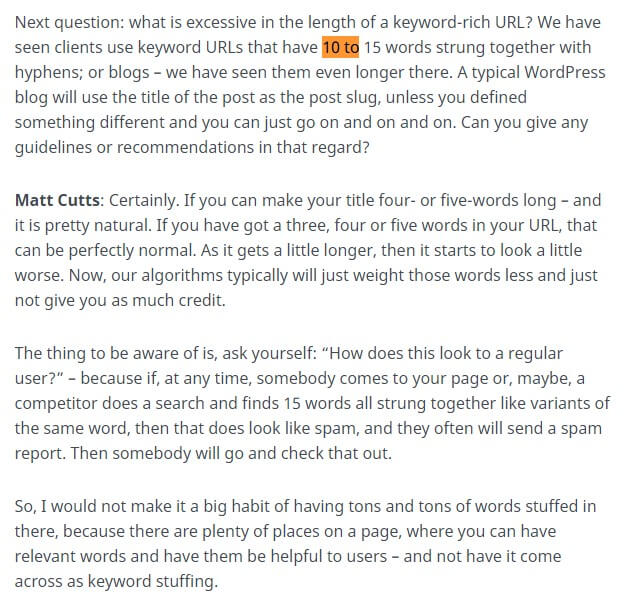 So, your URL is important to consider when you are posting a new article as it can influence your ranking on Google.
And to help you out let me share with you some of the best URL SEO strategies to help you rank higher:
A well-crafted URL provides both humans and search engines with an easy to understand the indication of what the destination page will be about
URL with 50-60 characters is a good number for URL
Target only 1-2 keywords maximum per URL. Keyword stuffing is not a good idea in any way.
Use keywords within the URL at the beginning if possible.
Try to Match URLs to Titles if Possible.
So, these are some of the best URL practices to help you with B2B SEO for your blog.
Add Videos, Graphs, & Quotes
The next on our list of B2B SEO Strategies for Blog is using Videos, Graphs & Quotes for each of your blog posts to improve customer experience and average time.
You probably know that 43% of people admit to skimming blog posts a from my personal experience the number is much higher as people are busy and they do know have time to read the whole article.
They want to just find quick information without reading the entire article. Therefore, using bullet points, headlines, and shorter paragraphs helps readers get the information and make the text more readable.
But that is not enough and because the time people spend on your website is an important ranking factor as according to Backlinko, Websites with above-average "time on site" tend to rank higher in Google.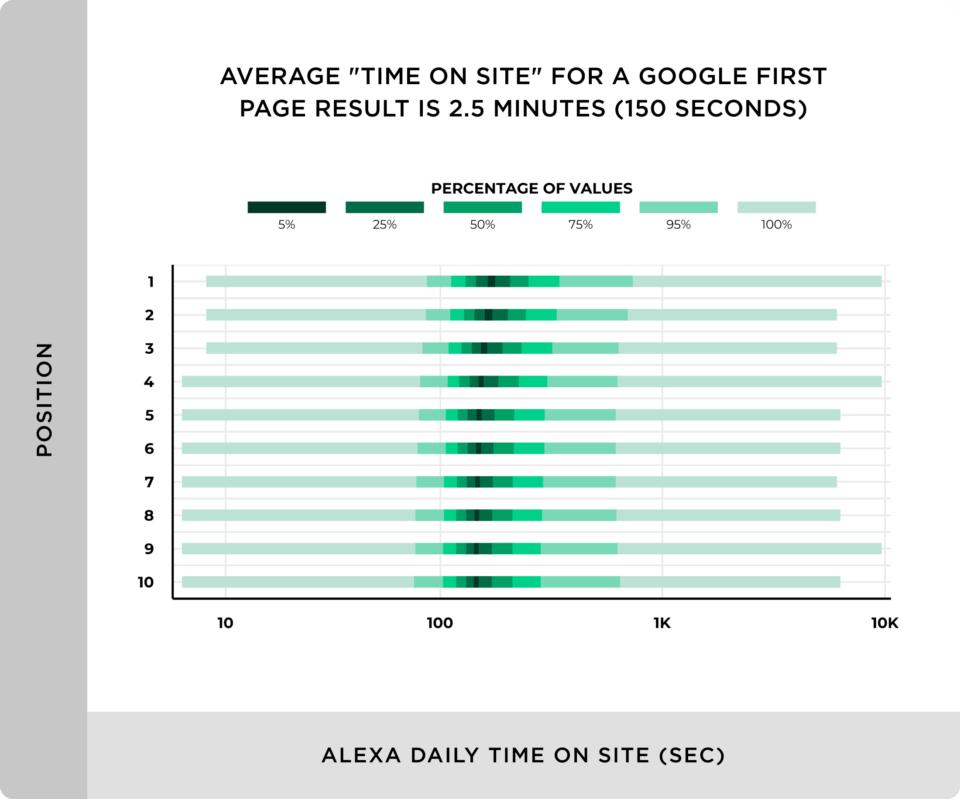 (Source)
Therefore, increasing the time people spend on your website is super important as the longer people spend on your website the better you can rank.
That is why using Video, Graphs and Quotes is important. Because they caught people's attention and stop them to look at it.
As people are visual creatures and if you can demonstrate your point with video, graph, or quote it stands out between the lines of text.
So, try to always include relevant resources on your blog posts to help your readers to visualize what you are talking about. I have also seen using funny and cute pictures that can work as well.
Focus on Internal Linking
The next on our list of B2B SEO strategies for Blog is to focus on the internal linking of your blog posts.
Internal Linking is essential for your blog and whole website as it helps Google find and crawl your pages and understand what your website is about.
It also gives important signals that you have related pages about the topic you are talking about and because the more good quality content you have around the topic your website is about the more authority your website gets.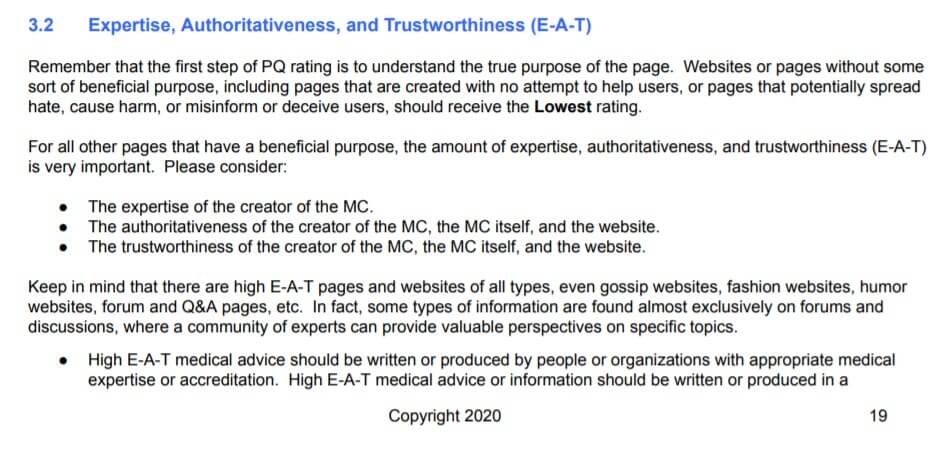 (source)
And not just that internal linking helps users to navigate across your website and find more relevant topics in what they are interested, which increase the amount of time they are on your website and of course the longer the better.
So, as you regularly publish new articles you also must regularly update your internal linking strategy to make sure you have internal links across new and old blog posts.
Also, a very important part of your internal linking is to link to your product and service pages as this method helps you to increase the ranking of those pages so you can get more organic traffic and also drive more leads from your blog posts.
And to help you out more, let me share with you some of my best internal linking practices:
Regularly update your internal linking. I like to do that every 10 posts to update my internal linking. Easy to remember.
It is enough to have 2 internal links to one page
Use mix keyword and non-keyword links anchors. For non-keywords, still, it must be relevant to the linking page.
Don't include links within generic anchor text like "page", "article", or "click here".
Avoid using text that is off-topic or has no relation to the content of the page linked to.
Avoid using the page's URL as the anchor text in most cases, although there are certainly legitimate uses of this, such as promoting or referencing a new website's address.
Also, I recommend you to read more about Google Internal Linking Guidelines (Section: Use links wisely) as there you can find plenty of helpful tips and tricks and if you will be following their best practices you definitely won't hurt your website.
Use the Middleman Method to Increase Product Pages Ranking
The next strategy and one of my very favorites among B2B SEO Strategies for Blog are using the Middleman method from Ahrefs.
This is a big deal breaker if you are not using this method yet. I have already mentioned this strategy, but this B2B SEO strategy deserves its own space.

Here you can see an example when I first time uses the Middleman method for one of the pages that barely got 10 impressions a month.
And ever since we are regularly publishing new articles and using the Middleman method, we can see a great boost in getting more impressions, clicks, and position.
In some cases, my client is increase ranking from position 80 to position 20 and with click barely any clicks now with over 1k clicks each month.
So, this B2B SEO strategy will finally help you to get a better ranking for your product pages and getting more leads to your business without spending a single dollar.
Therefore, make sure every of your blog is using the middleman method to help you get an even better ranking and of course here is my favorite best practices for the middleman method:
Do not spam, use a maximum of 2 links for each page, also the only link to a maximum of 2 product pages with some exceptions.
Provide only relevant product pages. If you are talking about dog fur, link to the product for healthy dog fur for example, but do not put cats.
Create highly linkable posts to get an even better ranking for your product pages.
Don't Be Greedy and Put Outbound Links
We are almost finishing but there are two more B2B SEO Strategies for Blog that I want to mention and one of them is DON'T BE GREEDY and put some outbound links.
Unfortunately, many hard-working website owners and marketers spend so much time creating great content but then they do not want to use any external resources, so they don't have to put any outbound links.
And you might think that of course why would I share my hard work with somebody else when I can do it all alone?
WRONG! One of the biggest B2B SEO mistakes marketers can do is not put any outbound links within their blog posts at all.
Outbound links are important because it helps Google to understand your website even more and therefore positioned it better to become more relevant to people who are interested in your topics.
Also linking out to relevant resources increase the strength of your blog posts and adding depth to your content as like this you can provide even more value and better explanation by including stats, graphs, and other resources from other websites.
Outbound links also enhance the value of your blog as John Muller Said:
Linking to other websites is a great way to provide value to your users. Often, links help users to find out more, to check out your sources, and to better understand how your content is relevant to the questions that they have.
And because of that, you are building trust with your readers as you are a reliable source in your niche and people will always come back as they know, you doing your best to provide the best information even though it means to share your traffic with someone else.
So, I hope you will start with outbound links, and let's look at the best practices for outbound links:
Use descriptive keywords in the anchor text. You don't want to use the same keyword every time or you will run the risk of triggering spam detectors.
Look for opportunities to include relevant, outbound links directly in your content.
Avoid too many outbound links. What is too many? Well from my personal opinion every 500-1000 words you should include an outbound link.
So these are some of the best practices for outbound links for your B2B Blog.
Intro and Conclusion of Your B2B SEO Blog
The last on the list of B2B SEO Strategies for Blog is having an intro and conclusion within your blog posts.
Look, if you want to catch your readers' goldfish attention spam, you must do it immediately and therefore your intro is so important.
Having a properly craft intro helps you to quickly catch people's attention because it is the first thing they see and then it pushes them to scroll down if they find it interesting.
That is why your intro is so important! You must ensure every intro is catchy and relevant the same way as your headline otherwise they bounce back.
Also, the intro helps Google to understand your website better.
On the other side, your conclusion works as a summary of your entire article with the most important points your readers should know when they are leaving the article.
So if your users do not have enough time, and they can only read your summary or conclusion then it should be sufficient for them to get the main points and leave with valuable information just by reading your conclusion.
Remember the easier you make it for them the better, as only a very tiny little percentage will read your articles, the rest just skim and therefore the conclusion is super important for your website.
And this is my best practices for intro and conclusion
Intro:
Be Short and Direct
Add A little personality goes a long way
Share a Shocking Fact or Statistic
Tell them exactly what they going to get
Conclusion:
Keep it short and sweet
Bring your point home with key takeaways
Provide an Opposing View Point
Present an Actionable Solution
So these are some of the best practices for blog introduction and conclusion.
Conclusion
These B2B SEO Strategies for your Blog that I mentioned here are important to master as each of them can make a difference in your ranking.
But if you are starting with B2B SEO I recommend you focus only on a few B2B SEO strategies for your blog and once you get used to them and will naturally add them, then you can add more and more.
So, my recommendation would be to start with:
Use the Middleman method
Put Outbound links
Add Videos
Focus on your title tag and headline
These are very important B2B SEO strategies and you should start with those, but as I said, later on, you should include all of these to get maximize your results from your B2B Blog.
Read More
Source:
Disclaimer
Some pictures are coming from Freepik and some of my links are affiliate links, which means if you purchase something, I might get some small commission as a reward for reference. Of course, I am actively using all these services and products and I only affiliate products or service I have full trust in their quality!